The misconceptions about Cuba are astounding from how the Cubans react to Americans to whether it's a safe place to travel. If you want to go to Cuba, then definitely go. As an American, we are supposedly required to only go to Cuba under certain circumstances. As a solo traveler, I went as part of a tour group with Intrepid Travel therefore where I stayed and what I did were already planned. That worked for me because it gave me the opportunity to be on the ground in the country and just concentrate on what Cuba actually has to offer. 
I don't travel with fear in my heart. I honestly try to travel with as much of an open mind and heart as possible. That doesn't mean I travel obliviously and don't do my research, it just means I look at both sides and then I go…especially if I am led to and I was led to see Cuba. Originally, a friend and I had arranged to go to Cuba on a cruise but the idea of just stepping foot in the country to spend the day in three ports and then sleep on the cruise ship just felt so distant to me. And, now that I've been to the country, staying on the island, connecting with the Cuban people and learning about it's history while taking in its culture and present circumstances, I am so grateful I went this route as my introduction to this seemingly controversial part of the world just 90 miles off the coastline of Florida. 
Once the playground of Americans during the 1950s. Its African, Spanish and even French cultural vibrancy along with its music, dance, colonial buildings and vintage cars have held an eclectic and until recently forbidden world lure that's packed with an explosion of sensual treats.
Although Cuba's fight to become an independent country, began long before Fidel Castro and the 1960s missile crisis between the U.S., Cuba and the then Soviet Union, an economic and relations embargo made it illegal for Americans to do business or go to Cuba for more than 50 years. It wasn't until 2016 that the first U.S. plane could fly into Cuba and as Americans, we can travel to Cuba only under certain stipulations or conditions of travel. And, don't bring your American bank credit or ATM cards because they can't be used in Cuba. Only hard cold cash will do the job and that will need to be exchanged for the Cuban Convertible Peso of CUC and although one CUC equals one US dollar, we are the only currency that gets charged a 10% penalty for exchanging our currency for theirs. Welcome to Cuba!
But I obviously wouldn't let the exchange rate keep me from coming to Cuba. It is a rare find in this modern world so keep your expectations in check and just open yourself up to a country working its way through a slight time warp yet possesses historical hot spots of architecture and lifestyle that will awe you and that are so worth the exchange rate penalty and more.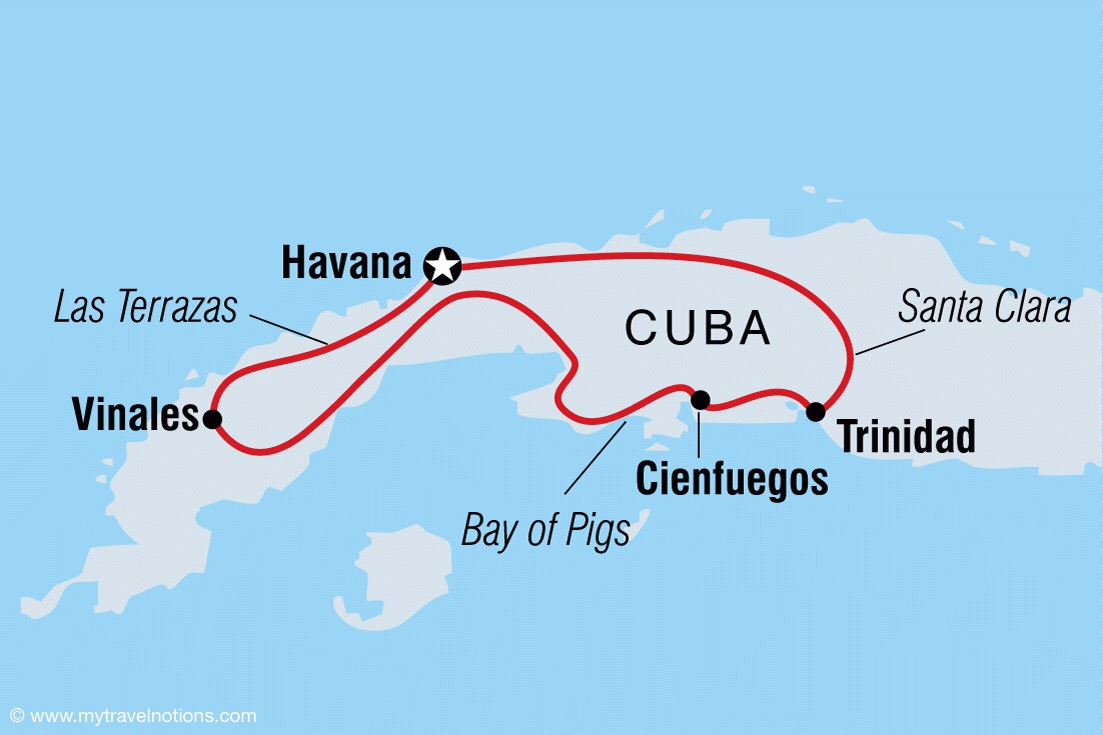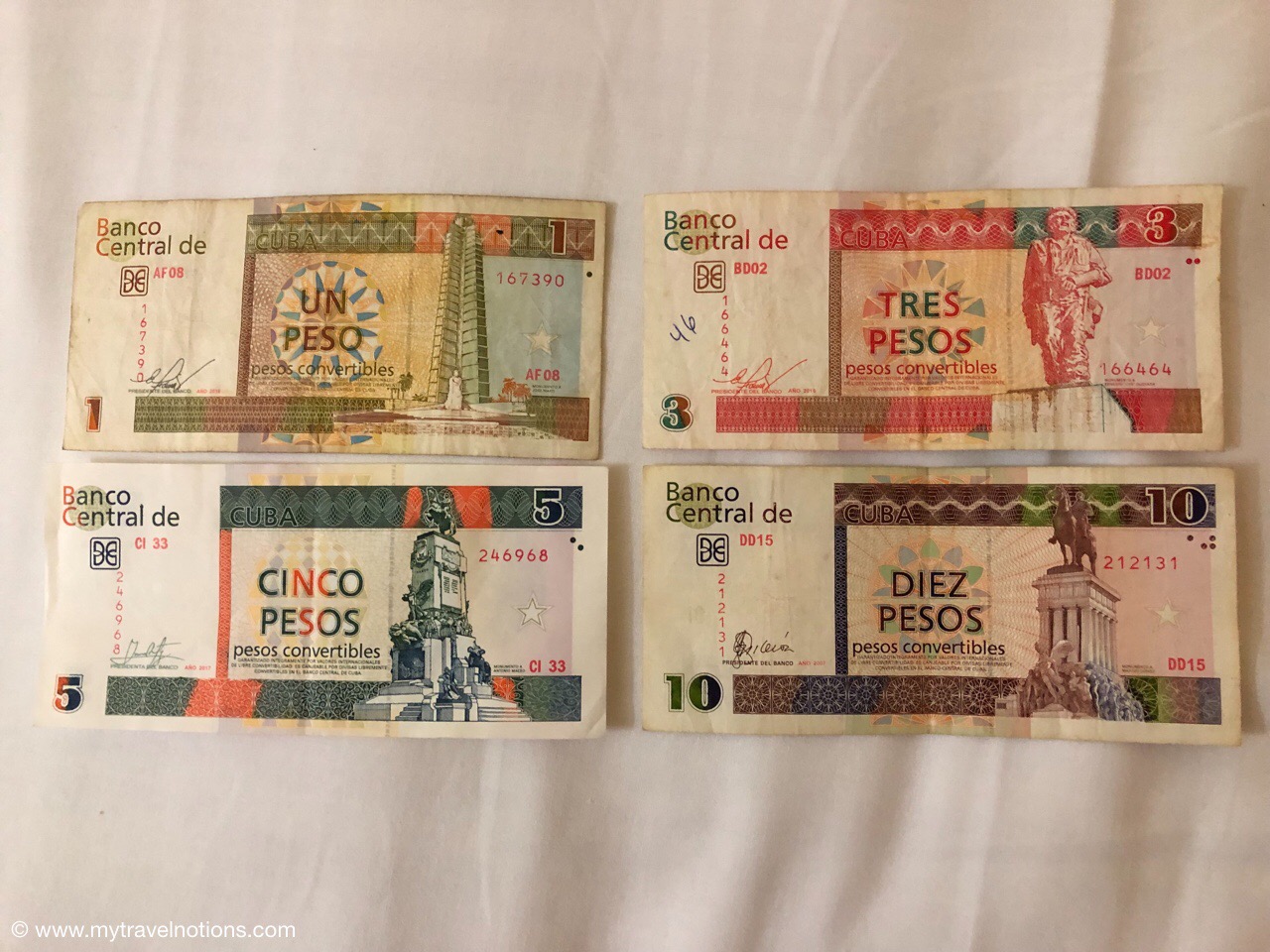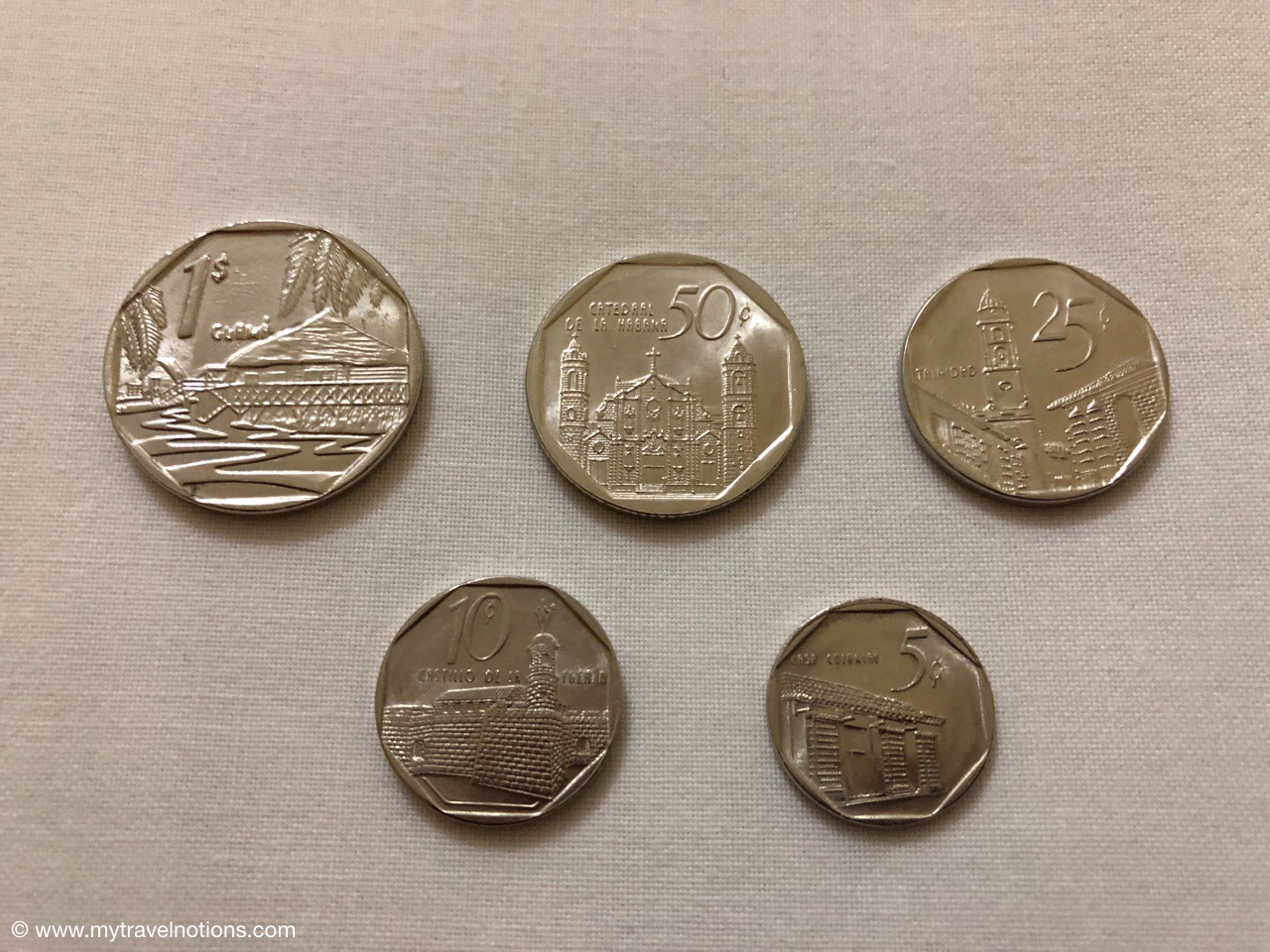 Havana
Day 2 of Cuba, Sunday, March 17 – Havana  (Although this is a 9-day tour, Day 1 is for arriving and Day 9 is for leaving so a lot of exploring gets done in 7-days. )
Havana, especially Old Town Havana, is an incredibly wondrous mix of old world run down charm restored or being restored to reclaim its magnificence.  Old Town Havana or La Habana Vieja, the best preserved part of Havana, was designated a UNESCO World Heritage Site in 1982.
Today was about tooling around in the very touristy classic American vintage cars, seeing Revolution Square, walking the fabulously beautiful plazas or public squares of Old Town Havana interconnected by alleyways and narrow streets and then learning about Cuba's fights for independence at the Revolution Museum. Havana is hot, alive, colorful, colonial, historical, restored and getting even more restored. Welcome to Havana!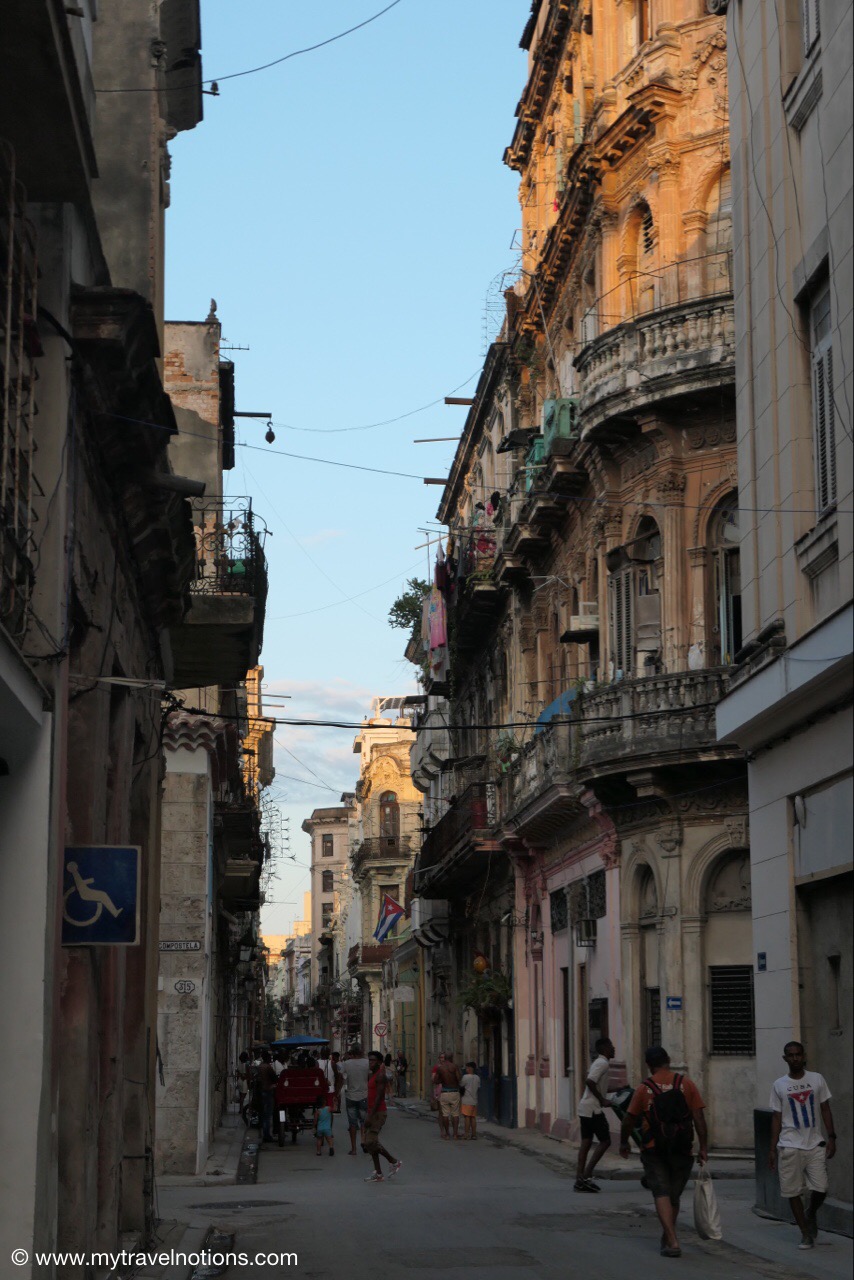 My first taste of Havana, Cuba, arriving on a pre-arranged taxi from the airport. Havana is a a beautiful city in decay and I absolutely fell in love with it. (March 16, 2019)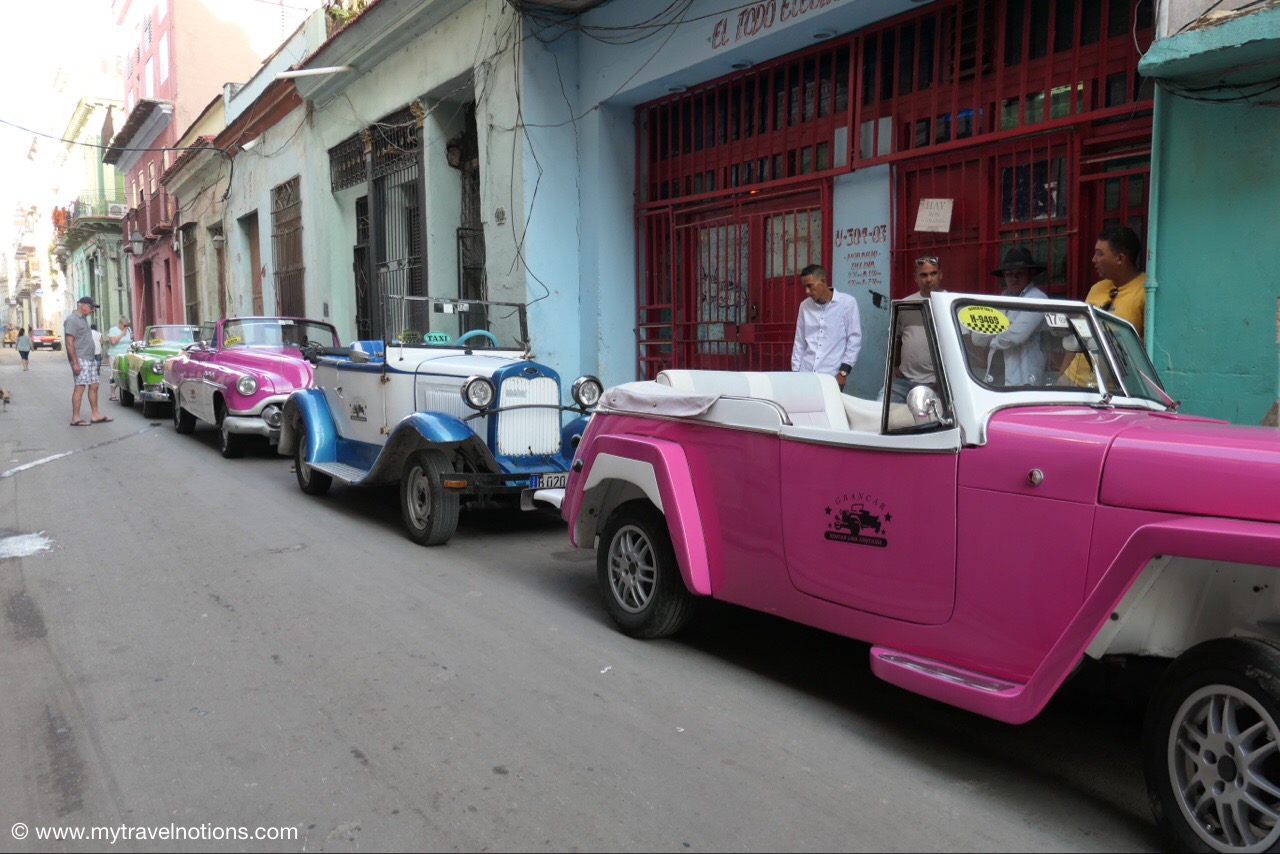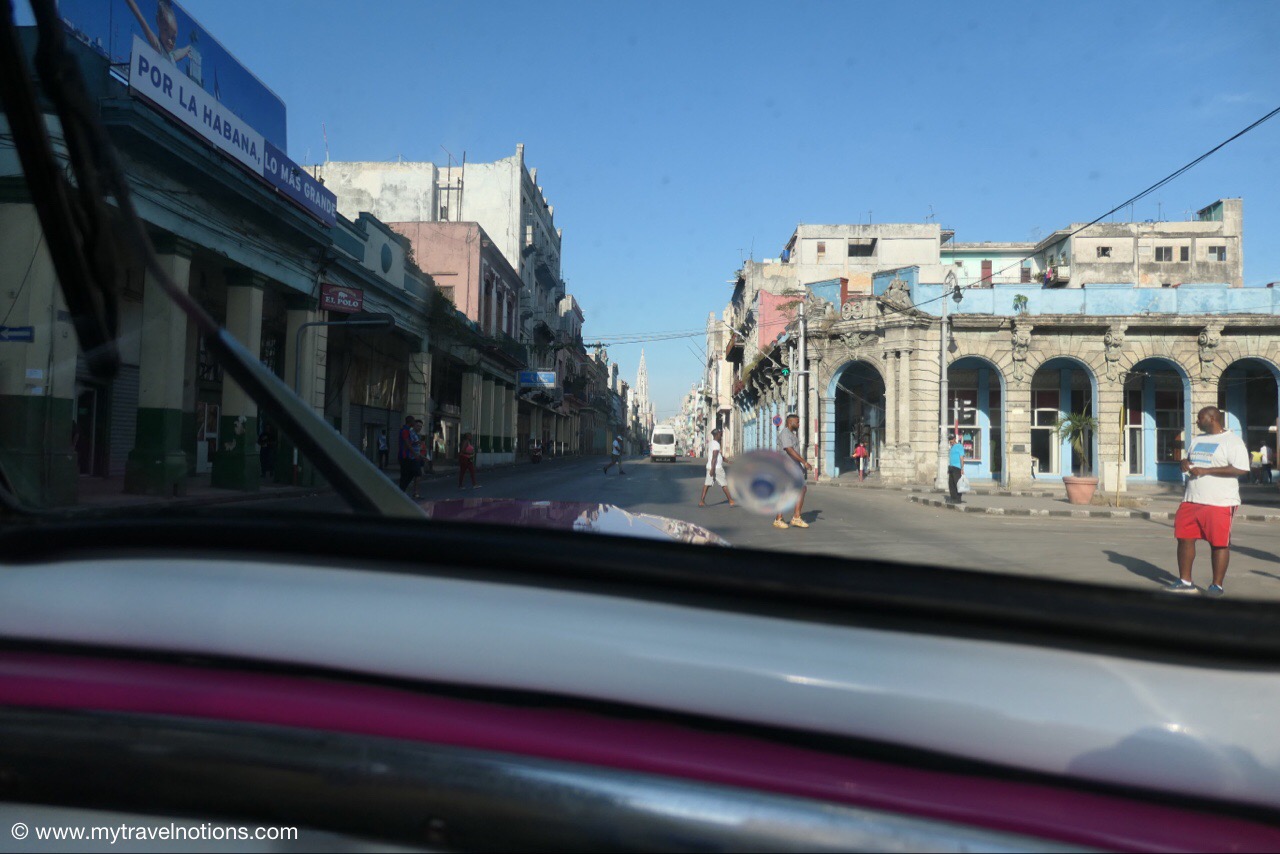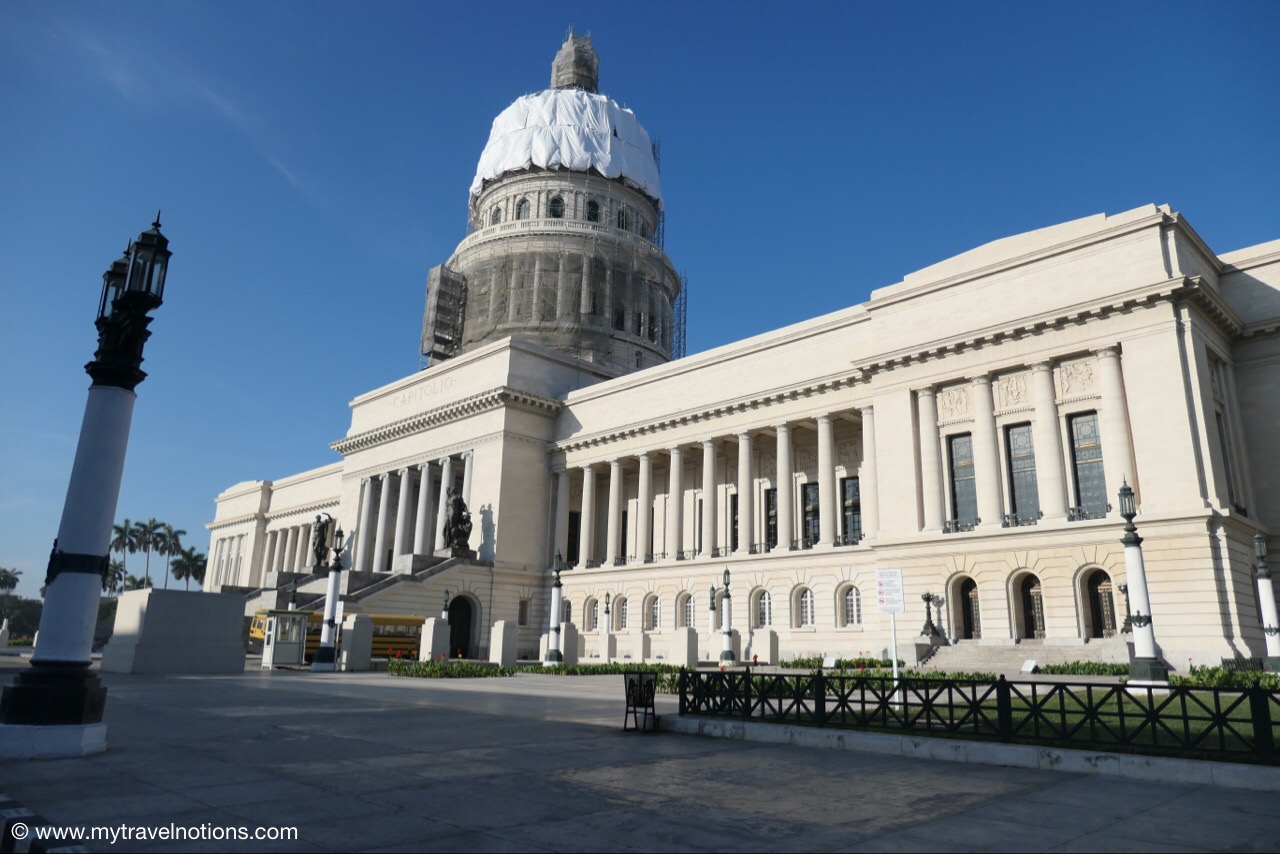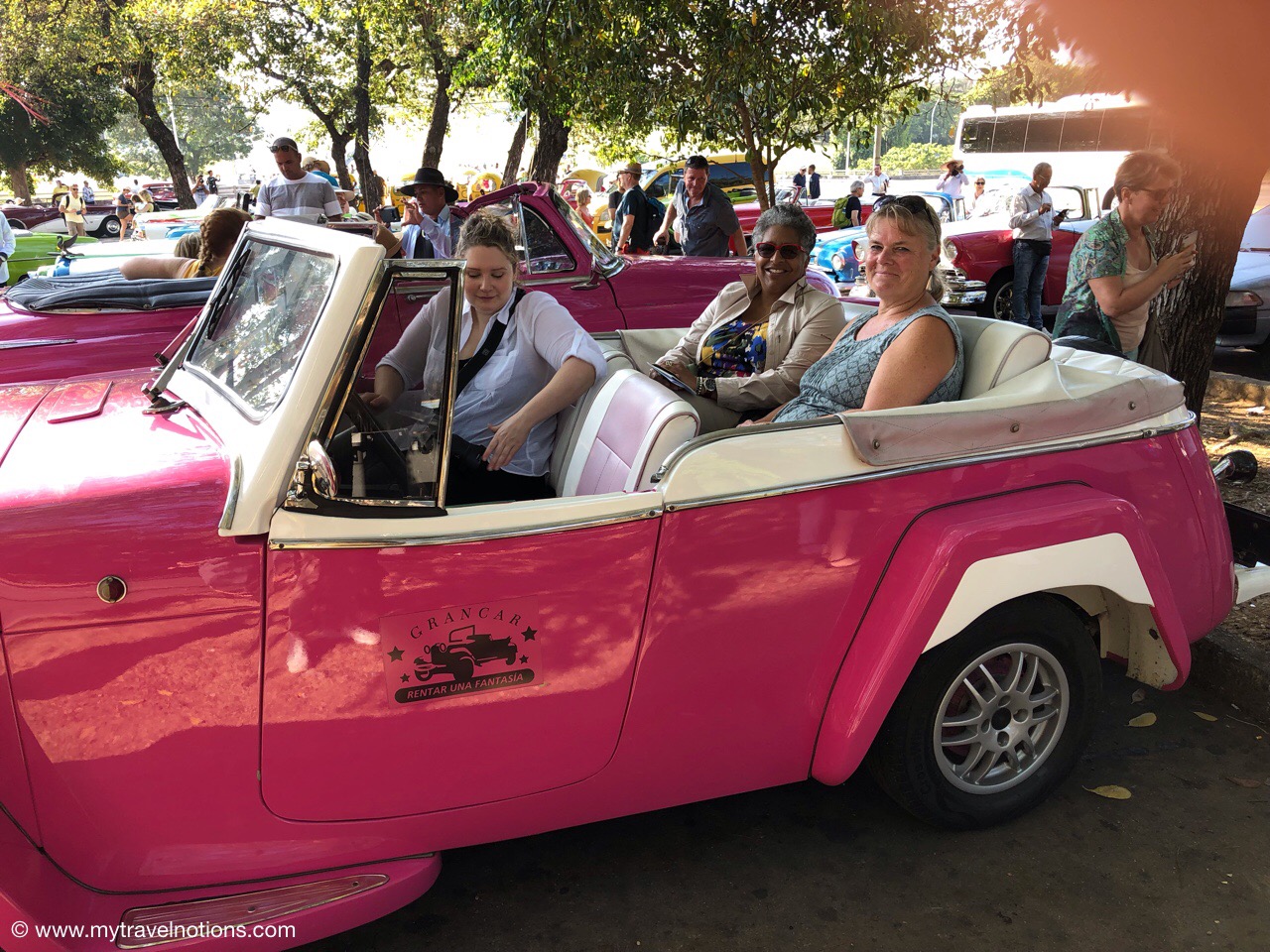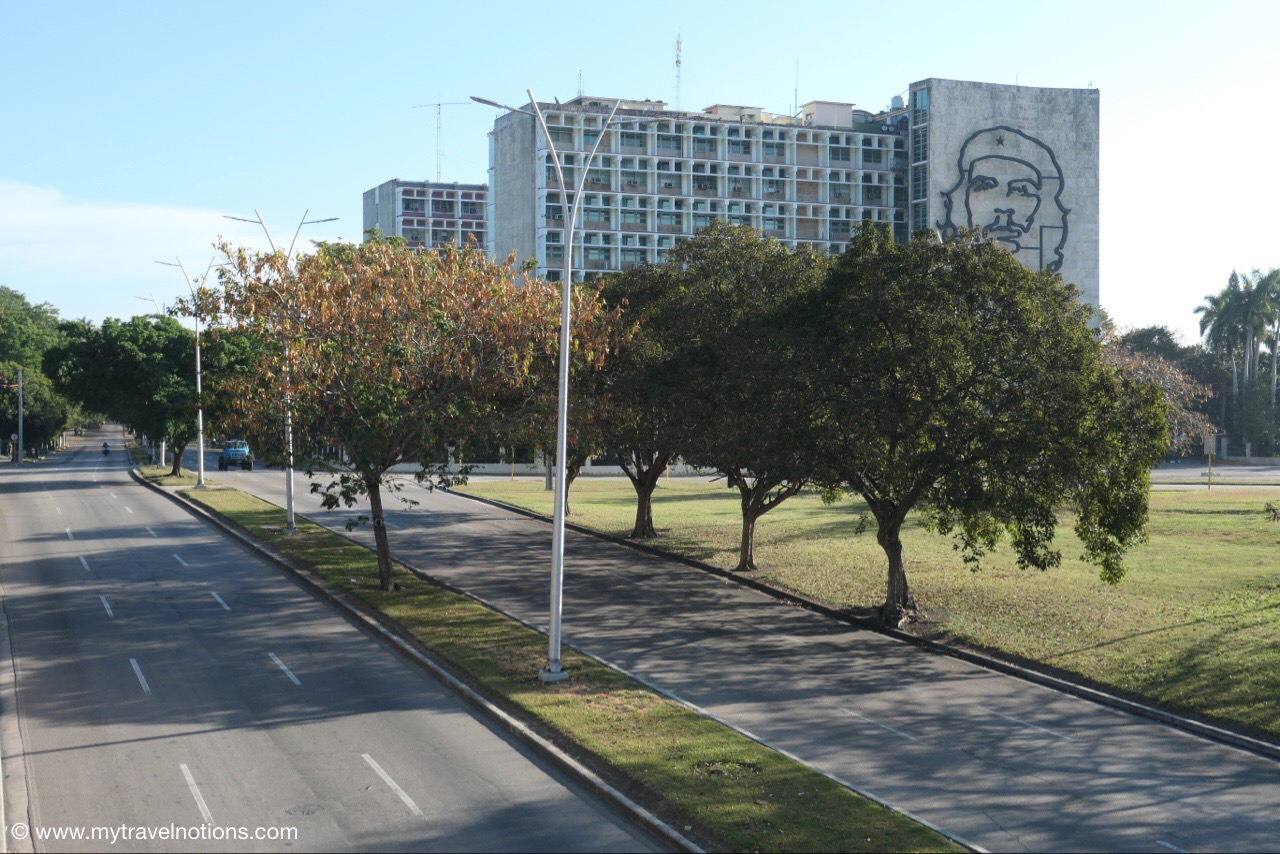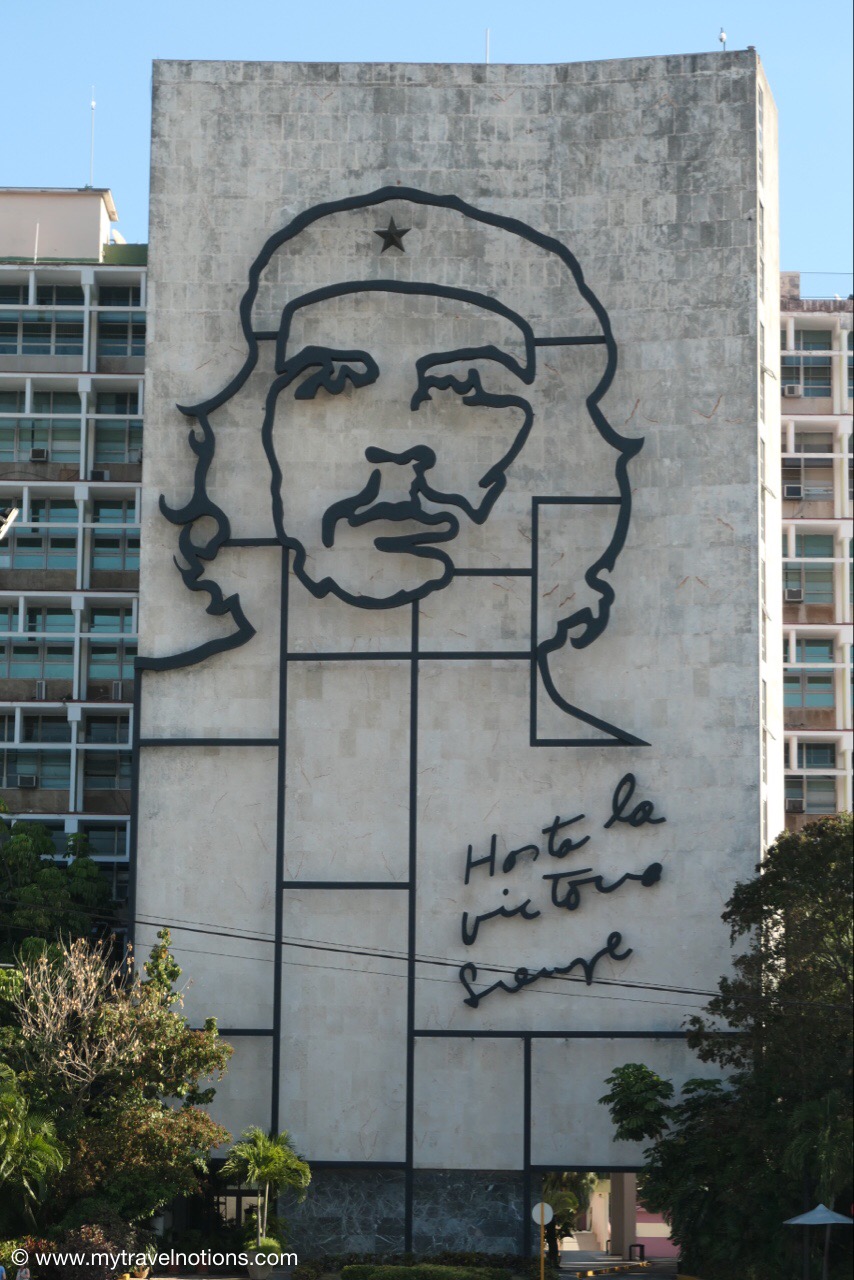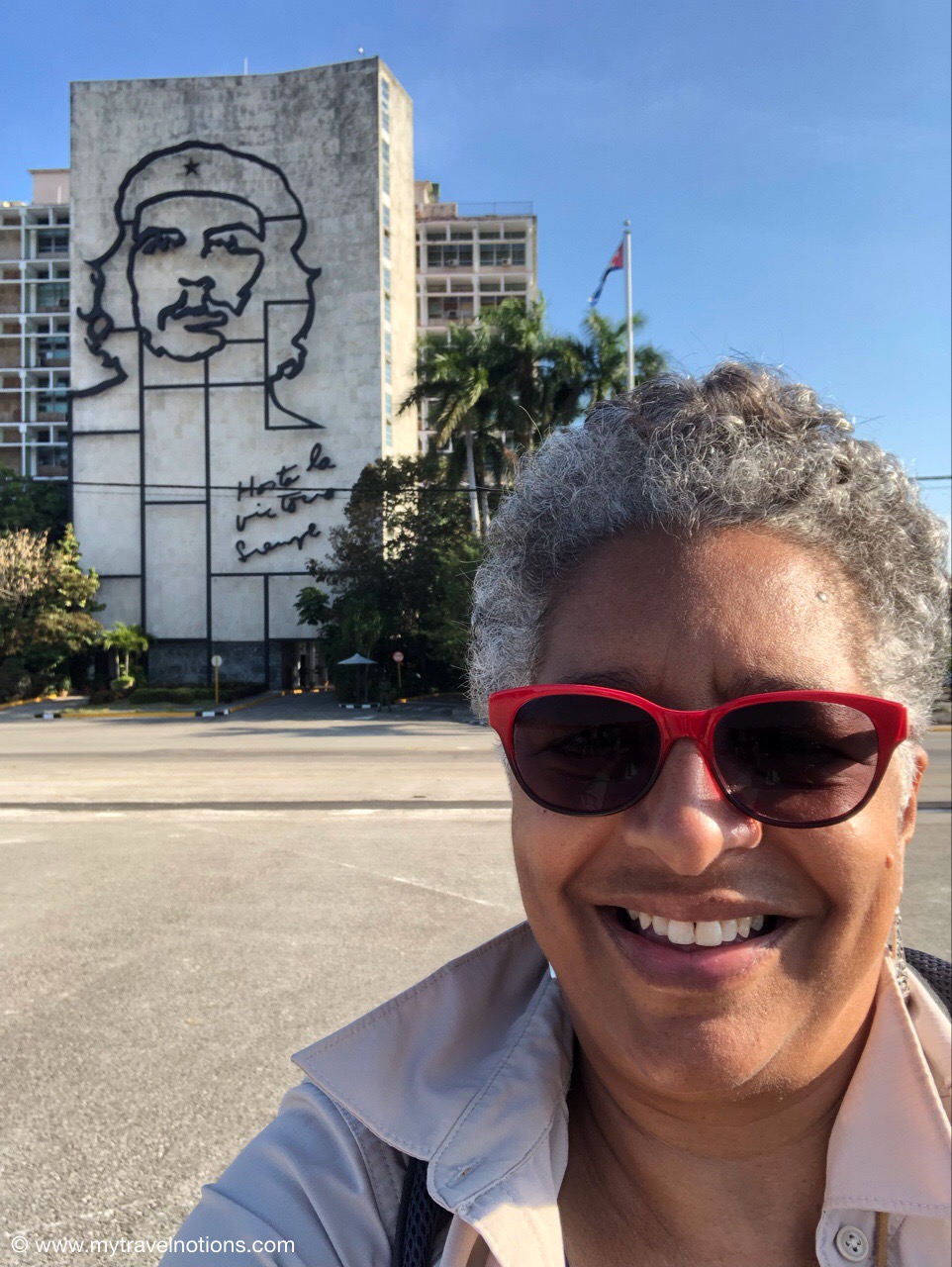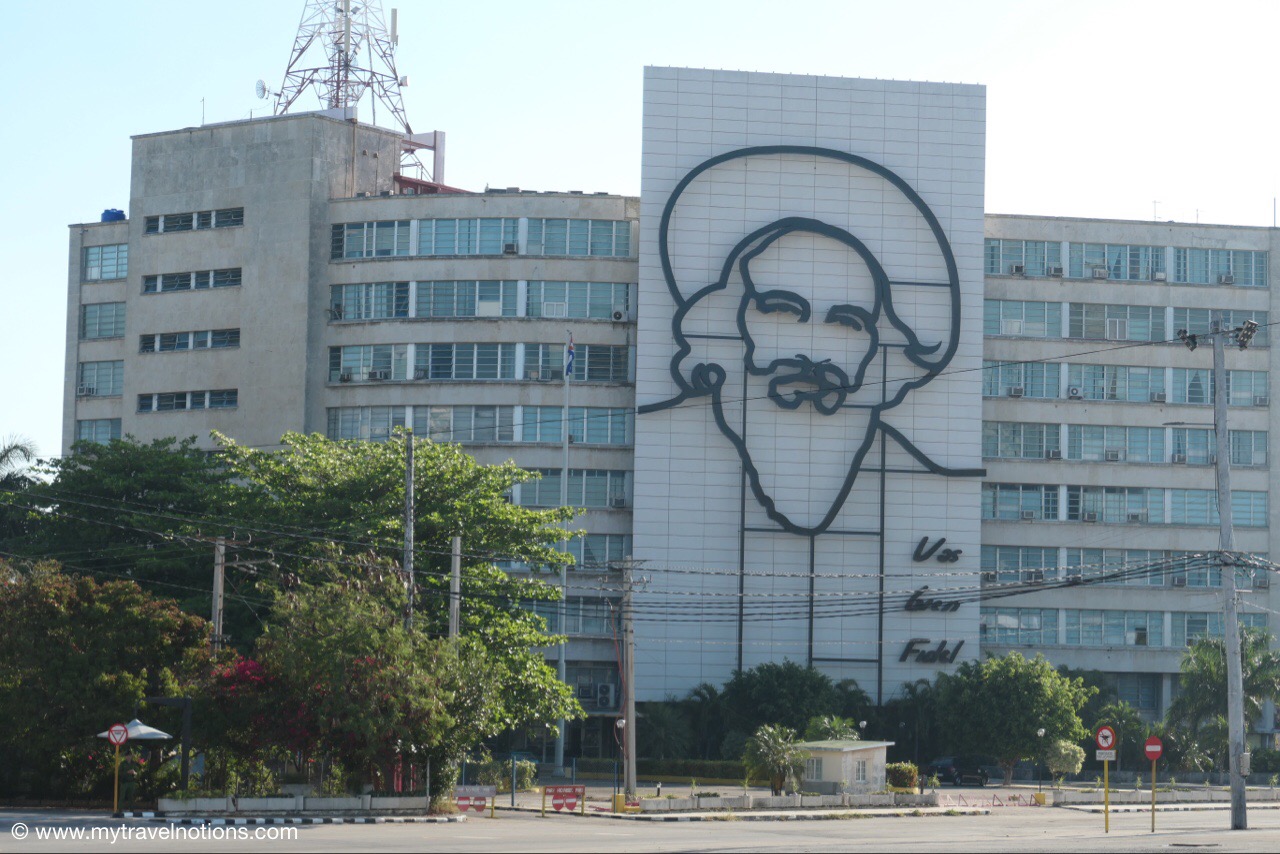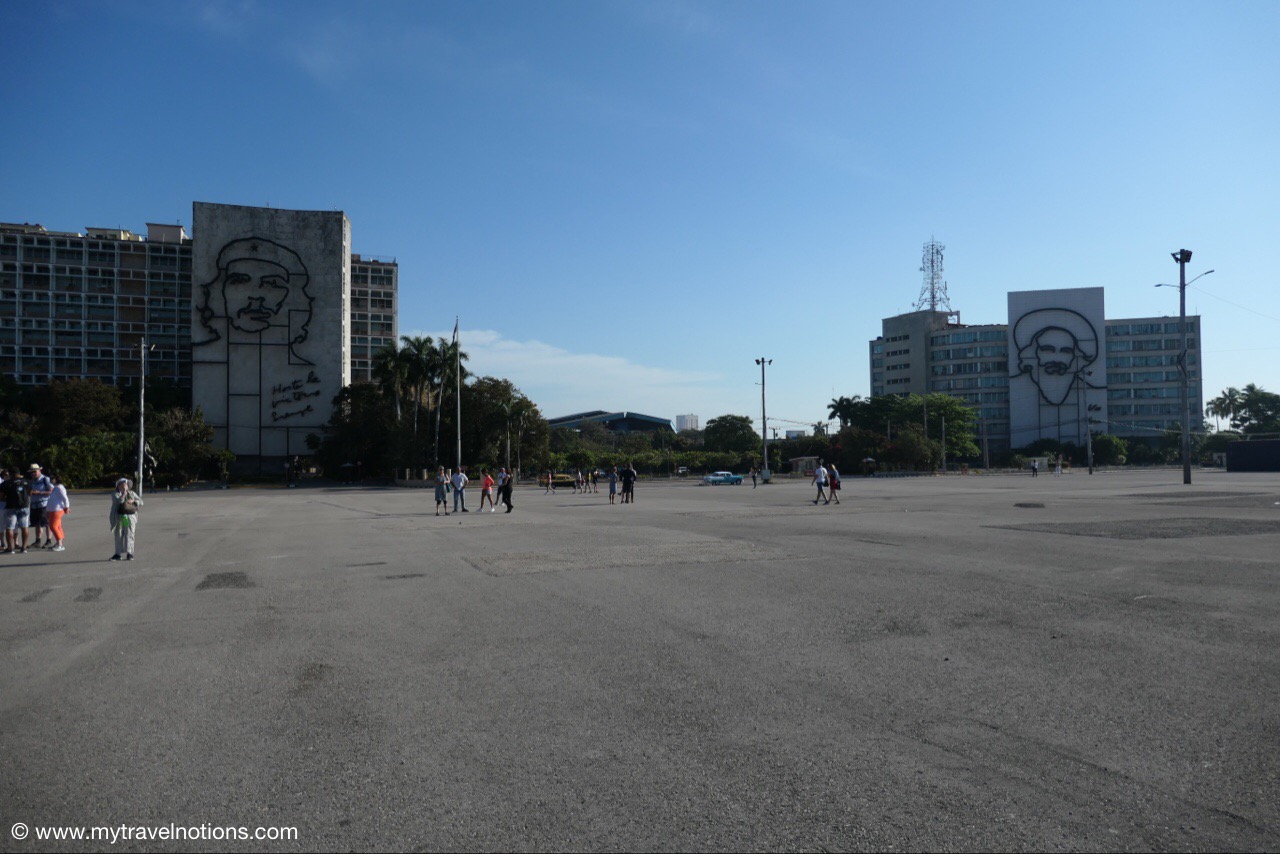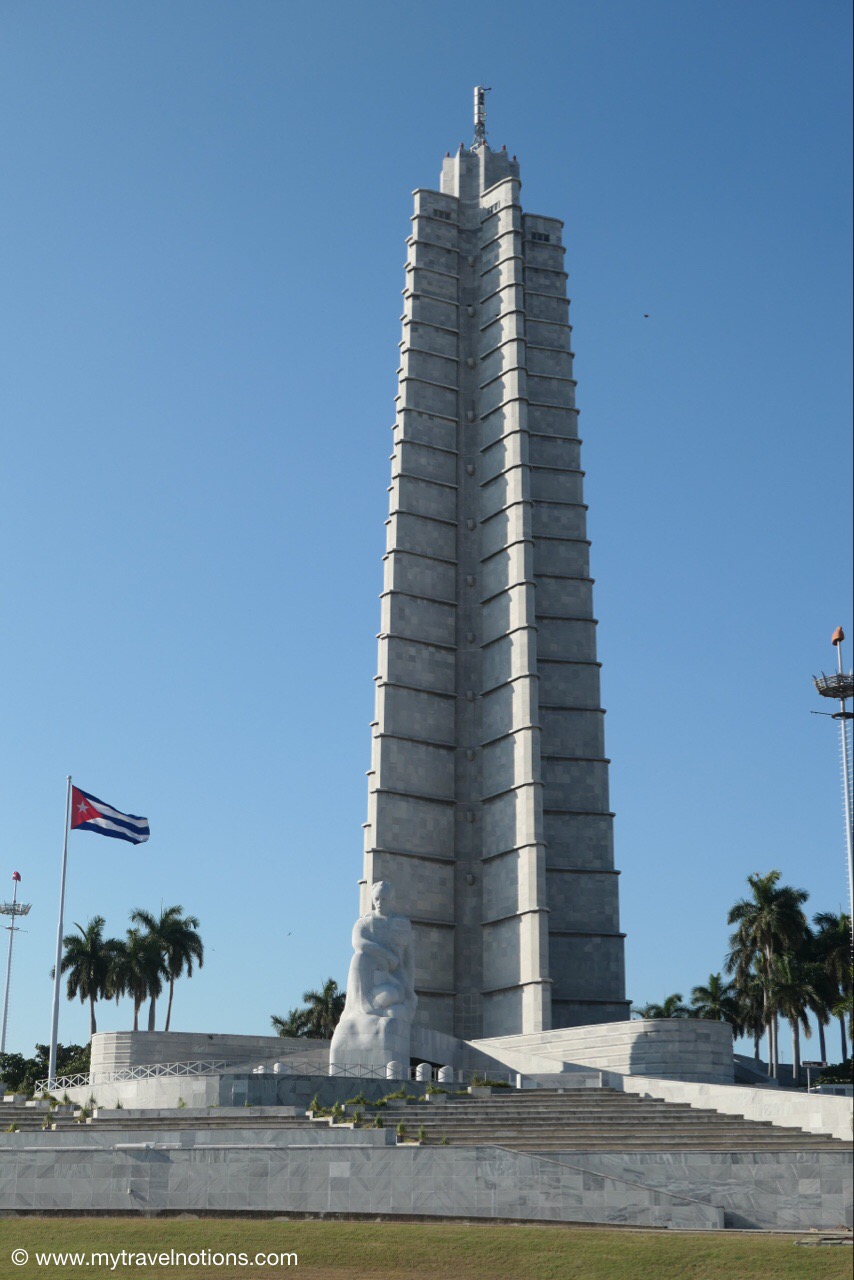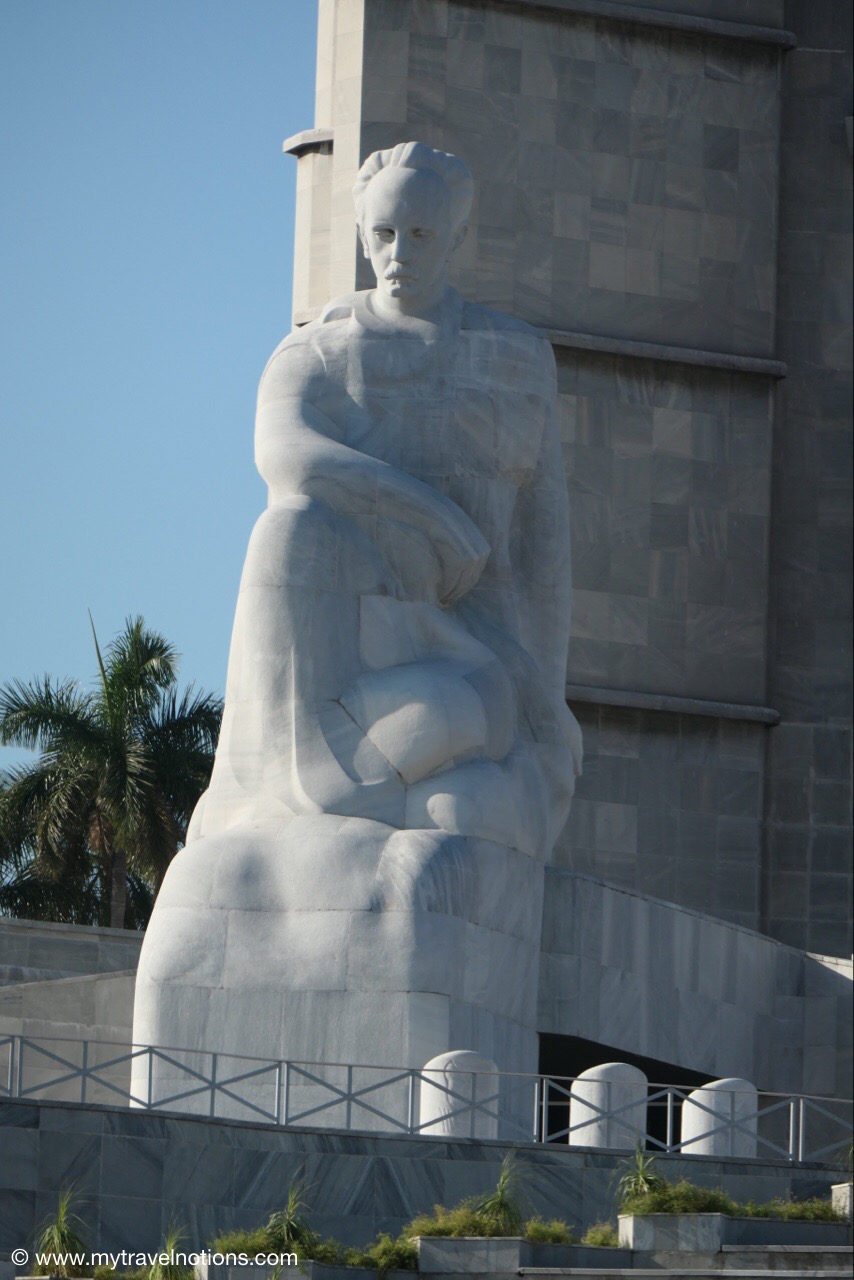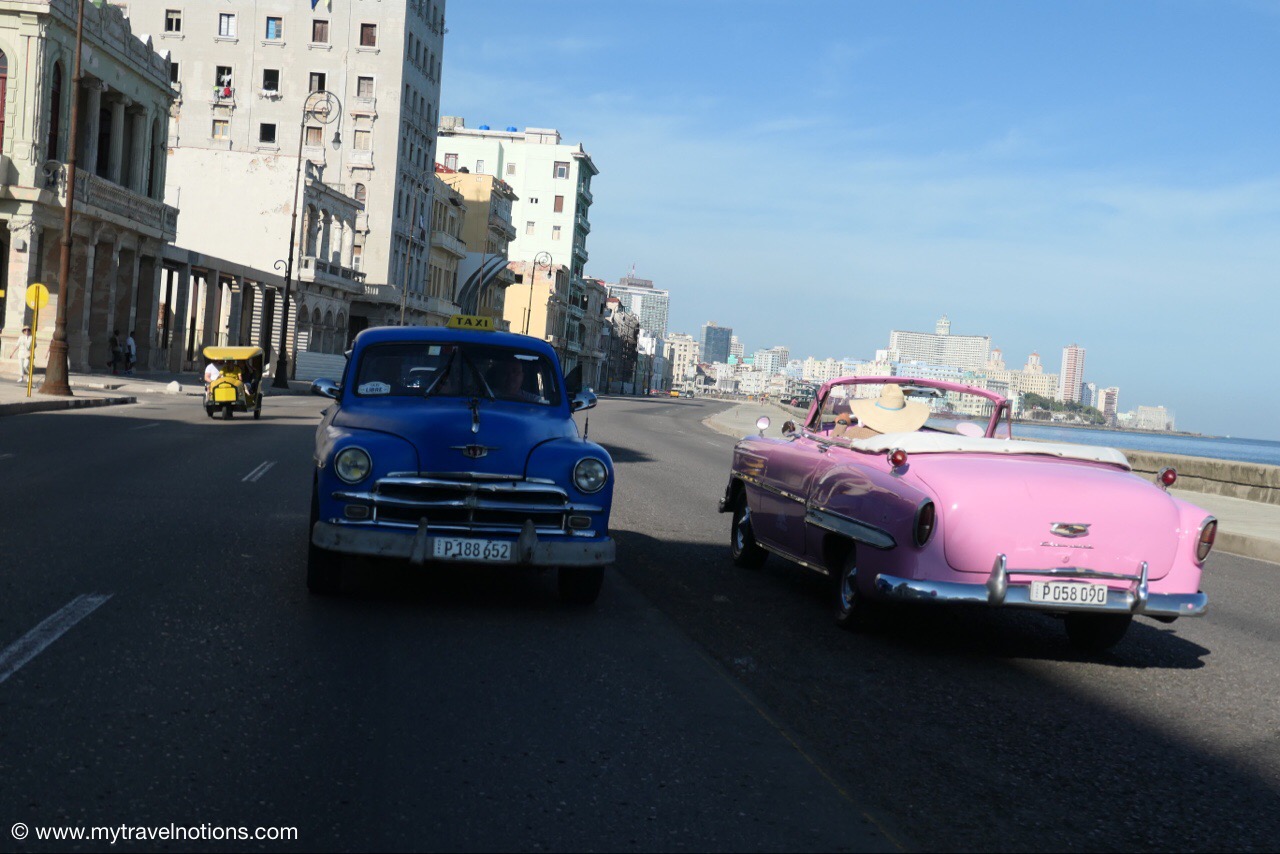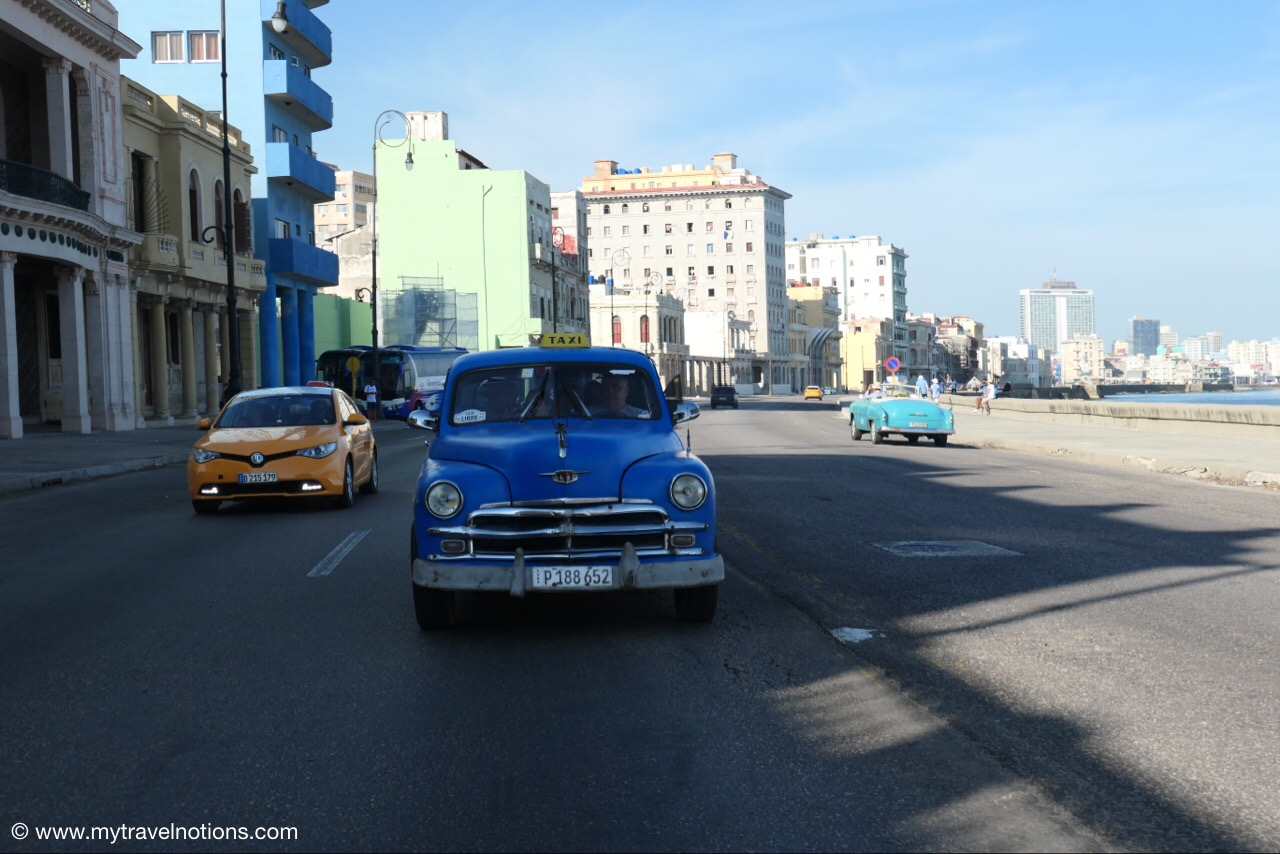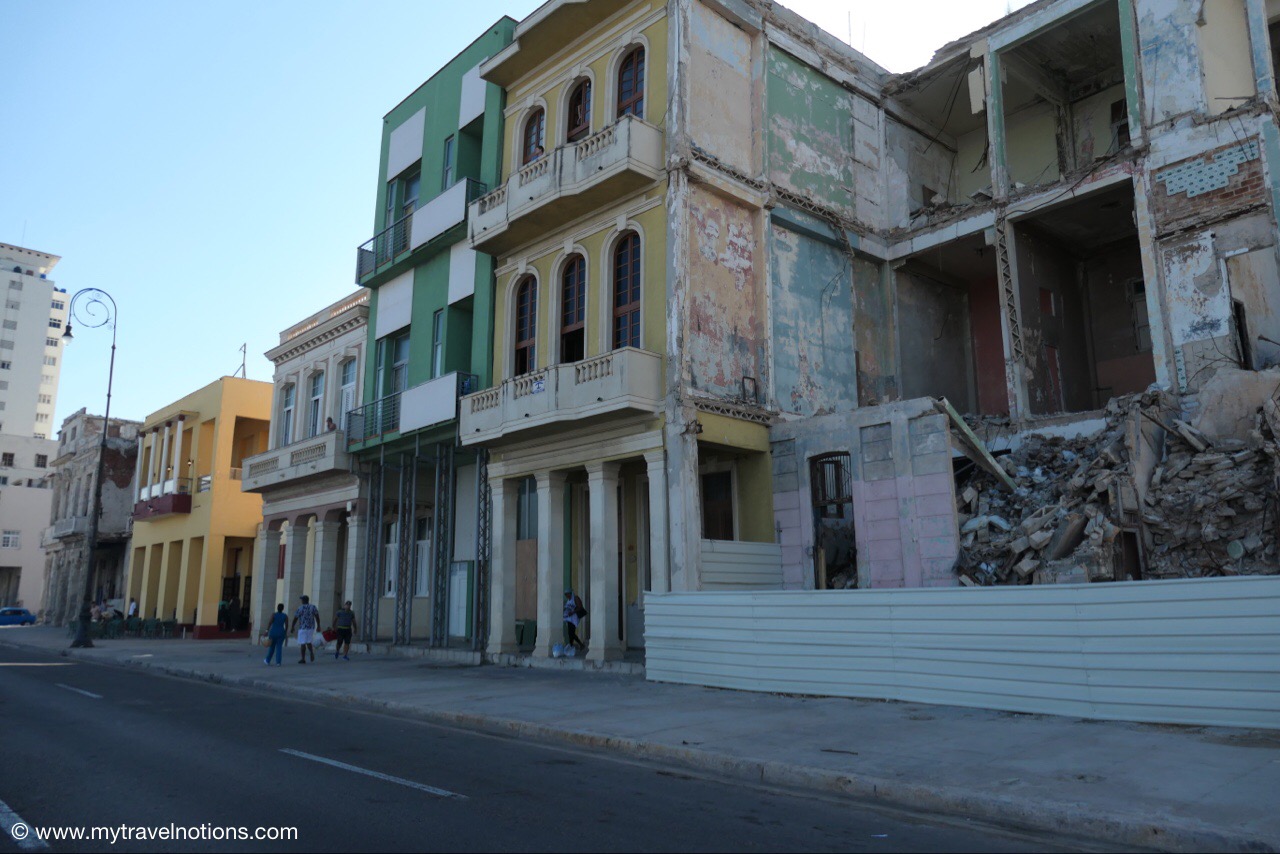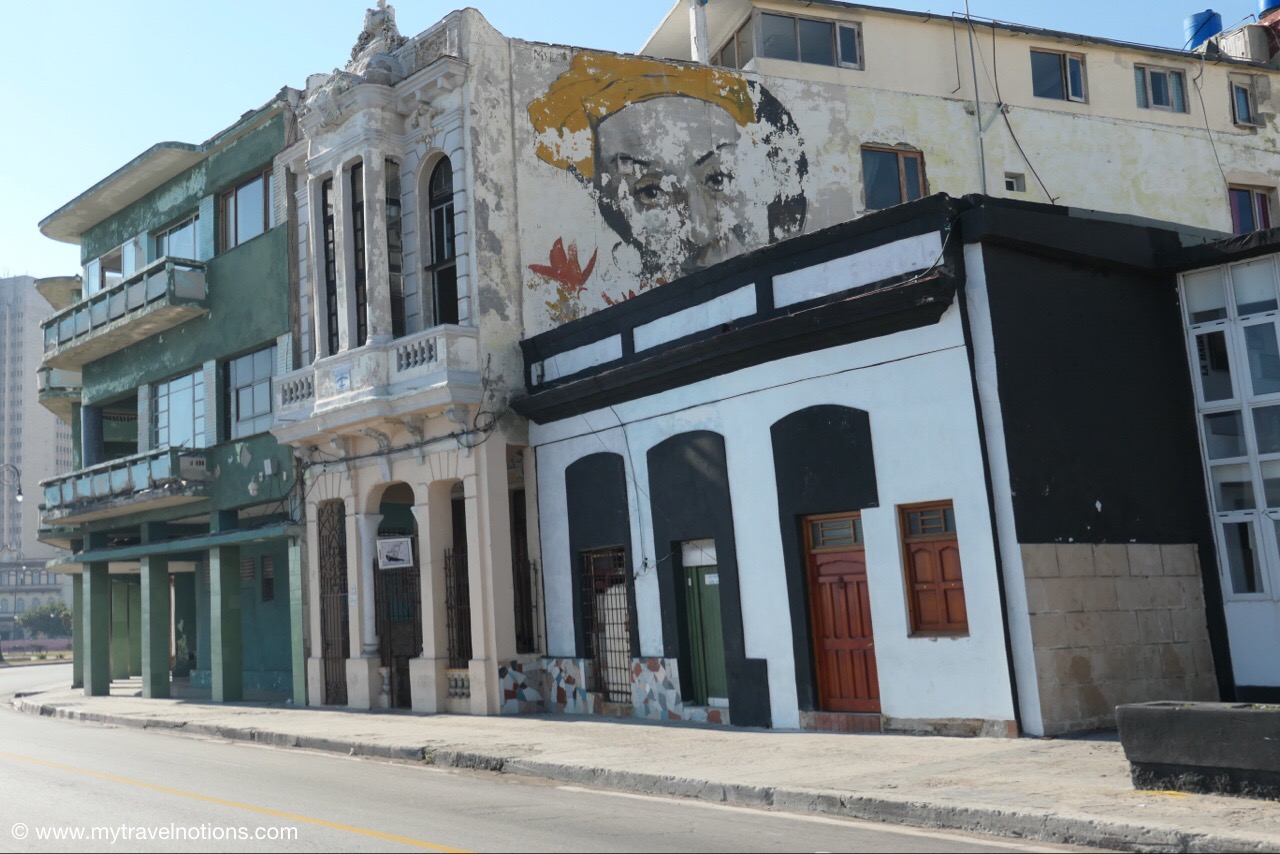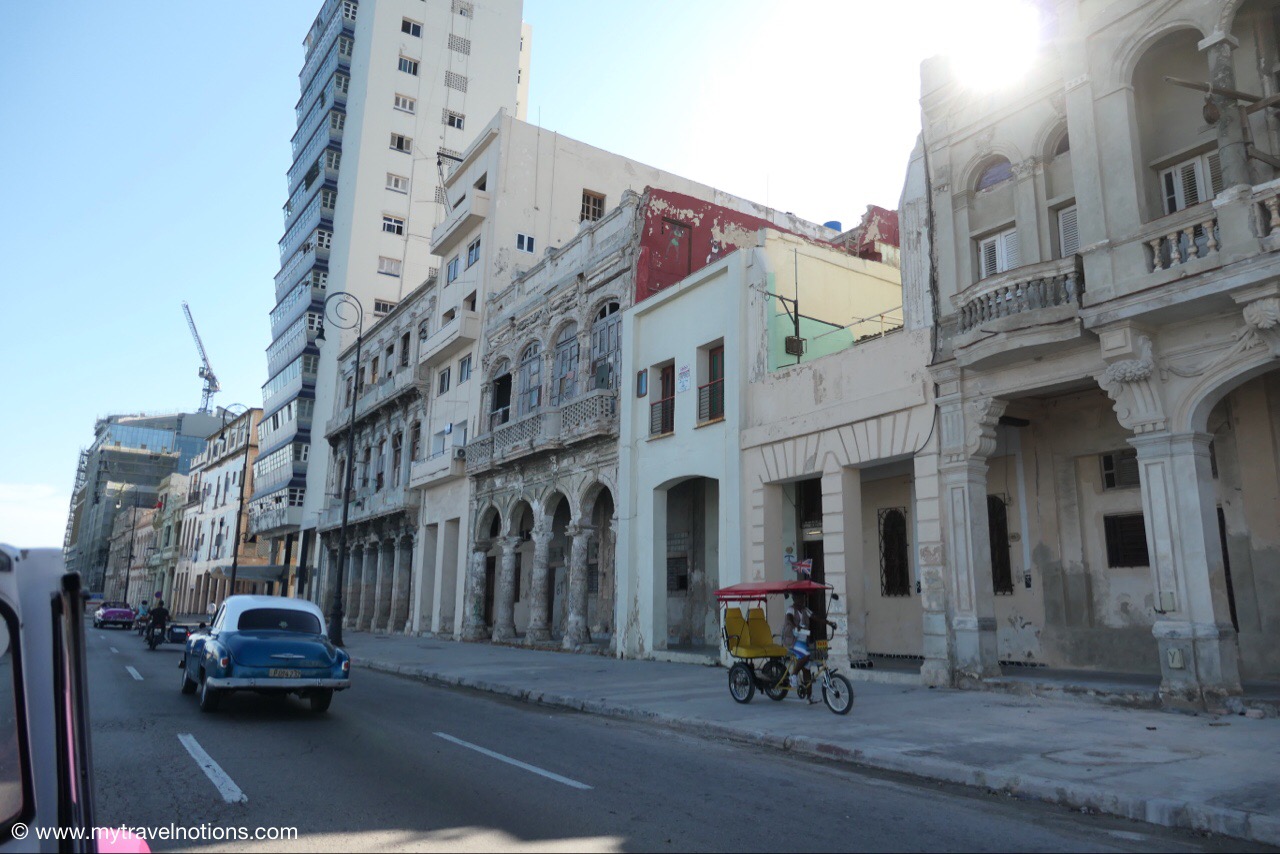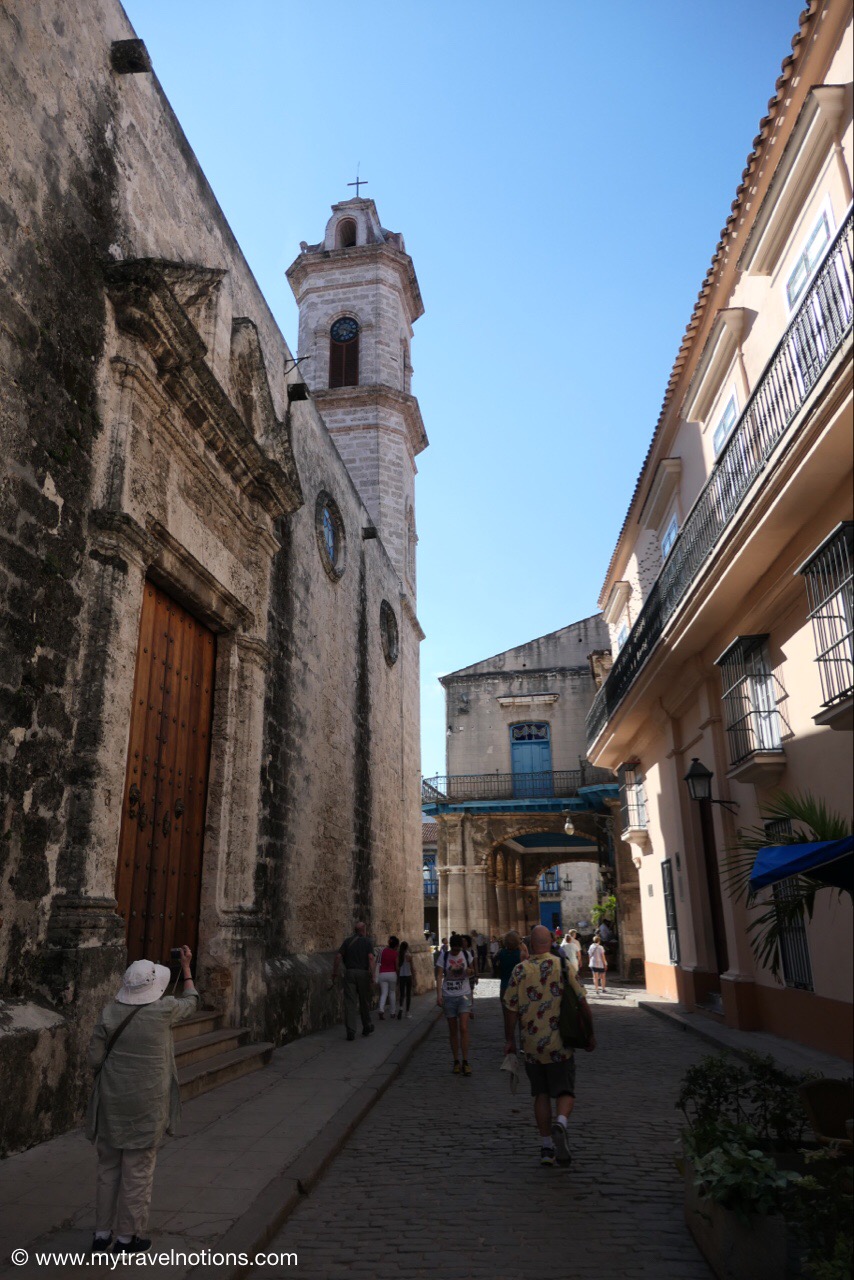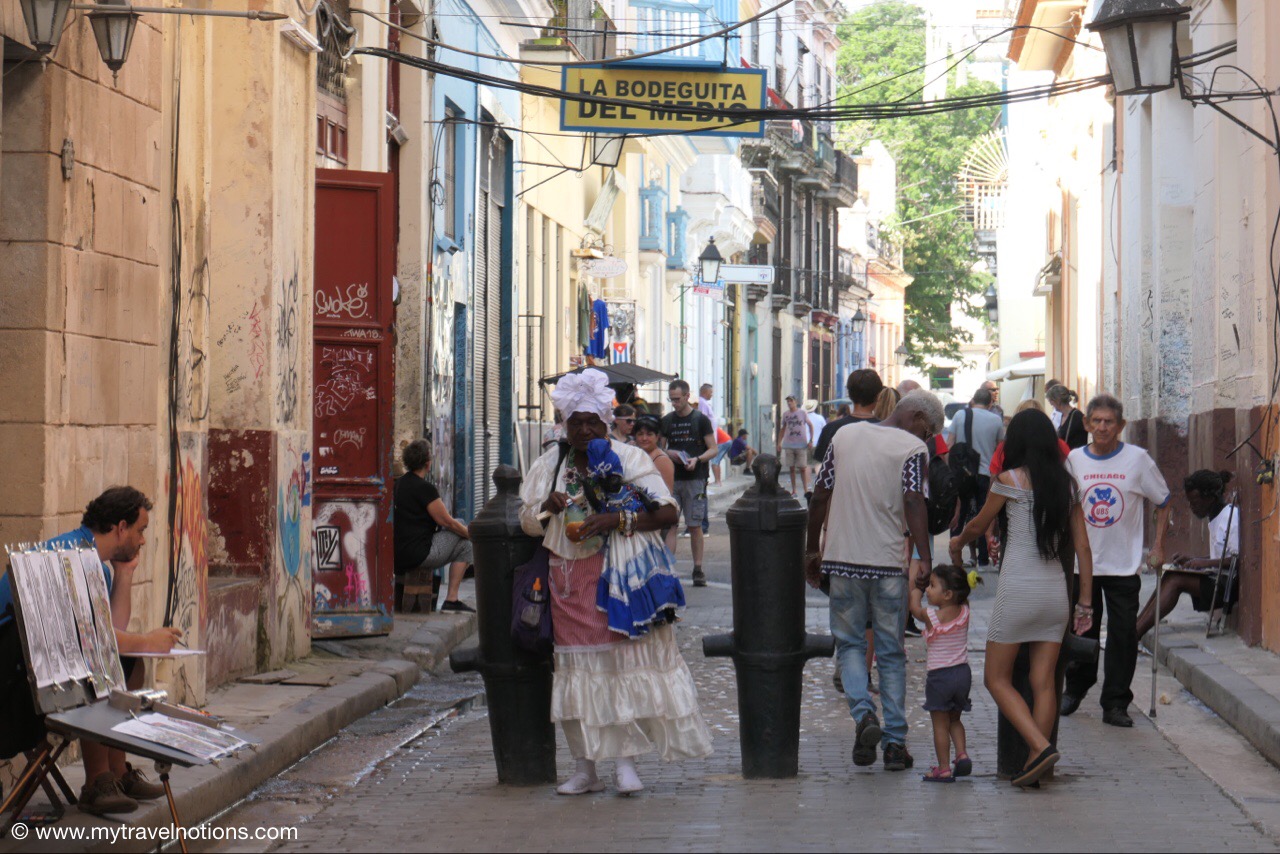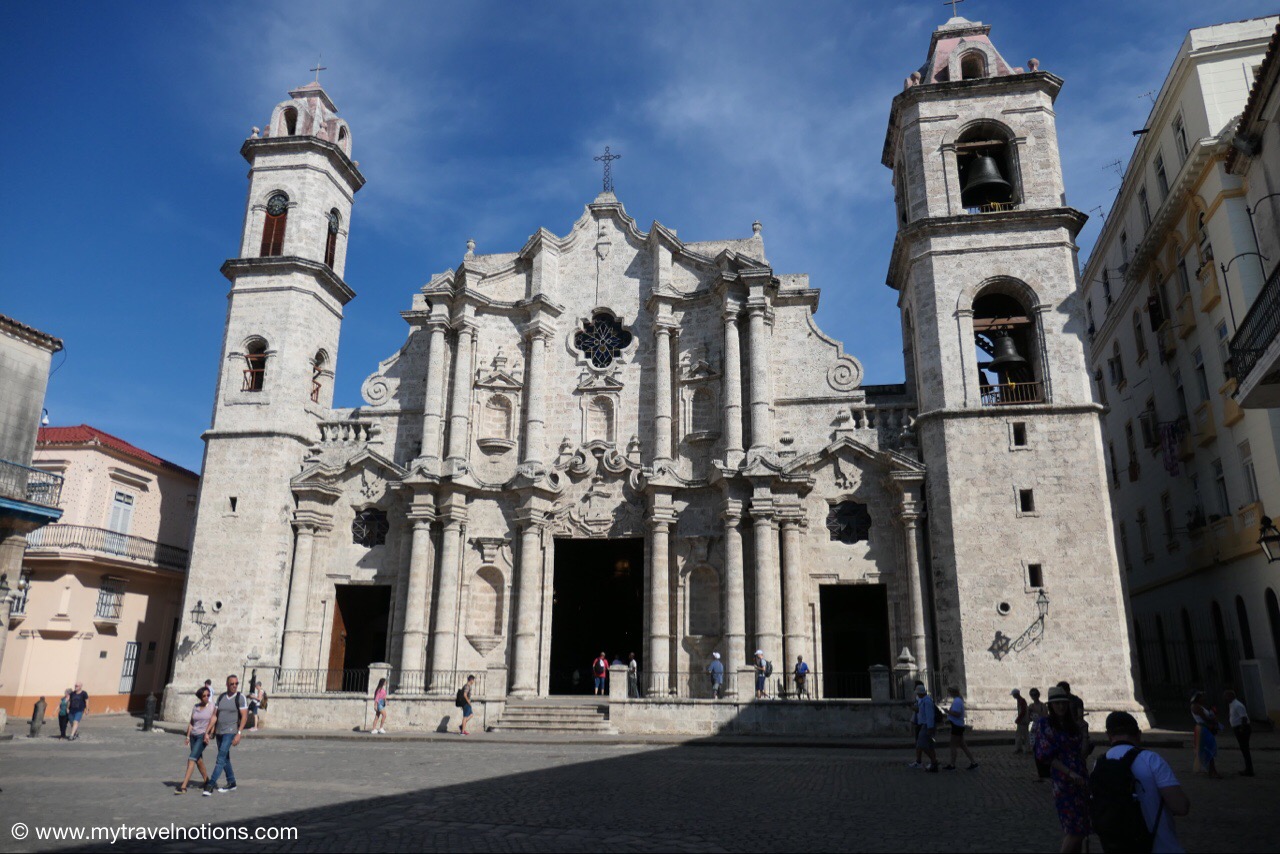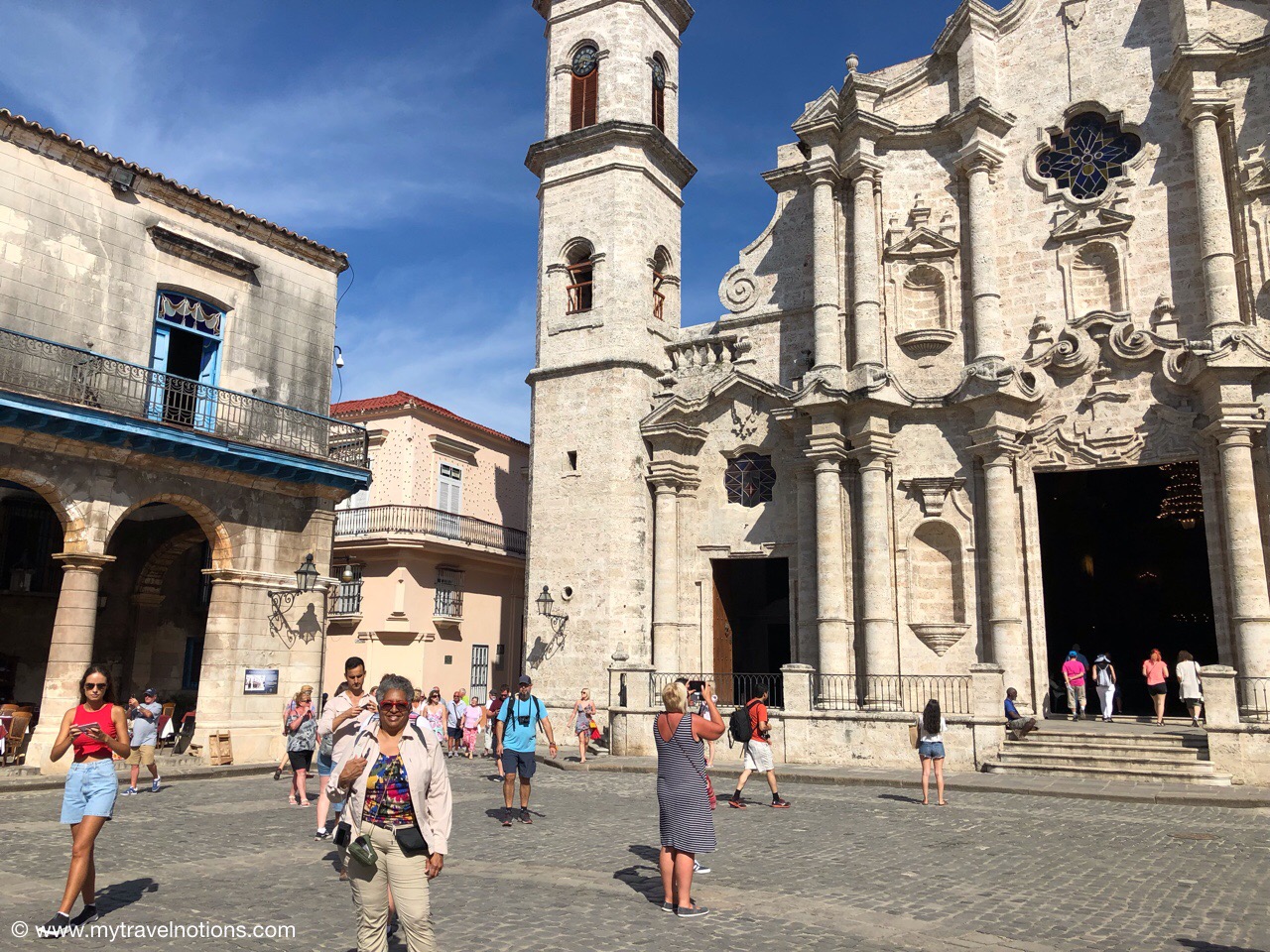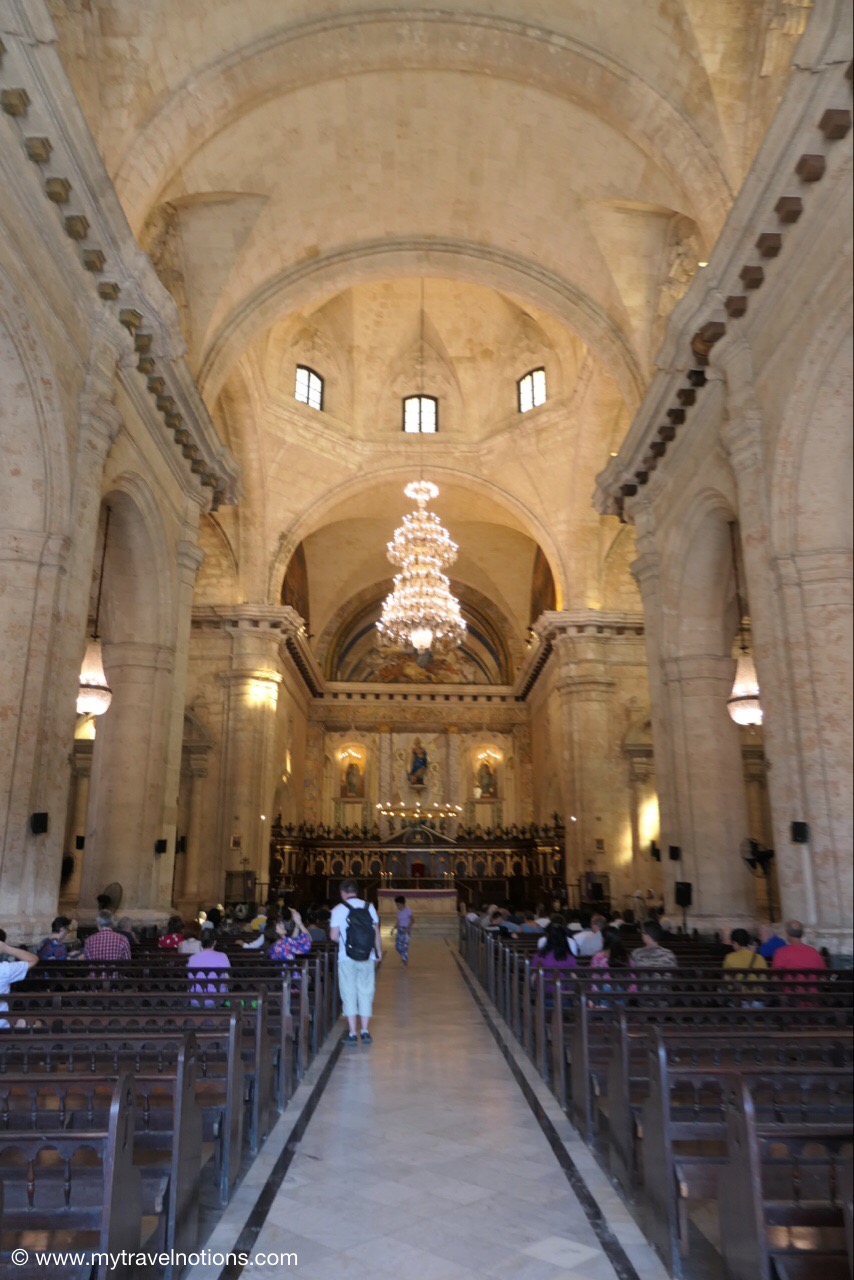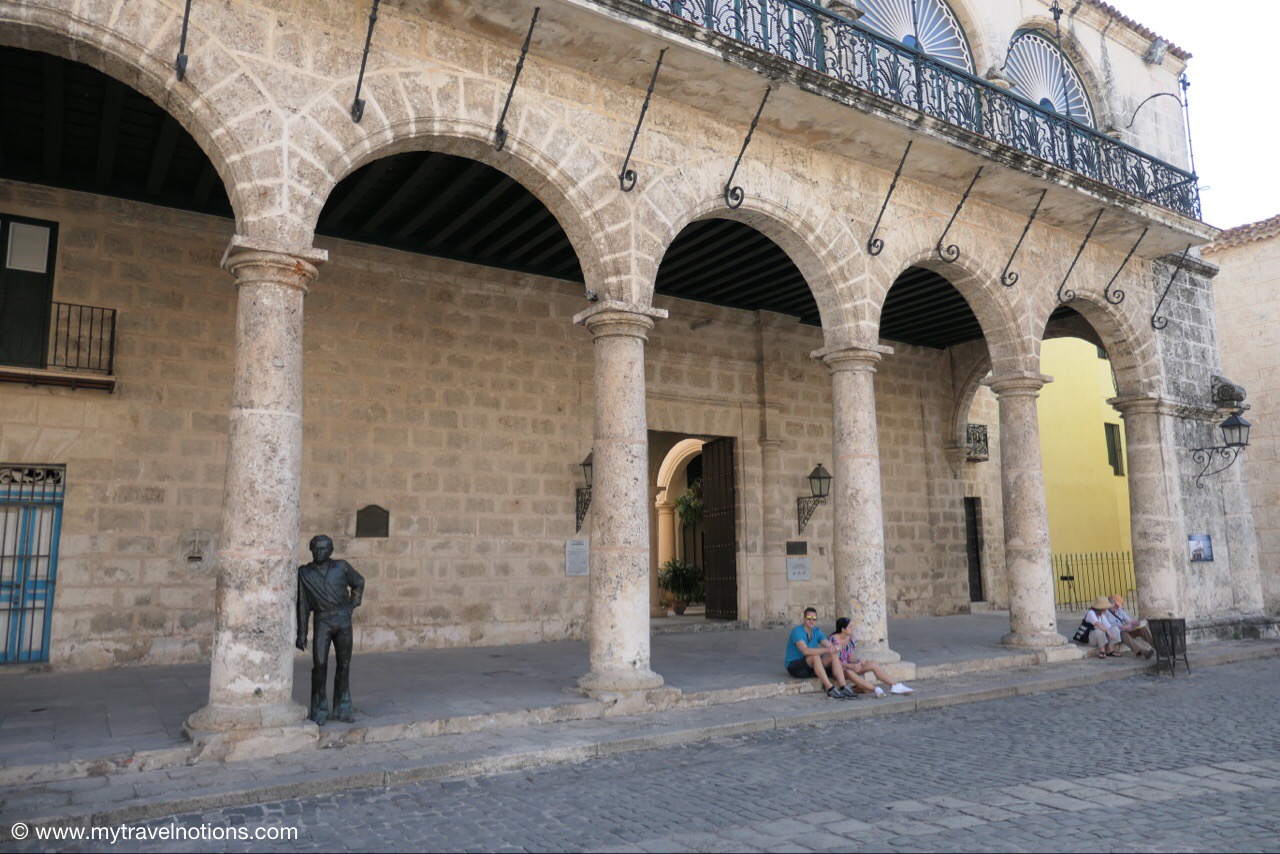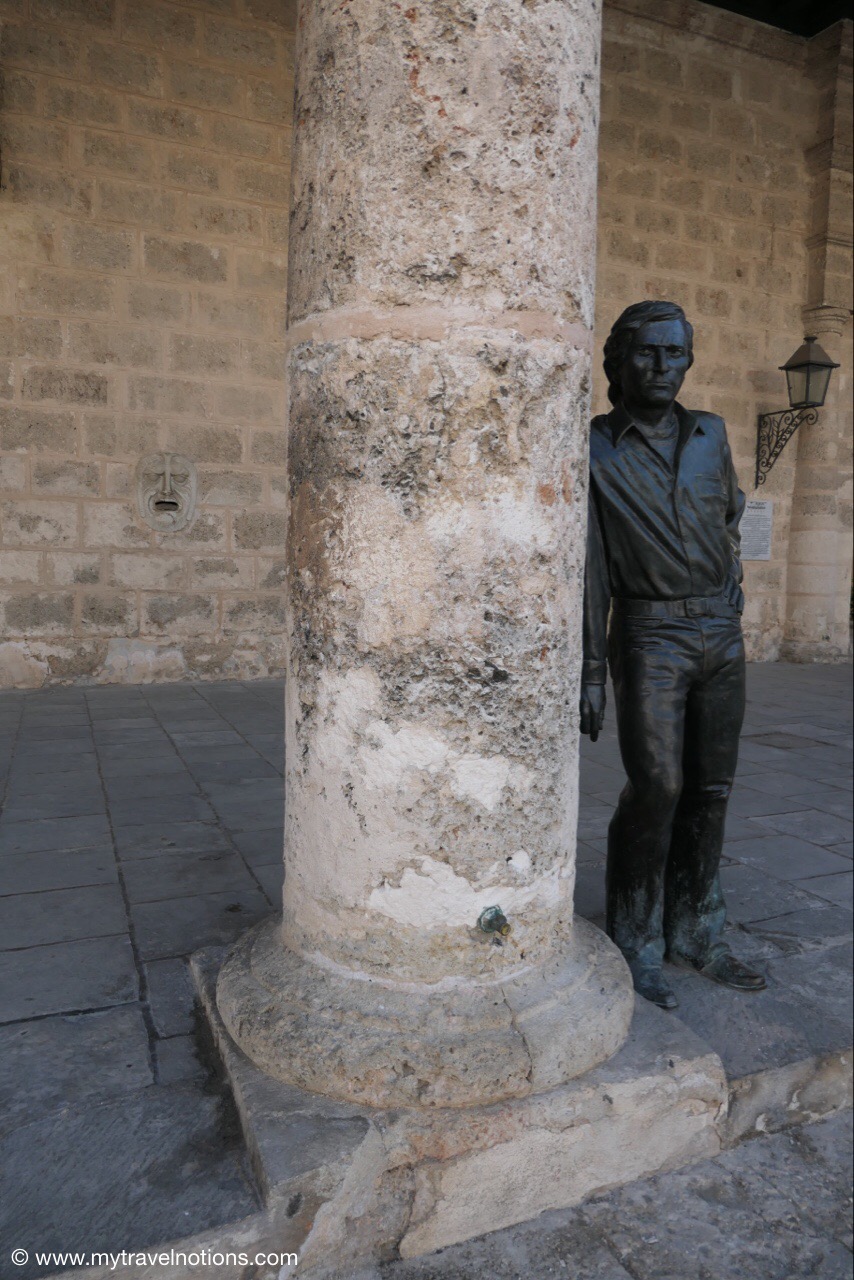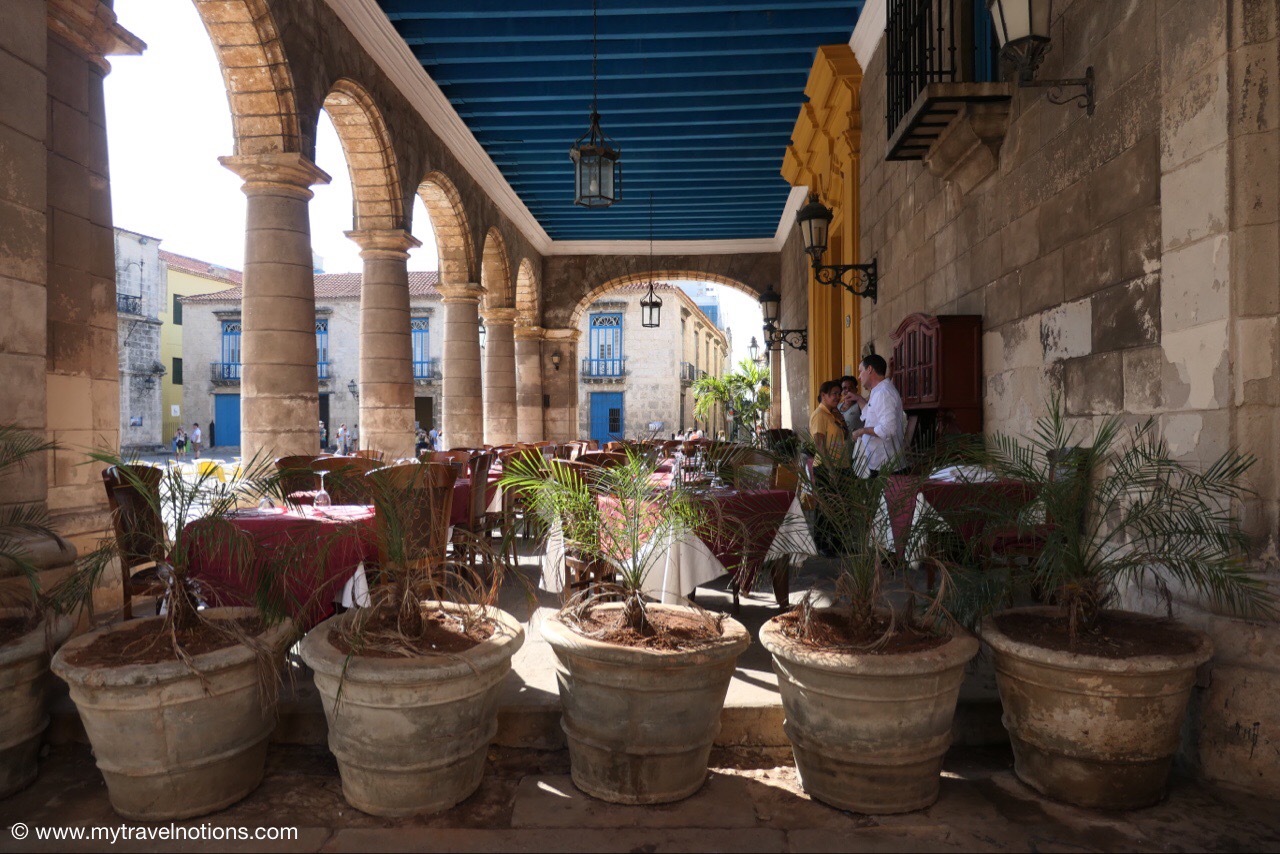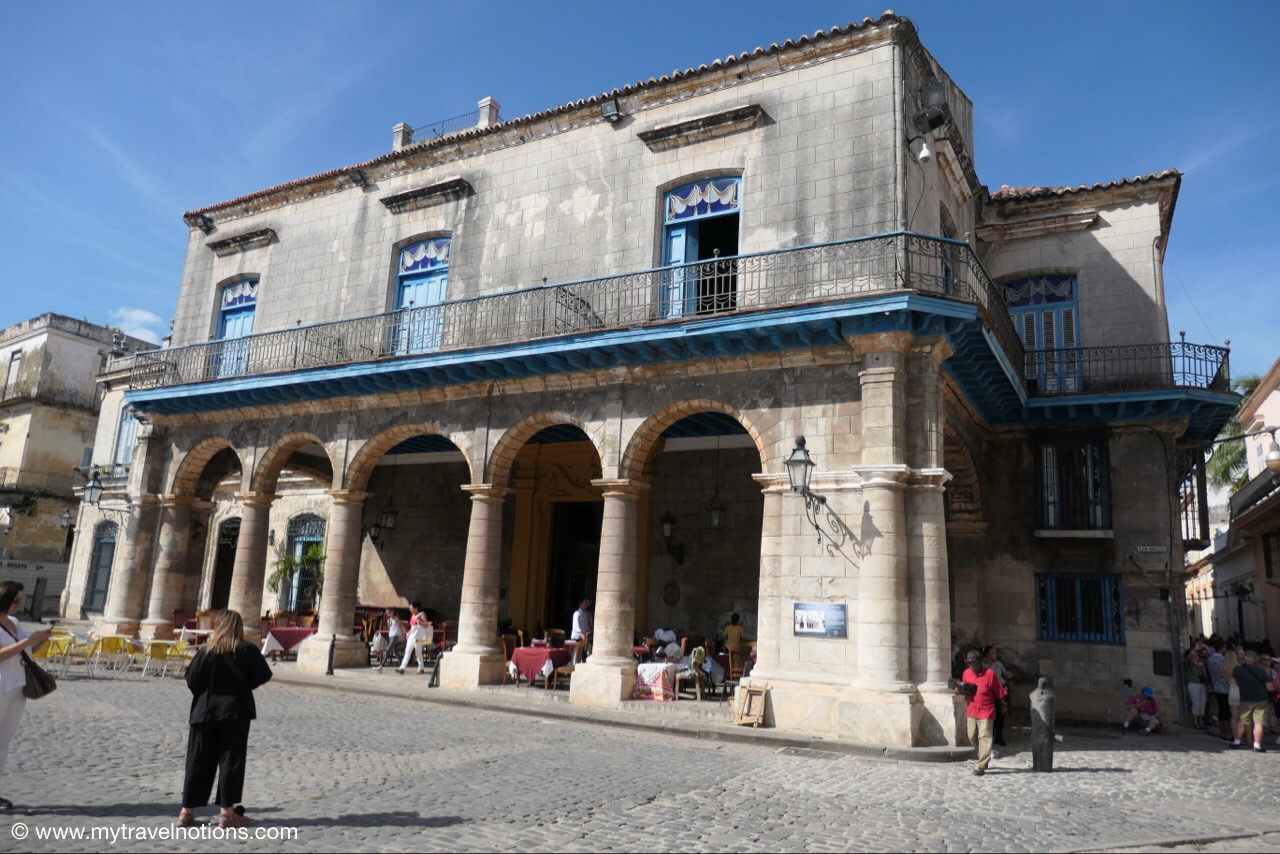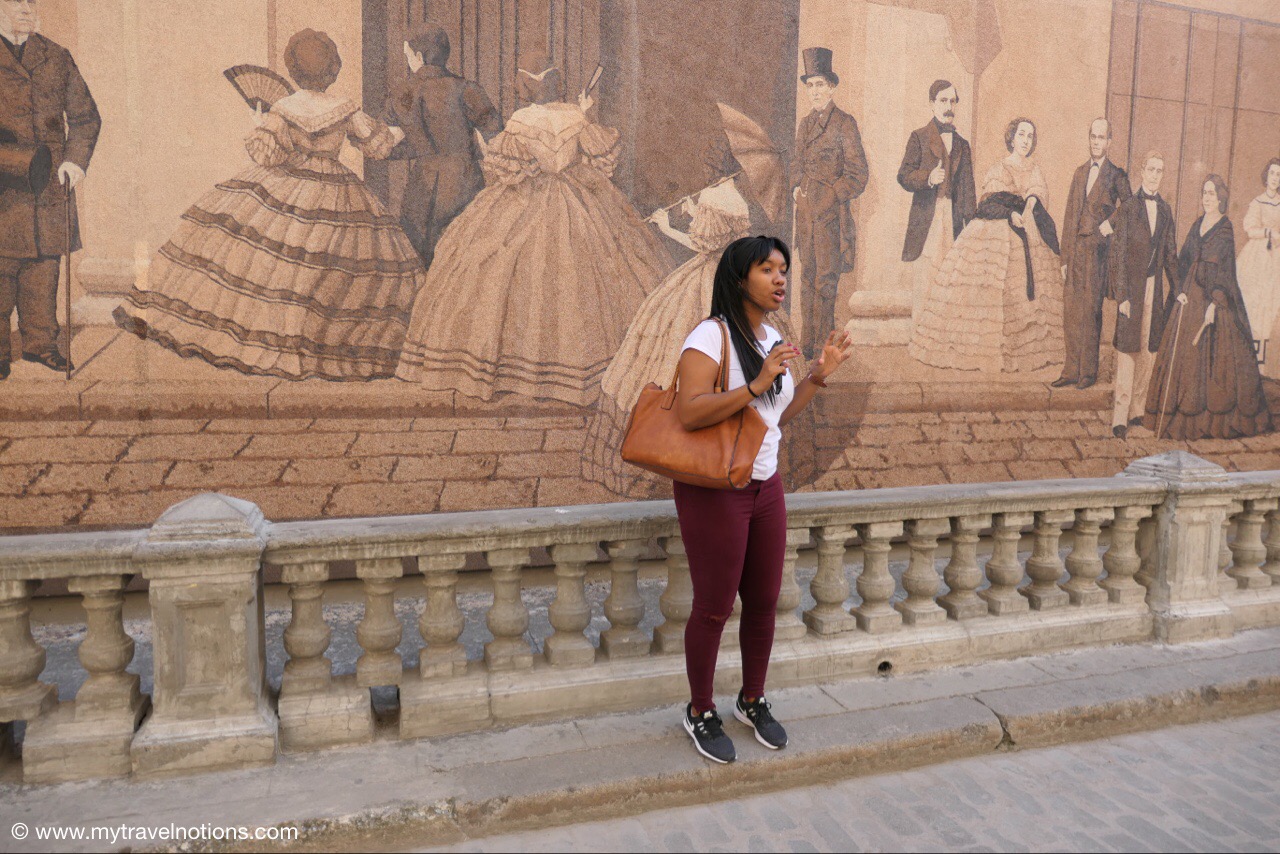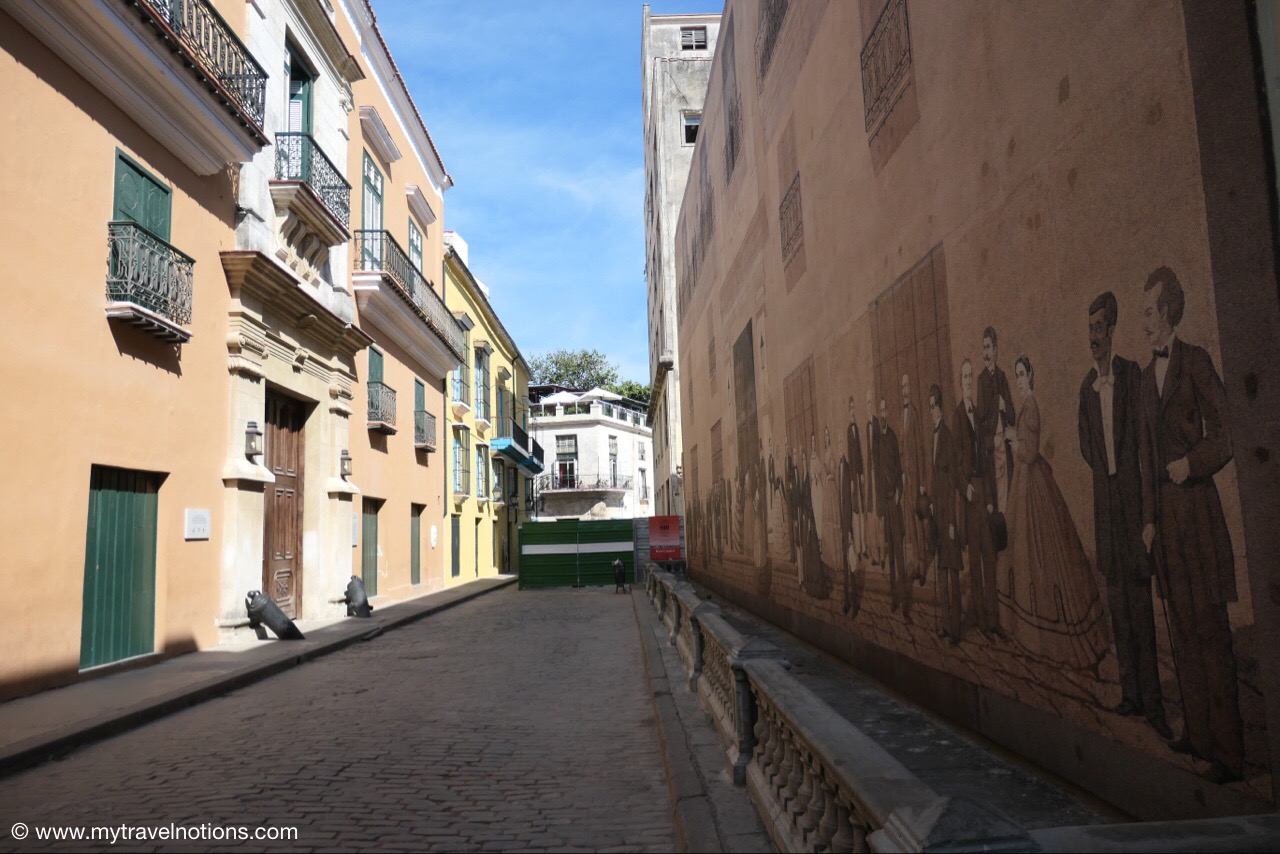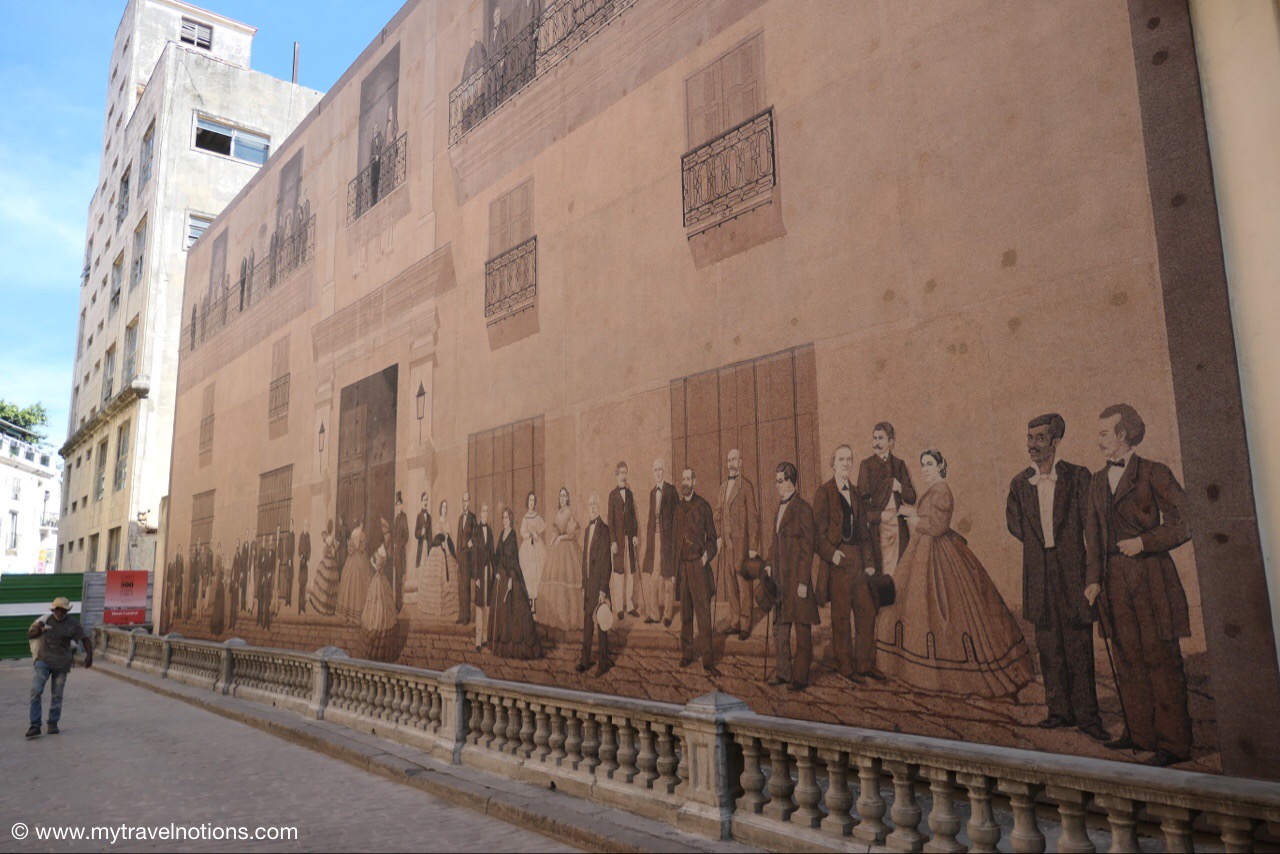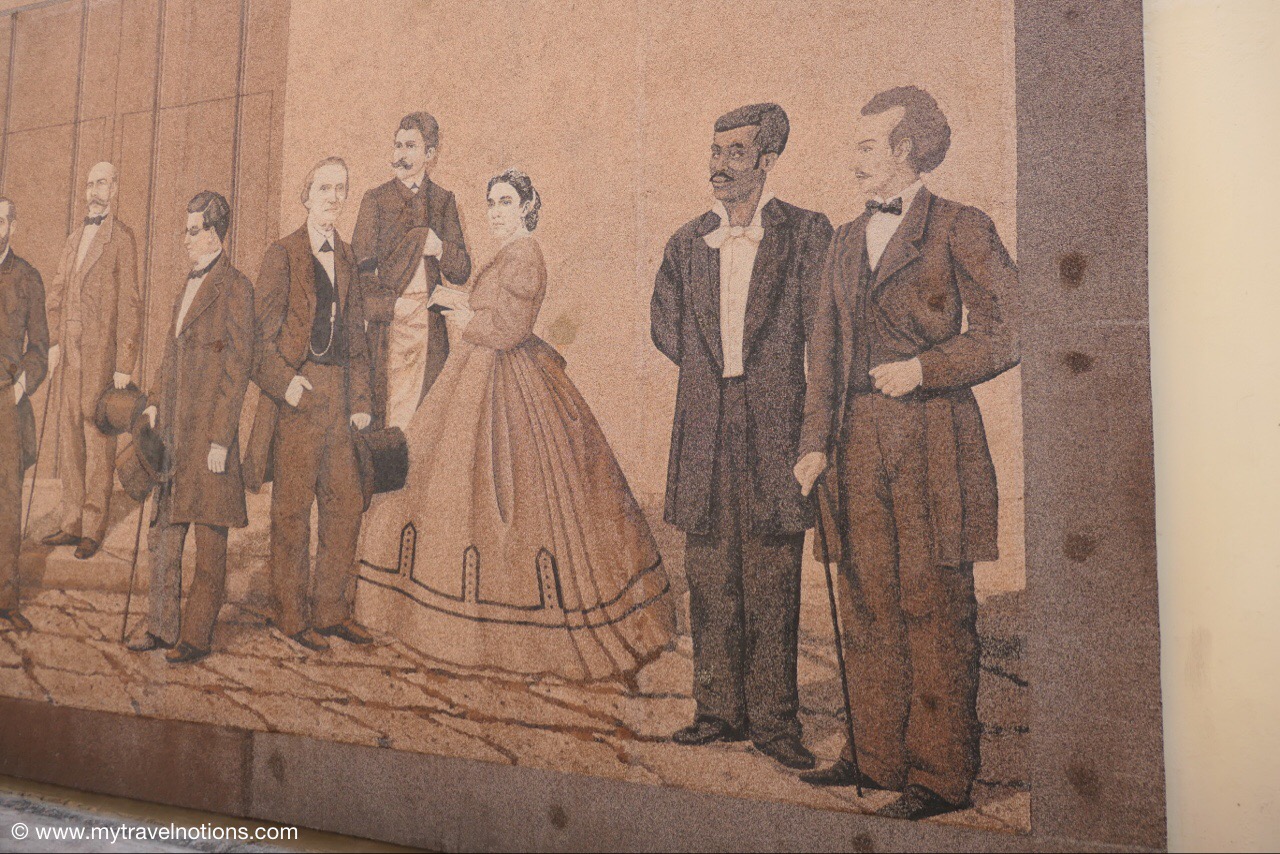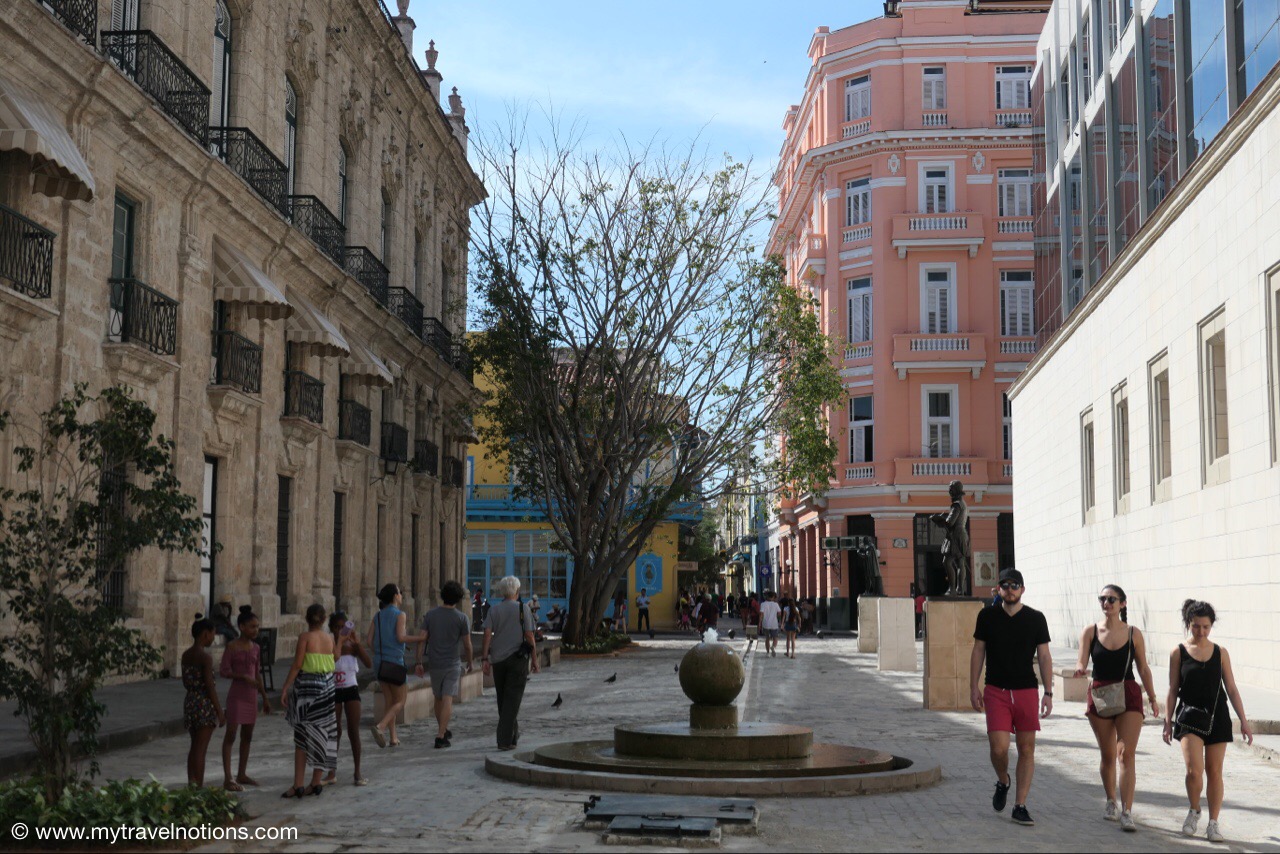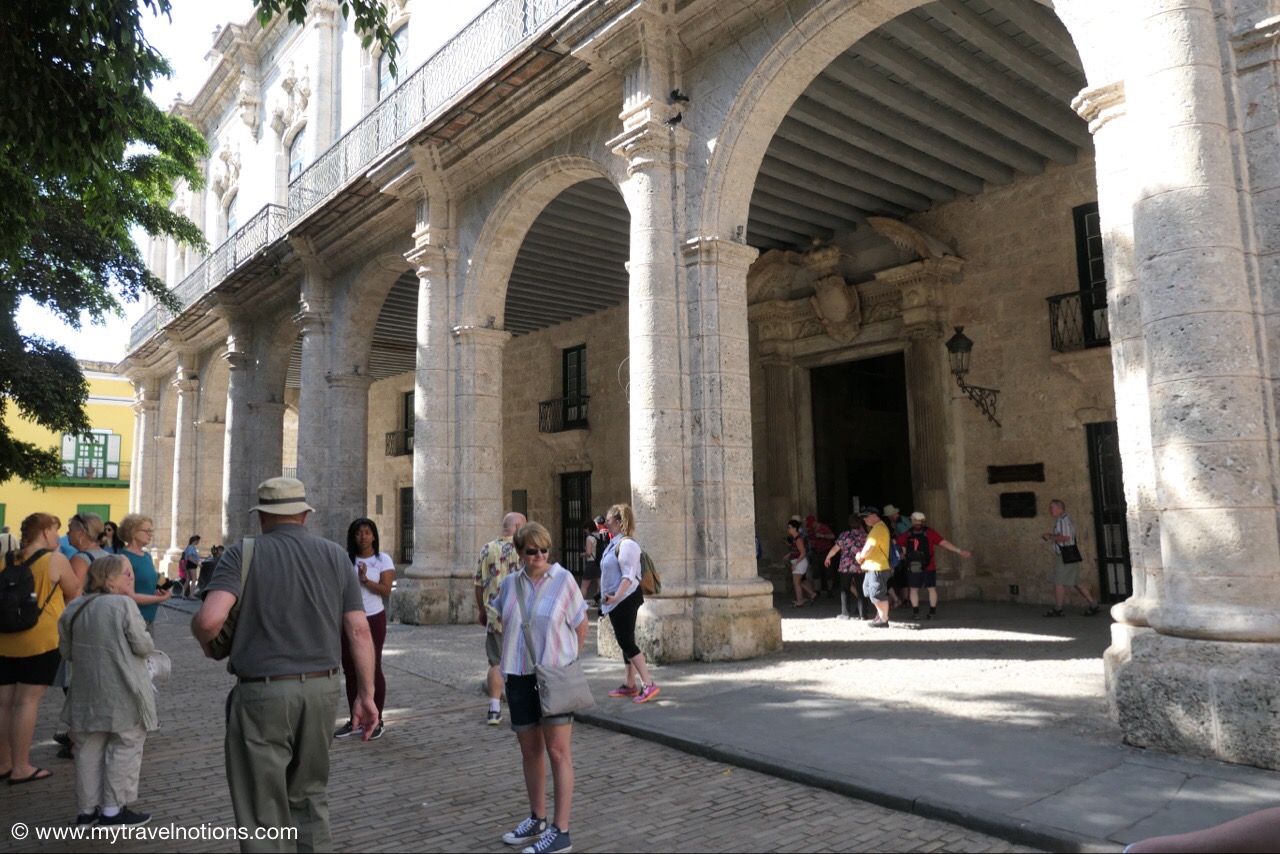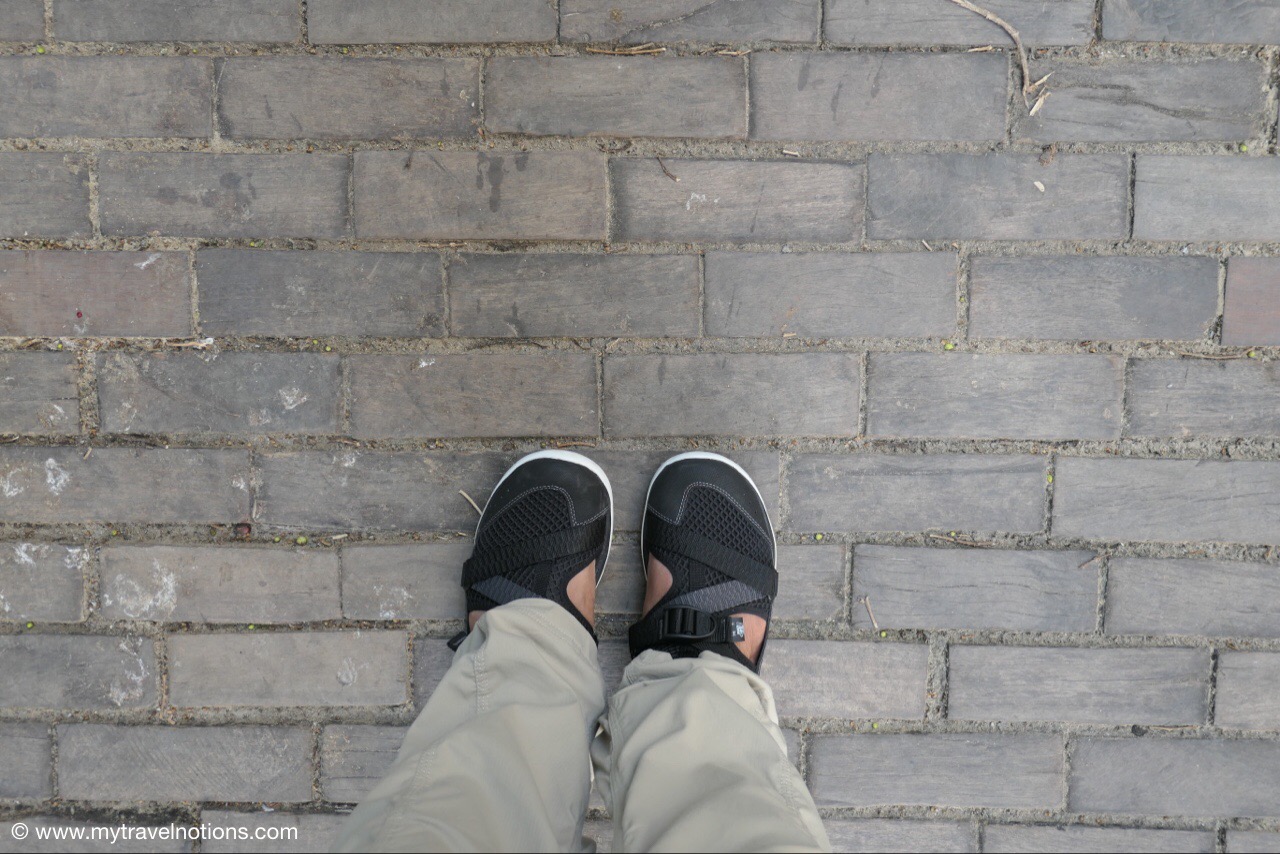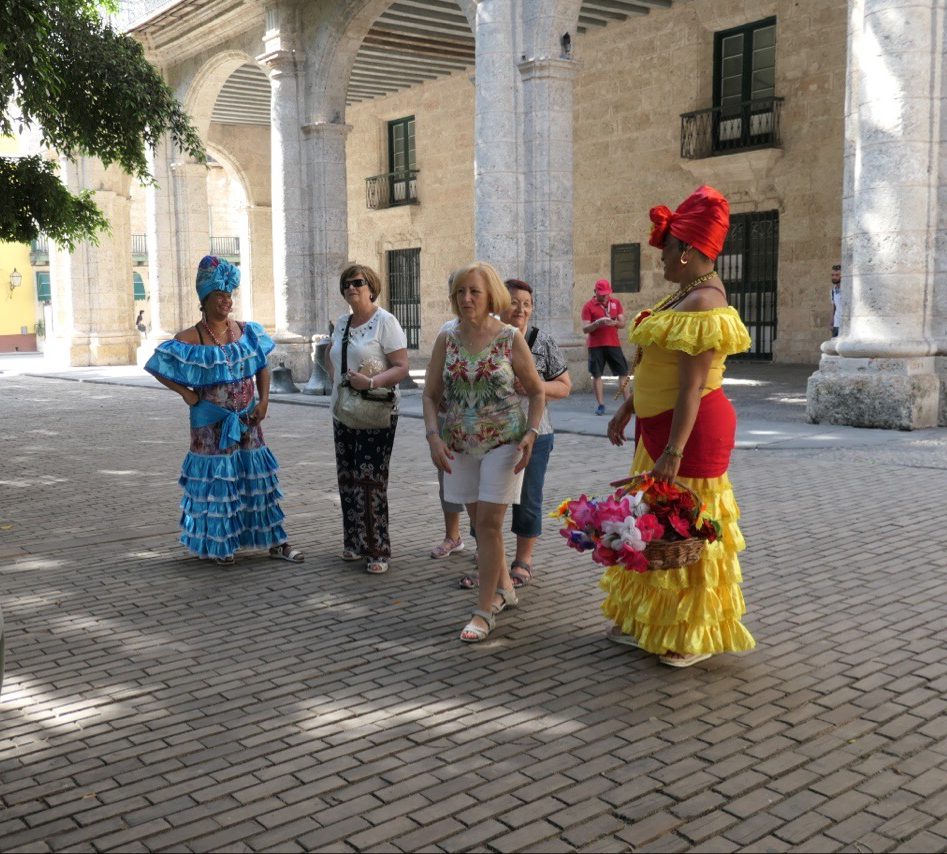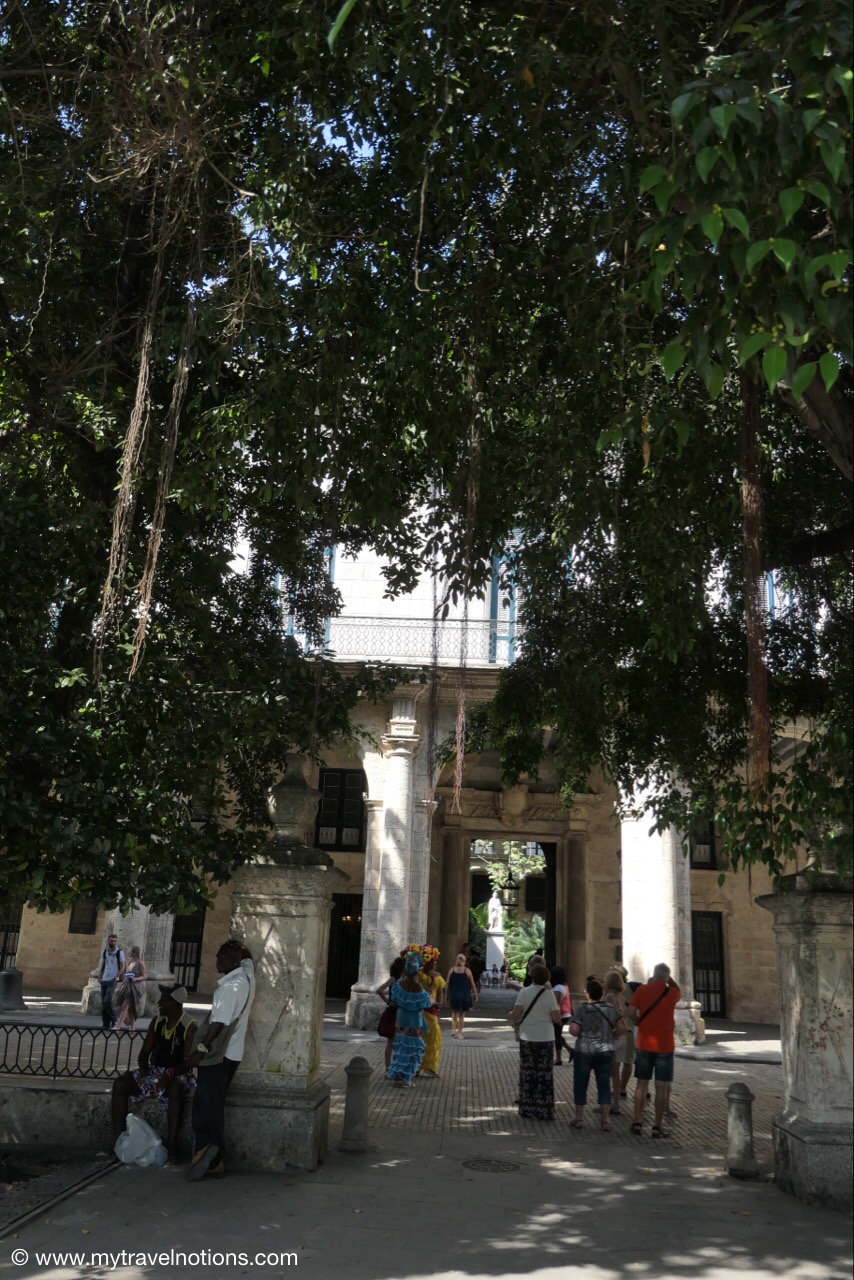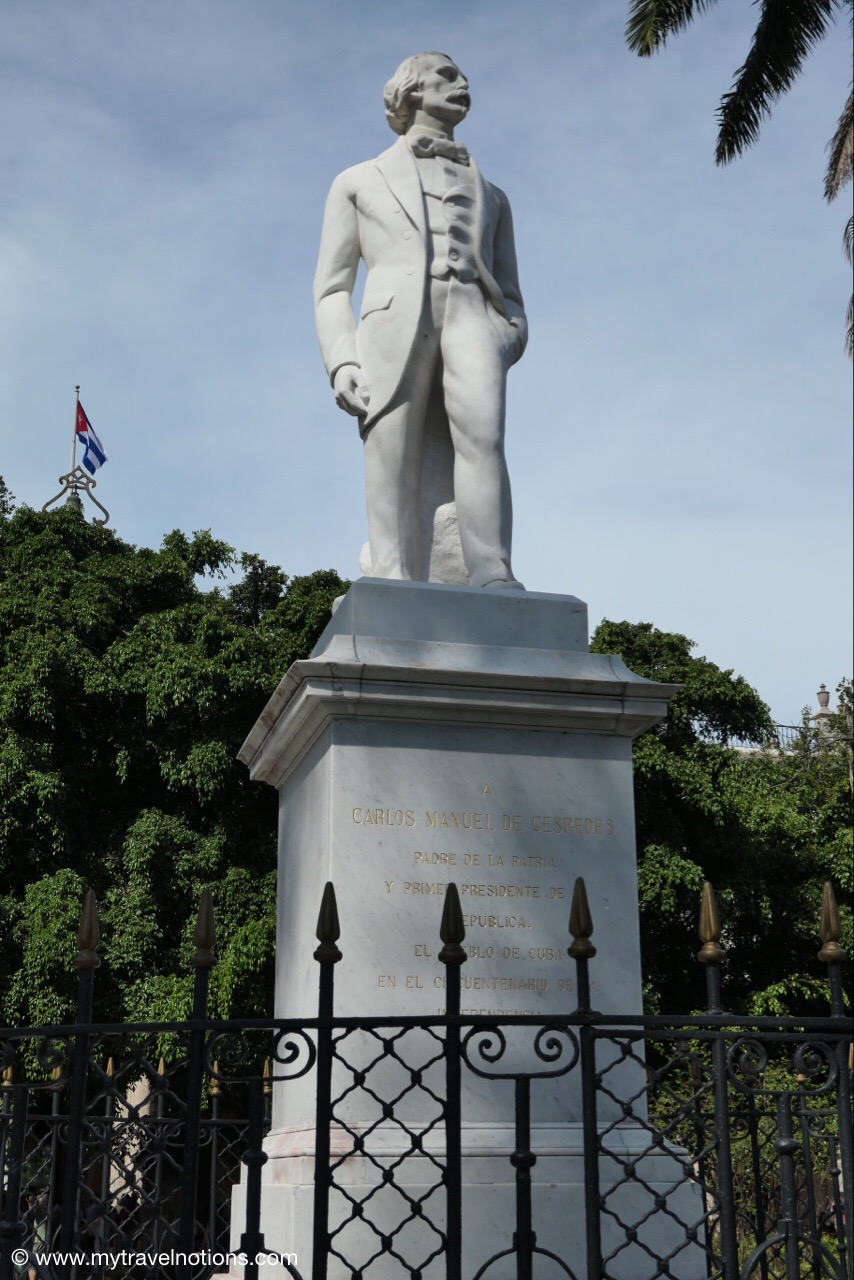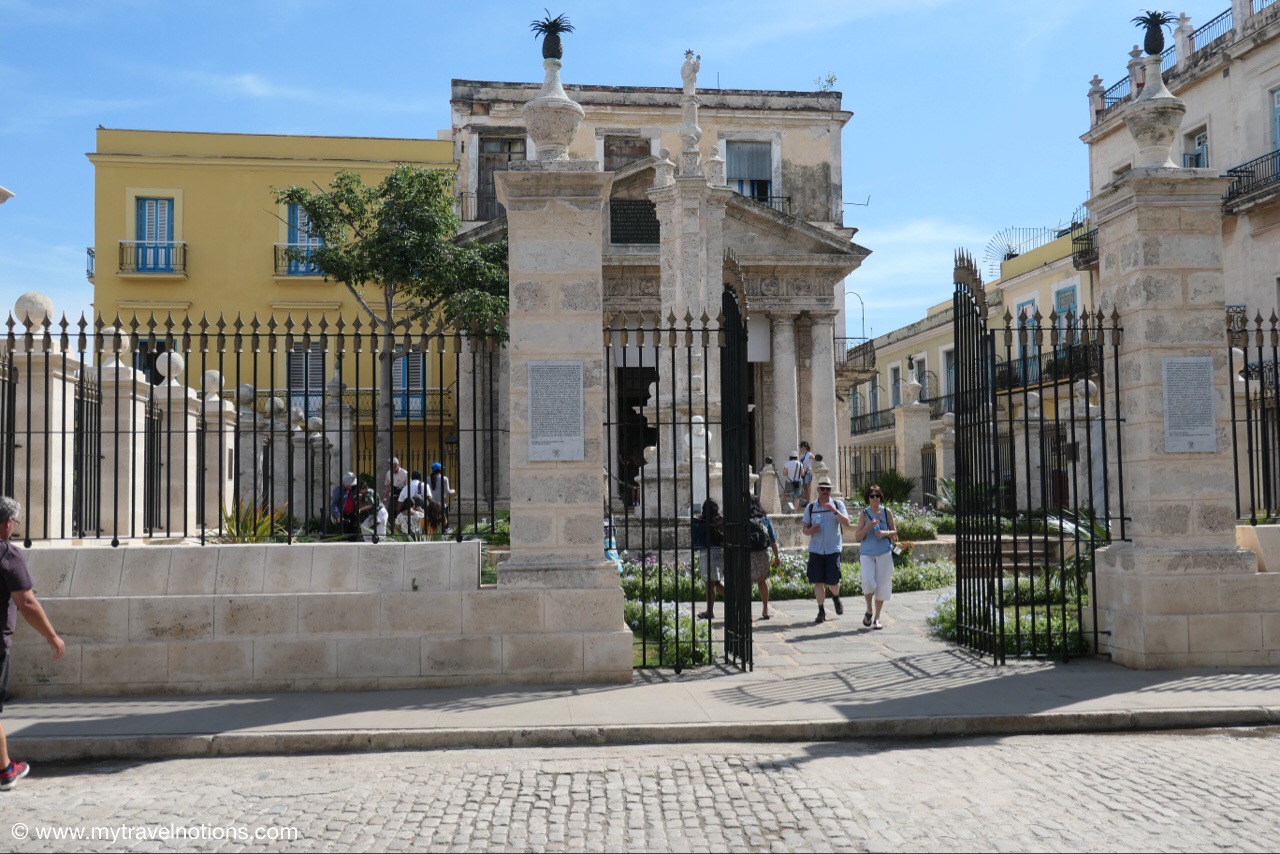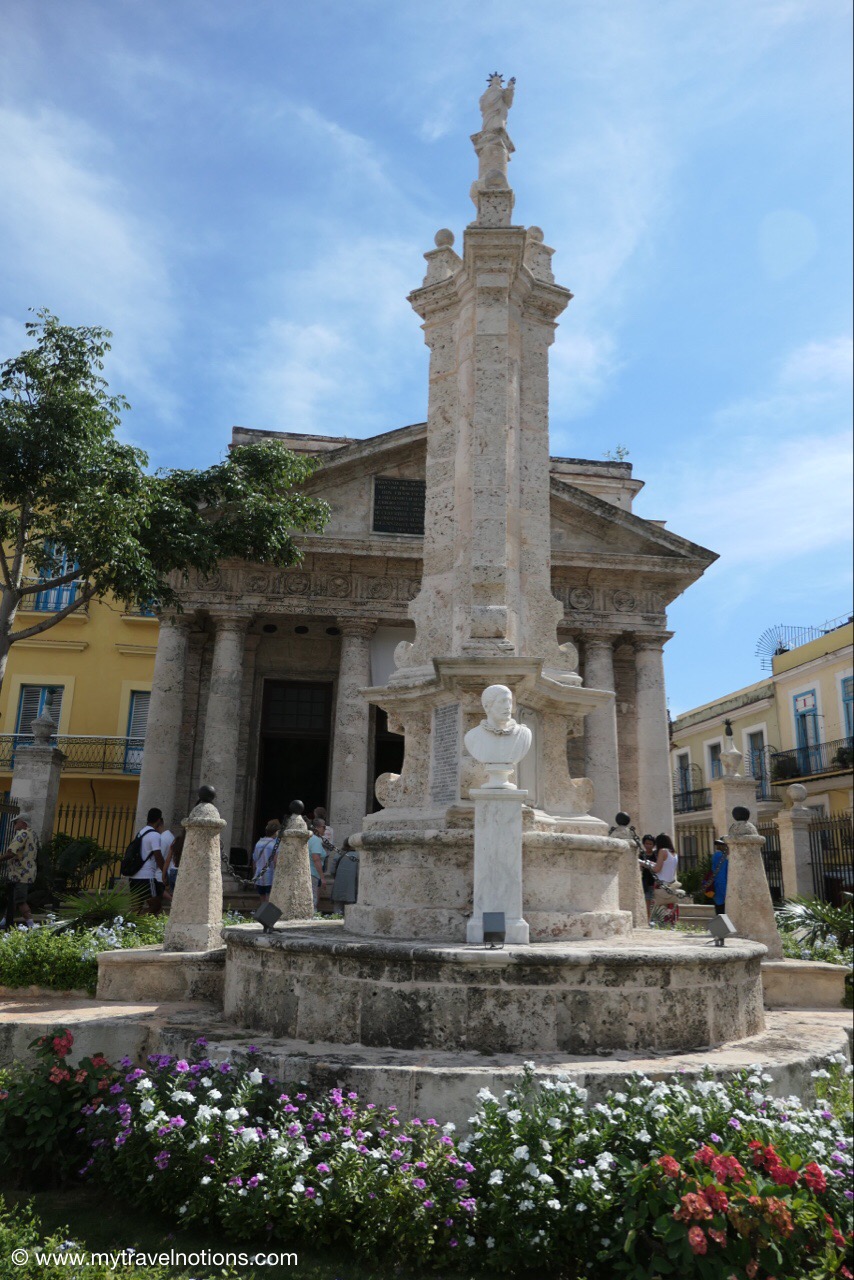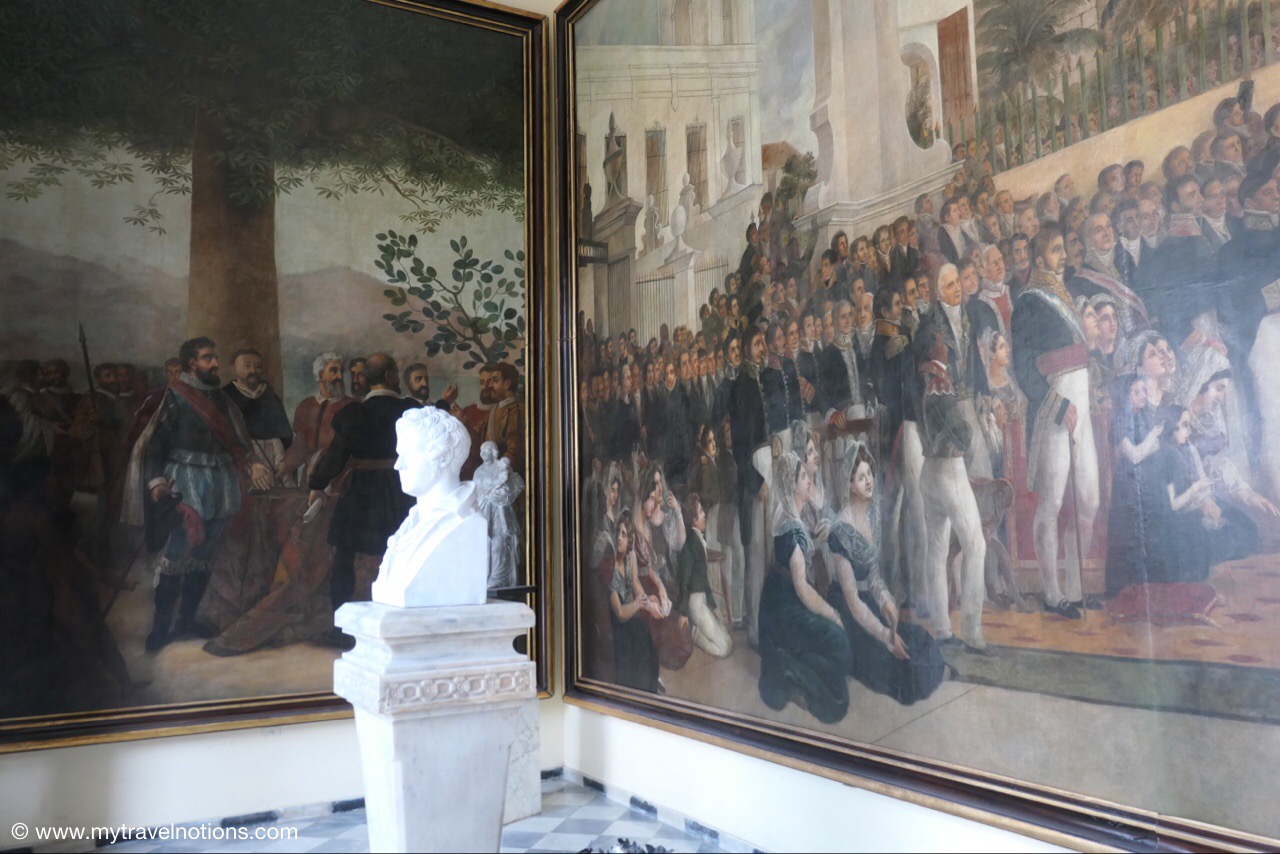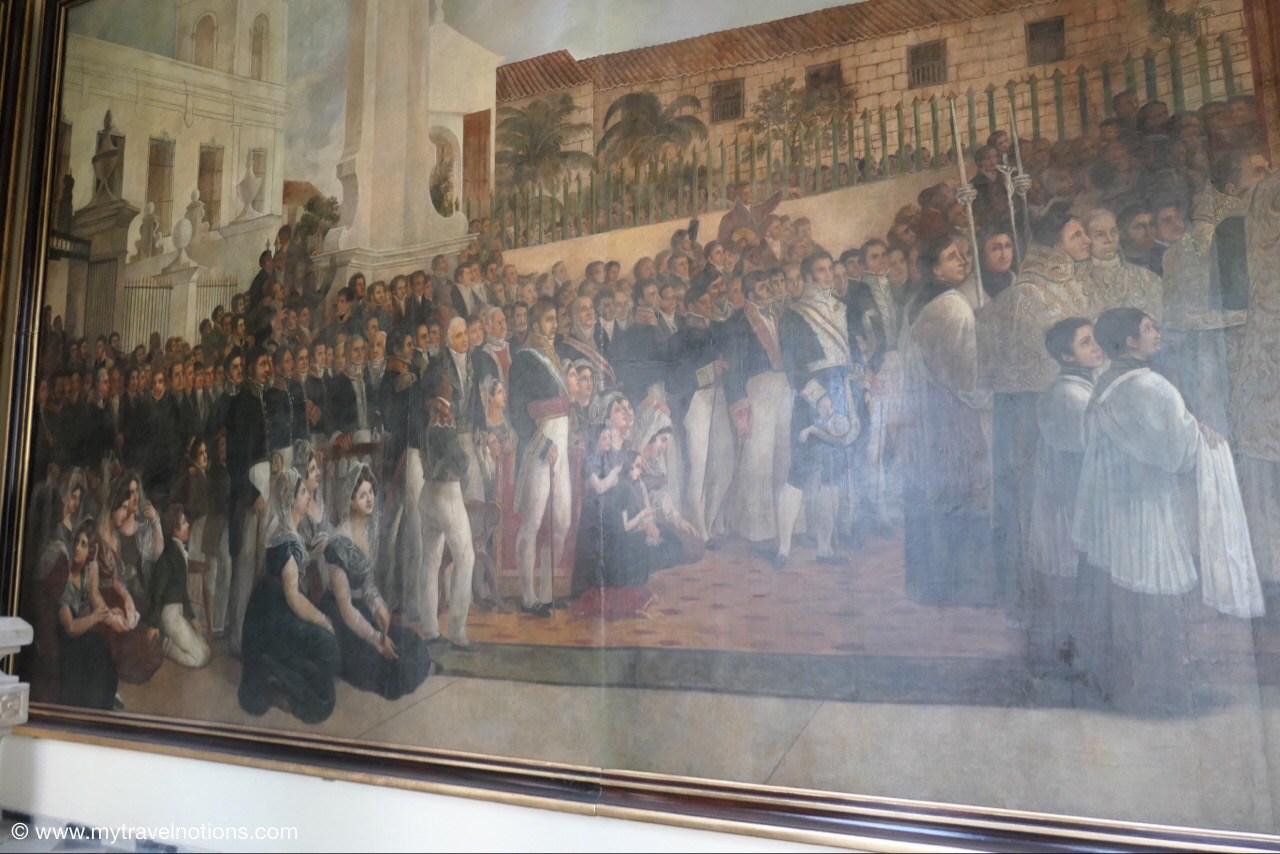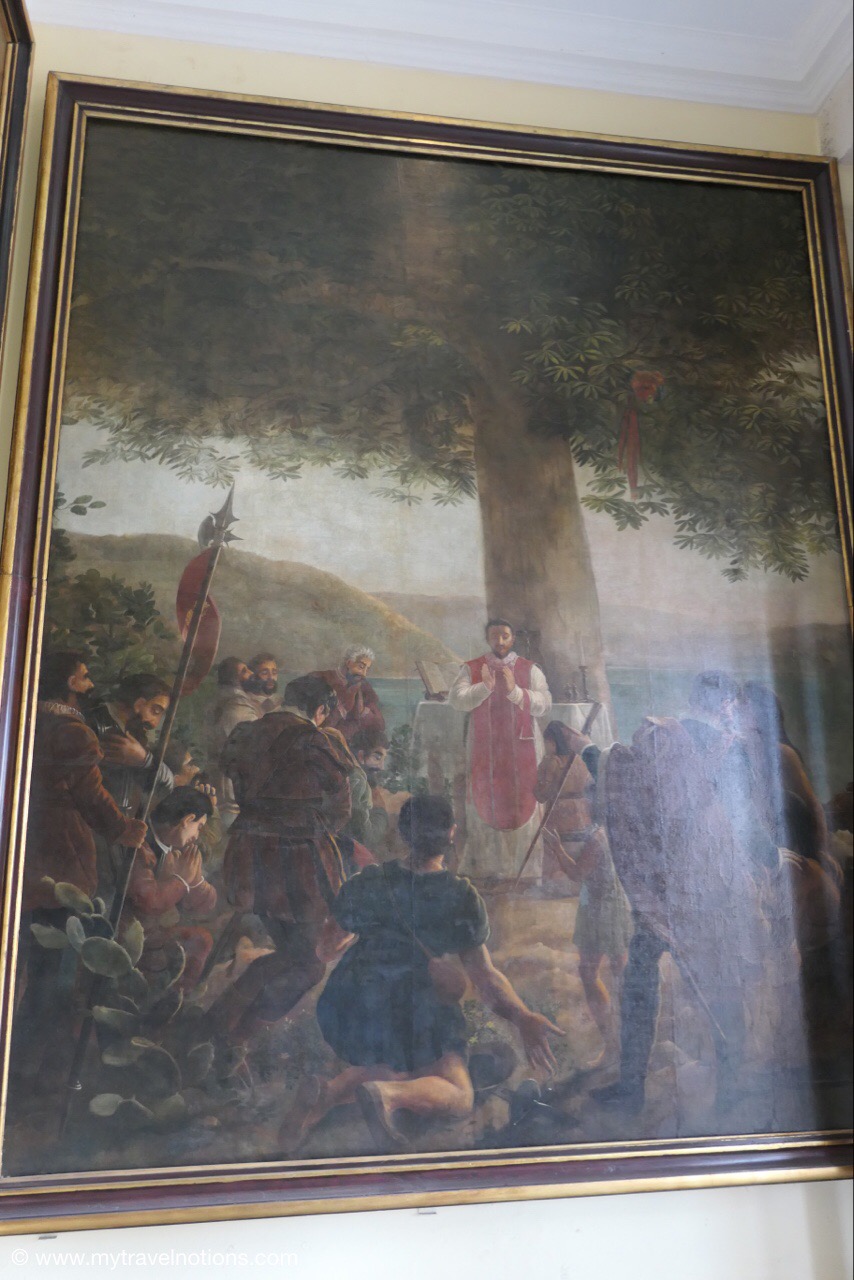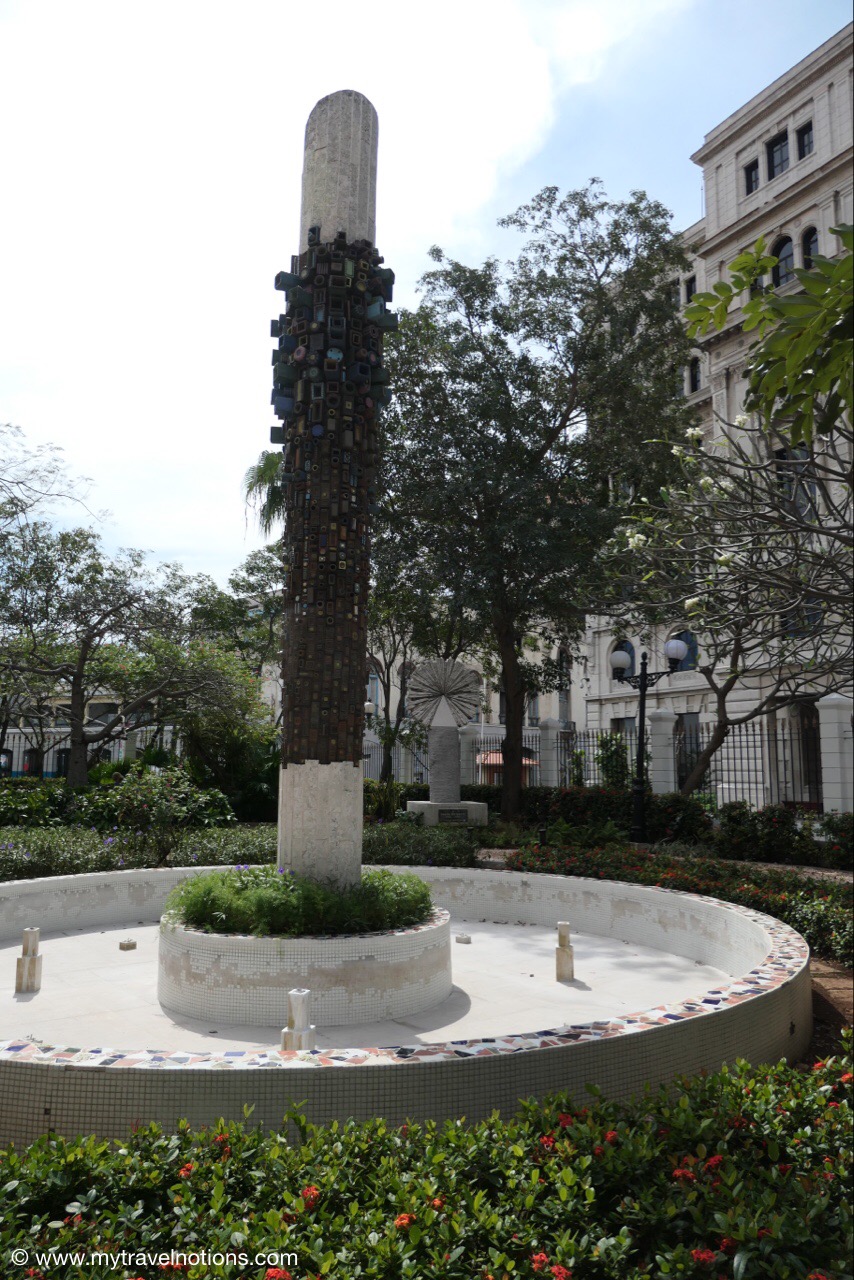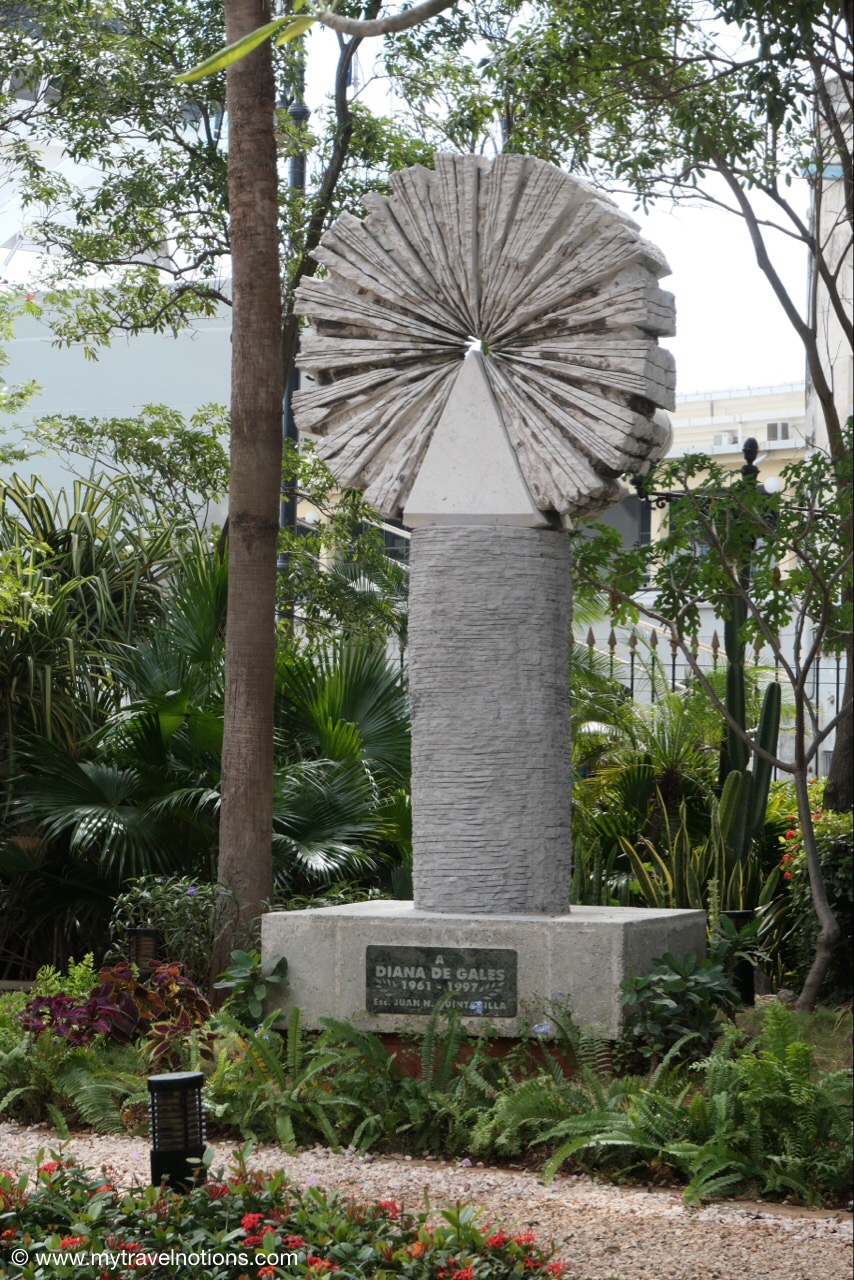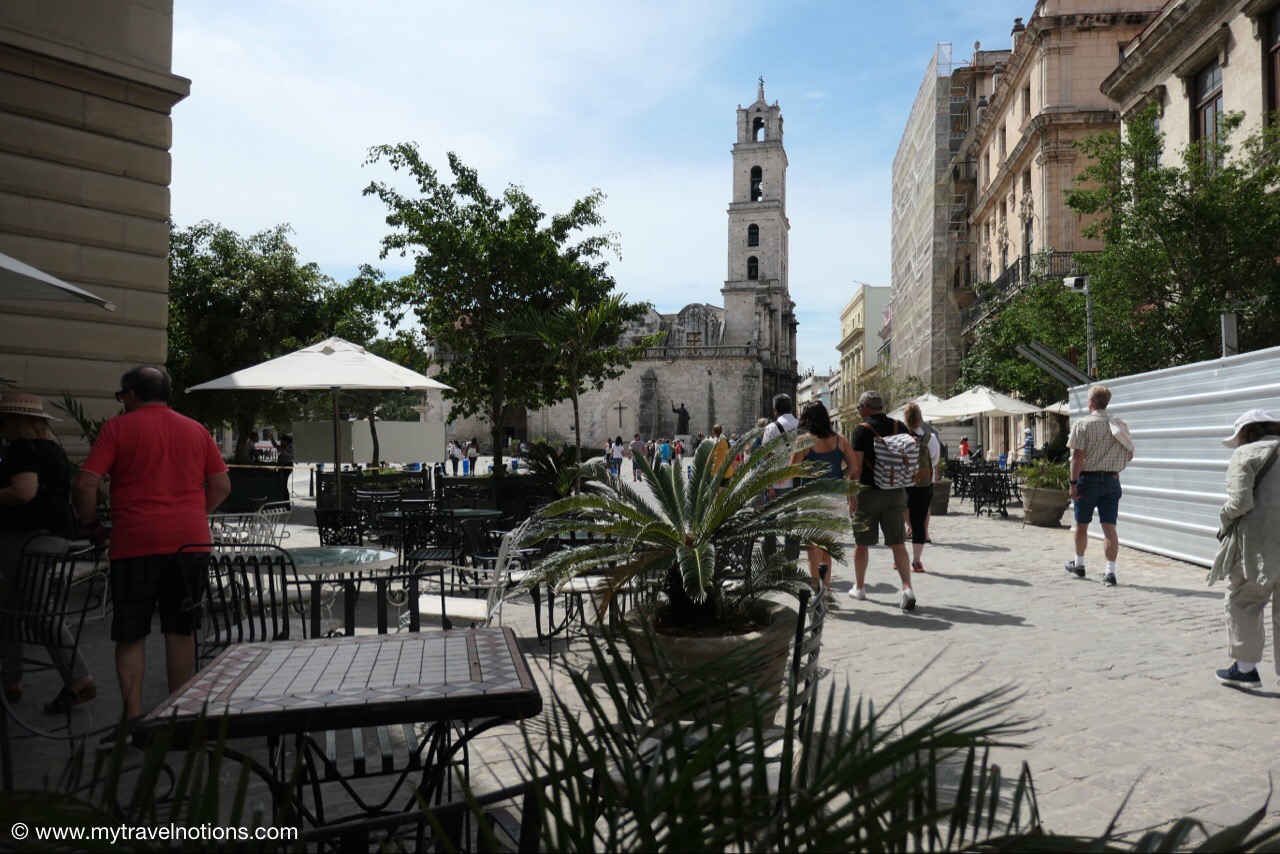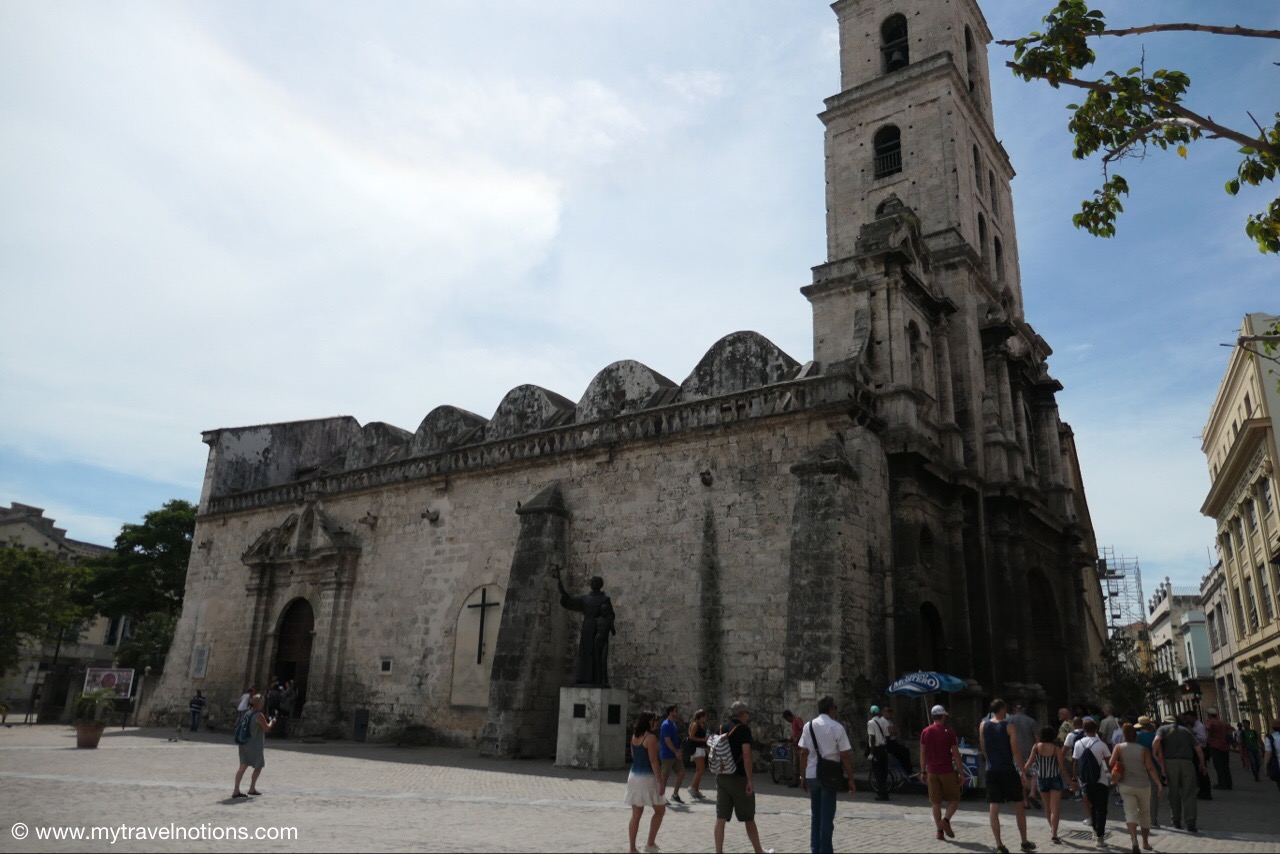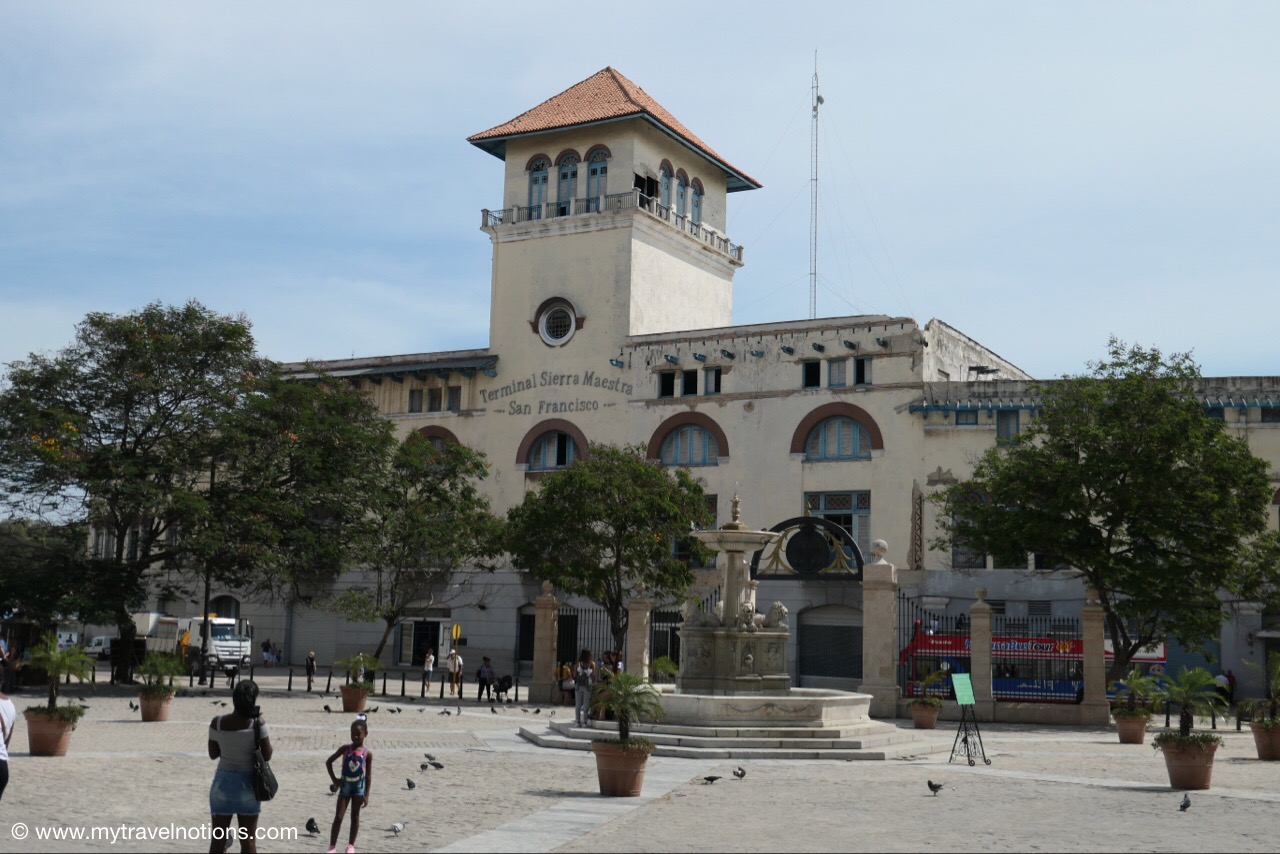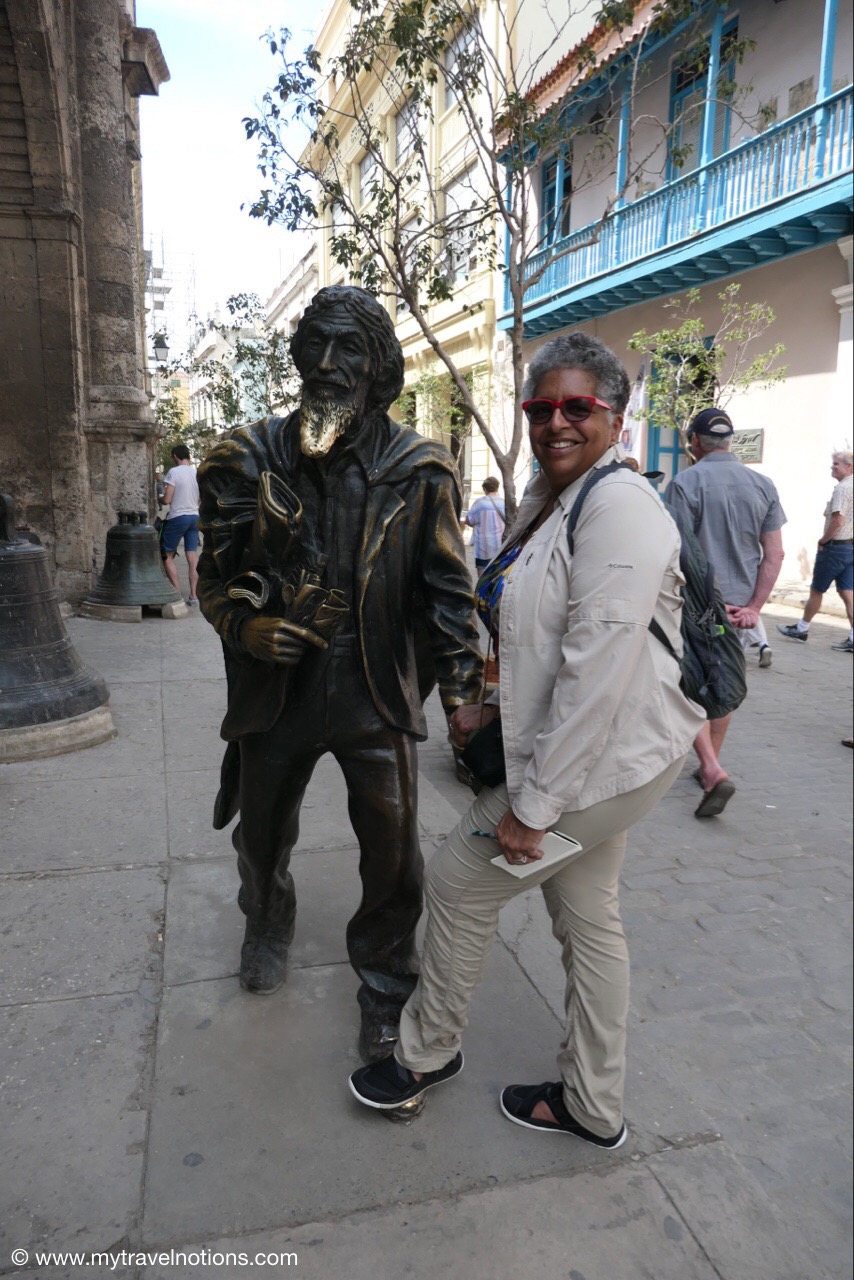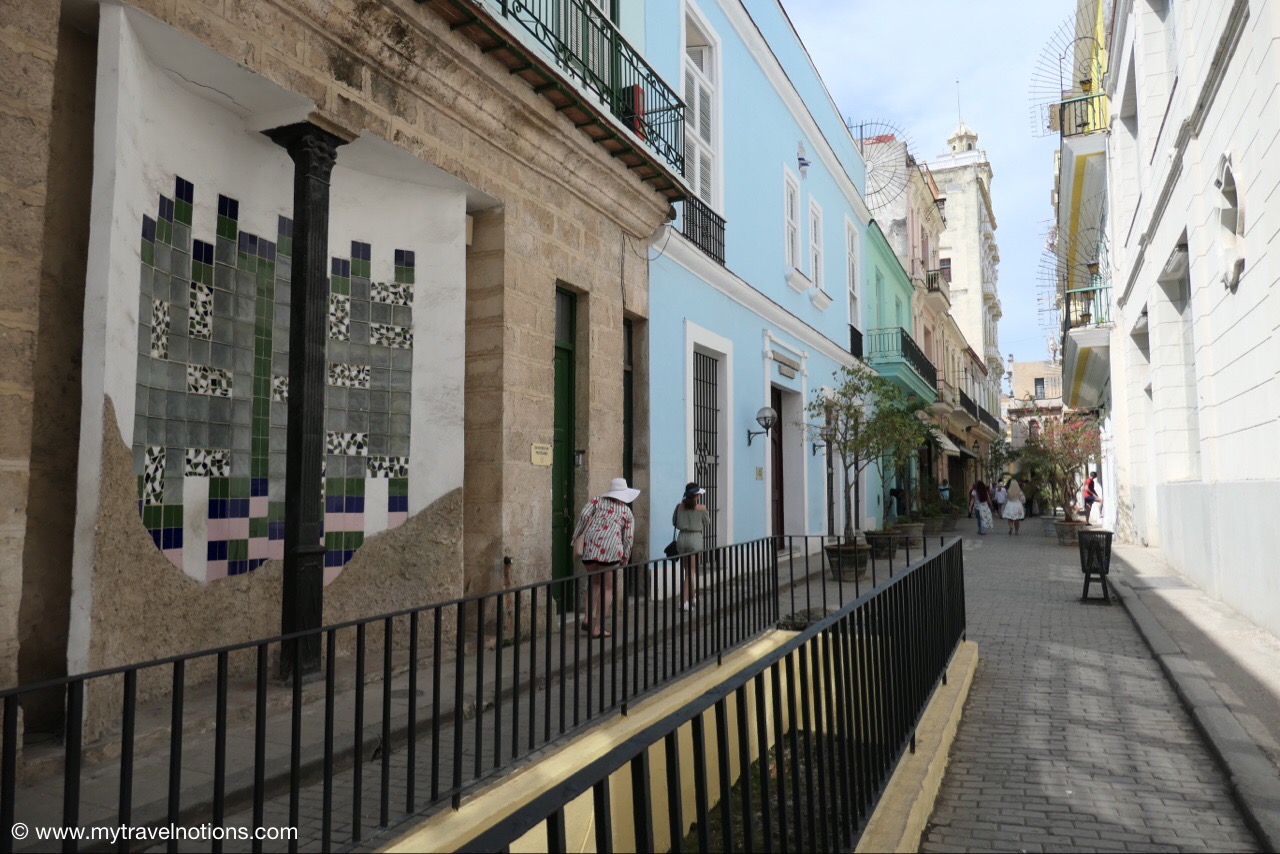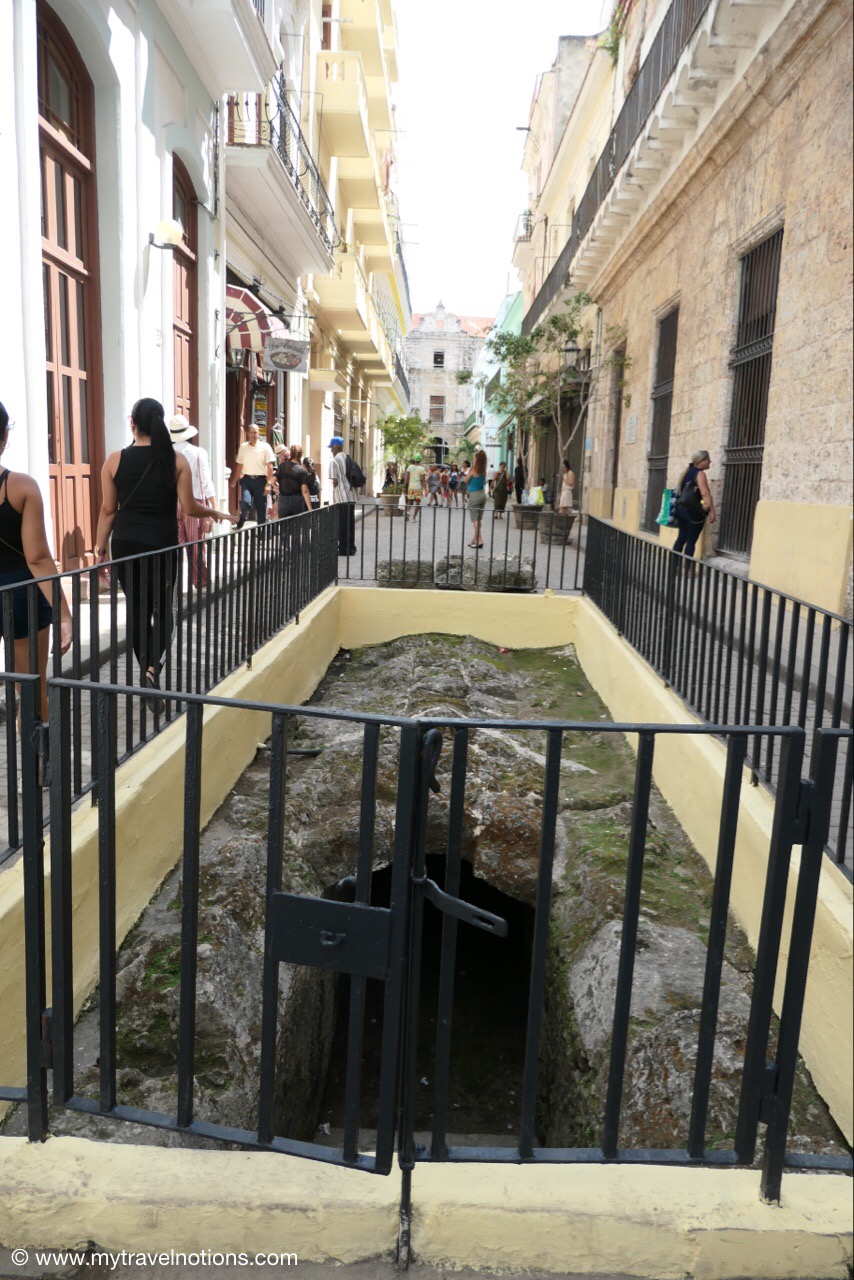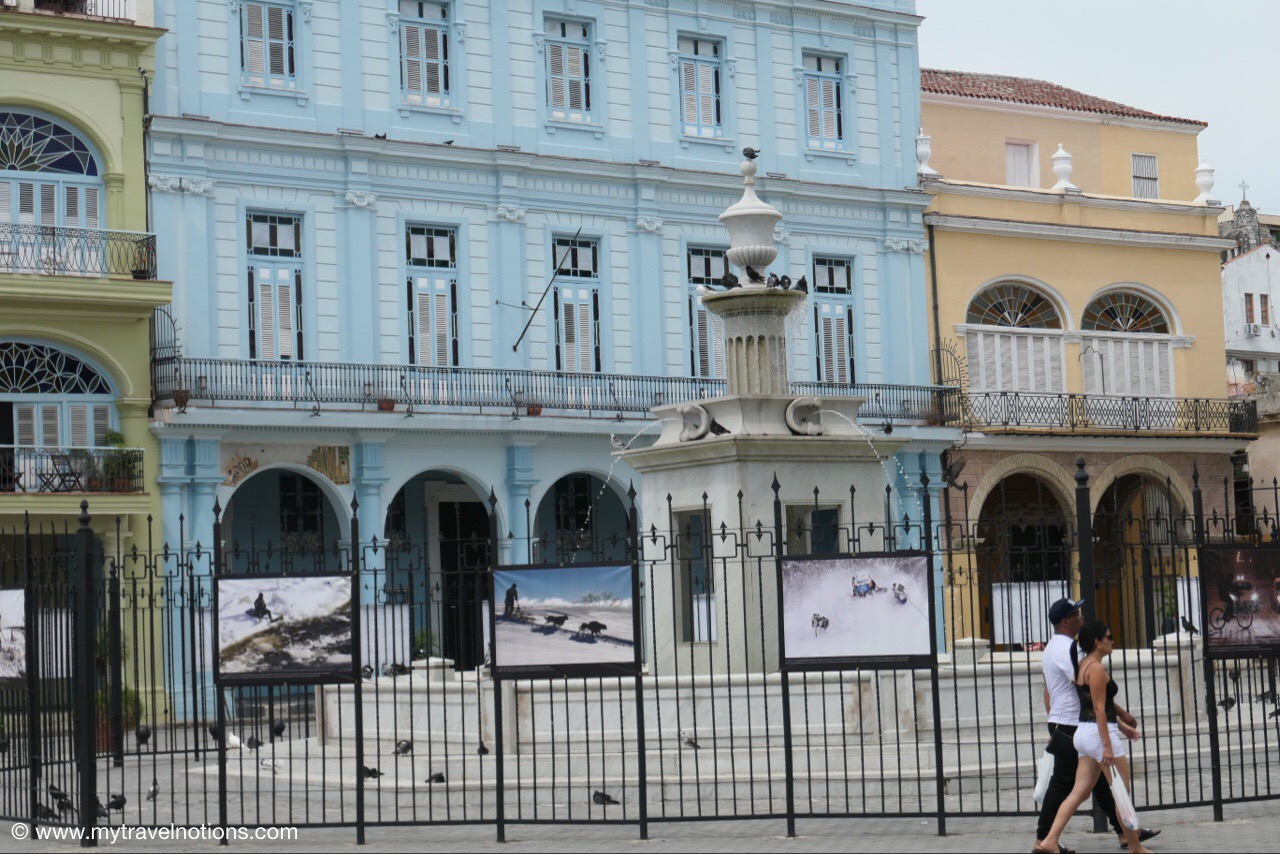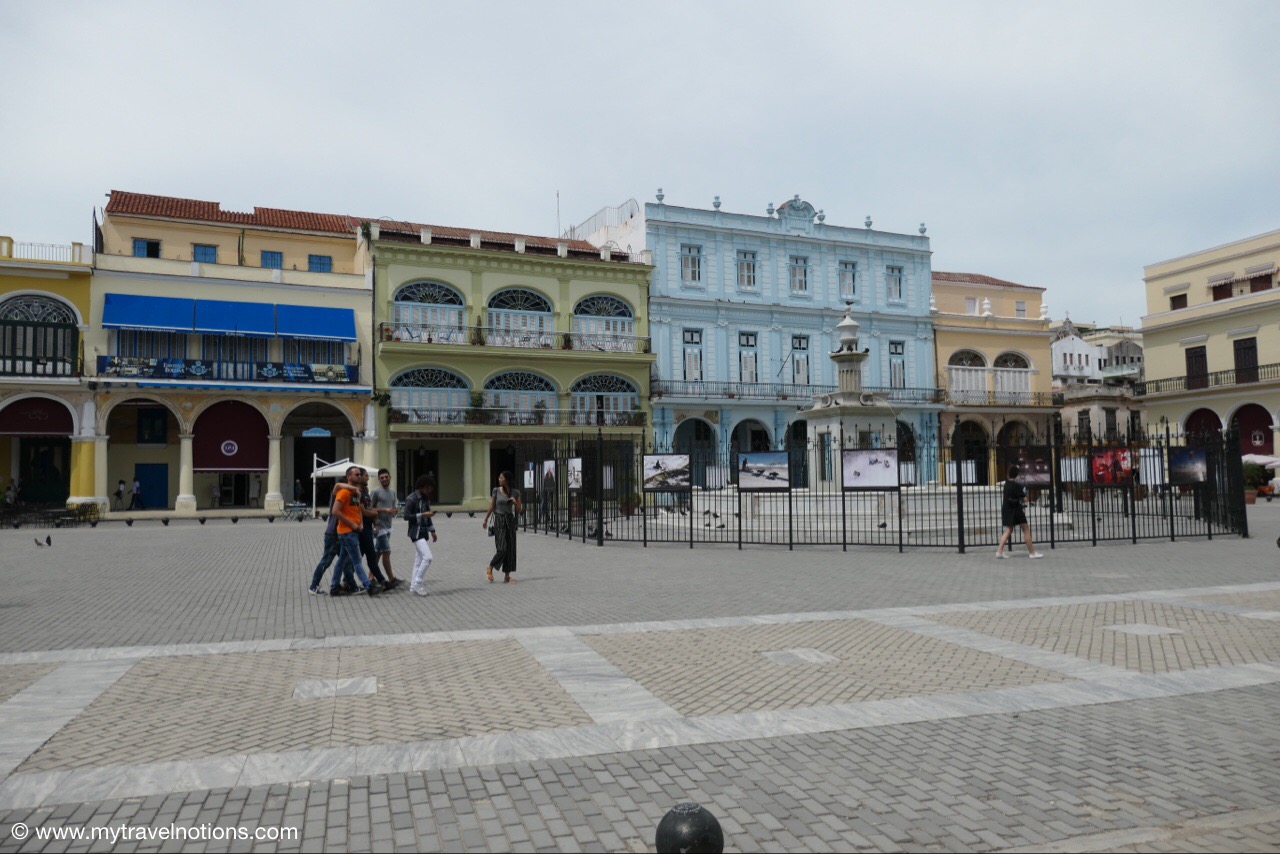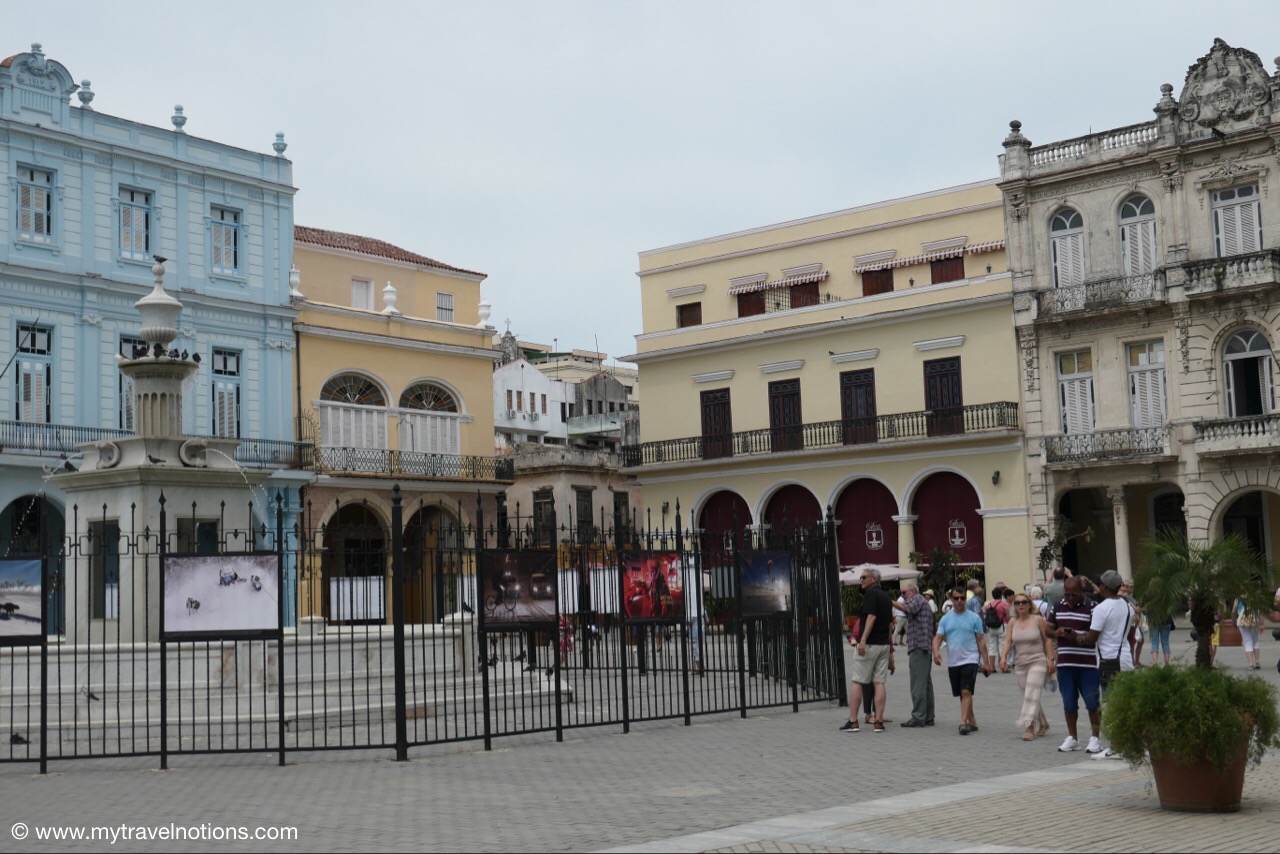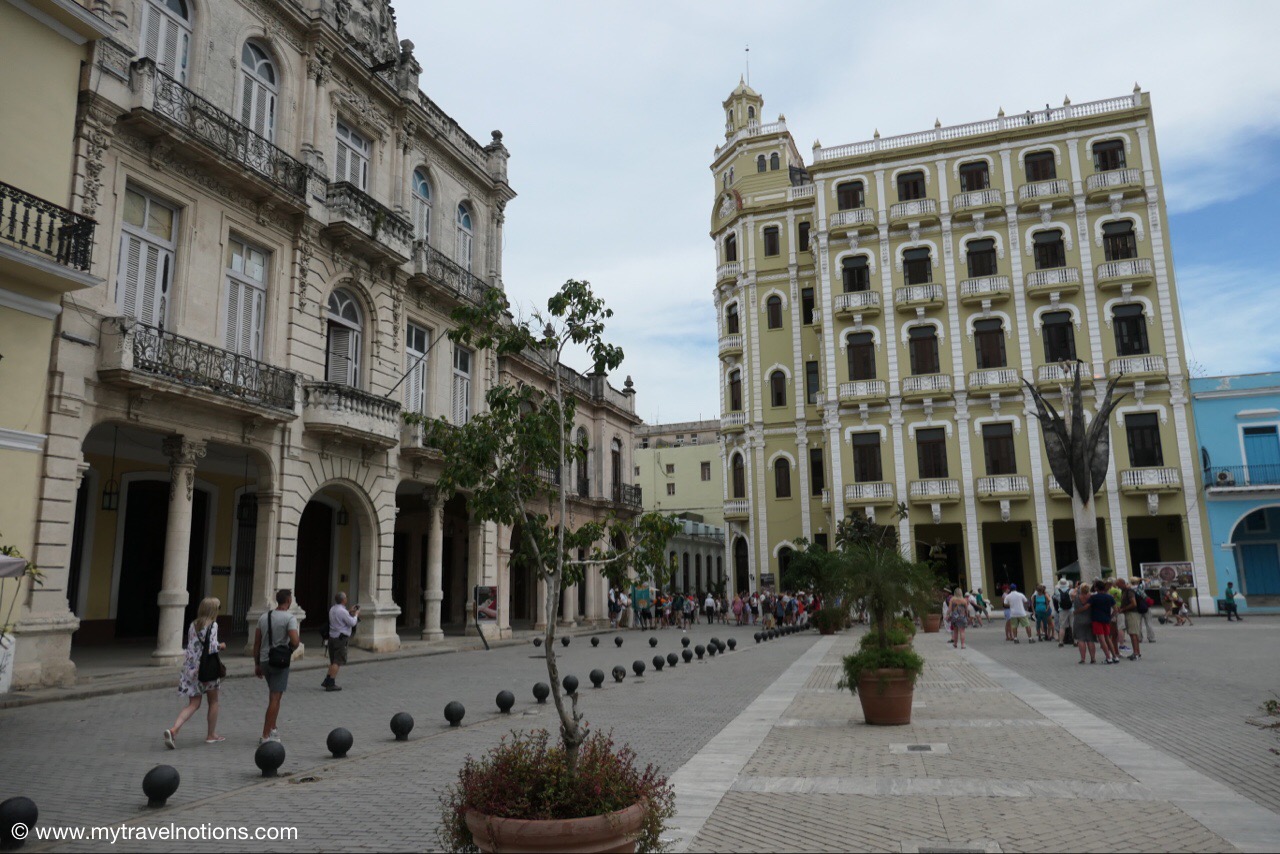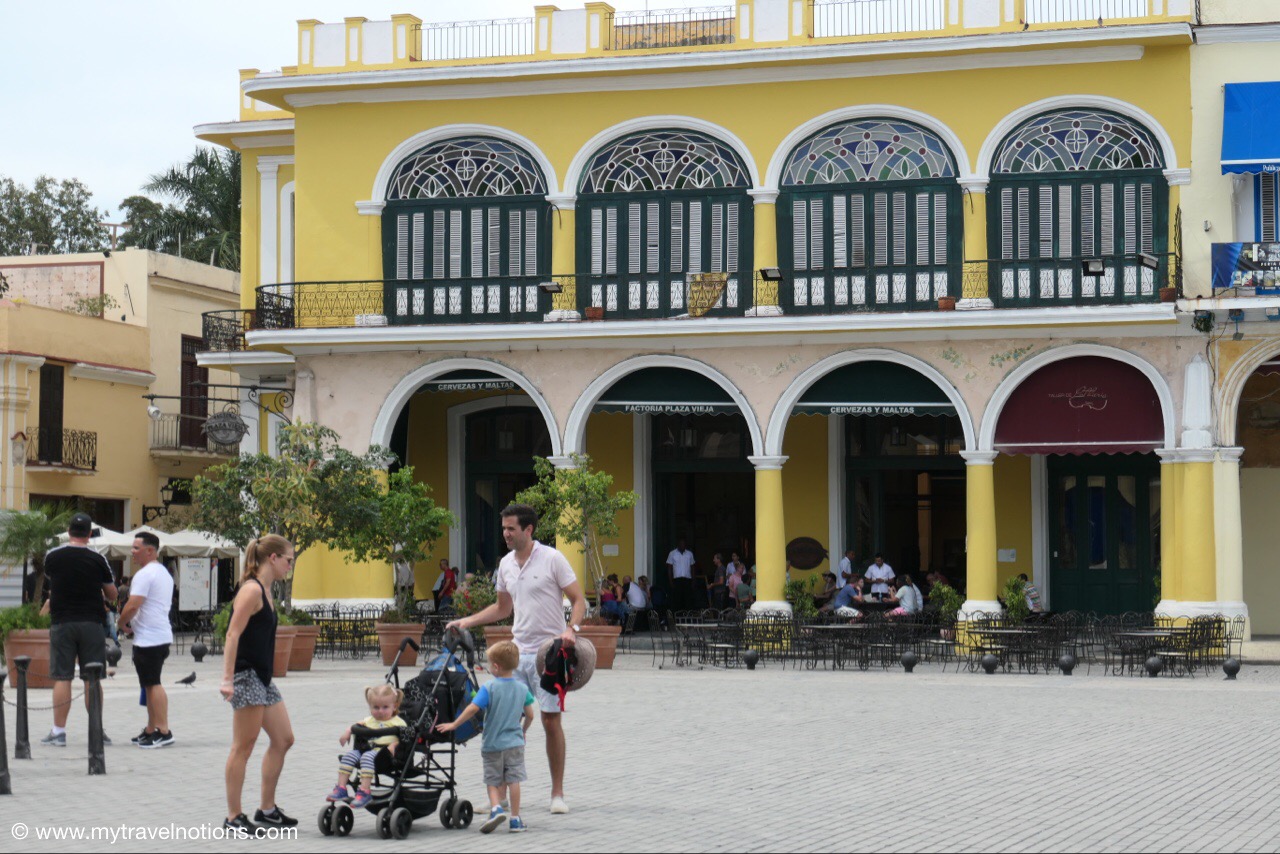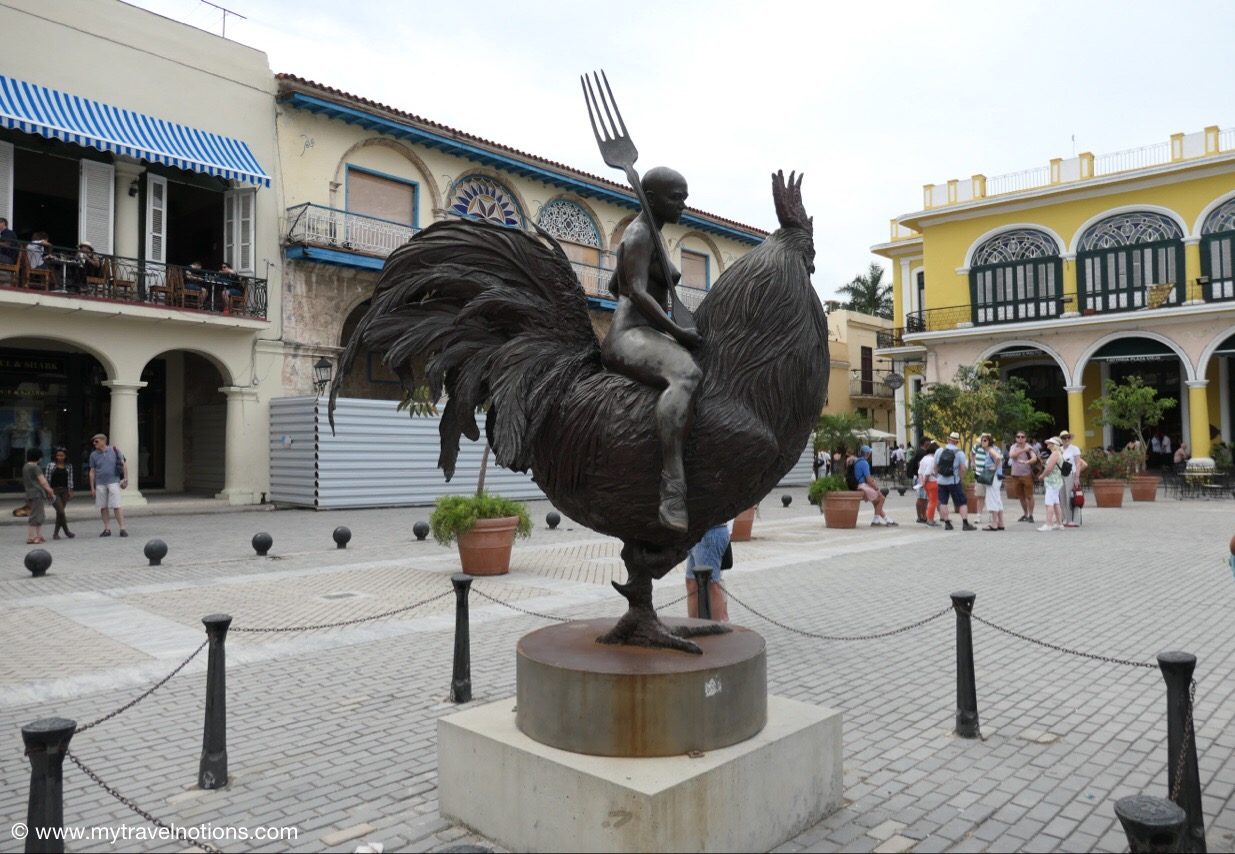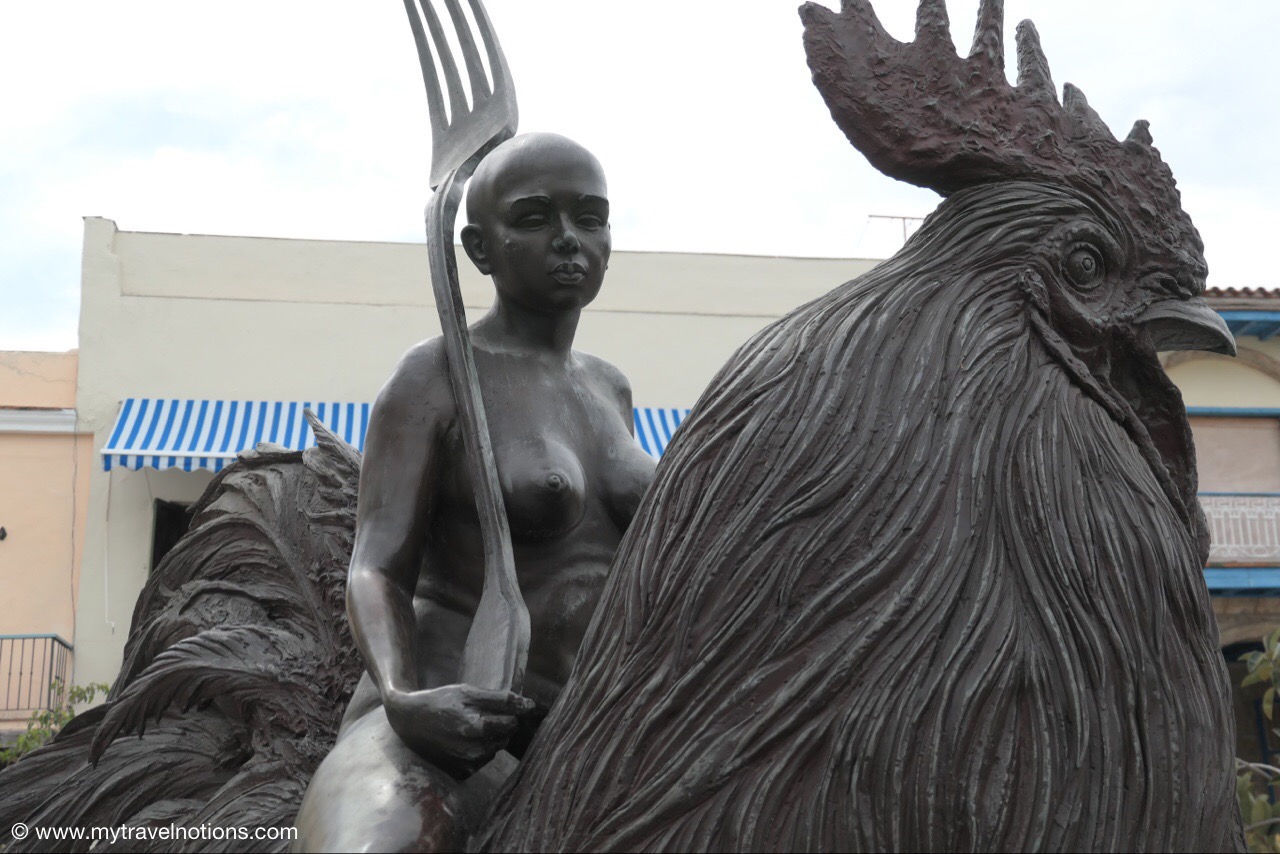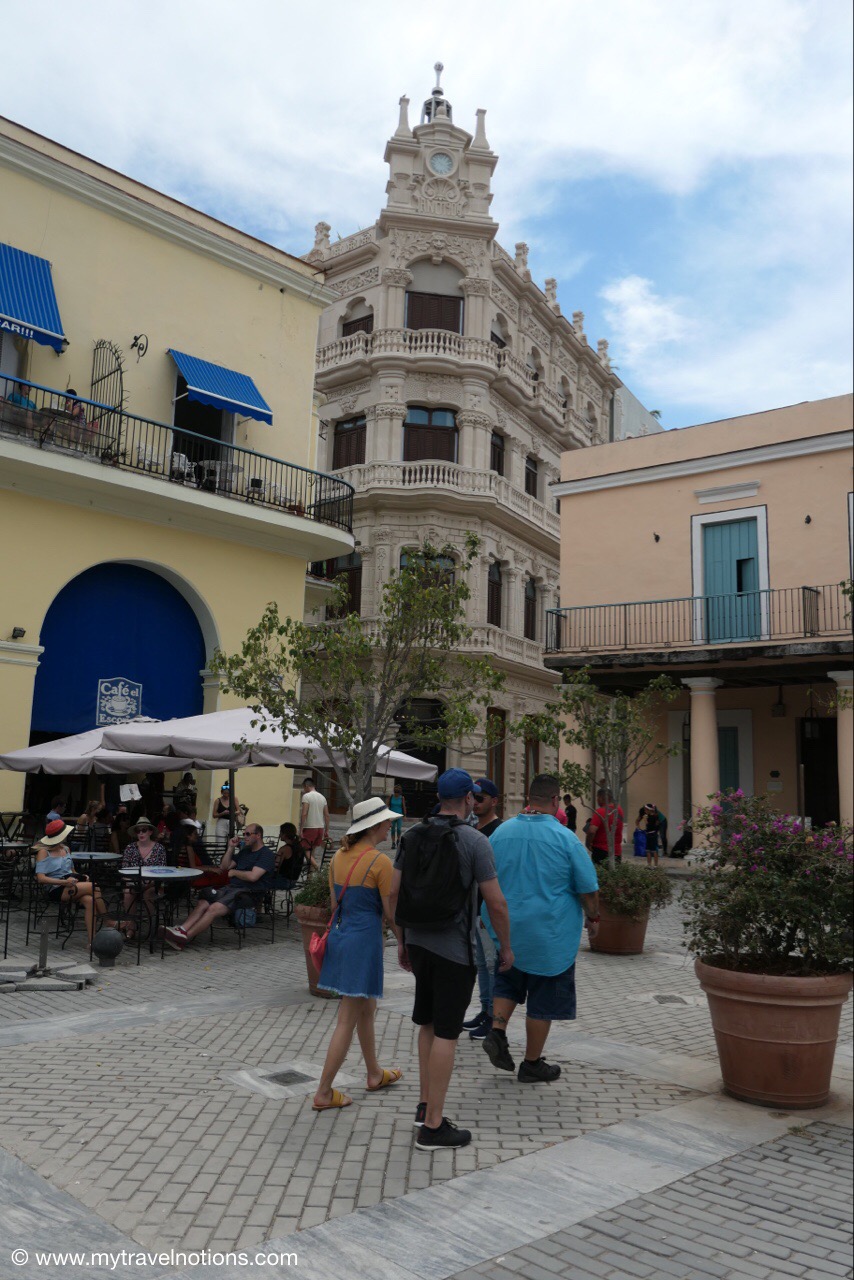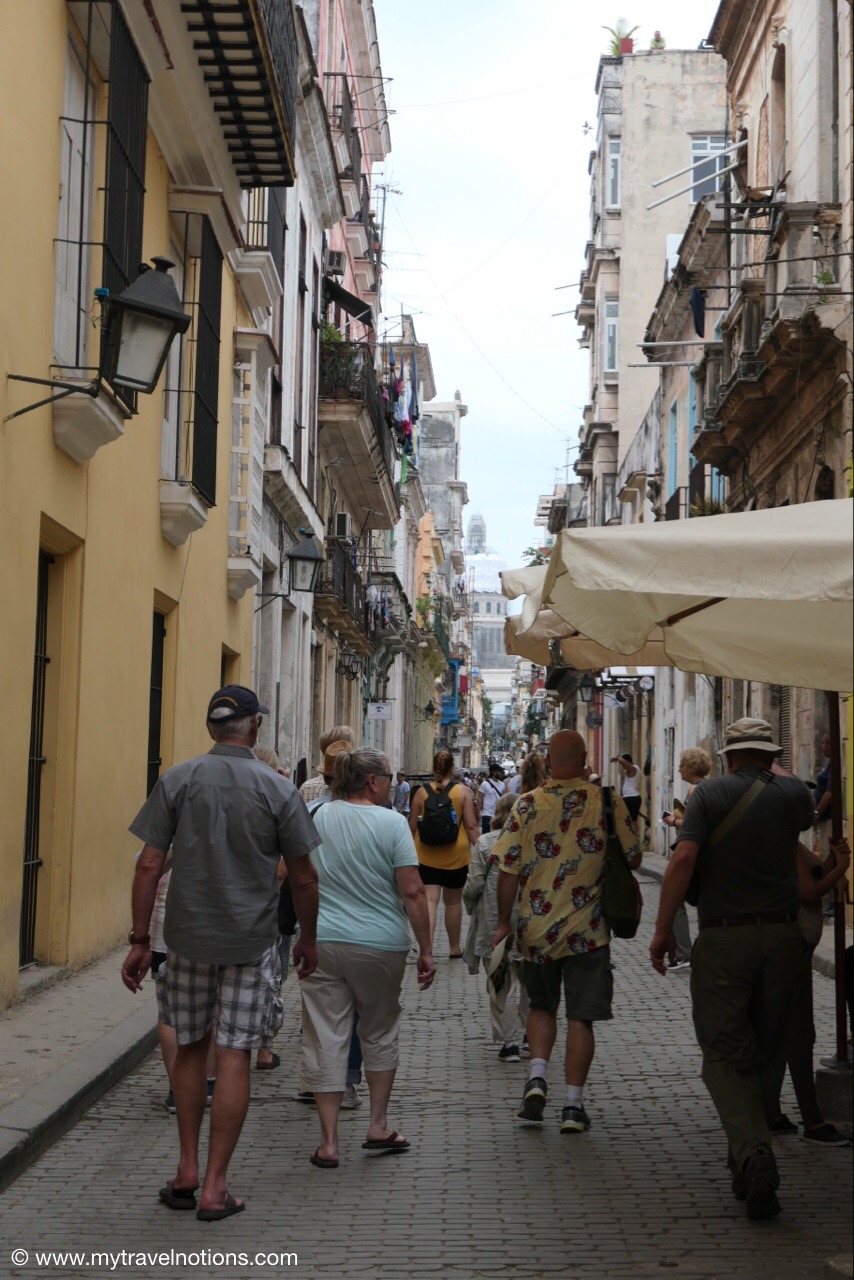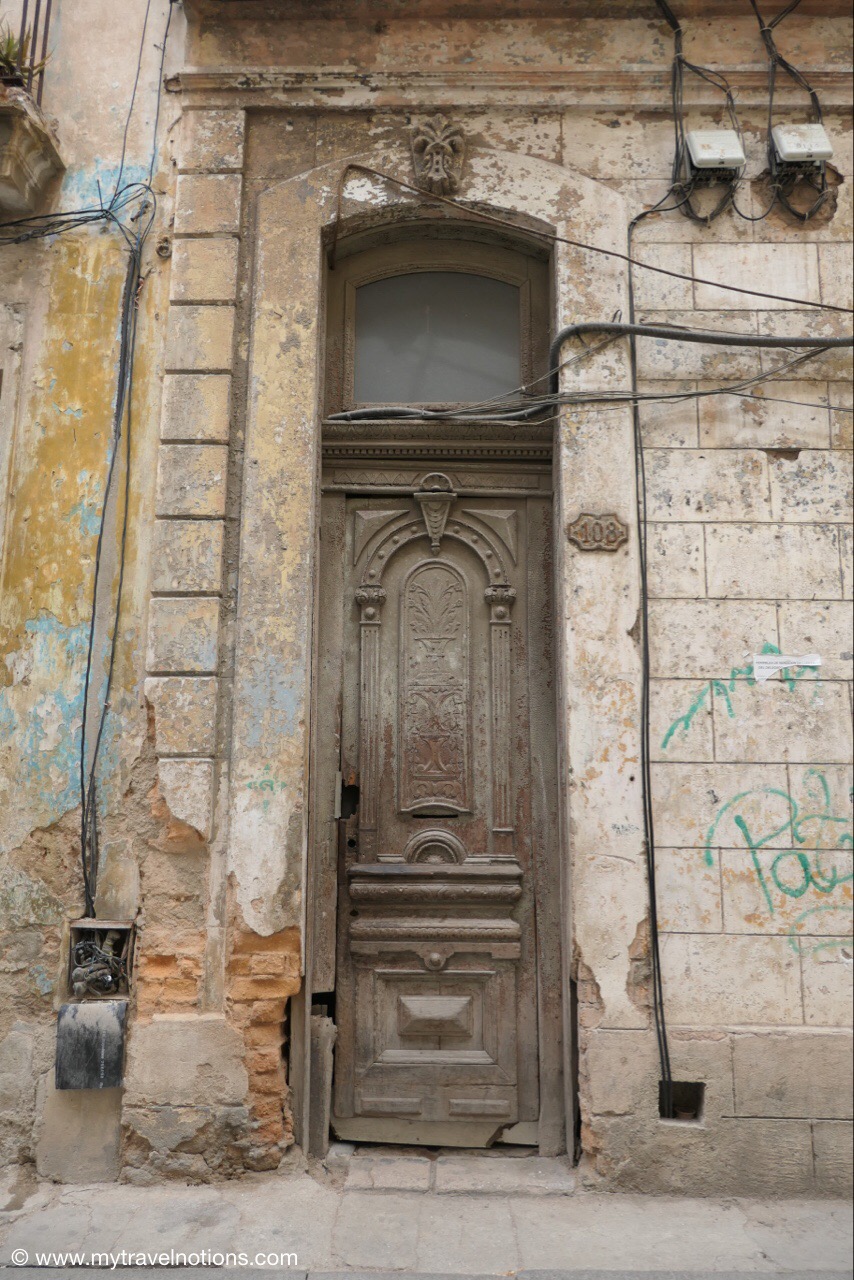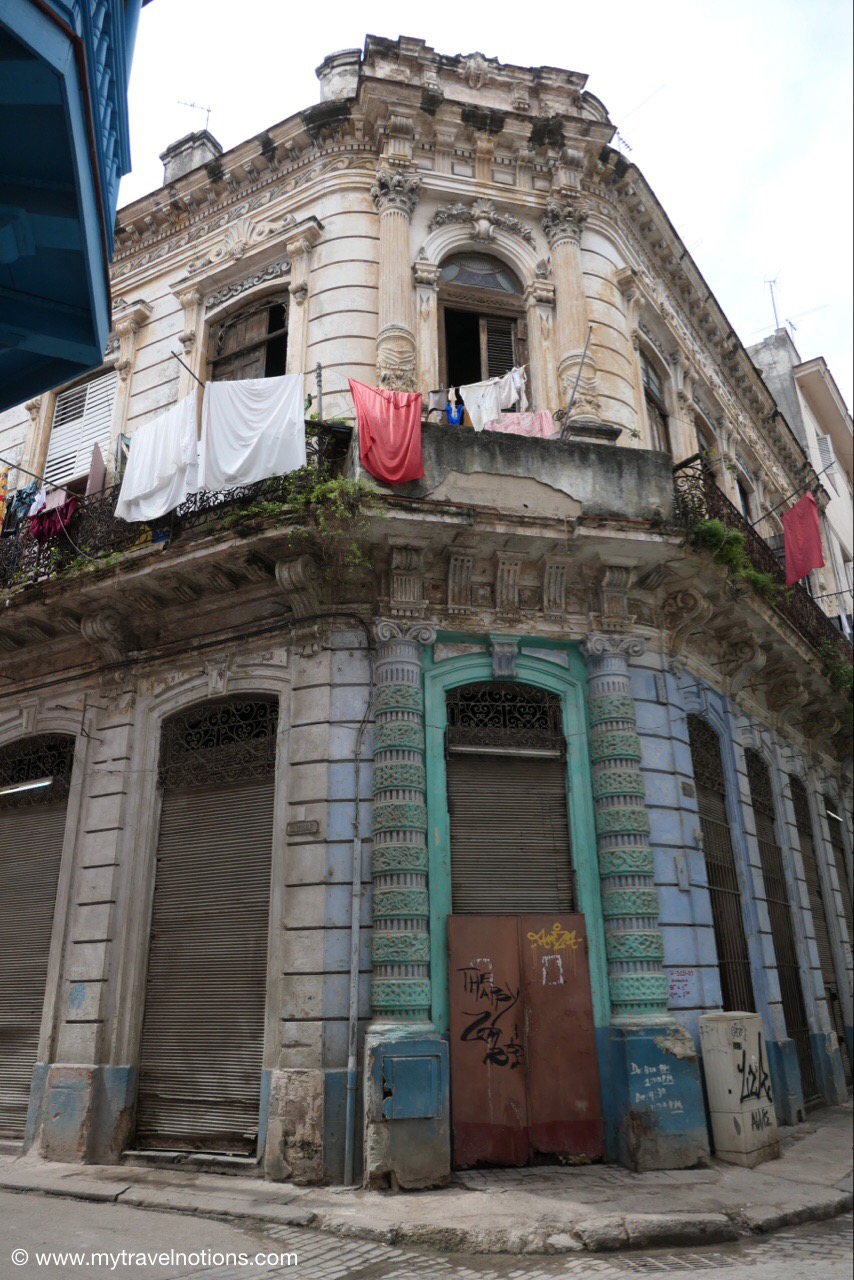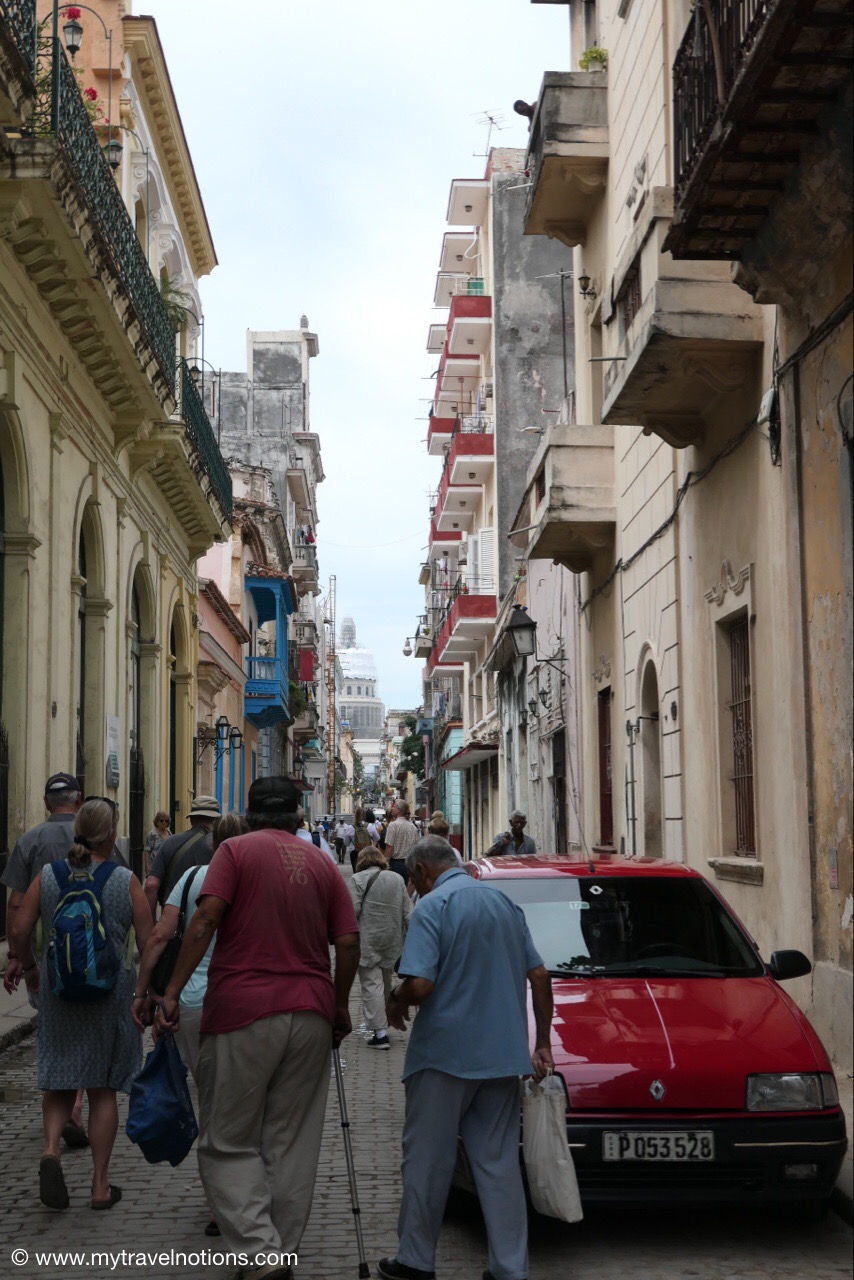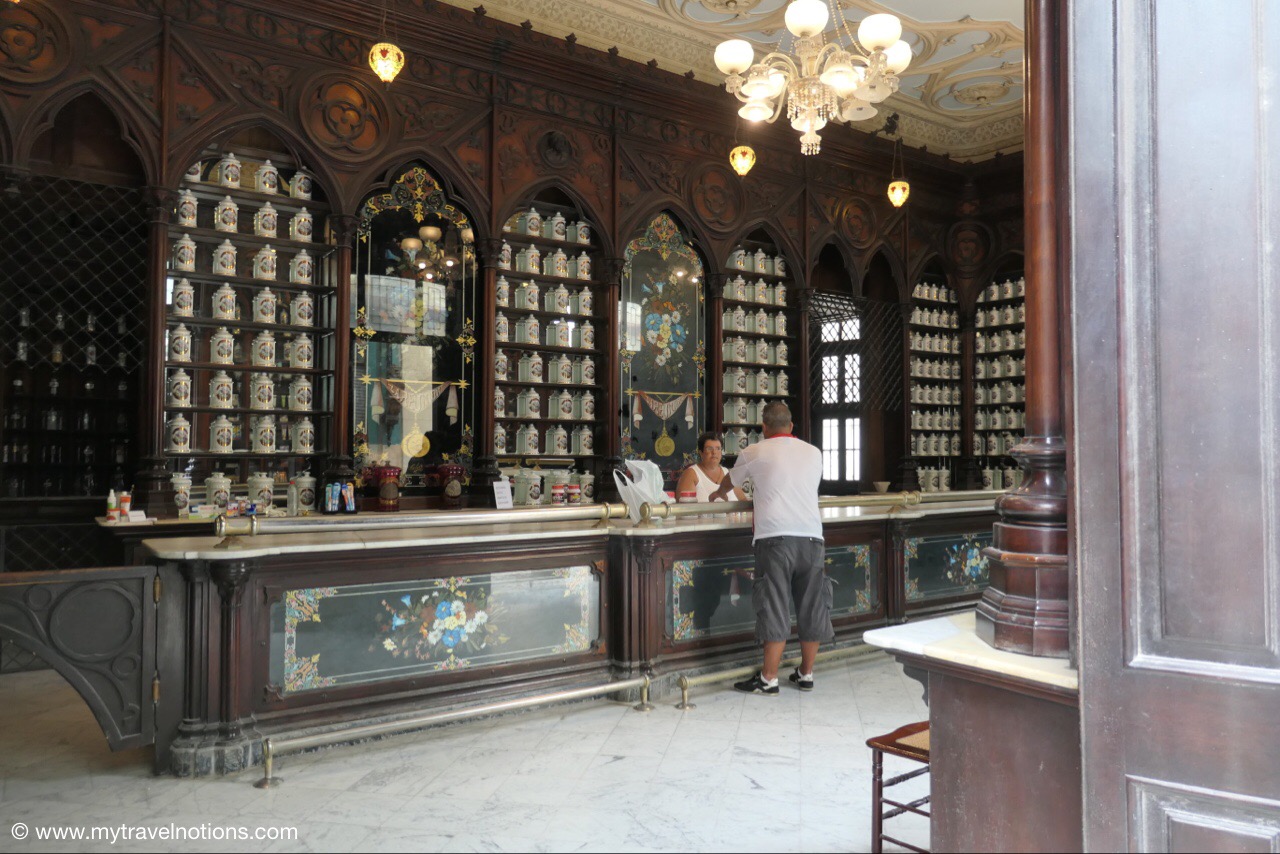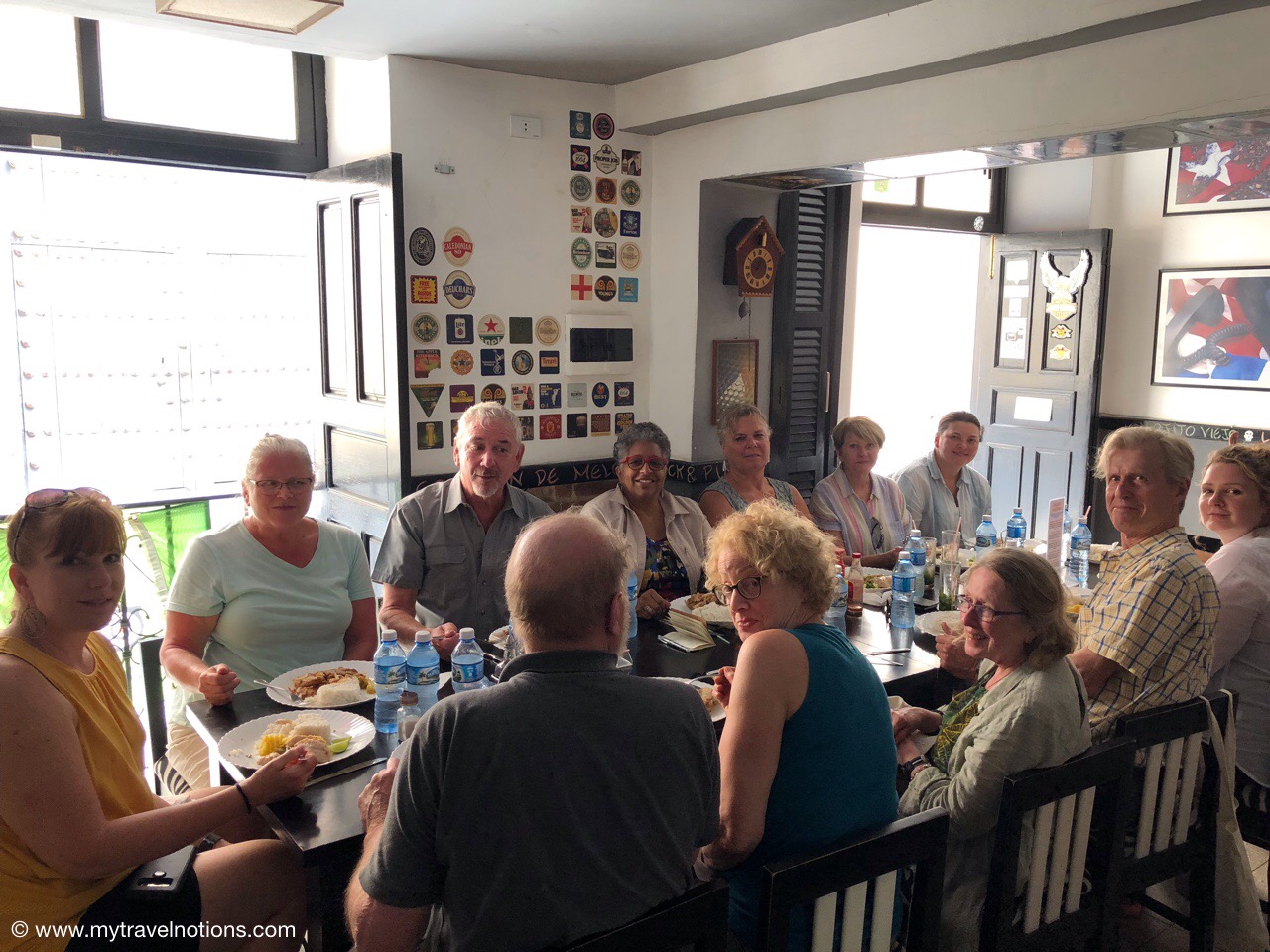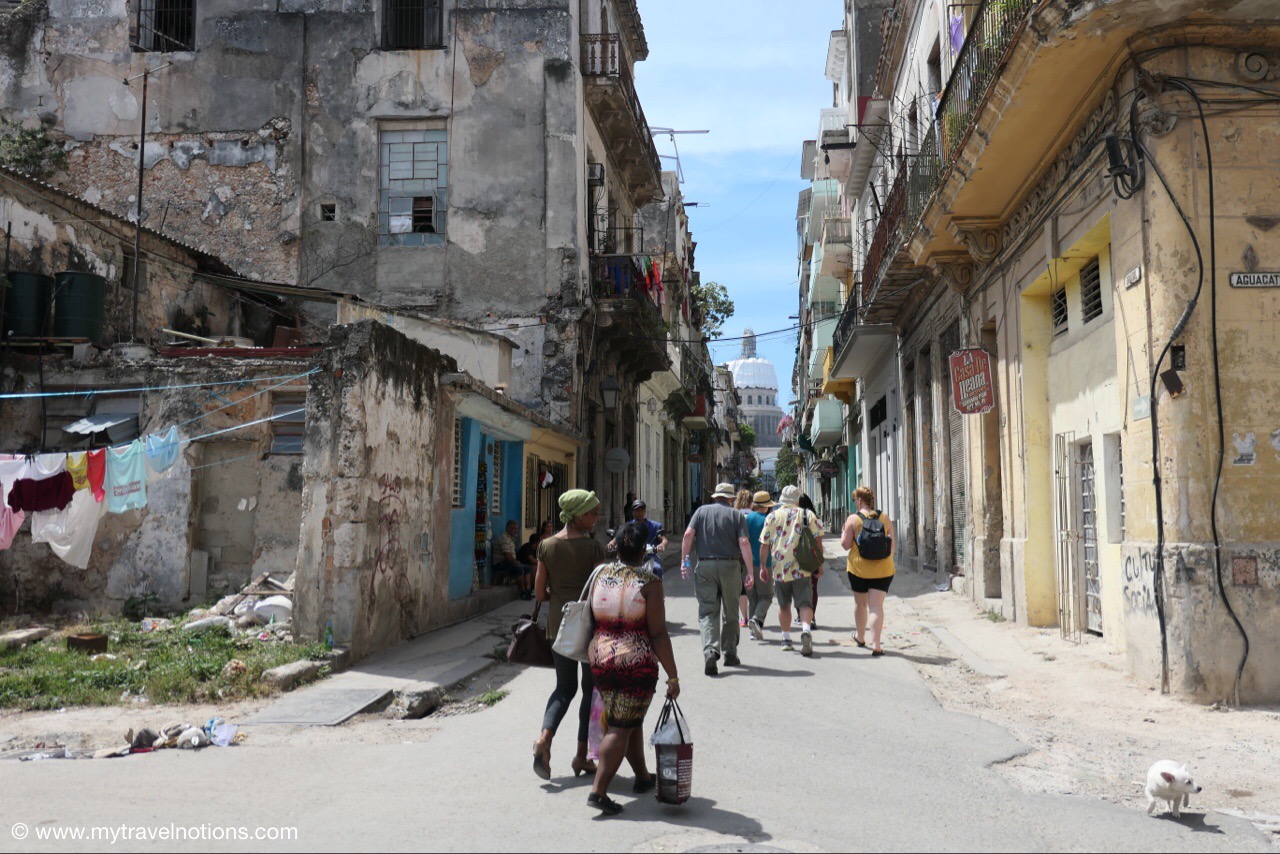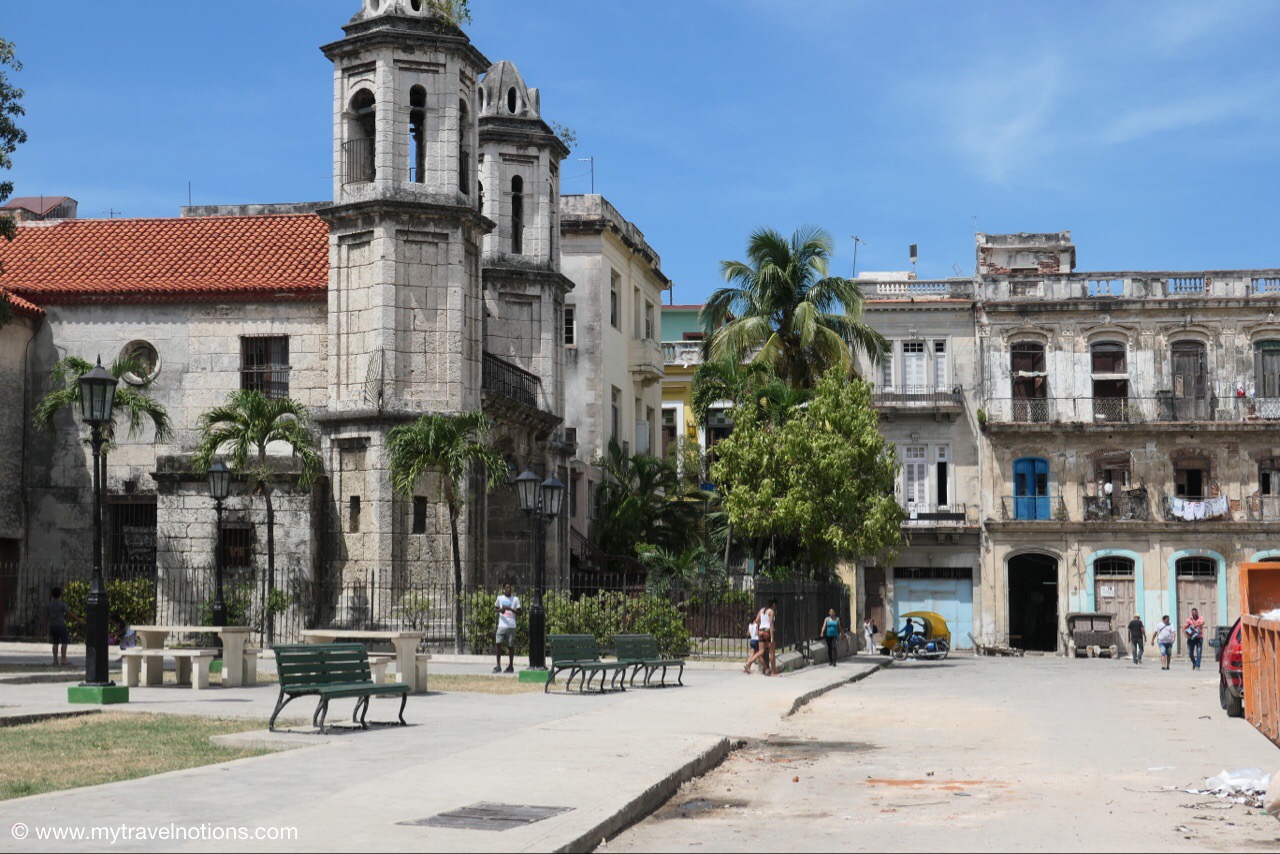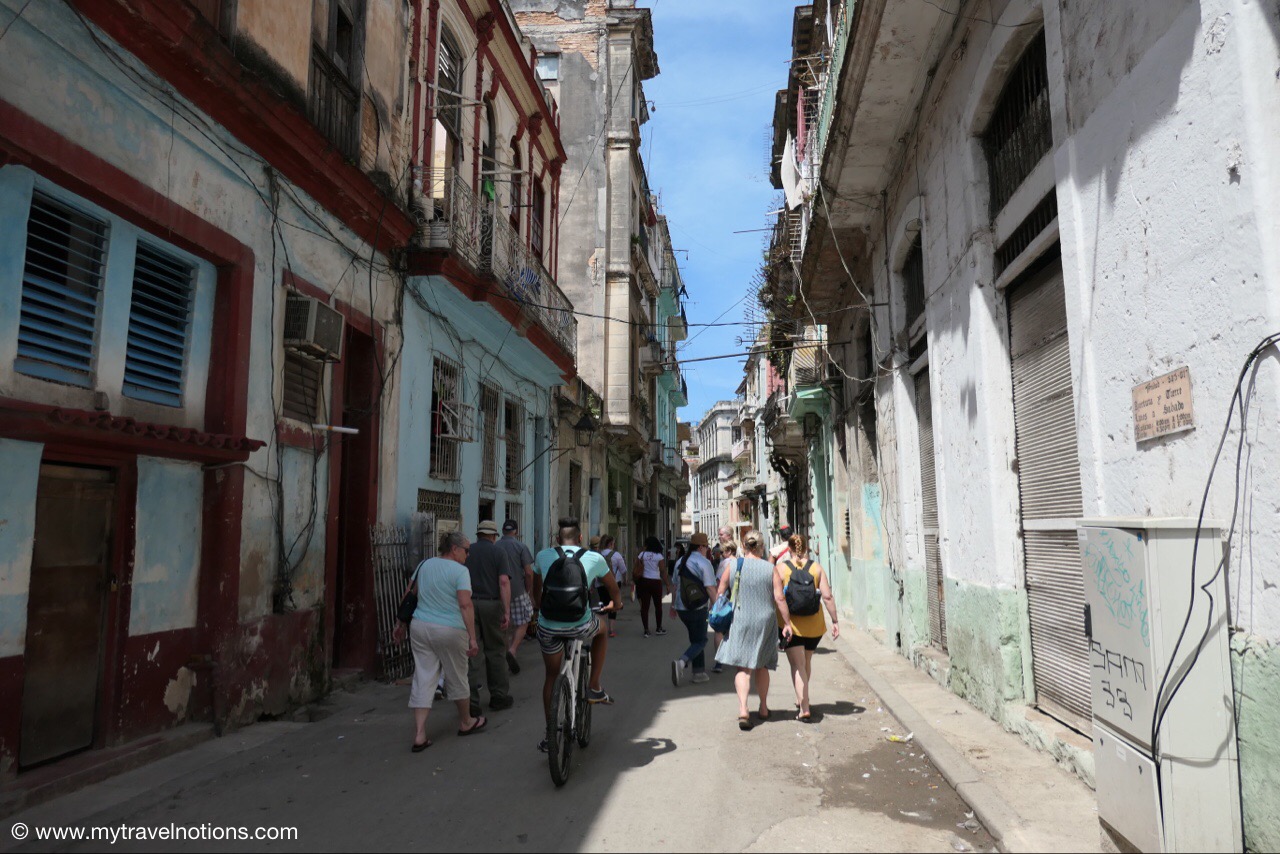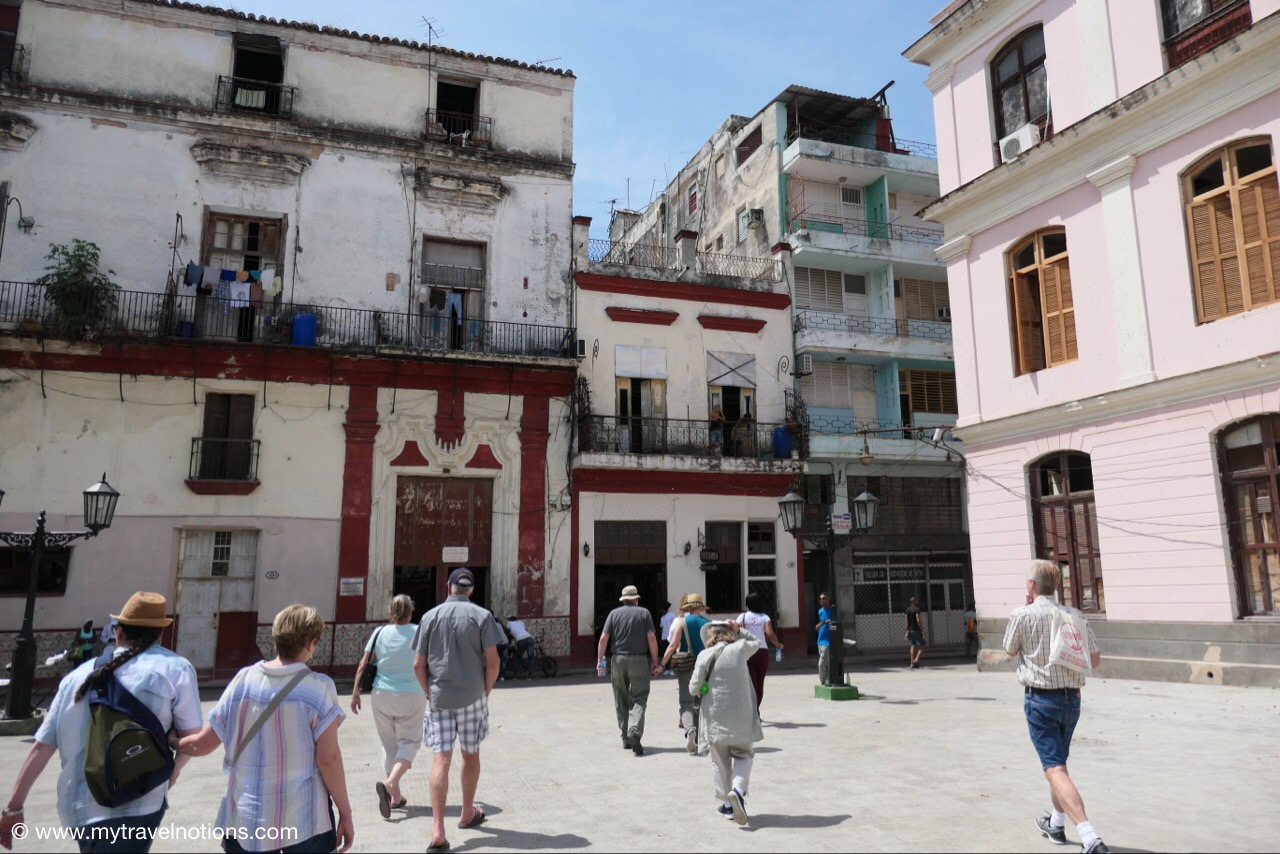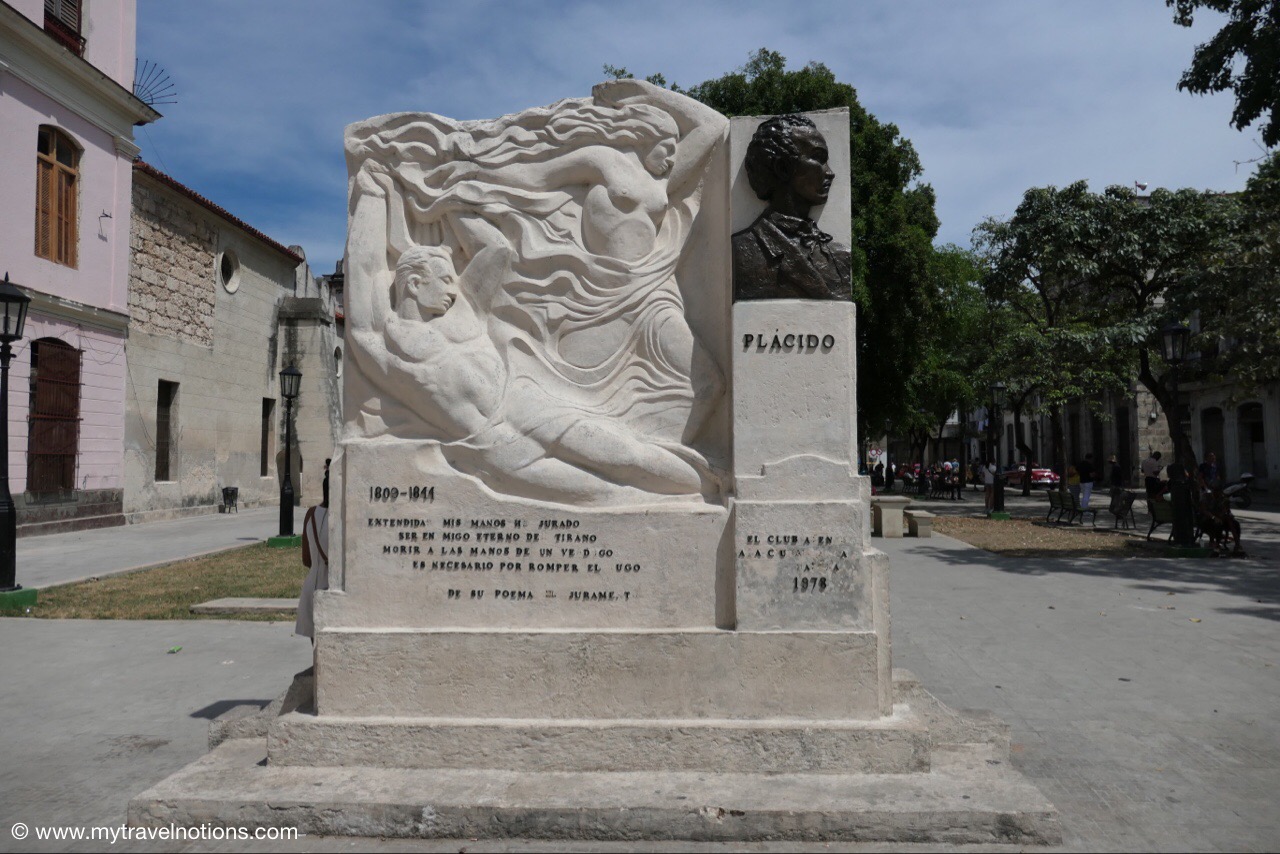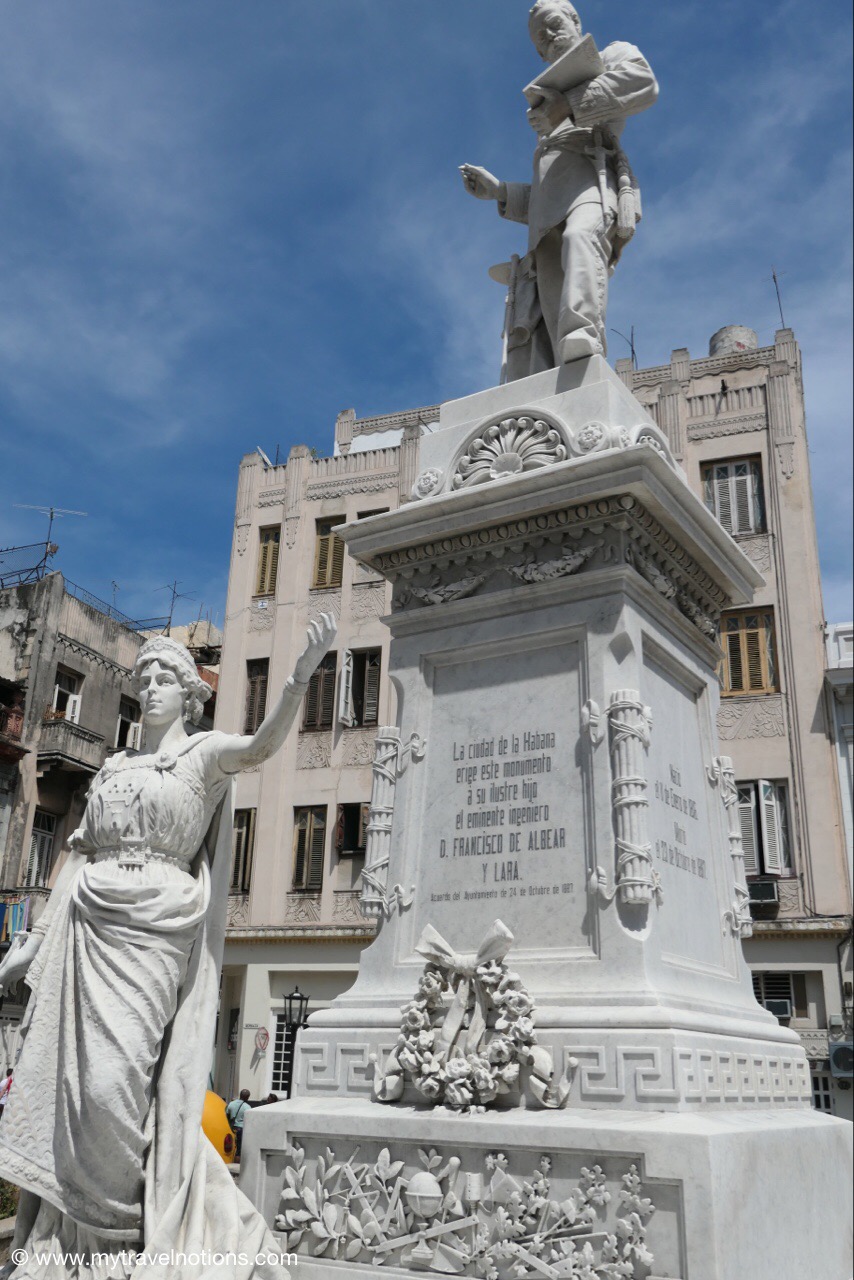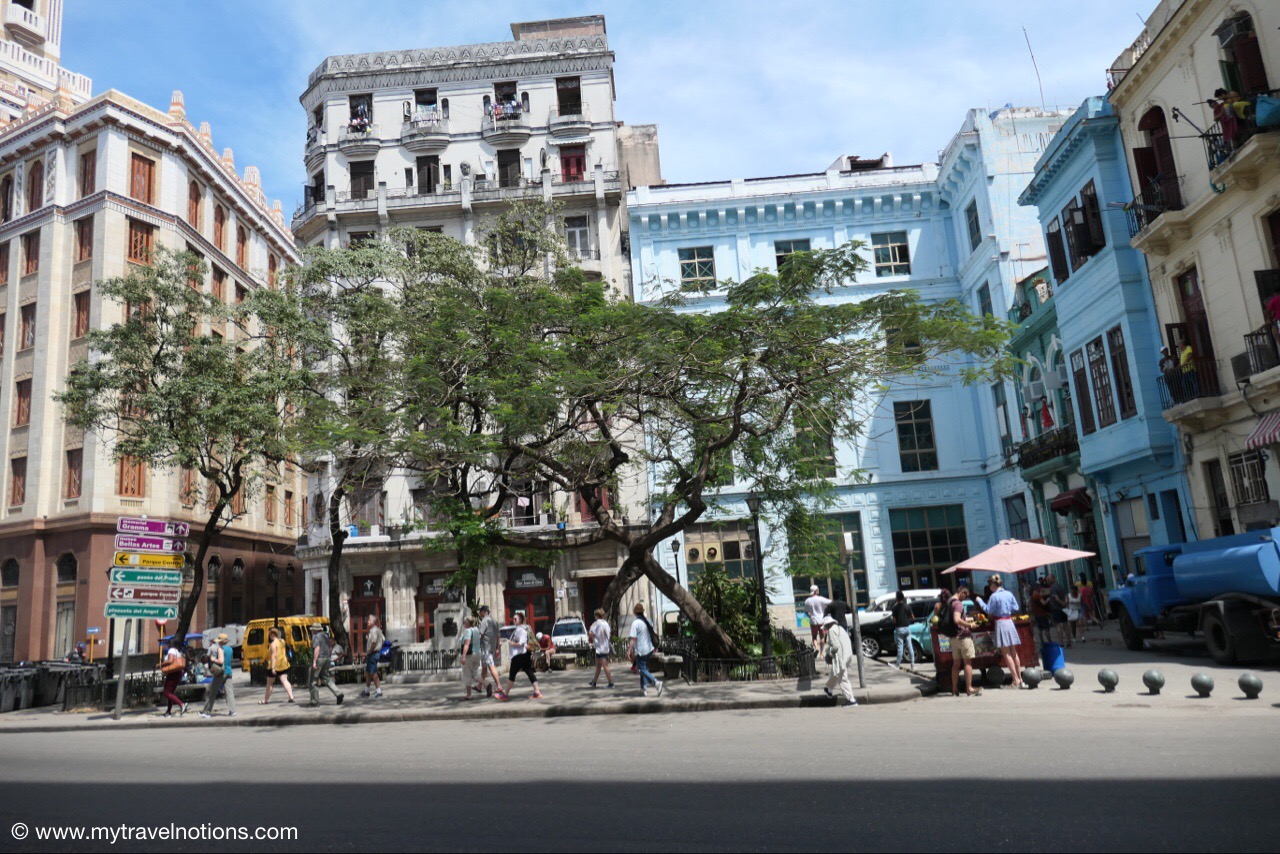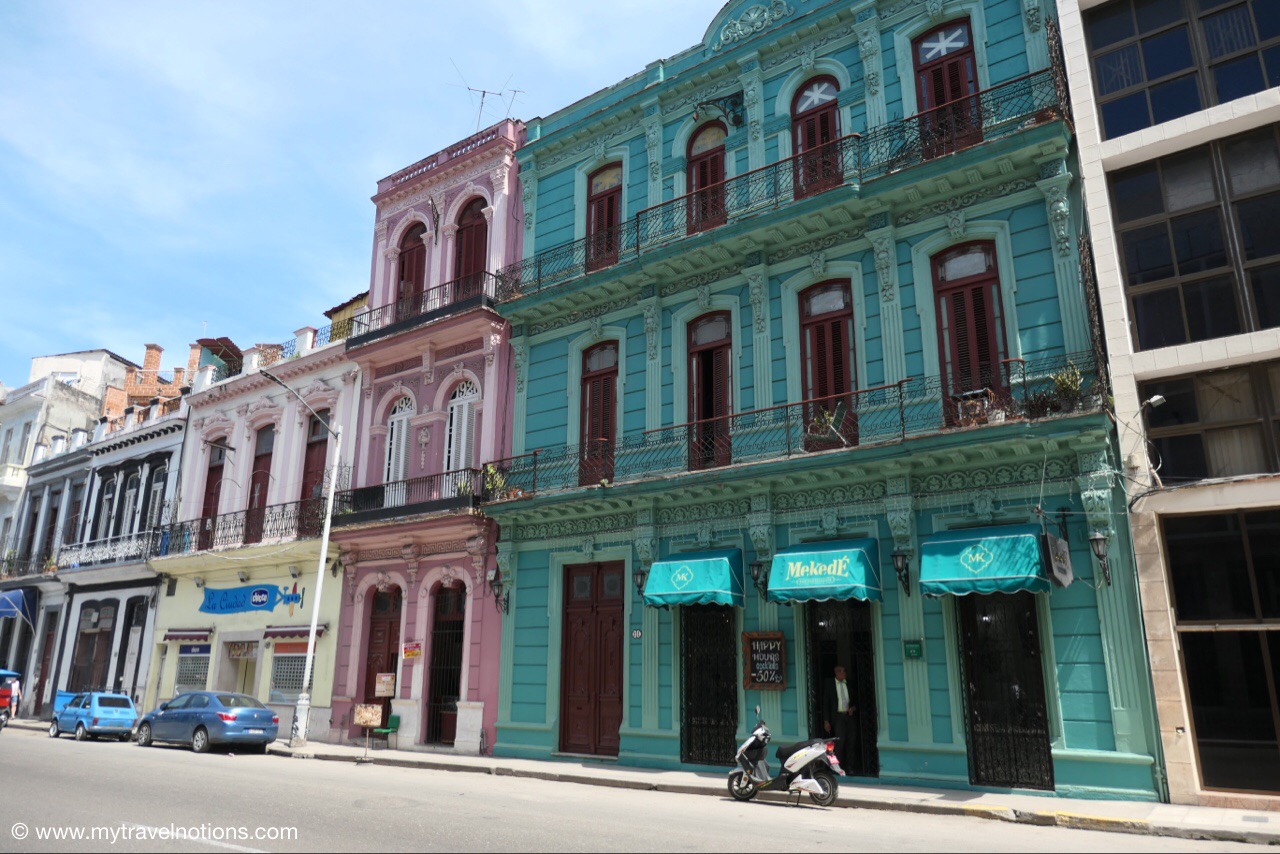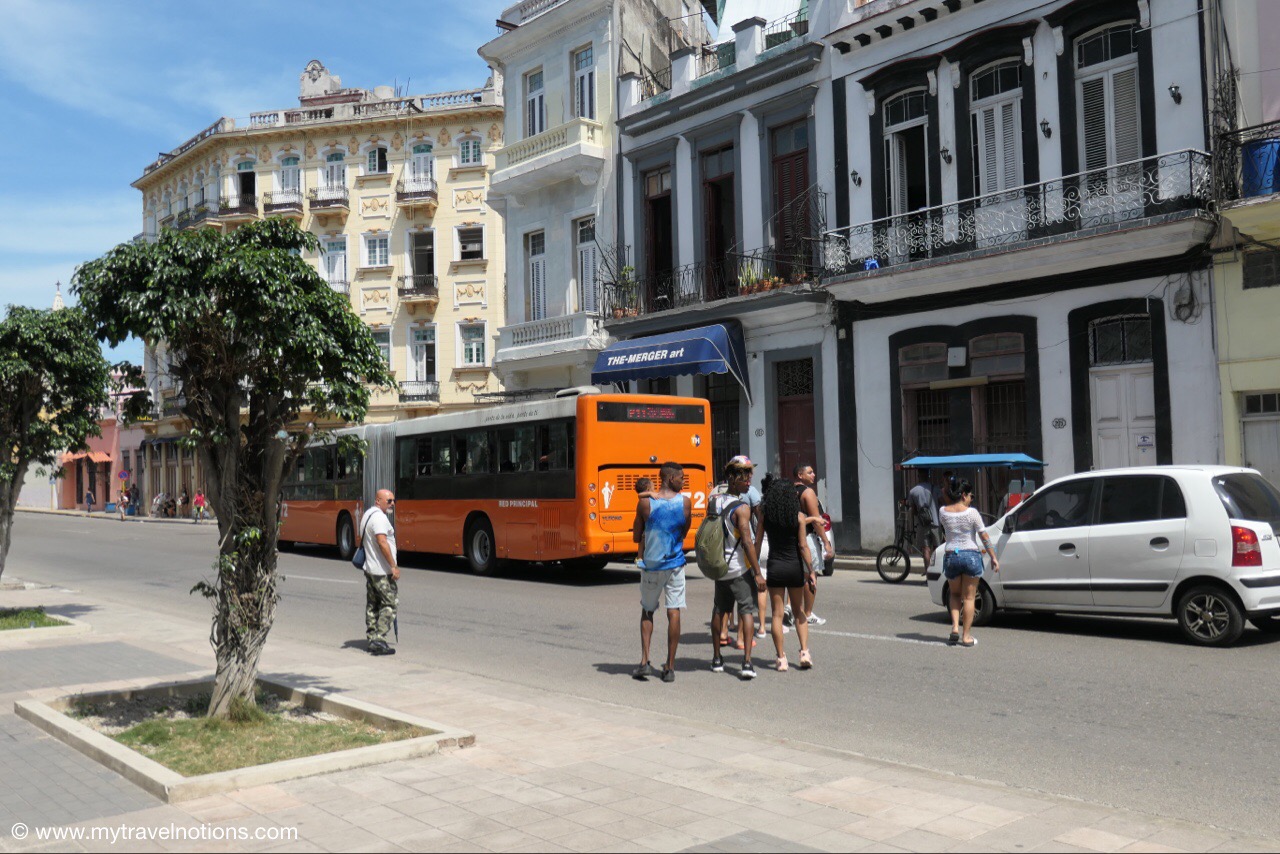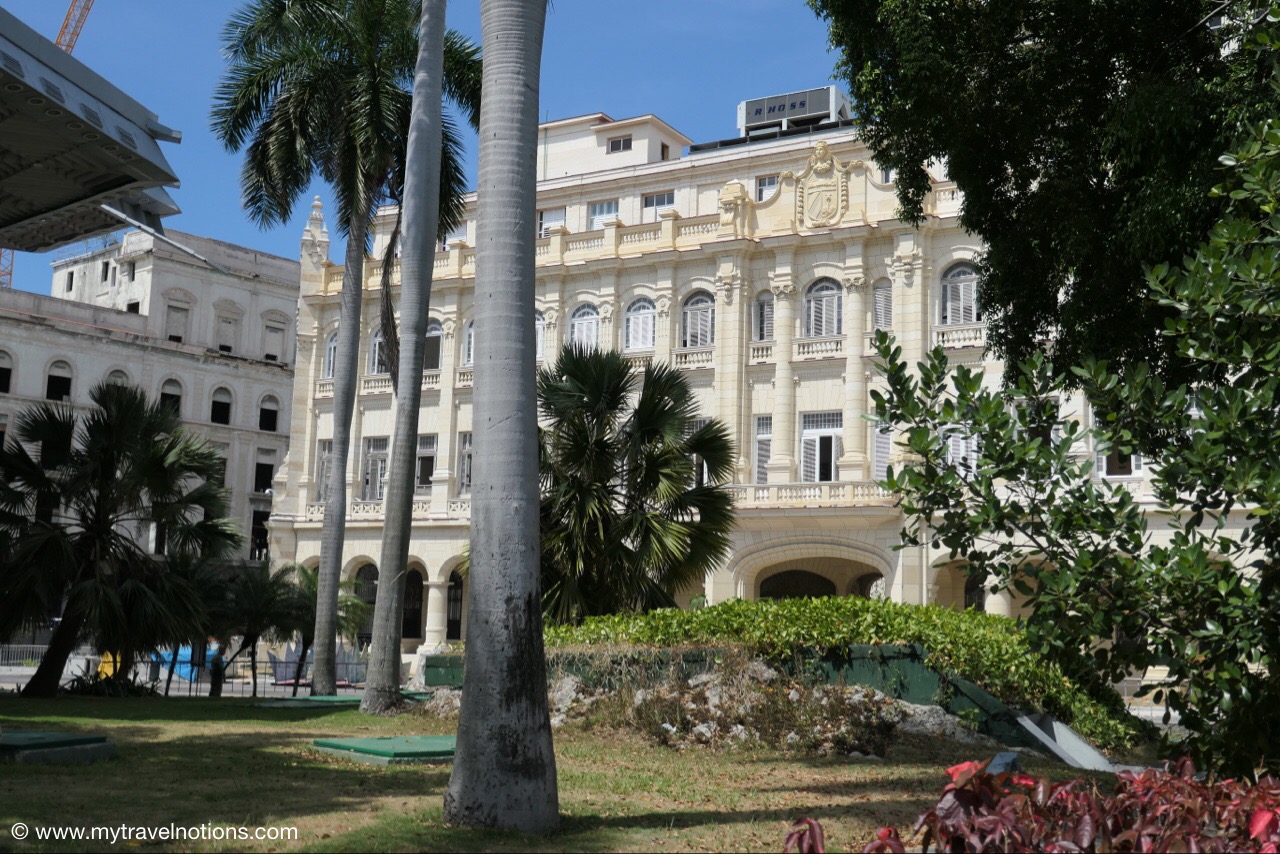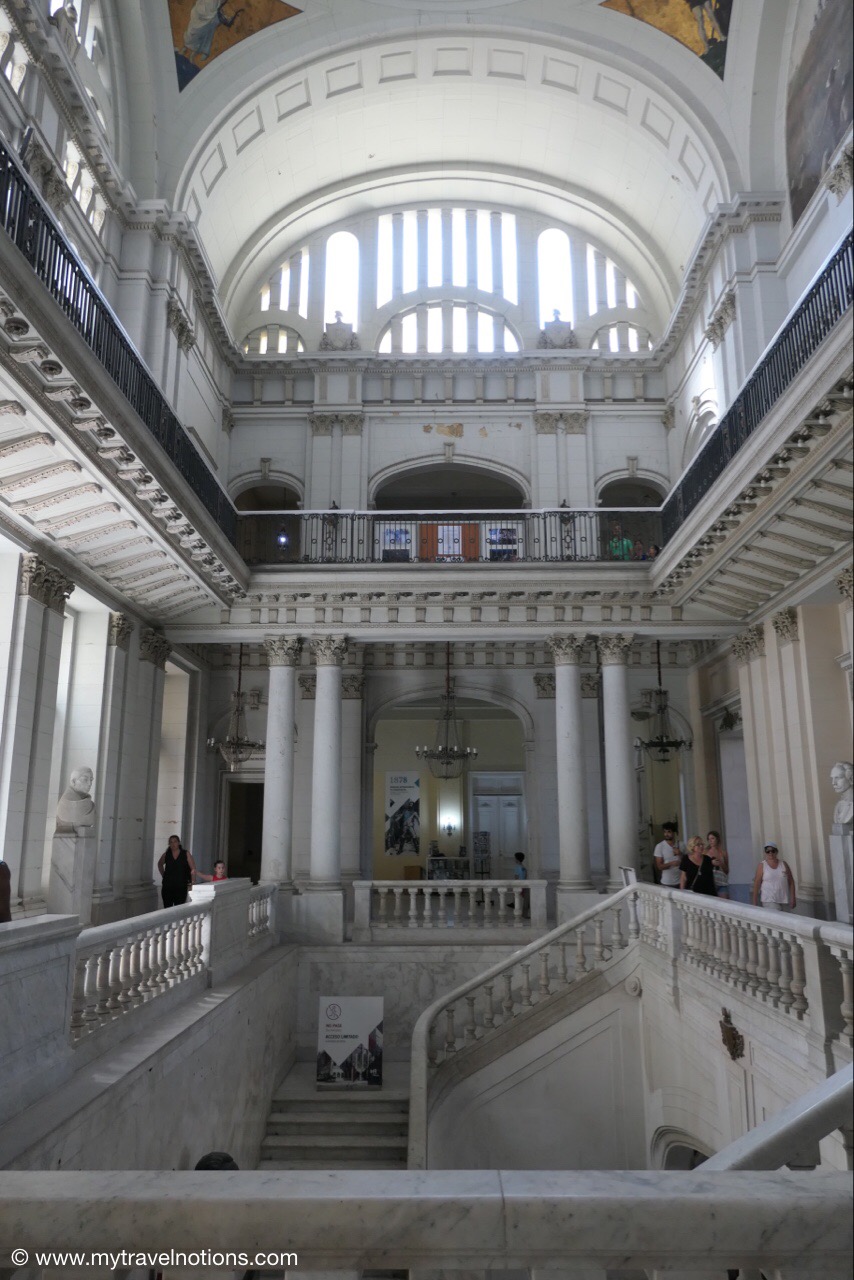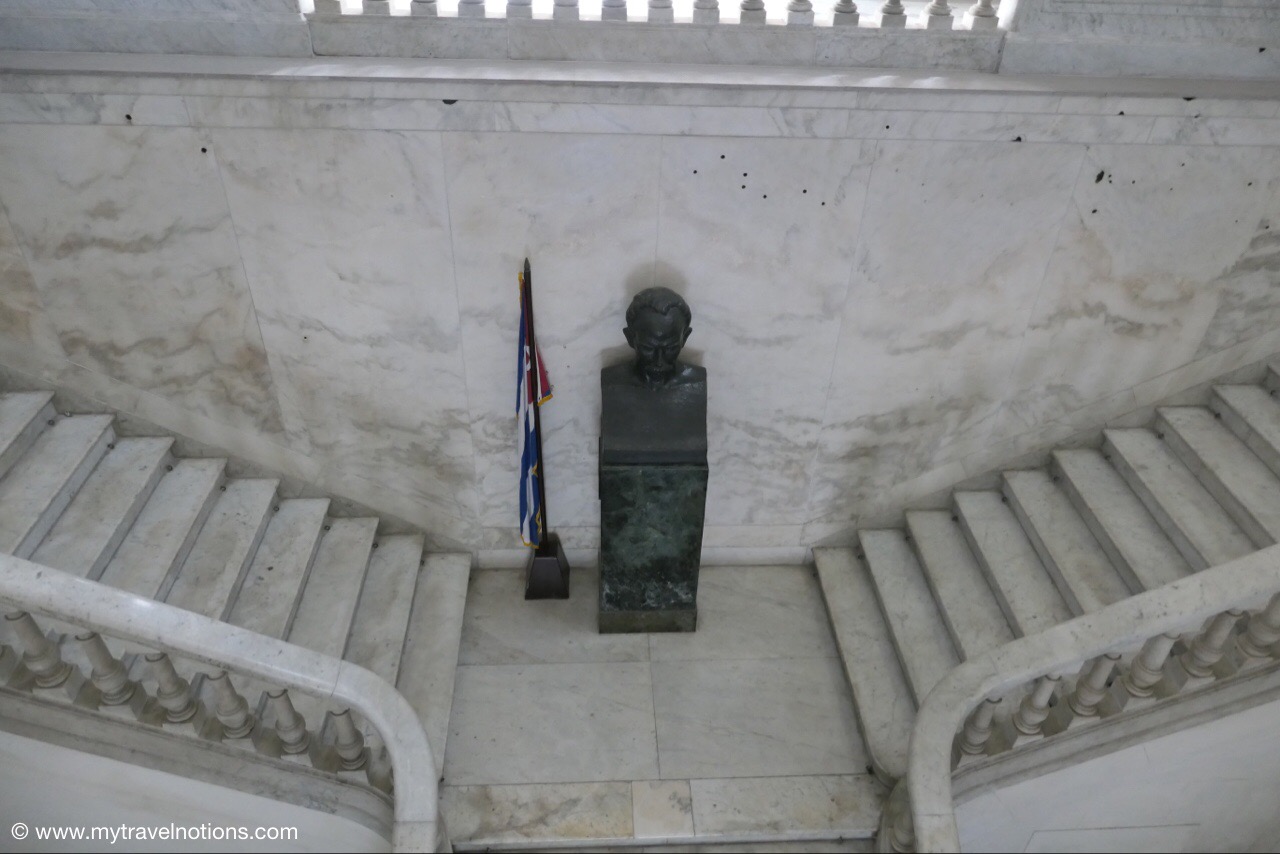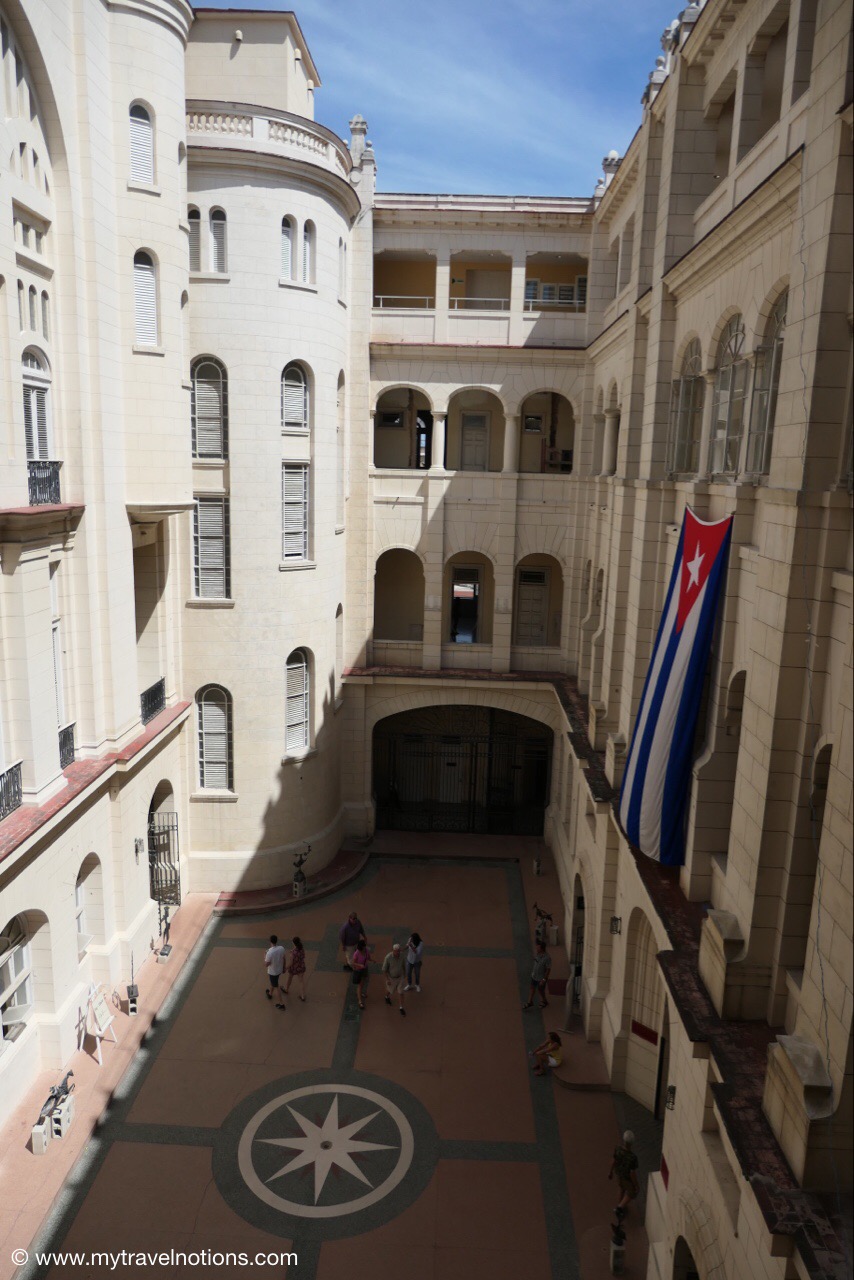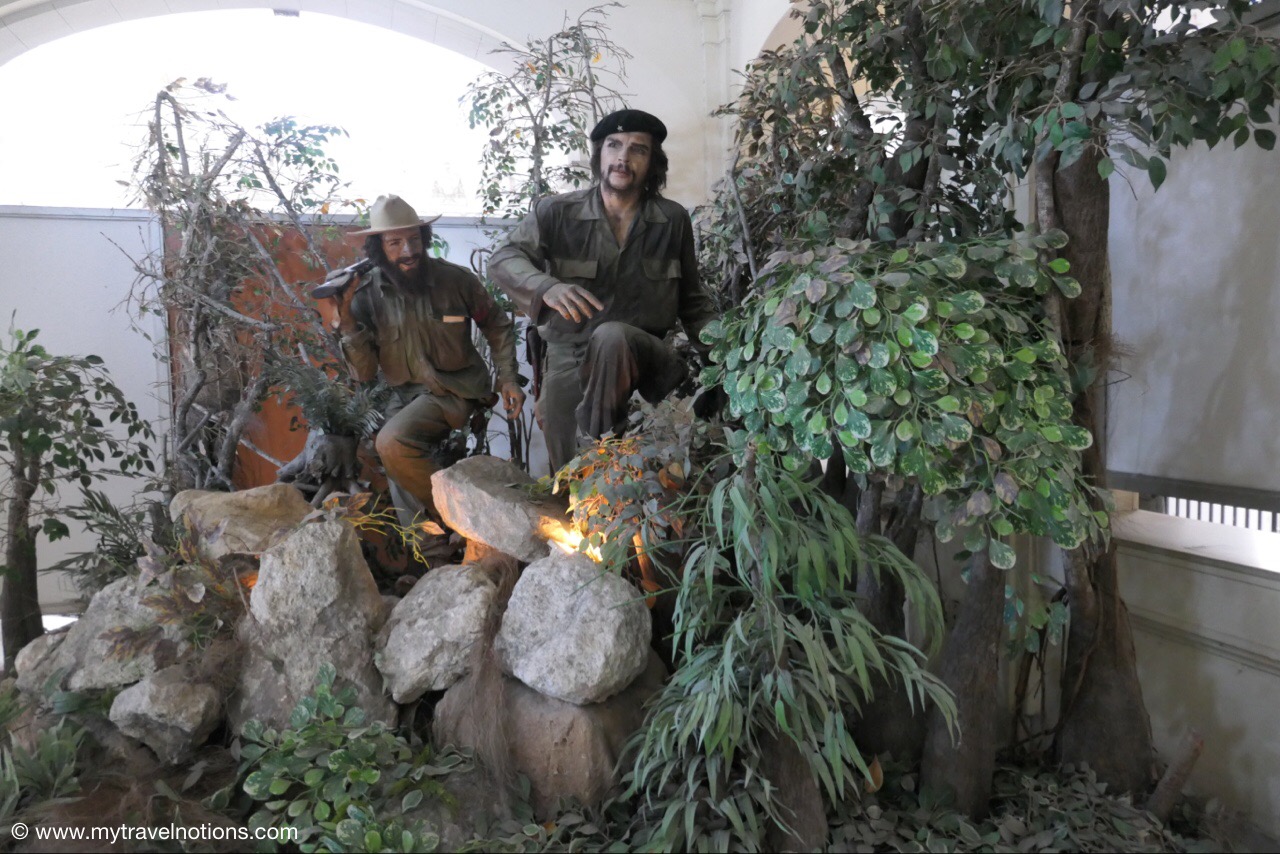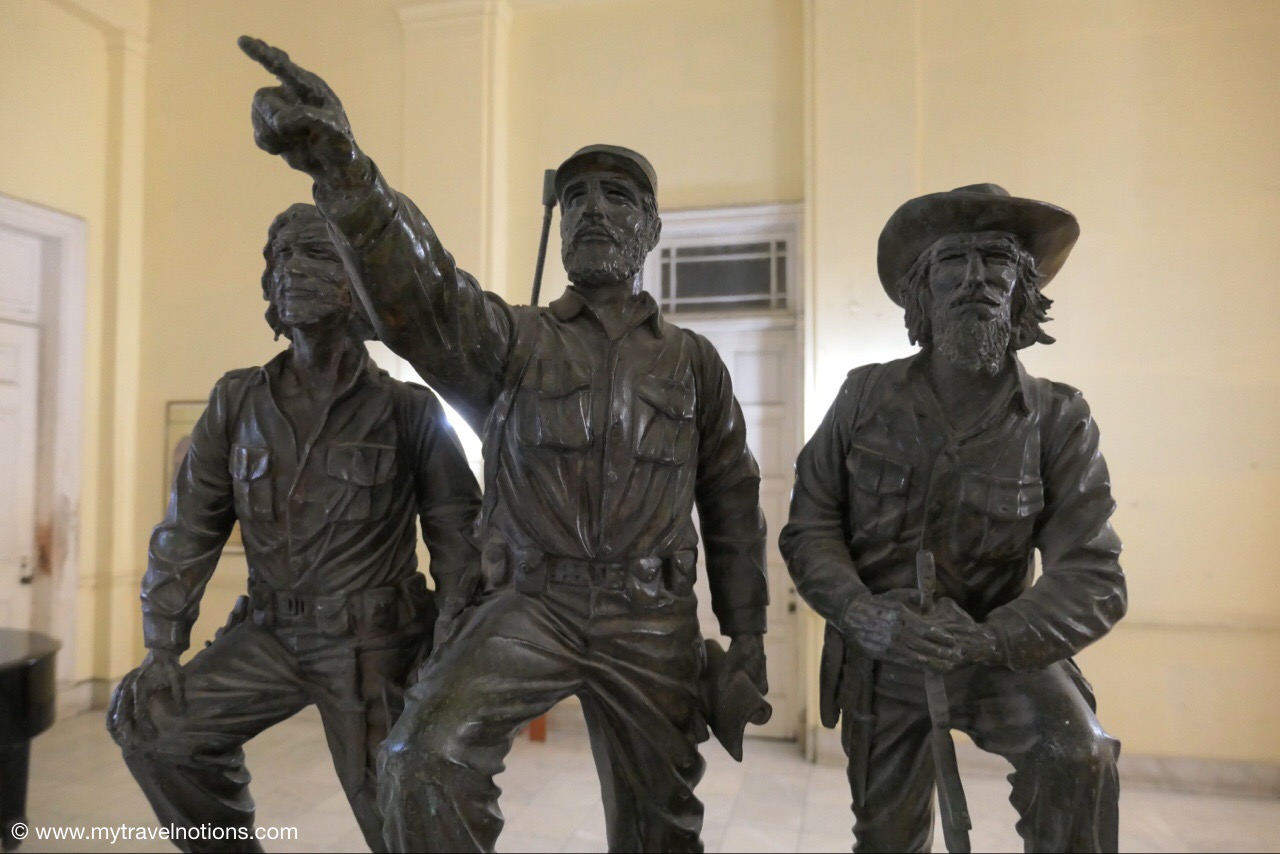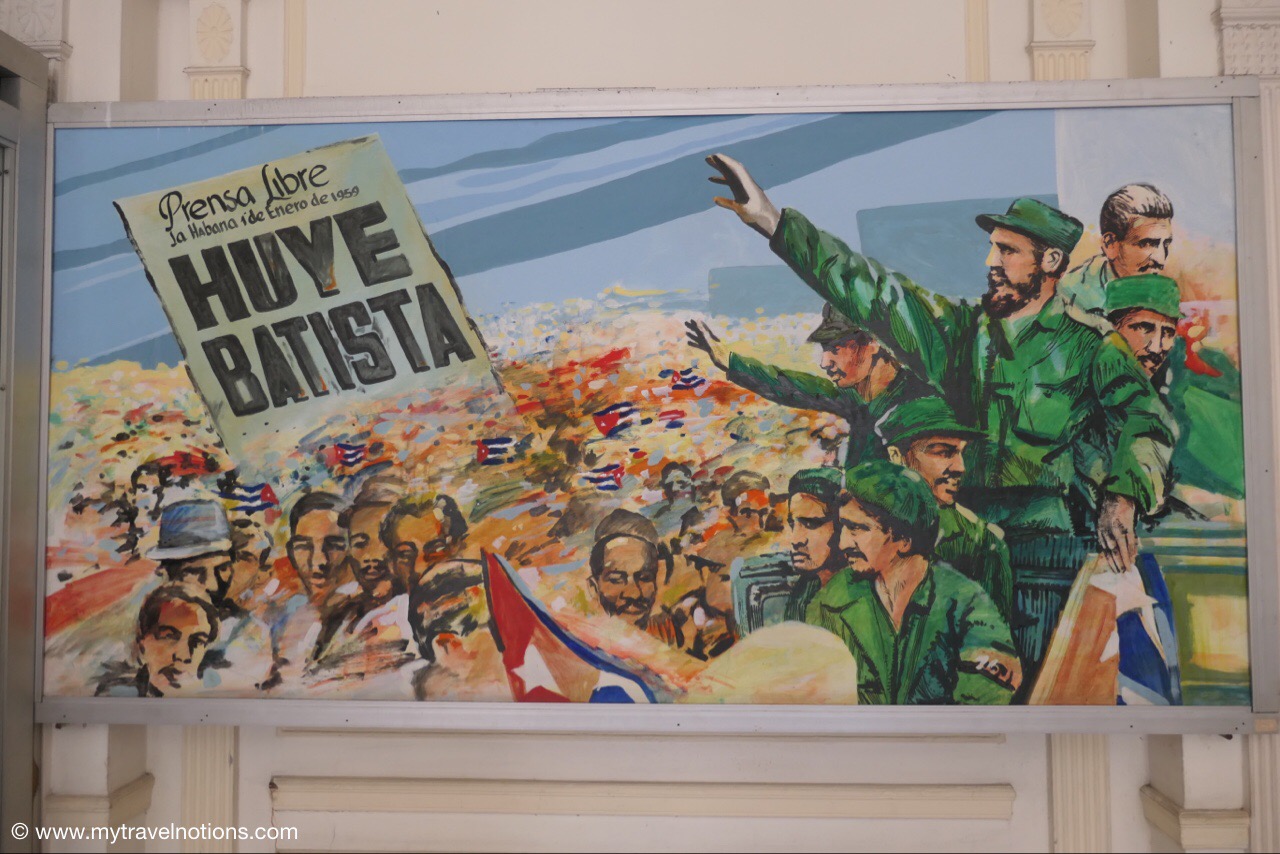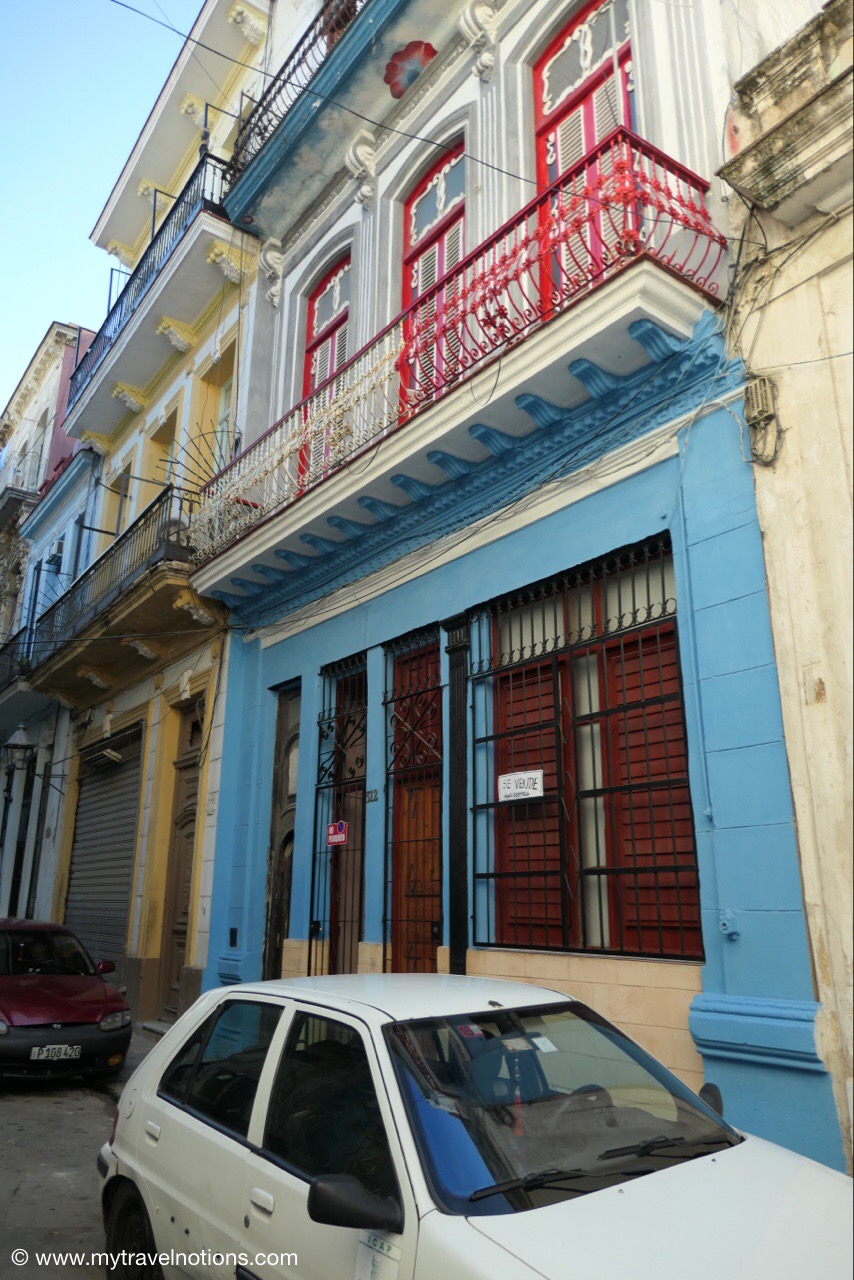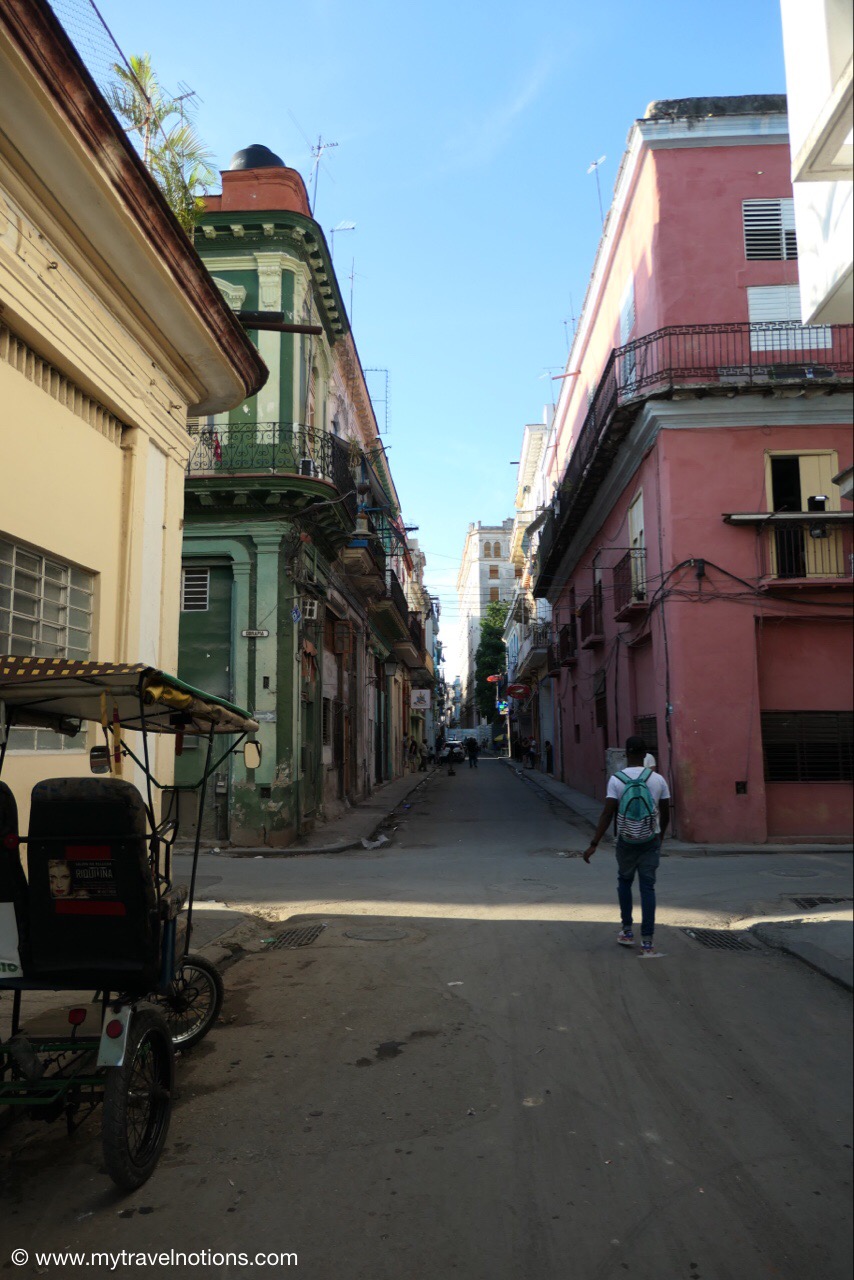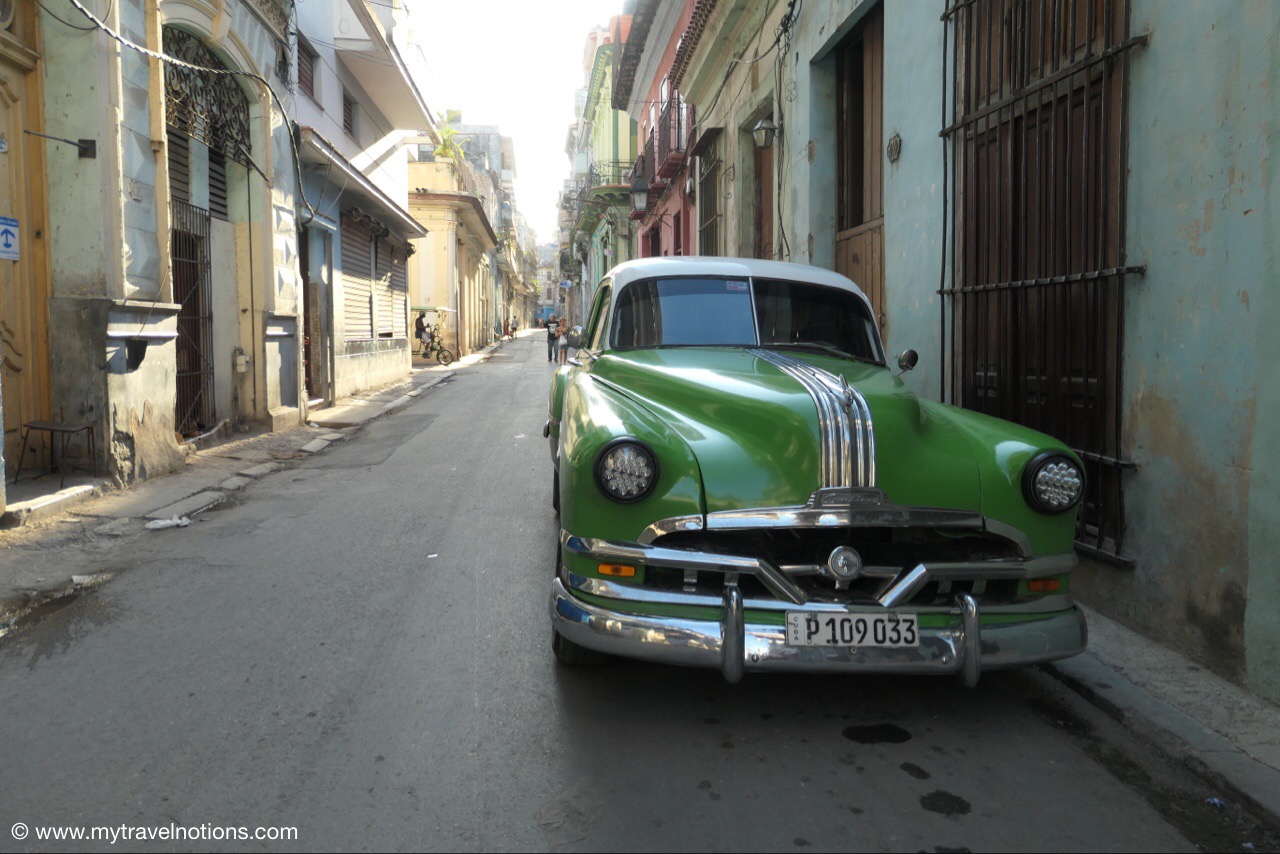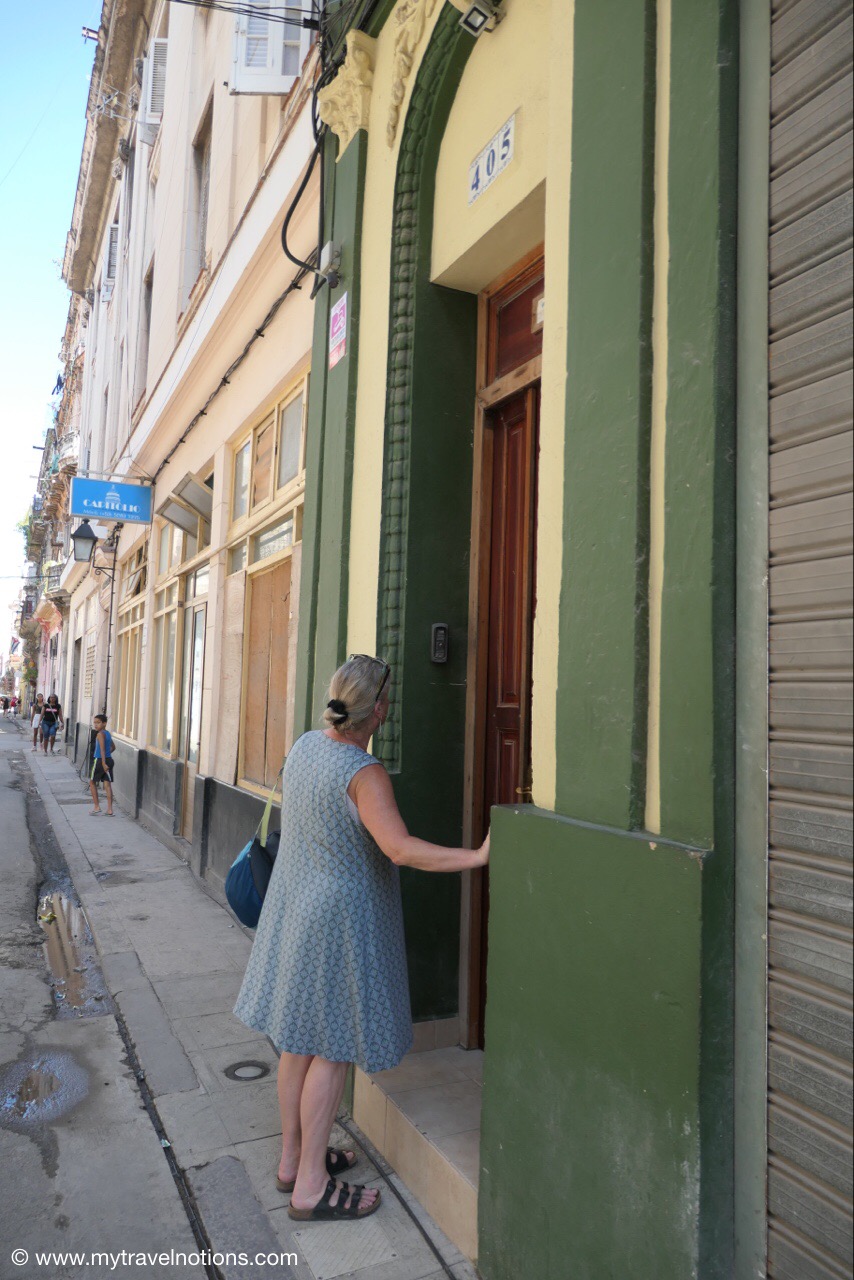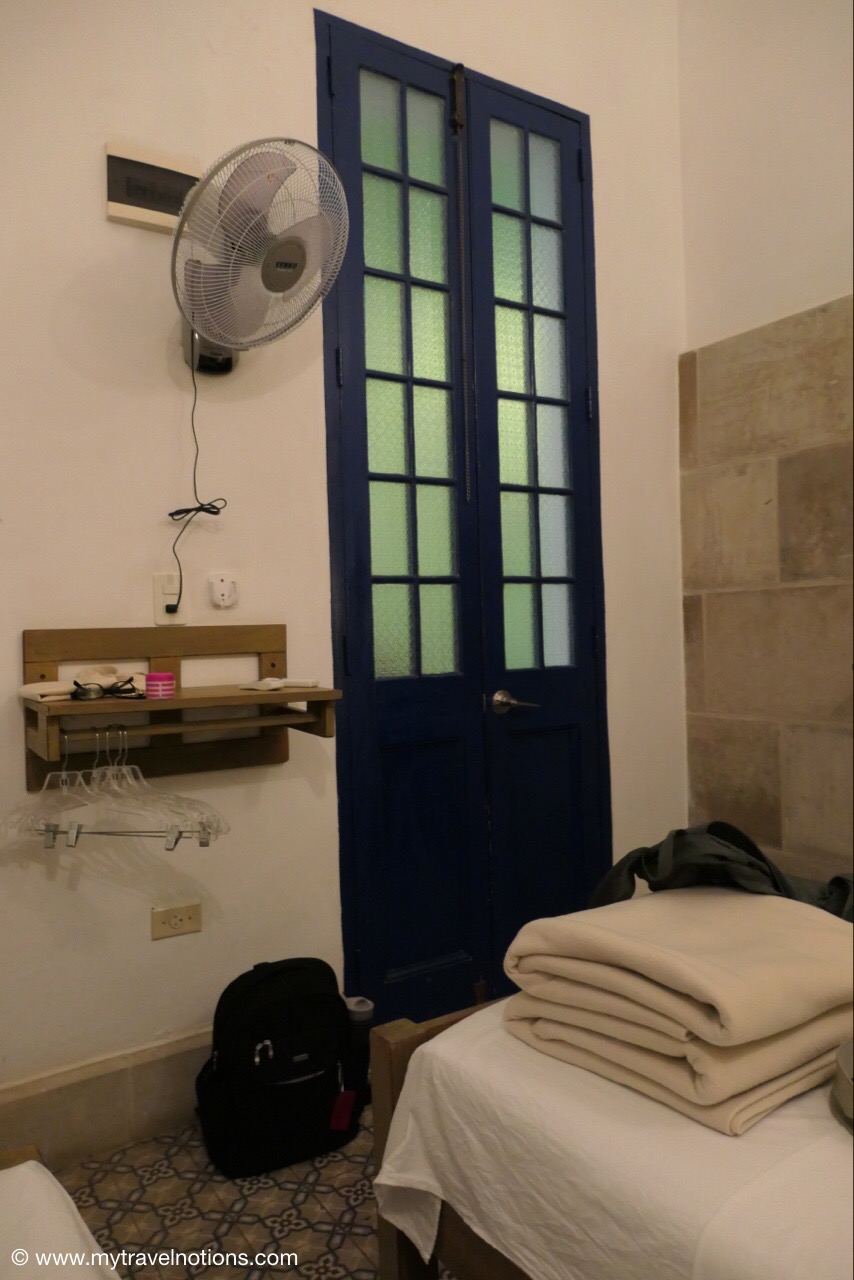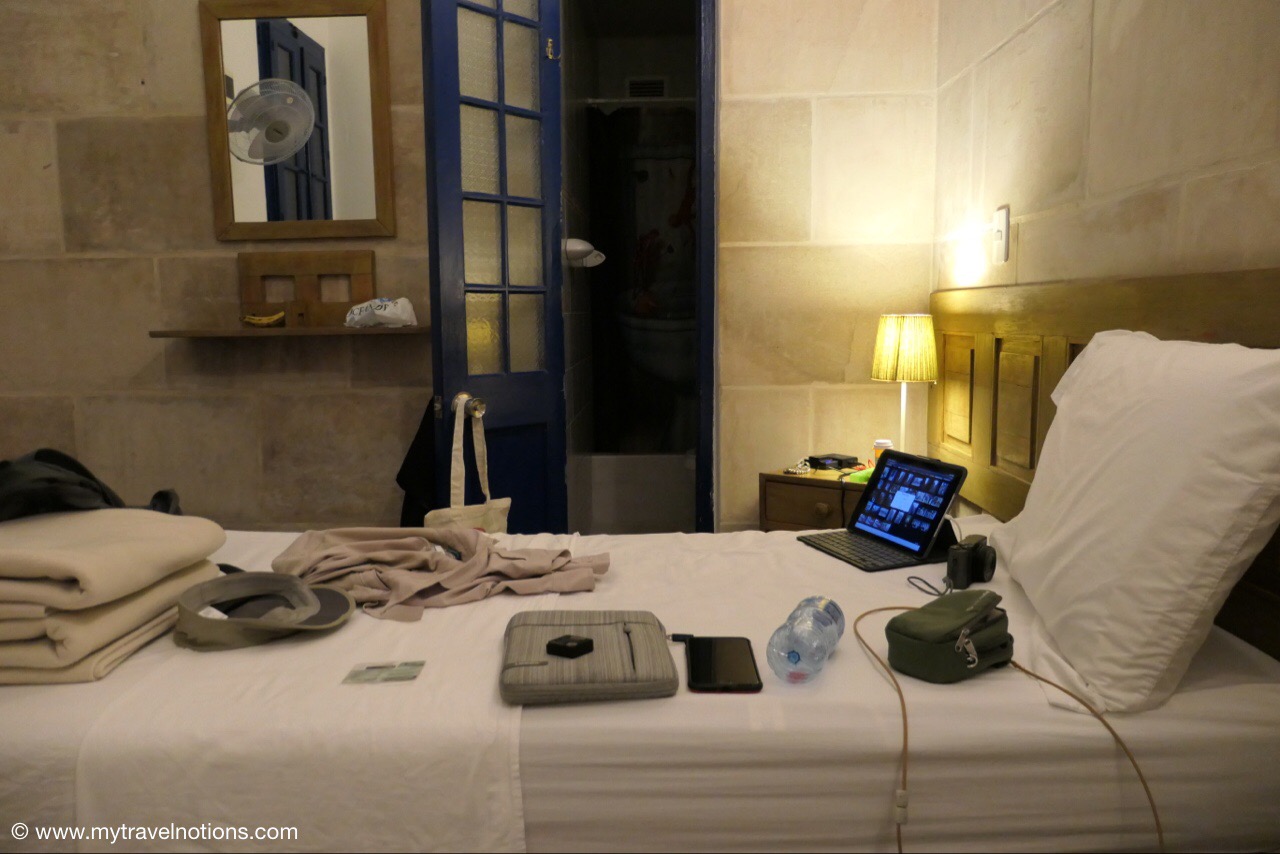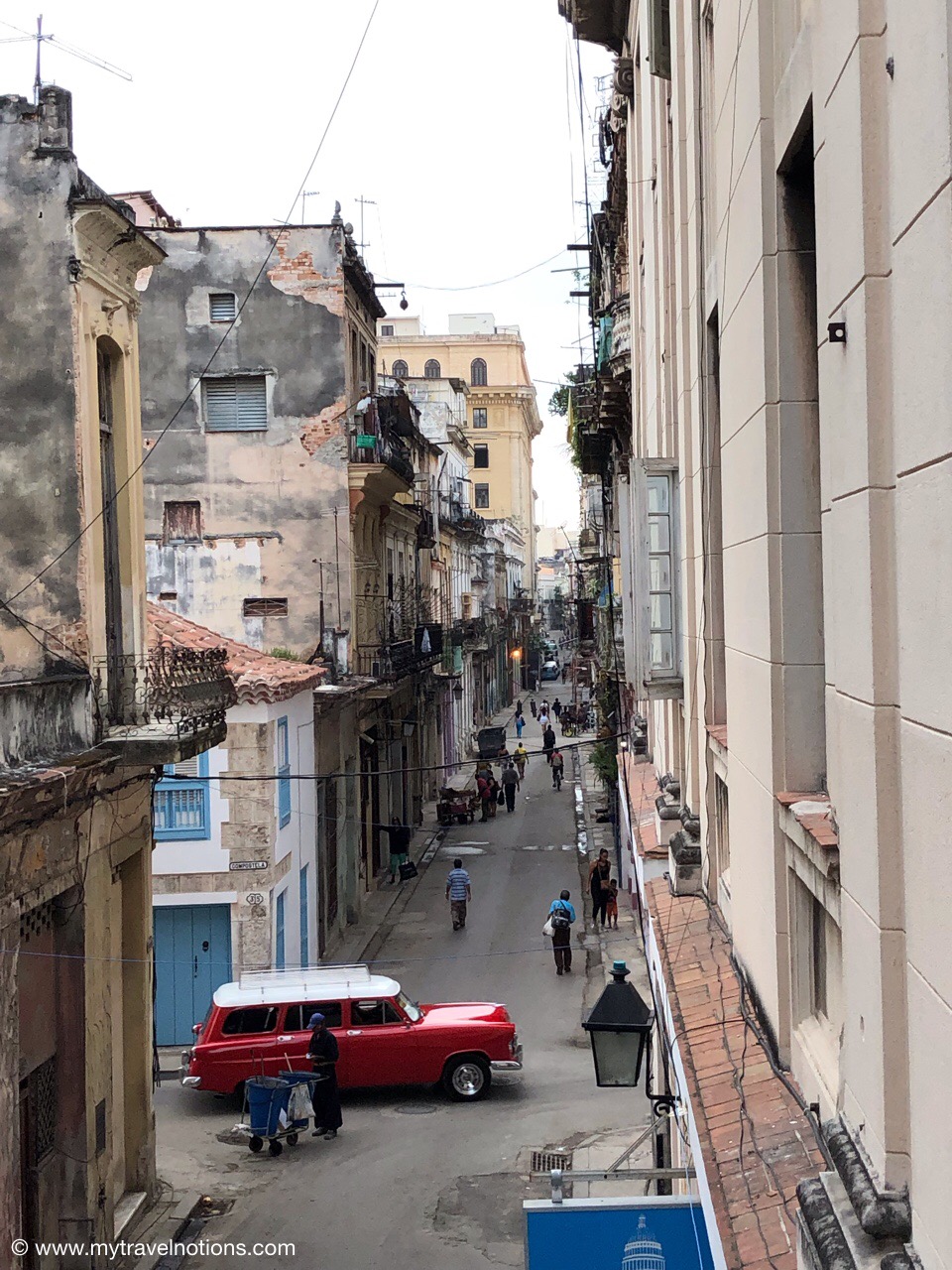 Viñales
Days 3 and 4 of Cuba, Monday, March 18 and Tuesday, March 19 – On the road to Viñales from Havana and exploring the tobacco and farmlands of Viñales.
We got to meet Mario, our wonderful bus driver, and get acquainted with our very comfortable Transtur bus #5142 as we took our tour on the road to the small town mountainous farmland area of Viñales.
On the way to Viñales from Havana, we made several stops including the colorful mural neighborhood dubbed Fusterlandia, the reforestation project of Las Terrazas and a quick stop to peer onto the Viñales Valley Viewpoint of the limestone cliffs called mogotes, rounded tower-like hills.  After arriving in Viñales we check into our guest house or casa,  enjoy a quick Viñales town orientation walk then head to a scenic organic farm to learn about sustainable farming before having a delicious dinner on the farm's porch with the beautiful Viñales countryside backdrop as the sun sets.
Our Viñales experience continues the following day with a morning walk to the farmlands just a block or two from the town where there's this glorious wide open countryside of gorgeous green land of Tobacco and coffee farmers. I'm more of a city girl but every once in awhile, I am awed by the beauty of Mother Nature and the Viñales countryside such a short distance from the town was indeed inspiring along with the people who make their homes and their livings off of this gorgeous land.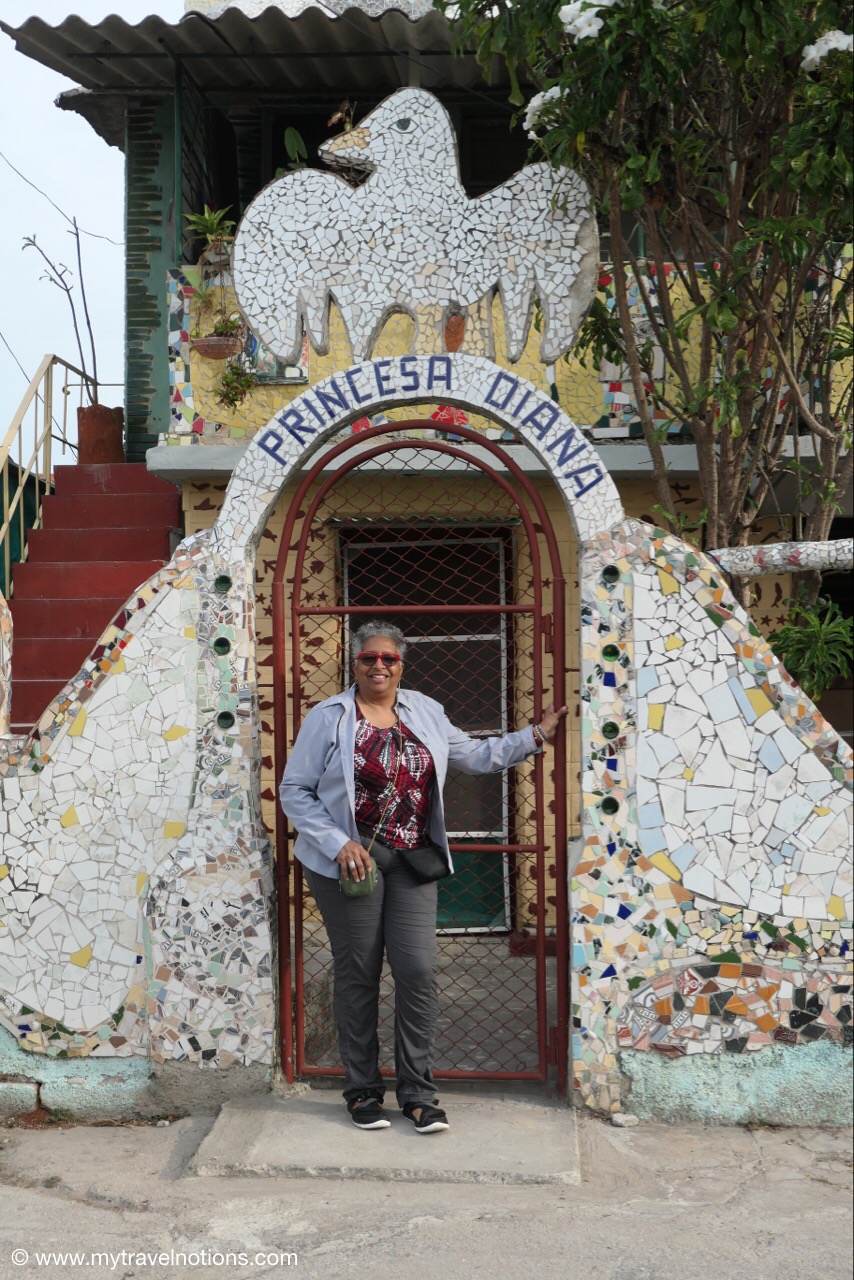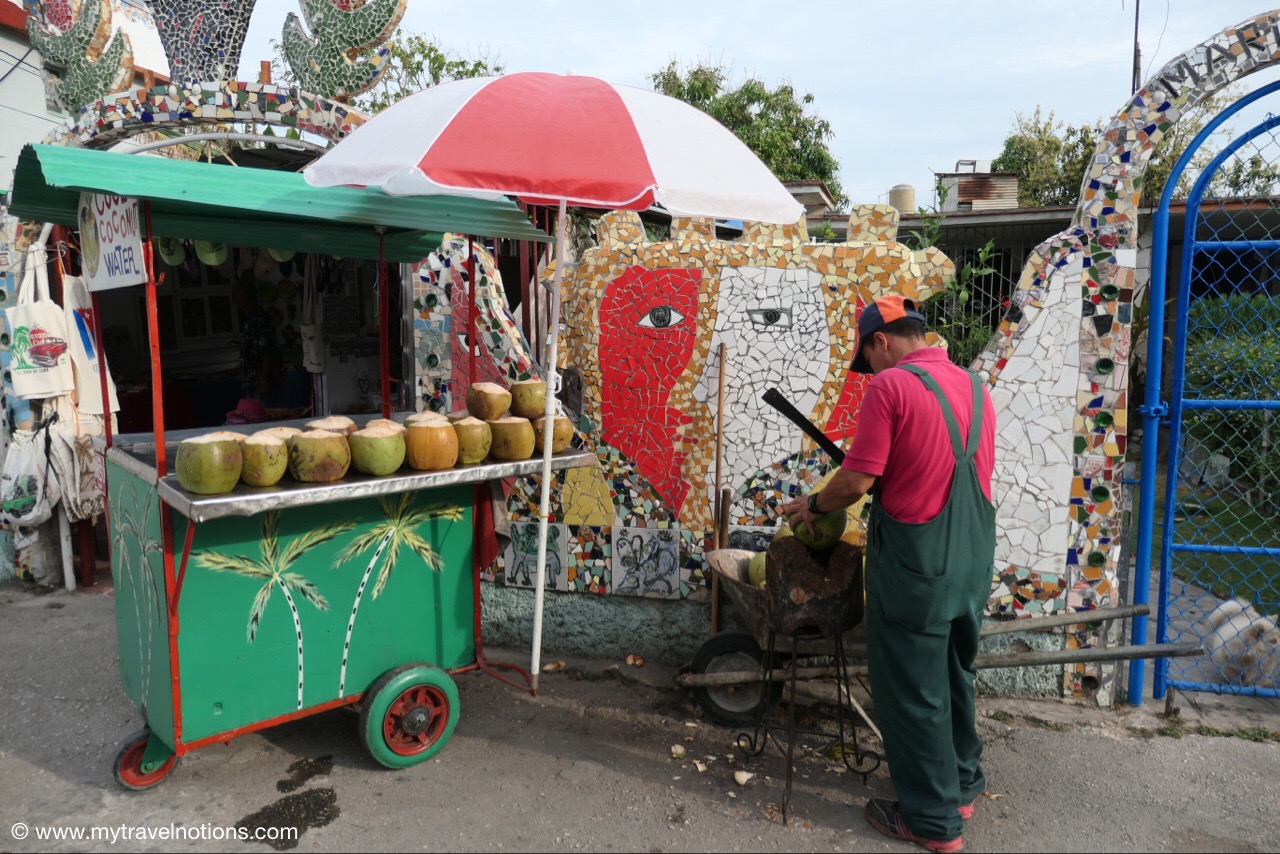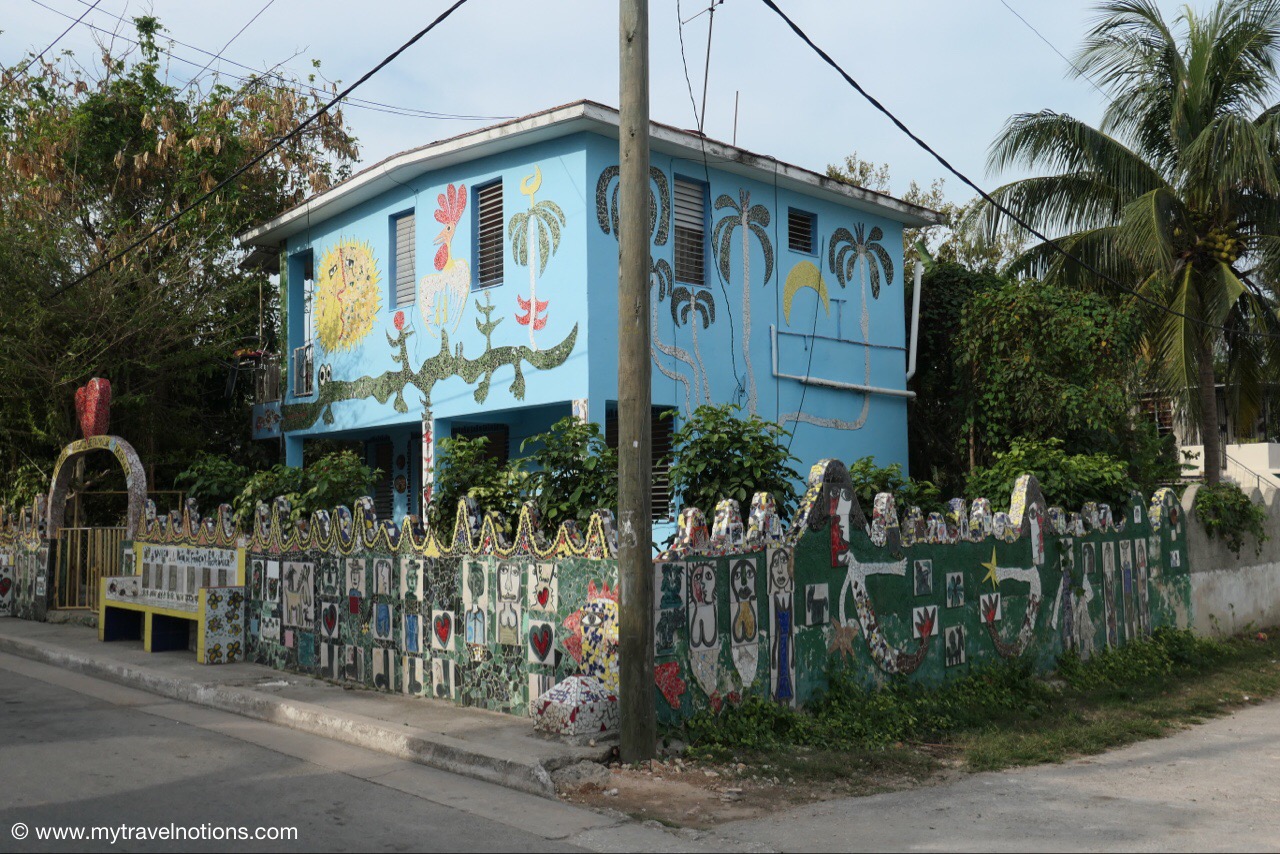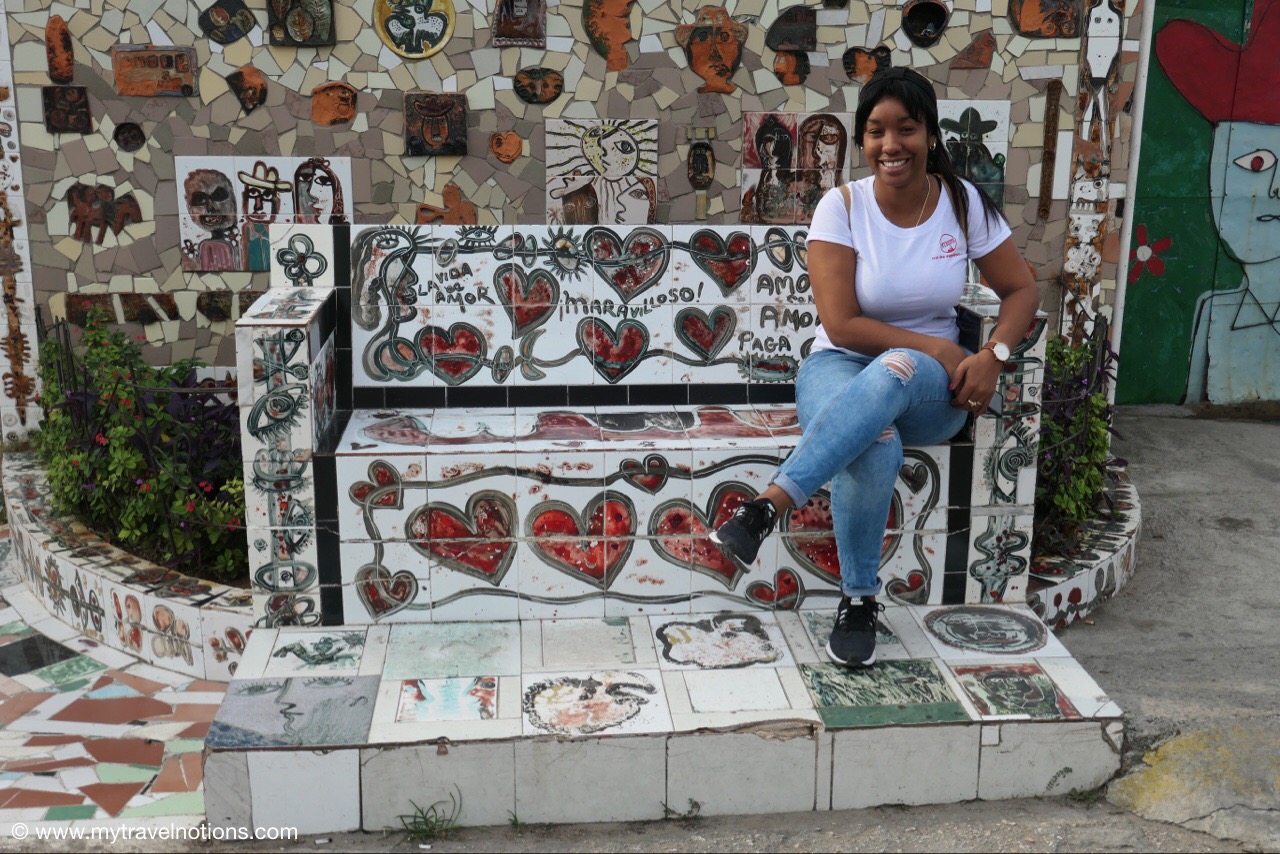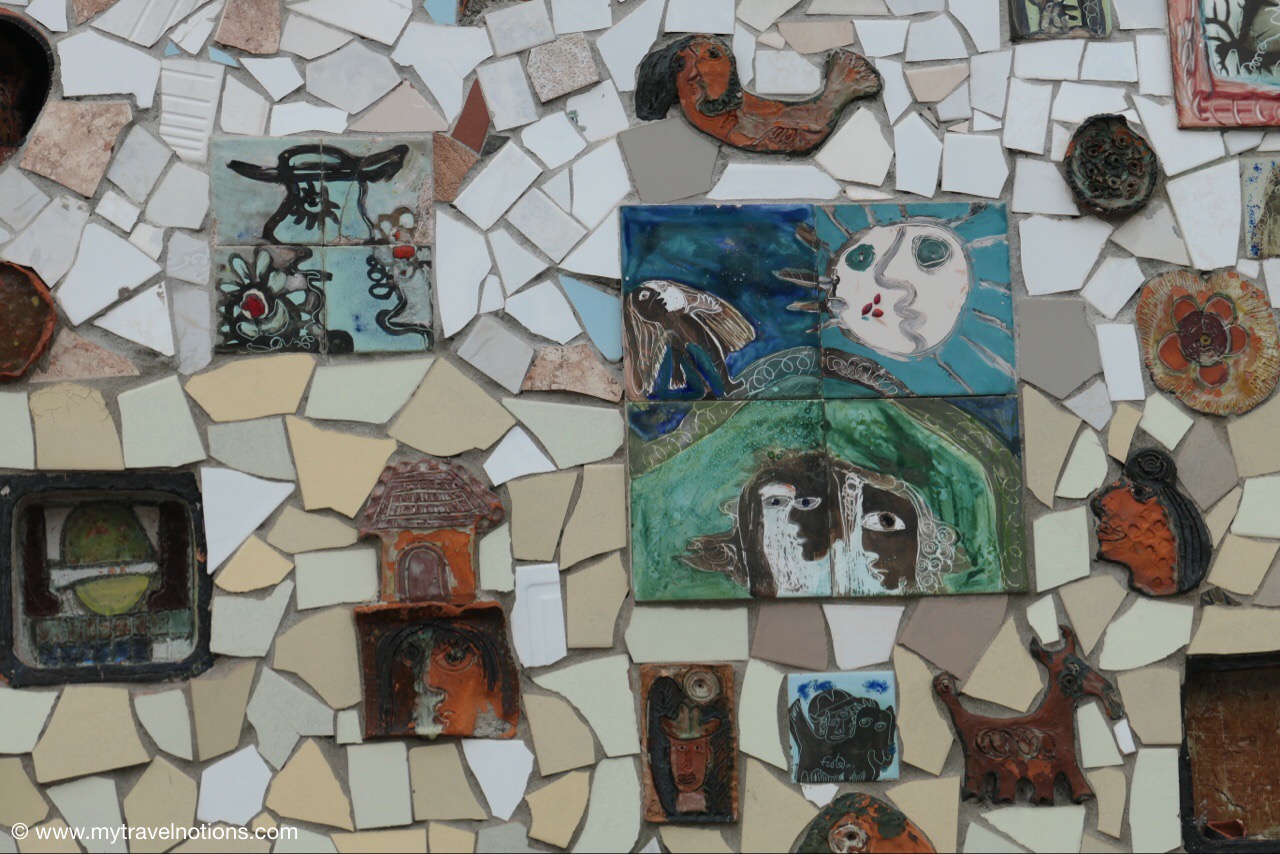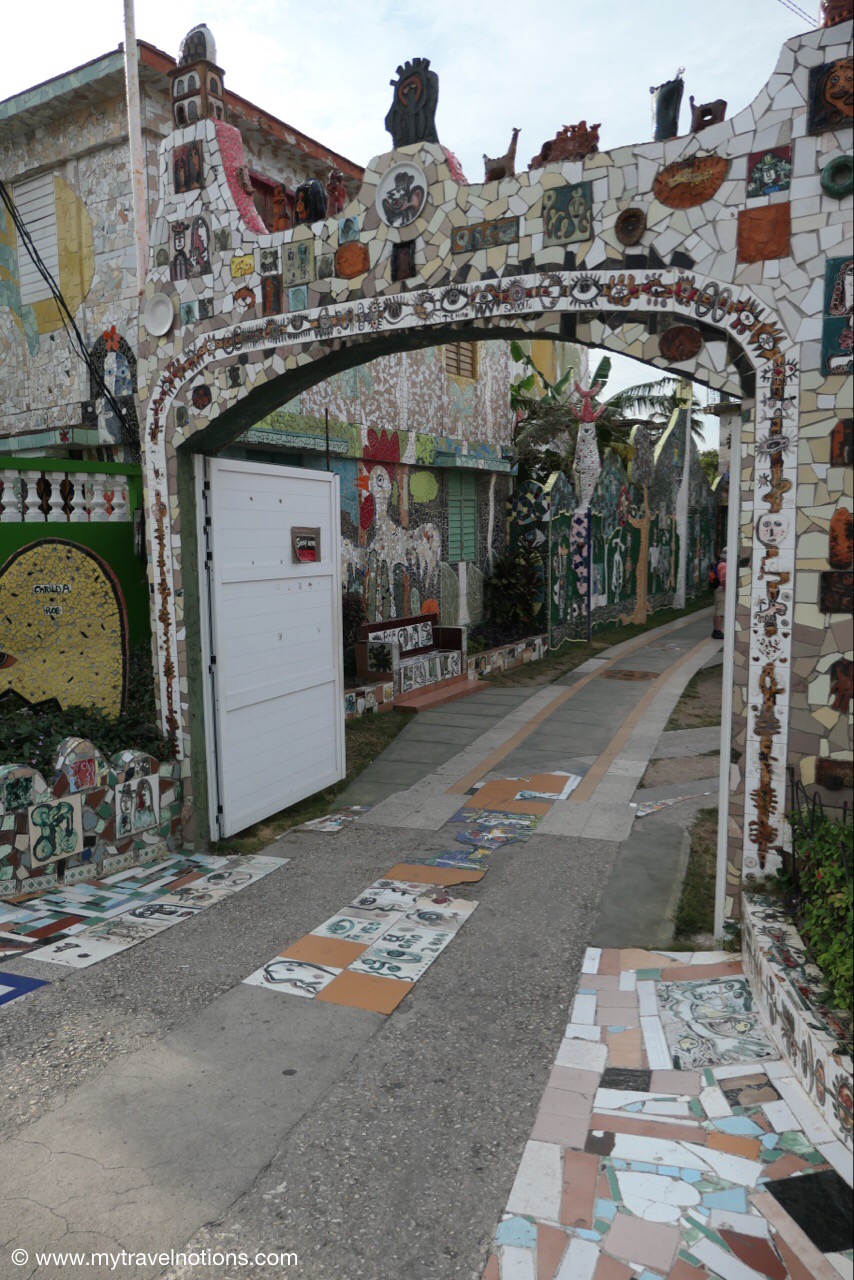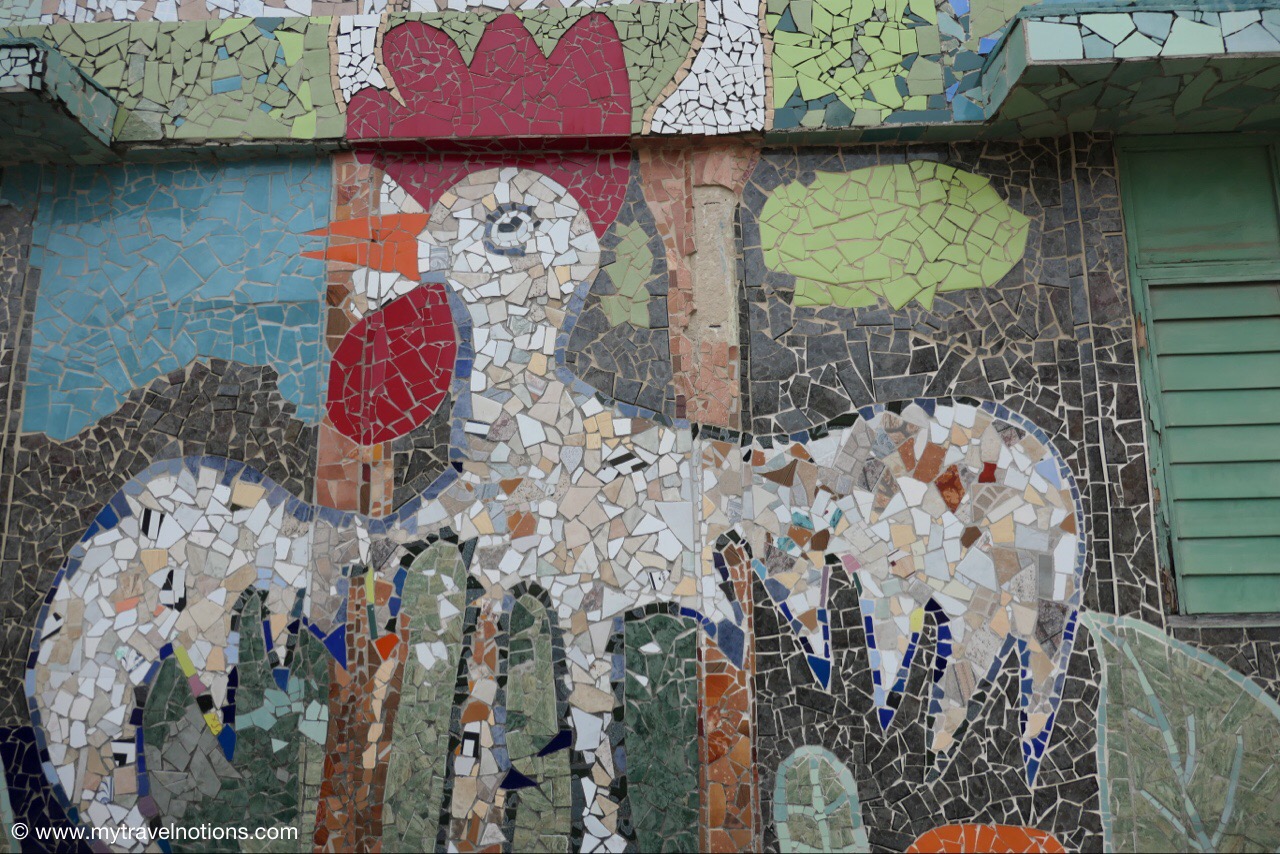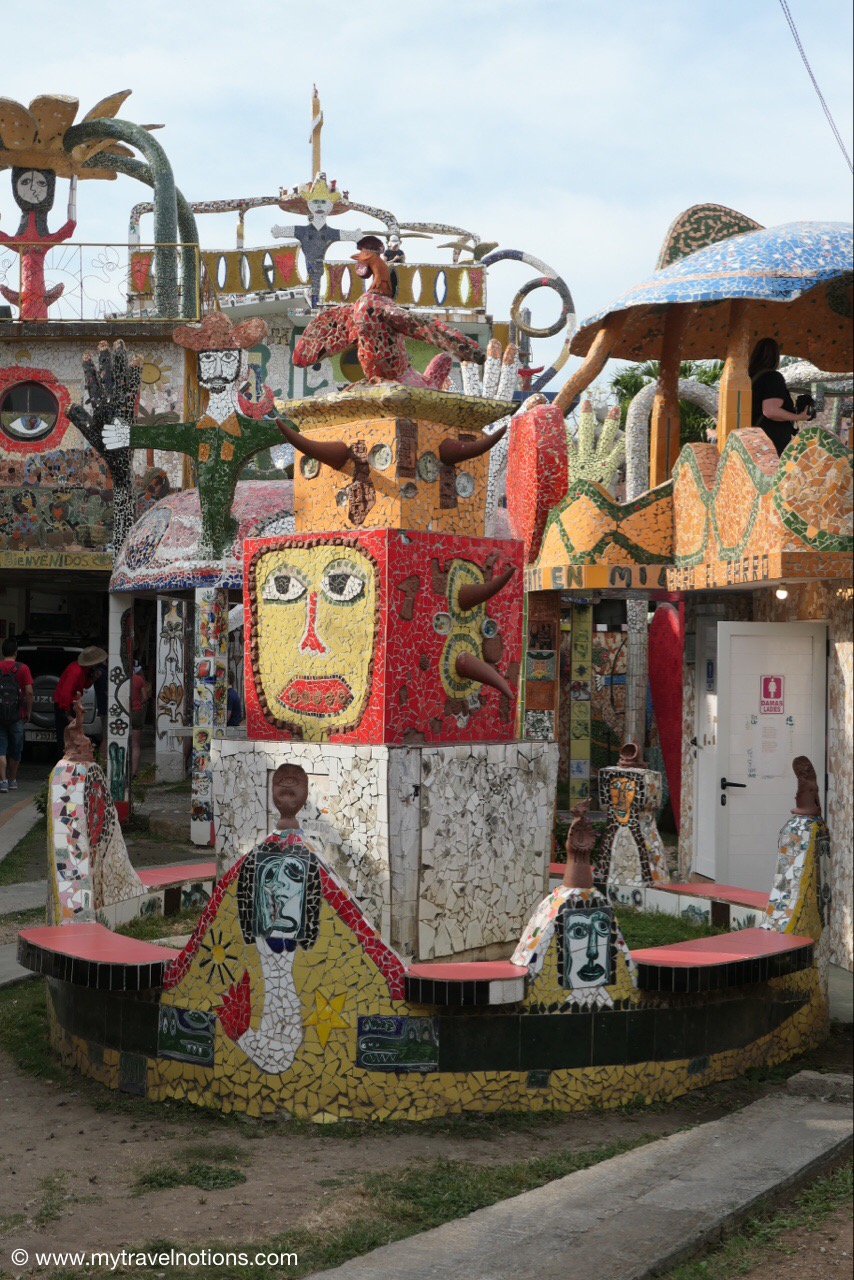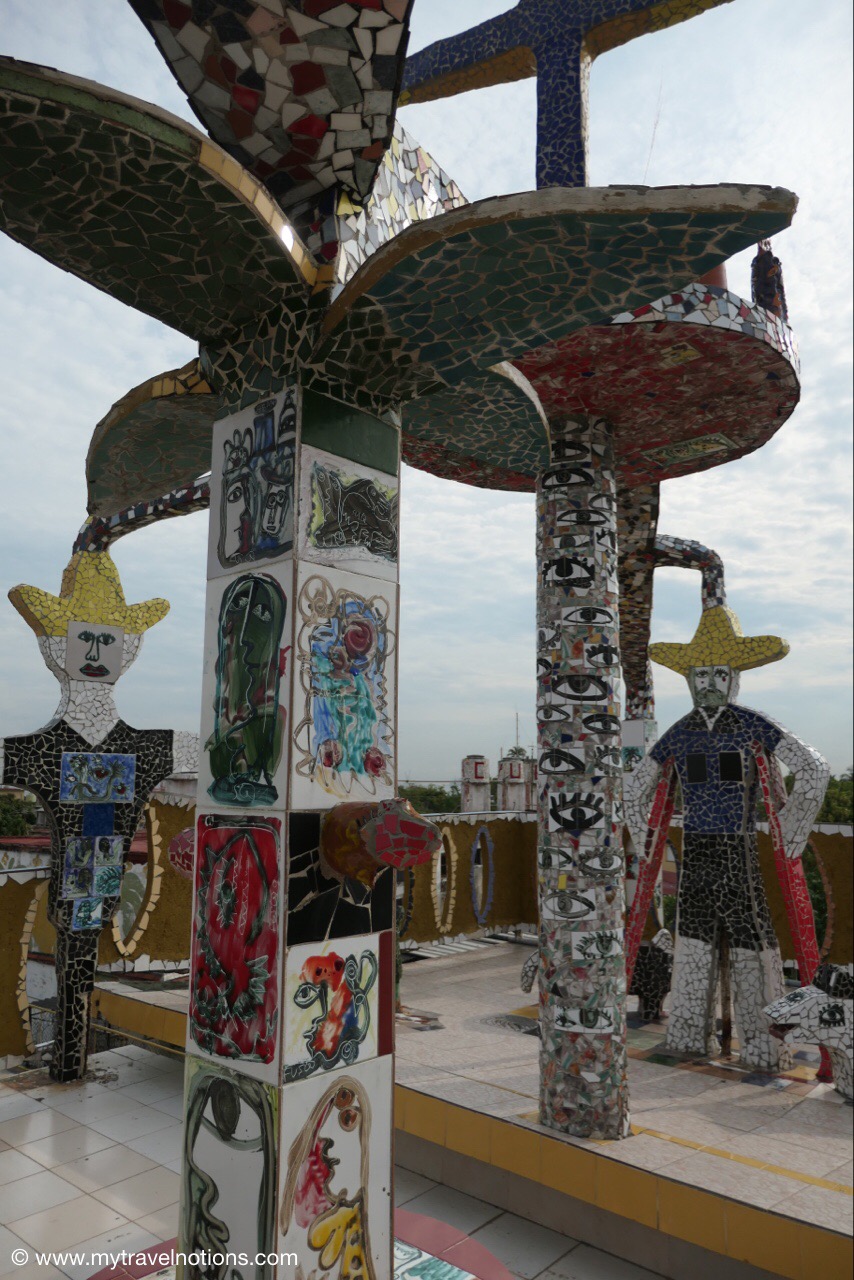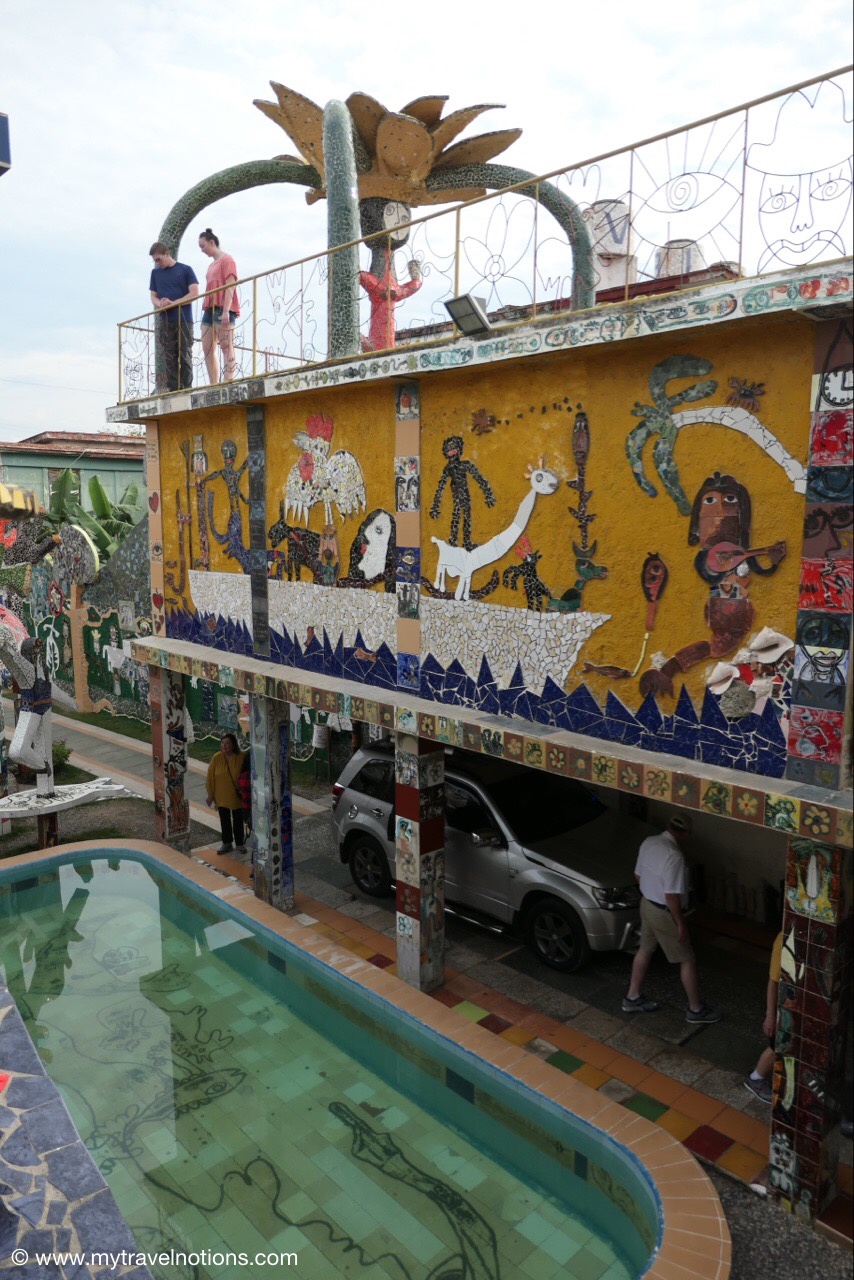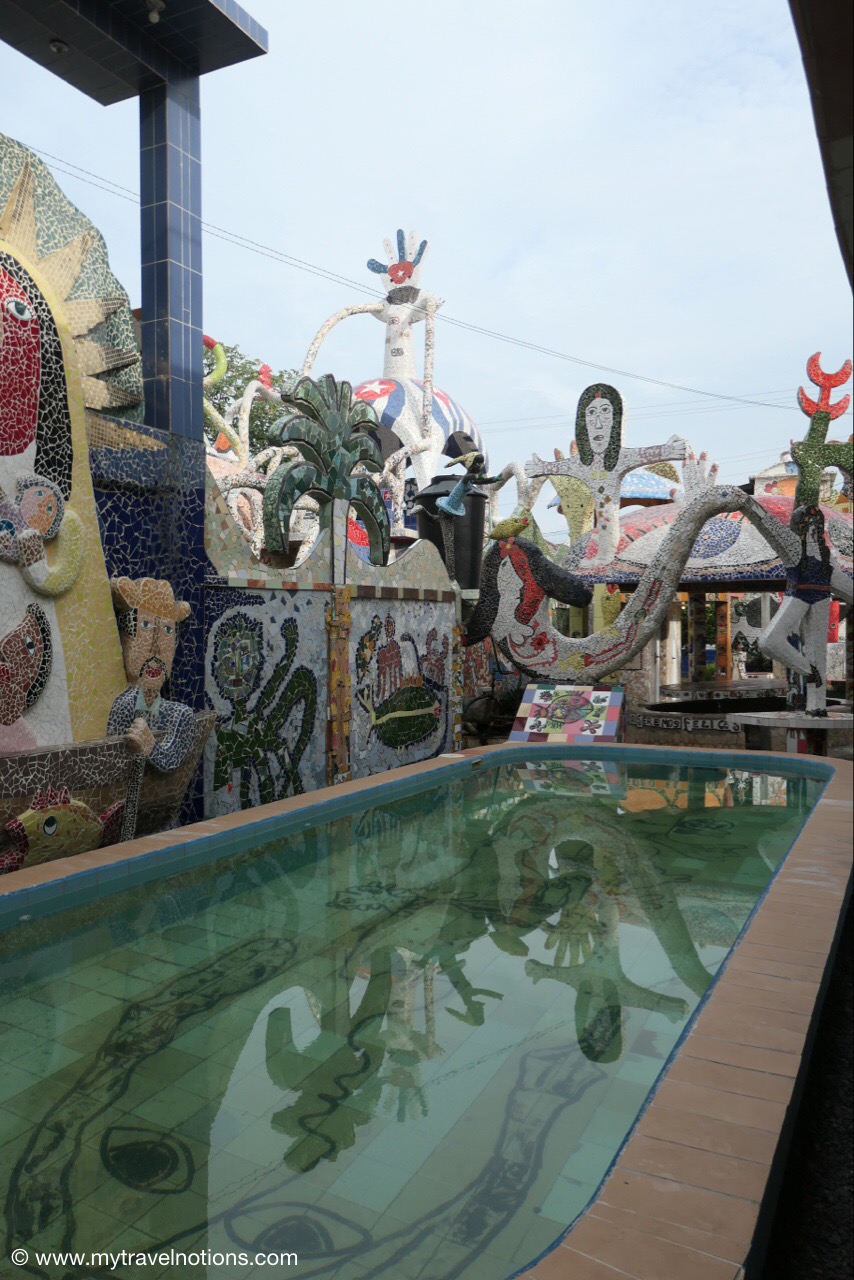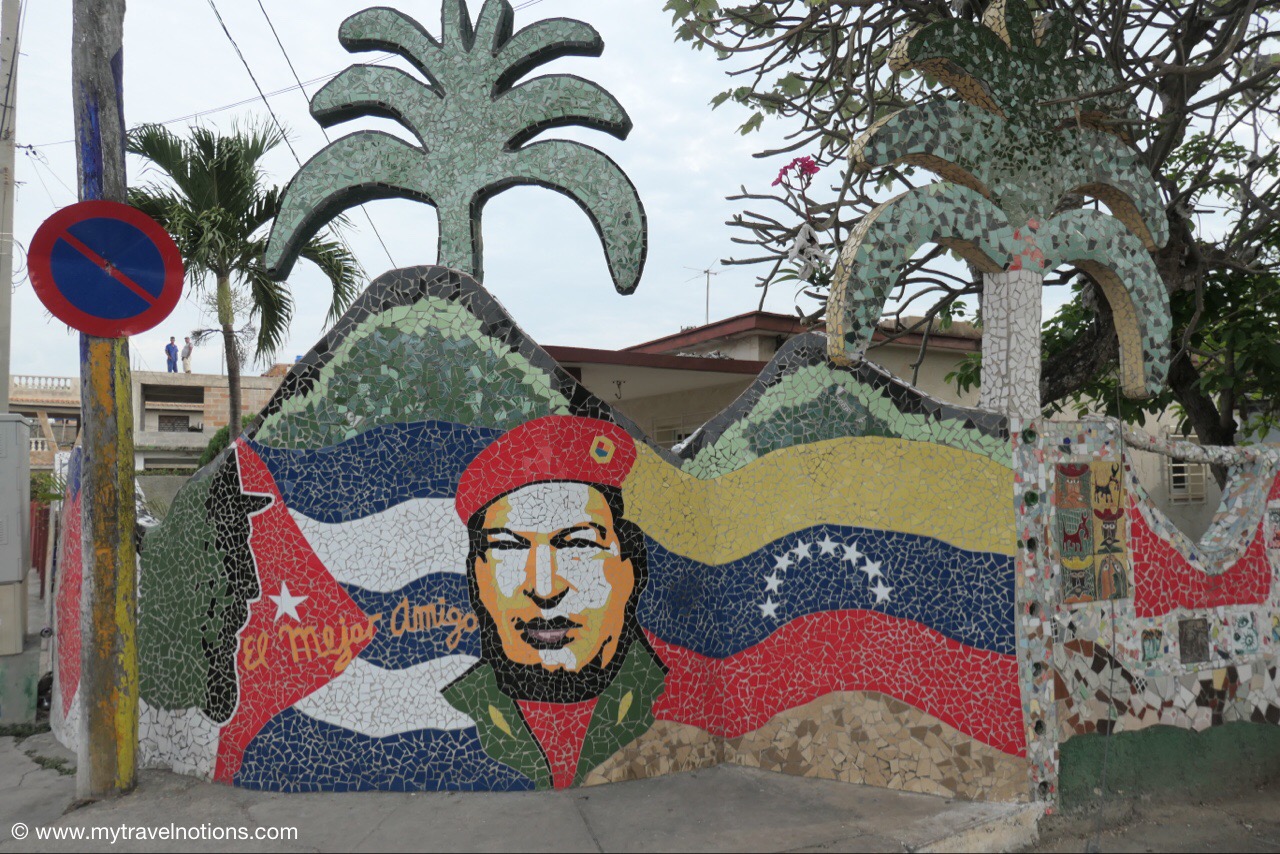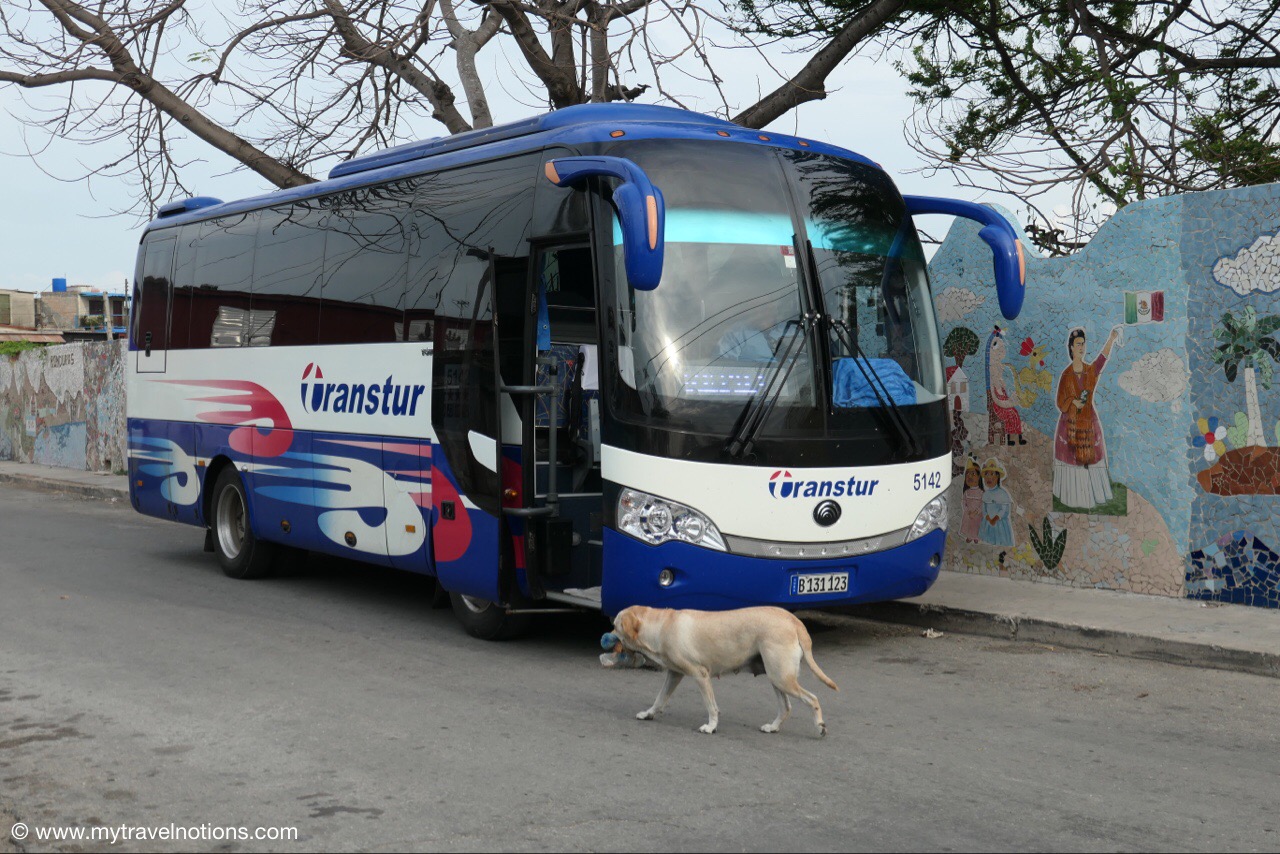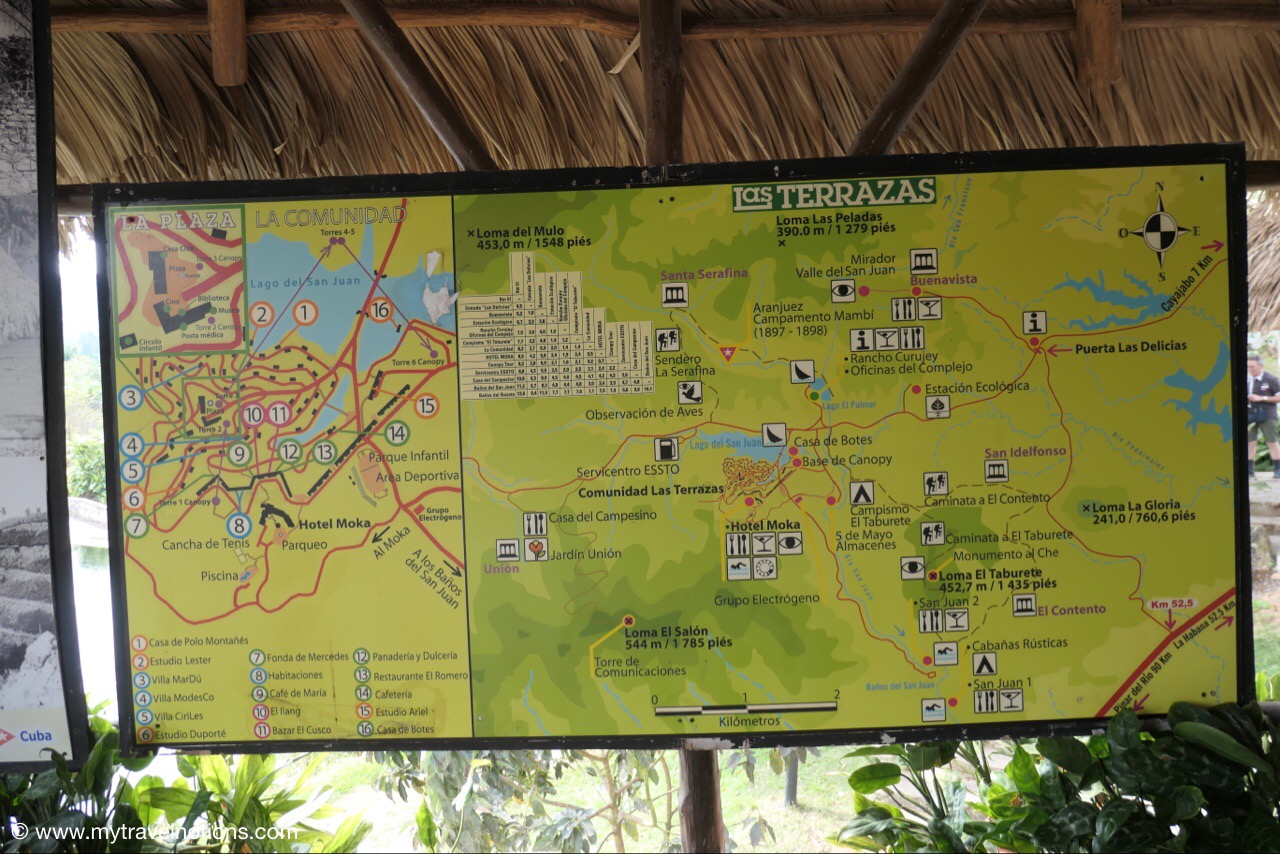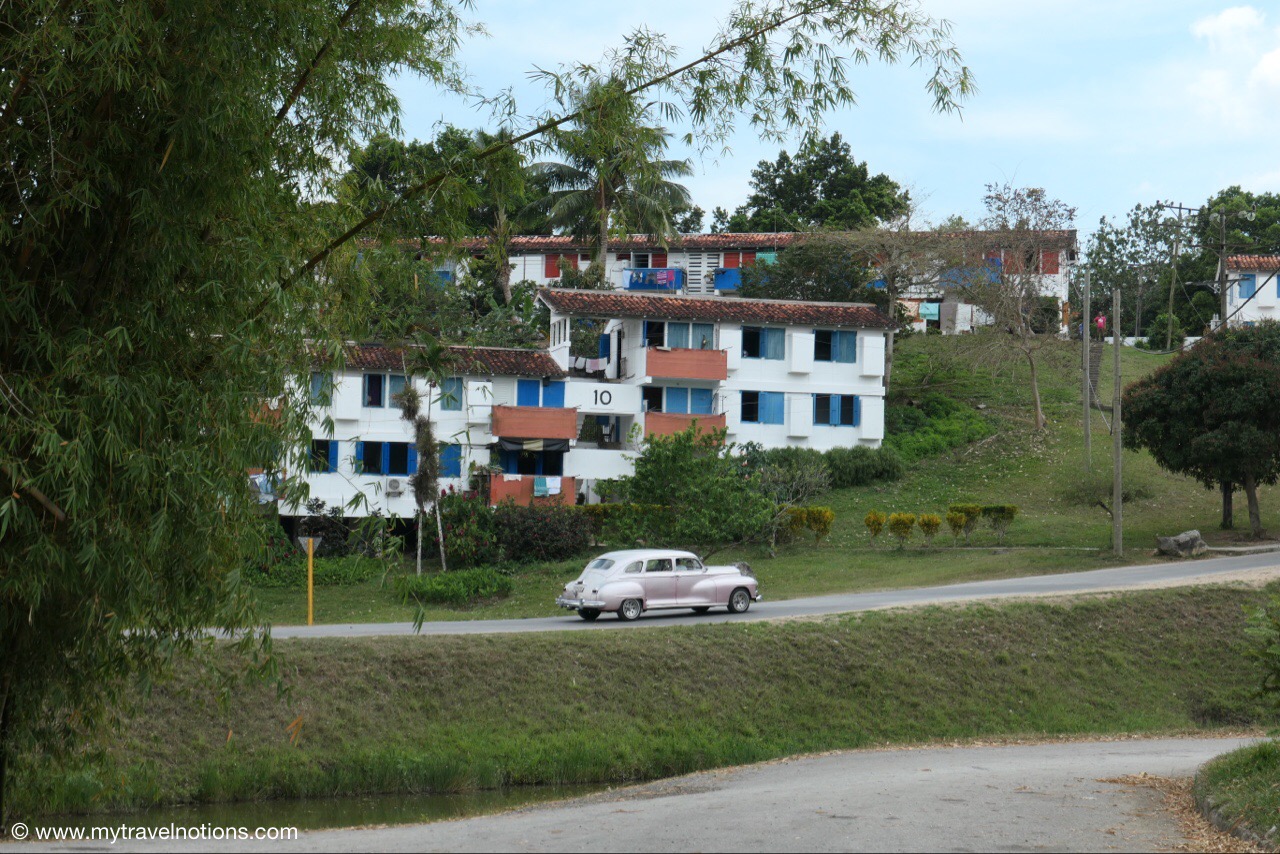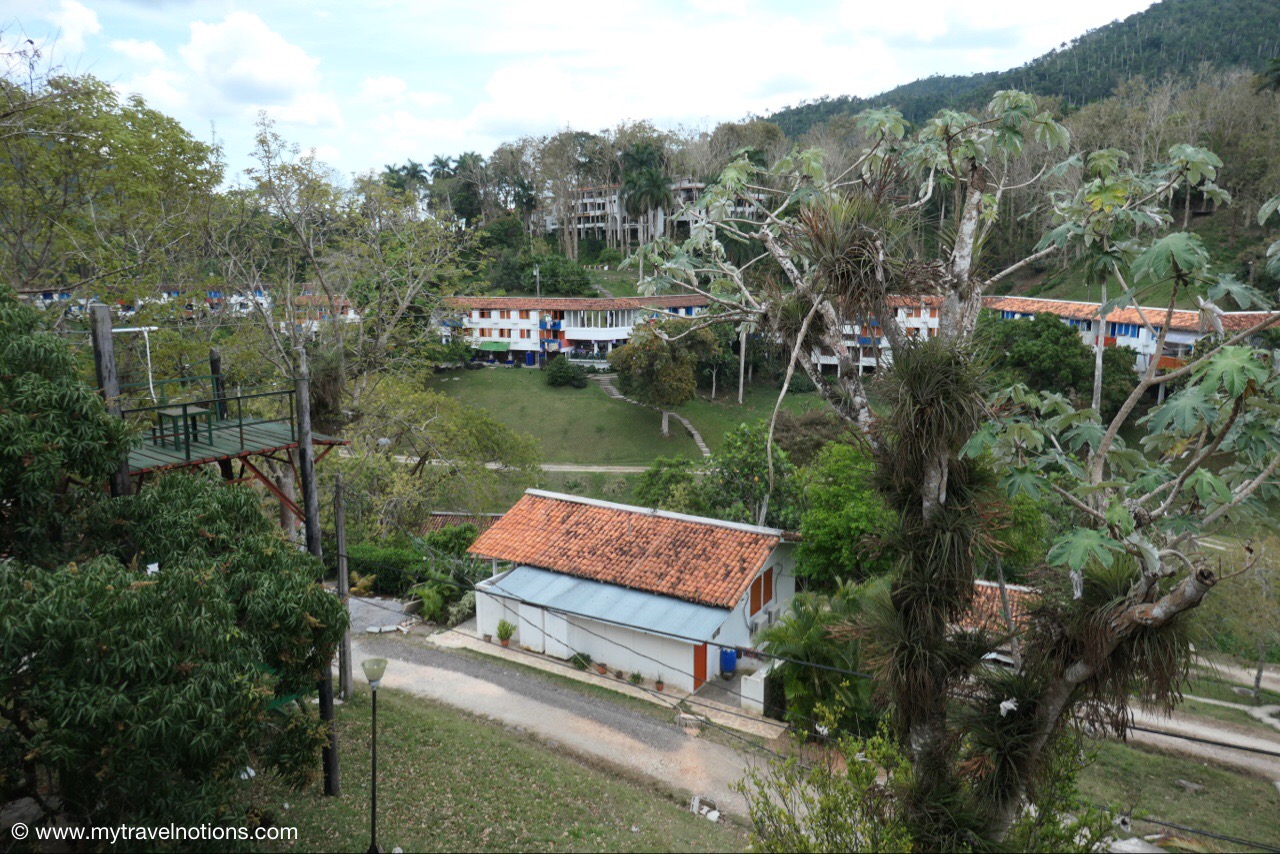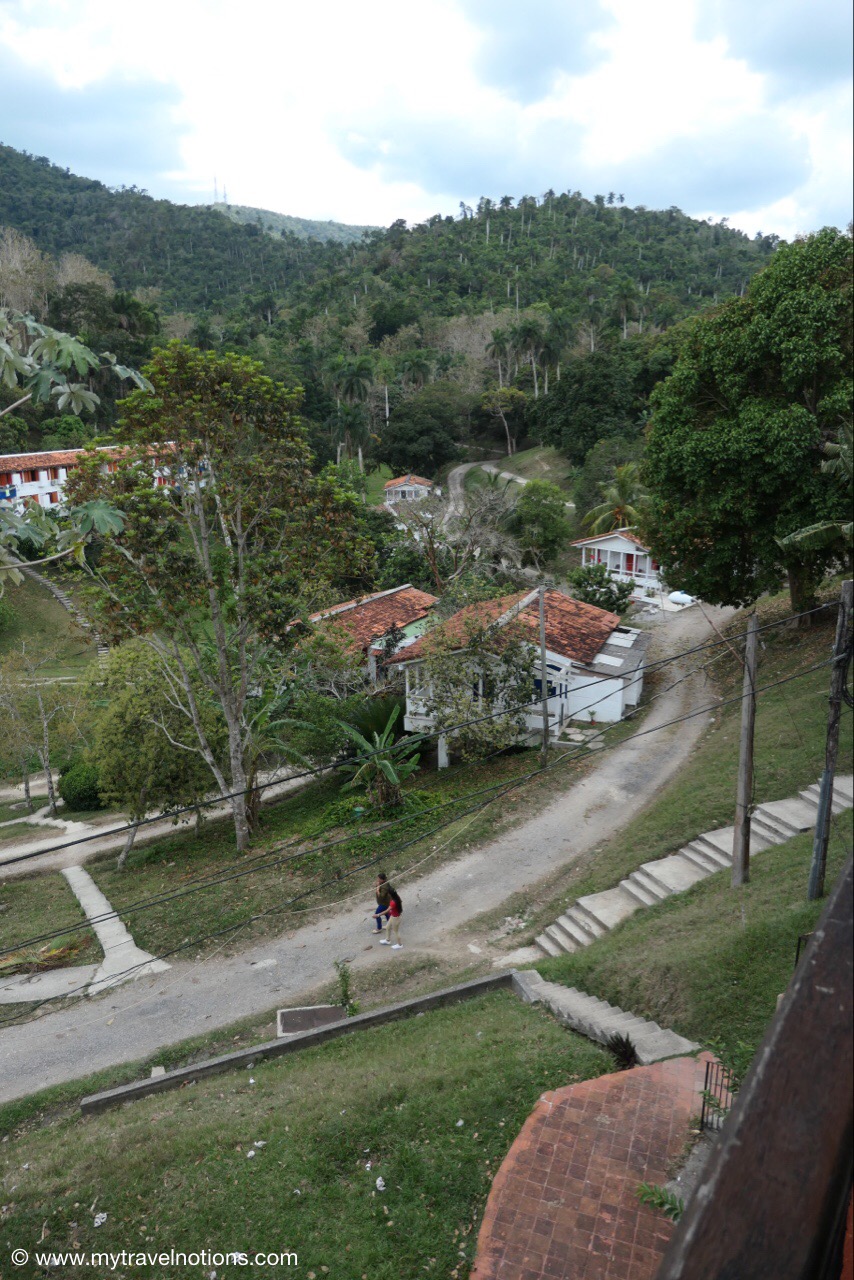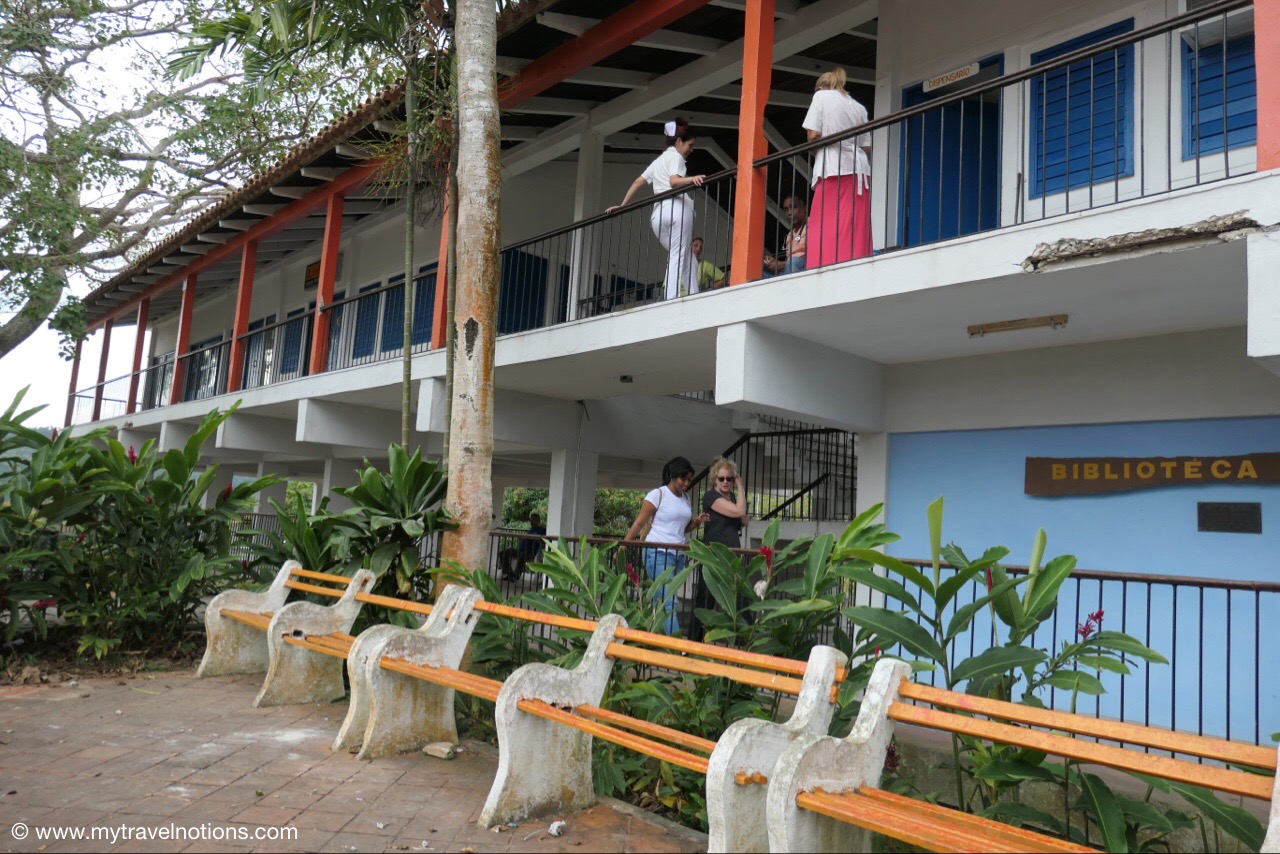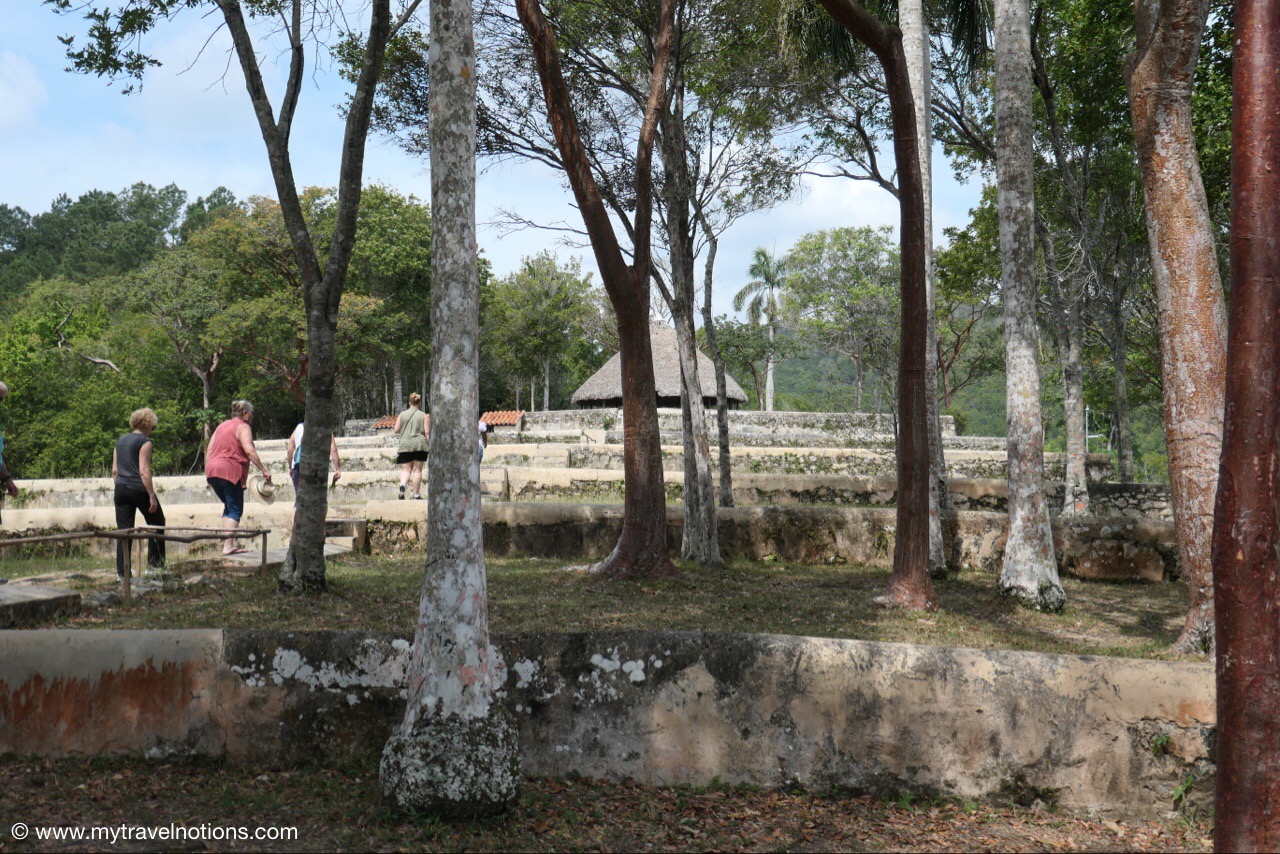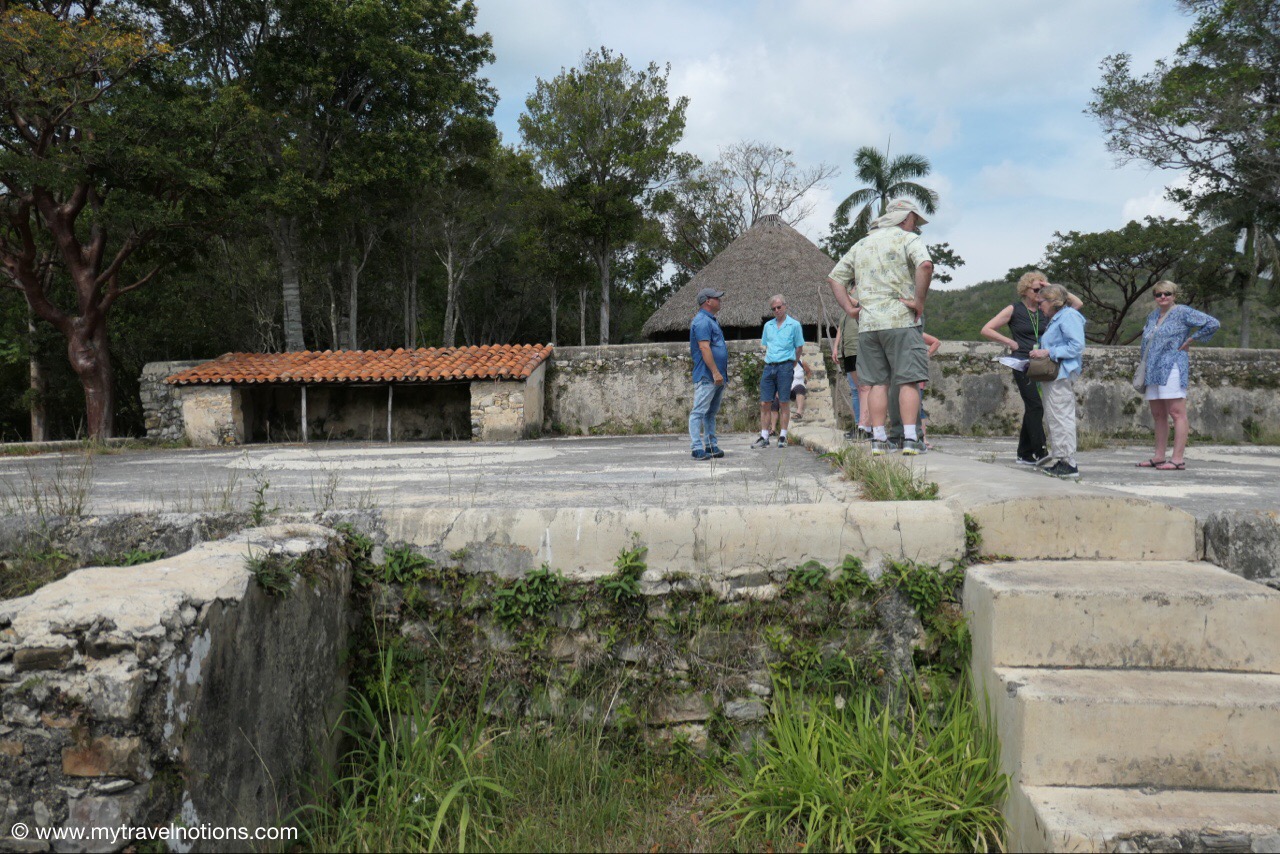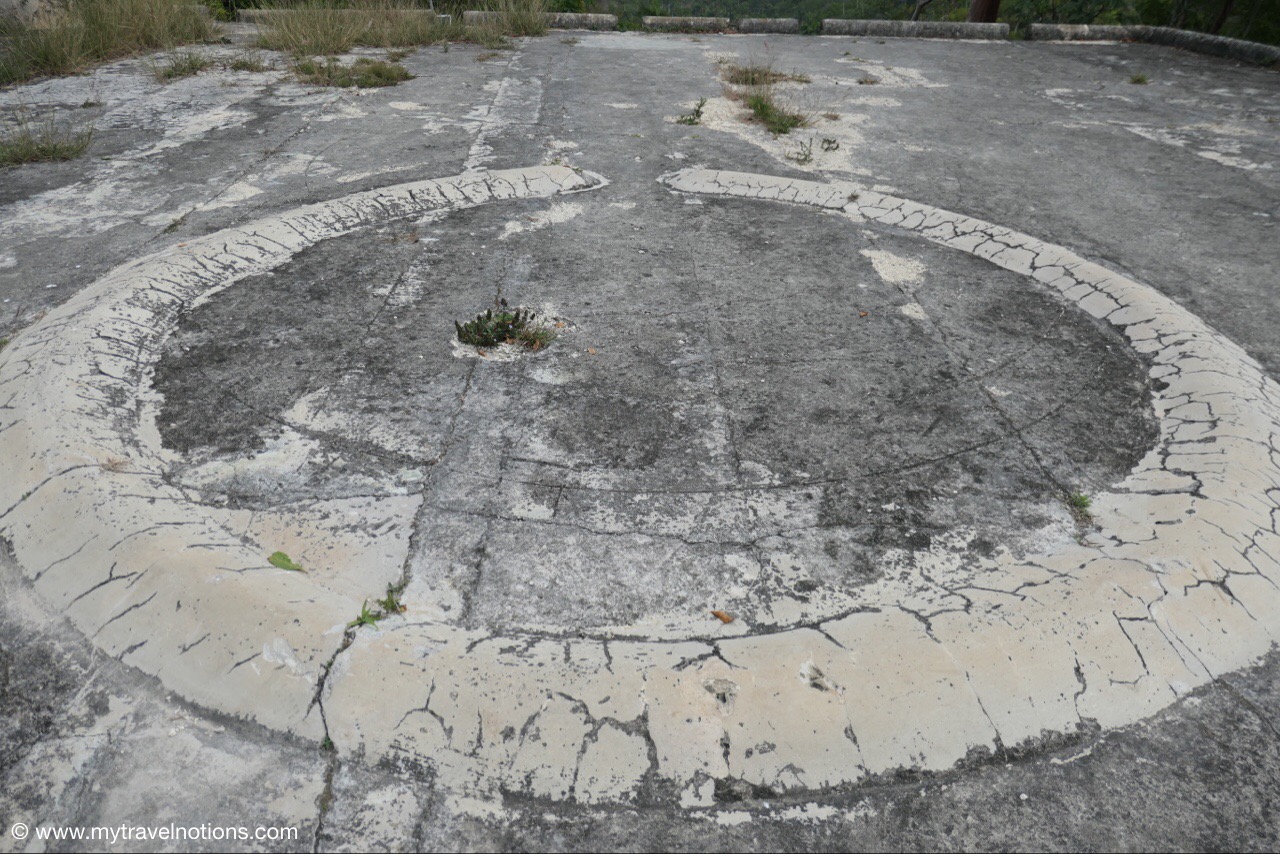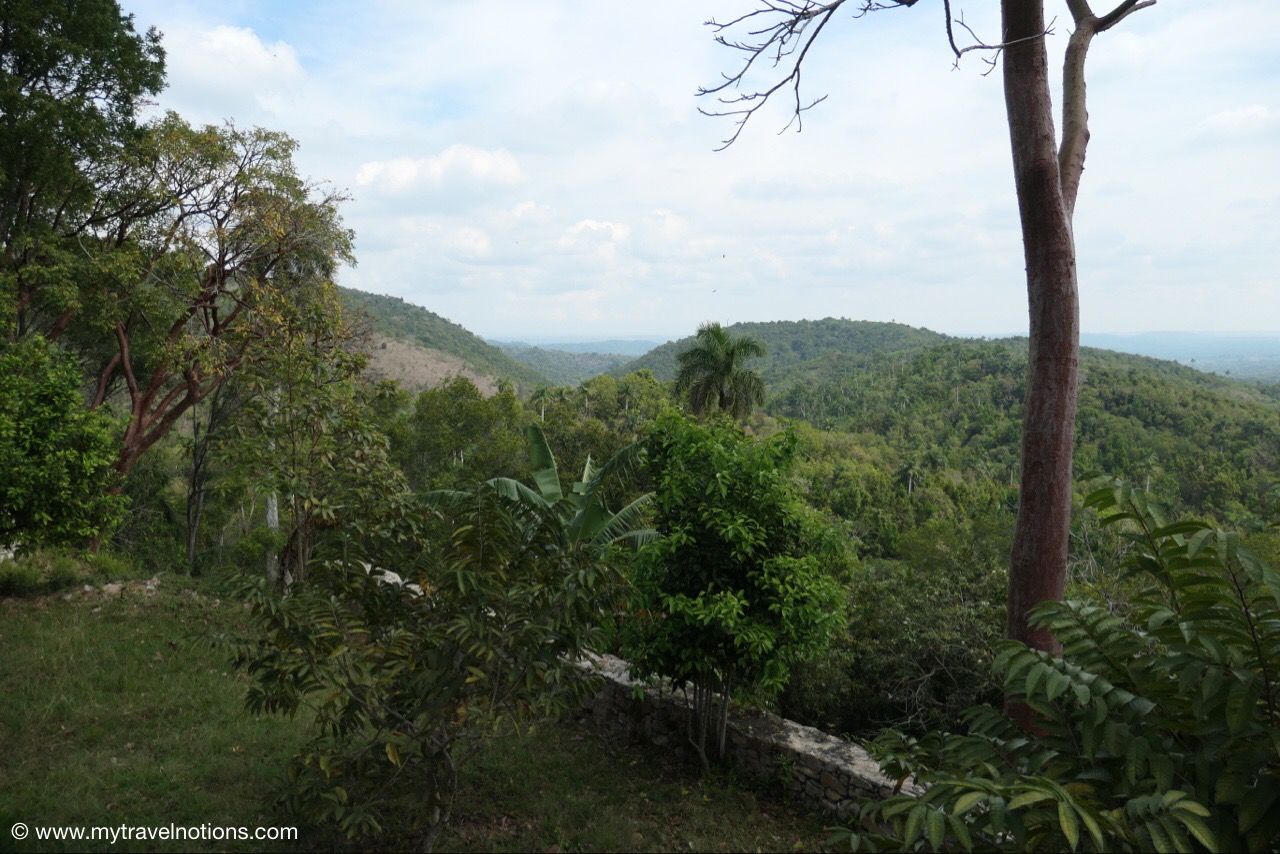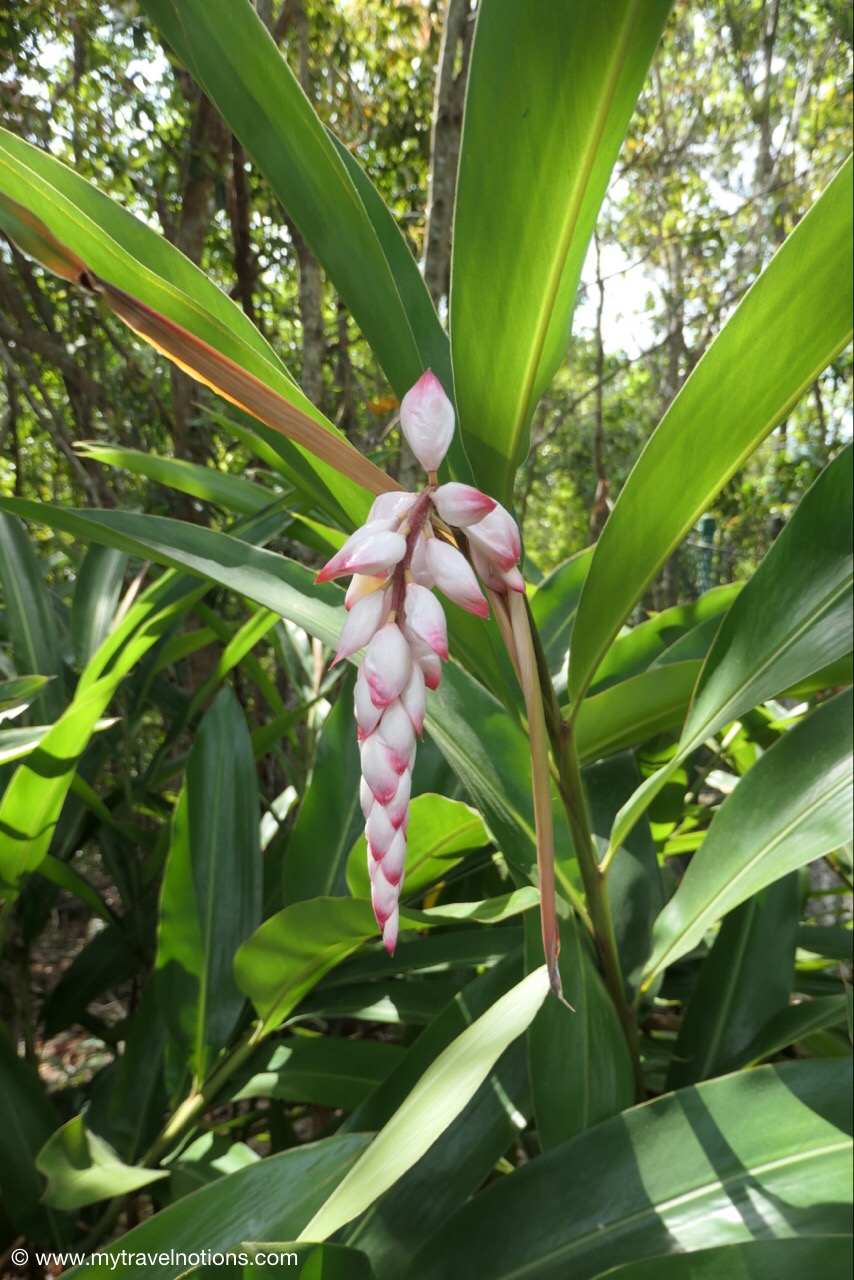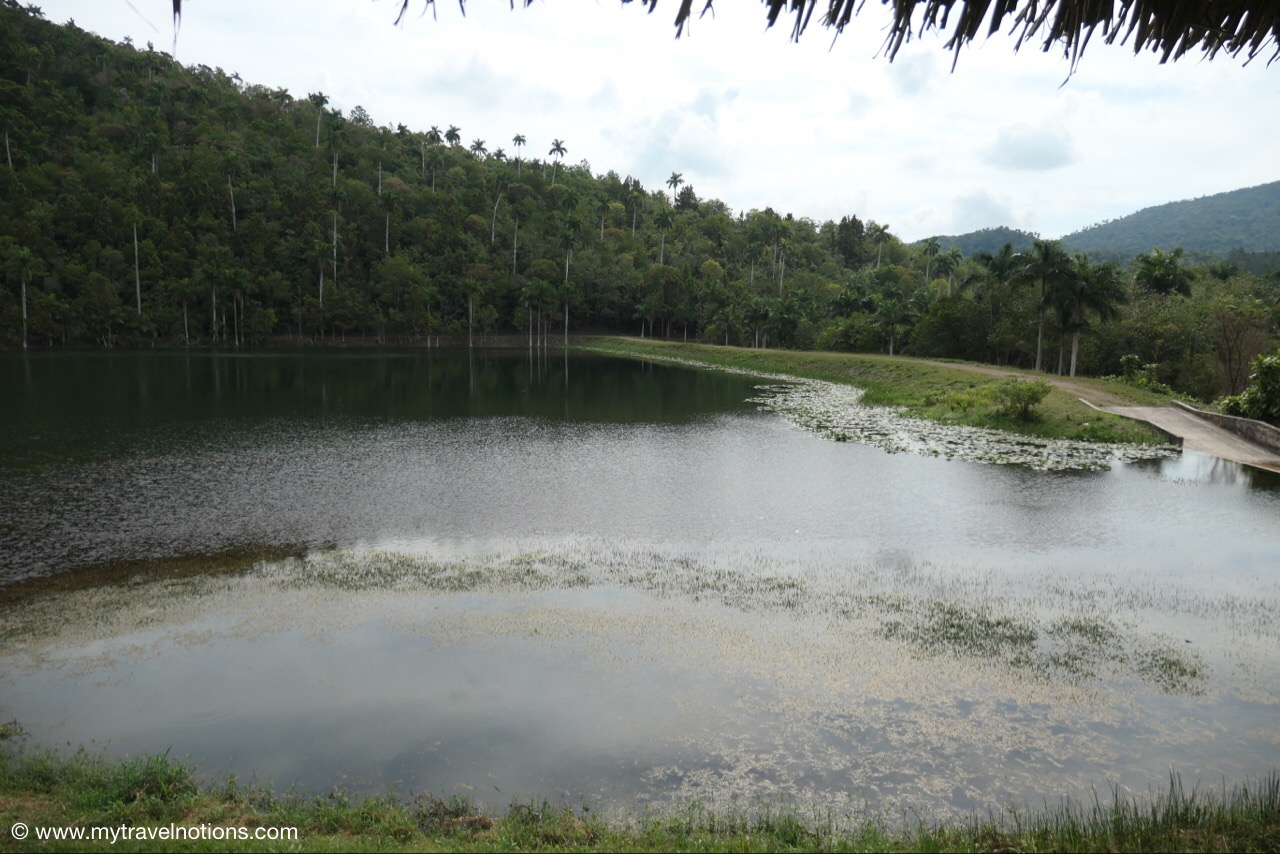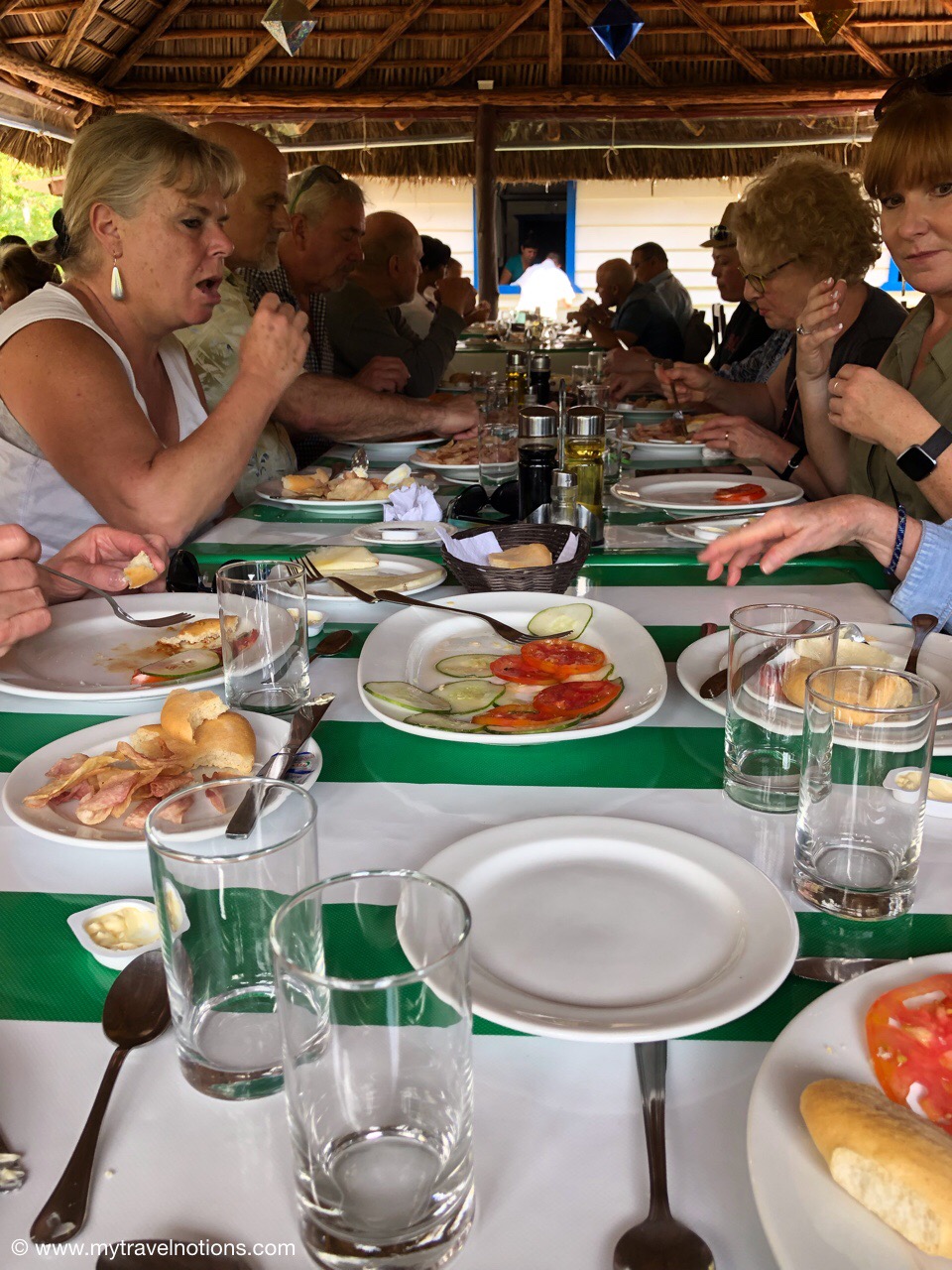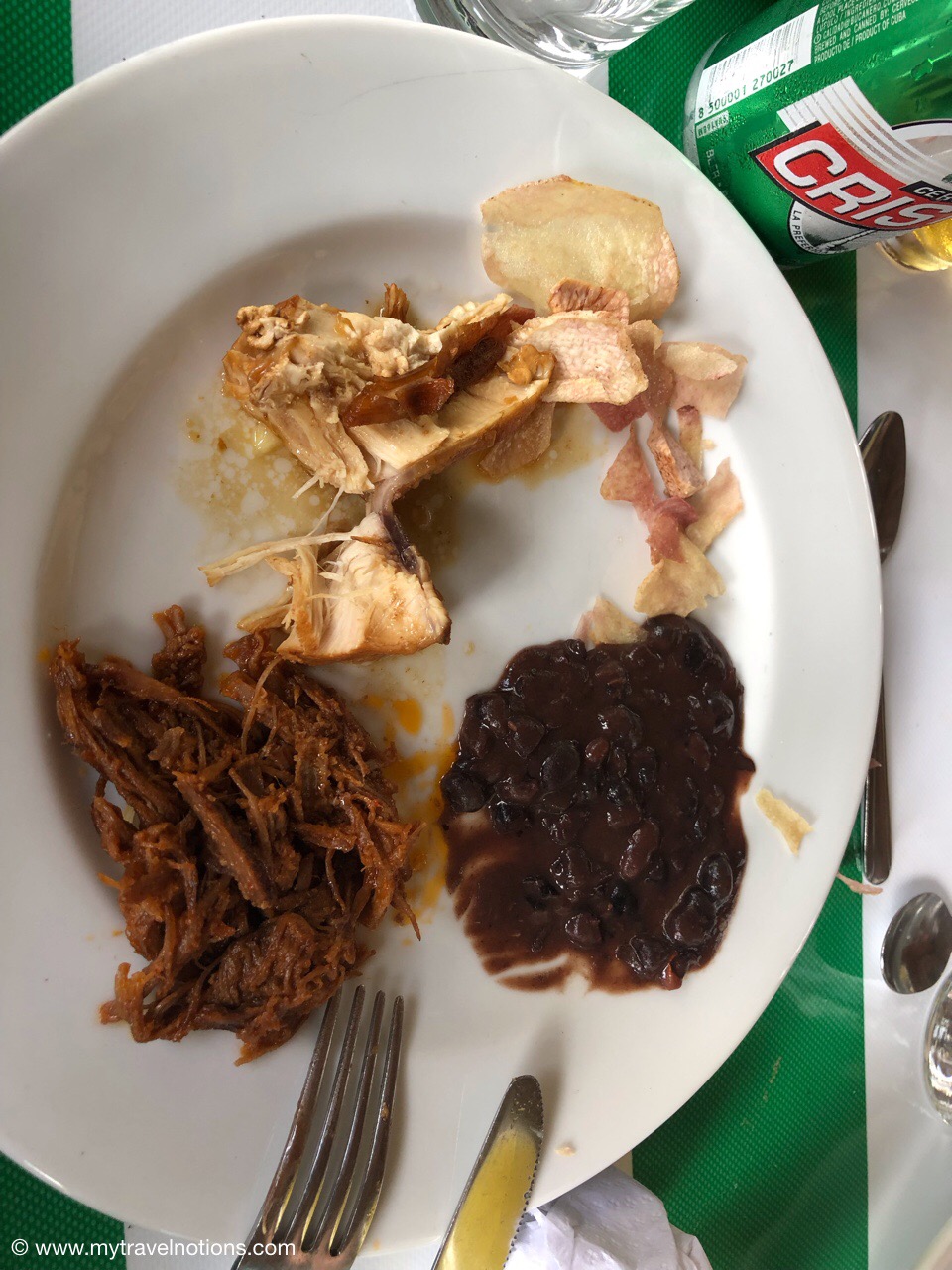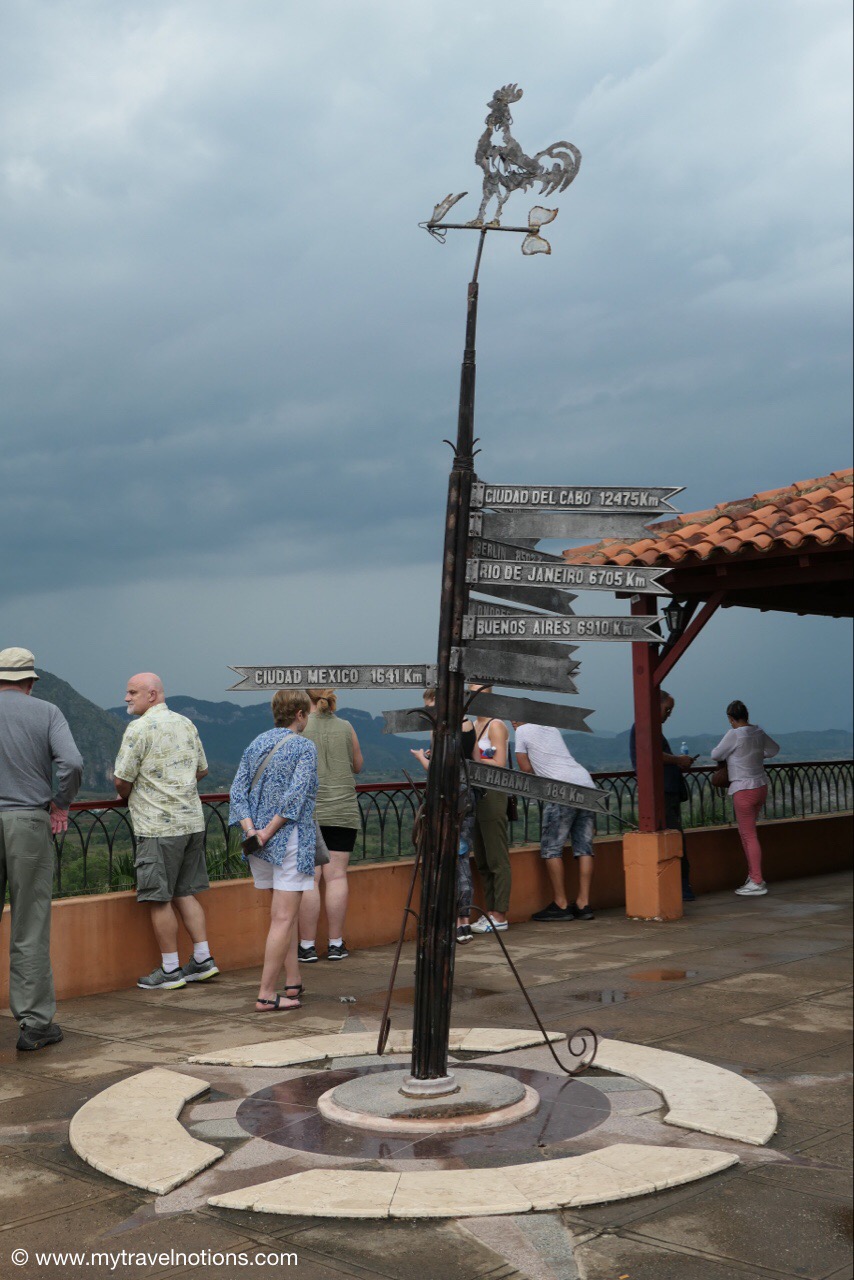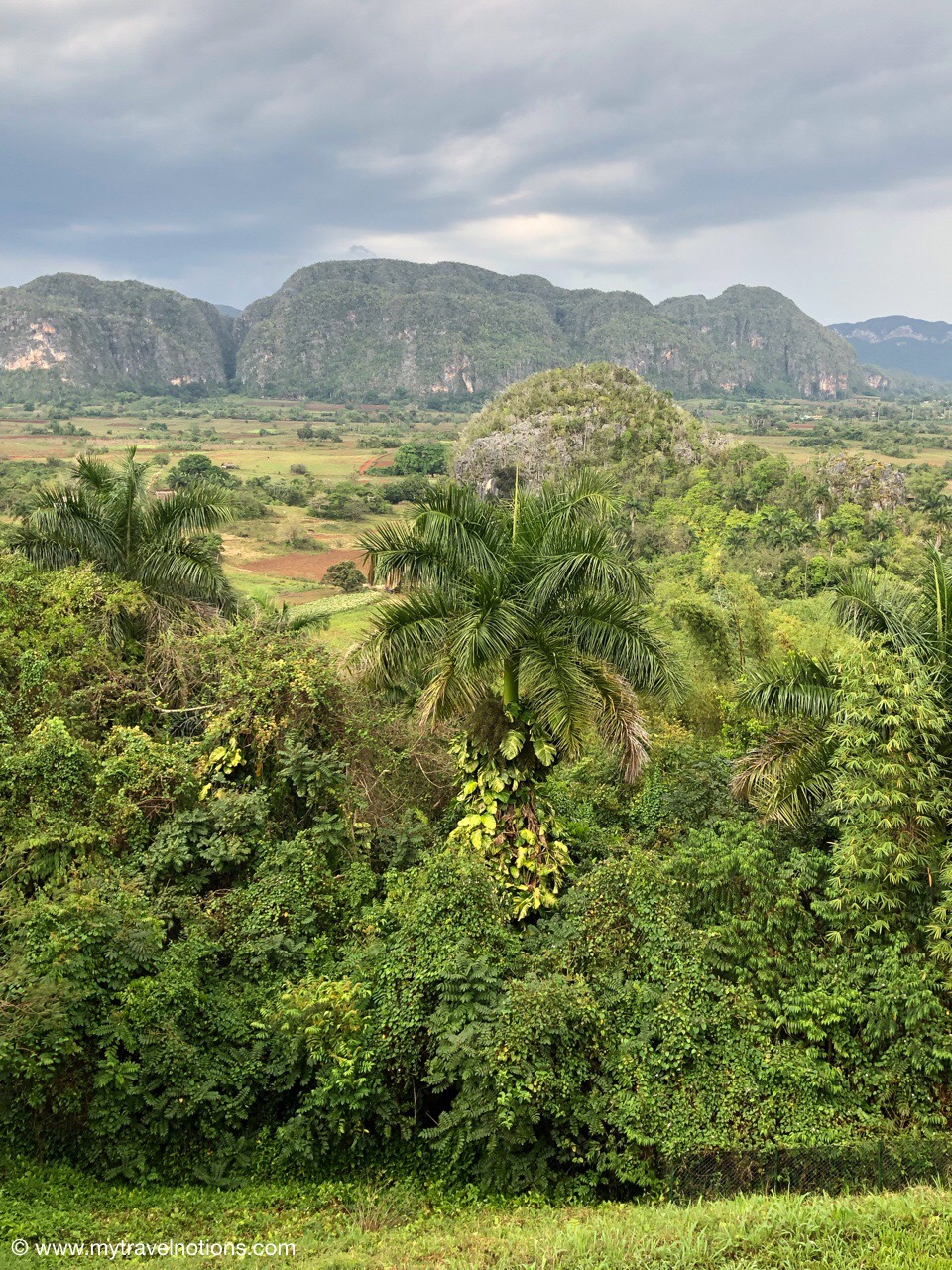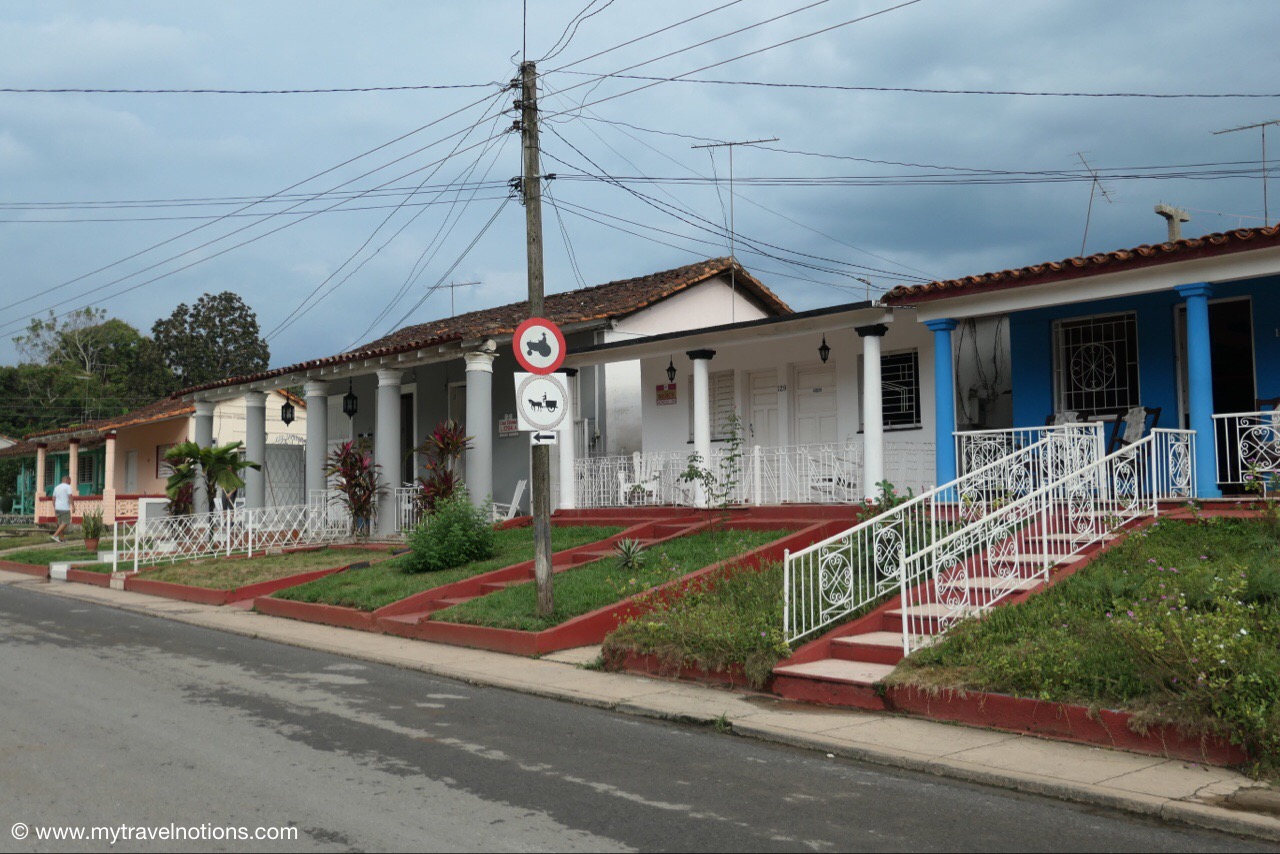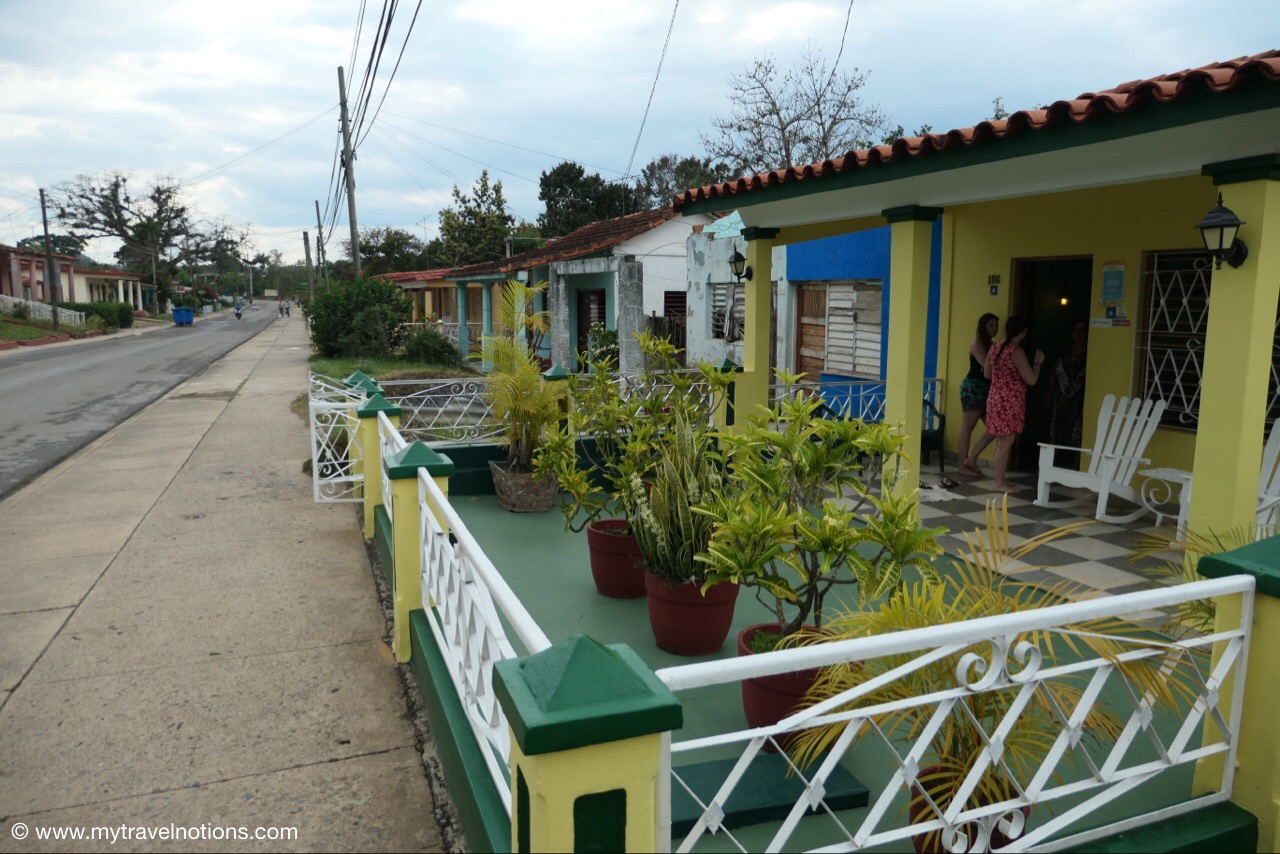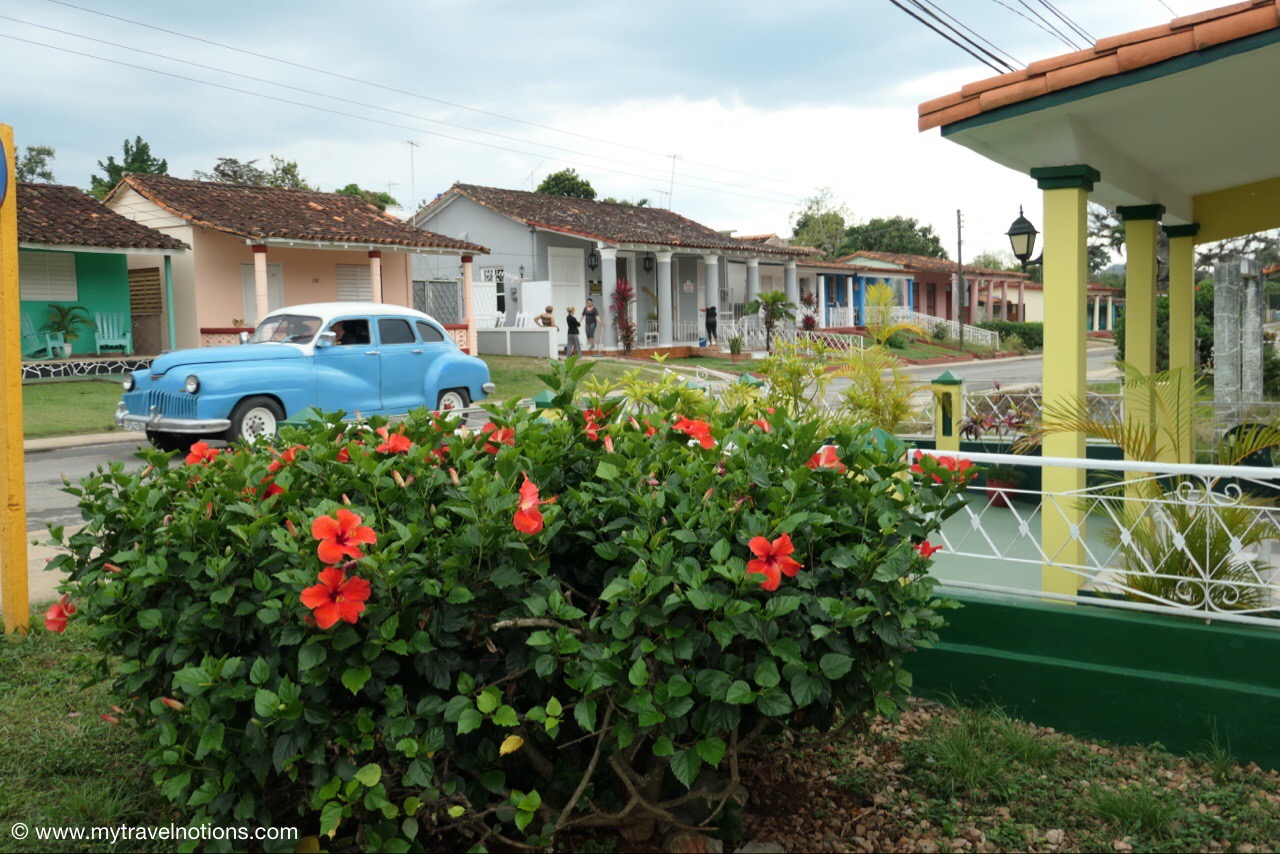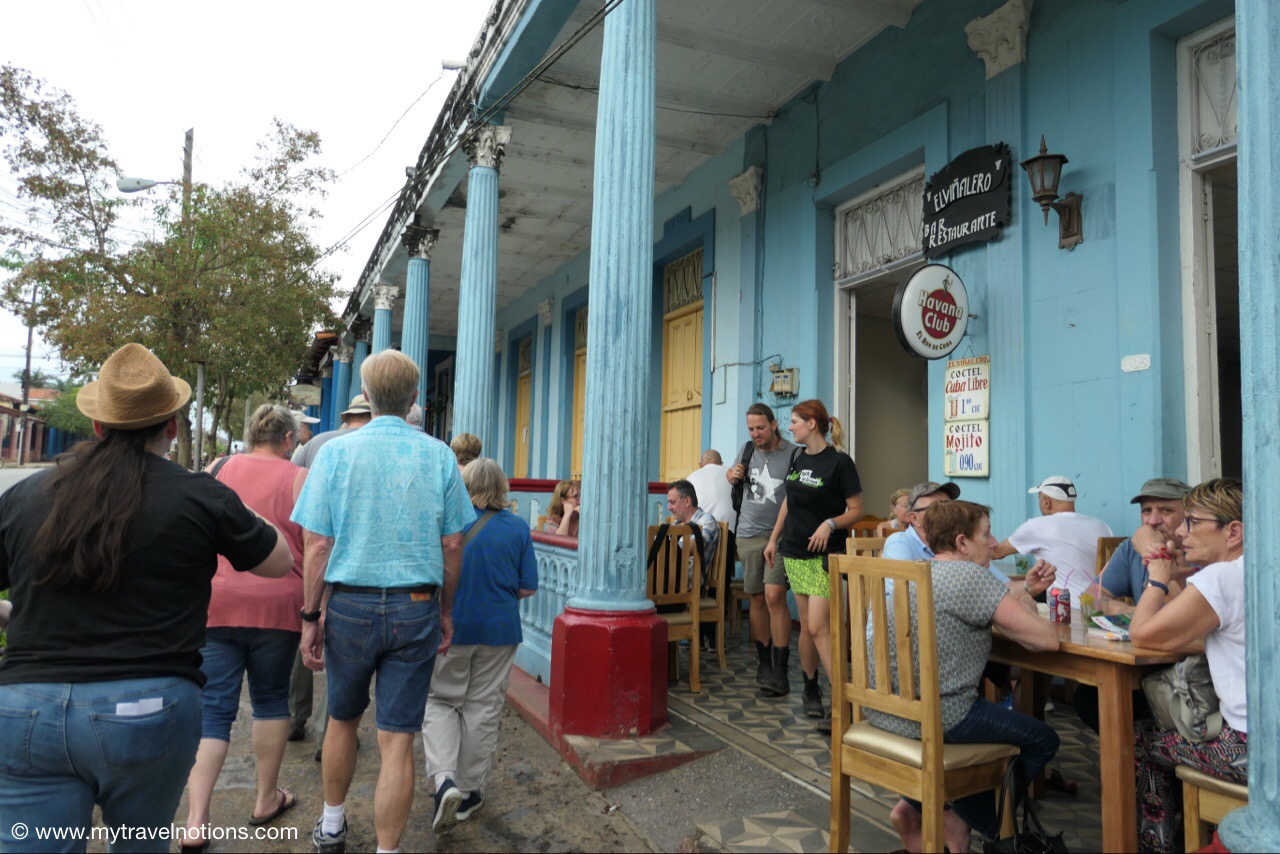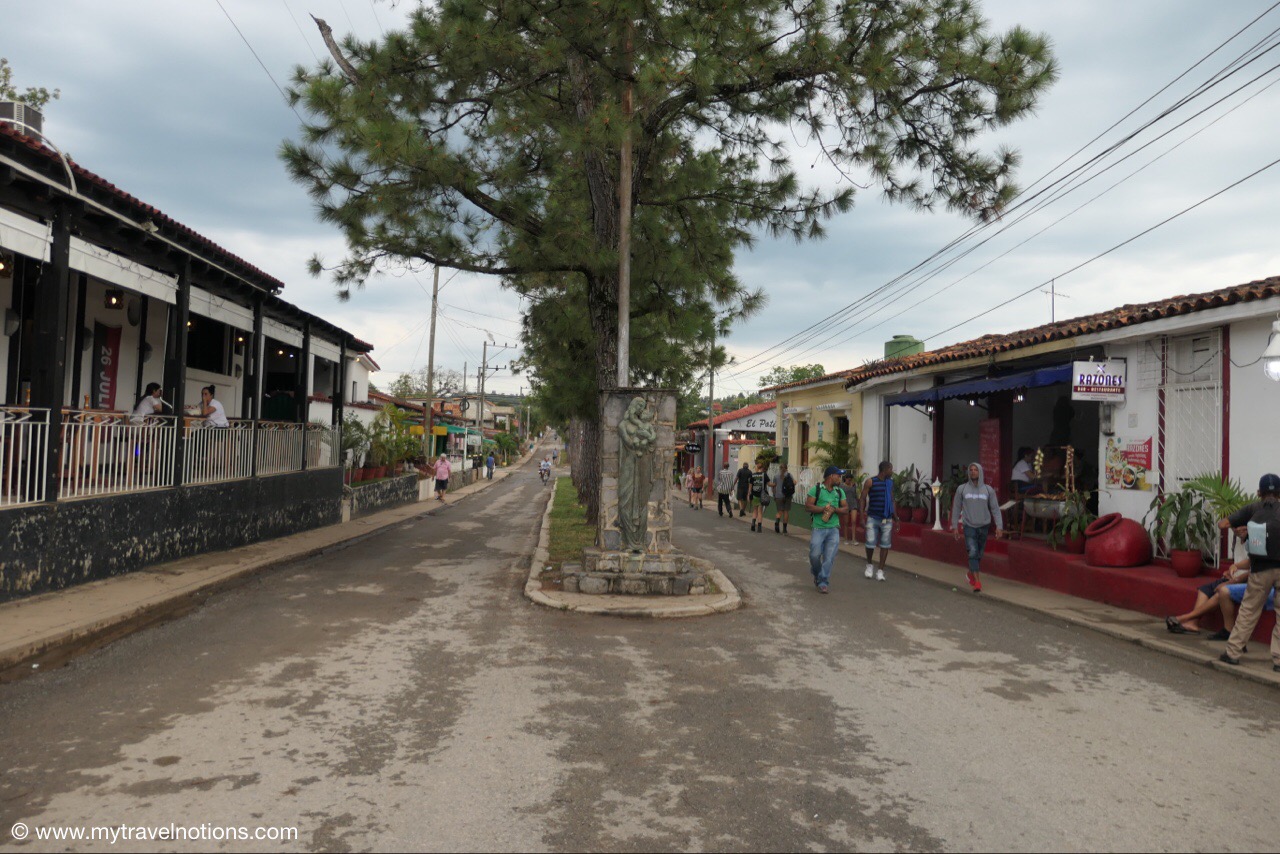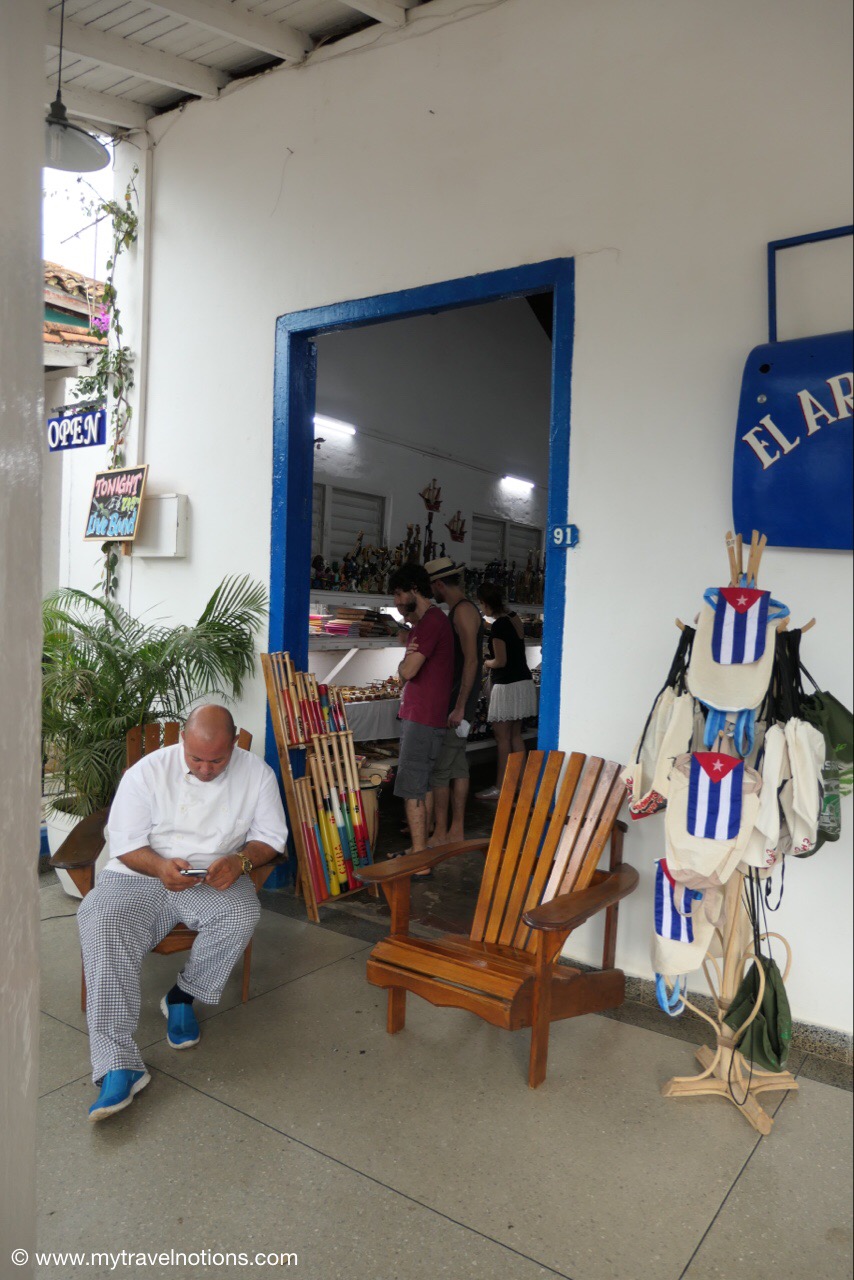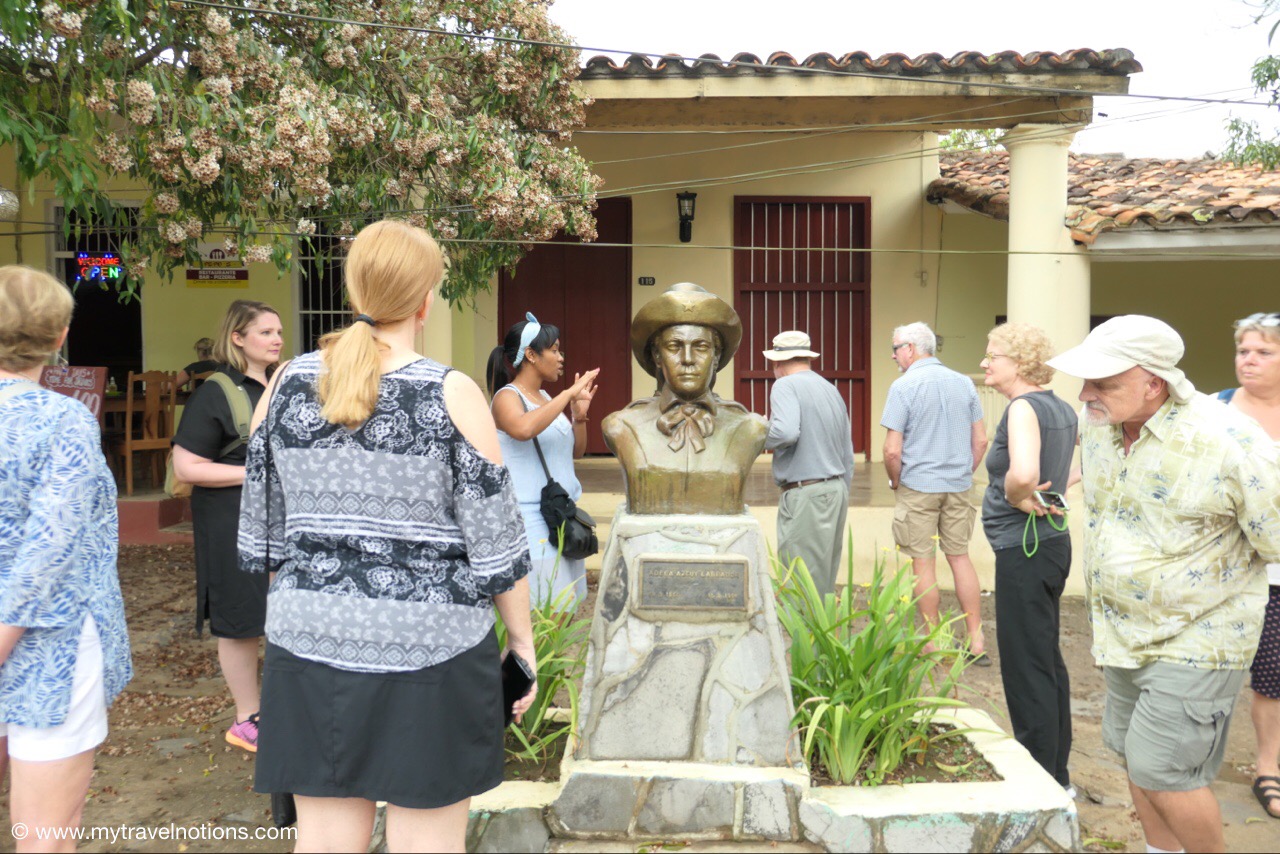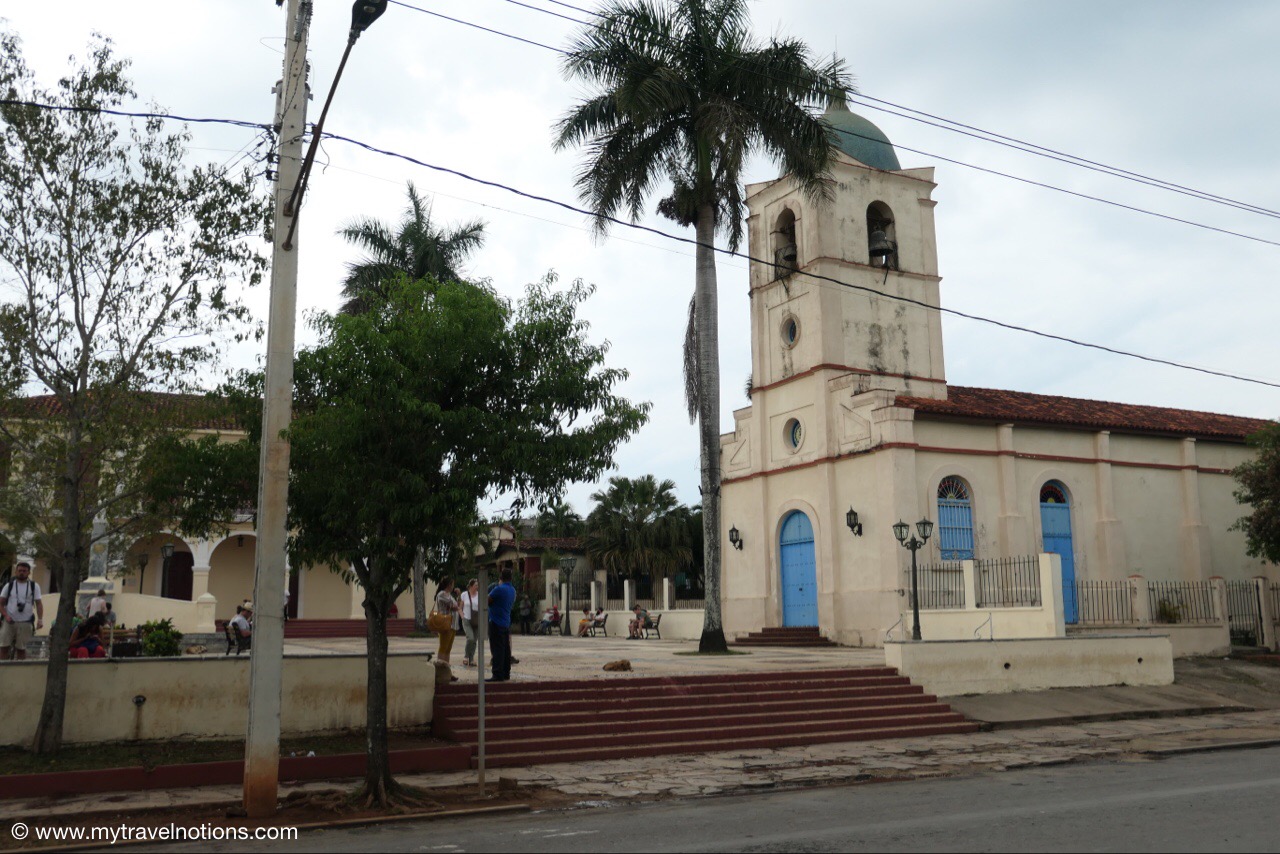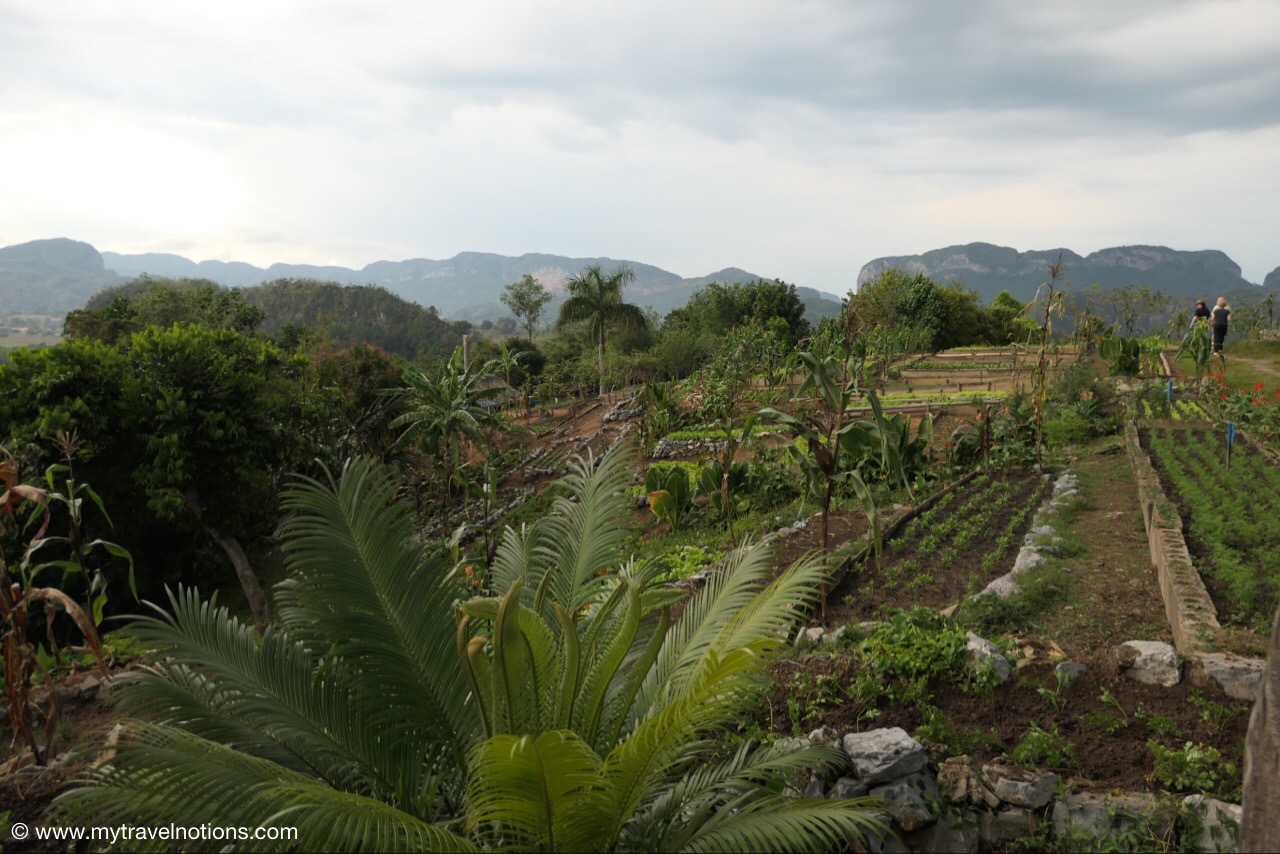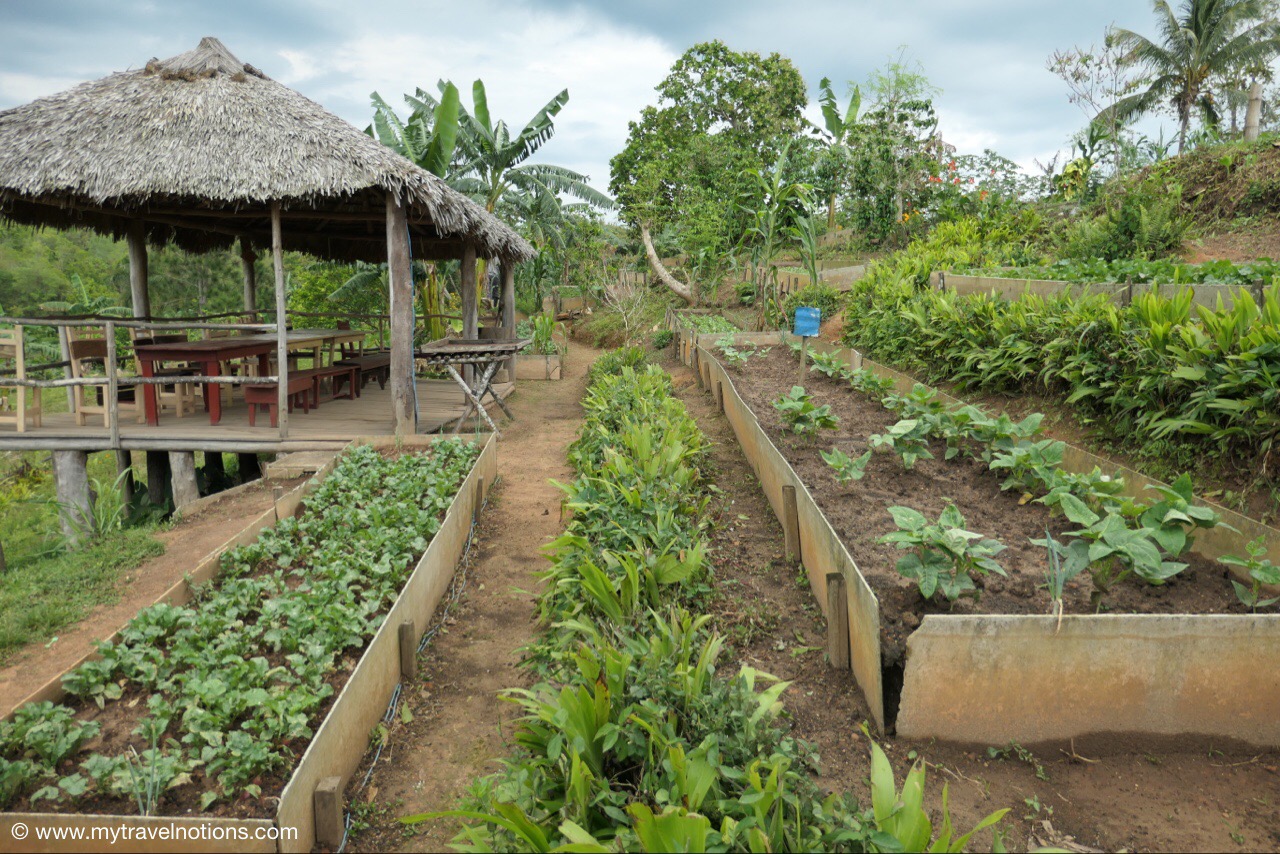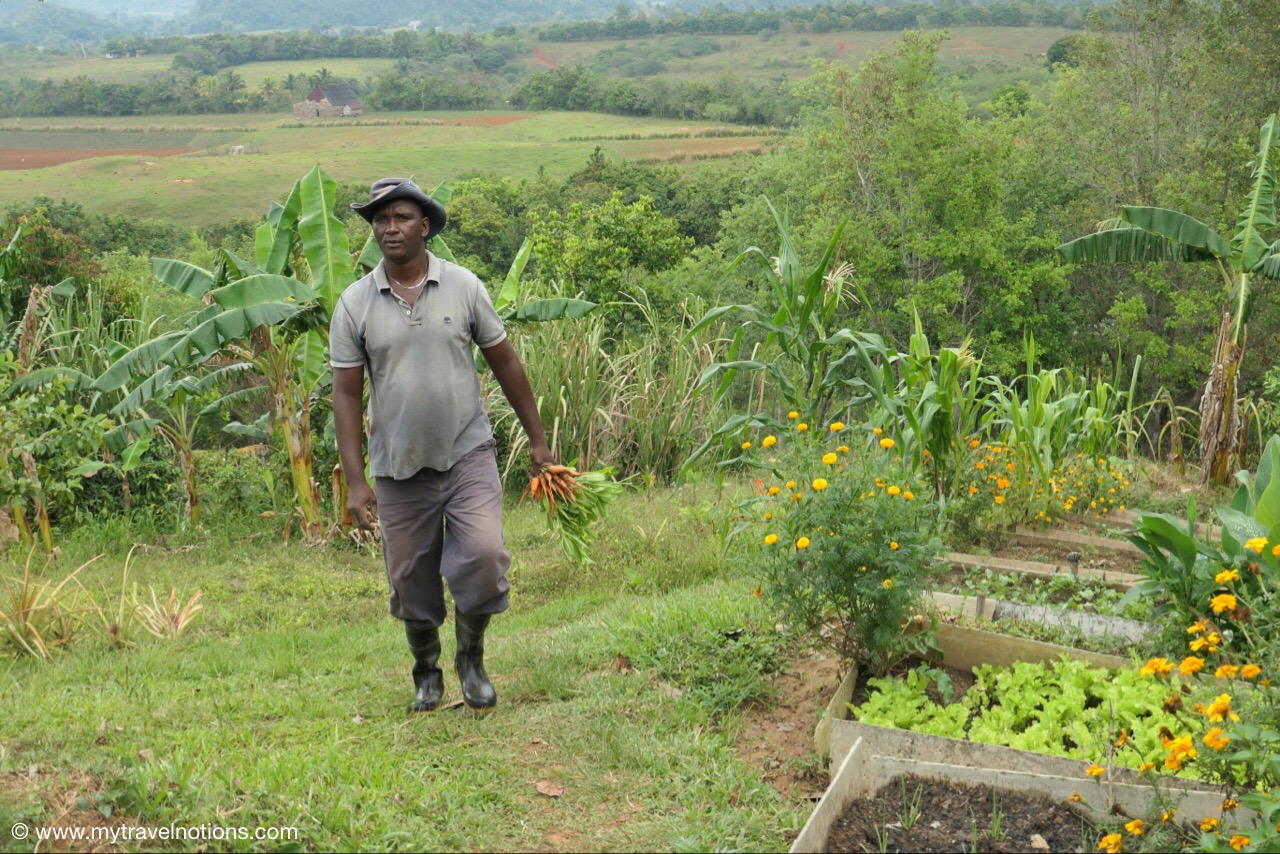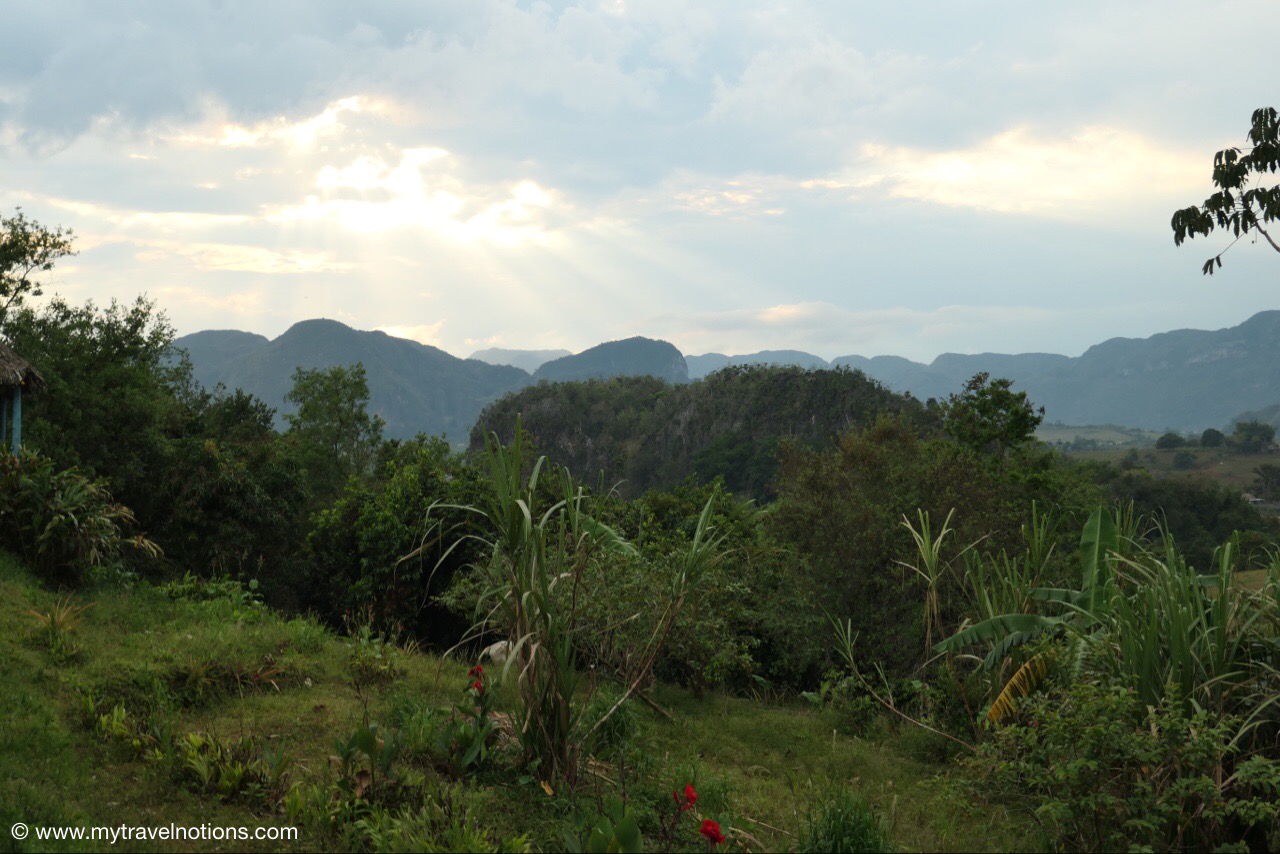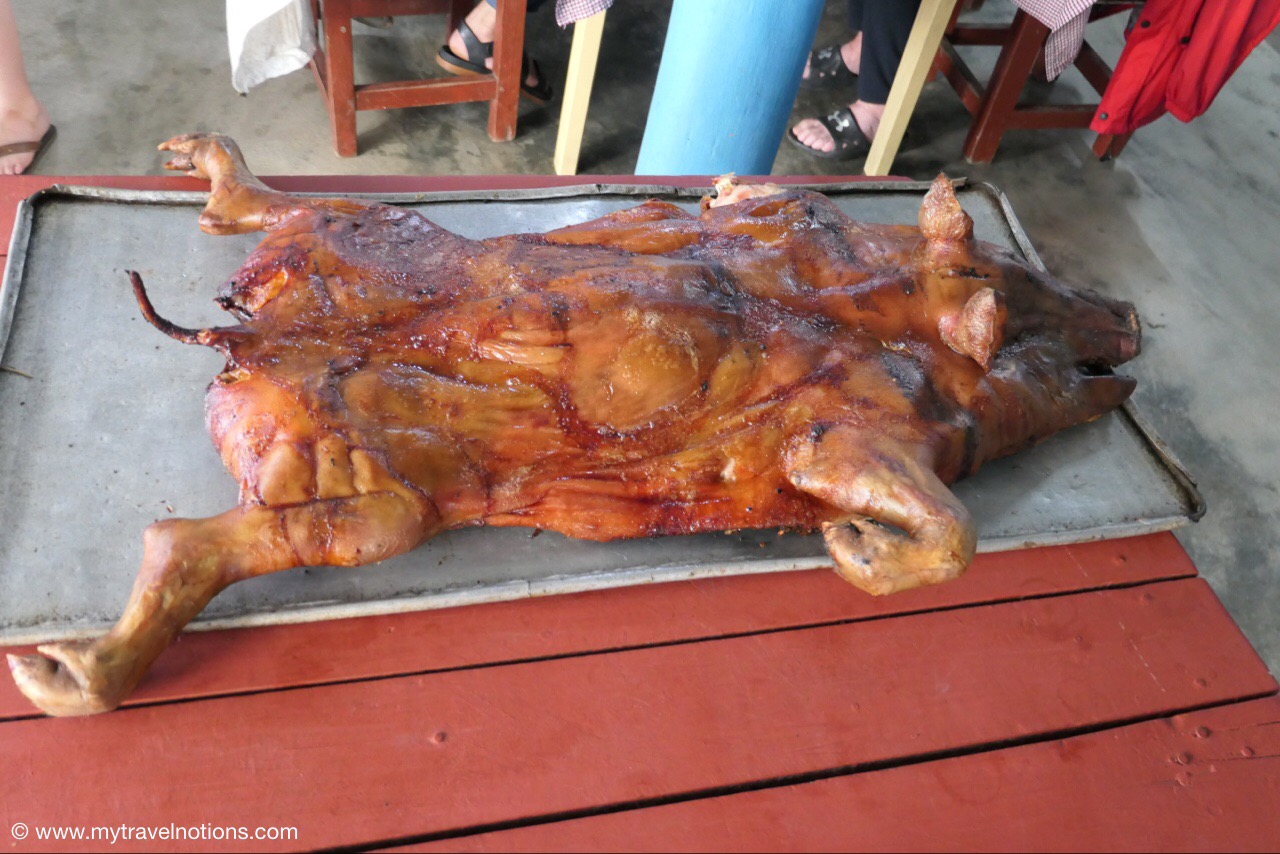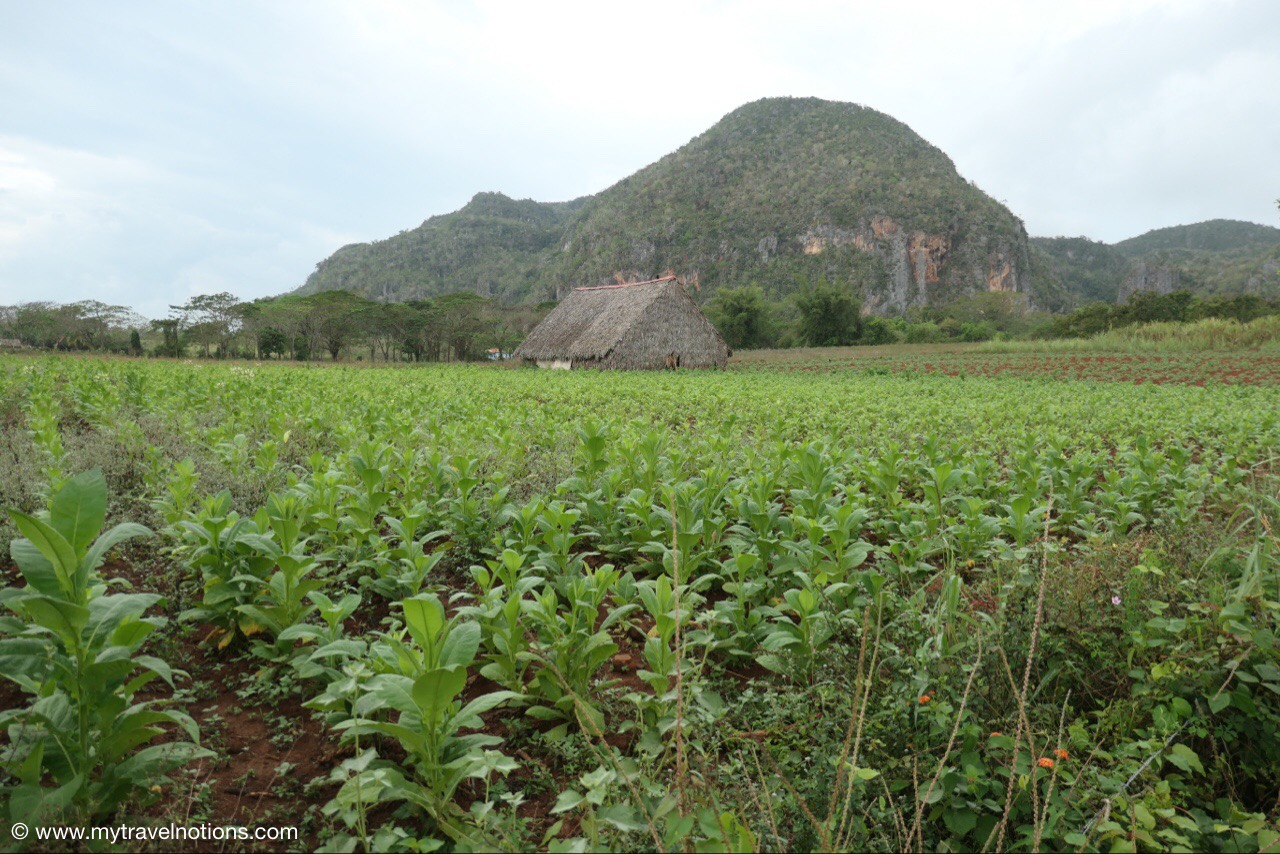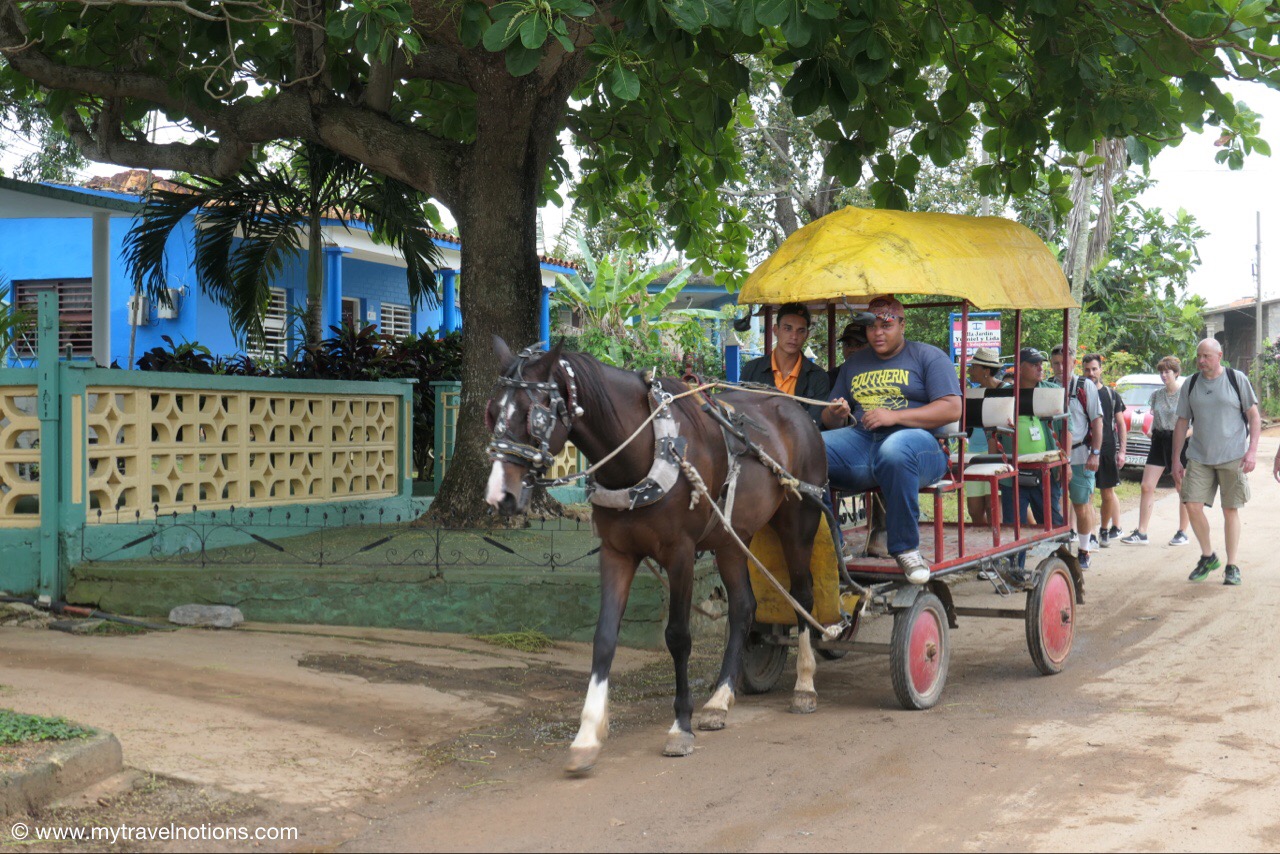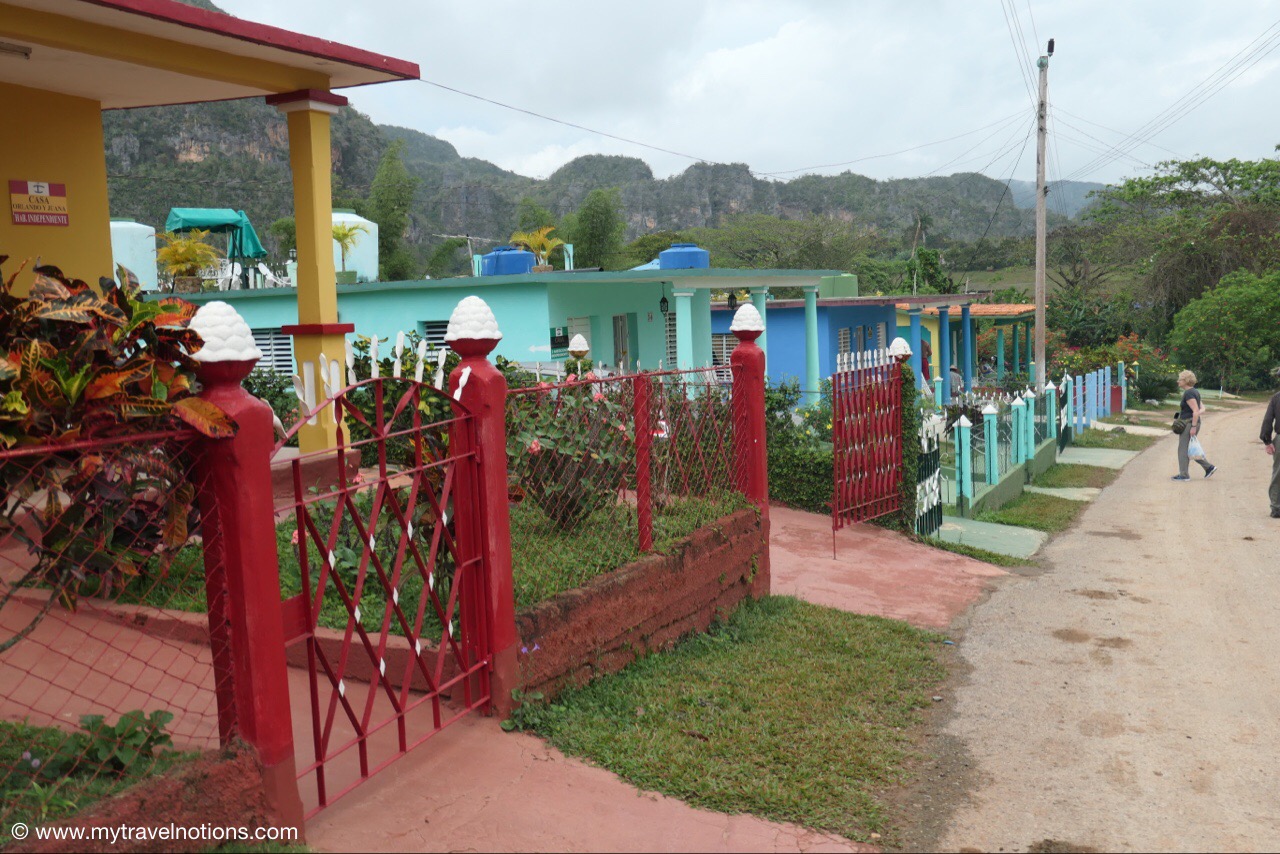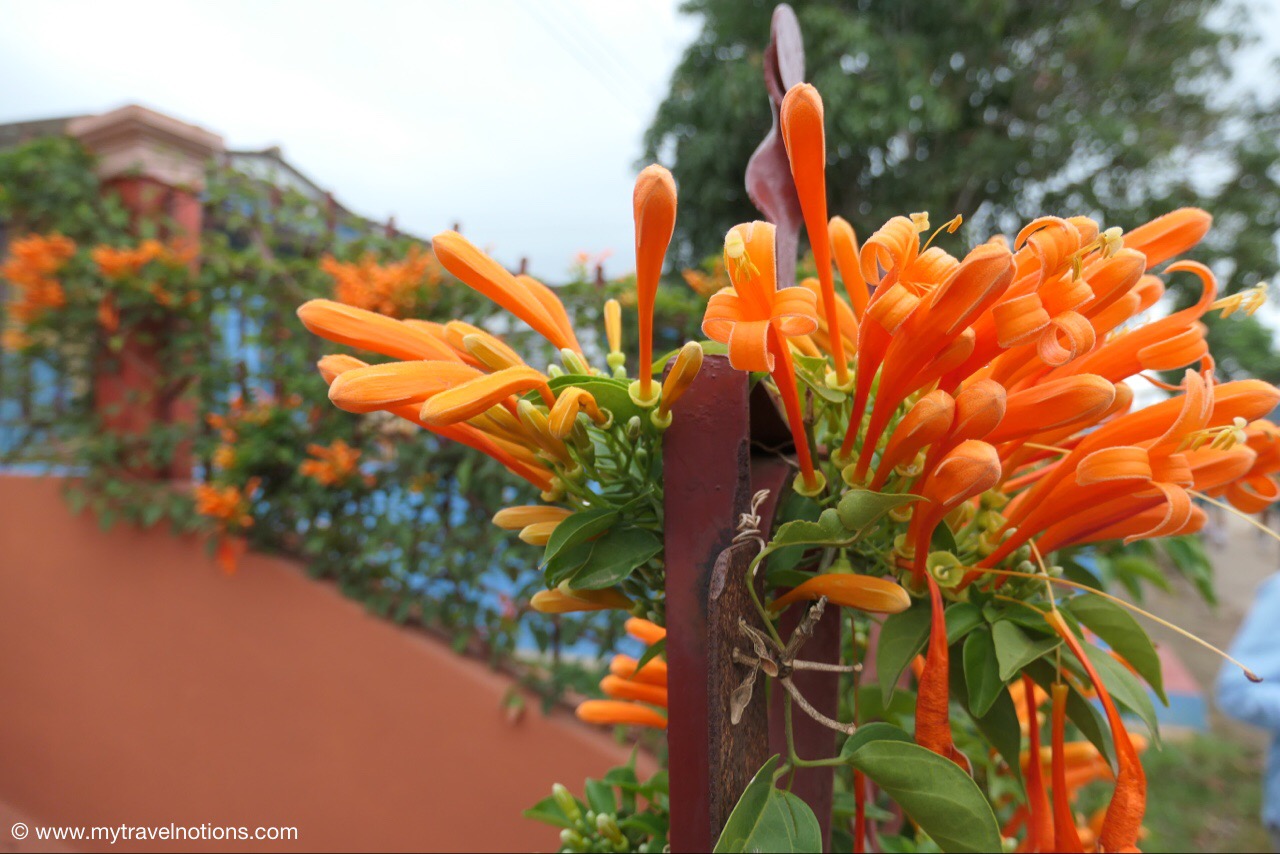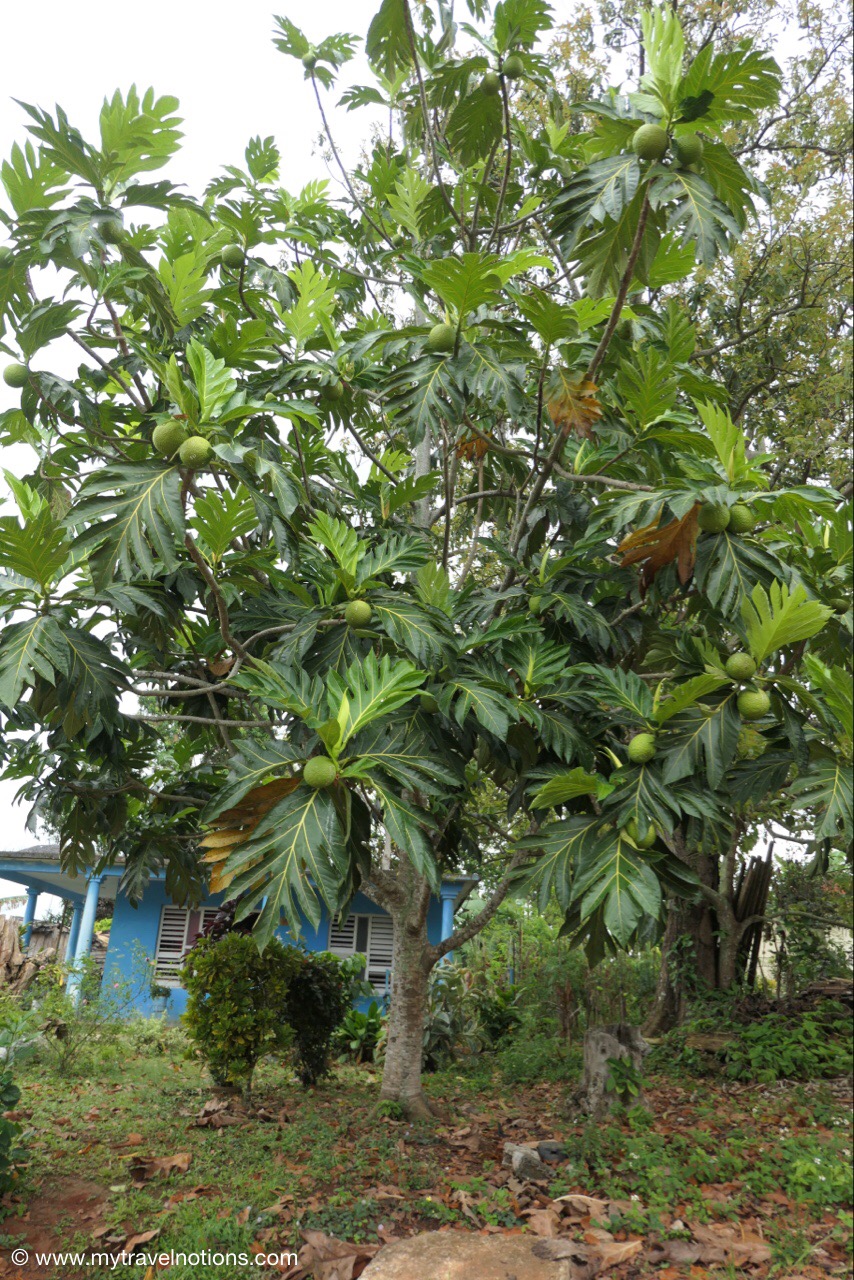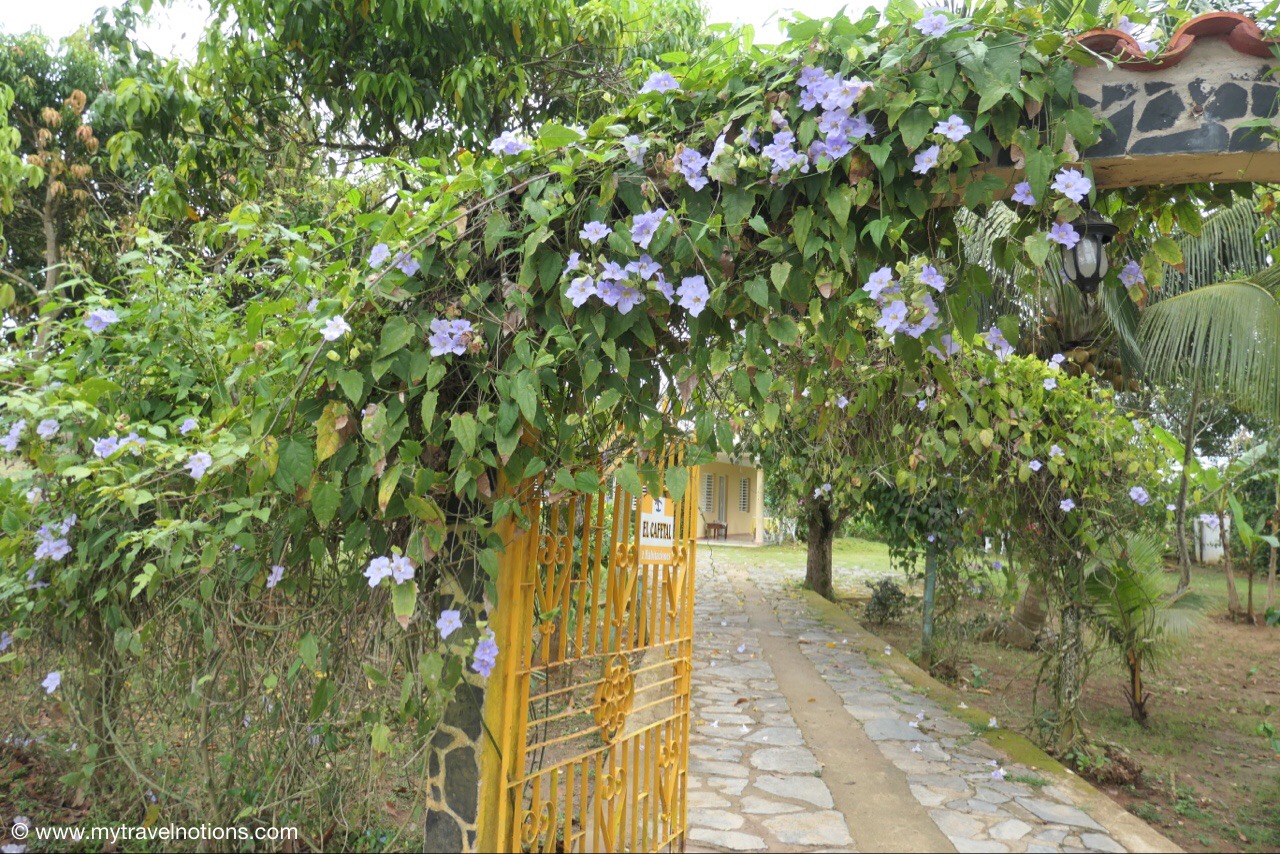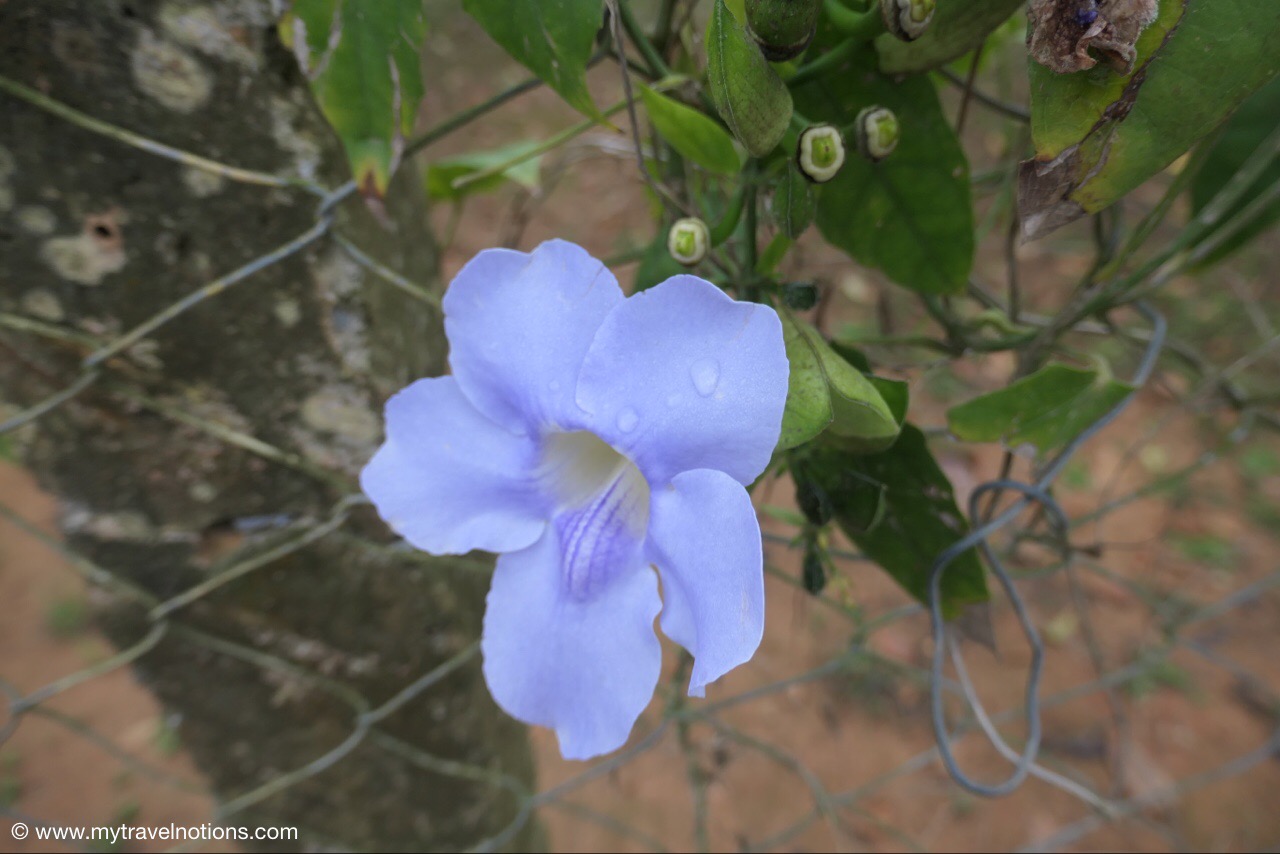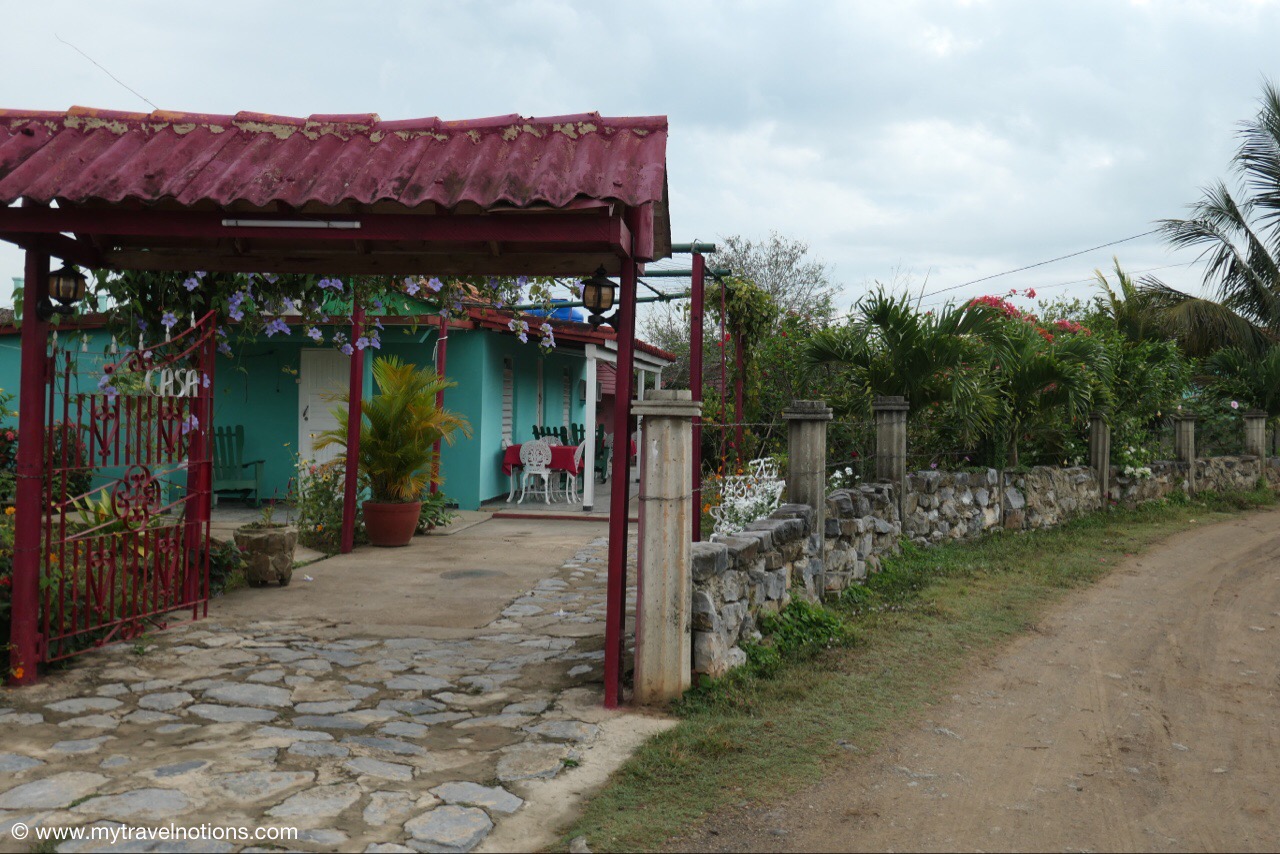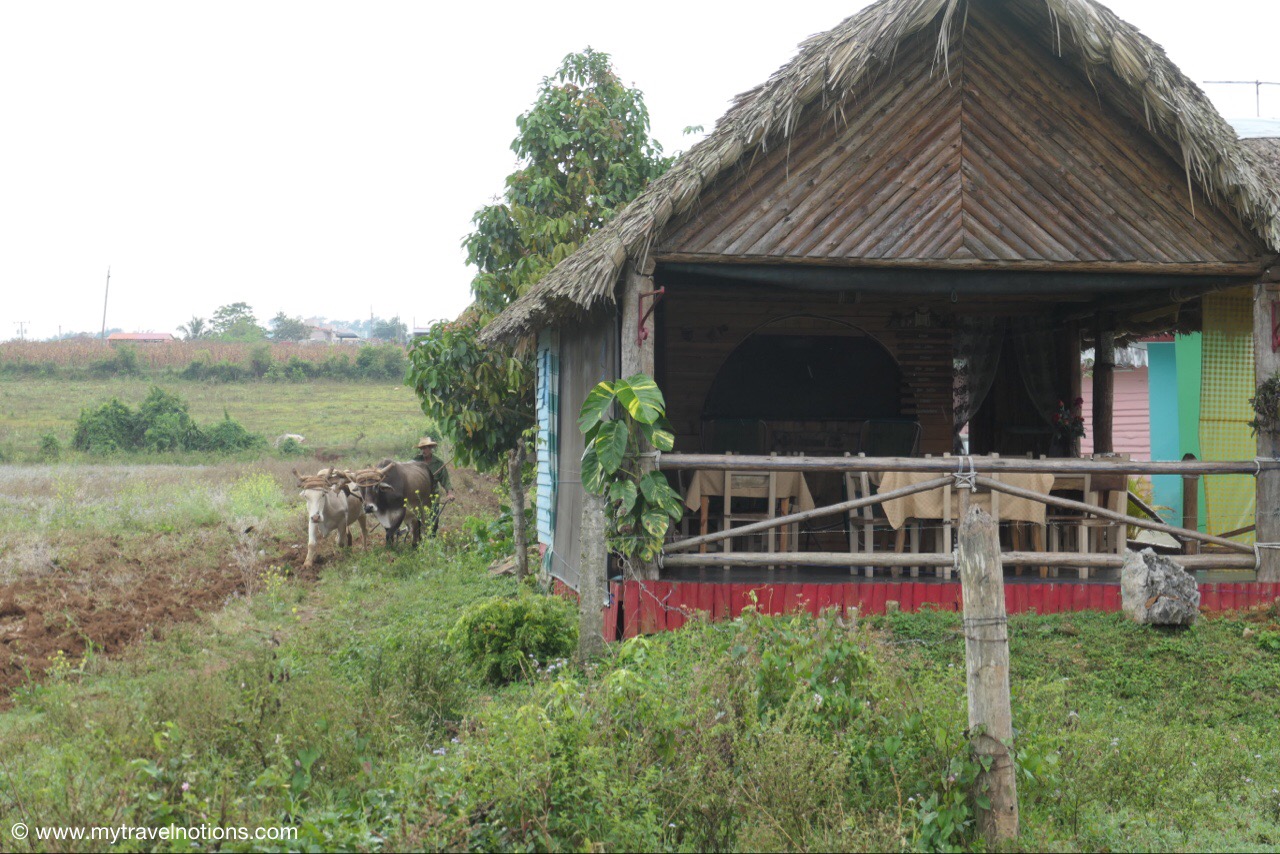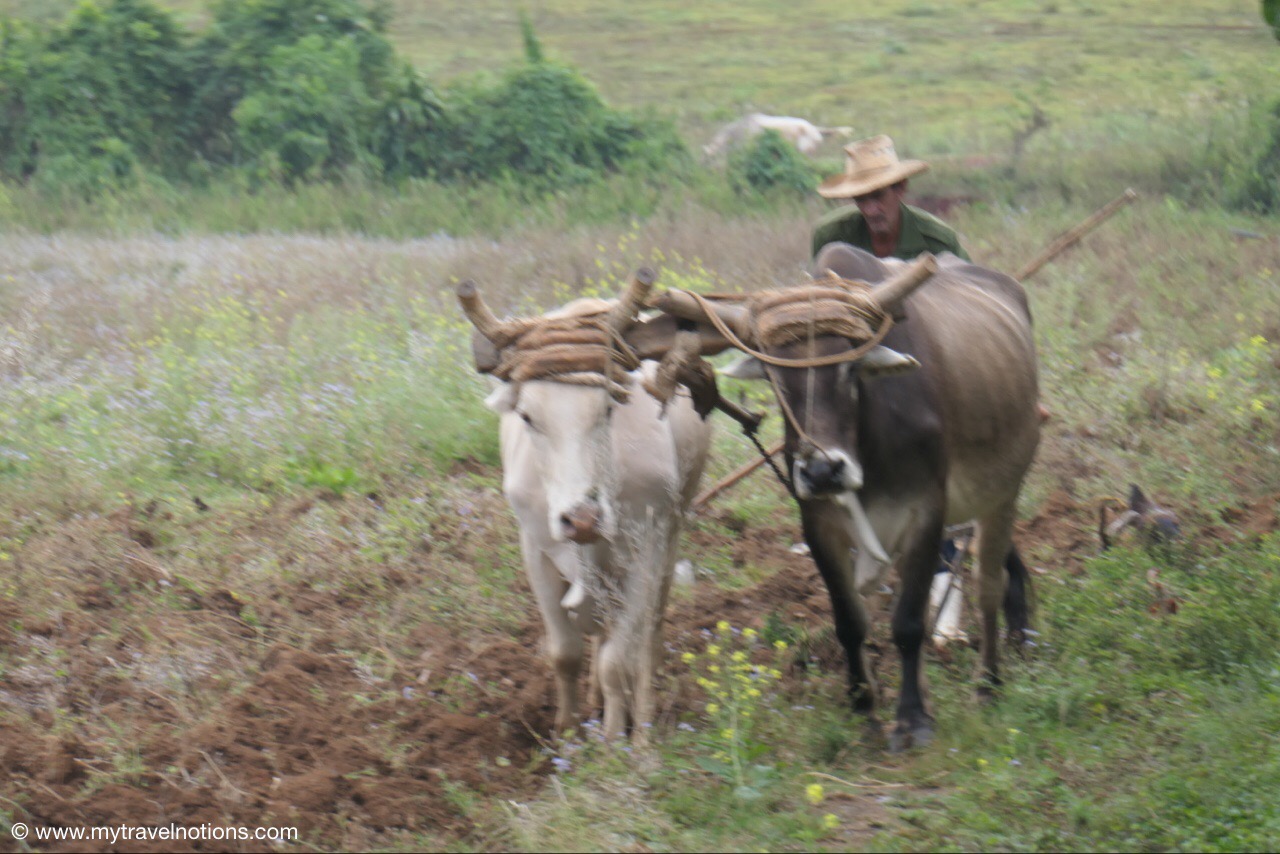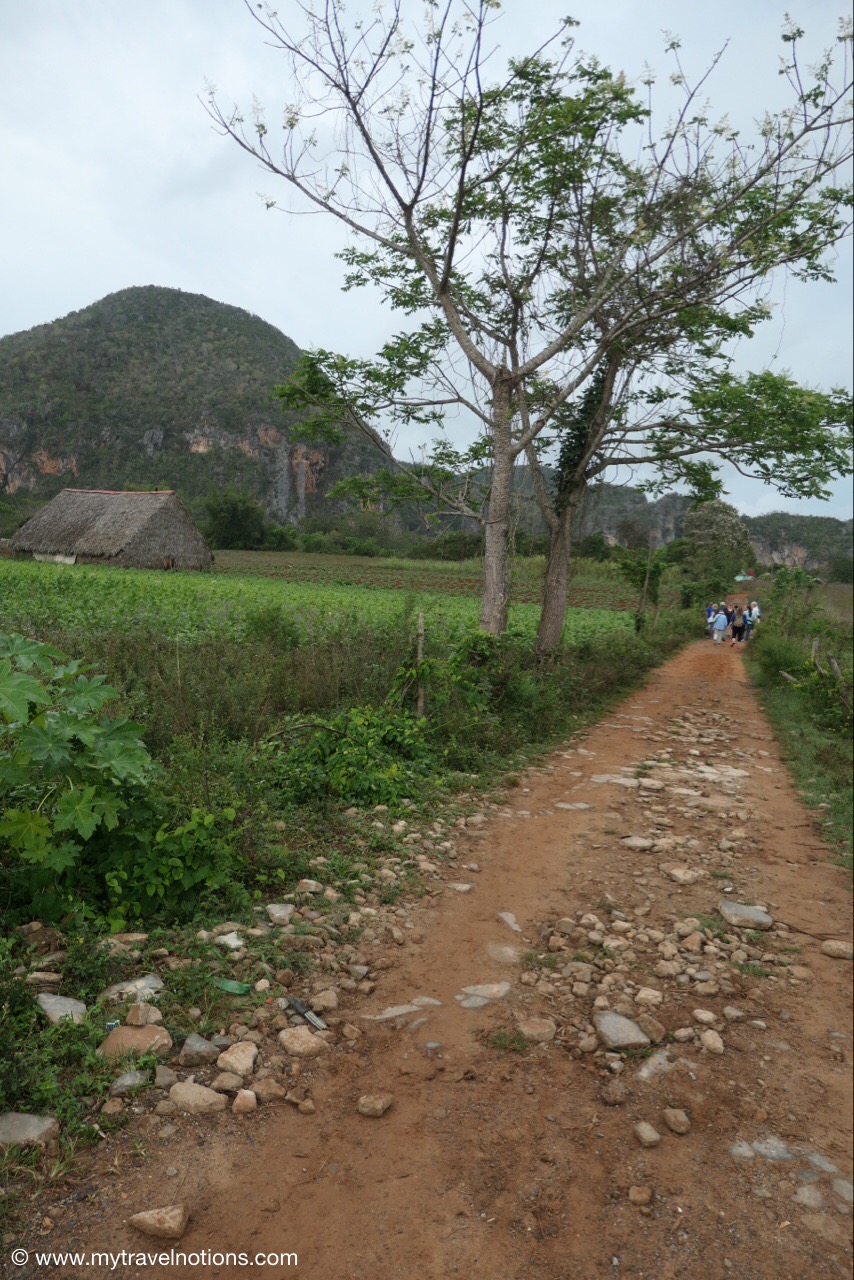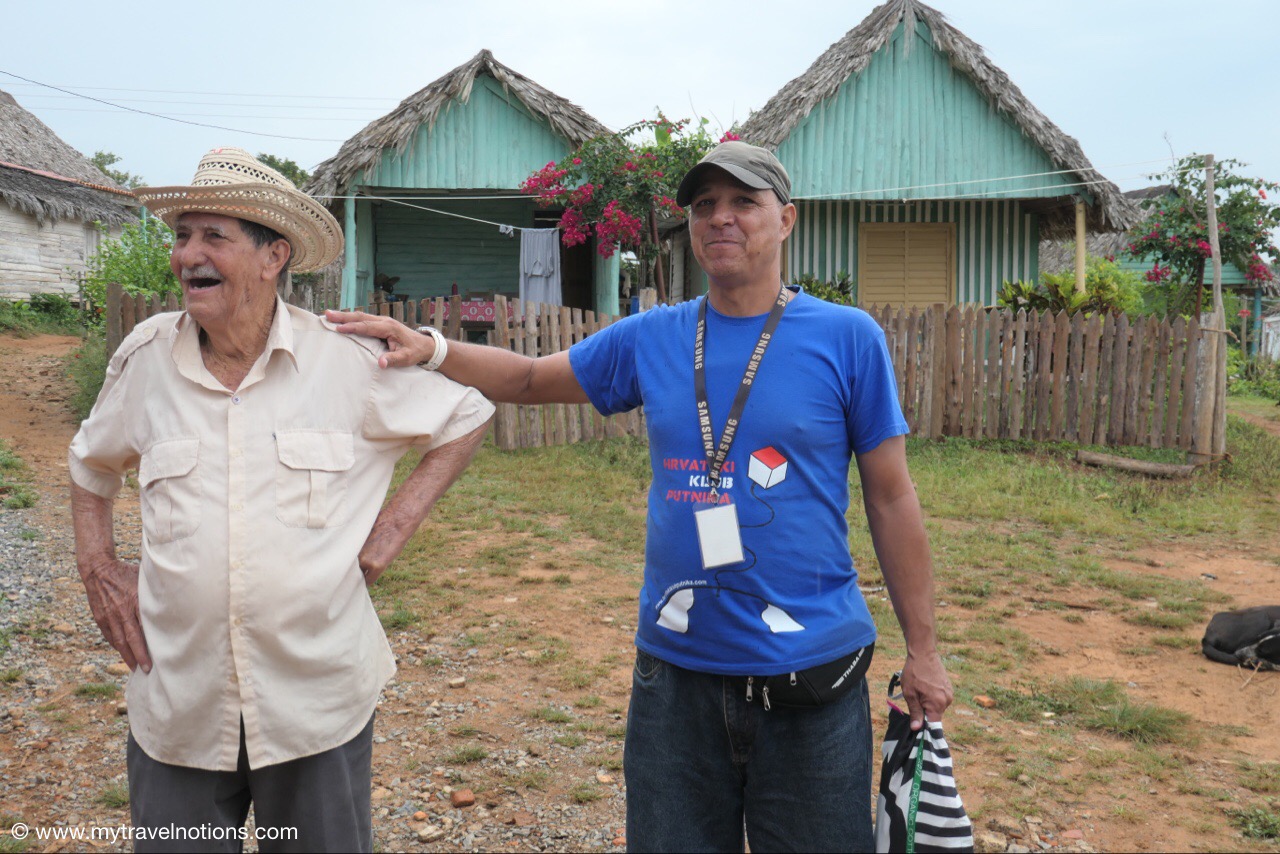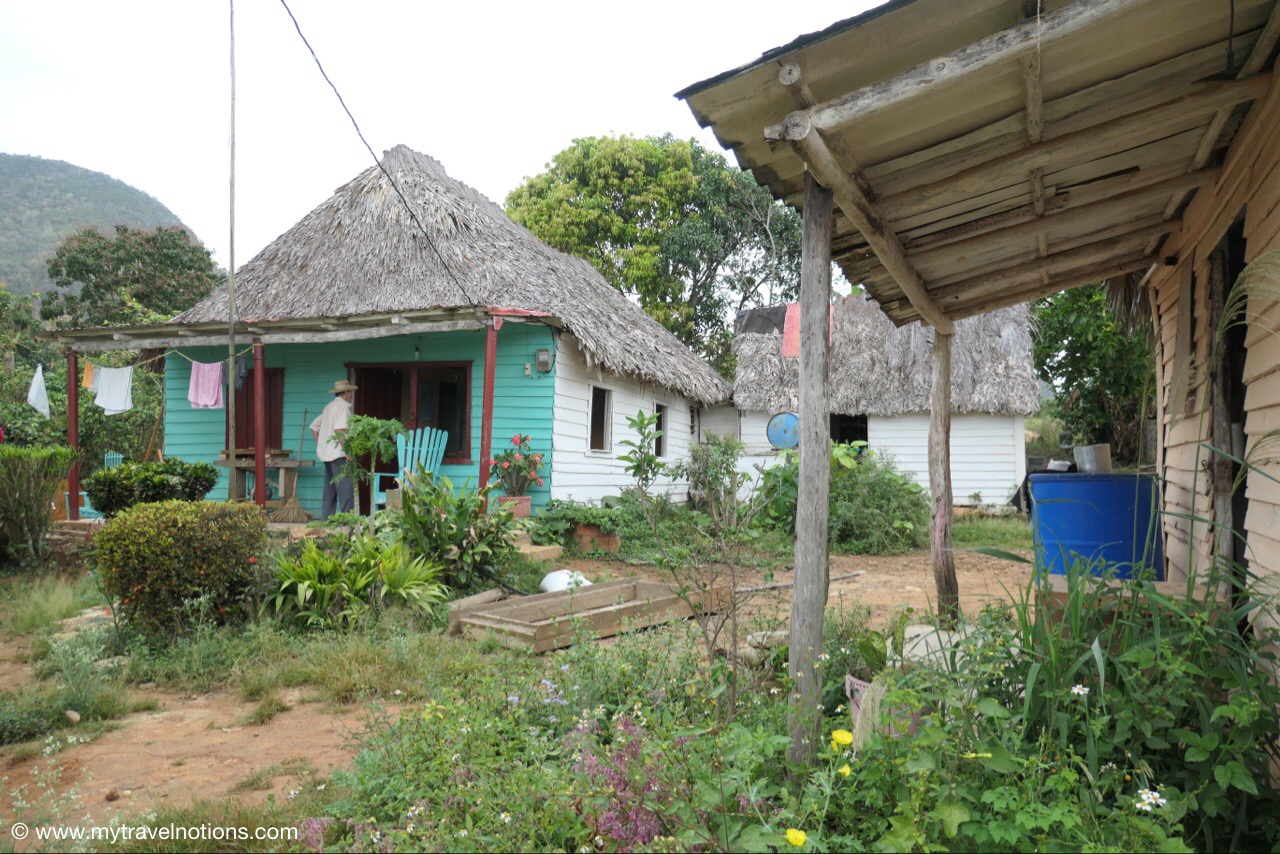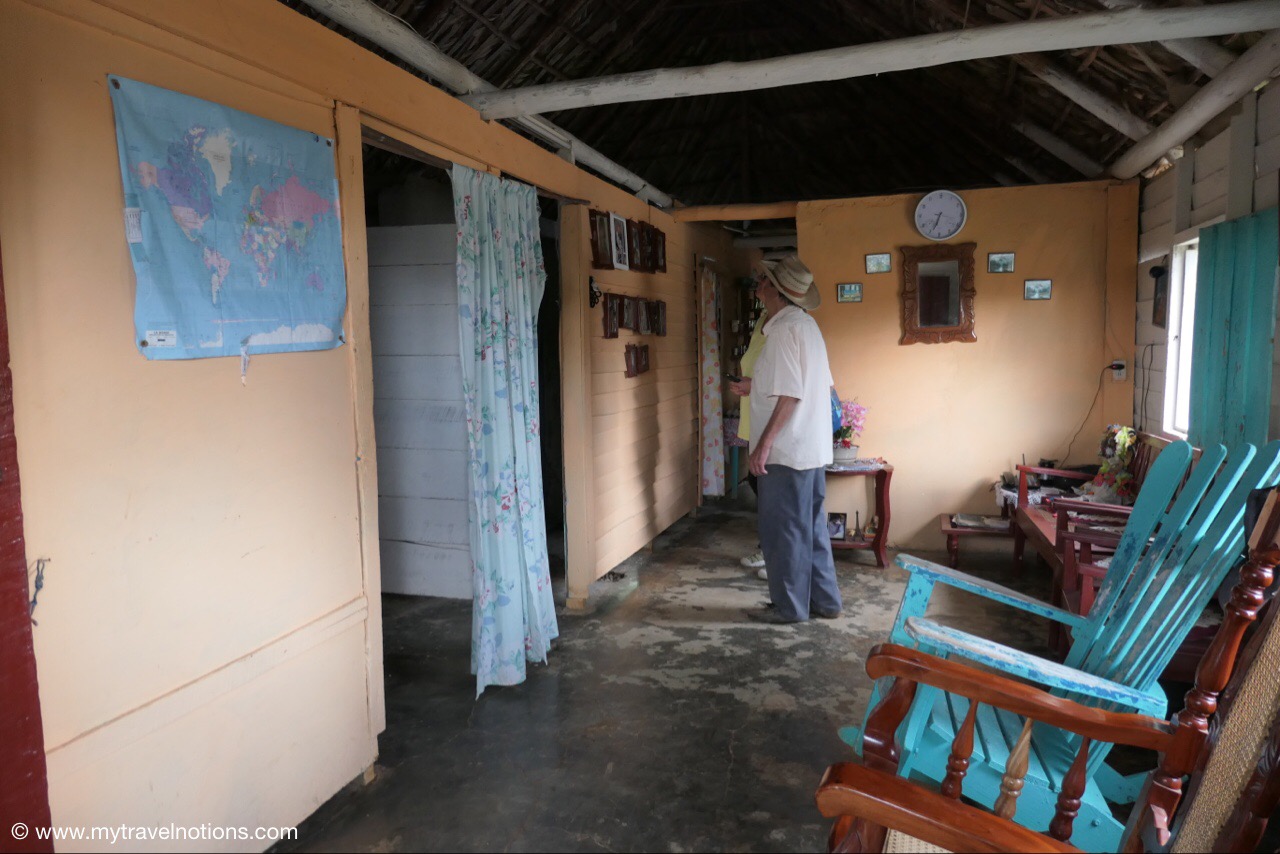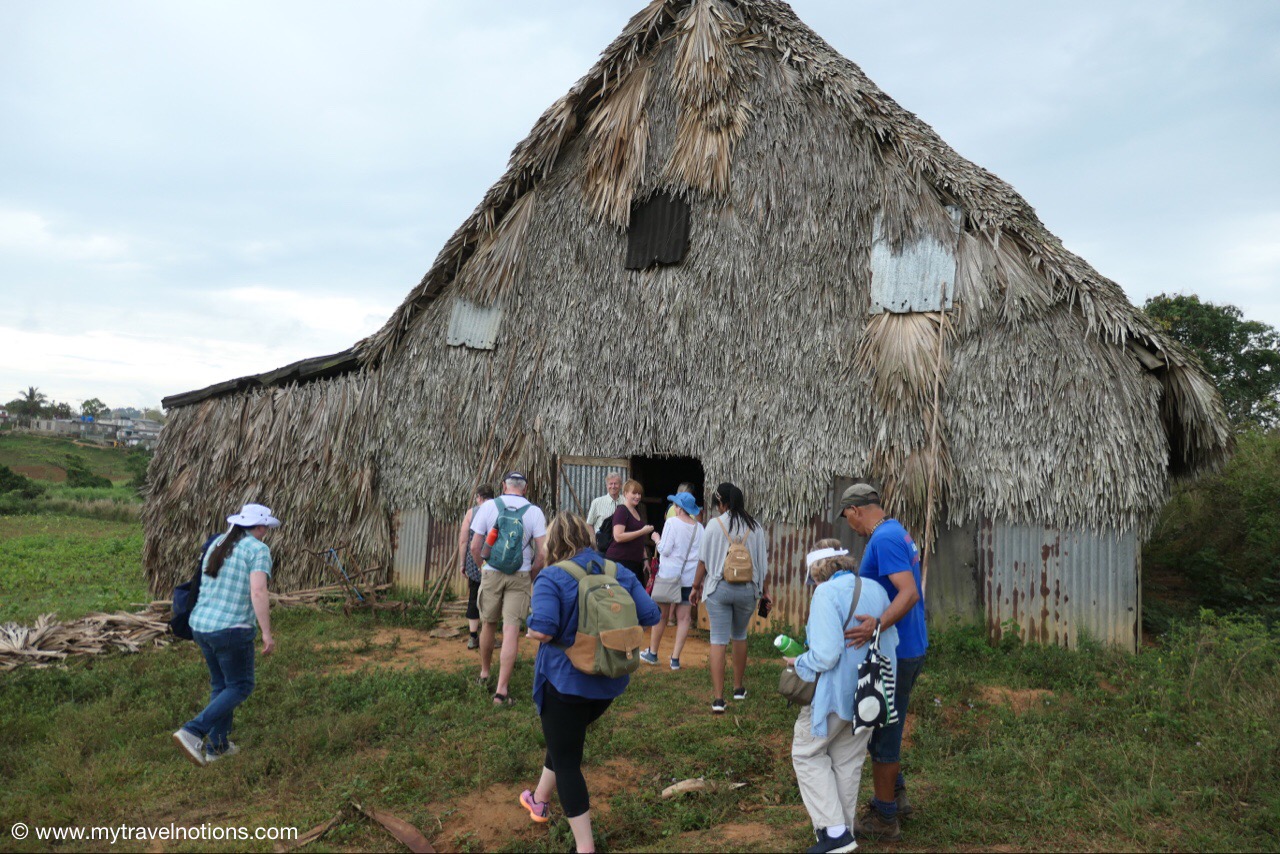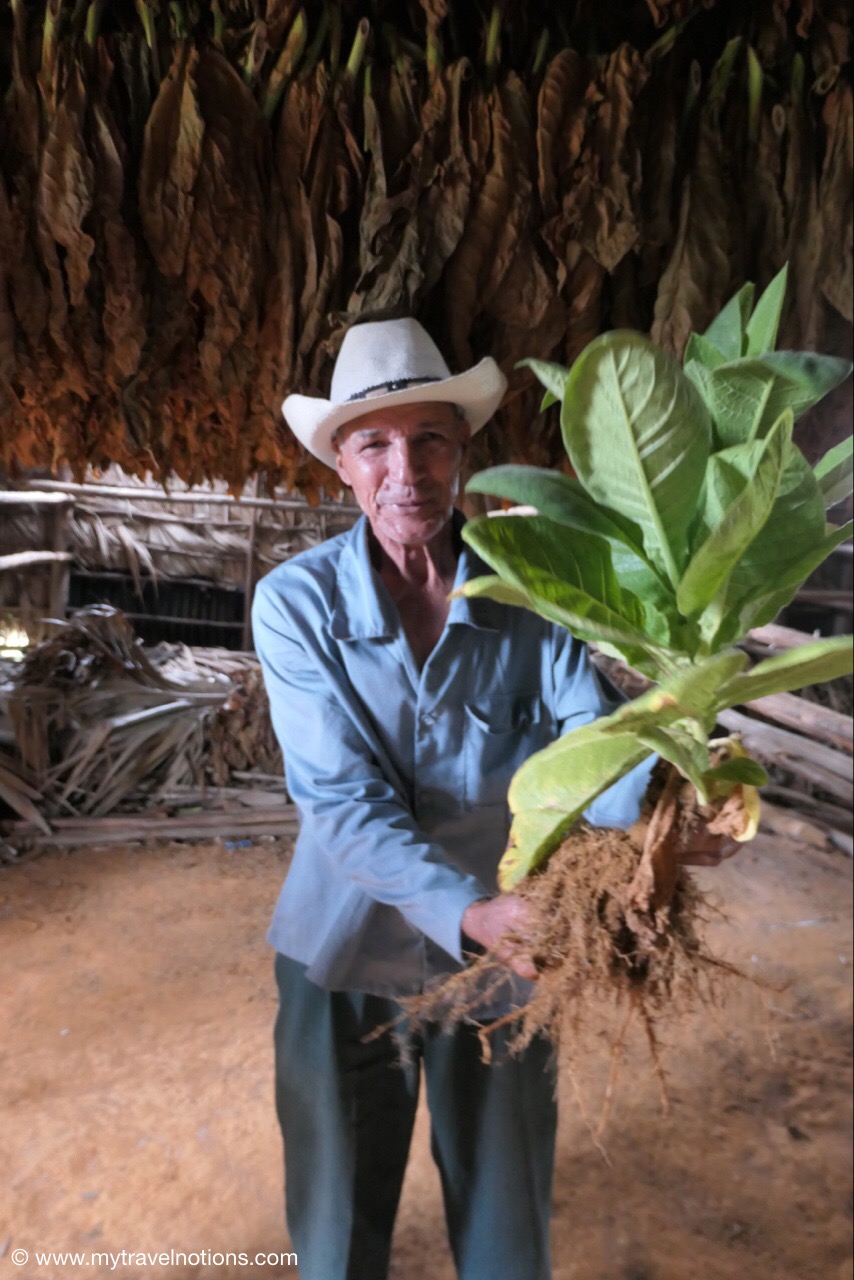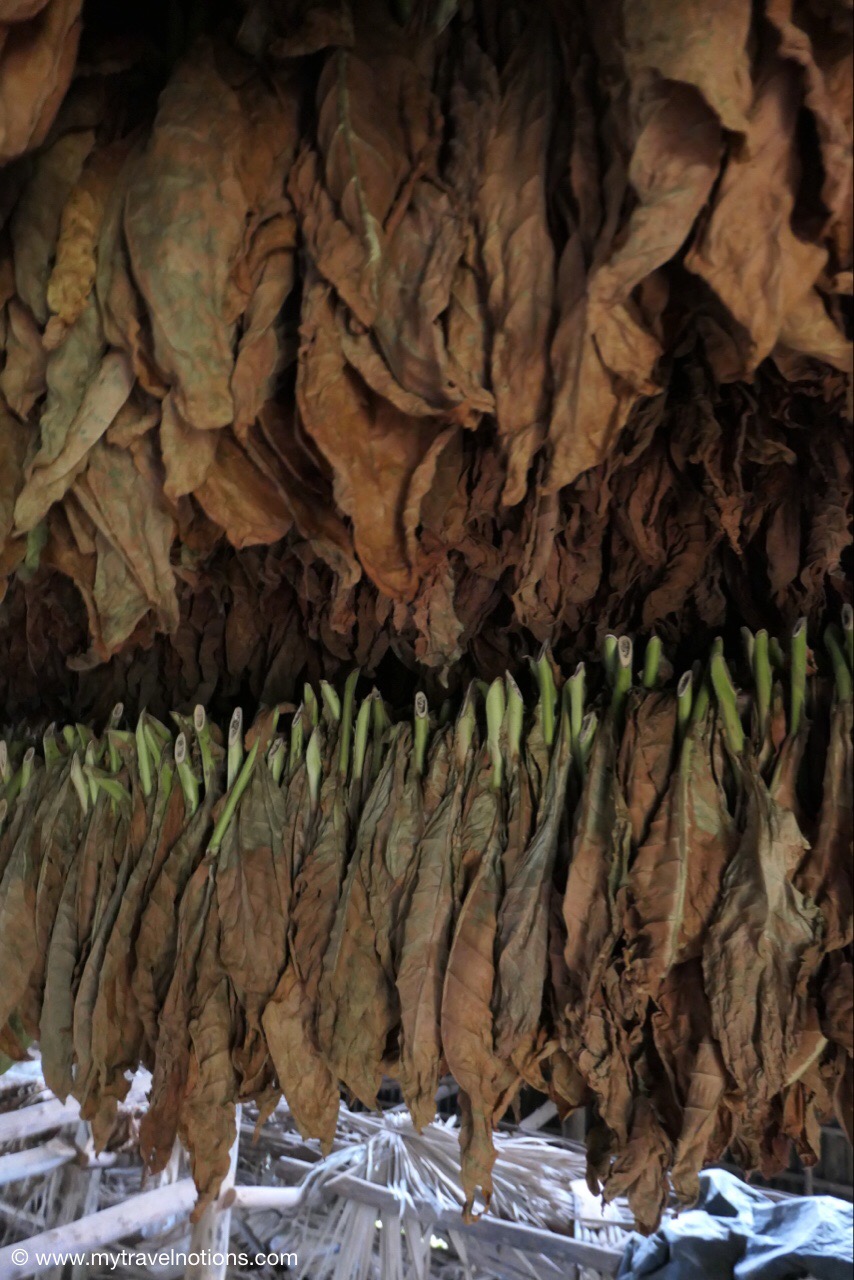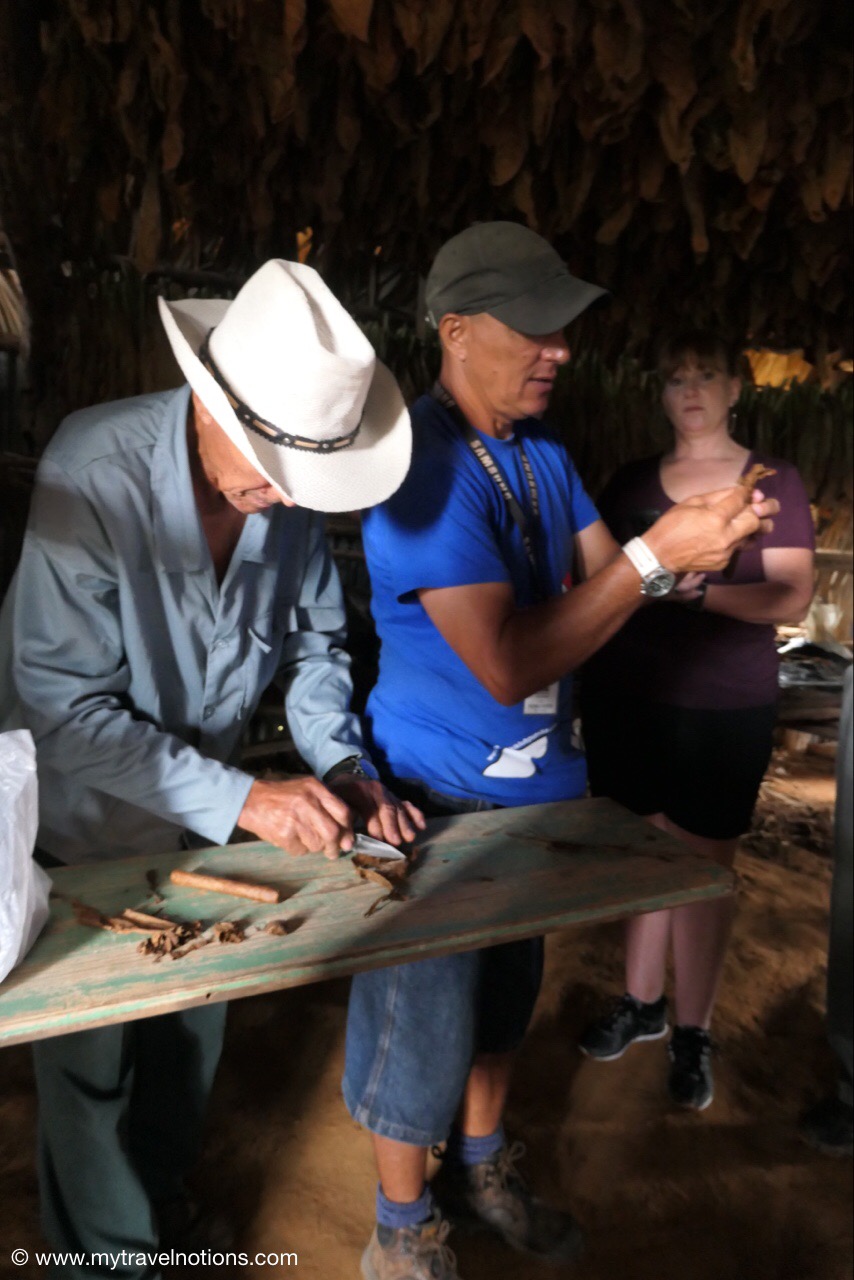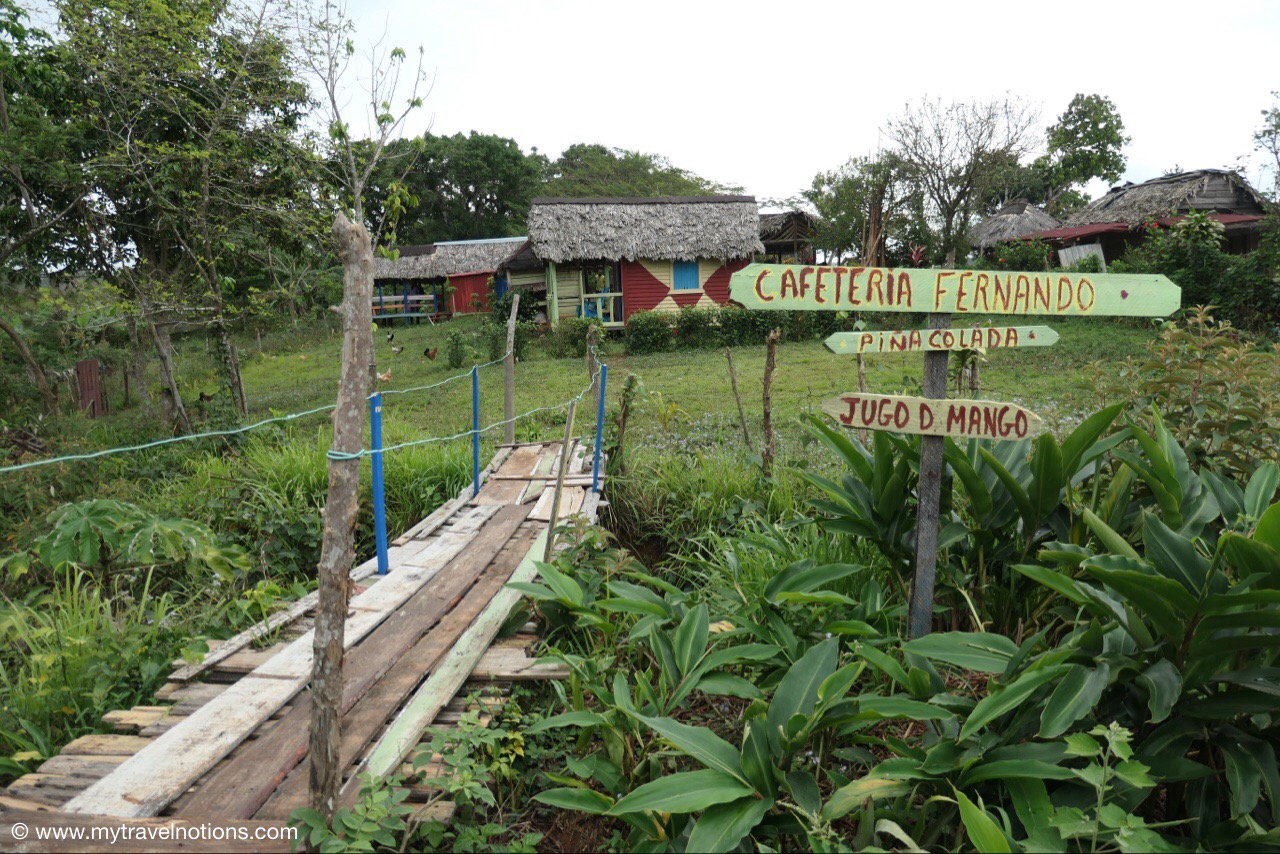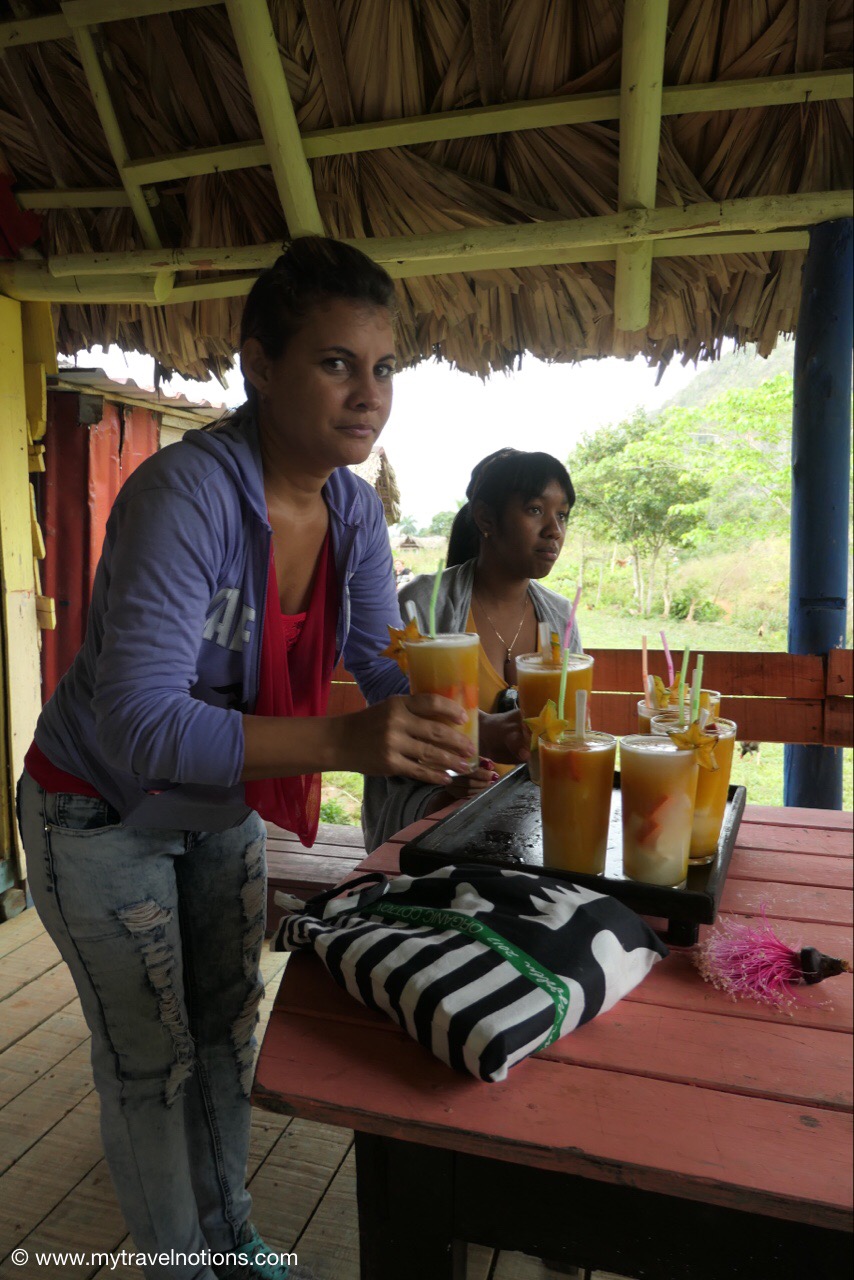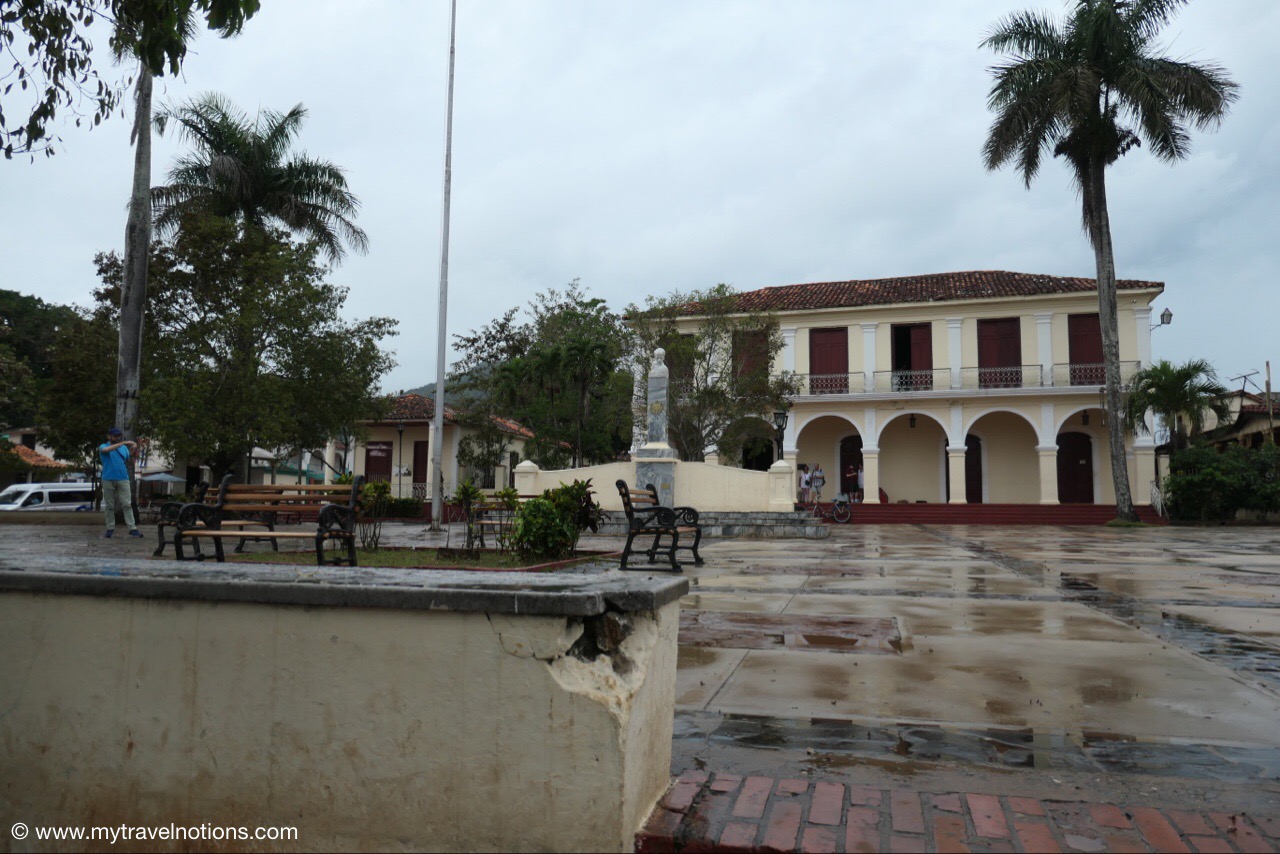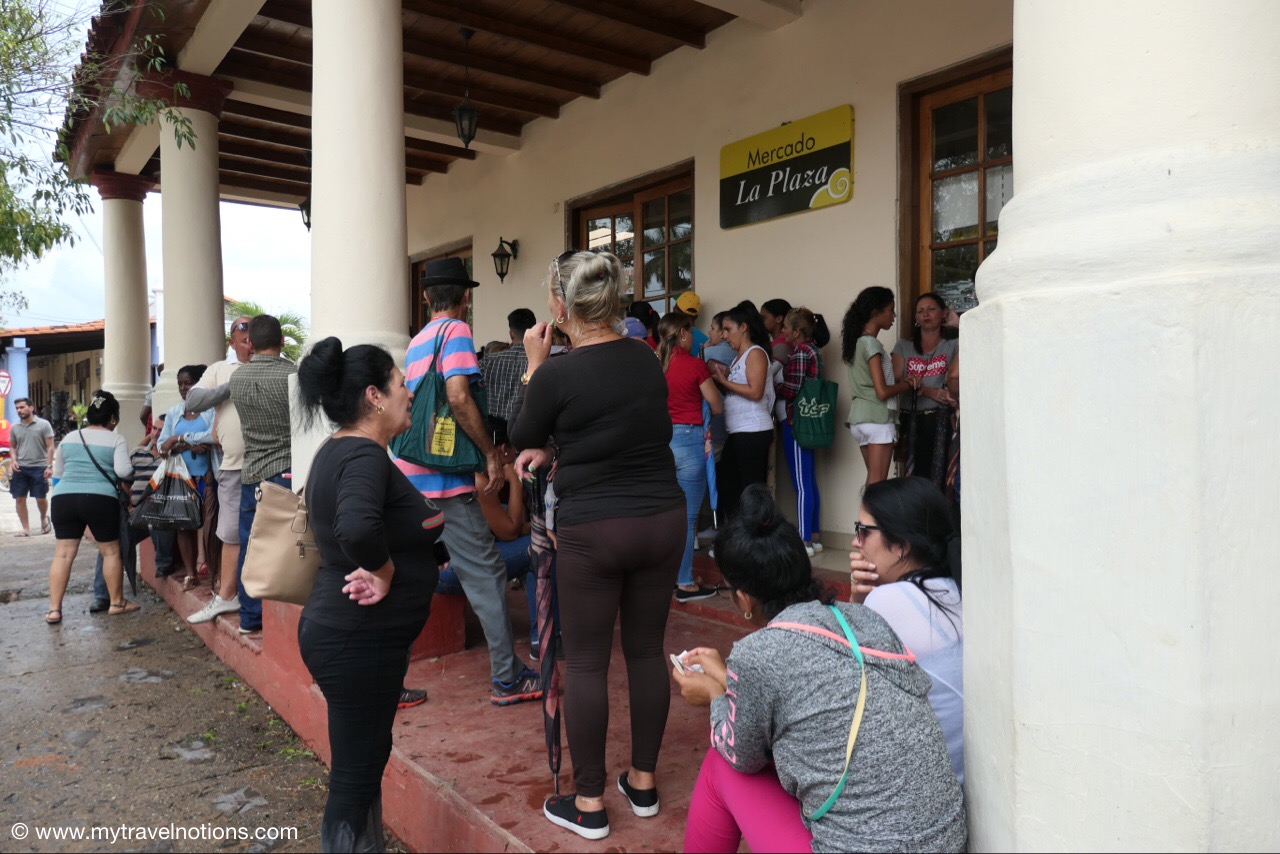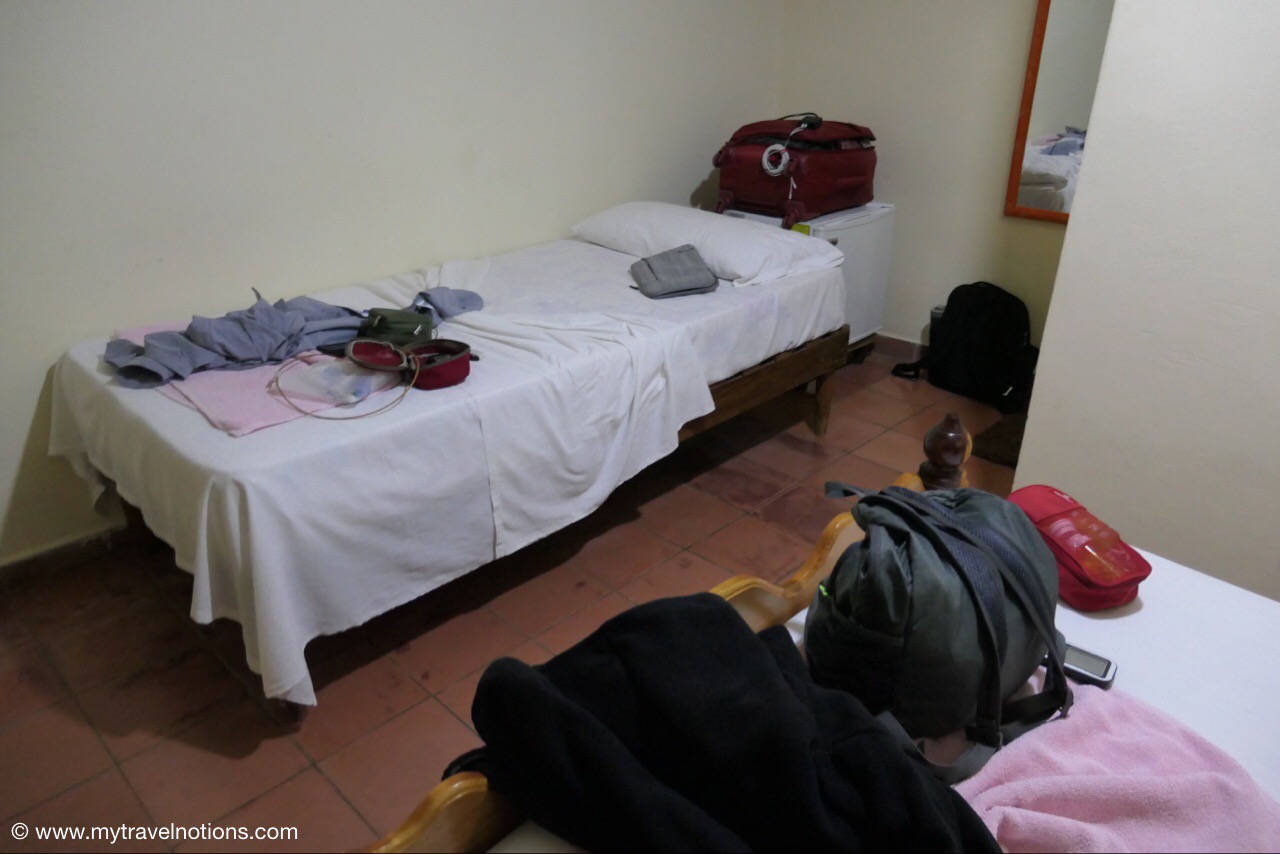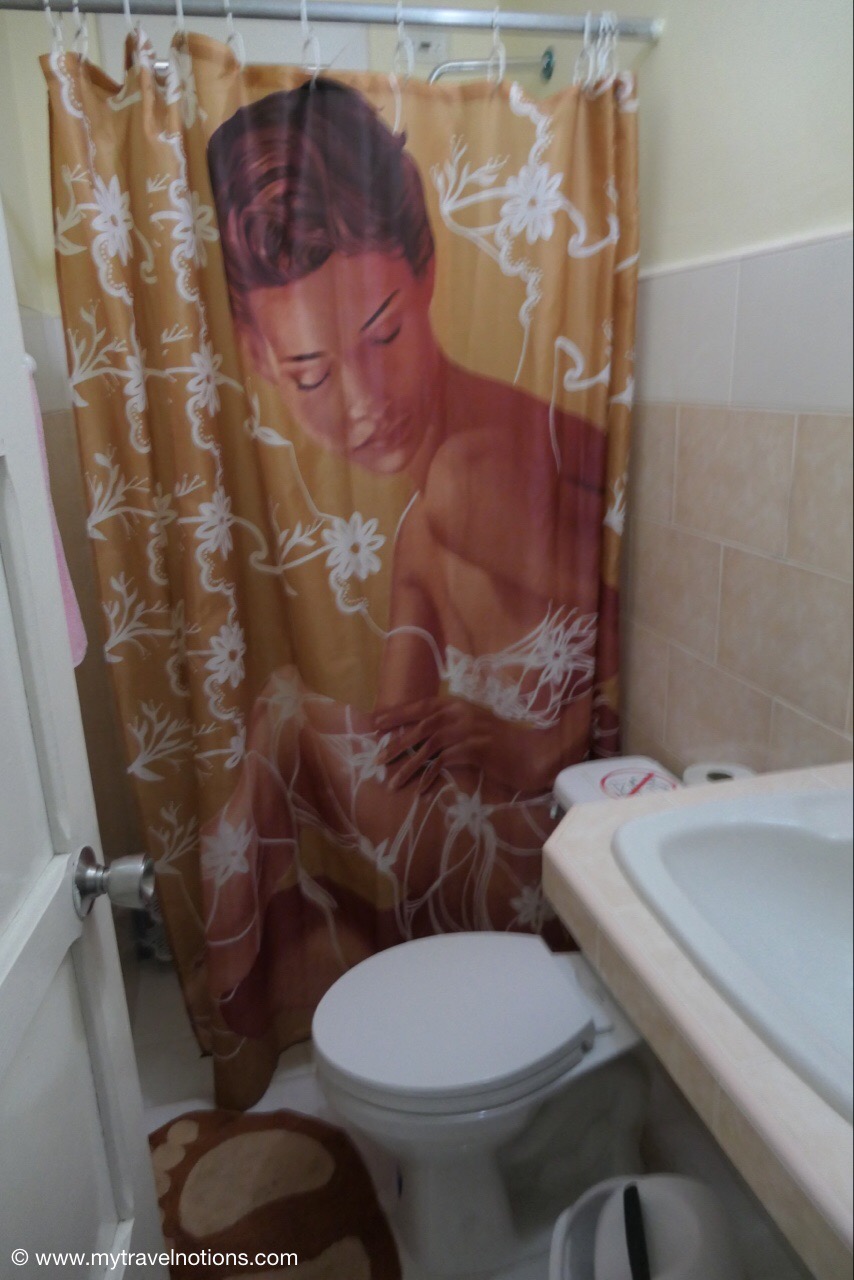 Cienfuegos
Day 5 of Cuba, Wednesday, March 20 – The drive of seven hours, our longest of the tour, to reach Cienfuegos for a night stay. But we didn't get to really see the city until the morning of Day 6, Thursday, March 21. Day 6 was also the day we made our way, about an hour's drive, to the UNESCO World Heritage site of Trinidad for its best-preserved colonial old town along cobblestoned streets. 
The thing I love about a long day's drive is just seeing people from all parts of the world go about their everyday lives. Plus the weather, especially during the early part of the day was rainy so being on the bus, in transit, was just a good place for an onlooker. And, even though it was a long drive, we enjoyed a music and dance performance at a cultural center, had a buffet lunch at what seemed like the only restaurant in town, and for those who cared too…took a dip in the Bay of Pigs, had a spiked glass of lemonade at a palace and got to our guest house in Cienfuegos with enough time to relax before a very nice seafood dinner.
Having been born in New York into a Puerto Rican family on my father's side and a Curacao-Dutch family on my mother's side, I absorbed my families cultures with ease and quite naturally assumed everyone lived like this. I heard hints of Cuba from the Puerto Rican side because family friends were Cuban and the feeling I took in was more of a dislike of the leadership but a love of the country. And, then moving to Florida with my family as a teenager, I would say that same sentiment traveled with me. So within me, I carried this dislike for Fidel Castro even though I didn't really know or understand the whole picture and yes, in school I also remember being taught that Castro made it difficult for the people, he was a Communist and almost caused a nuclear war which is why so many people were forced to leave their homelands. In watching the documentary, "The Untold Story of Fidel Castro," by Estela Brava, his principle goal was to free his countryman and his country and if that meant fighting bigger, more powerful countries, like the U.S. in order to gain independence, then he would do just that. But one thing that did surprise me from the documentary is how Castro, whose country struggled economically, still gave help and hope to other Caribbean and racially oppressed countries like South Africa, Uruguay, Brazil, Chile, Venezuela and even Vietnam seeking political, economic and racial freedom. The more I travel, the more I see where smaller countries, just like their sister older and bigger countries, want their freedom and independence. I can understand what Castro was seeking to achieve. 
But that's enough about politics, let's check out the journey to Cienfuegos and the colonial town itself which was founded in 1819 and colonized by French immigrants who came from Bordeaux, Louisiana and Philadelphia. Considered the "Pearl of the South" for its distinctly European flavor, with a wide Parisian-style boulevard and elegant colonnades, Cienfuegos became a trading place for the country's sugar cane, tobacco and coffee production.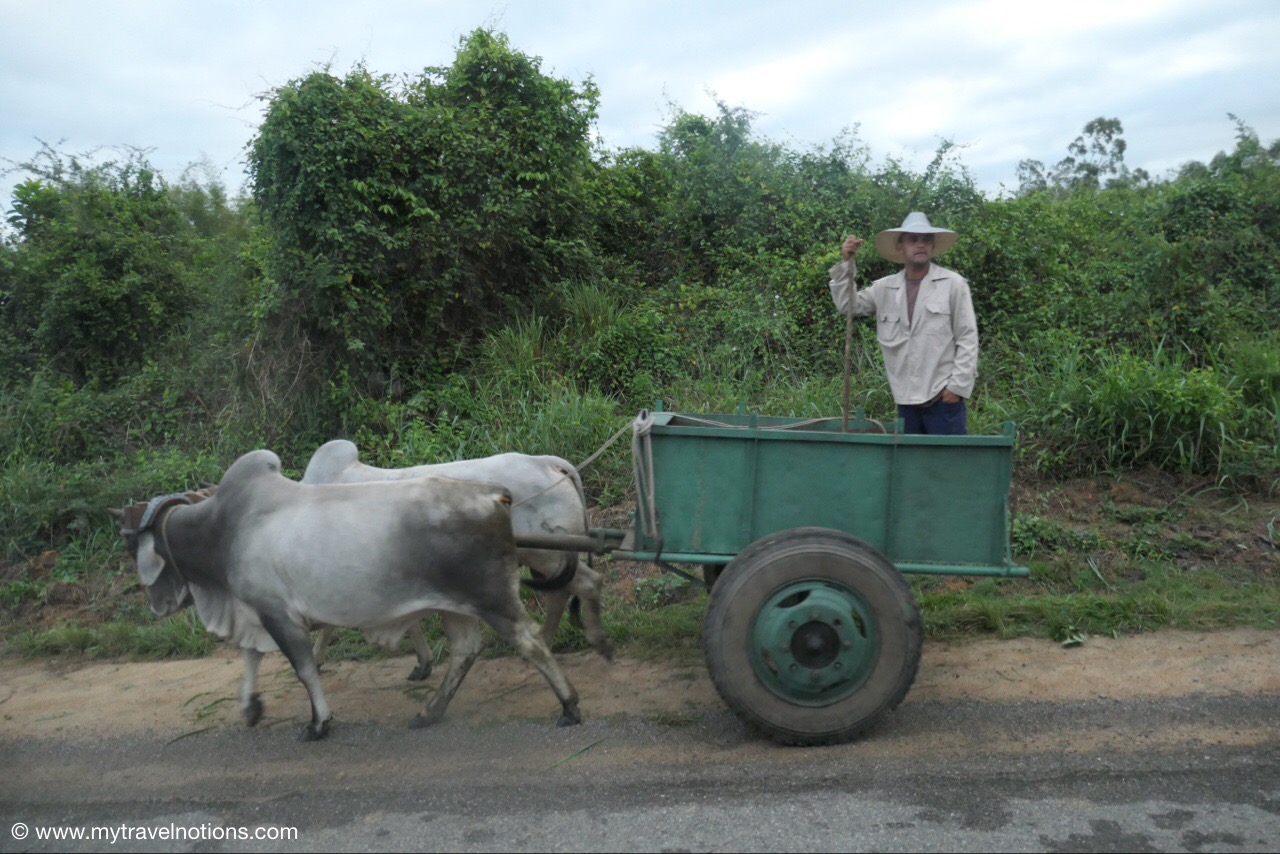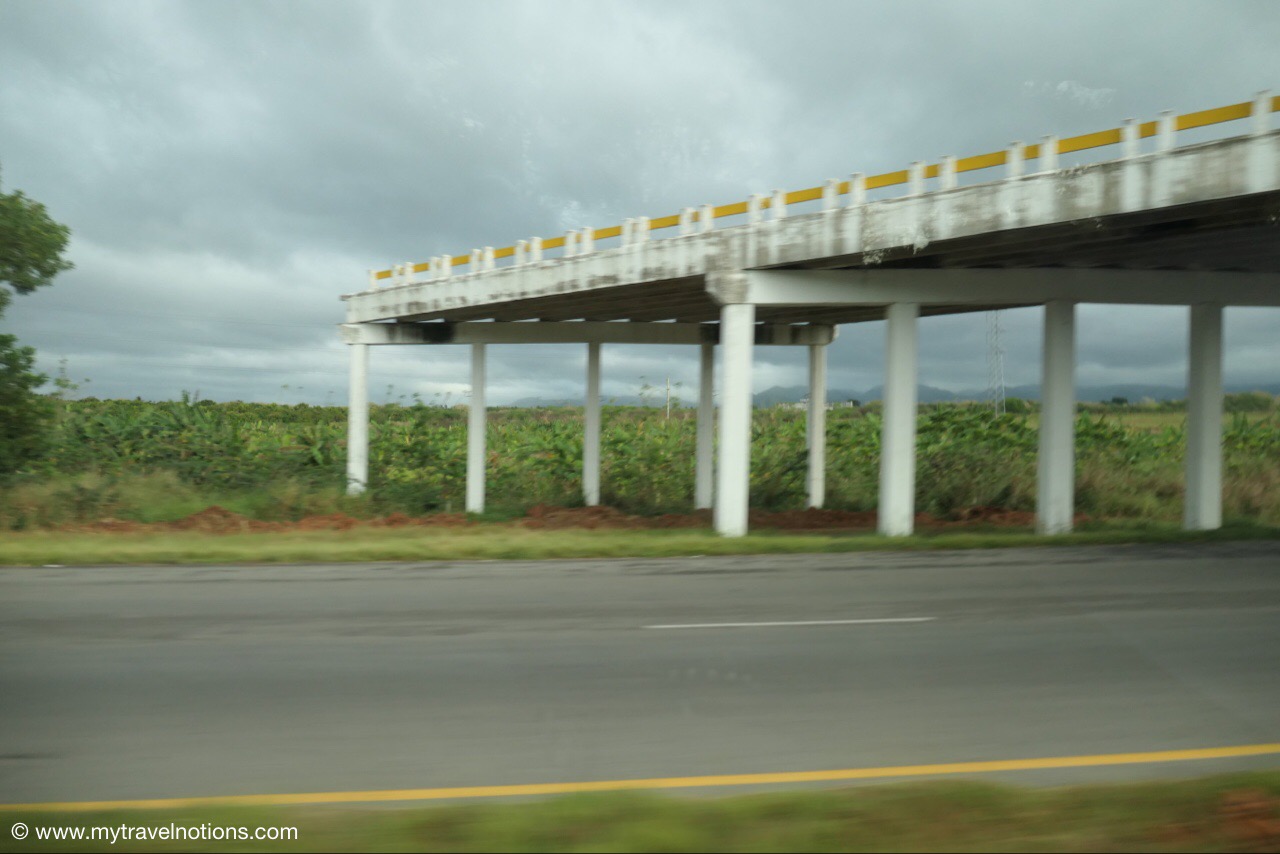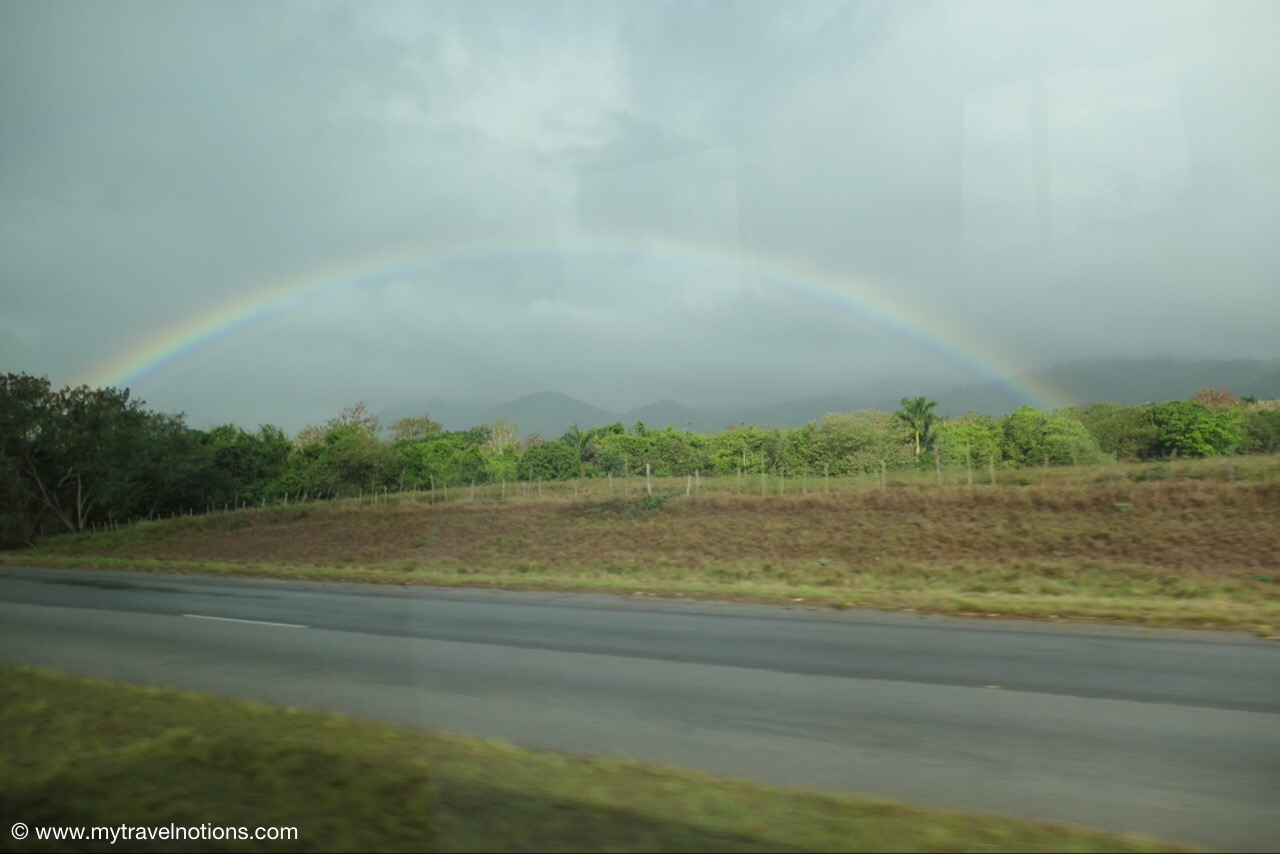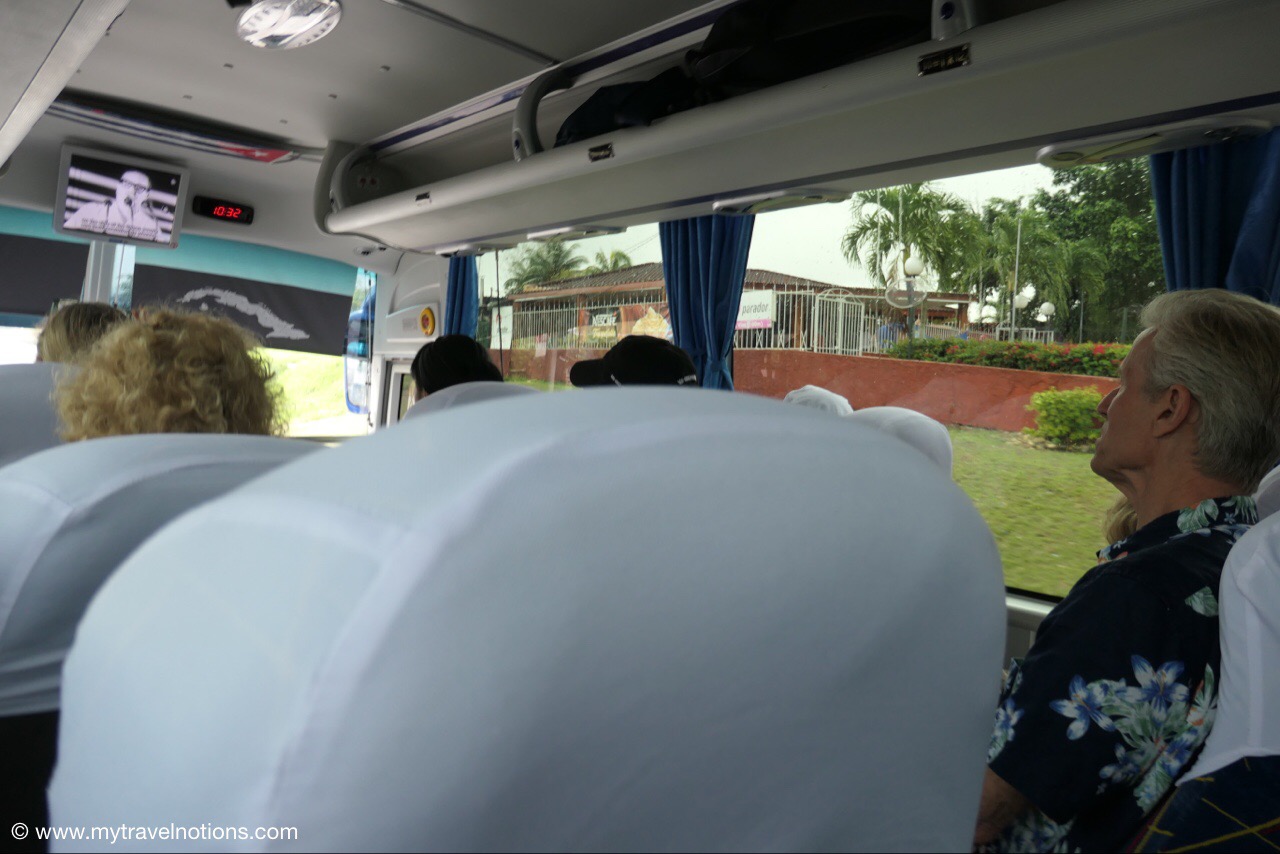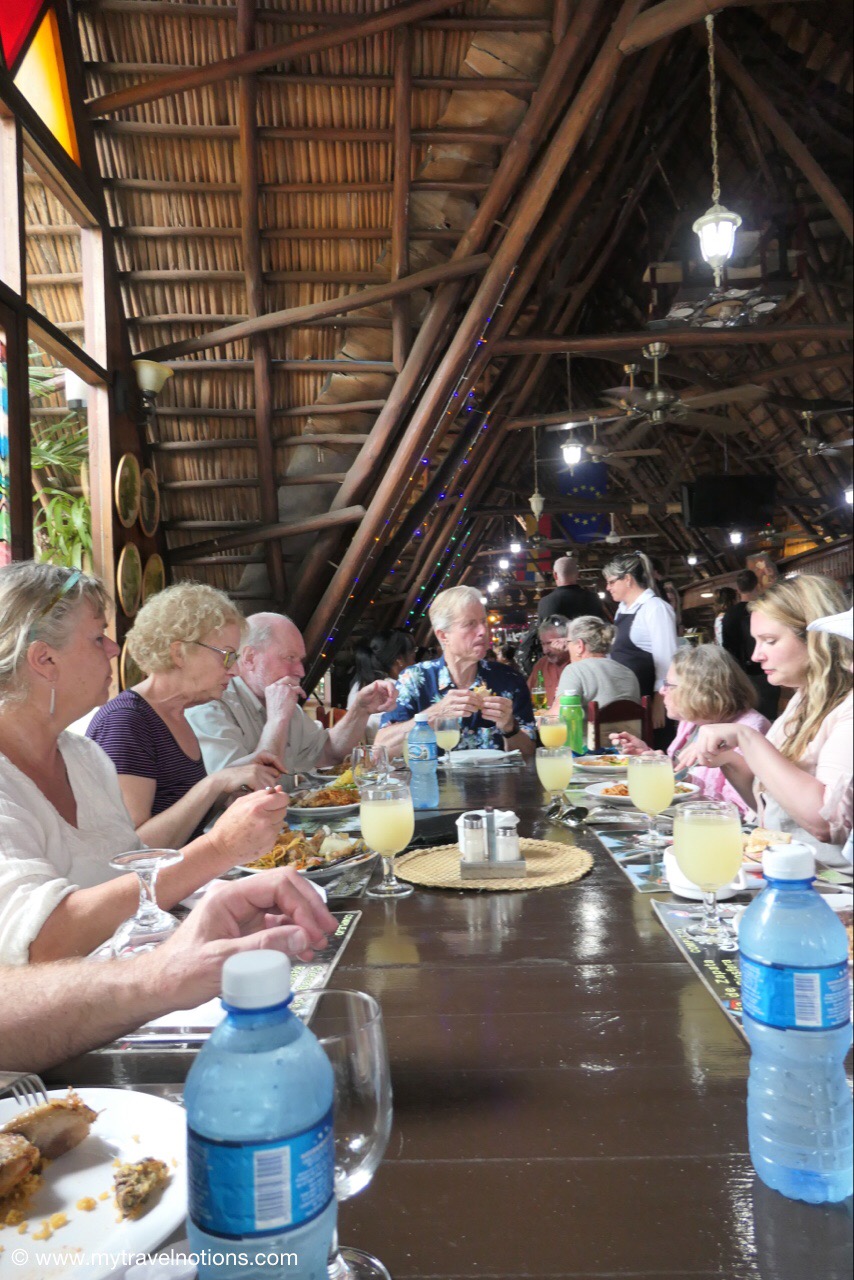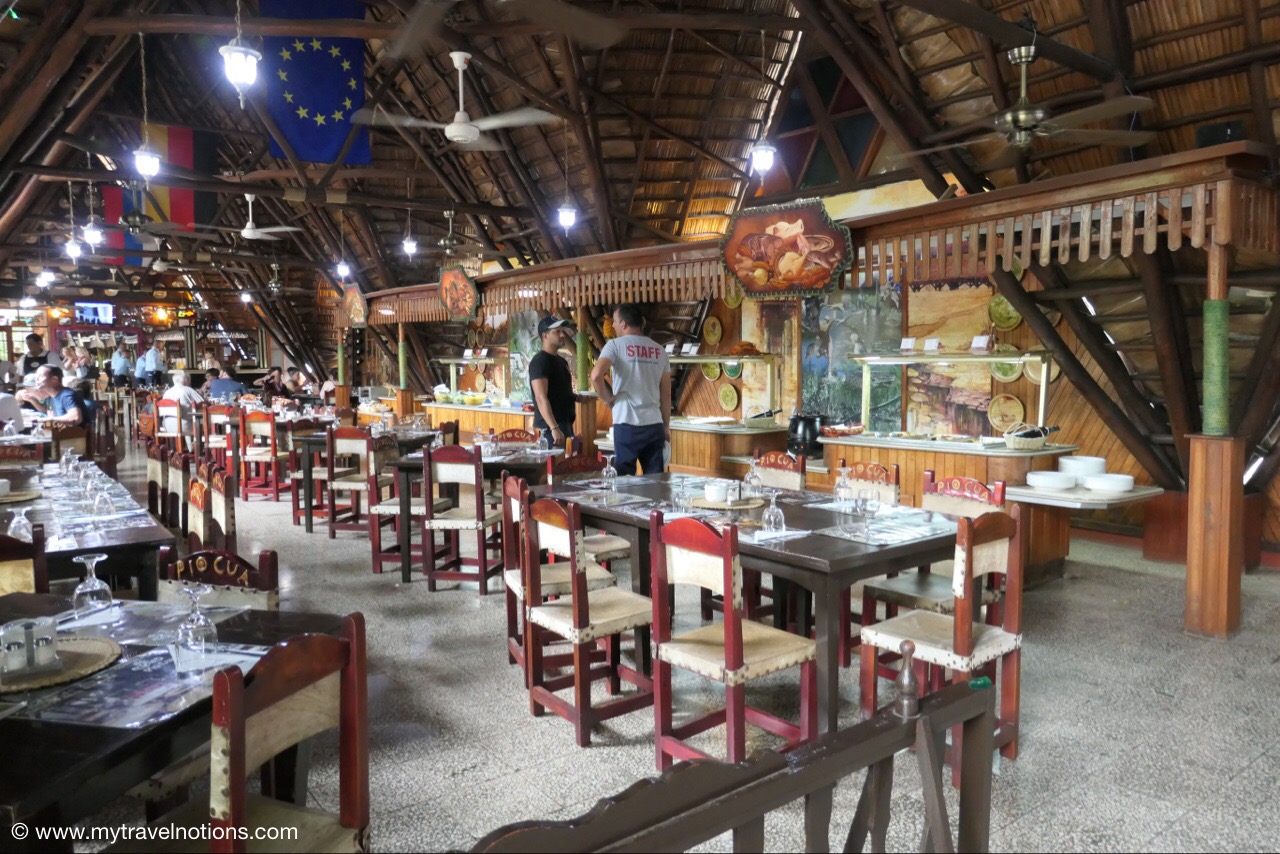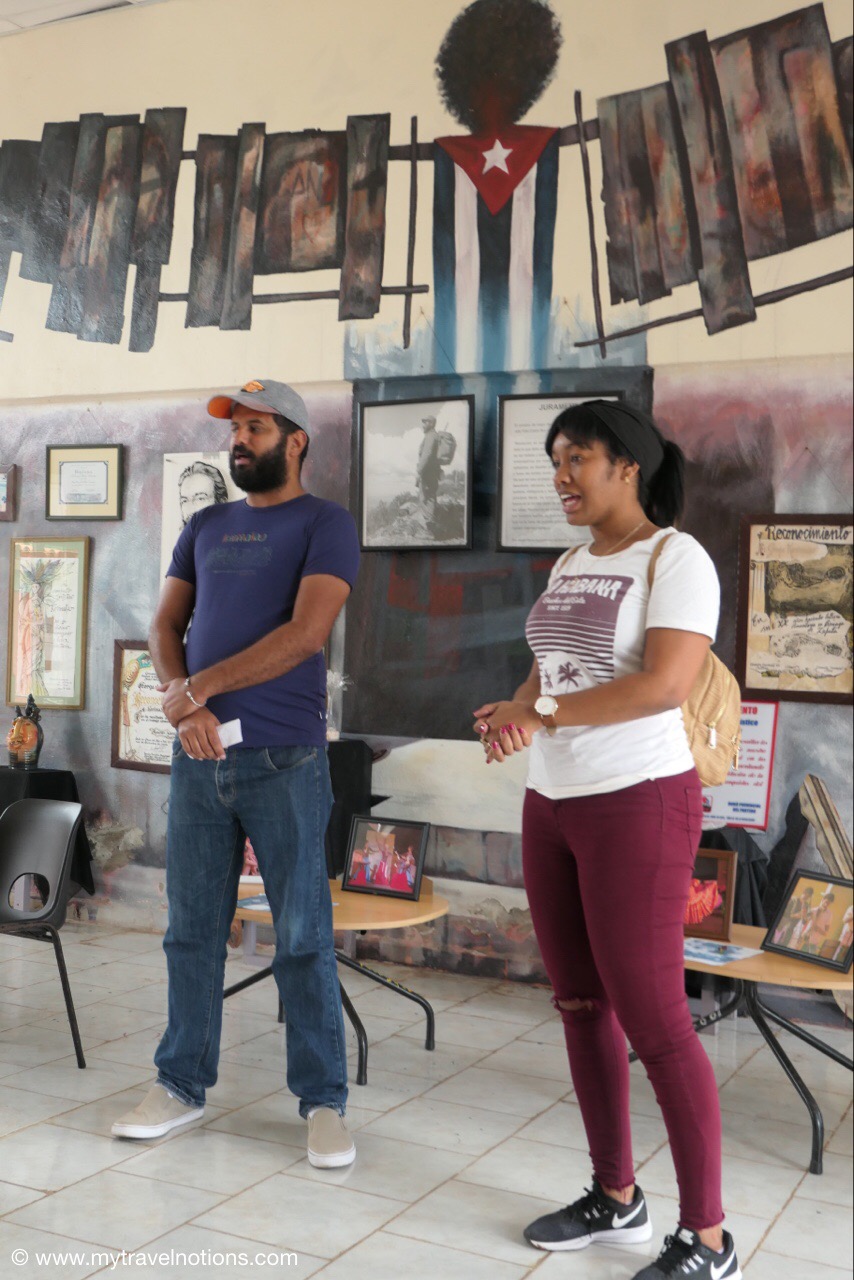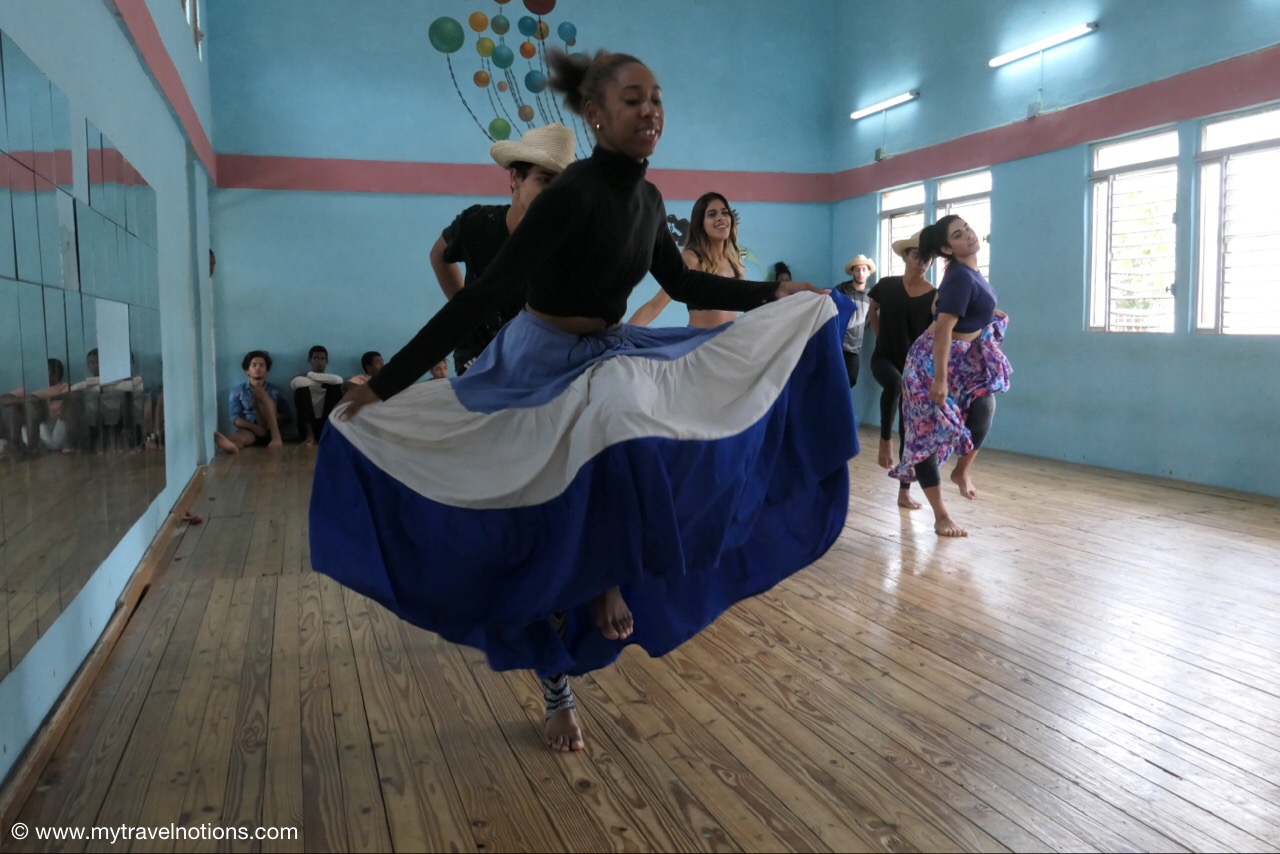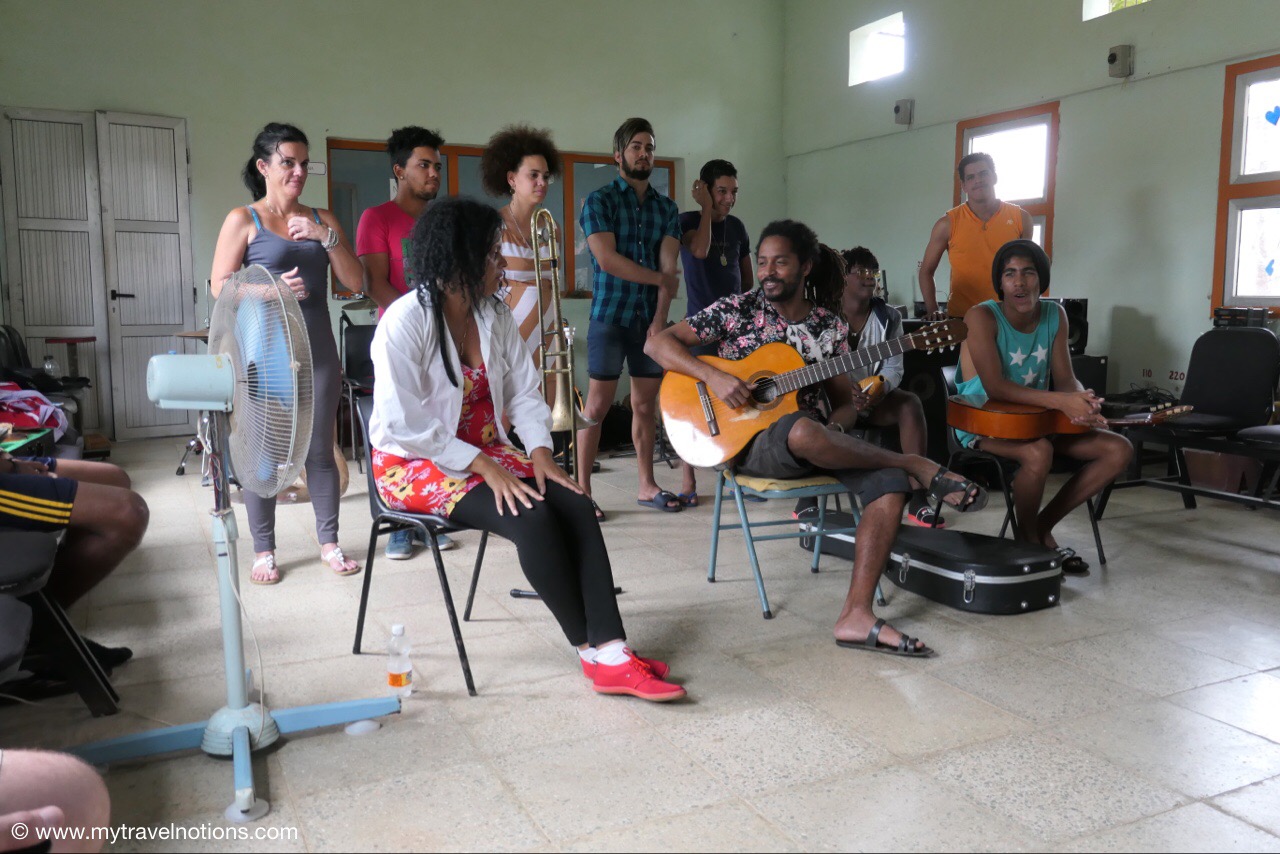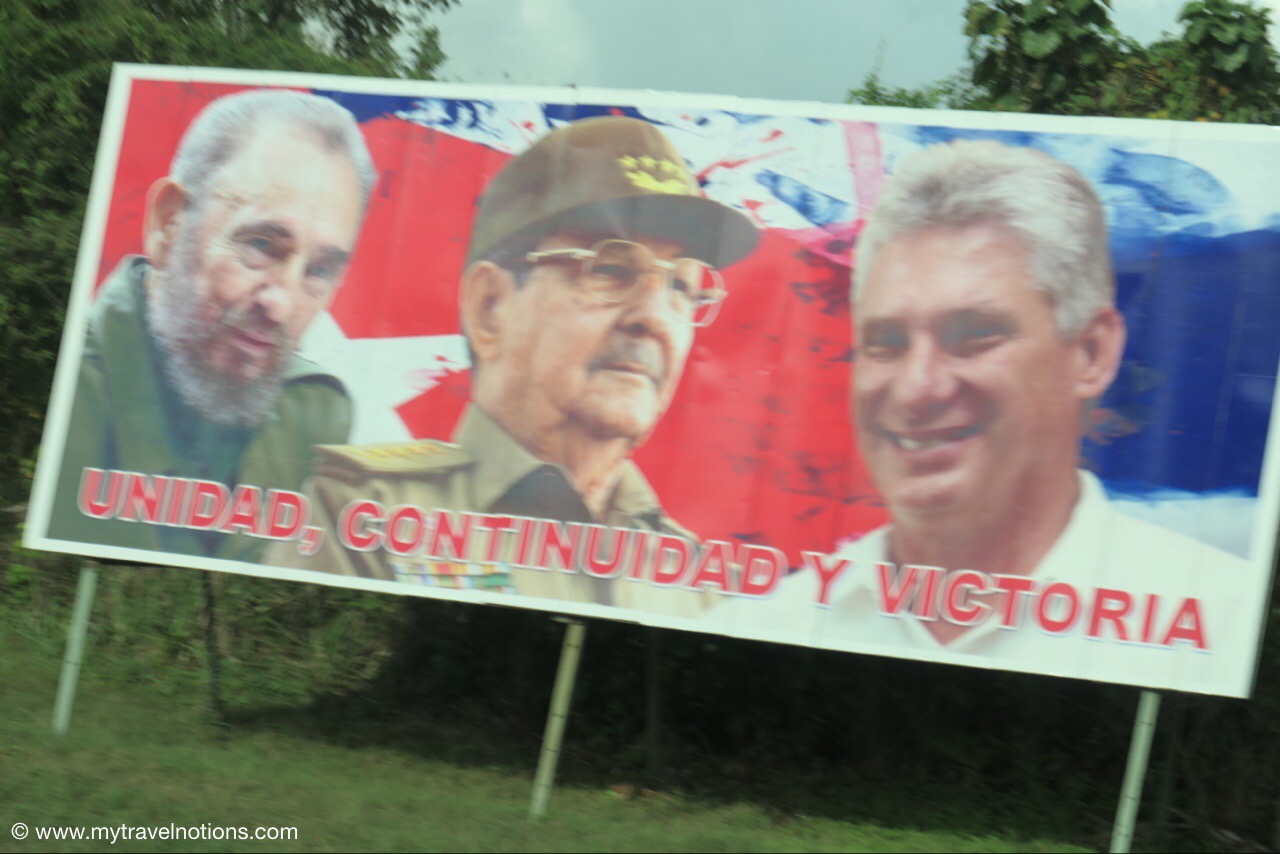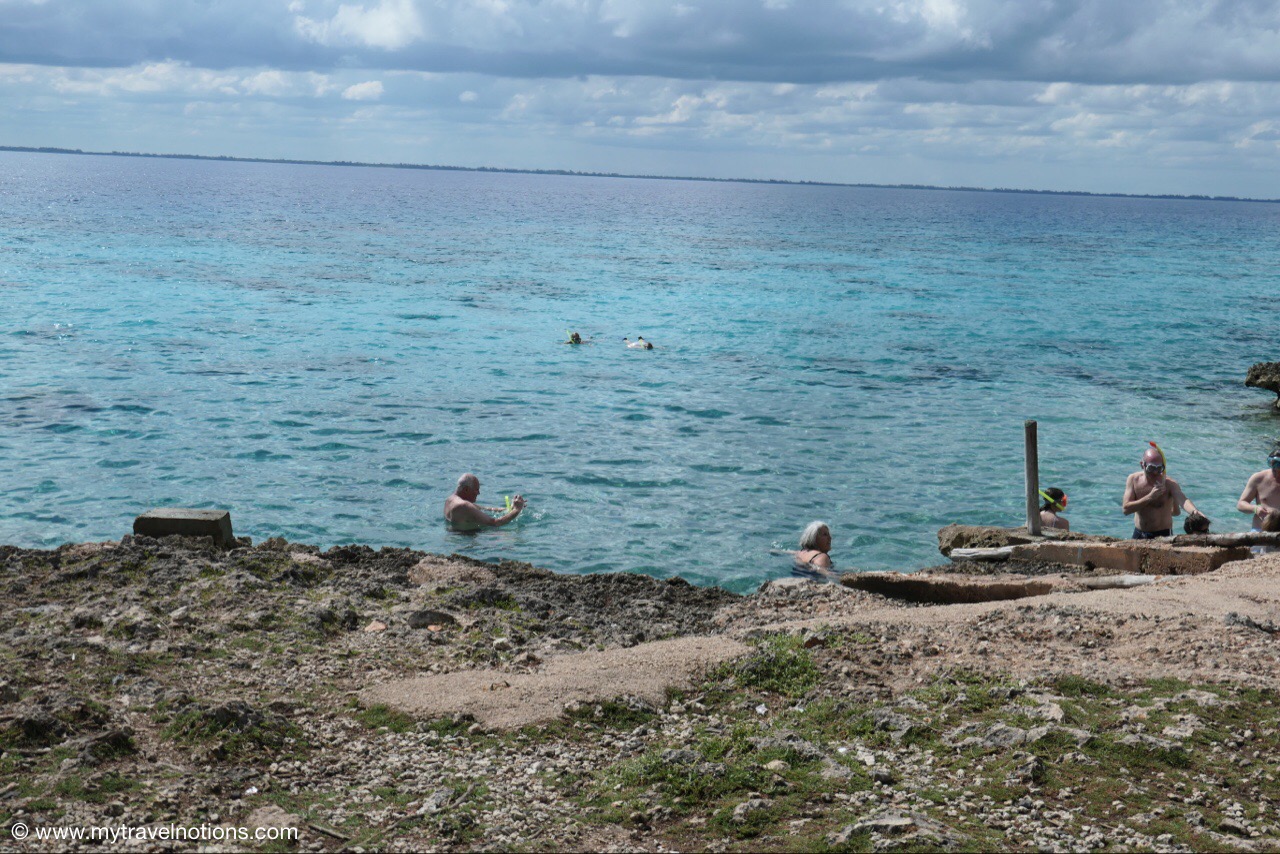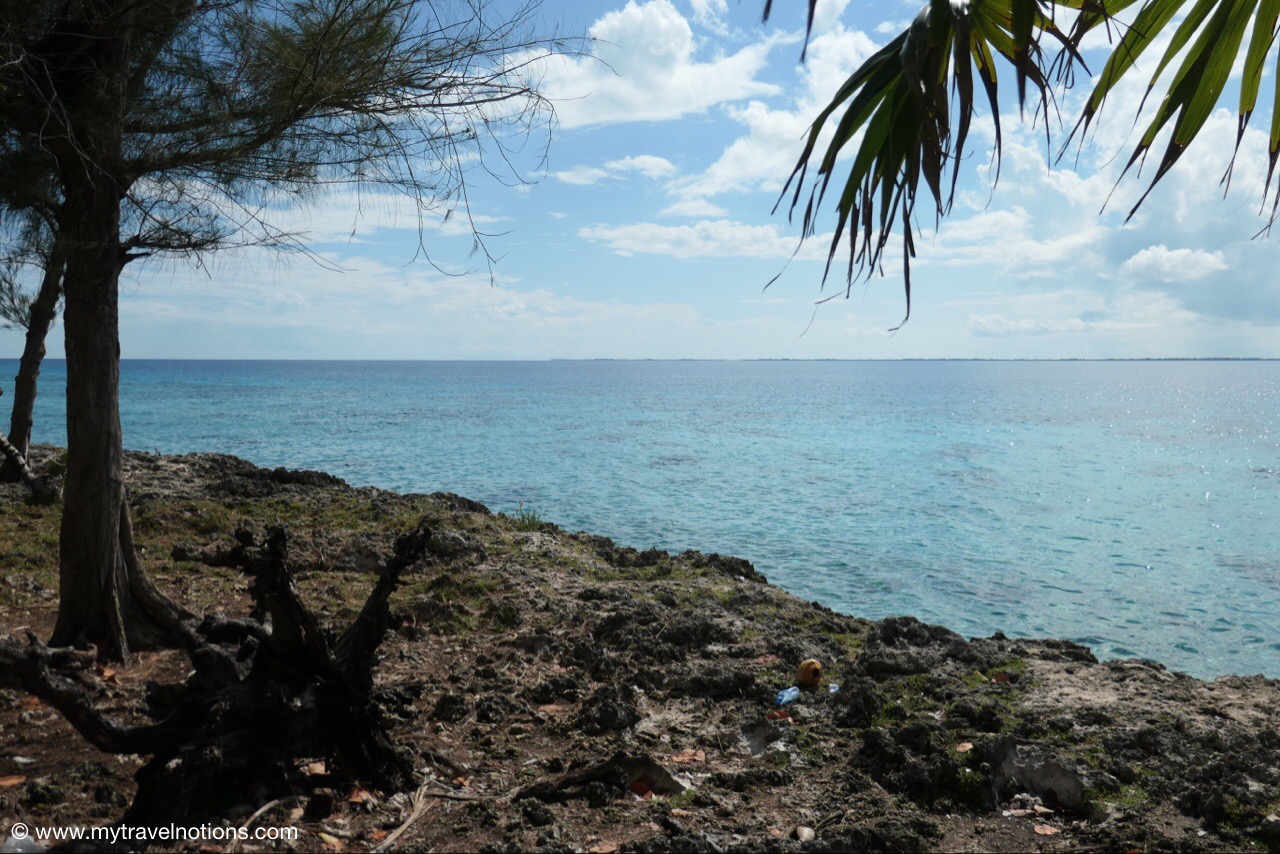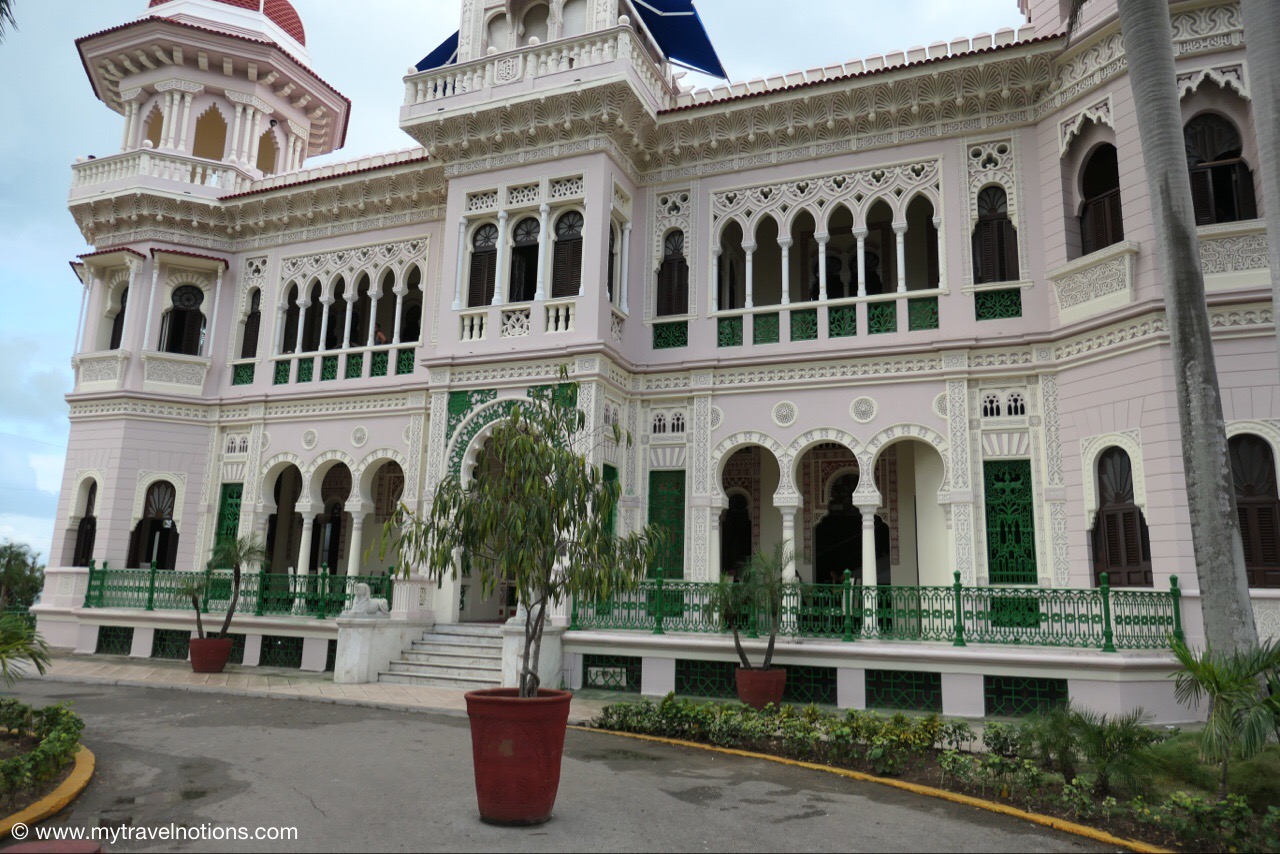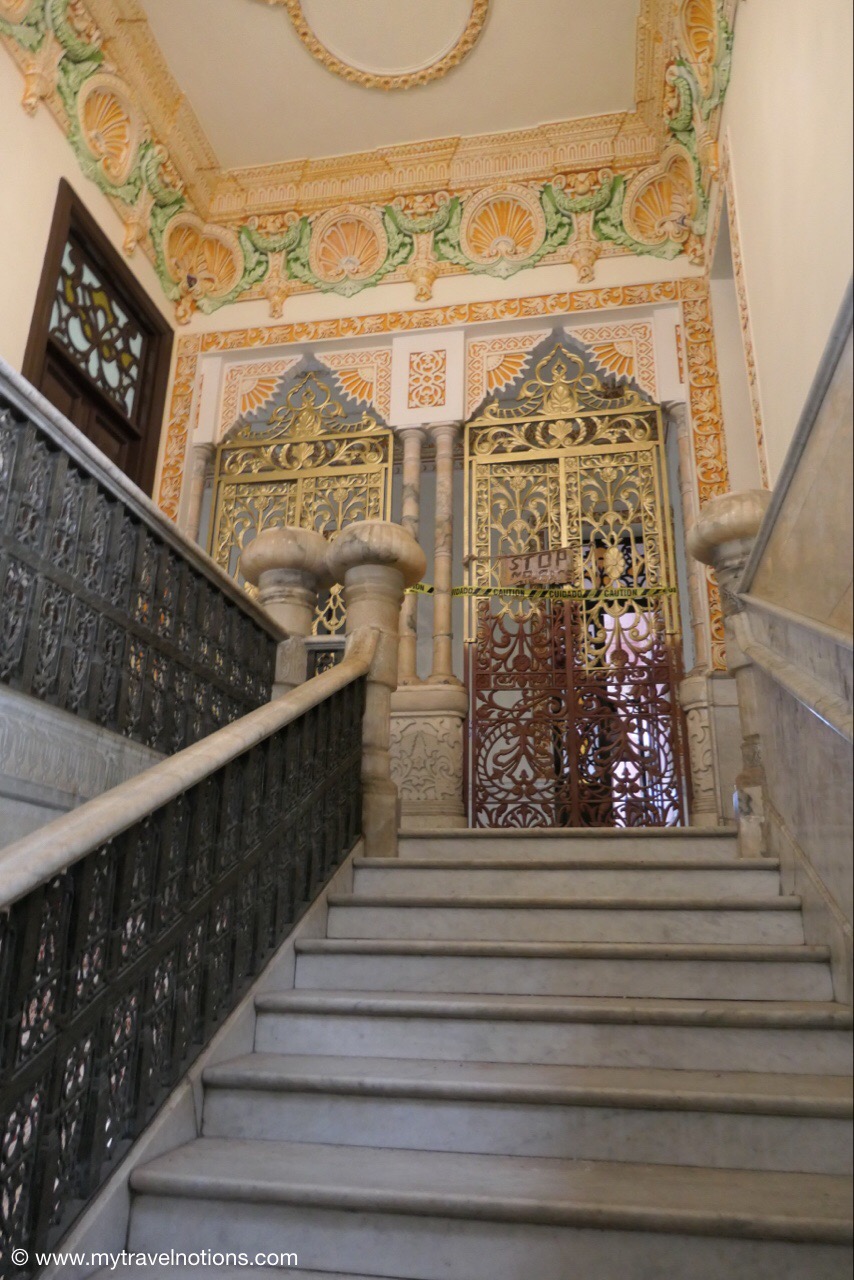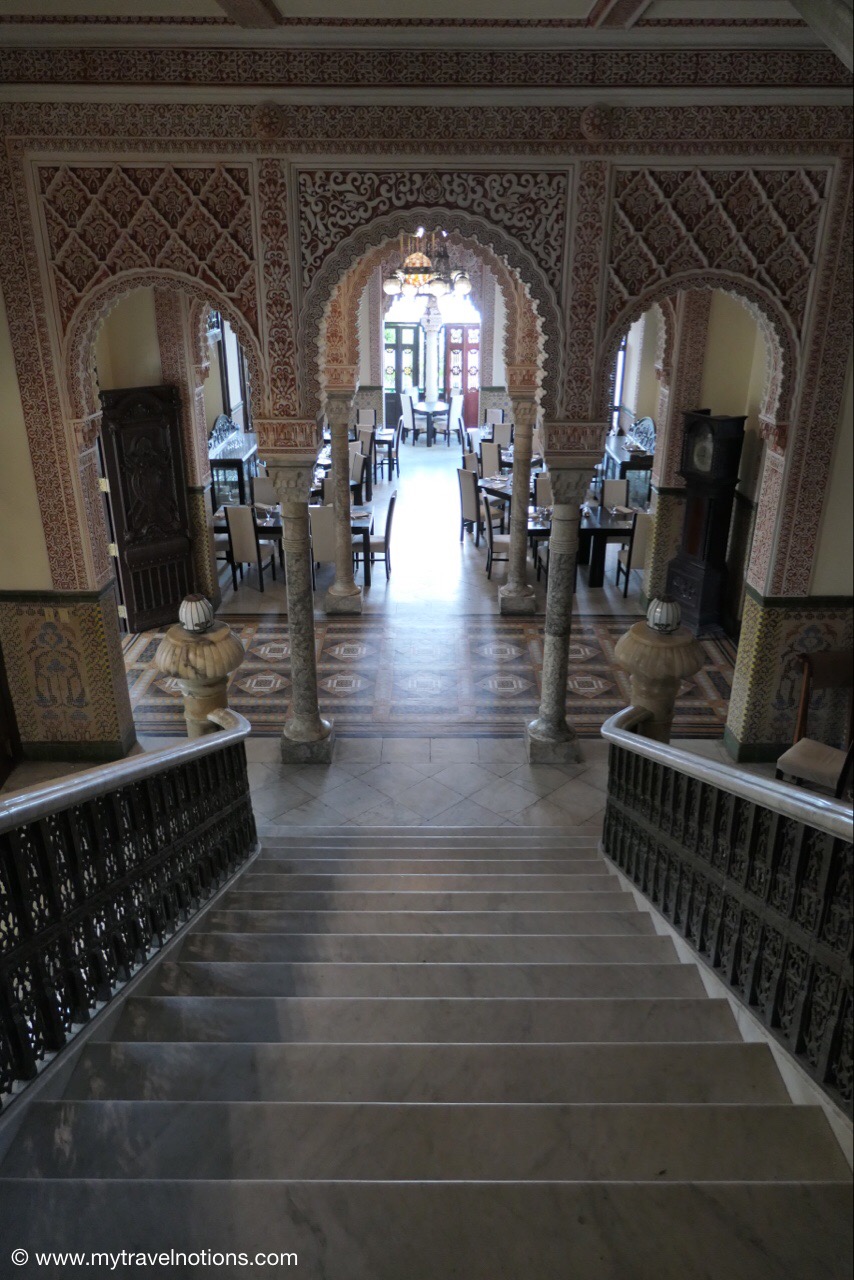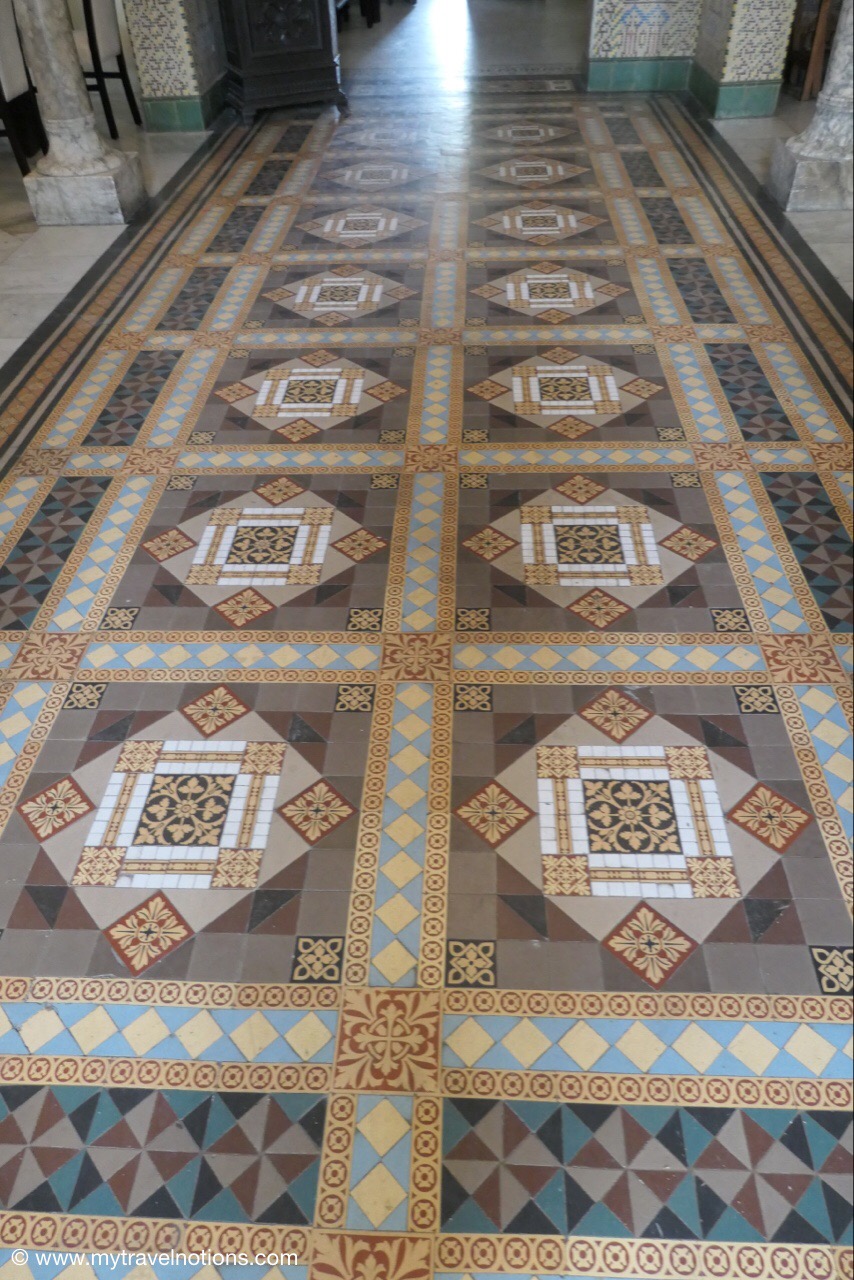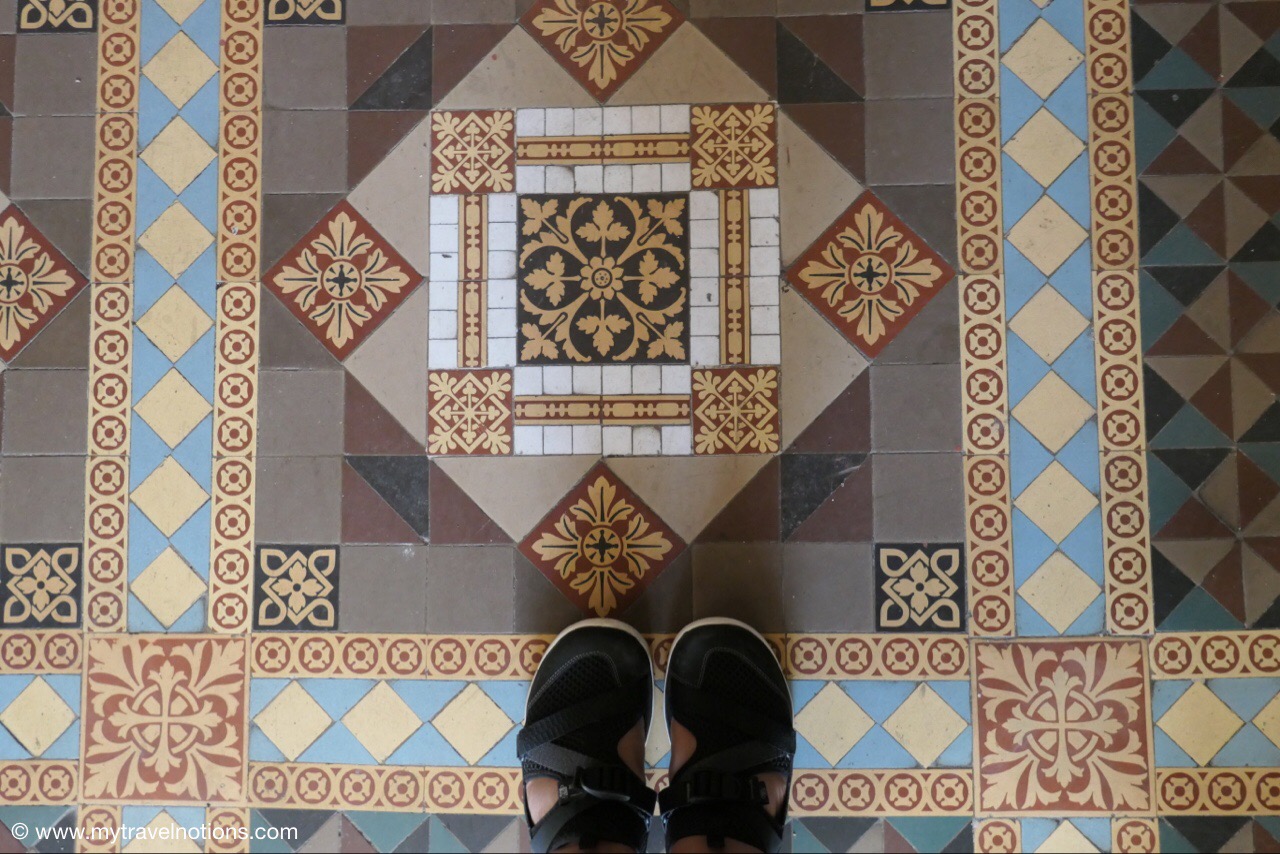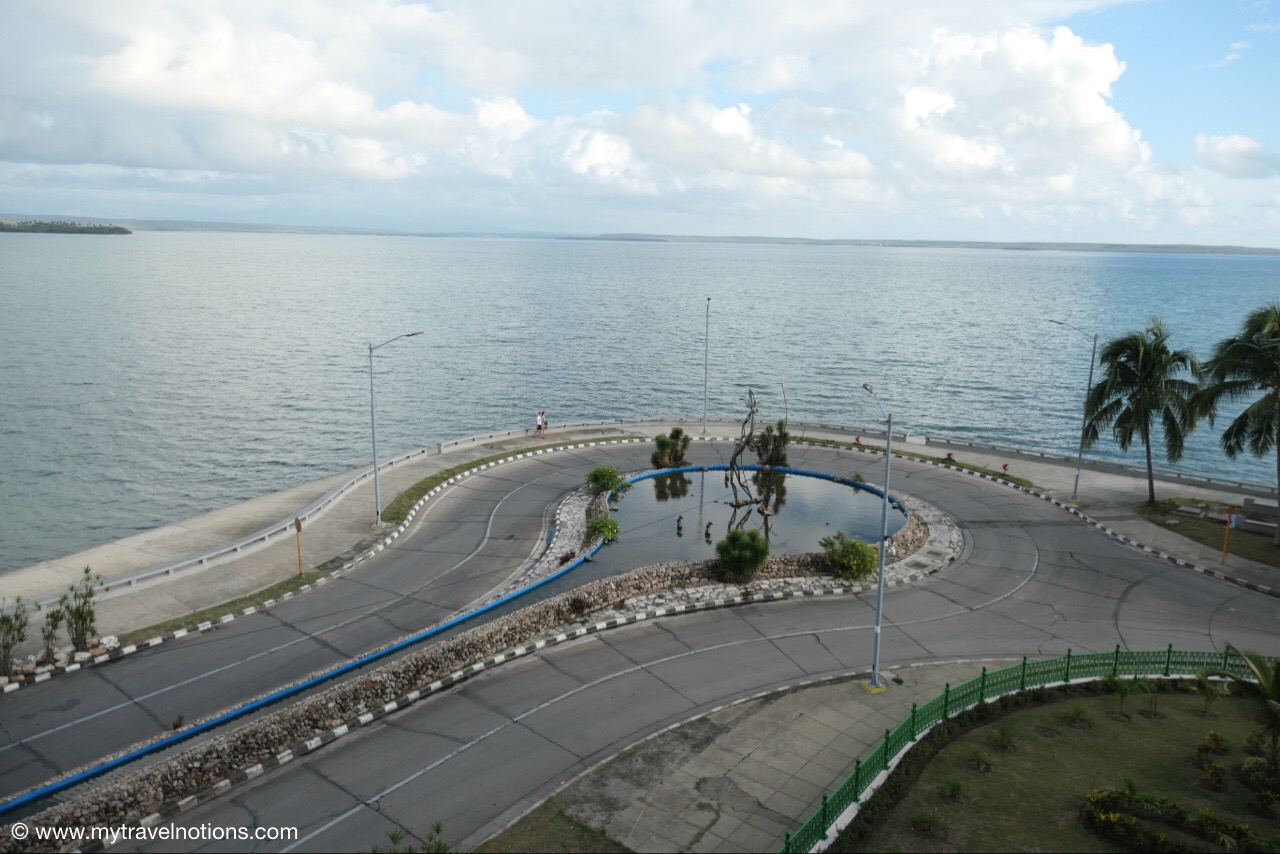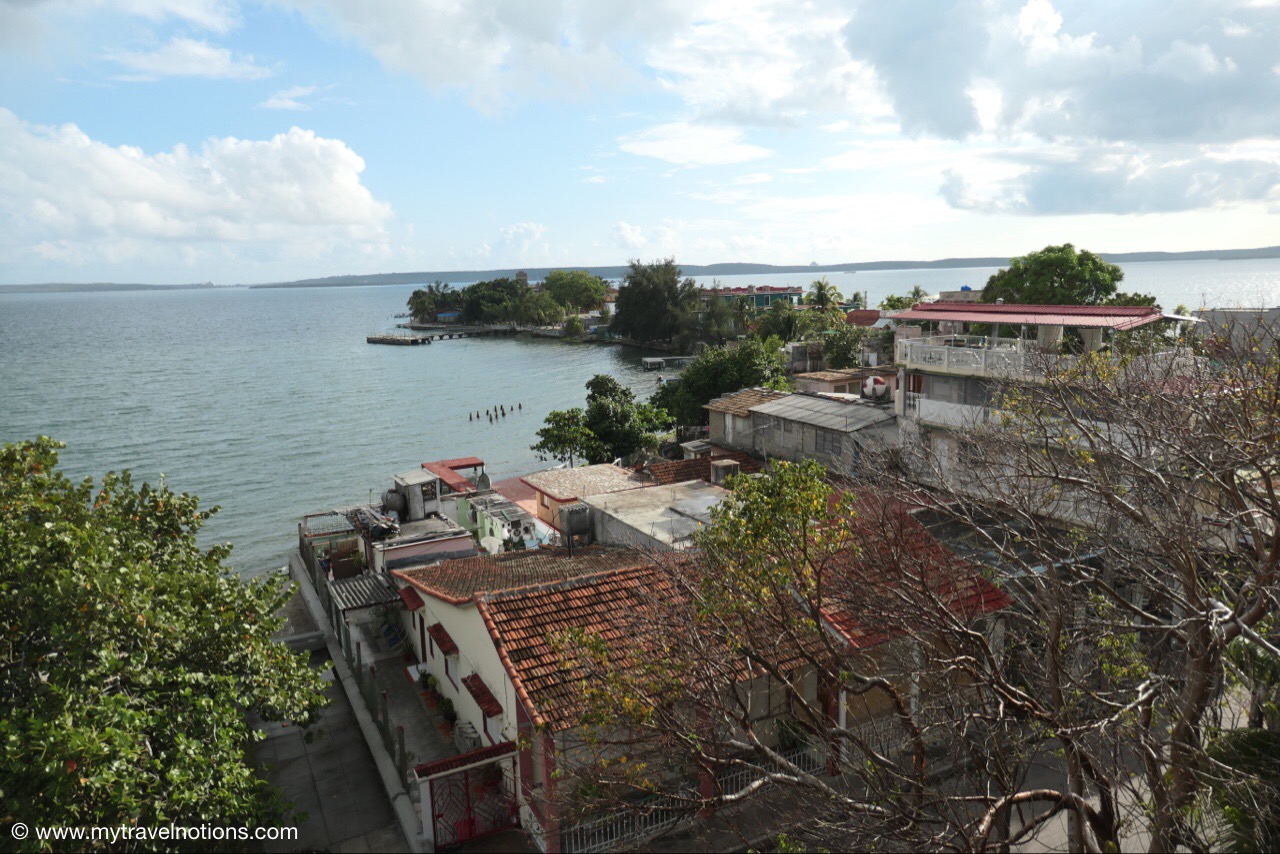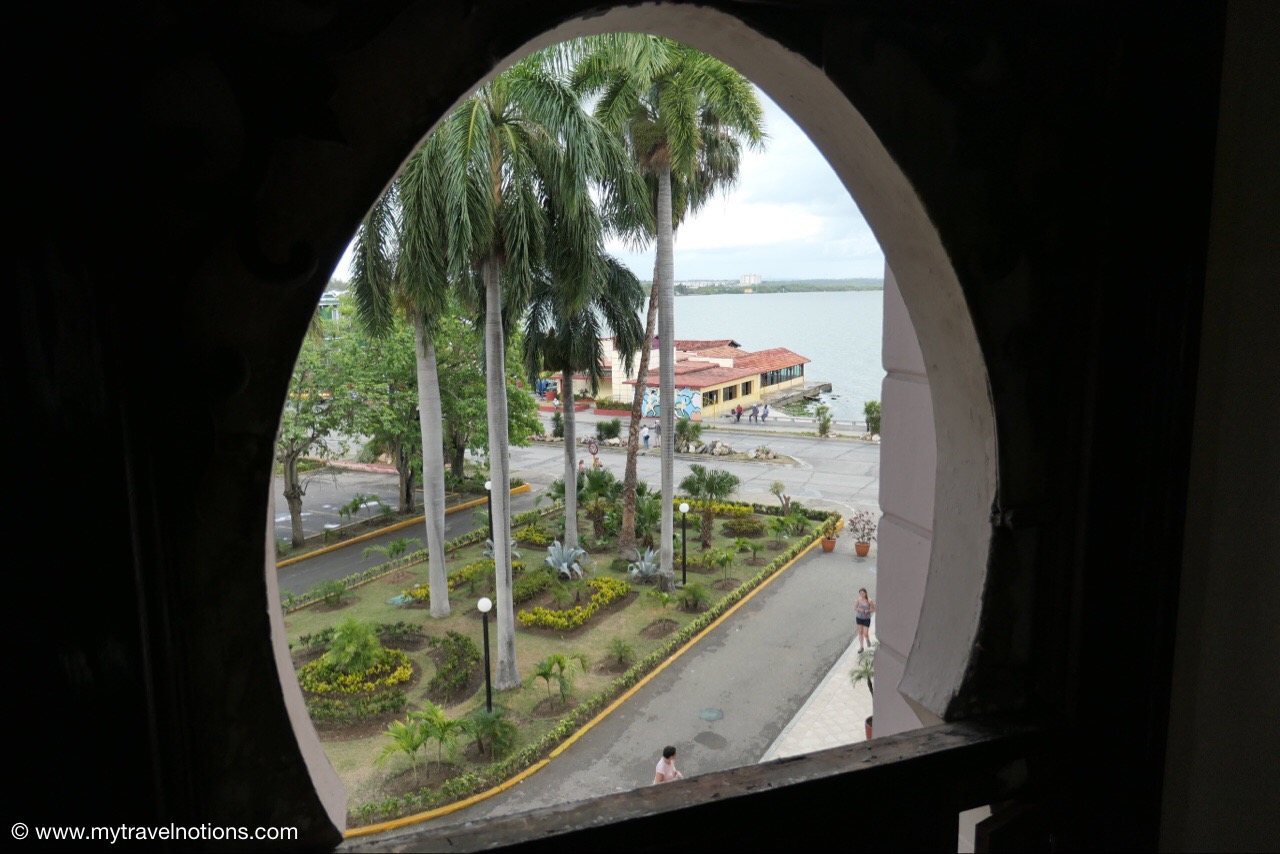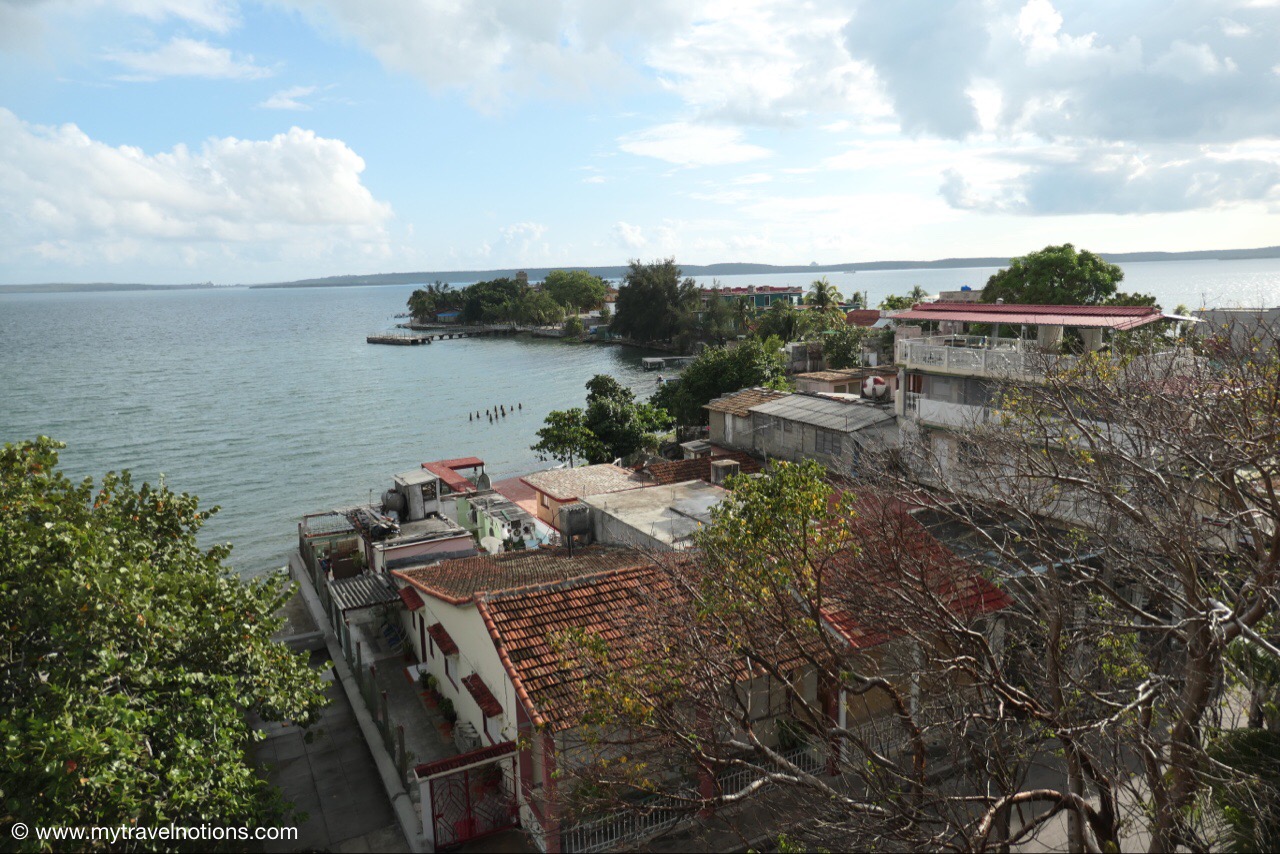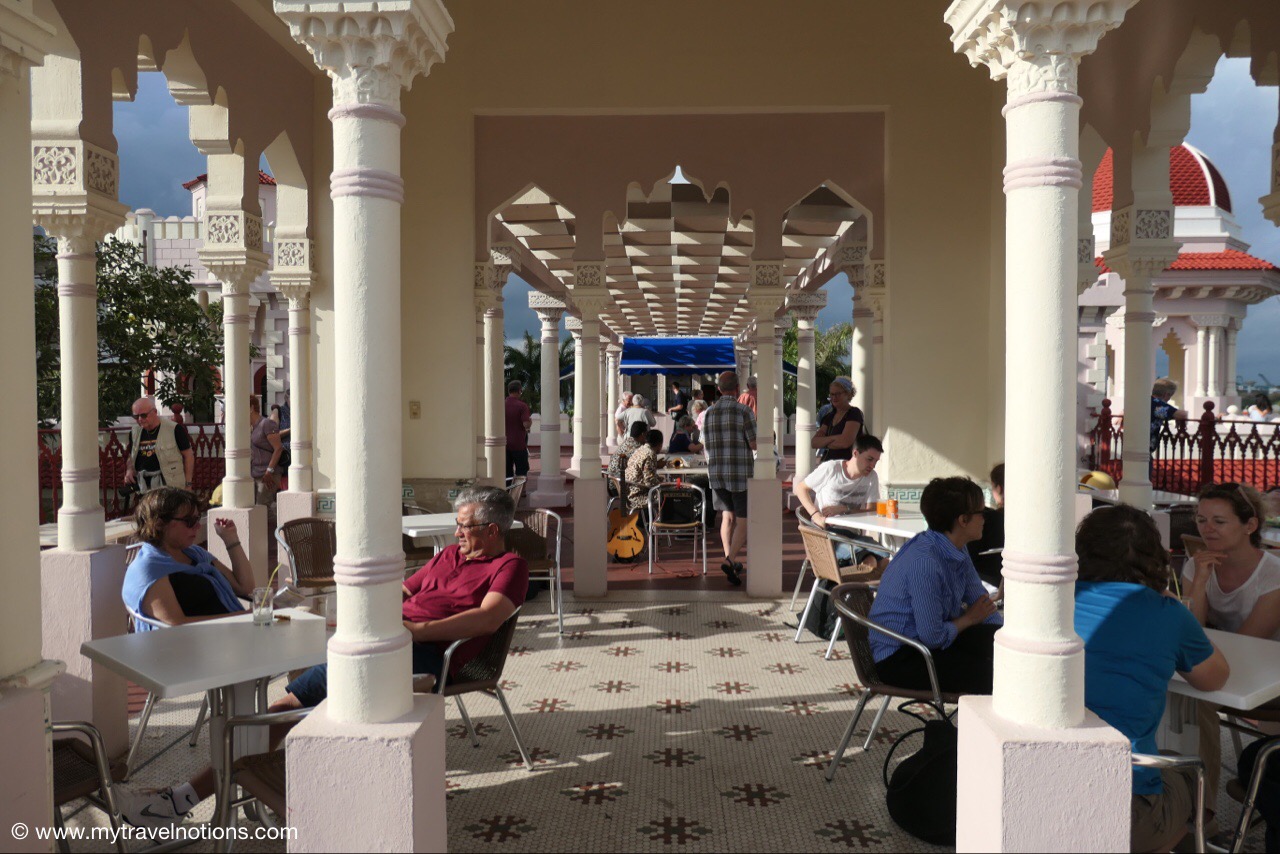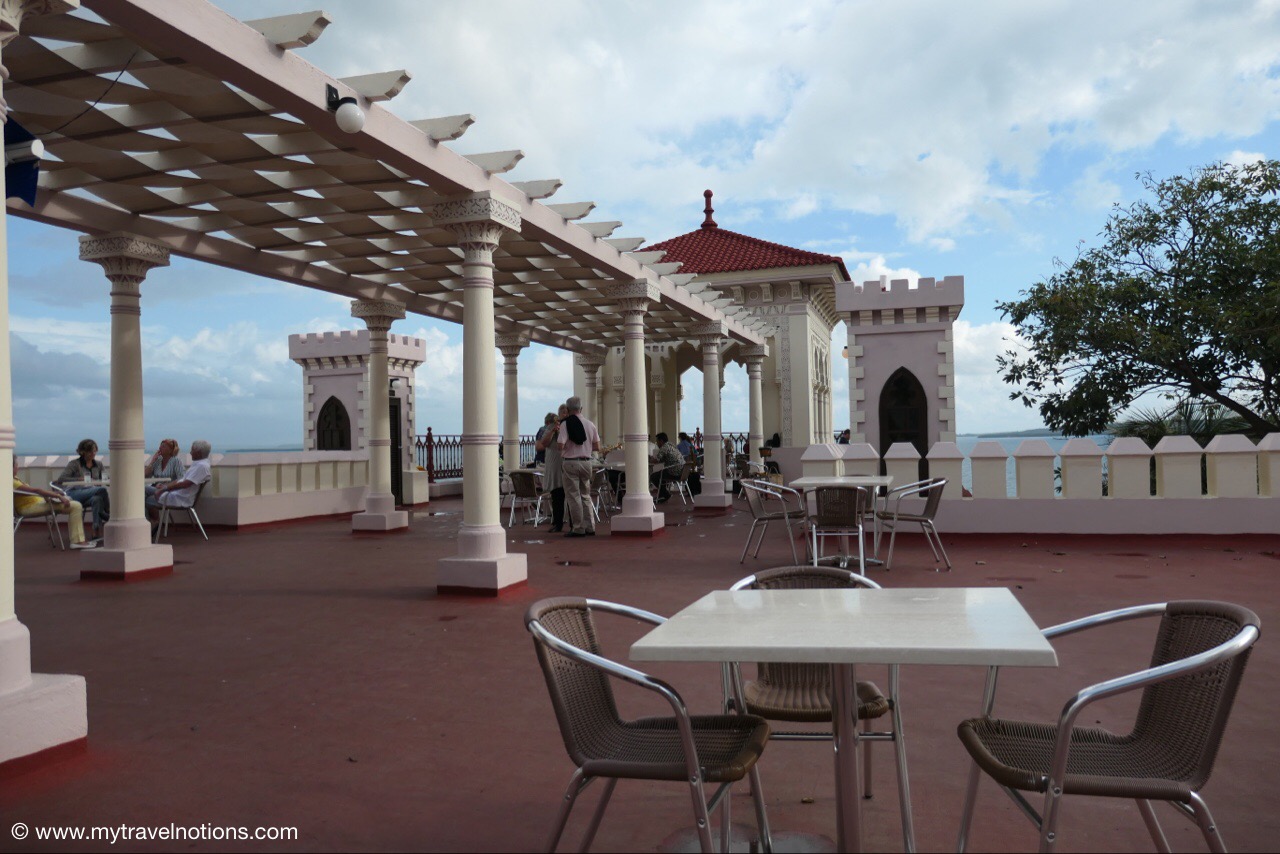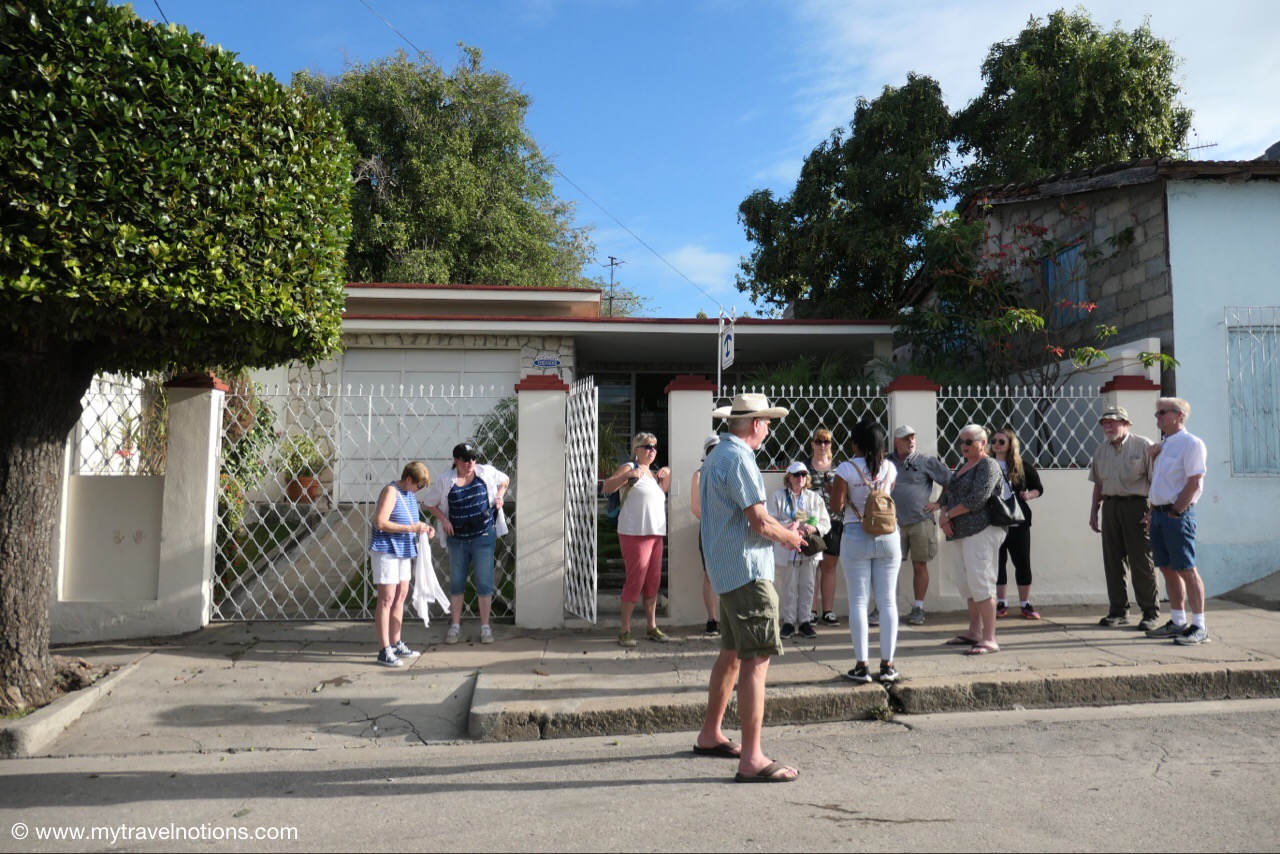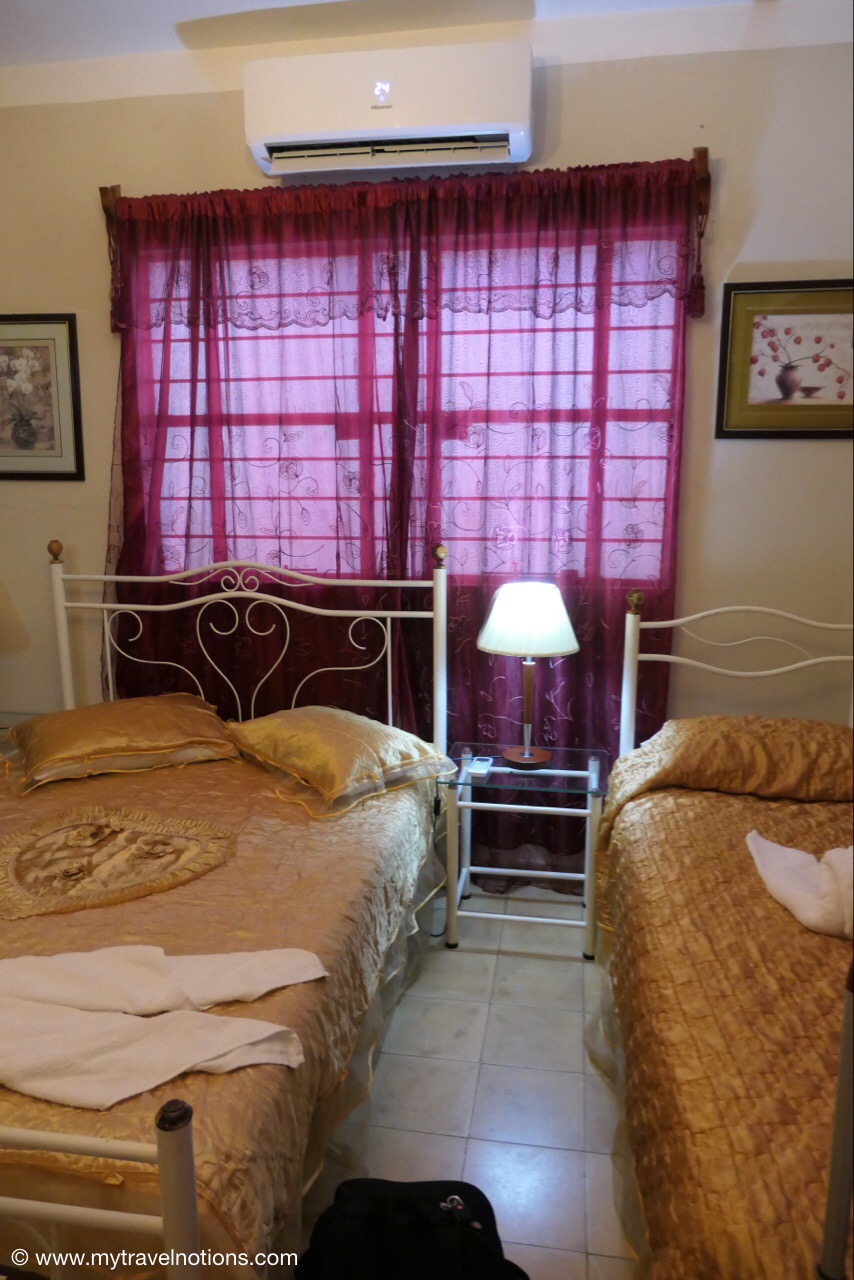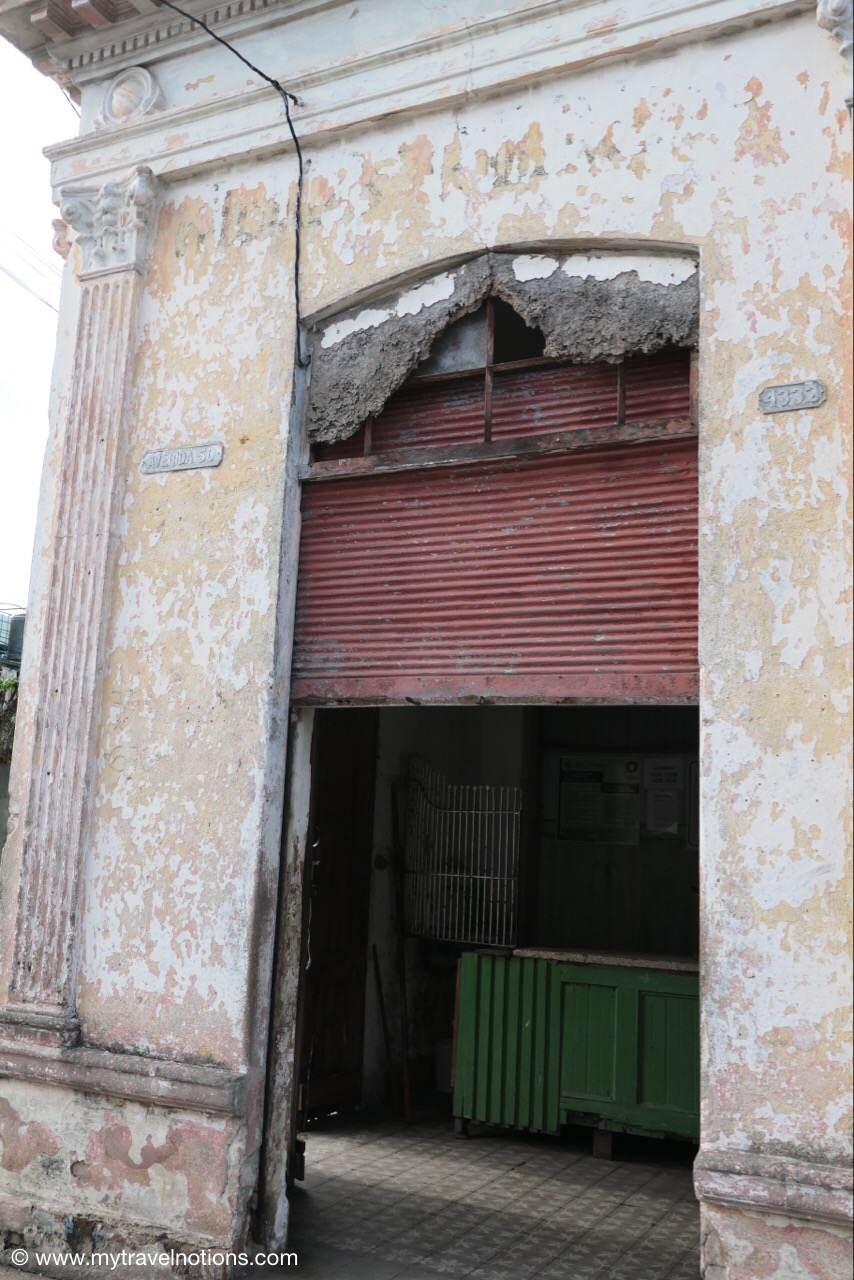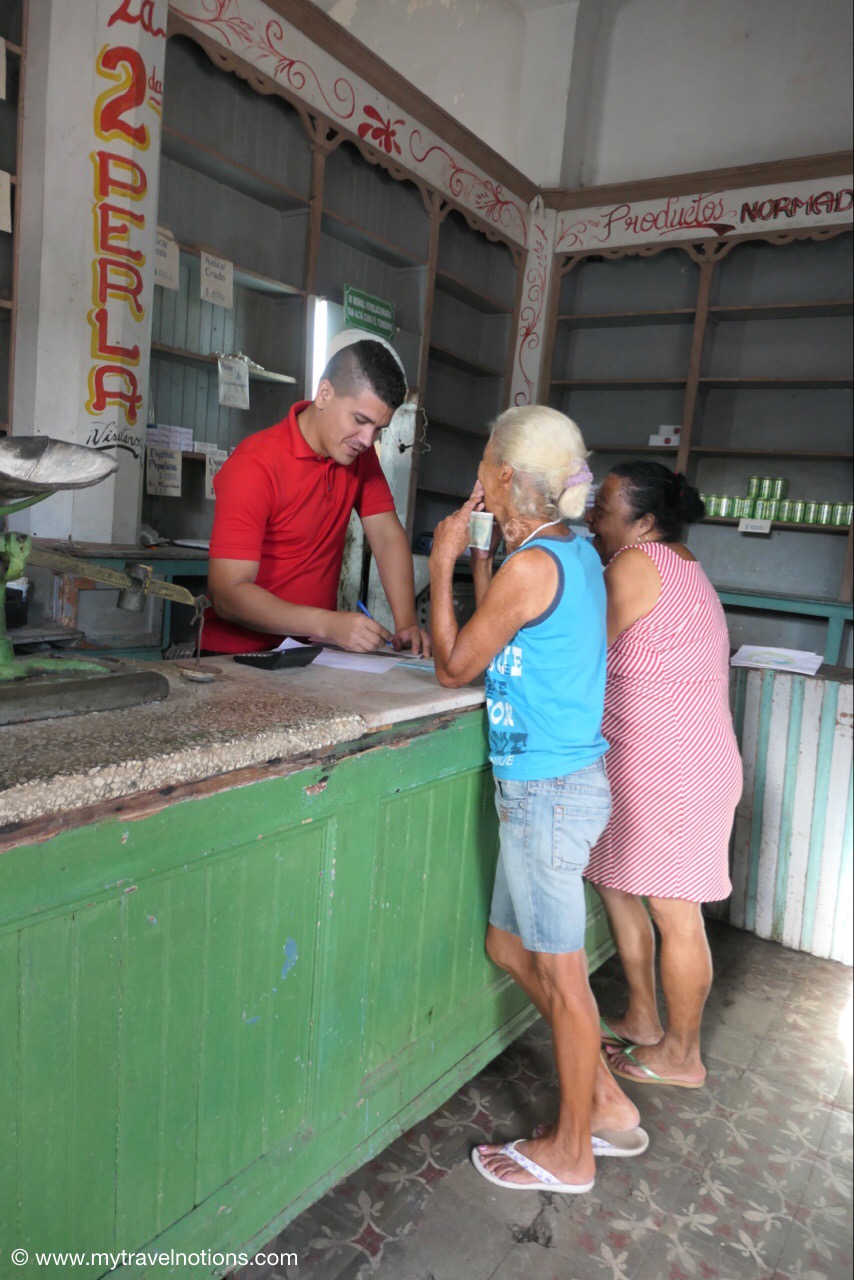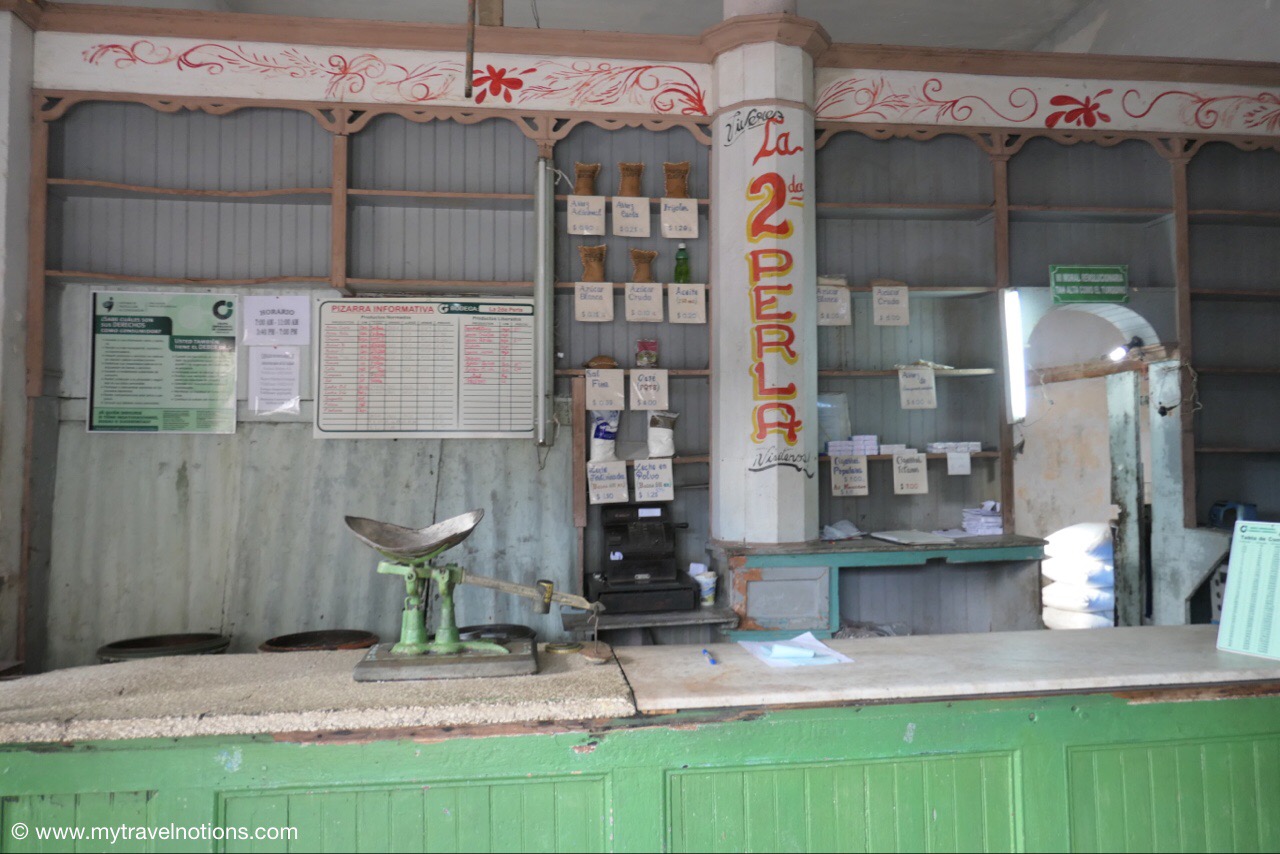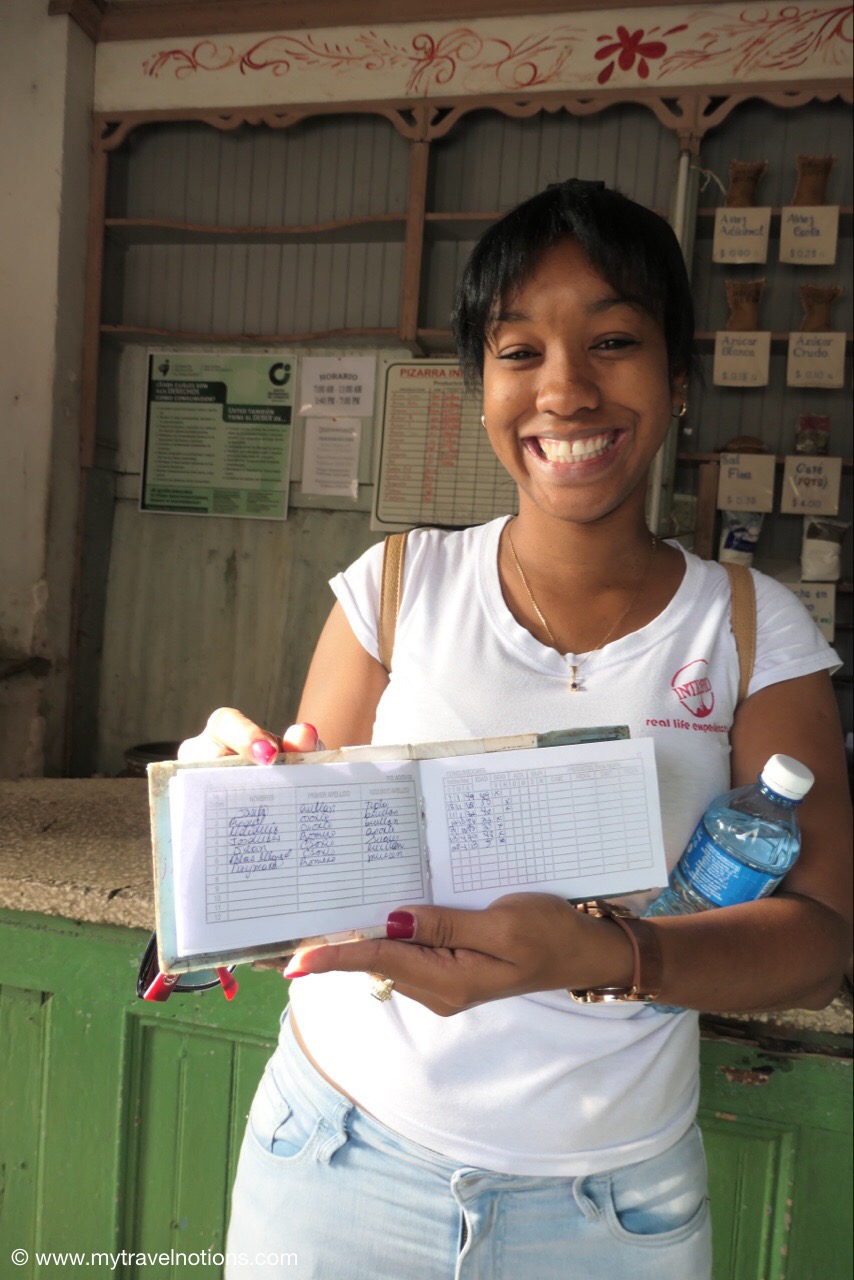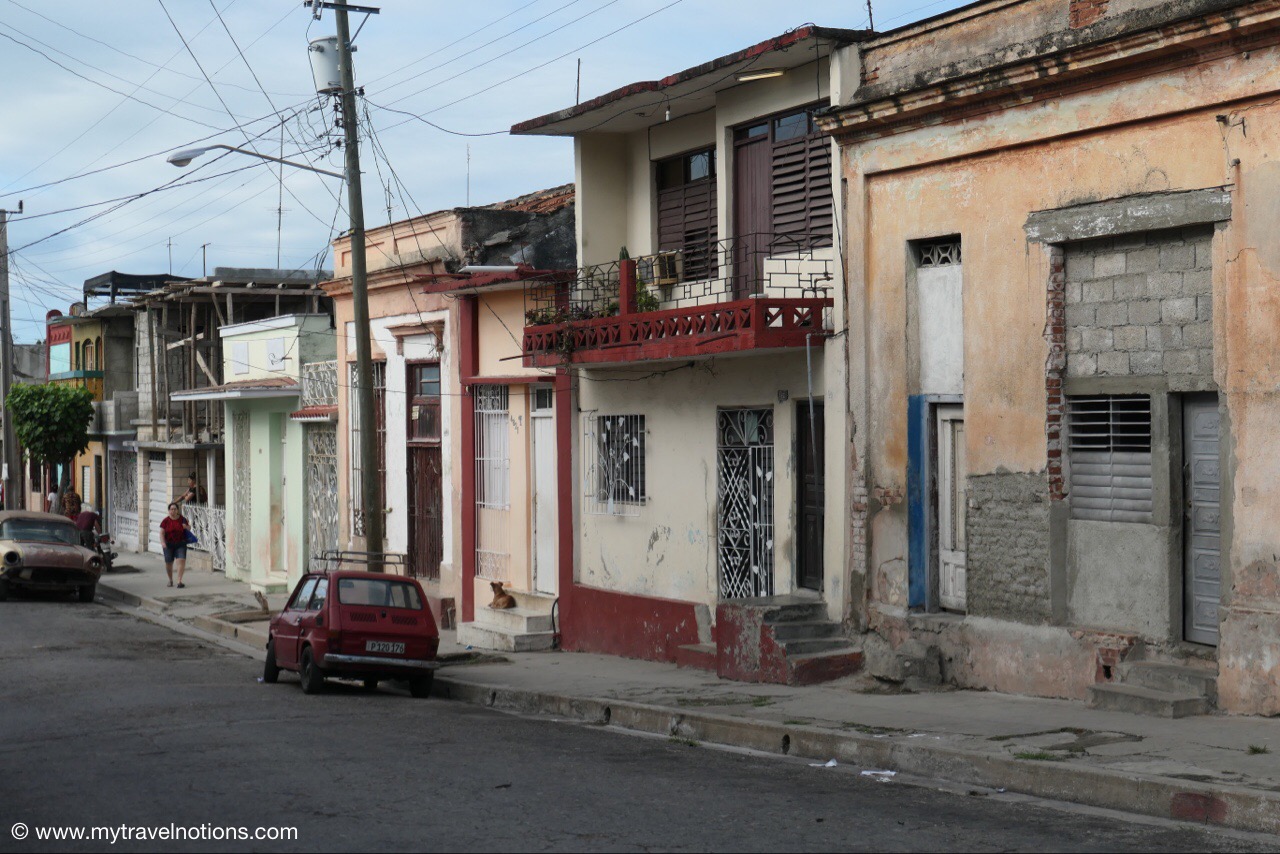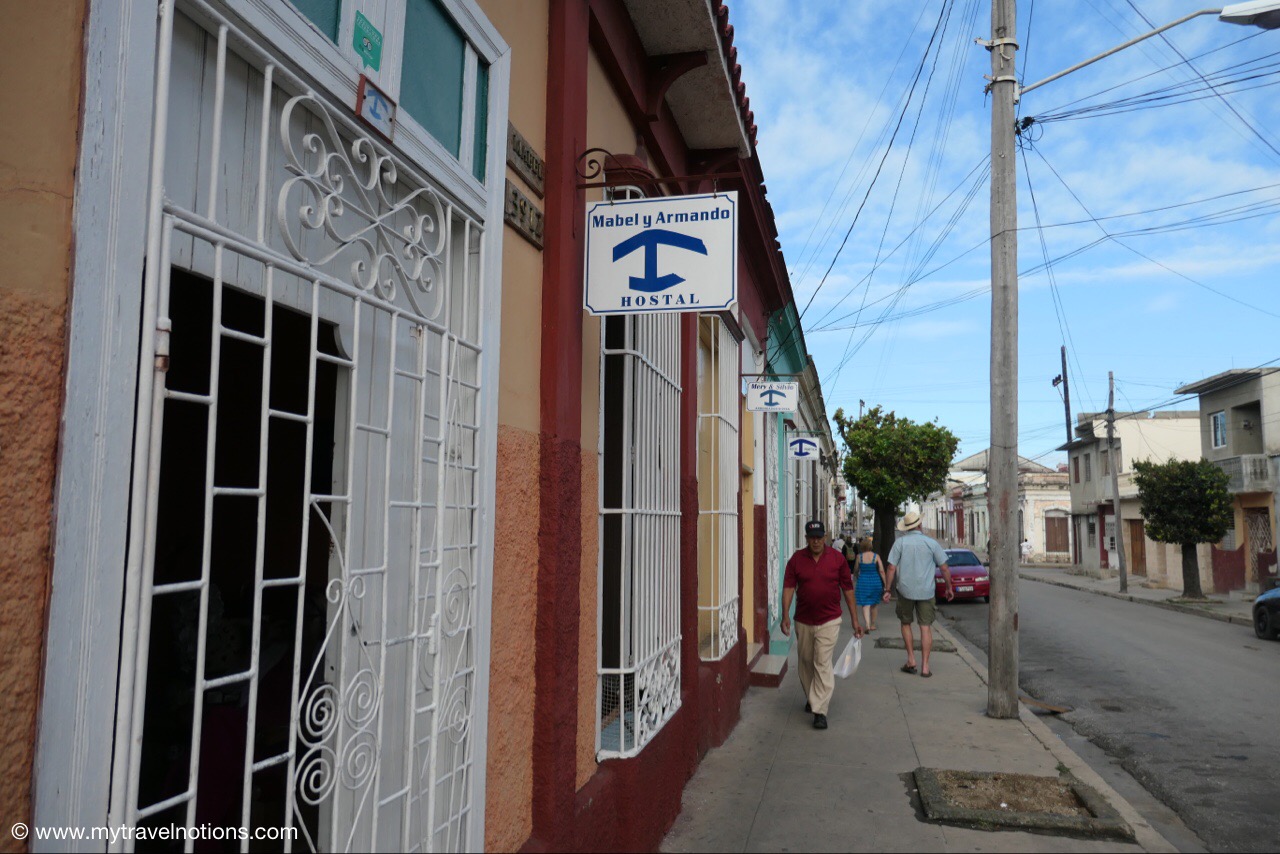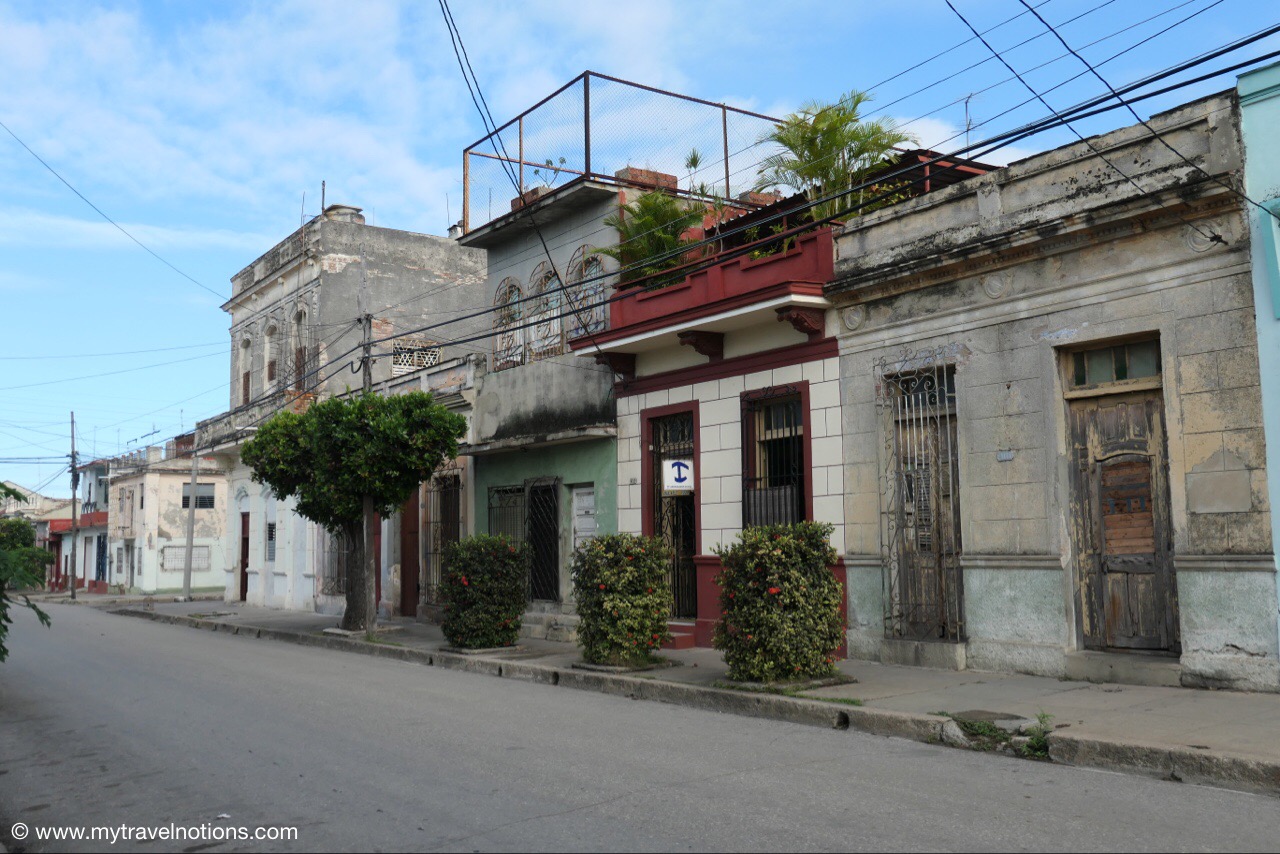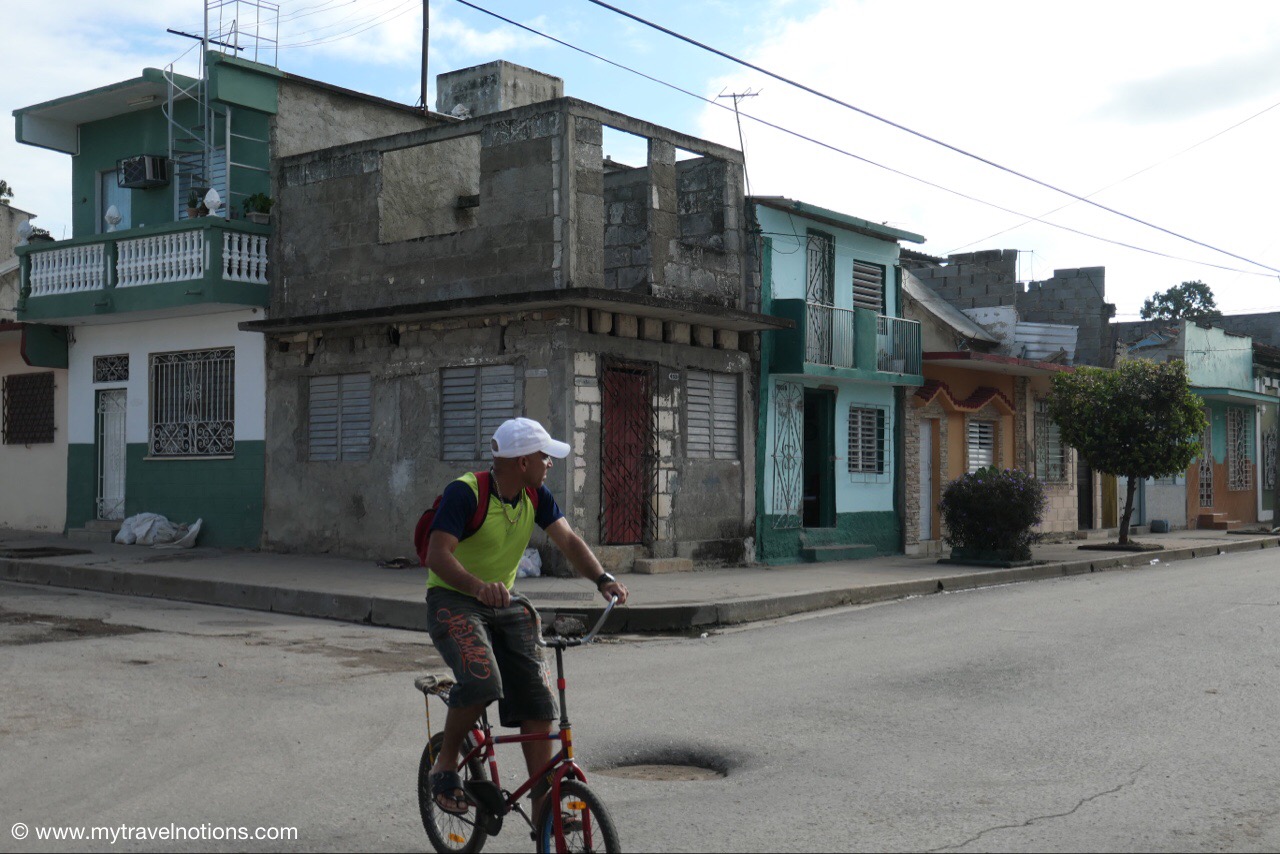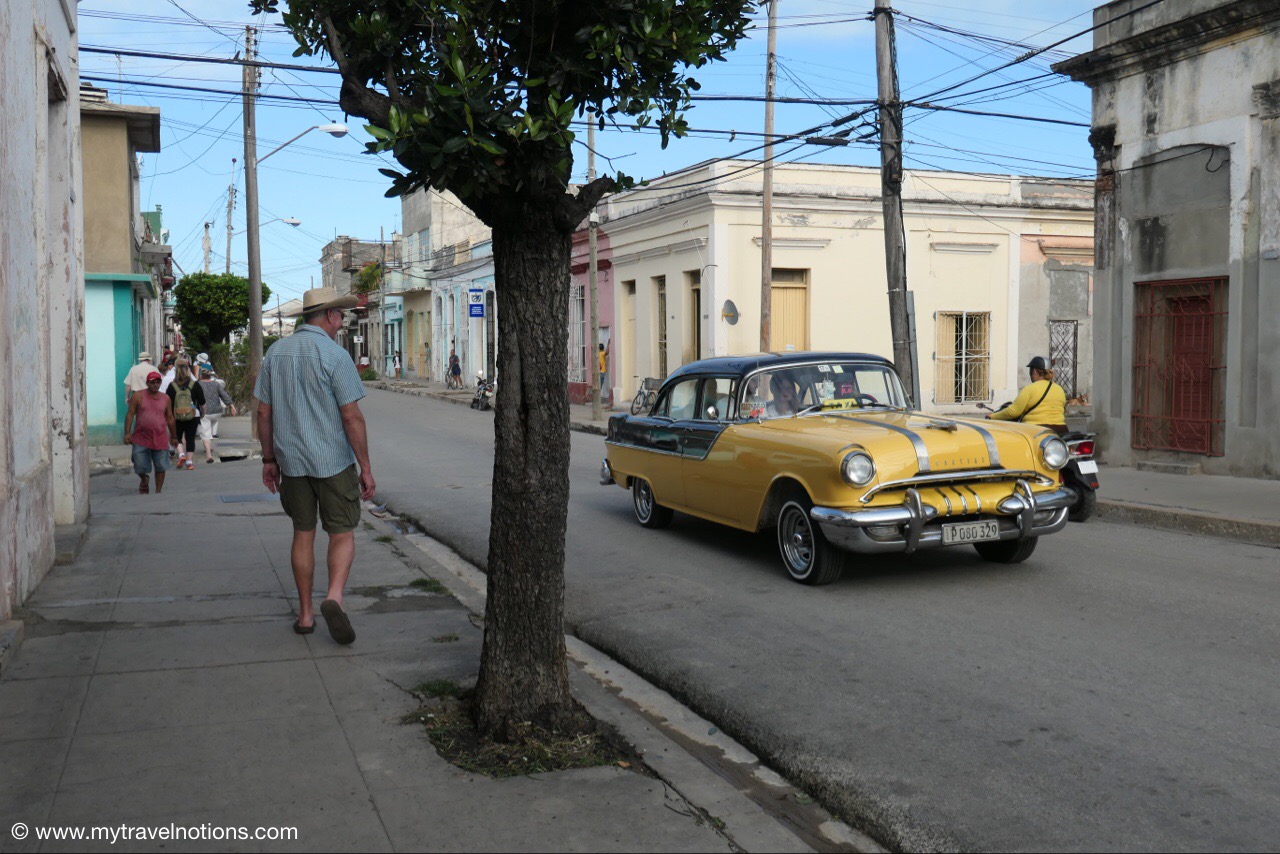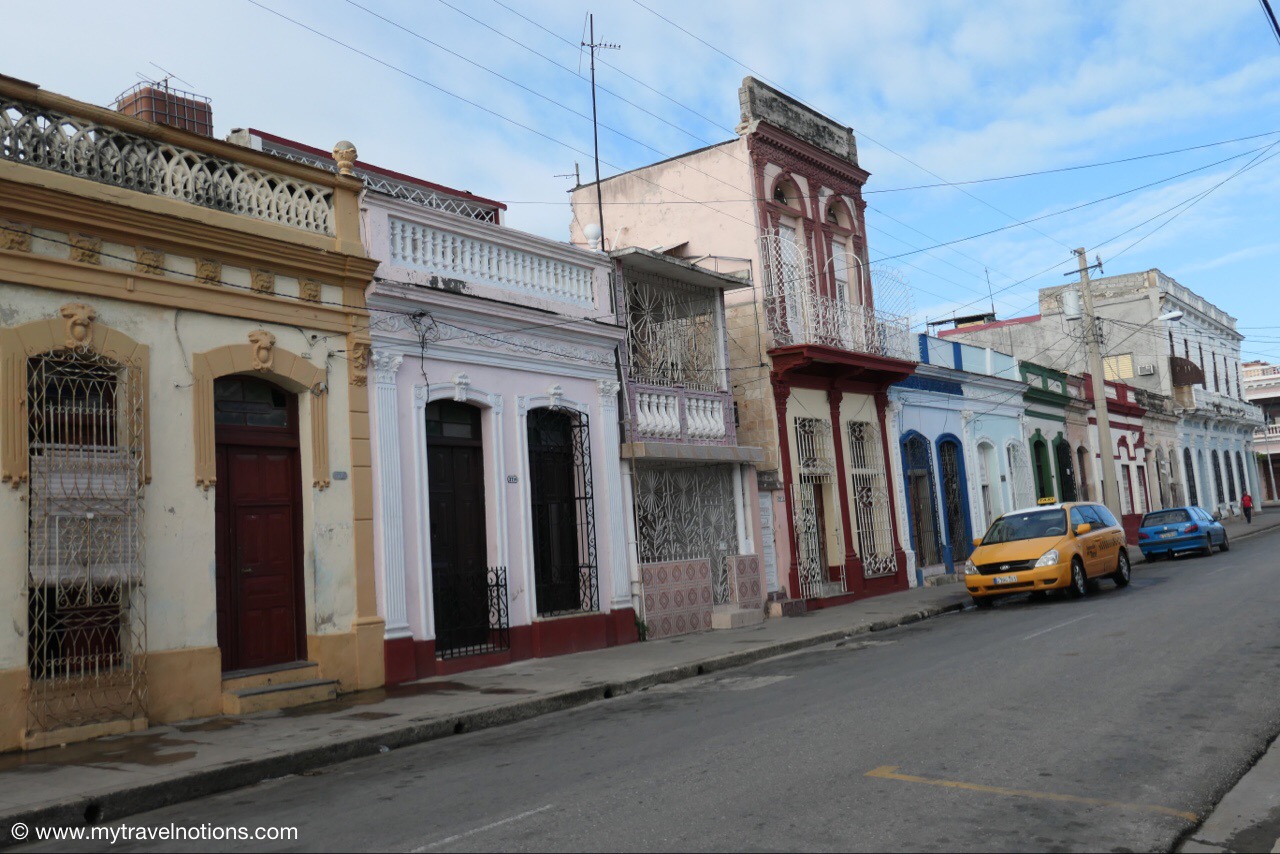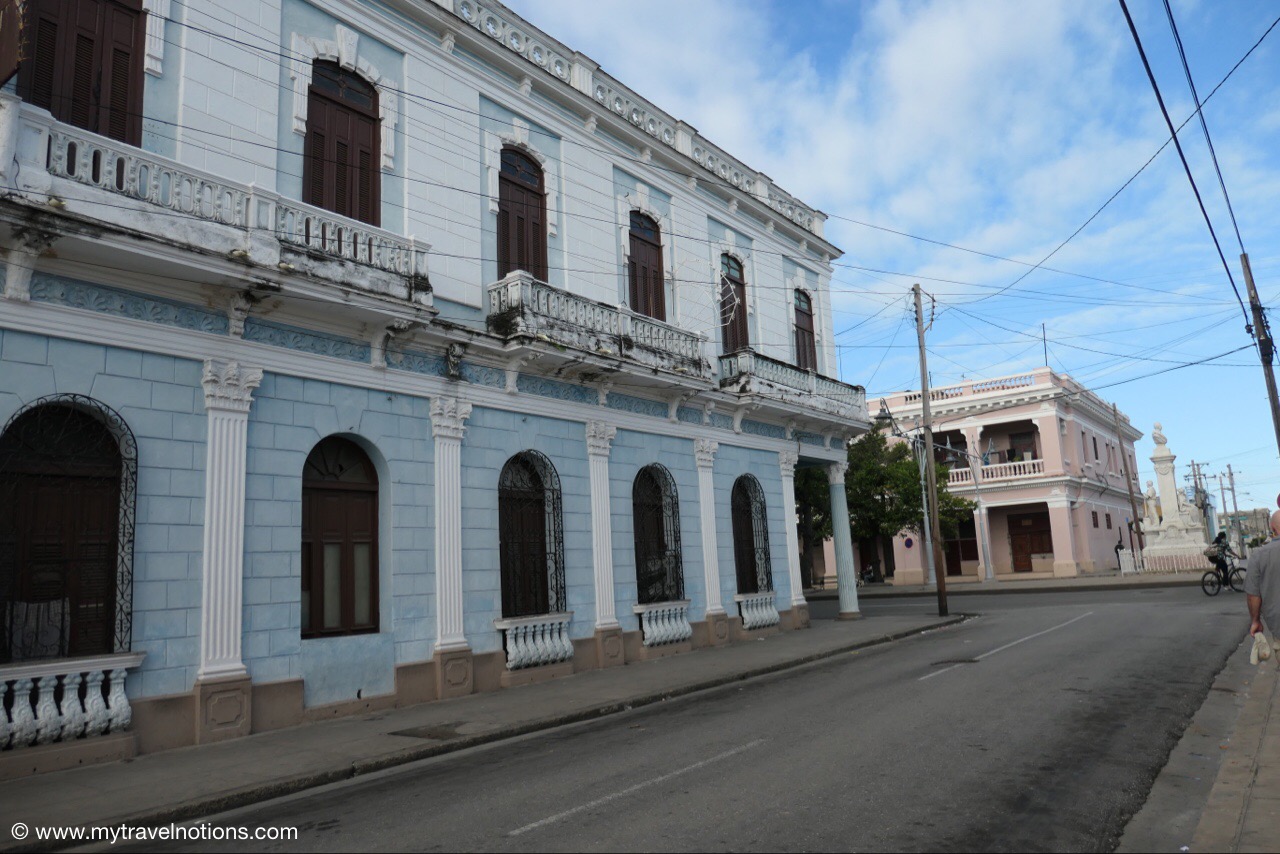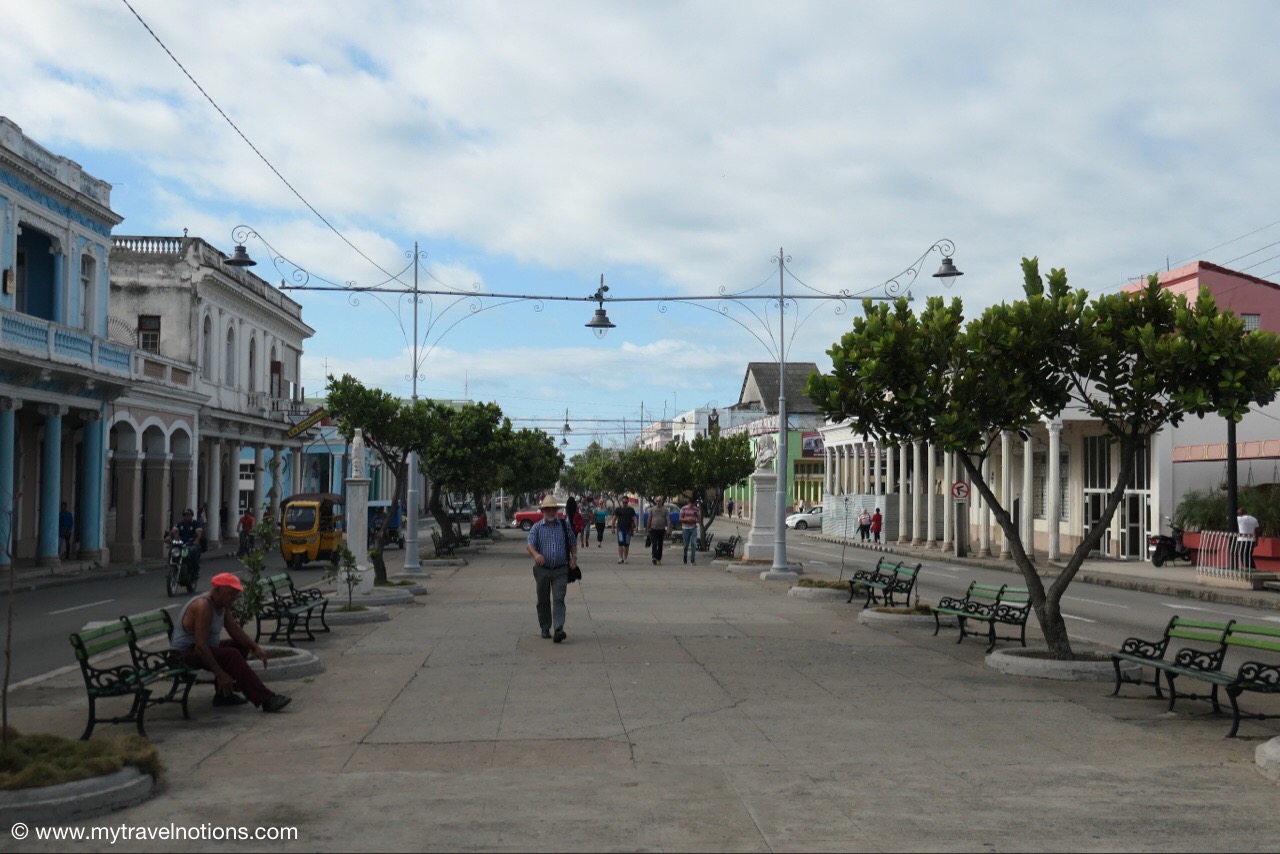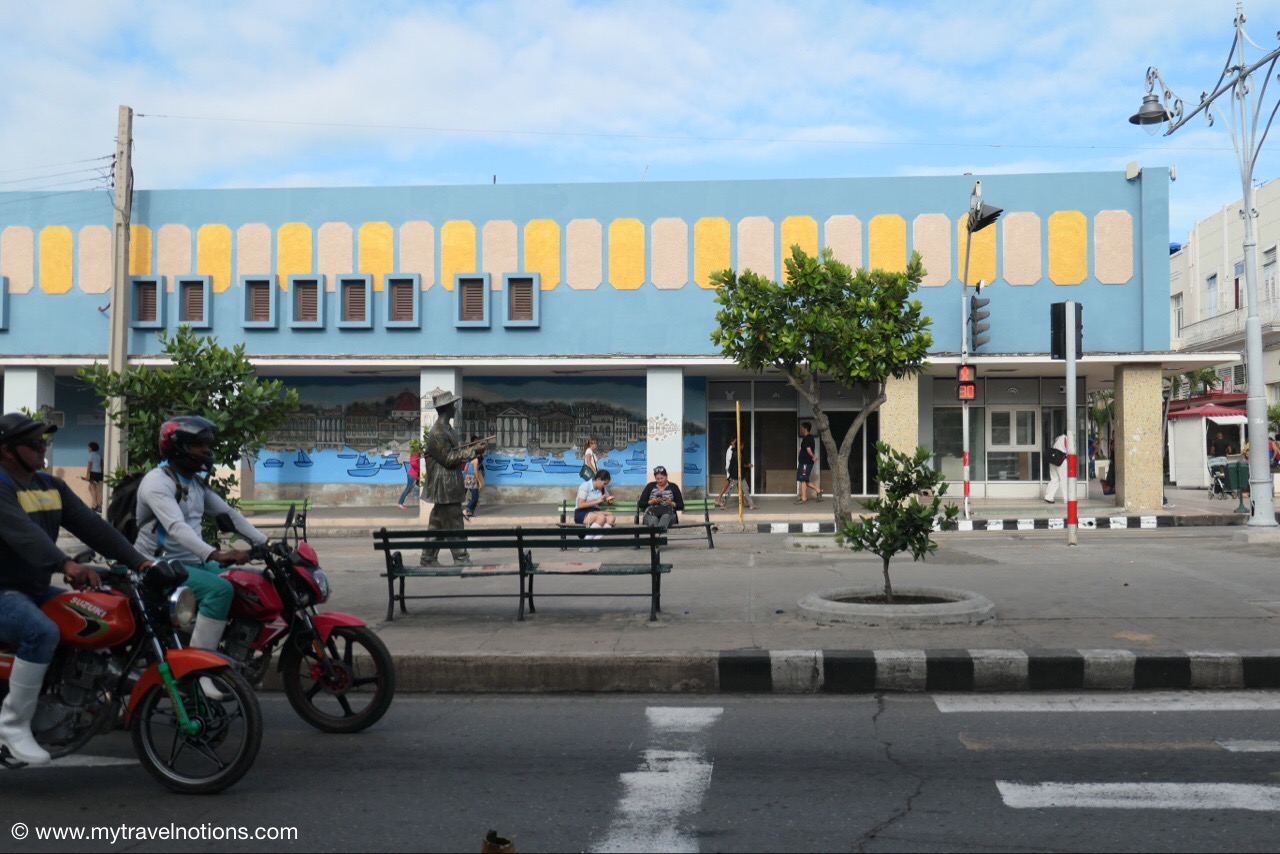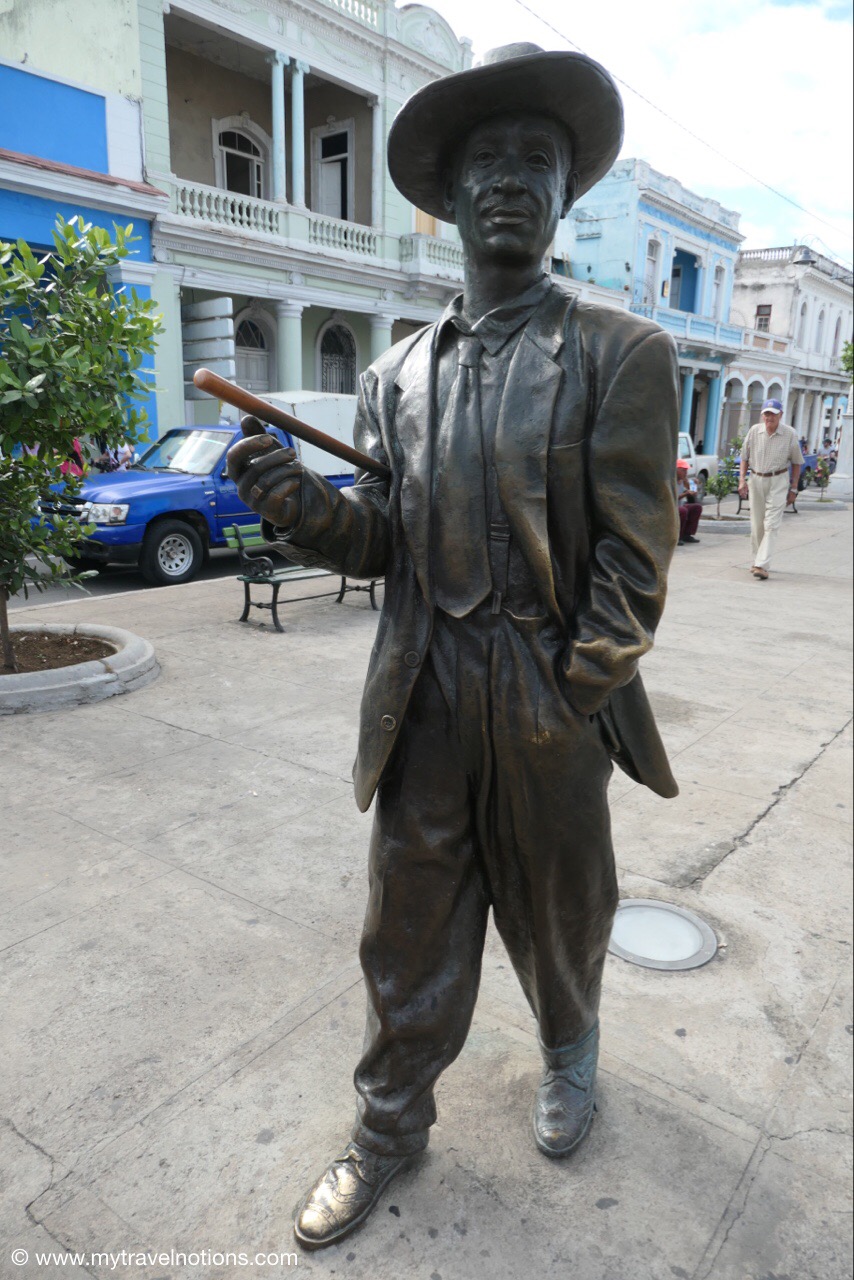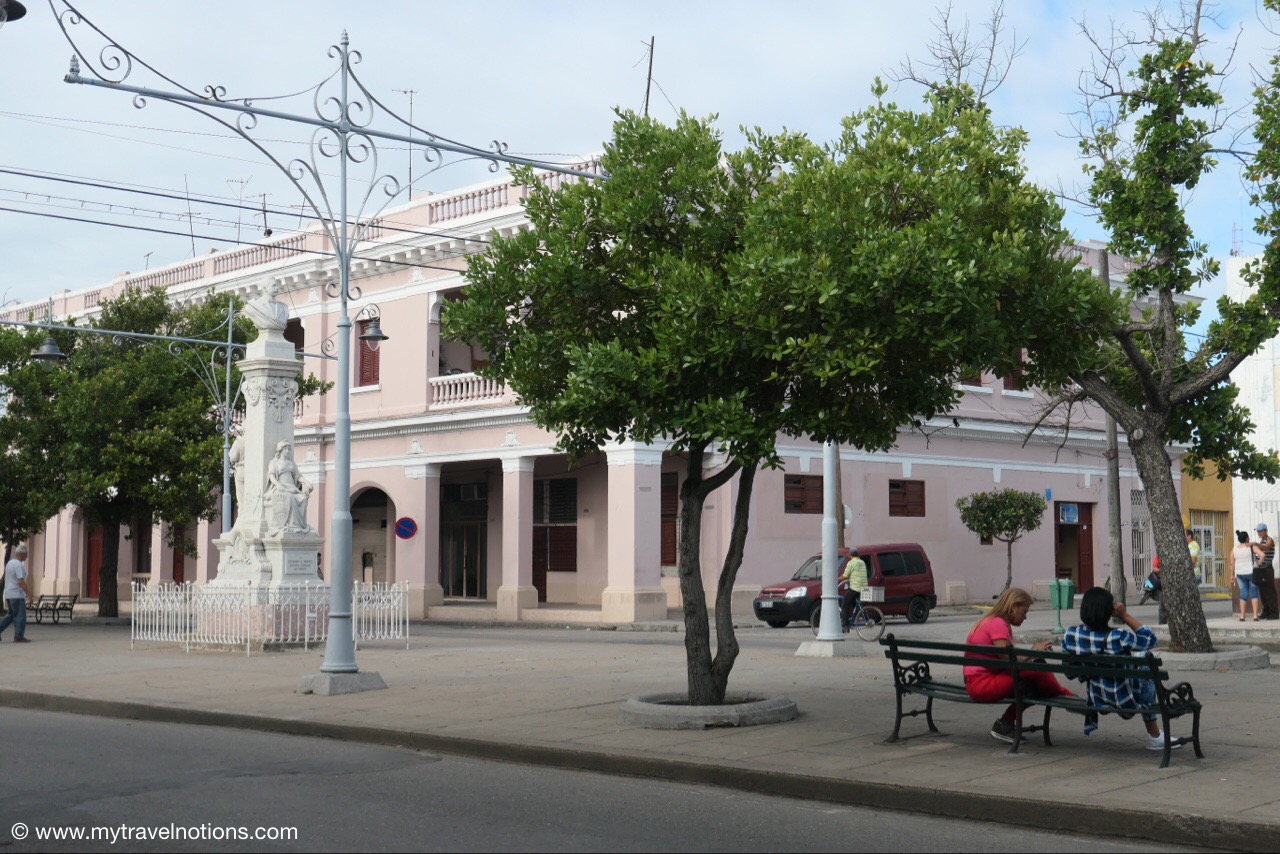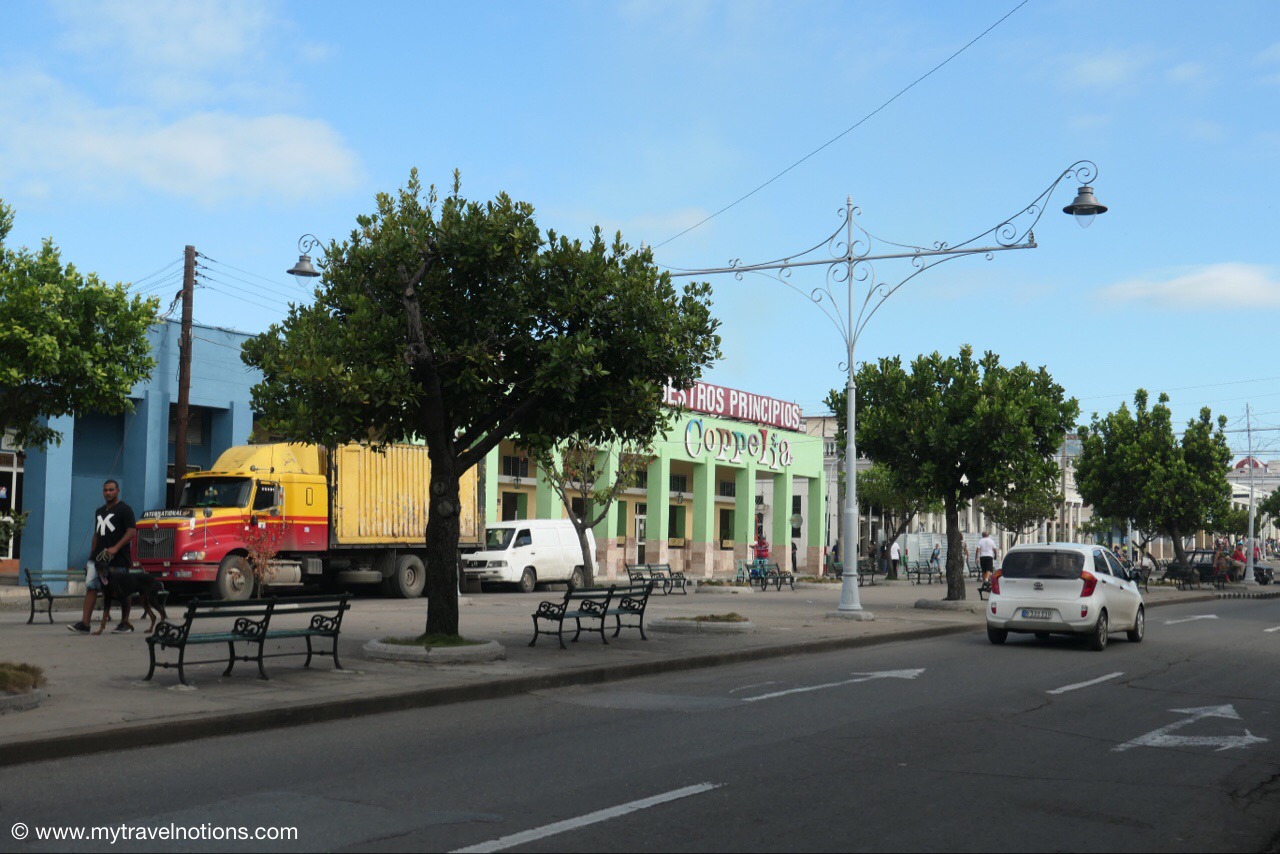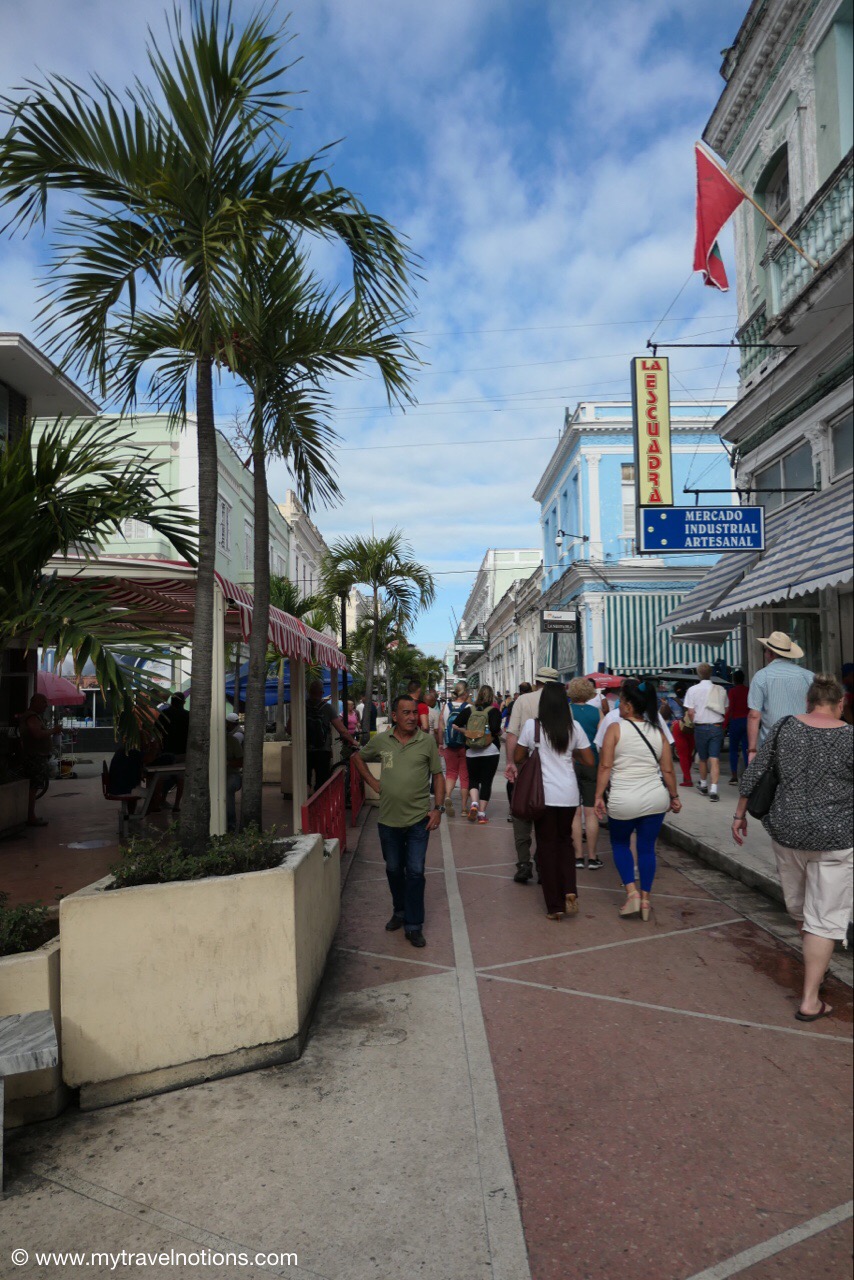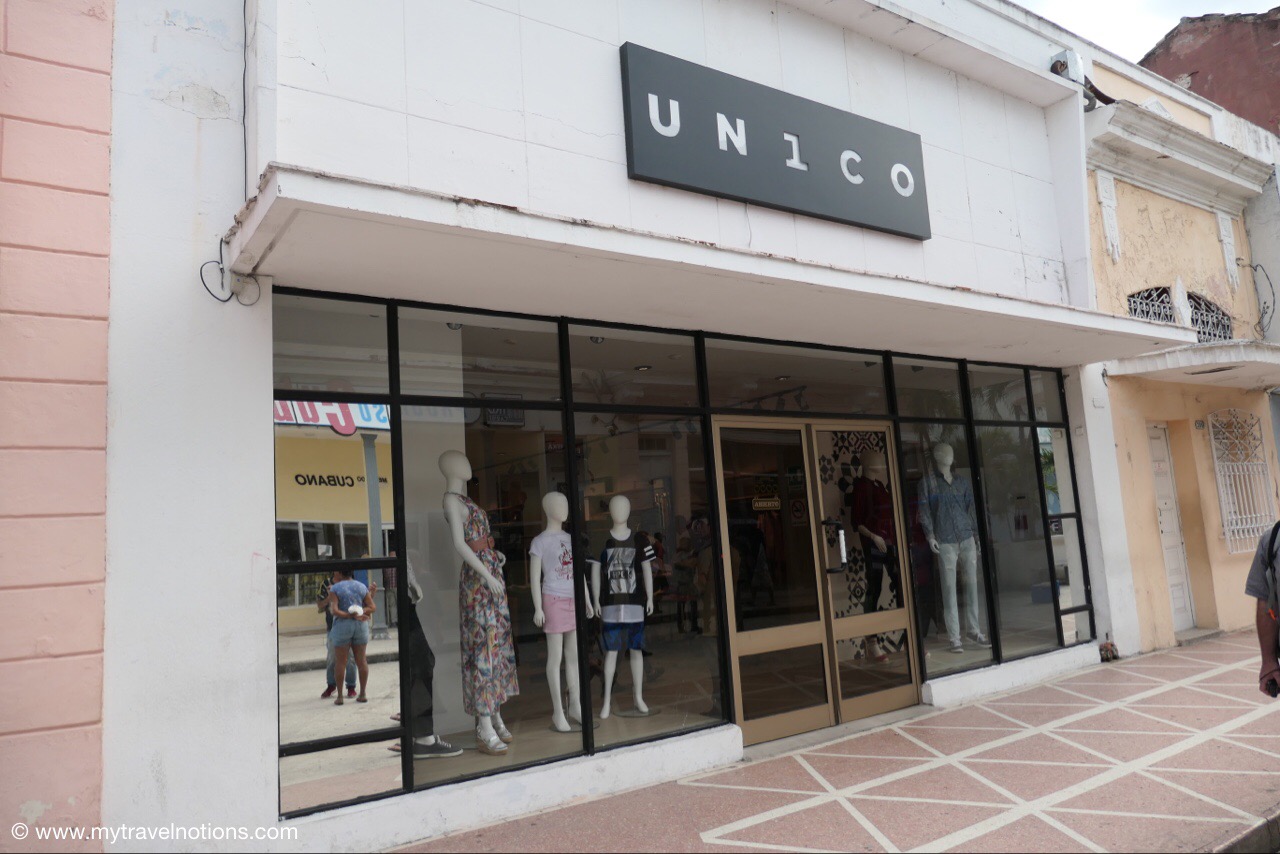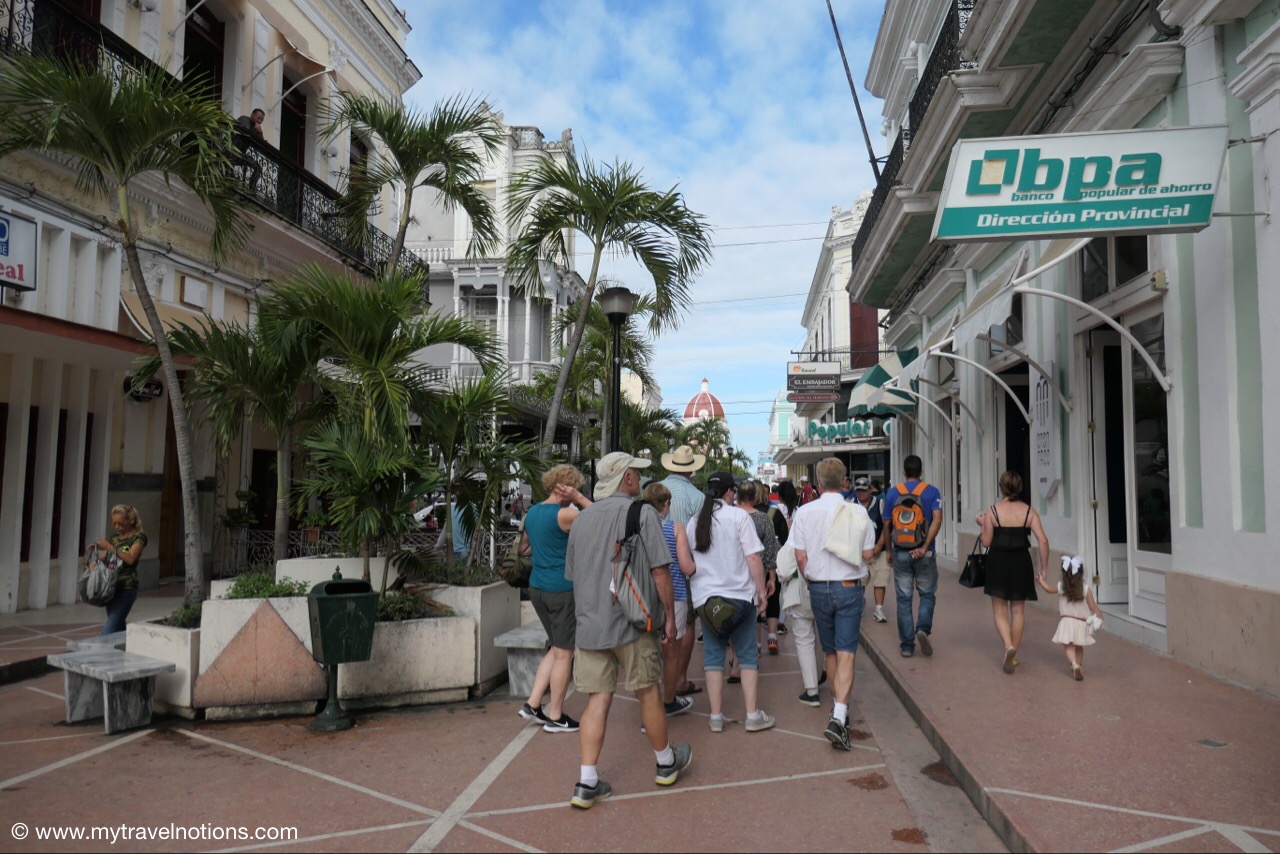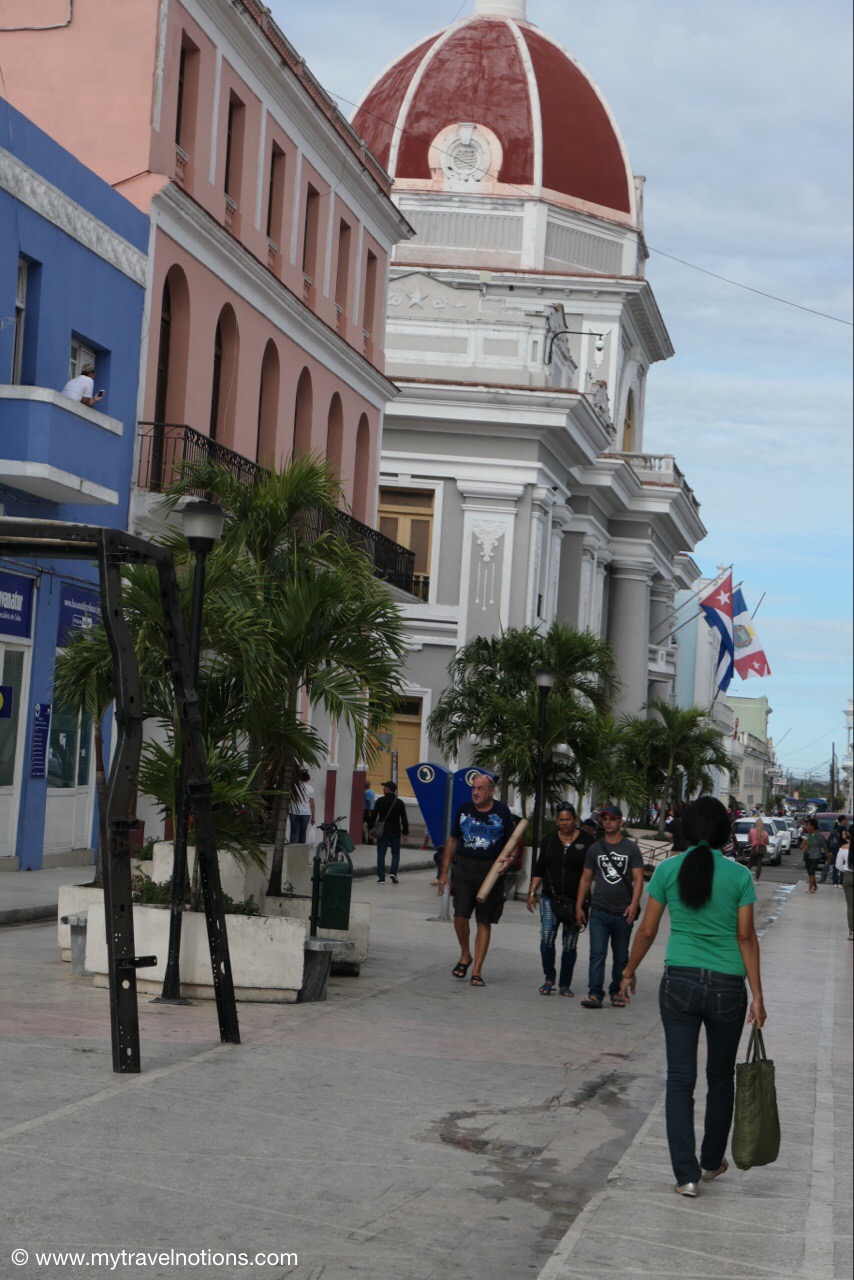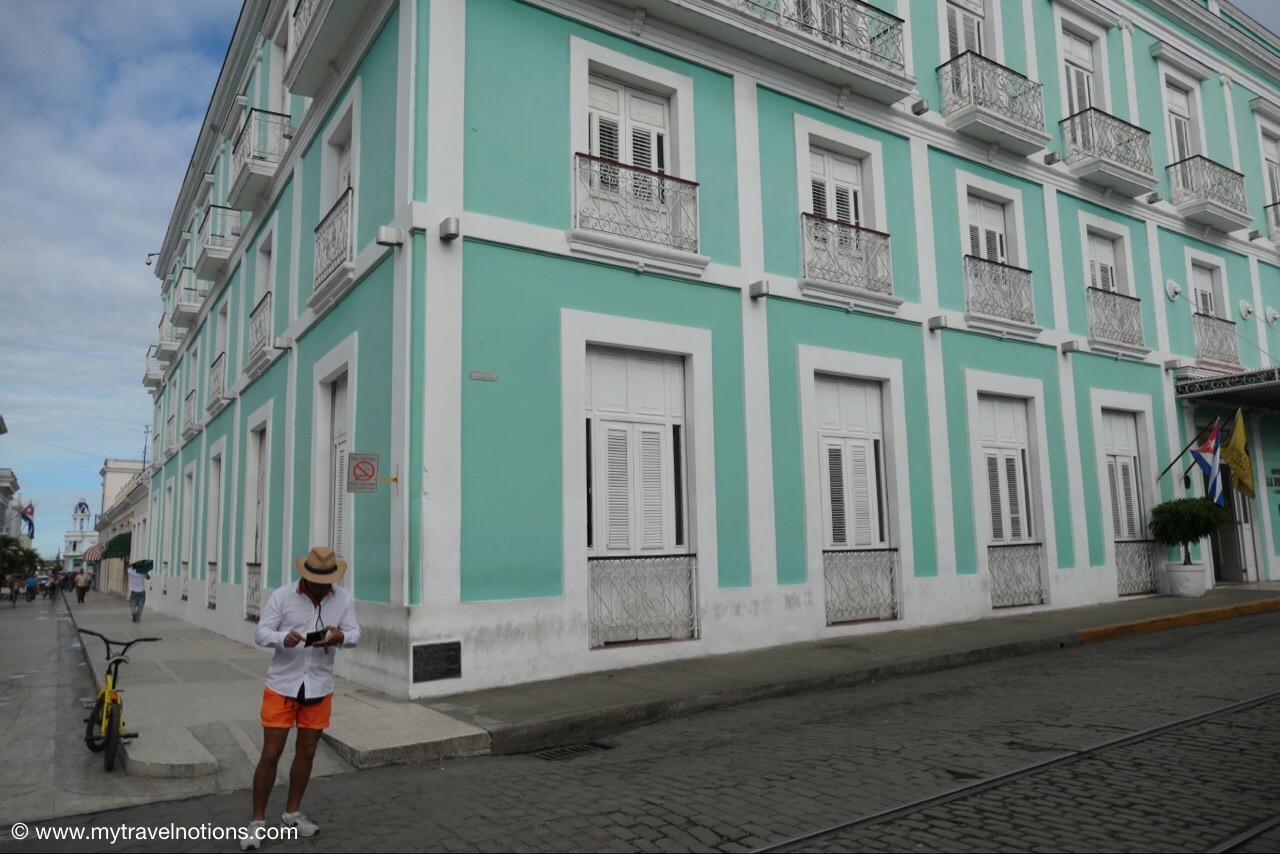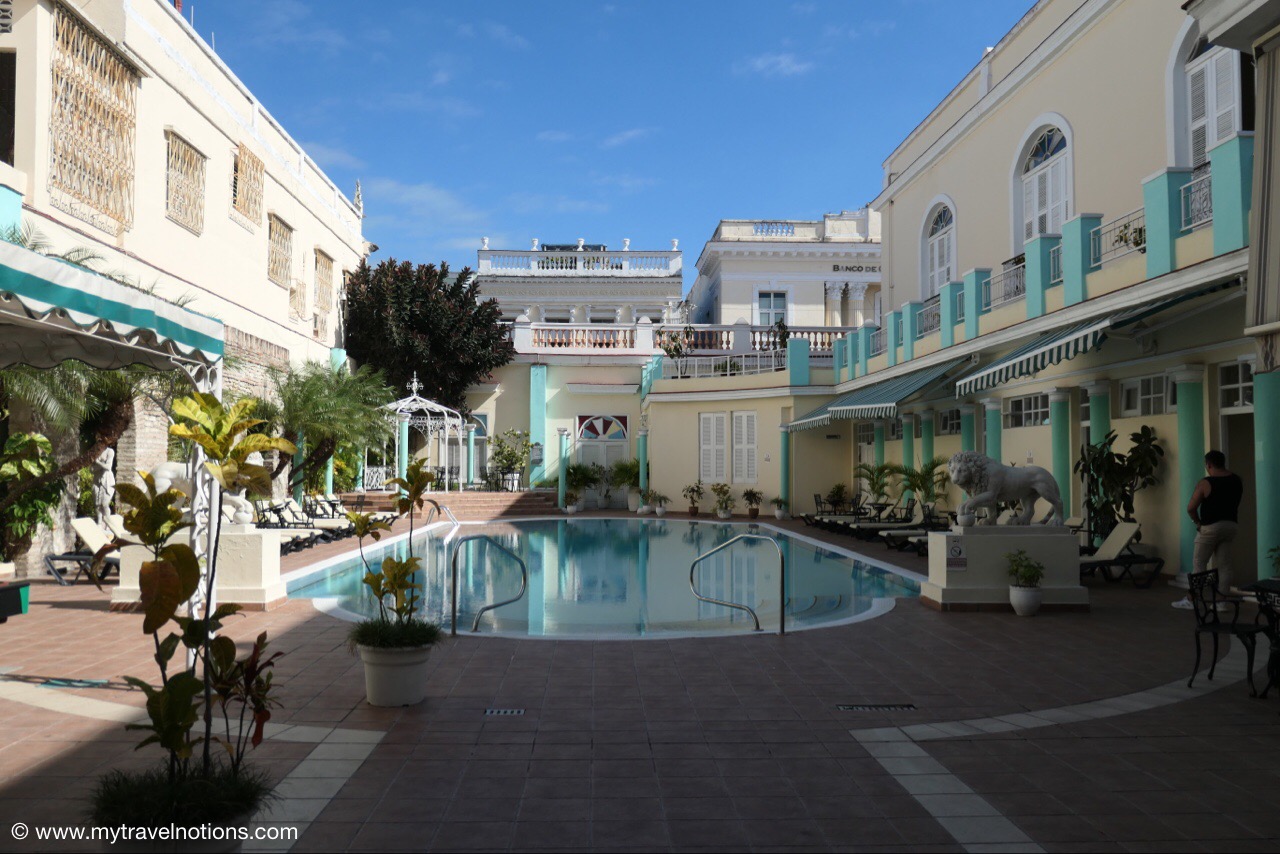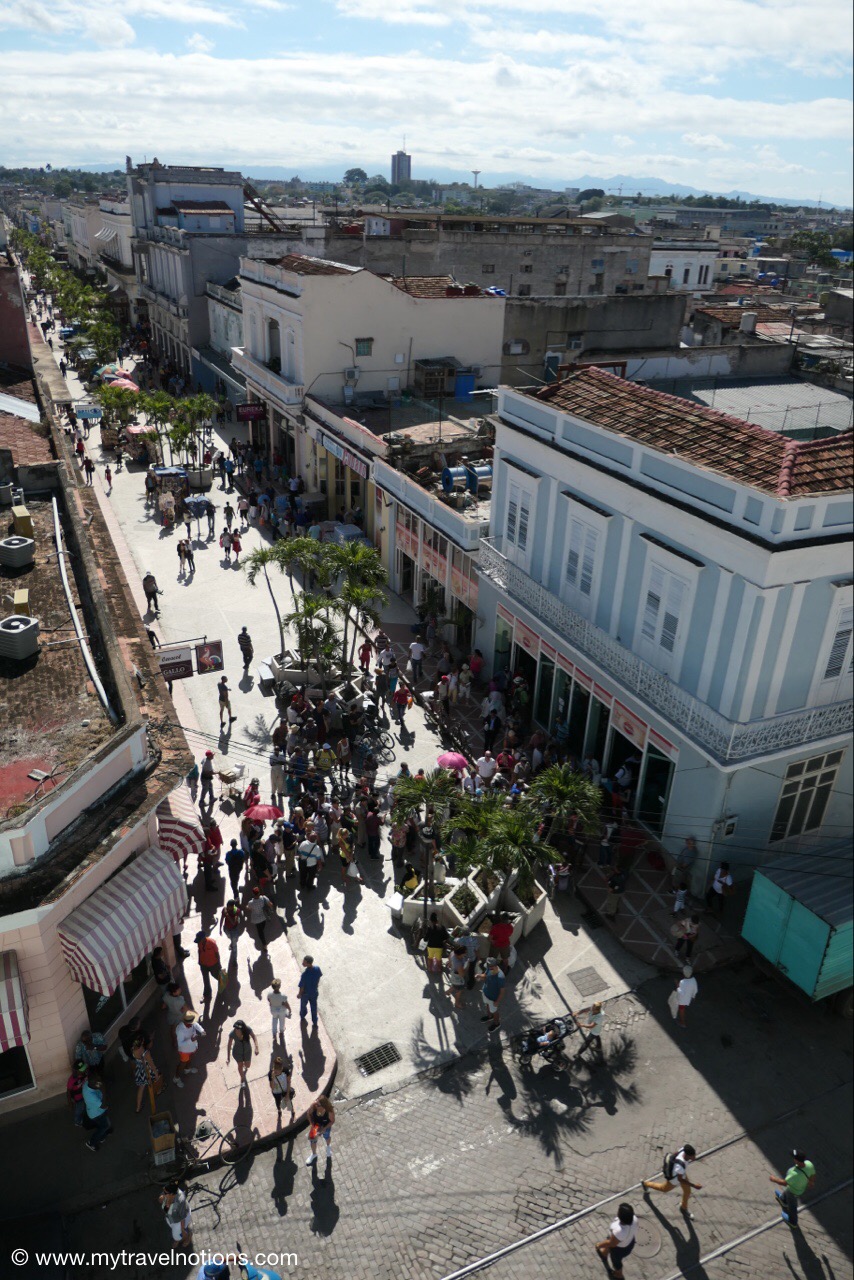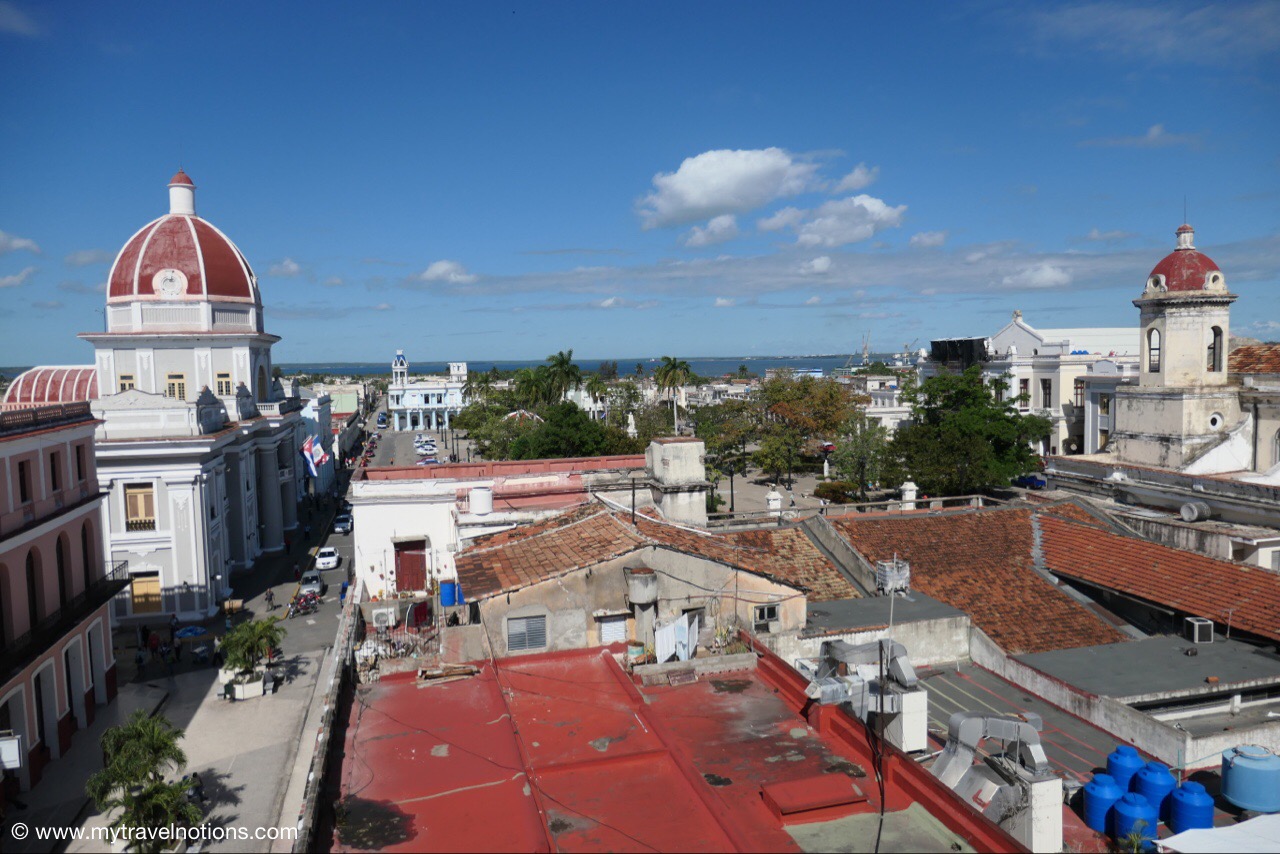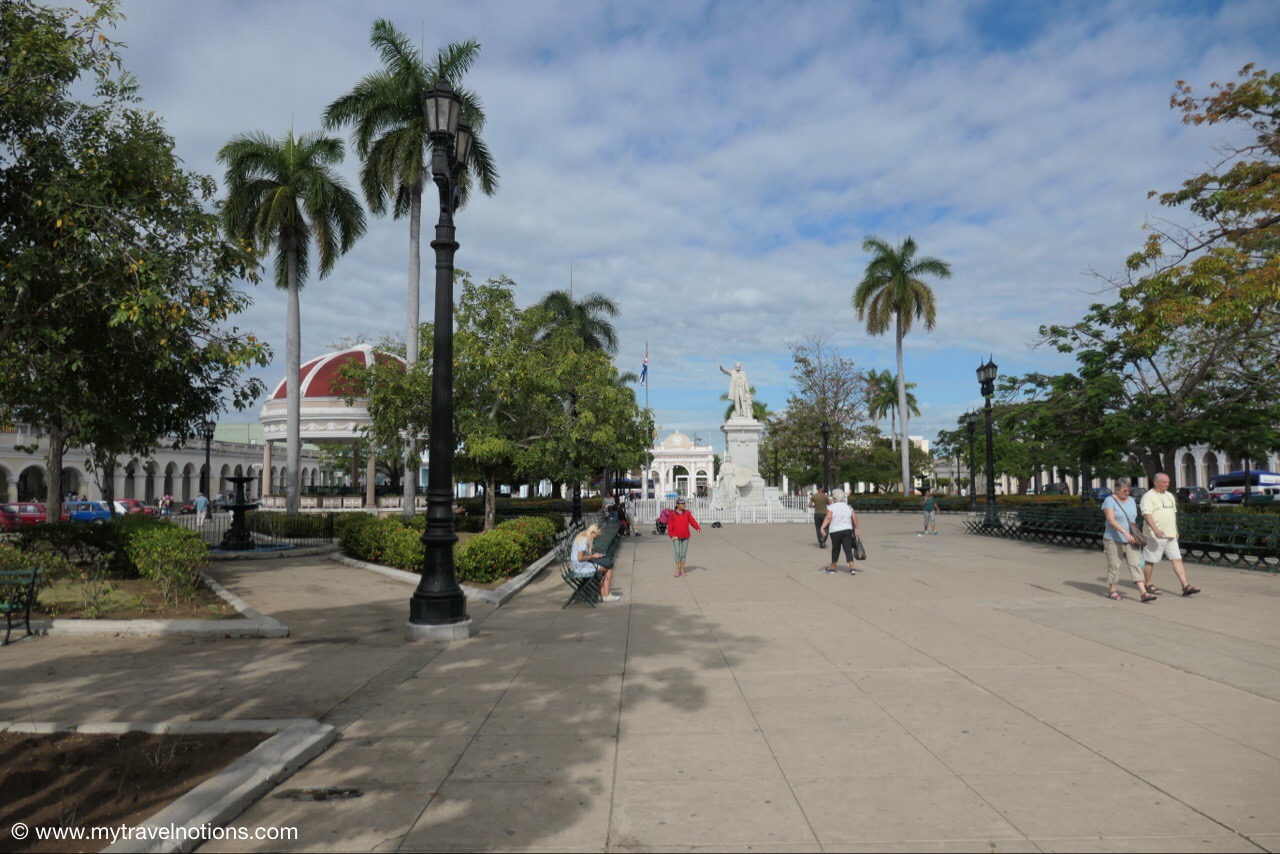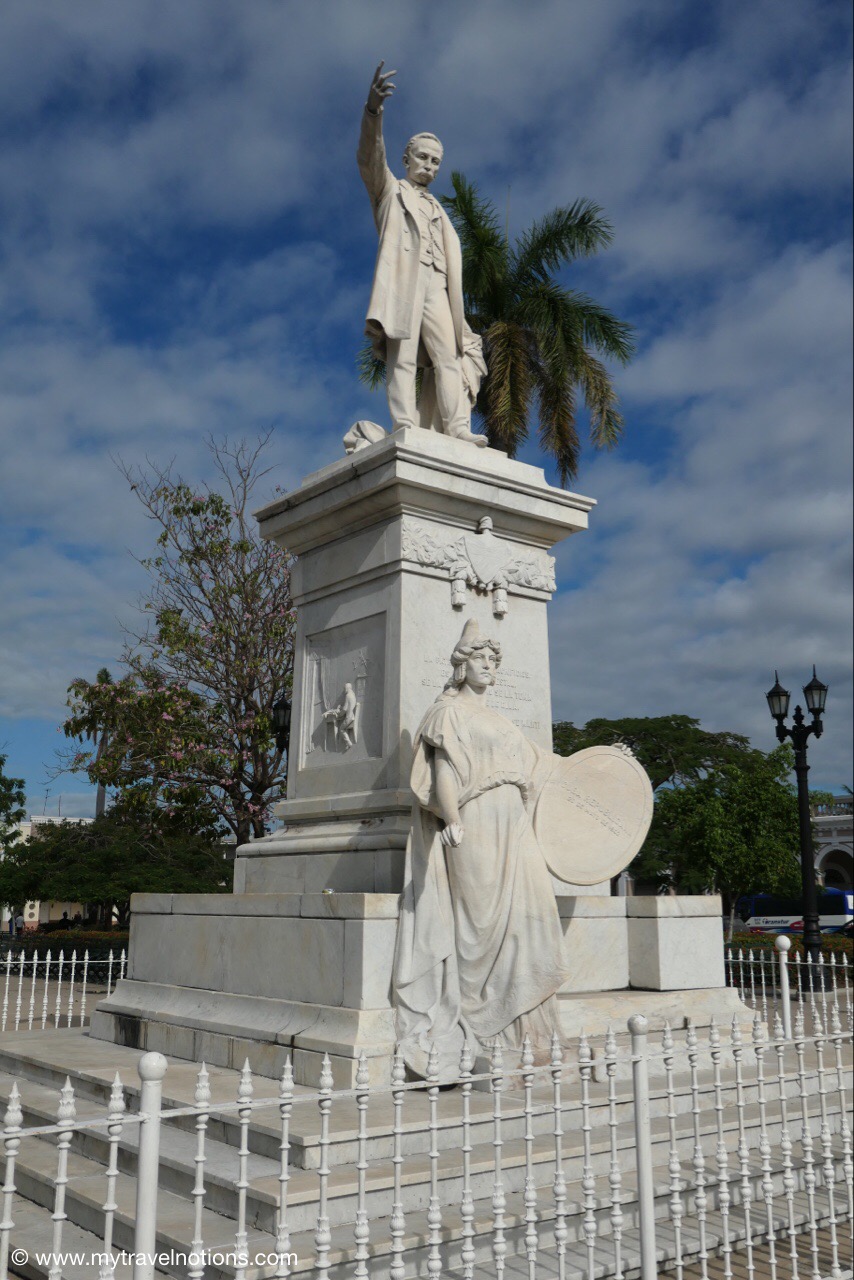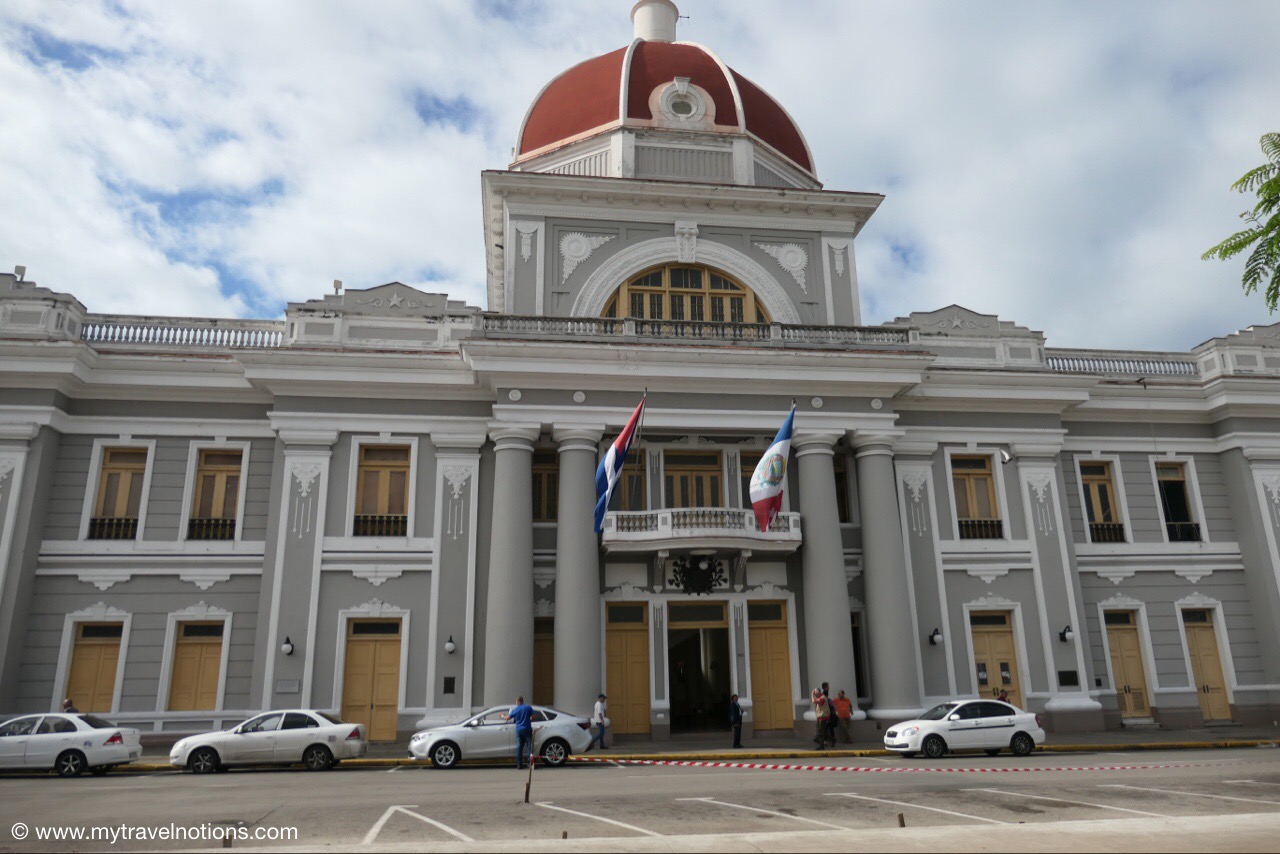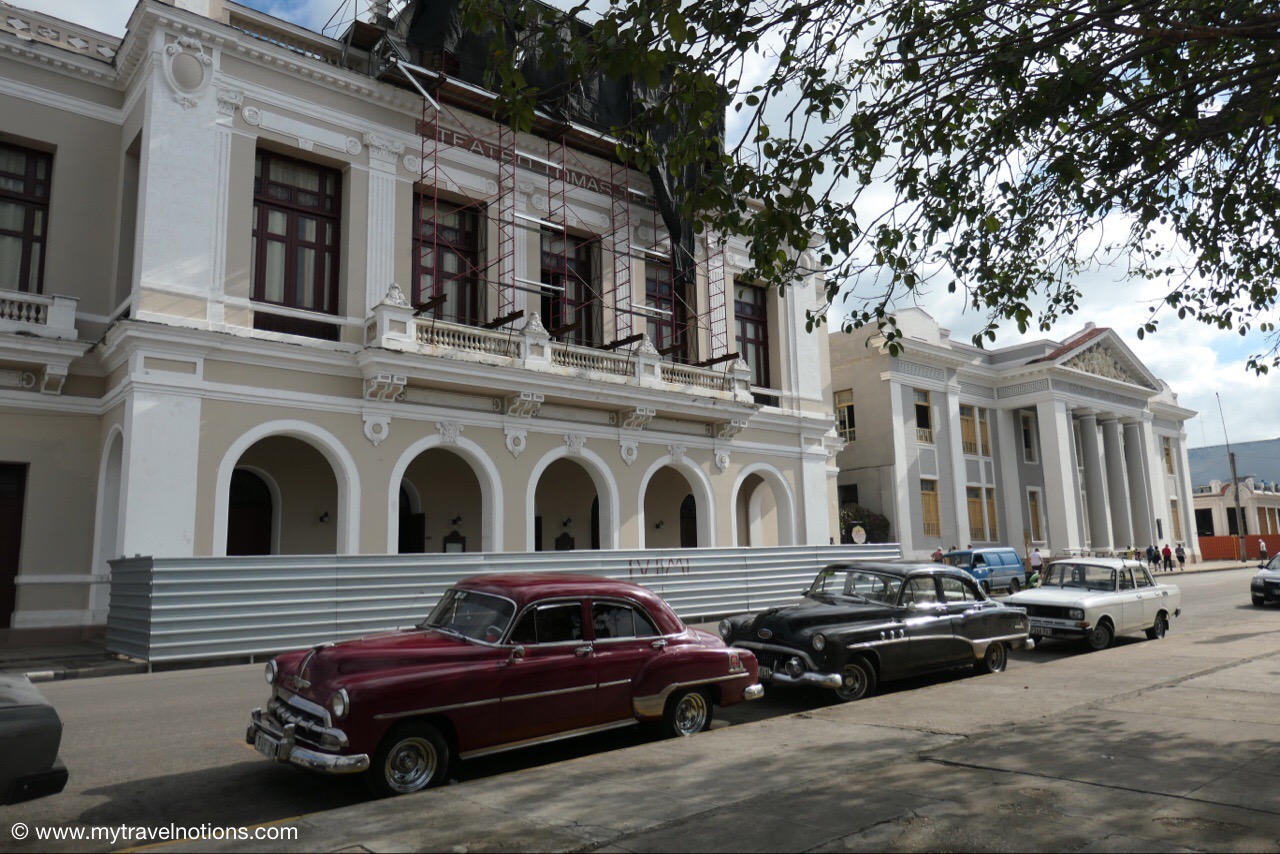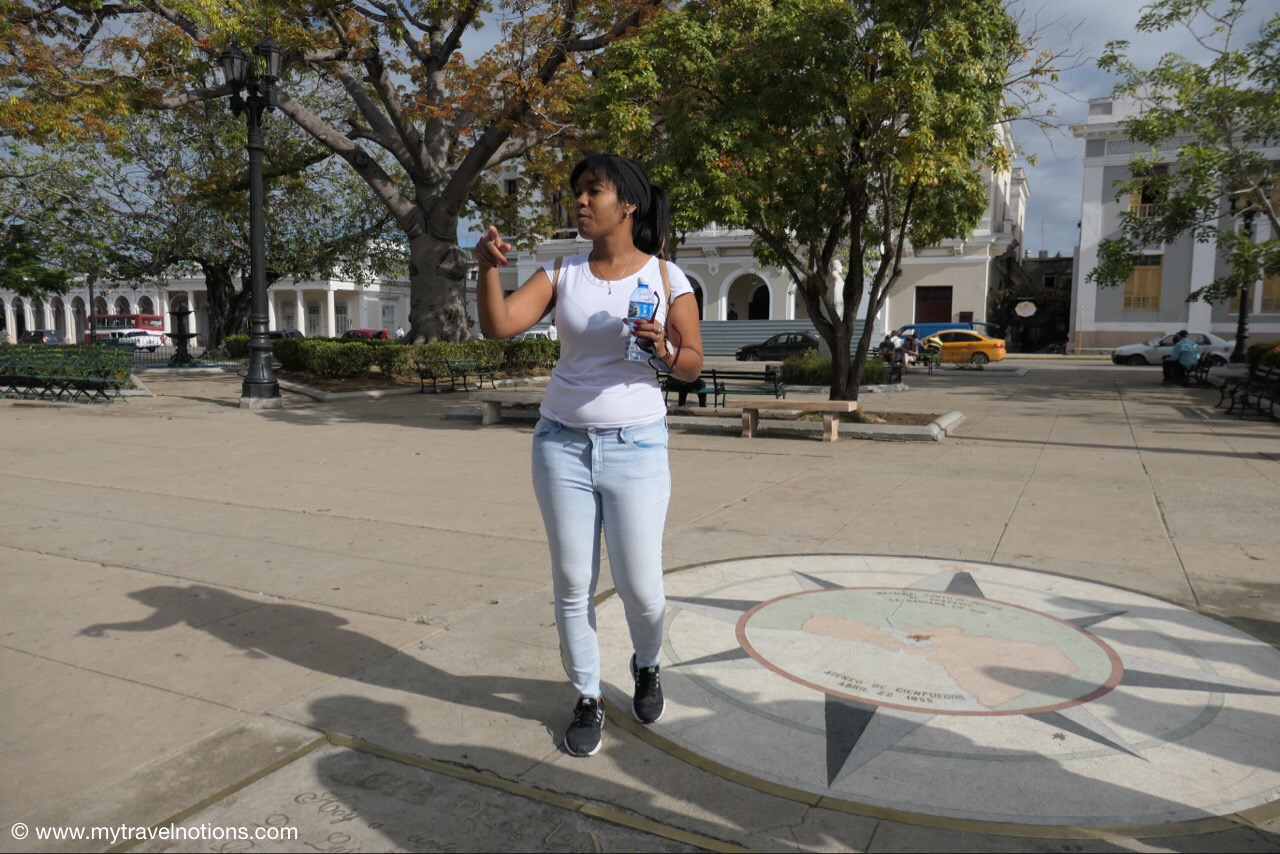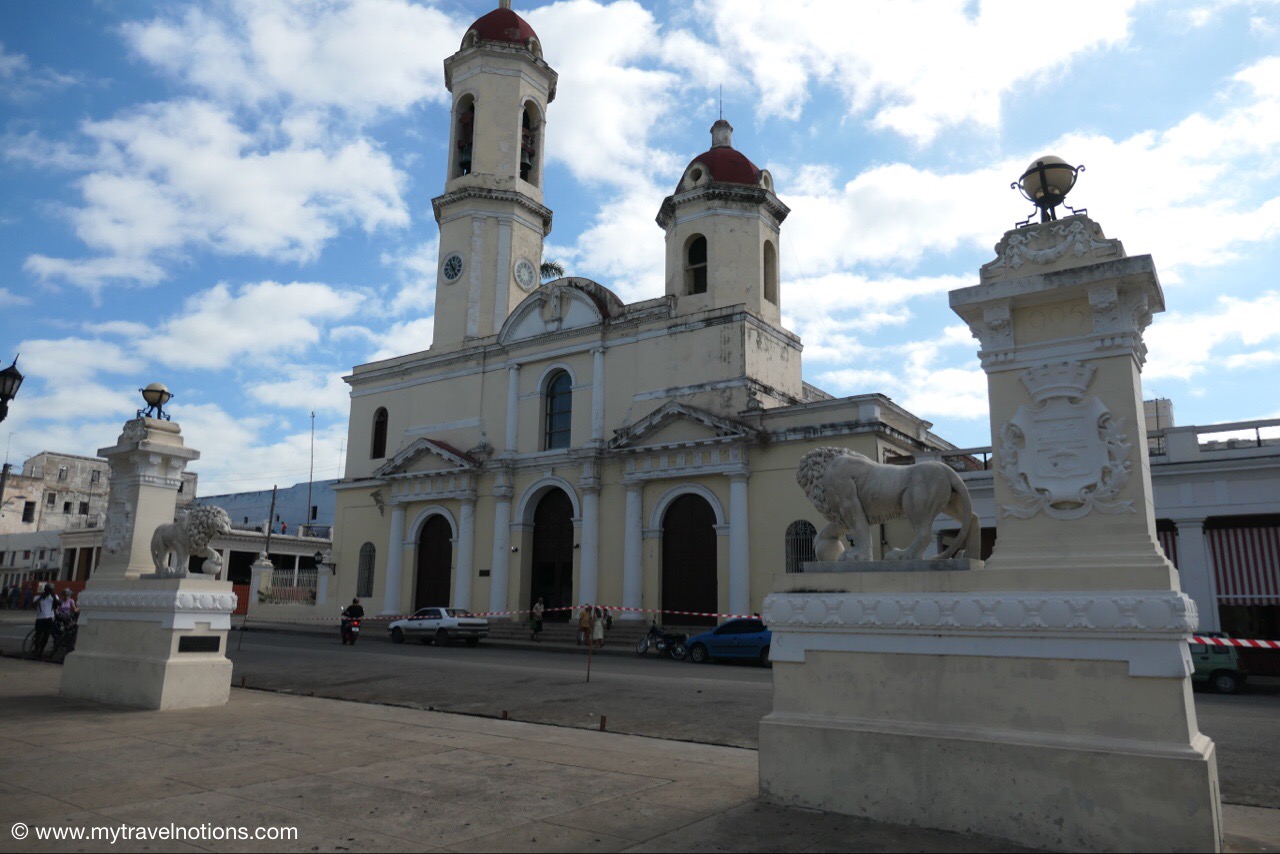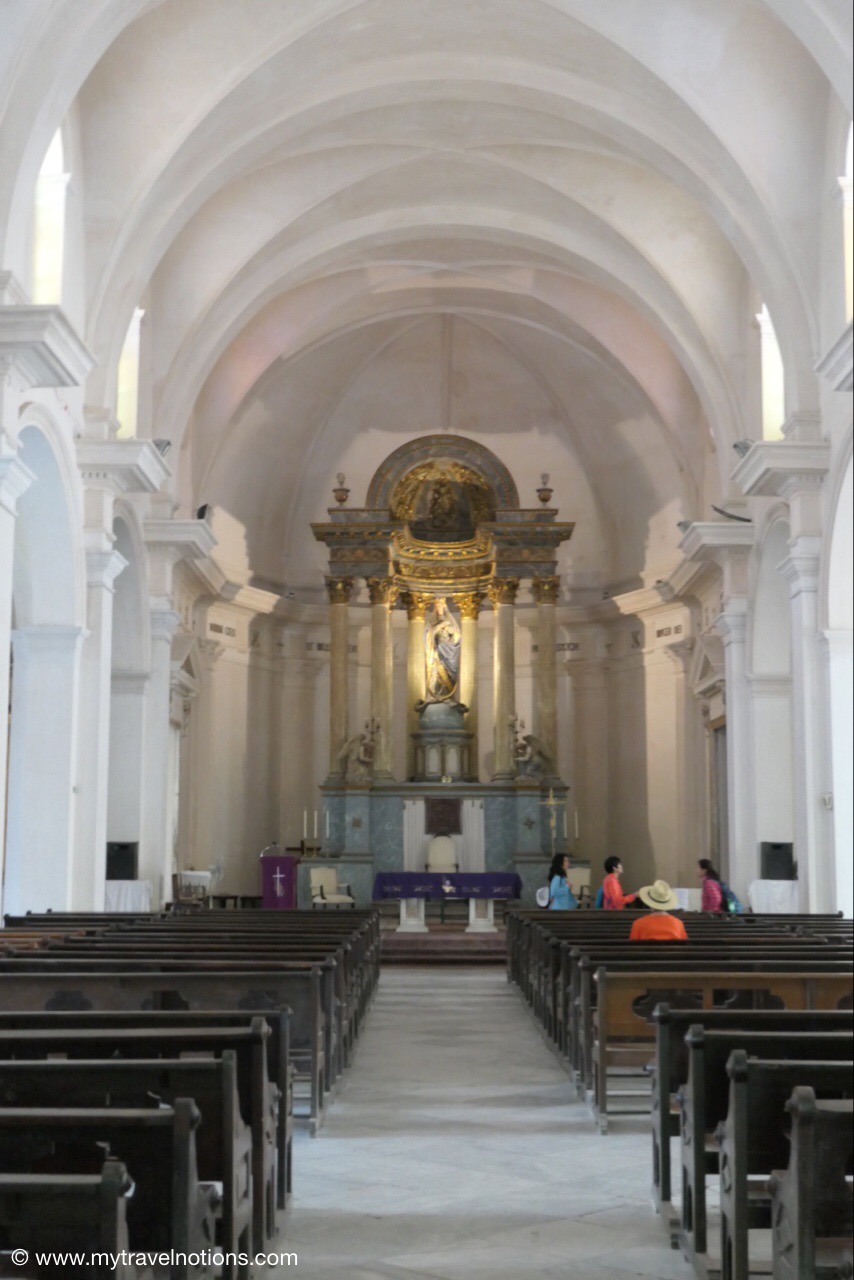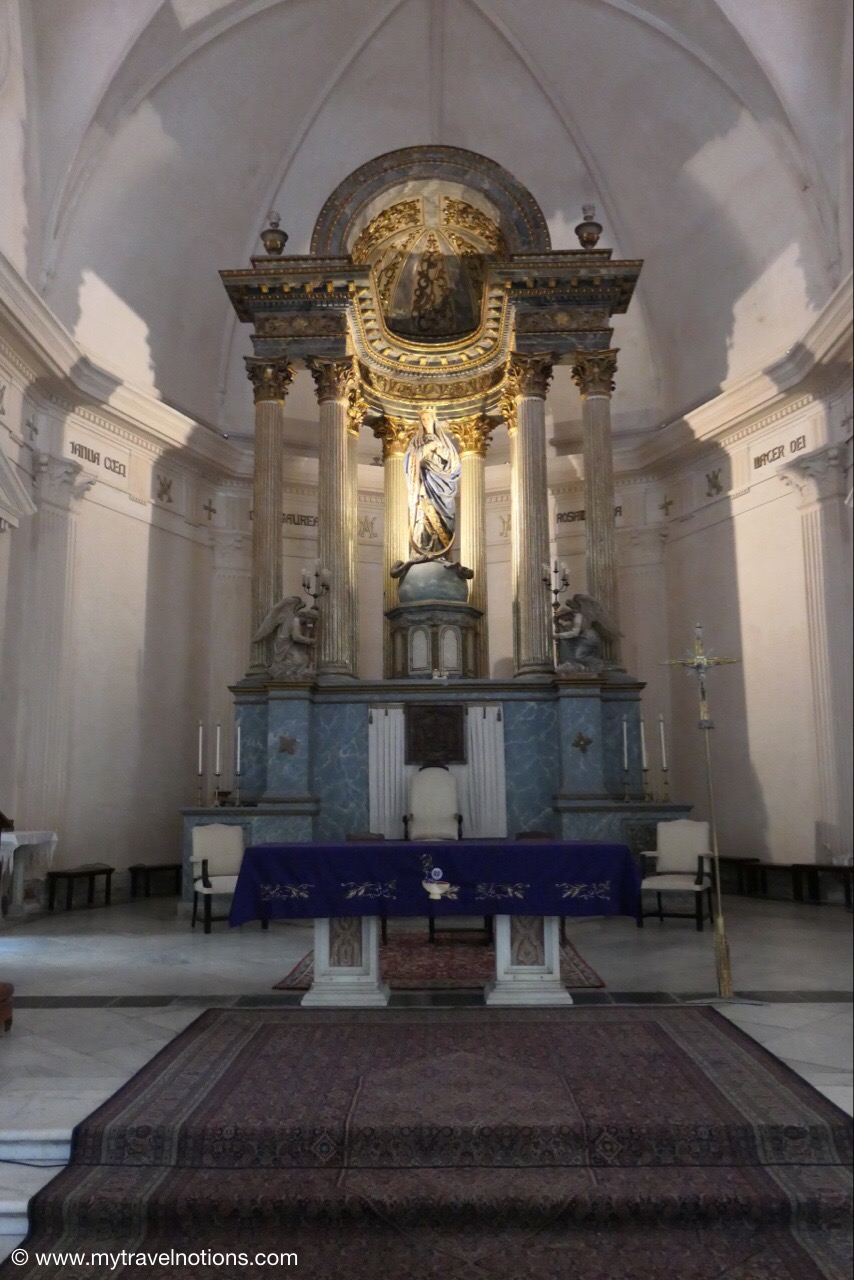 Trinidad
Days 6 and 7 of Cuba, Thursday, March 21 and Friday, March 22 – Exploring the beautiful and colorful colonial city of Trinidad with its very rugged cobblestoned streets.   
Tinidad is stoned wild…cobblestoned that is. I loved my guesthouse room and I loved the look of this beautiful colonial city but what I did not love about Trinidad, founded in 1514, were the extremely difficult to walk on cobblestoned streets…even though the cobble stones add to its distinctive look and feel. Thankfully the museums and colonial buildings are worth seeing in this UNESCO World Heritage site where all with close, careful, walking distance of one another. But what helped to make this city even more beautiful was the weather. Yes, it was hot, but it was also a bright and clear sunshiney day.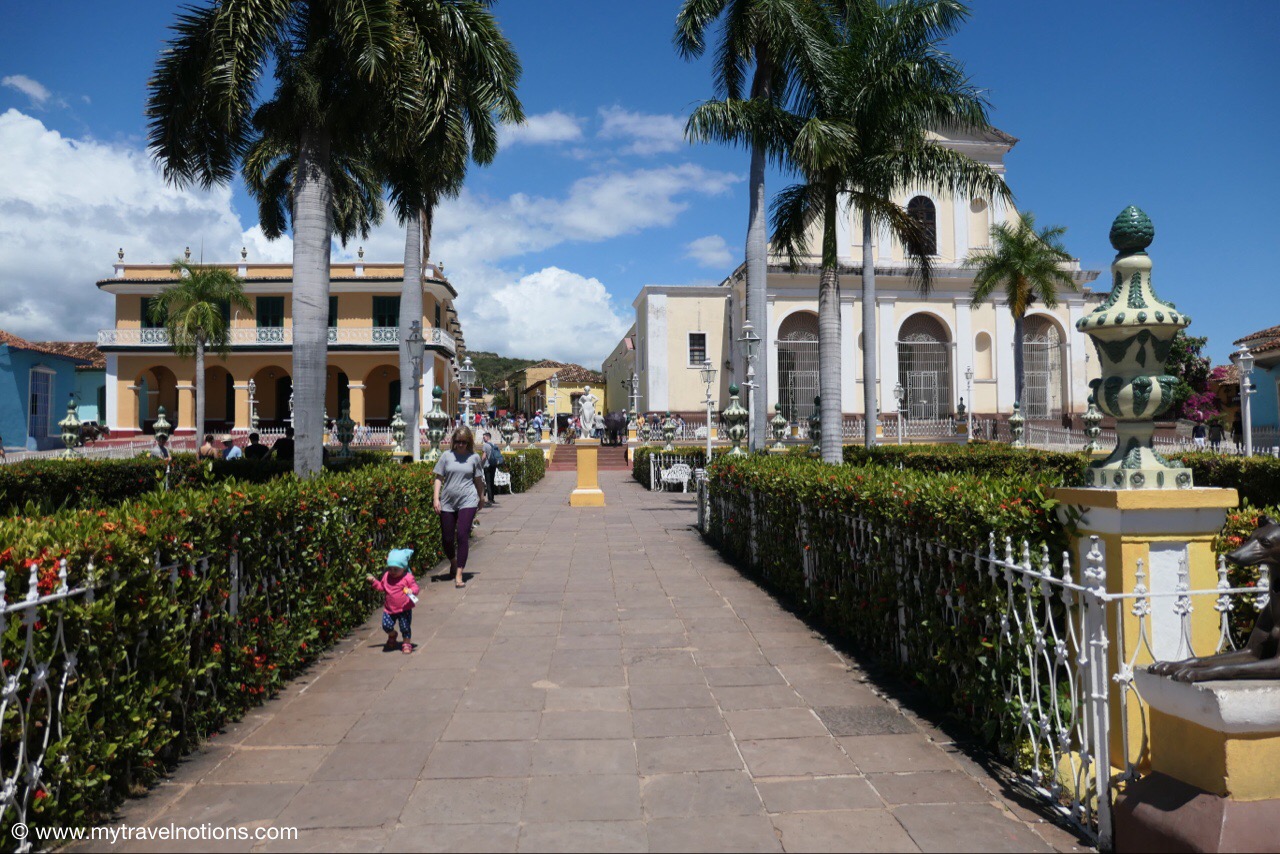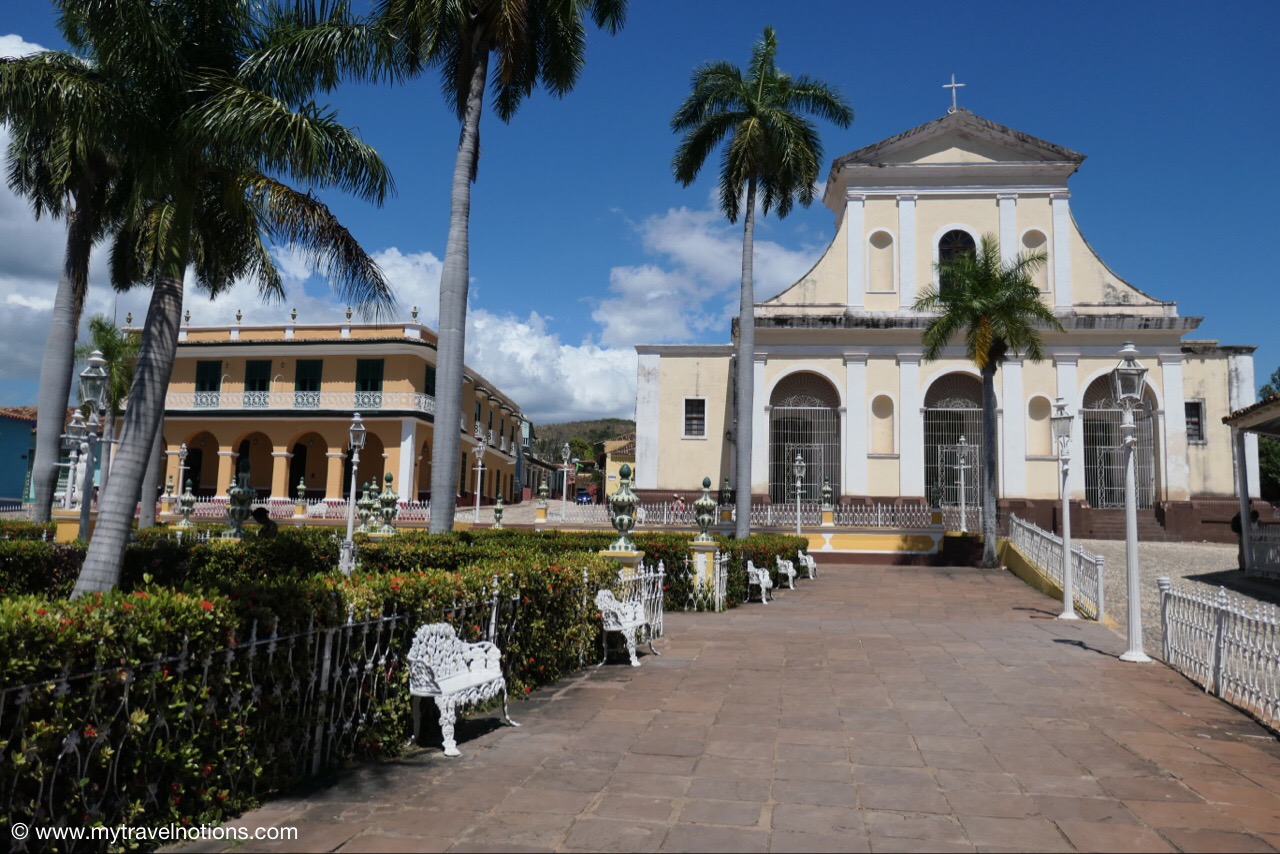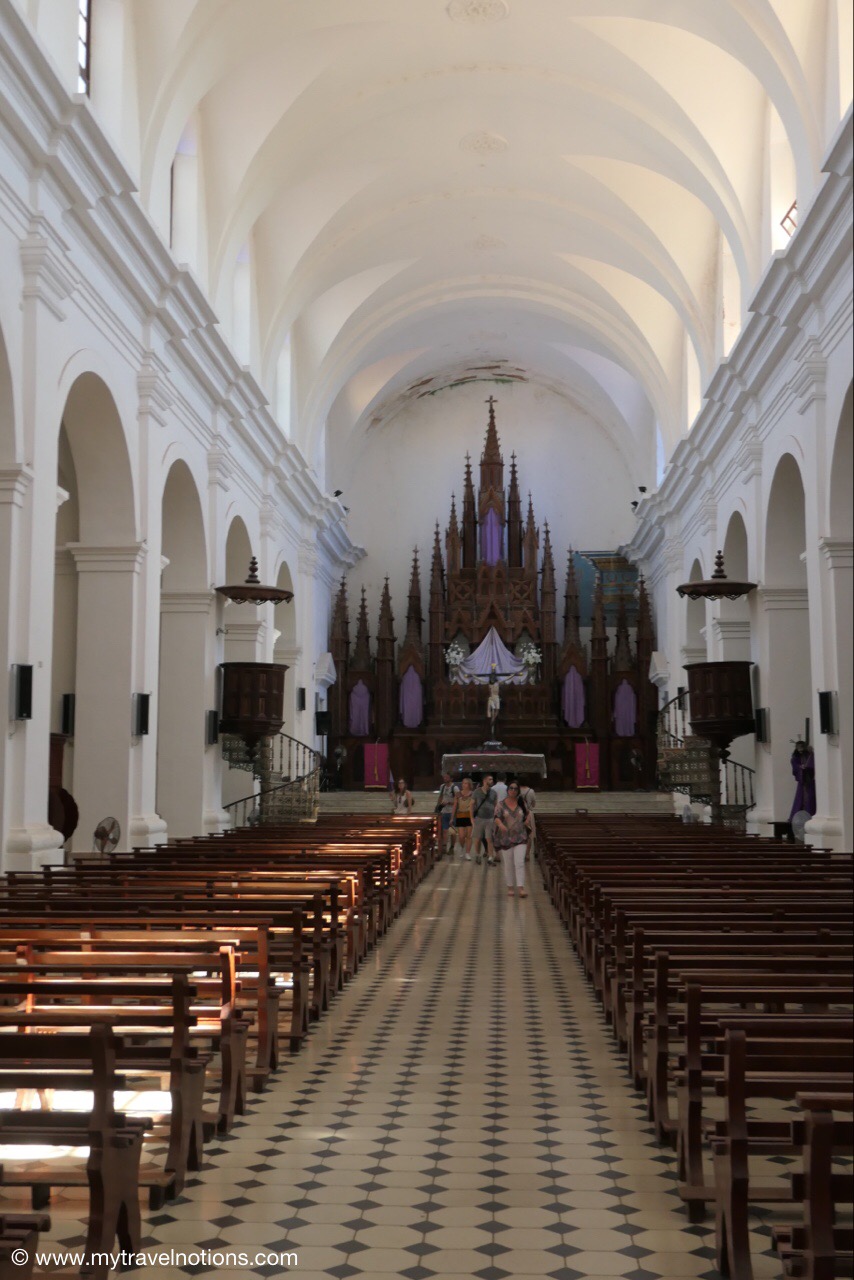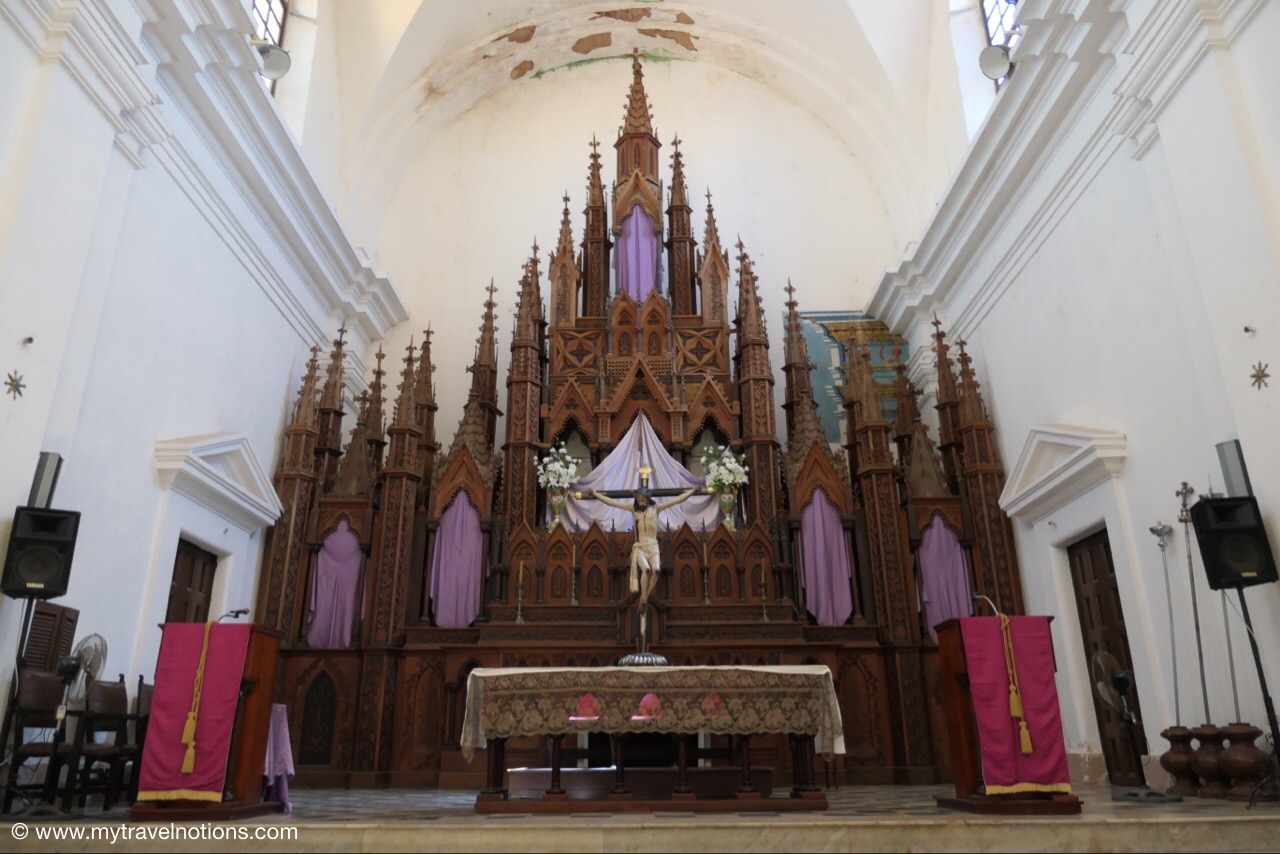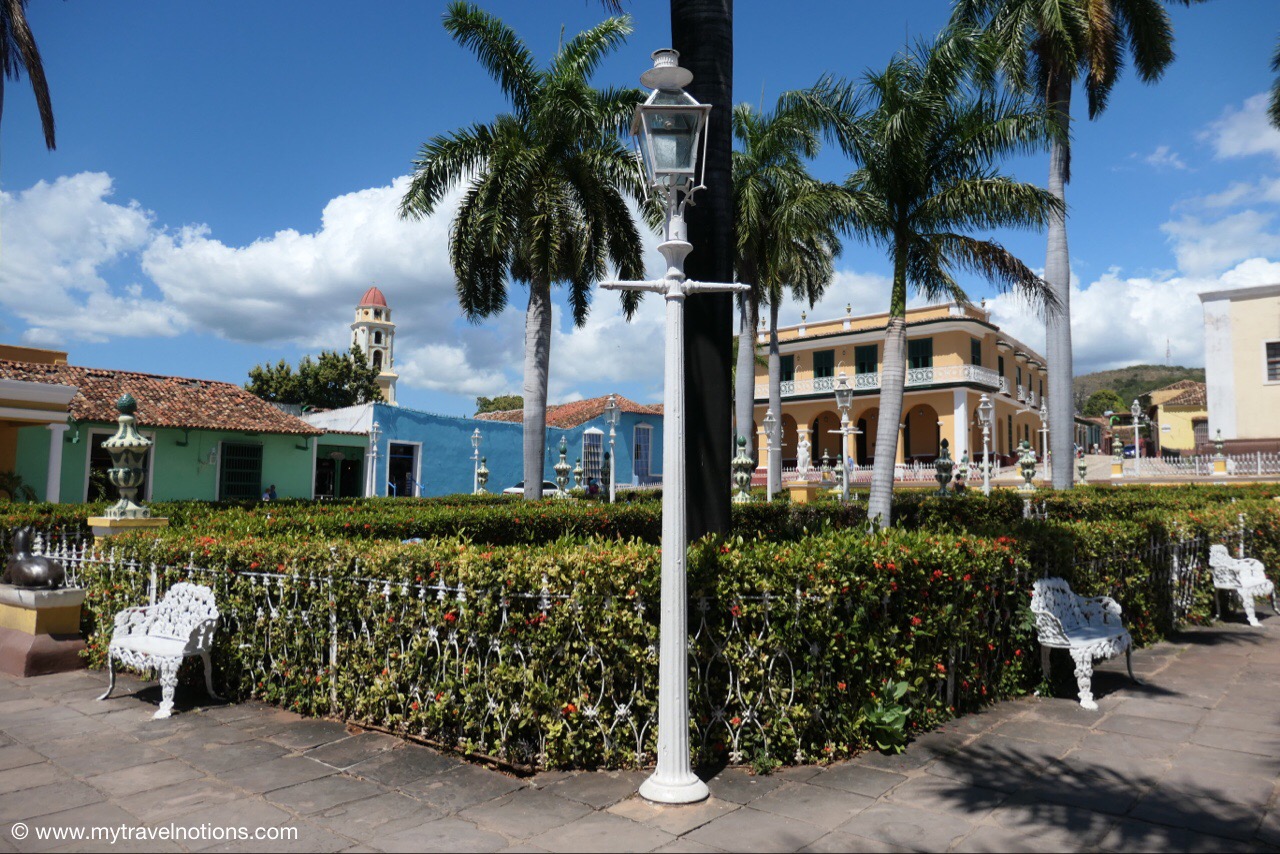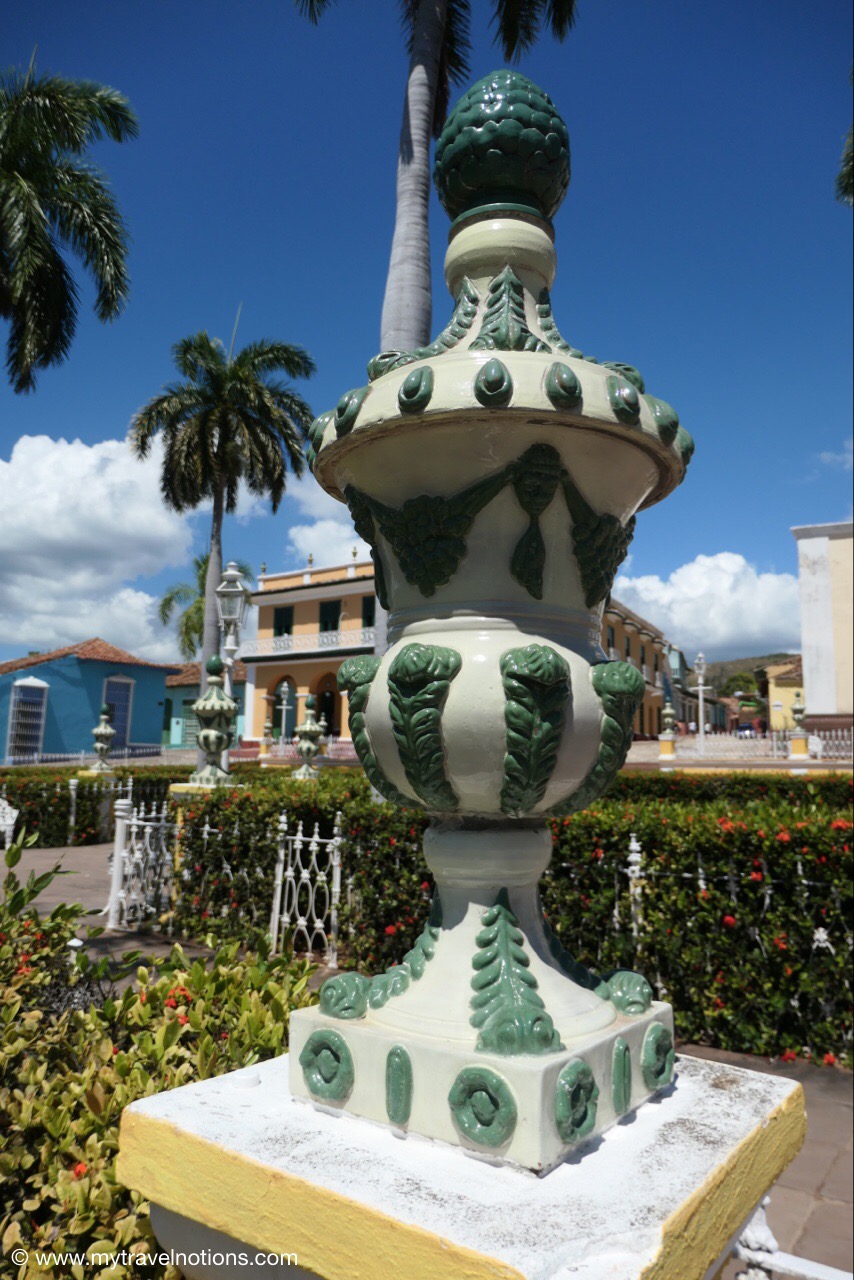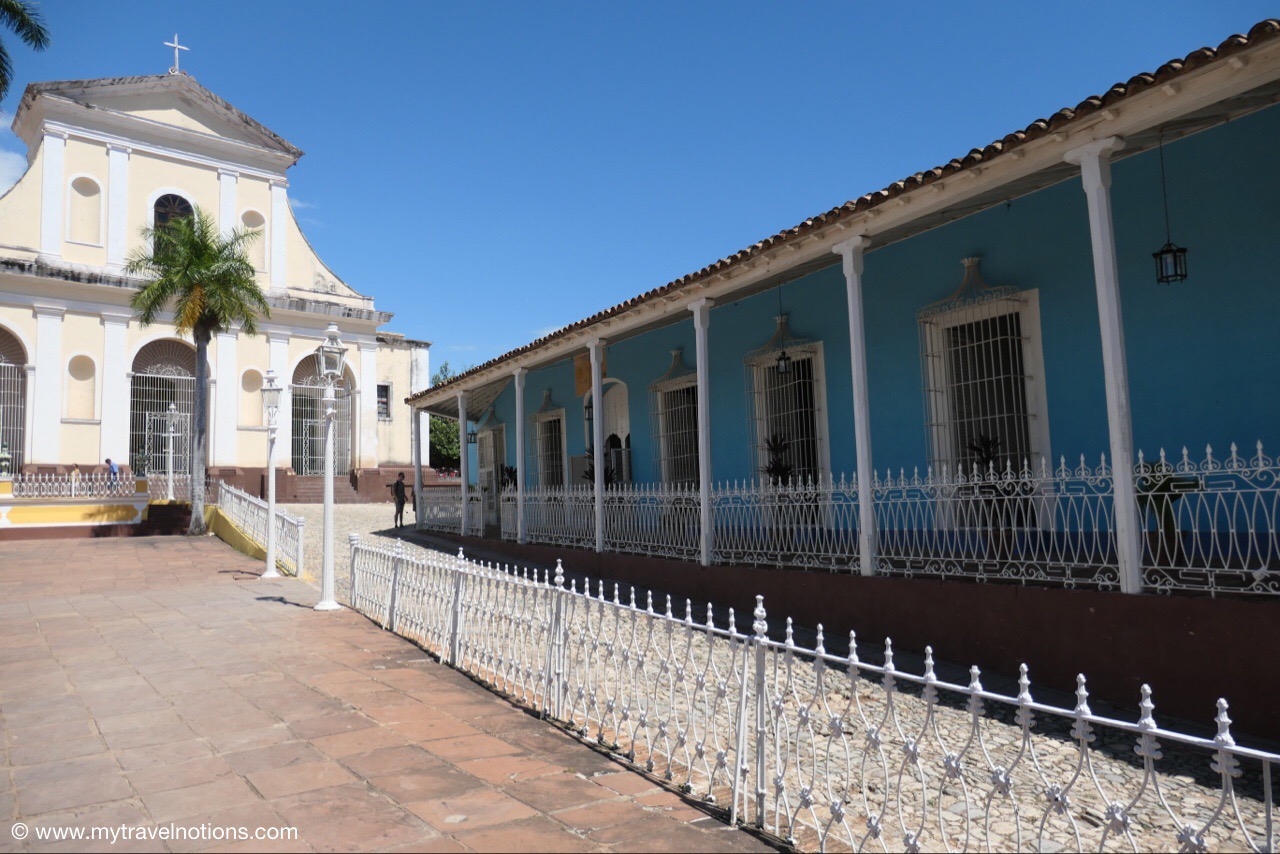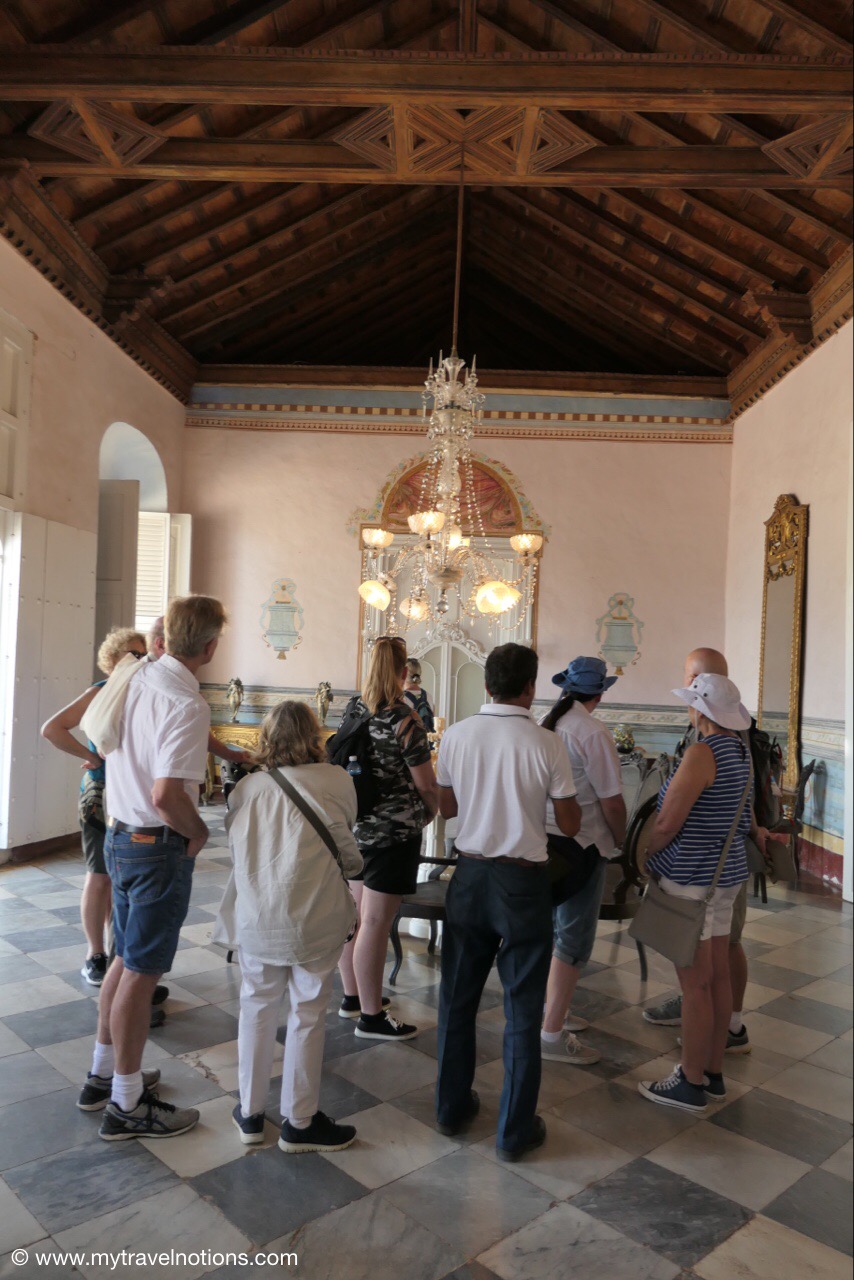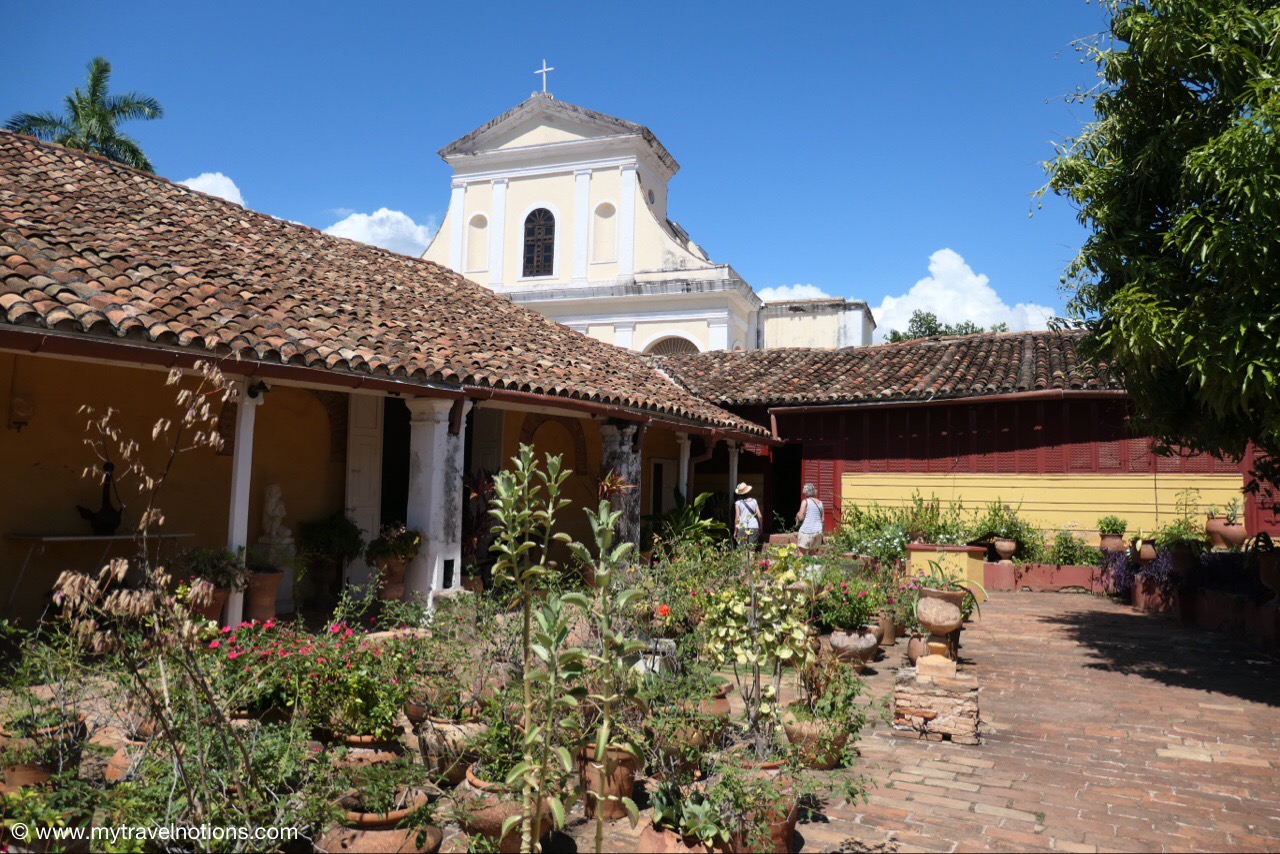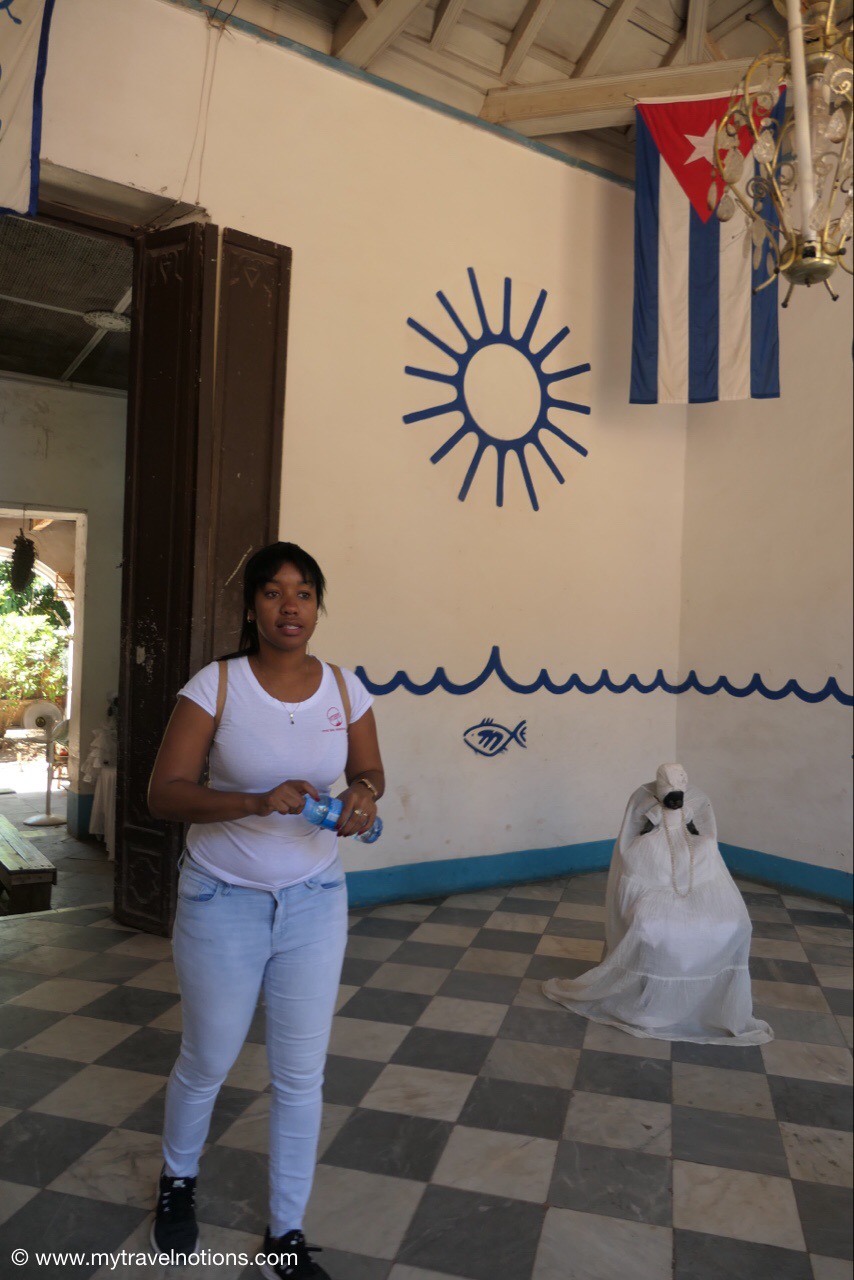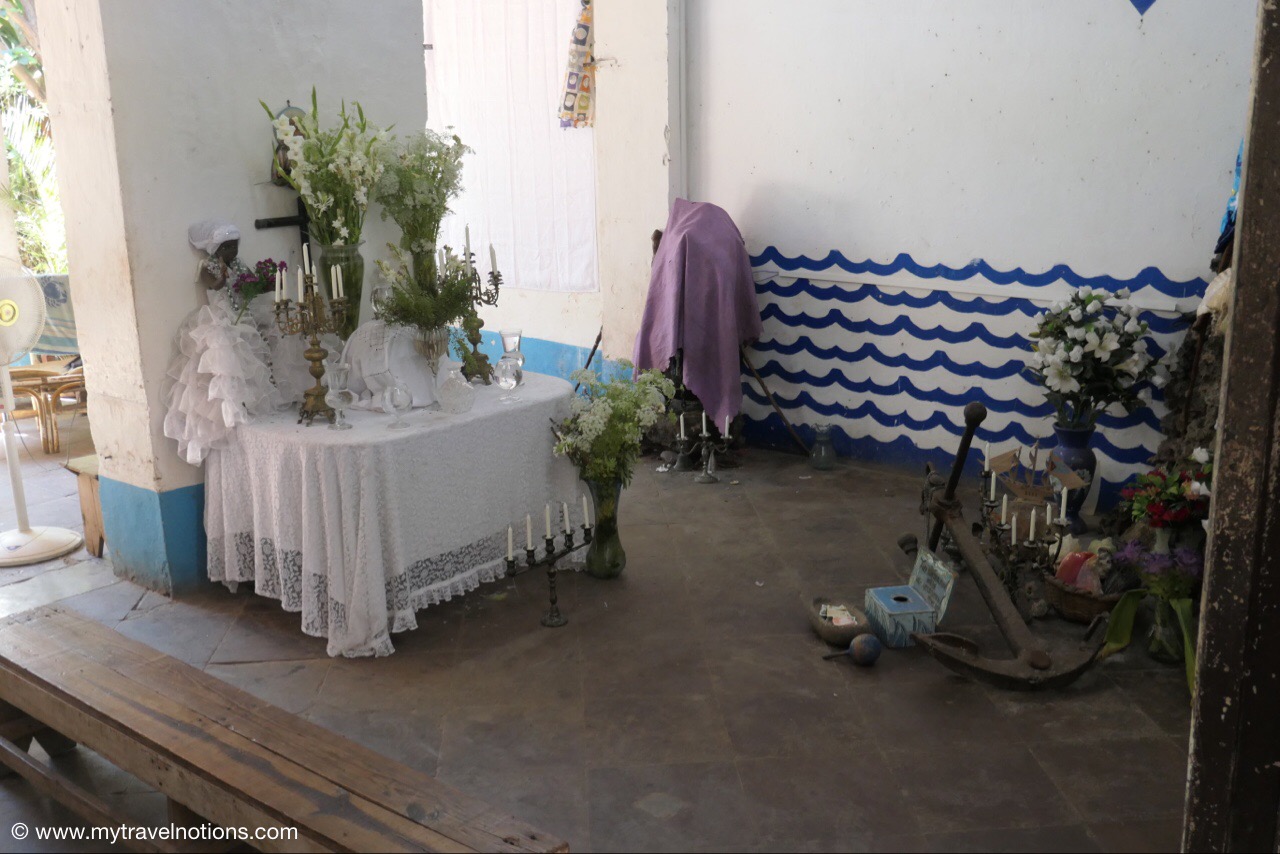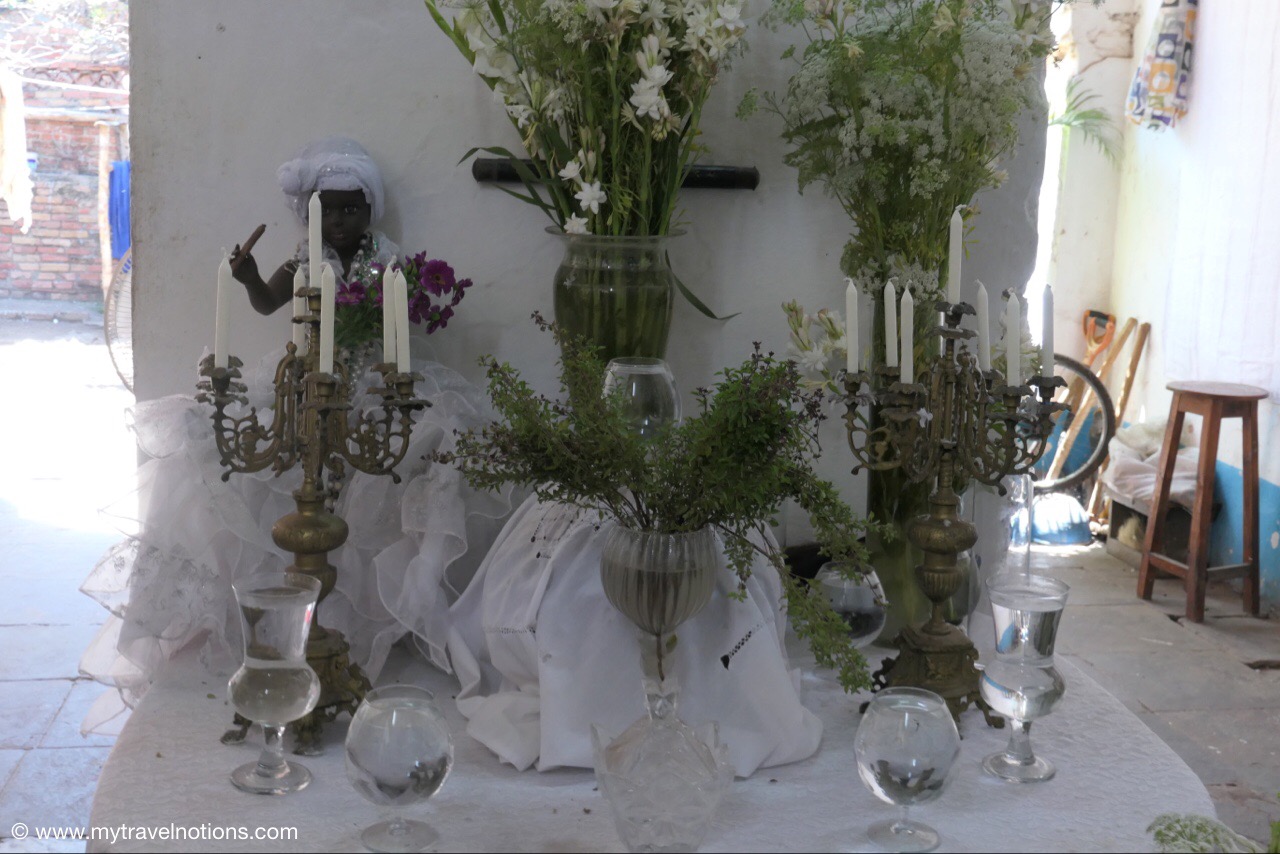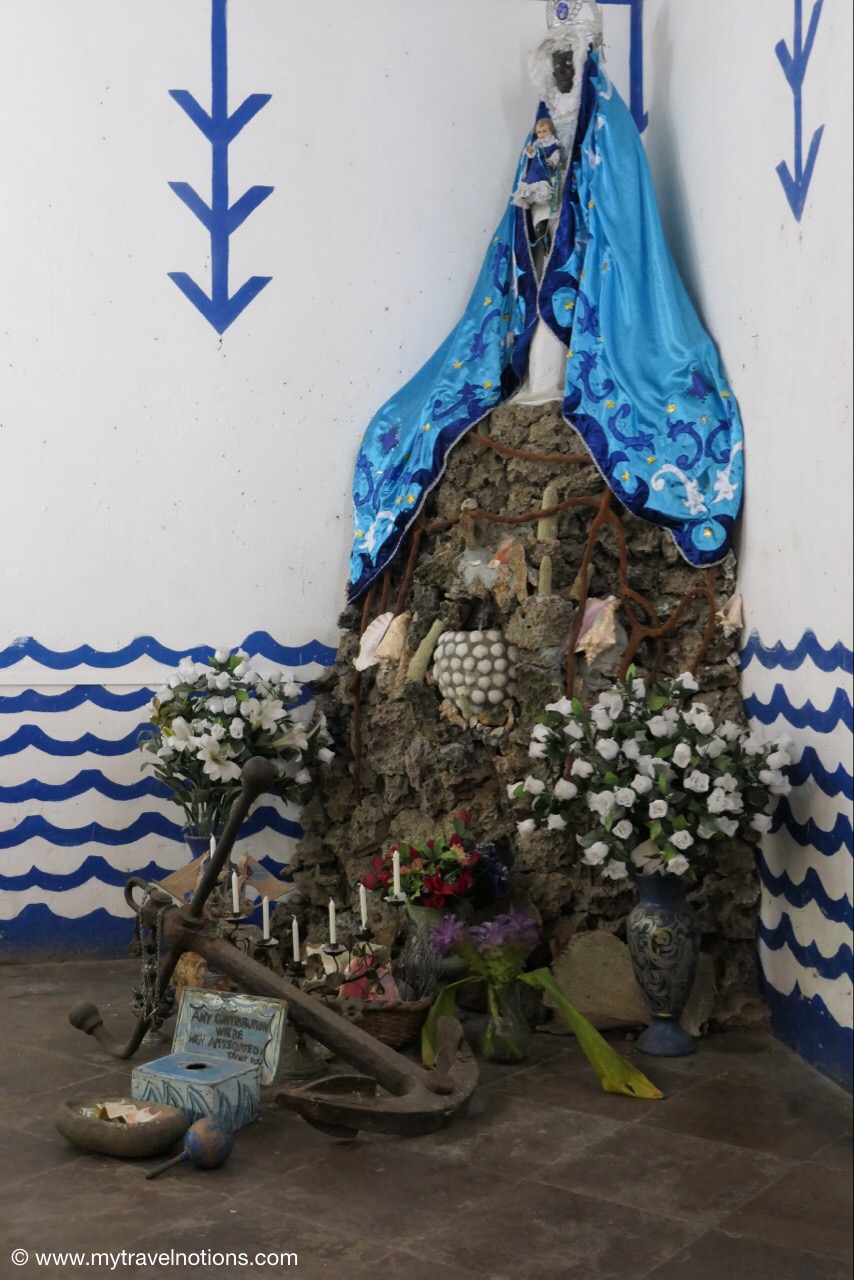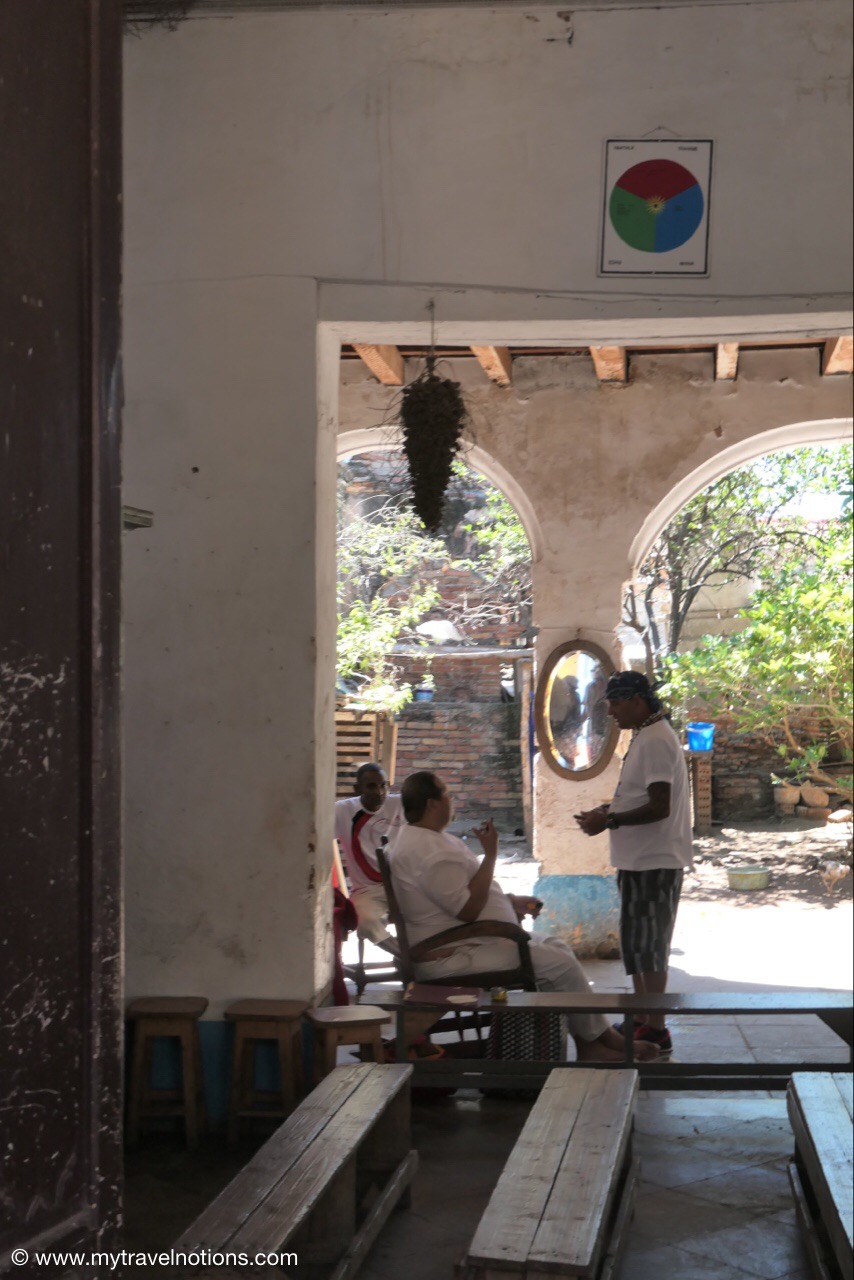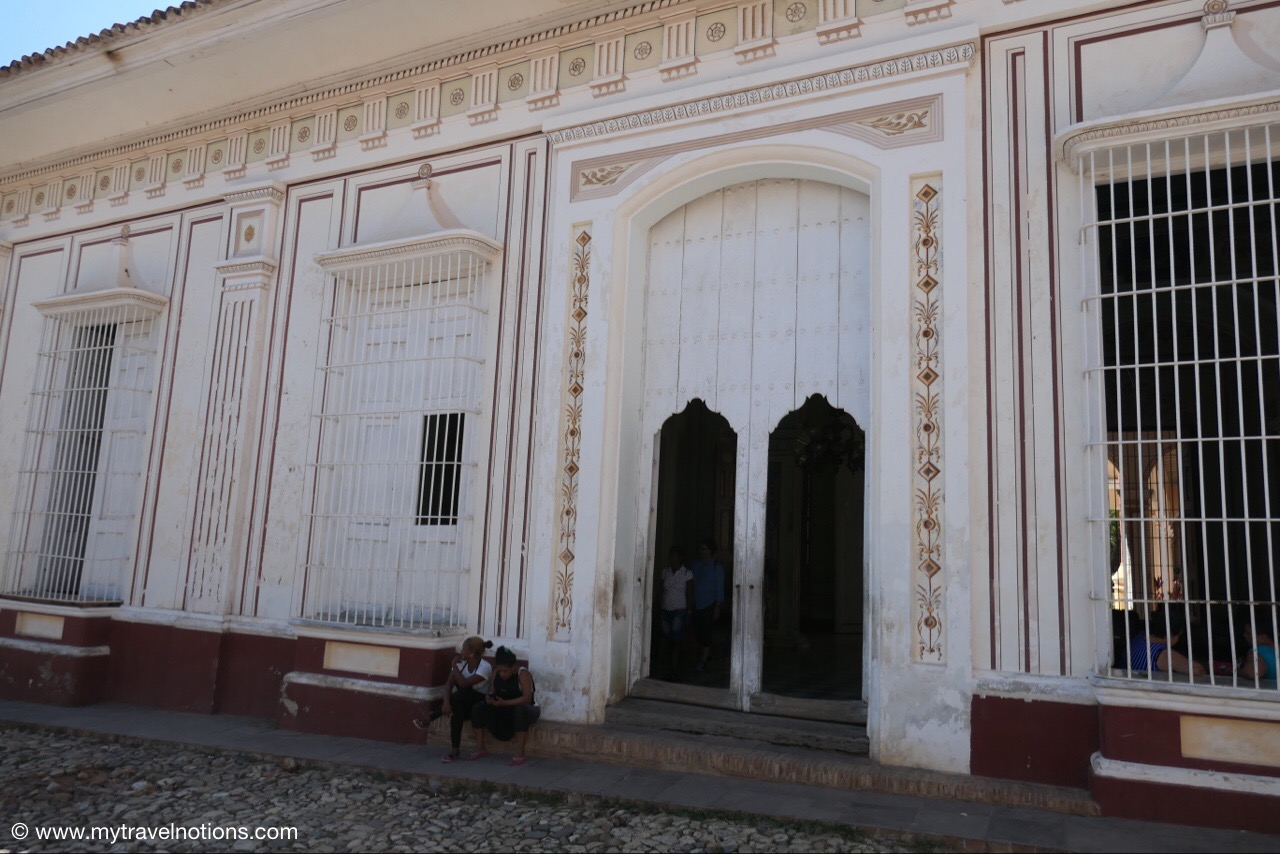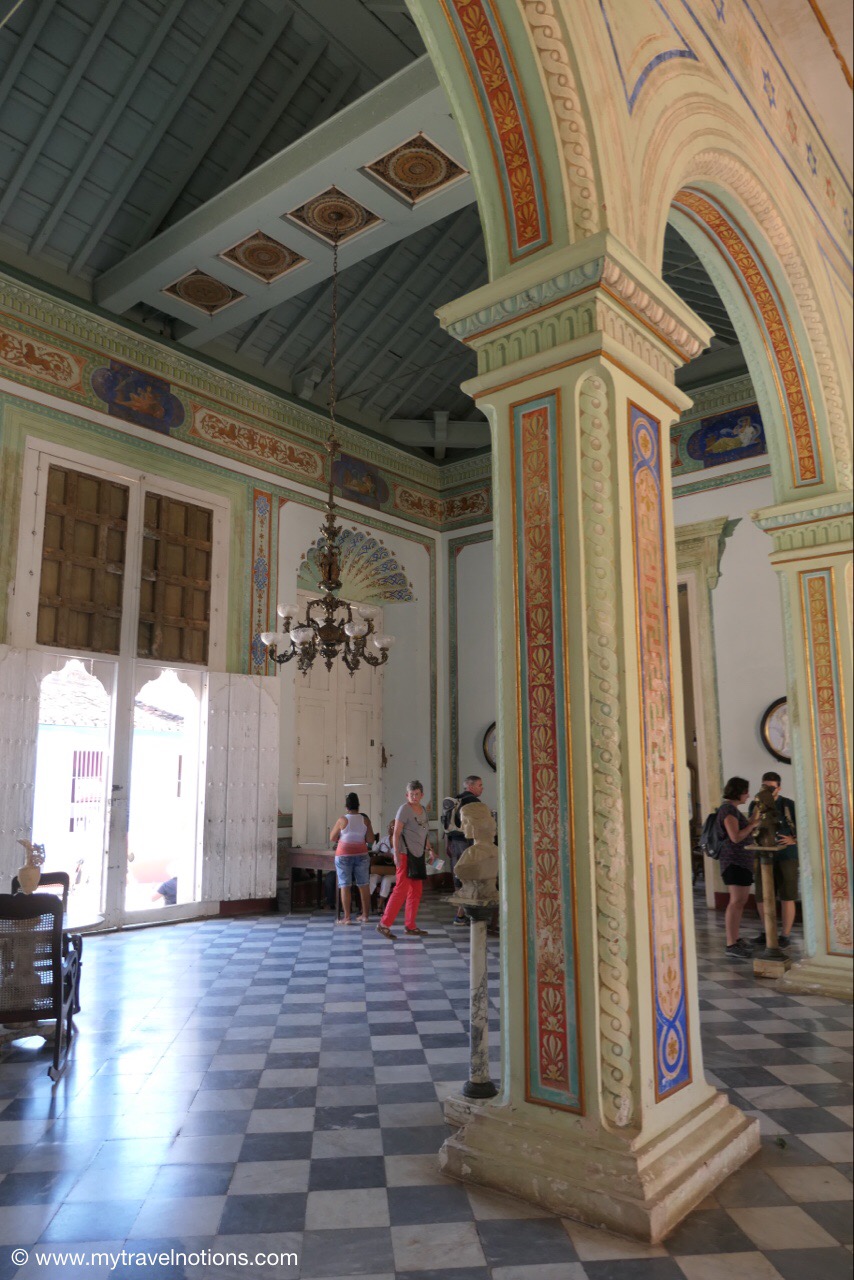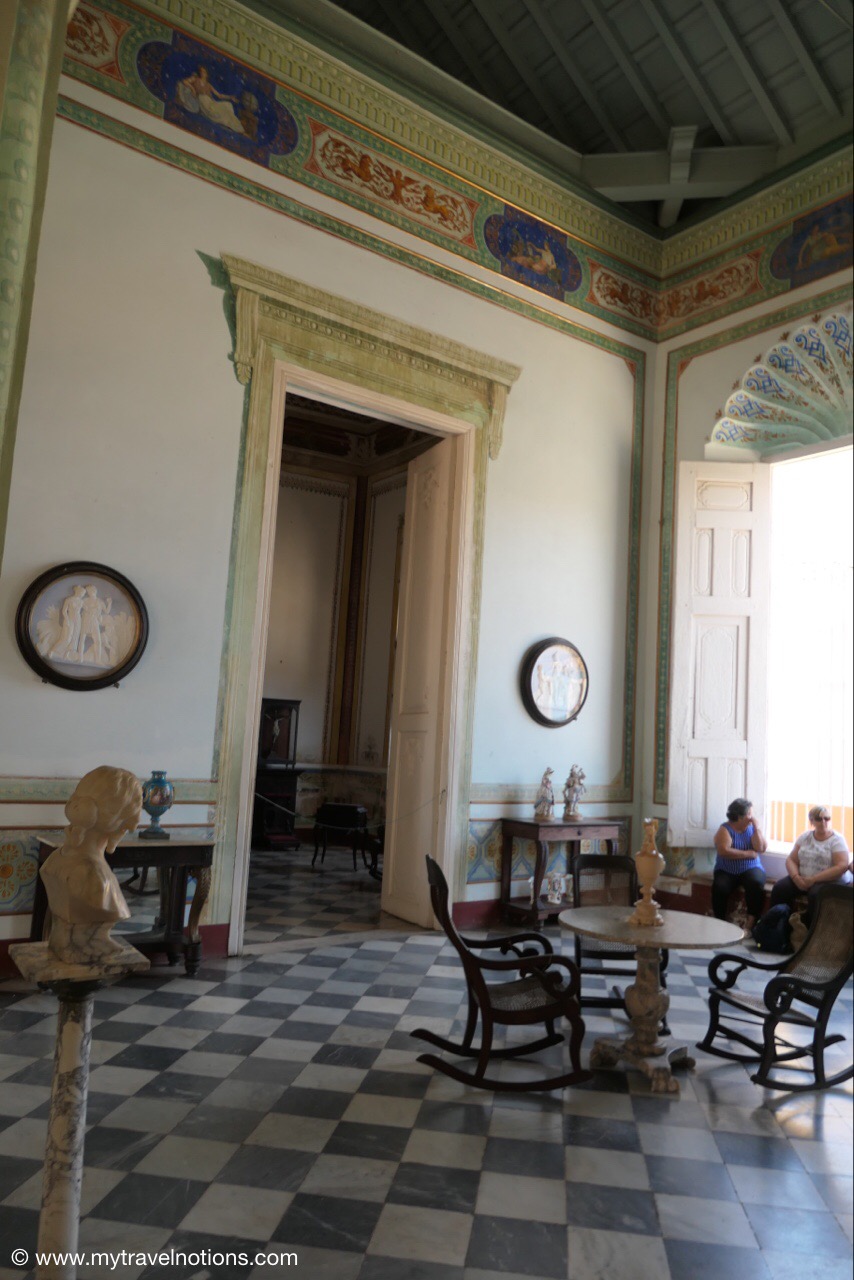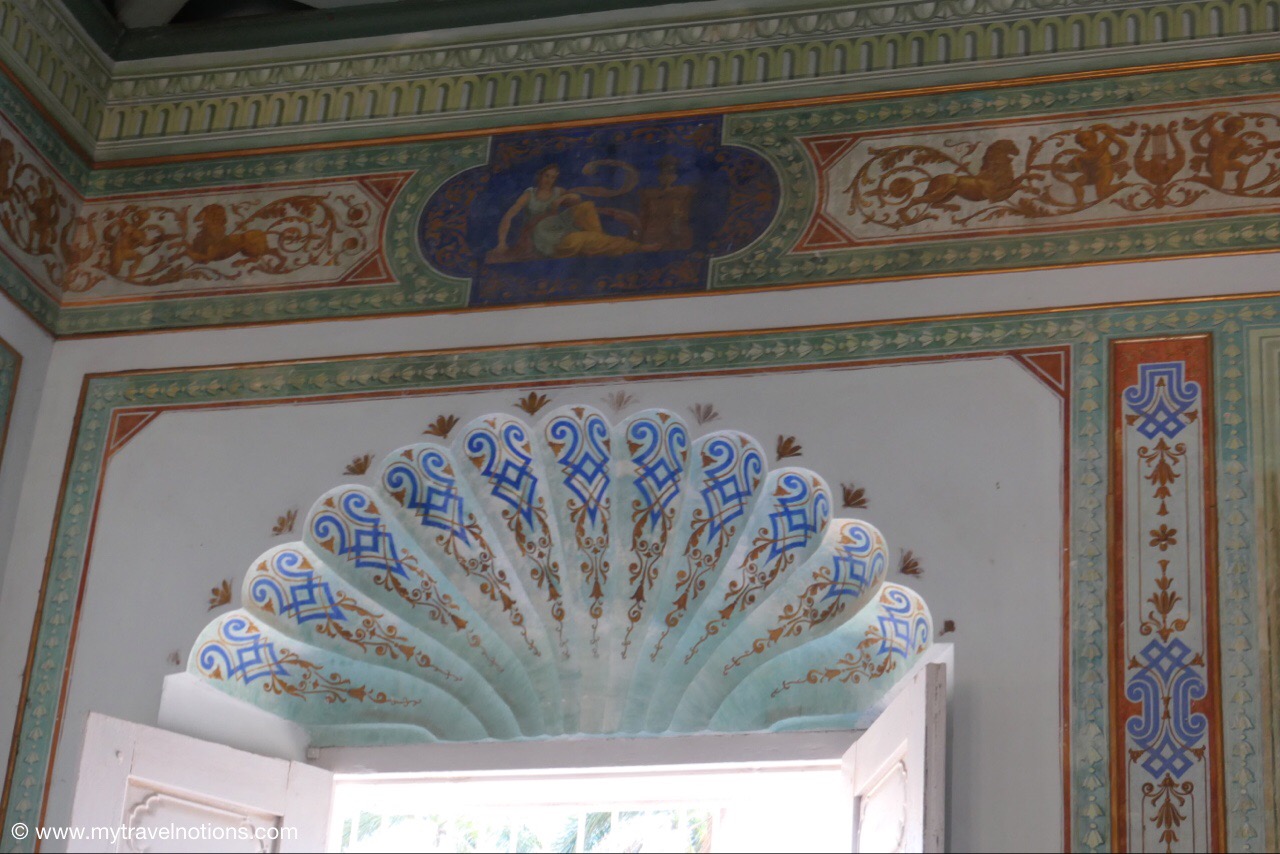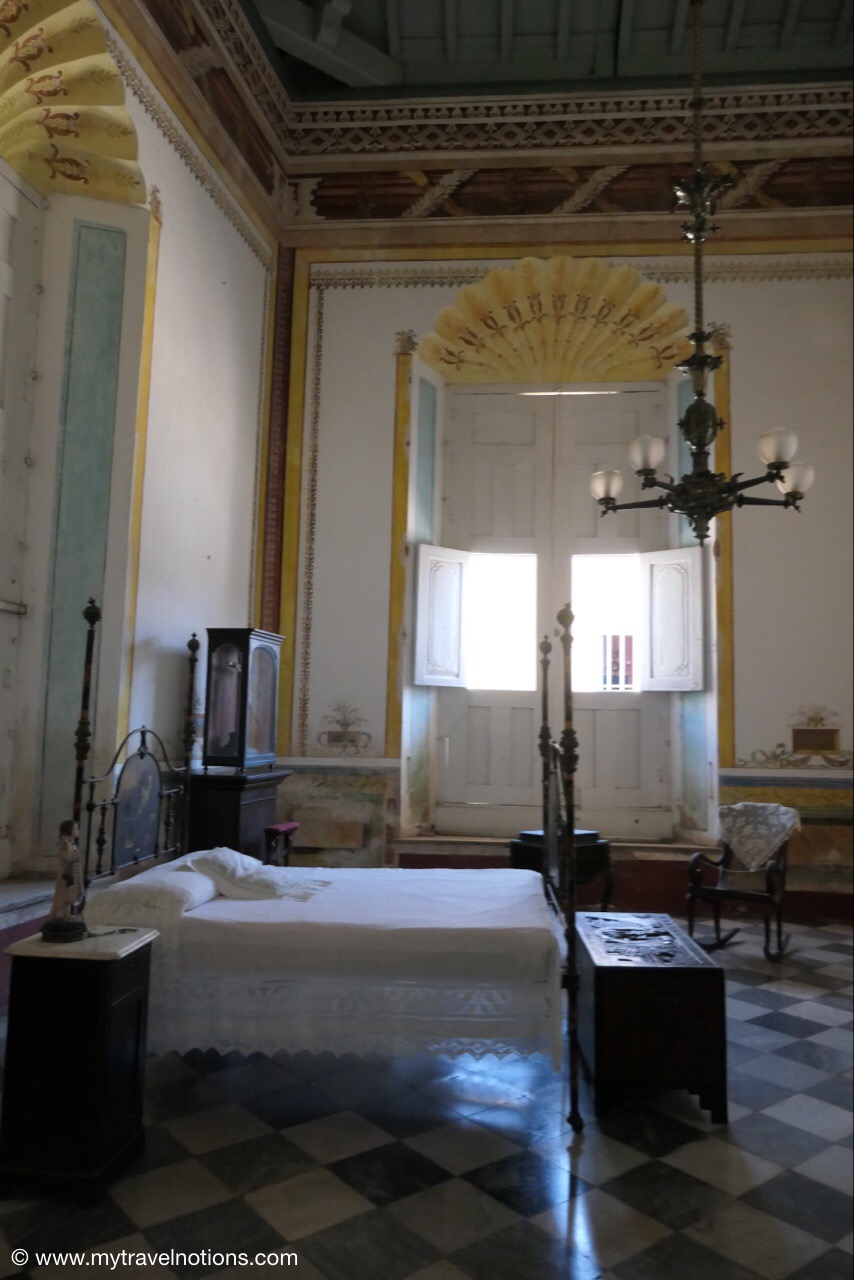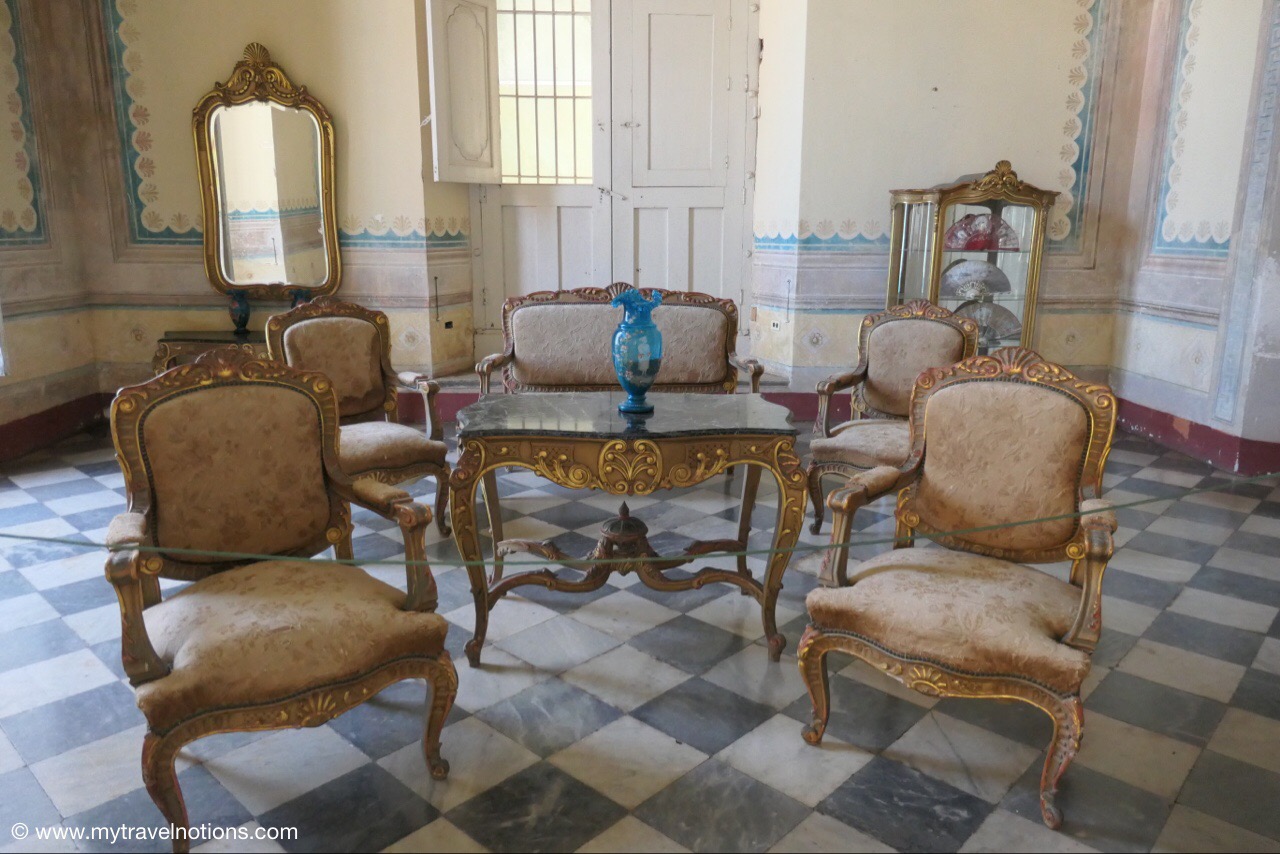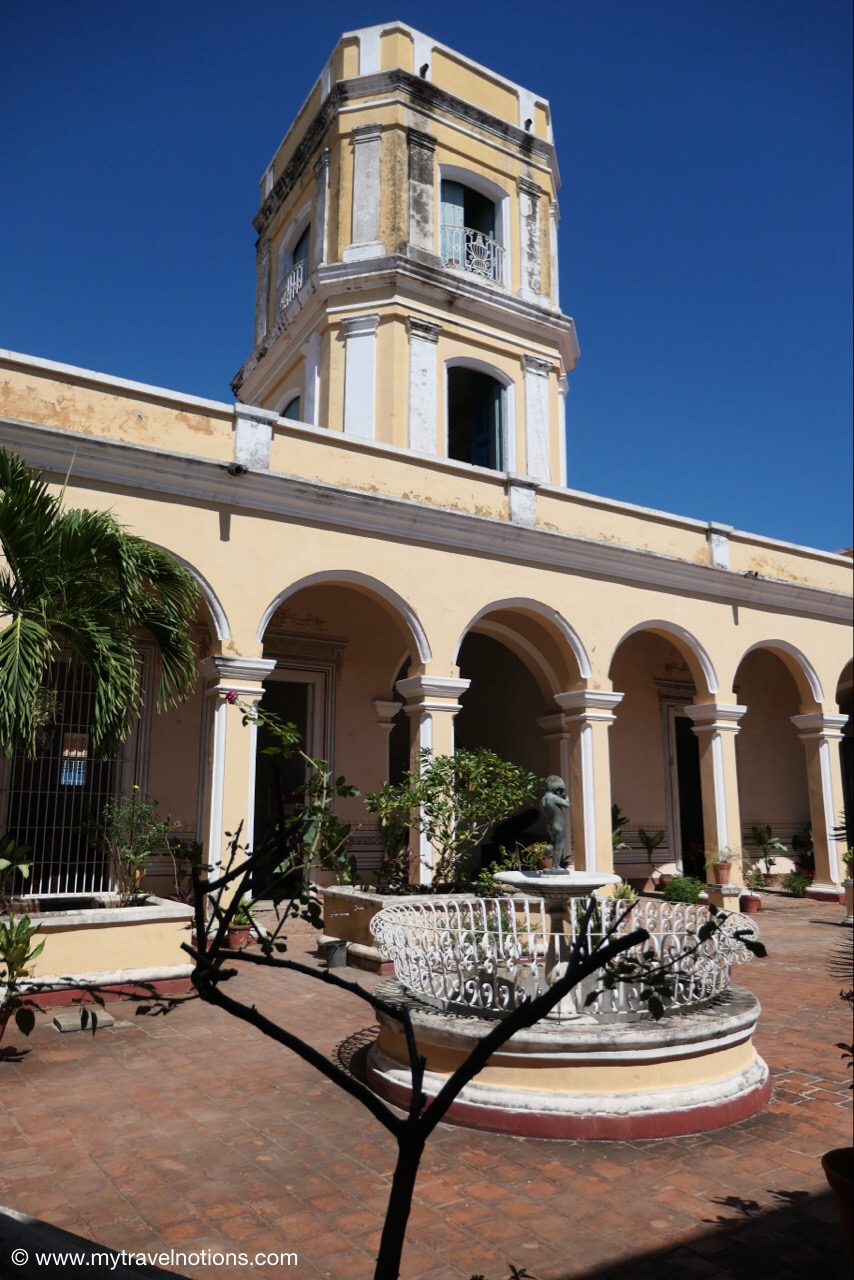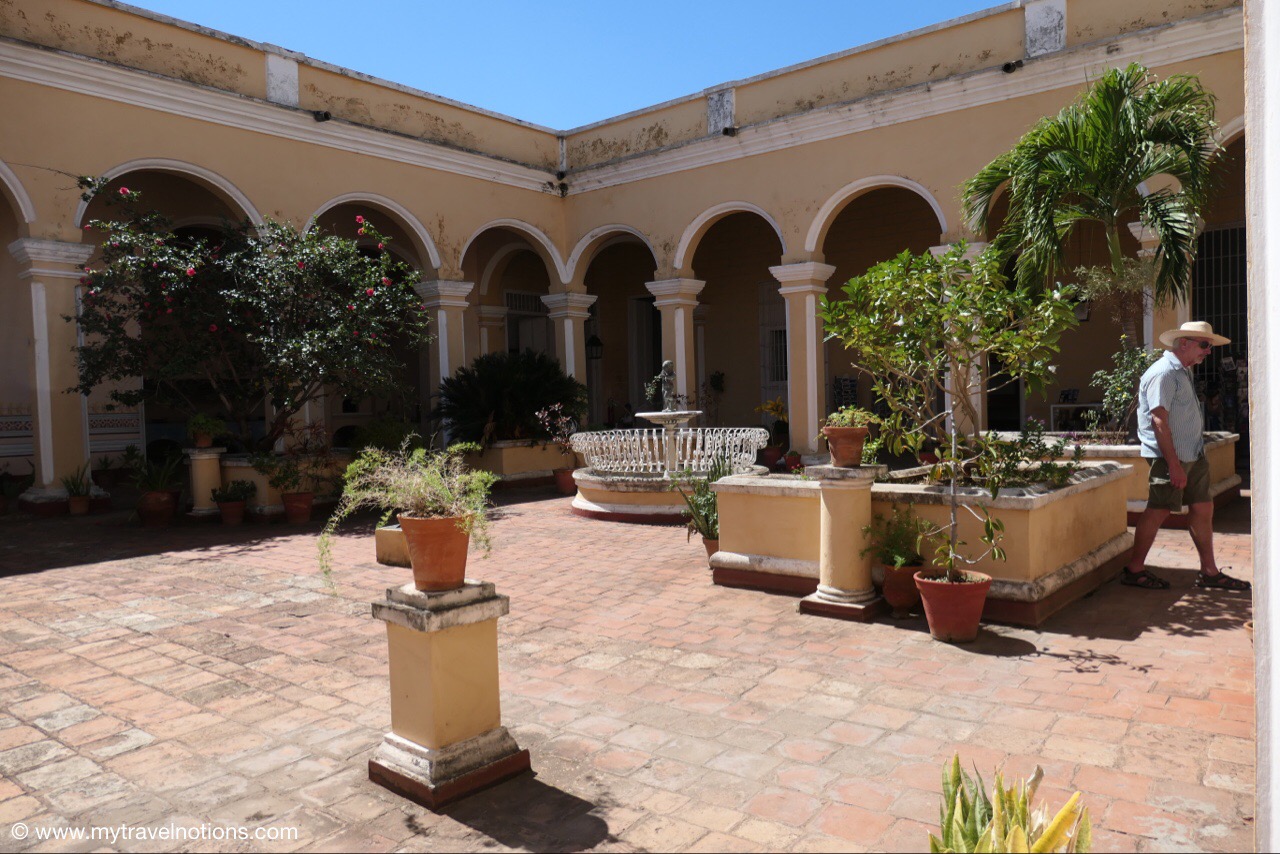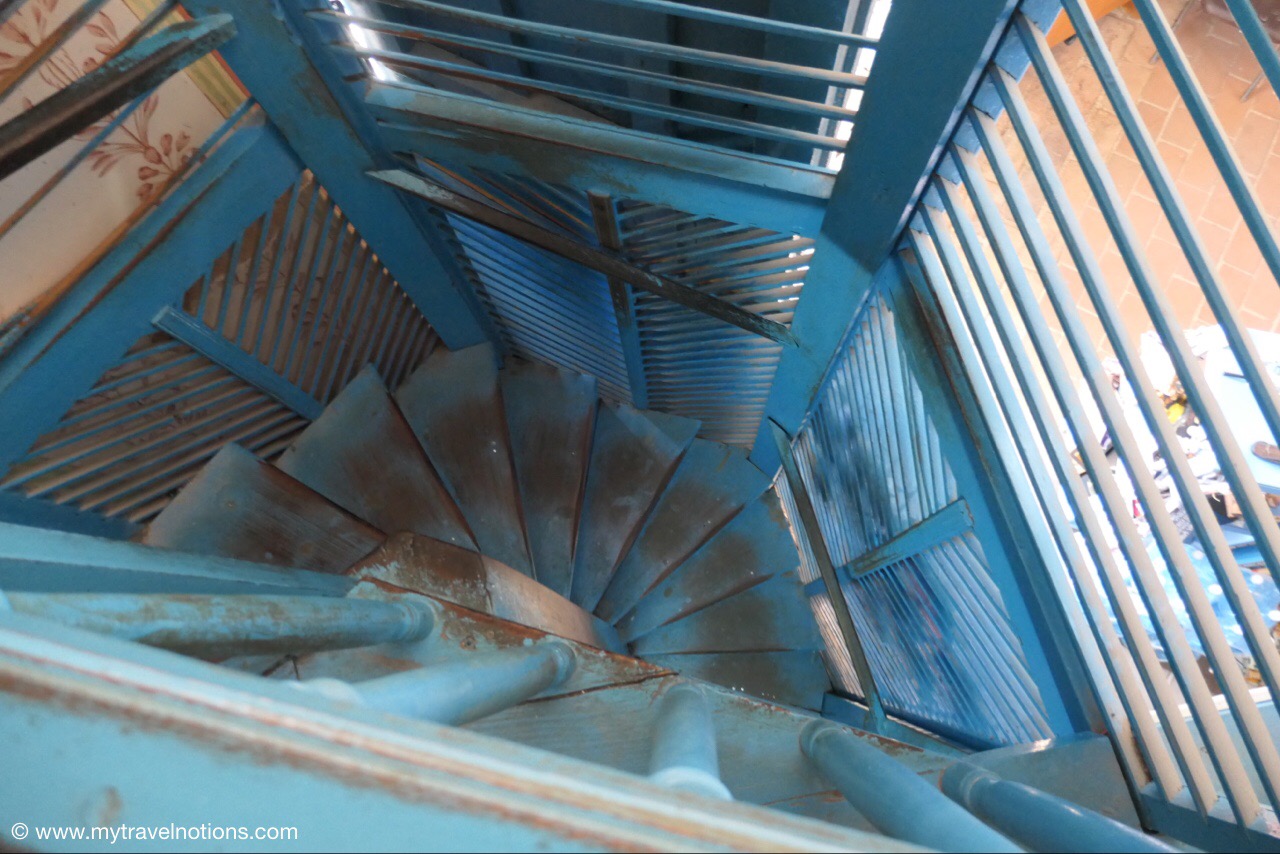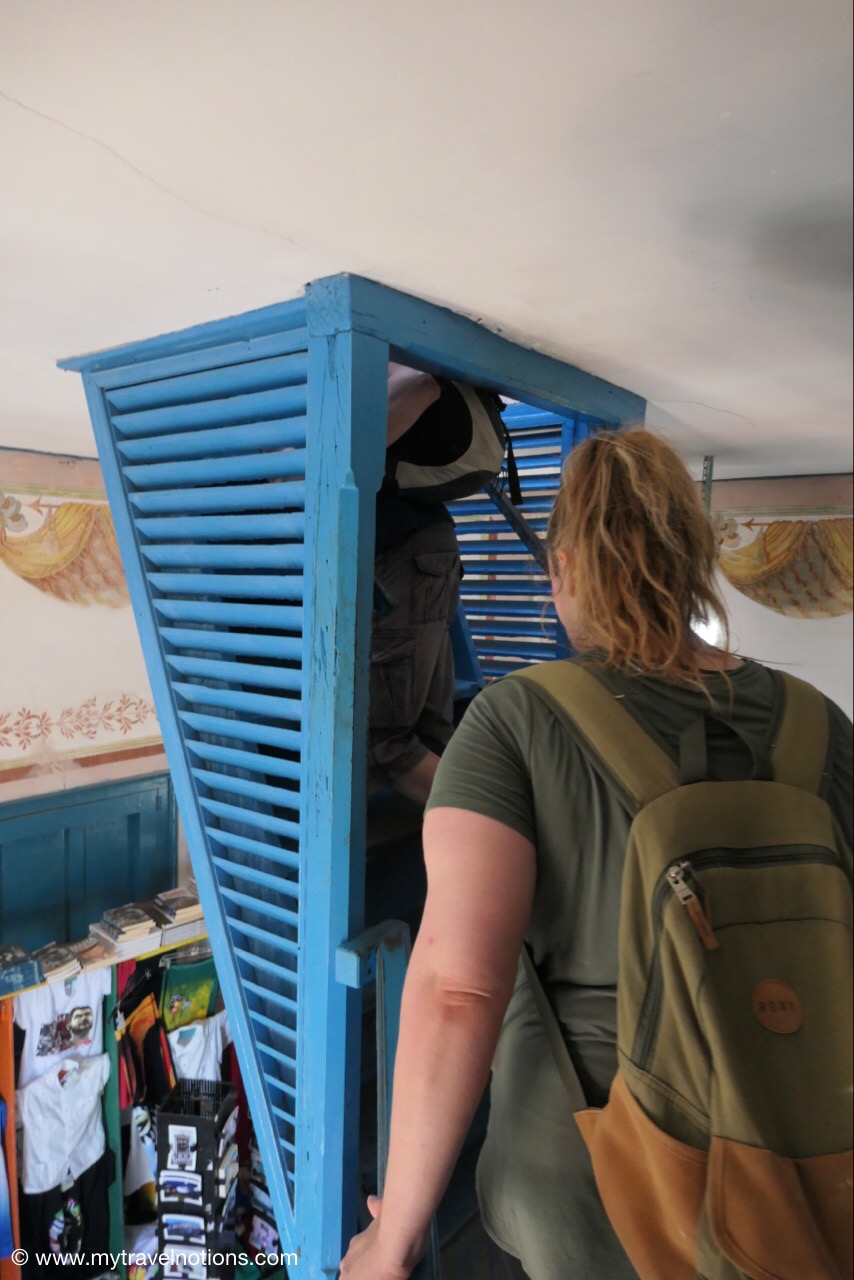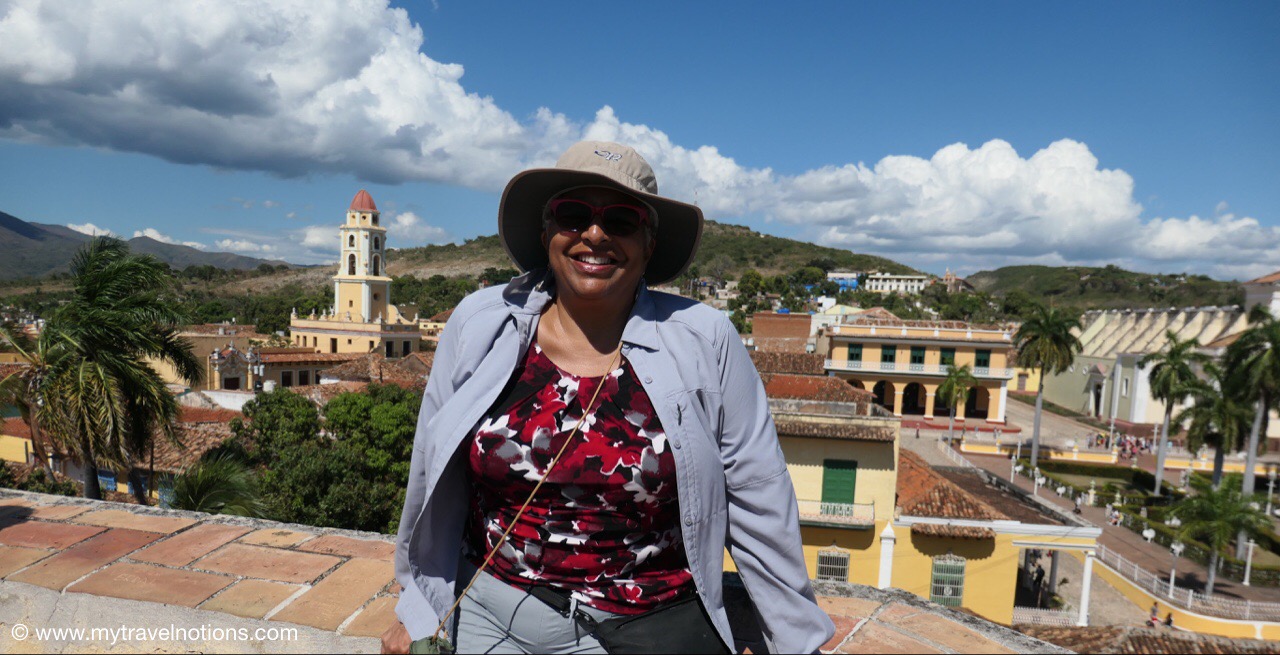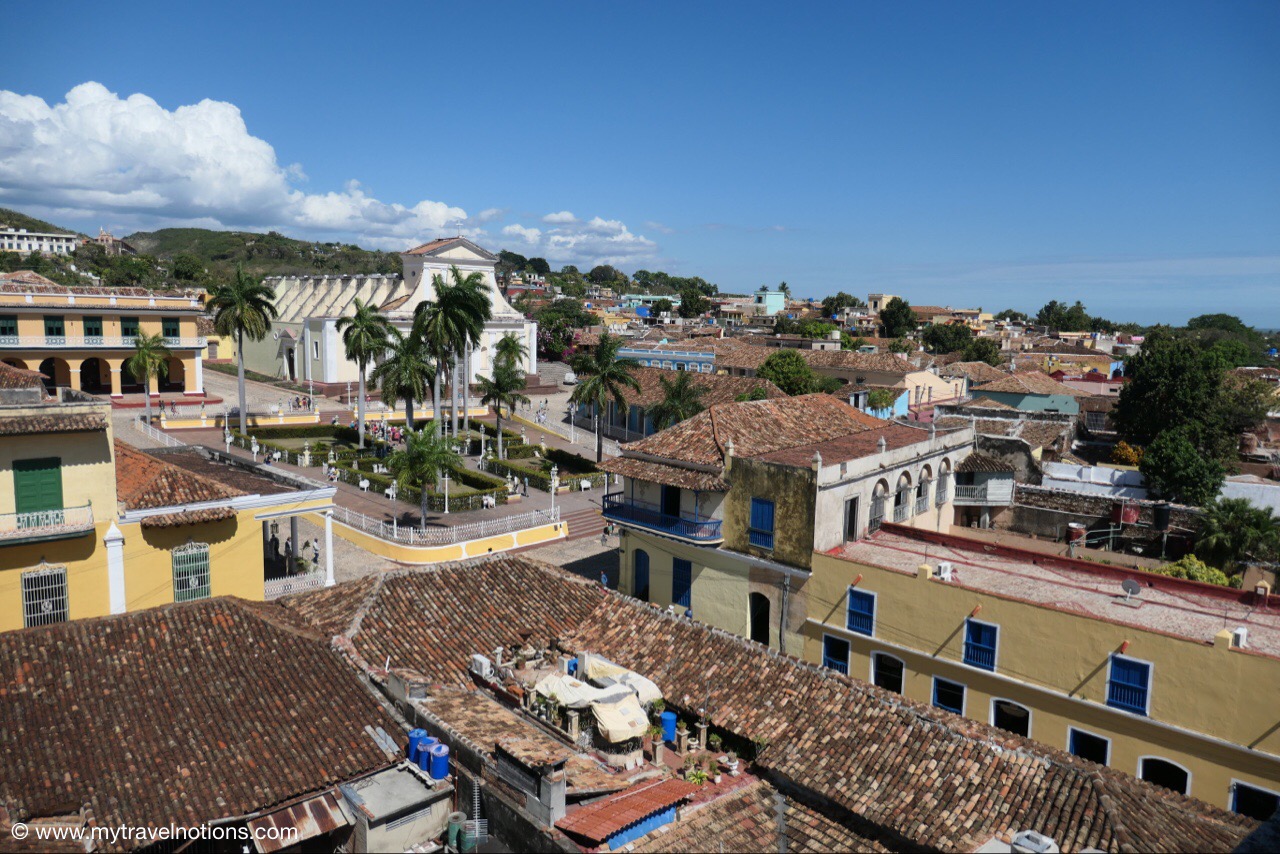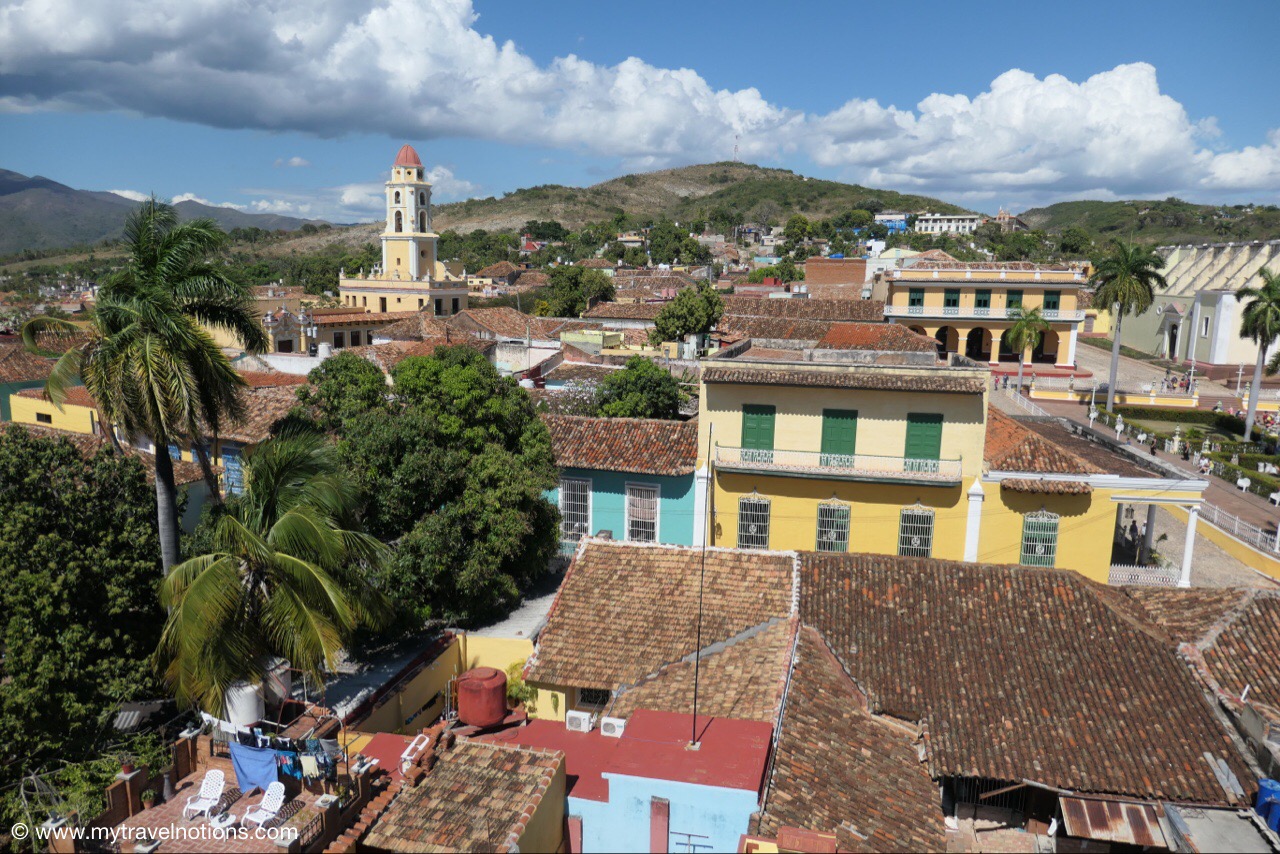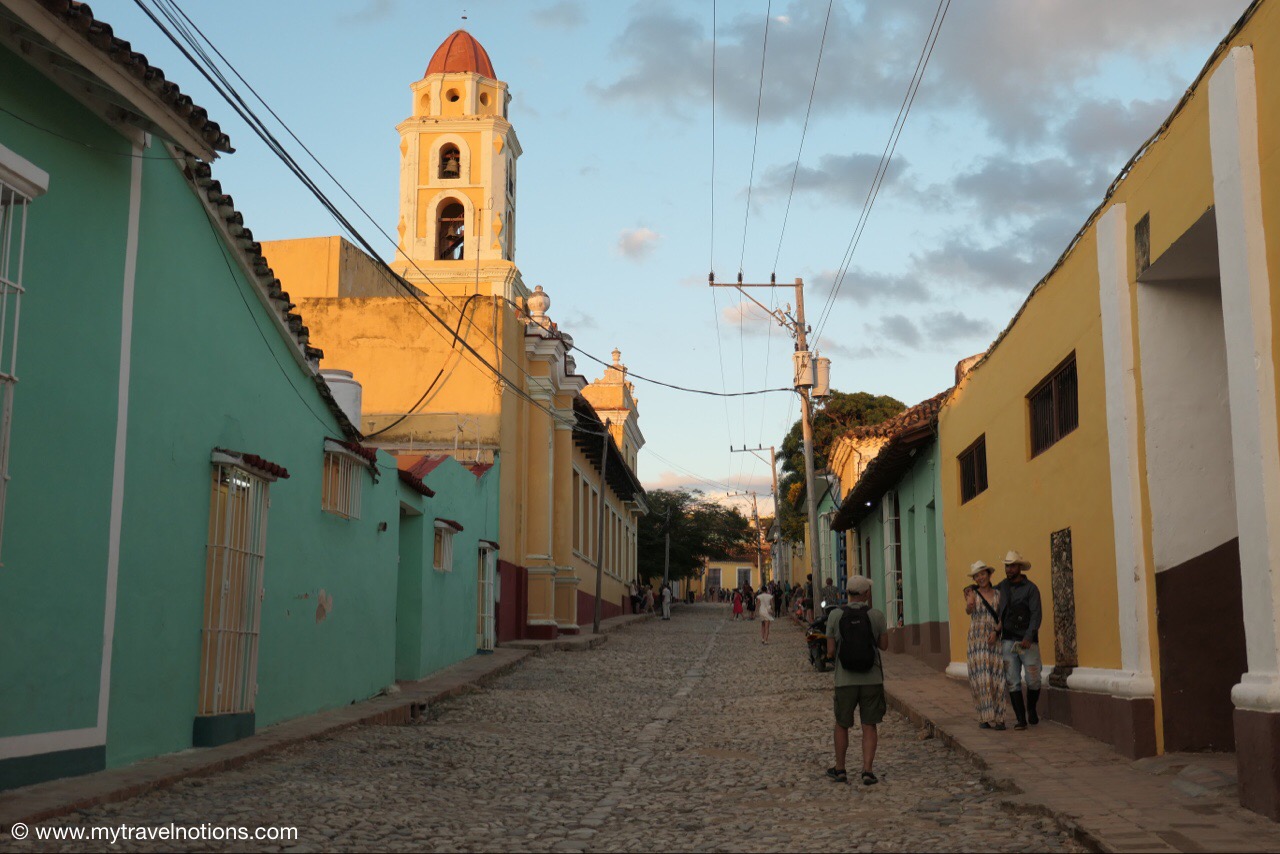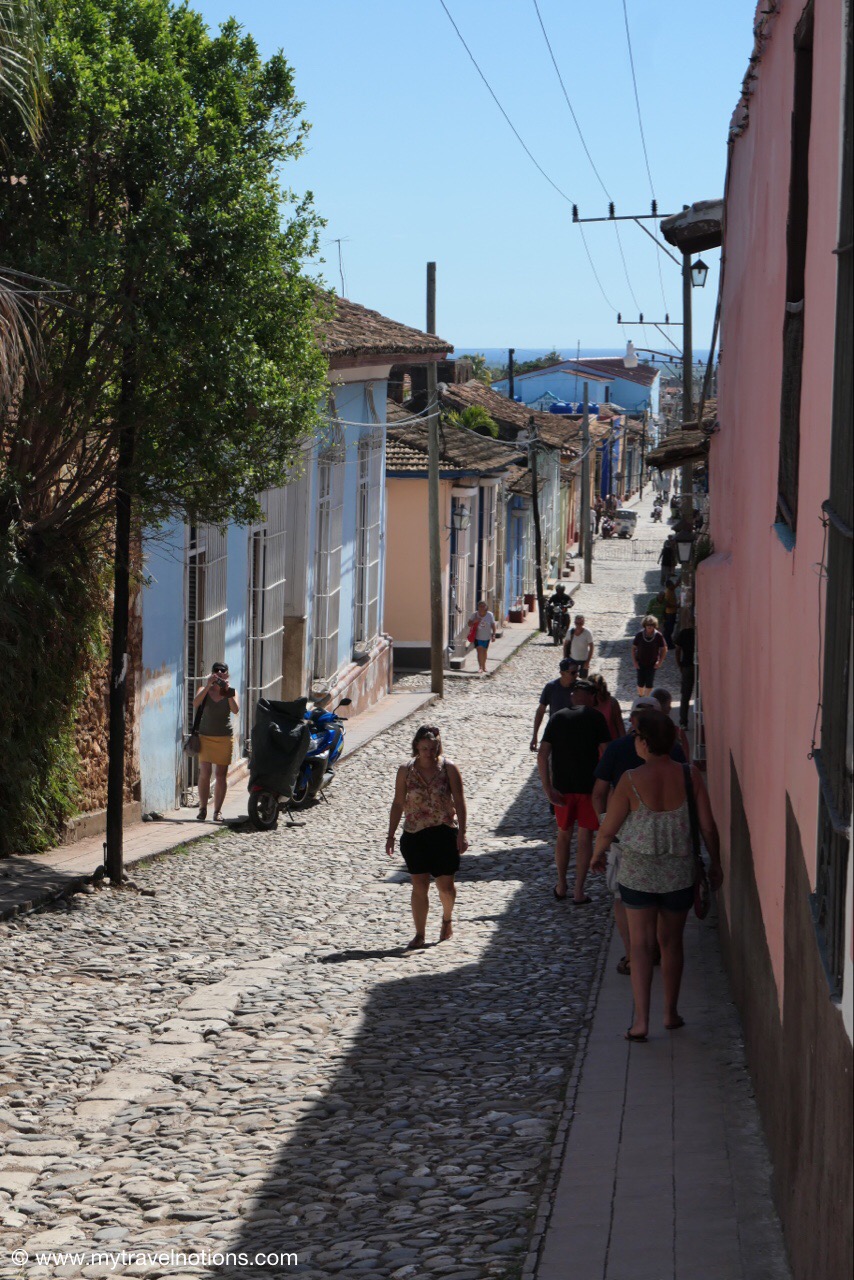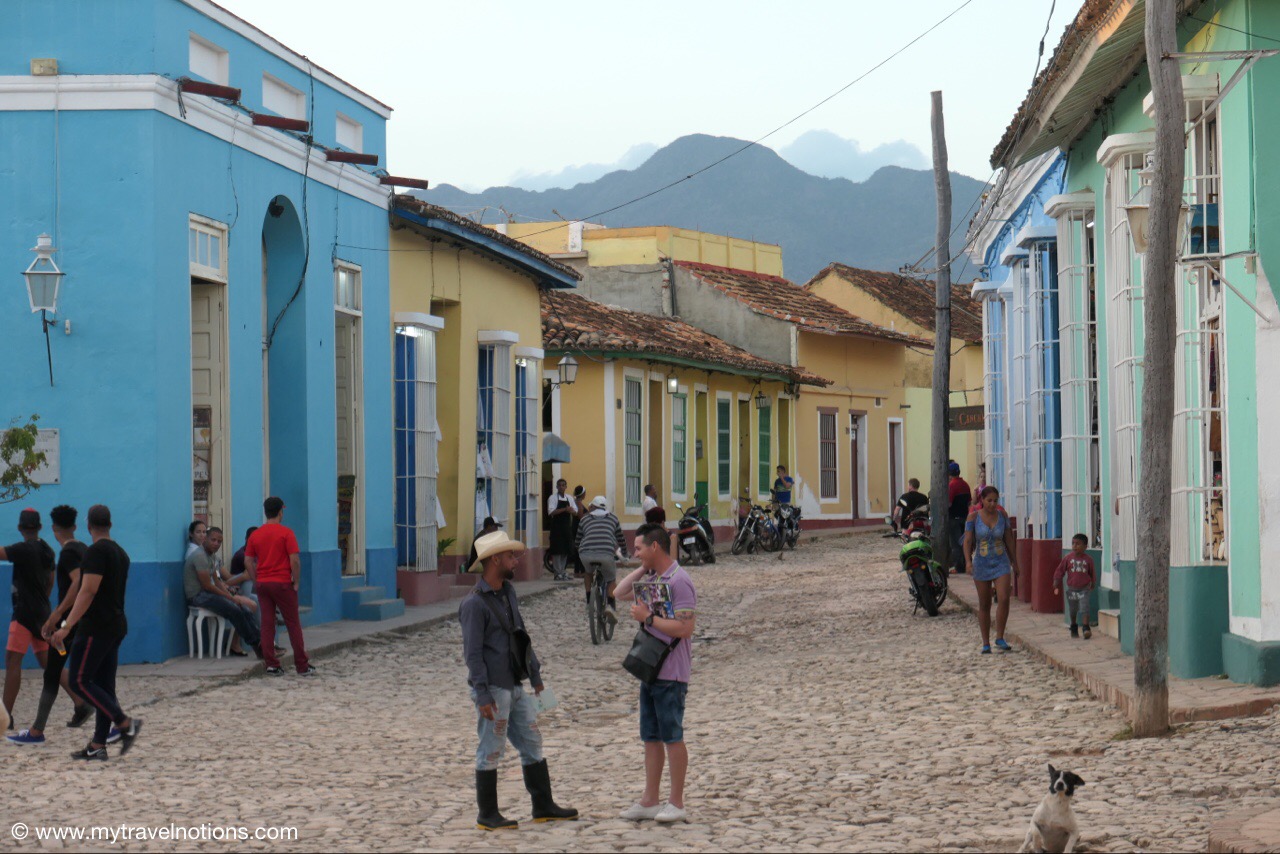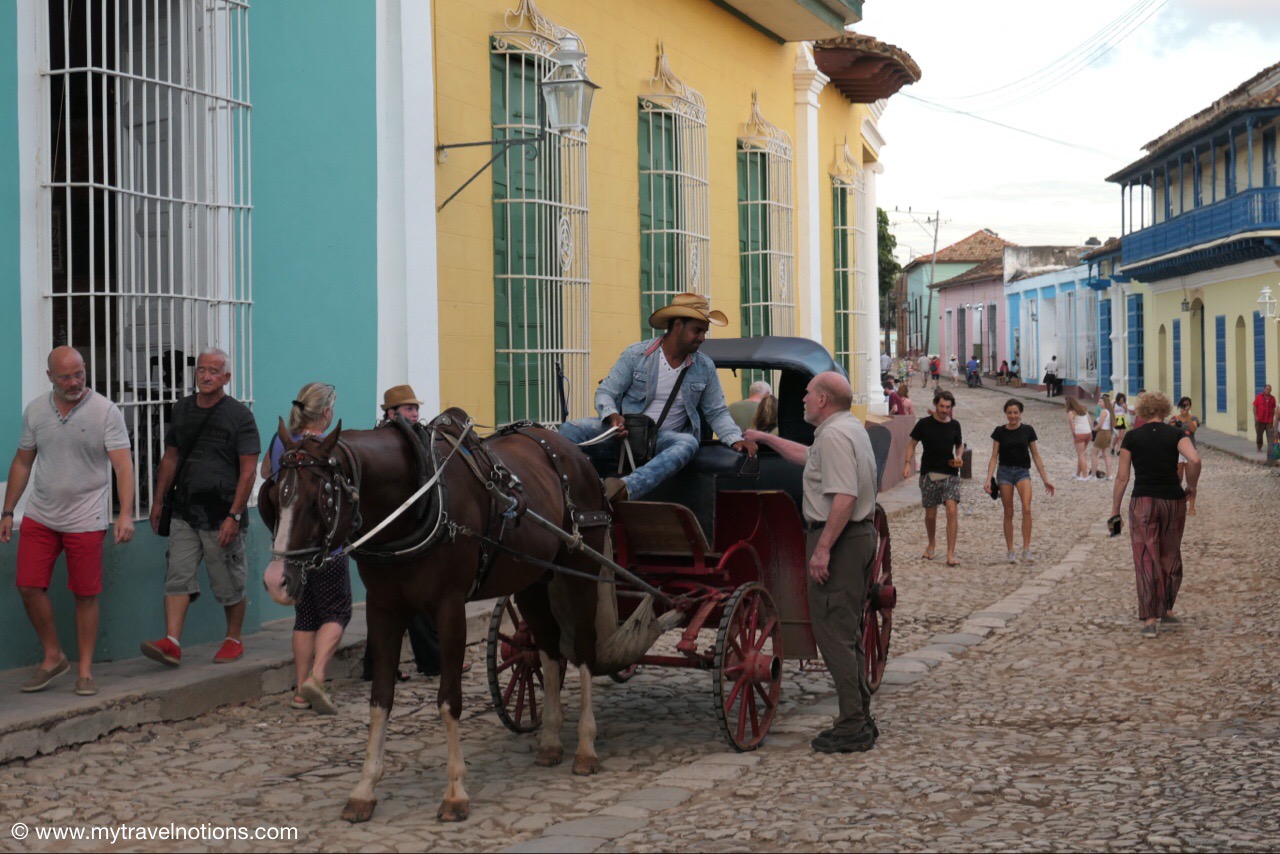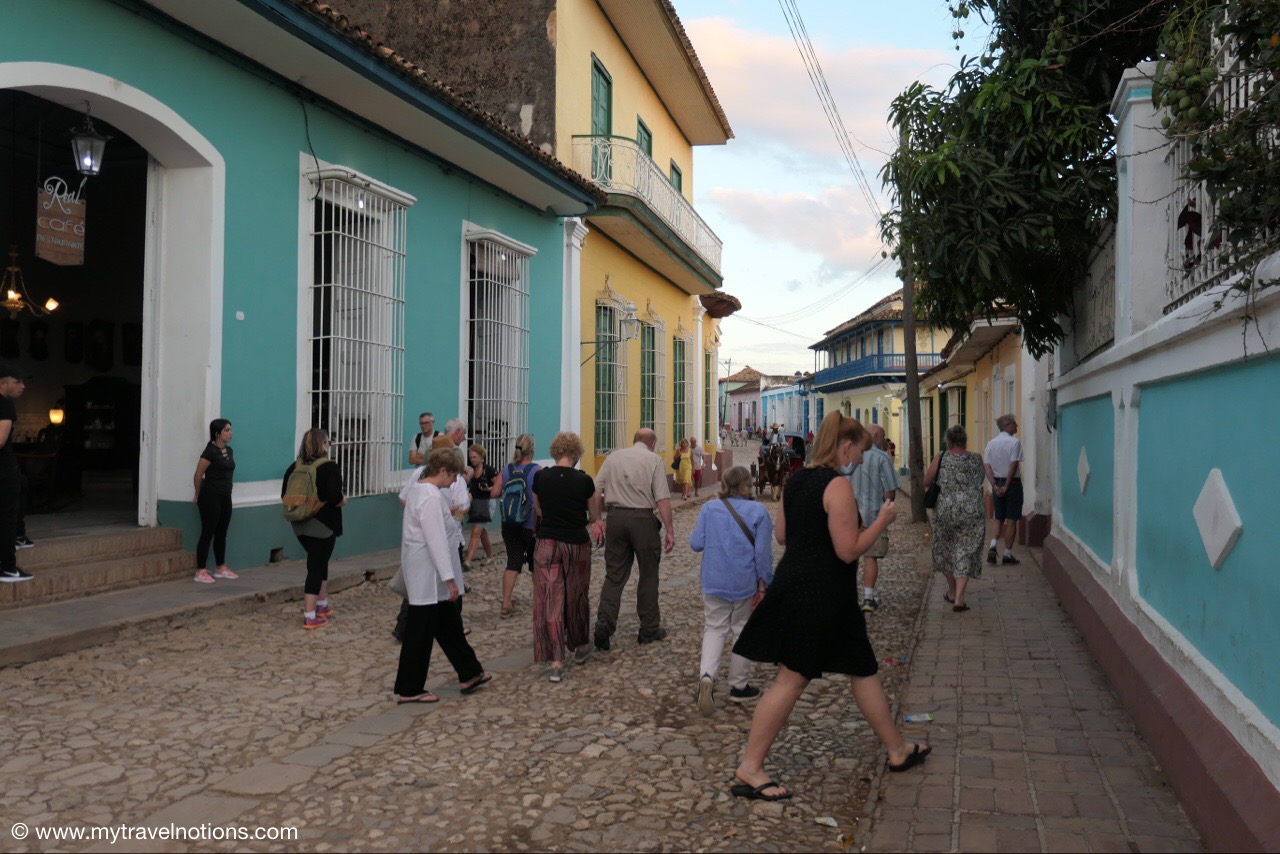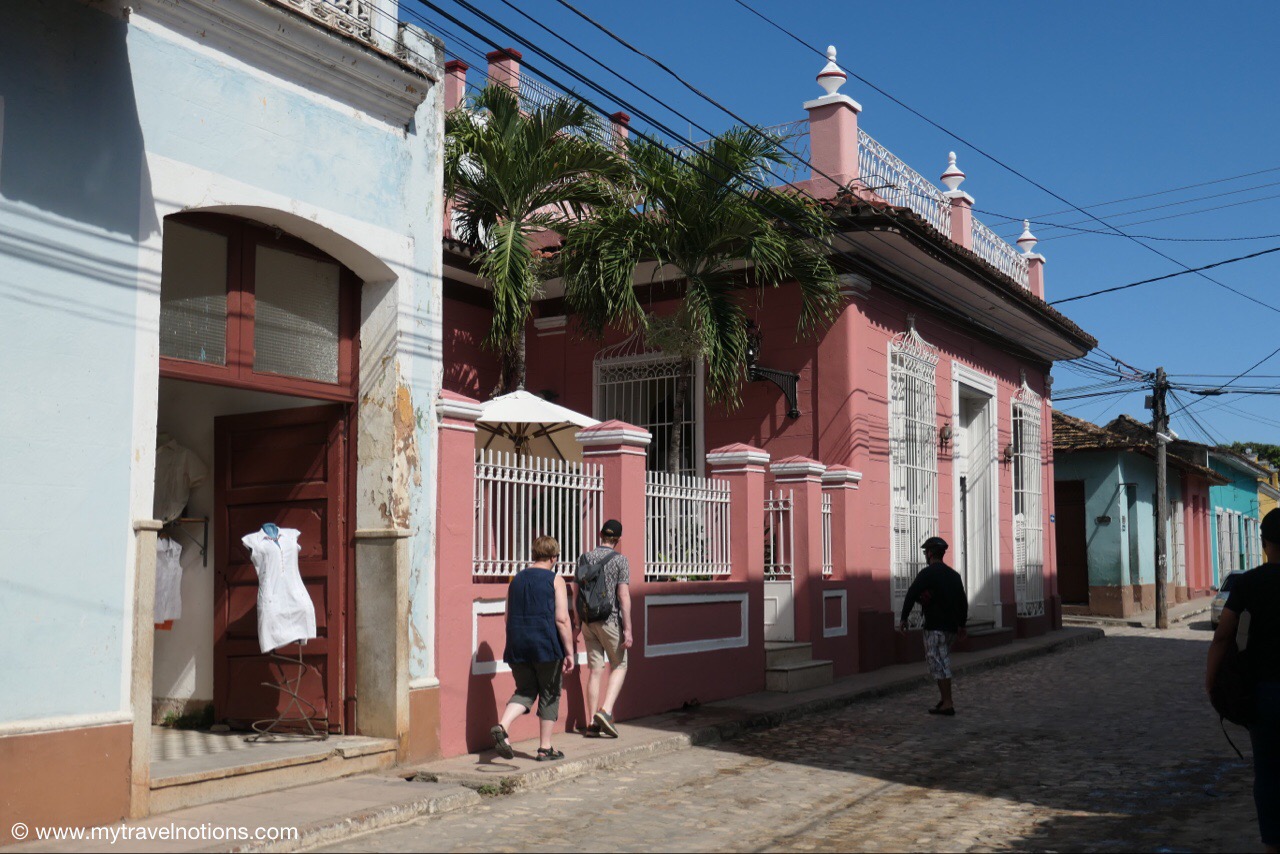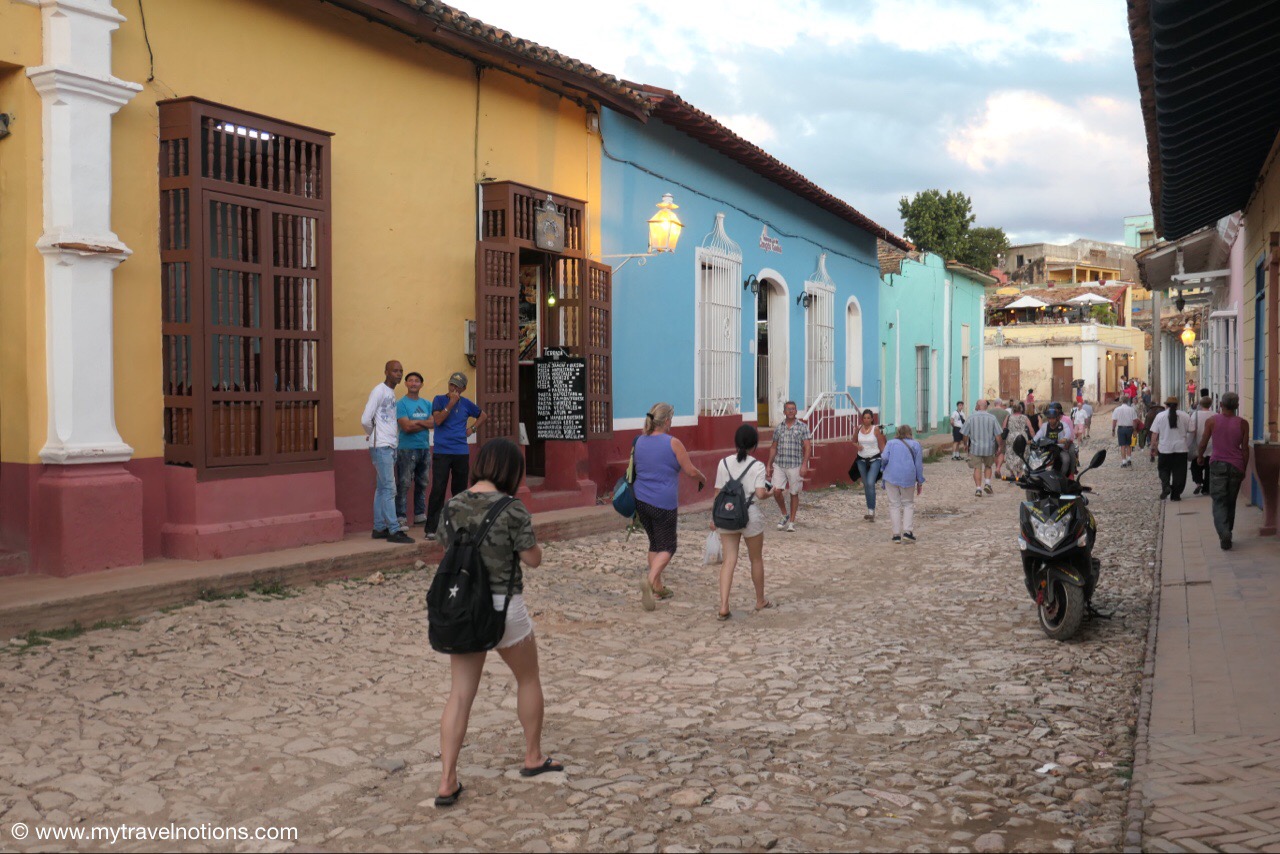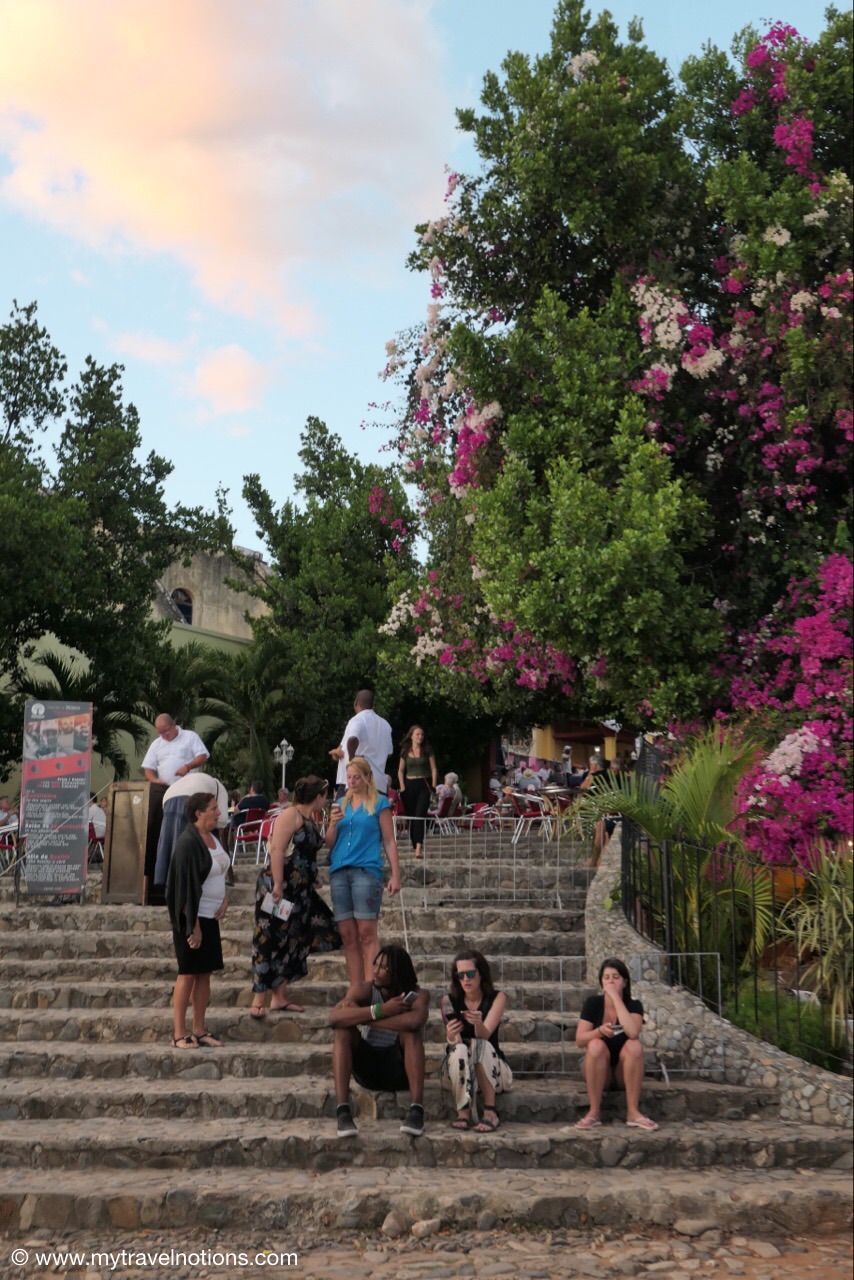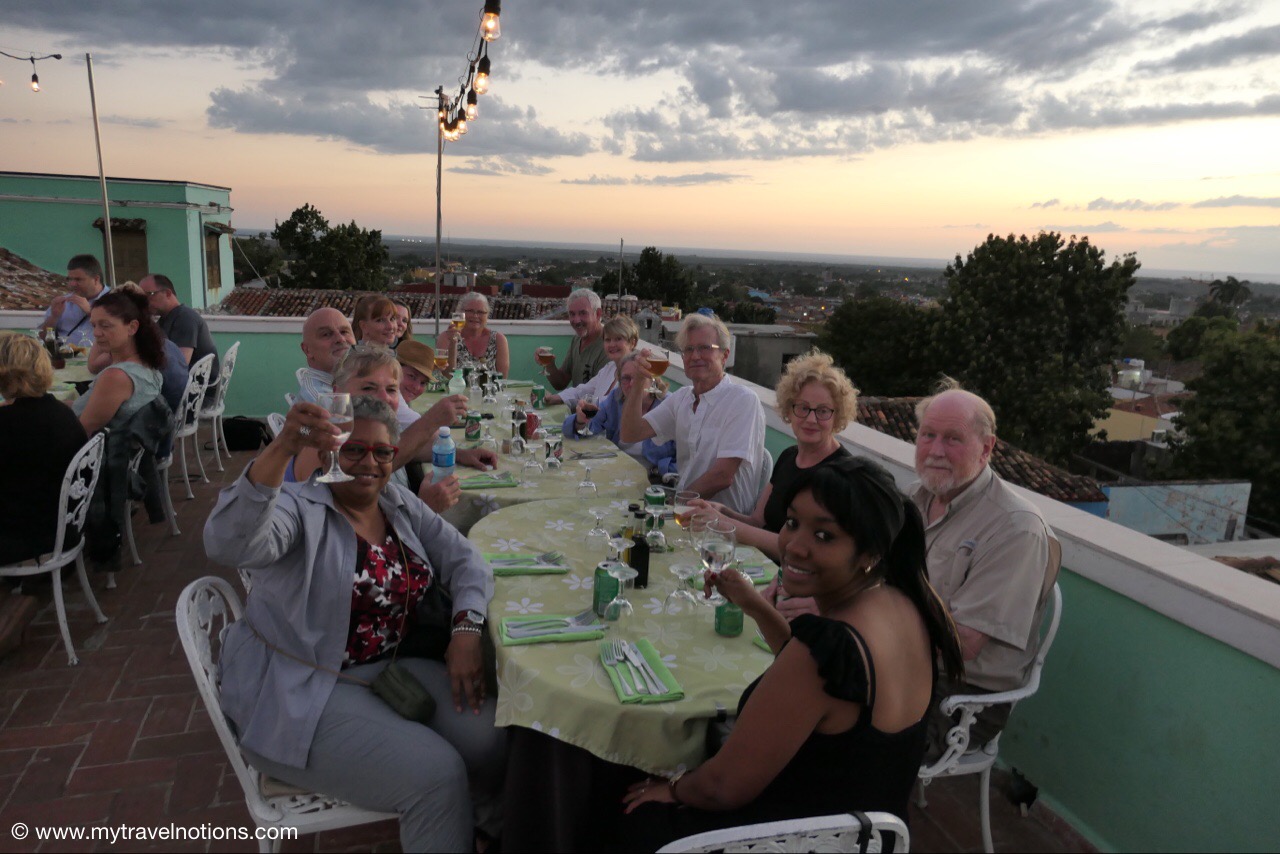 My Day 7 of Cuba, Friday, March 22, was spent checking out the Romantica Museum, enjoying a nice lunch with a tour mate, taking an afternoon siesta and getting some writing done on the rooftop of my Trinidad, Cuba, guesthouse.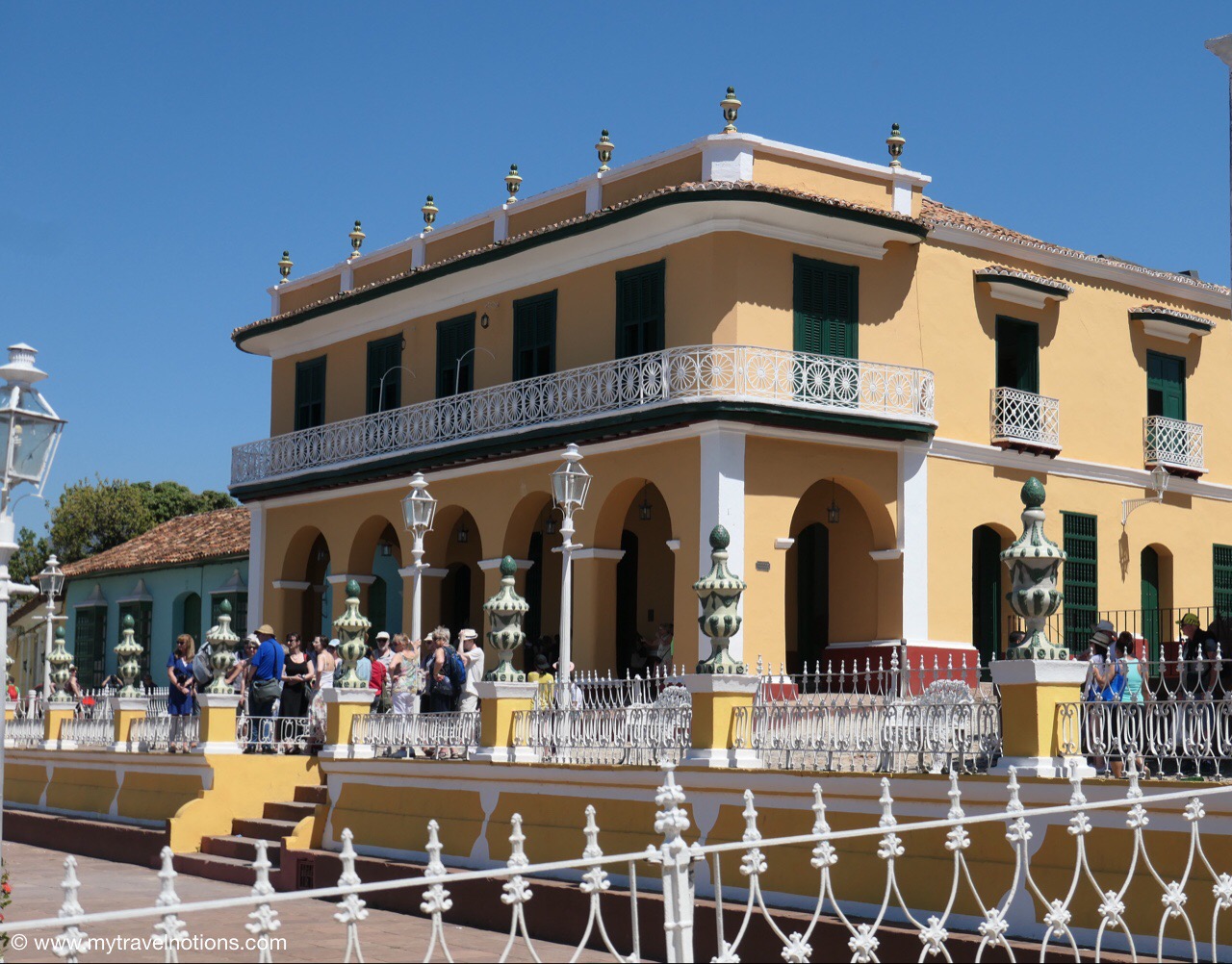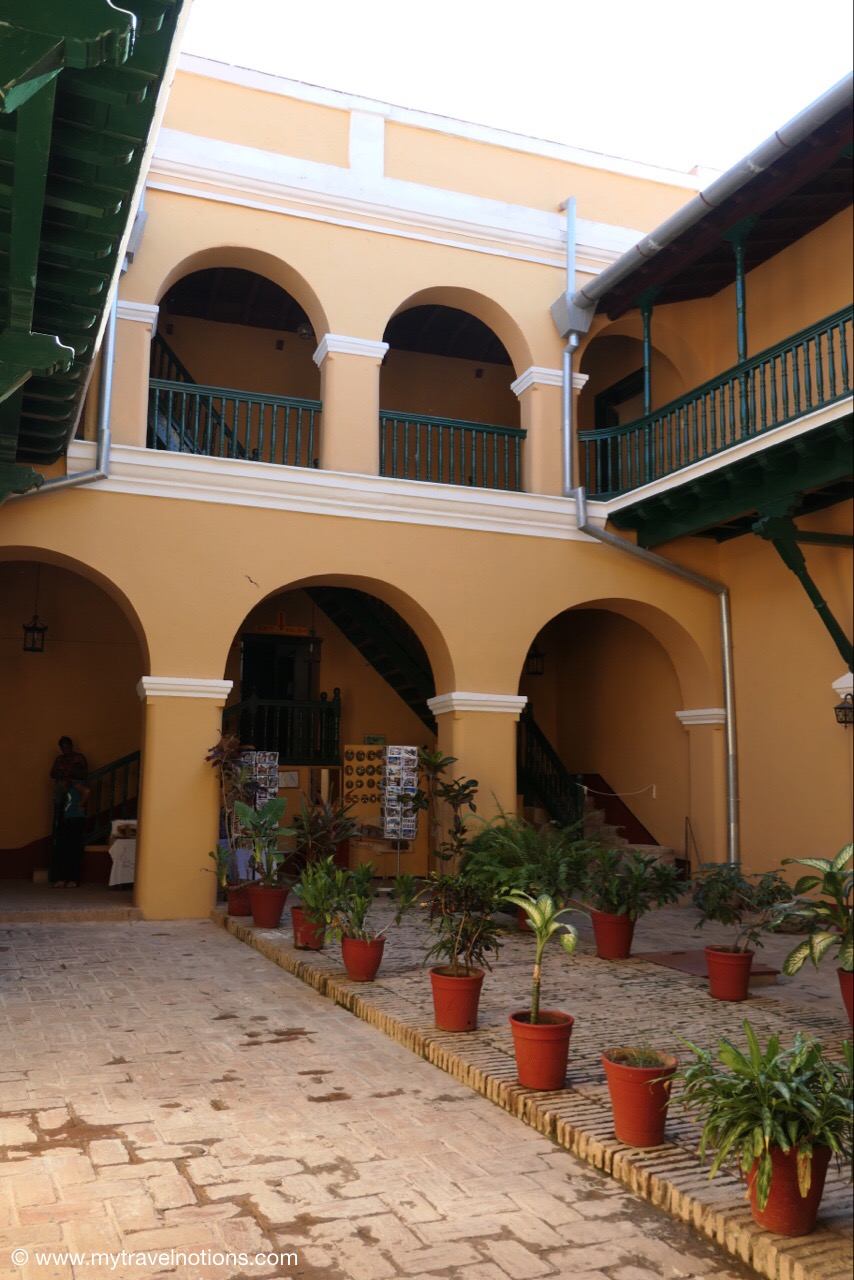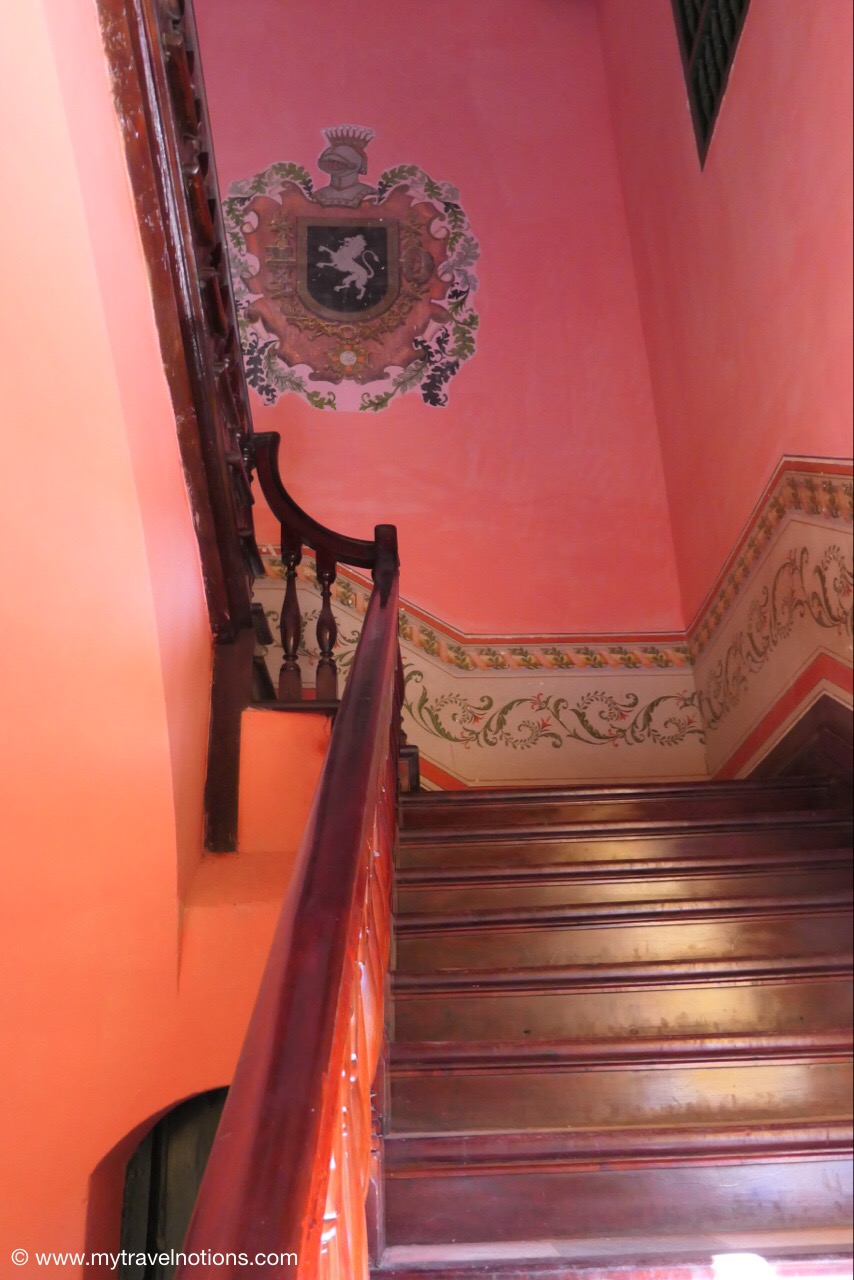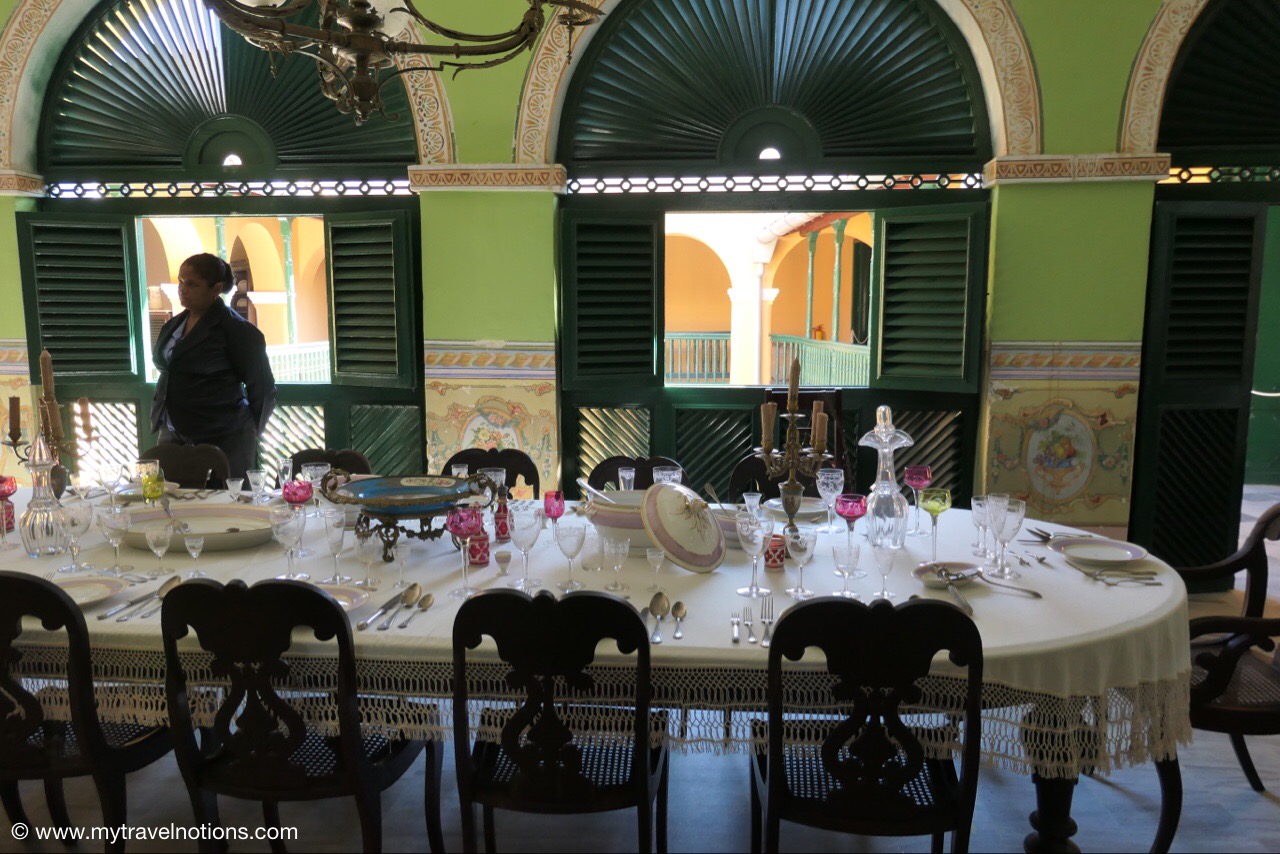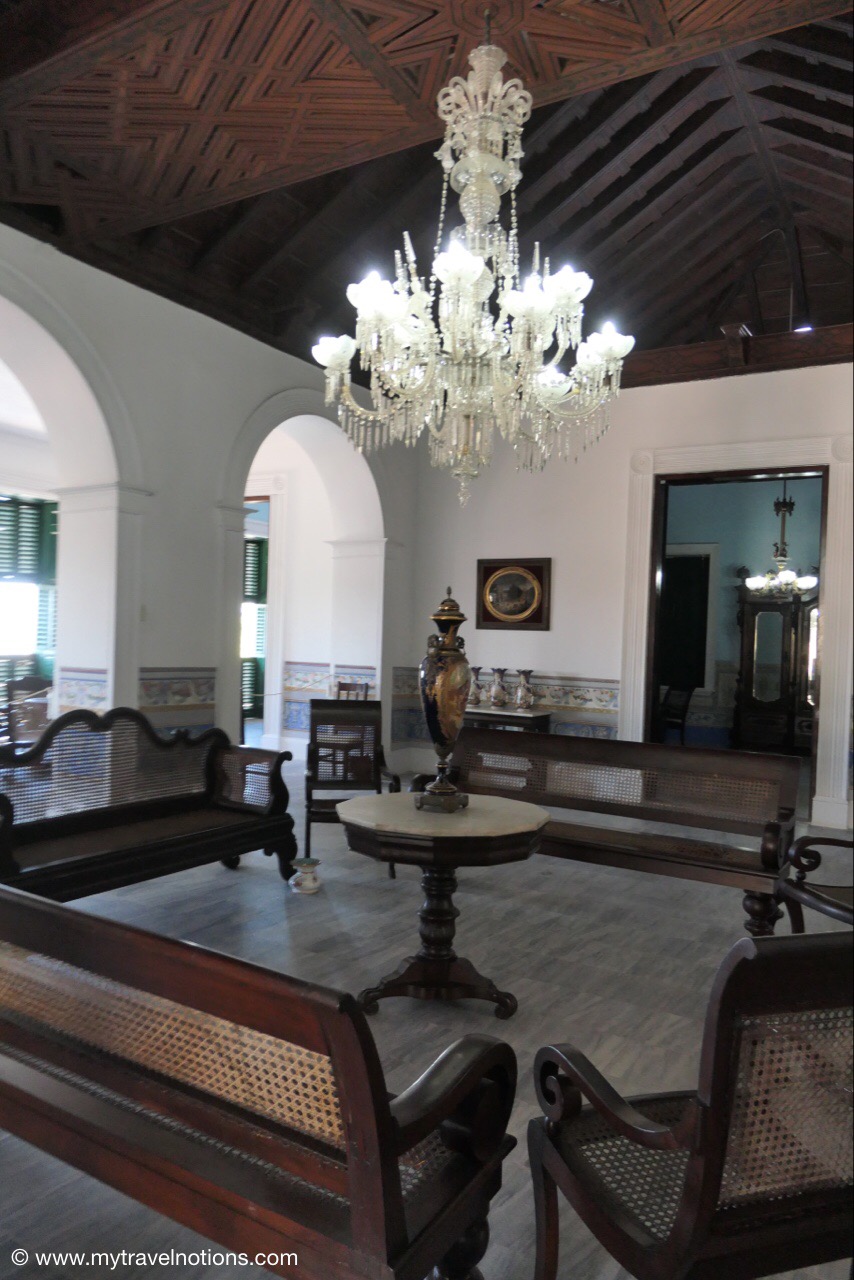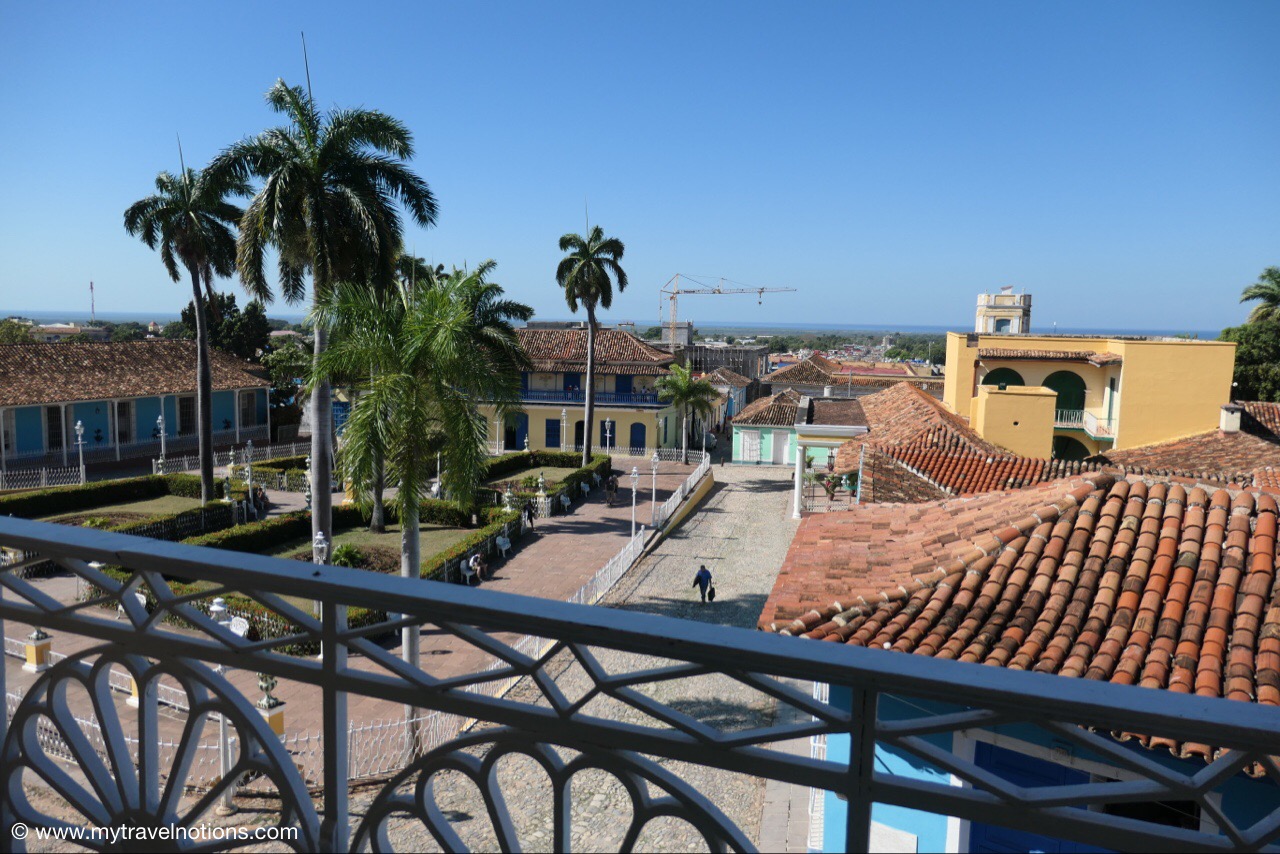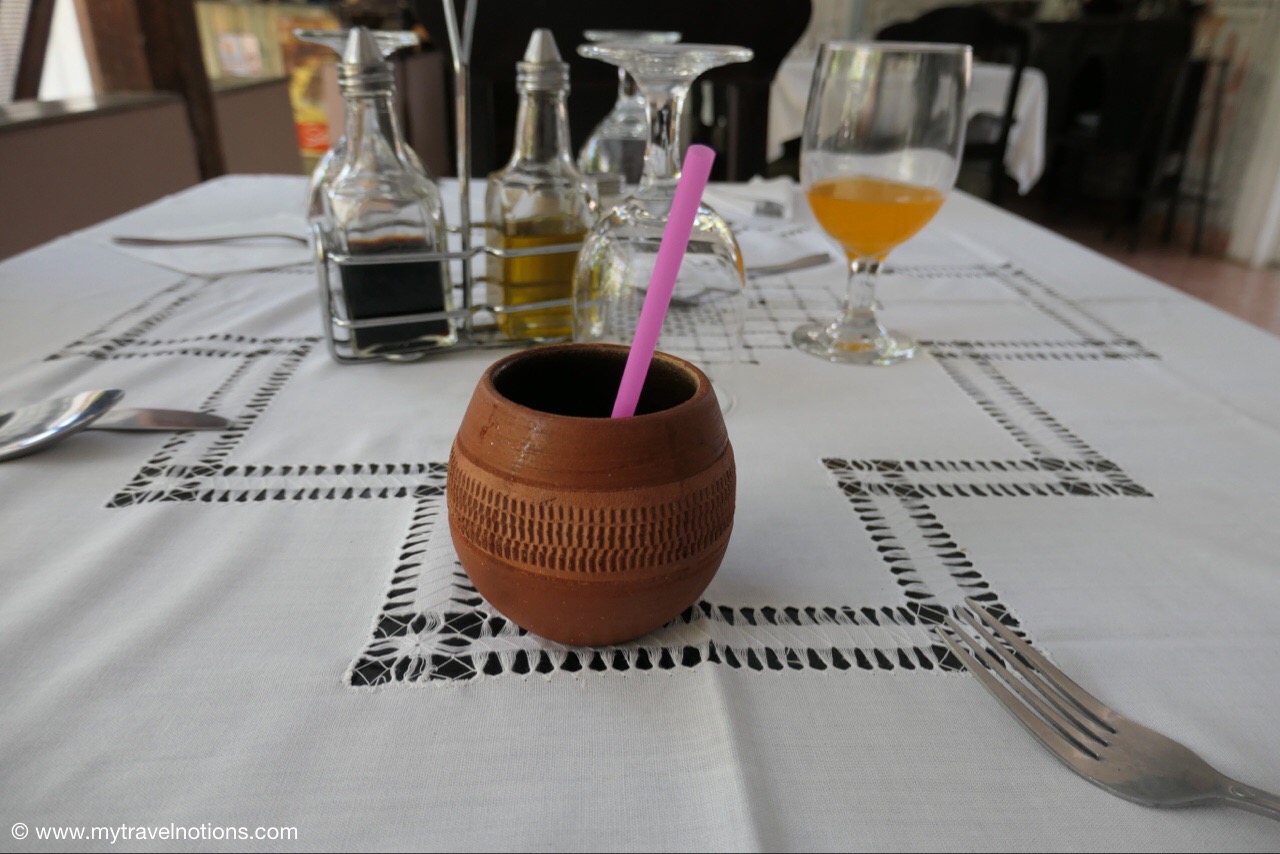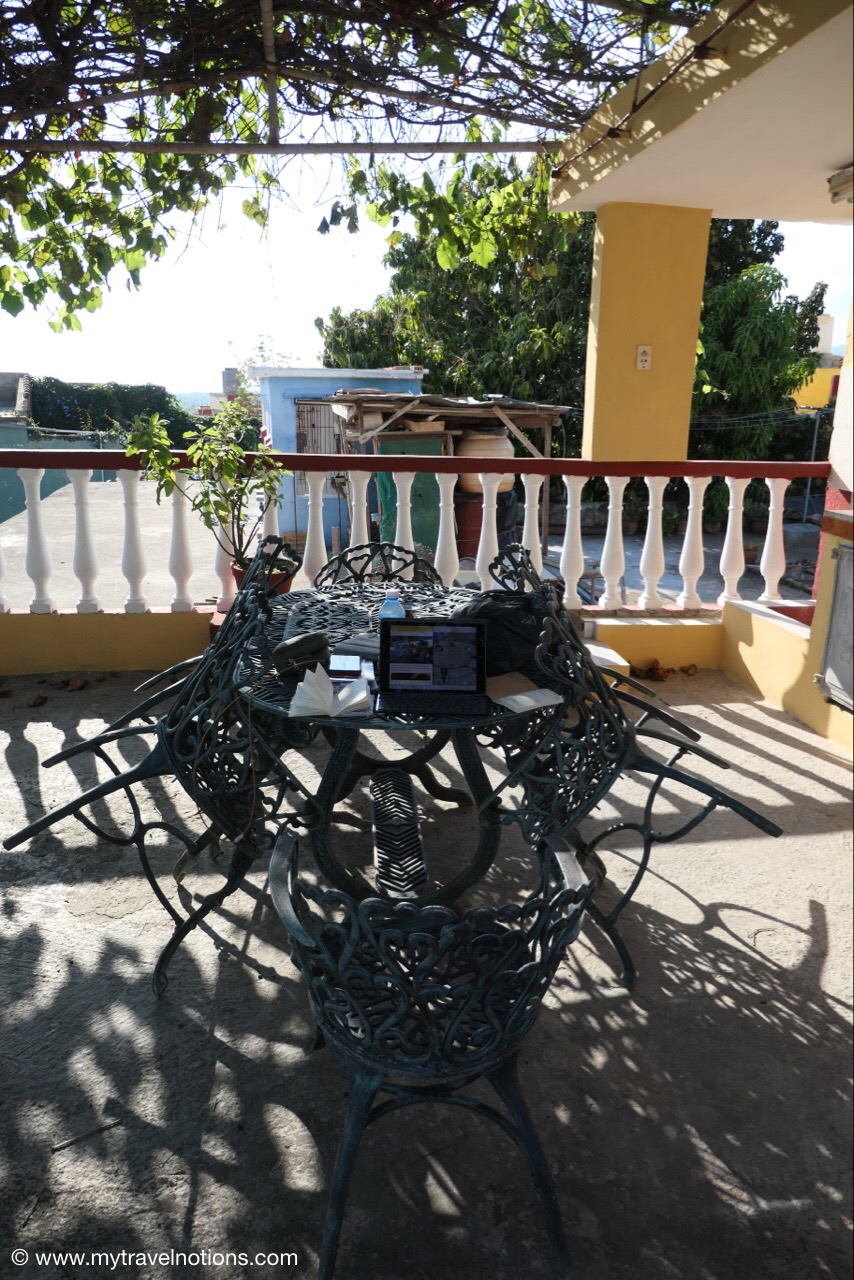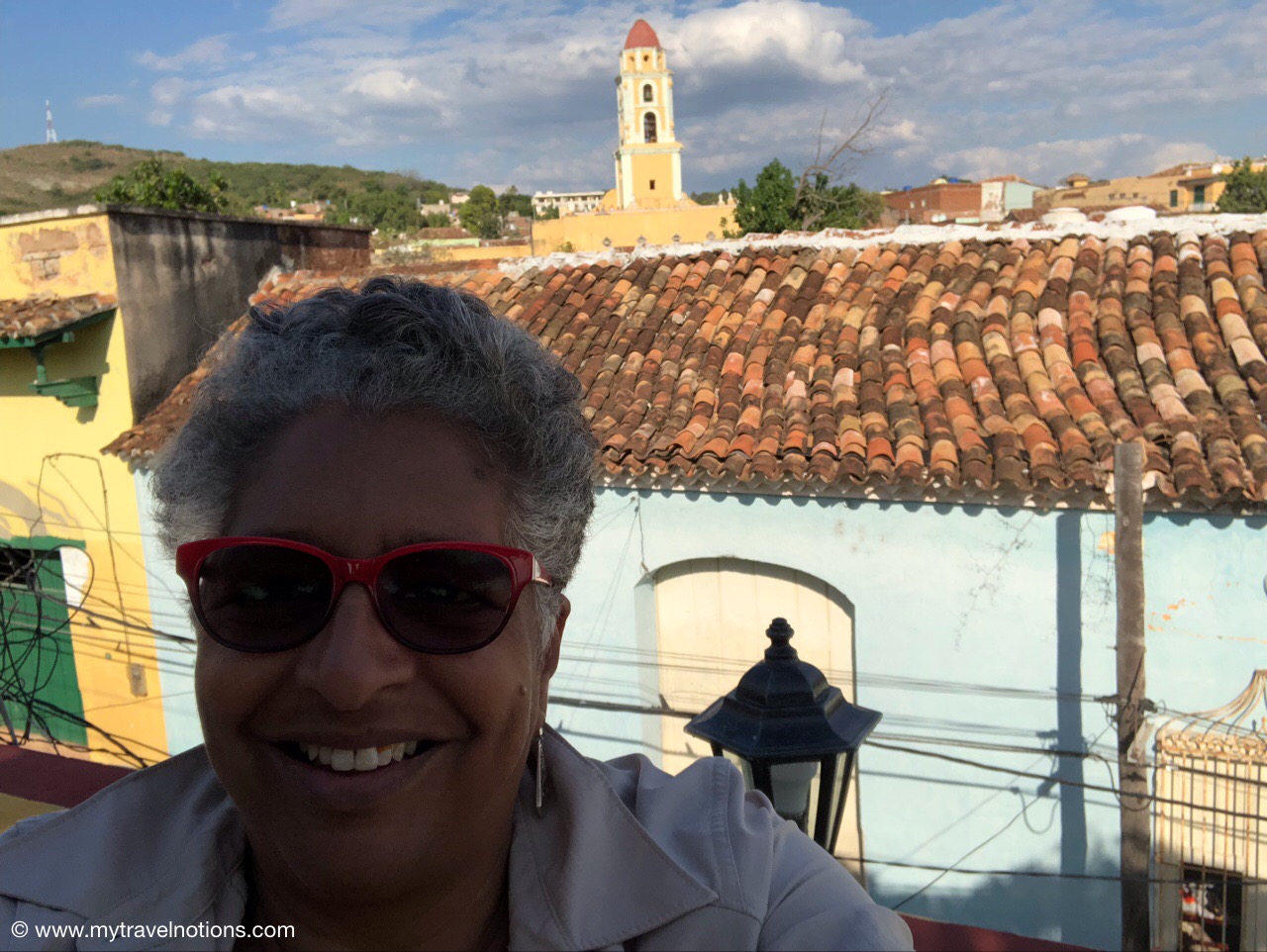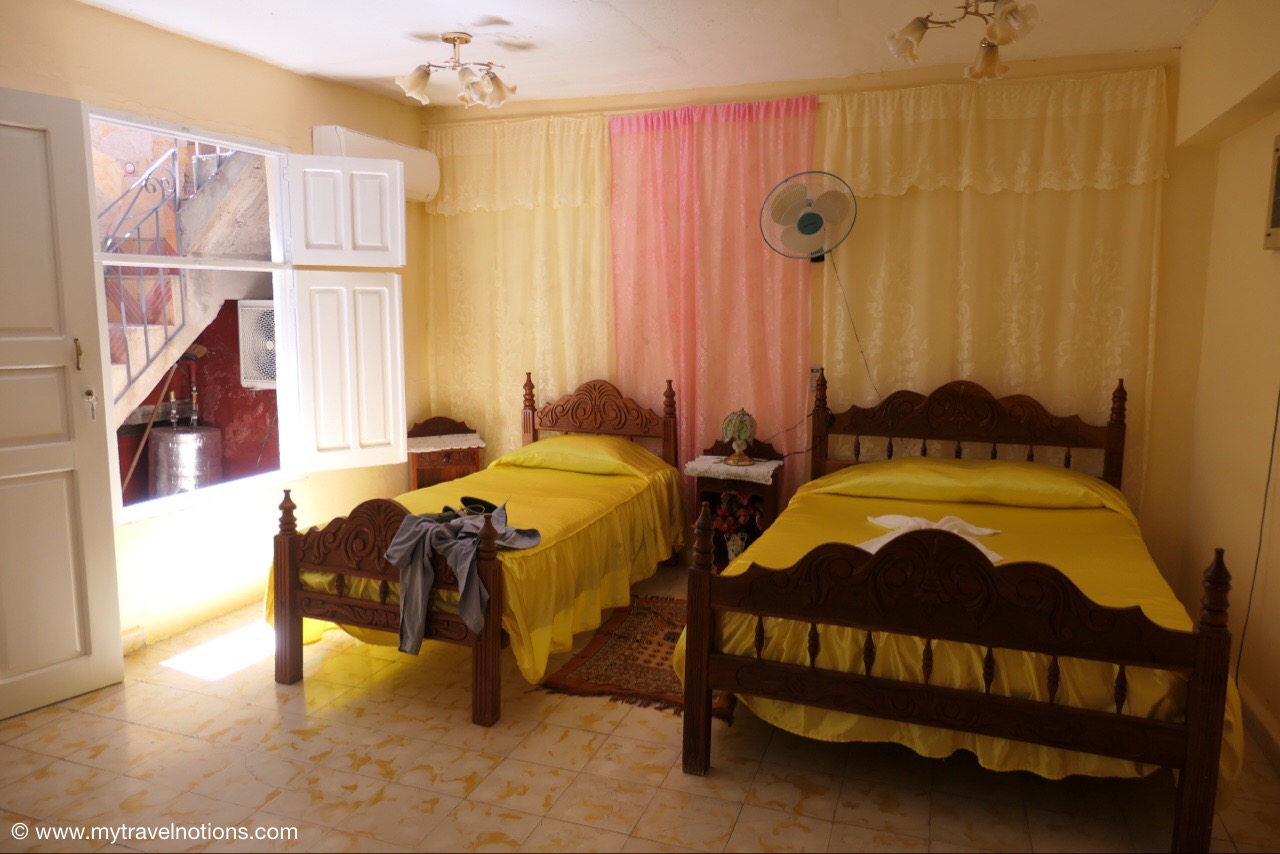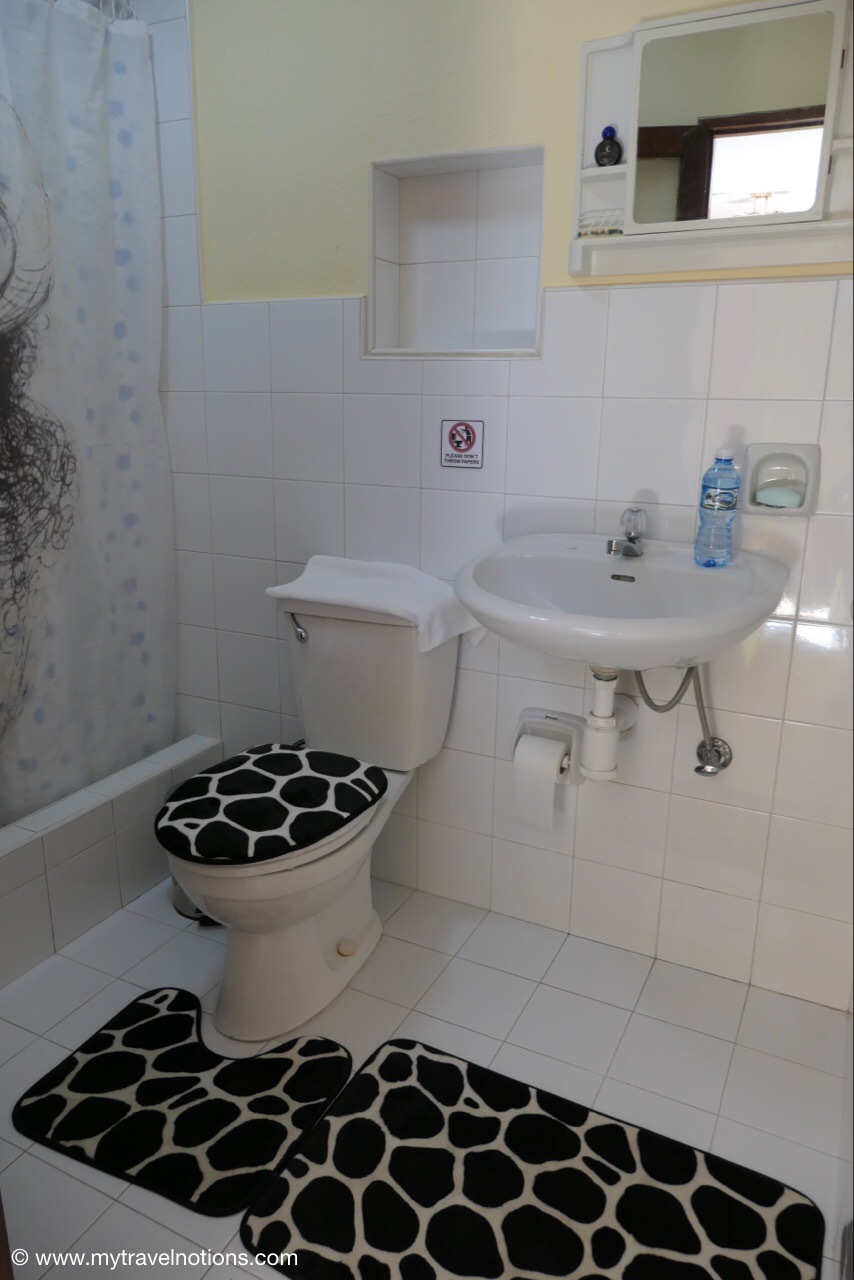 Santa Clara on the way back to Havana
Day 8 of Cuba, Saturday, March 23 – Leaving Trinidad to head back to the beginning of the end of this tour, Havana. But stopping in Santa Clara, chiefly known for its revolutionary landmarks including the Che Guevara Mausoleum and Museum. And, Day 9, on the less than hour-long plane ride back to Miami, Florida, USA. 
Santa Clara, Cuba, is where history was made and why this city was chosen to house the Che Guevara Mausoleum and Museum. It was the site of the last battle in the Cuban Revolution in late 1958. There were two guerrilla columns that attacked the city, one led by Ernesto "Che" Guevara and the other led by Camilo Cienfuegos. Their combined battle efforts were able to capture the city. This victory for Fidel Castro's troops is seen as the decisive moment in the Cuban Revolution when the dictatorship of Cuban President Fulgencio Batista came to an end with him fleeing Cuba.