Before we left Copenhagen, Tammy gave Alice and I the run down of foods we need to eat while in Hamburg, Germany, and first on the list were hamburgers. Hamburgers?
Yes, Hamburg is supposedly why we use the term "hamburger," for our fried or grilled ground beef, served in a bread roll and garnished with various condiments. According to various research accounts, the term "hamburger" comes from Germany's second largest city, Hamburg.
Hamburger historians…okay, I just made that up…have provided a whole host of claims as to who invented the first hamburger, but the actual word or term may have come about because the people of Hamburg, Germany, brought their Hamburg steaks into the U.S. when they immigrated. As to which hamburger sandwich chain or person is to be ordained as the creator of the edible hamburger sandwich…well it seems a number of people would like a 'steak' in that claim.
I don't know if any of this Hamburger history is true or not, but today, we climbed down the nine sets of stairs from our Copenhagen apartment; walked the 10 minutes to the train station, which took us to the airport in less than 15 minutes; boarded the SAS airplane and in less than an hour made it to Hamburg to begin the "Hamburger" quest.
One things' for sure, the quest will be done in a lot less sunny and warmer temperatures because when we arrived, Hamburg was rather chilly and overcast.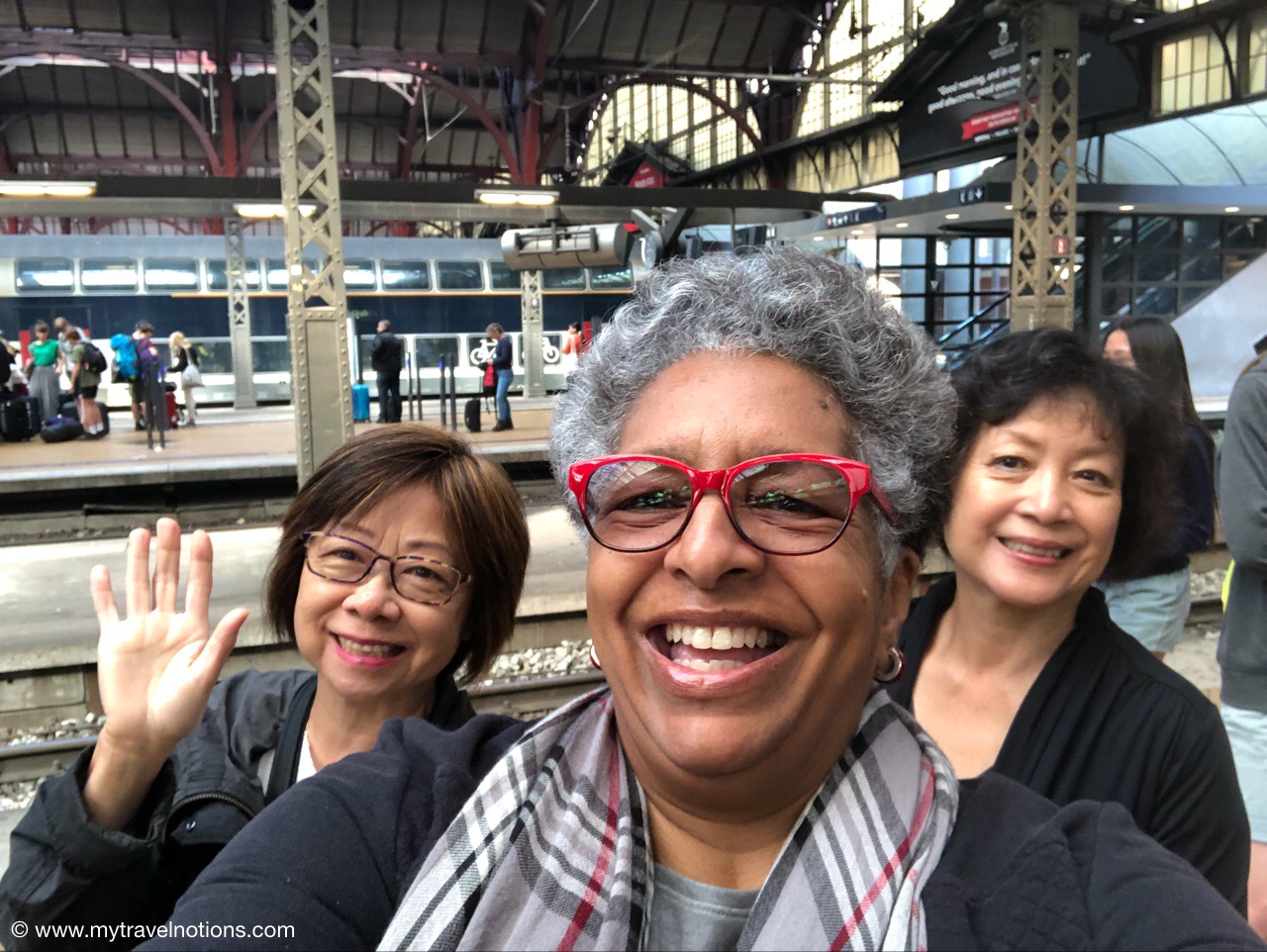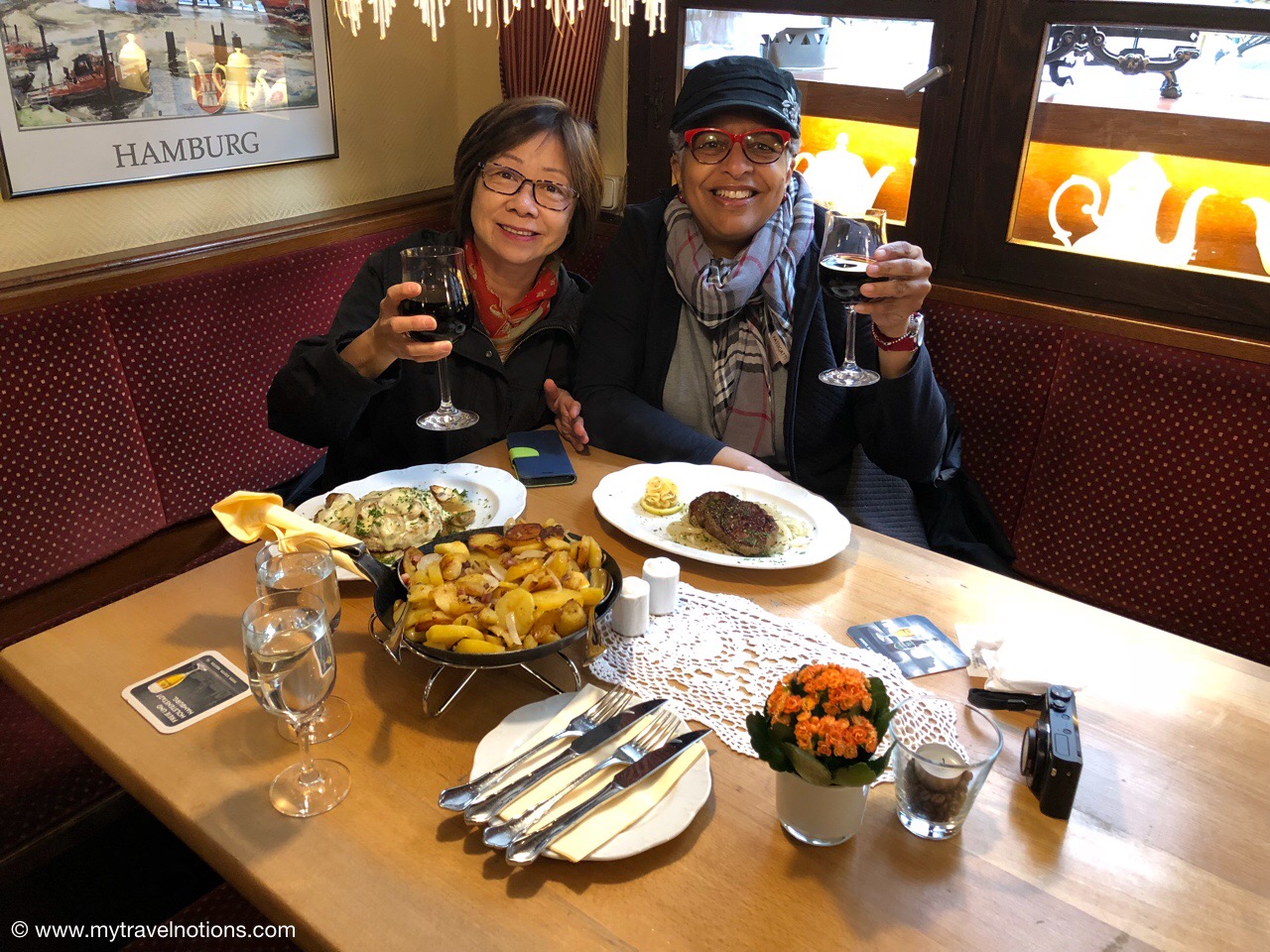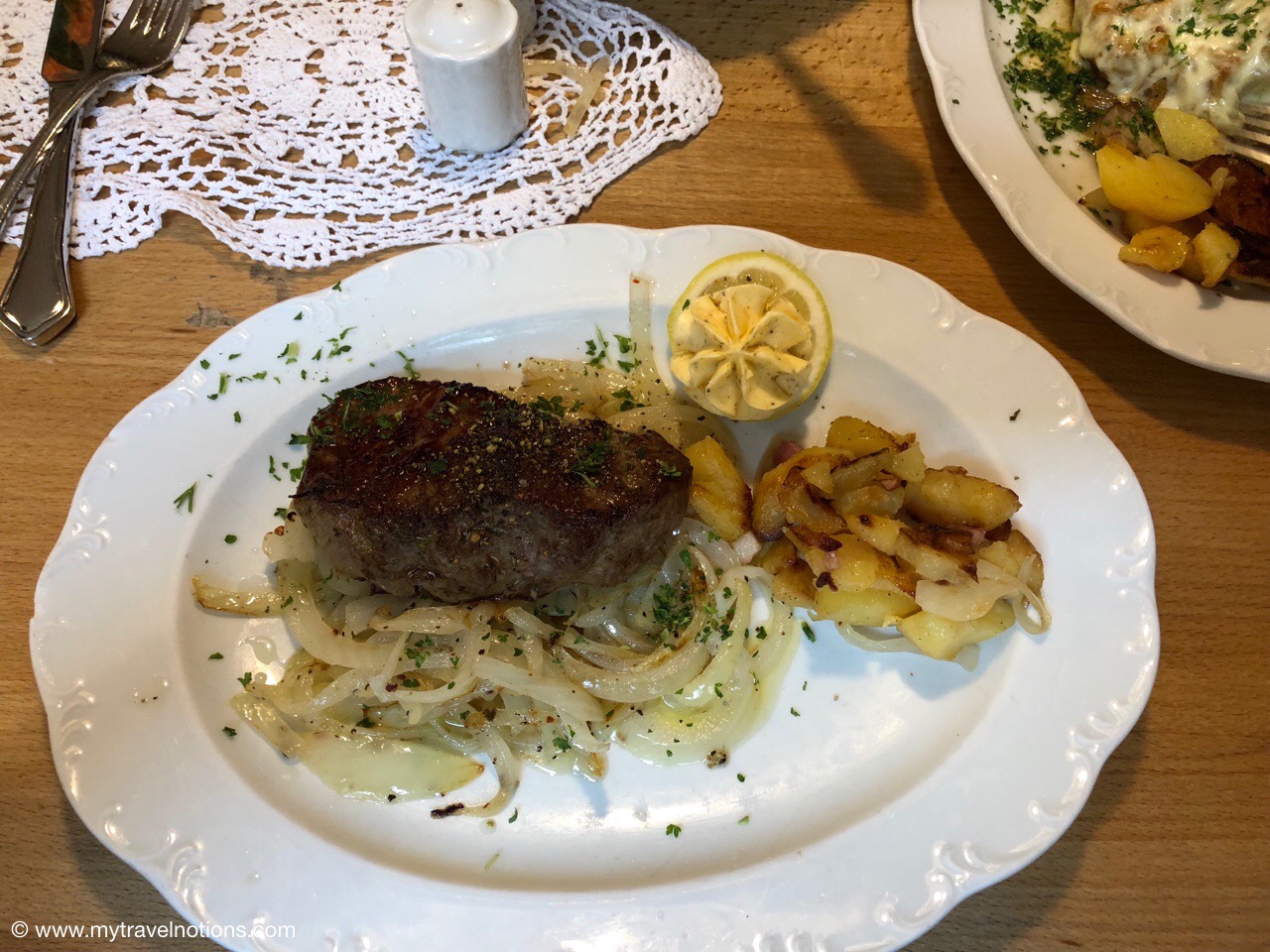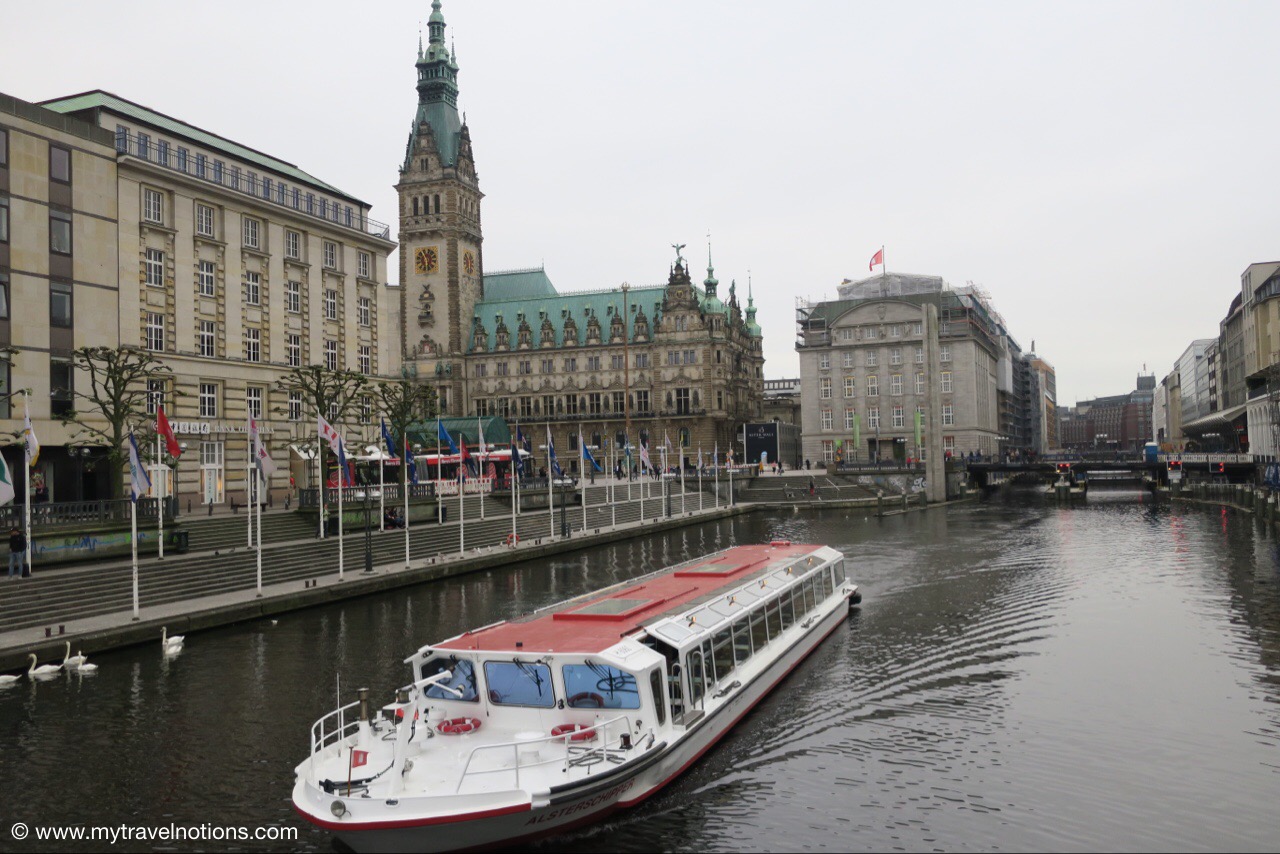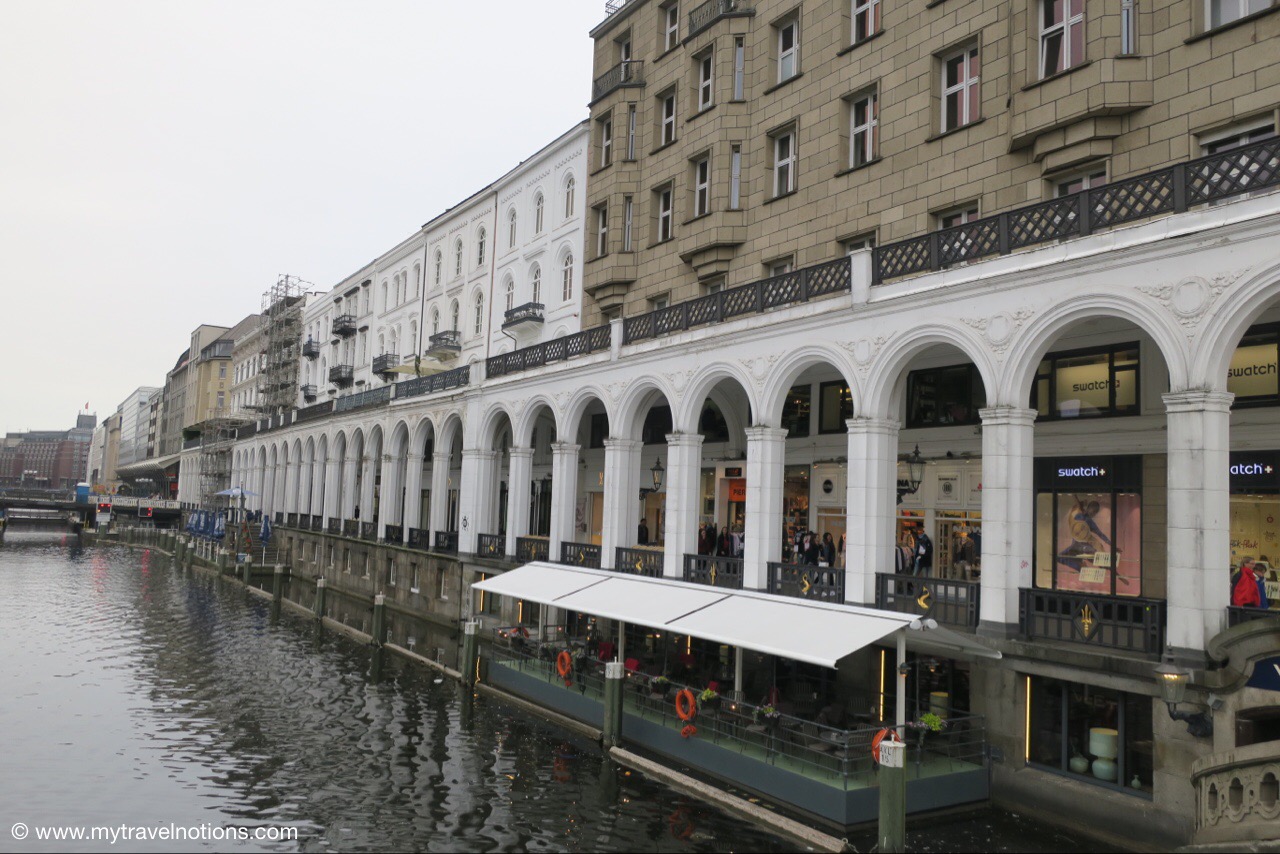 While Meghan and Harry were tying the knot yesterday, I was out exploring Hamburg, on a hop-on, hop-off bus tour. I did get to see highlights of the wedding on German television with German newscasters speaking in German, so I just put the television on mute and enjoyed the pomp and circumstance re-runs. She made for a beautiful bride and he made for a handsome groom. I wish them many years of love and happiness.
Yesterday was also Day One of our Rick Steves "Best of Germany" 13-day tour. Alice, Tammy and I met our tour guide, Carlos Meissner, and the 19 other travelers we'll be hanging out with during the tour.
Hamburg, first and foremost is a major port city in northern Germany and is connected to the North Sea by the Elbe River. The history of Hamburg begins with its foundation as a mission settlement to convert the Saxons into Christians in the 9th century. Since the Middle Ages Hamburg was an important trading center in Europe.
In 1842, a great fire destroyed about one third of the buildings in the old town area including 1,700 residences and several important public buildings. Then in 1943, during World War II, the city of Hamburg was virtually destroyed during Operation Gomorrah and more than 40,000 people were killed.
Today, we walked through the remains of the Church of St. Nicholas long after the World War II bombings; walked and took a boat ride through the canals and harbour and saw the city from the observation deck of it's wavy roof line concert hall.
Tomorrow we leave Hamburg and head to Munden in the Lower Saxony area of Germany for just one night.
Here is just a snippet of Hamburg.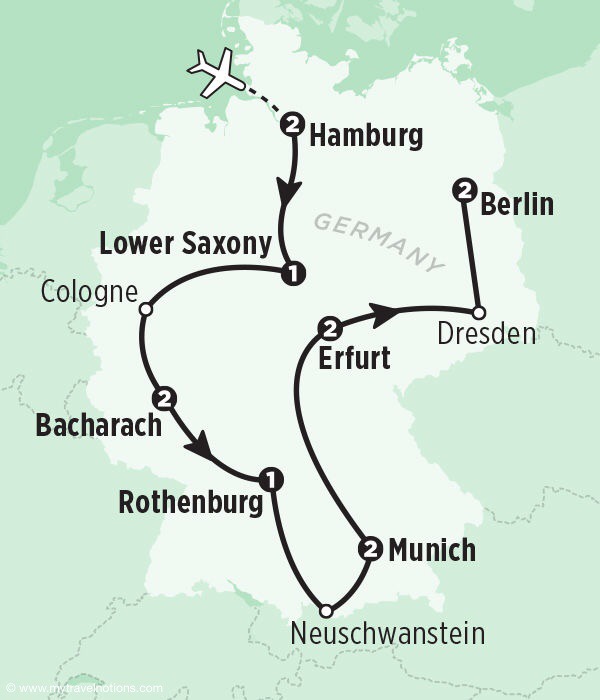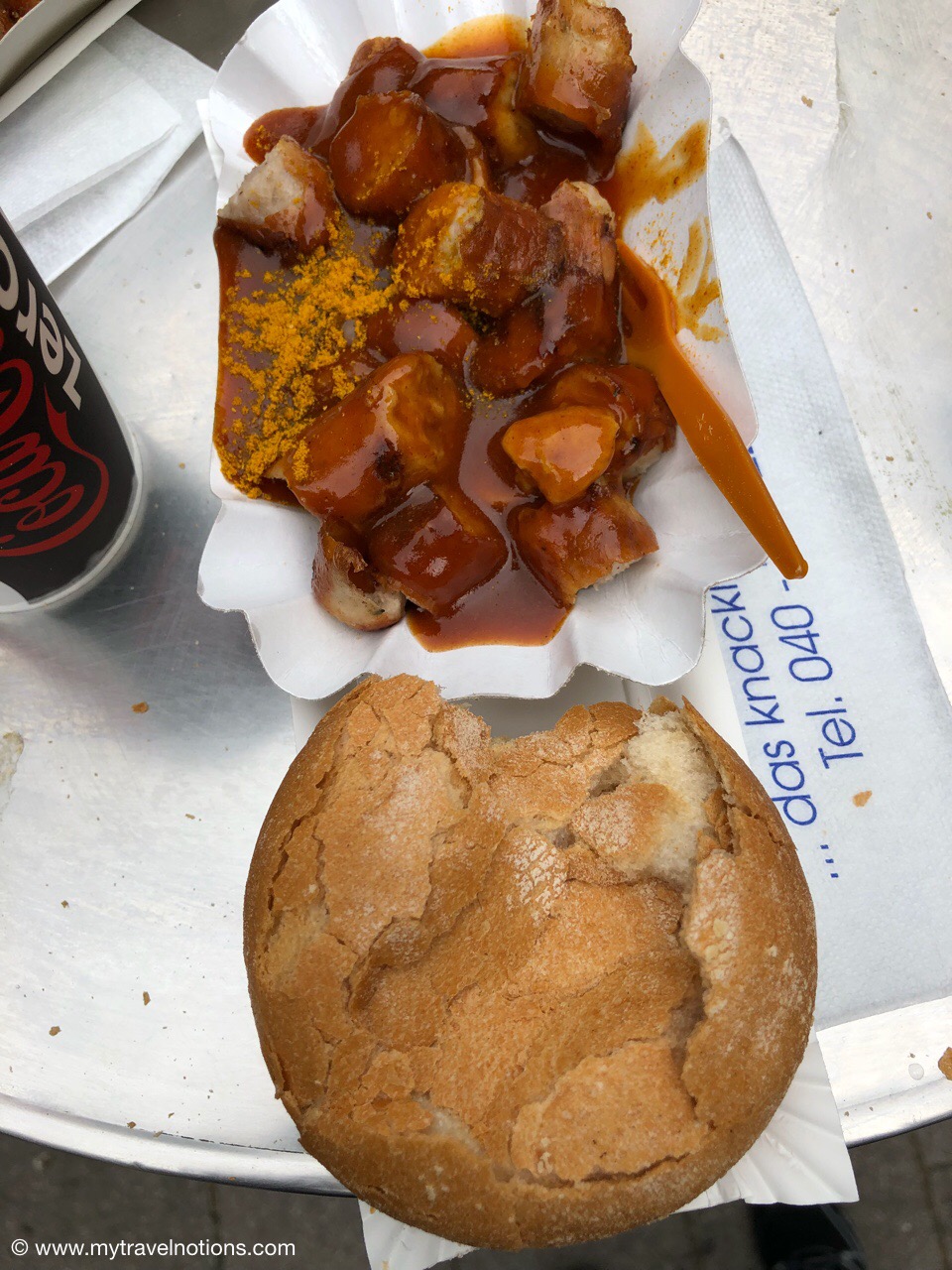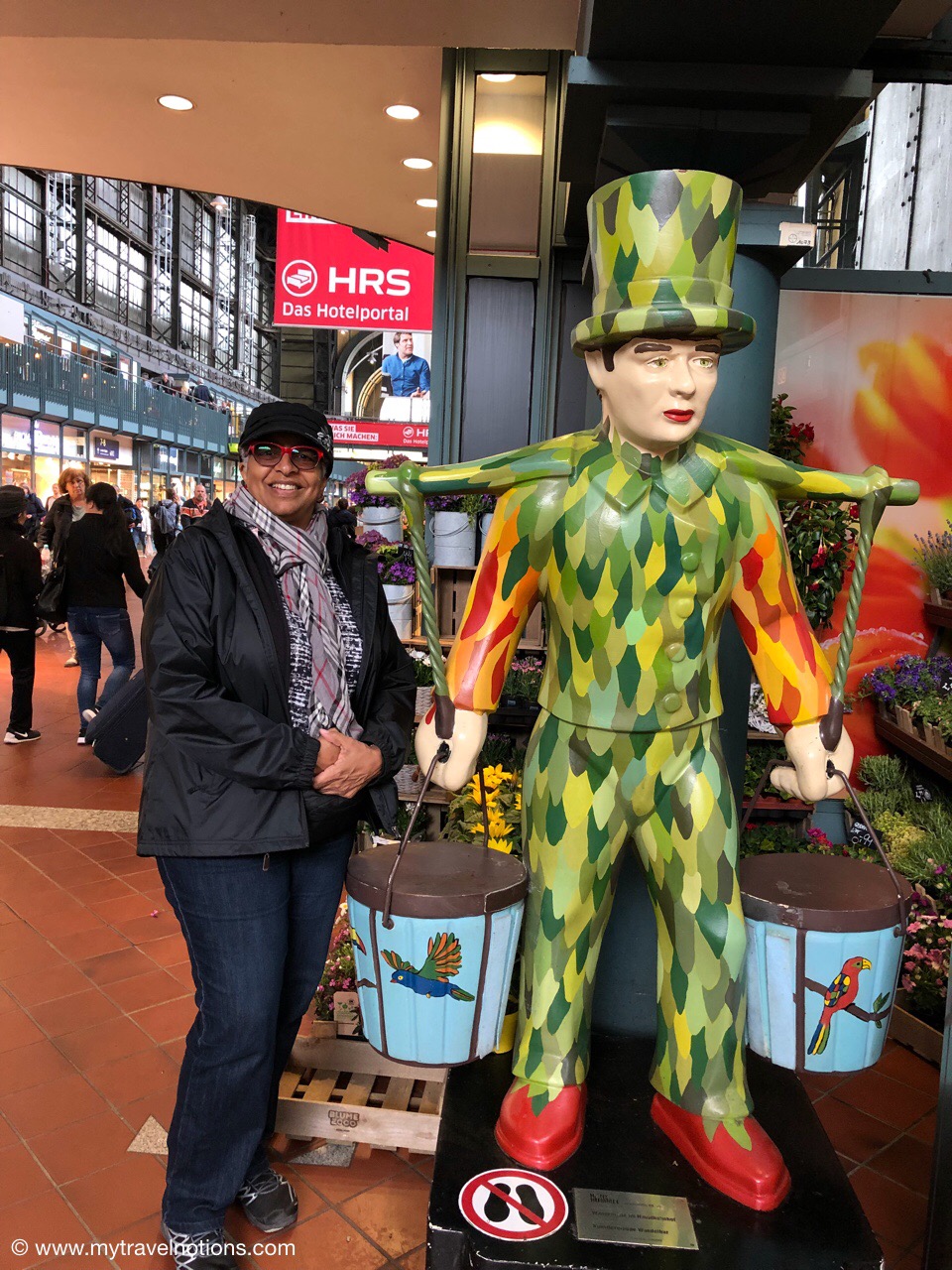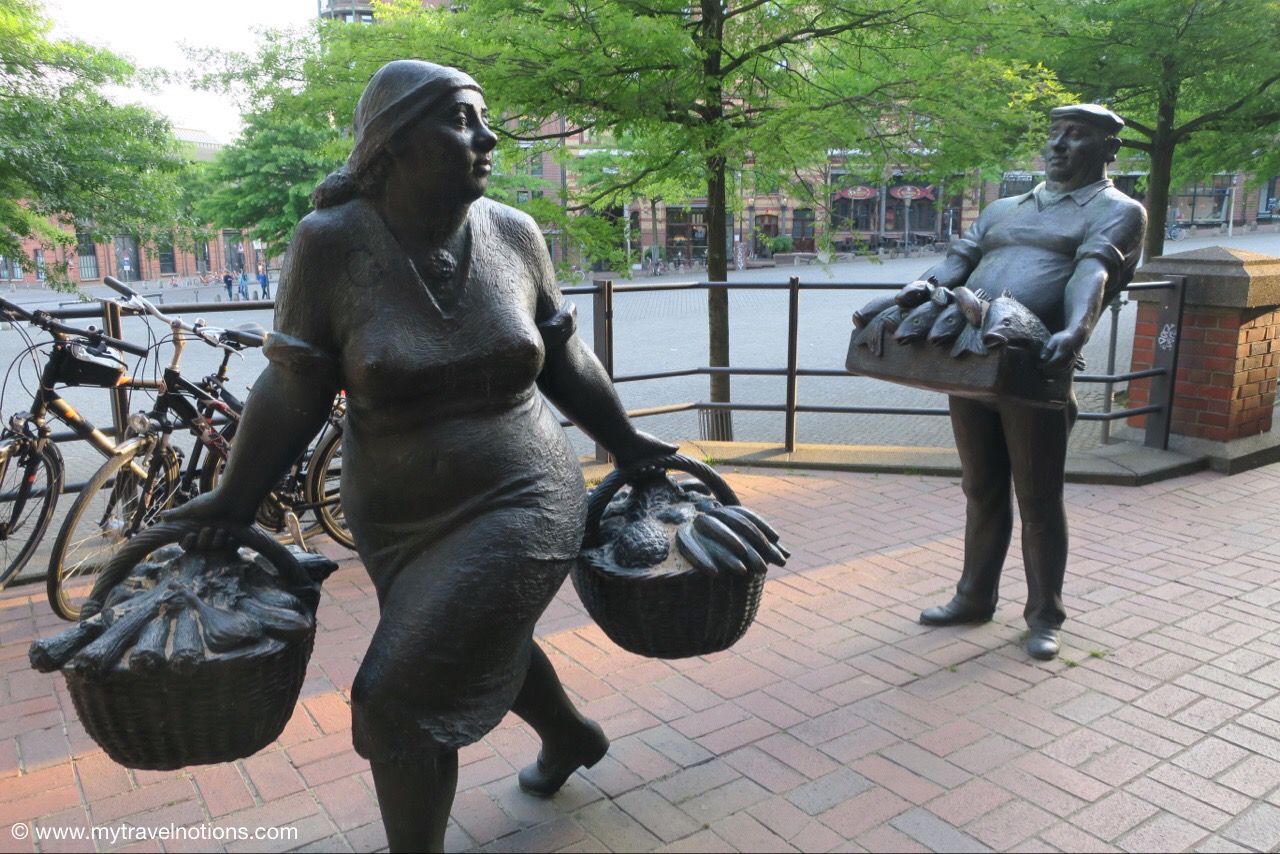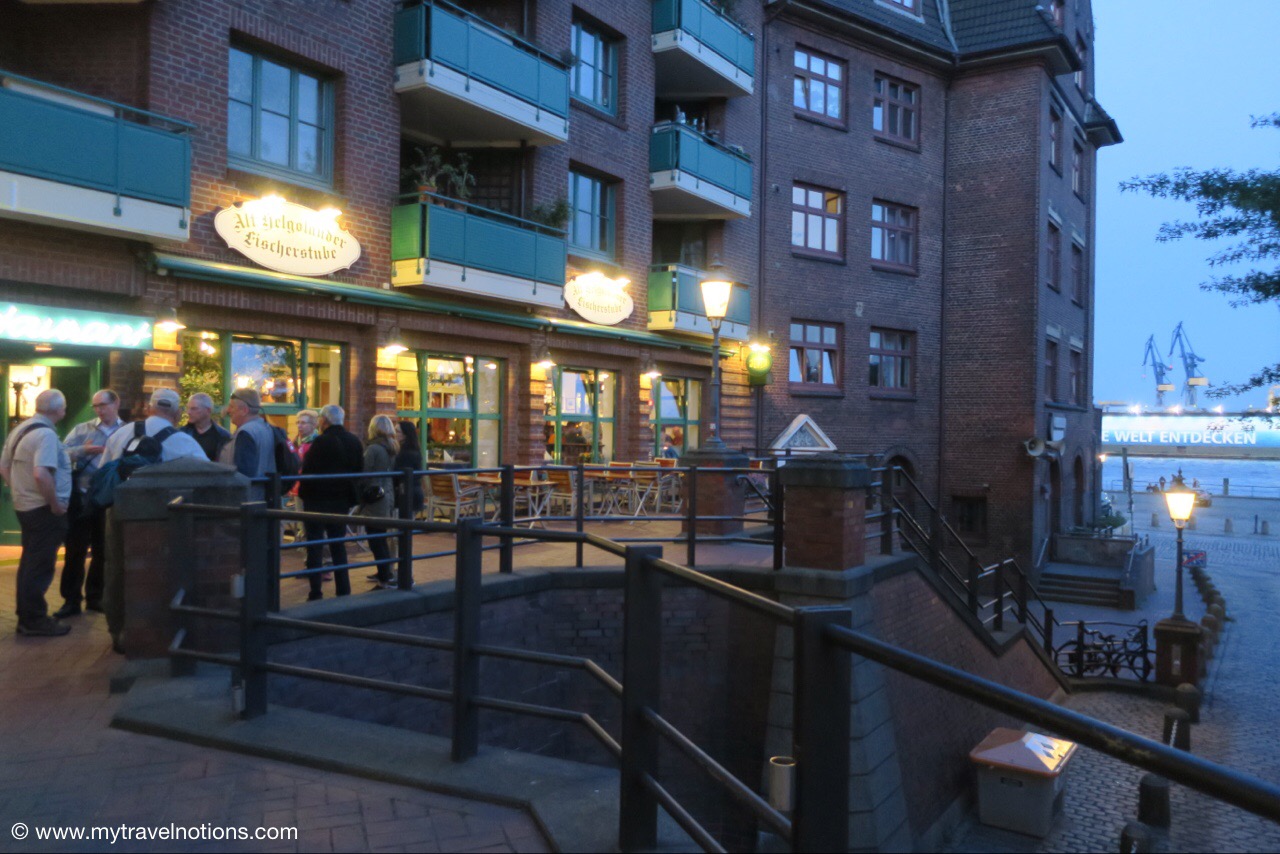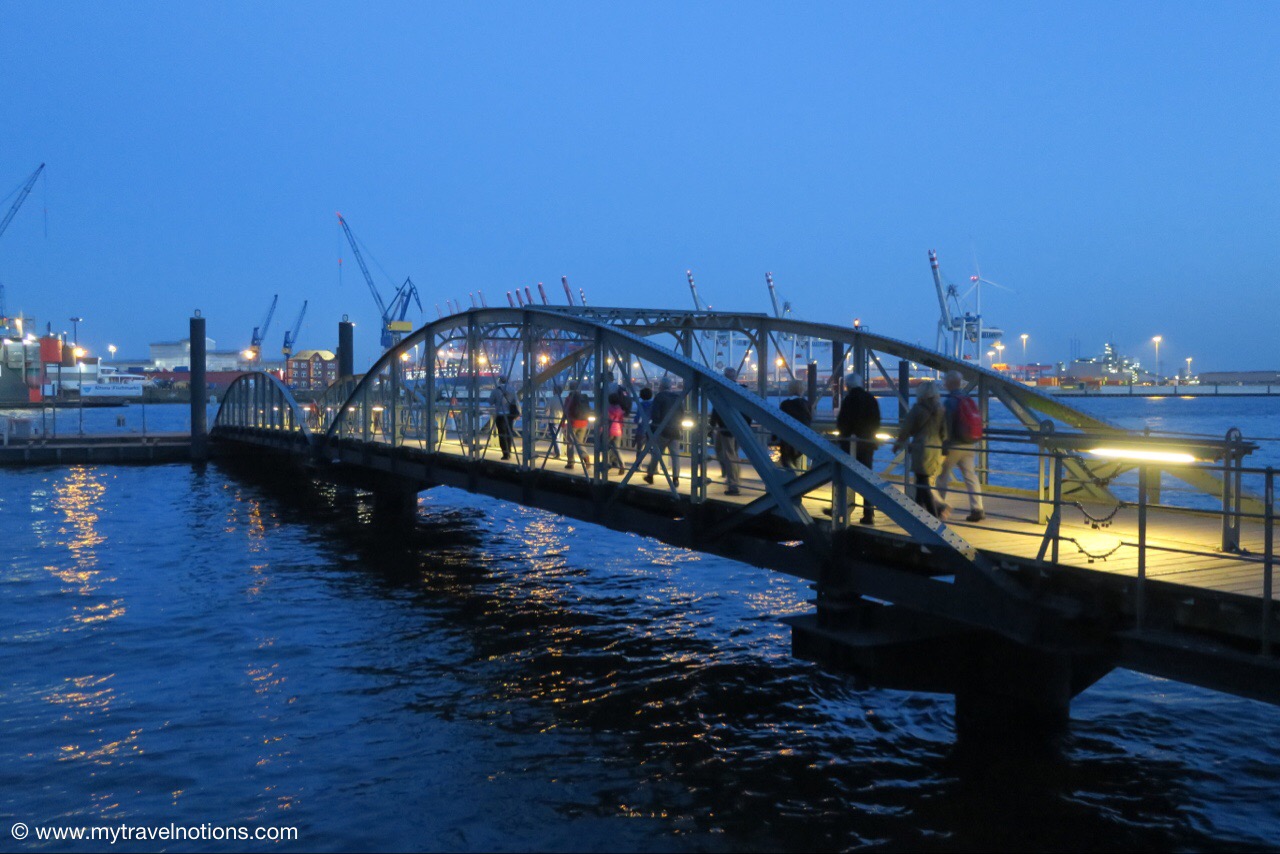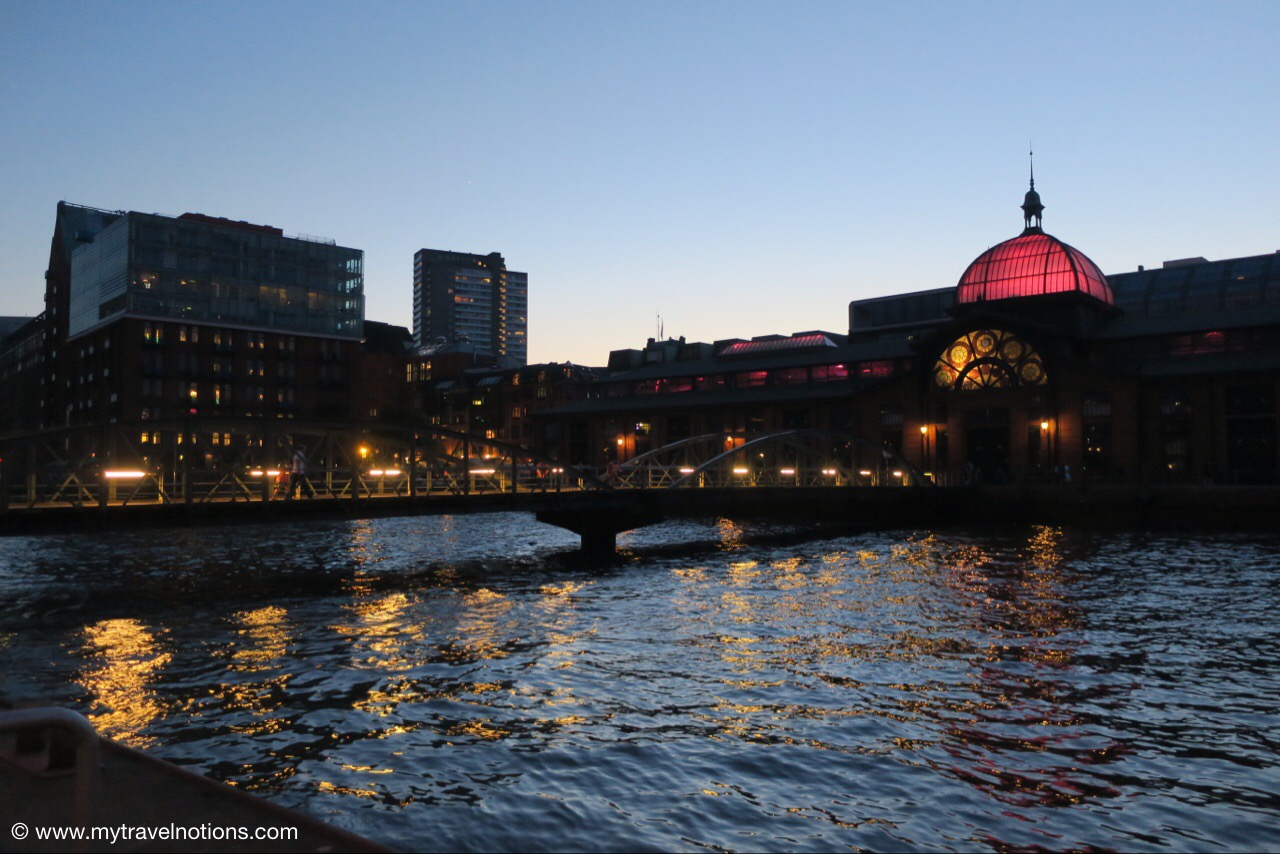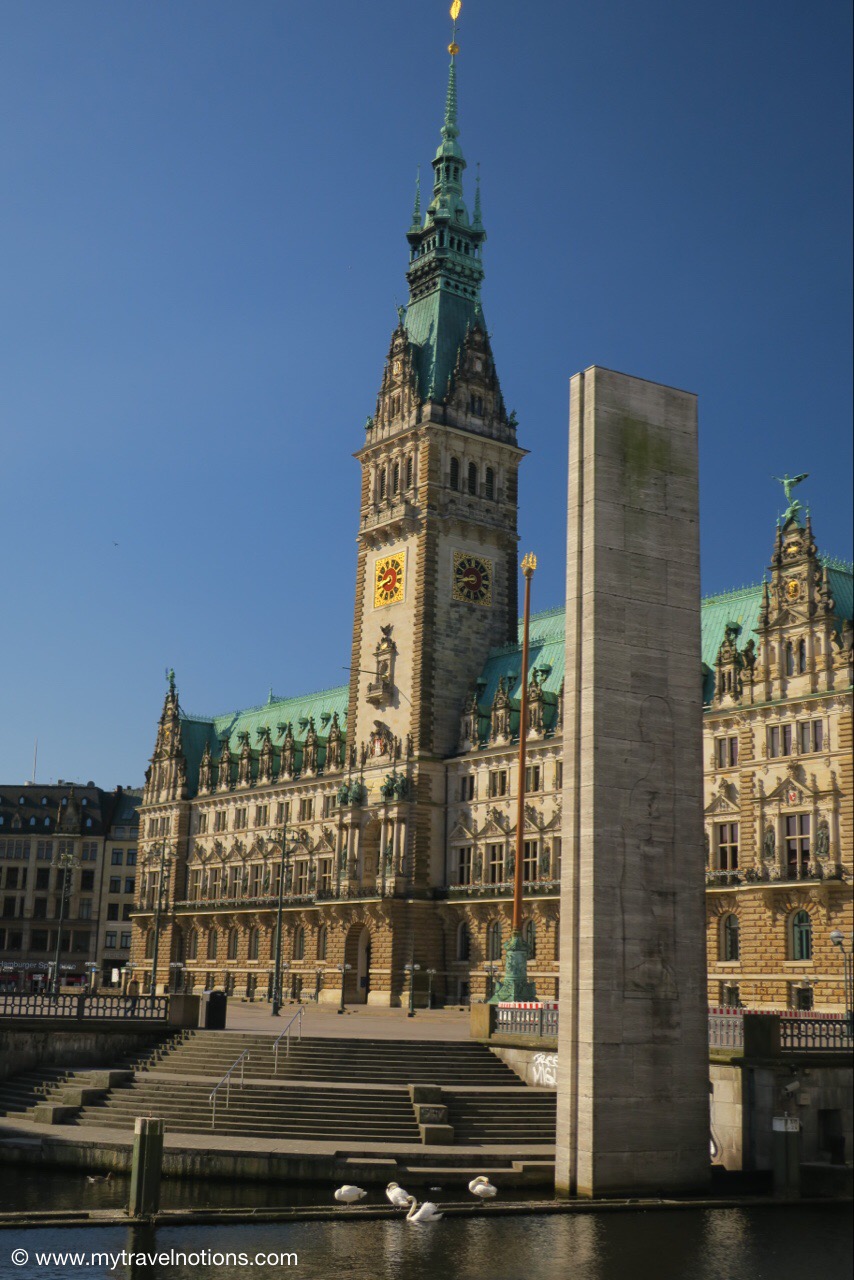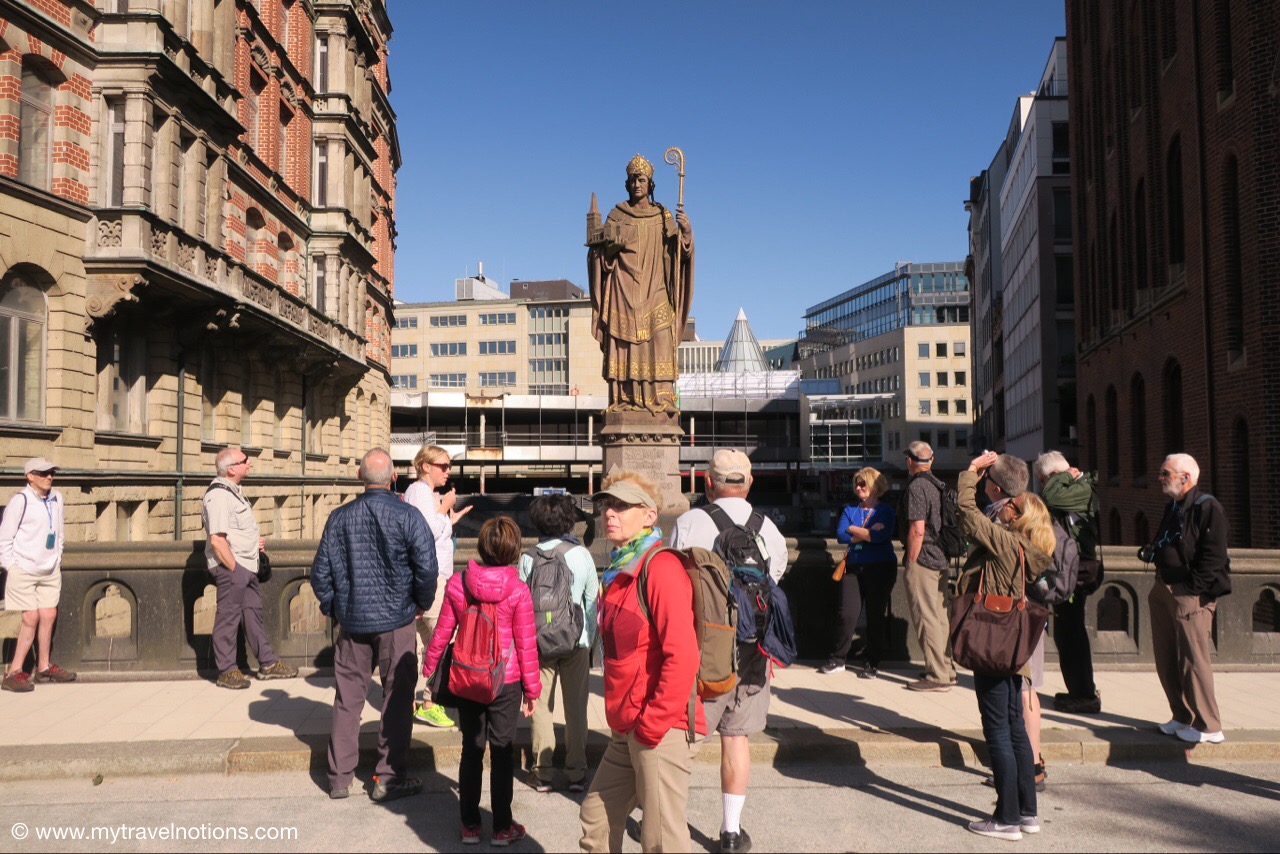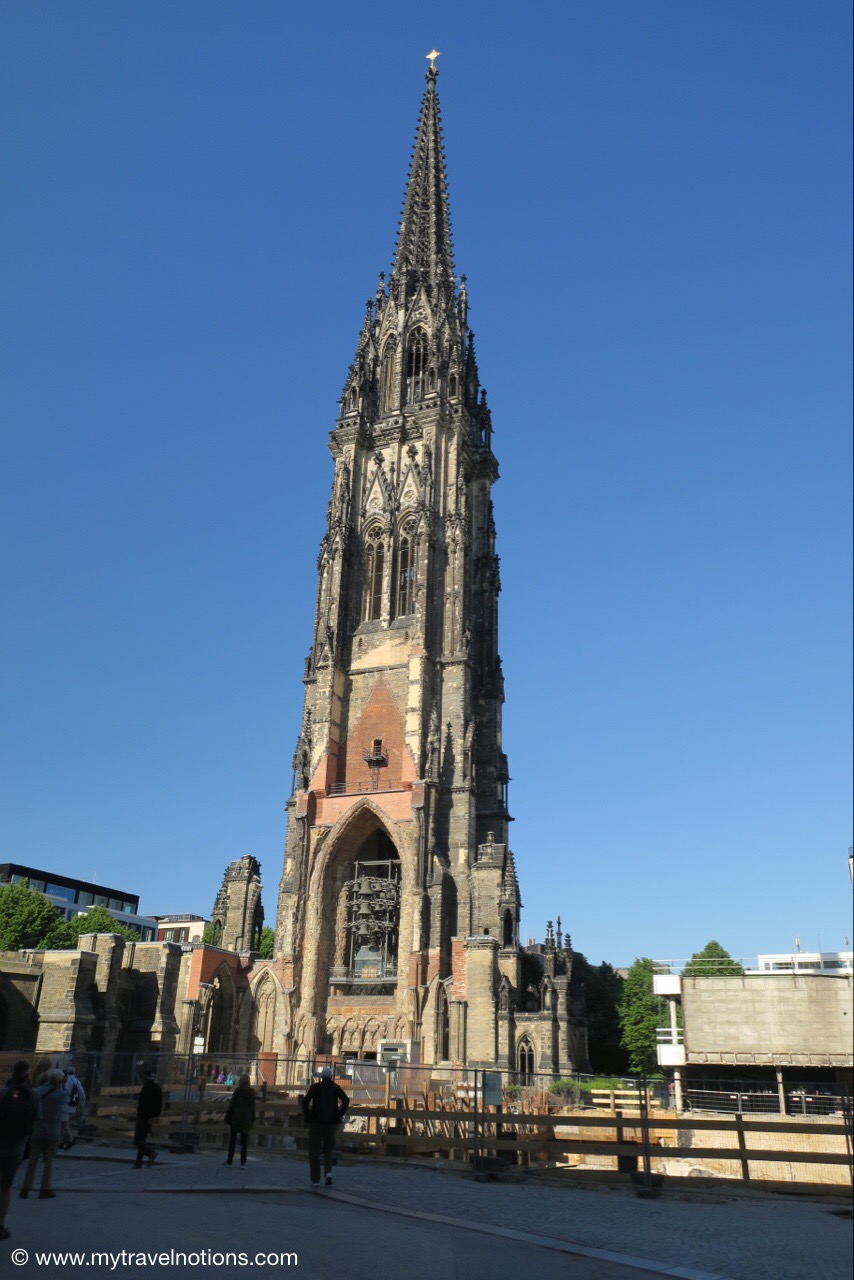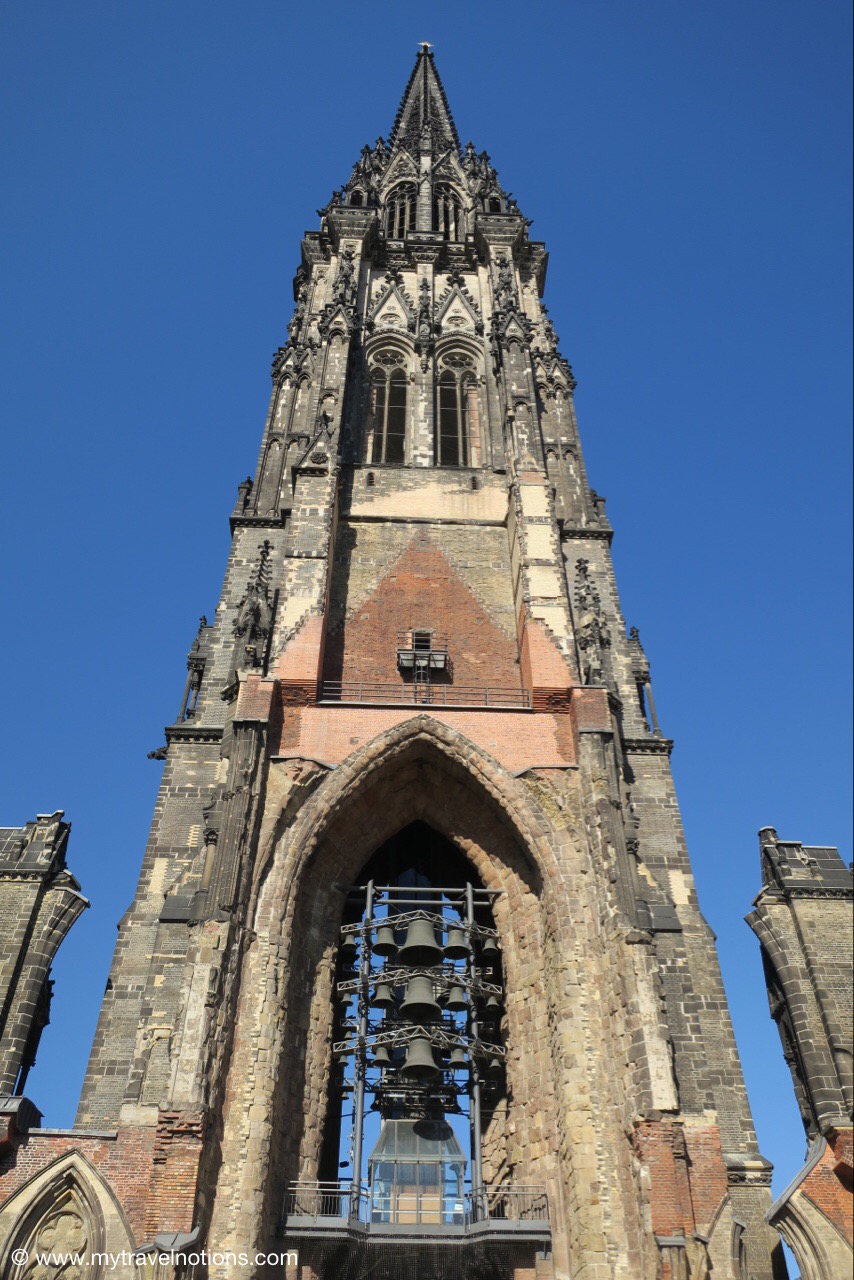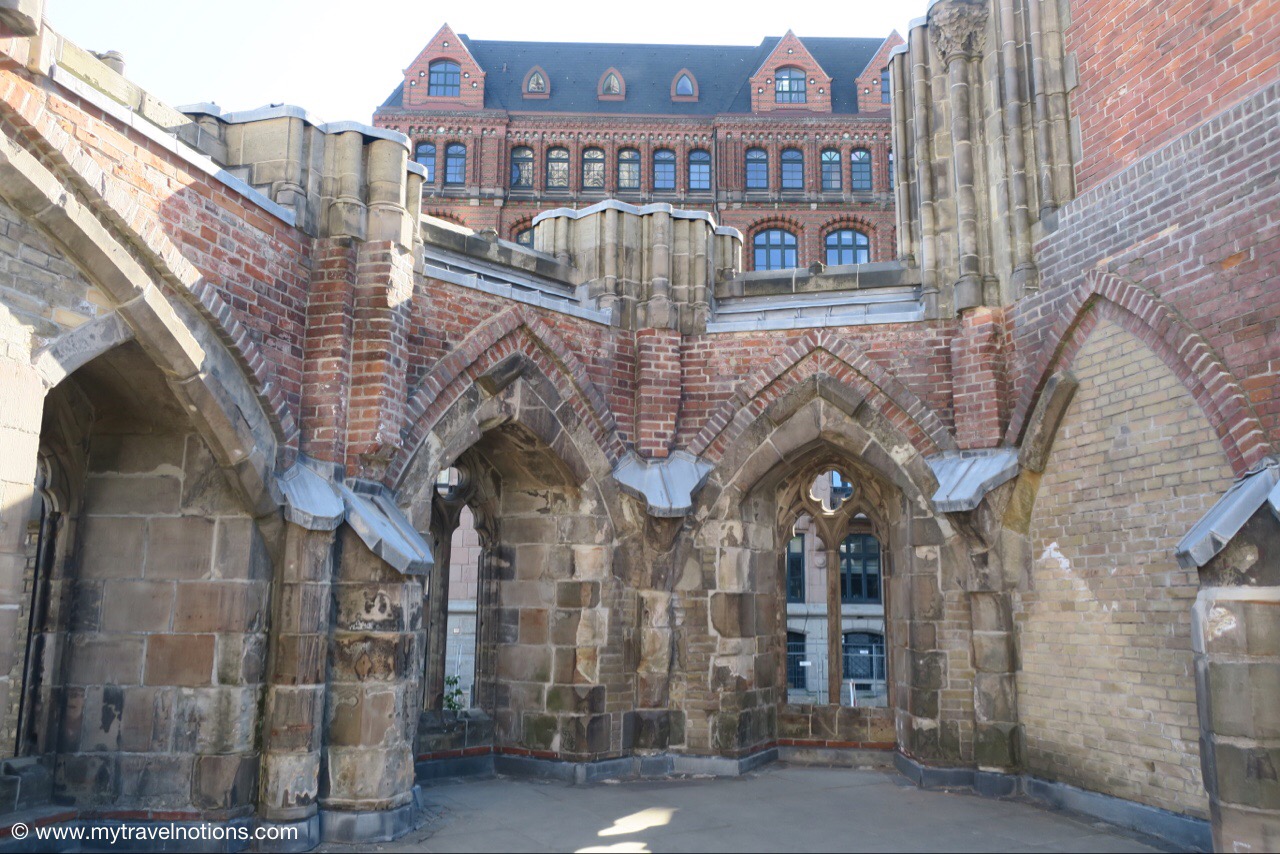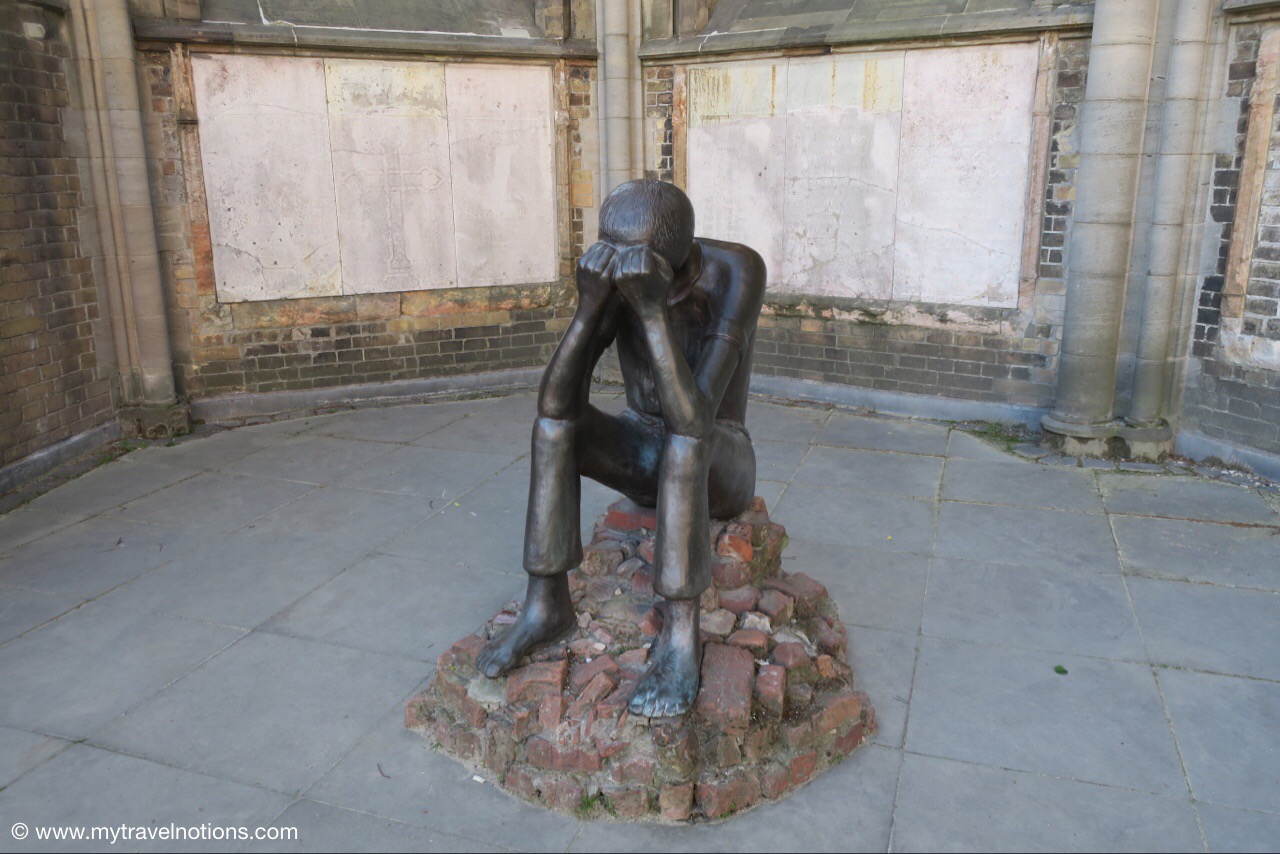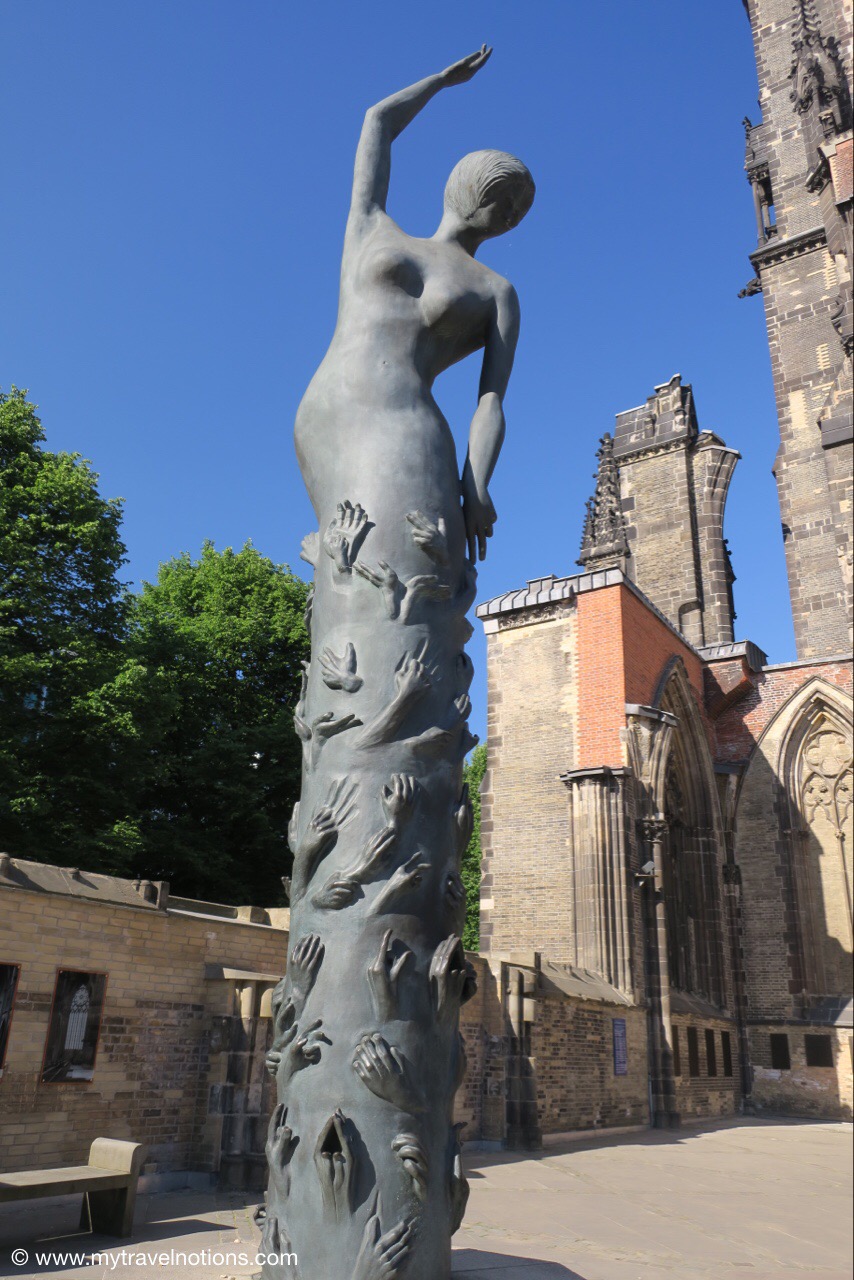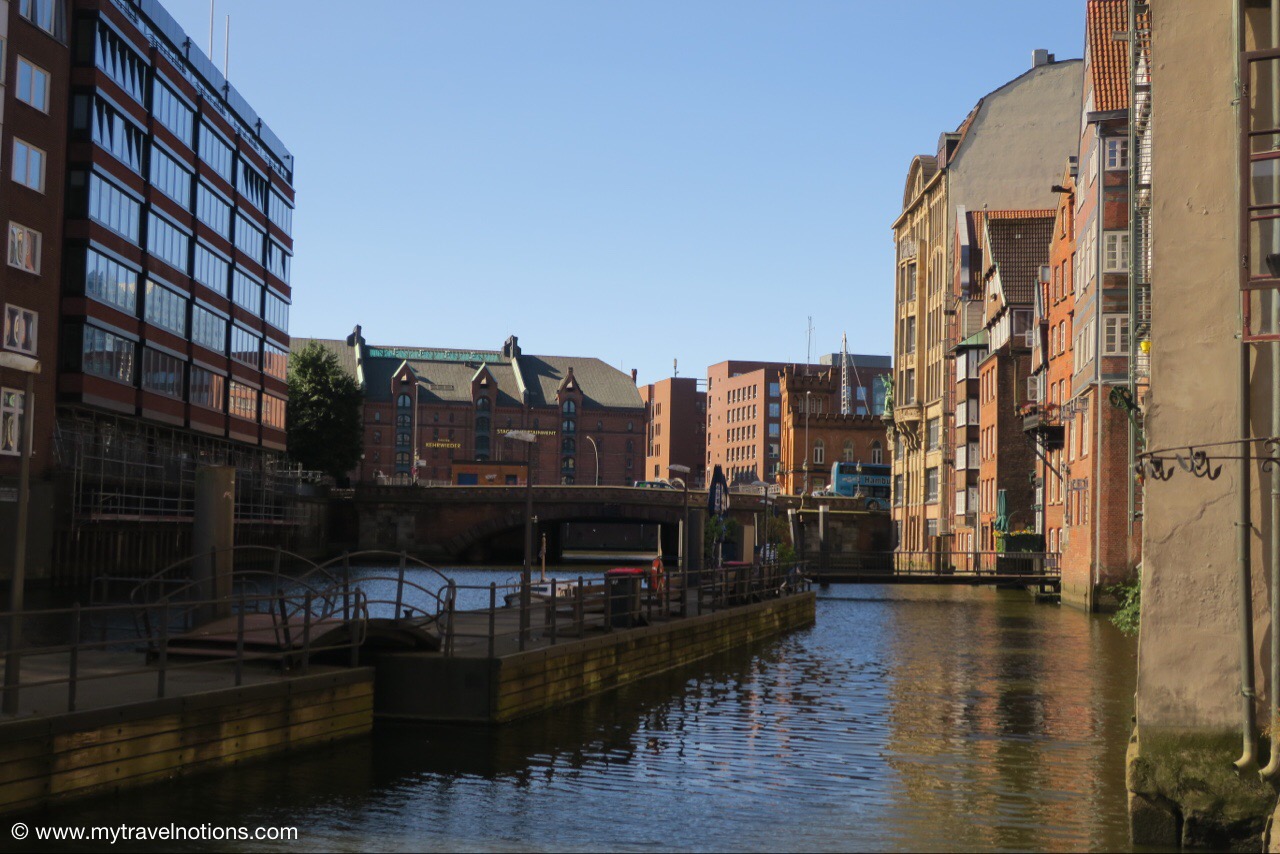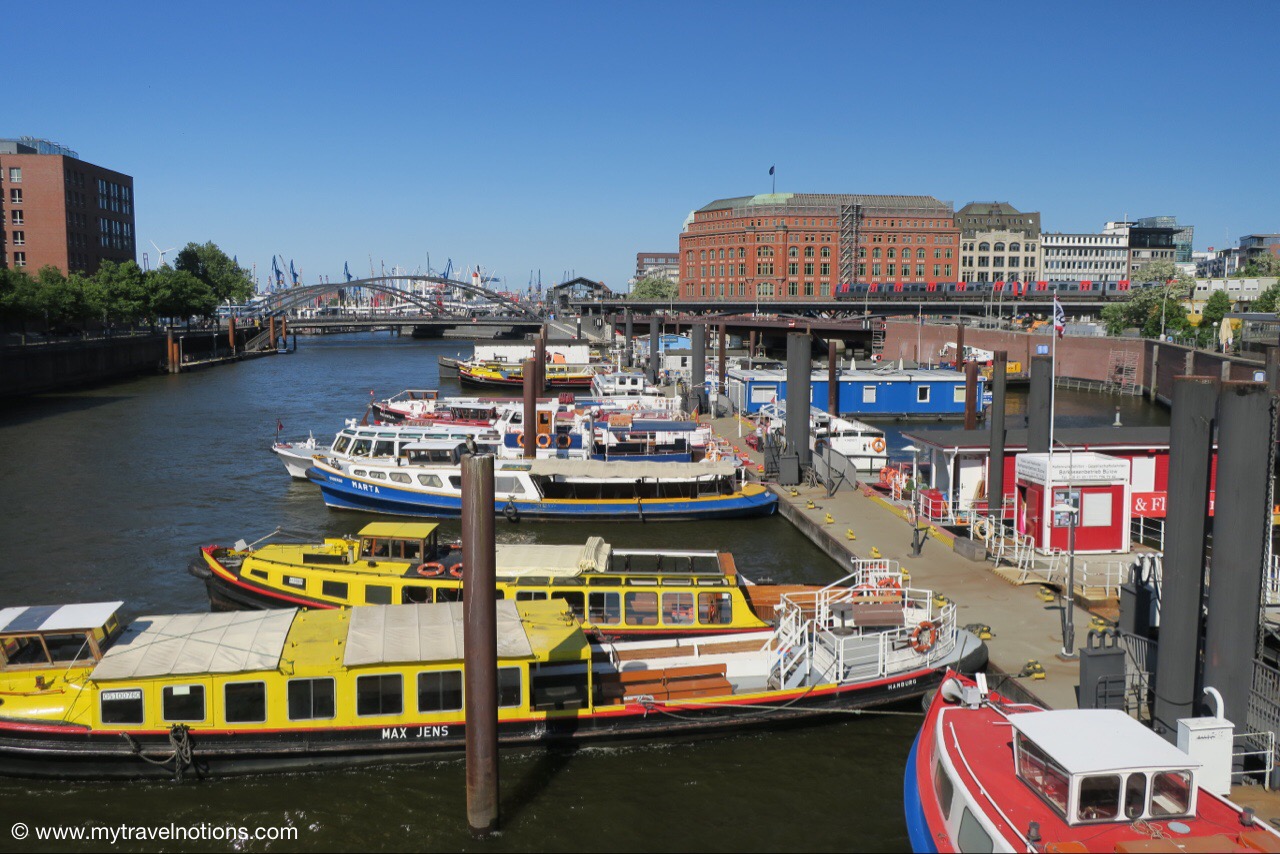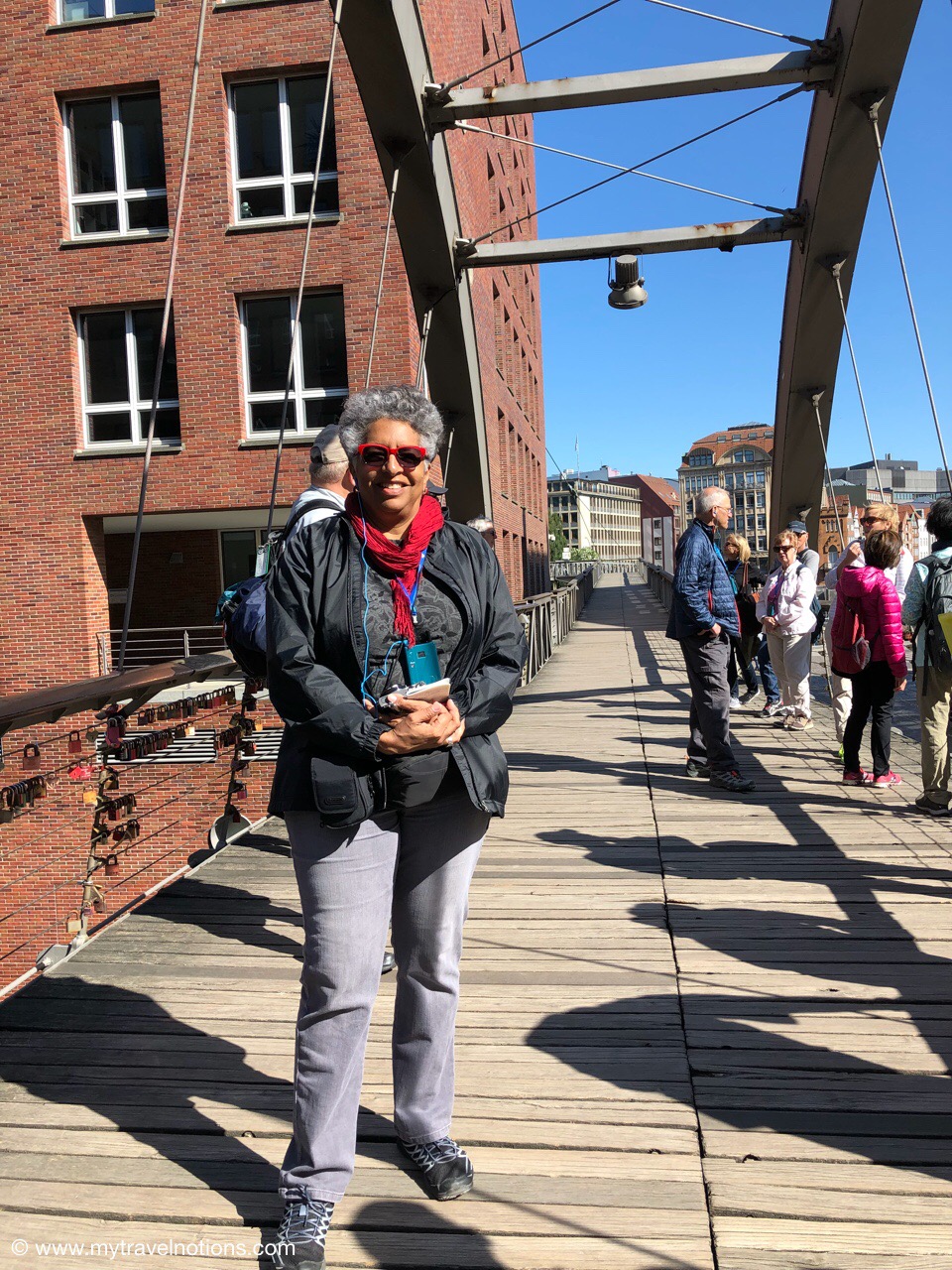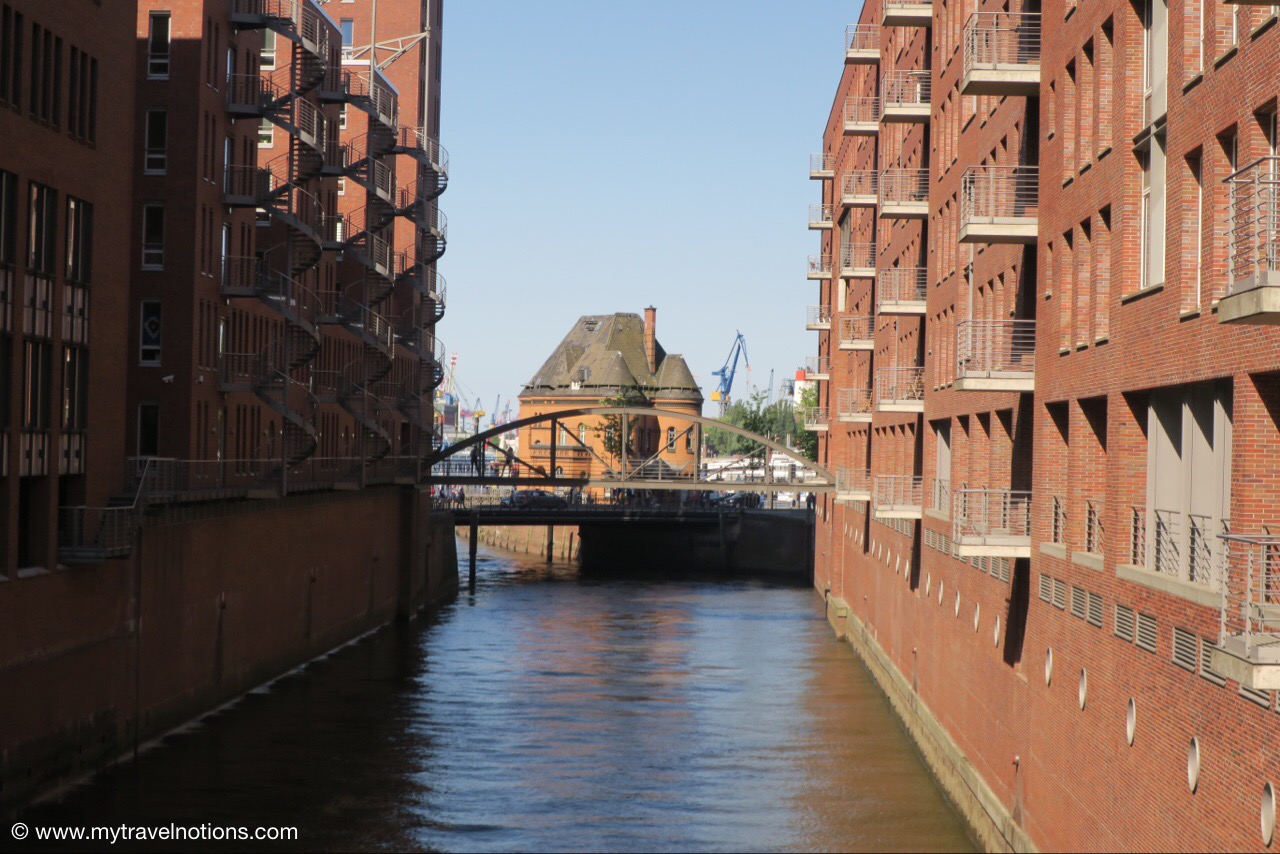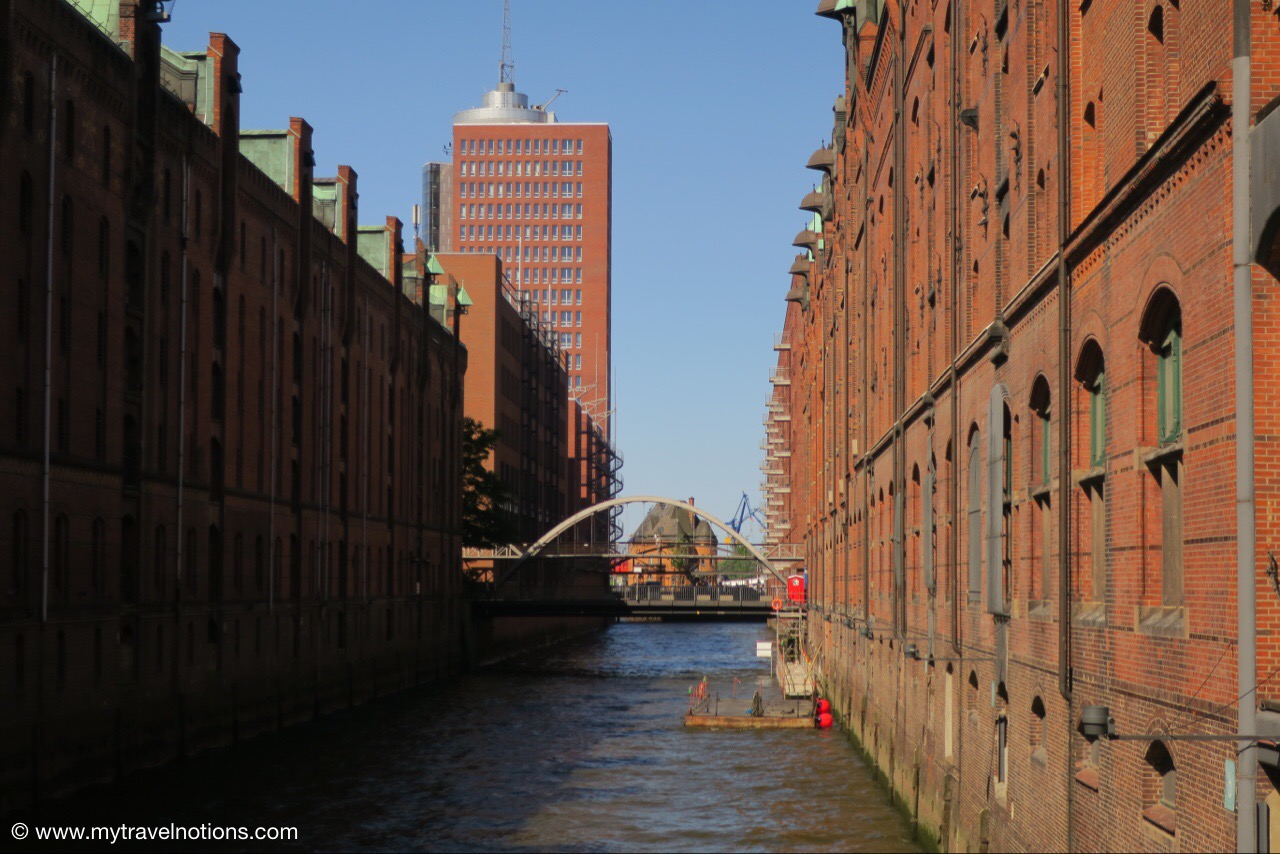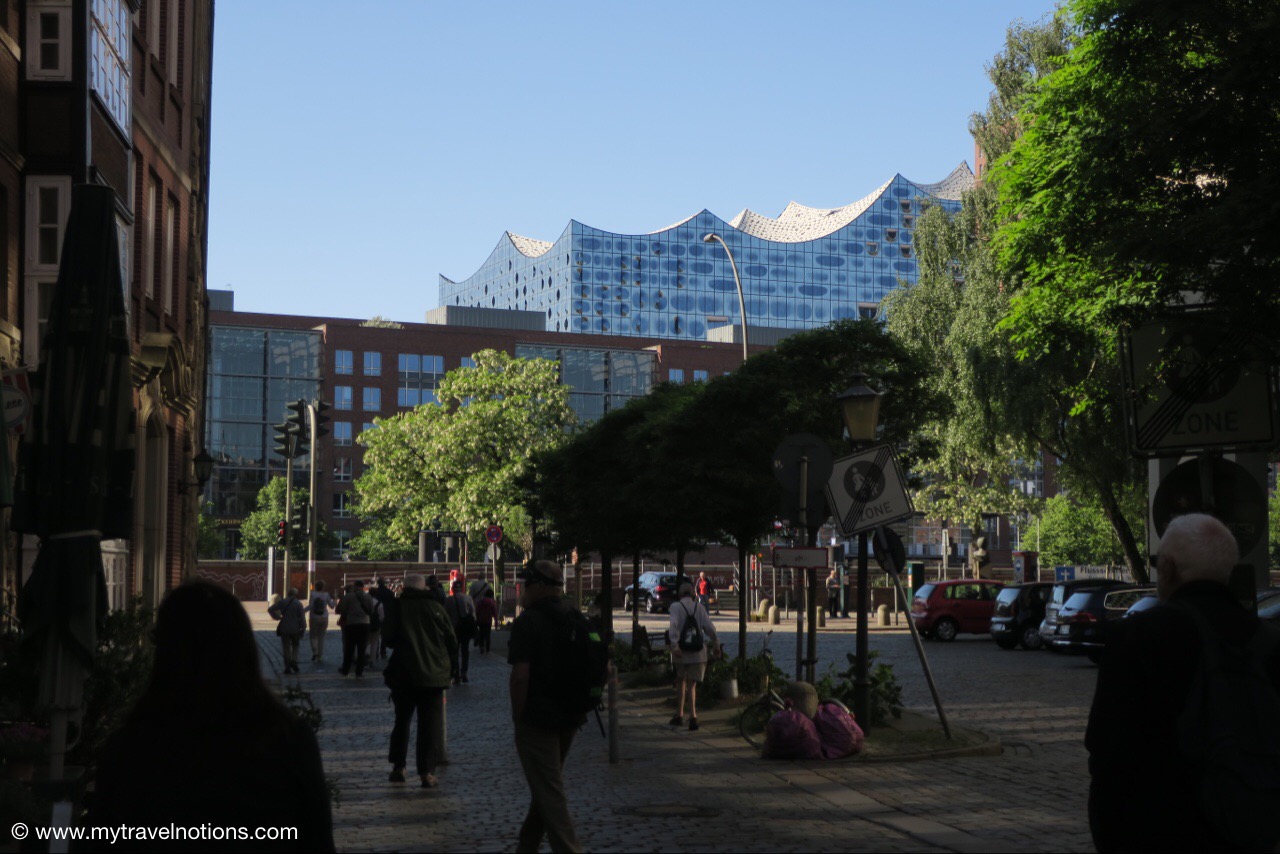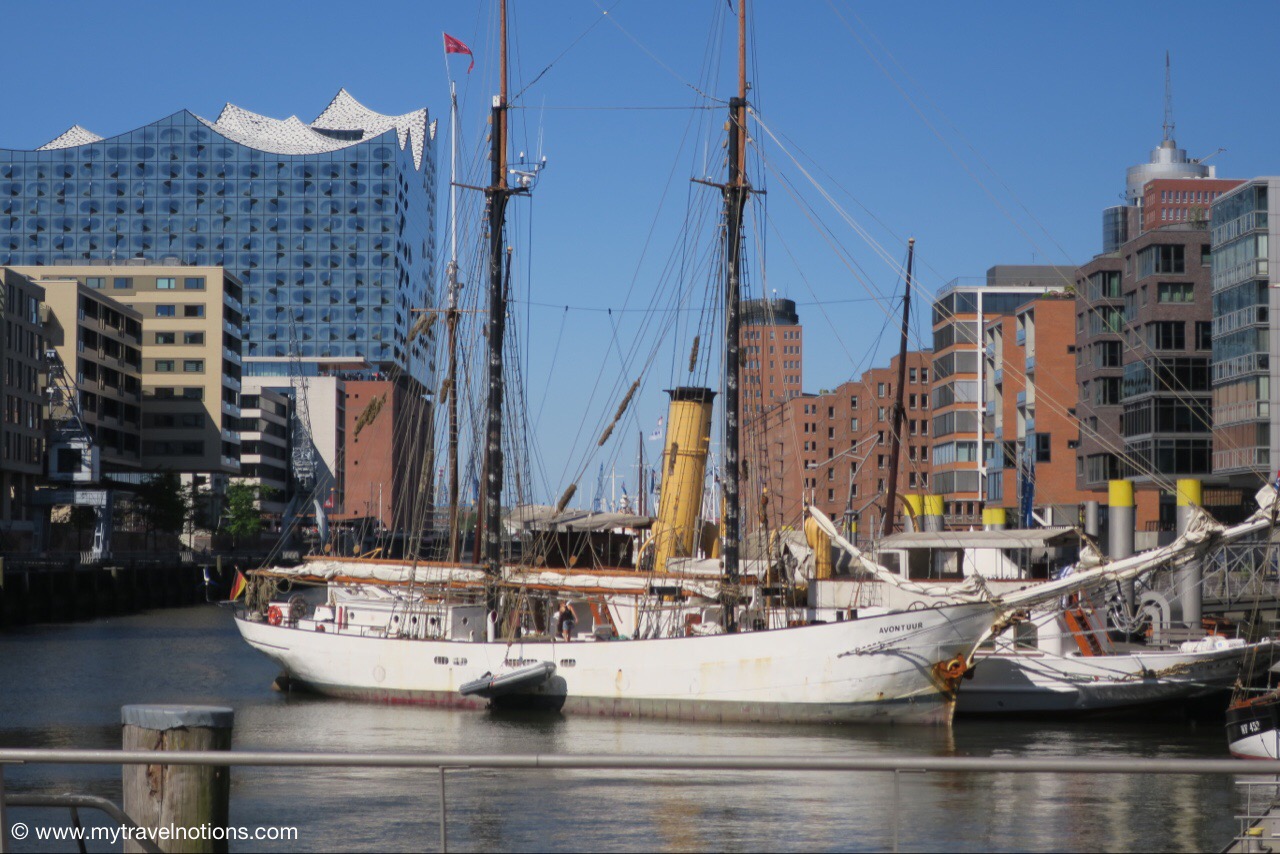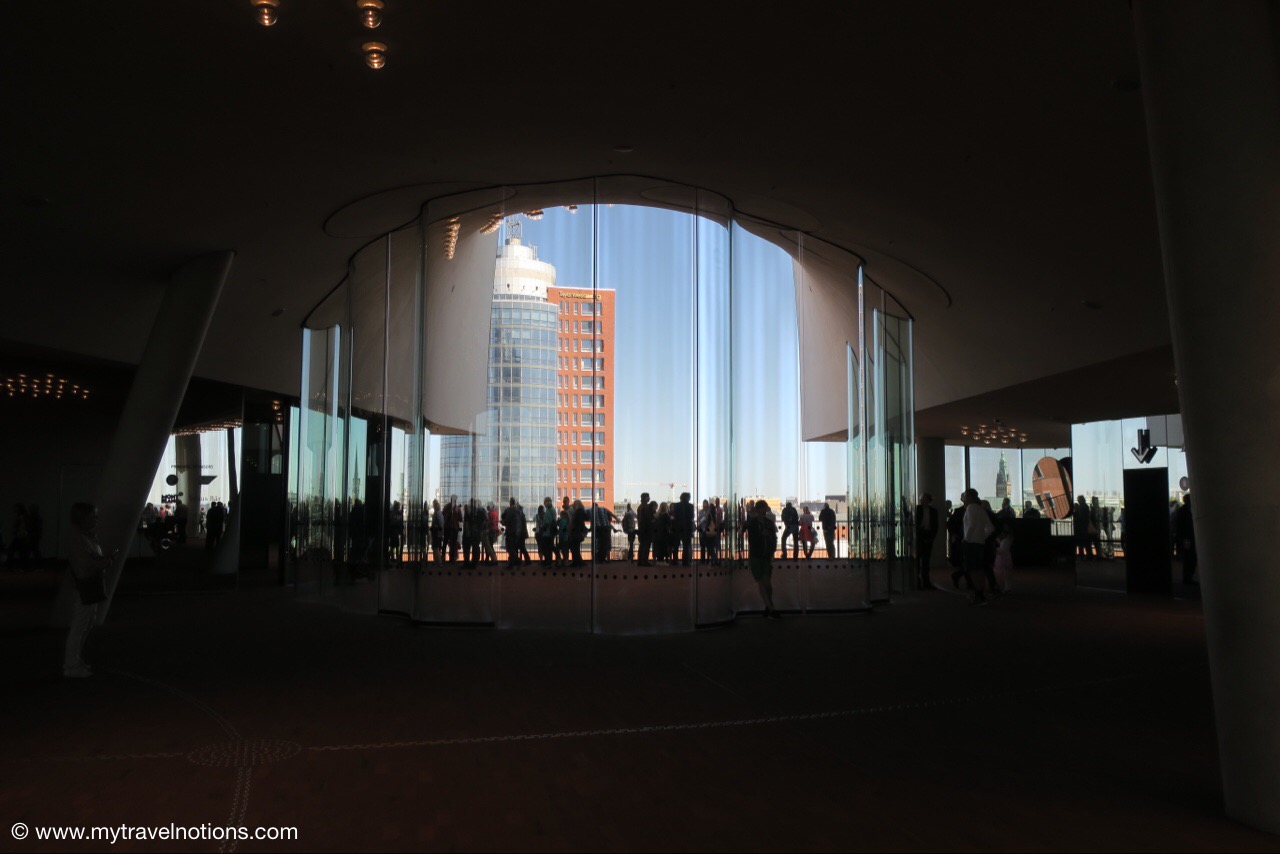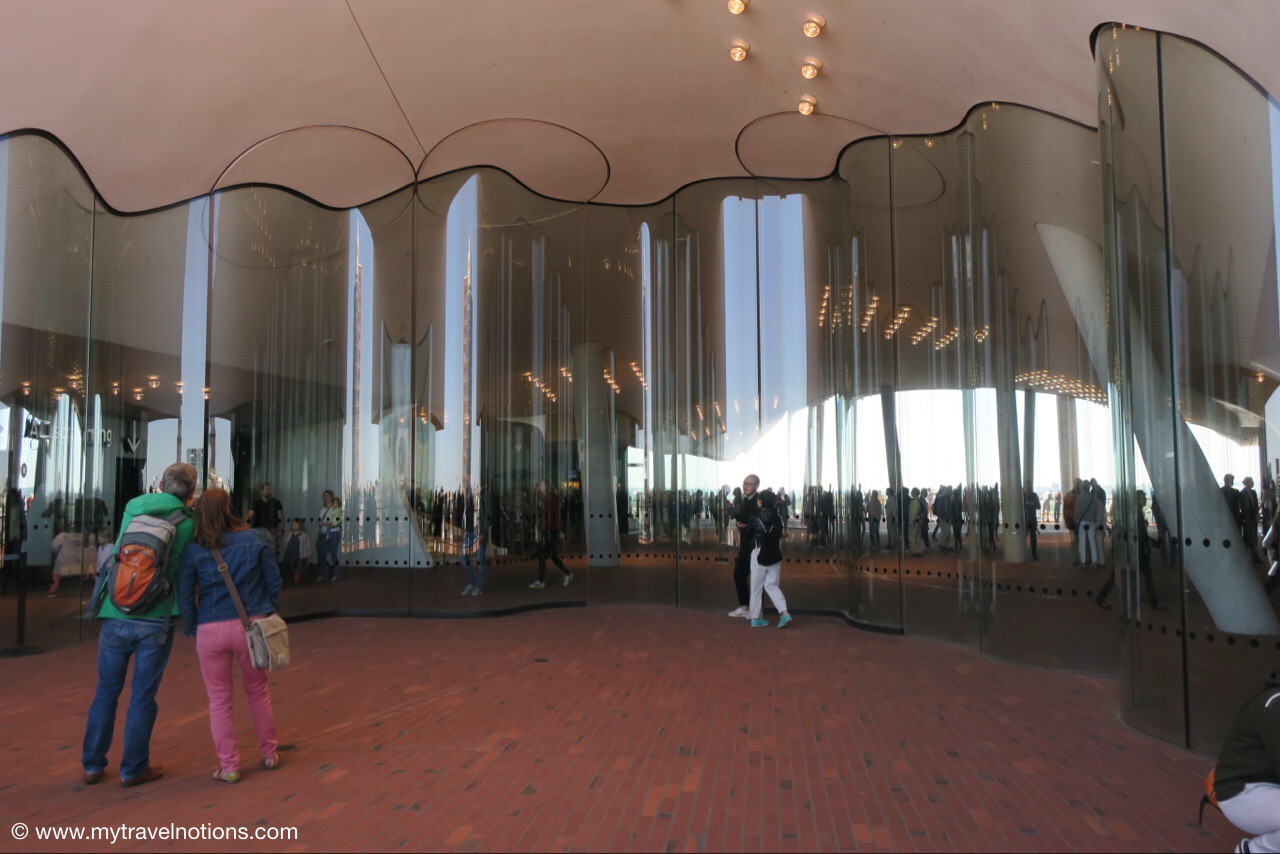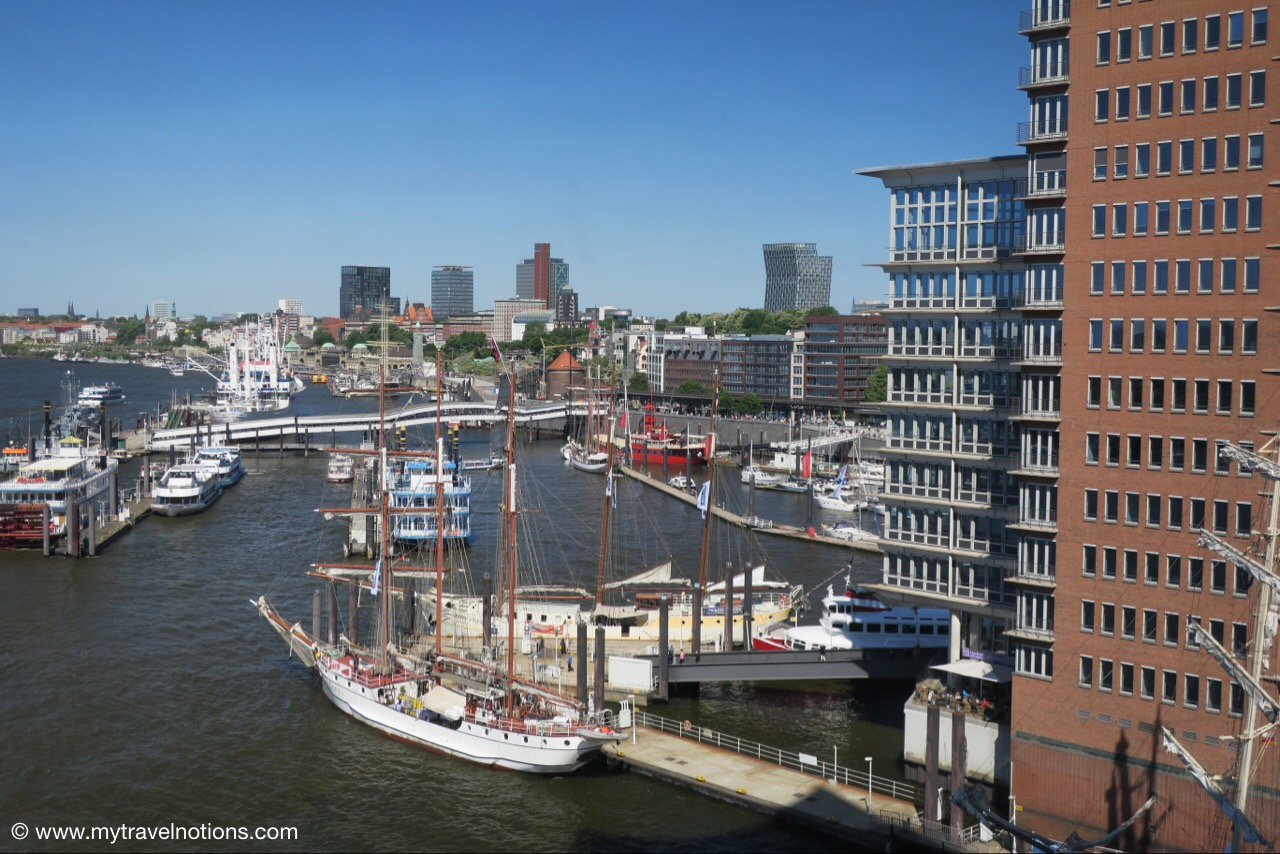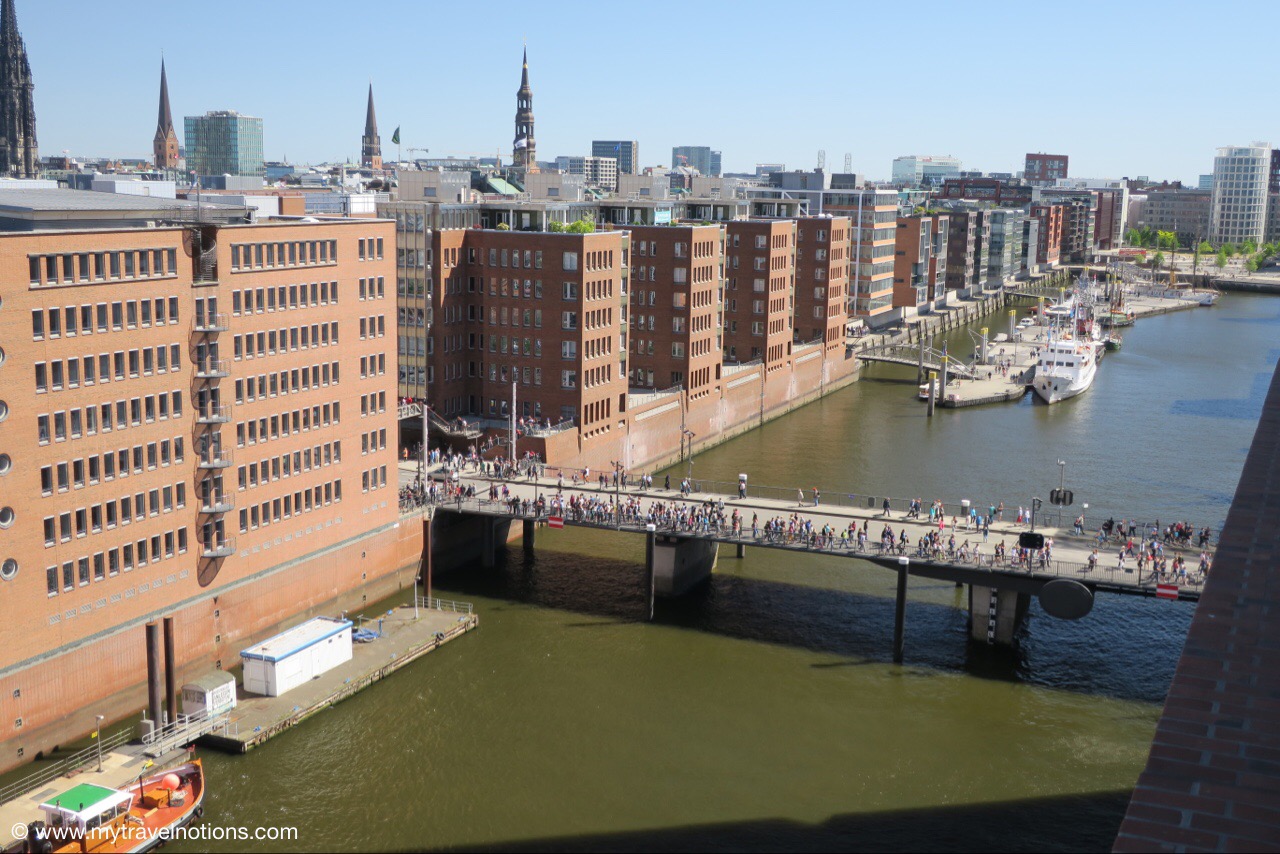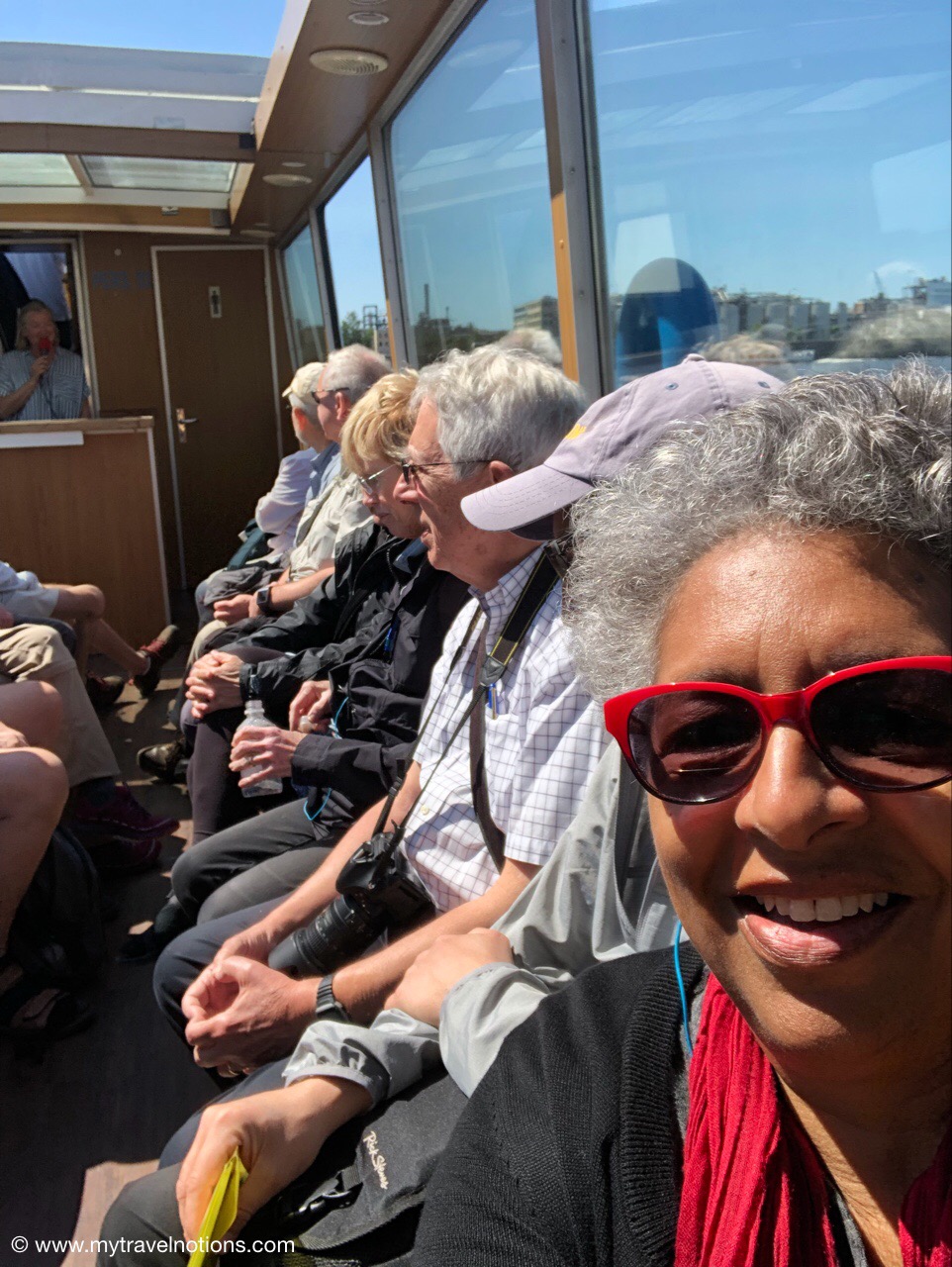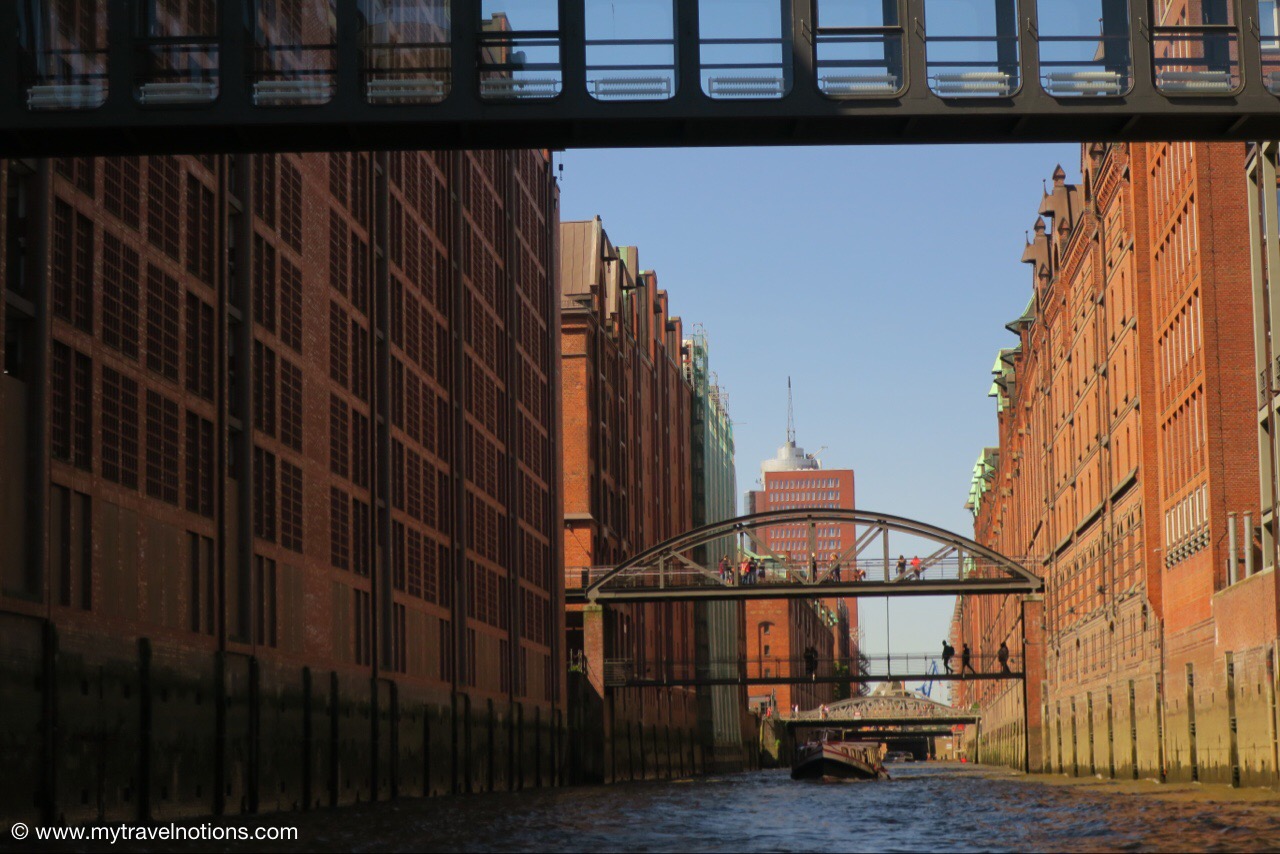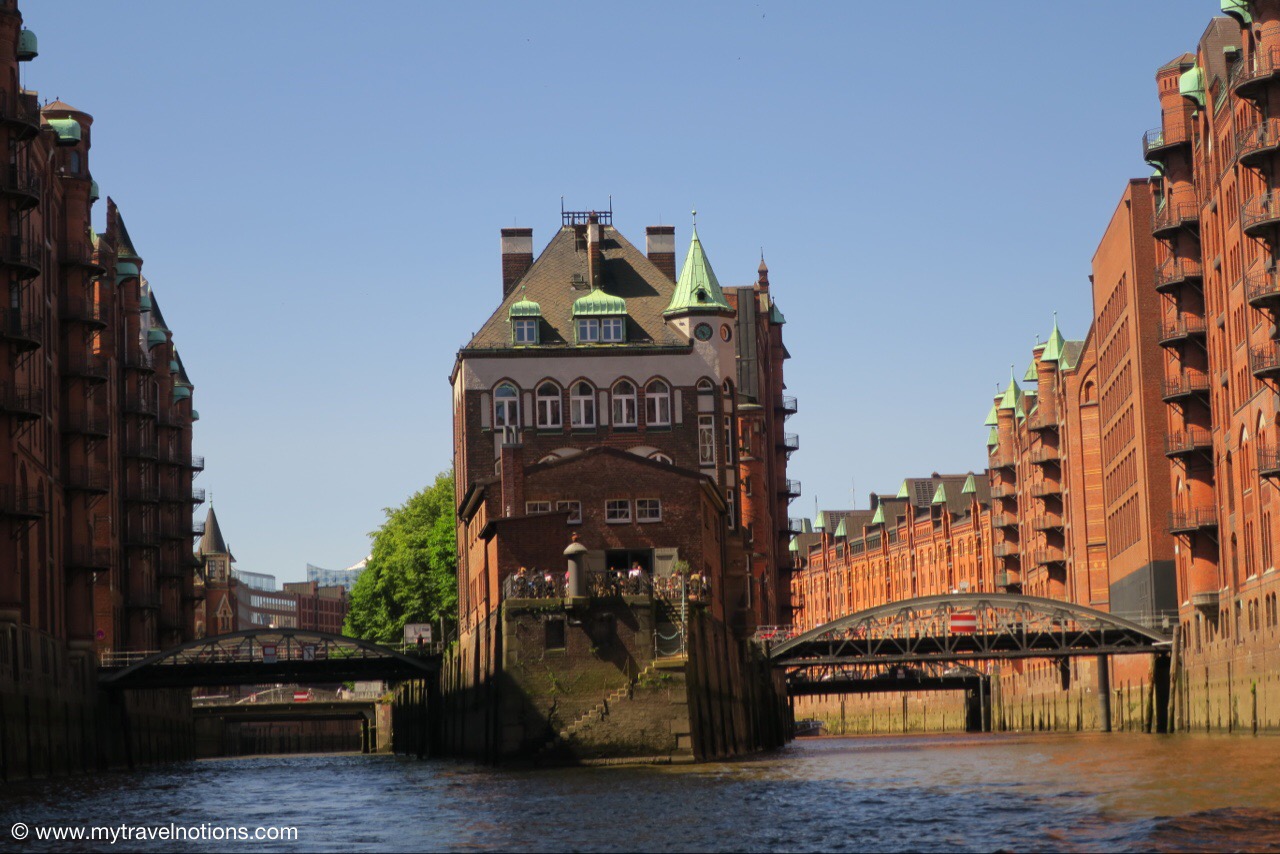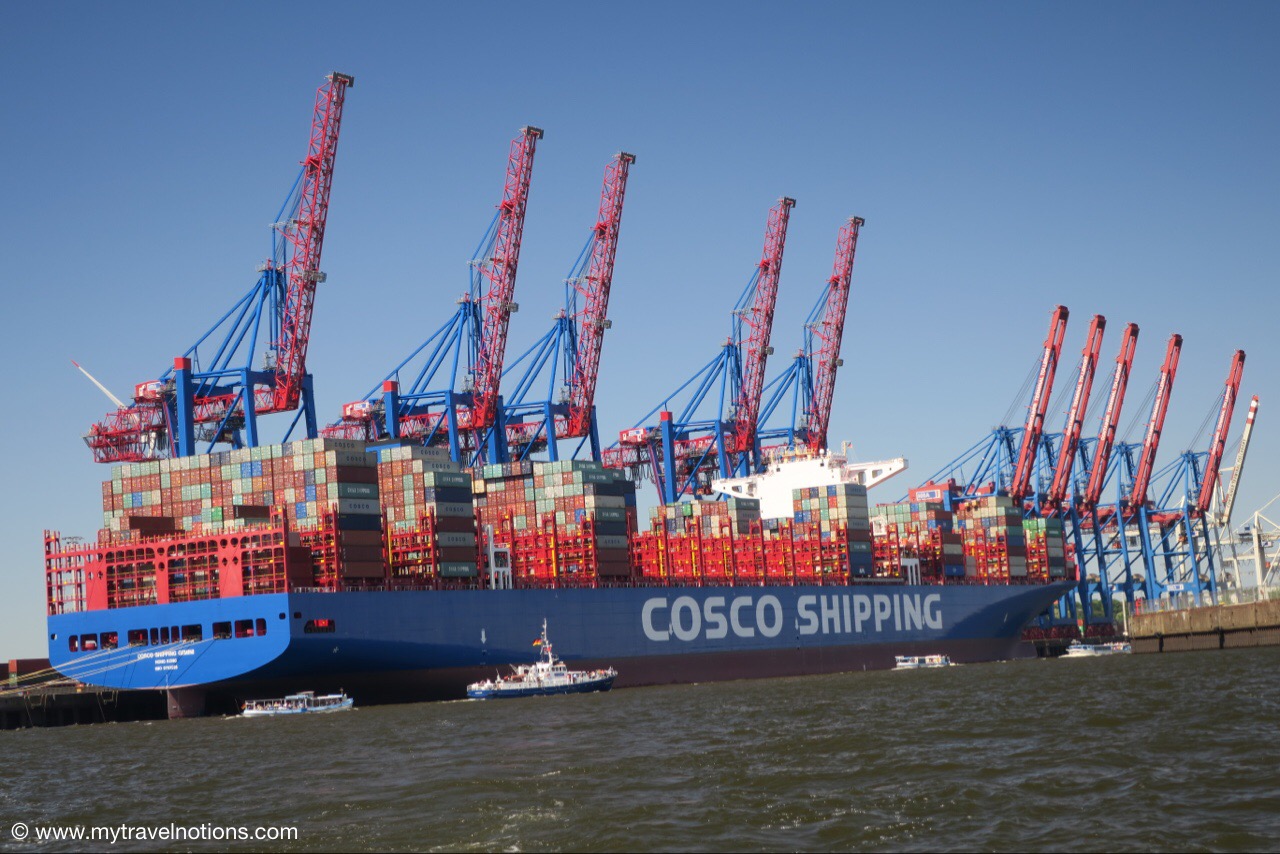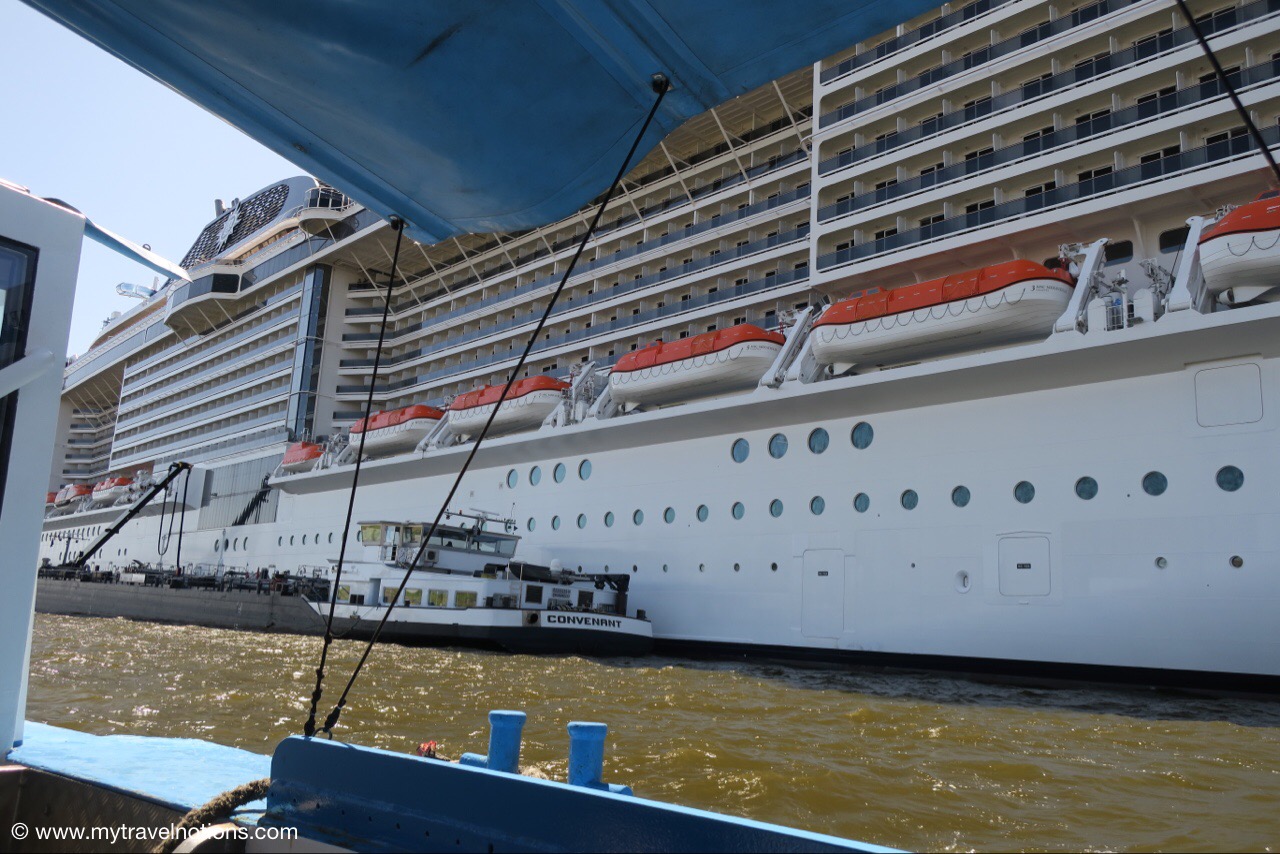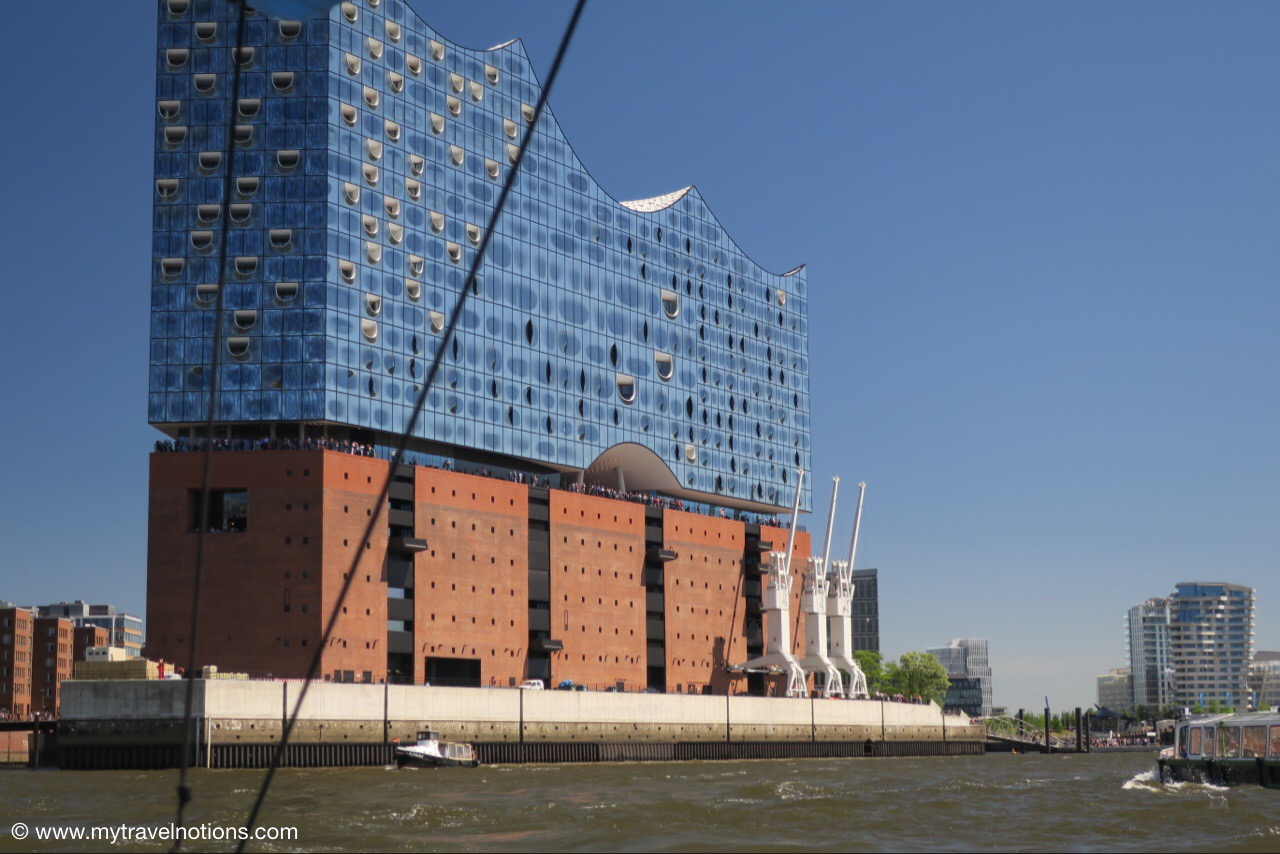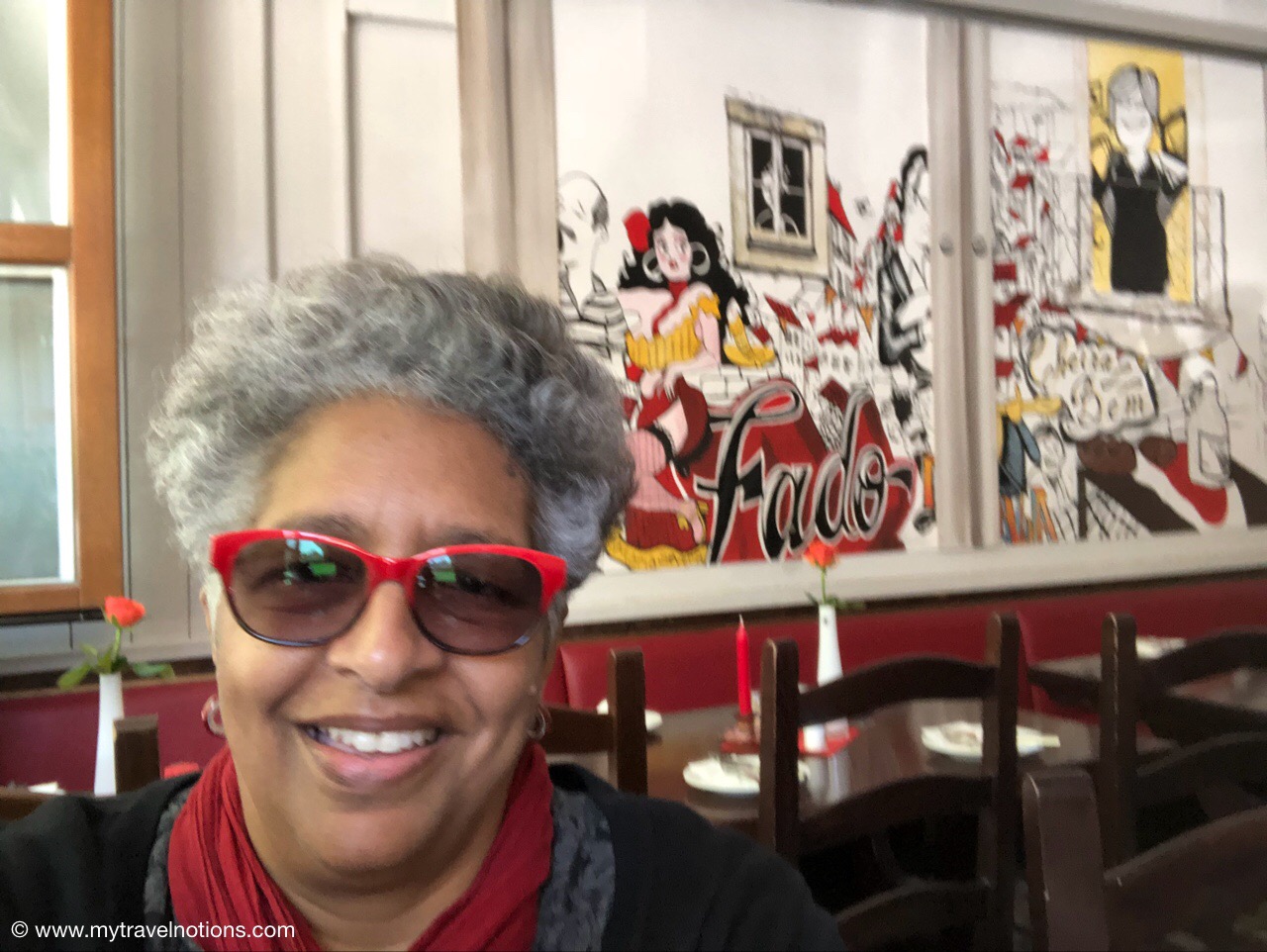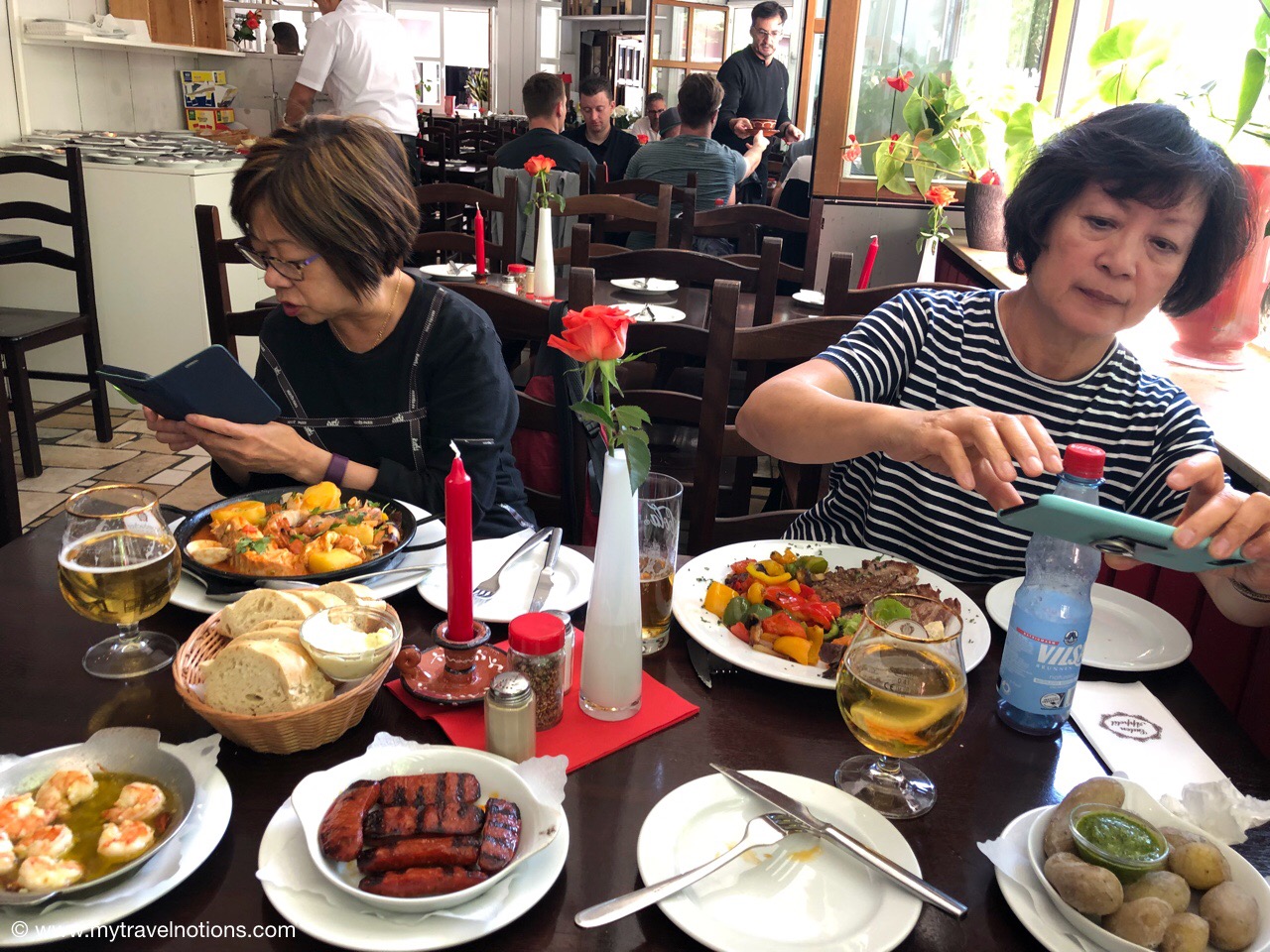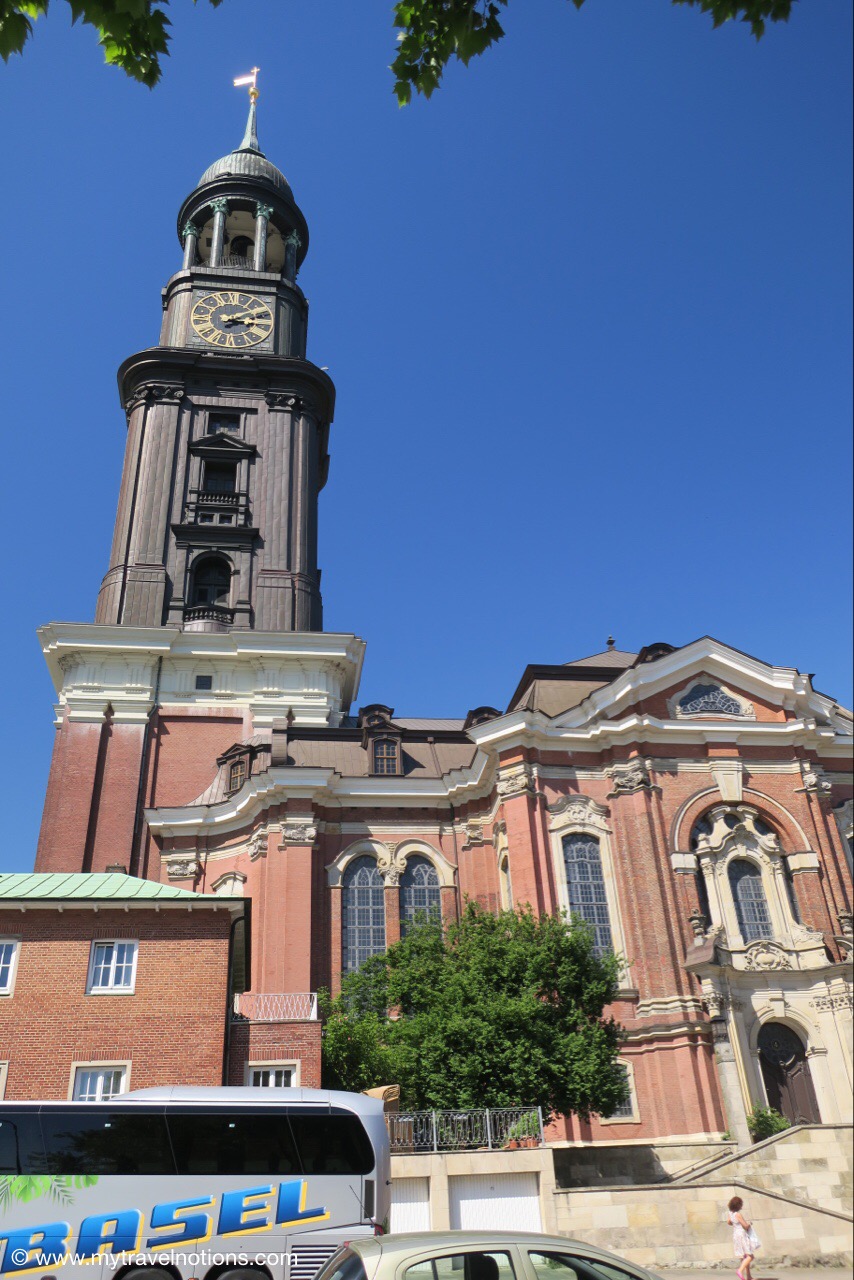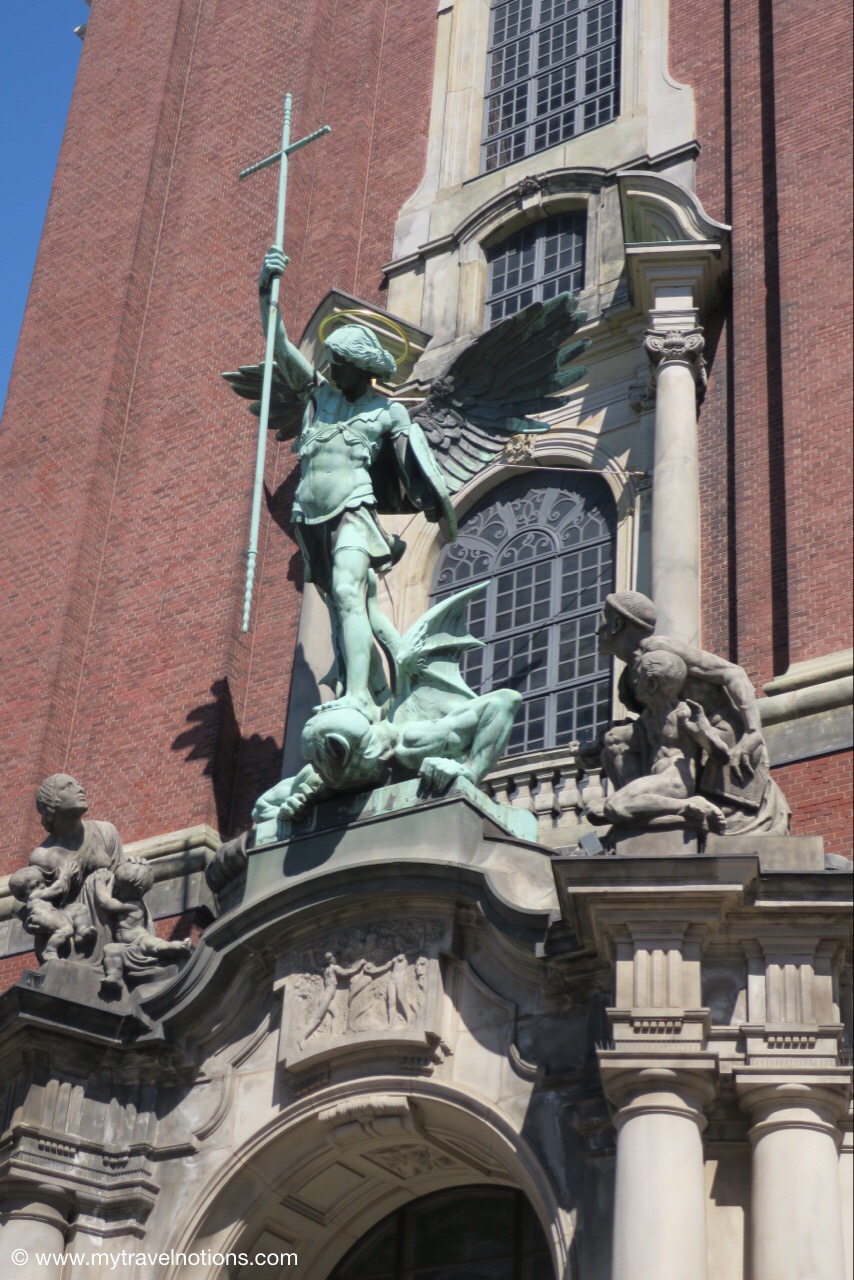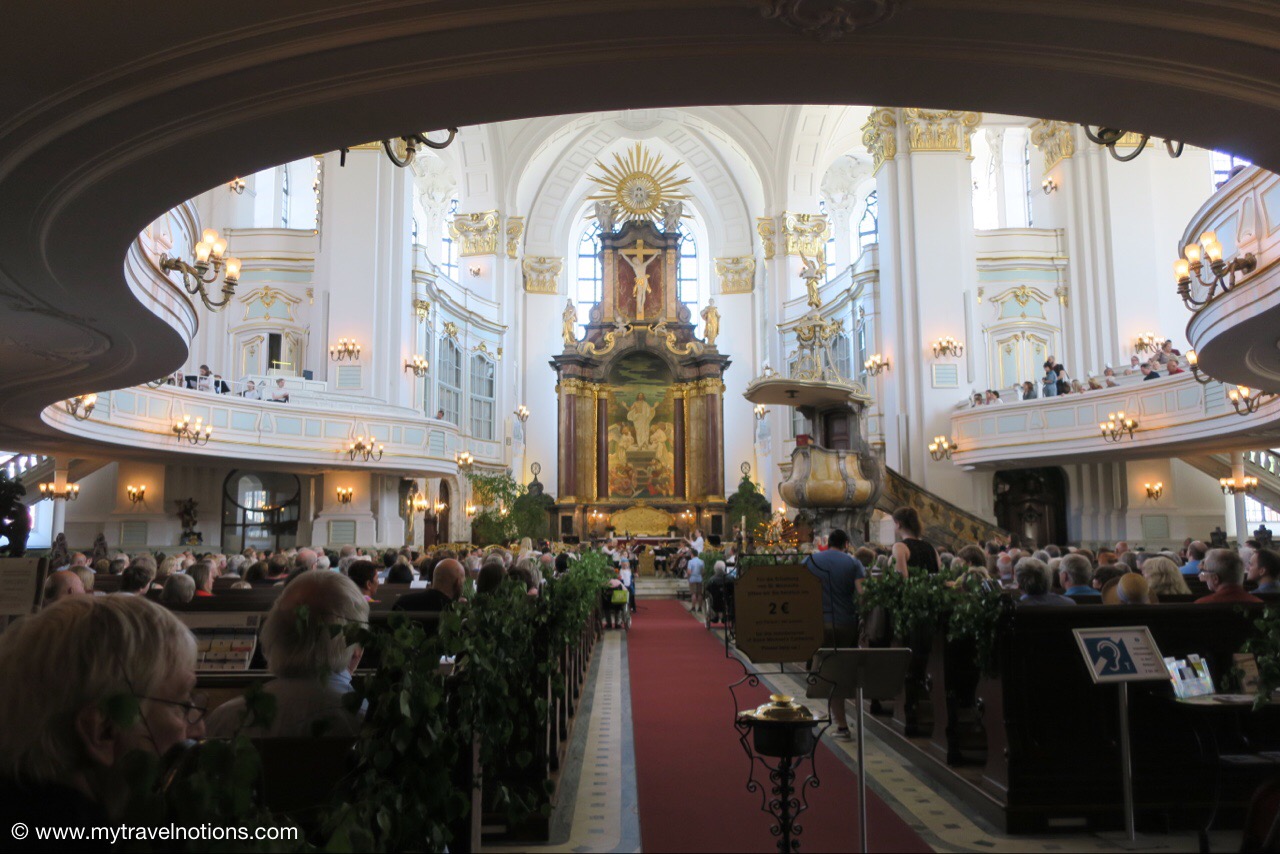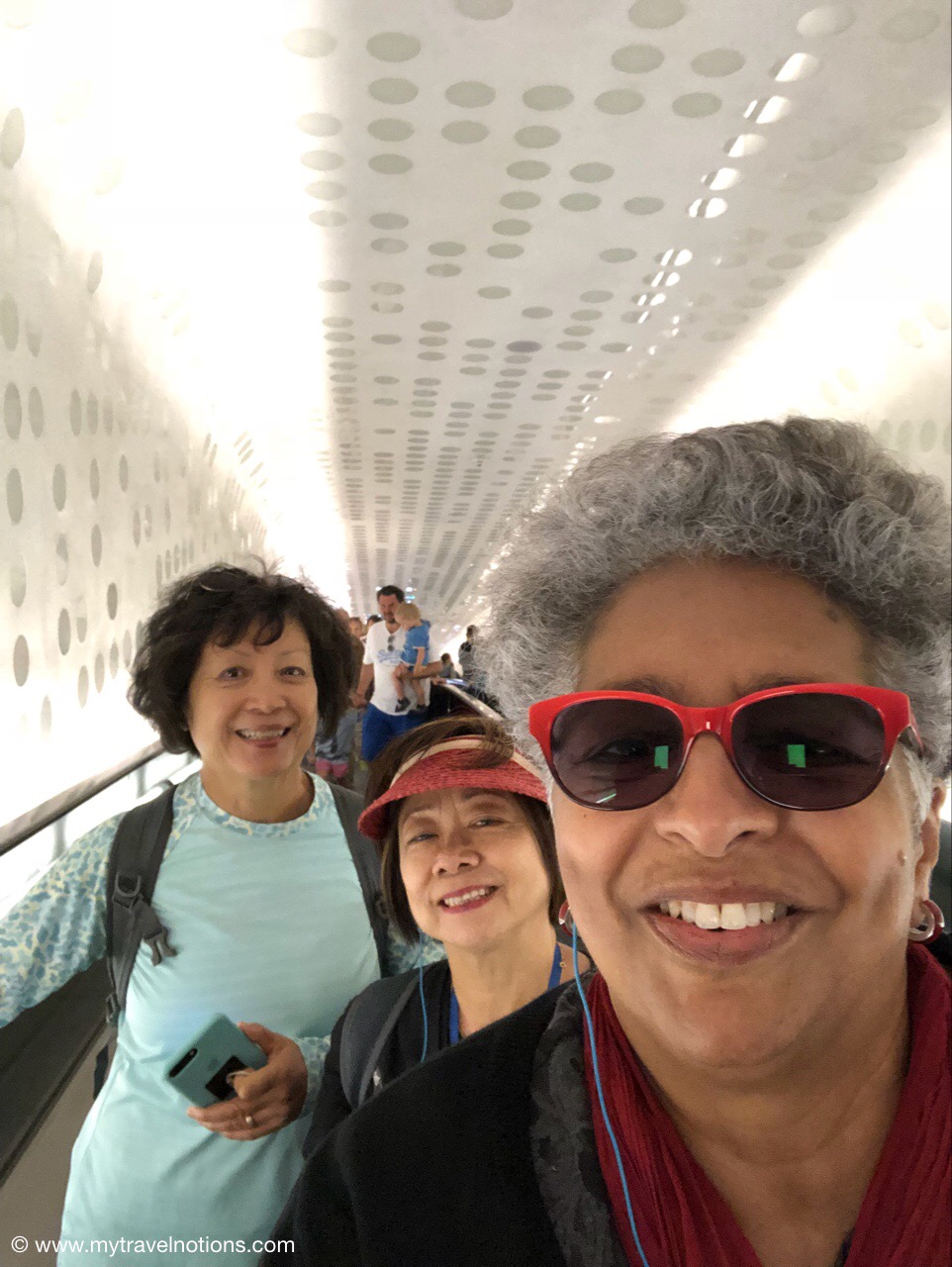 Sometimes riding in a bus, even a luxury coach with room for the group to spread out, can be more tiring than a vigorous walk, but our Rick Steves "Best of Germany" tour group left Hamburg on Monday toward Hannoversch Münden where we will spend one night. Along the way we had the opportunity to pay our respects to the more than 50,000 Jews, Czechs, Poles, anti-Nazi Christians, homosexuals, Roma and more, including Ann Frank and her sister Margot Frank, who lost their lives at the former Nazi concentration camp, now memorial site of Bergen-Belsen. And, concluded our day with a walk through the historical town of Hannoversch Münden, in Lower Saxony, Germany, our home base for one night. On Tuesday, we get up early to make our way to Bacharach with a stop in Cologne.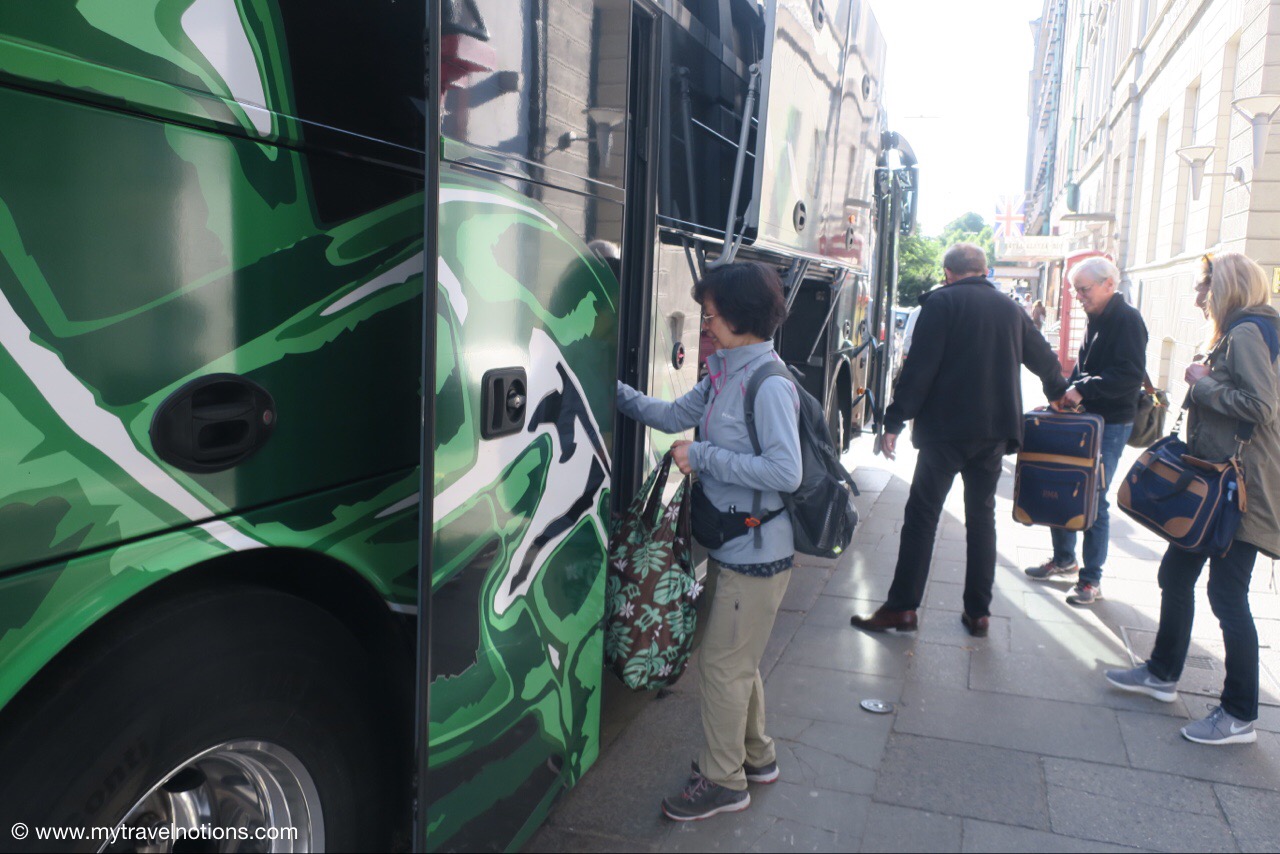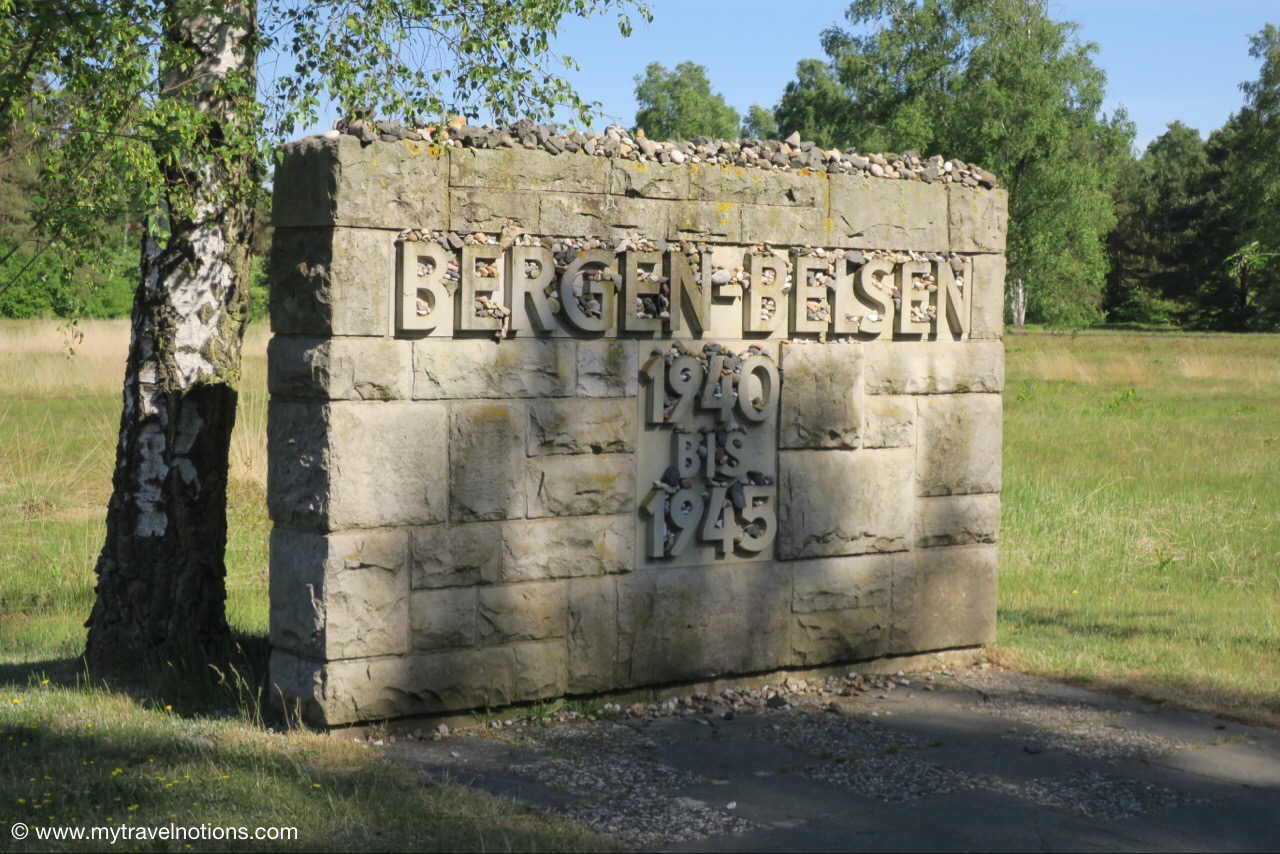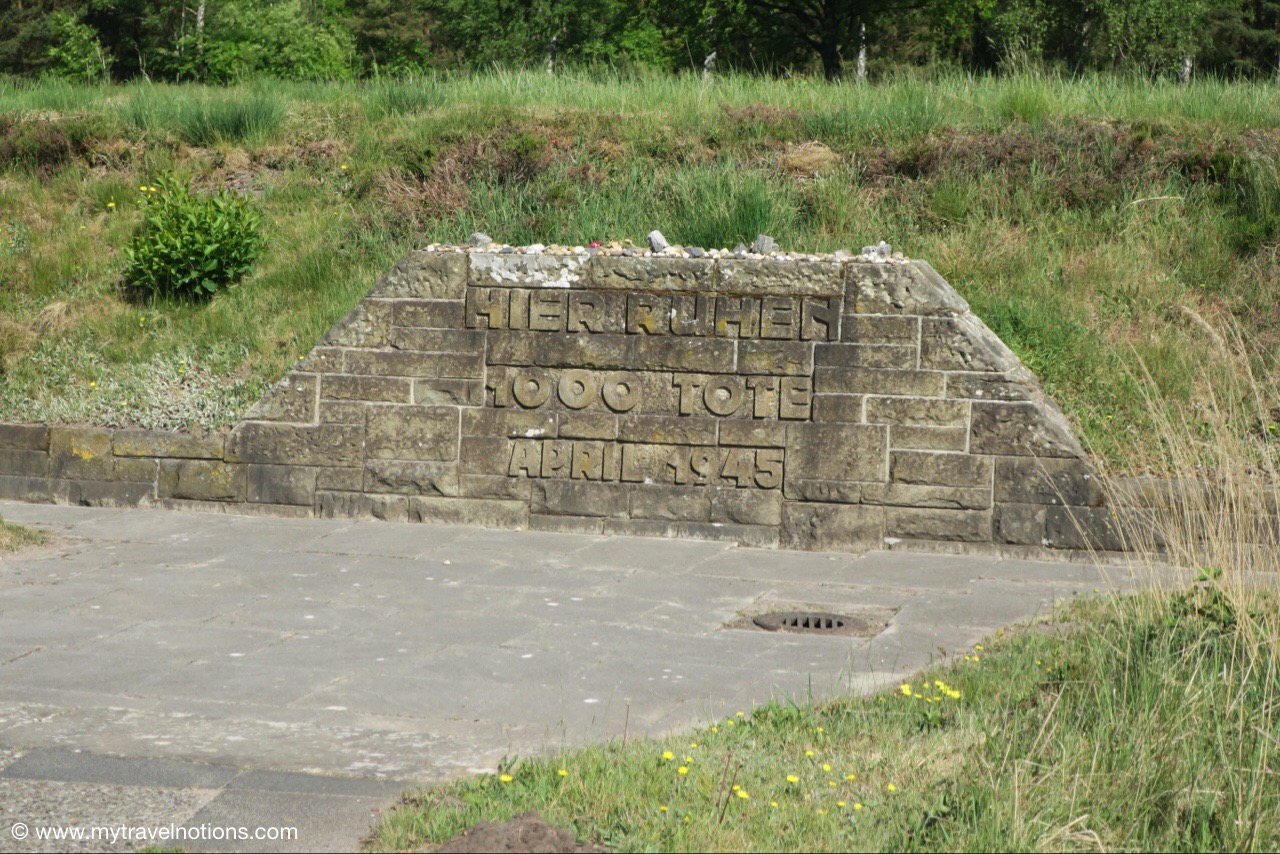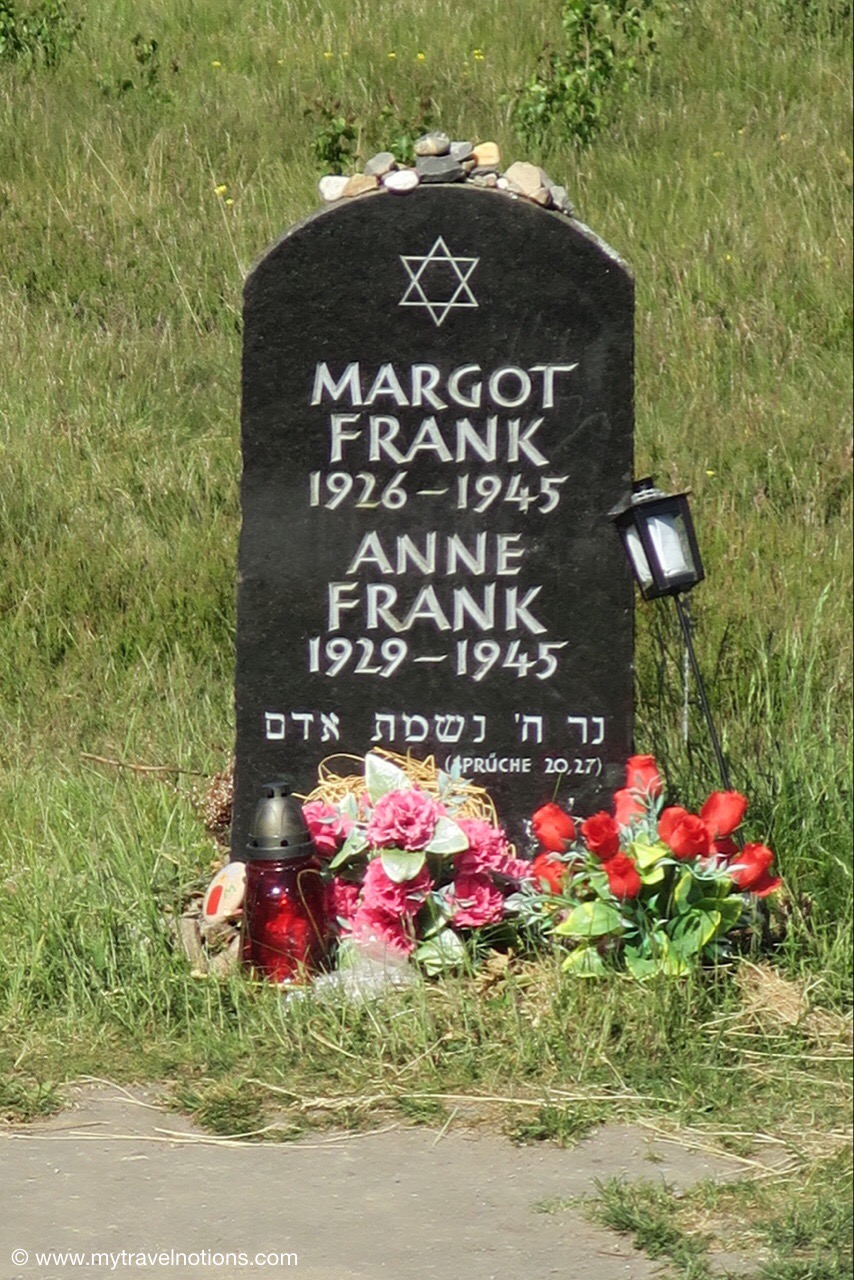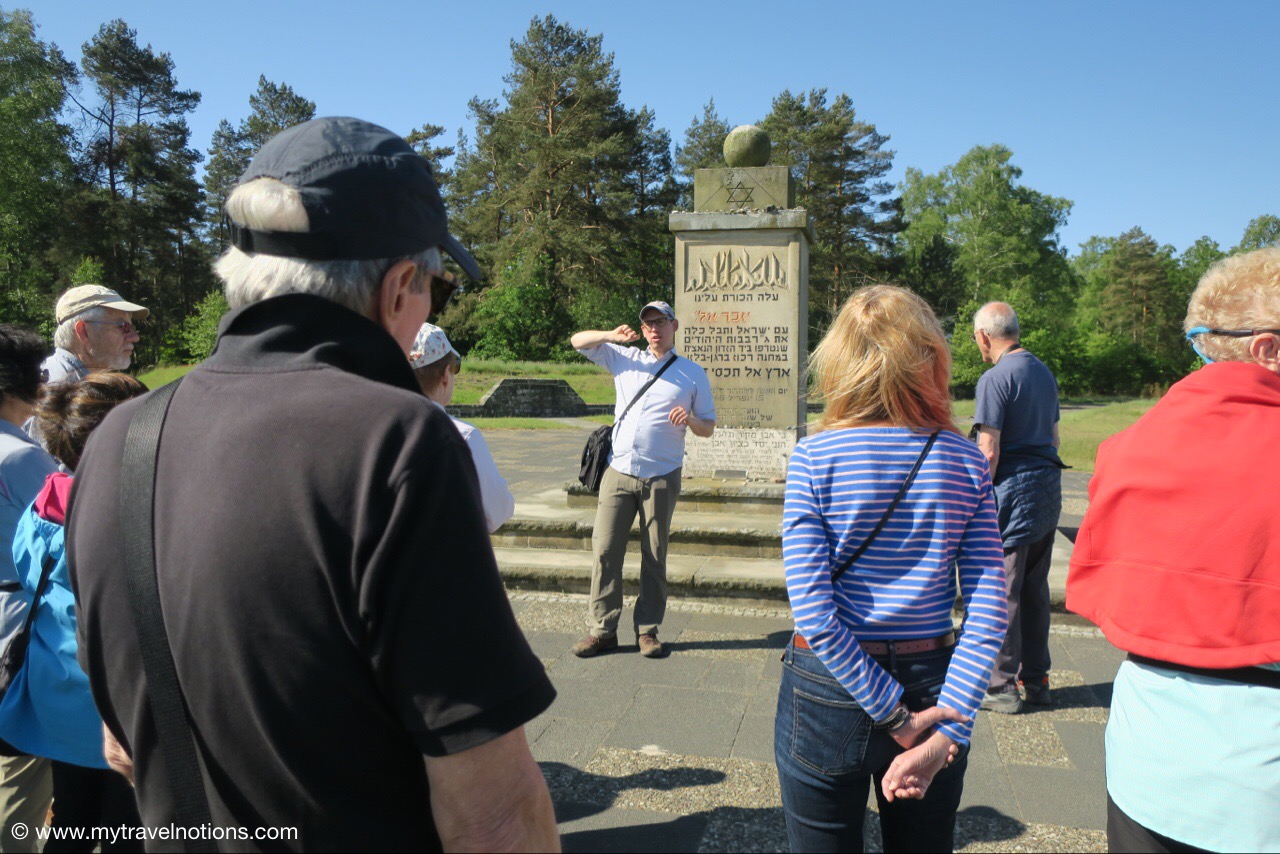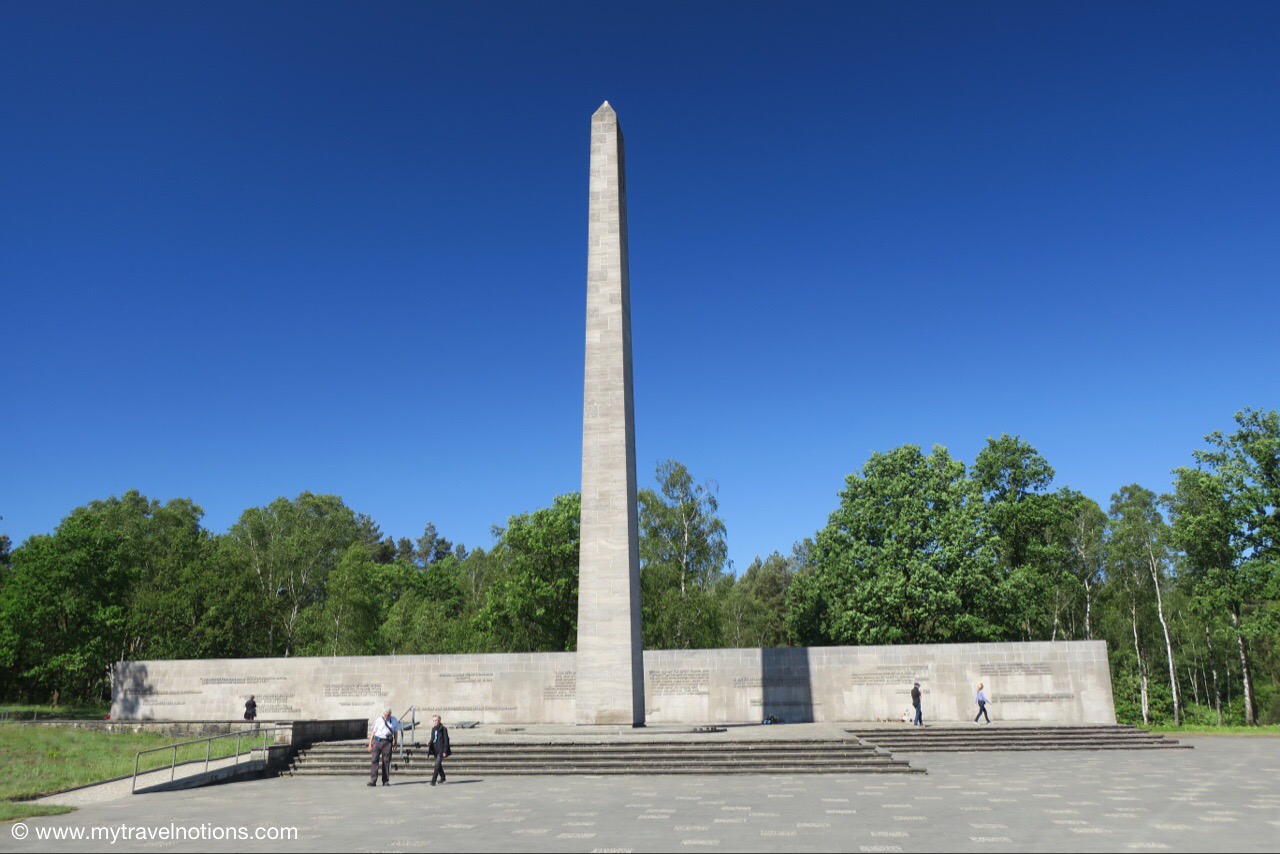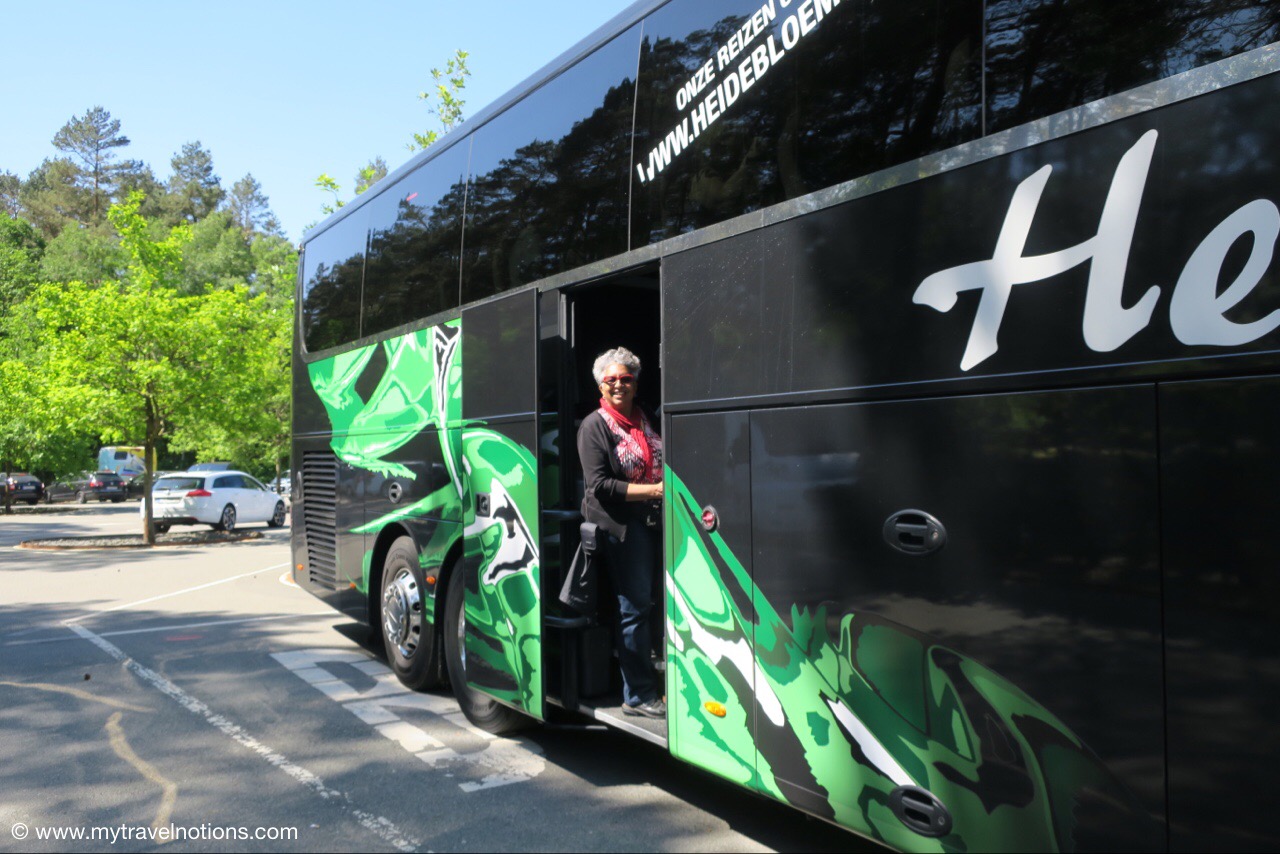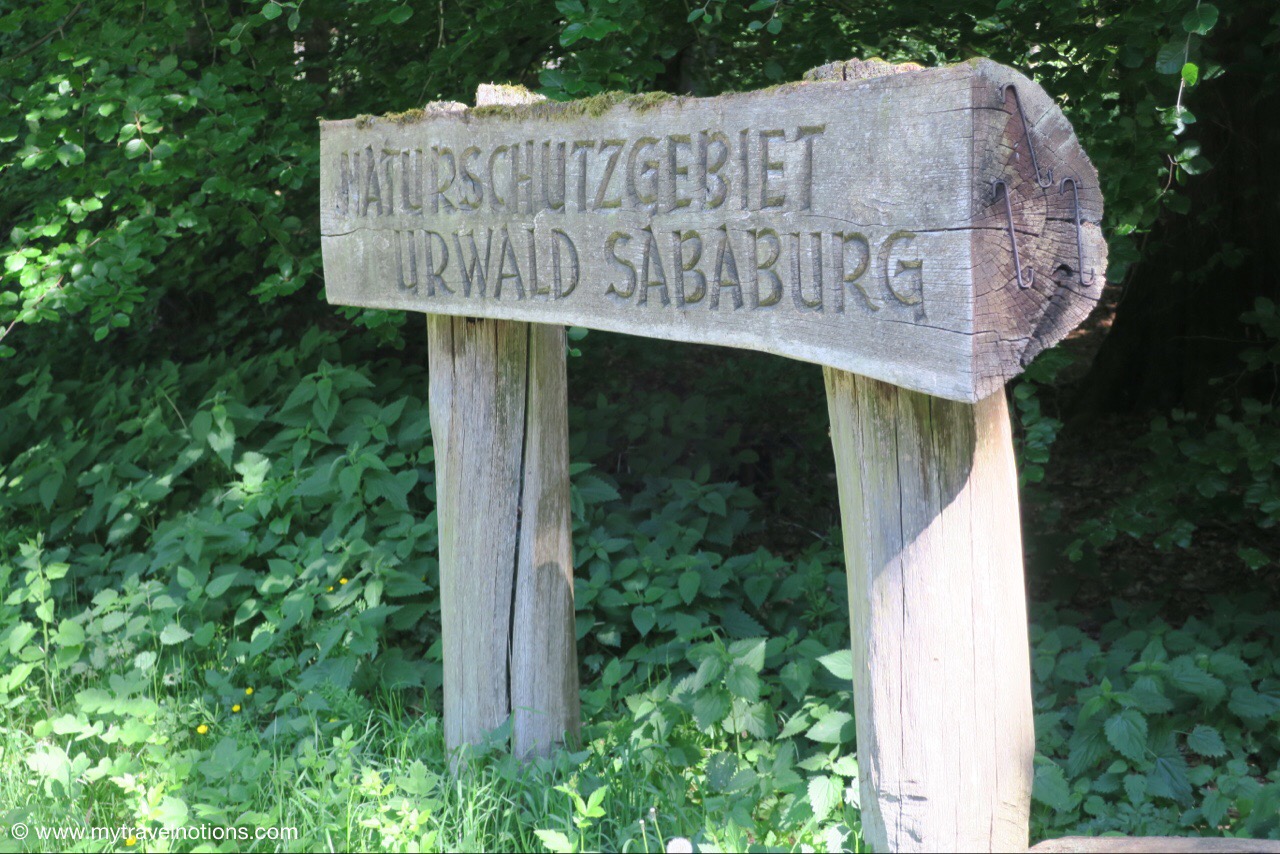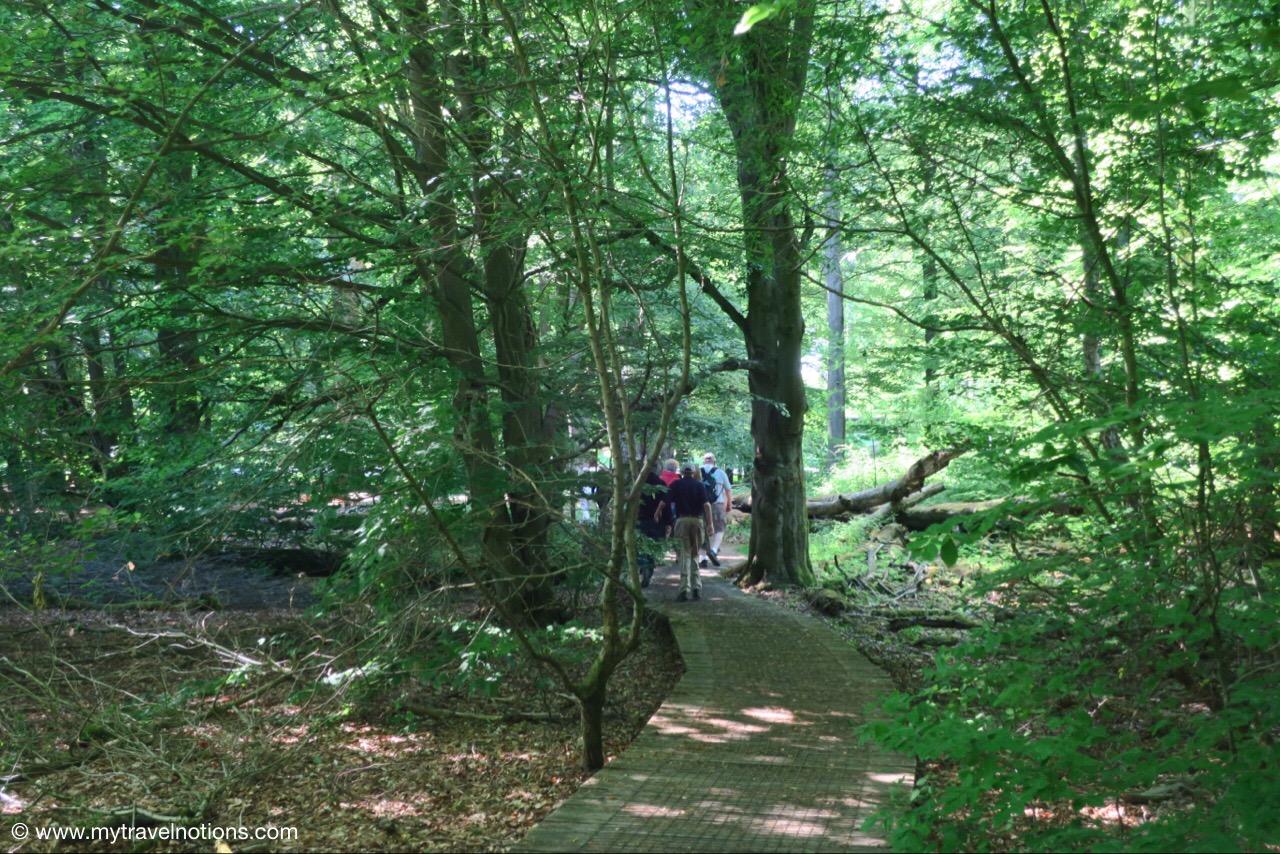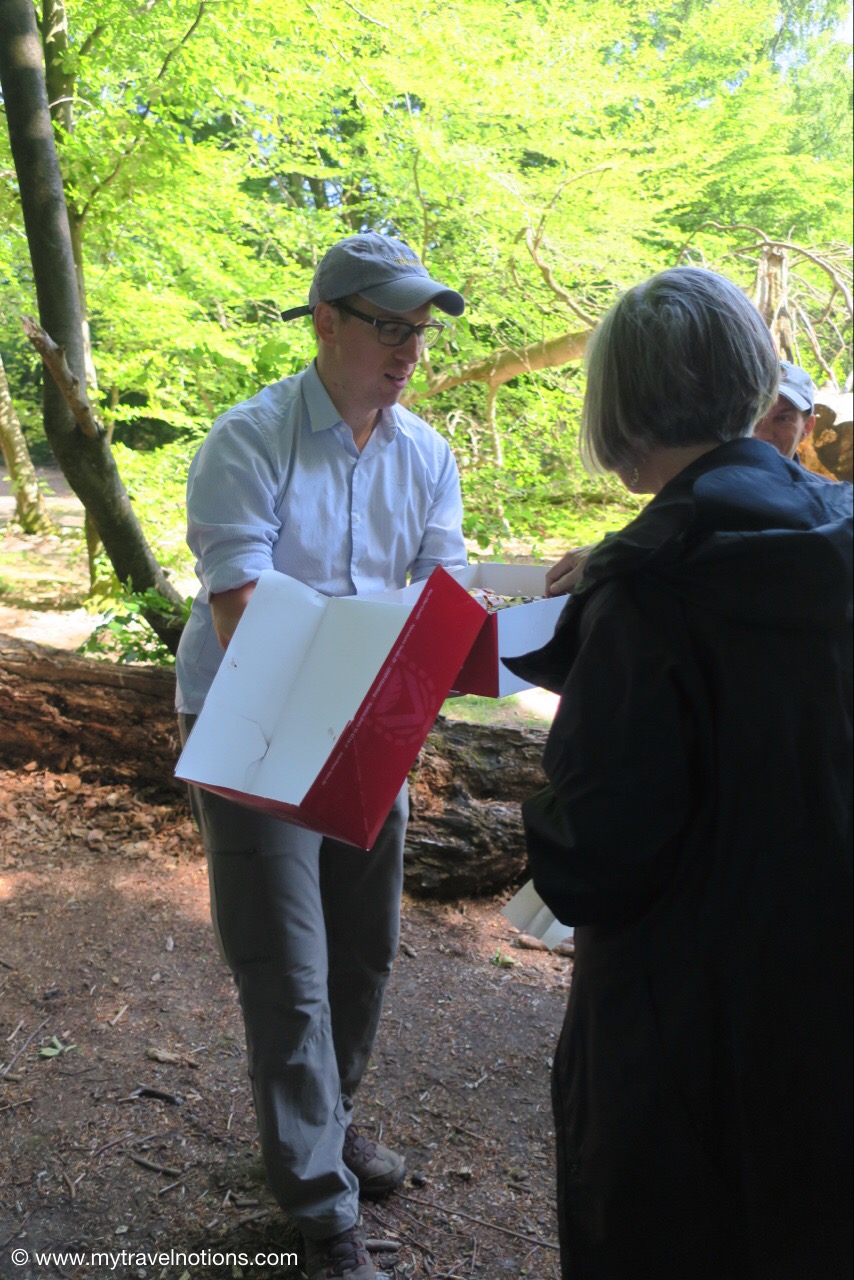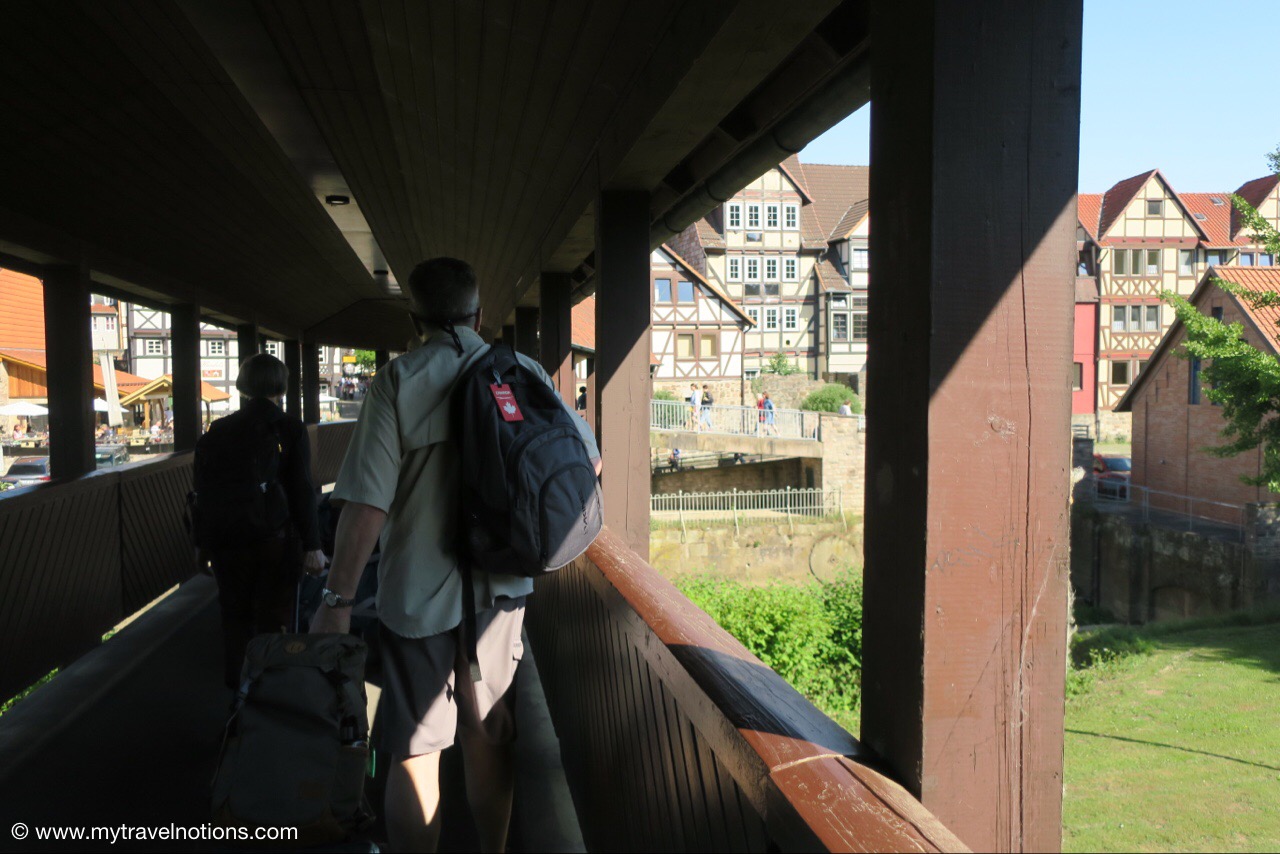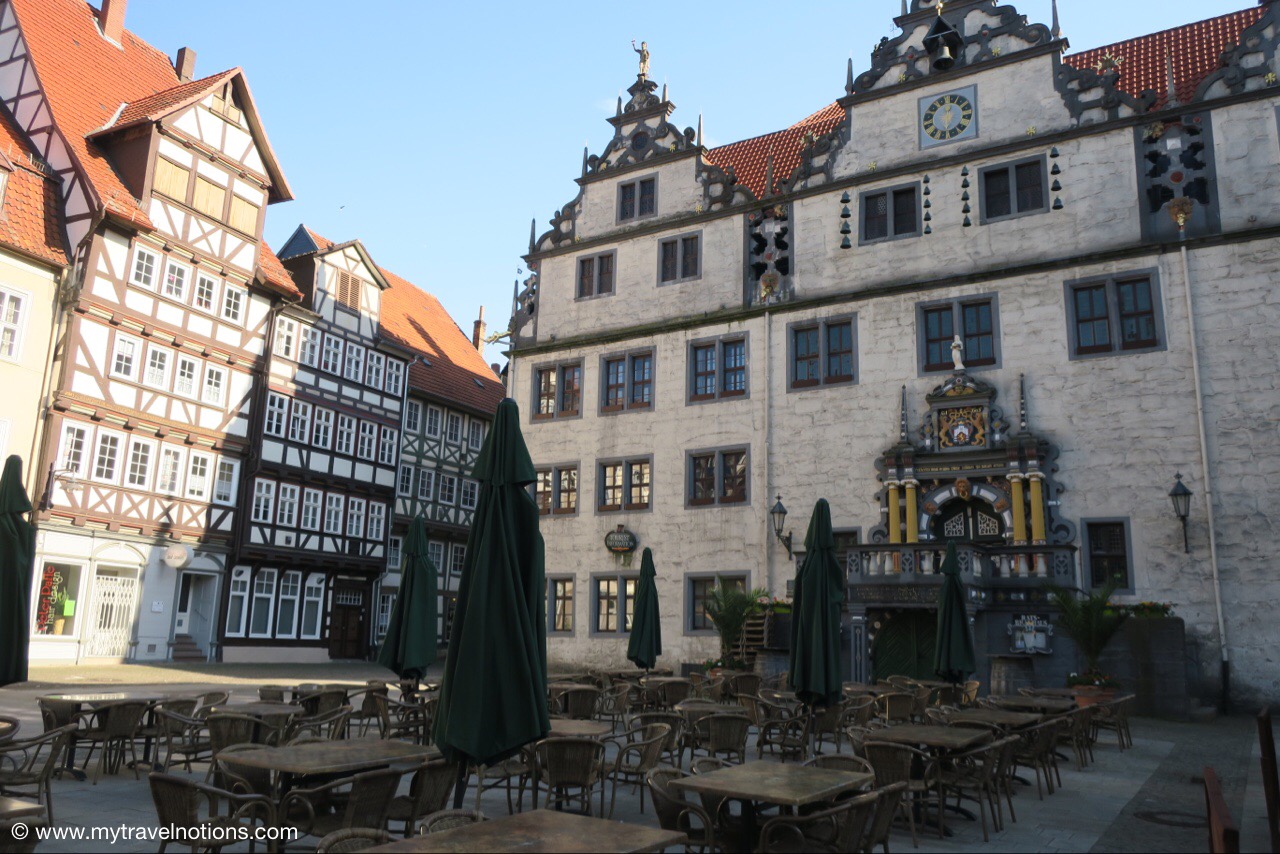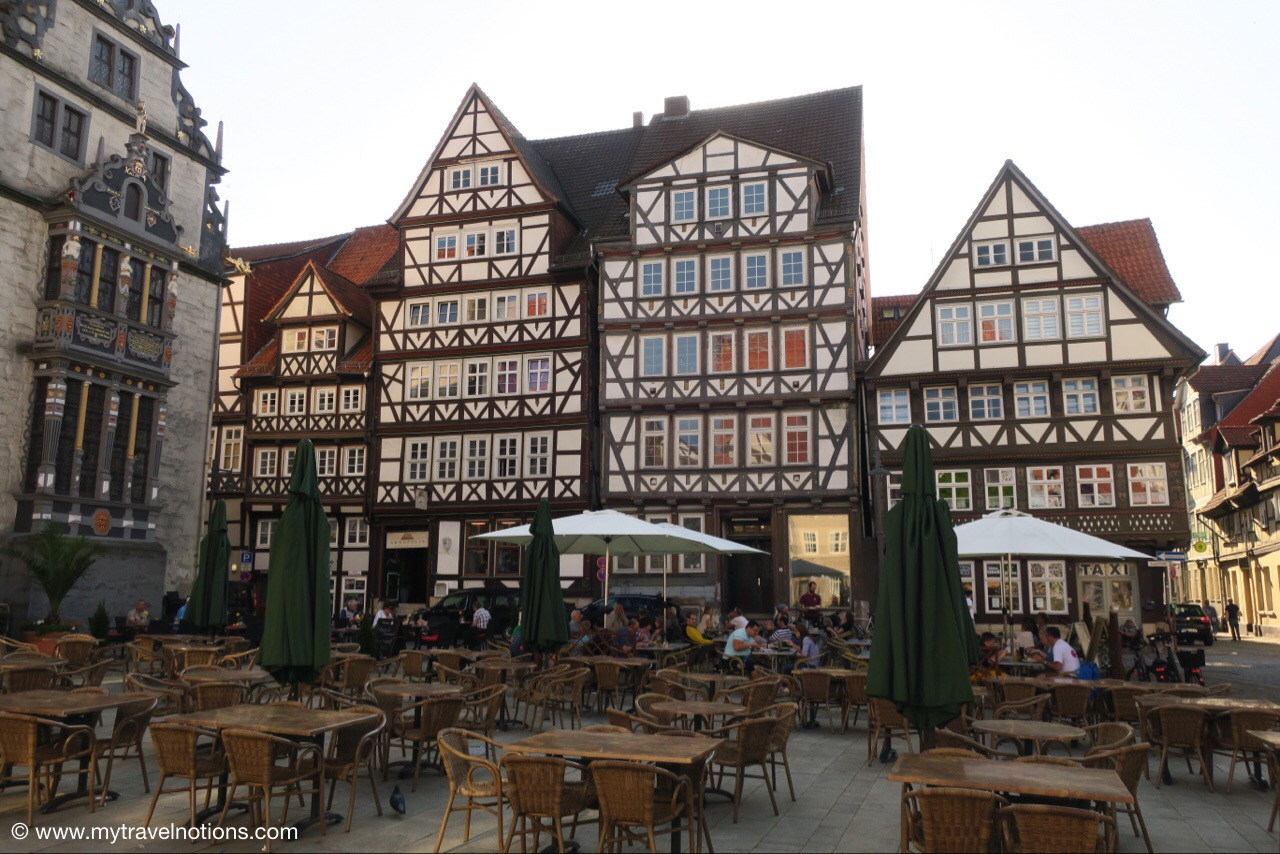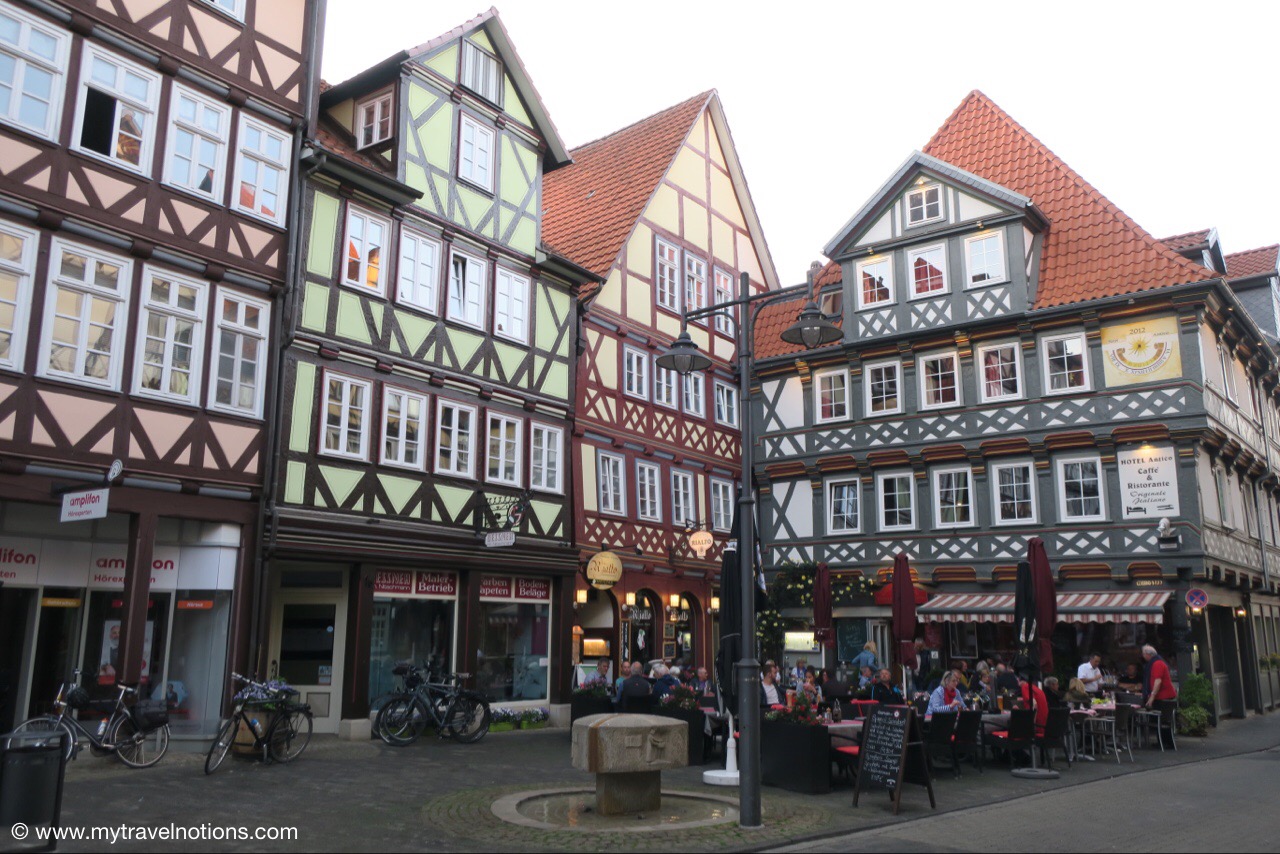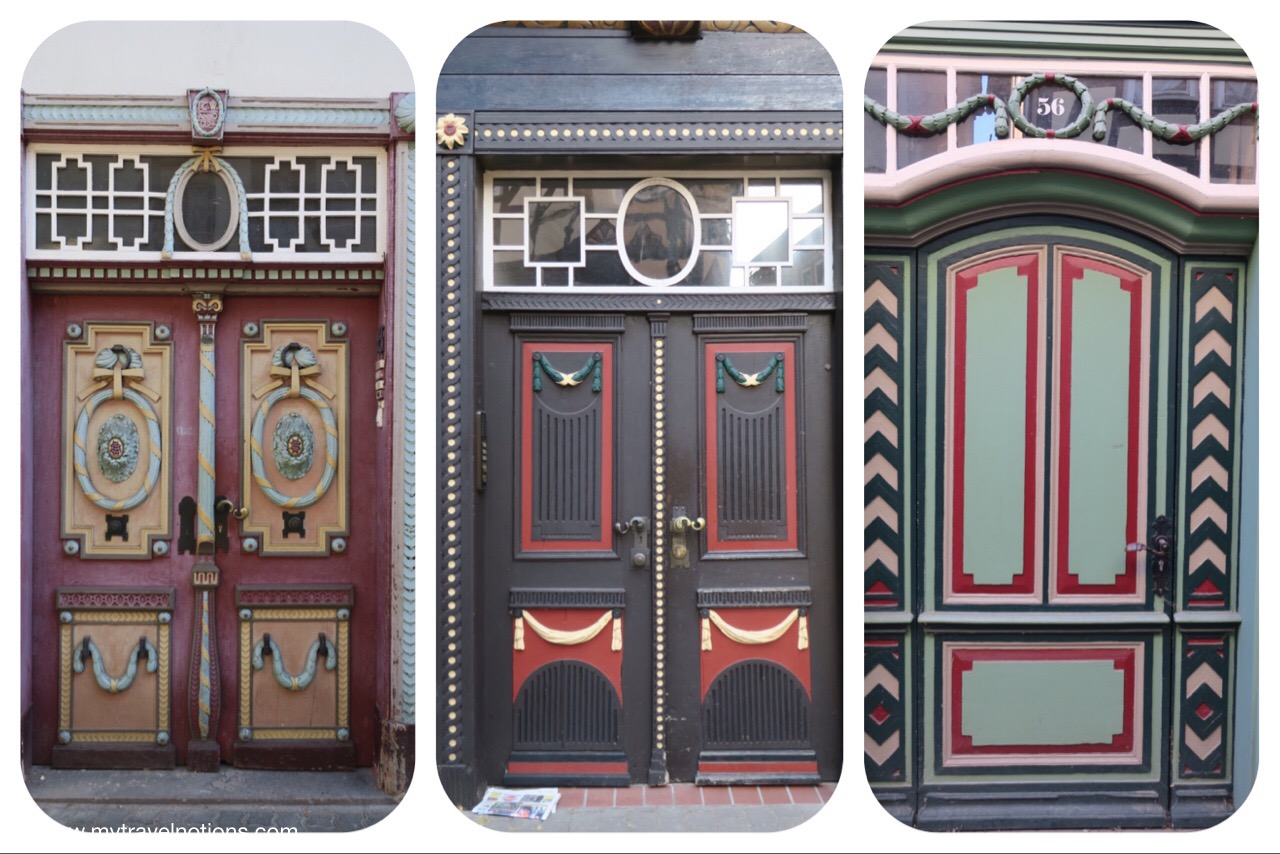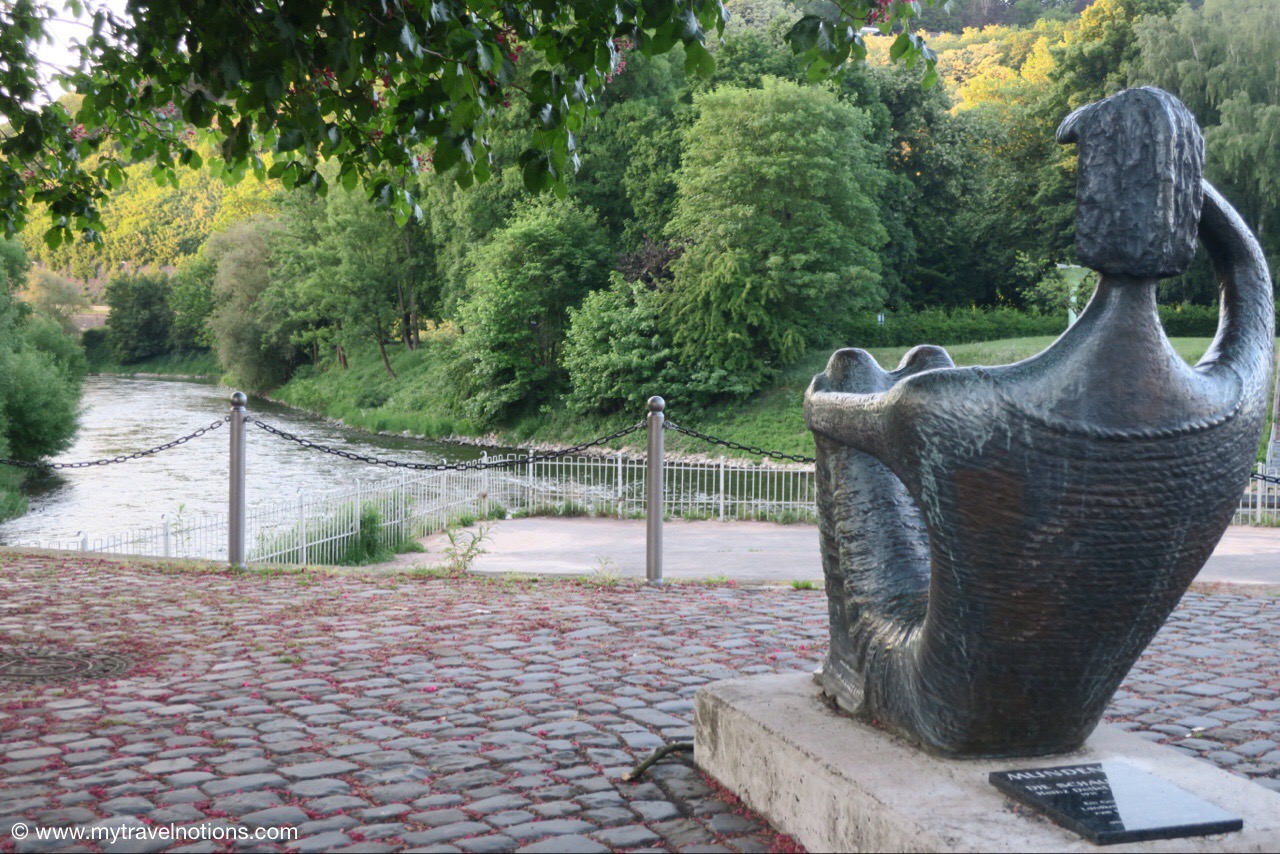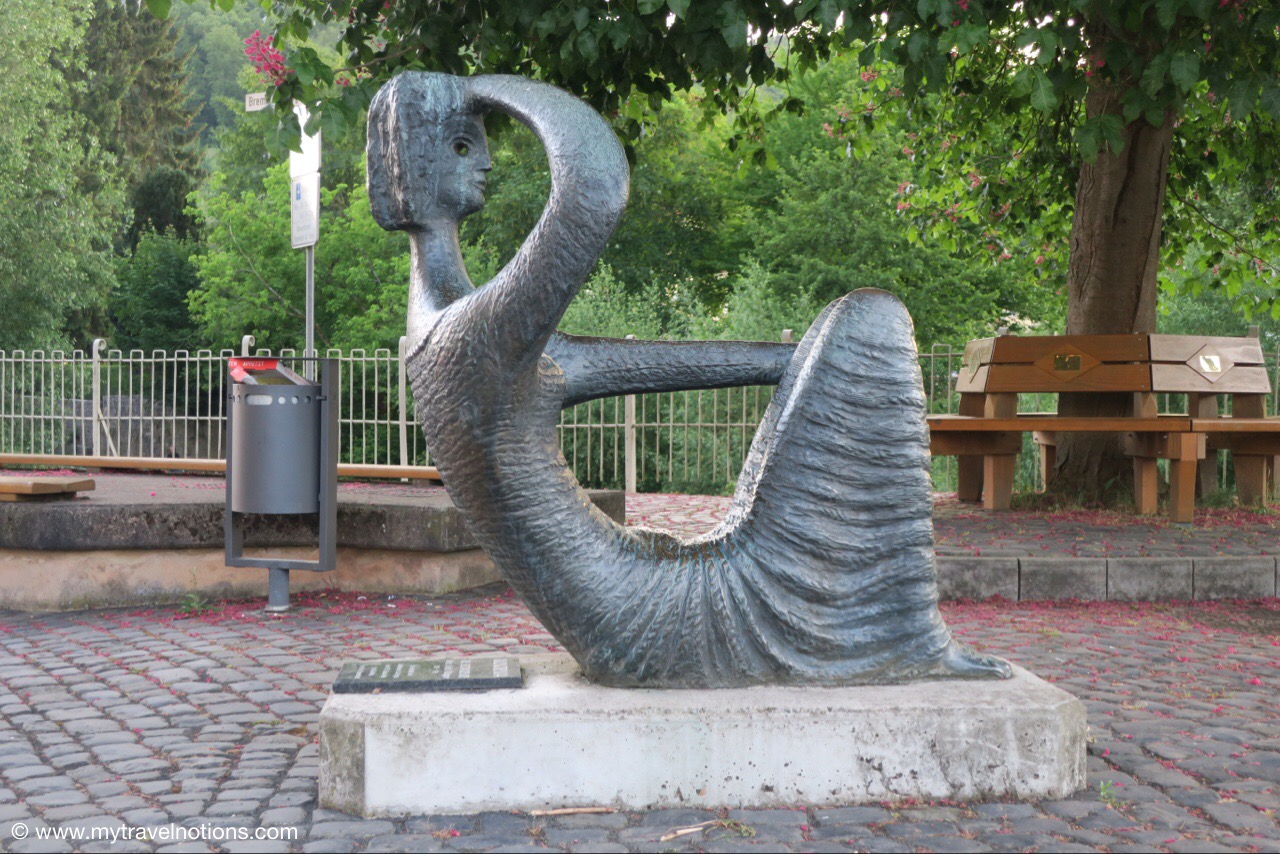 This morning we left the half-timbered medieval houses of Hannoversch Münden to make our way to Bacharach with a stop in Cologne. Carlos, our Rick Steves "Best of Germany" tour guide, said it would be a long driving day, and it was. But the stops along the way, especially the opportunity to visit the Cologne Cathedral, a massive Gothic church…with a quick side trip to the Romano-Germanic Museum just next door to the cathedral…made the lengthy bus ride manageable. Plus Carlos provided needed history lessons and the always welcomed…treats of the chocolate and salty kind.
By late afternoon we arrived at our two-night home base in Bacharach. Another charming town but this one lies along the Rhine River.
Come check out the UNESCO World Heritage cathedral, an altar to Diana…not me, but the goddess of the hunt and my stunning Rhine River penthouse view.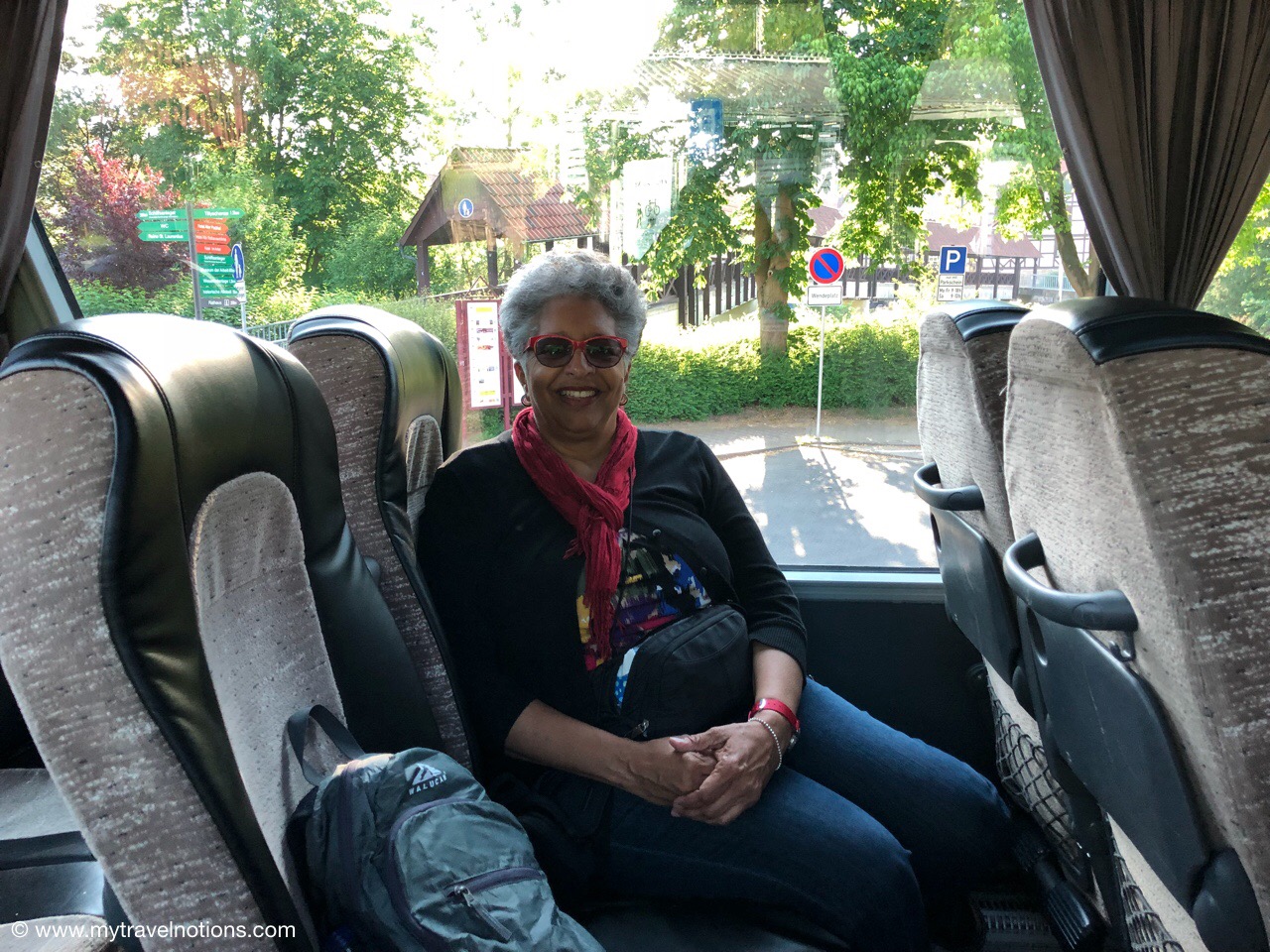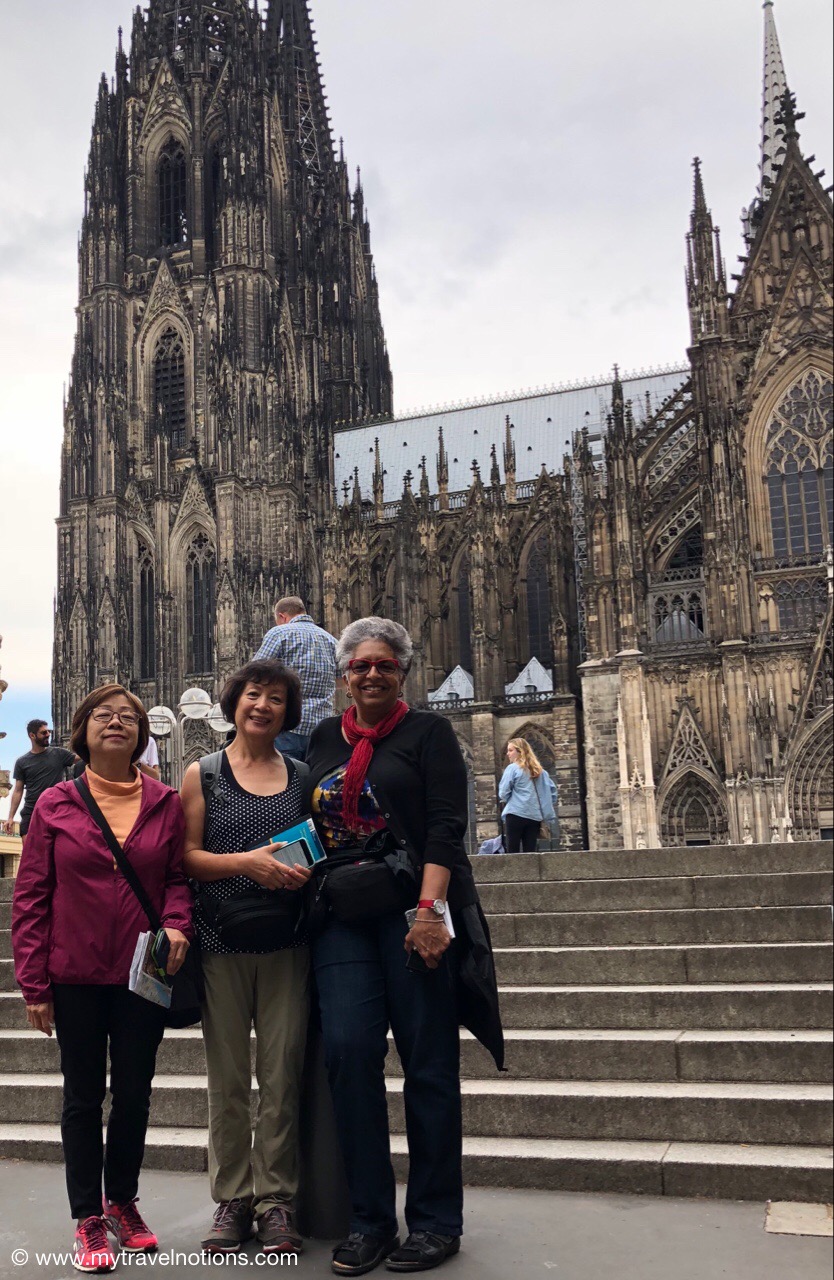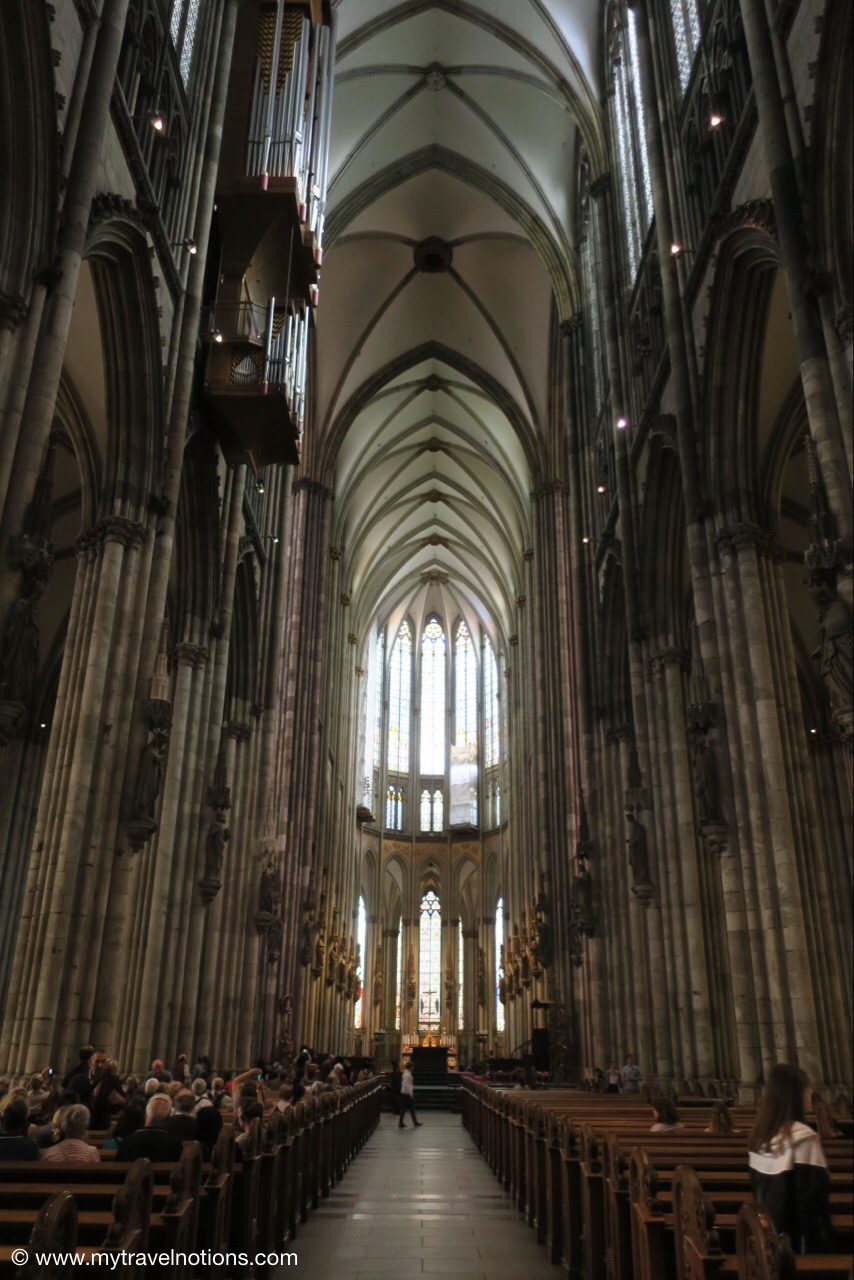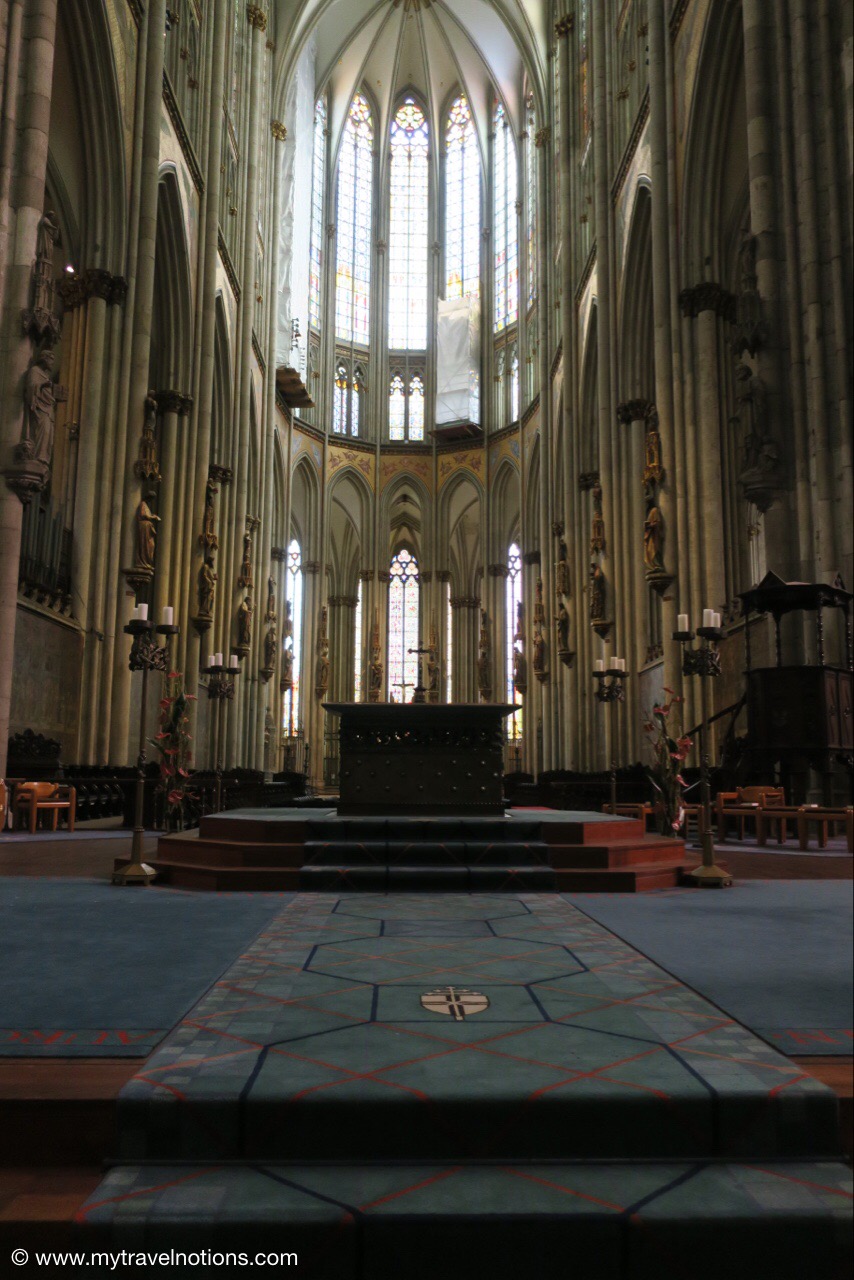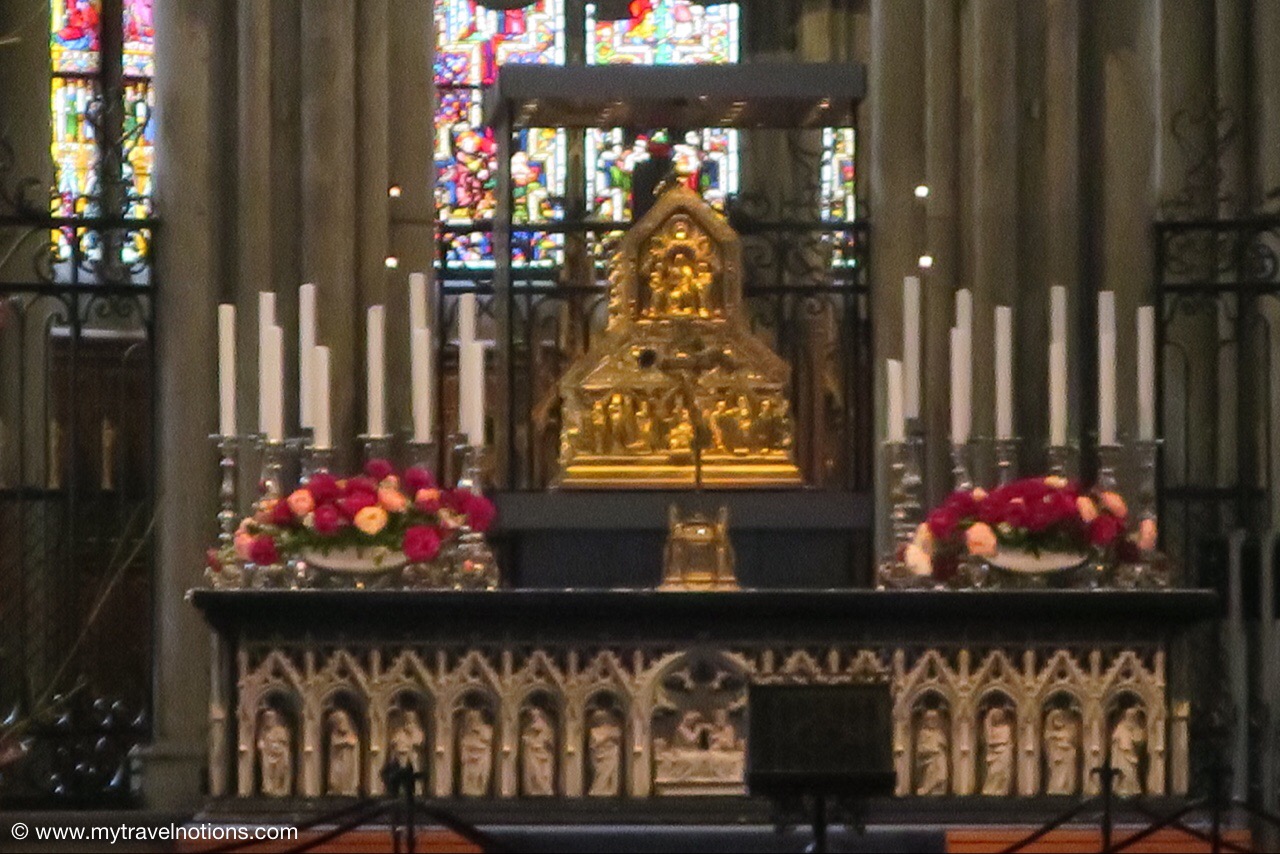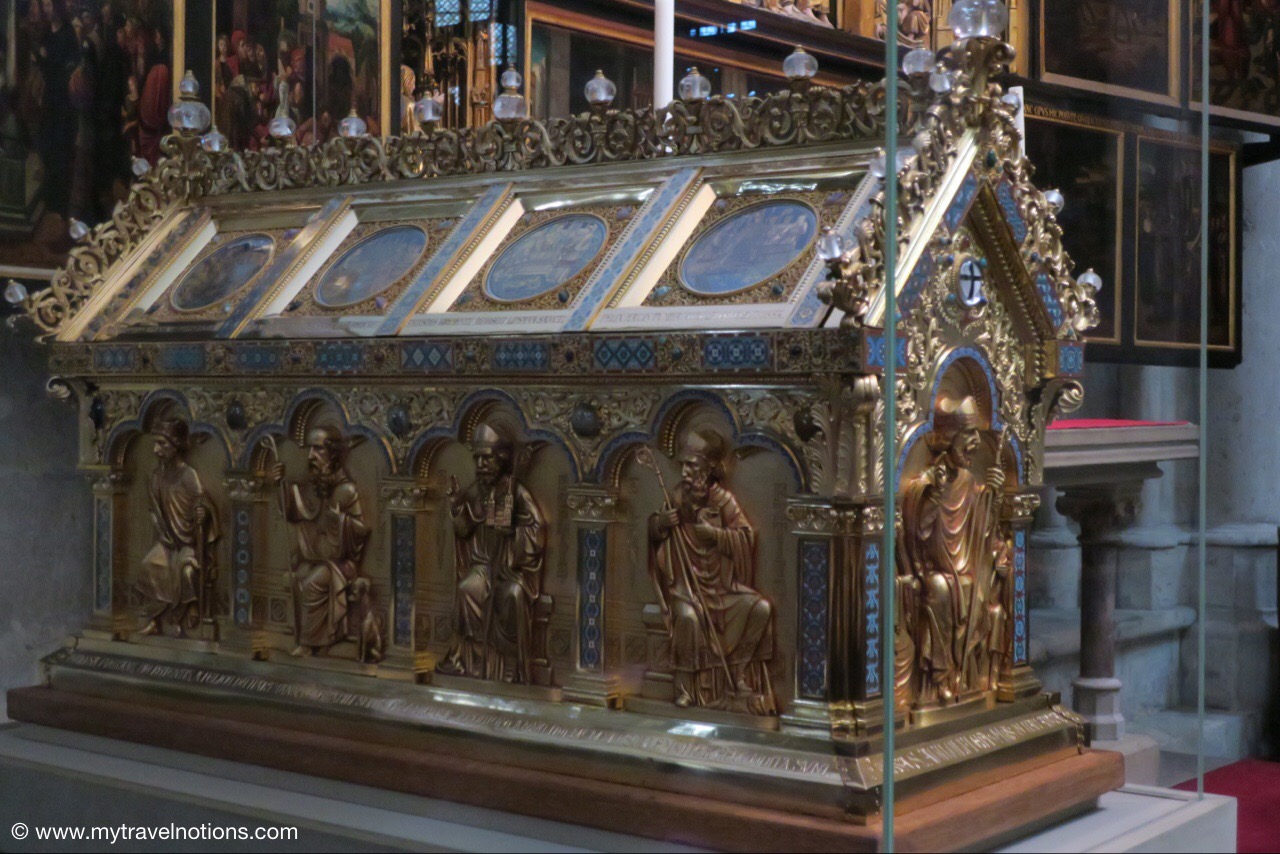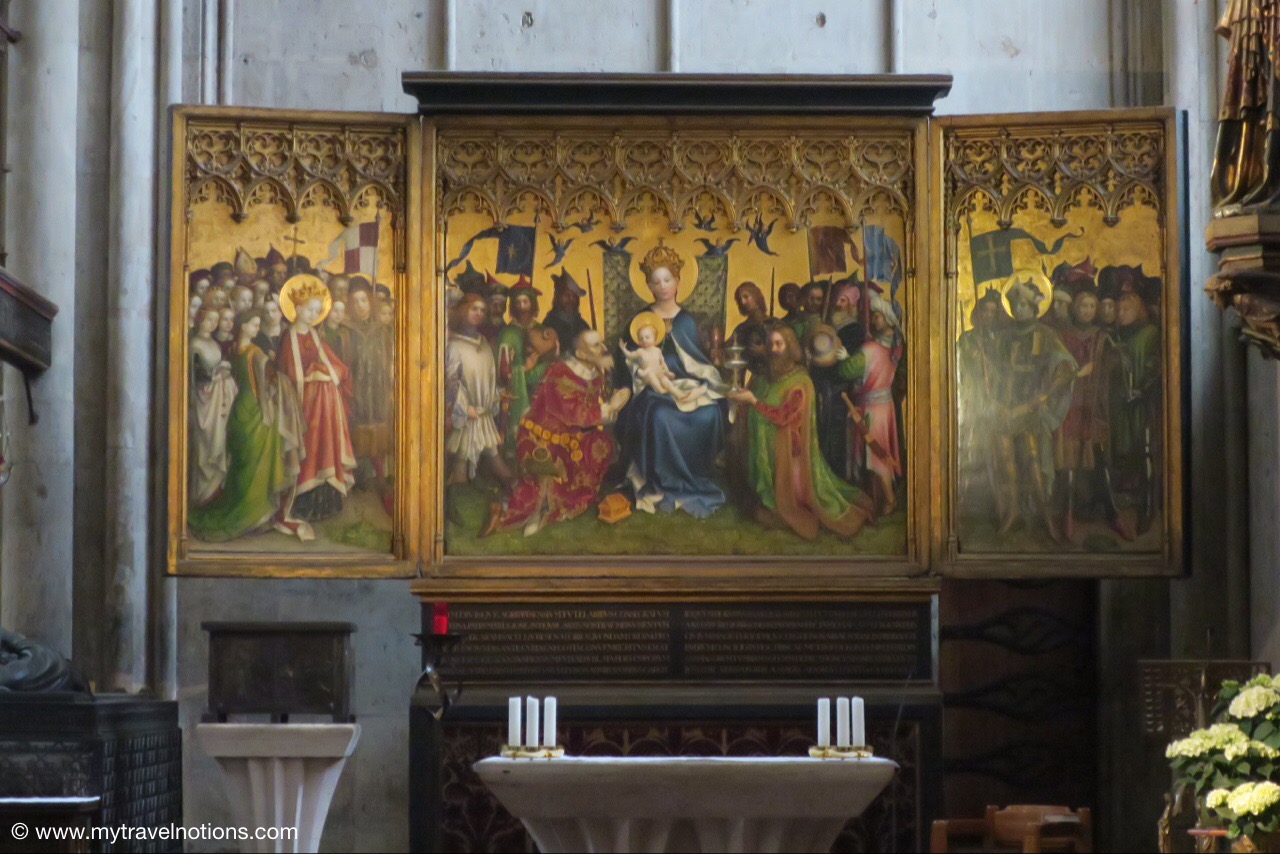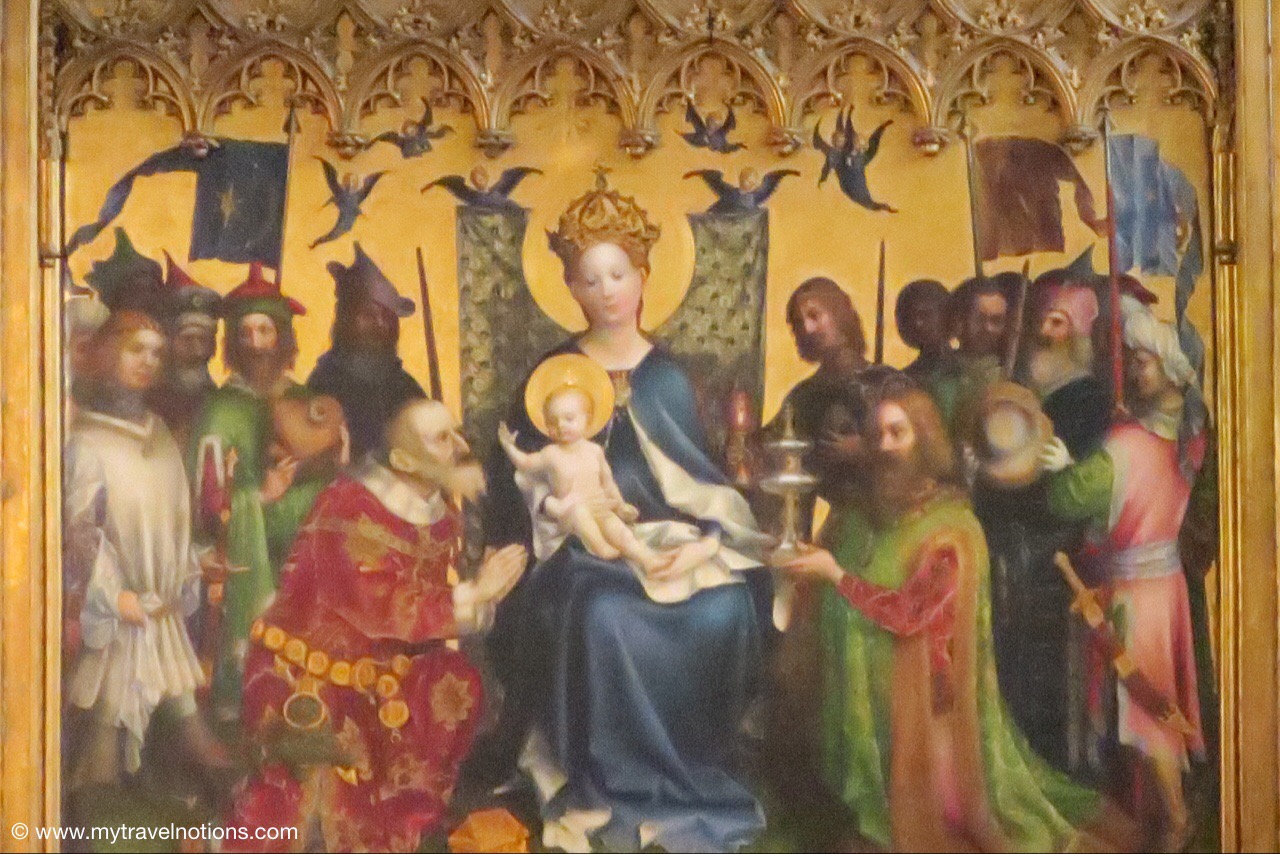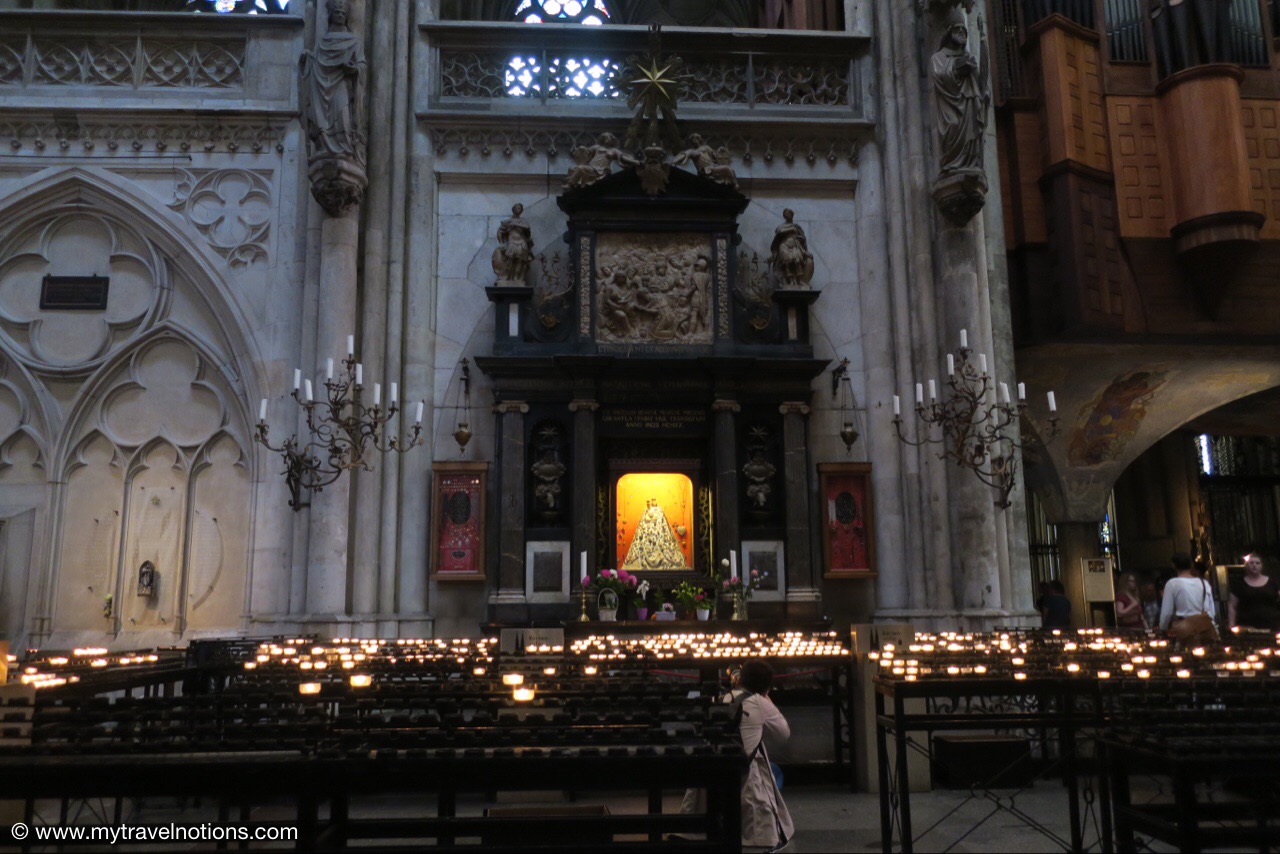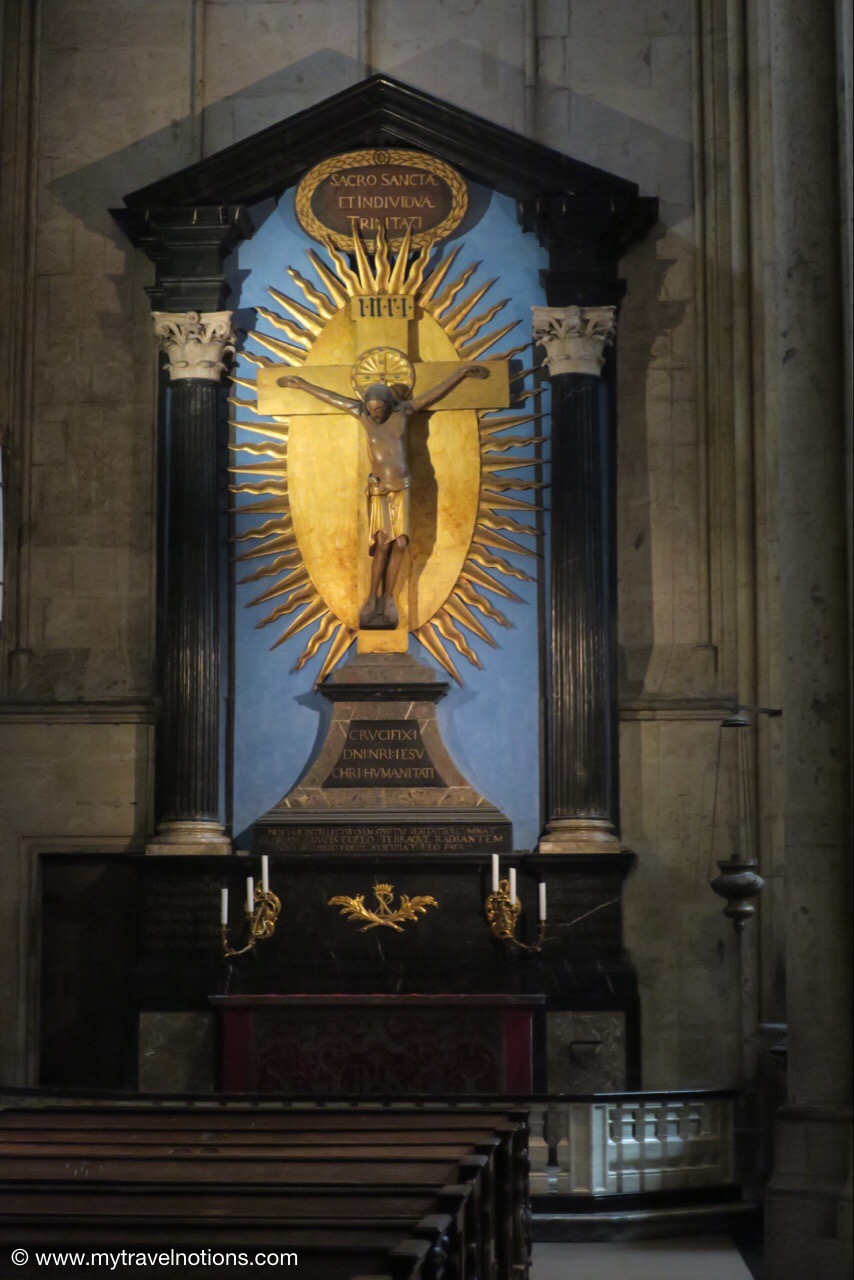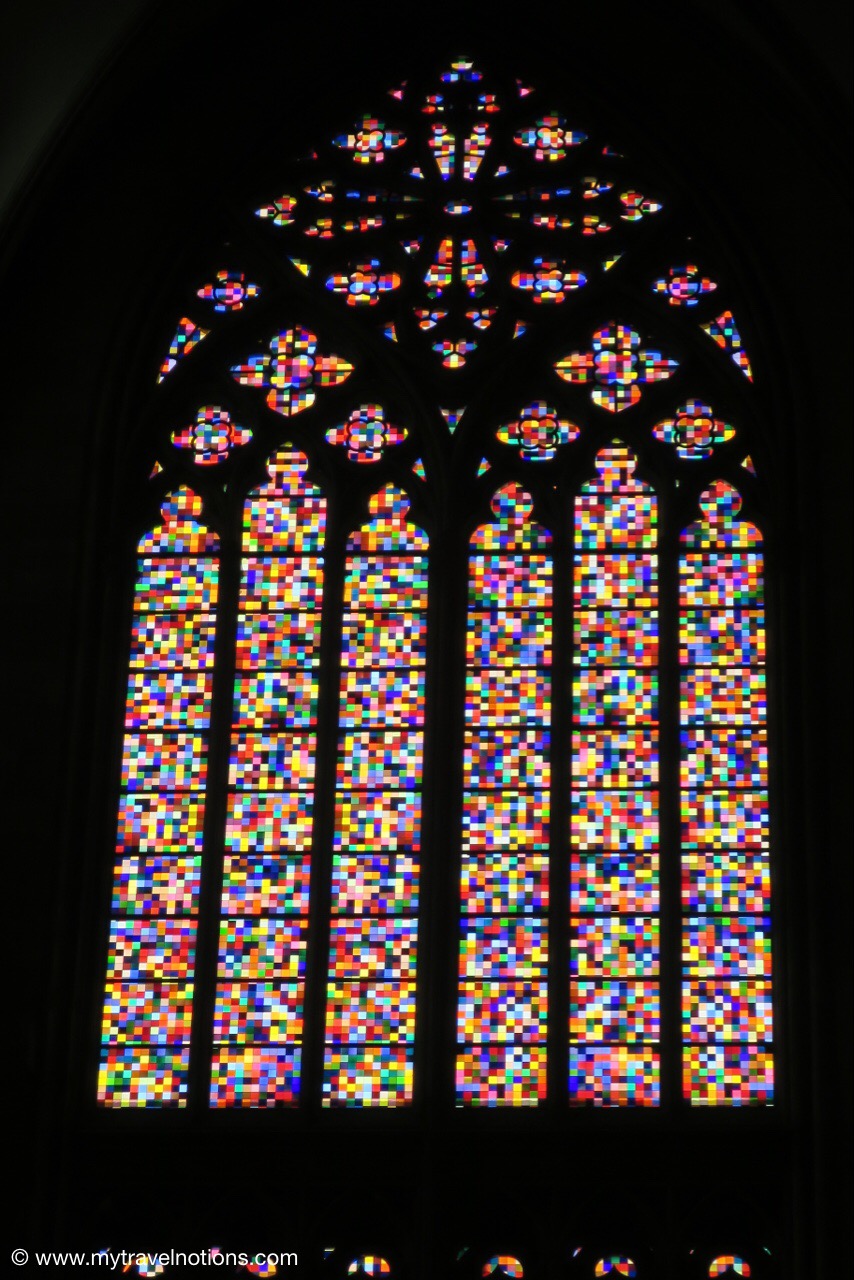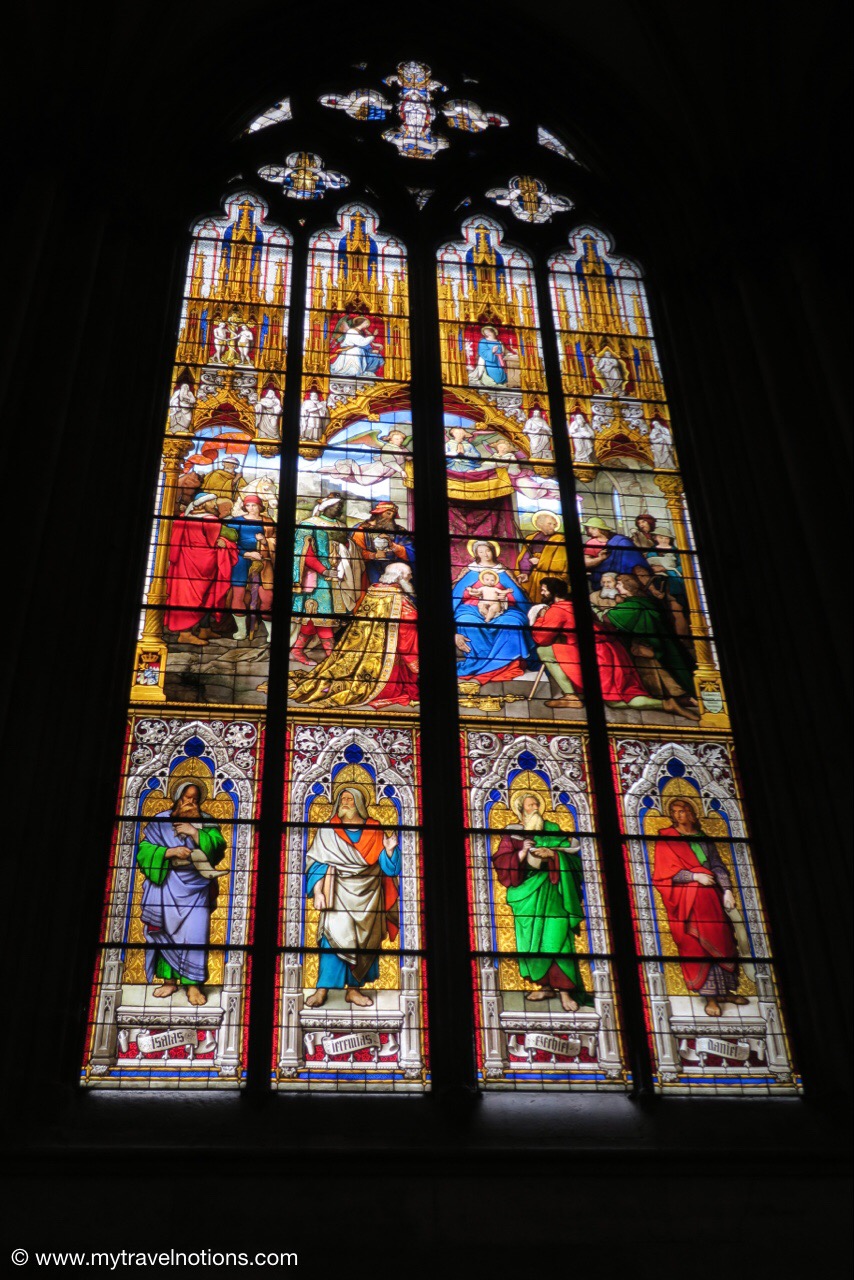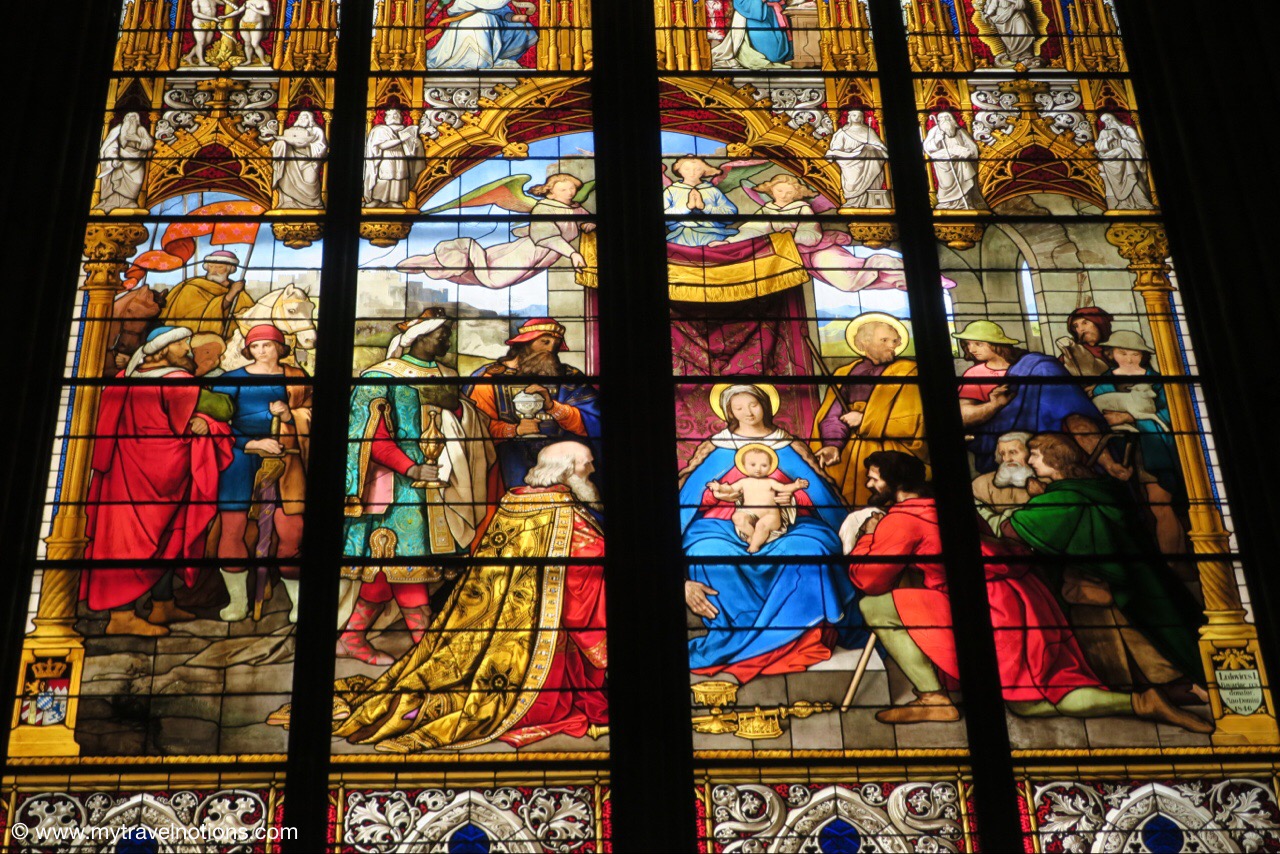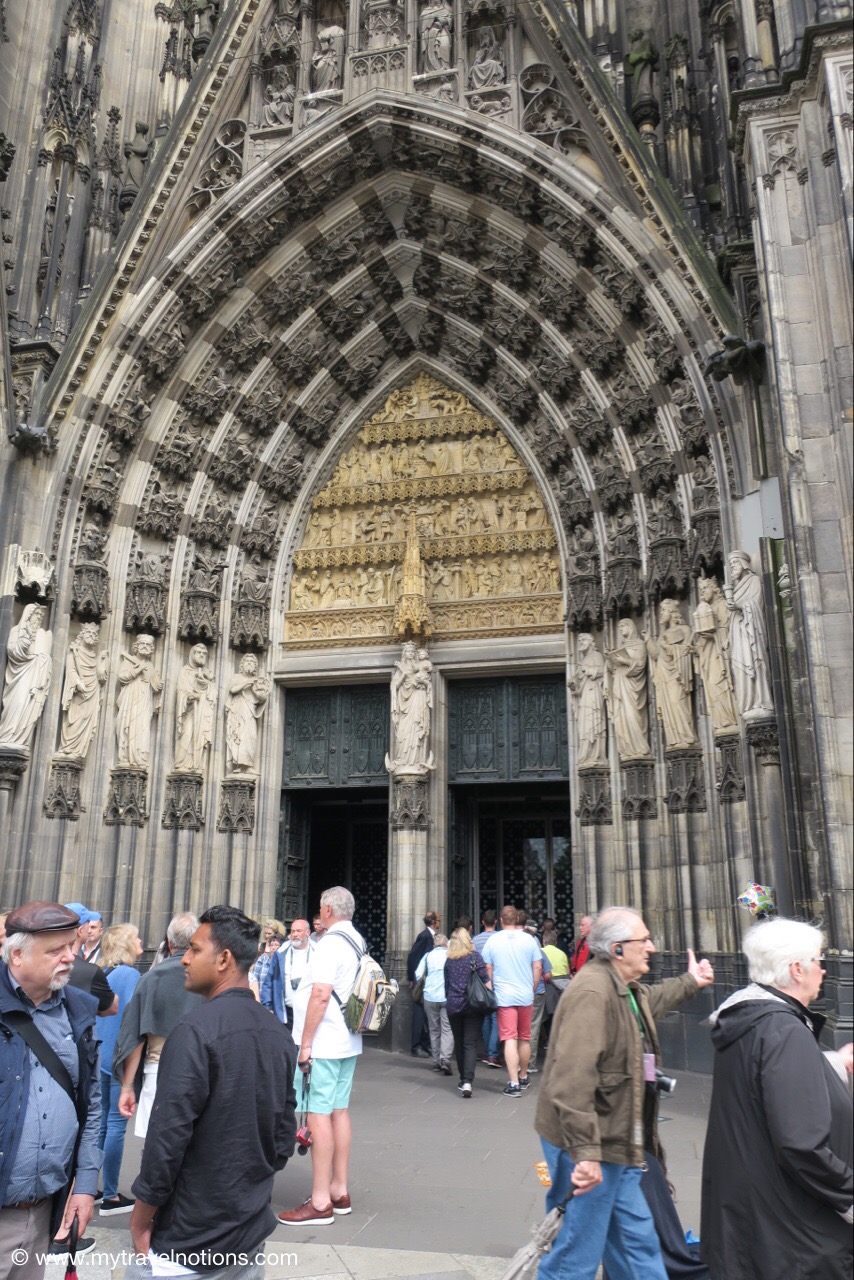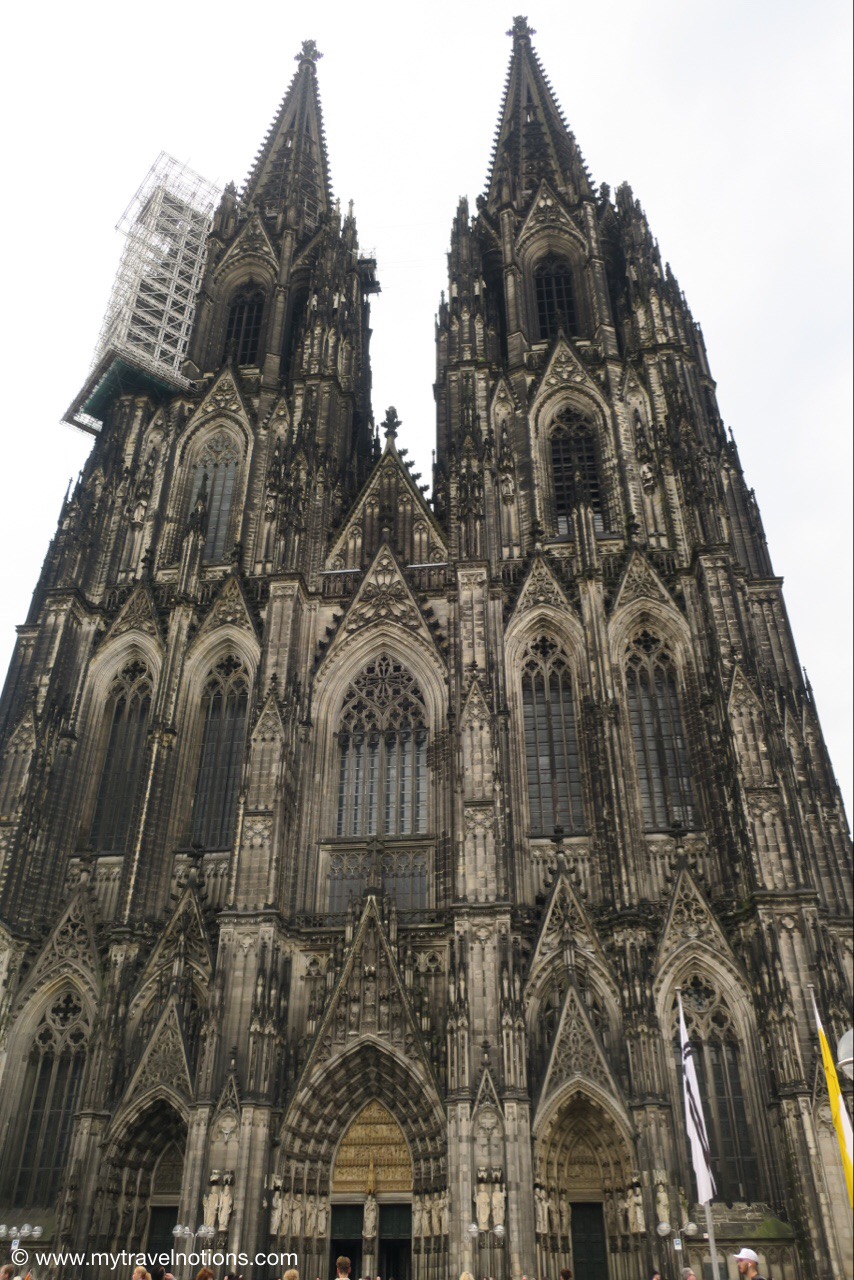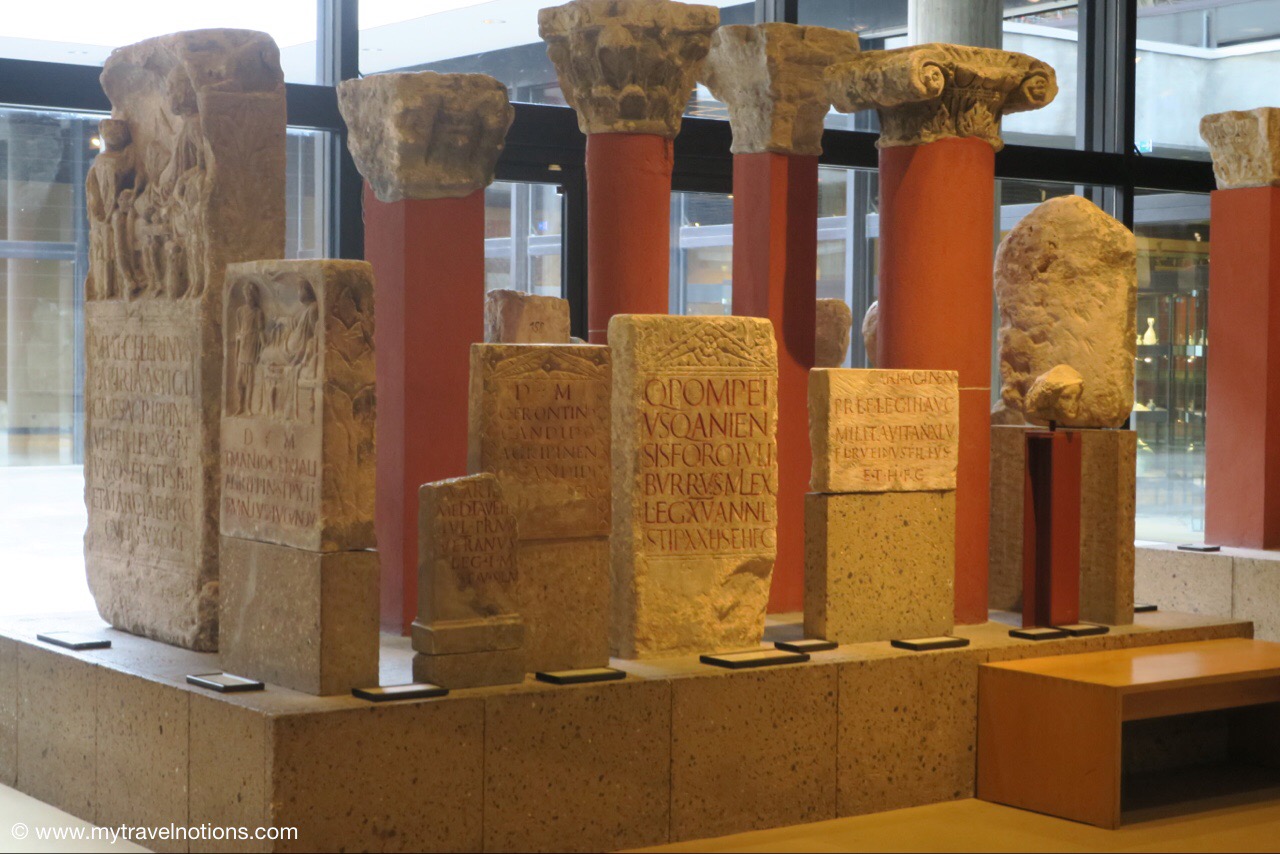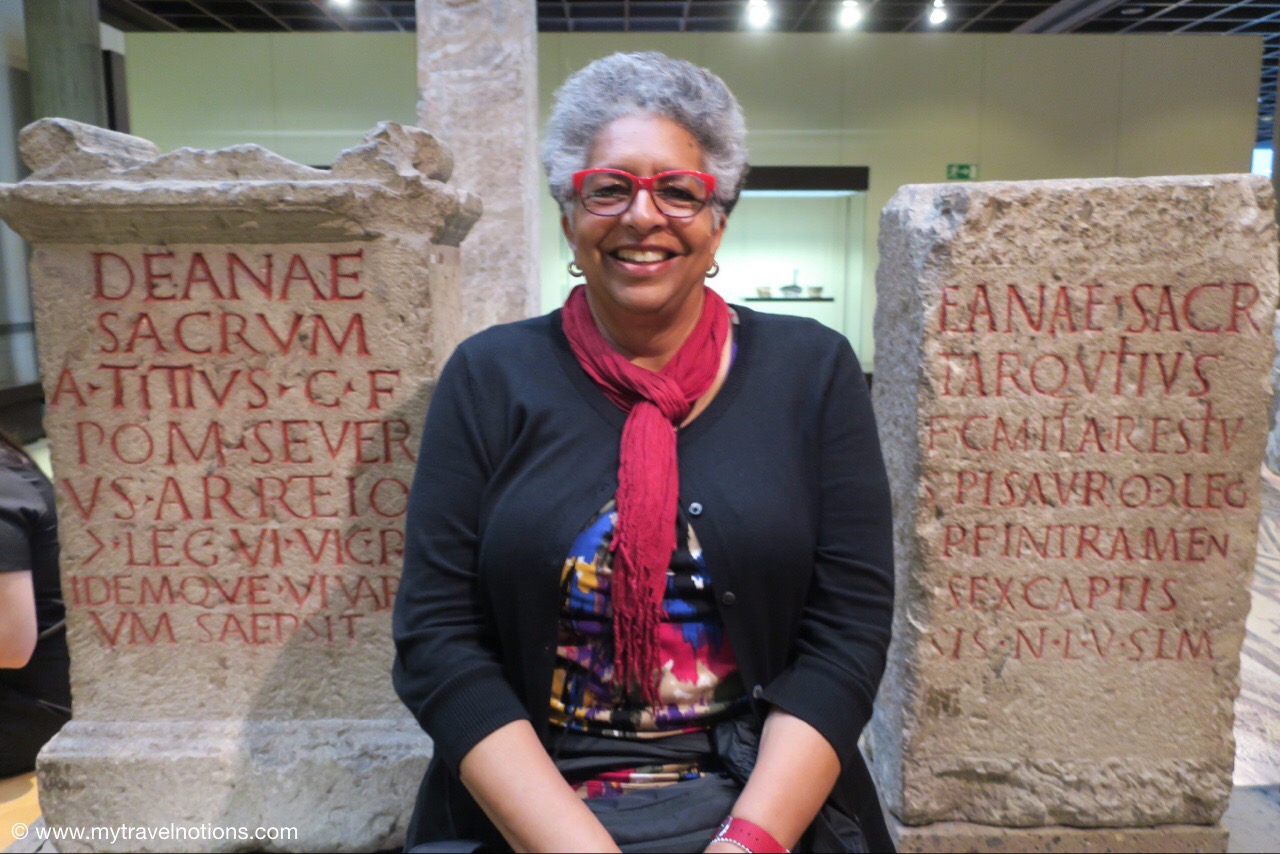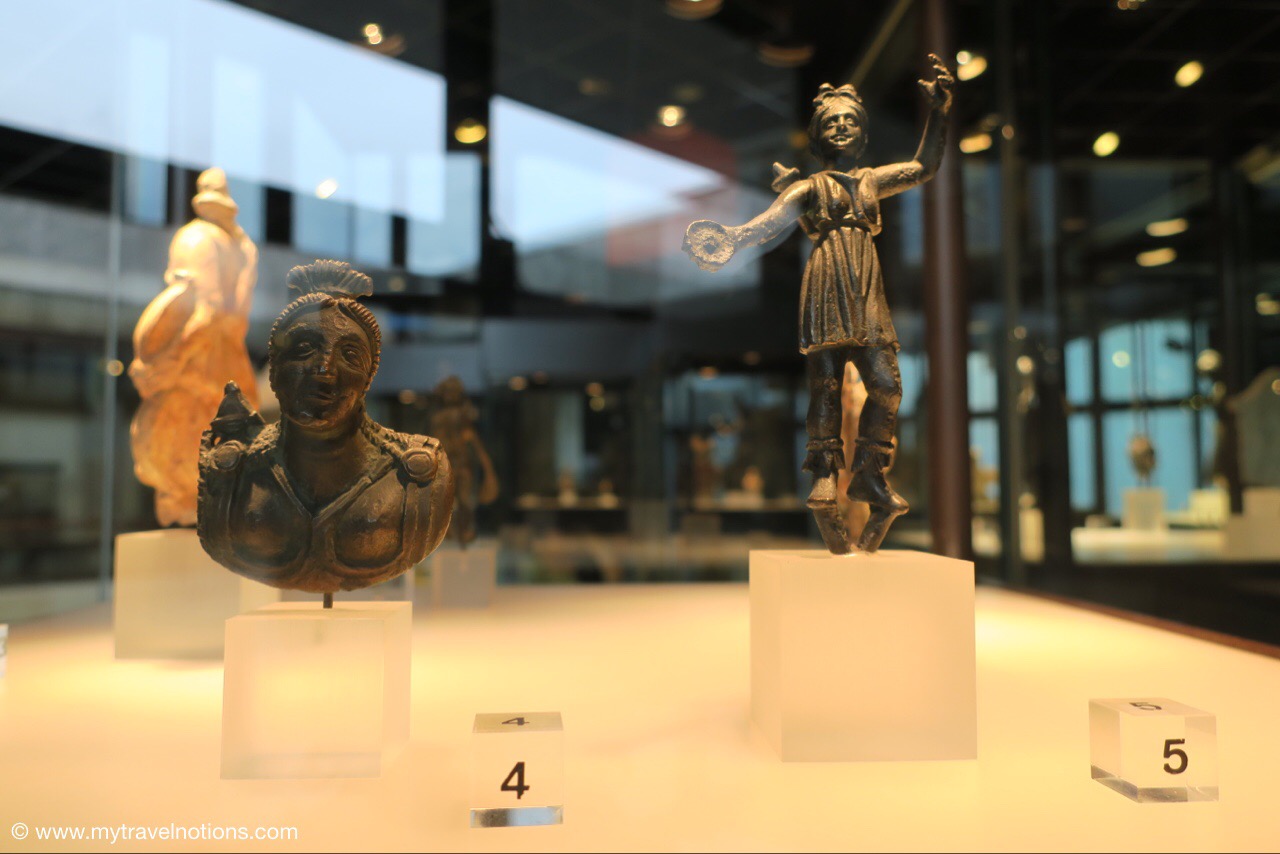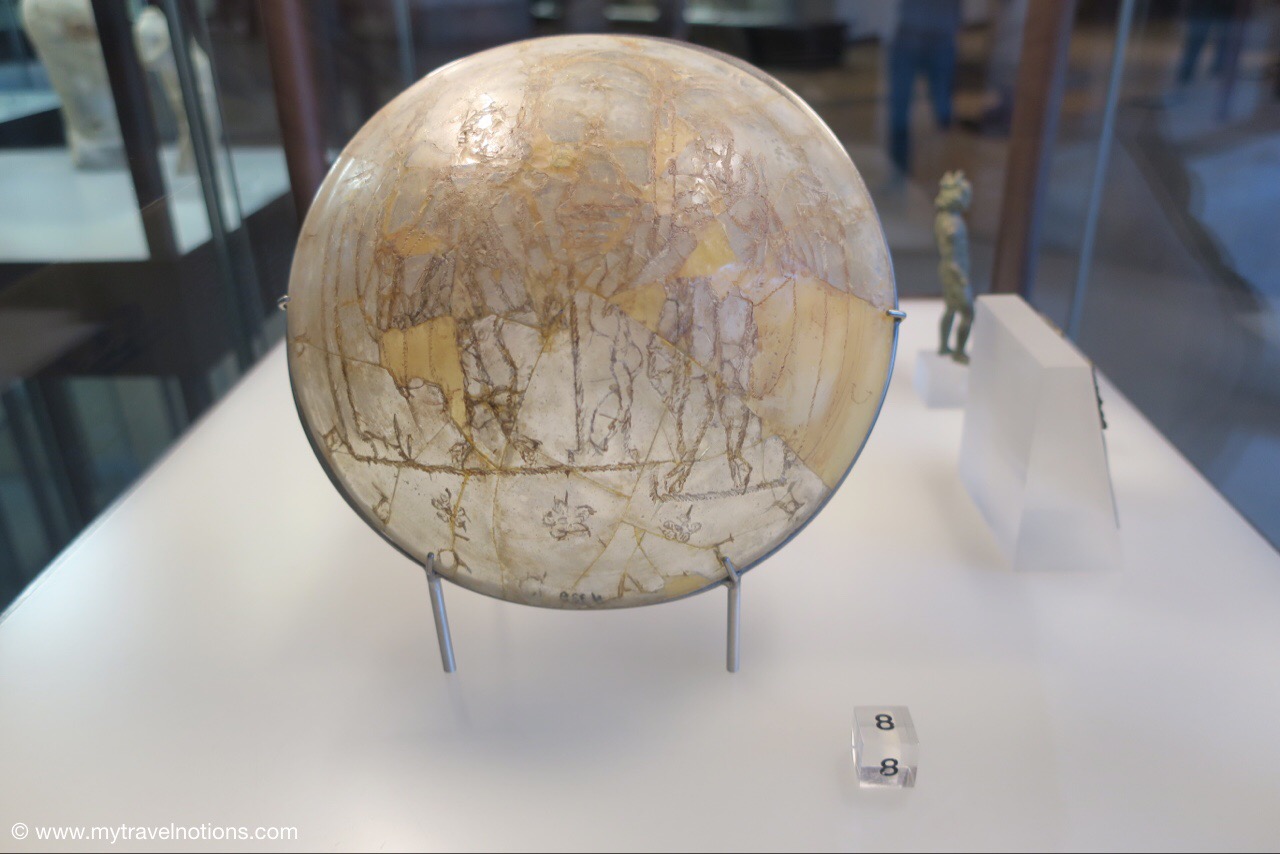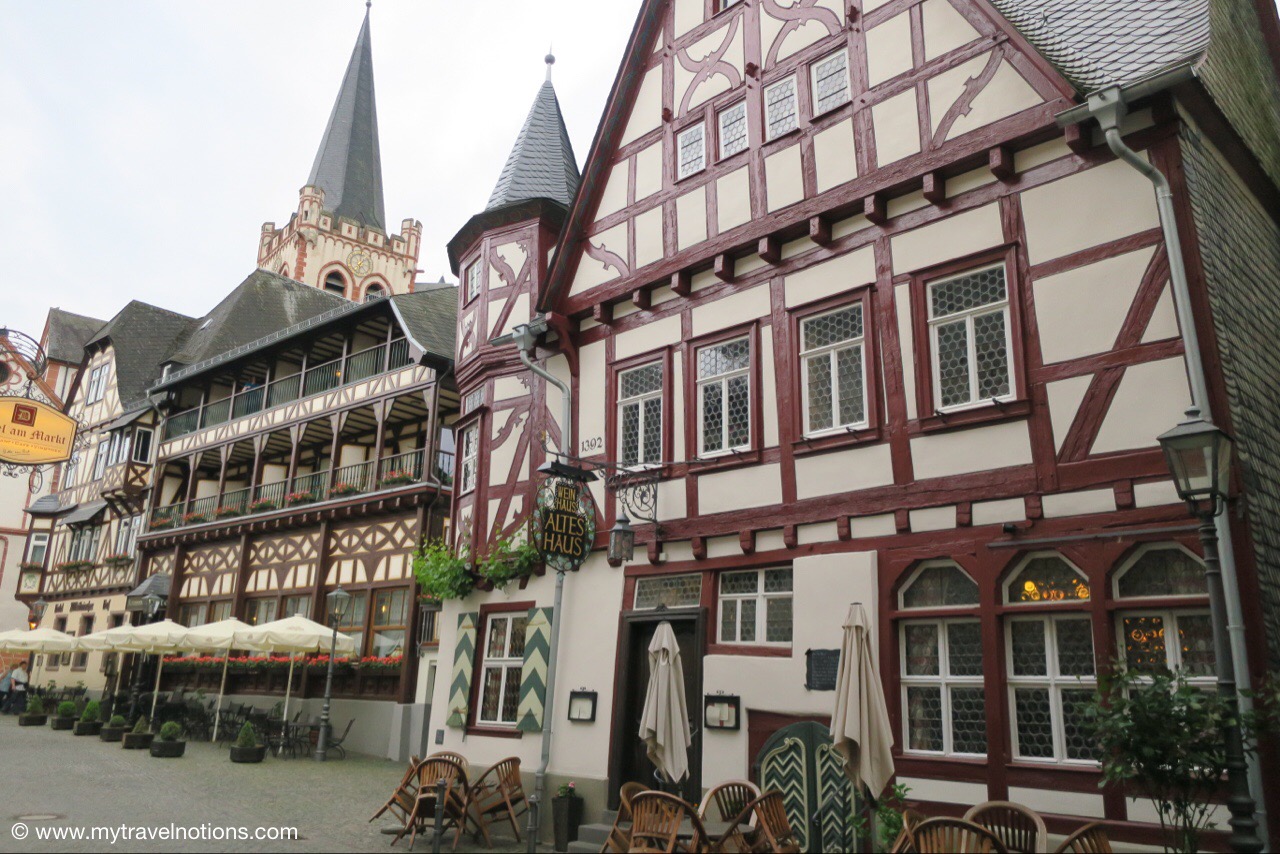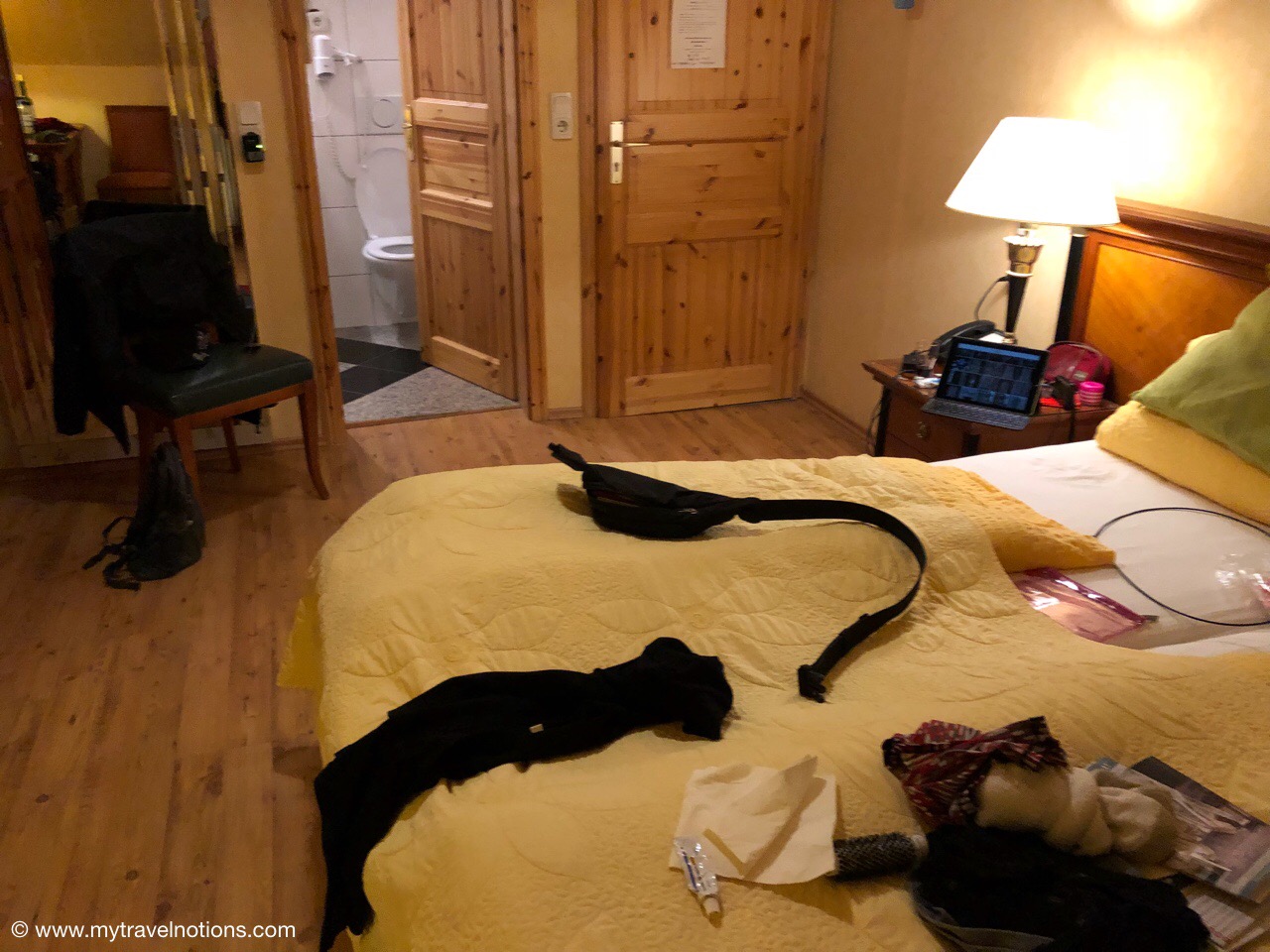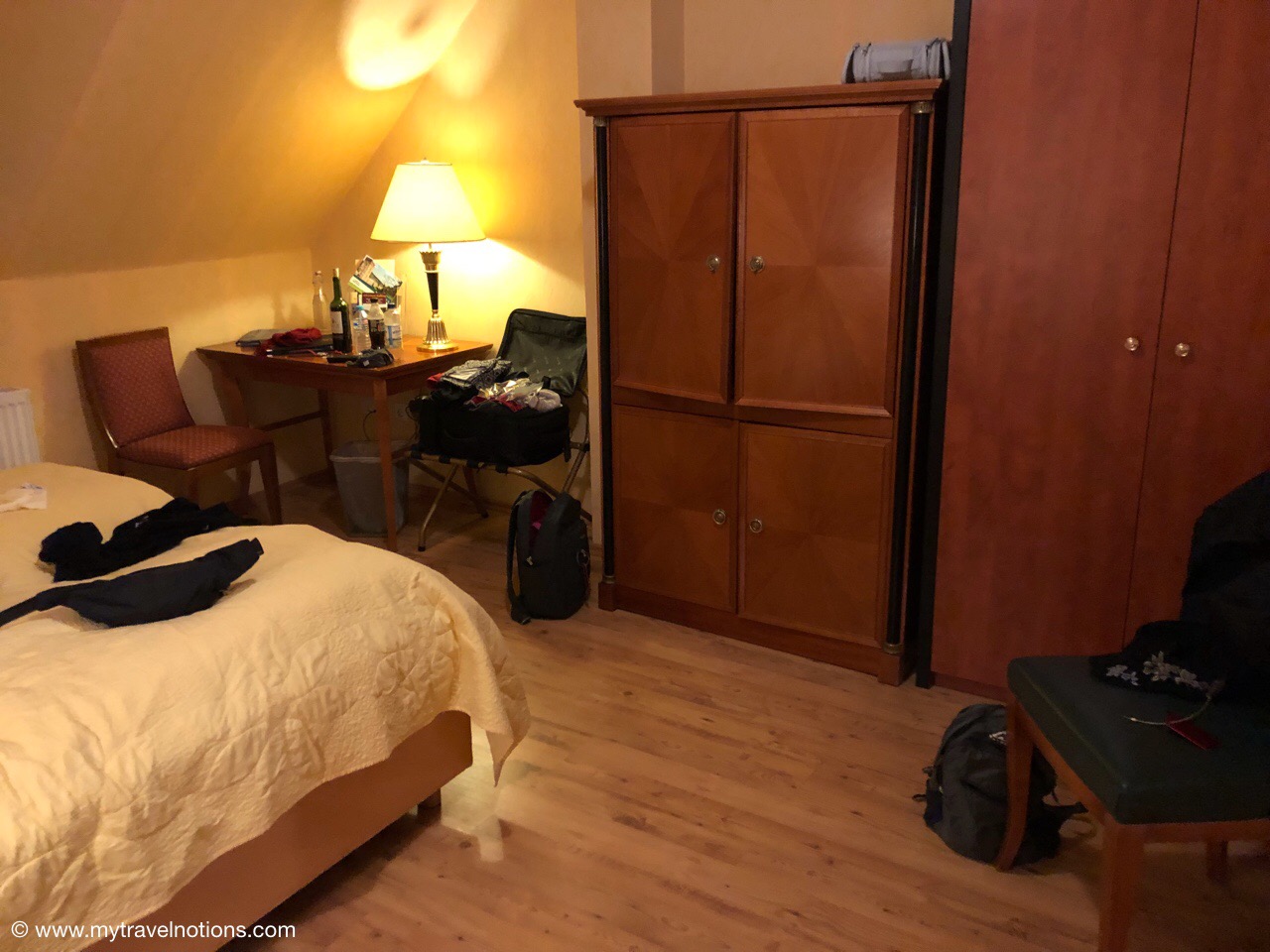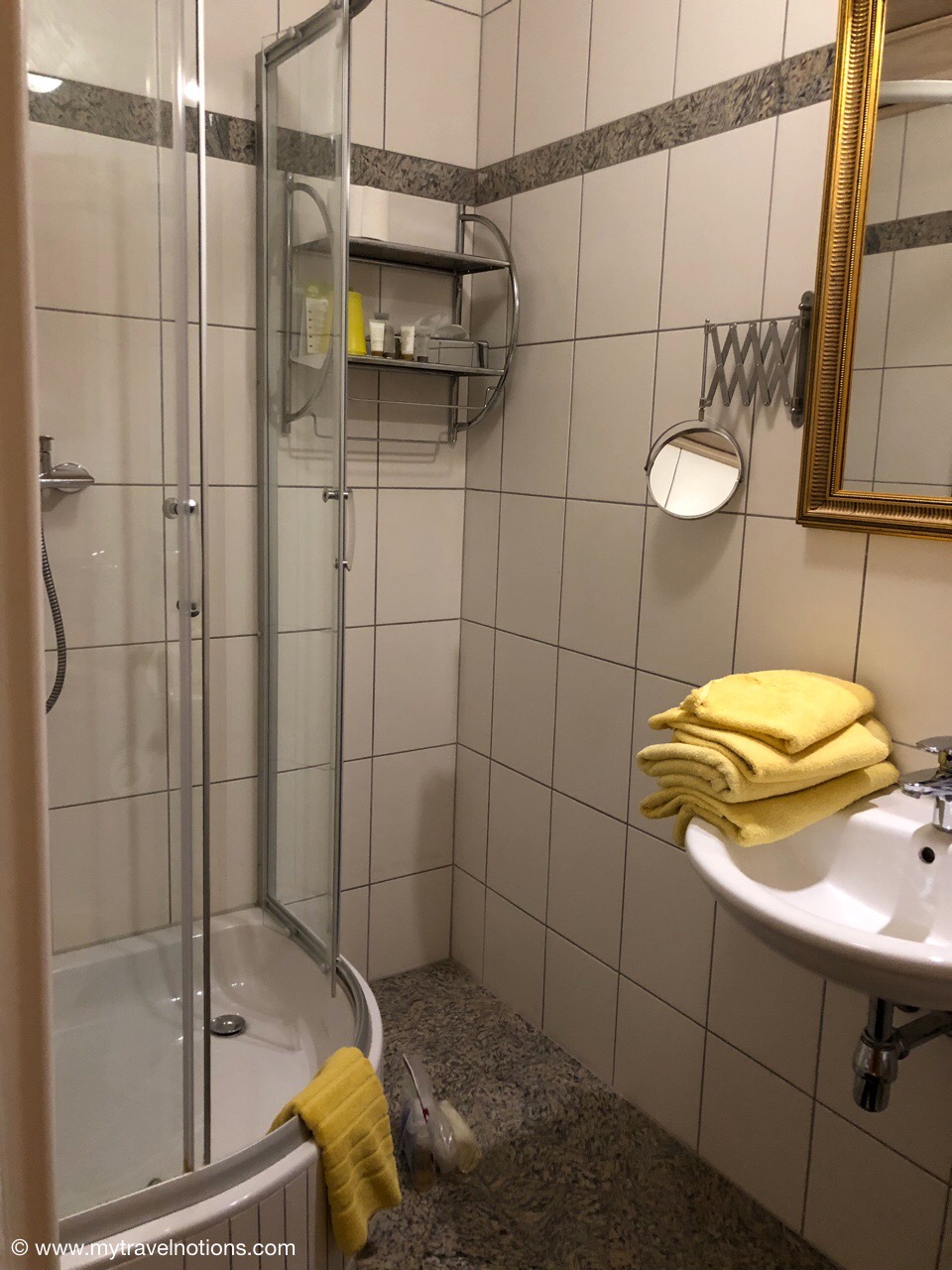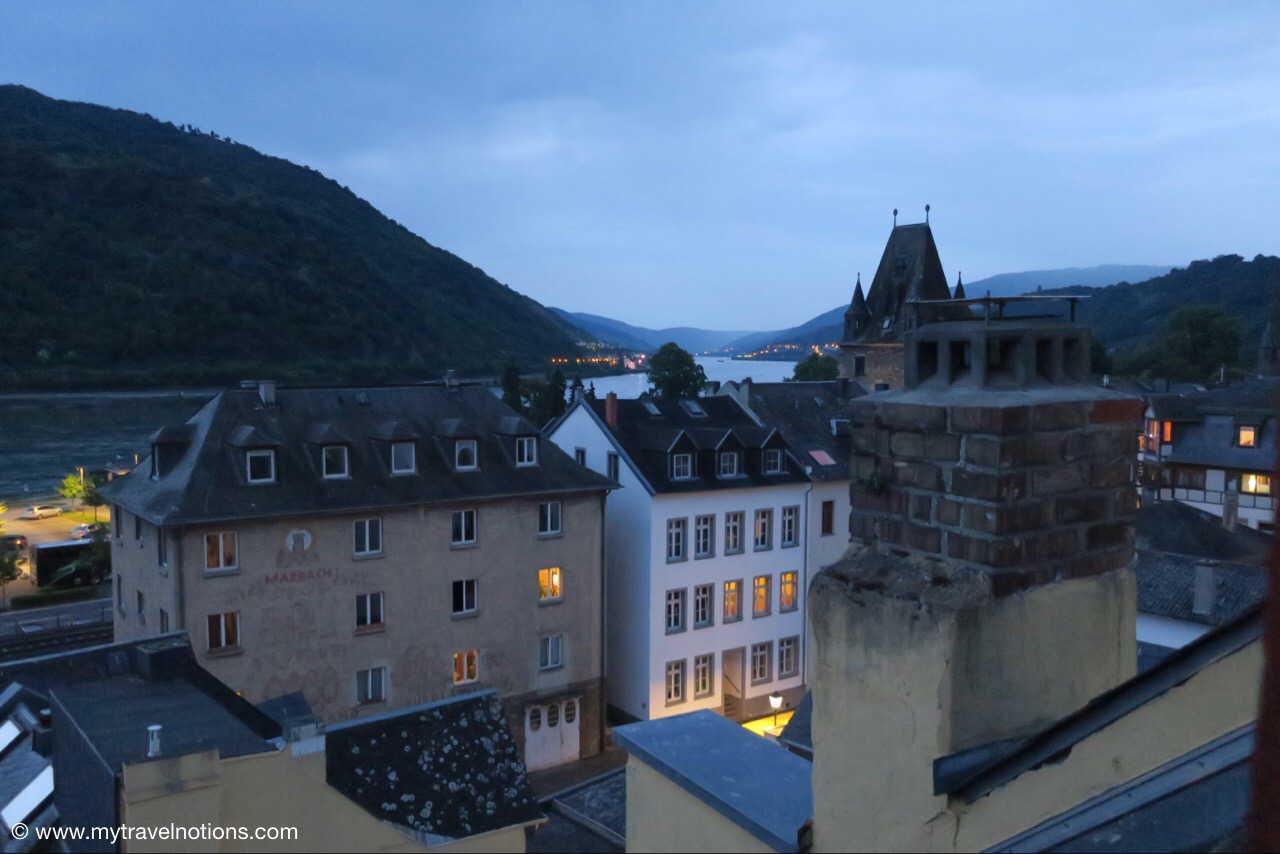 The Rhine River, at least the part between St. Goar and Bacharach, both in Germany, was the star attraction of today's outings. The massive European river actually flows from Switzerland, through Germany onto the Netherlands and eventually empties into the North Sea.
Bacharach, our home base, is a picturesque and delightful town that has a touch of beauty, mainly because of its half-timbered buildings that in some cases appear crooked but full of character and its cobblestone walkways, throughout every turn.
Although I had to lug myself up some 96 stairs to get to my room at the top of the Hotel am Market, it felt like I was in my own fairytale castle chamber. My views of the Rhine River and the town were stunning, even through the two small-sized windows. And, the trains that pass through Bacharach, seemingly hundreds all day and all night just whizzed by with a rushing roar that calmed to a rush of wind once I closed the windows.
We spent the morning taking a quick bus ride to nearby St. Goar, Germany, where most of the group walked up the steep hill and a couple of tour members…including myself…hitched a ride up to tour the medieval remains of the 770-something plus years-old ruins Rheinfels Castle. The overcast skies, the rain and the theatrics of our castle guide, made the visit all that more enchanting. And, the views of the Rhine River and valley below were breath-taking.
Seeing the Rhine from the height of the Rheinfels Castle and its huge presence in the valley was pretty dang spectacular but actually cruising the Rhine through its picturesque villages, hillside castles and sloping vineyards was also quite the treat.
After returning to Bacharach, though late in the afternoon, the sun decided to make a welcomed appearance as our tour group took a walking tour through the town with local guide Thomas. Then Tammy, Alice and I sampled the local cuisine of pork knuckle and sauerkraut.
Tomorrow, we move on to Rothenburg…another charming medieval German town. See you there.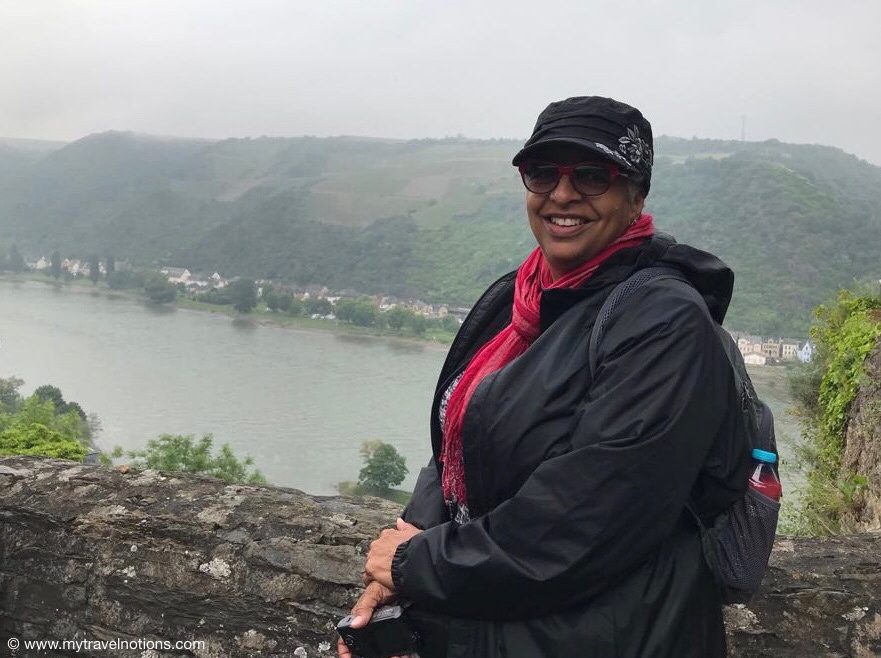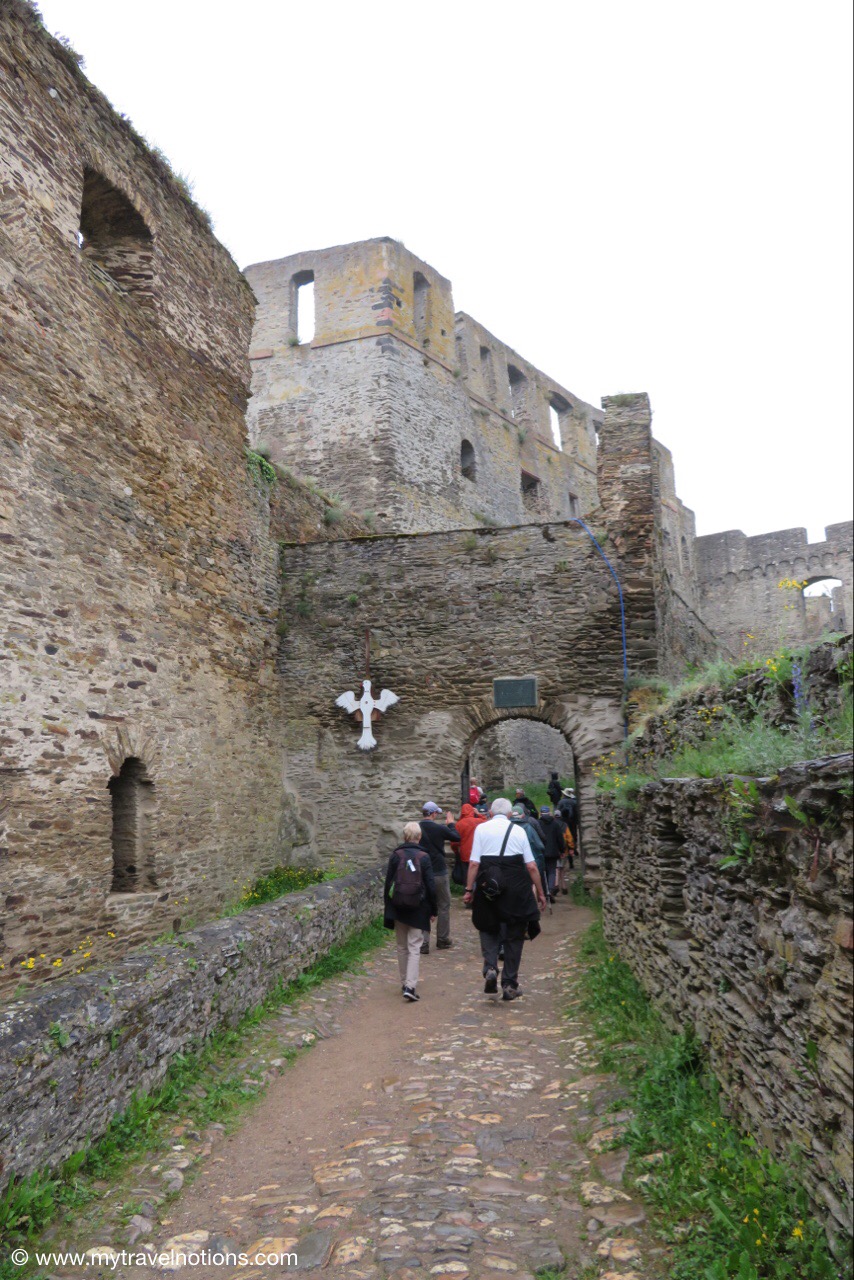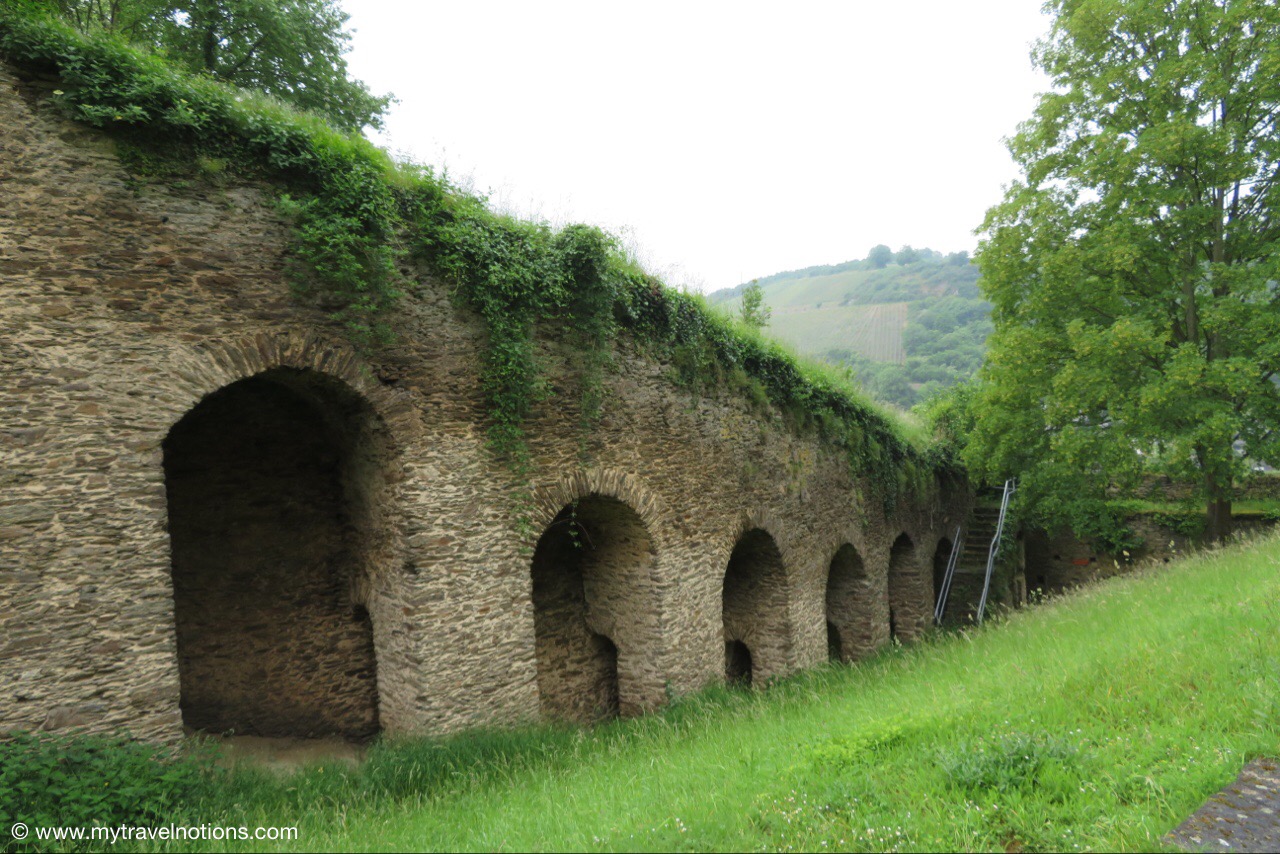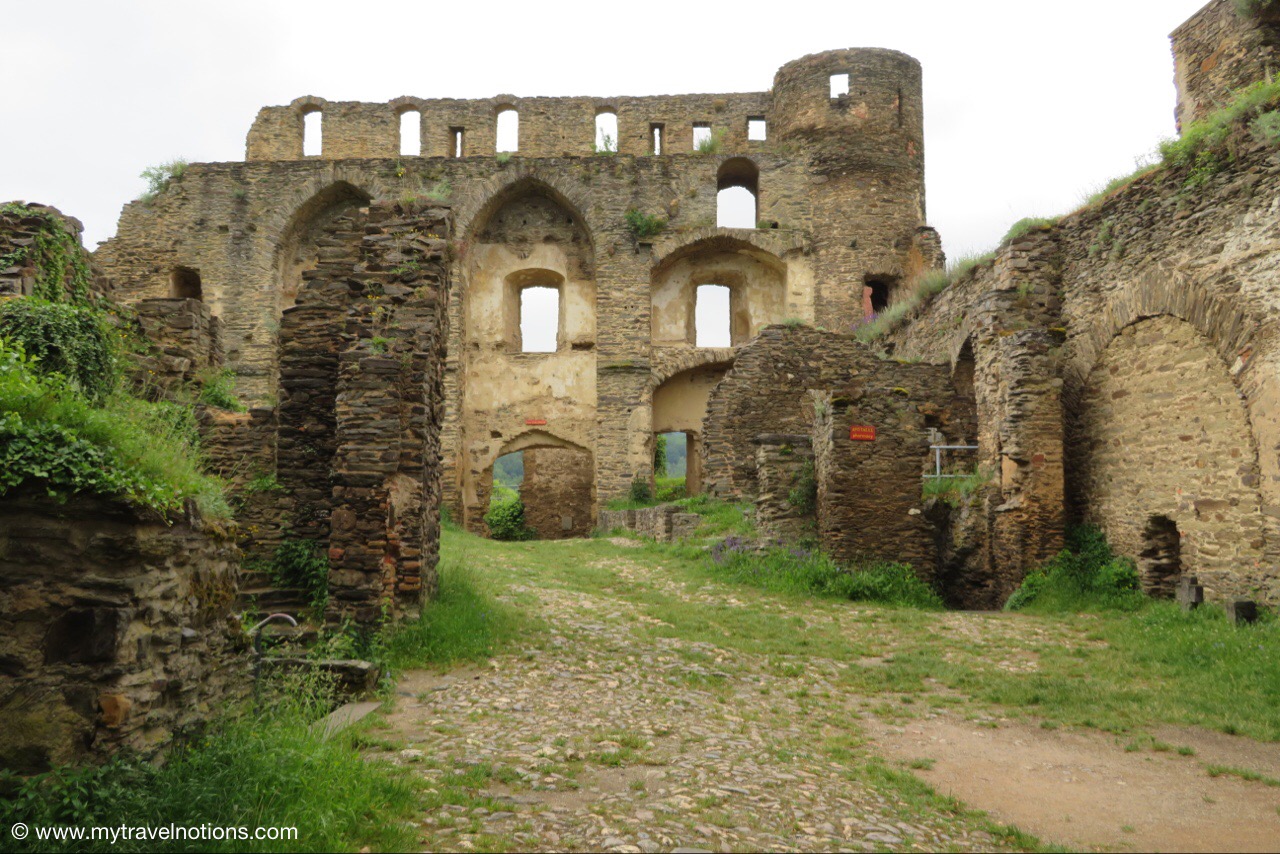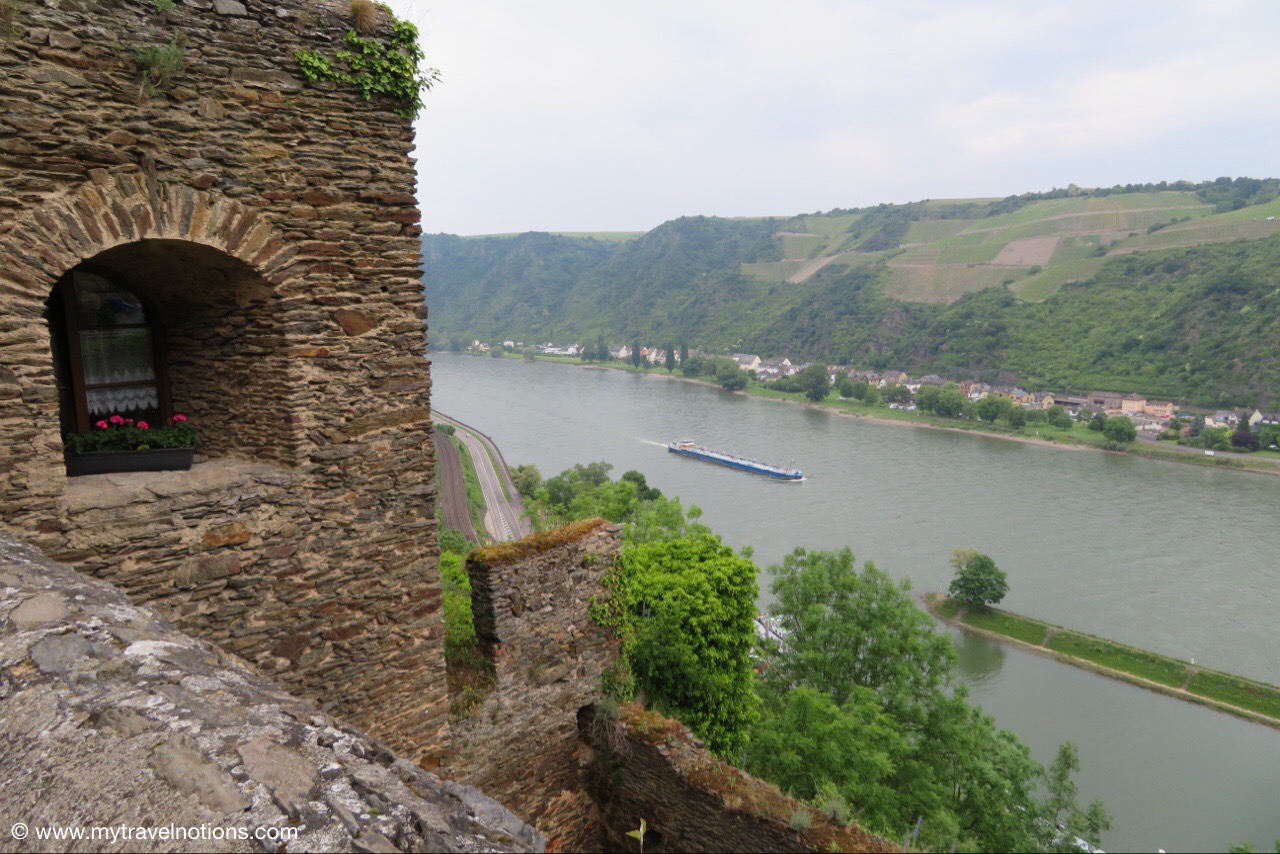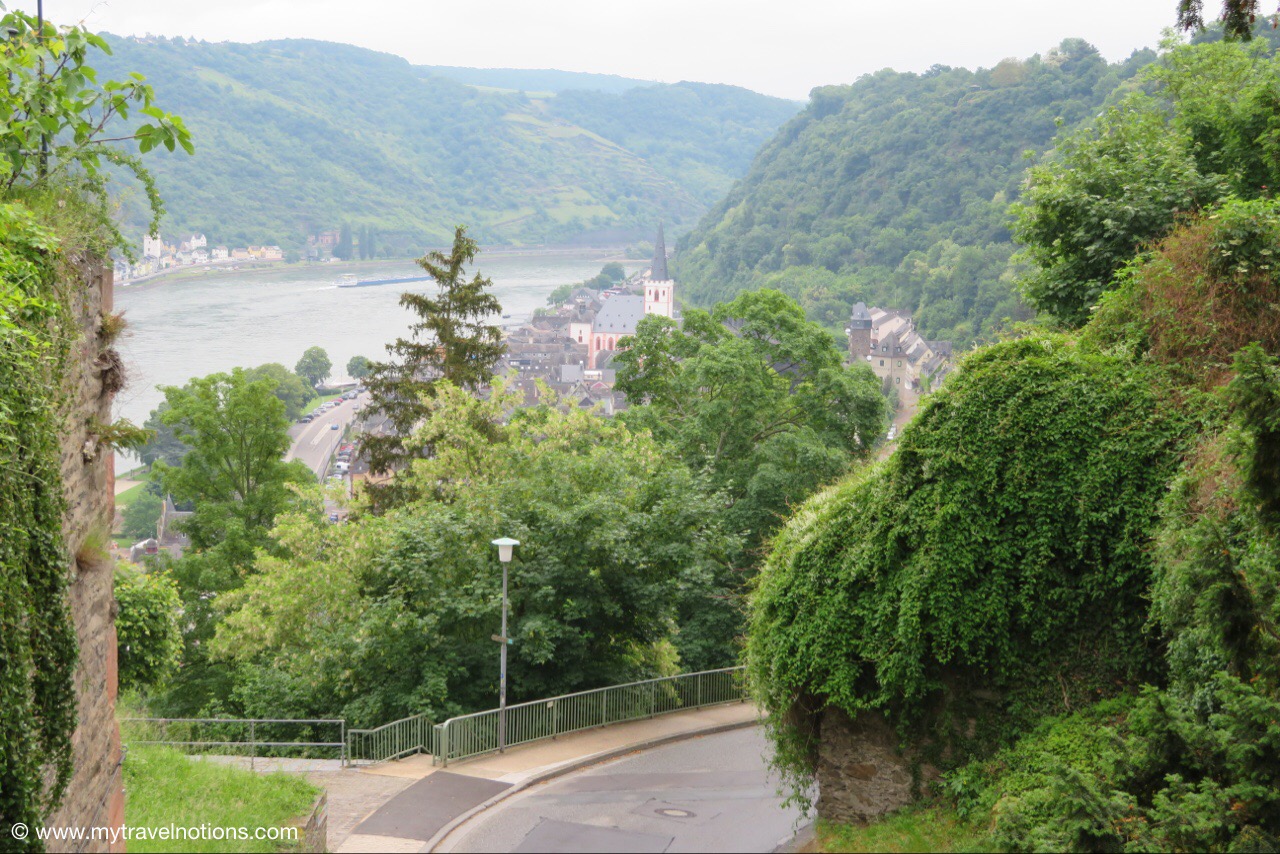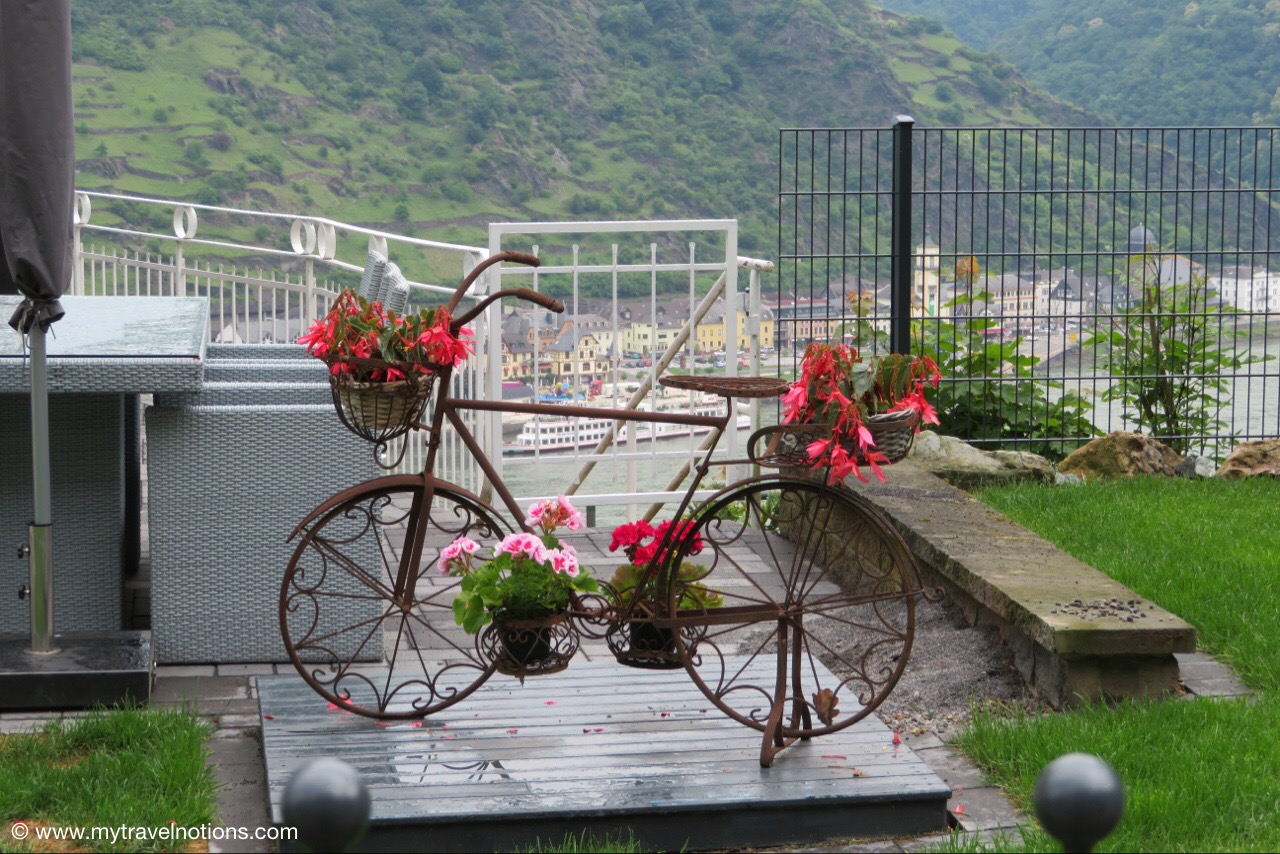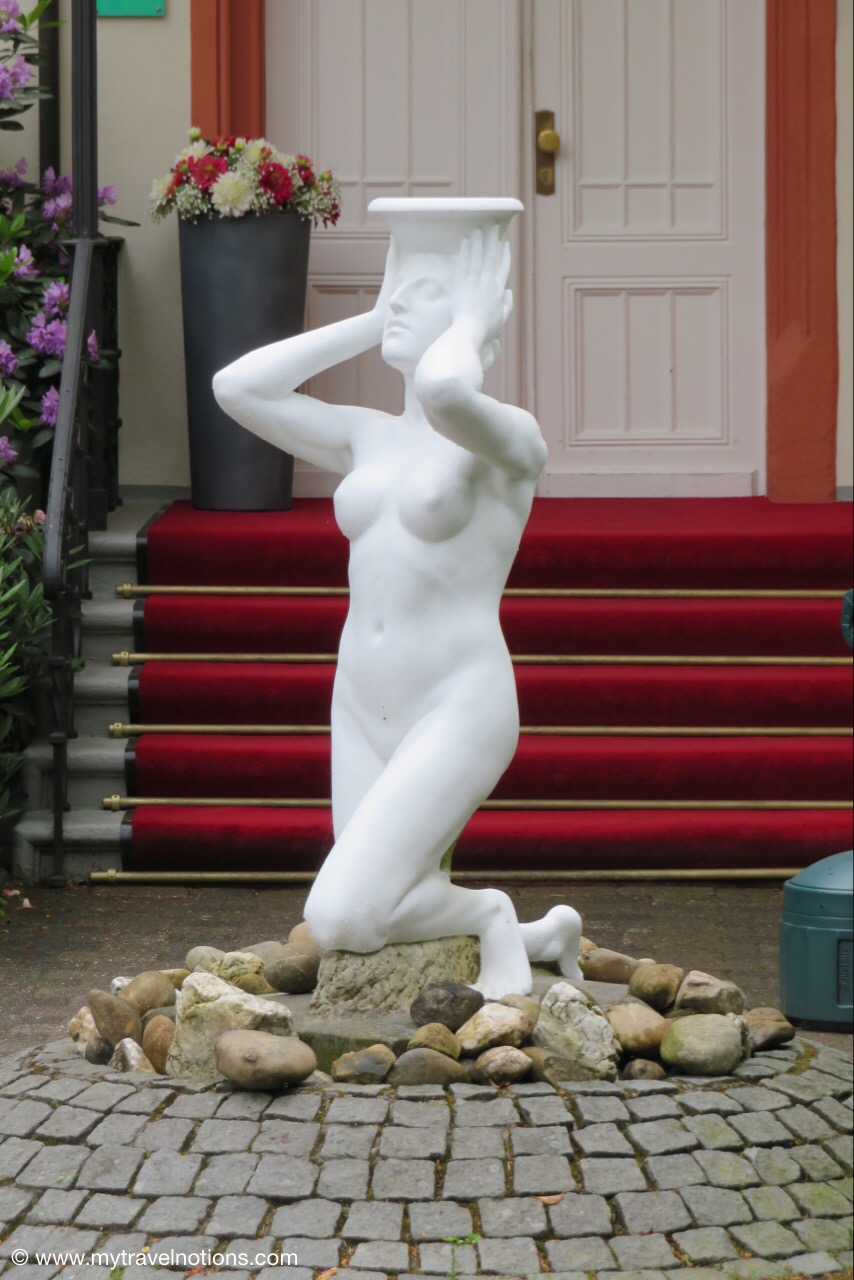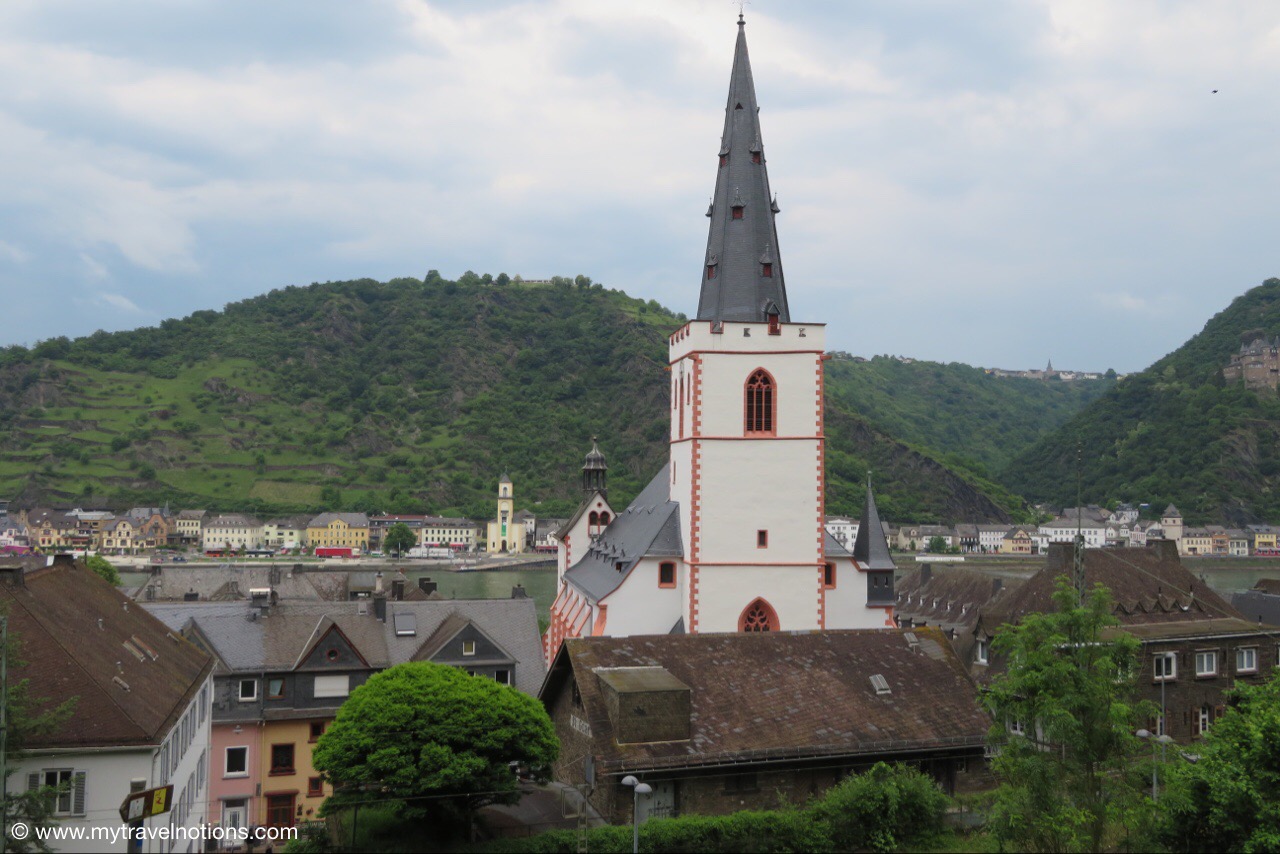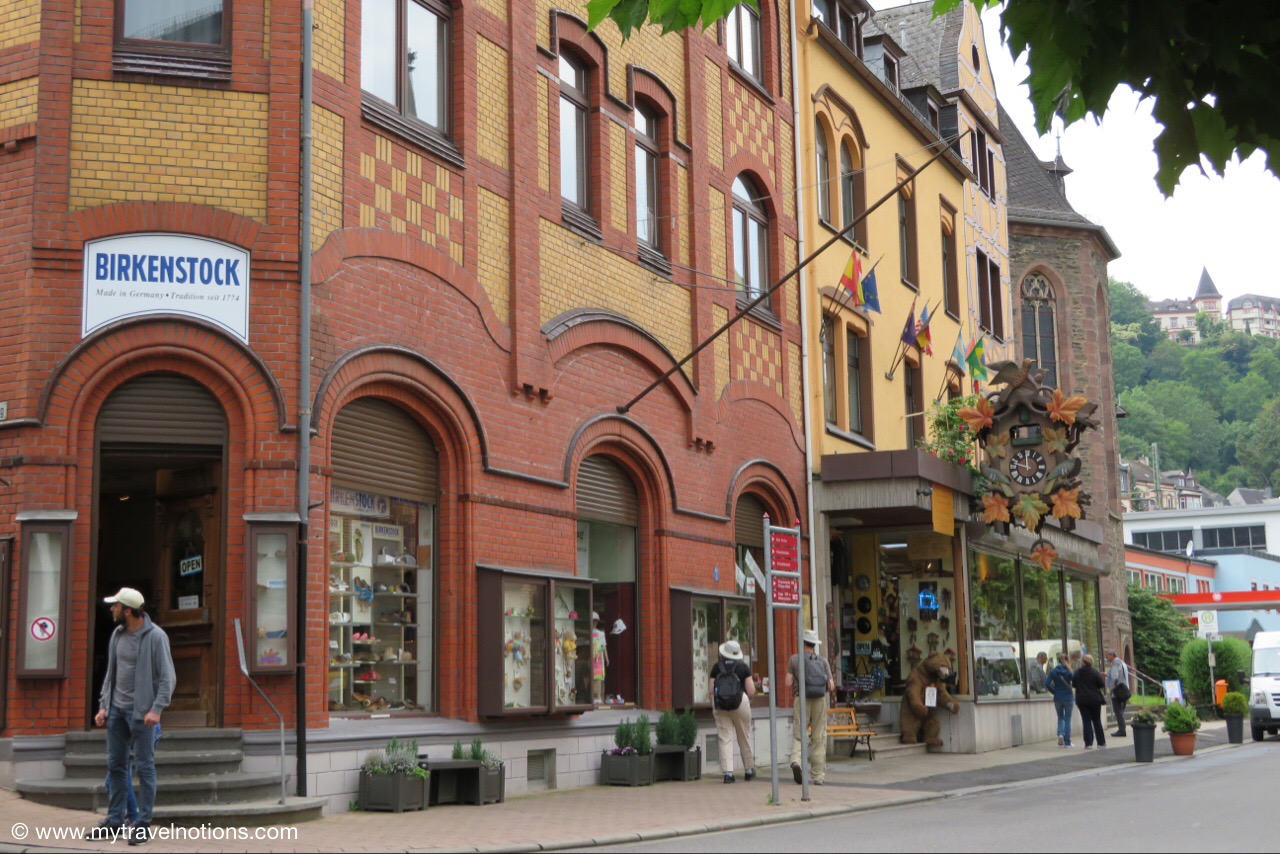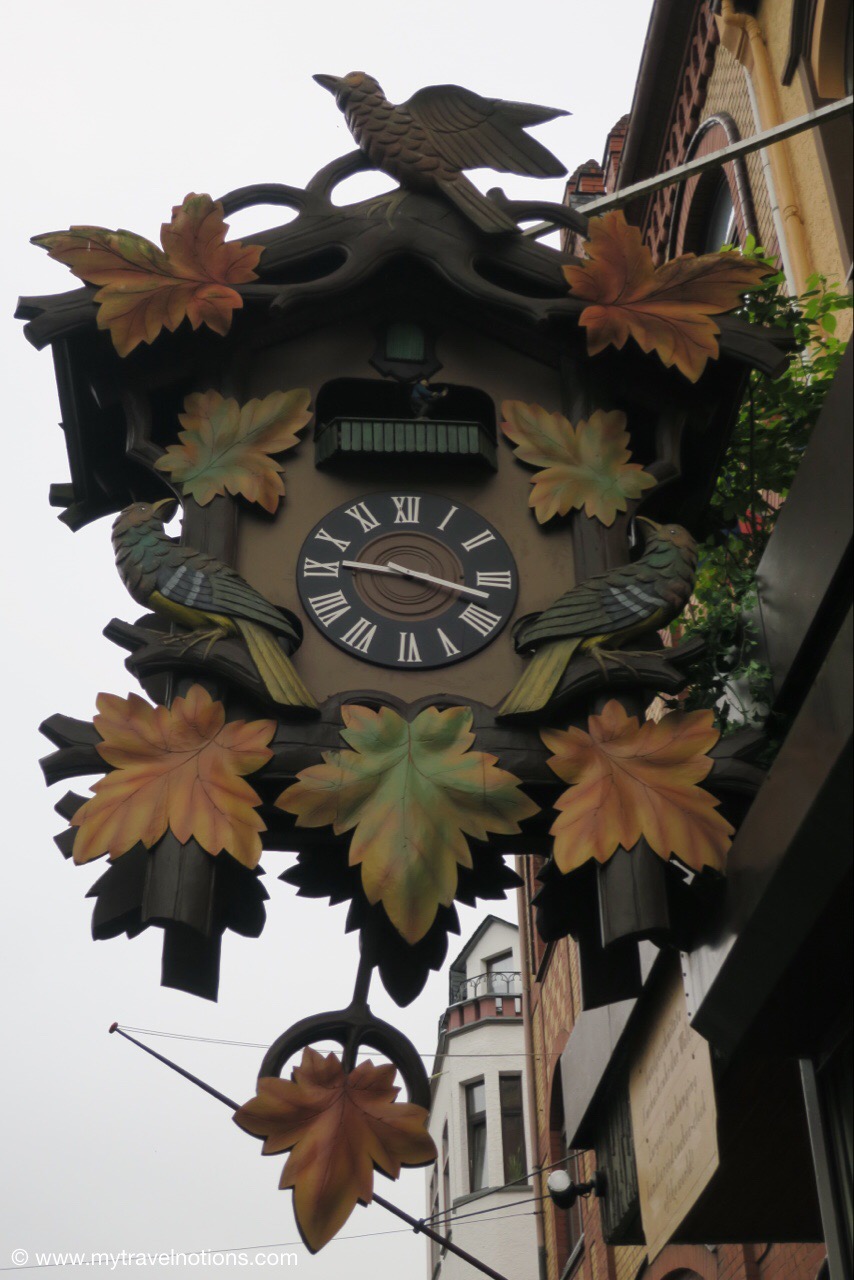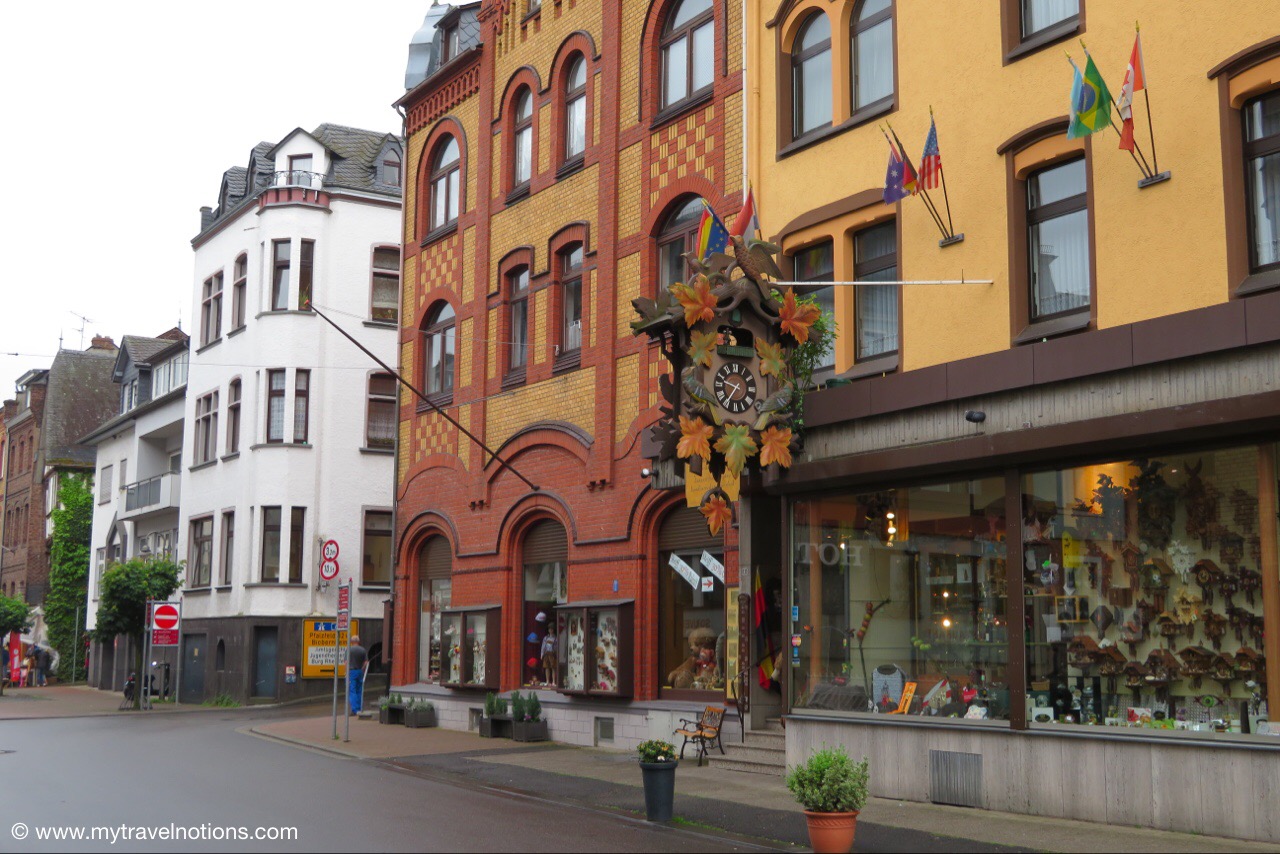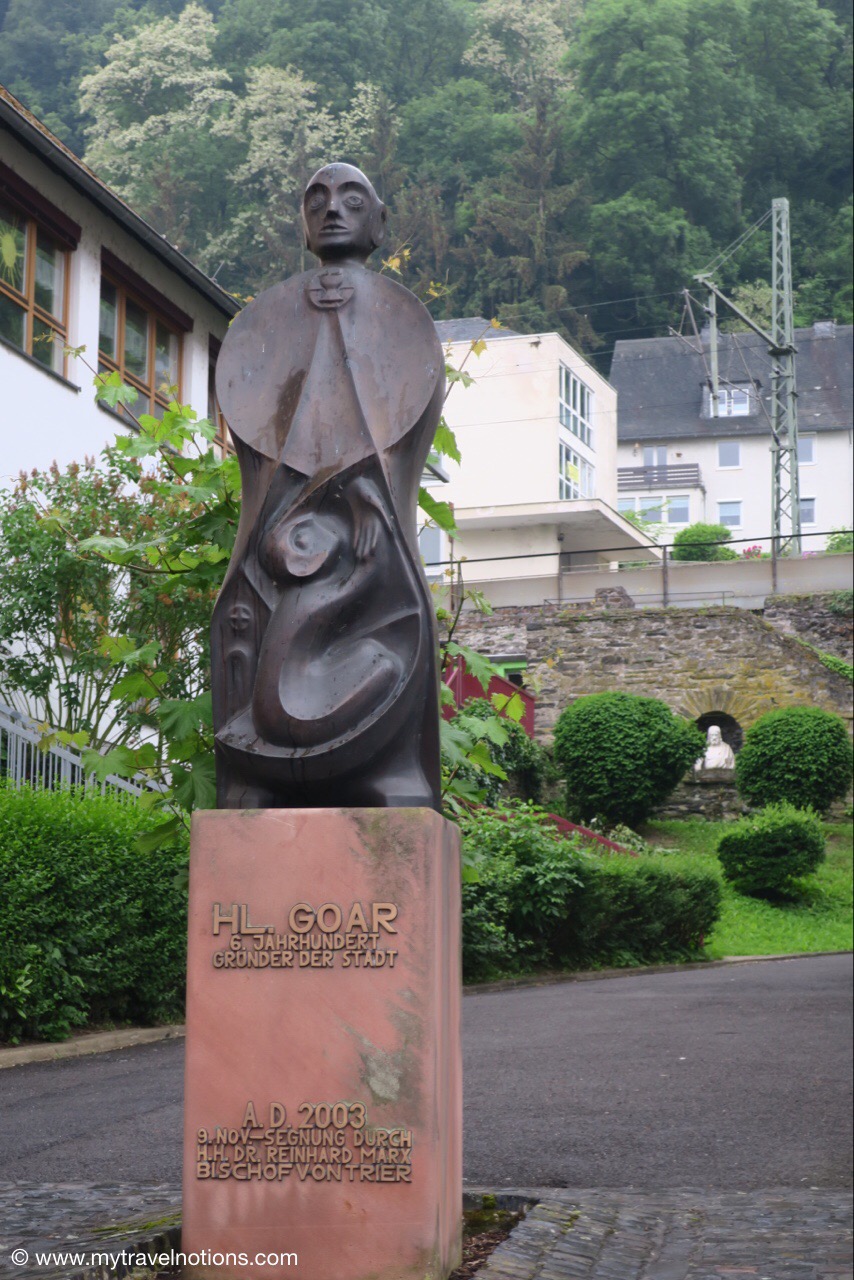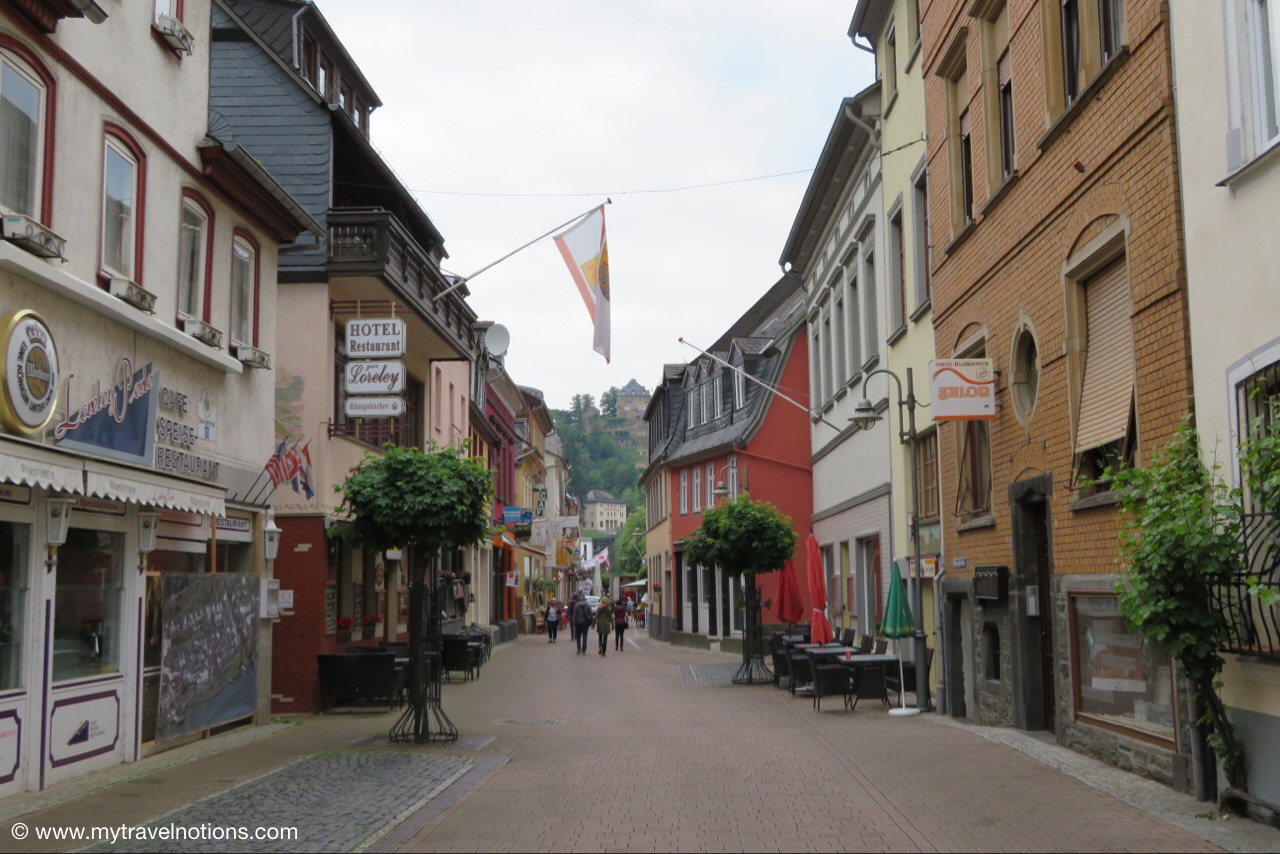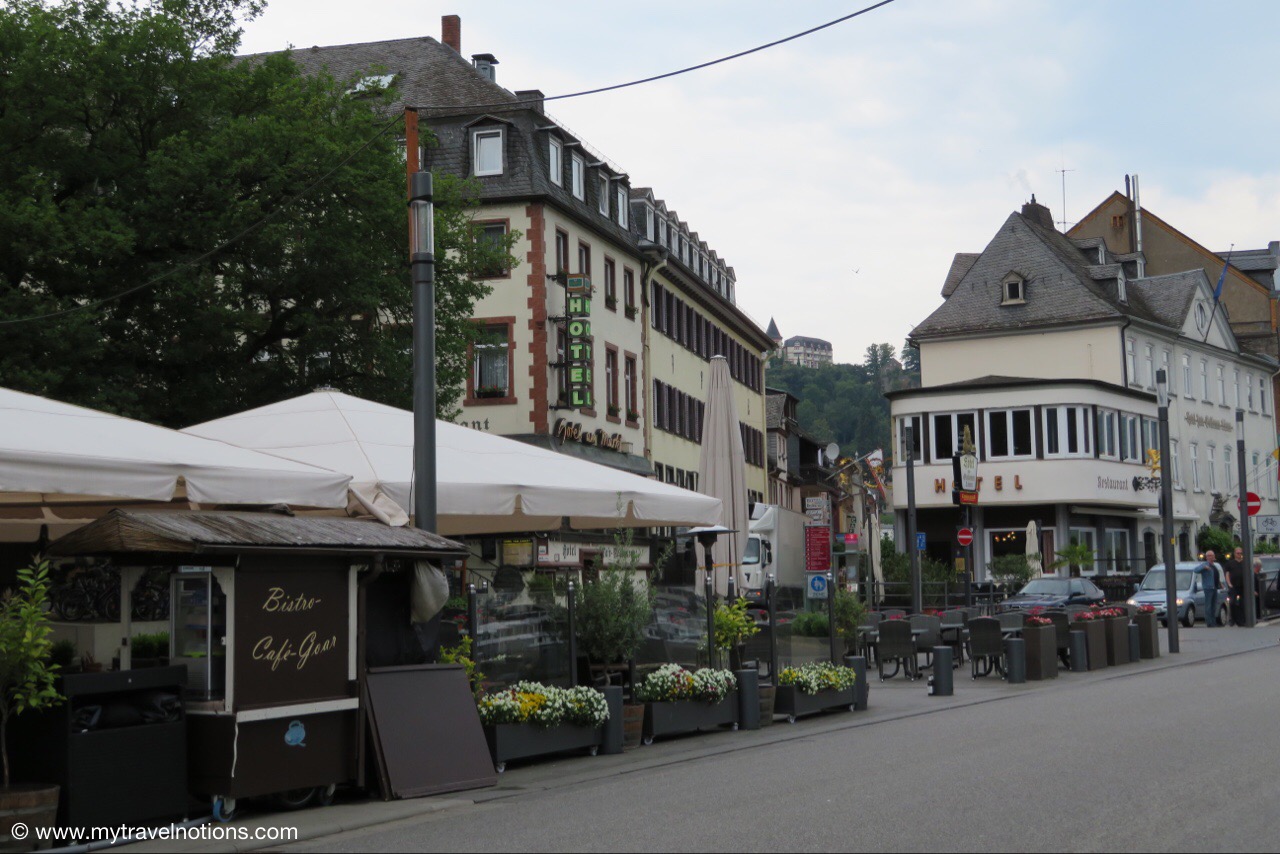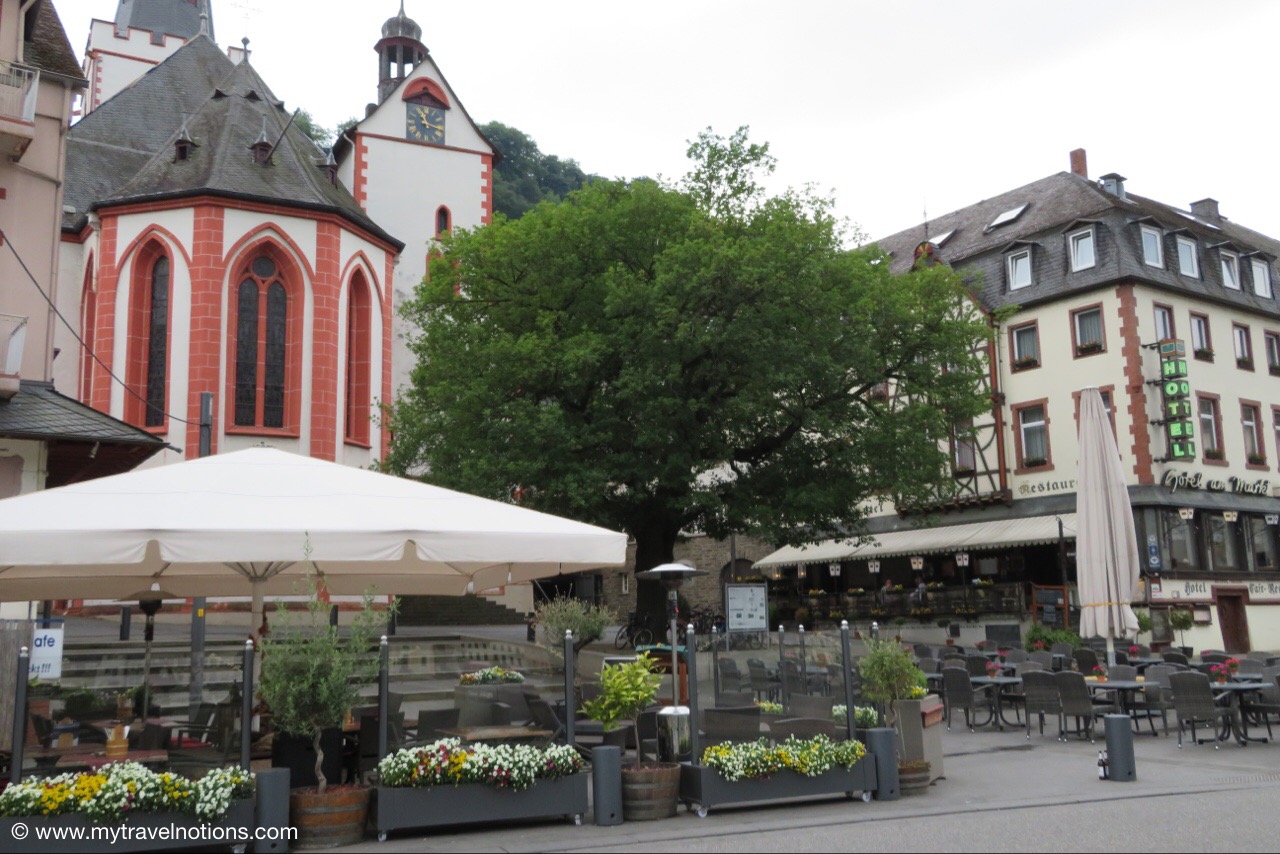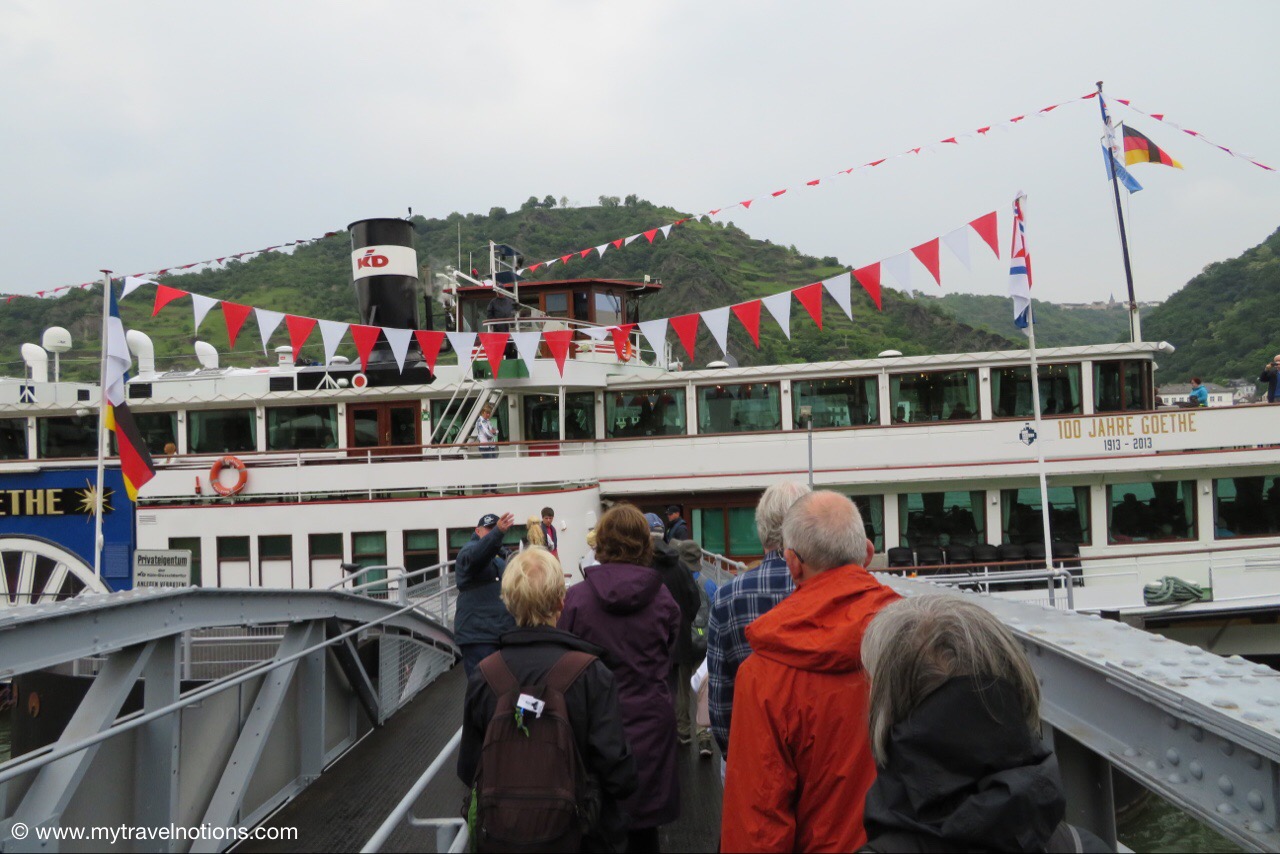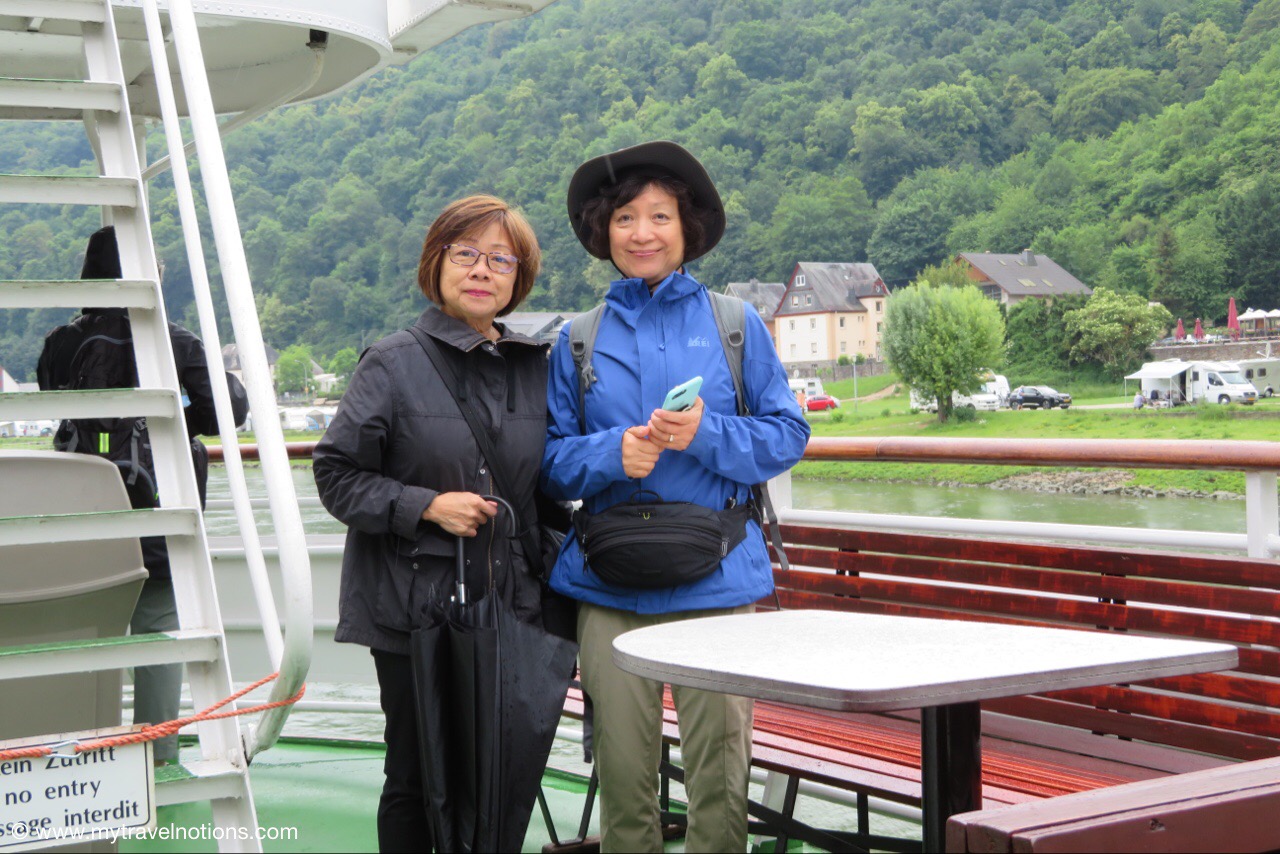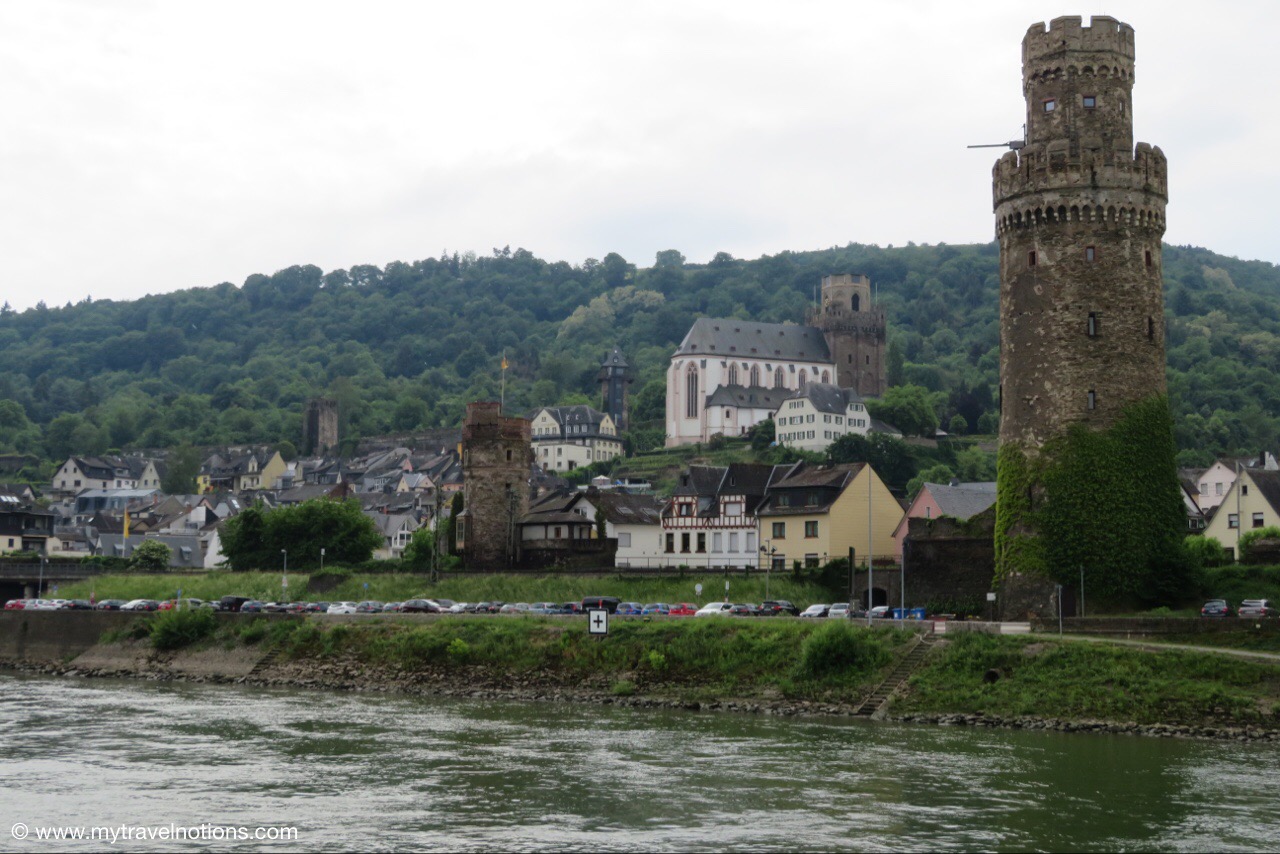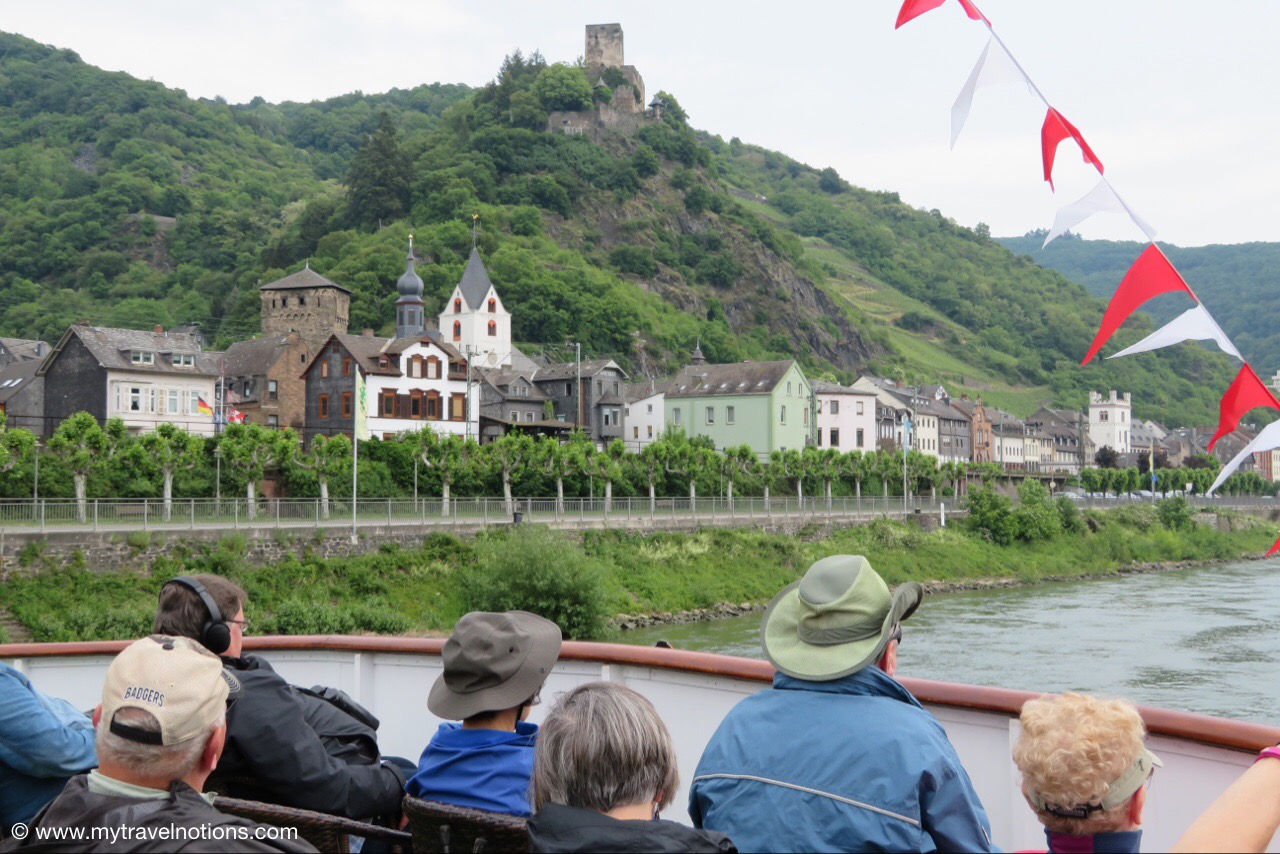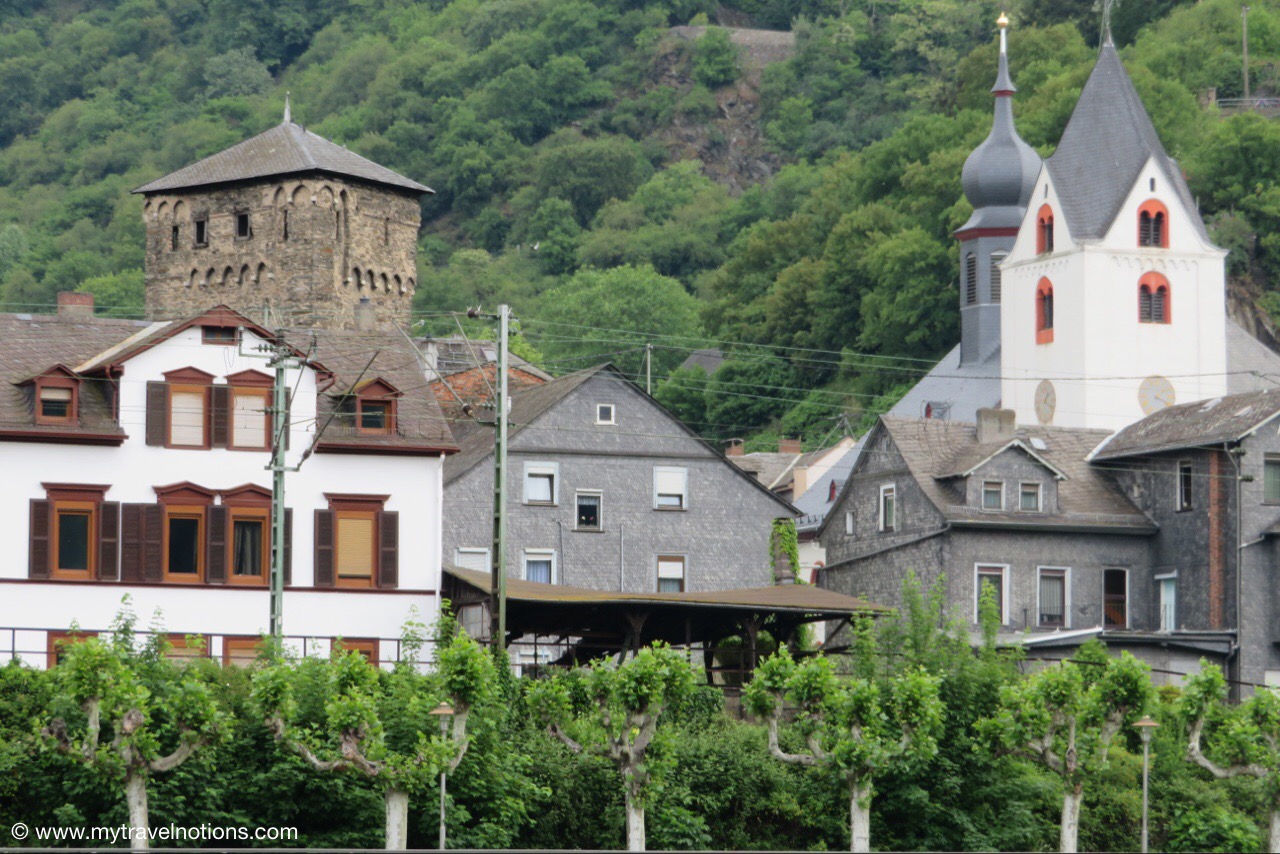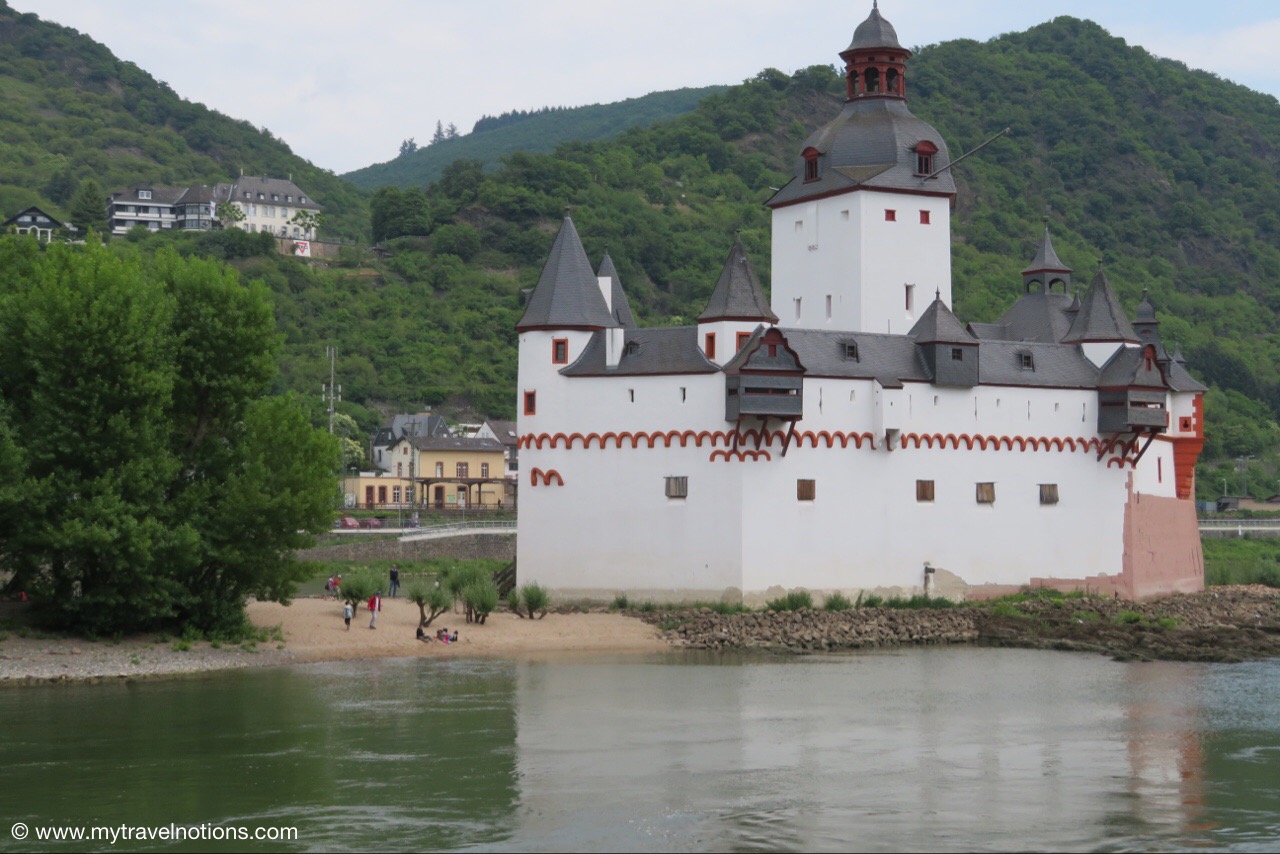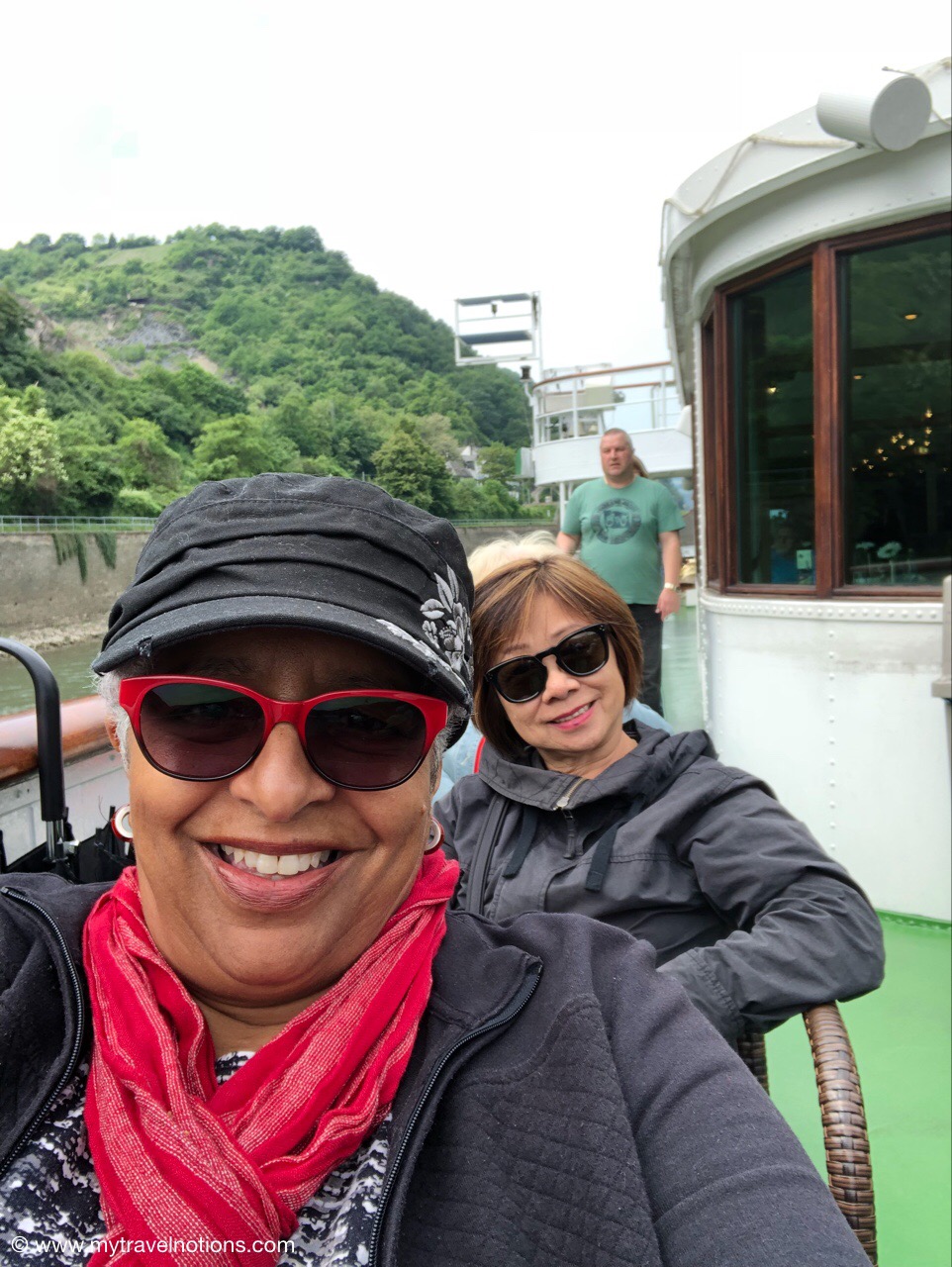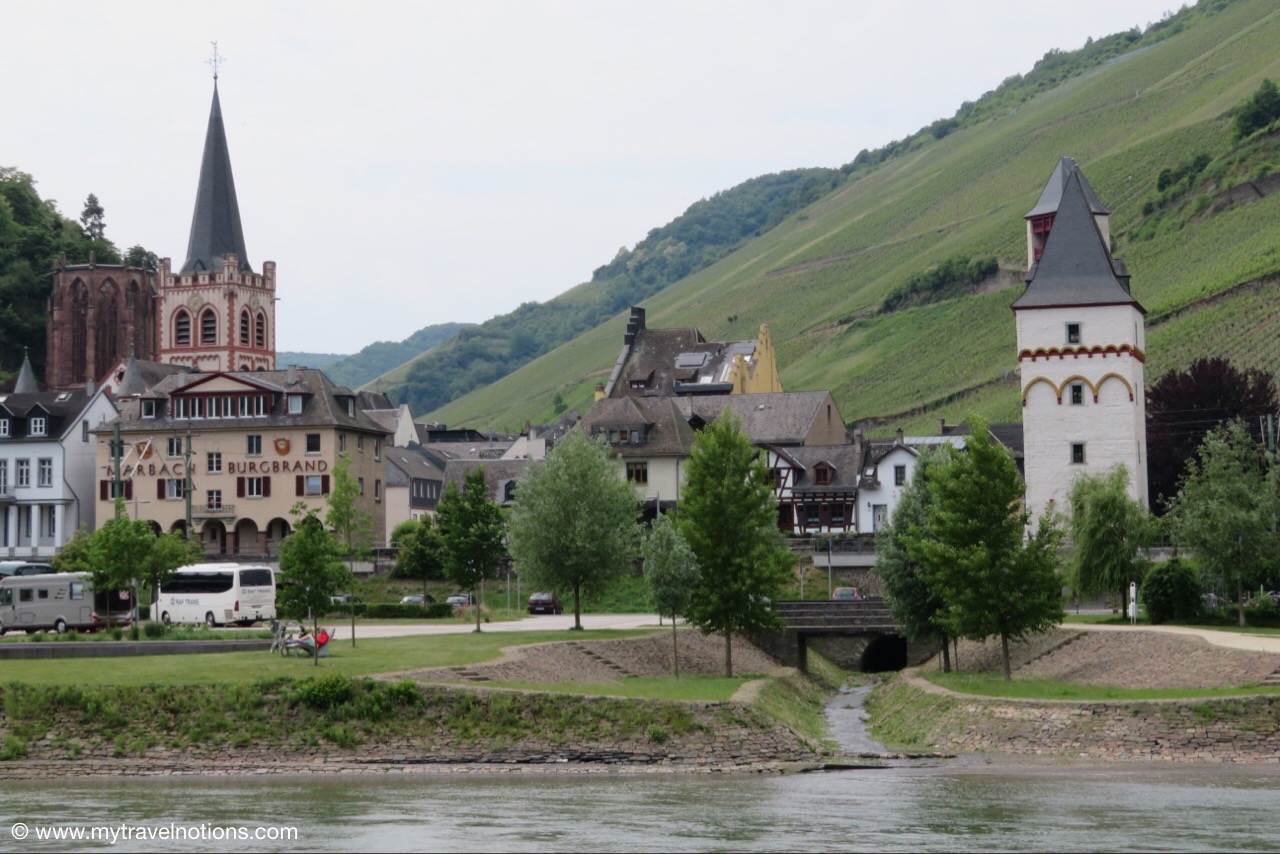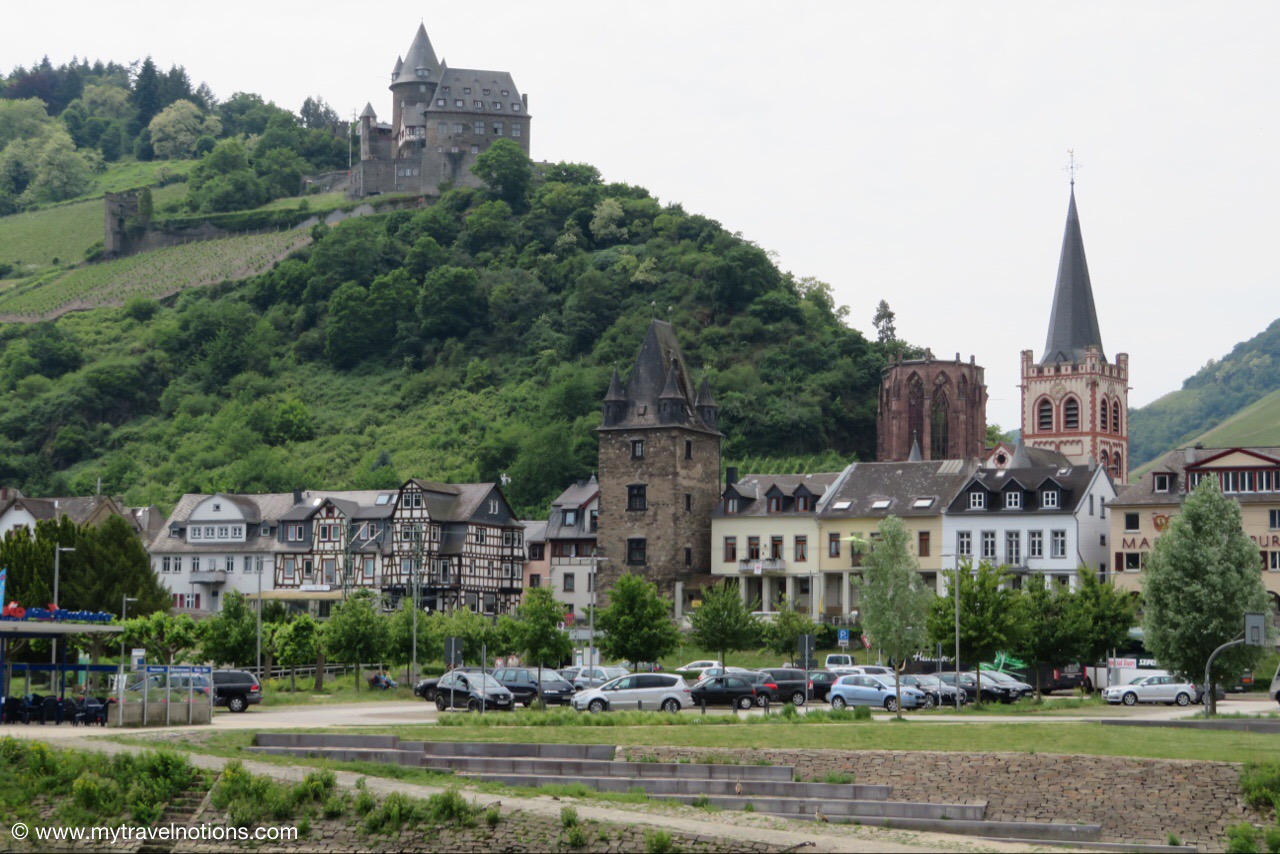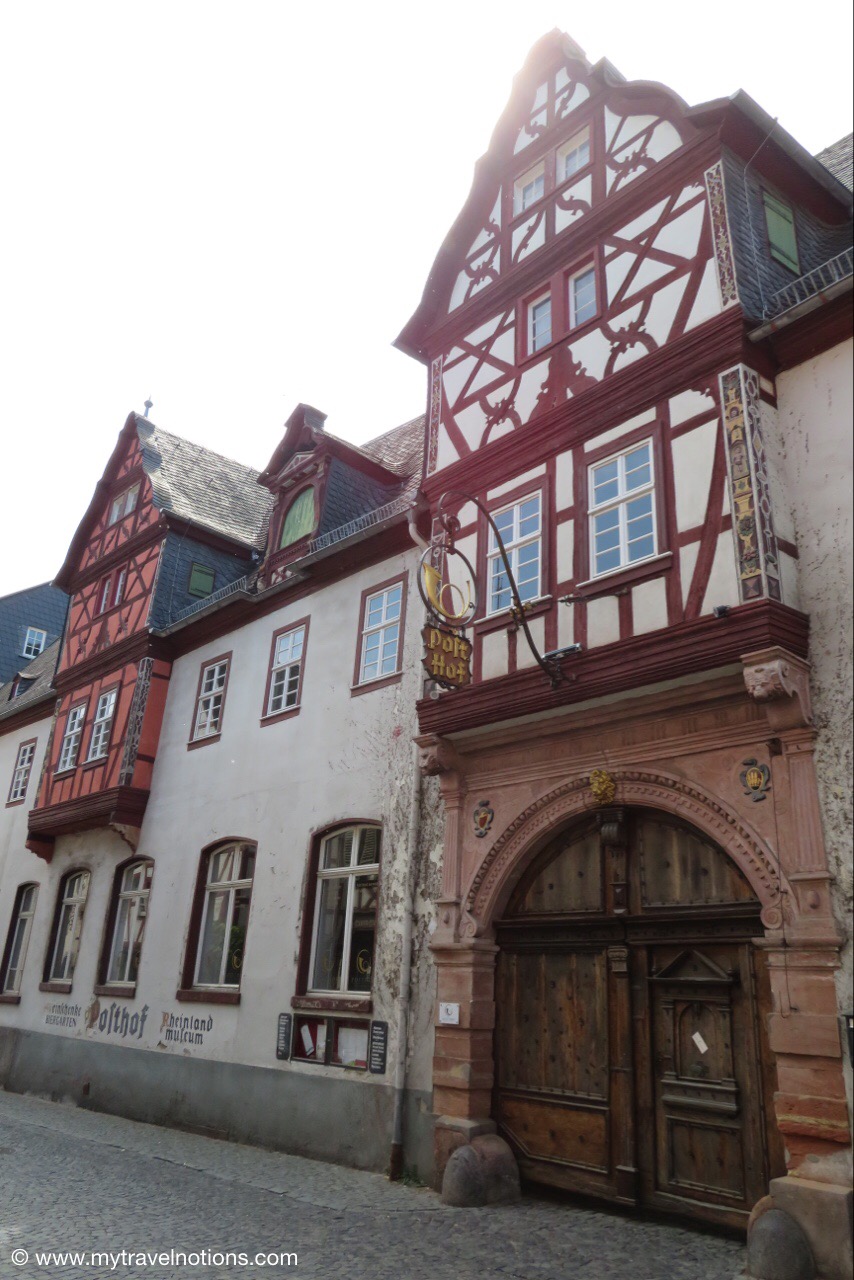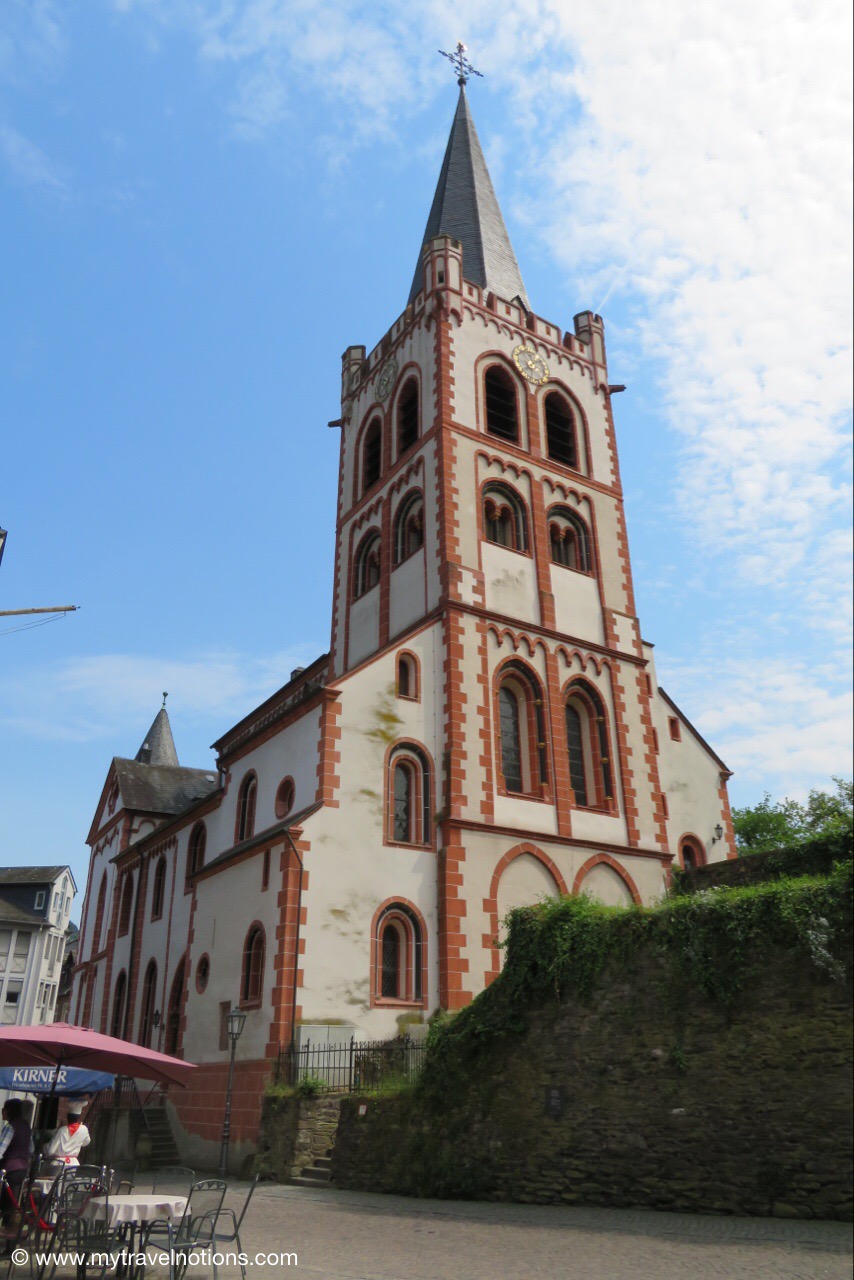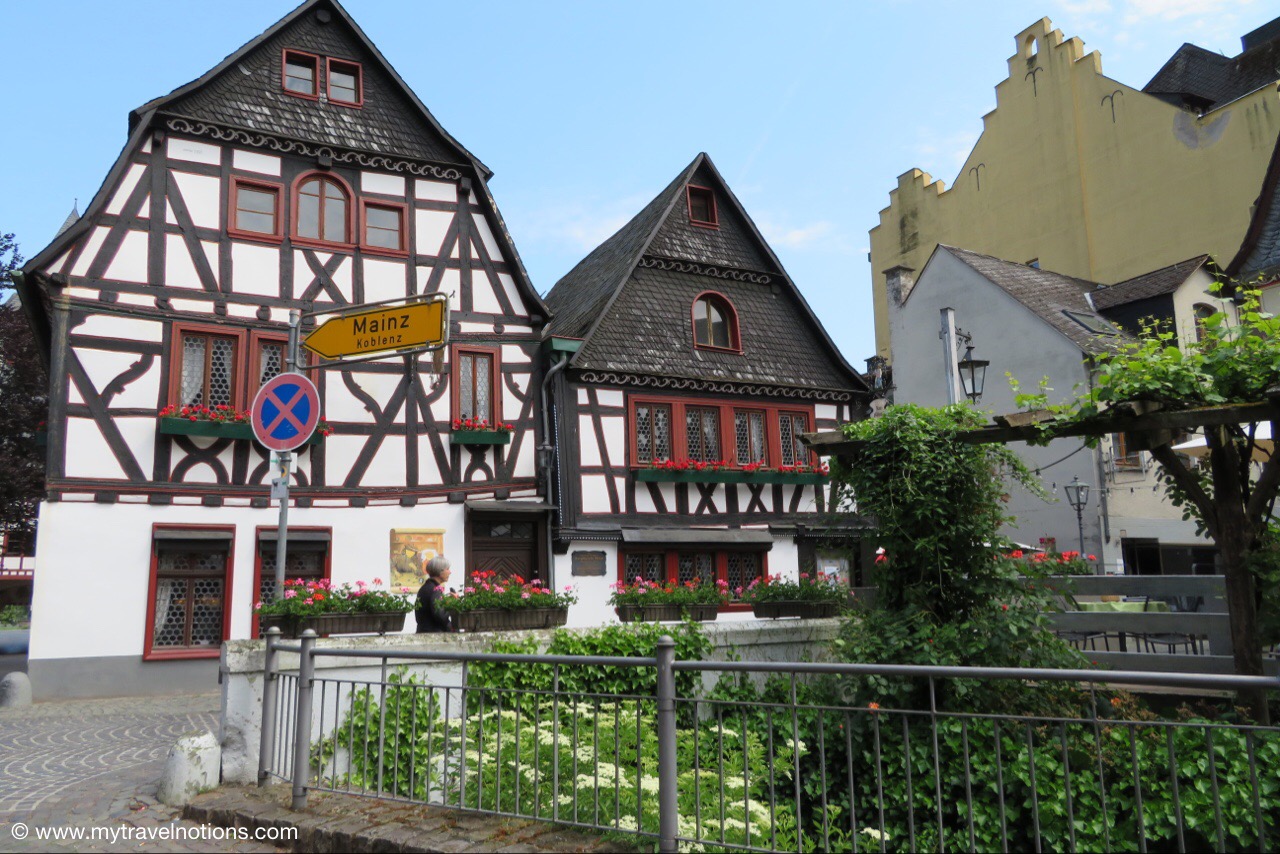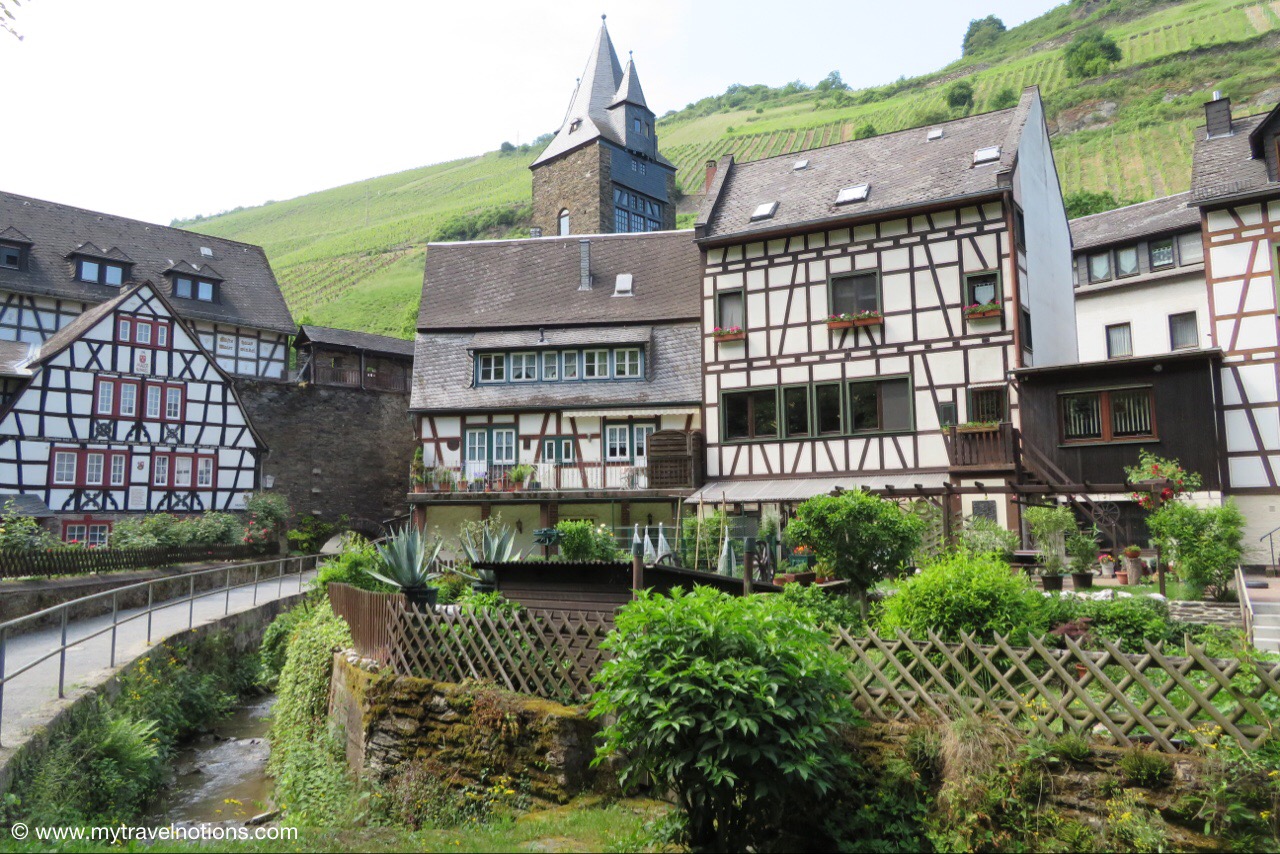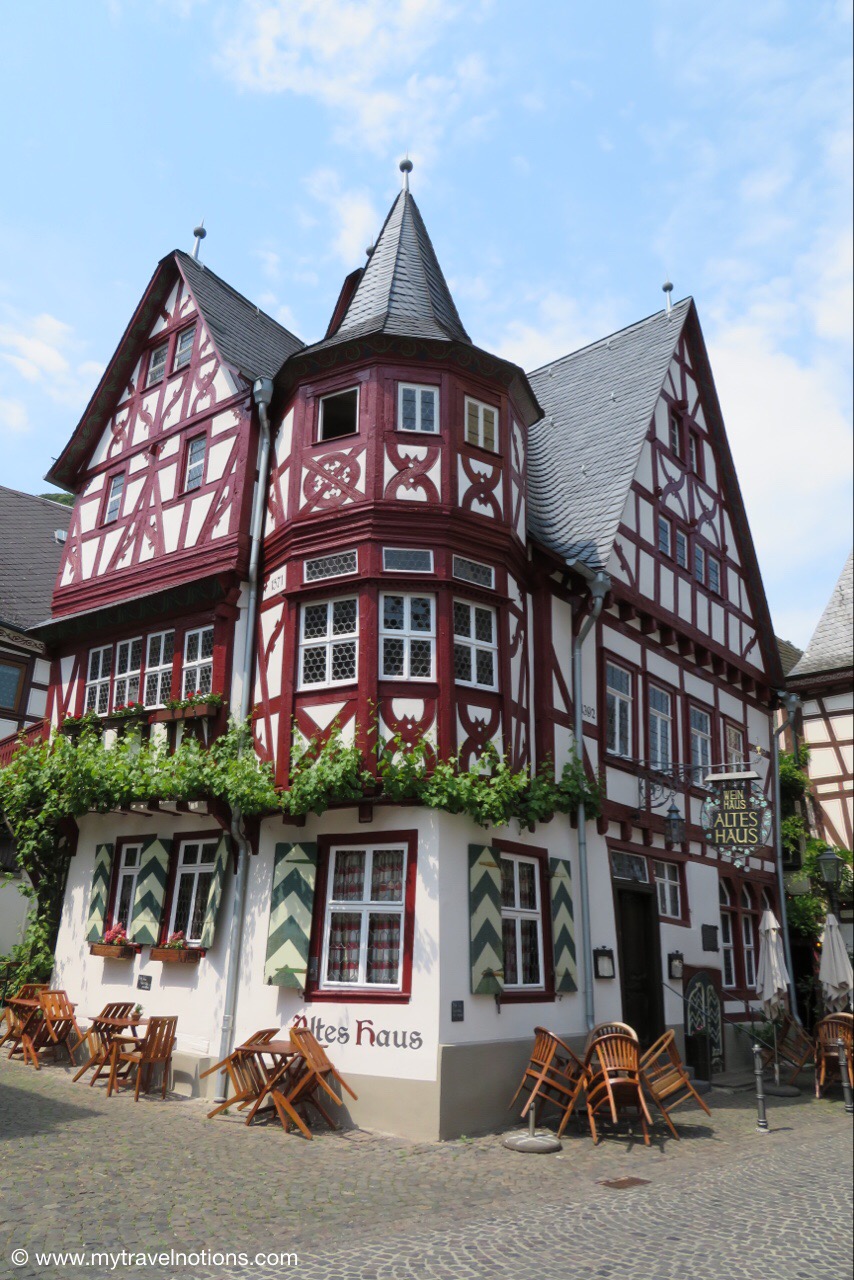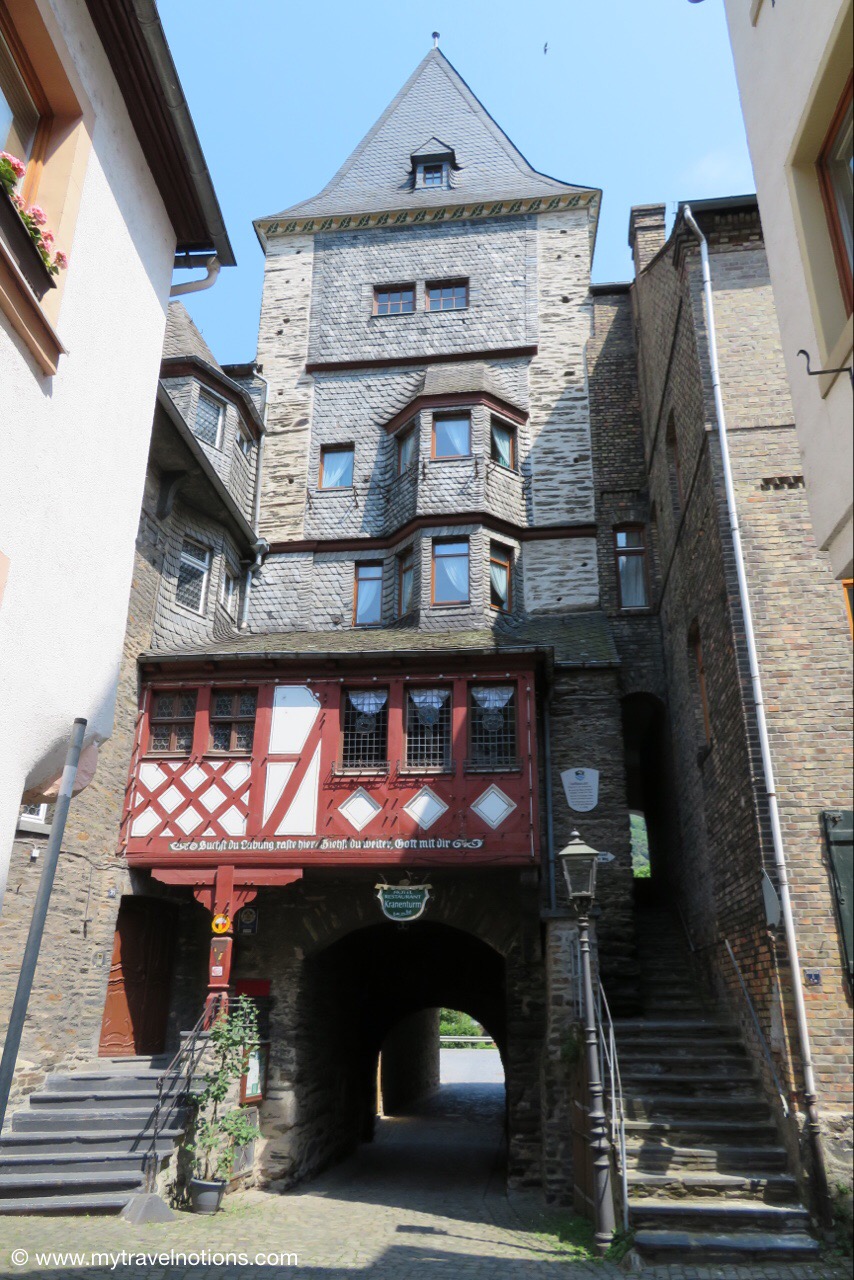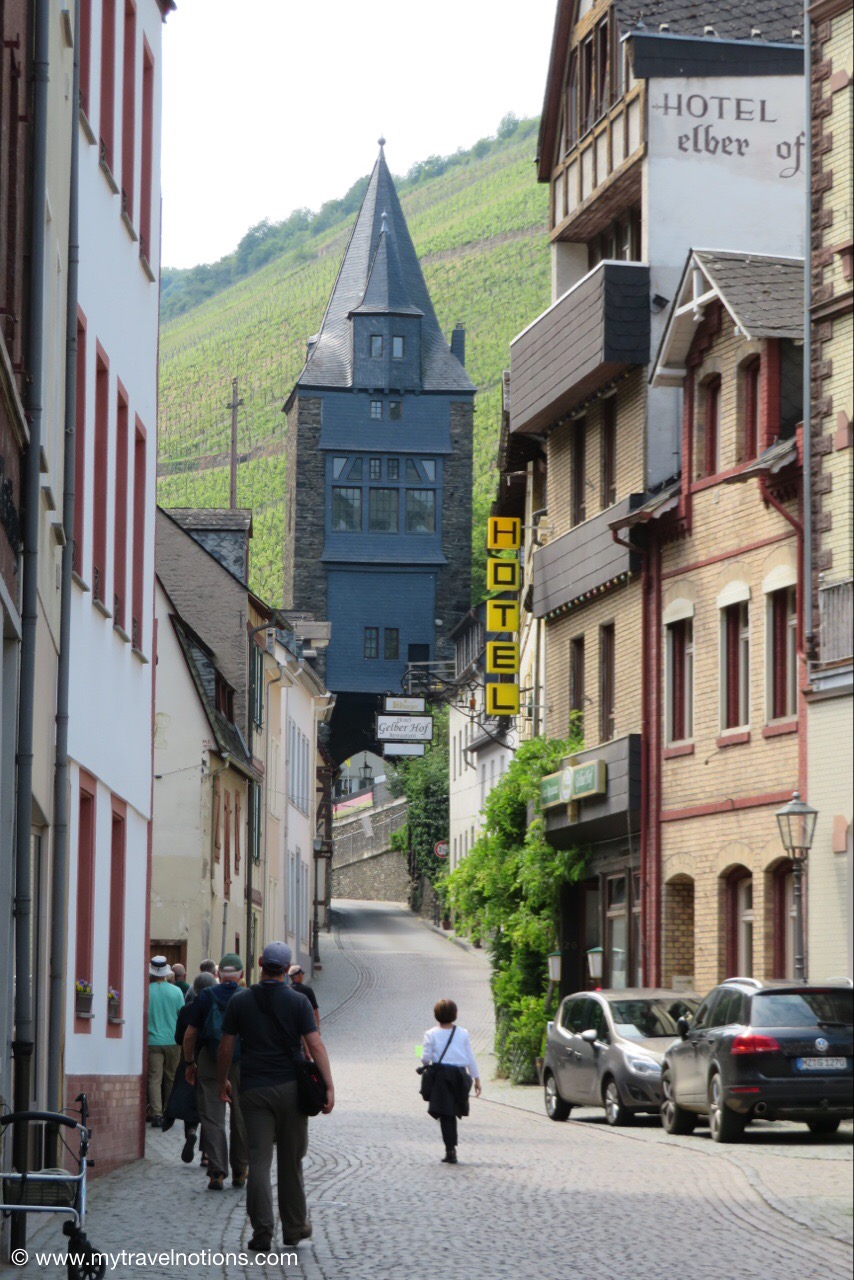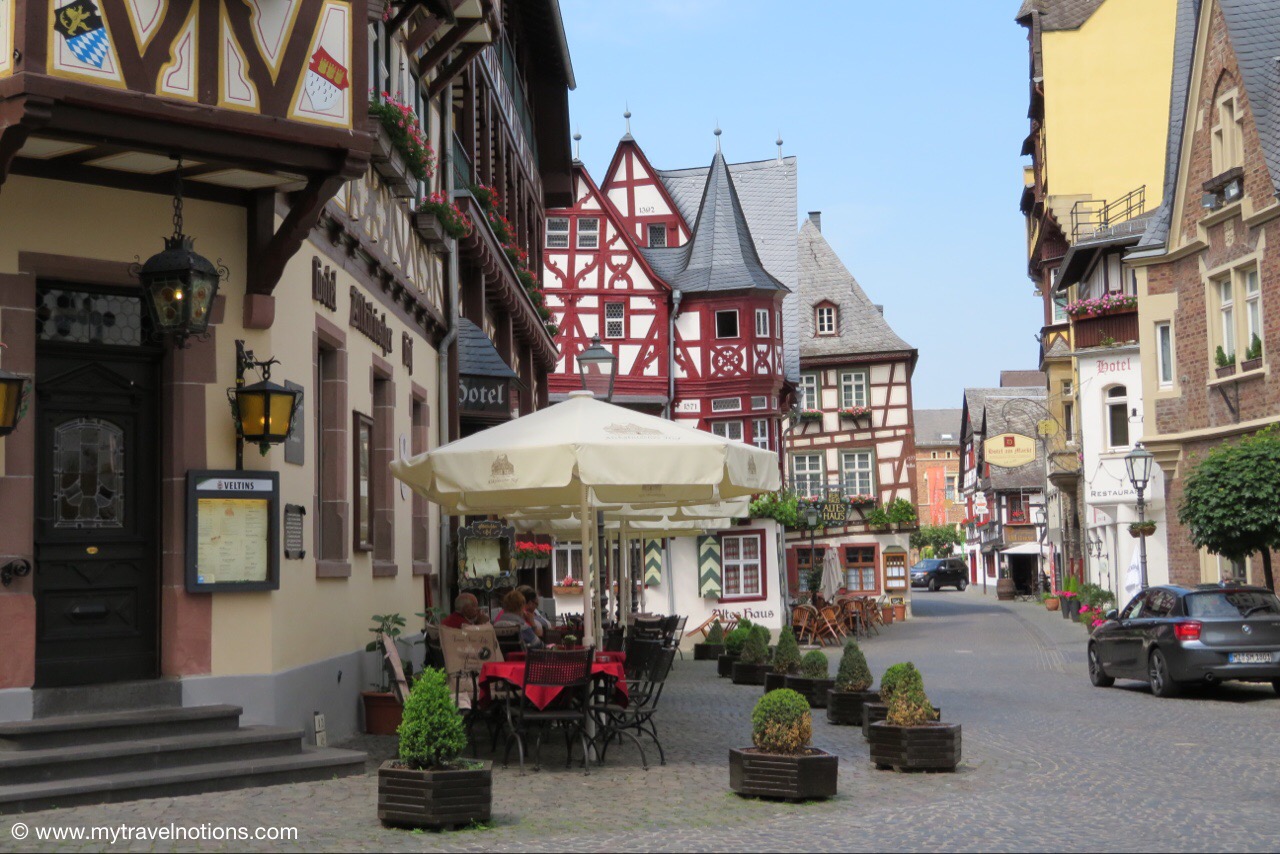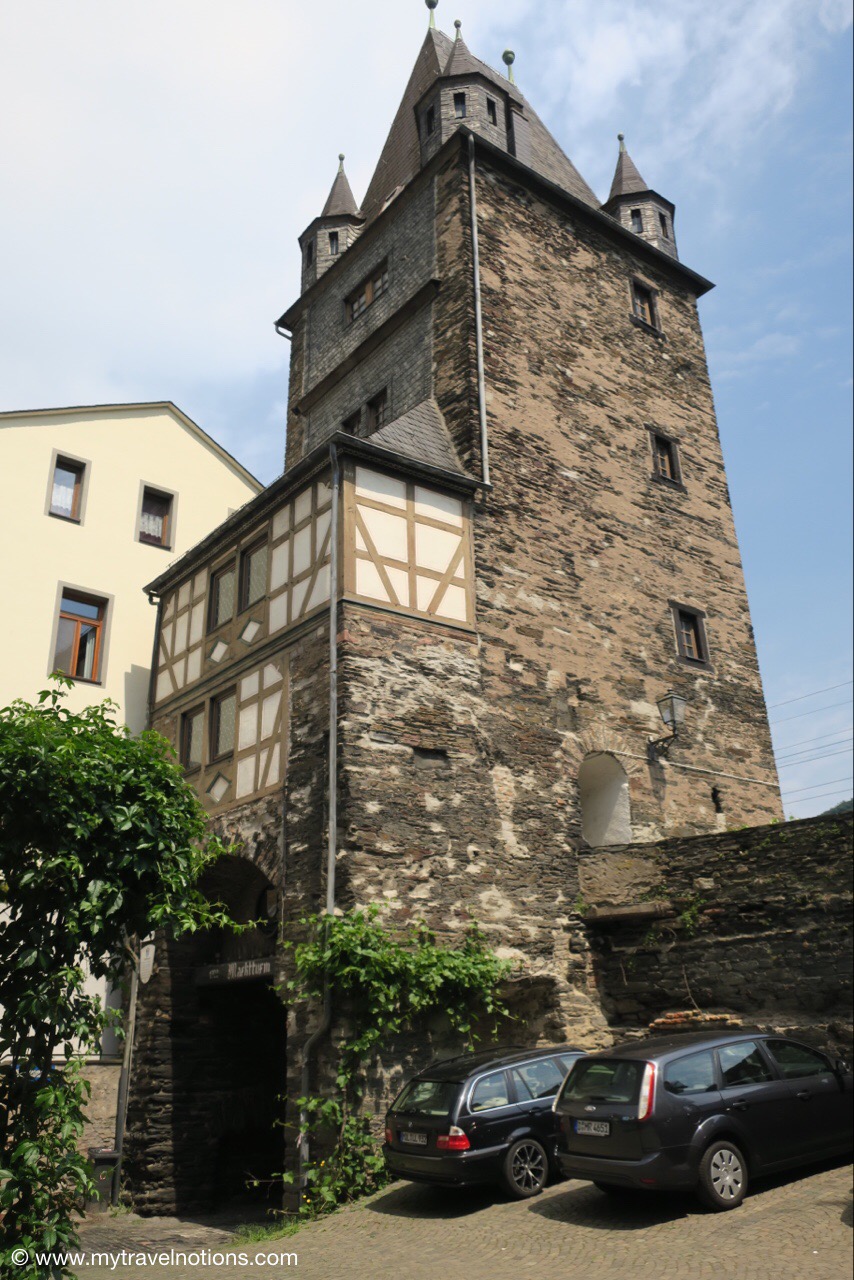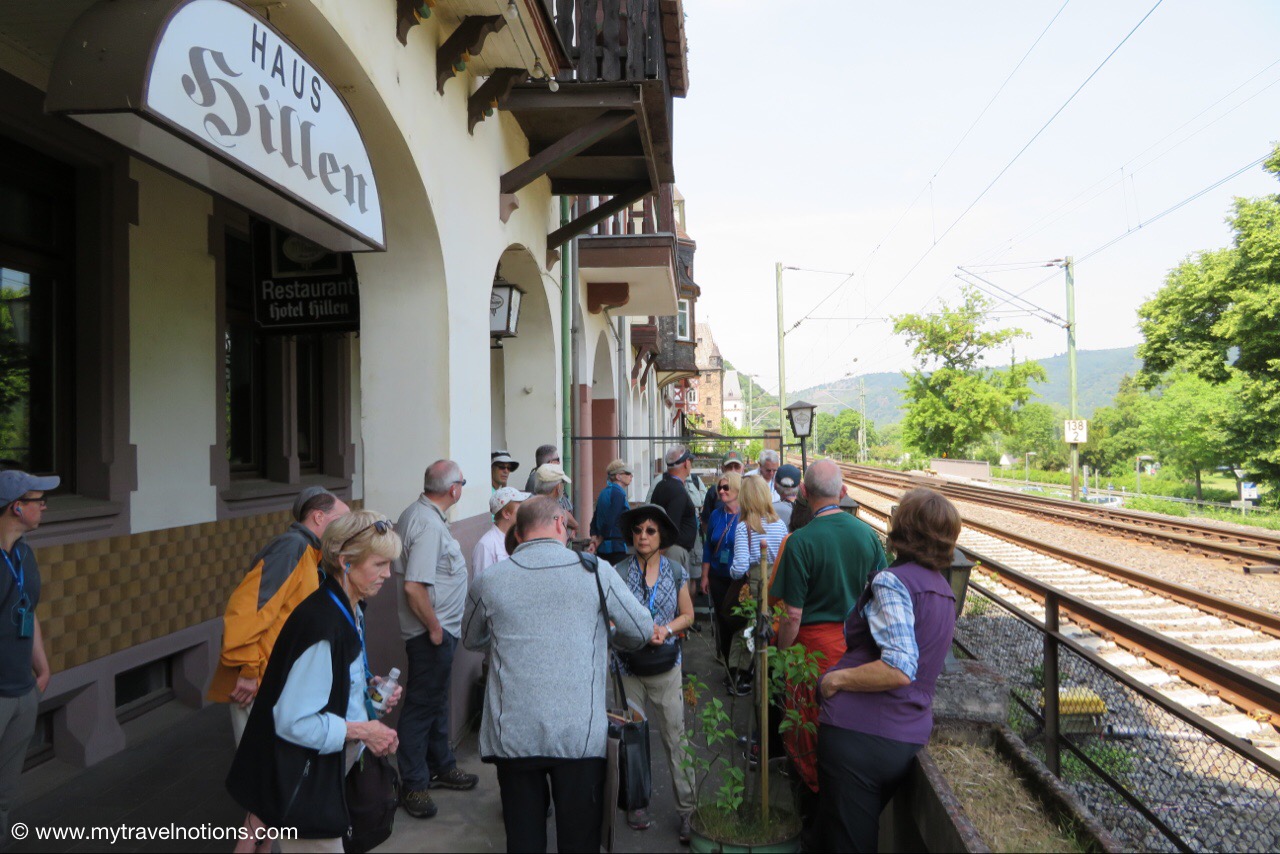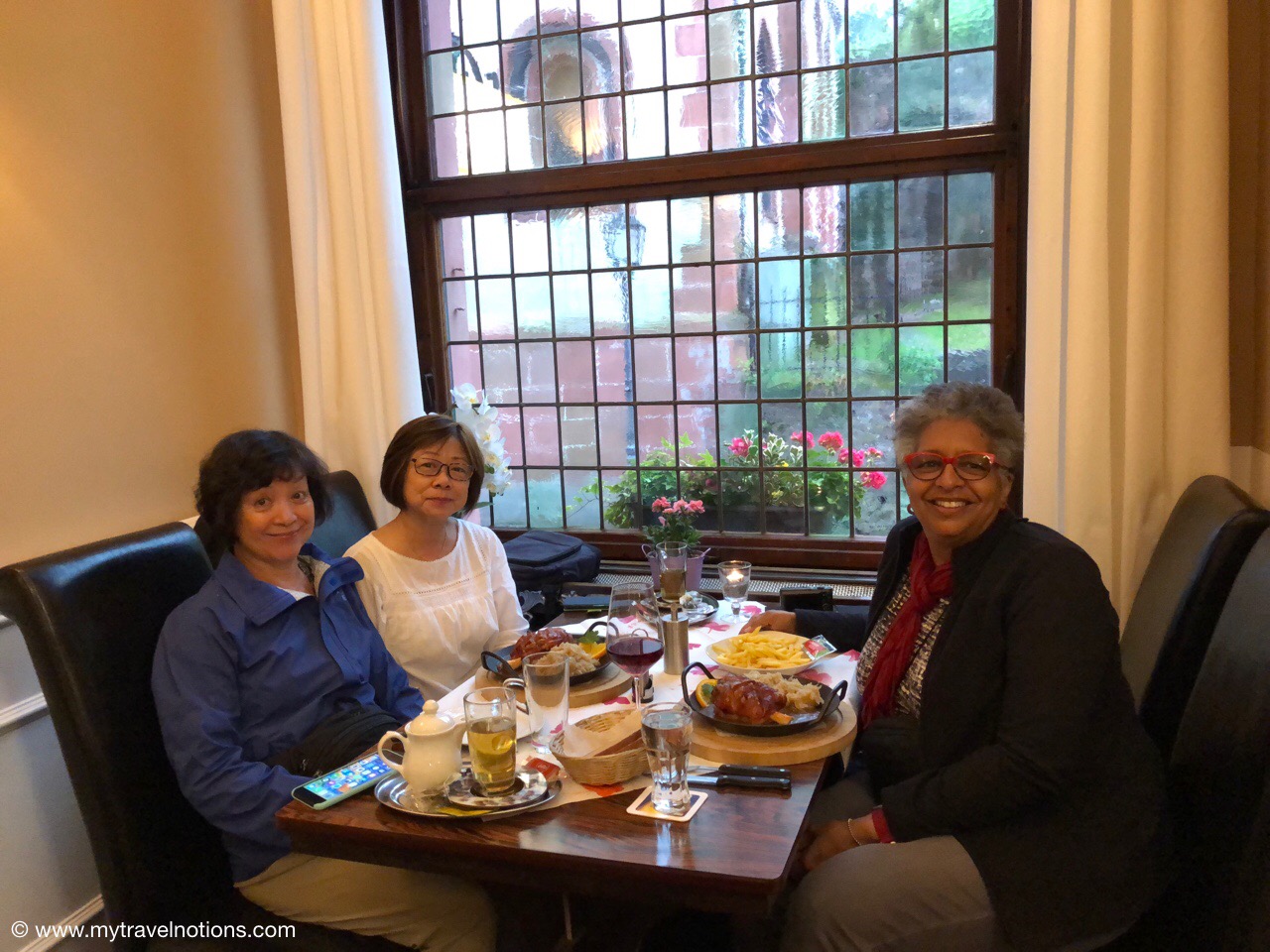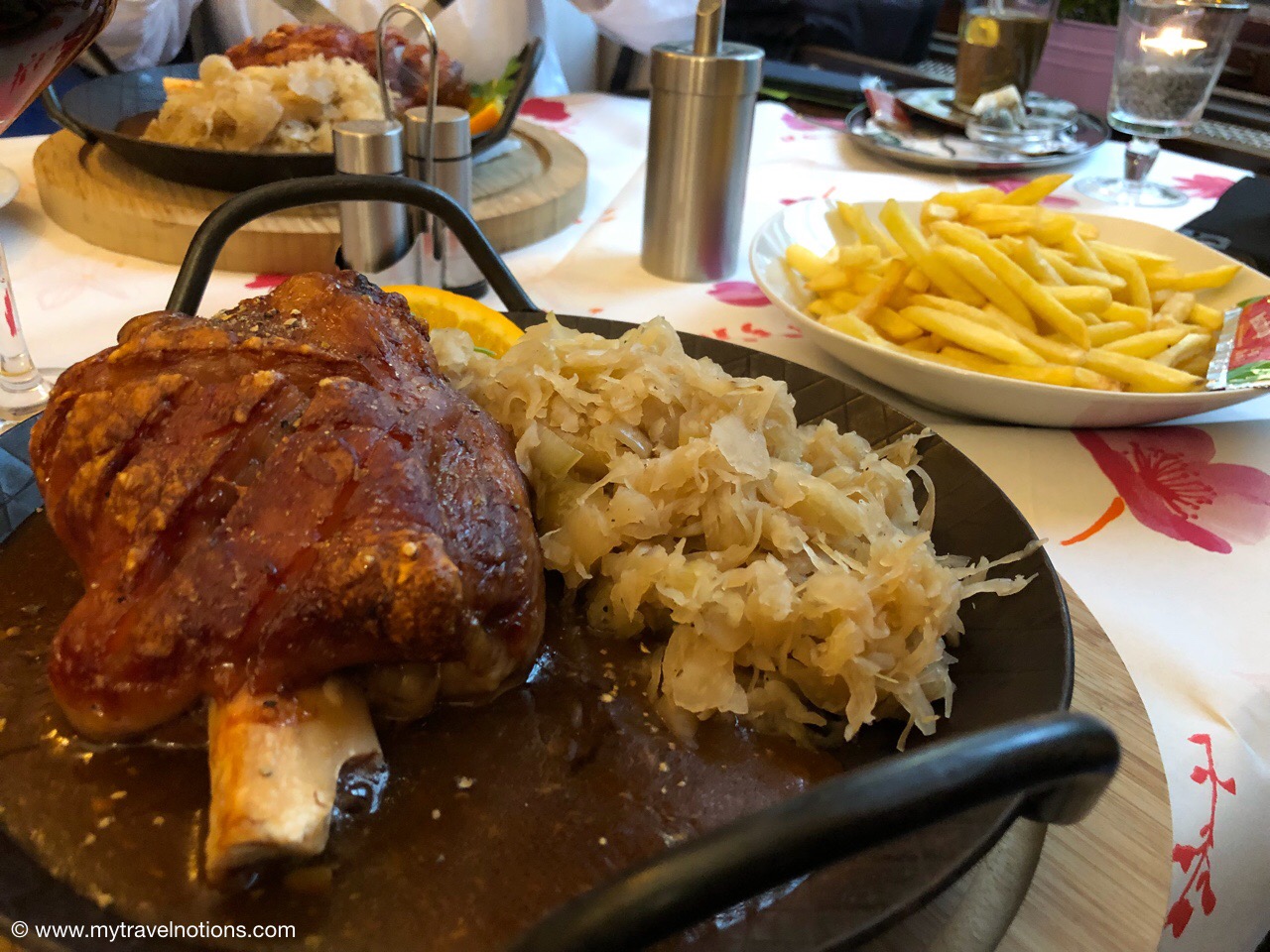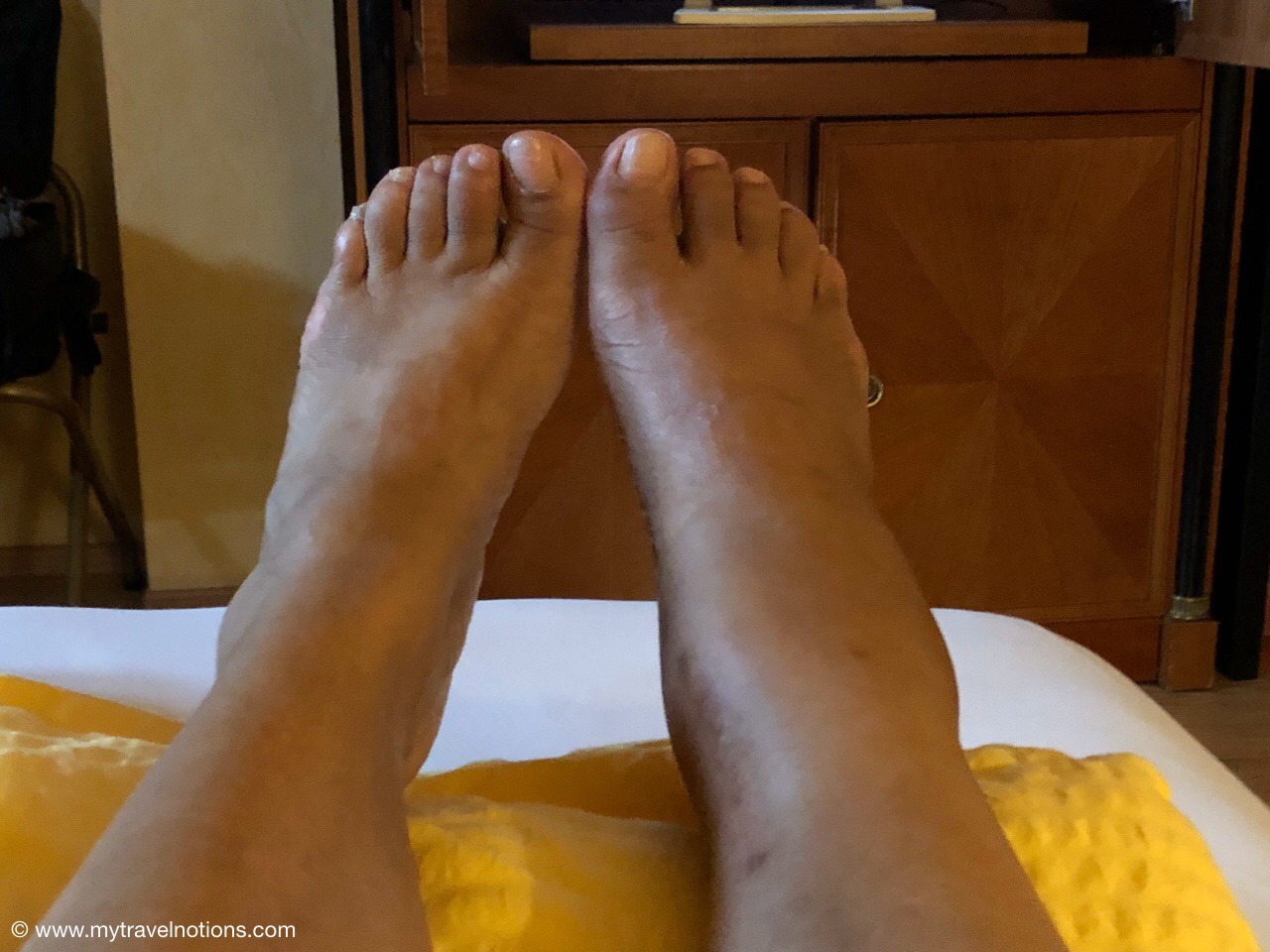 Thursday turned out to be one of those jam packed days with so much to see and do. Let me break it down.
In the morning, we left the charming medieval Bacharach, Germany, to ultimately make our way to the charming medieval town of Rothenburg with a stop in…yes, you guessed it, another charming medieval town…Speyer.
Speyer turned out to be a lovely town with a remarkable cathedral. Founded by the Romans, Speyer is actually one of Germany's oldest cities.
And, if being in Speyer were not exciting enough, our Rick Steves tour group met up with the Rick Steves 21 days Europe group to hang out in Speyer together. That turned out to be a blessing because our bus had some mechanical issues and our Germany group had to hitch a ride to Rothenburg with the Europe group. Thank goodness the buses are large and accommodating.
I spent a couple of hours in Rothenburg two years ago when I did my two month turning 60 and retirement travel celebration, so getting to spend the night in the medieval town was something I looked forward to. We may have escaped the rain in Speyer, but we didn't escape it in Rothenburg. Thankfully, it didn't last too long because we packed in quite a bit in a few short hours…a visit to St. Jakobs Lutheran church, strolling around Rothenburg, our group dinner, a walk with the Night Watchman and more strolling around Rothenburg…because it's made for strolling.
On Friday, we get another early start with Munich as our ultimate two night stop and along the way, we will visit the fairytale Neuschwanstein Castle.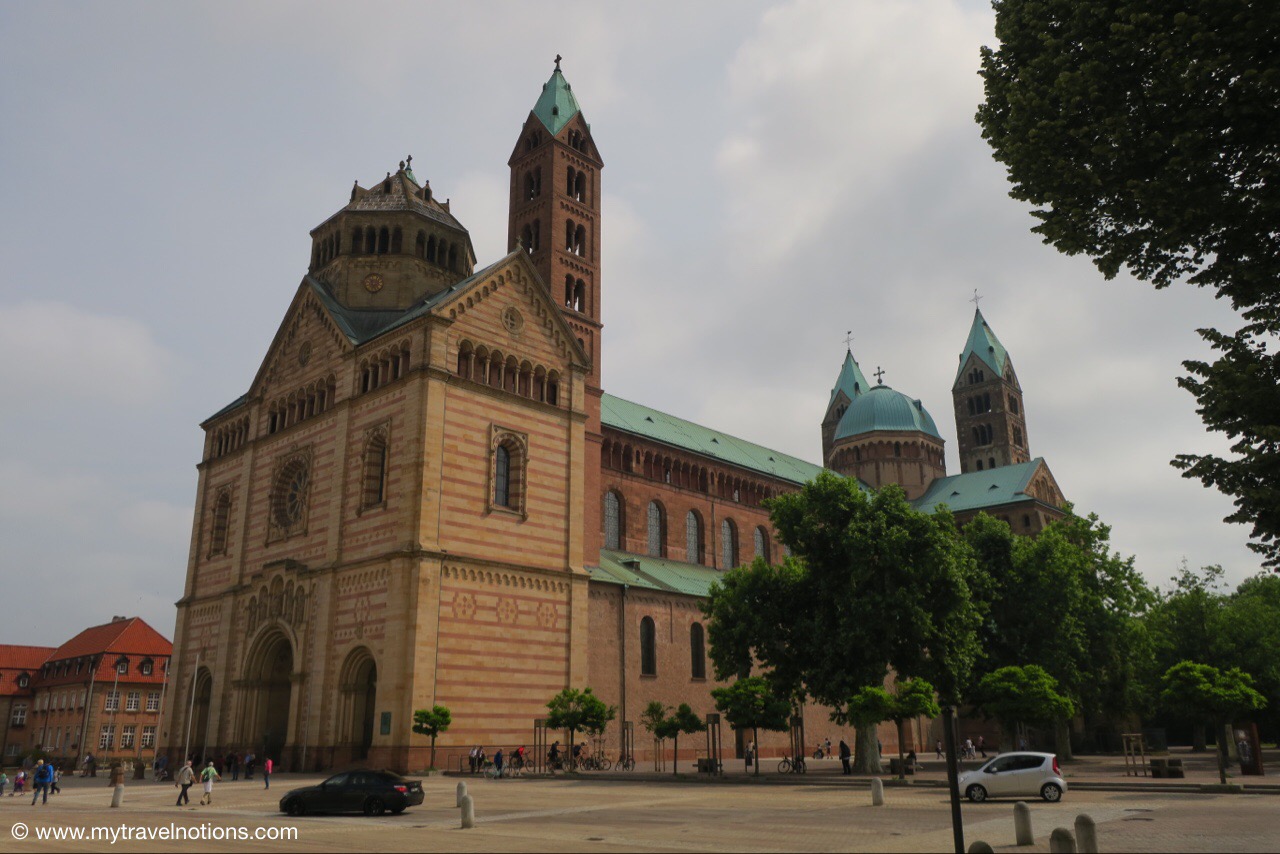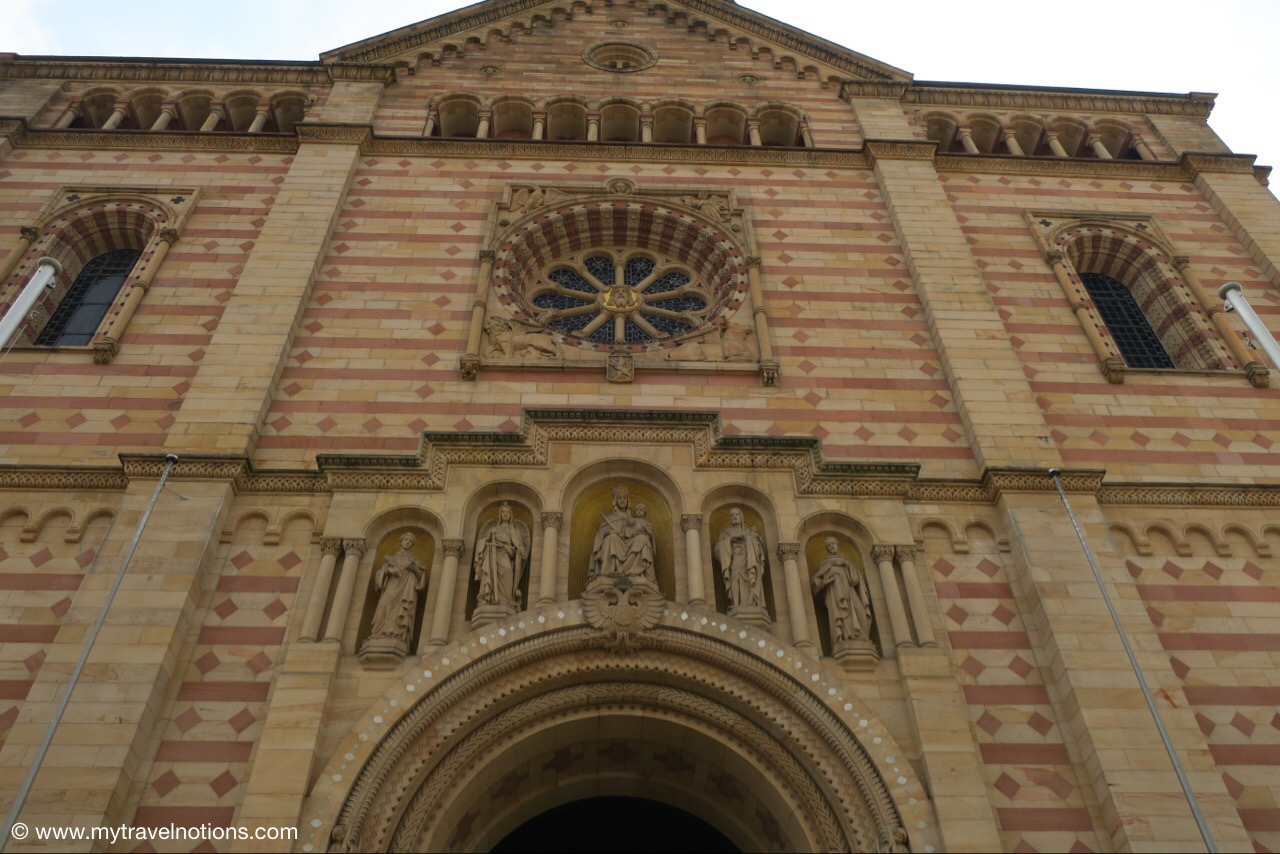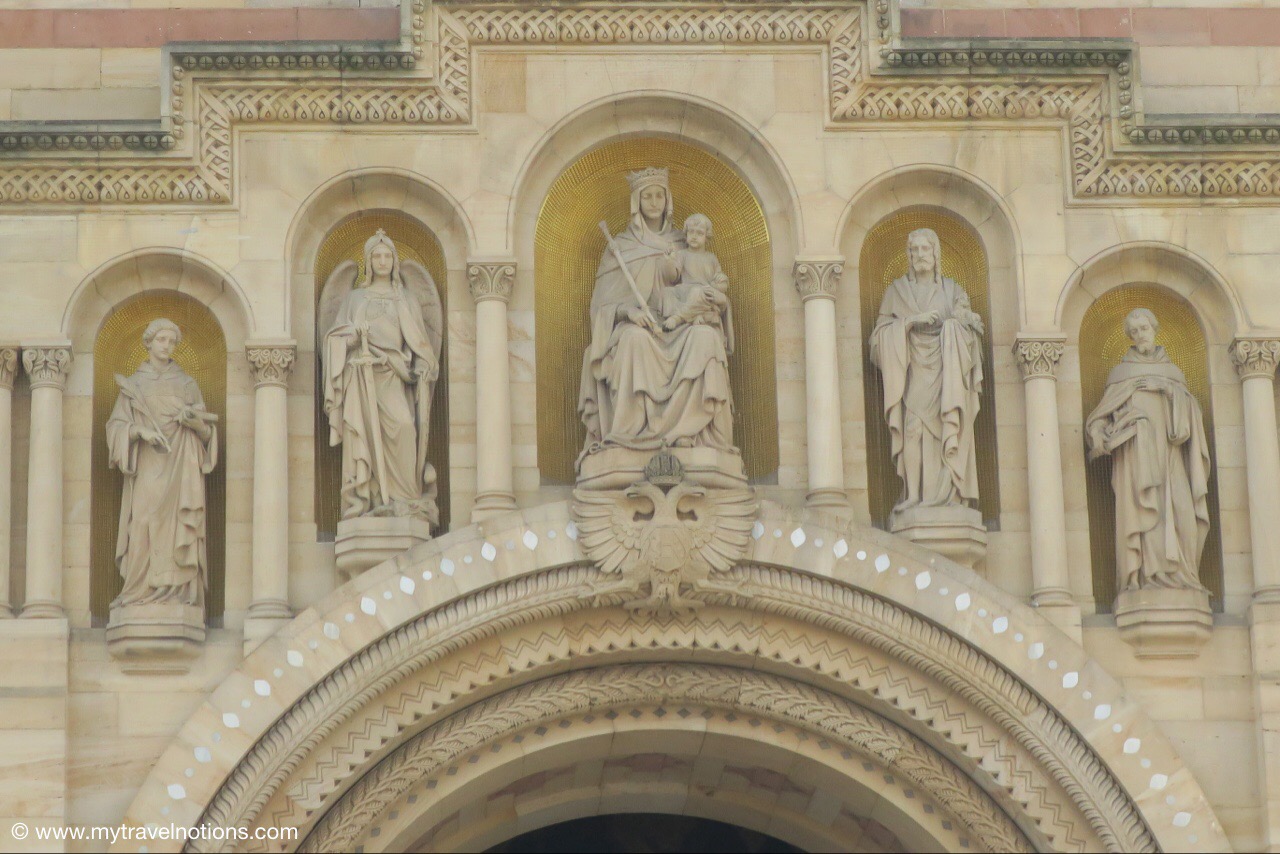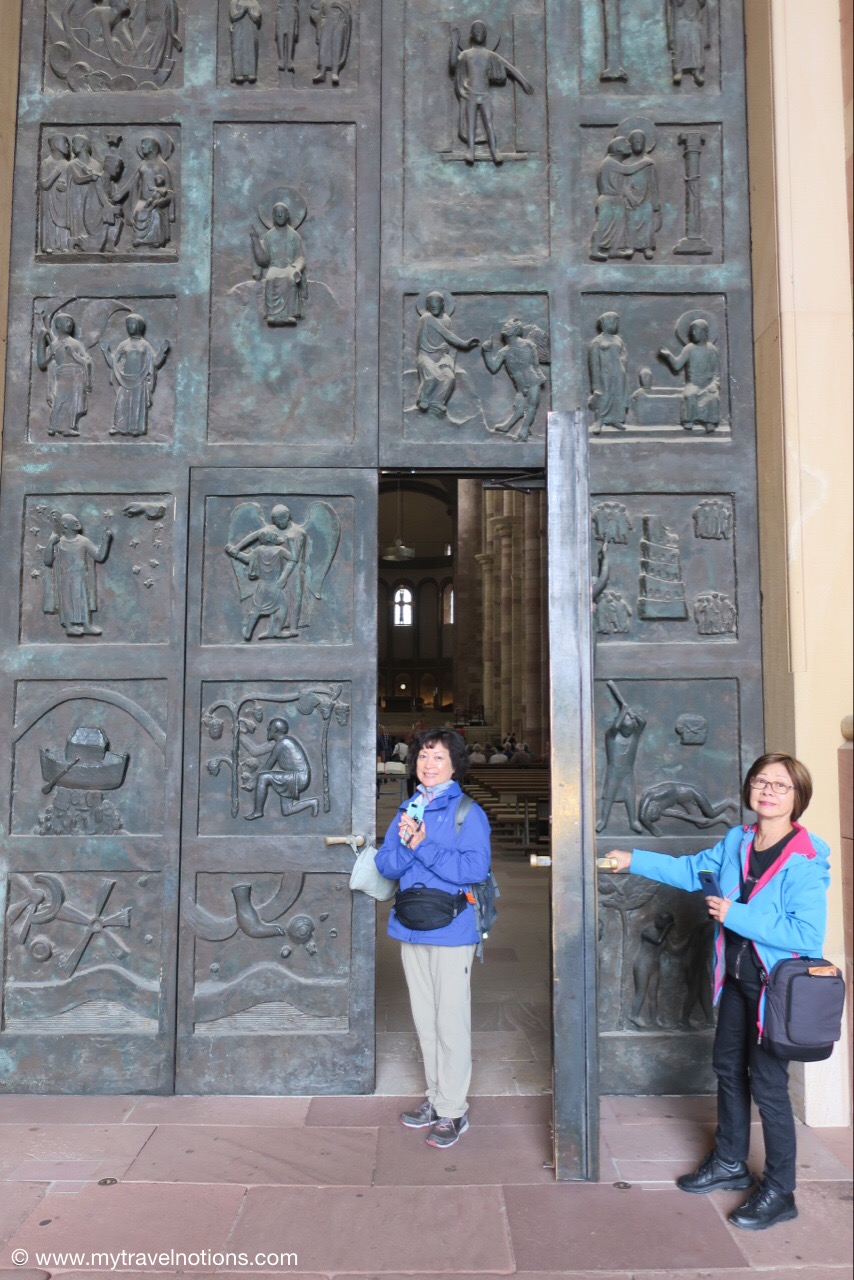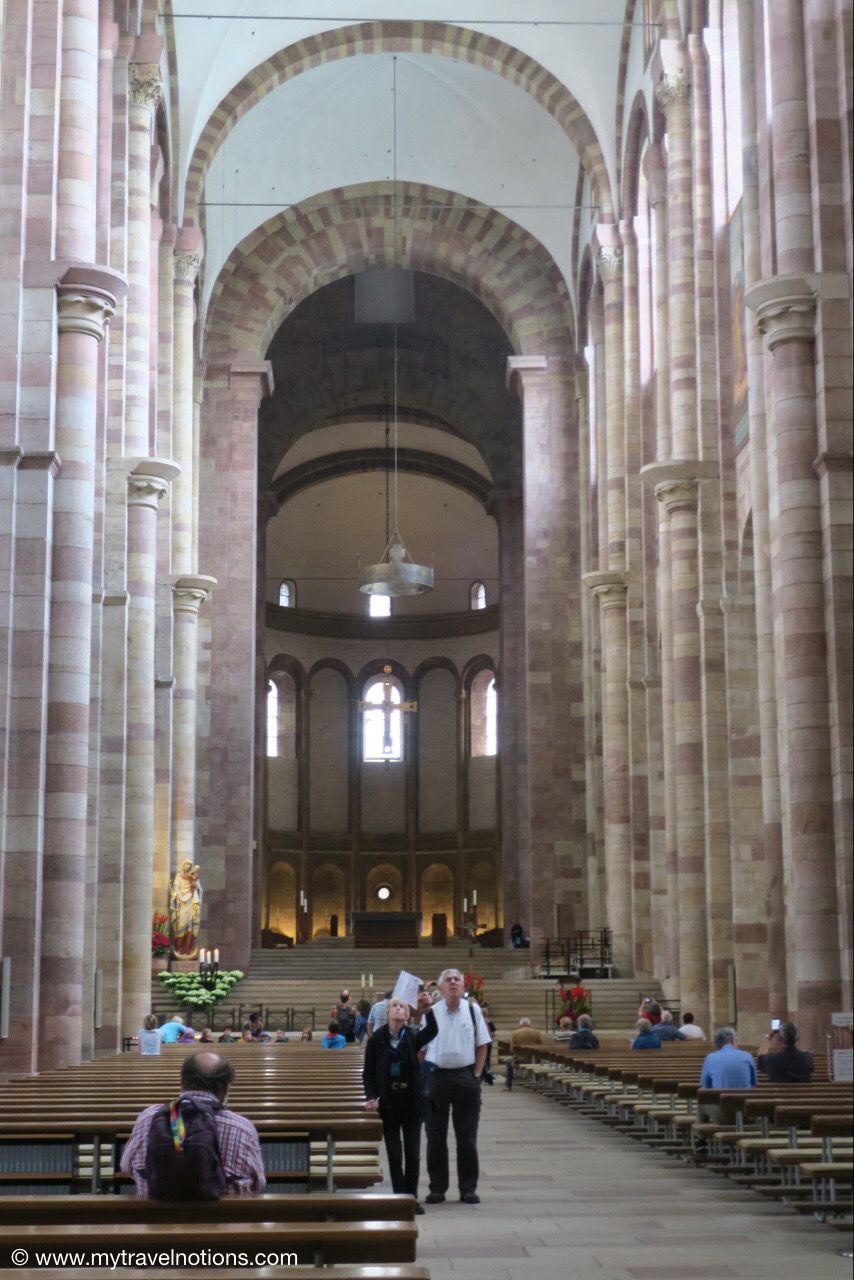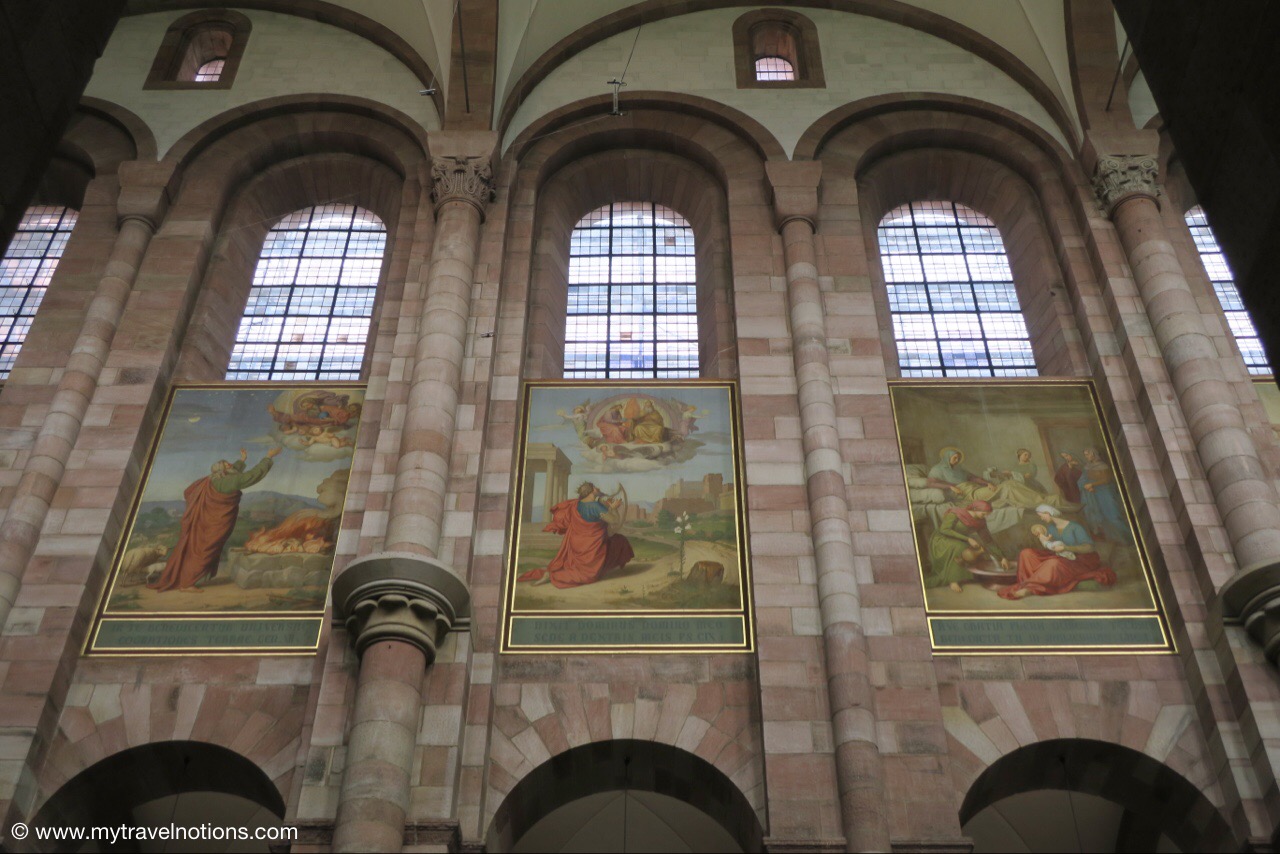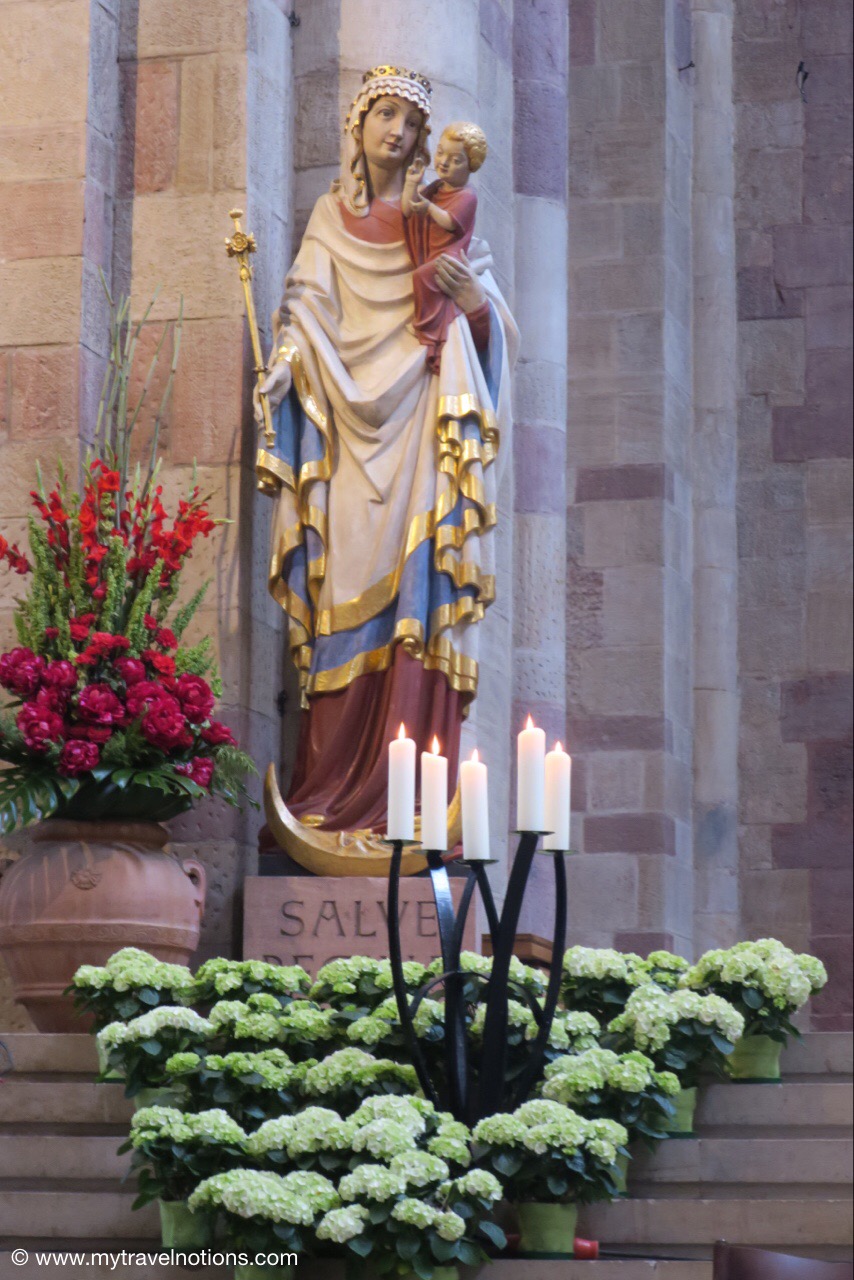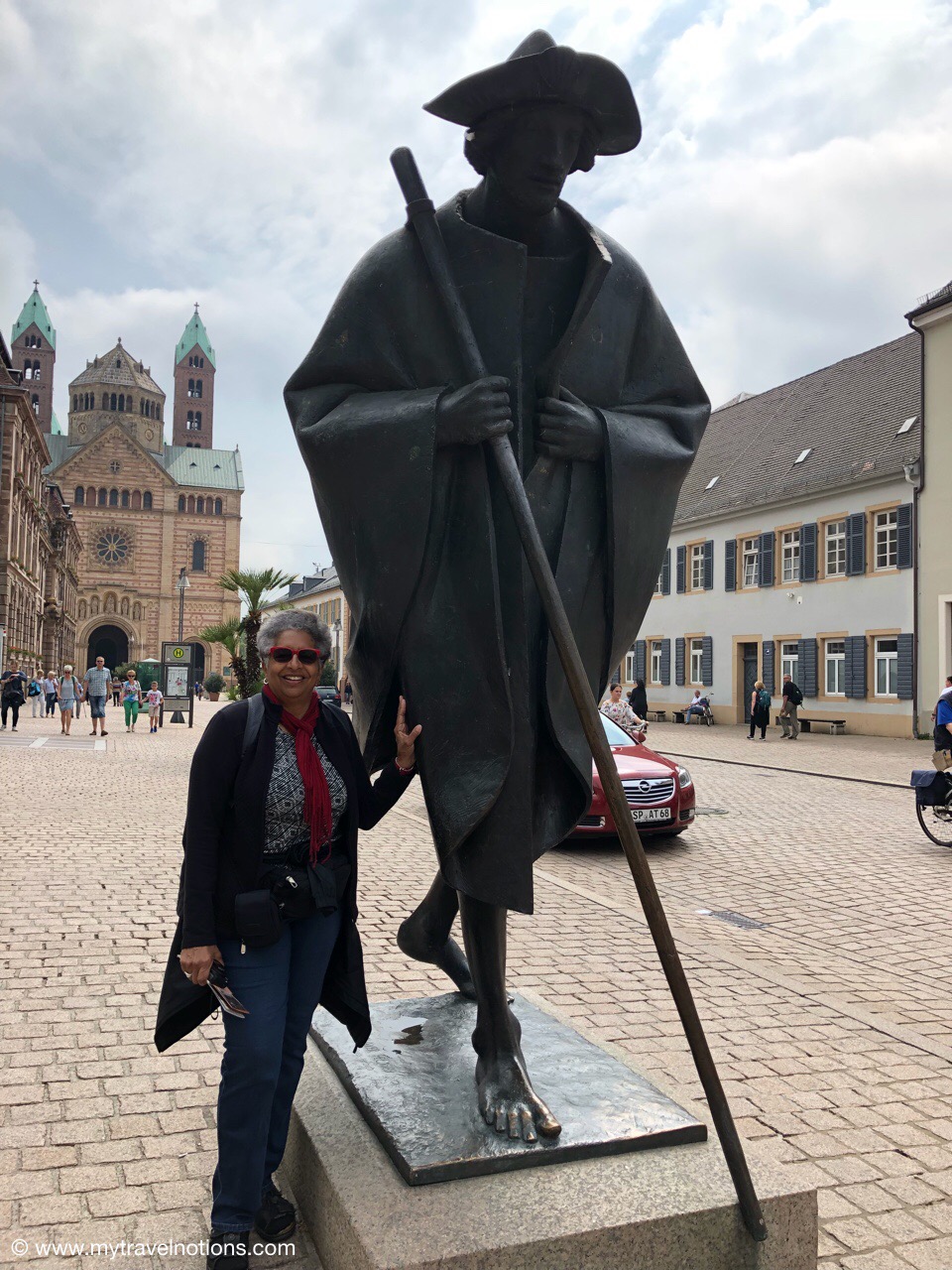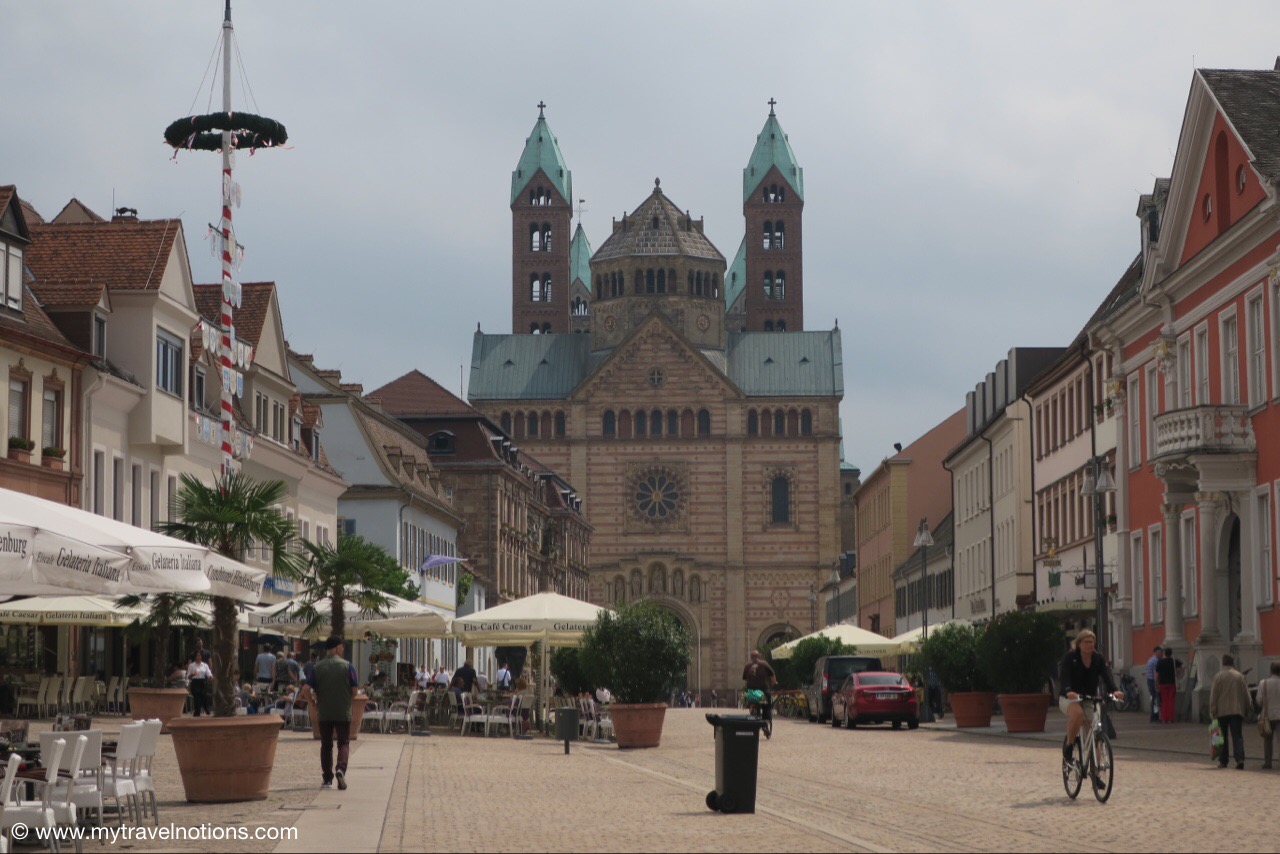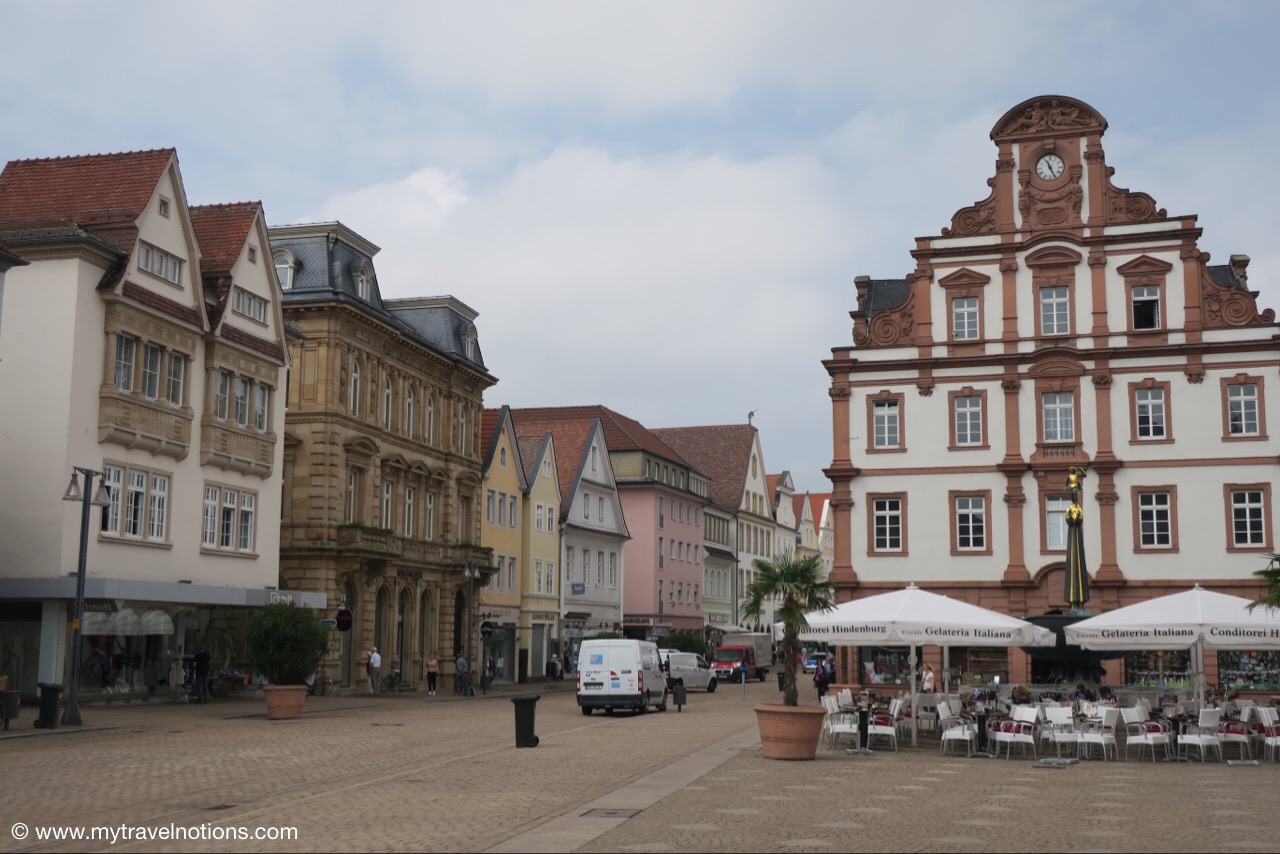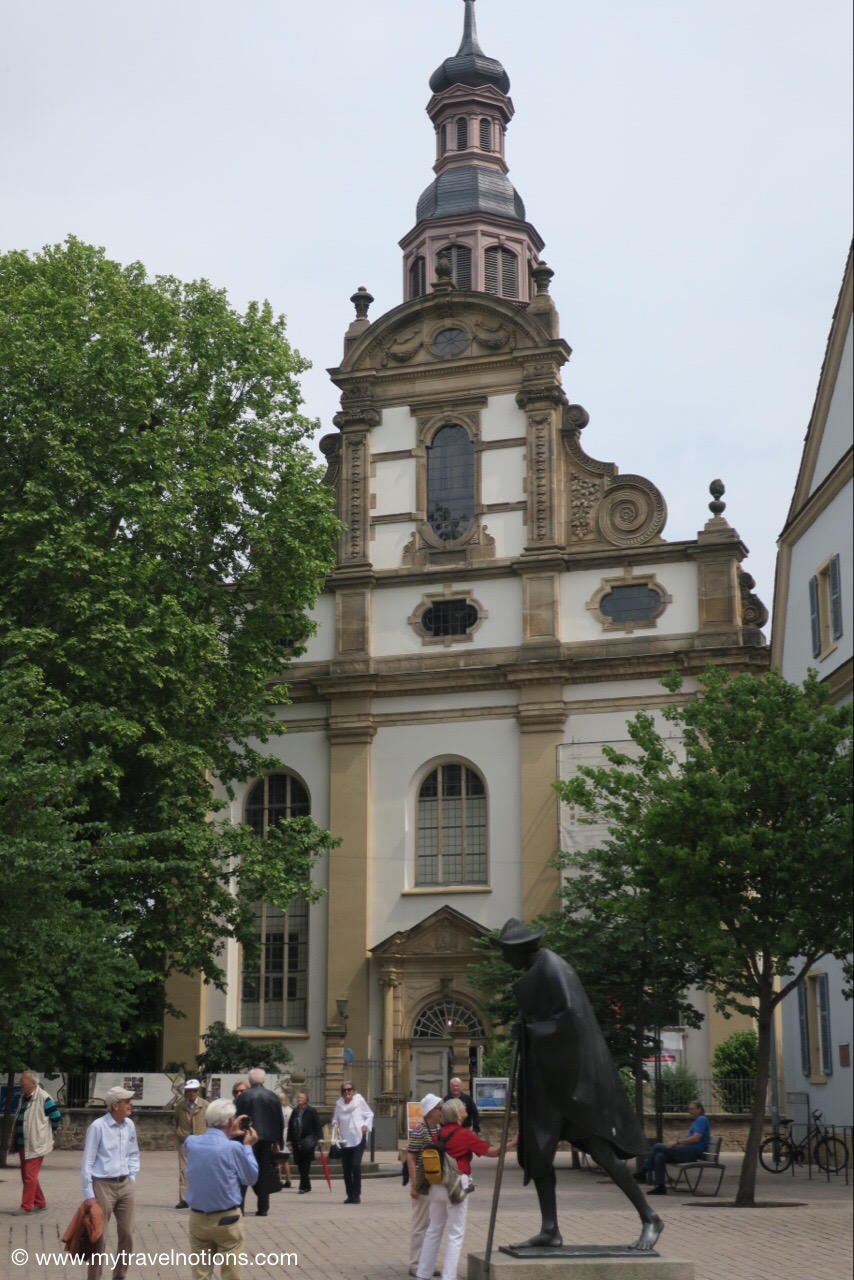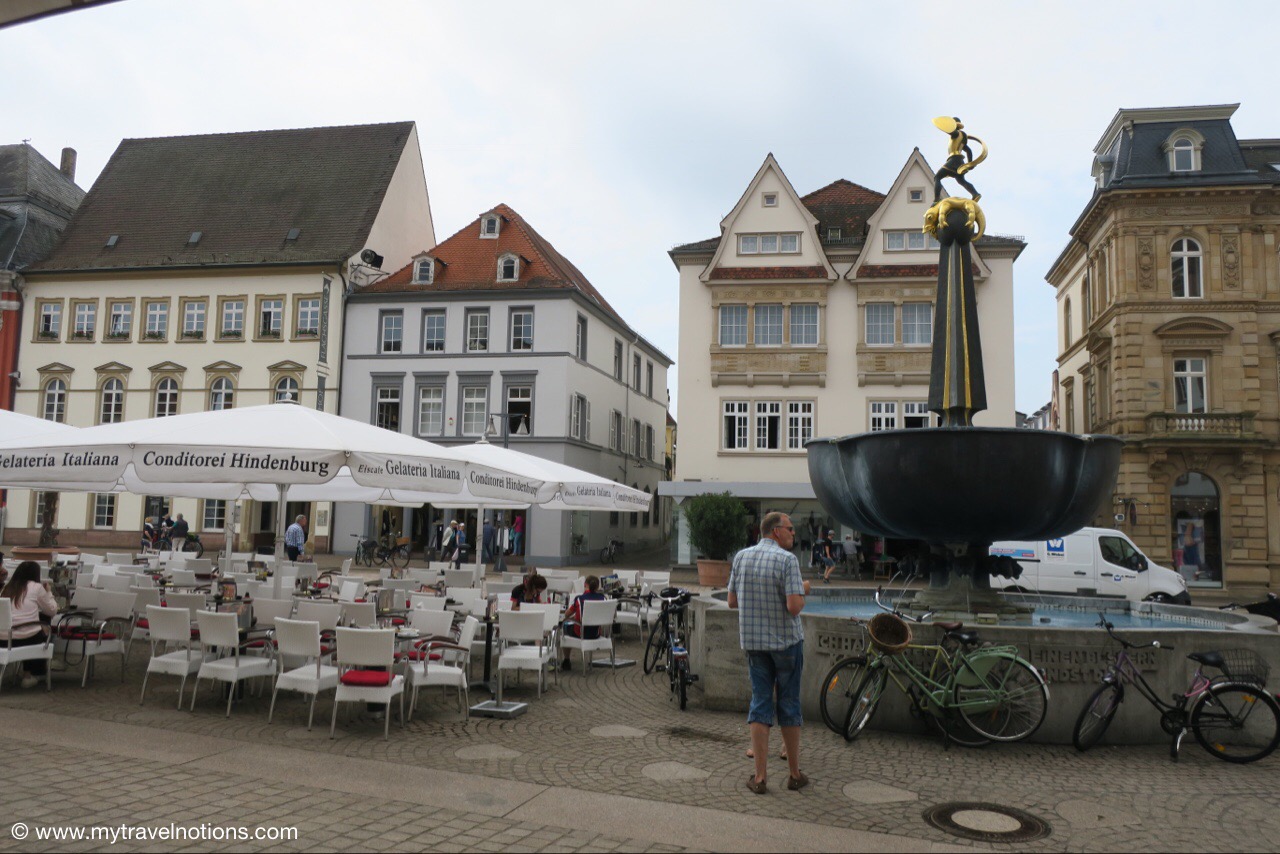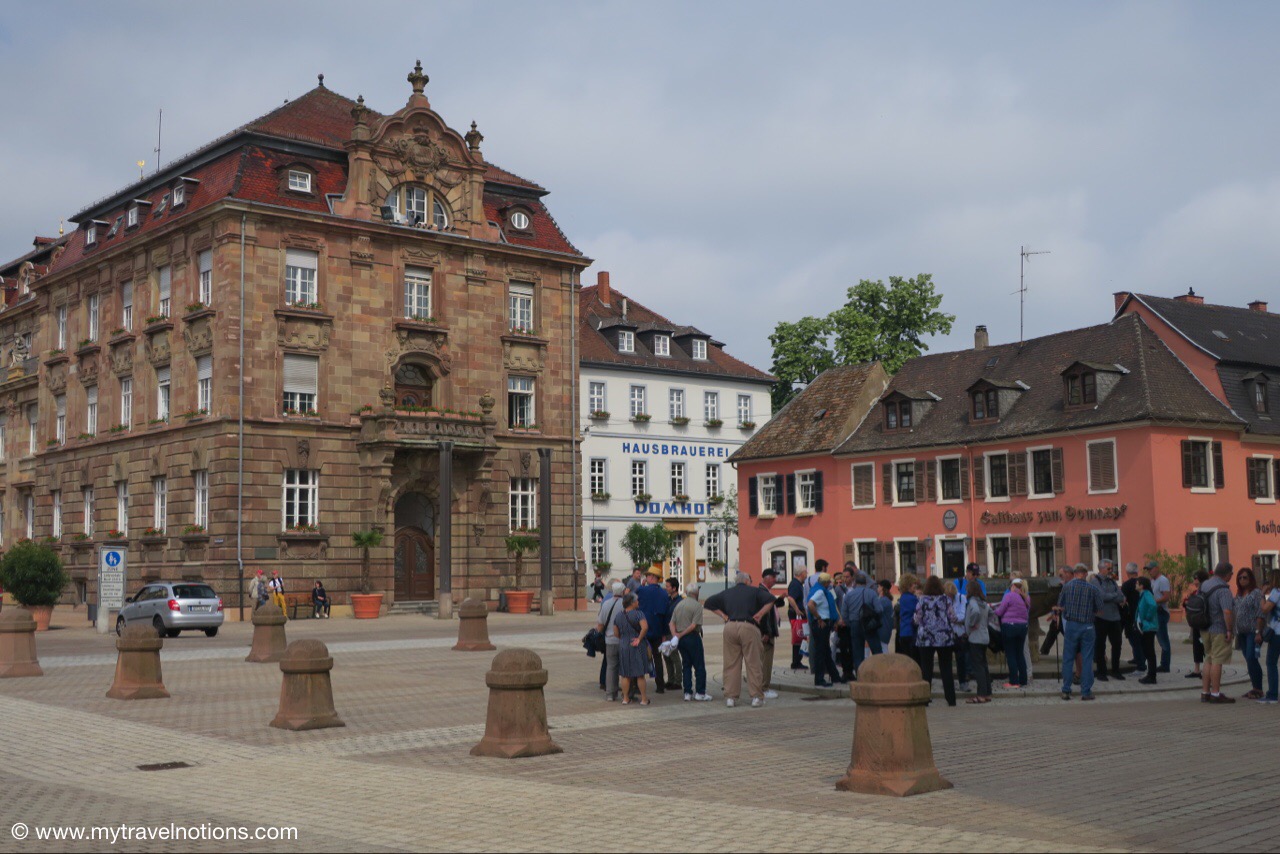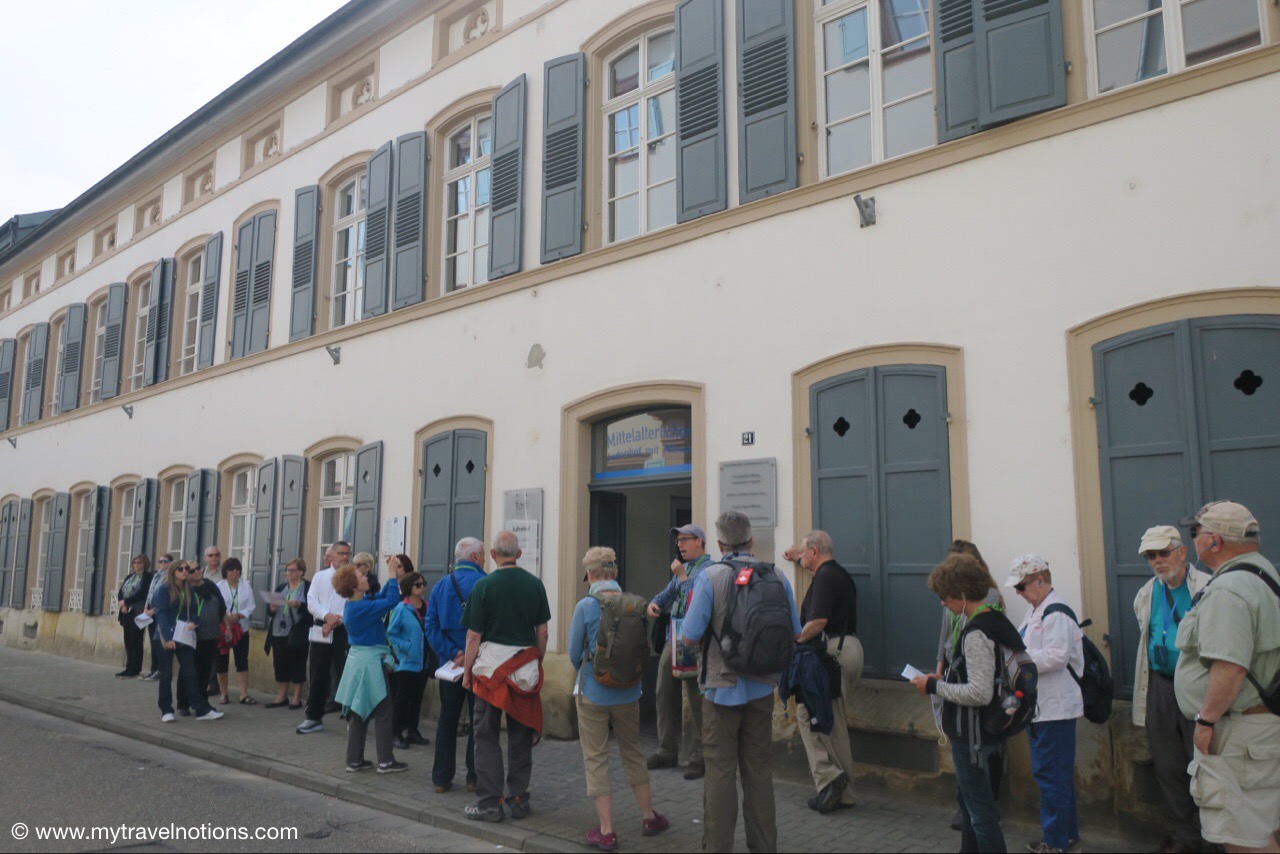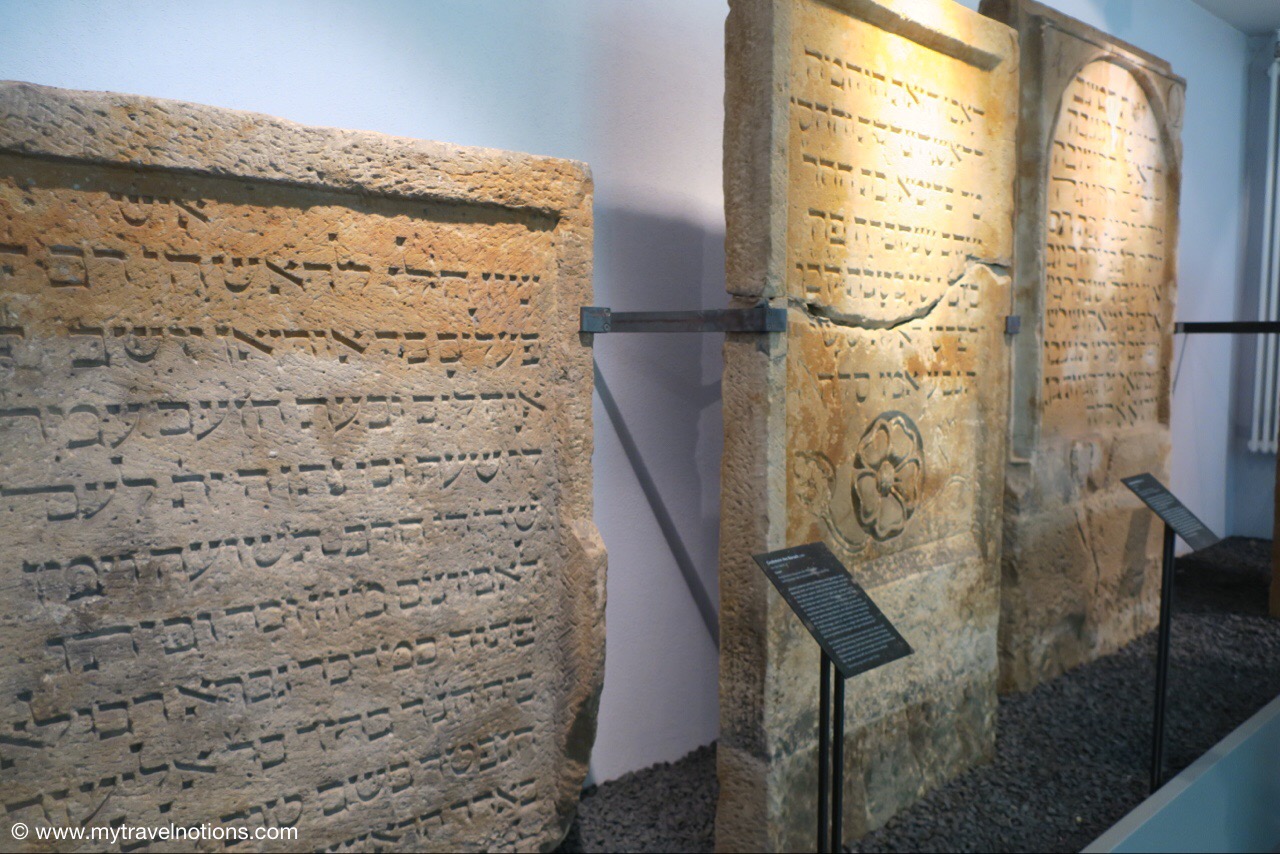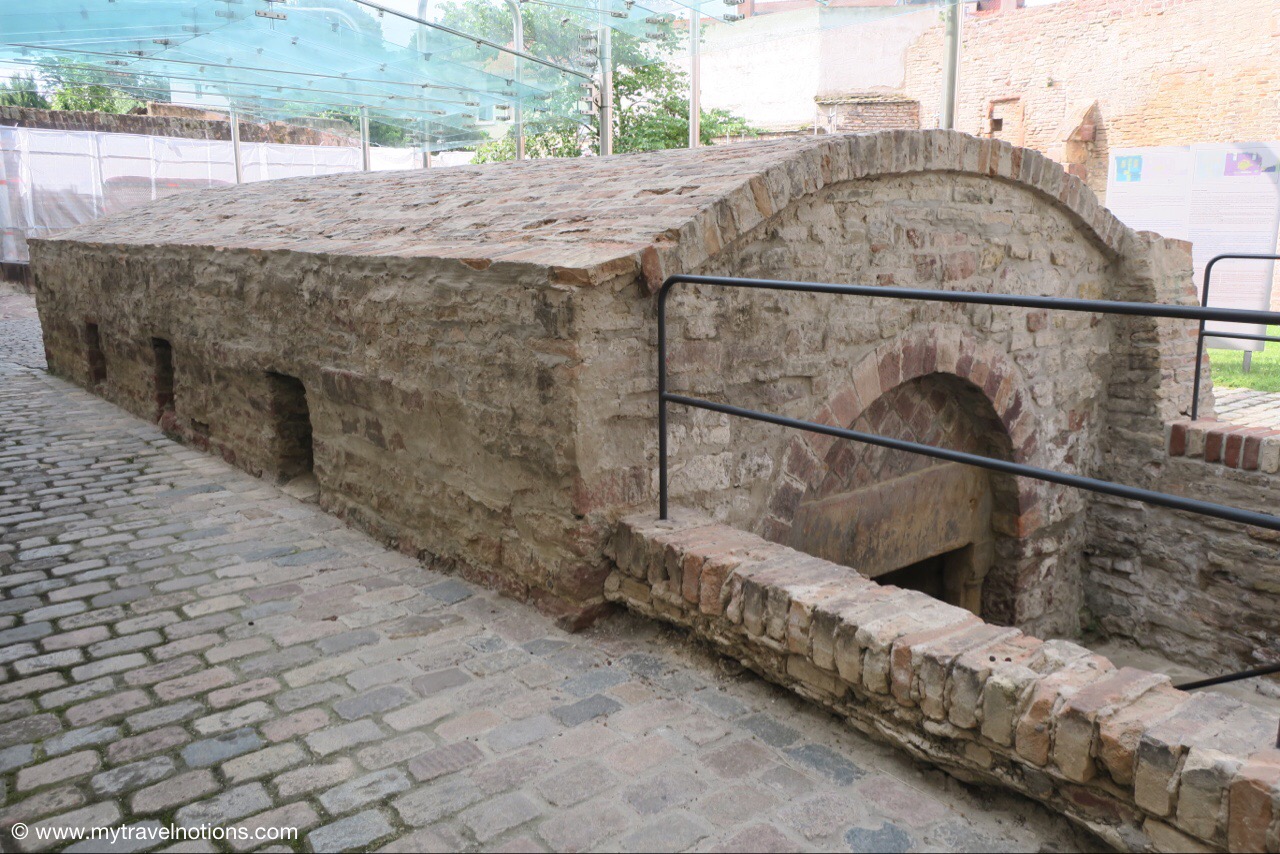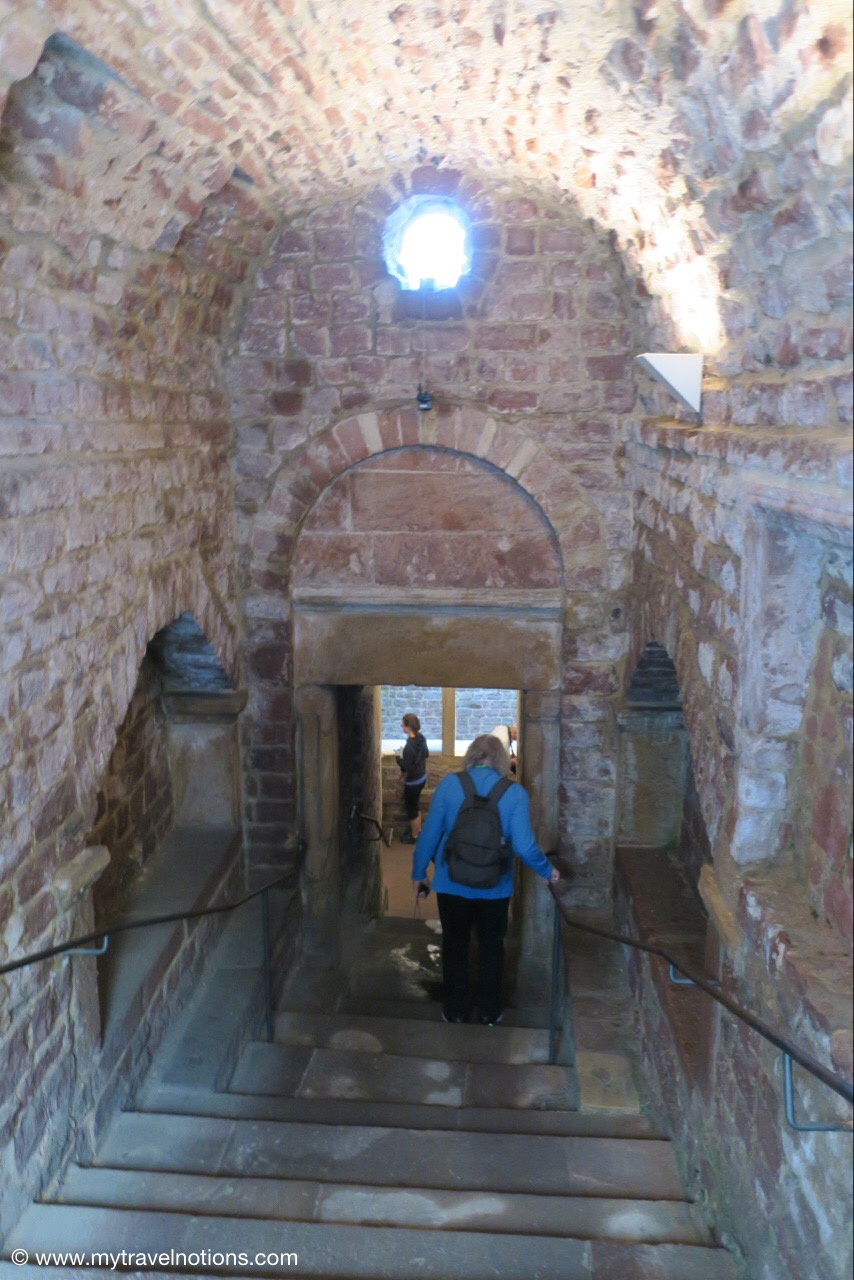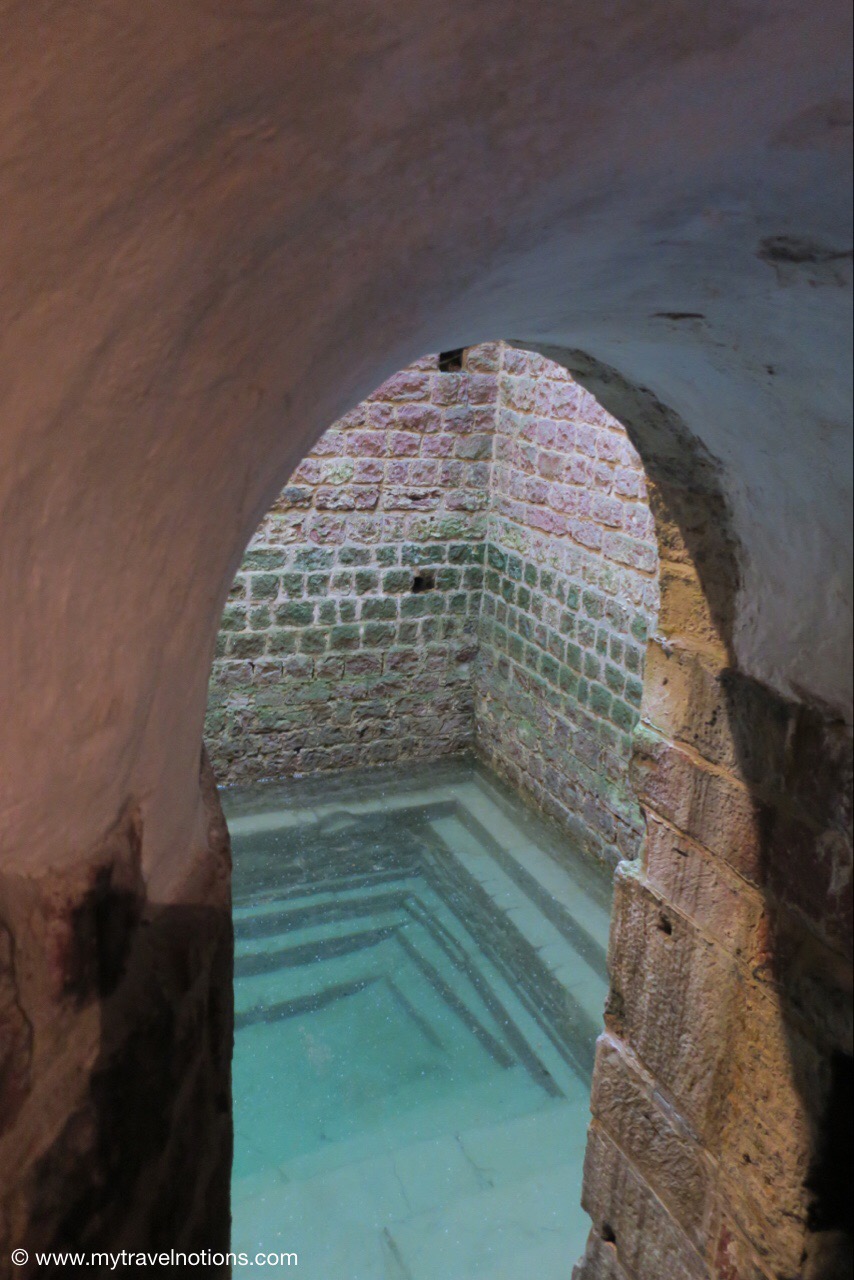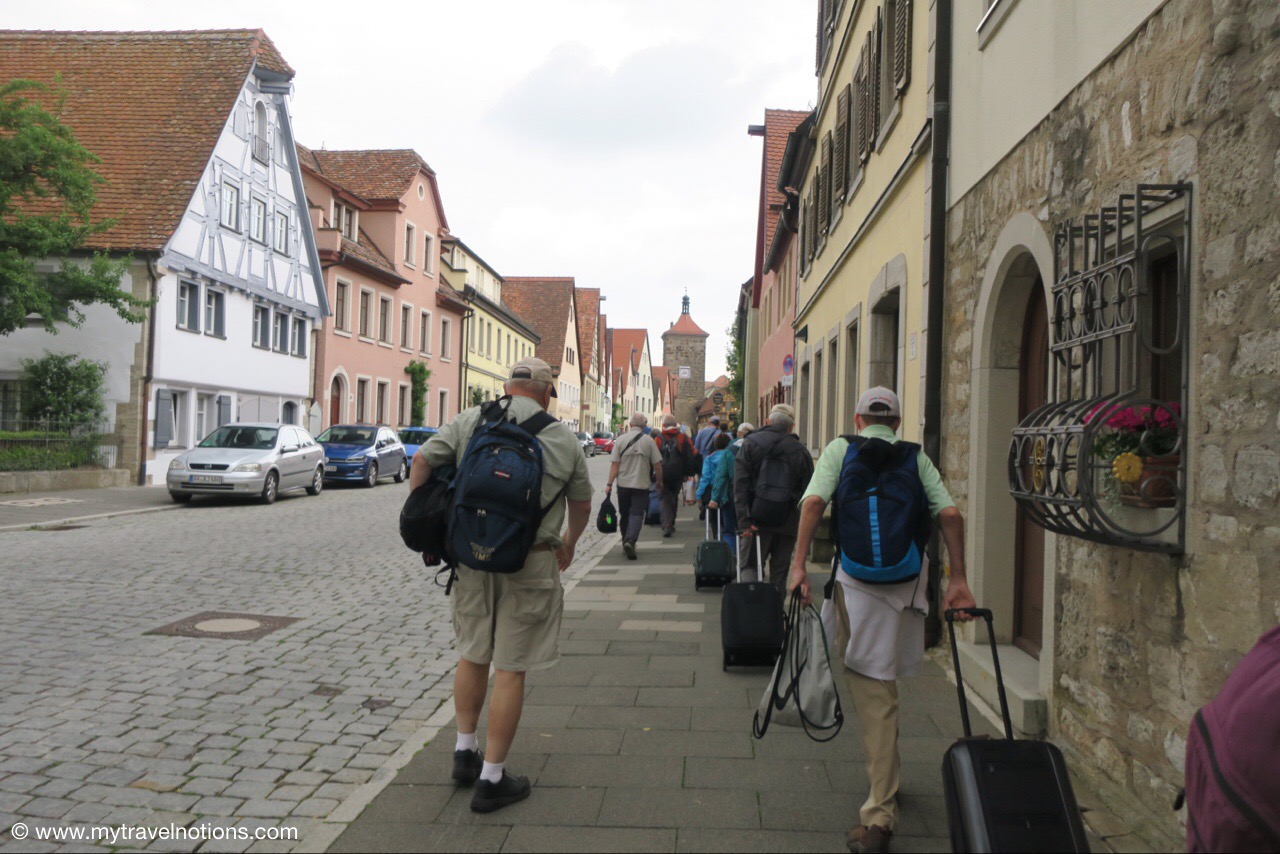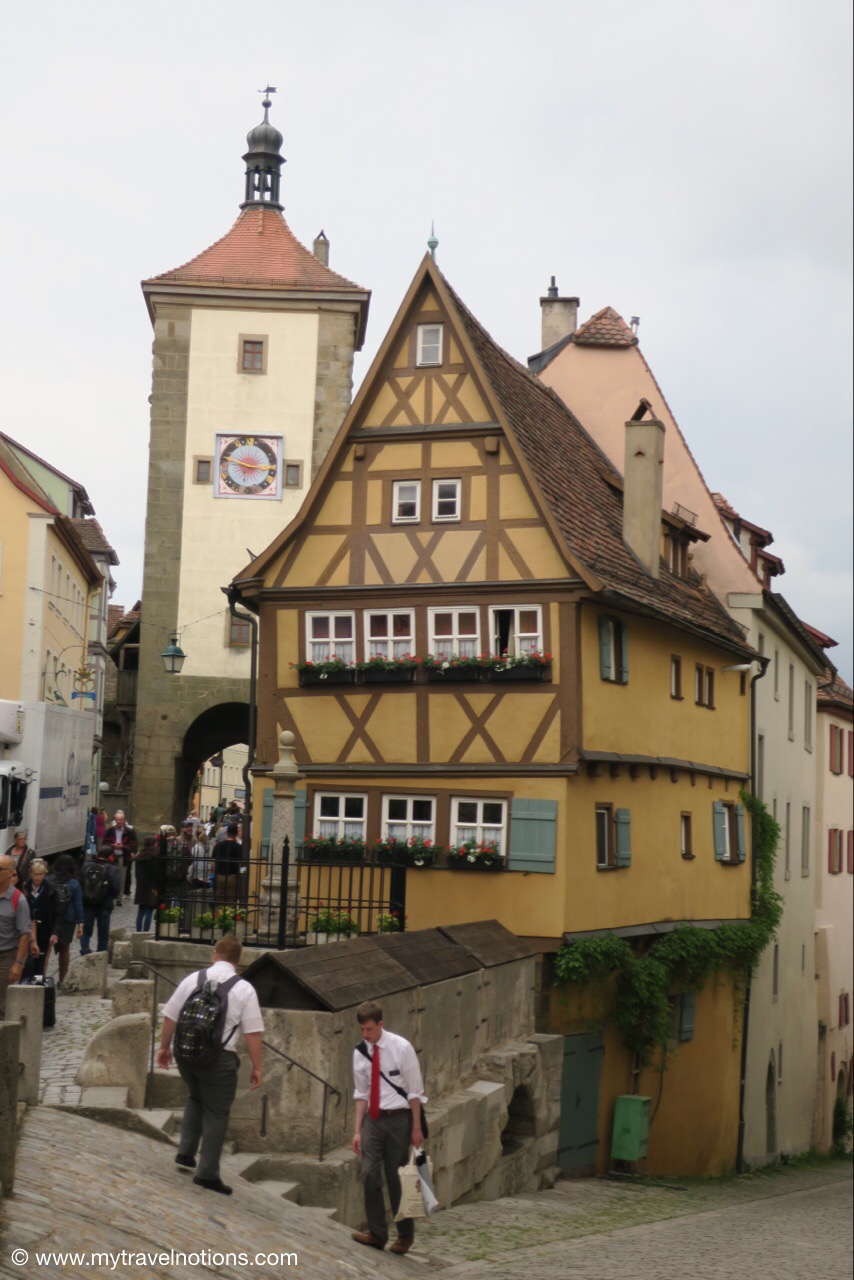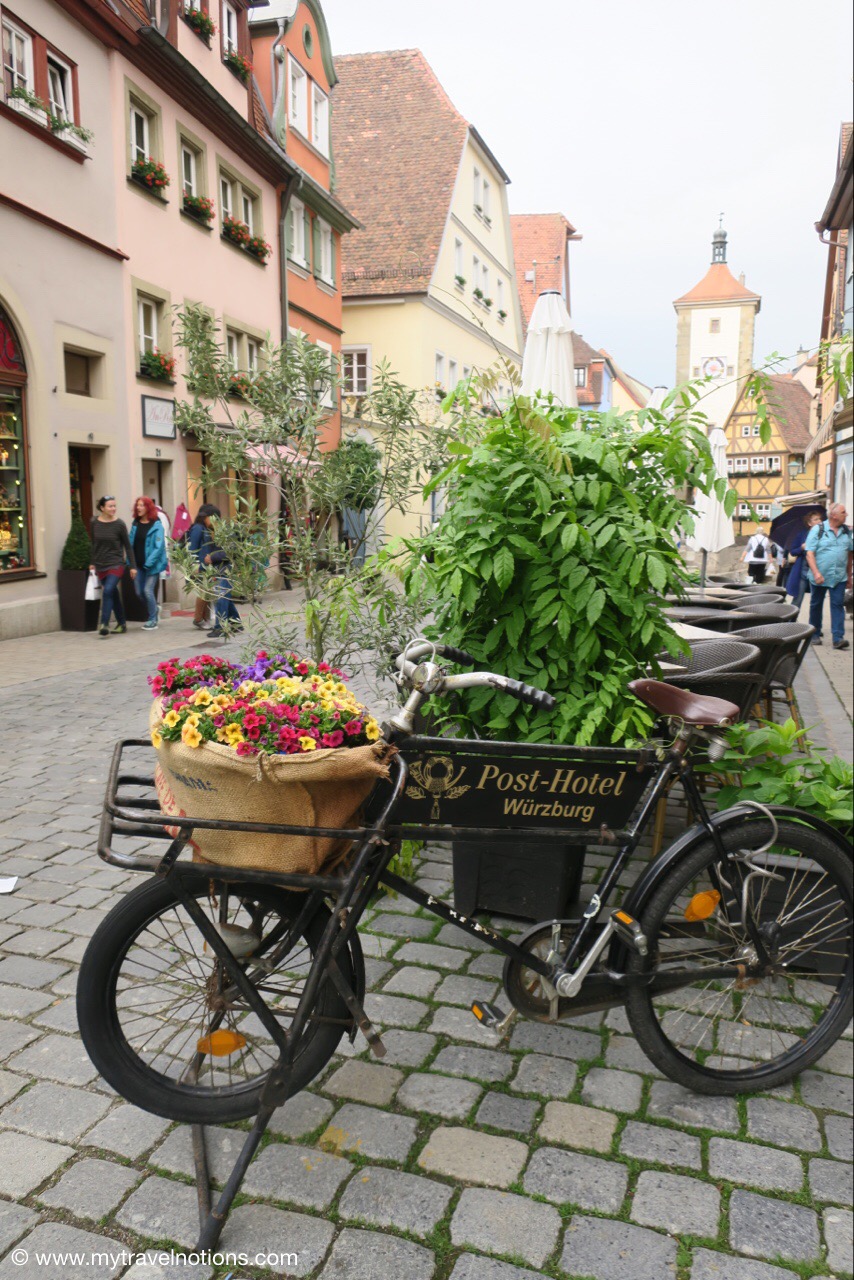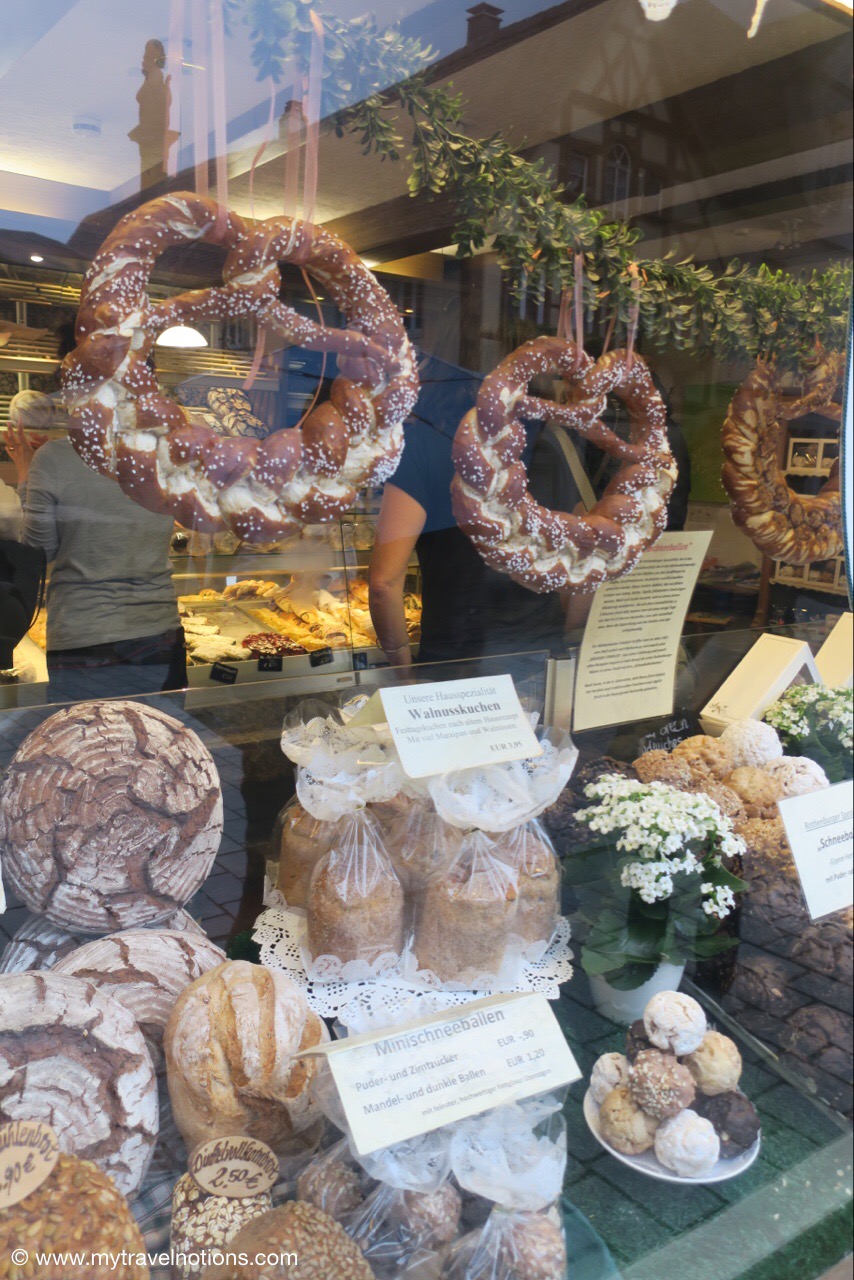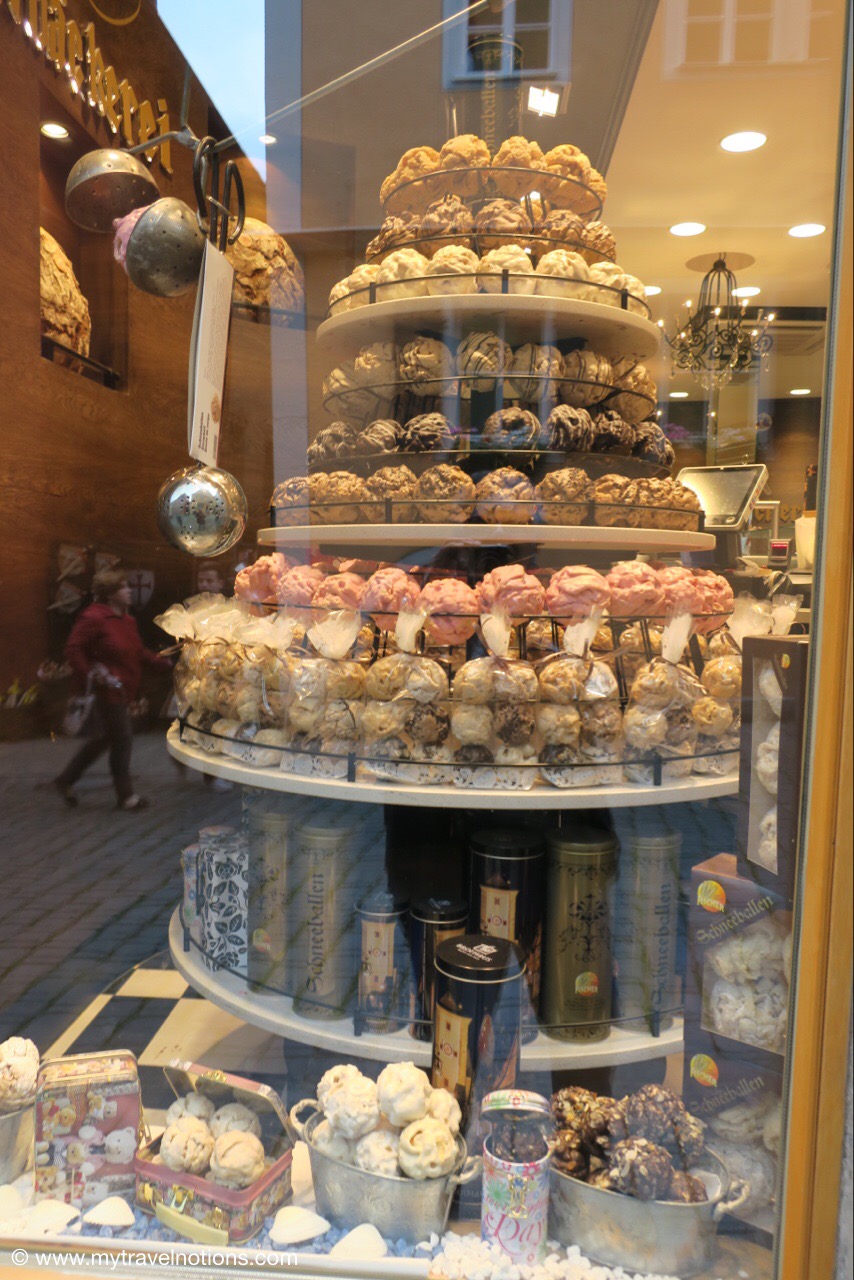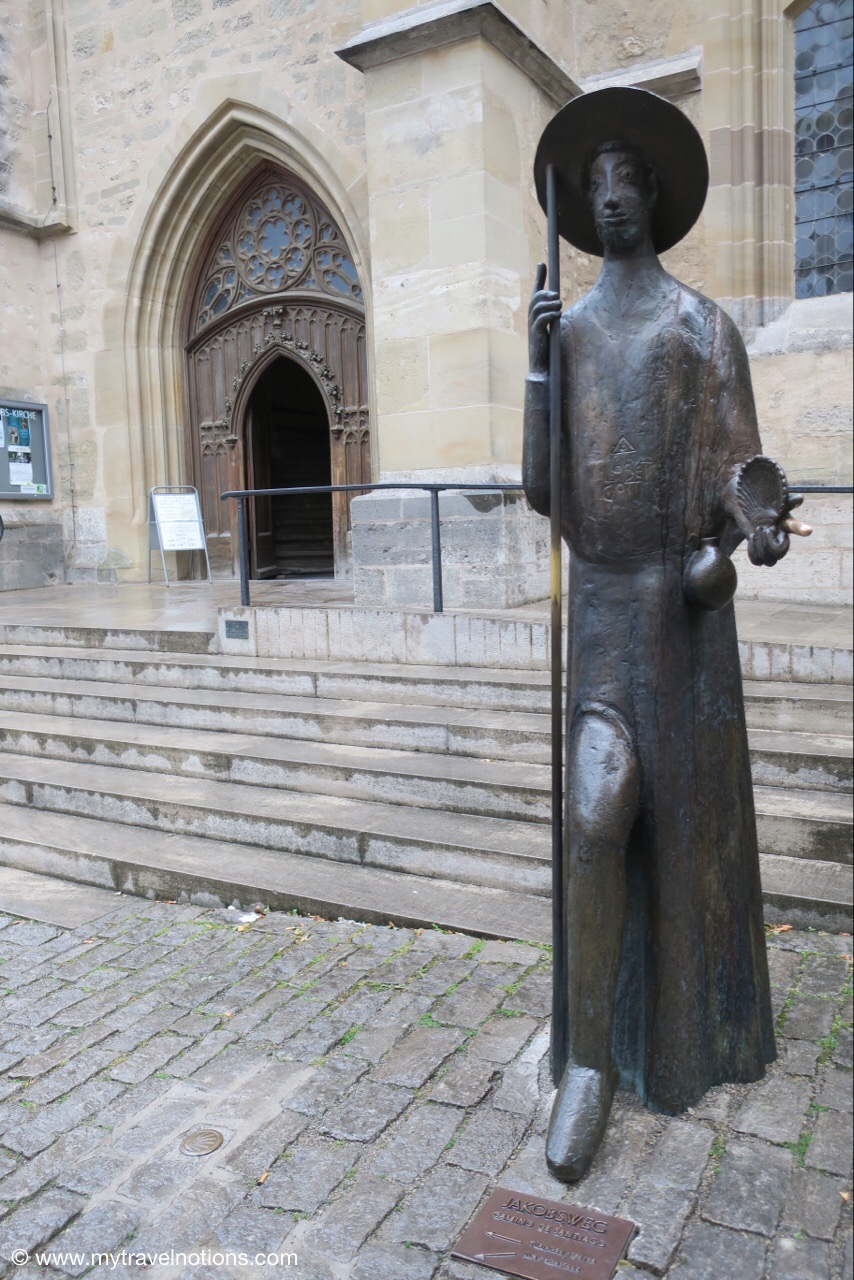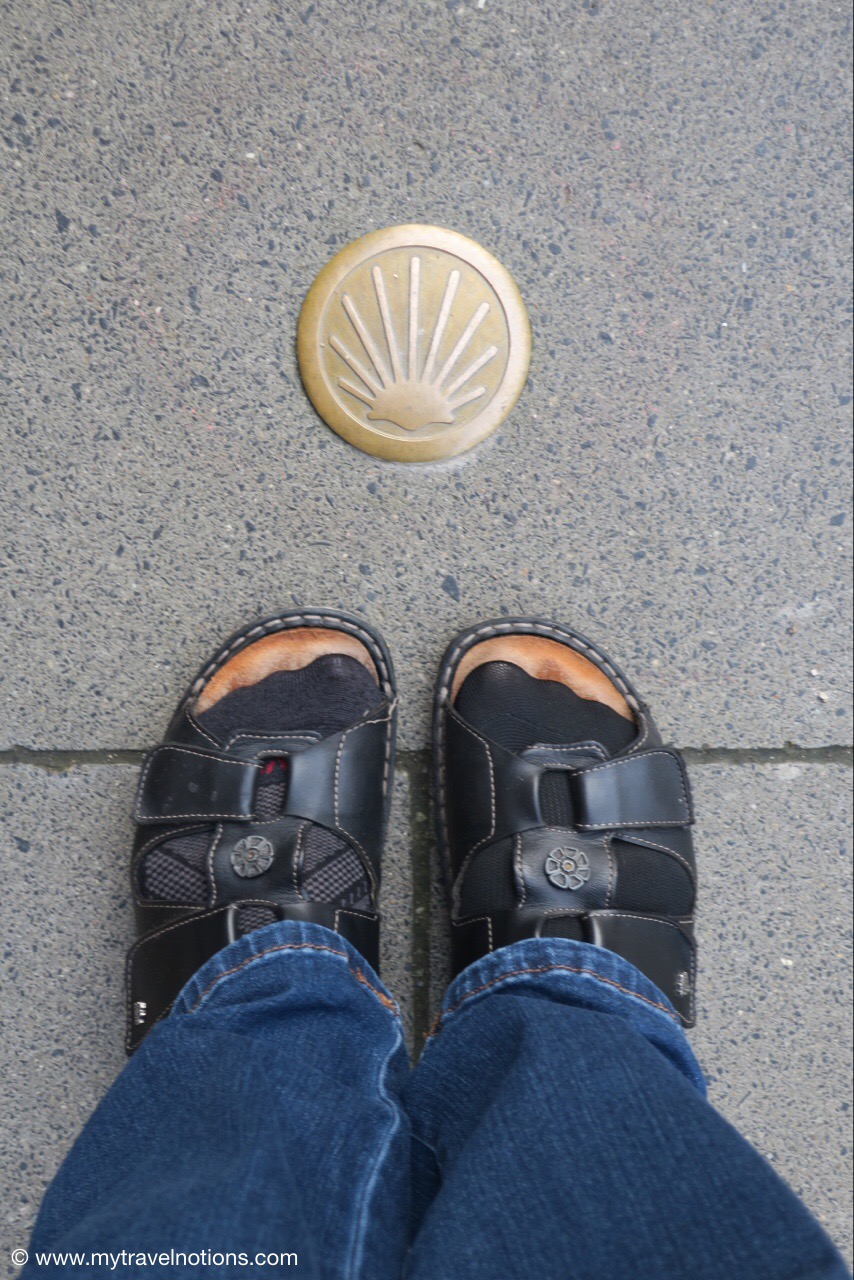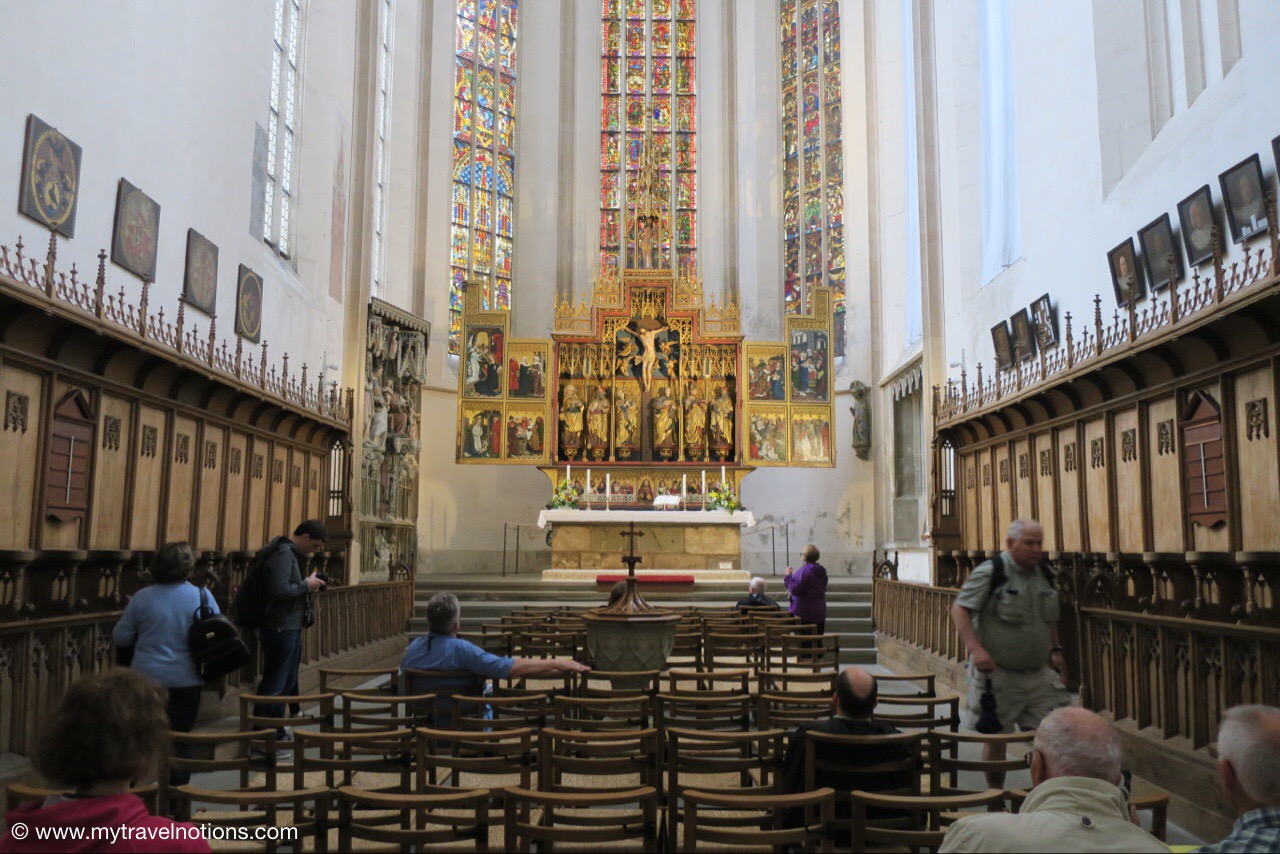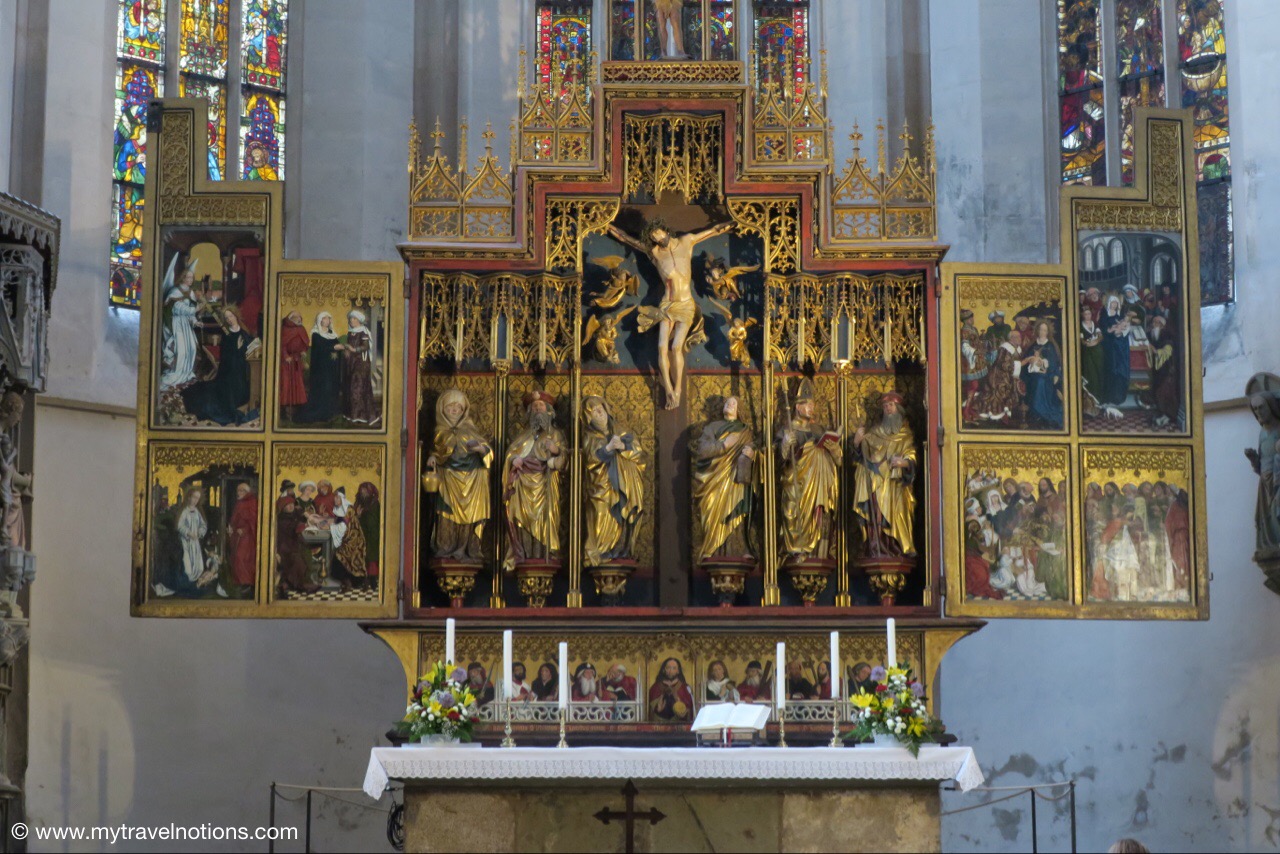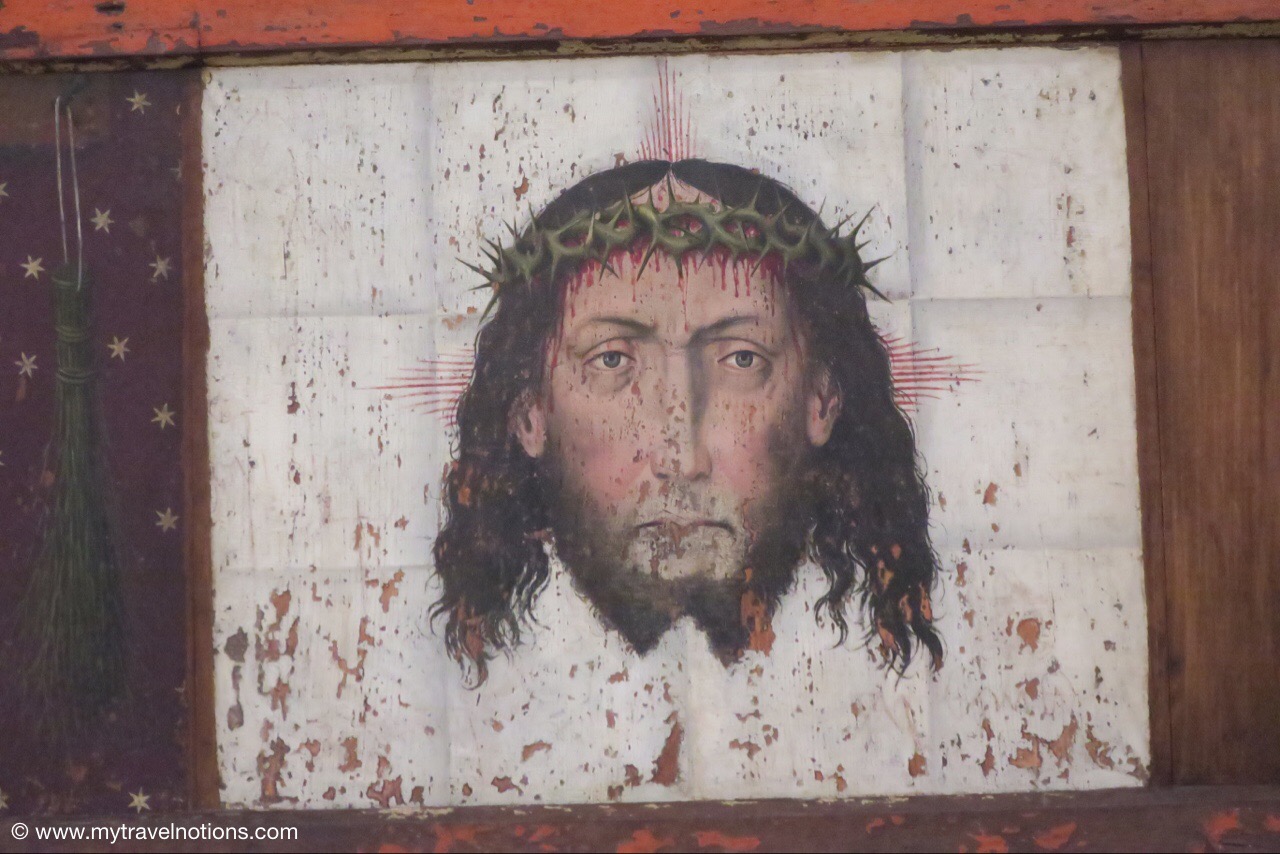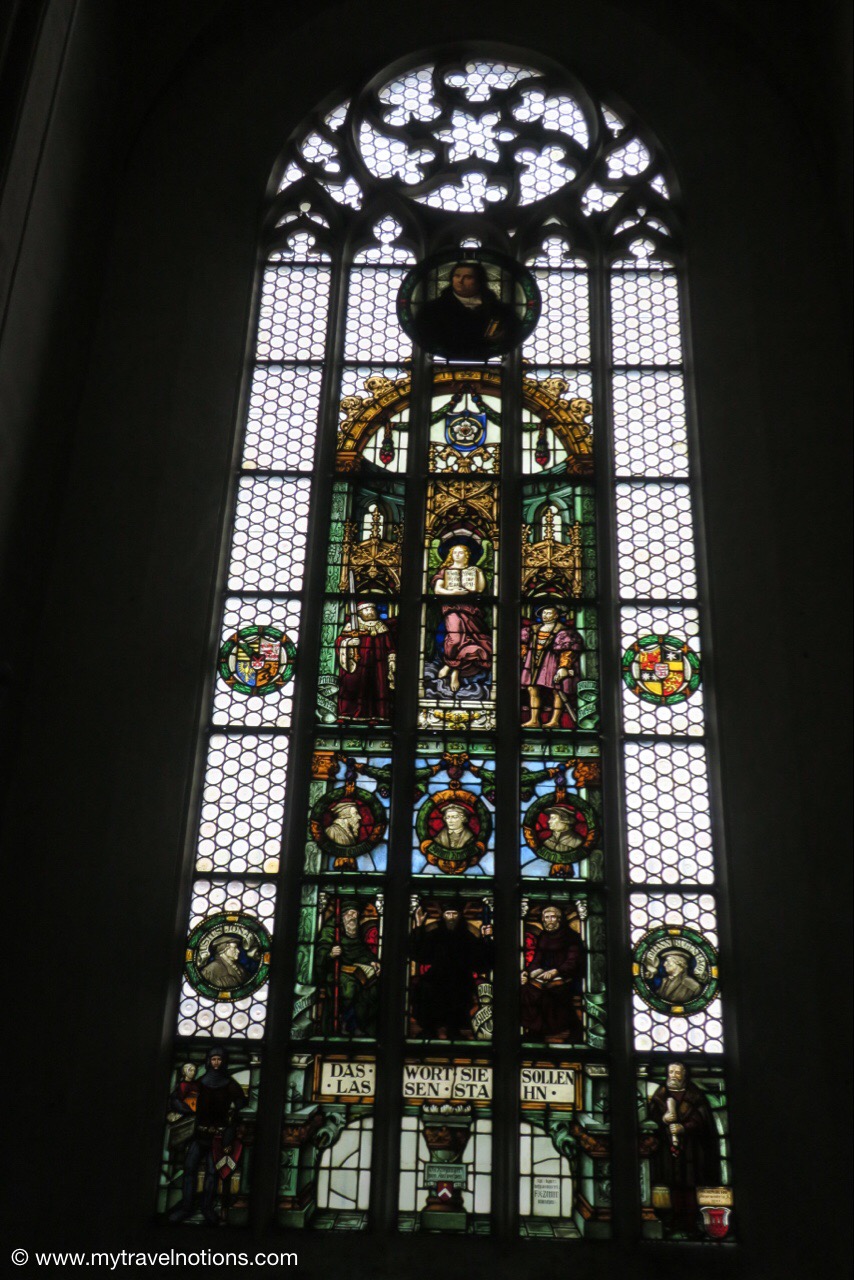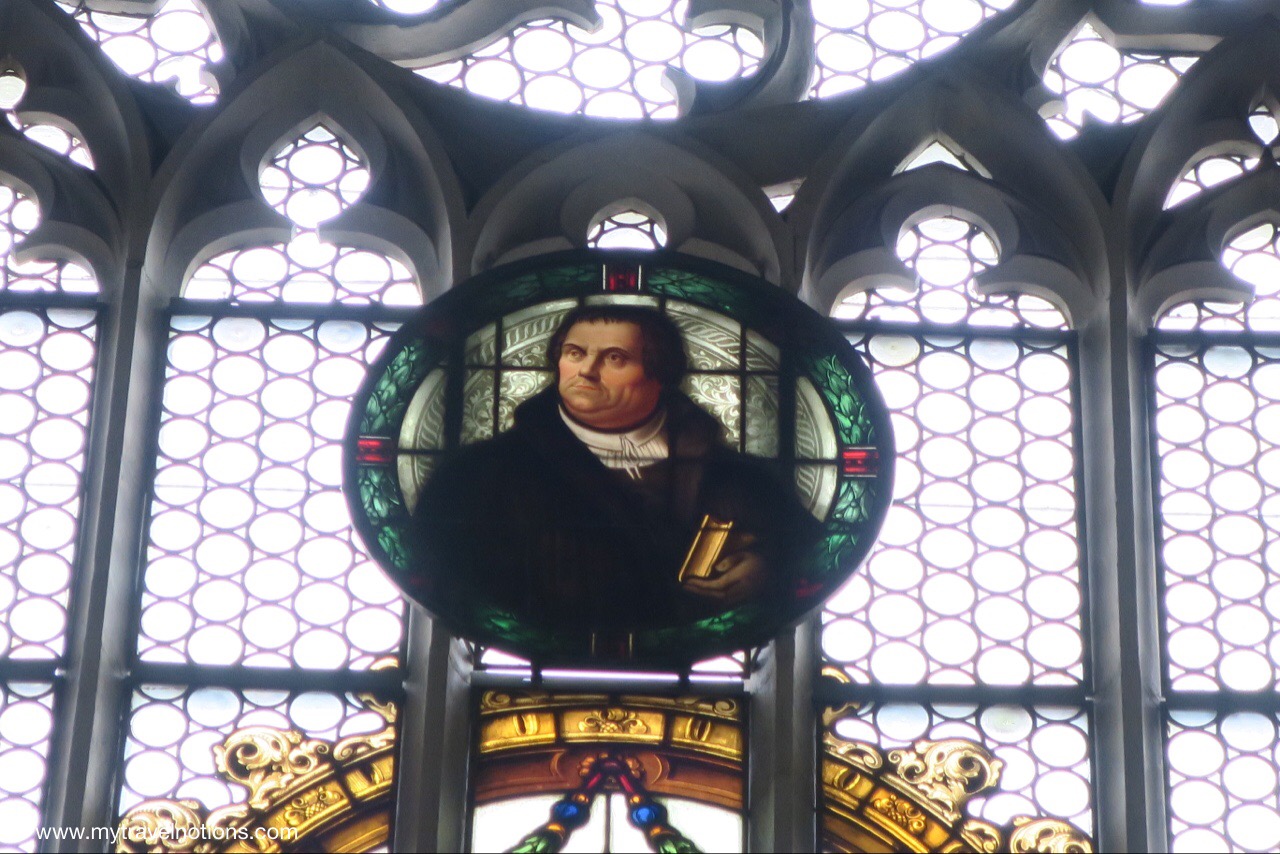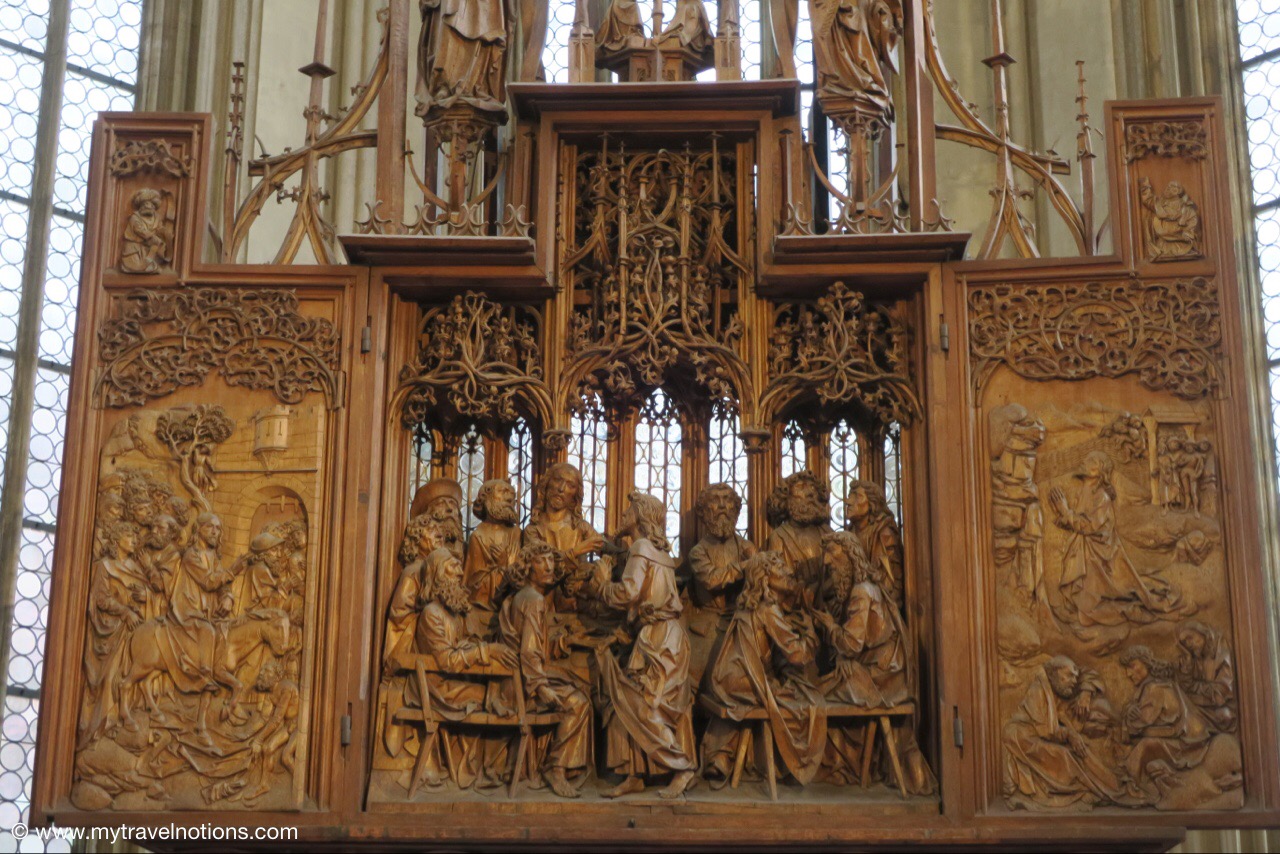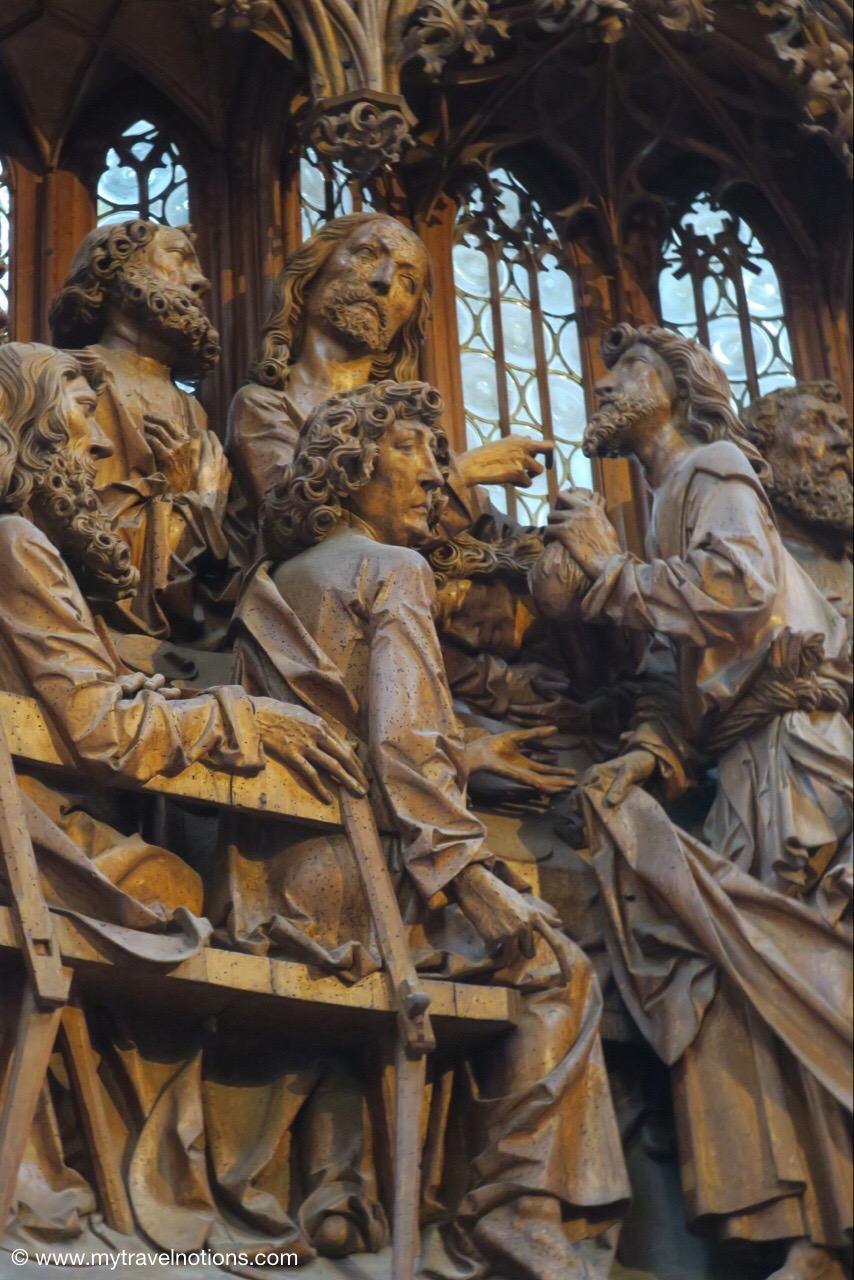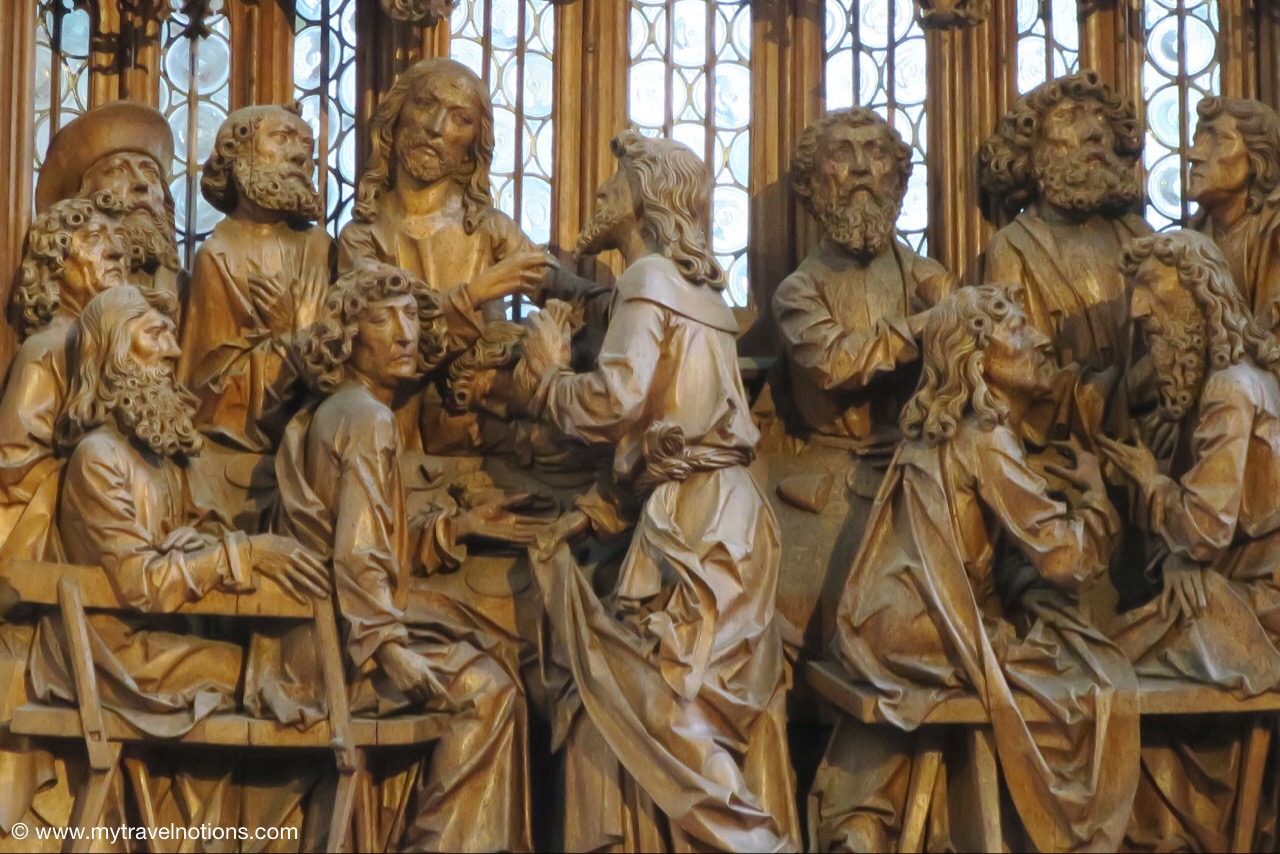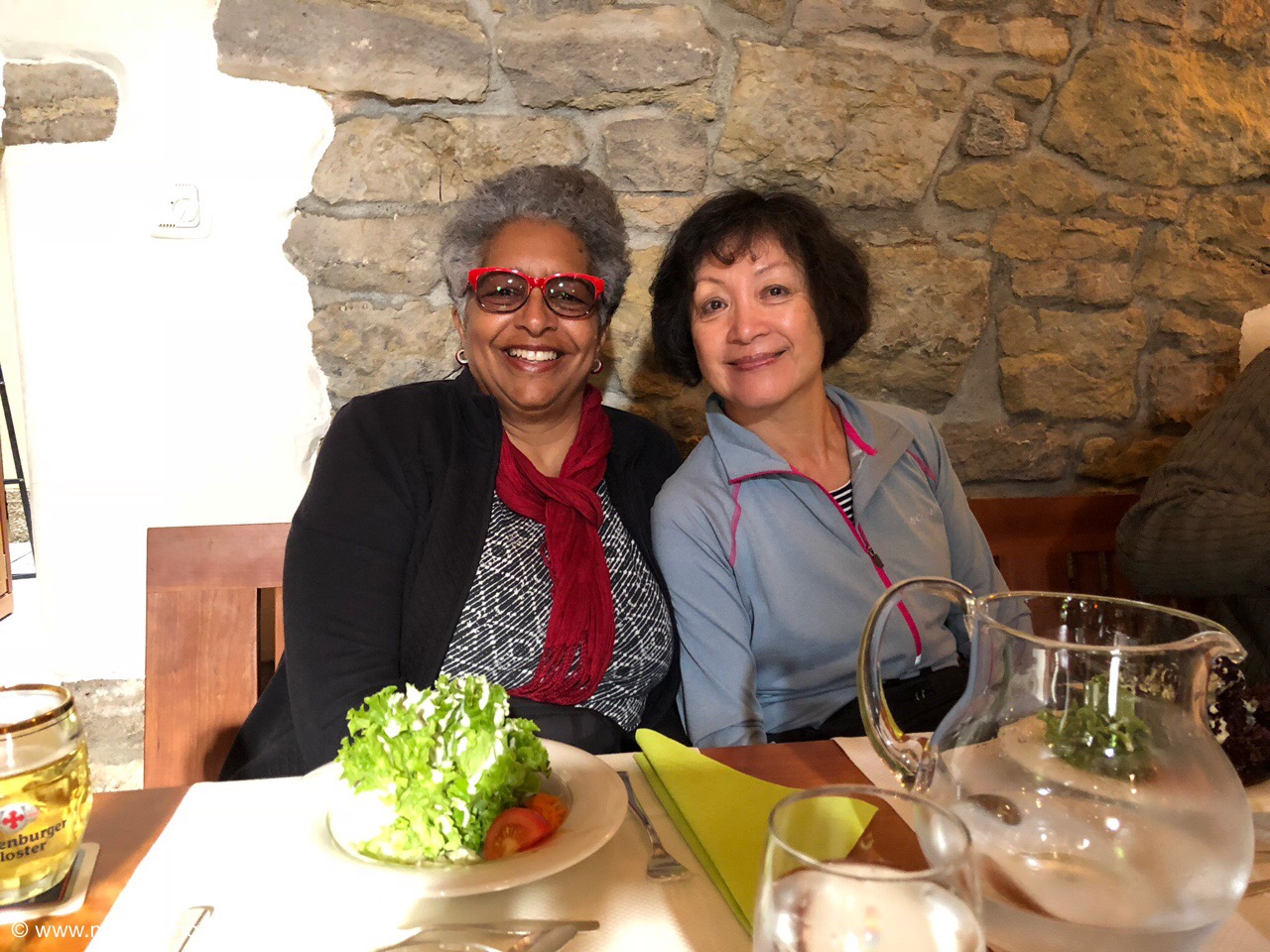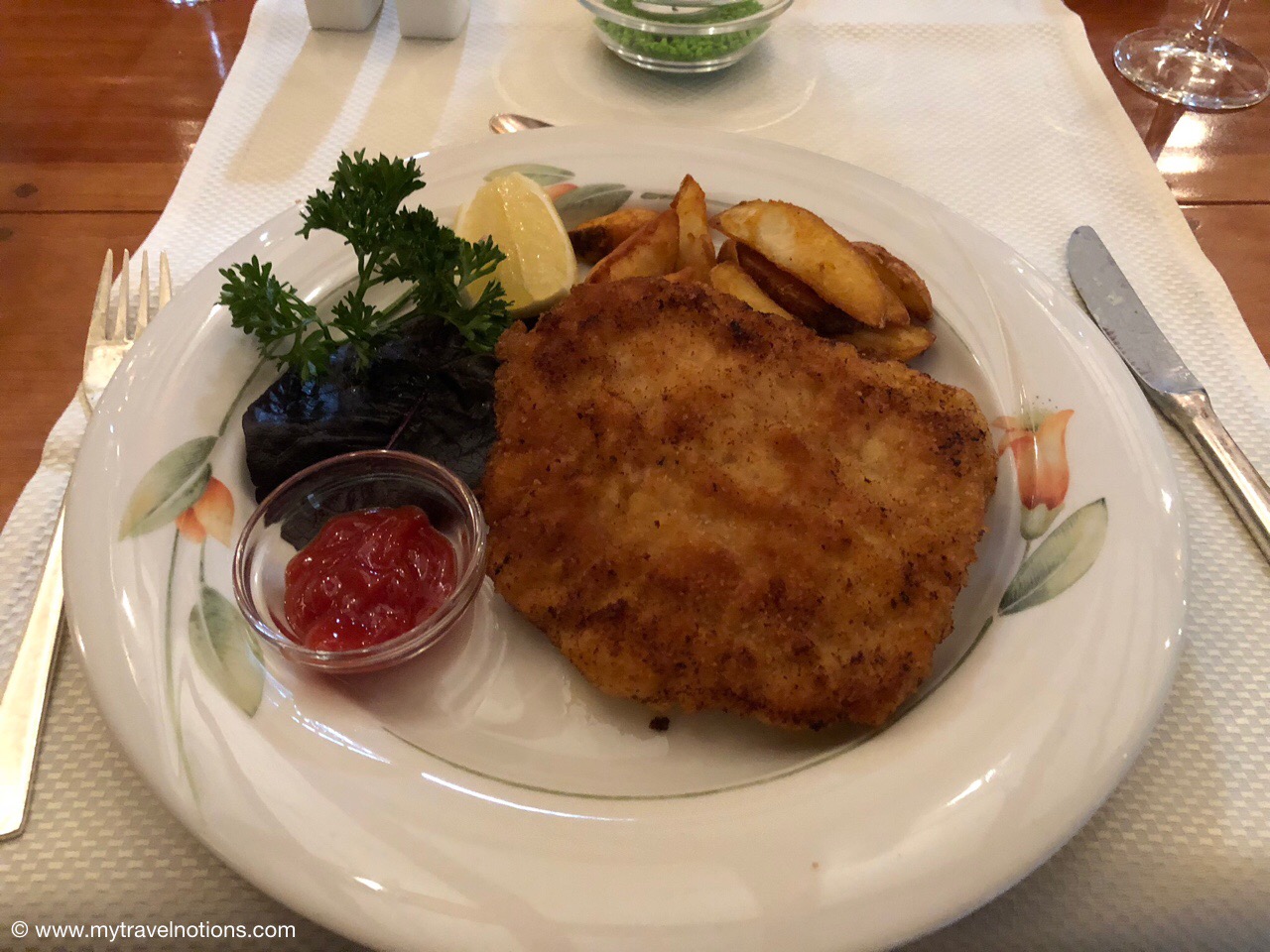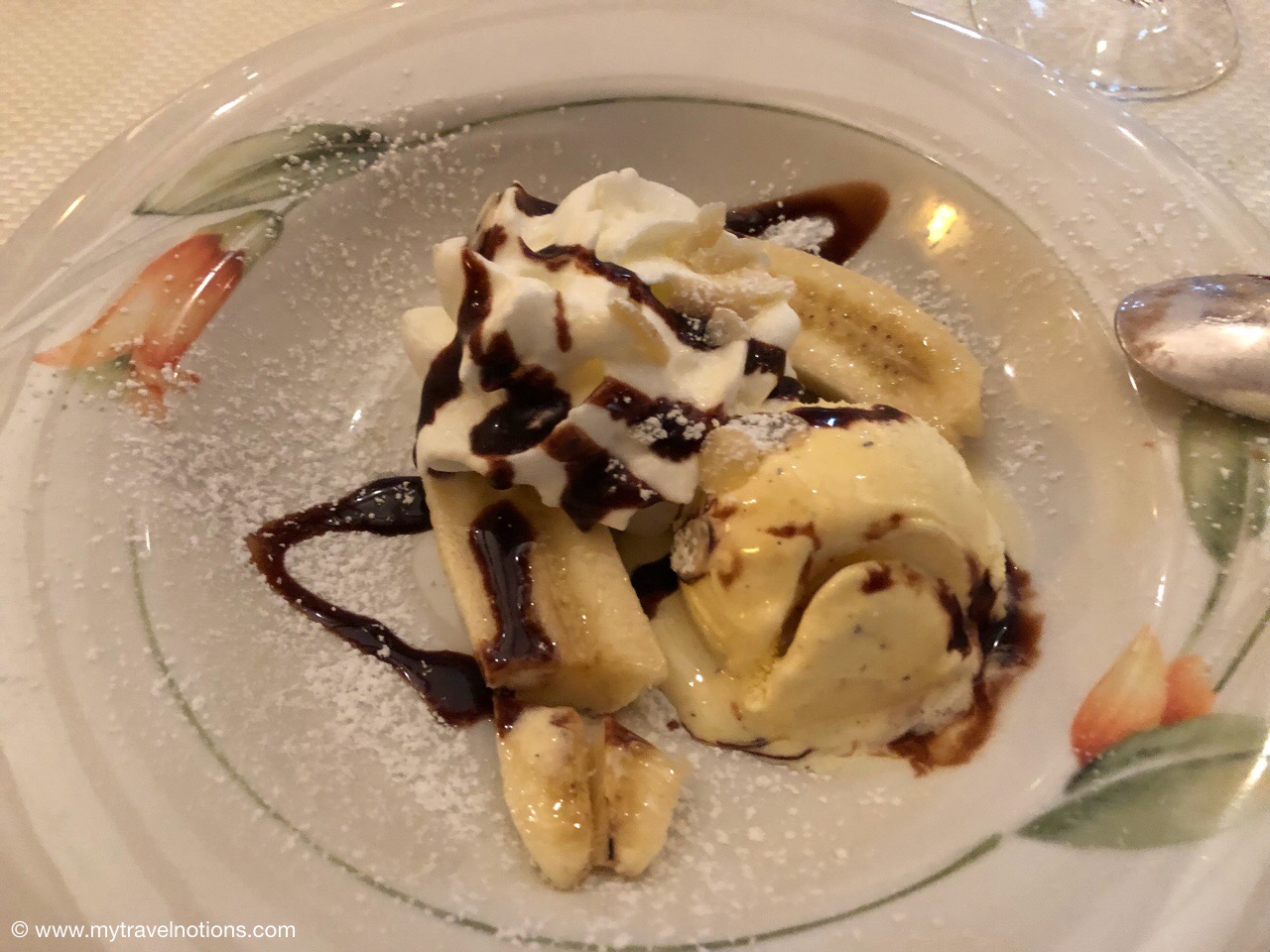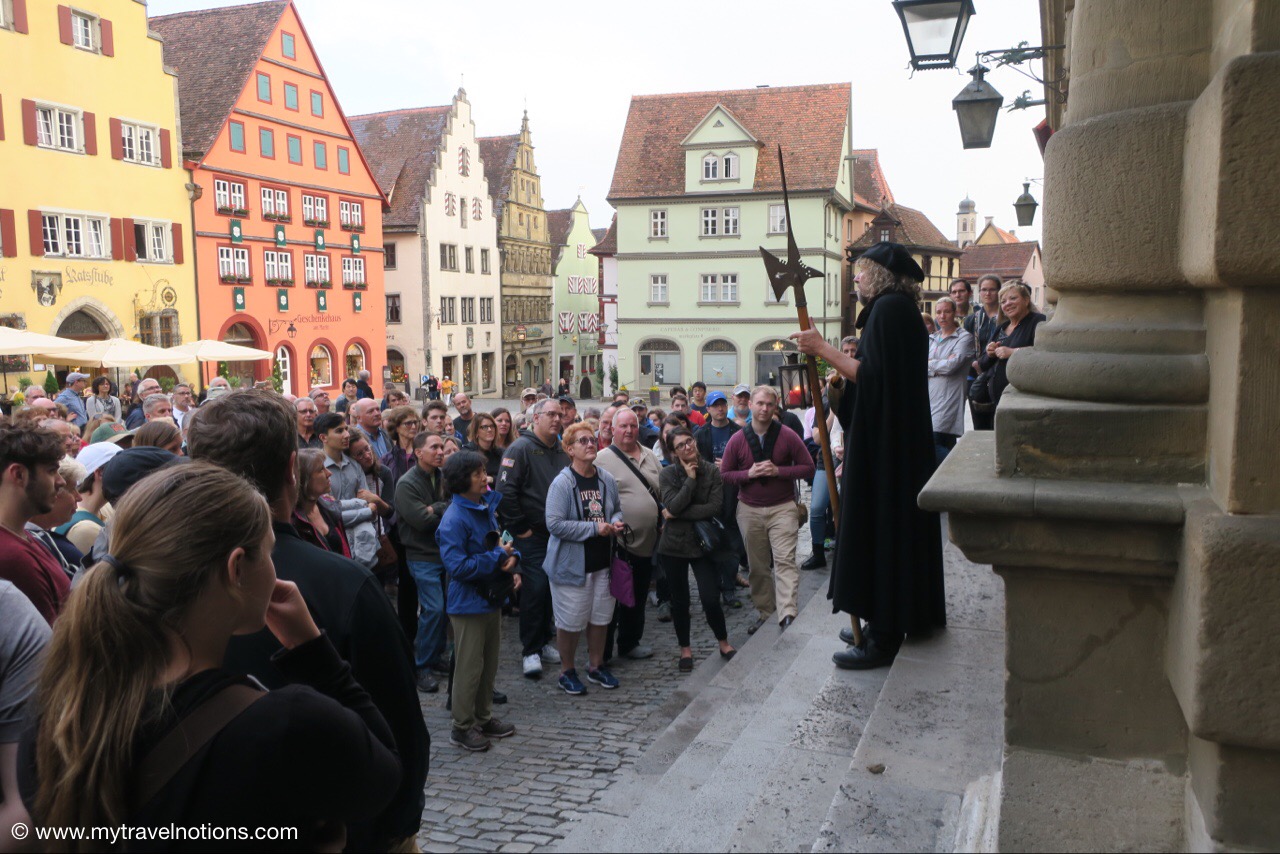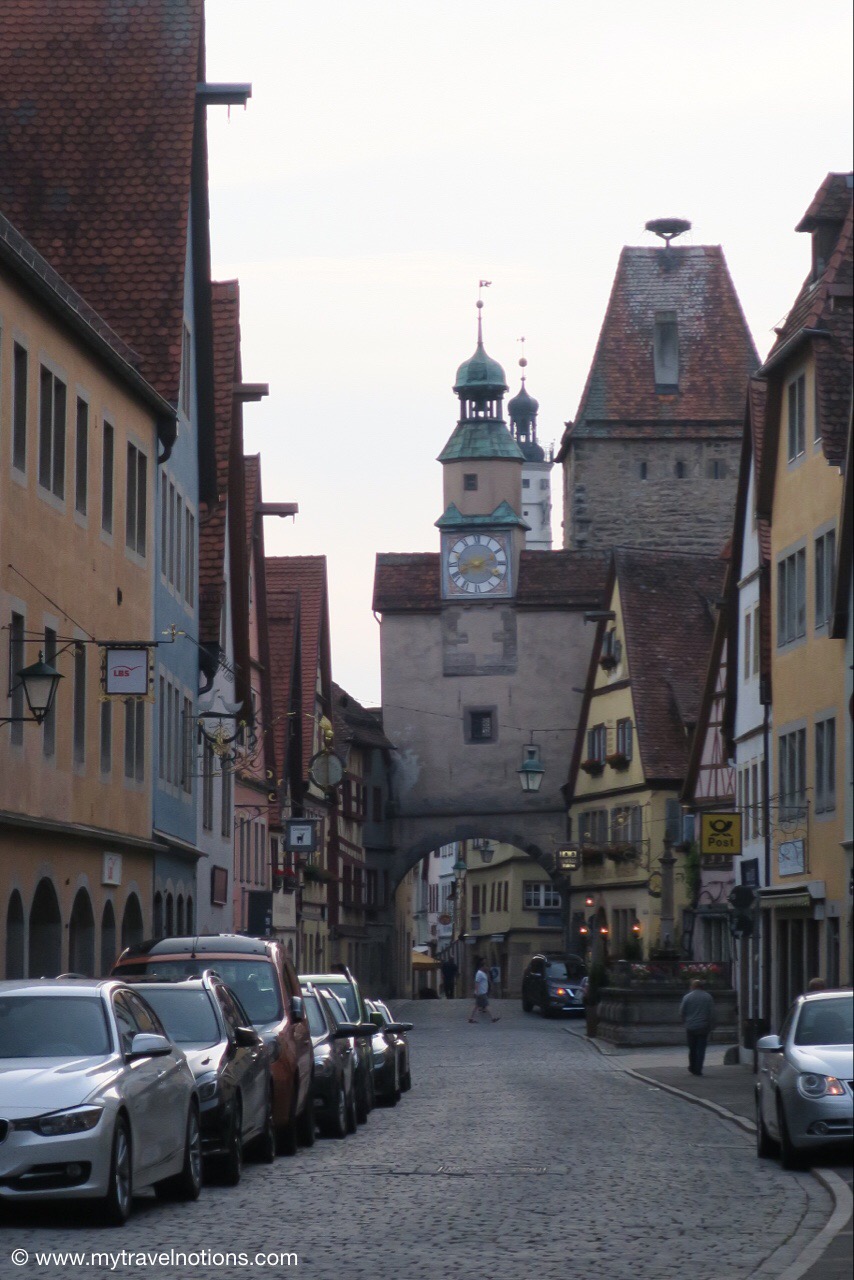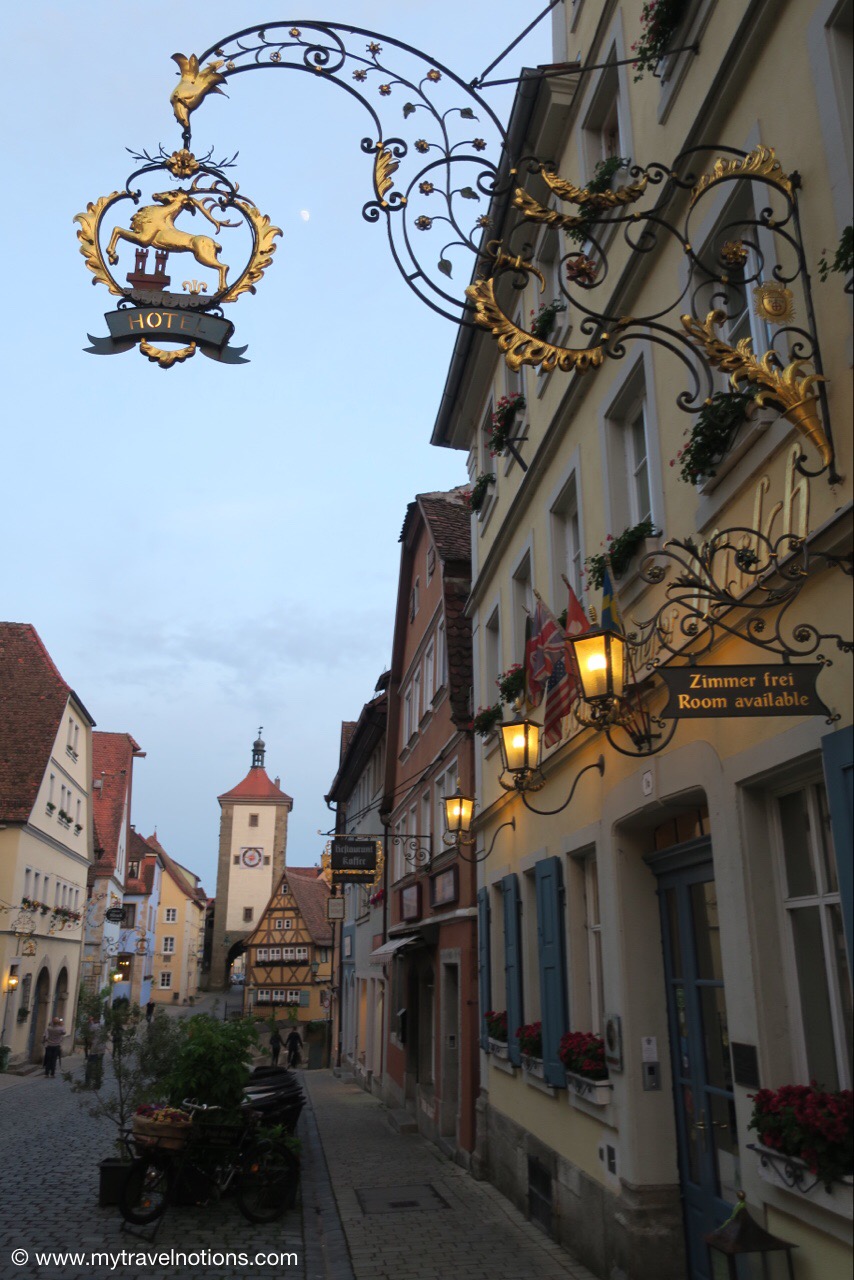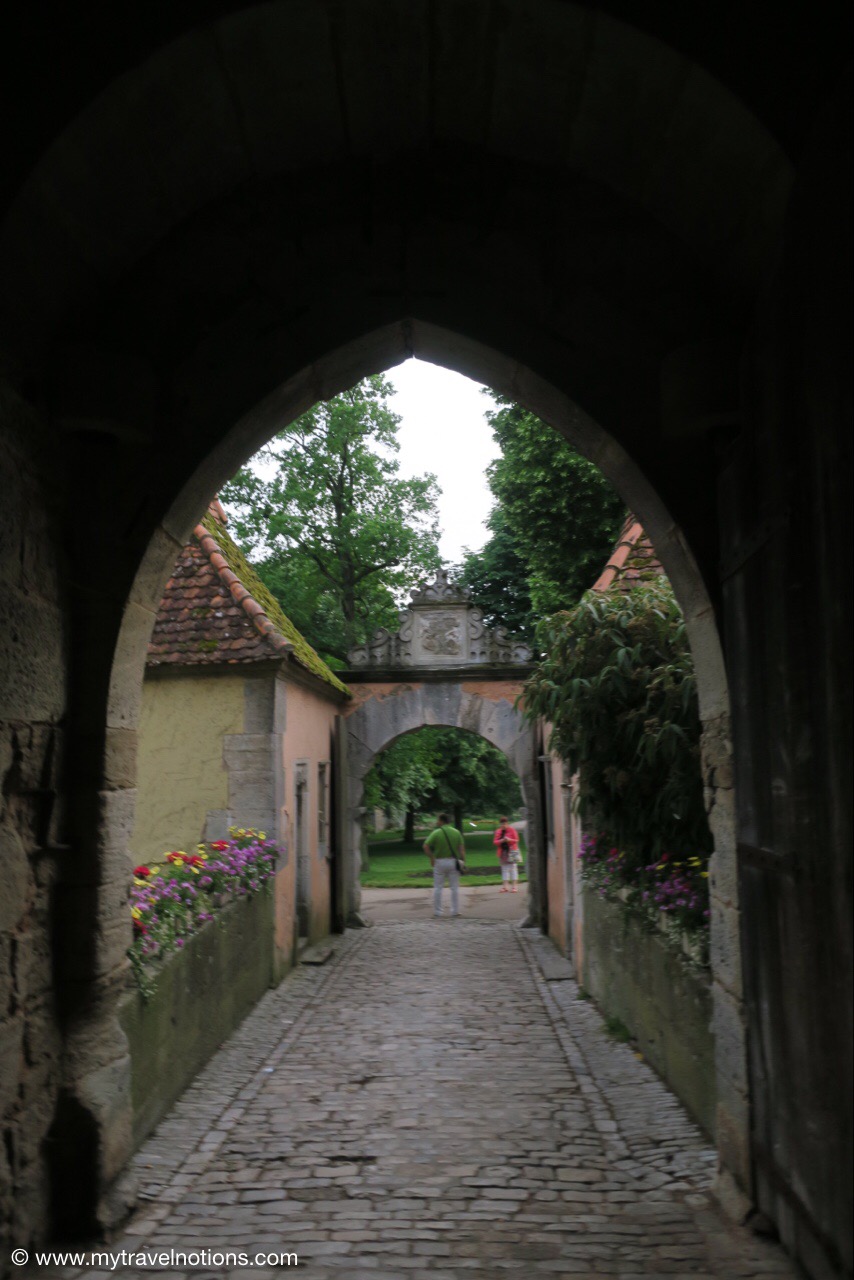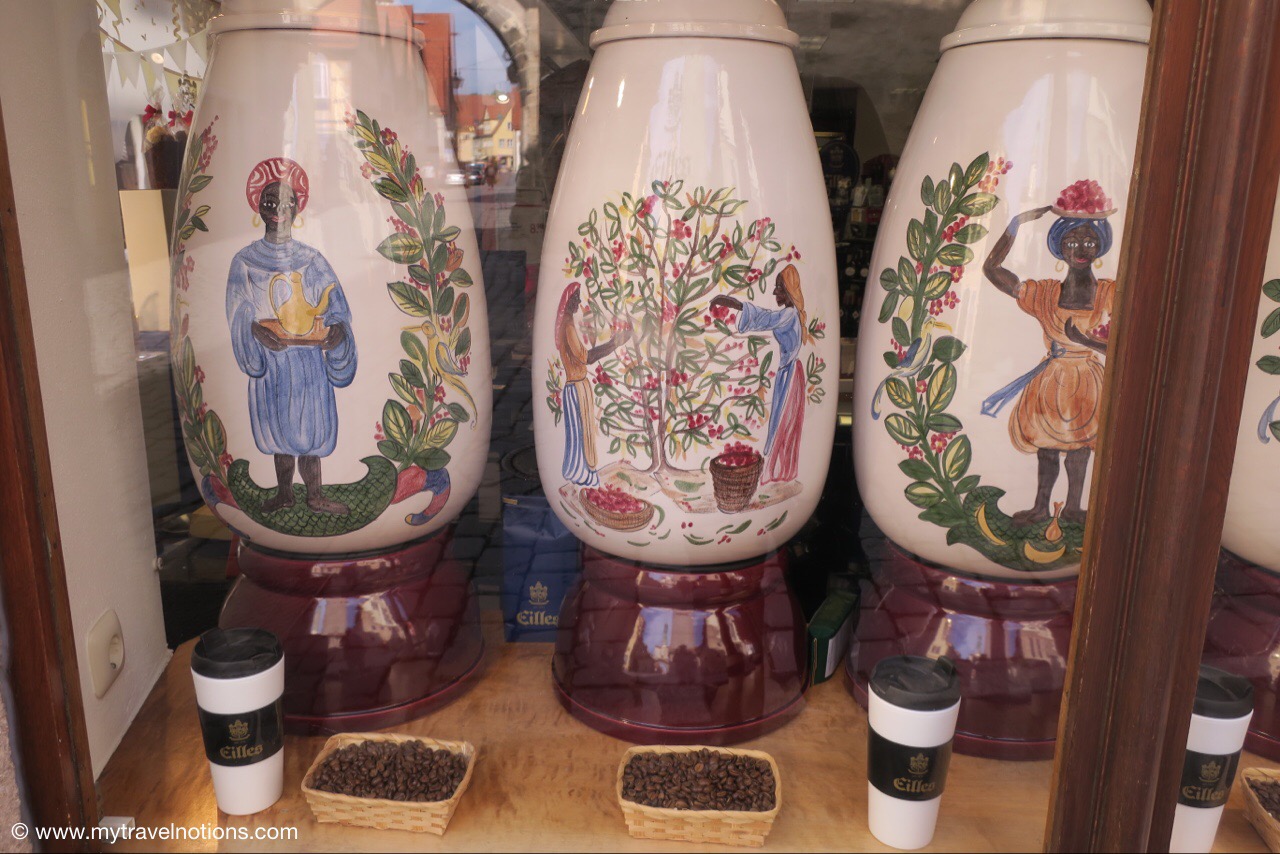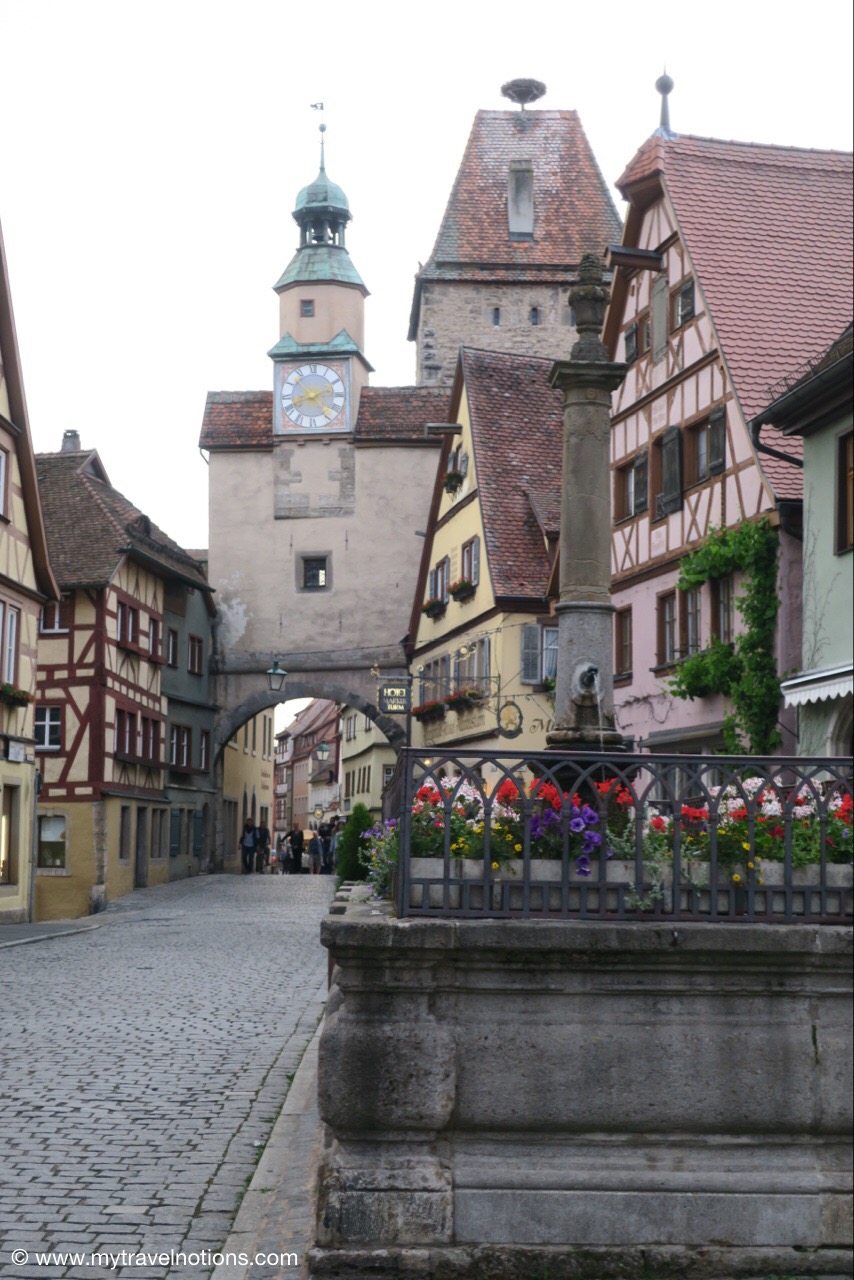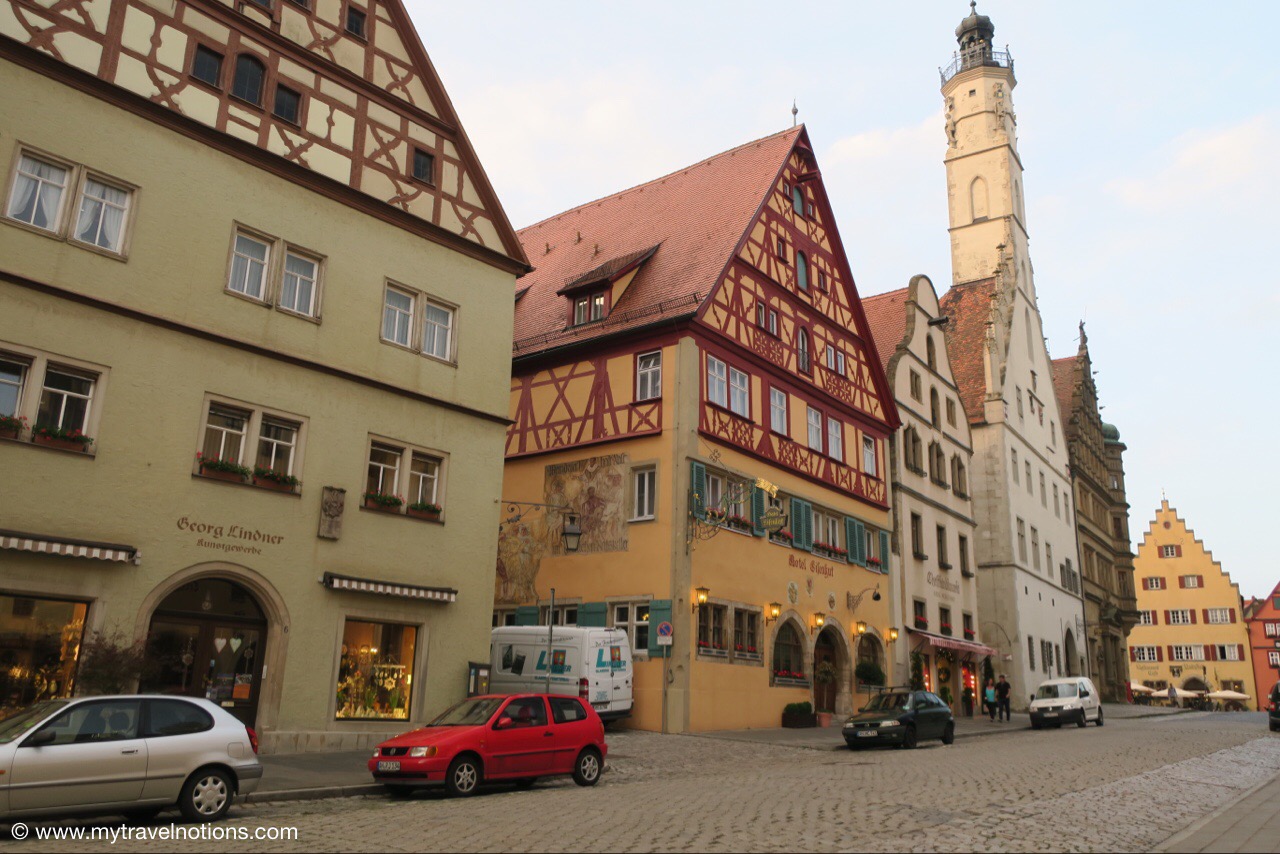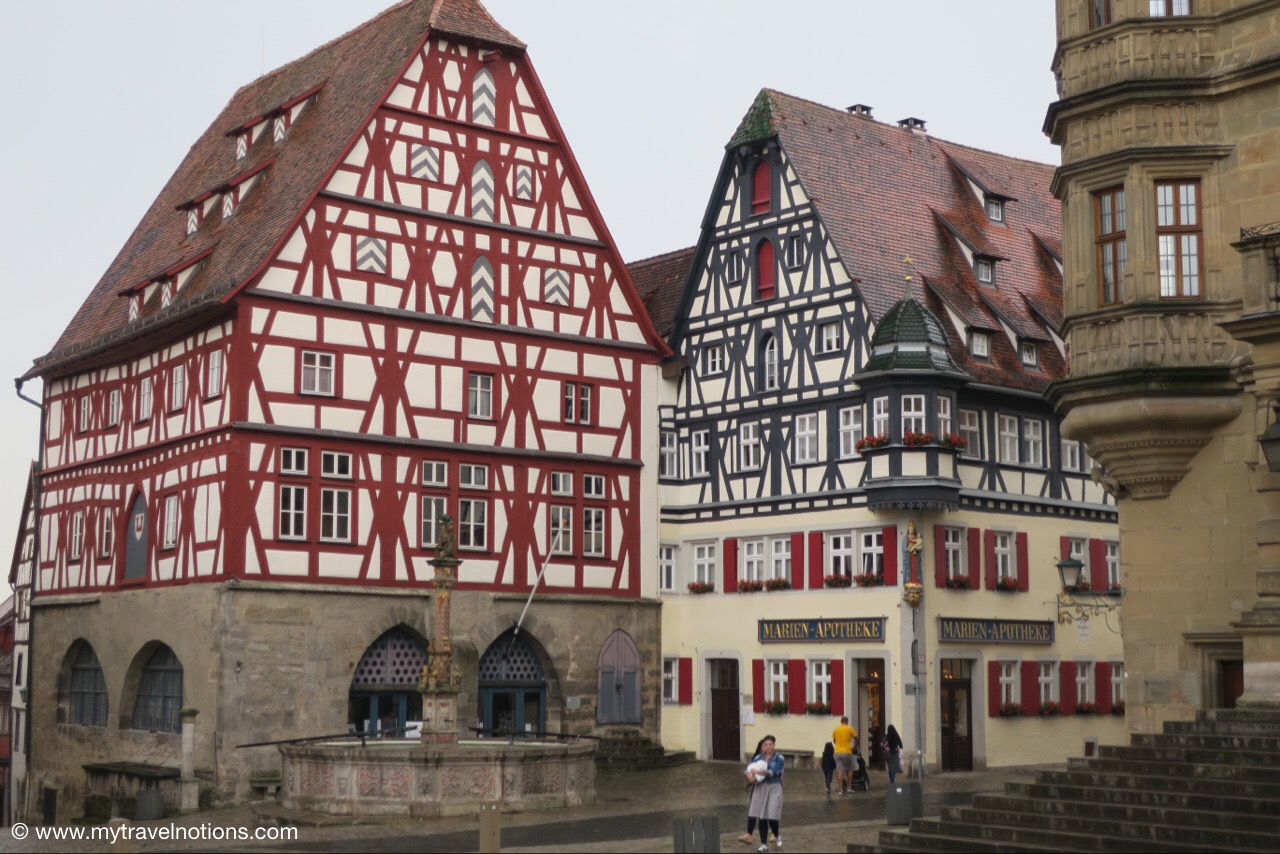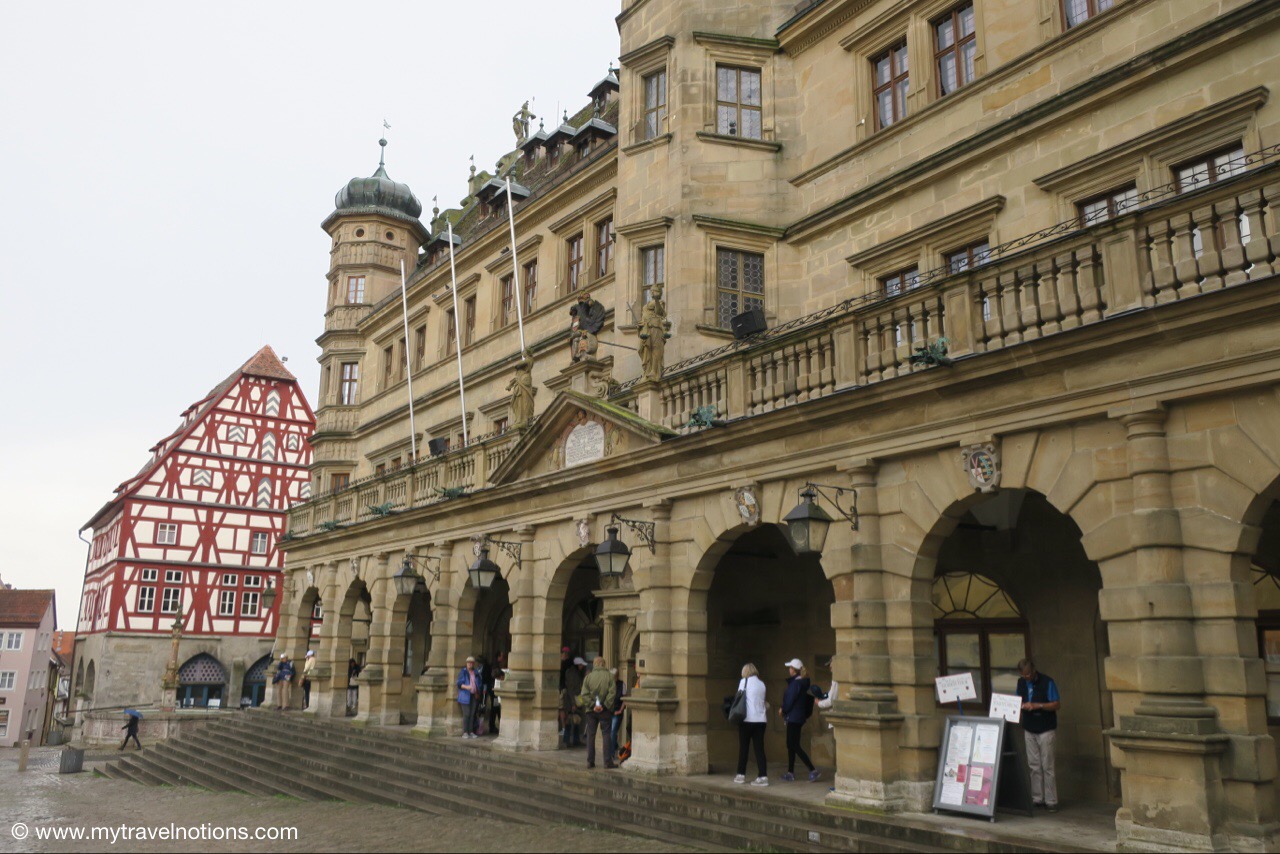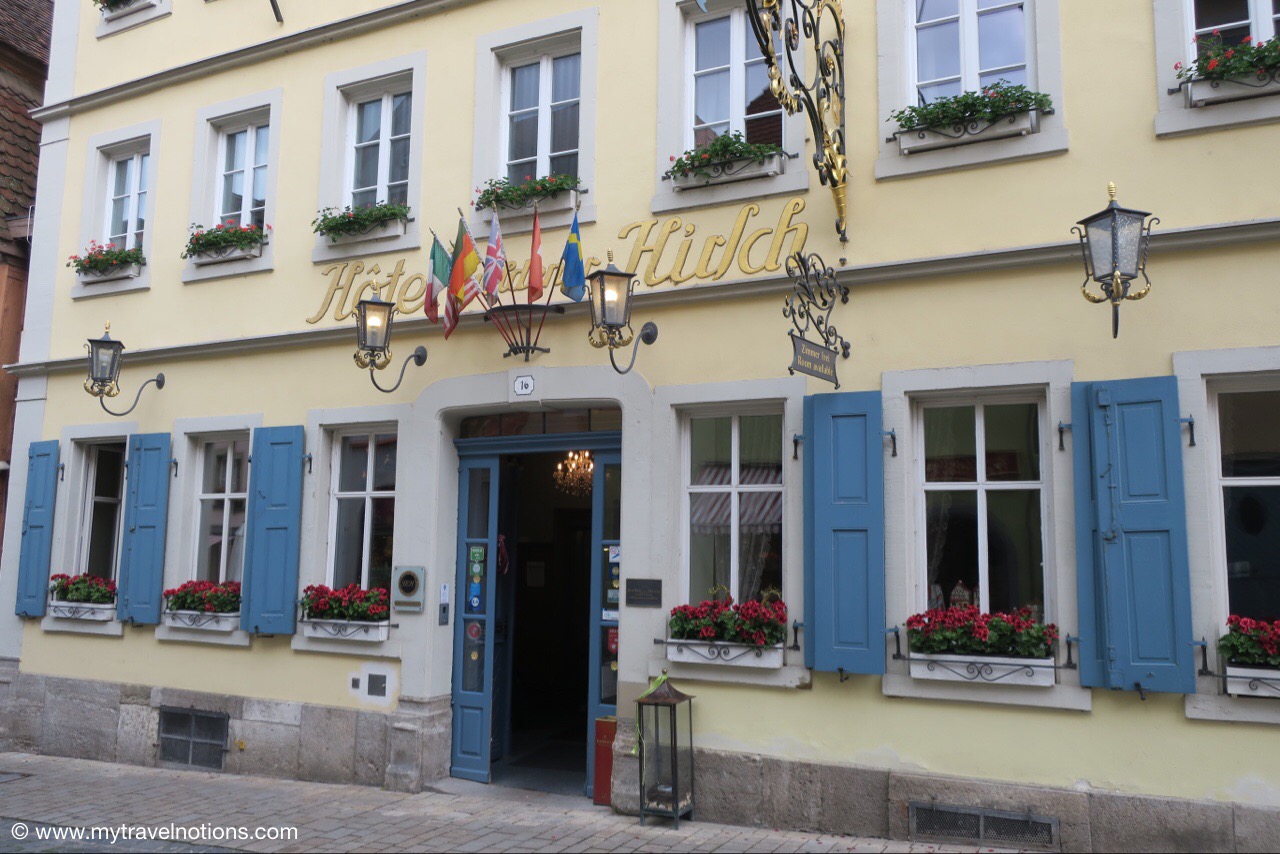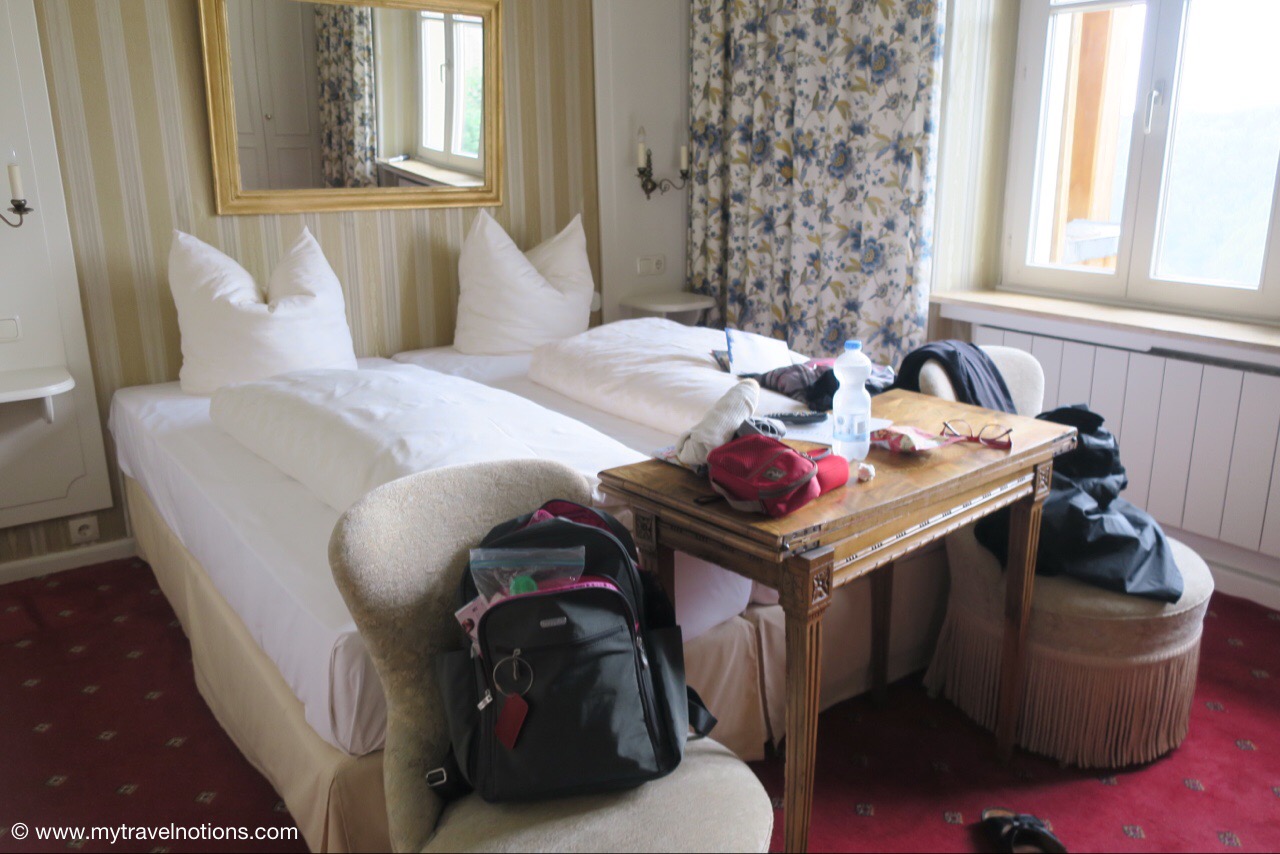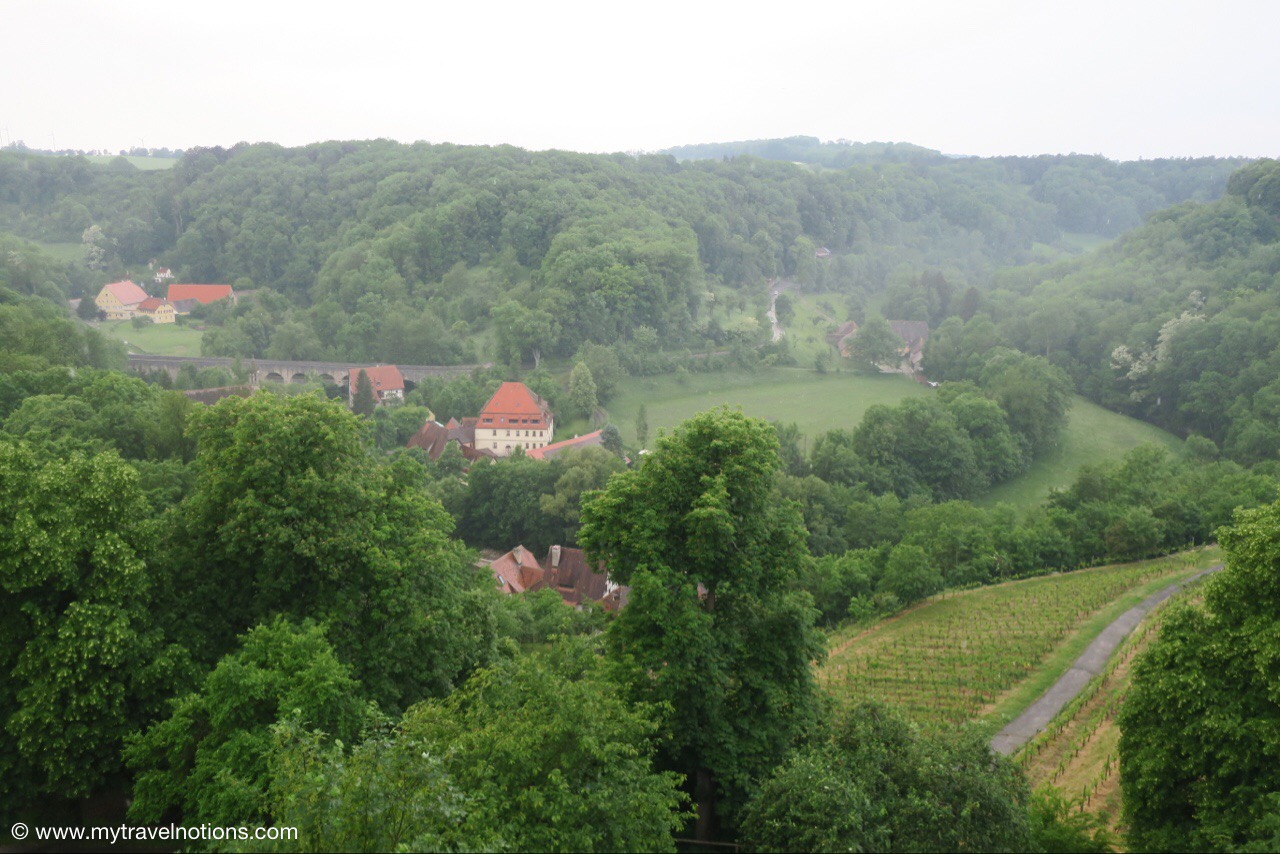 Today, Friday, could not have been a more beautiful day to enjoy the Bavarian likes of two castles Neuschwanstein and Hohenschwangau….difficult names to pronounce but both are glistening jewels to the eyes, especially with a blue sky sunlit day.
I had seen the interior of Neuschwanstein Castle two years ago and even walked up and down the steep, curvy walkway. But today, instead of seeing Ludwig II of Bavaria's Neuschwanstein Castle, I got to see his father, Maximilian II of Bavaria's summer home of Hohenschwangau Castle…where Ludwig II got the inspiration to build his version of a castle on a hill. Unfortunately, photos are not allowed inside either of the castles. But you don't need to go in, even though I did, to be impressed.
We're in Munich for two nights, Friday and Saturday, so there will be more on Munich. But for now, it's all about the castles.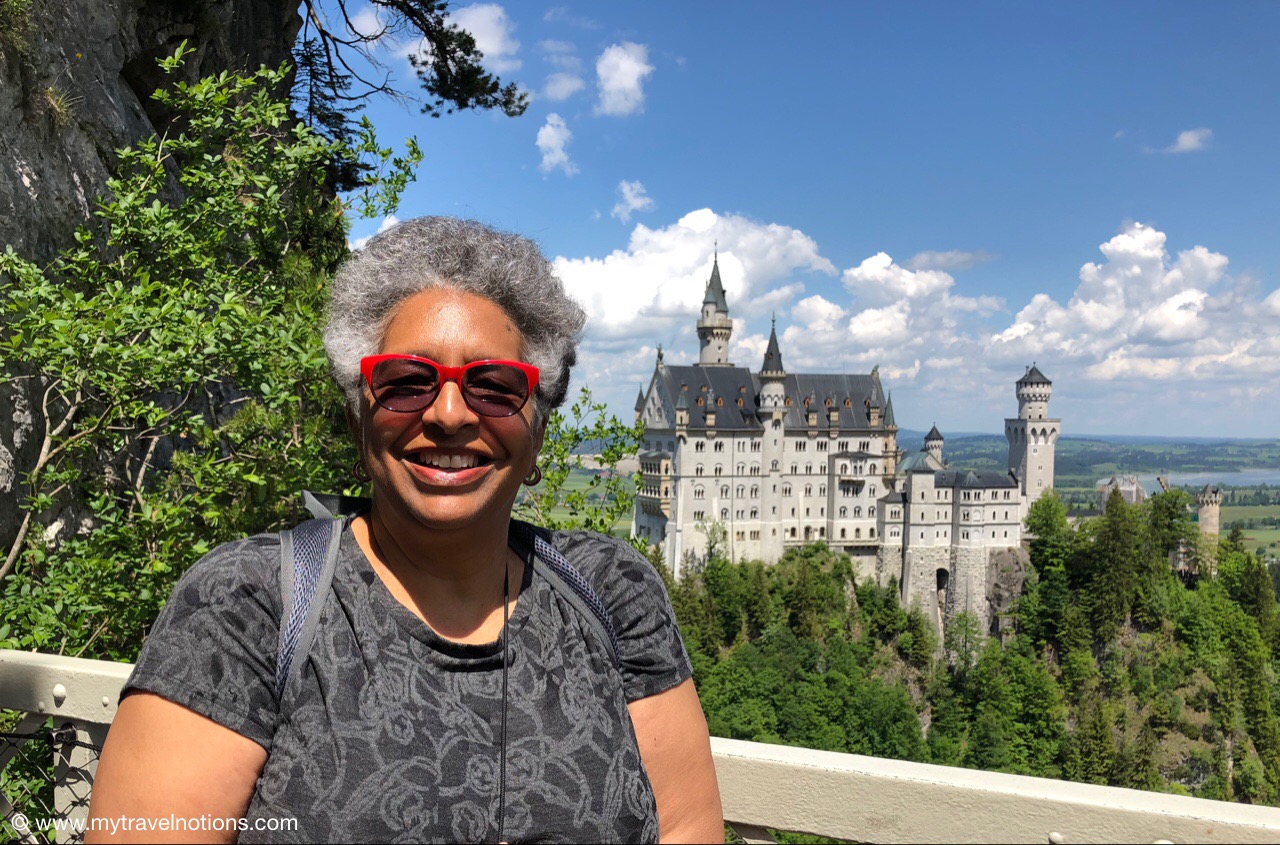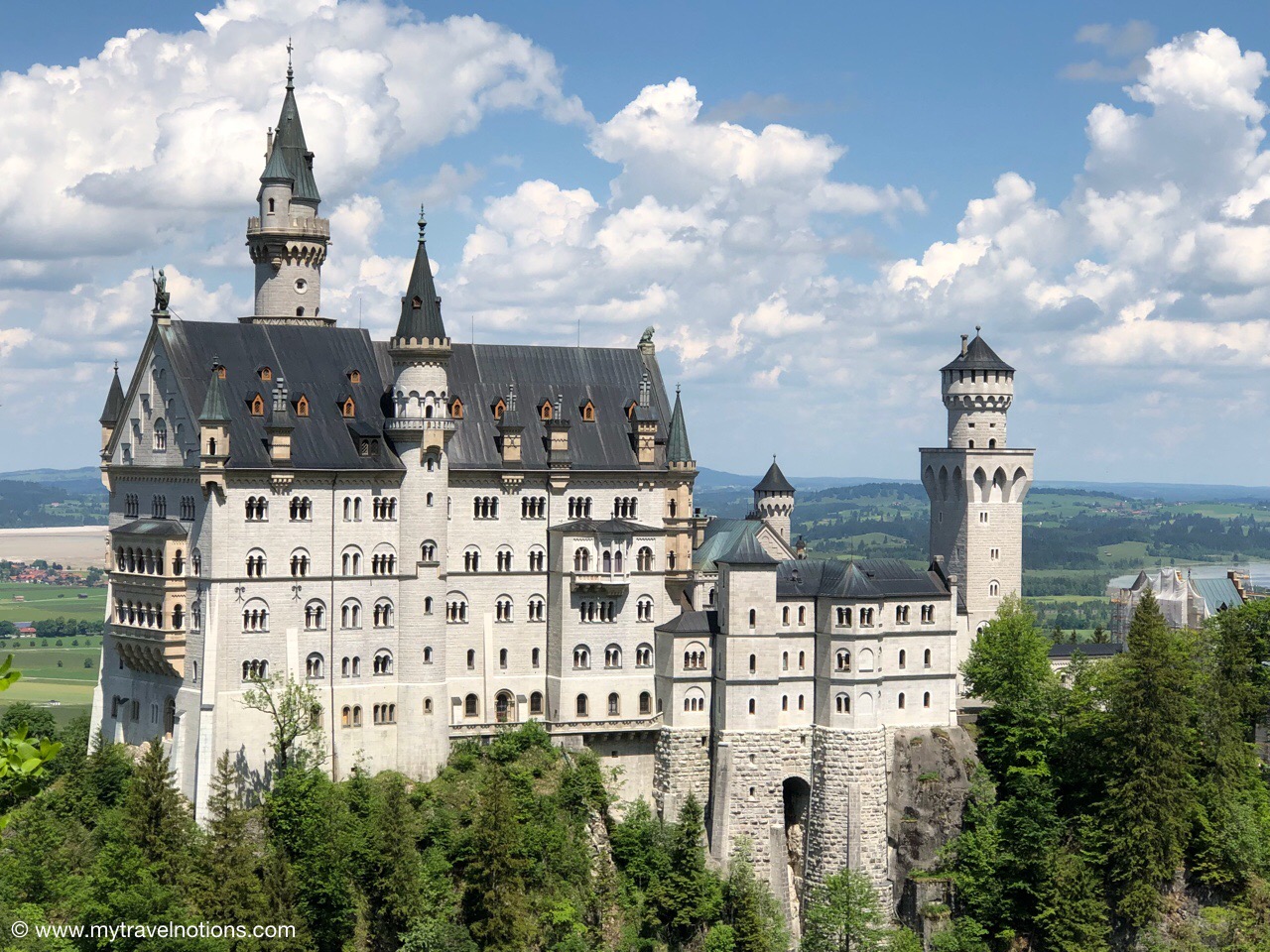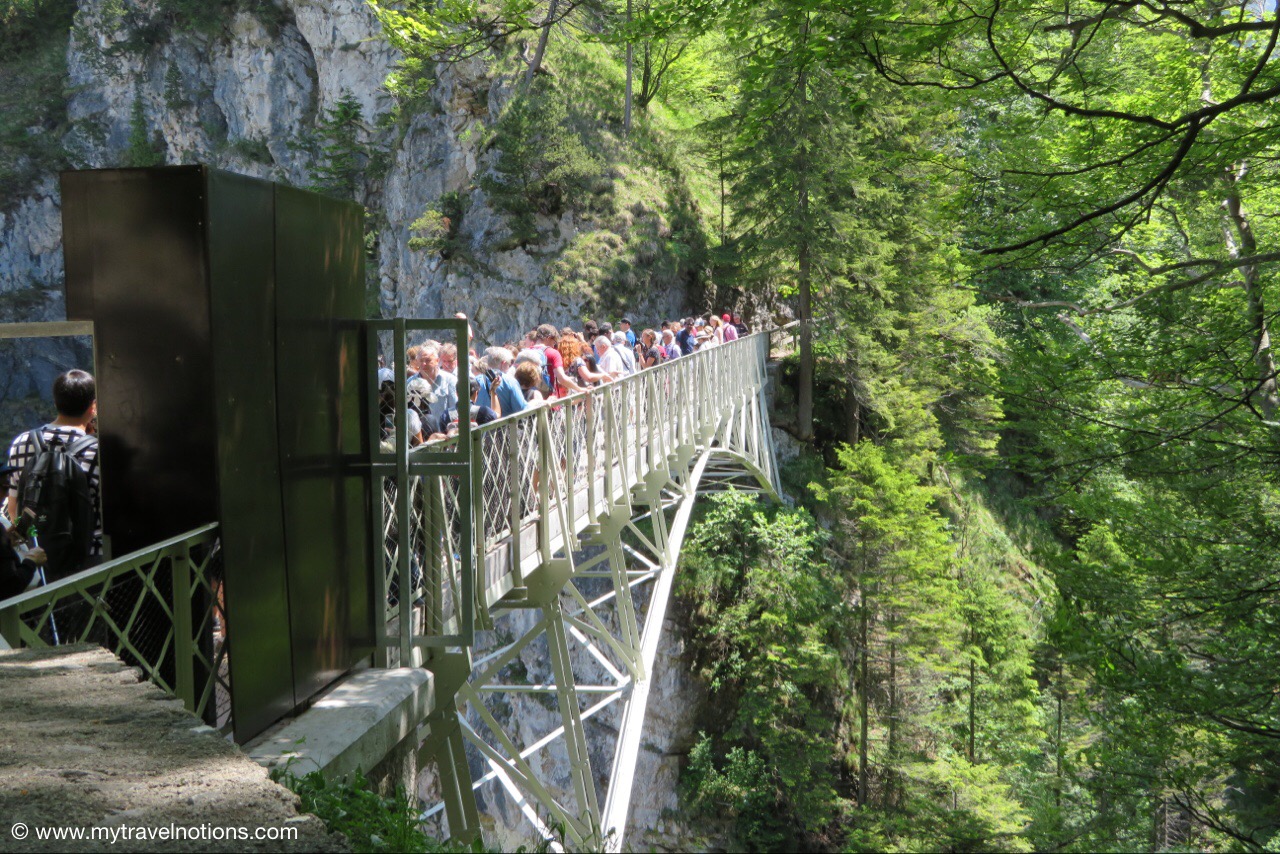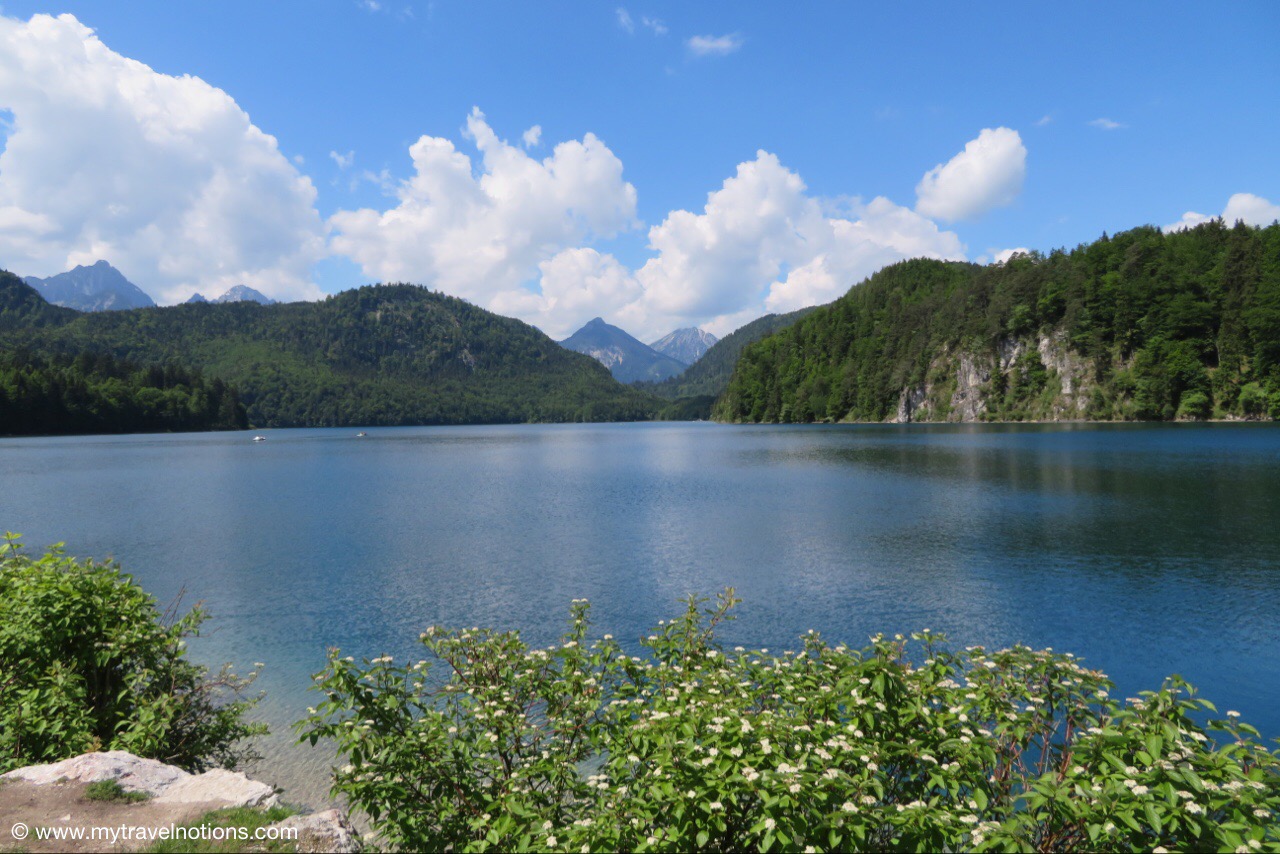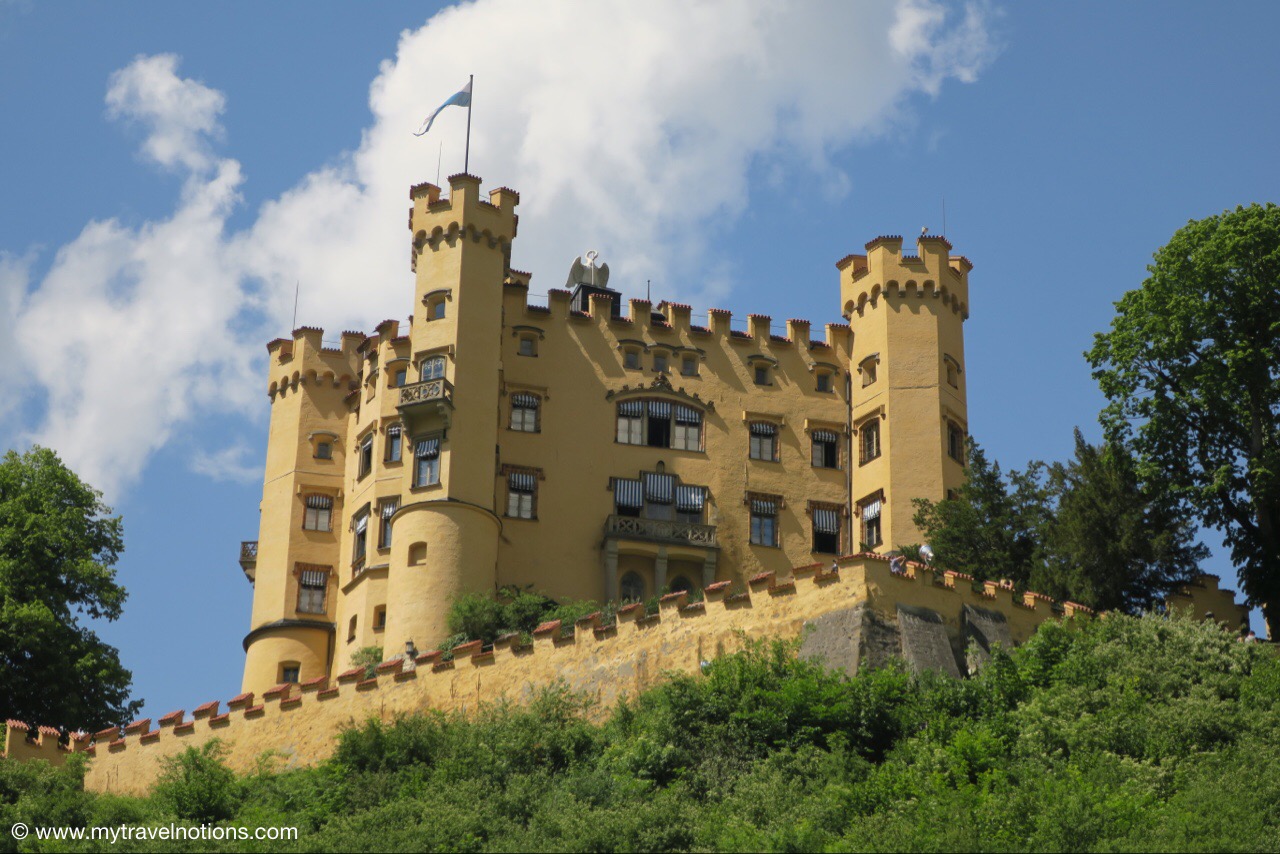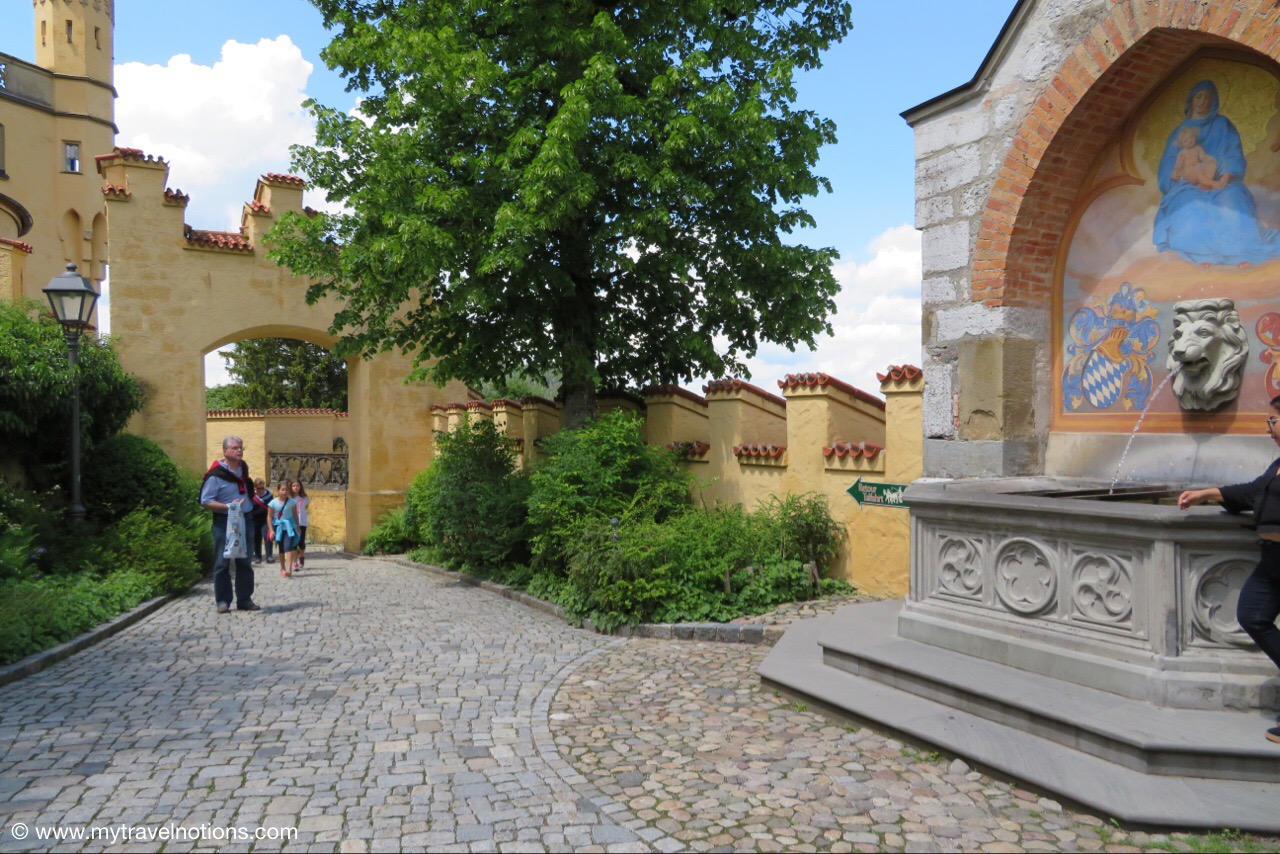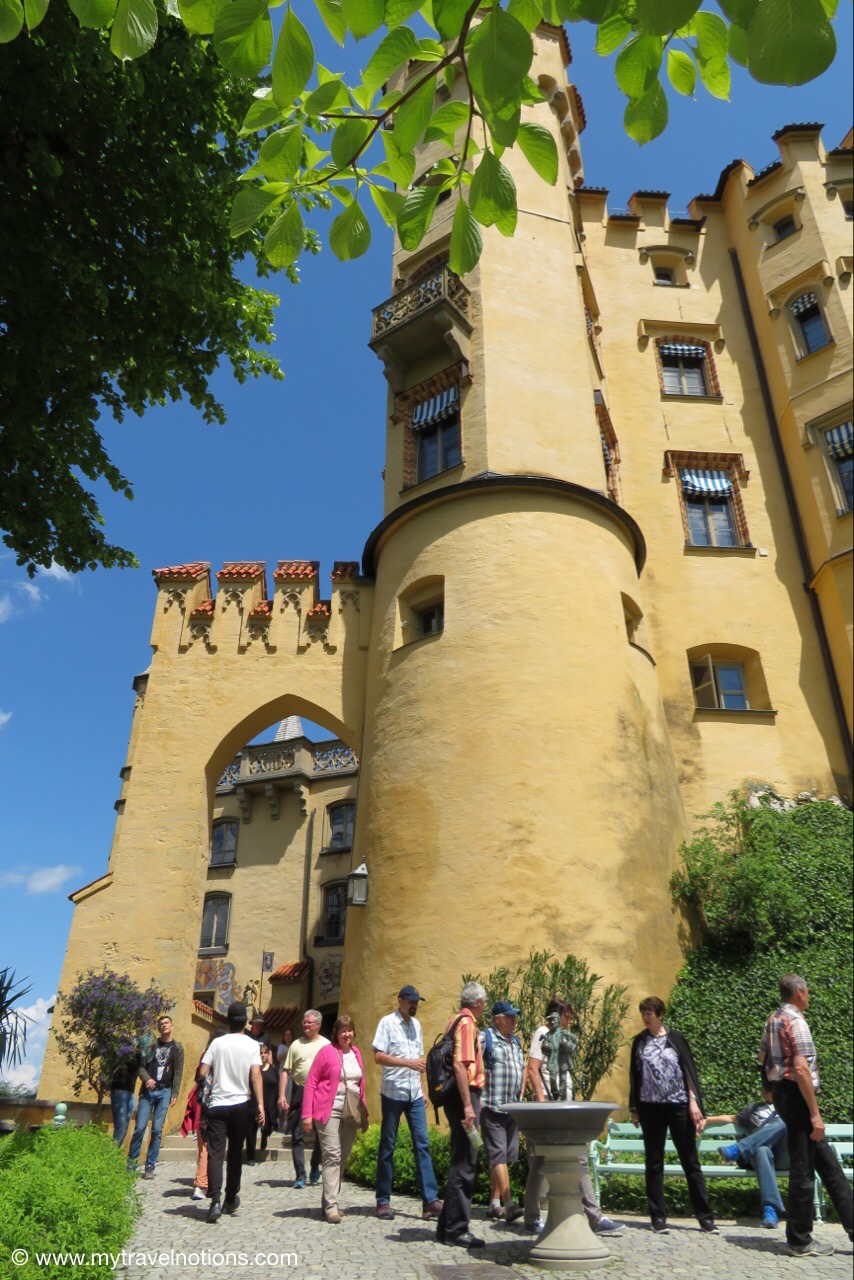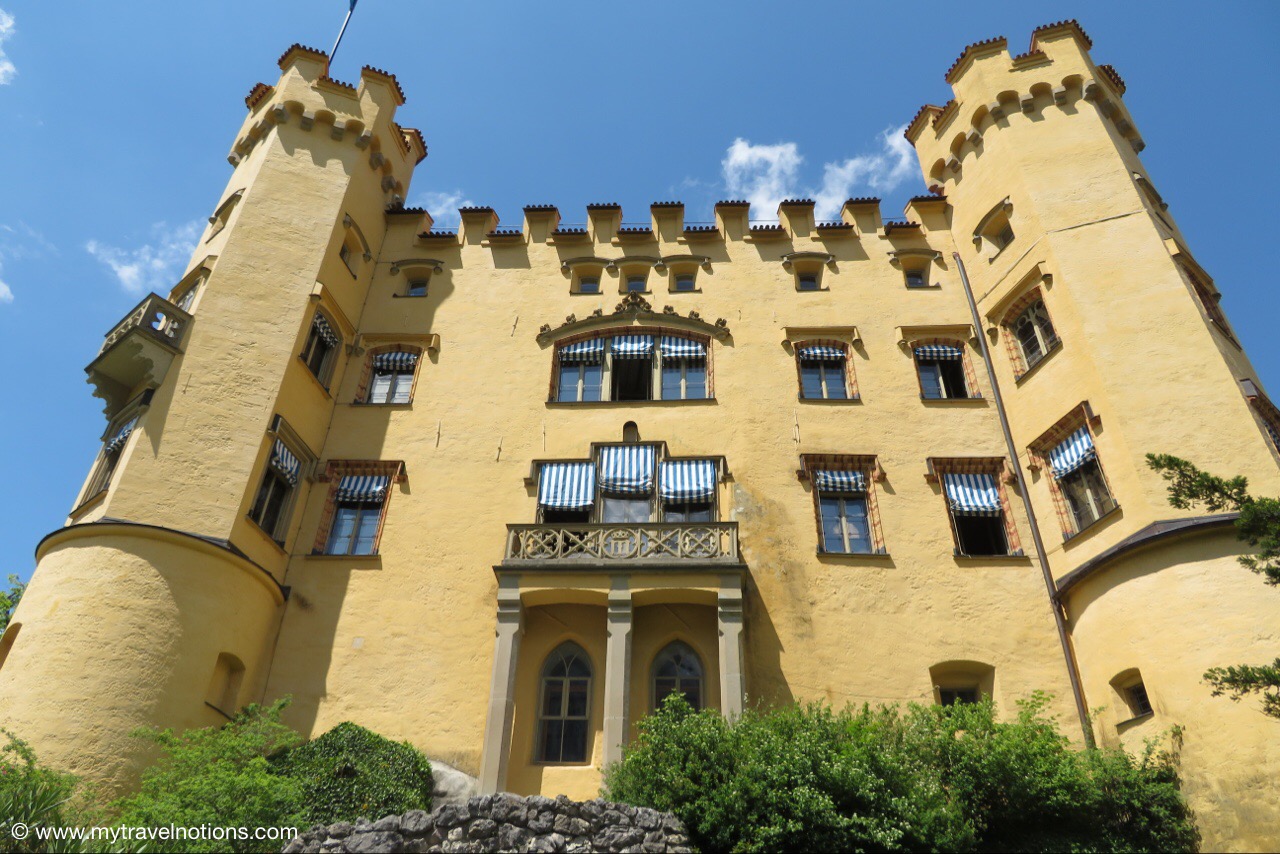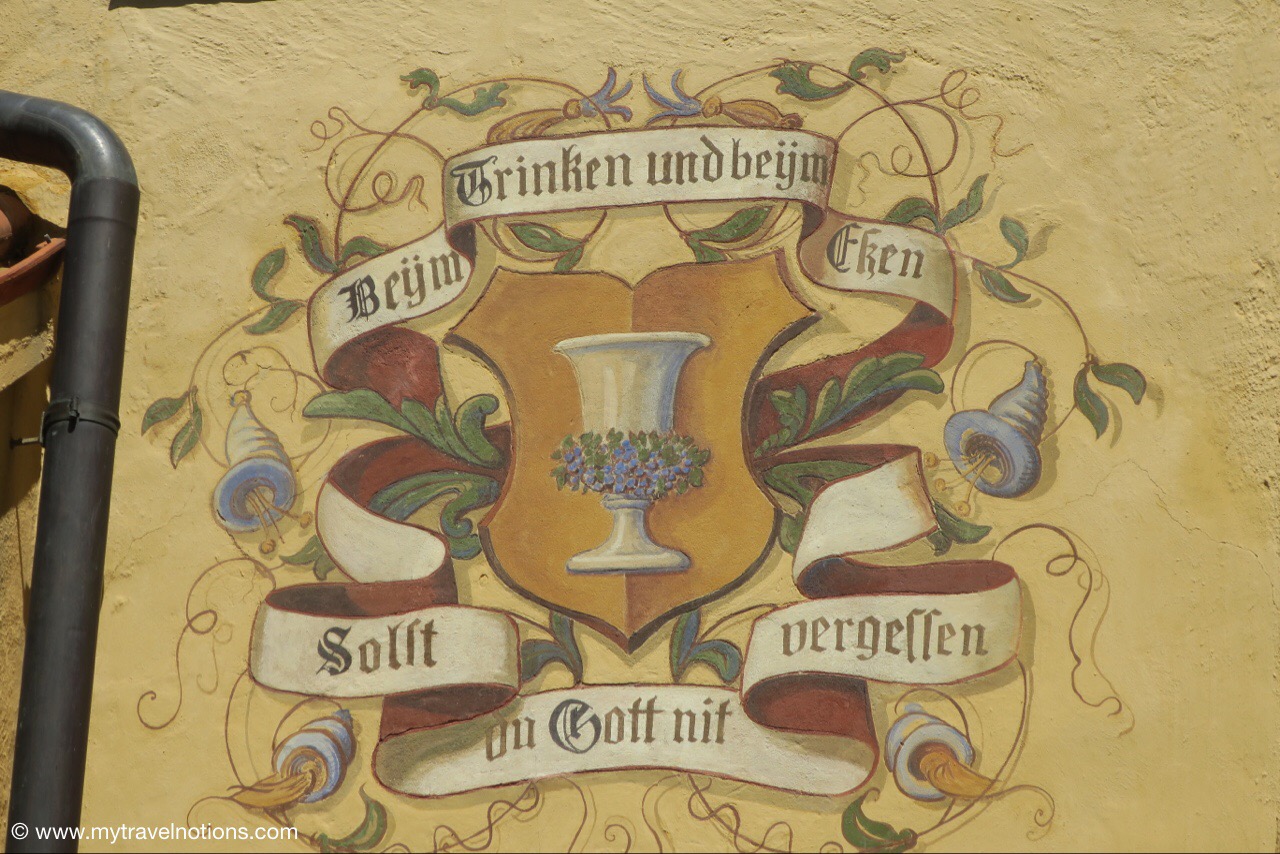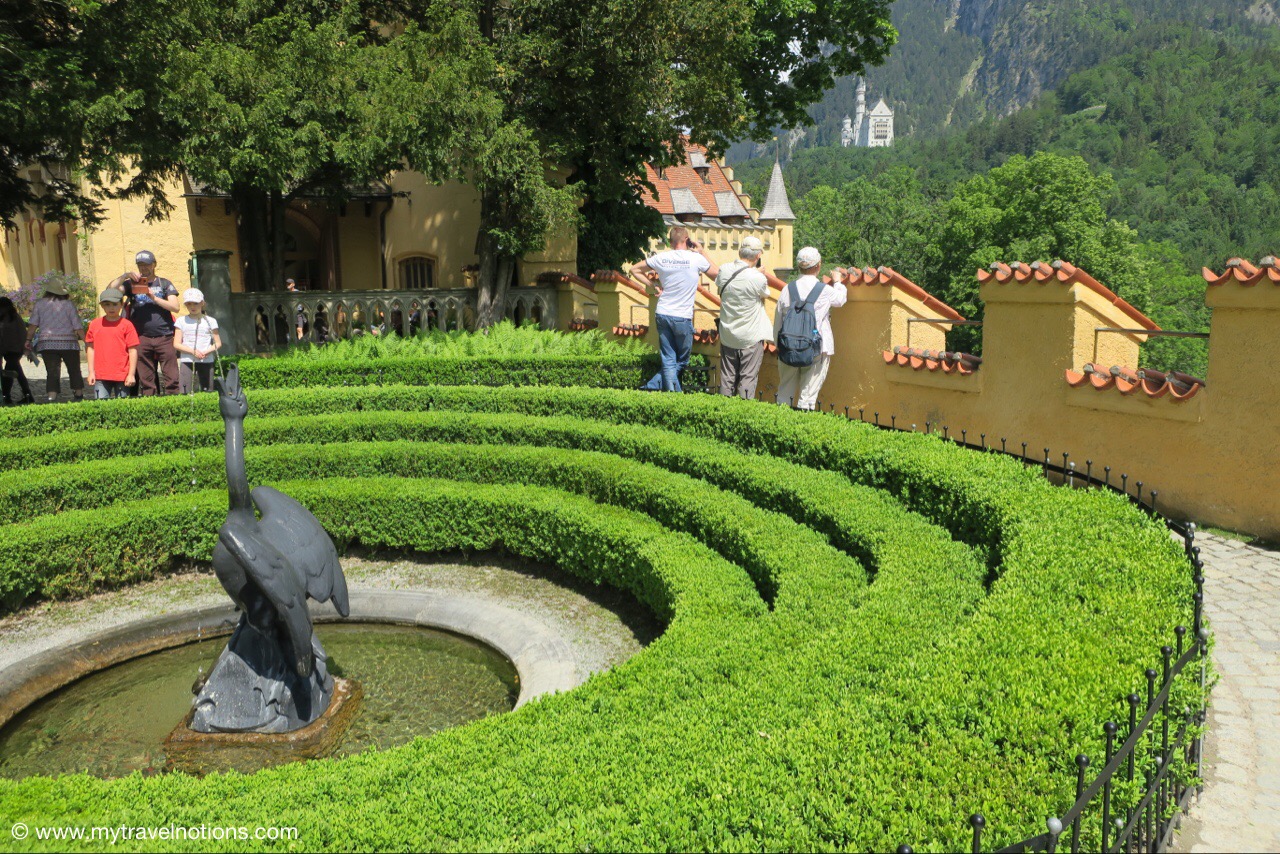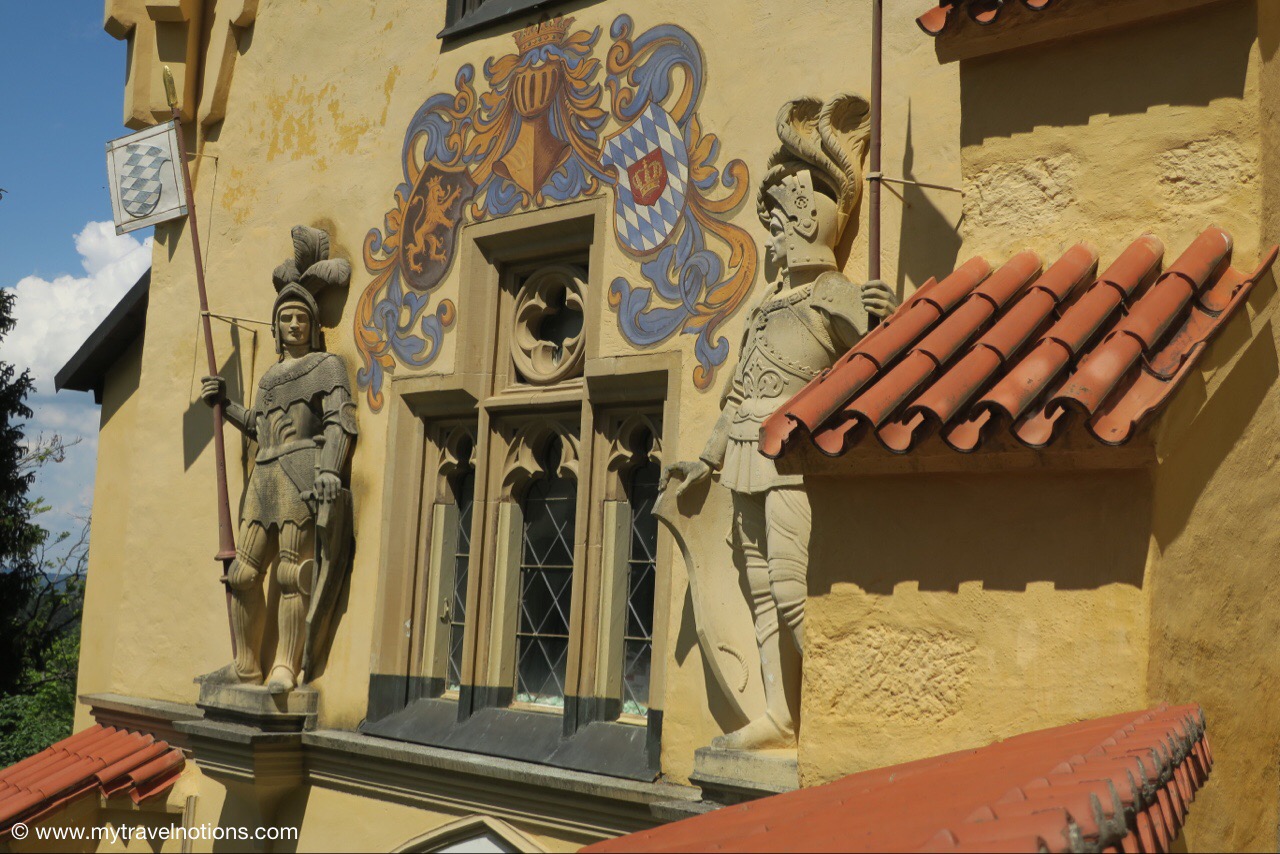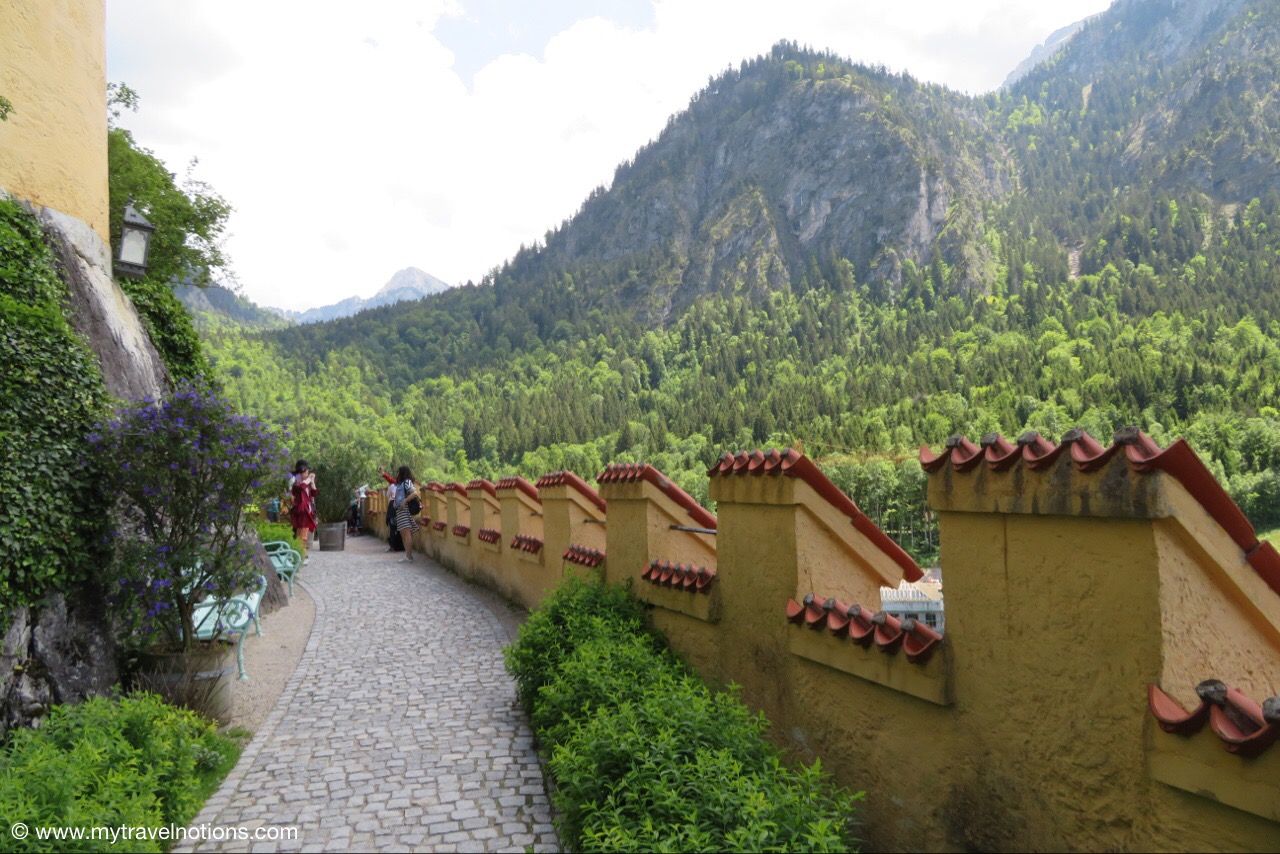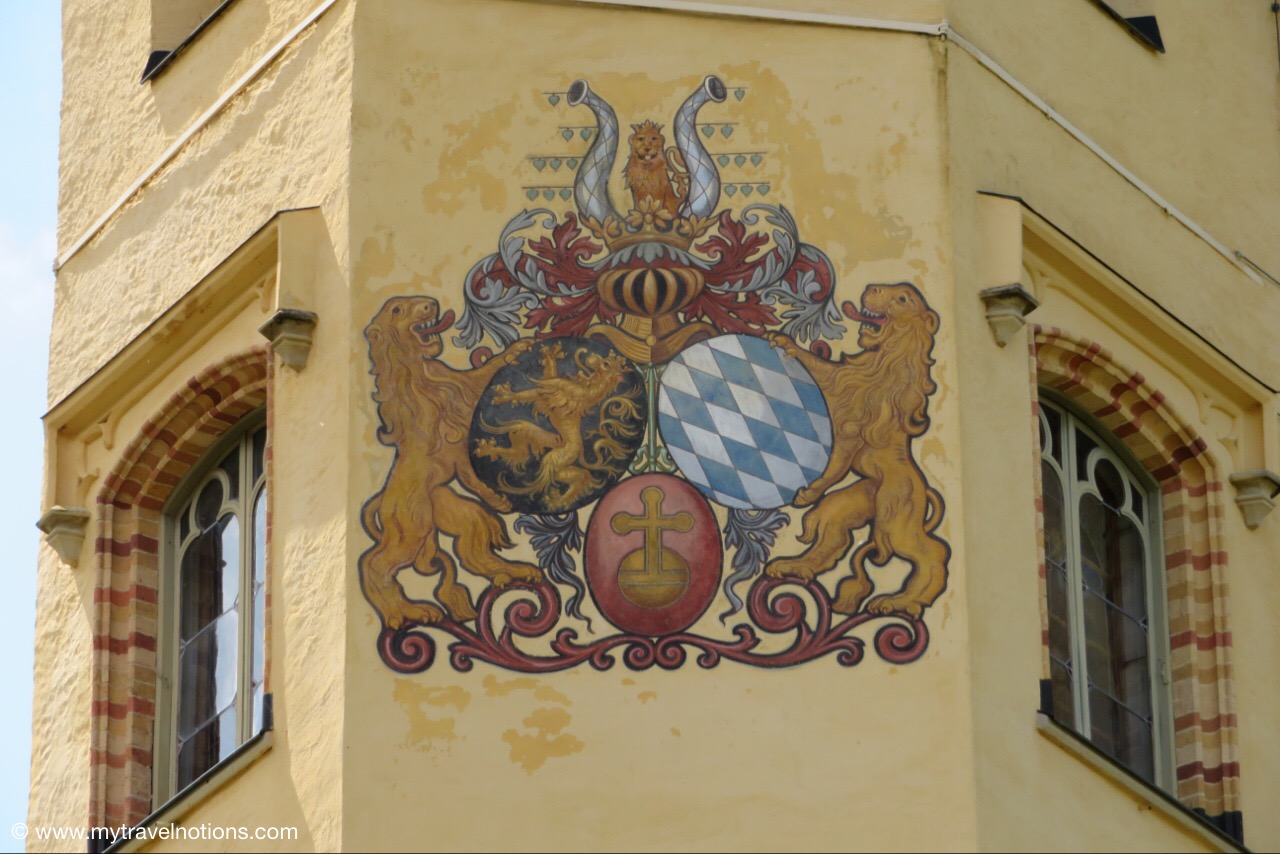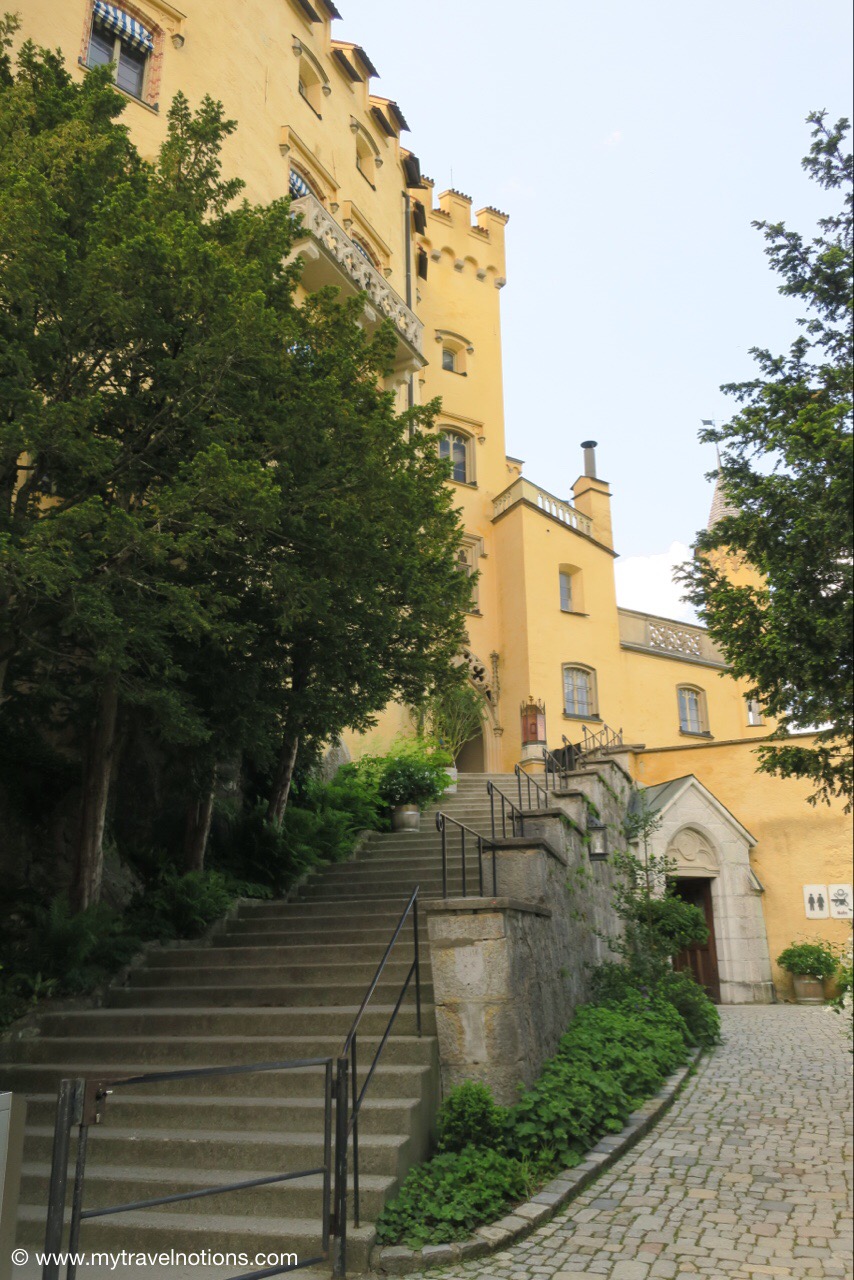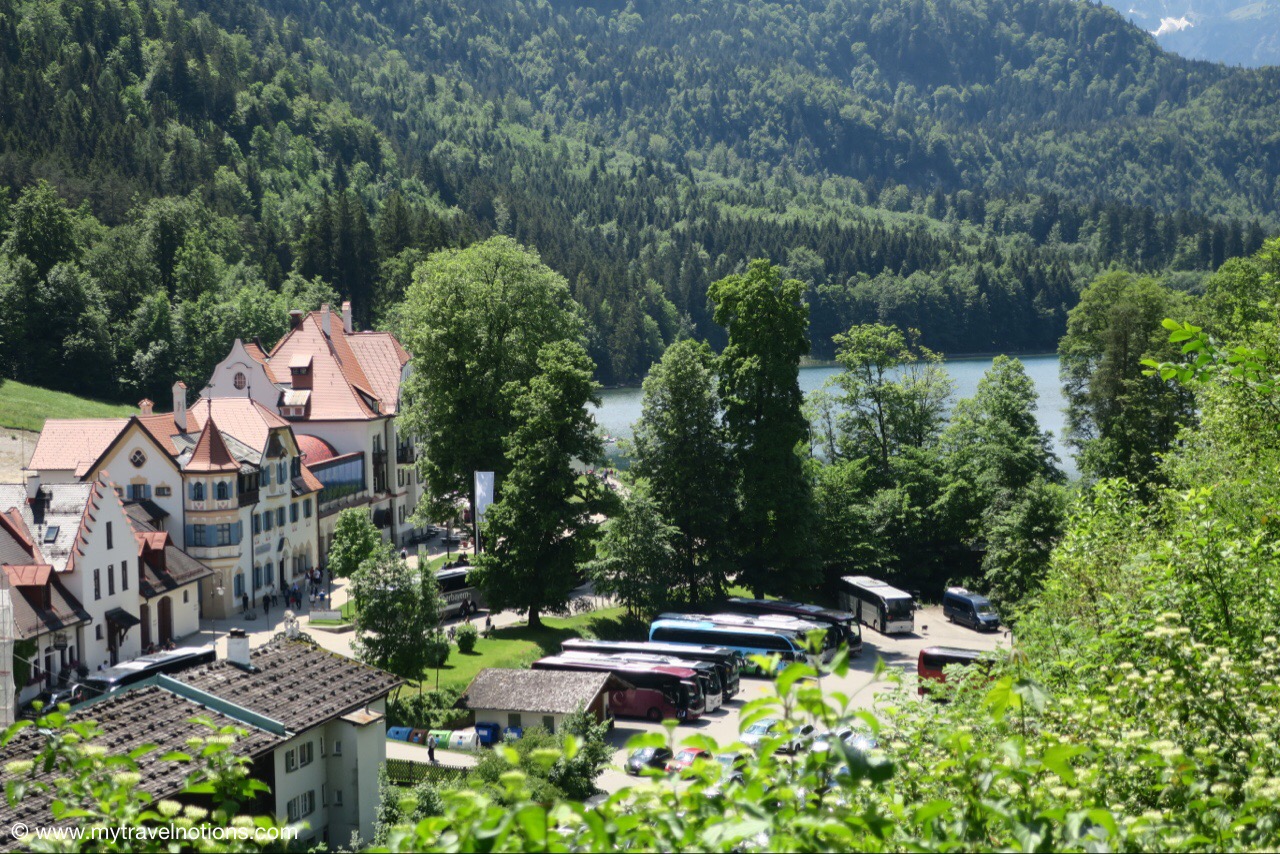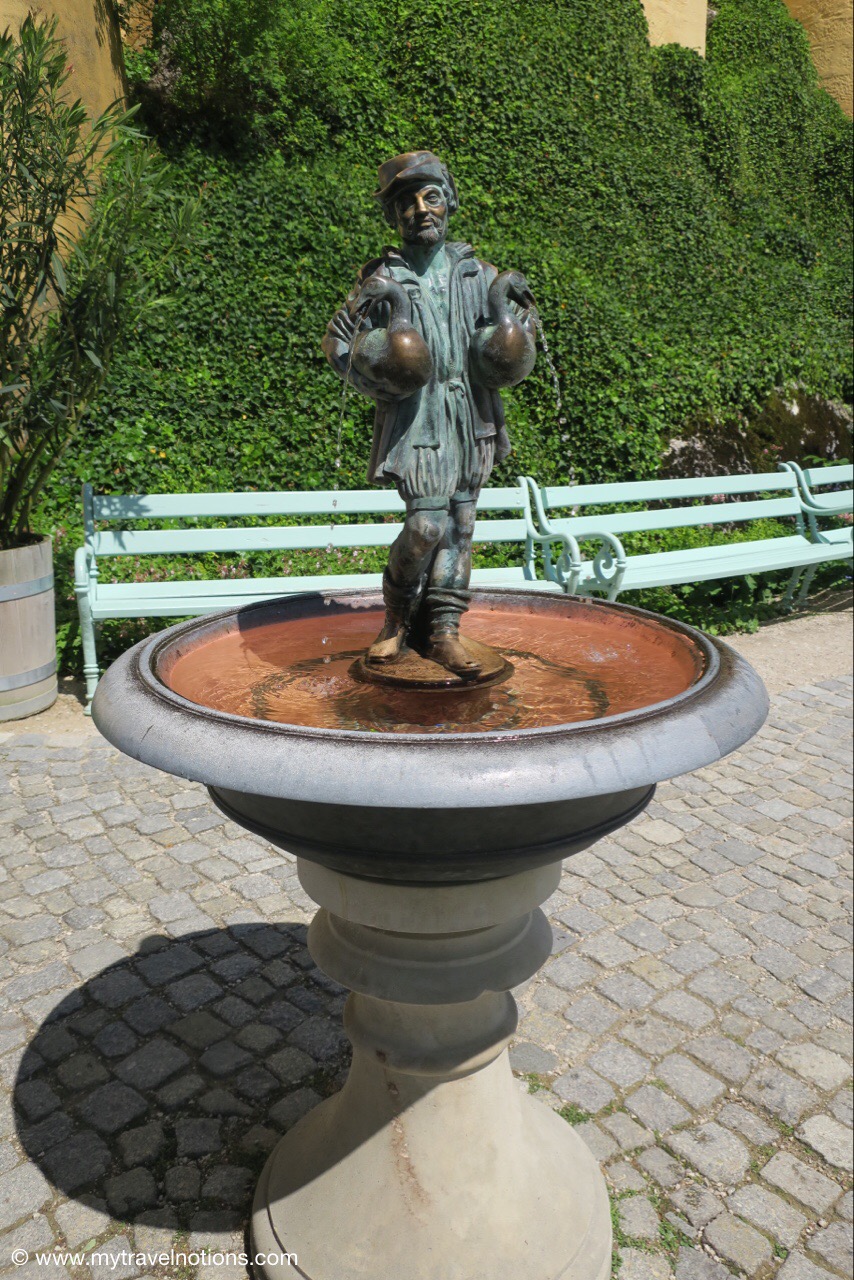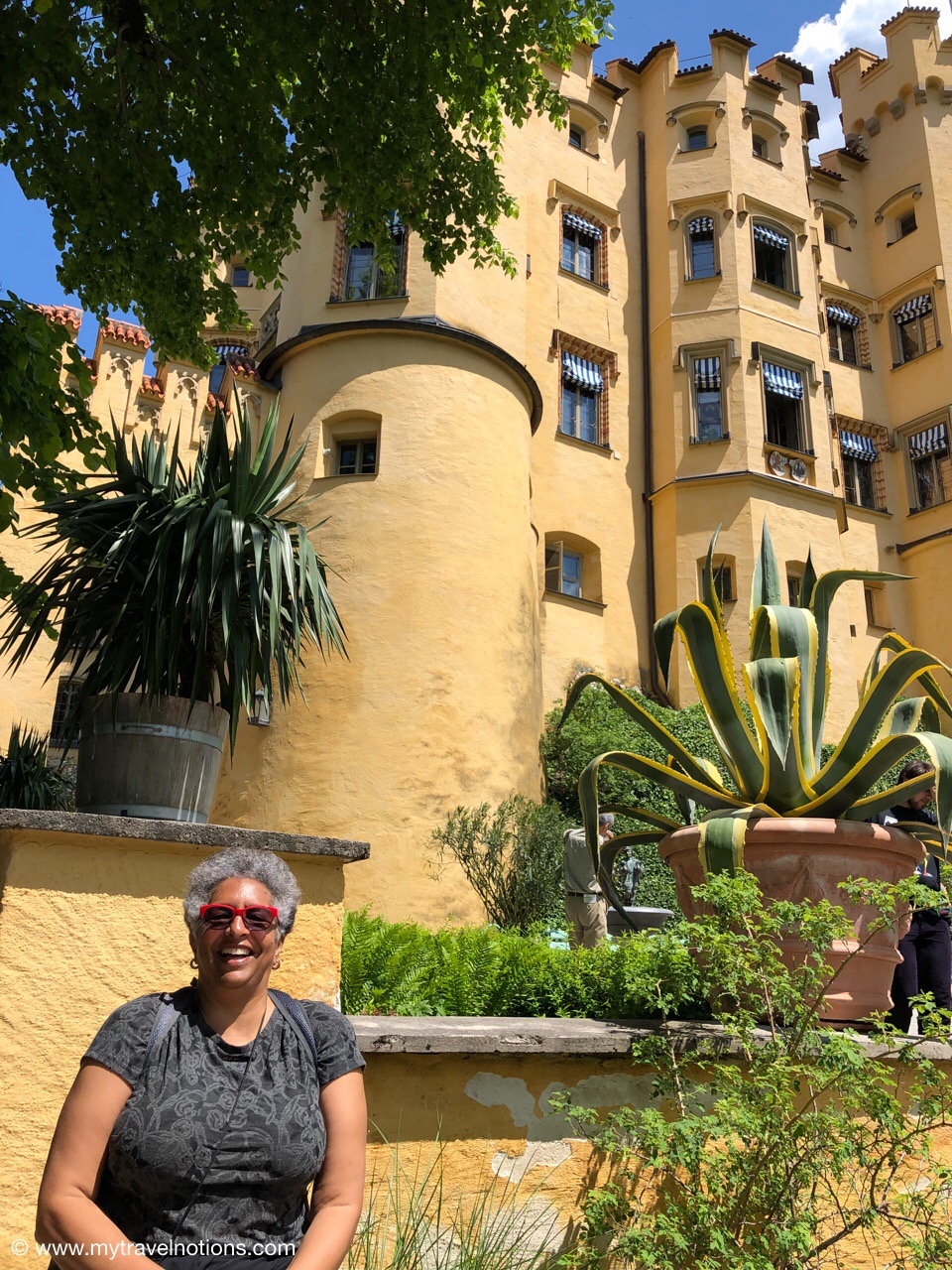 It feels good to be back in Munich again. I was here two years ago as a solo traveler. Walking through the open-air Viktualienmarkt felt comfortable and familiar because I stayed very close to the market and picked up goodies to eat and snack on especially after a long day of site seeing and walking.
Our "Best of Germany" Rick Steves tour group arrived in Munich late Friday afternoon and spent the morning part of today, Saturday, on a walking tour with a local Munich guide.
Although Munich is known for its annual Oktoberfest celebration and its beer halls, I like the feel of how it mixes its old with its new. It's a modern, thriving city that feels rooted in history. Plus, I so appreciate its pedestrian zoned areas.
Tomorrow, we make our way to "Luther Country," in Erfurt for two nights. That's Martin Luther, the German priest who set the stage for the Protestant Reformation. And, there's always a stop along the way, and that stop is Nurnberg. But for now, here's a taste of Munich.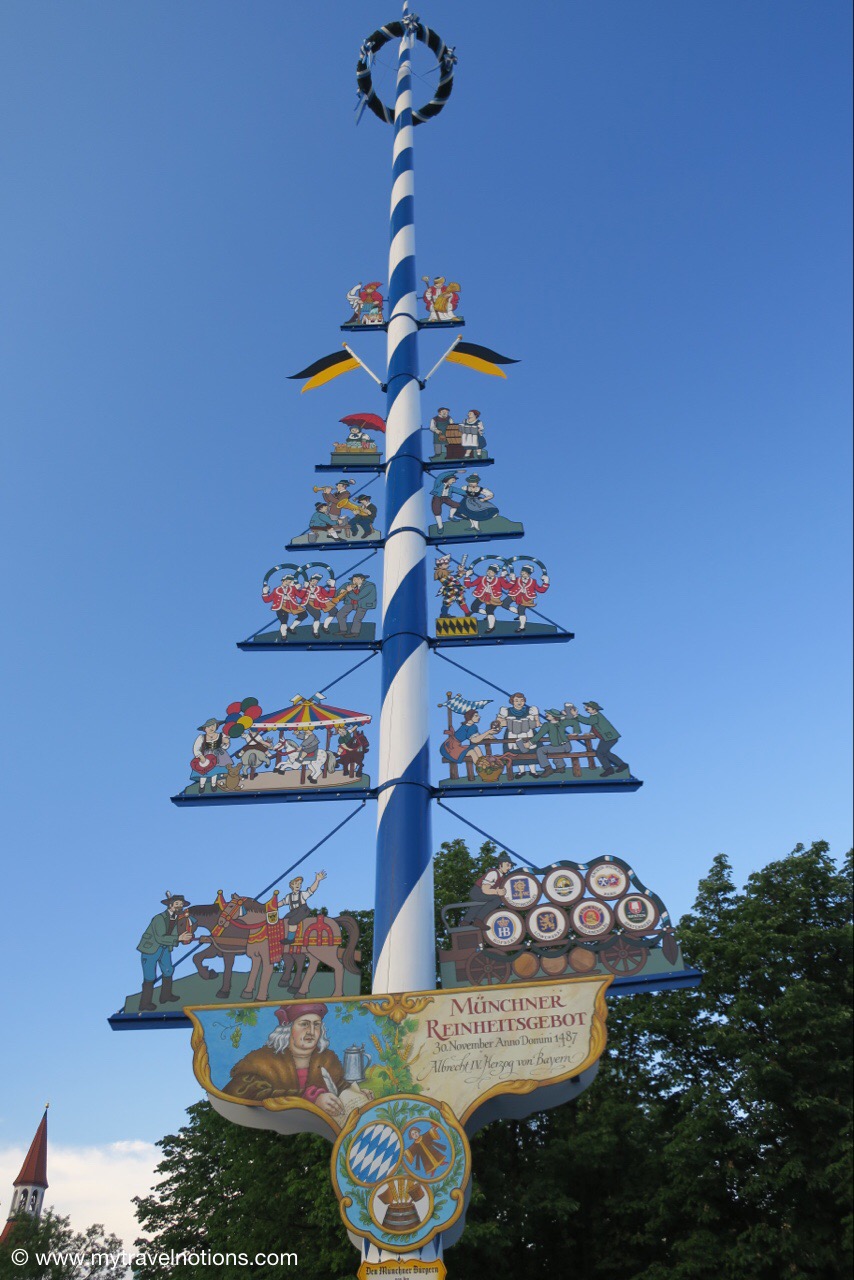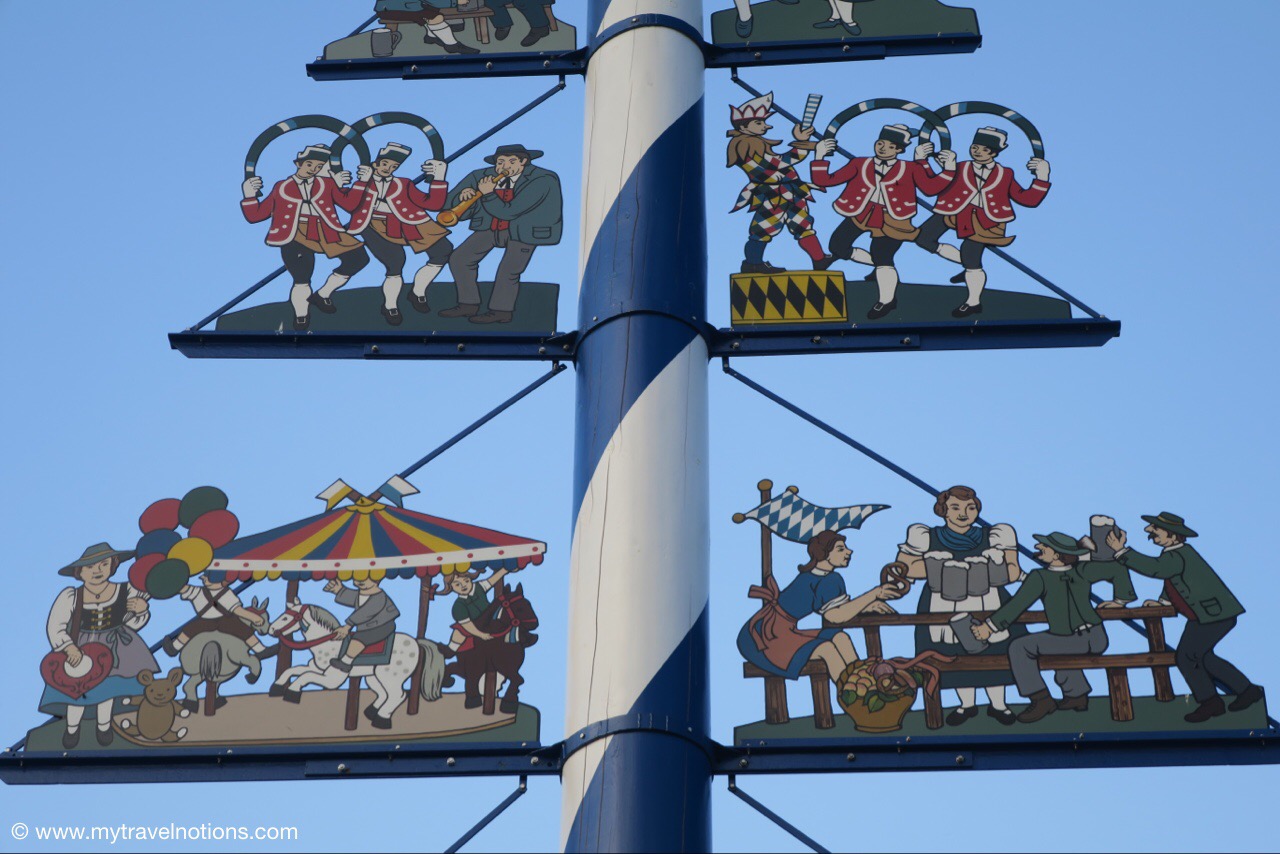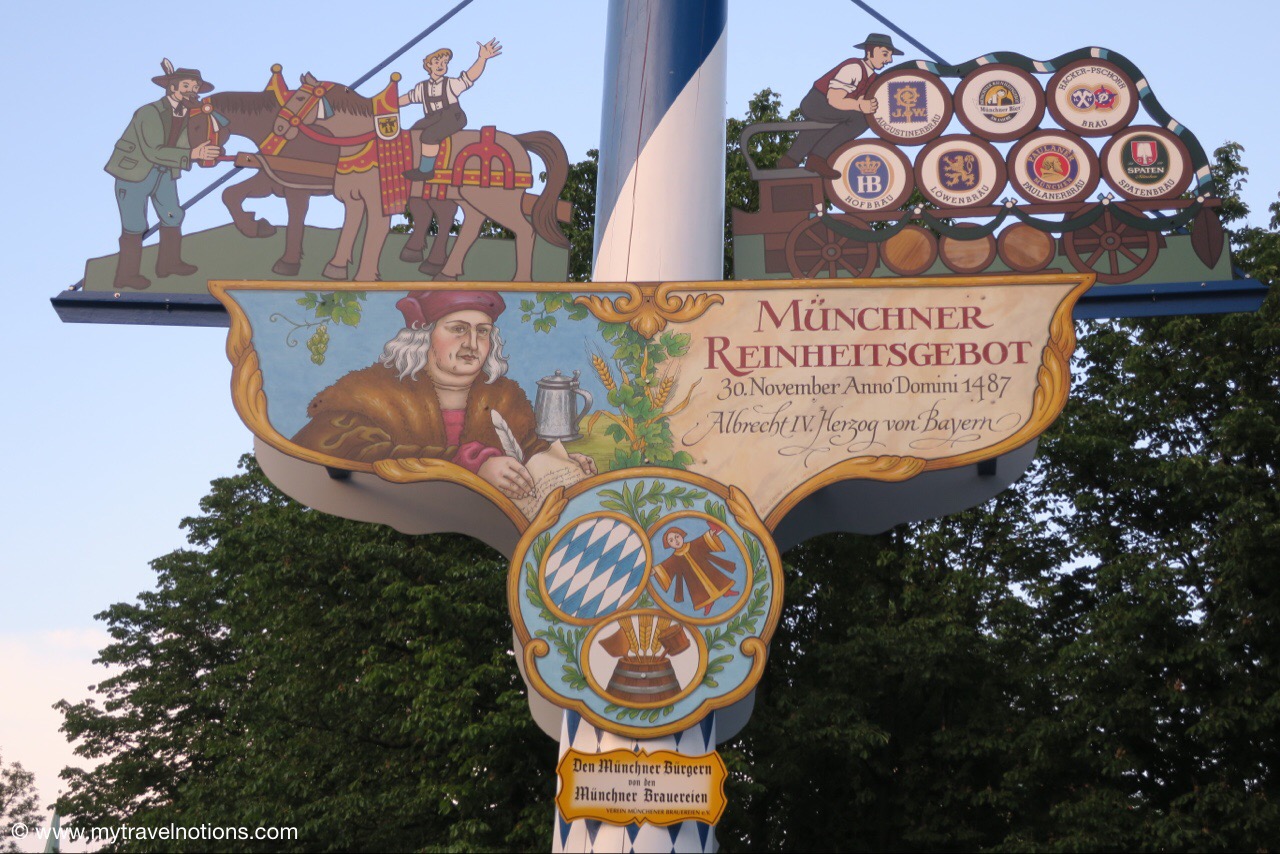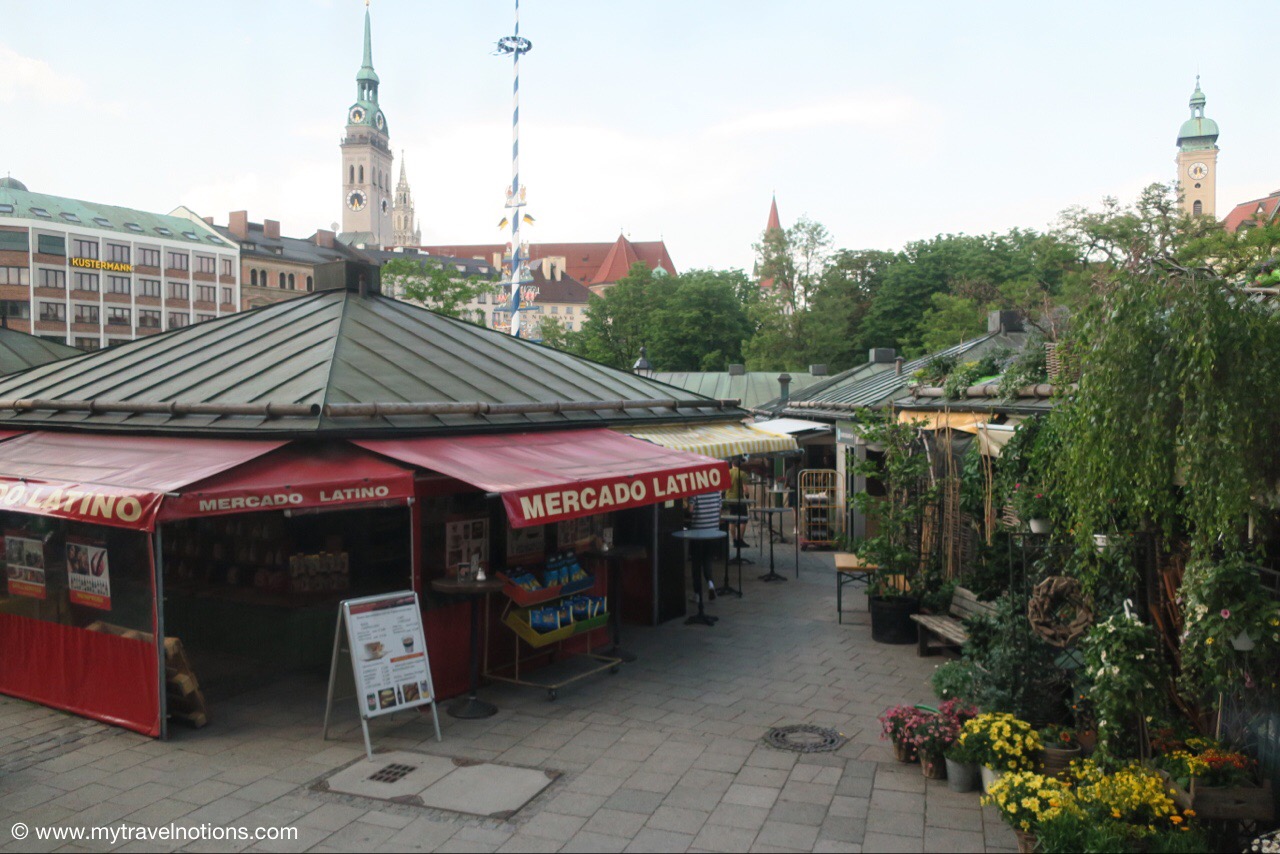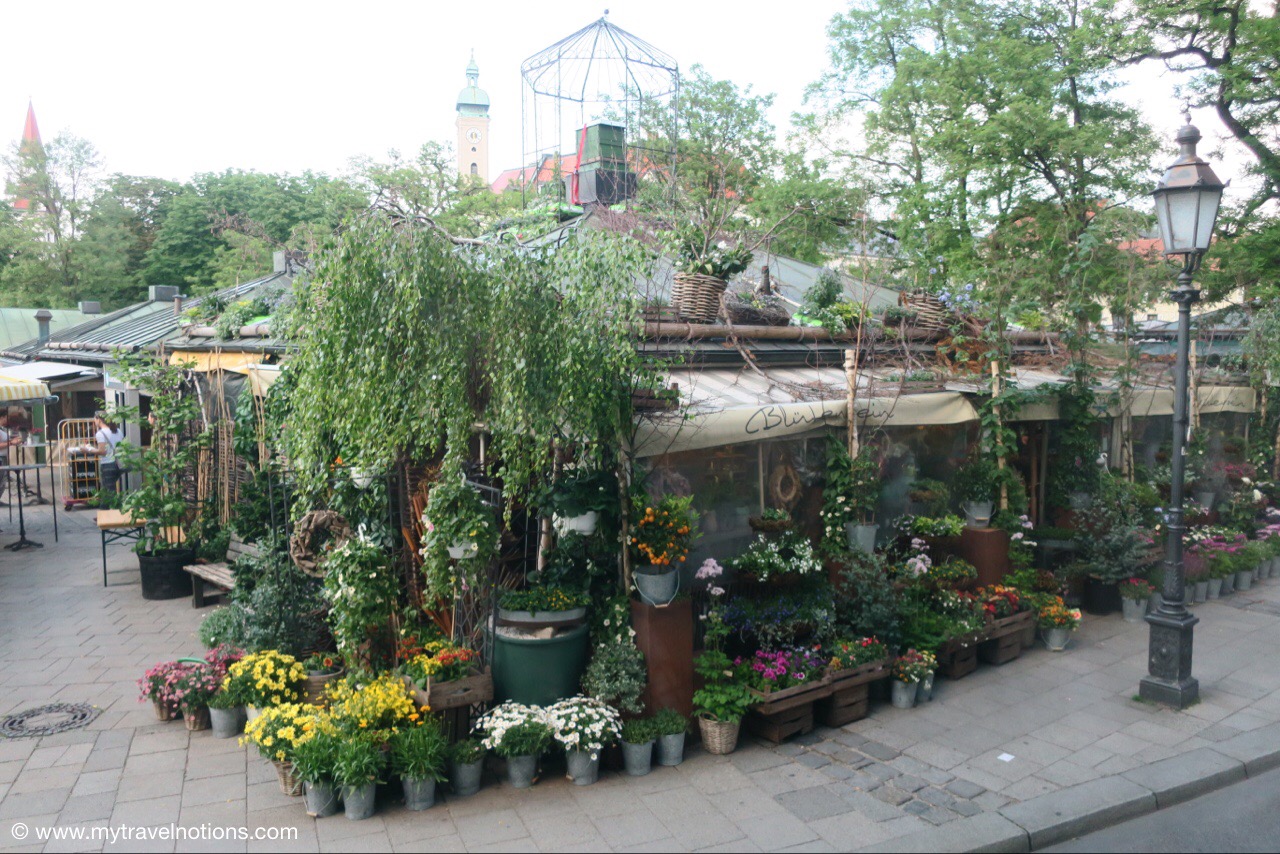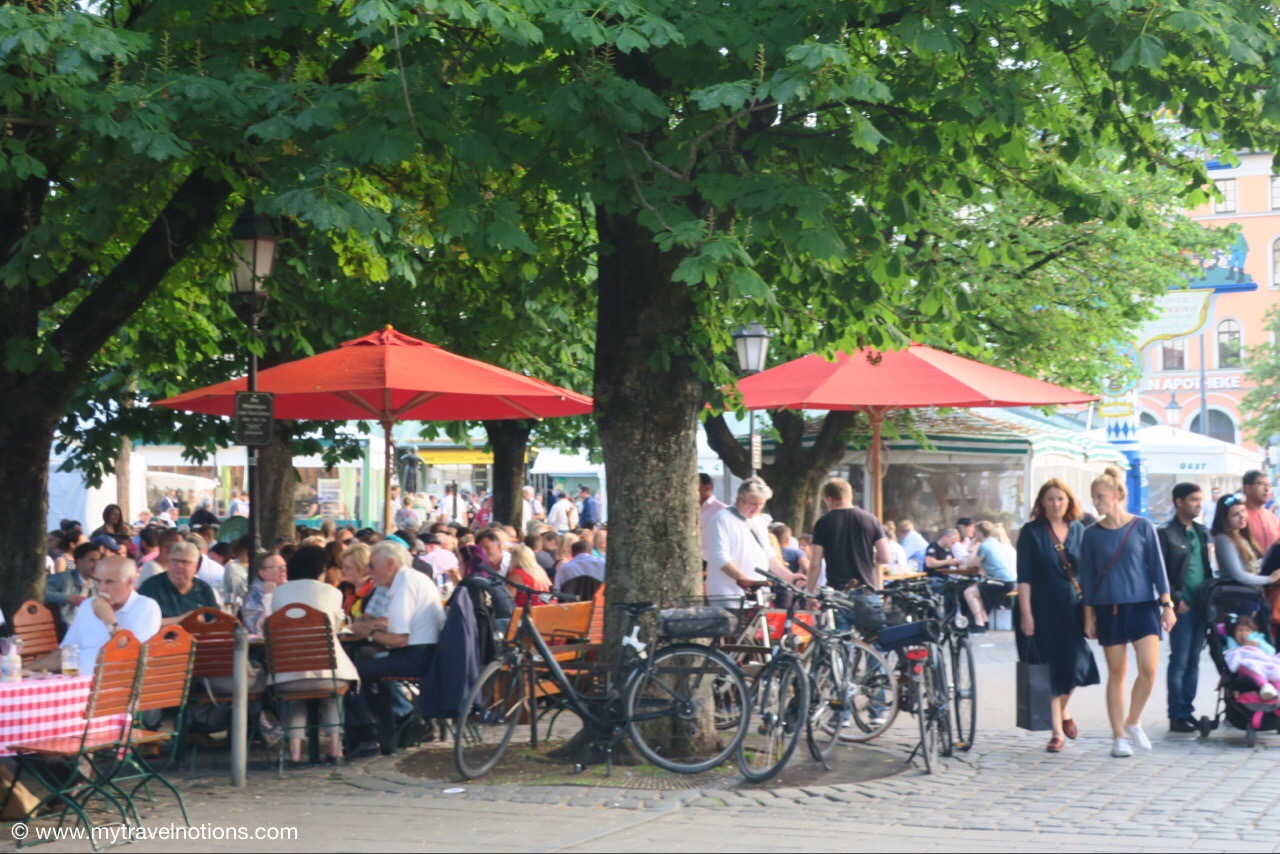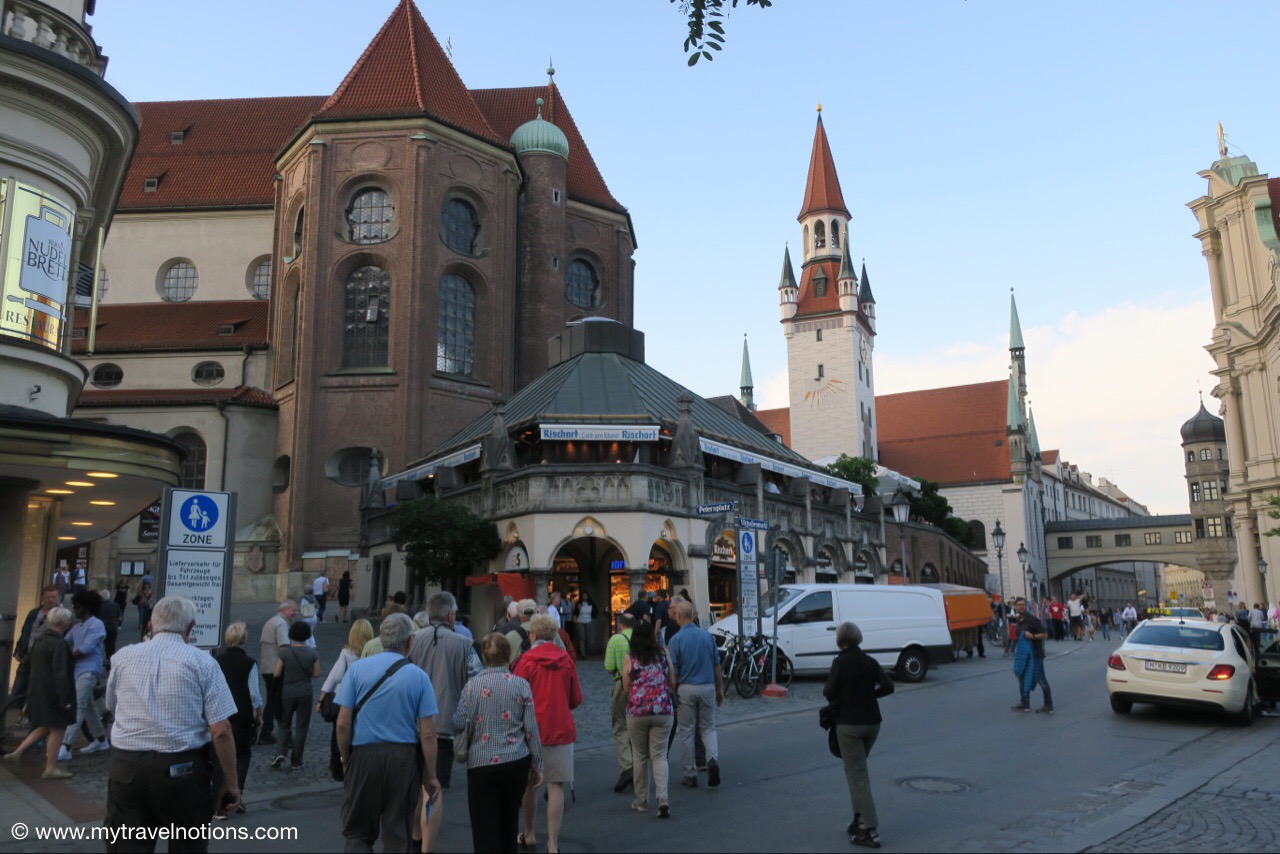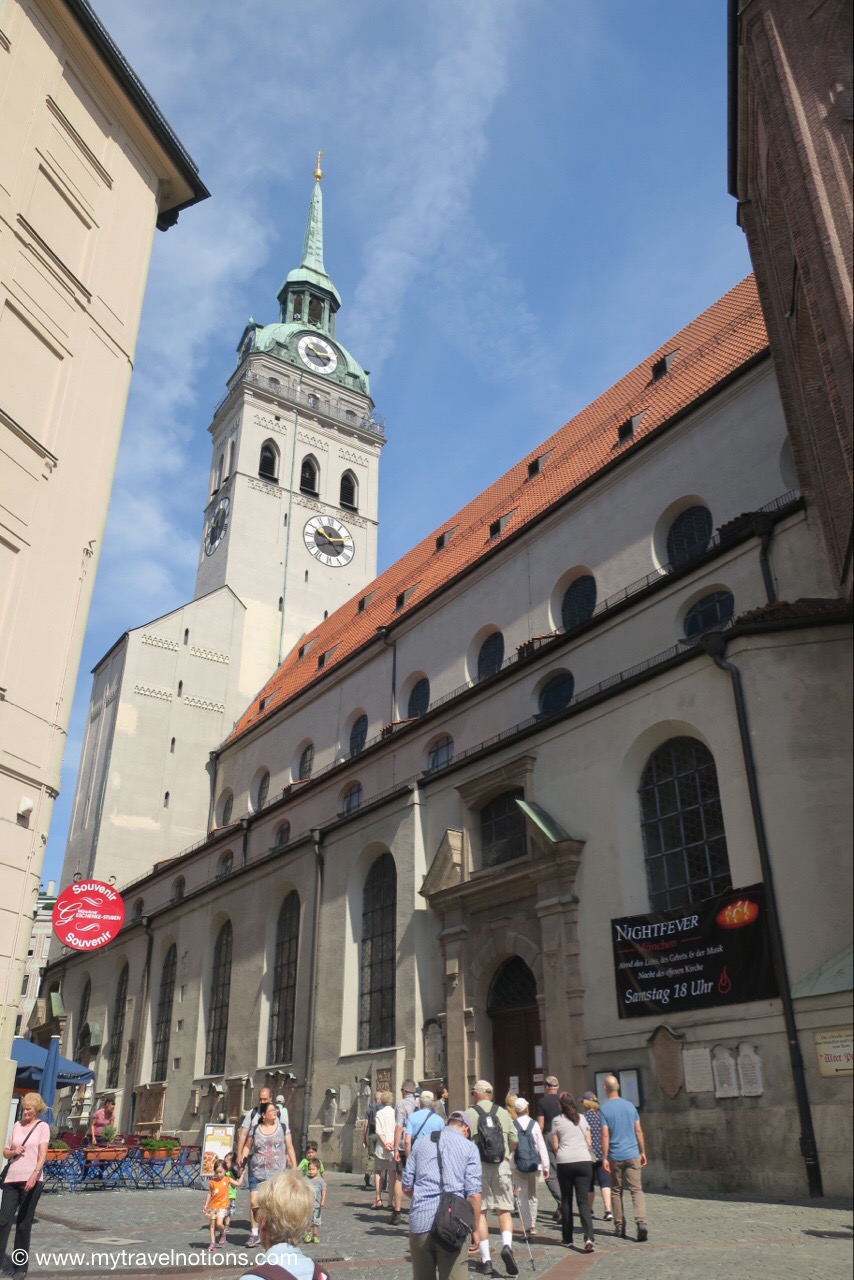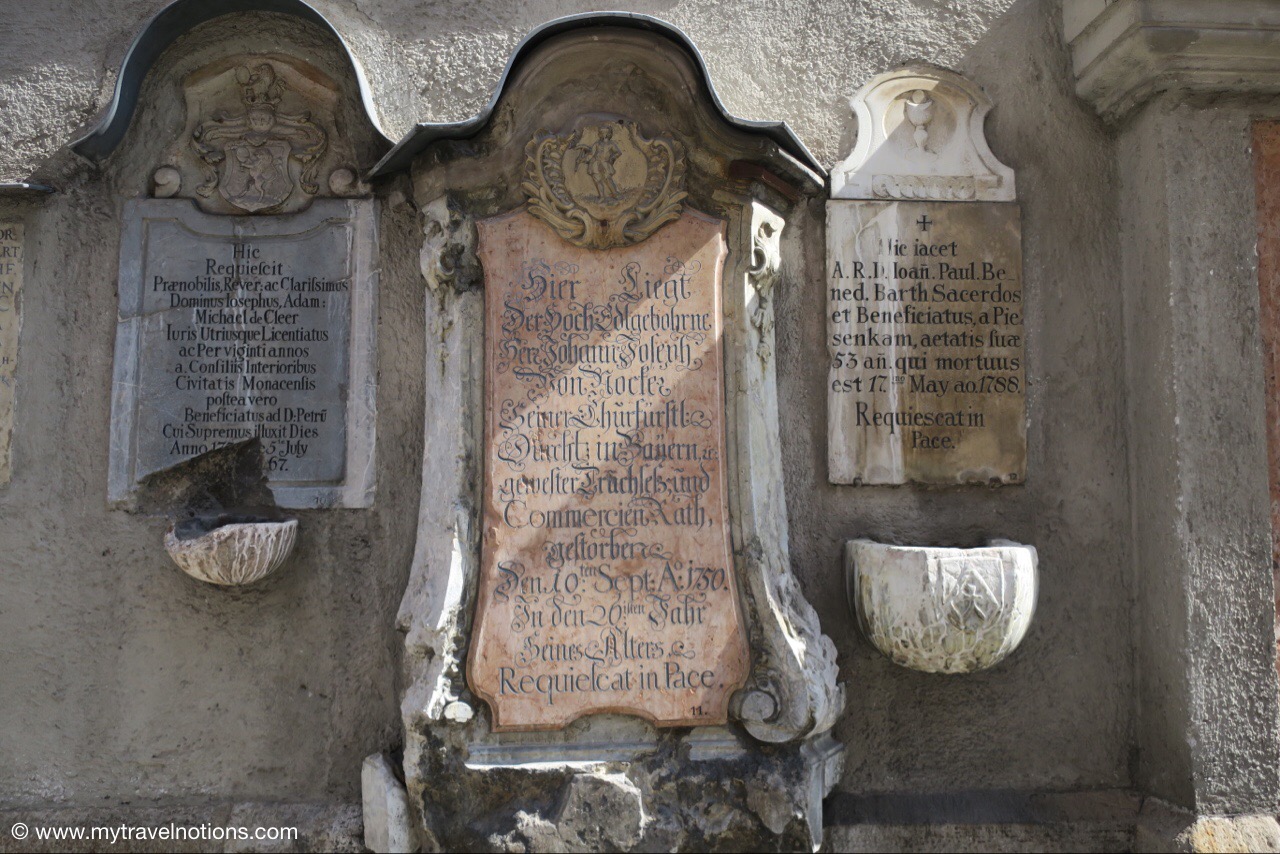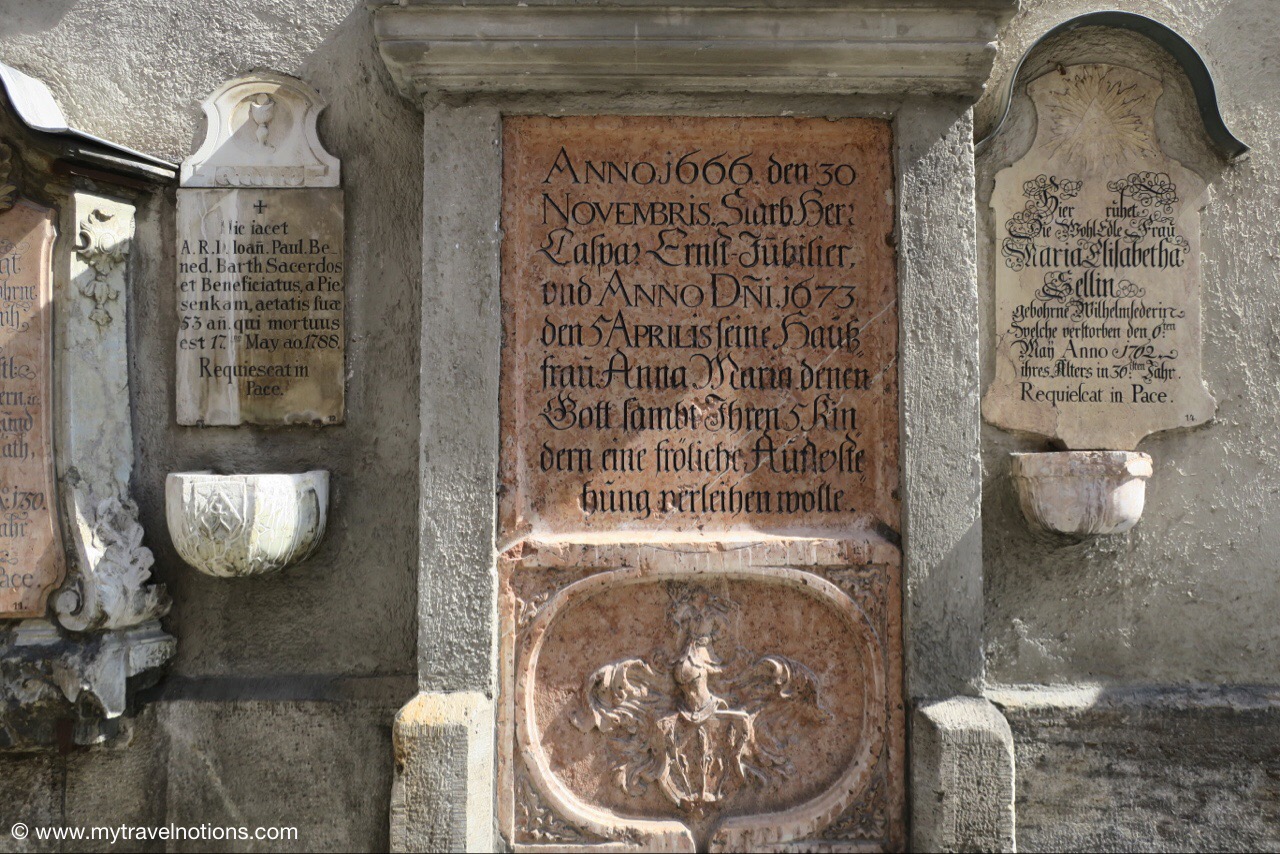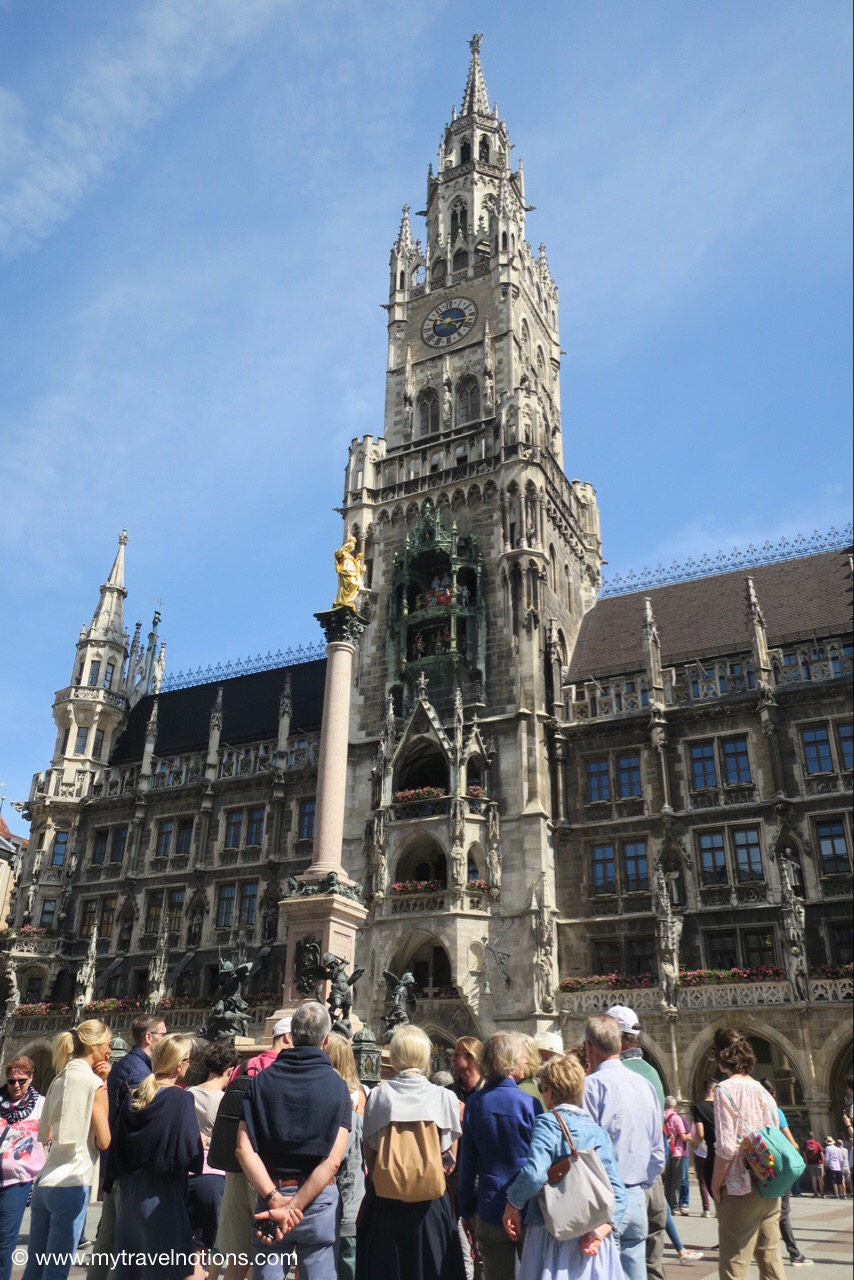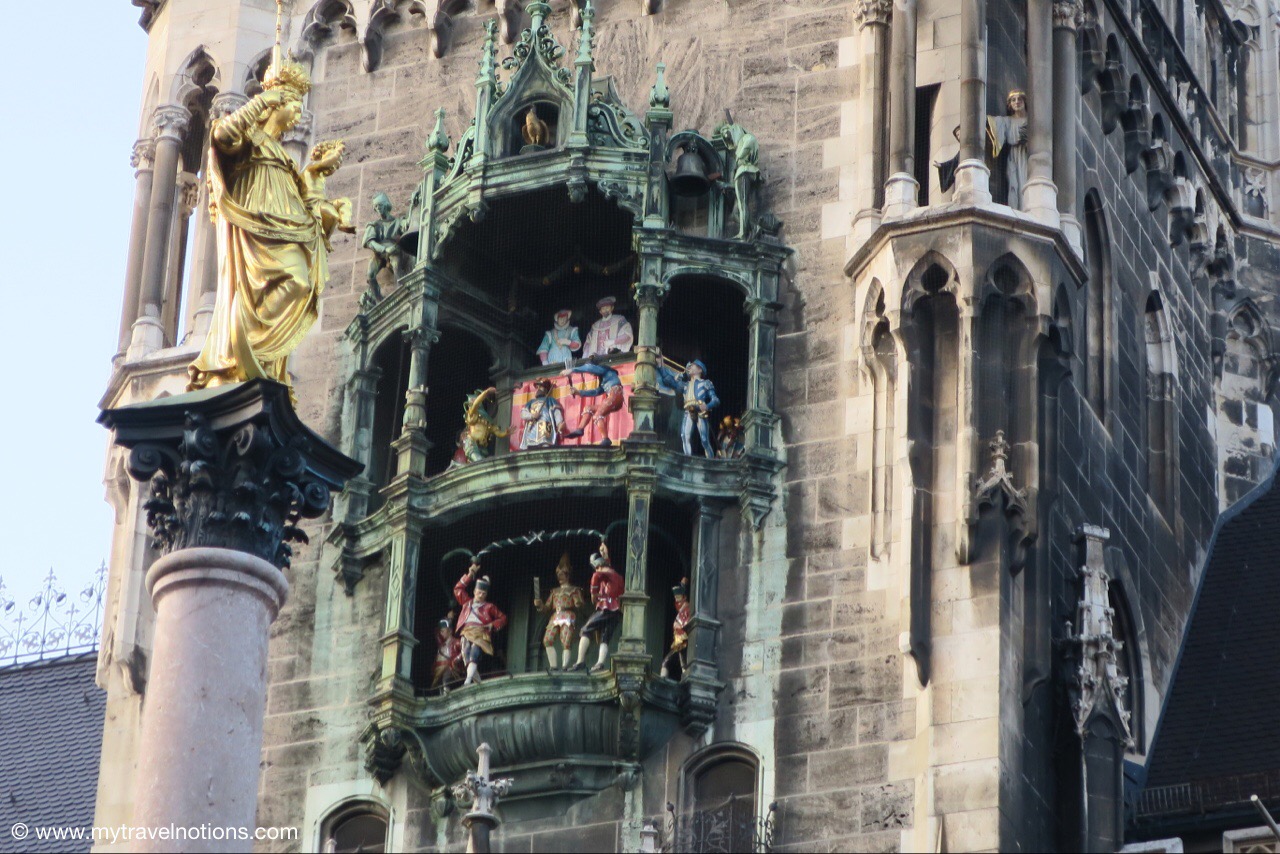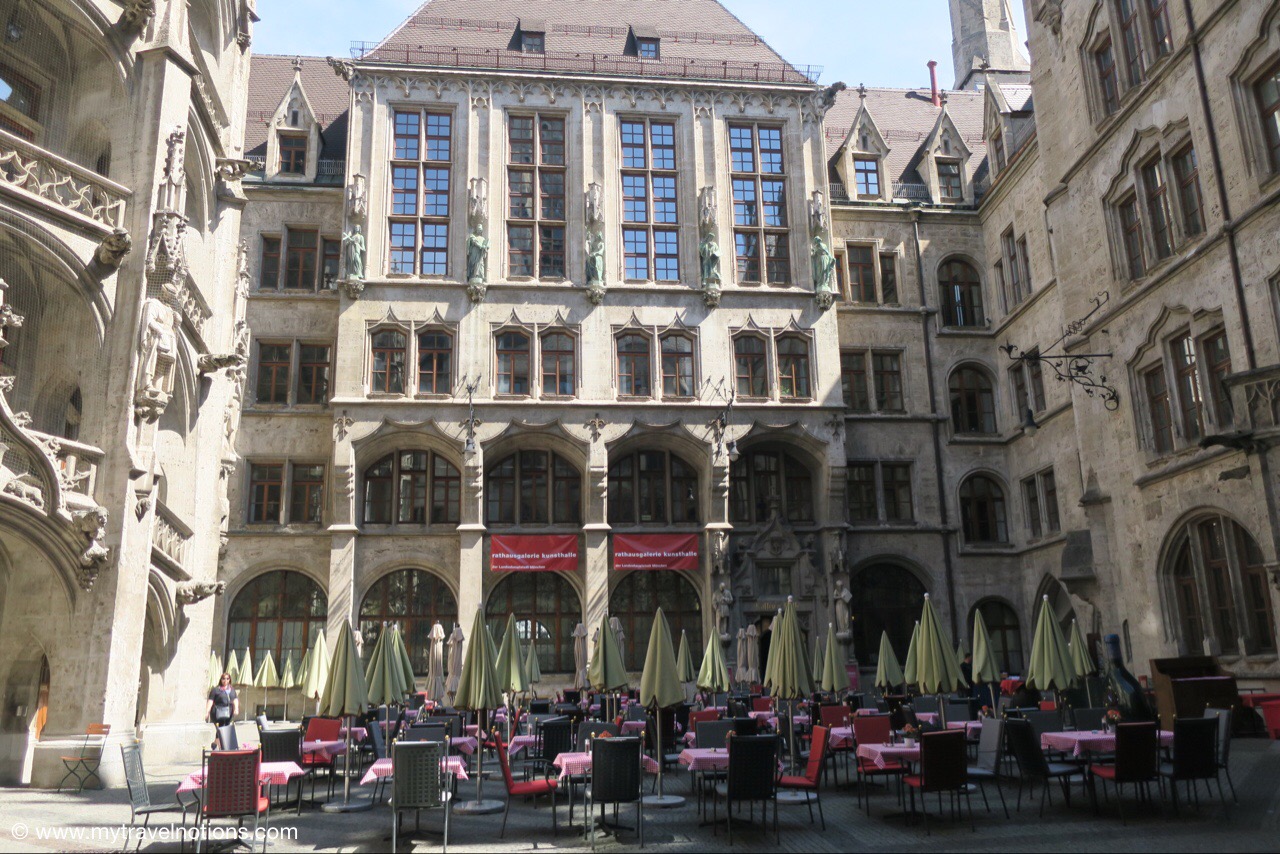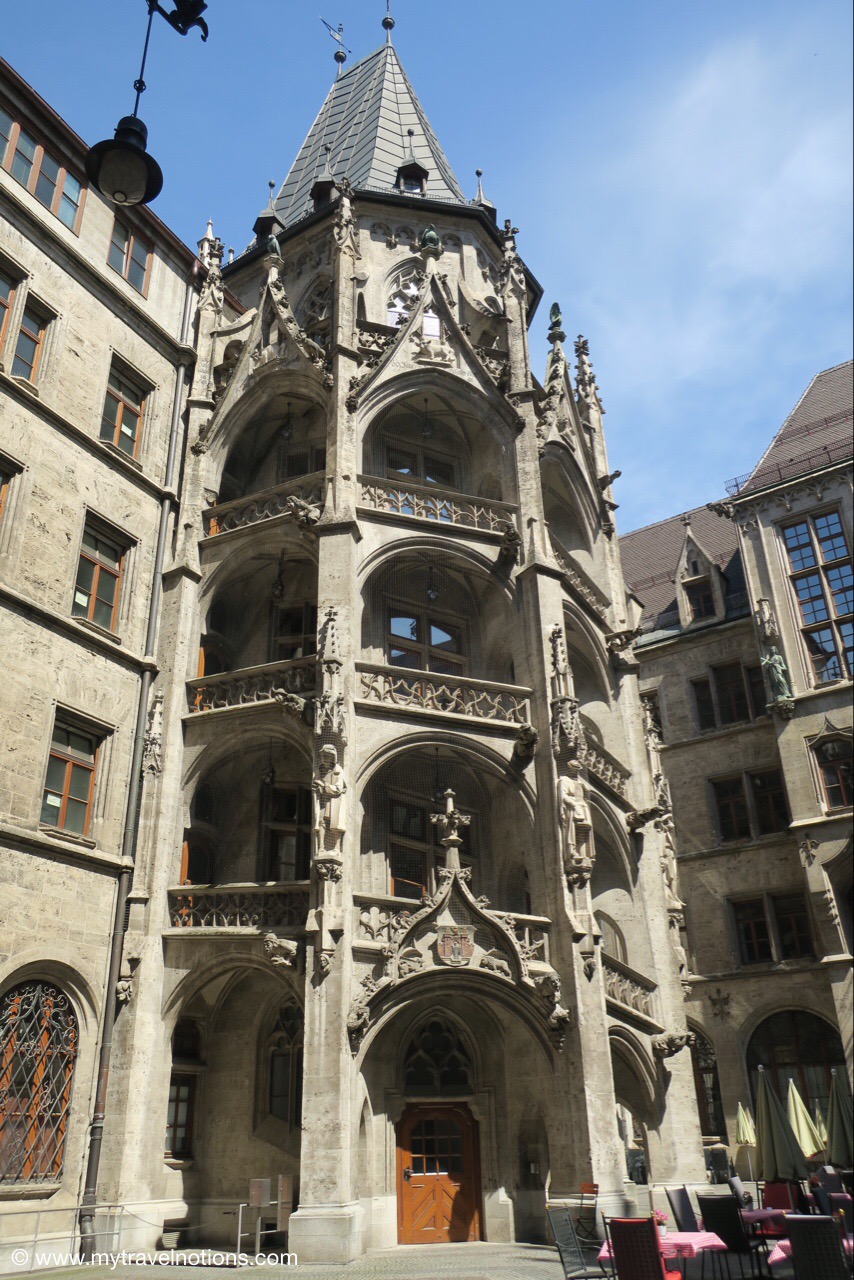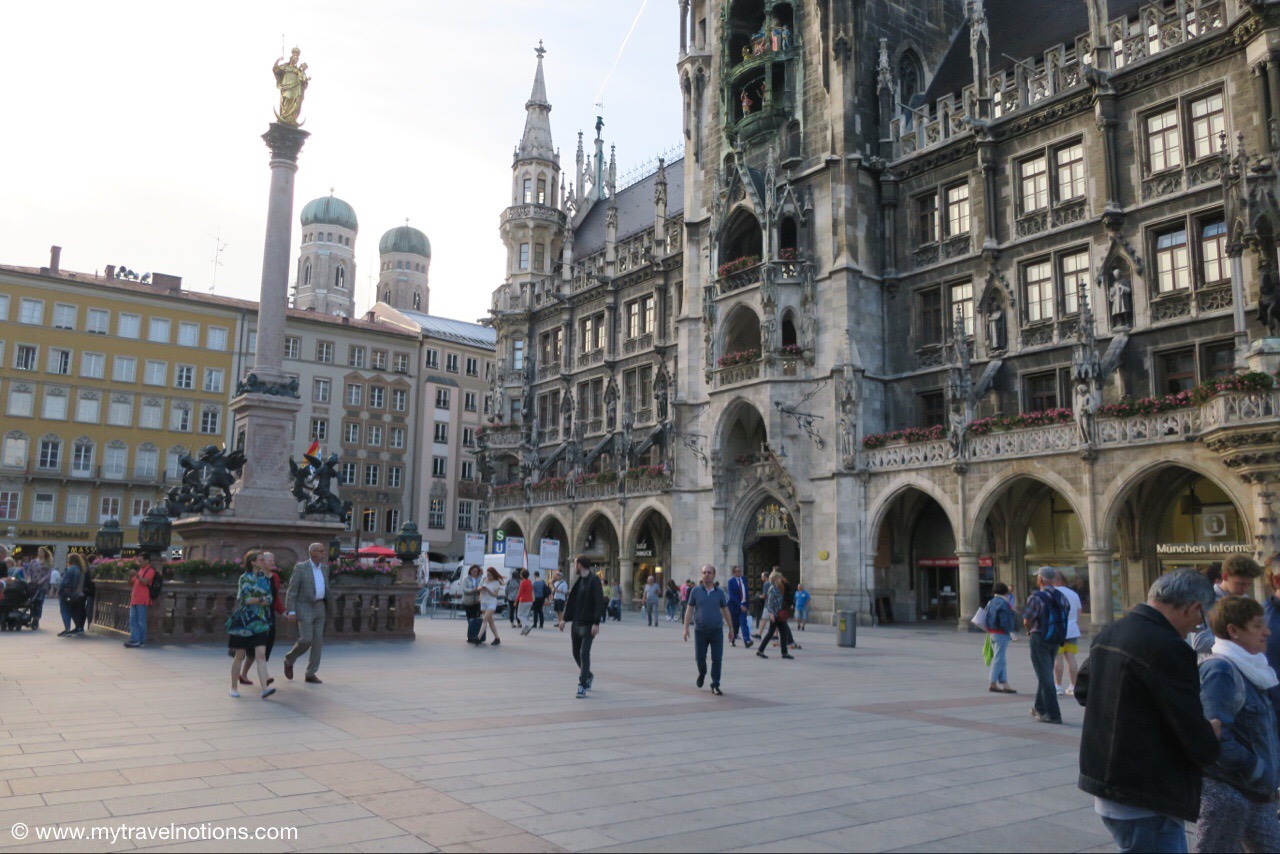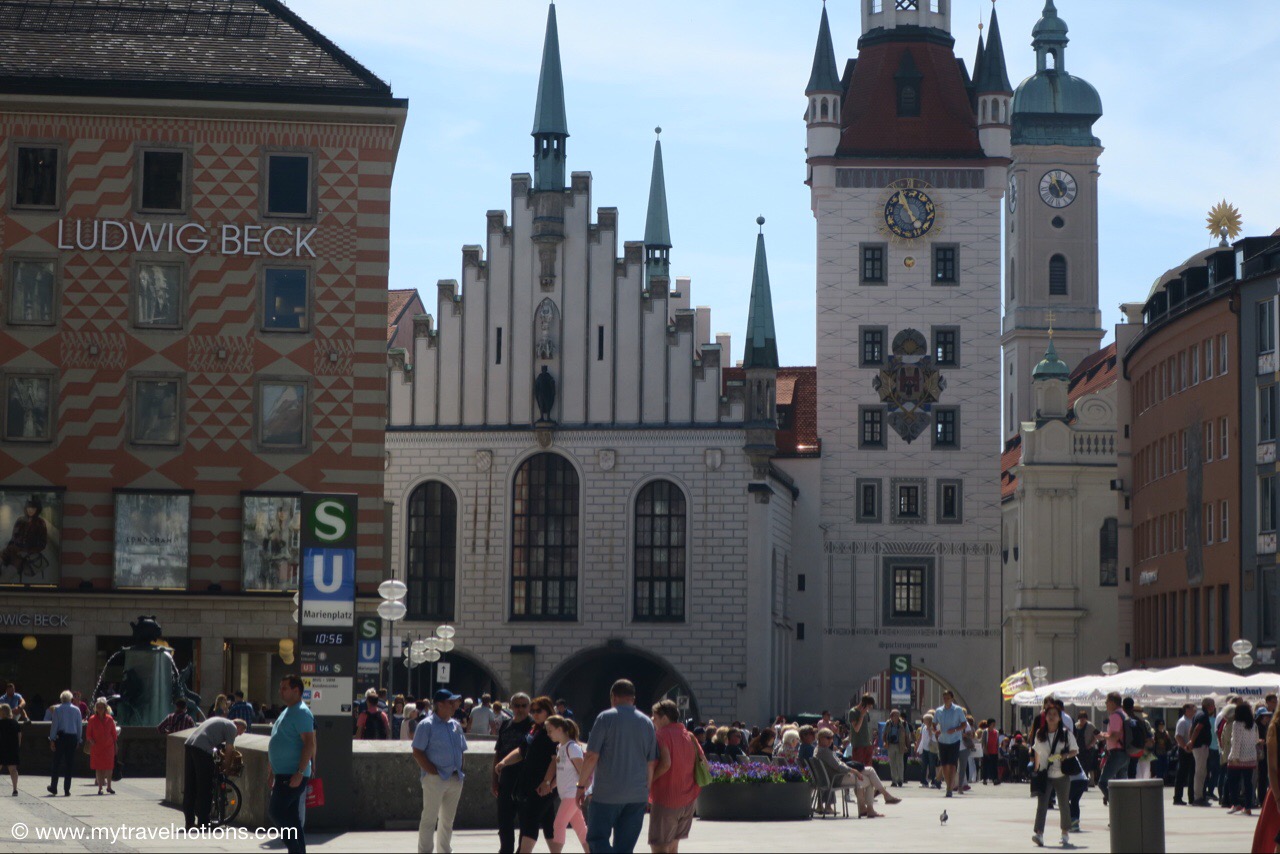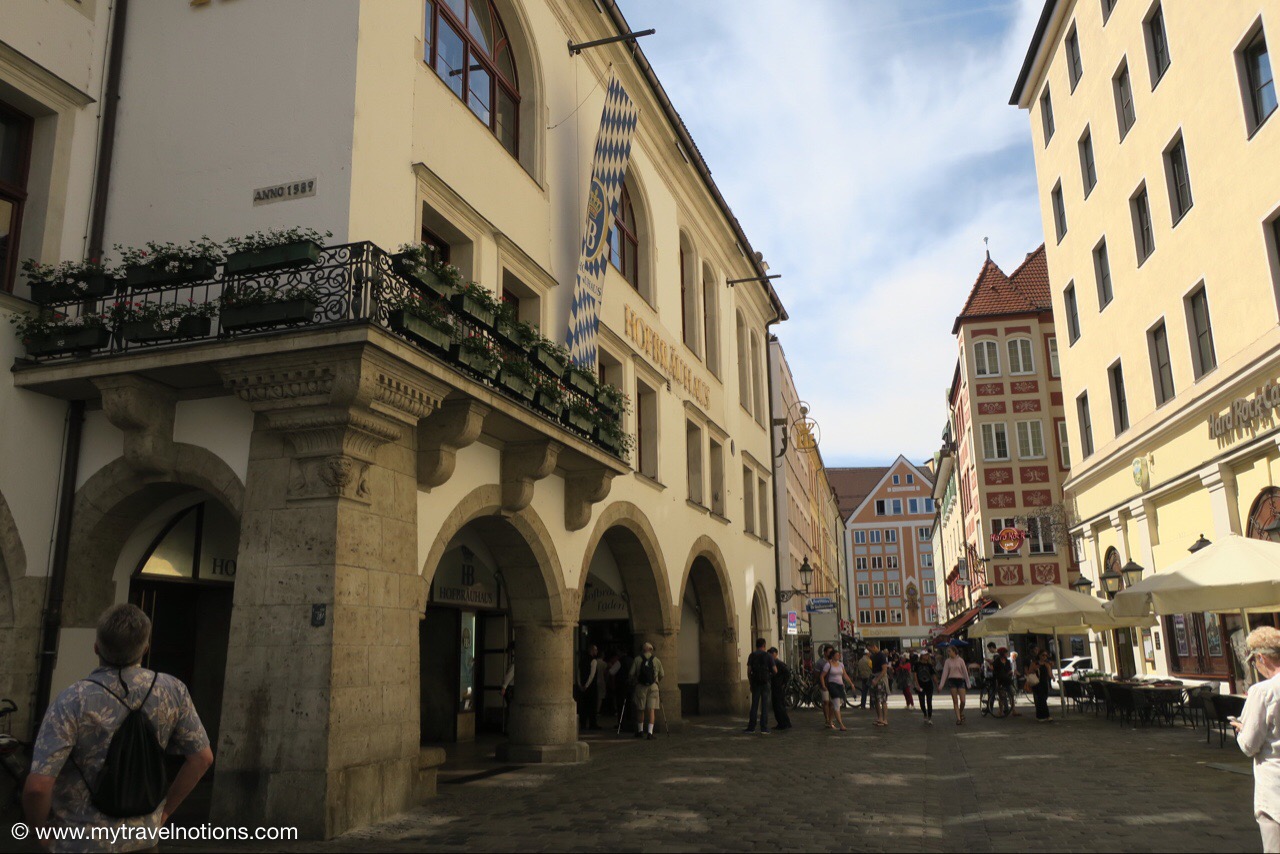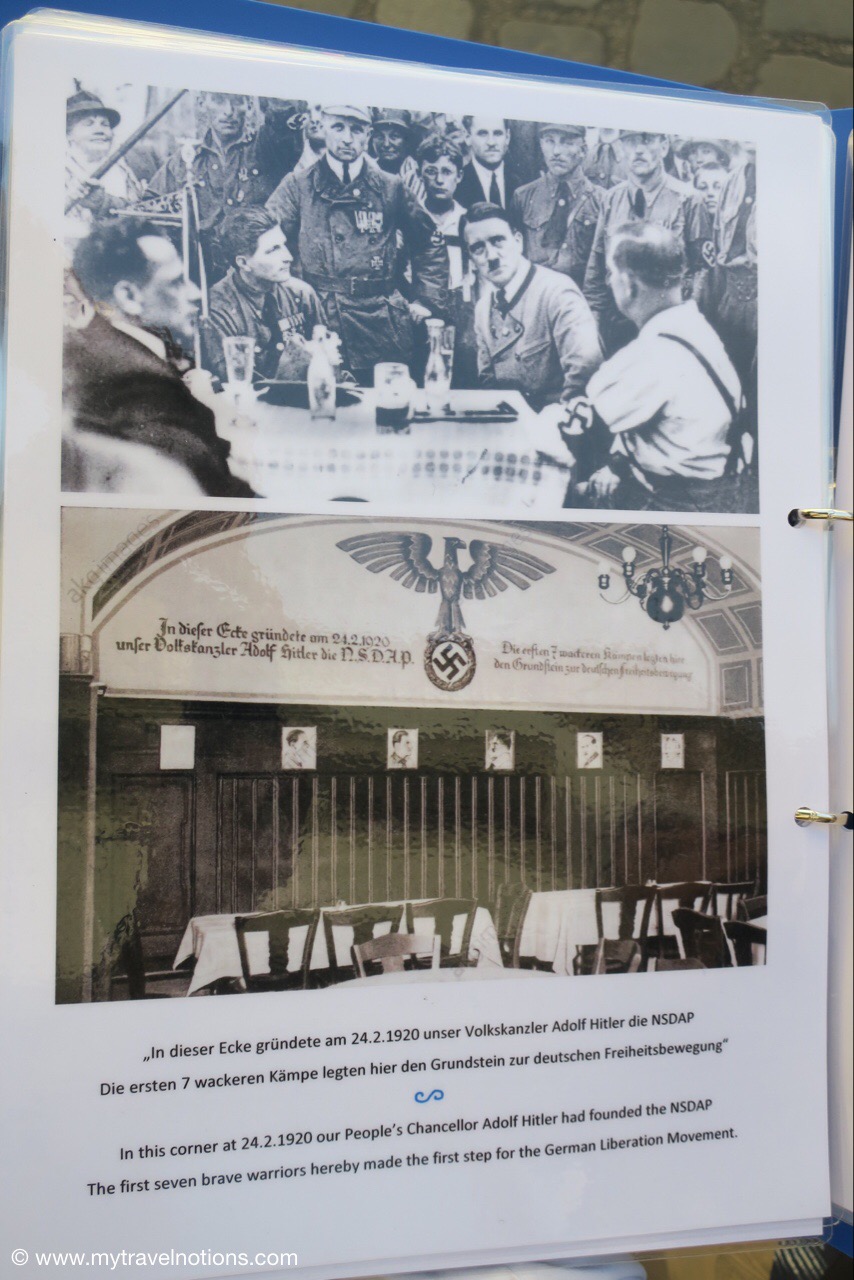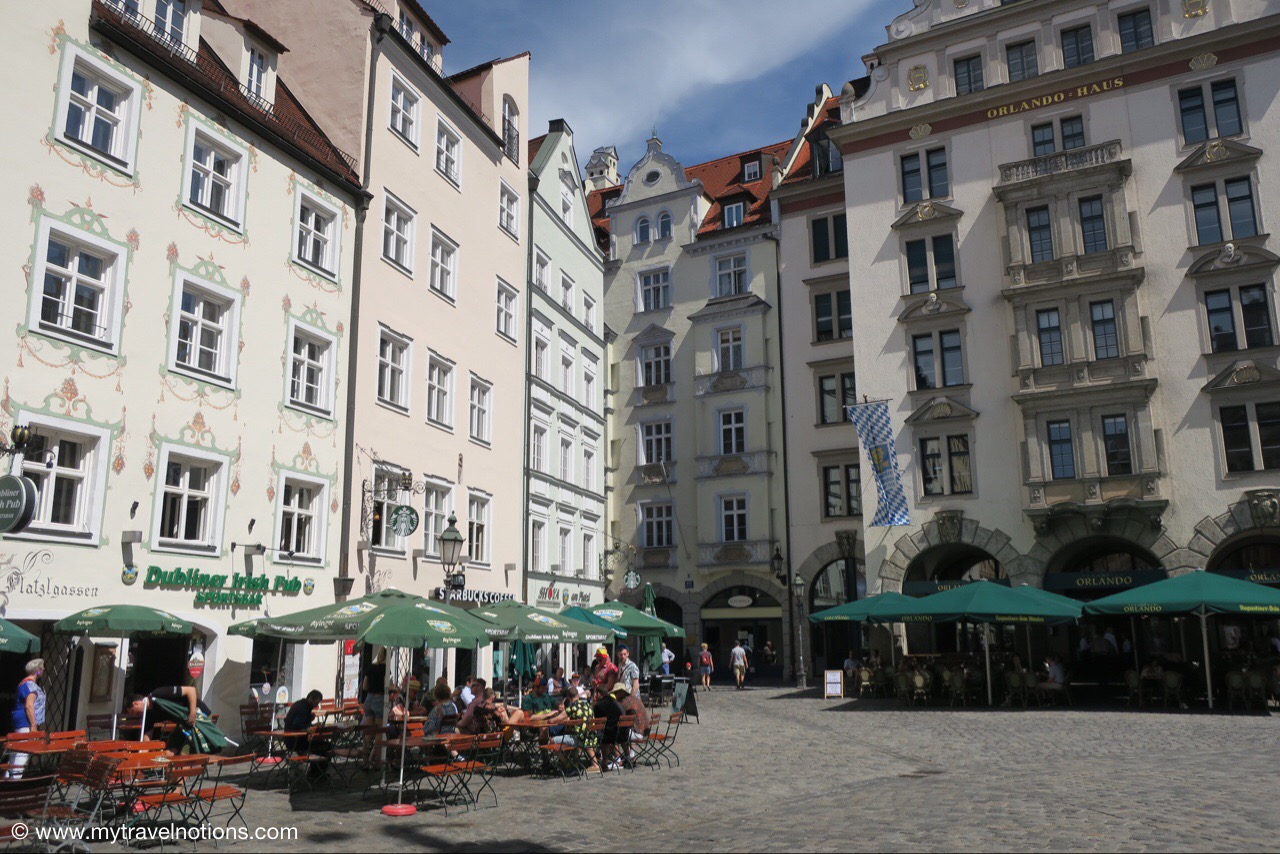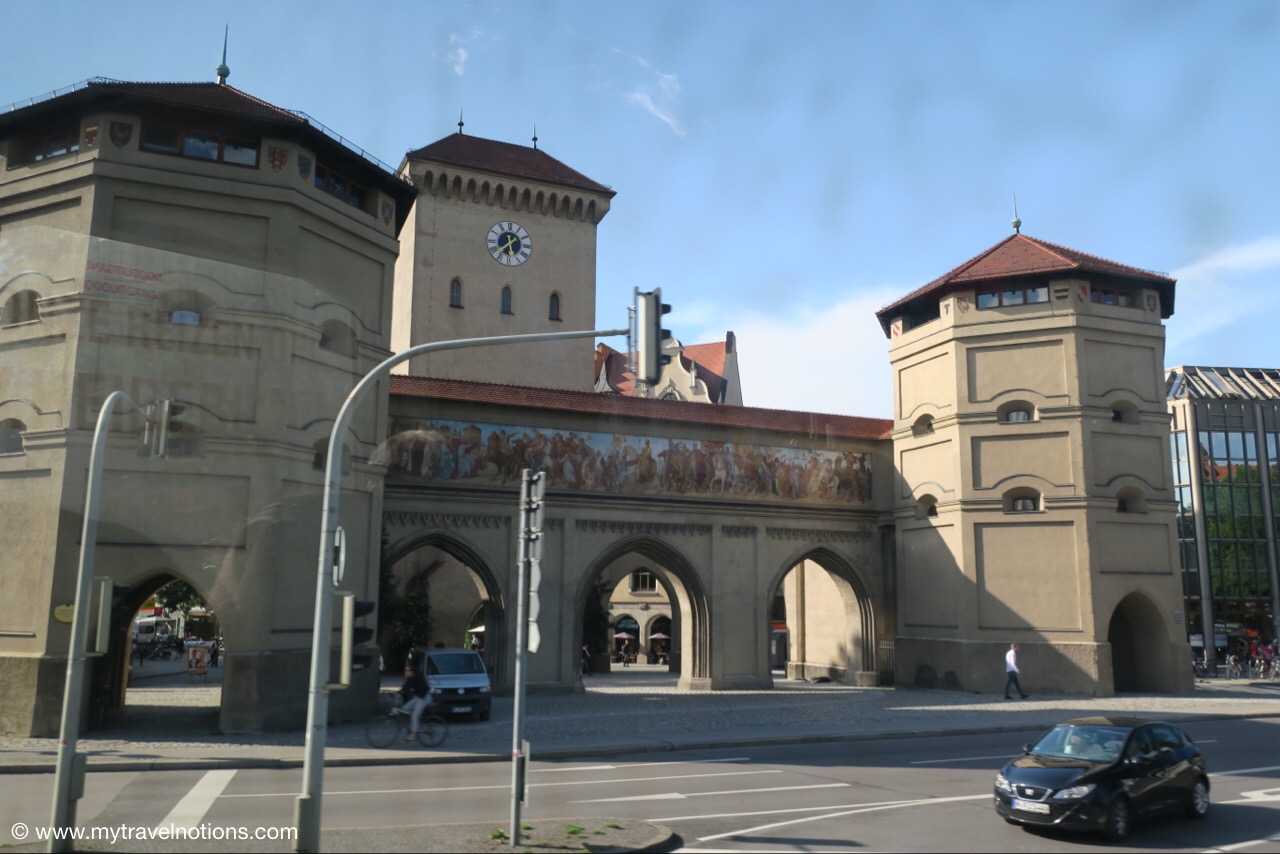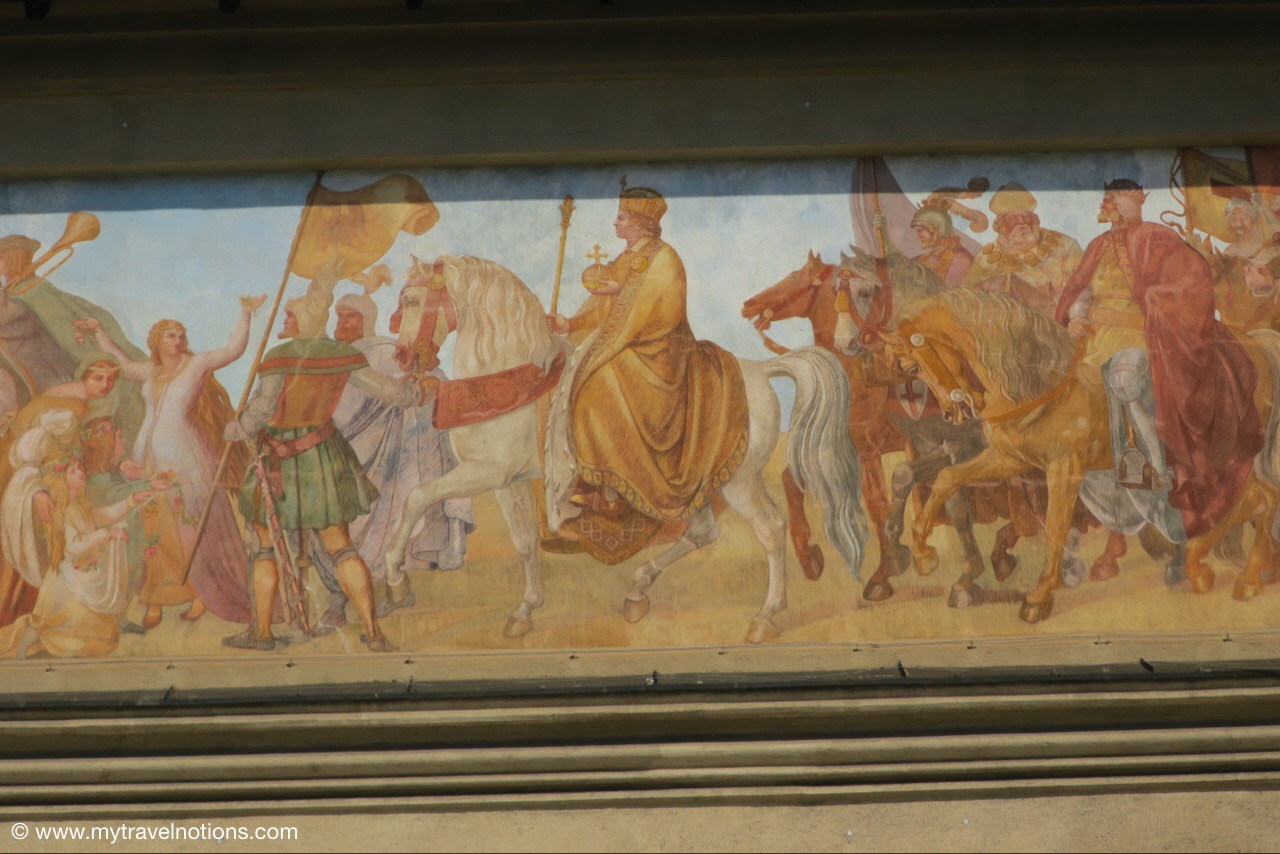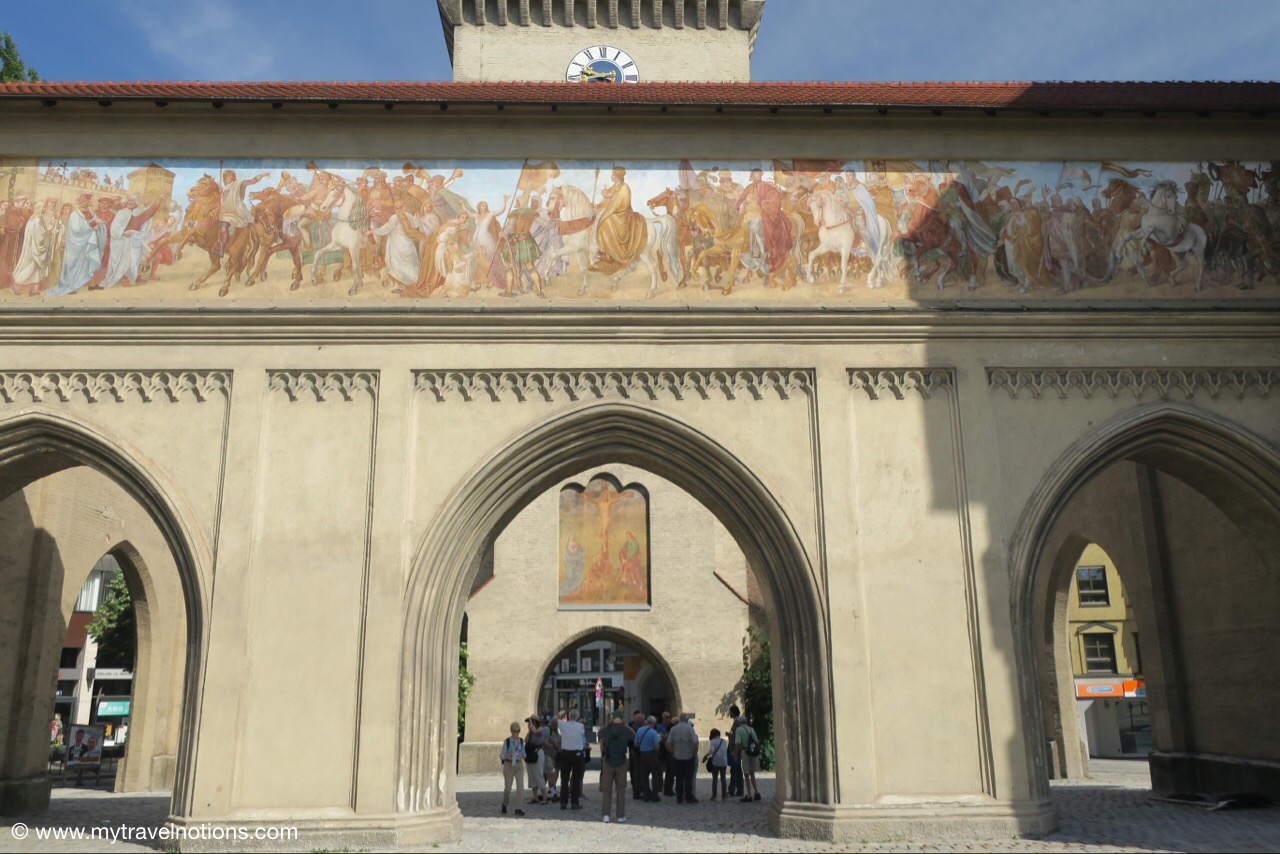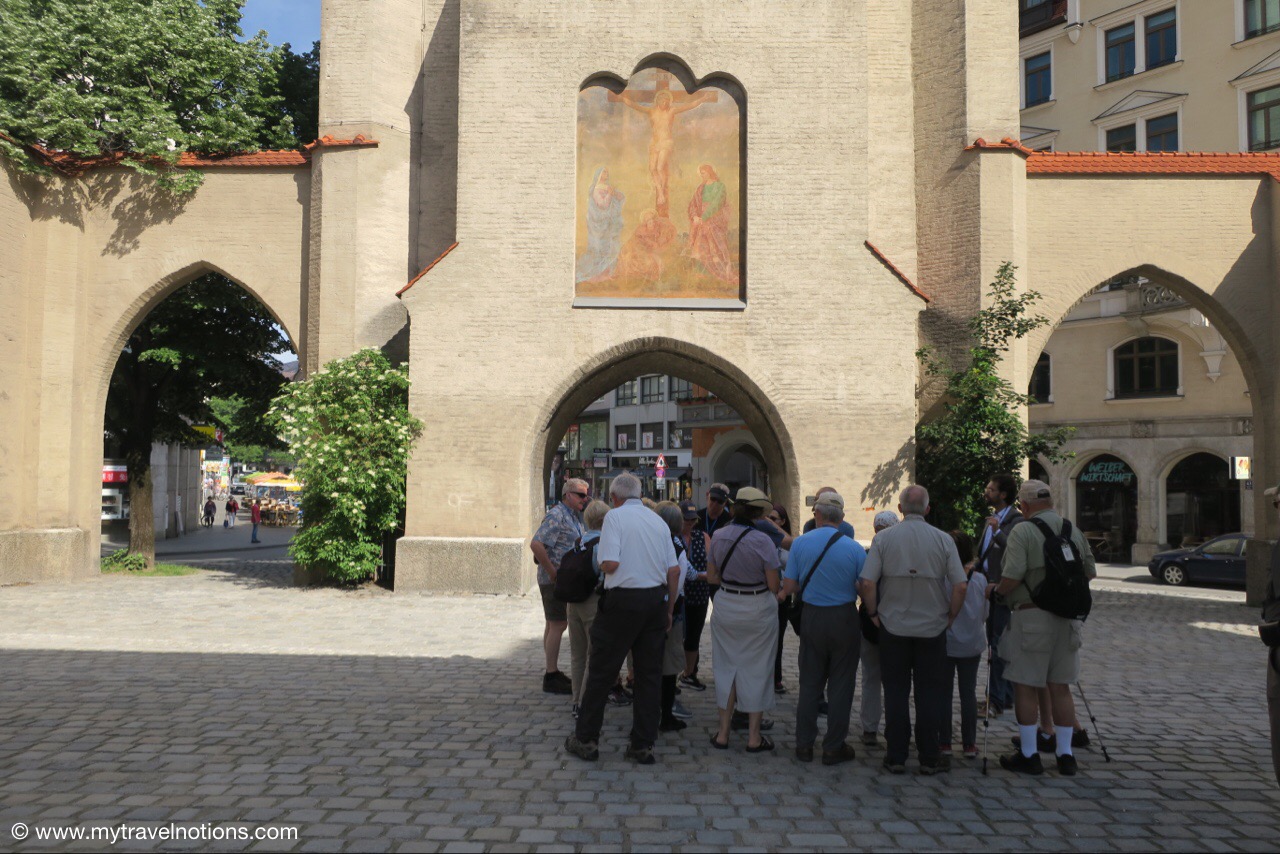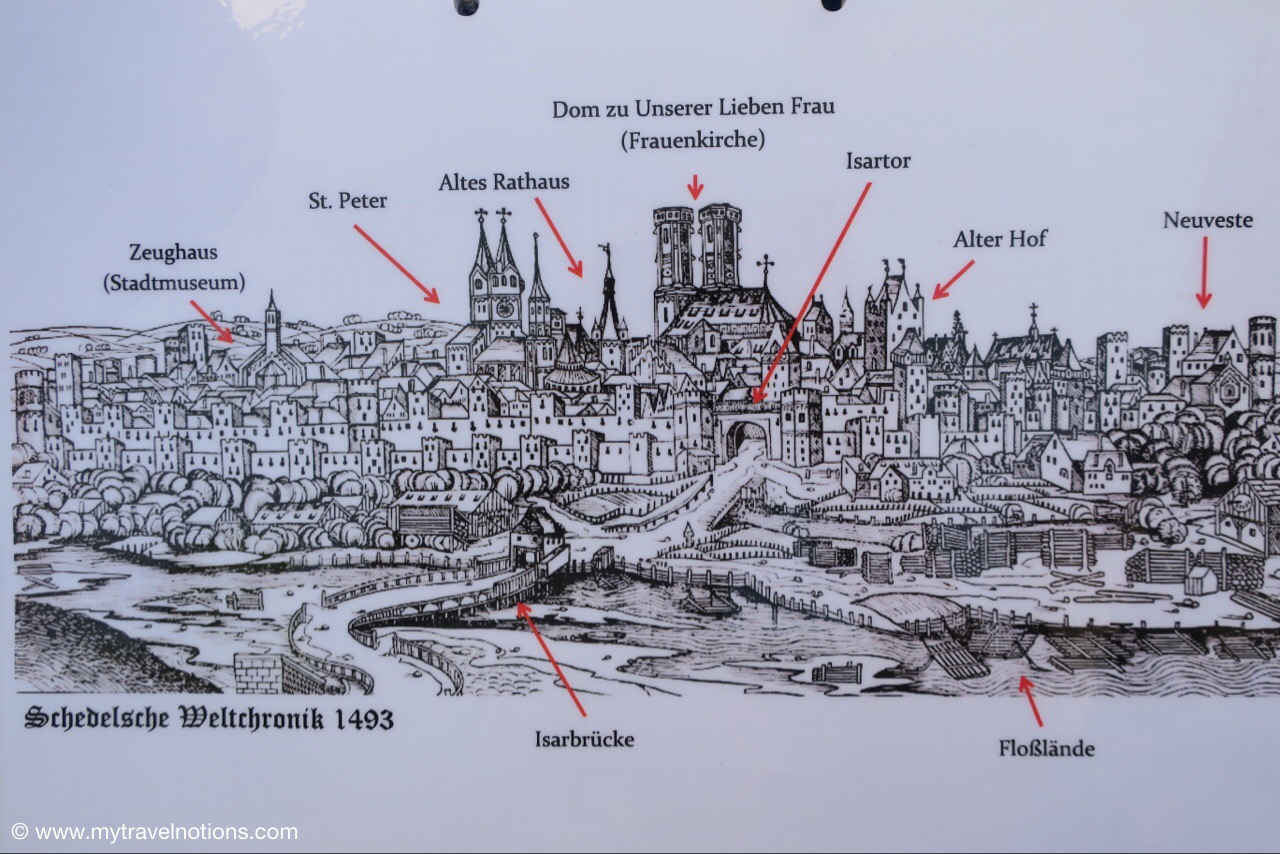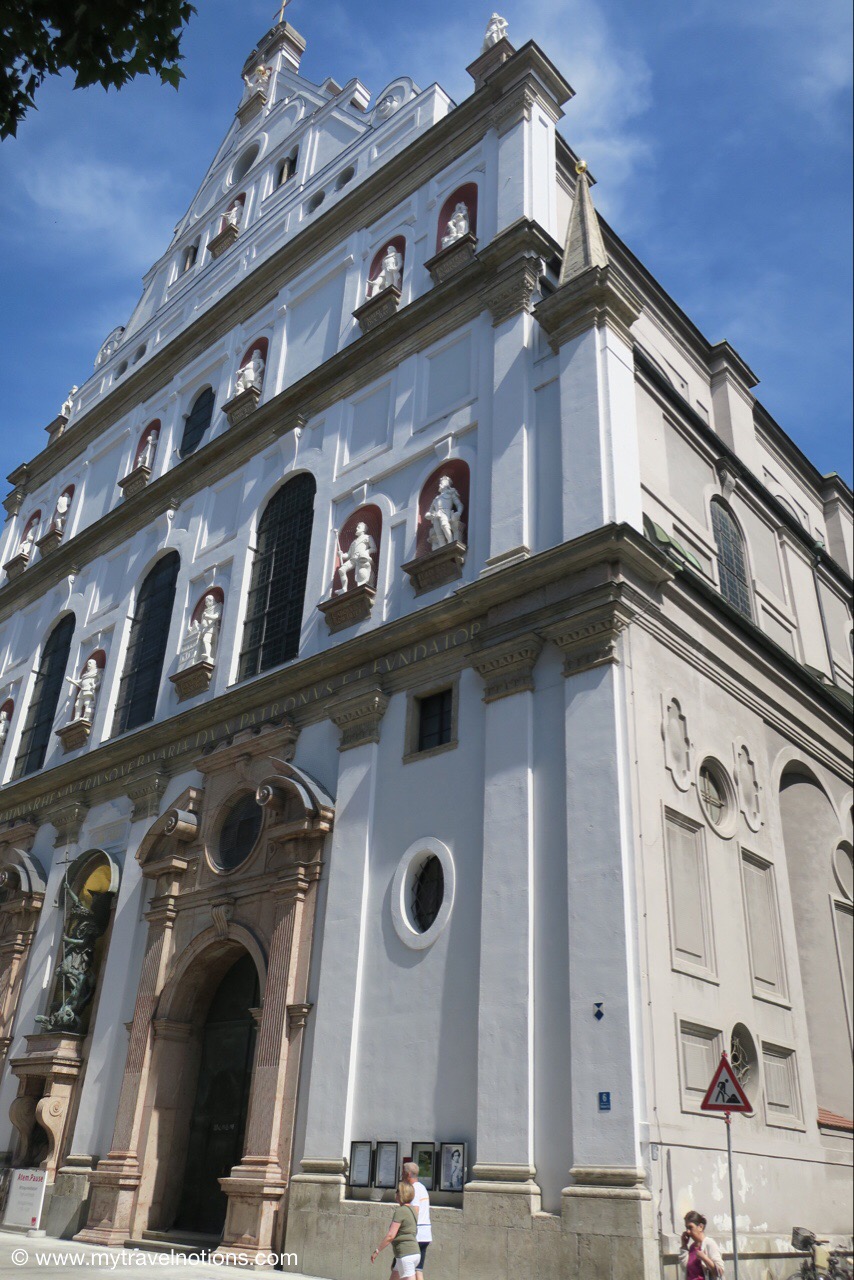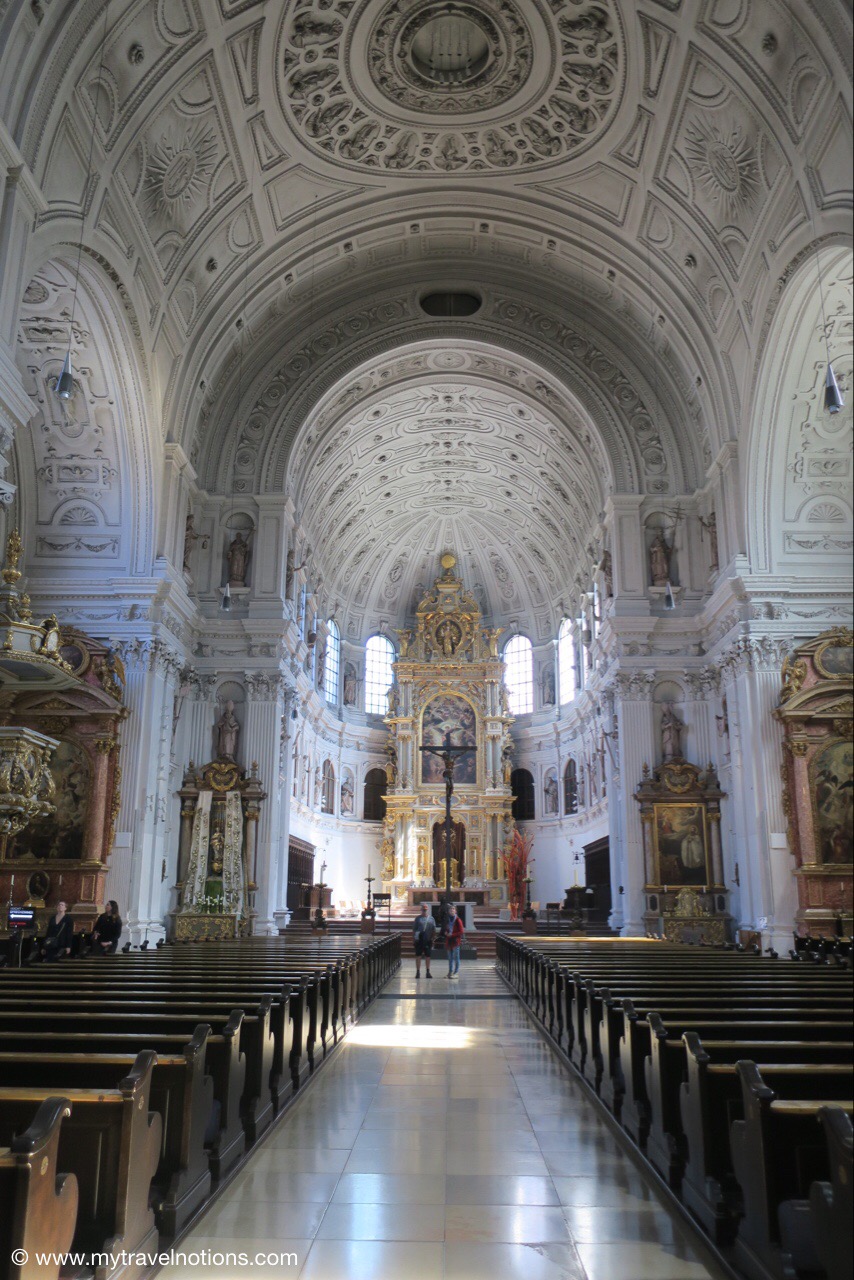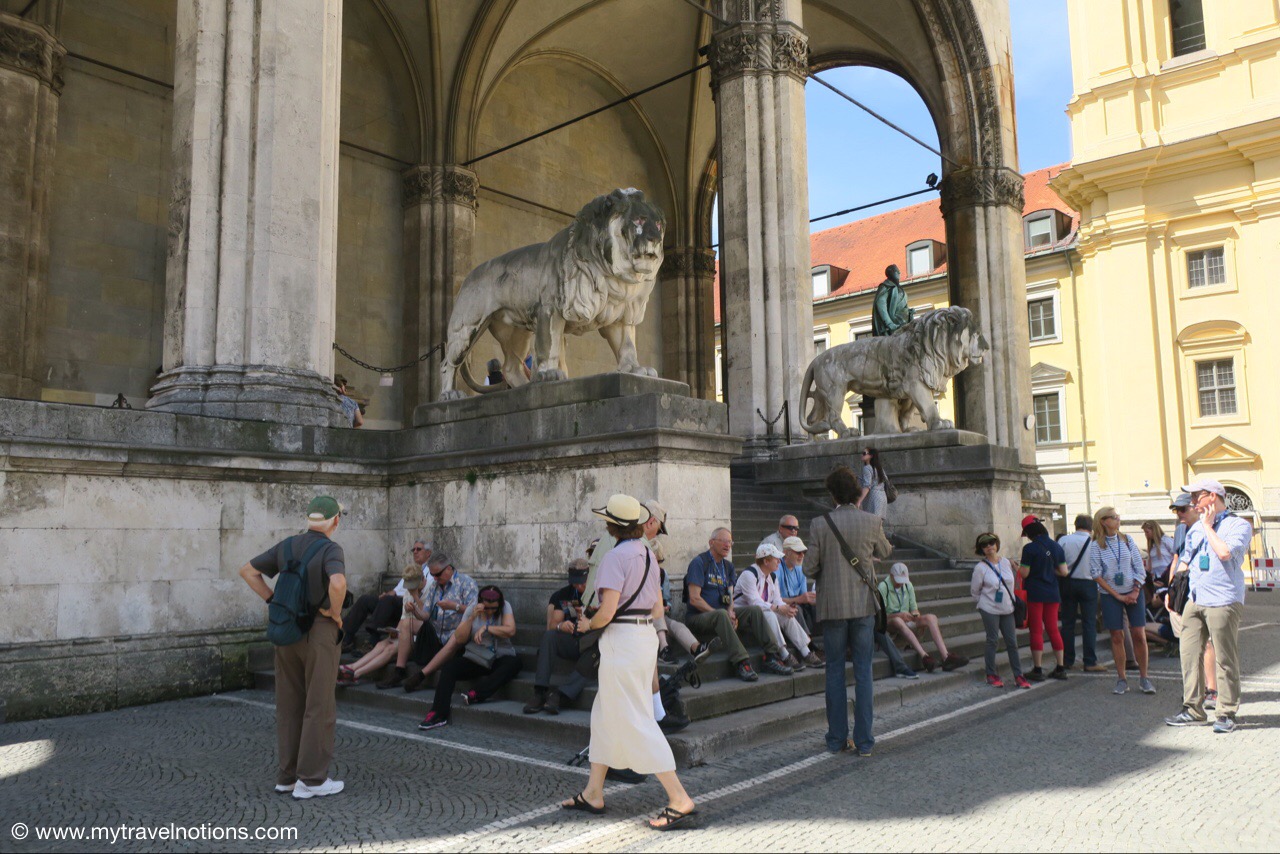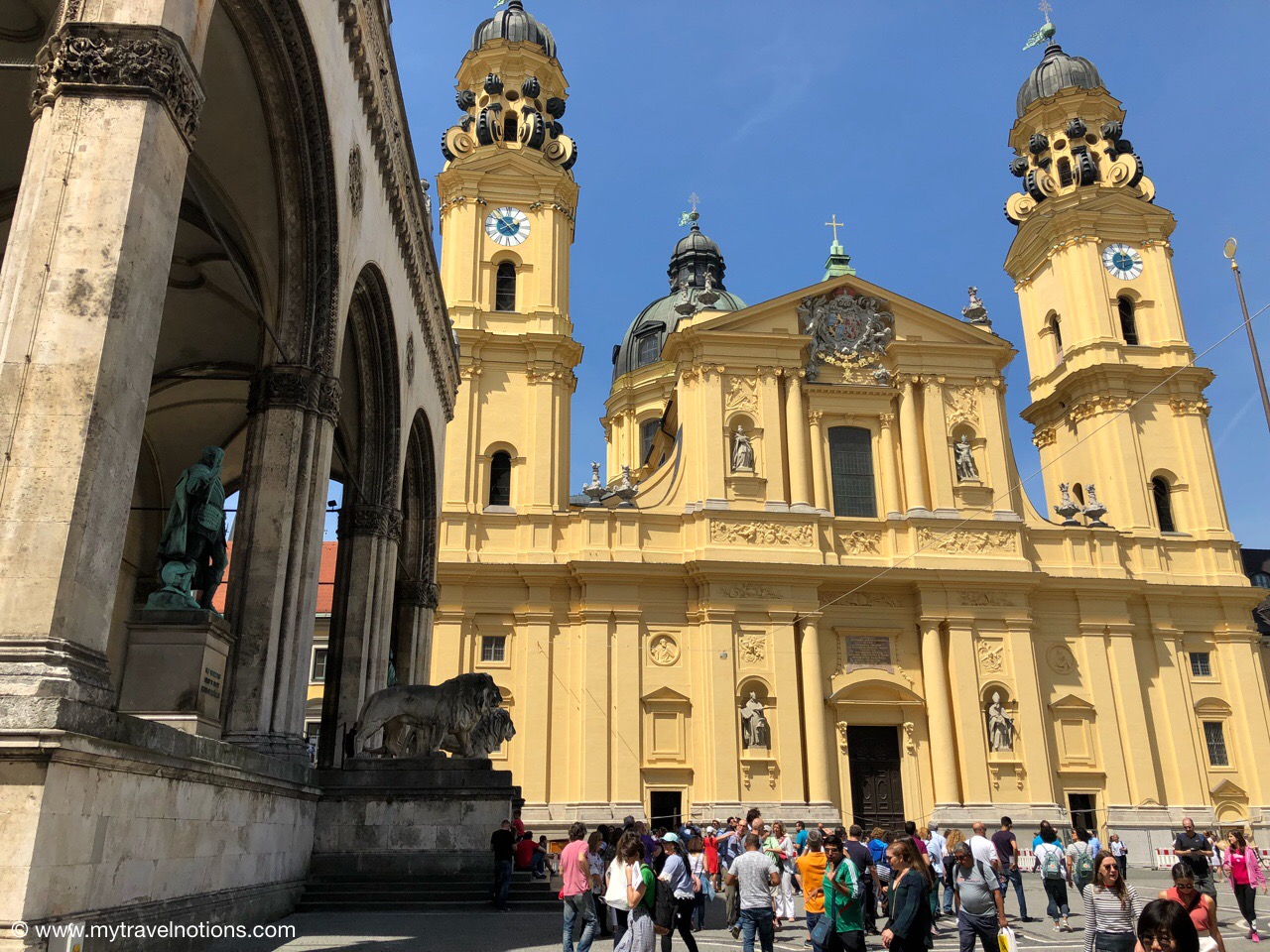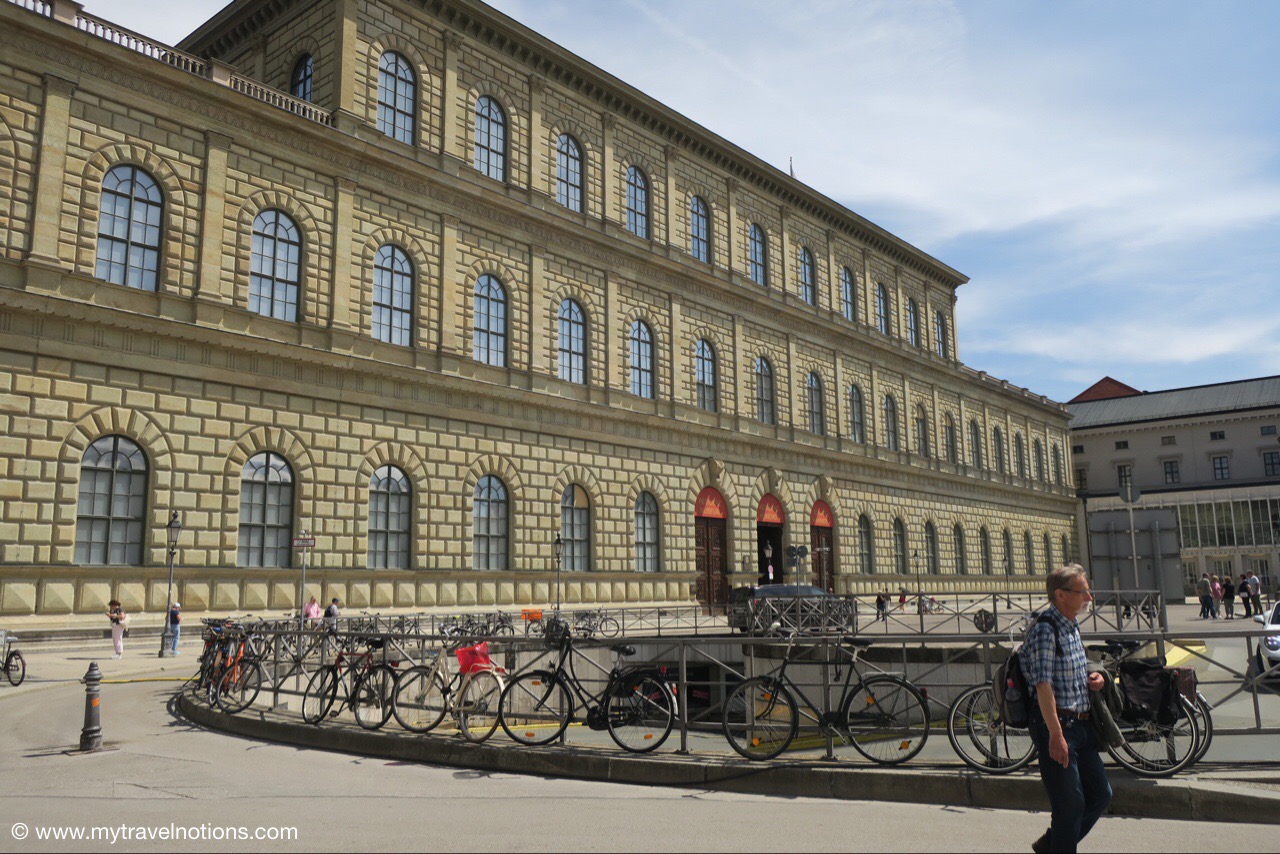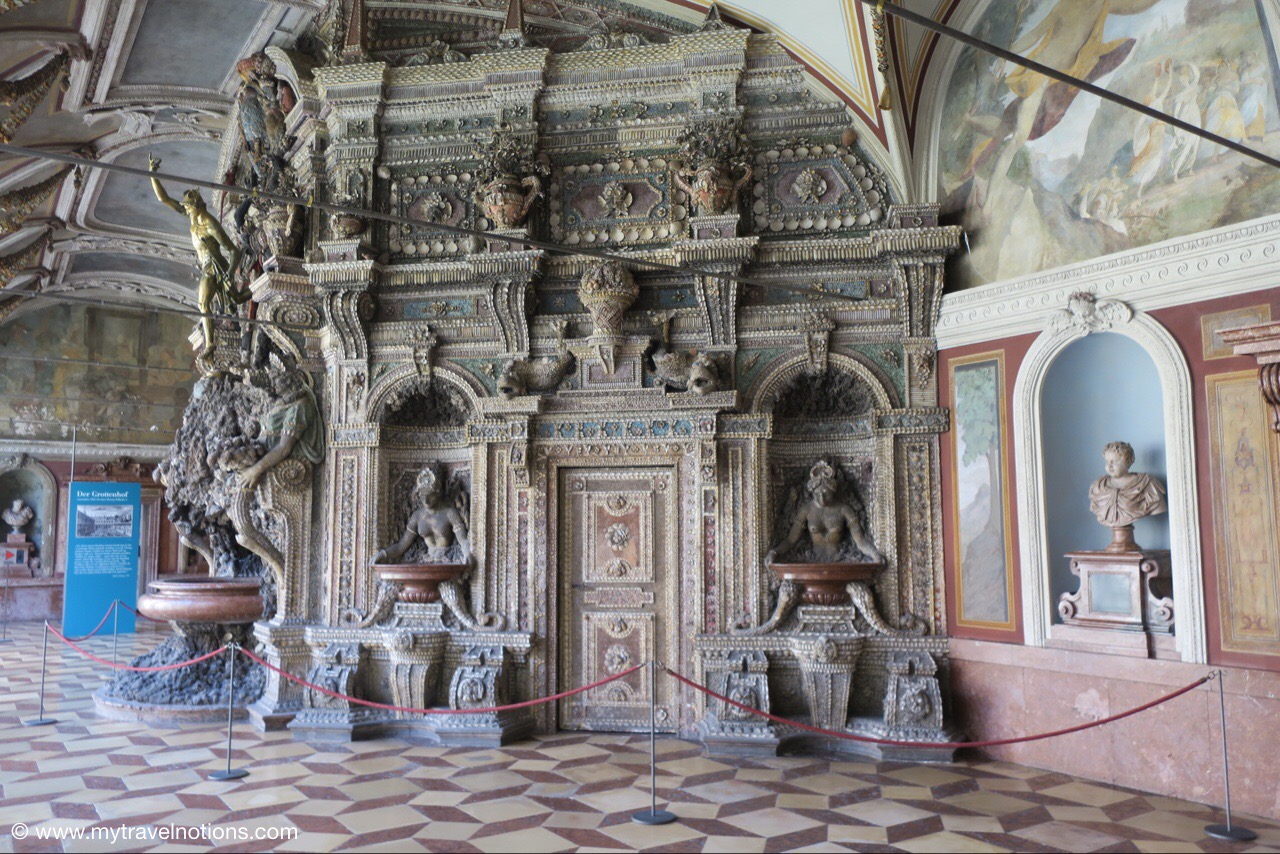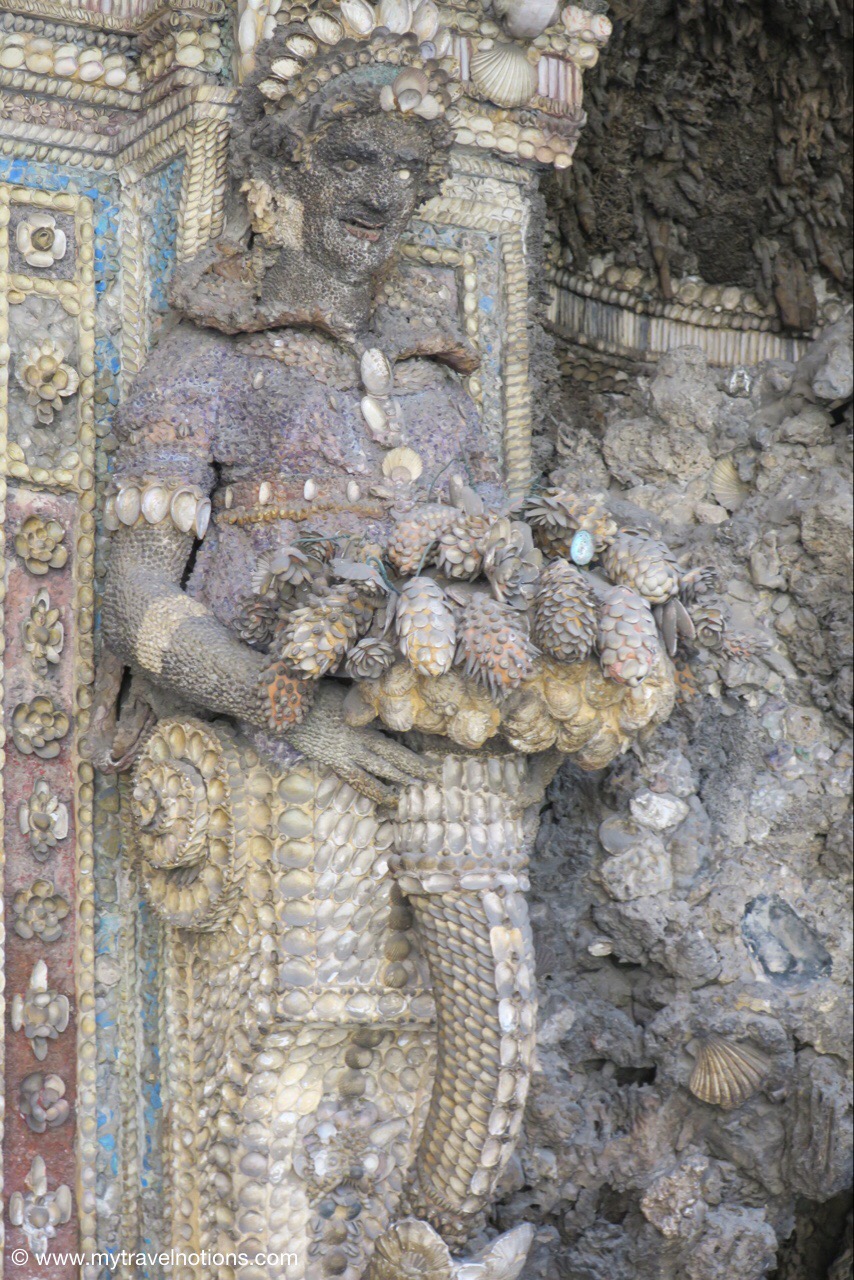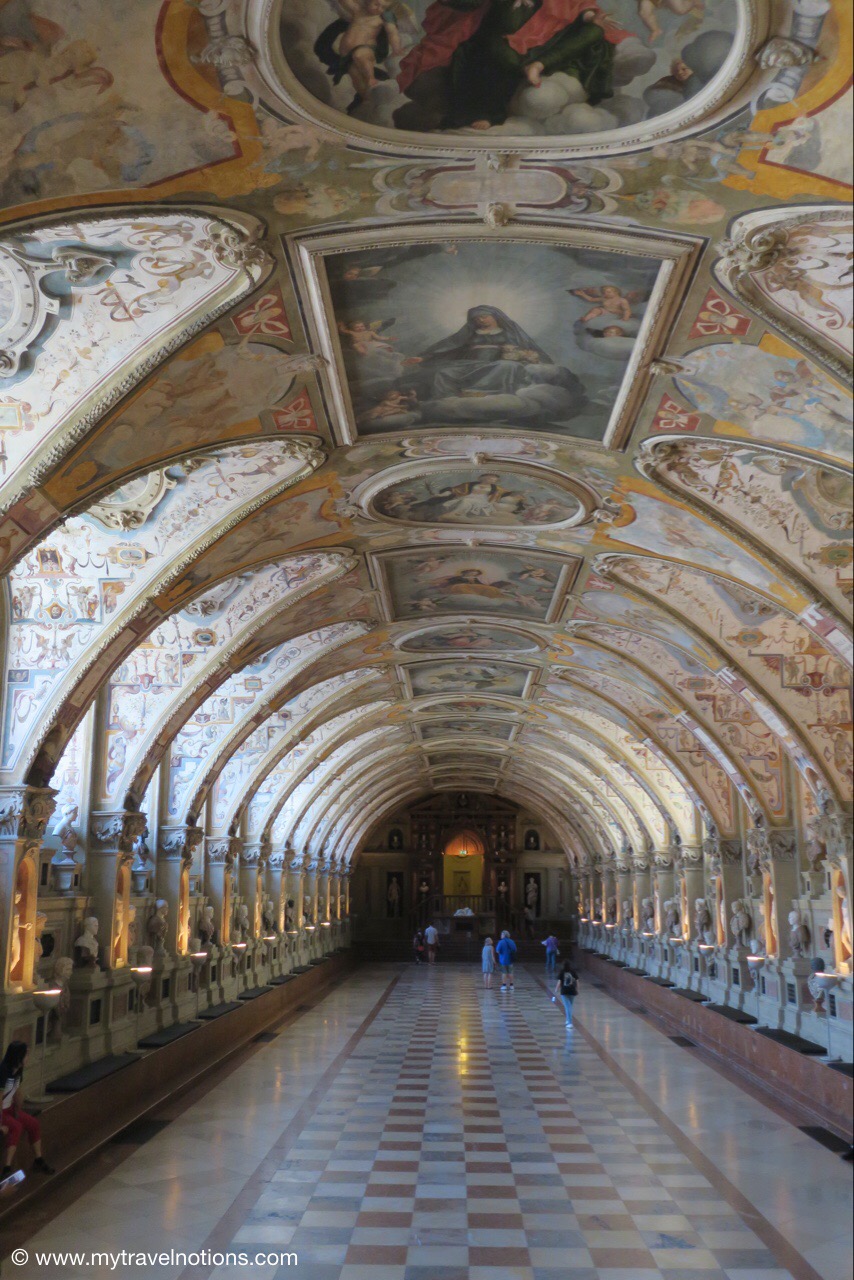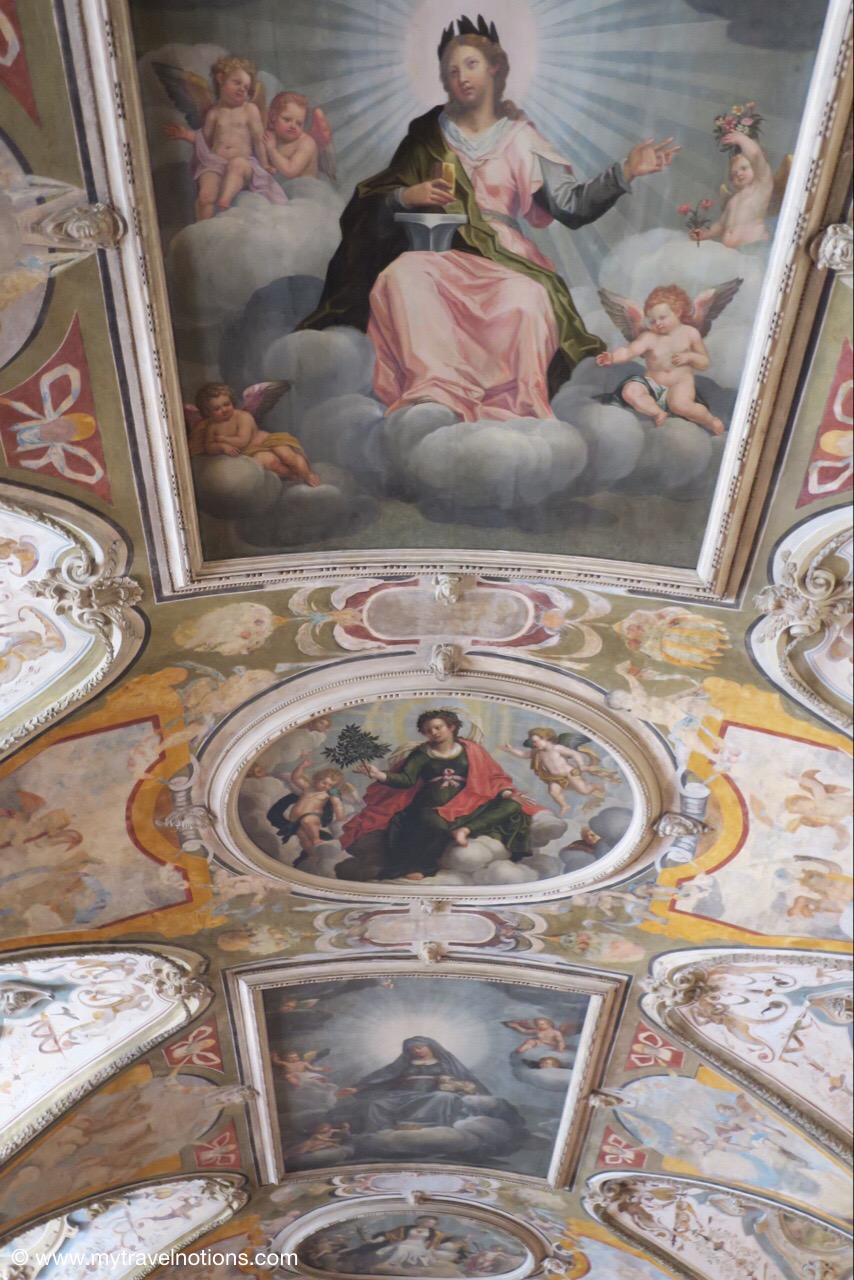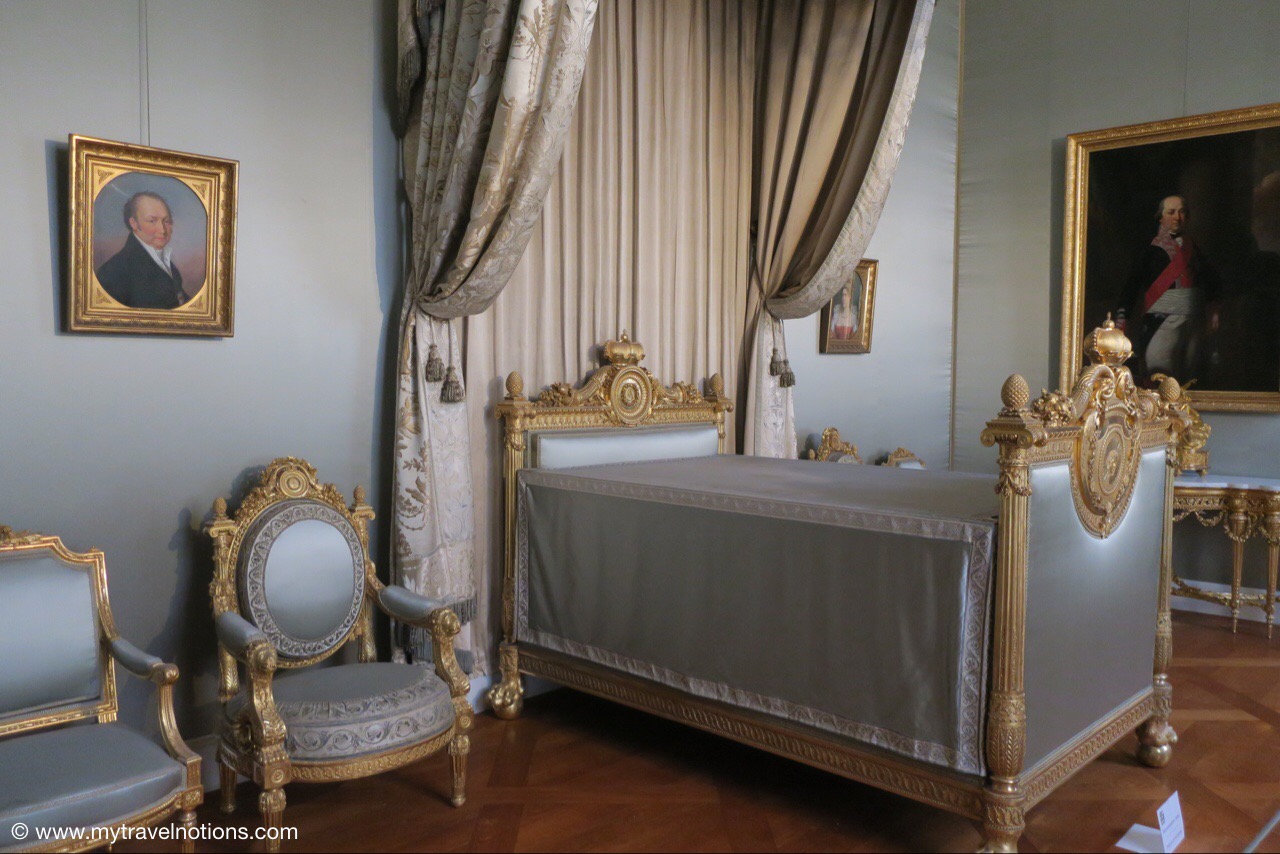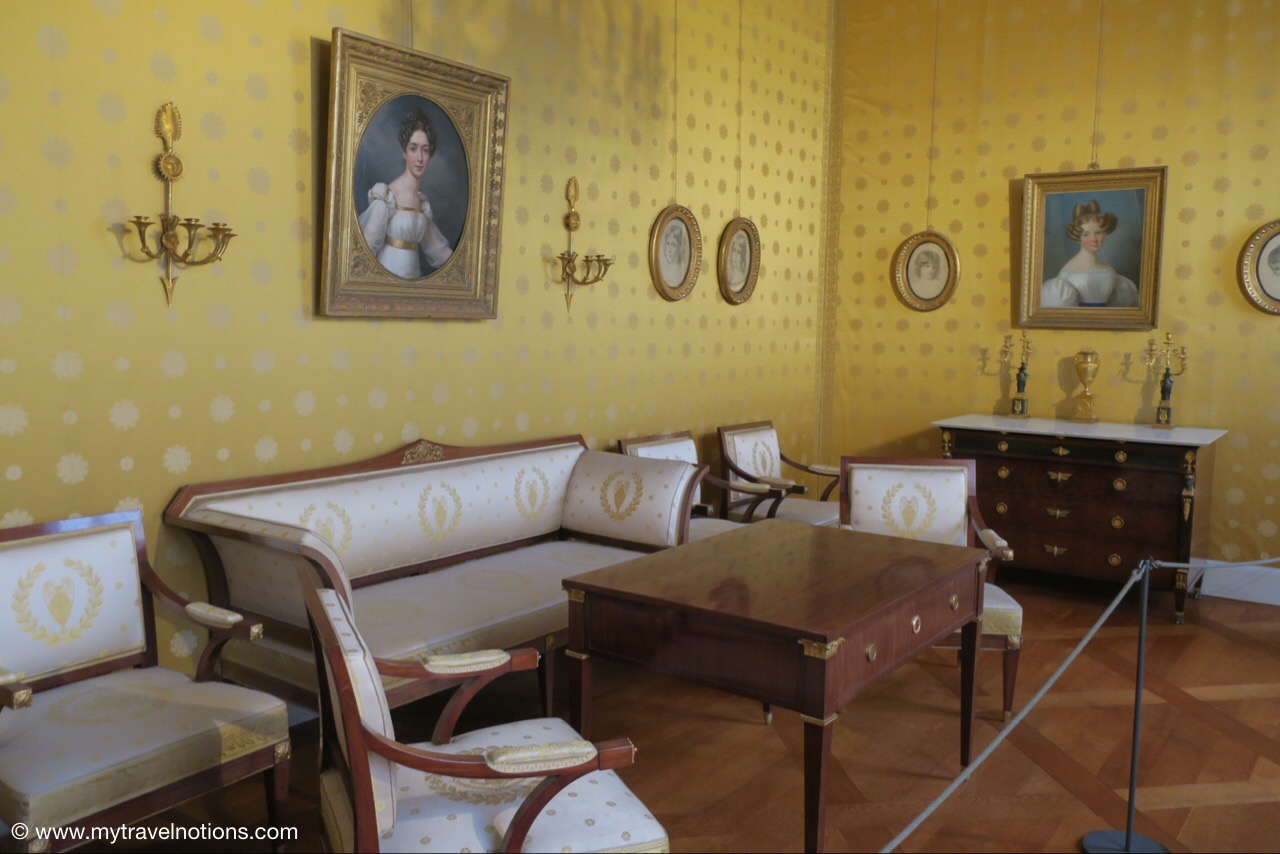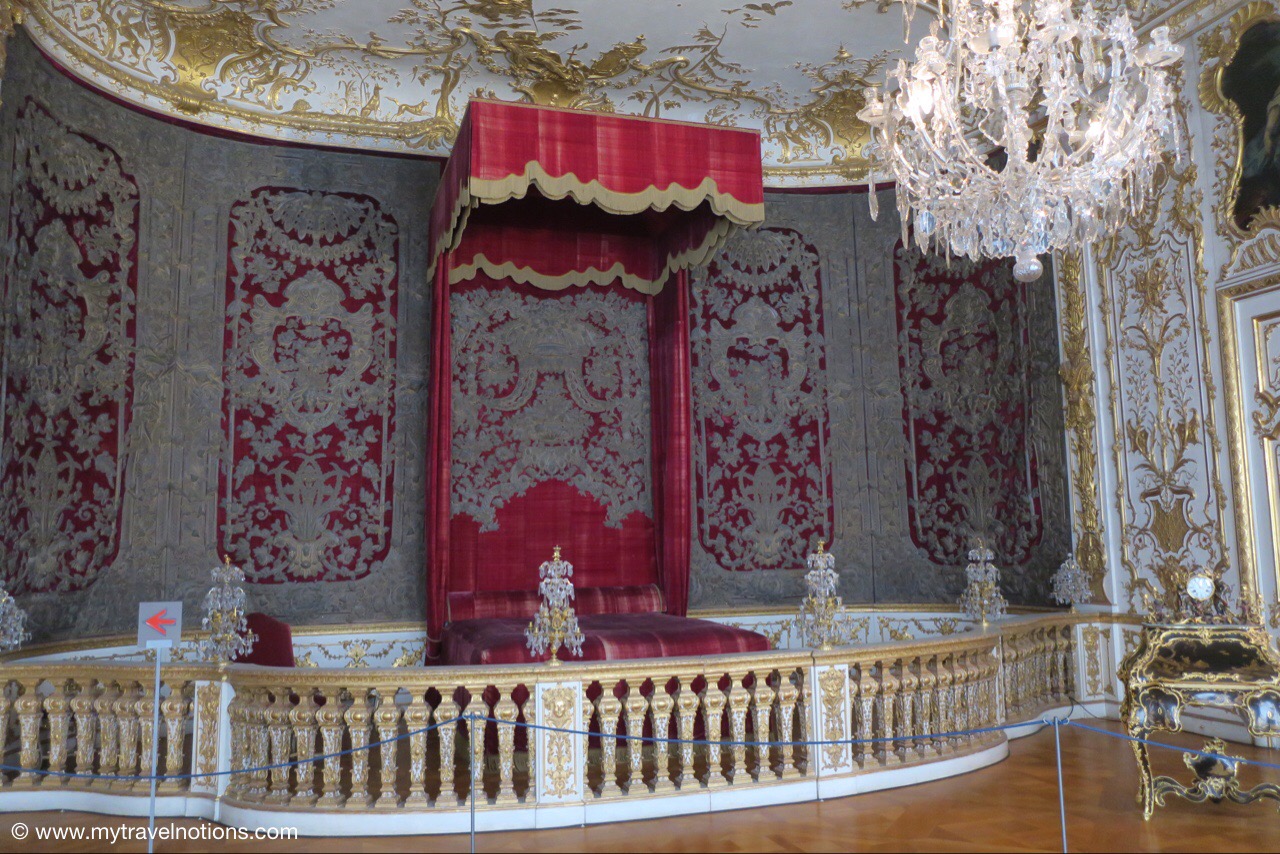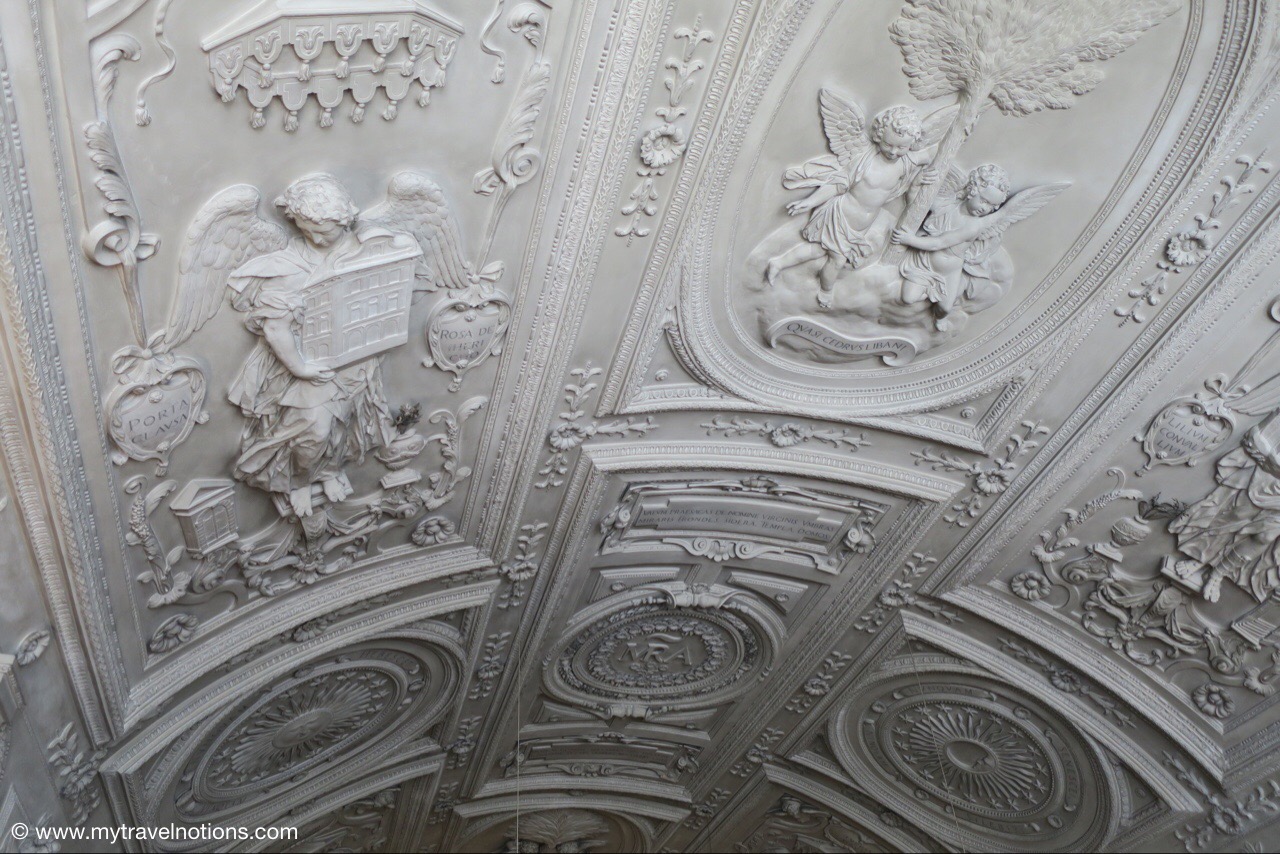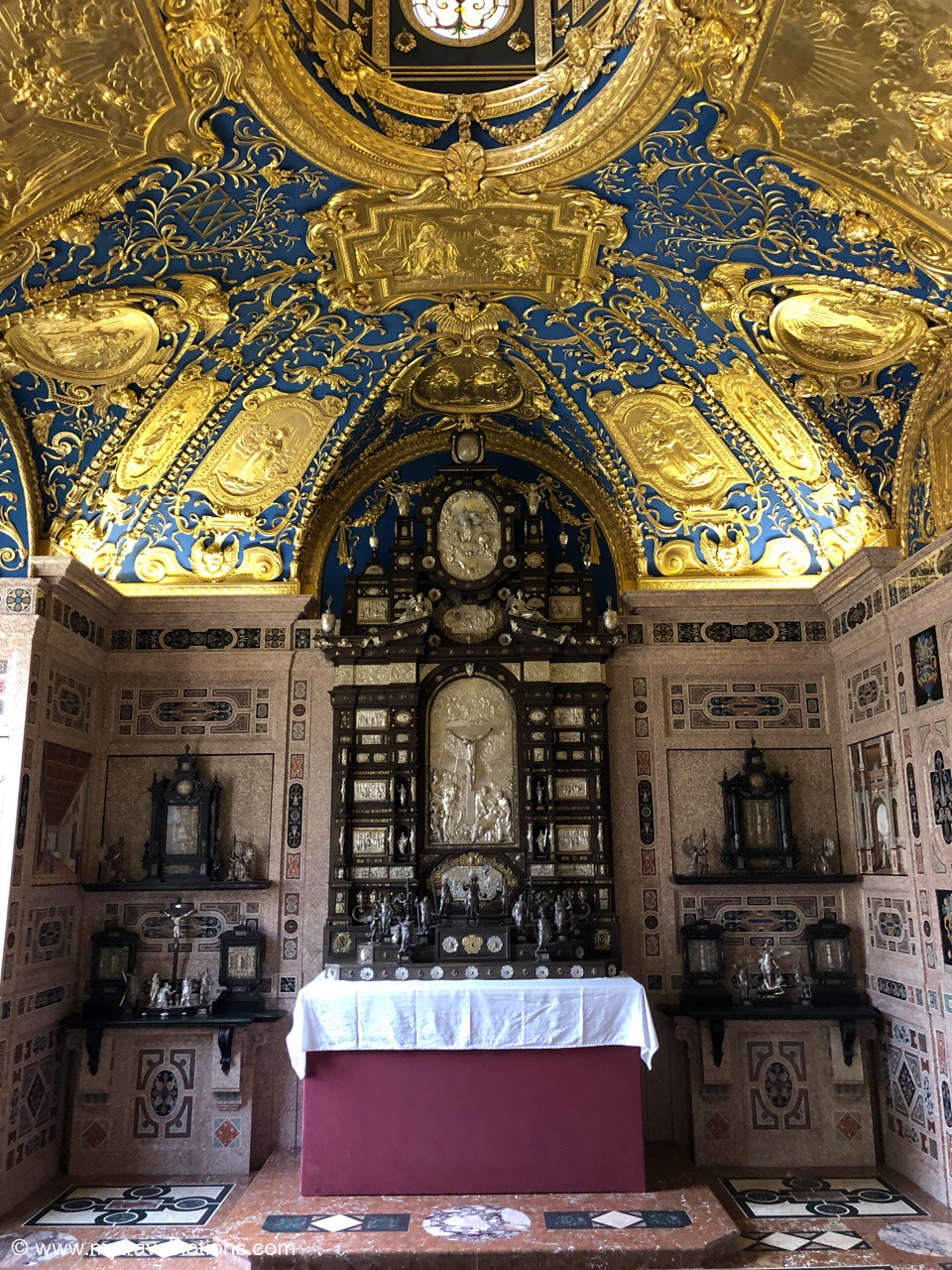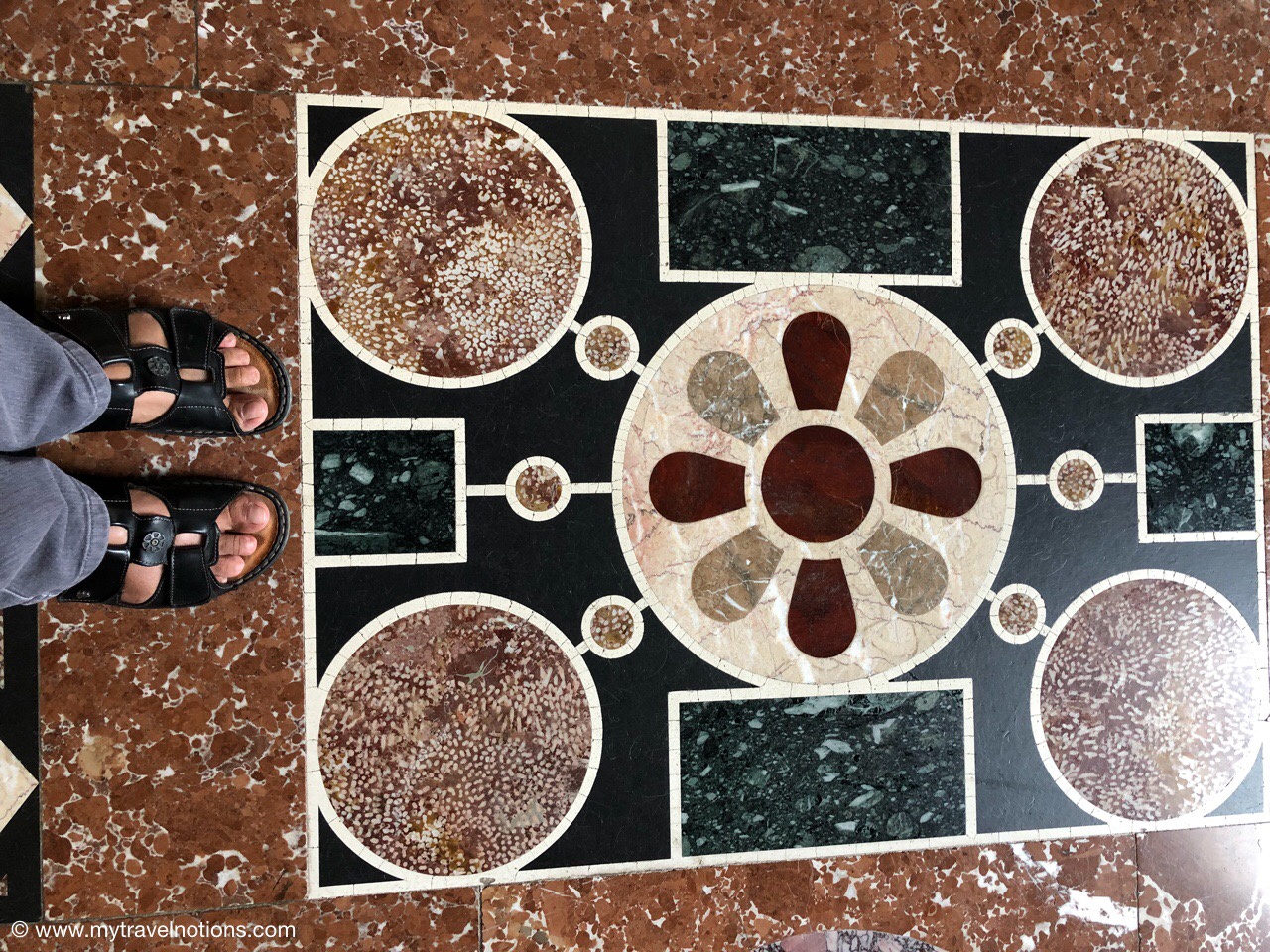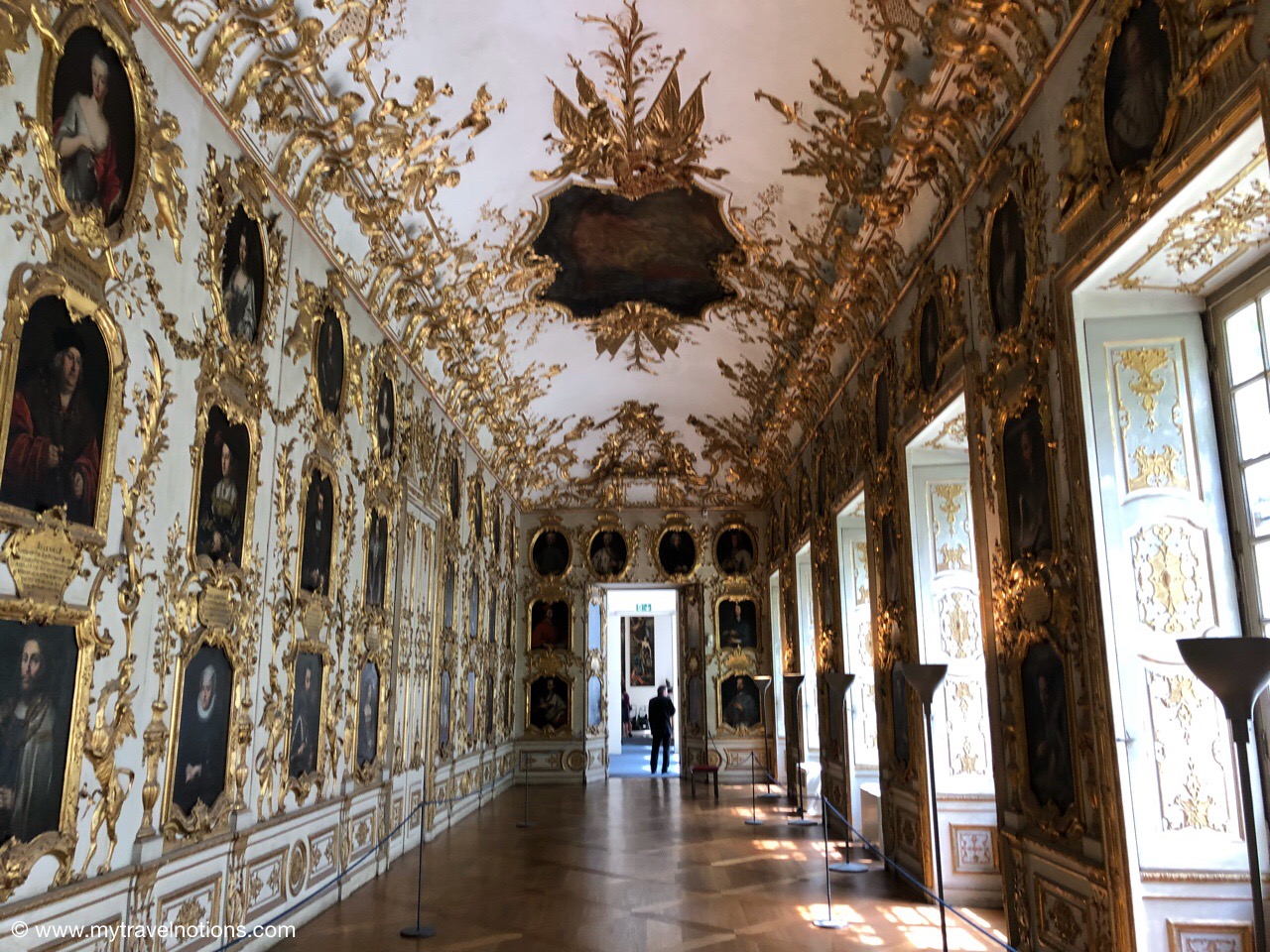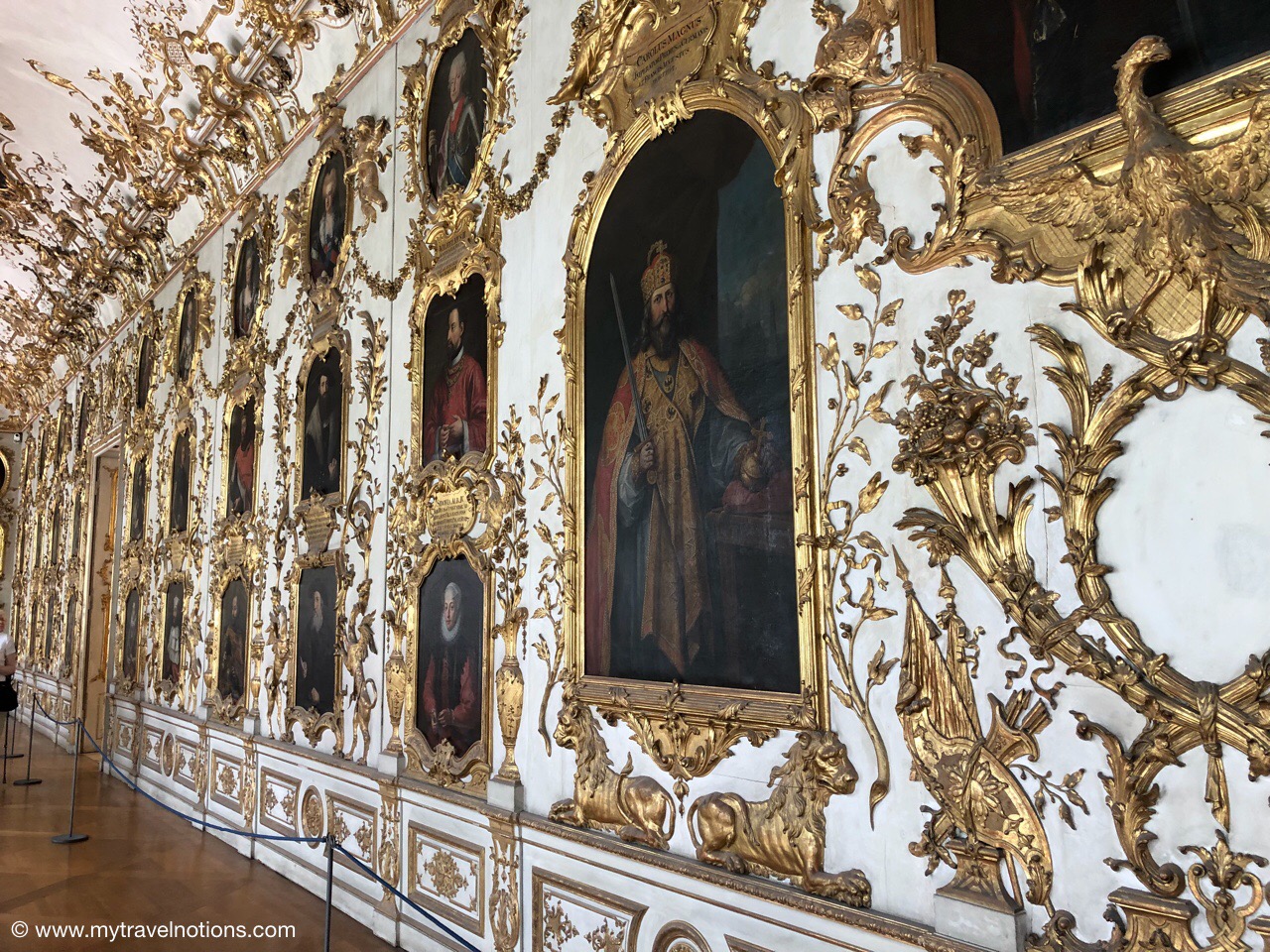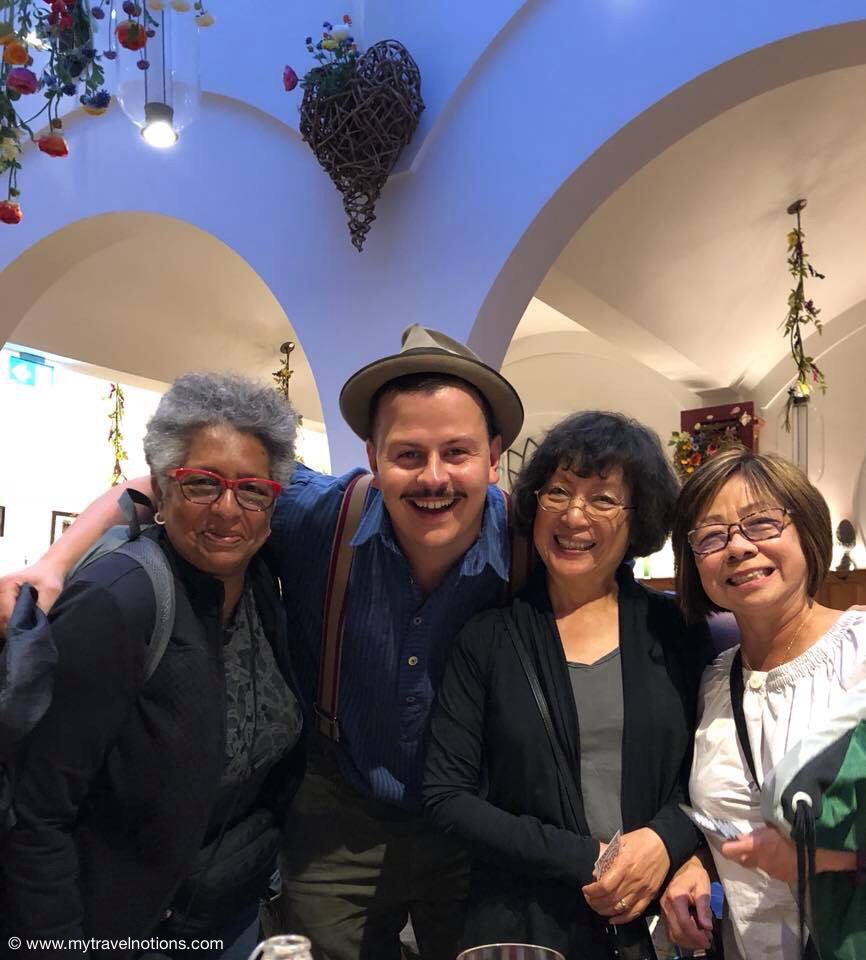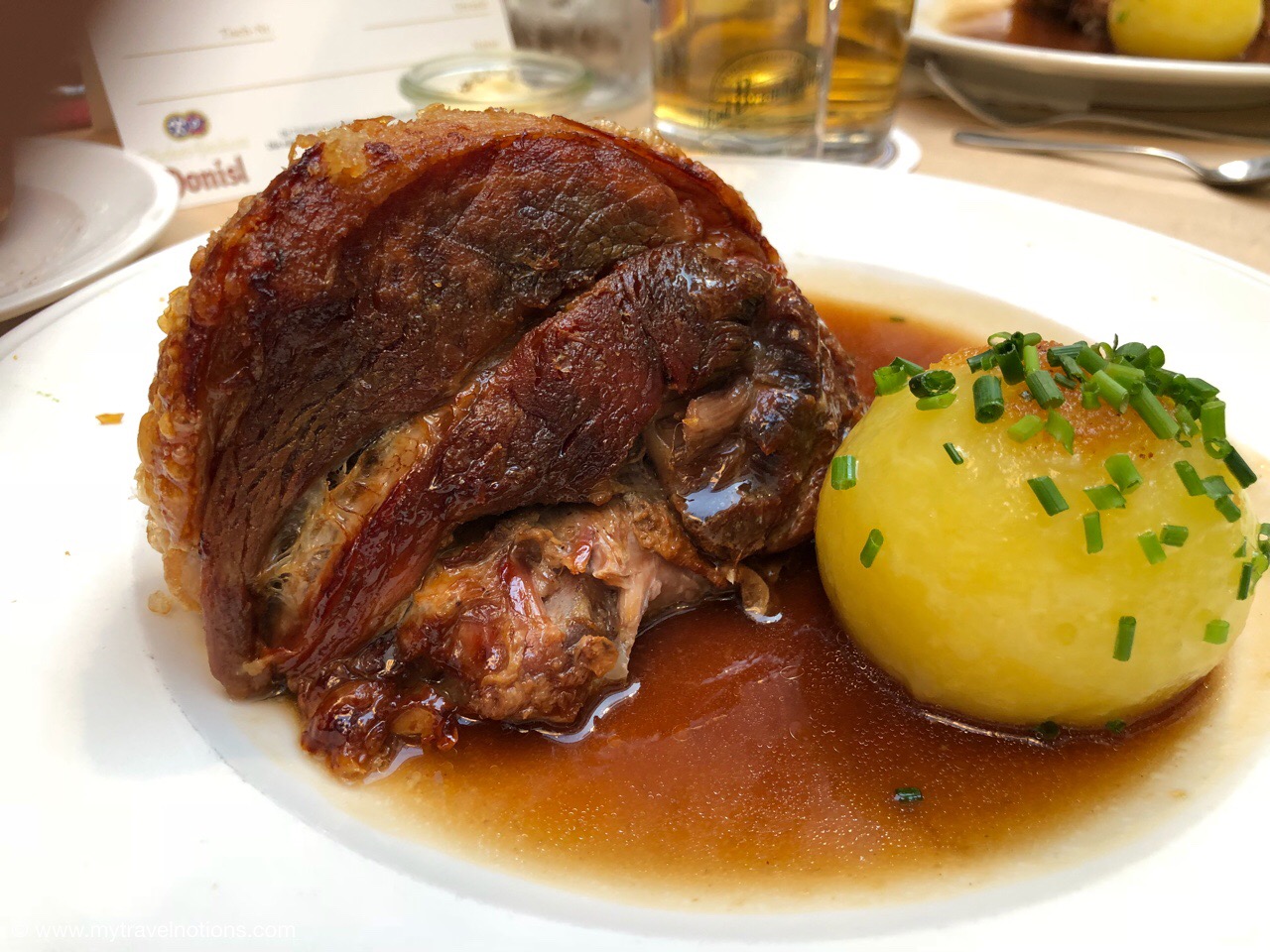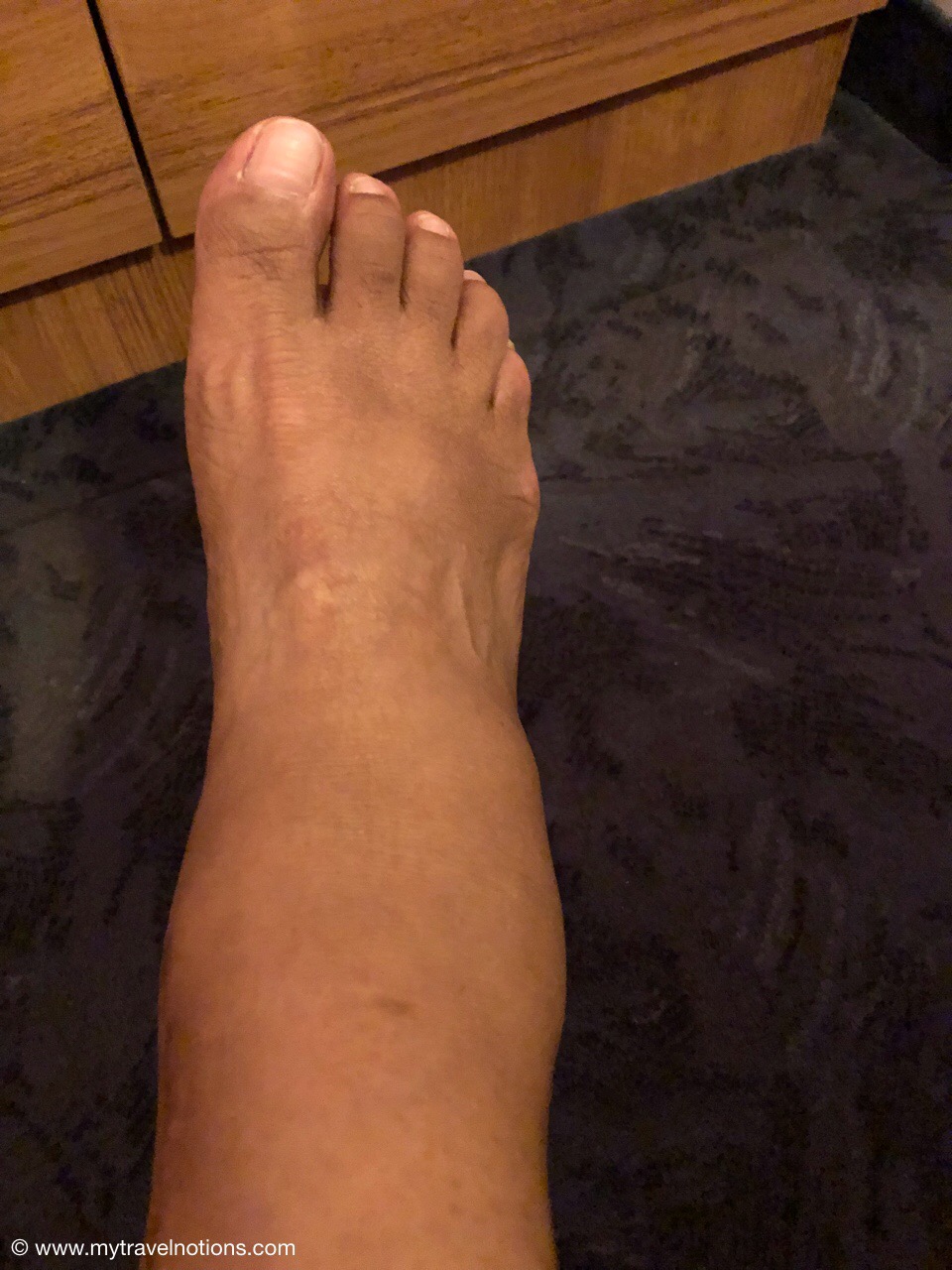 On our way to Erfurt, Germany, our Rick Steves tour group stopped in Nuremberg to visit the Documentation Center of the Nazi Party. From 1933 to 1938, the National Socialists held their Party Rallies in Nuremberg. The building that the documentation center is housed in is called Congress Hall, which was never completed but was meant to hold an audience of 50,000. The center's permanent exhibition contains a collection of photos and documents that provides a comprehensive picture of the National Socialist dictatorship and Nuremberg's role as the "City of the Nazi Party Rallies."
We didn't get a chance to spend any time in the city of Nuremberg
What does all this have to do with Erfurt, Germany, where my Rick Steves tour group landed yesterday and explored today…well nothing that I'm aware of…it's just where I find my emotional self within the confines of a rather busy town-like city that feels as if it is stretching to keep one foot in its Medieval roots…and historical link to the great Reformer Martin Luther…while embracing the need to stay relevant to the tourists who flock here. I guess that can be said for most of the Medieval towns in Germany and elsewhere. Maybe that can even be said for me, wanting to leave the confines of my familiar to feed the wonderluster in me while still needing the comfort of that familiar. Confused? Welcome to my world.
Well, enough about my travel notions or ramblings…let's get to the main event, Erfurt and its charm, plus its indistinguishable connection to Martin Luther.
Our next and last stop on the Rick Steves "Best of Germany" tour is Berlin. But Alice, Tammy and I still have Luxembourg, Belgium and the Netherlands to do on our own.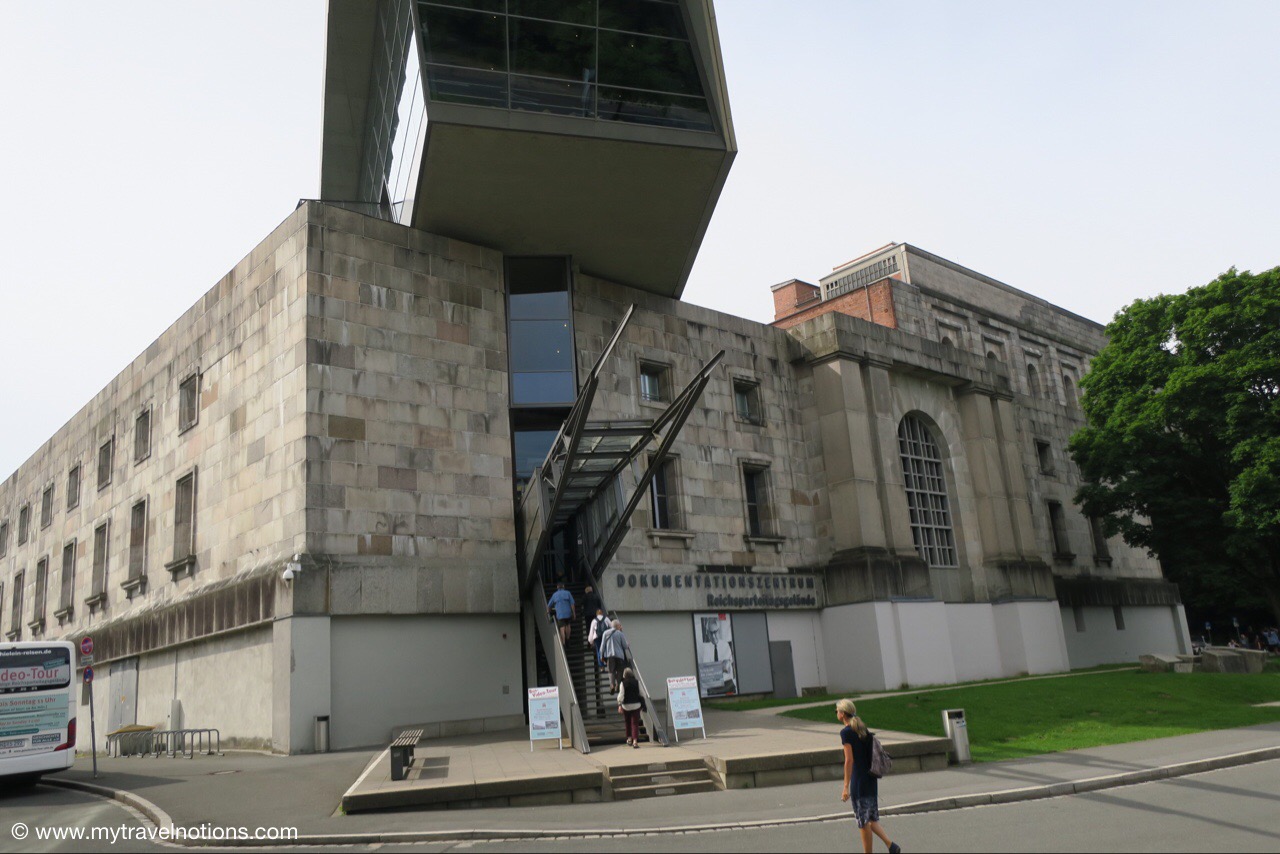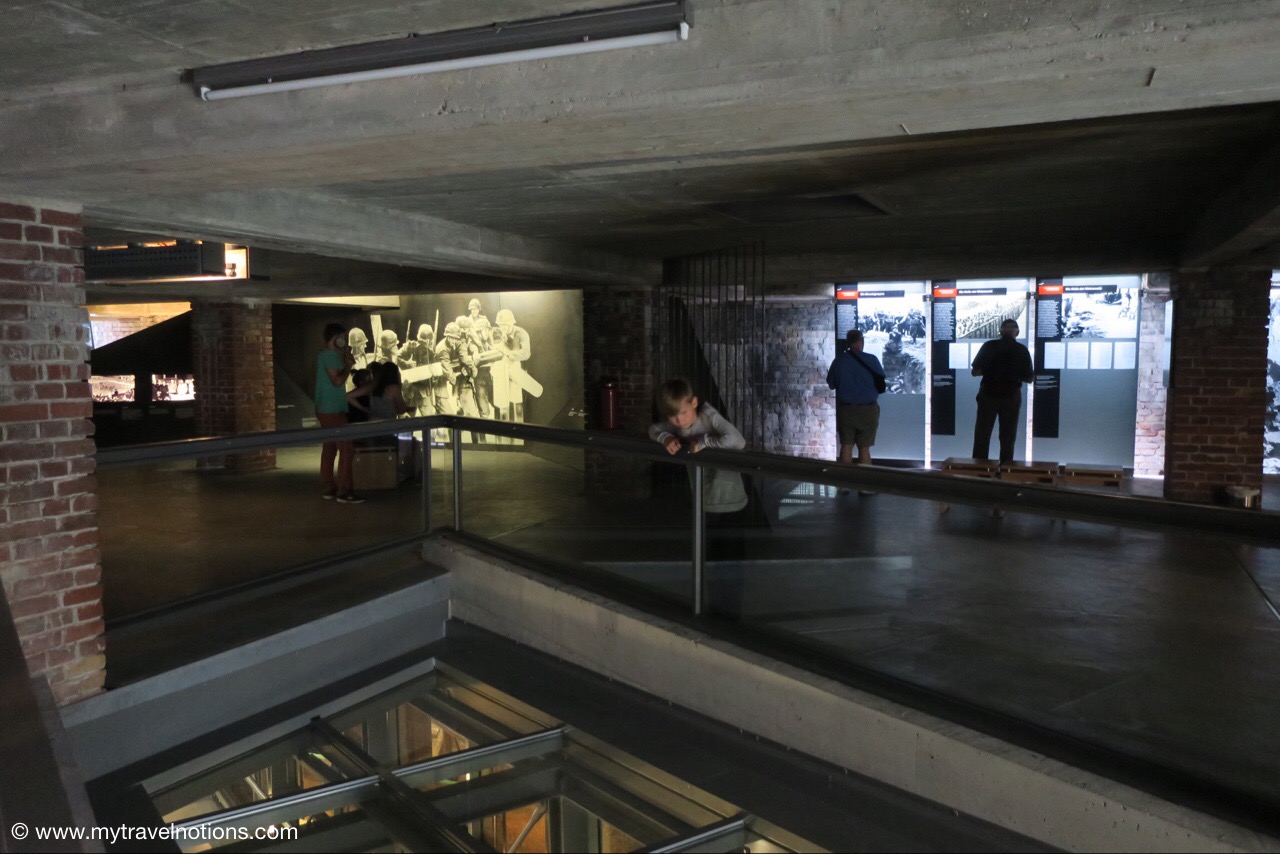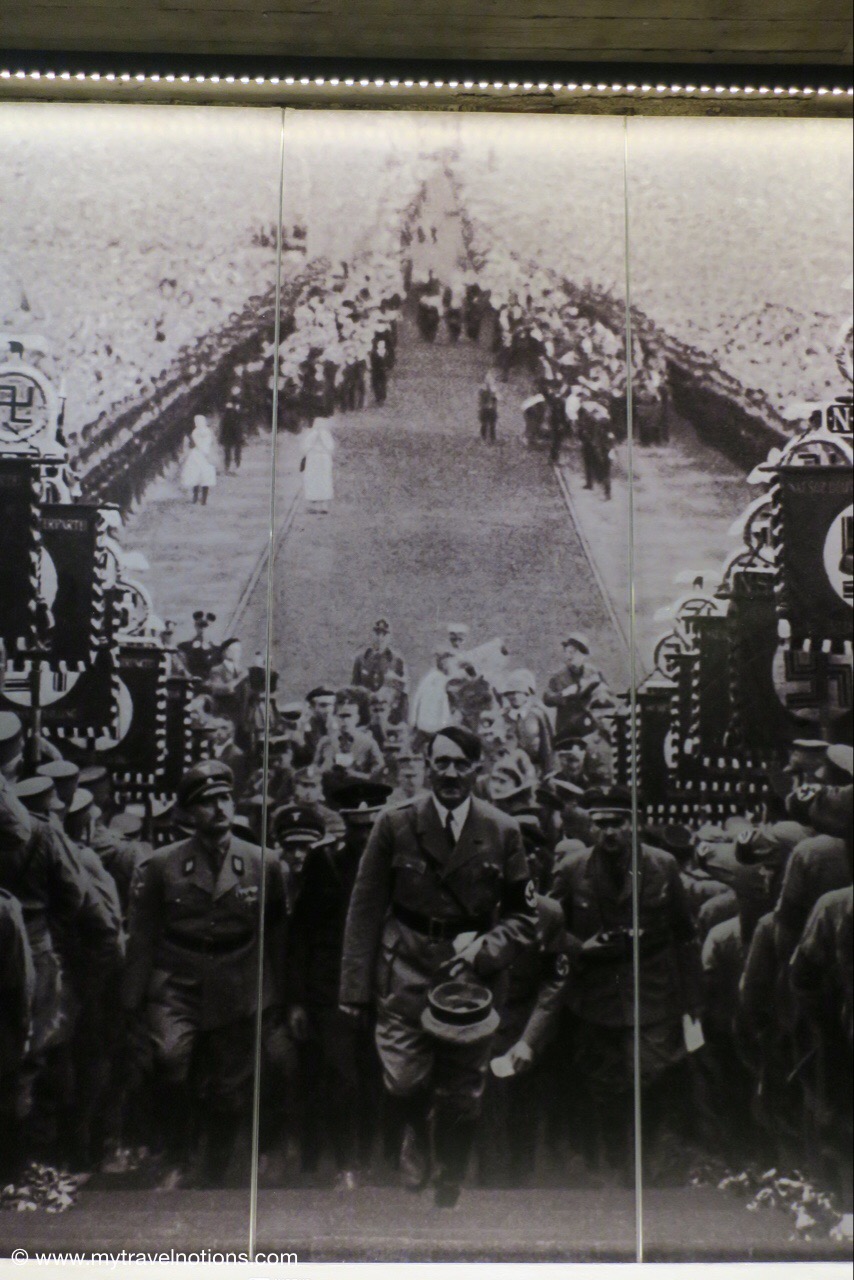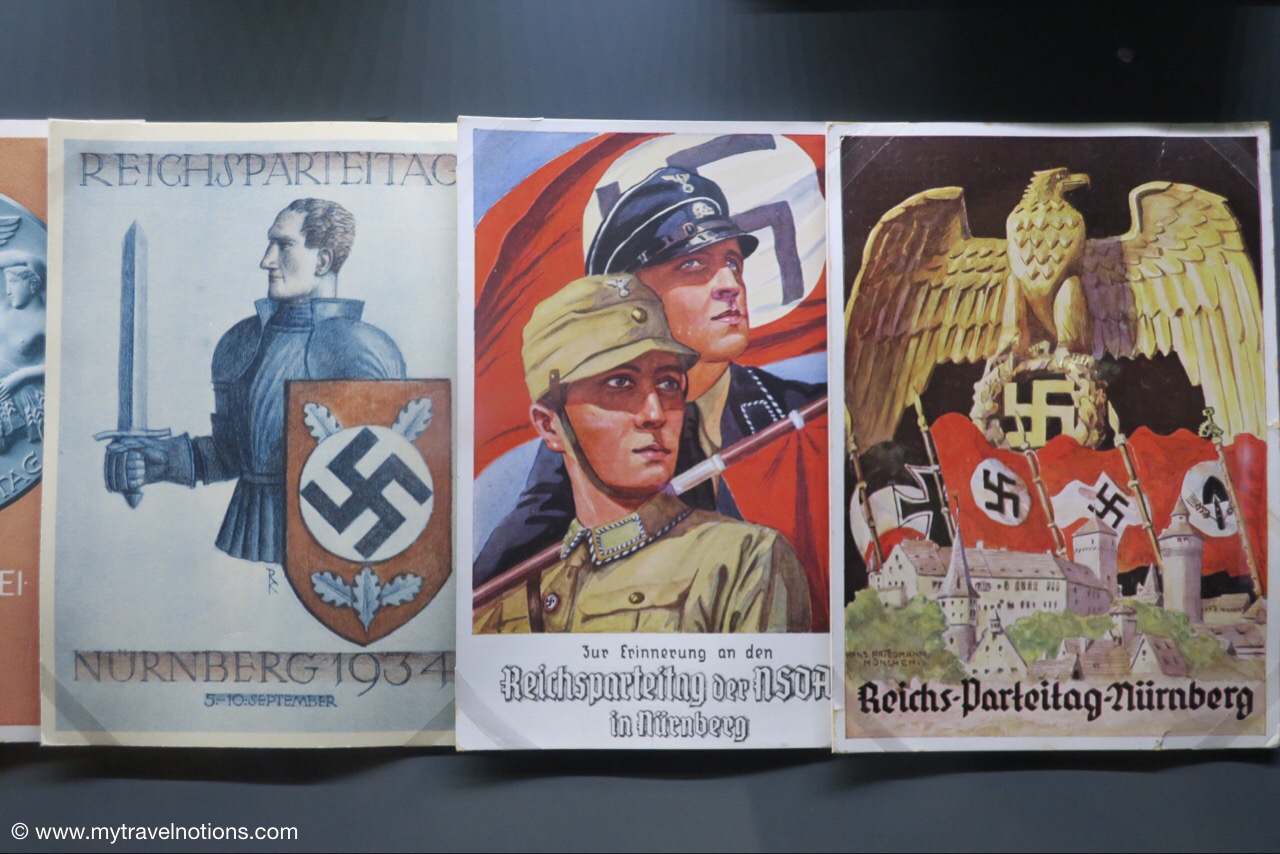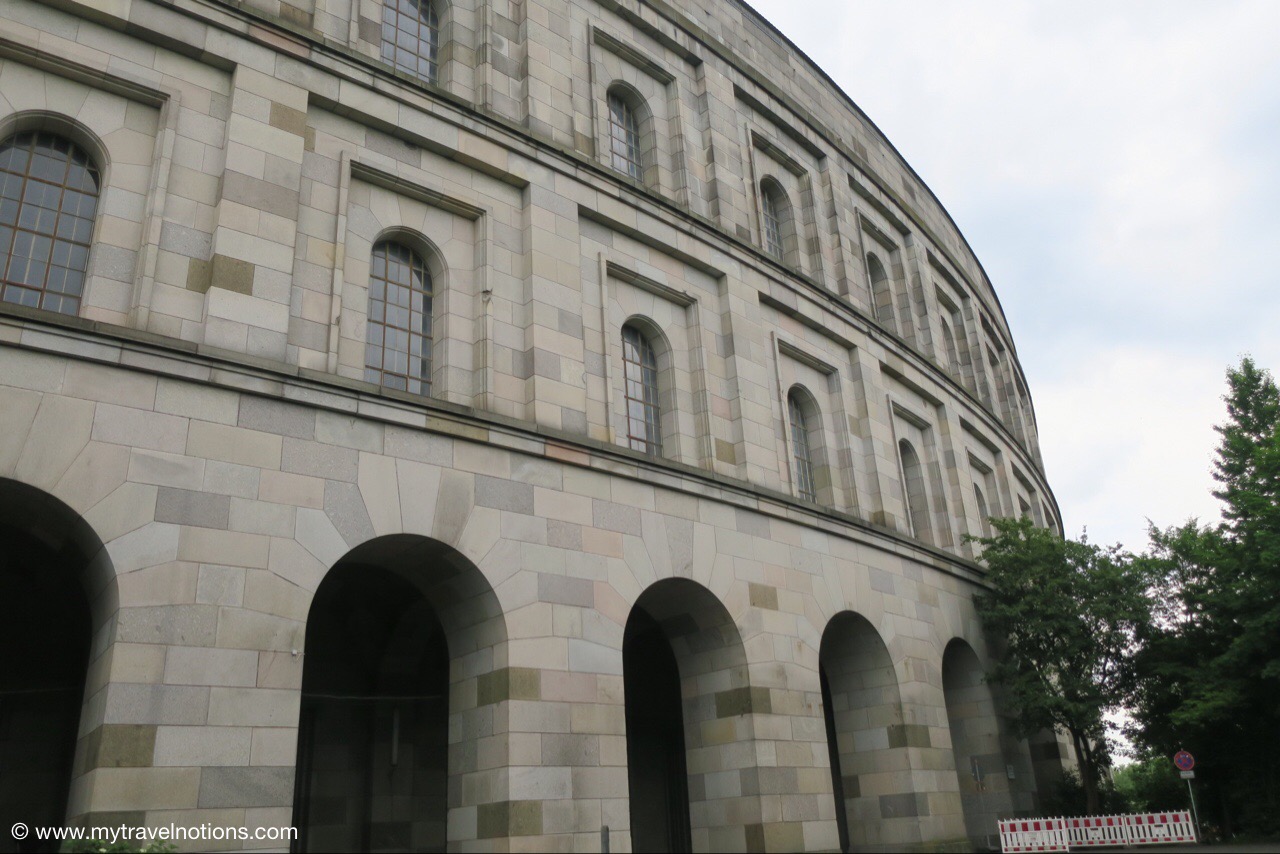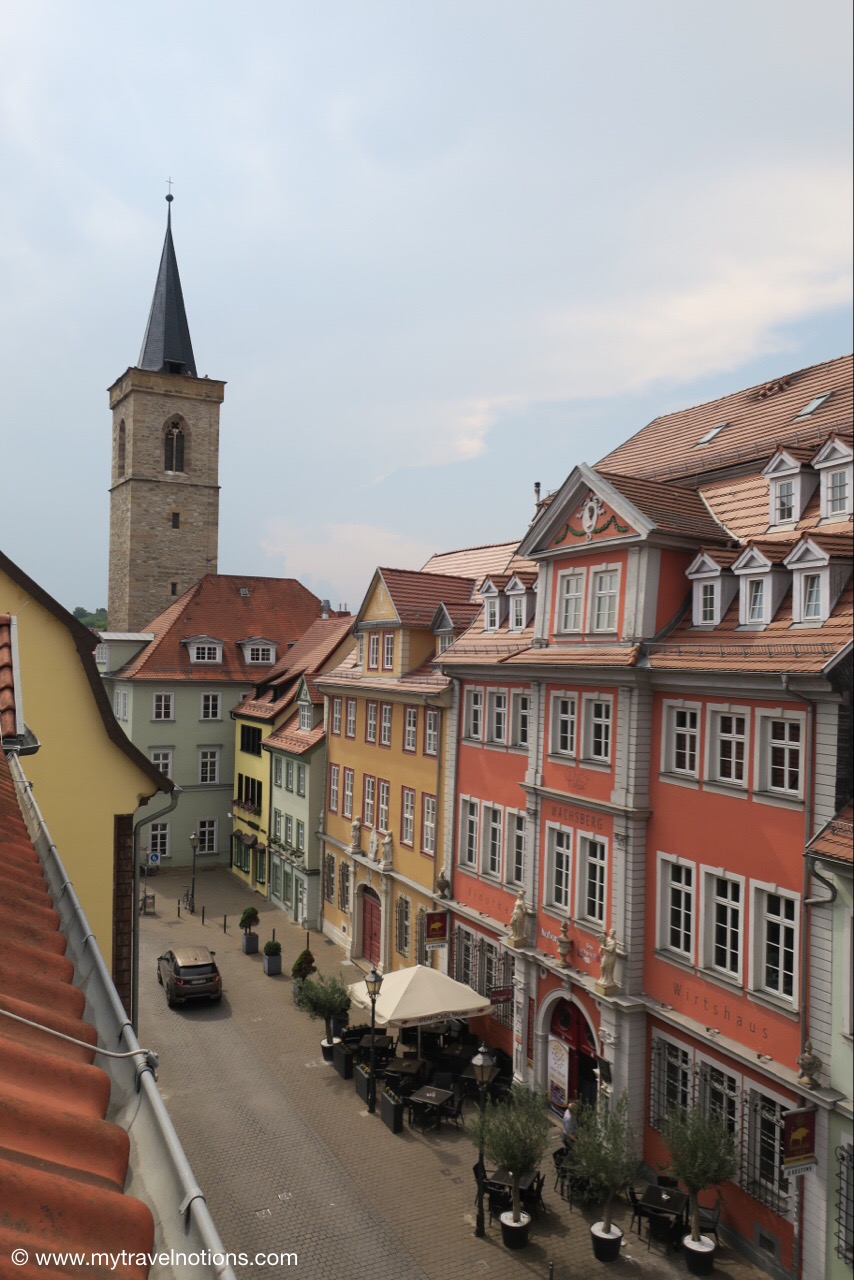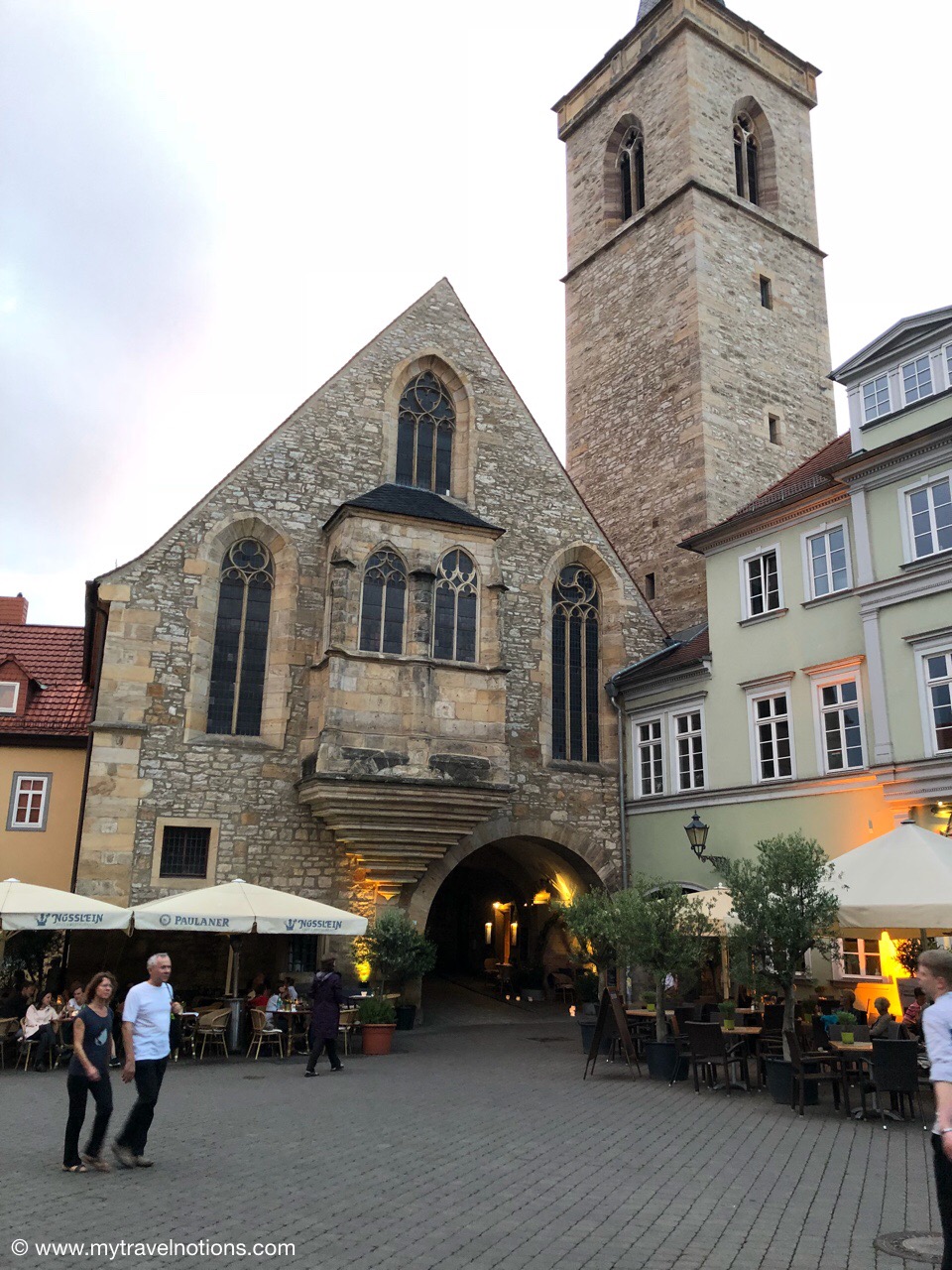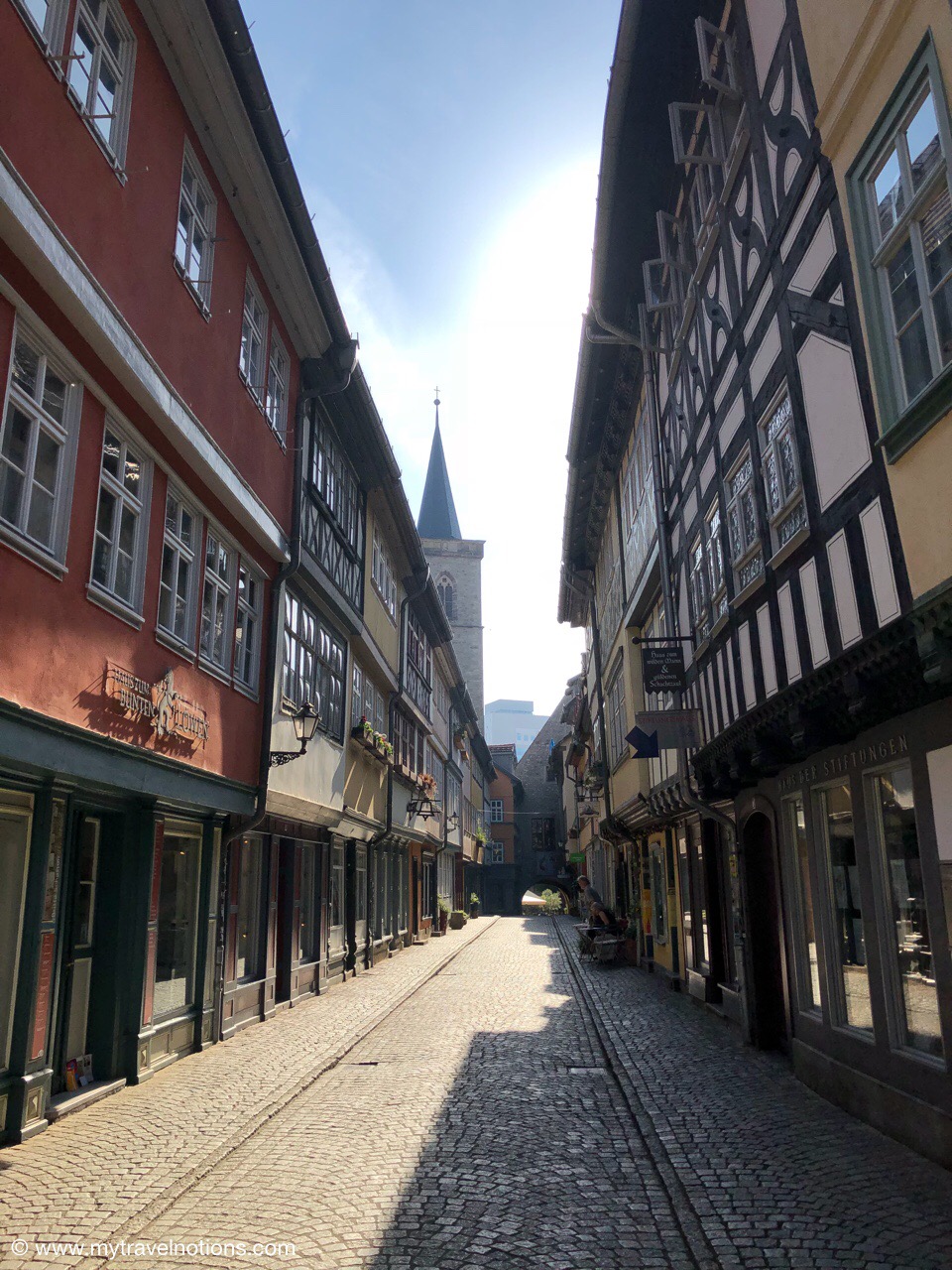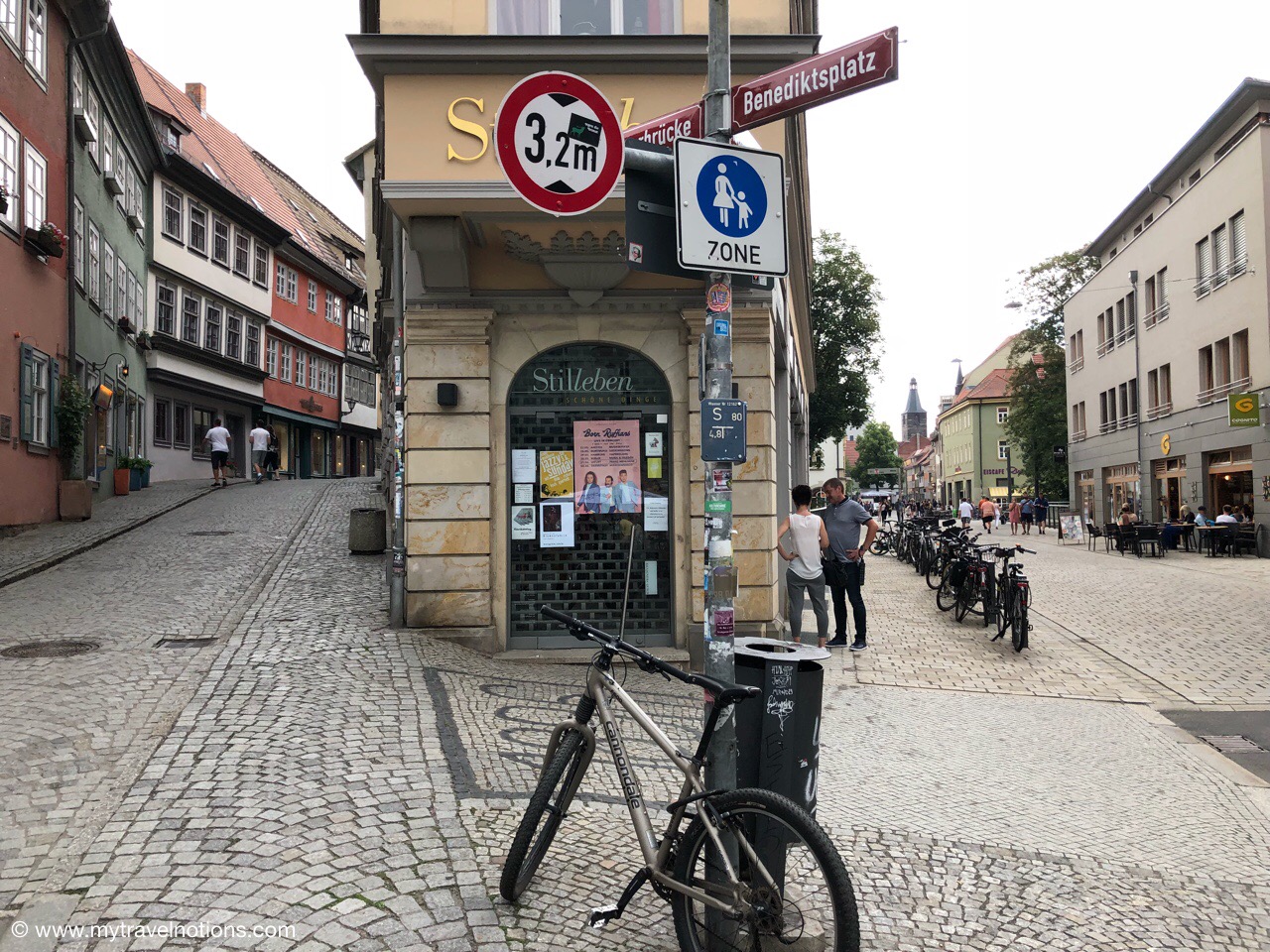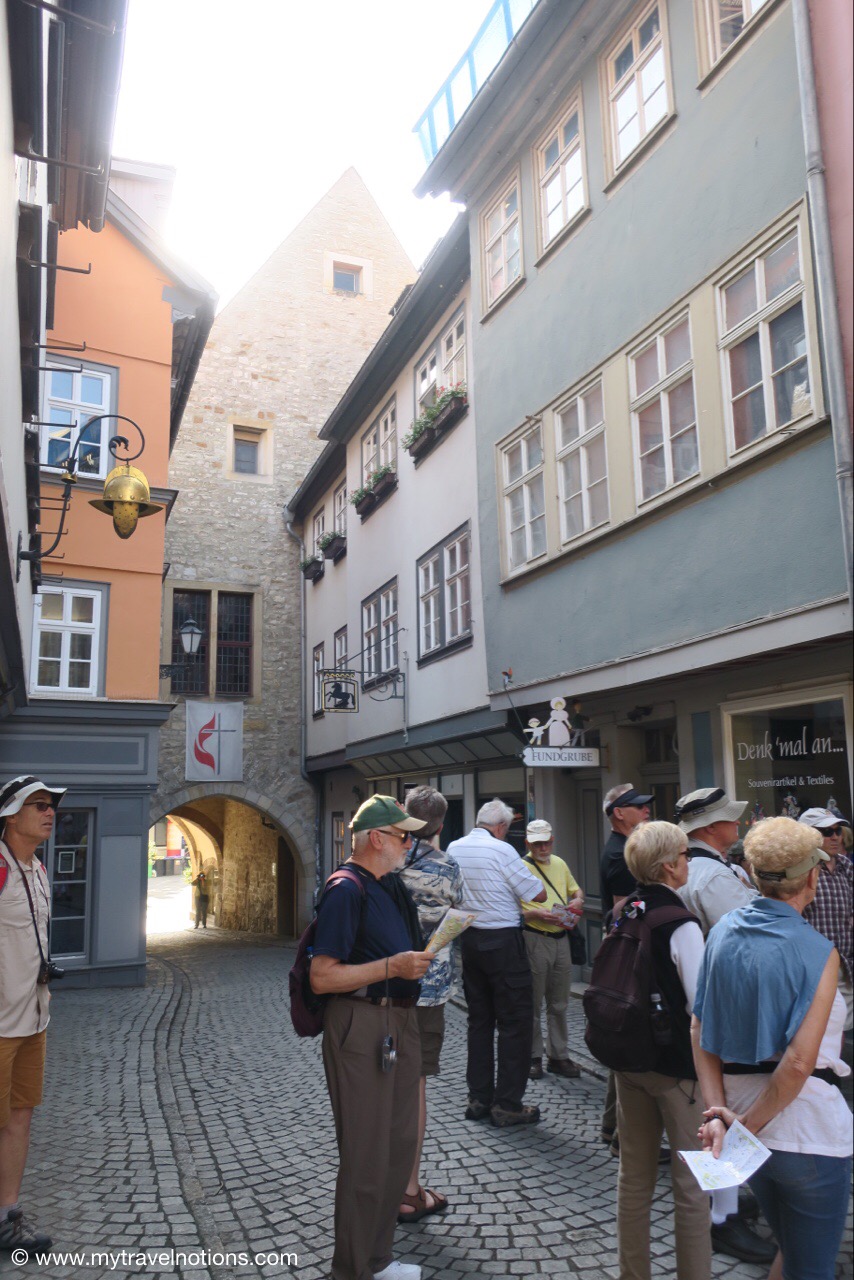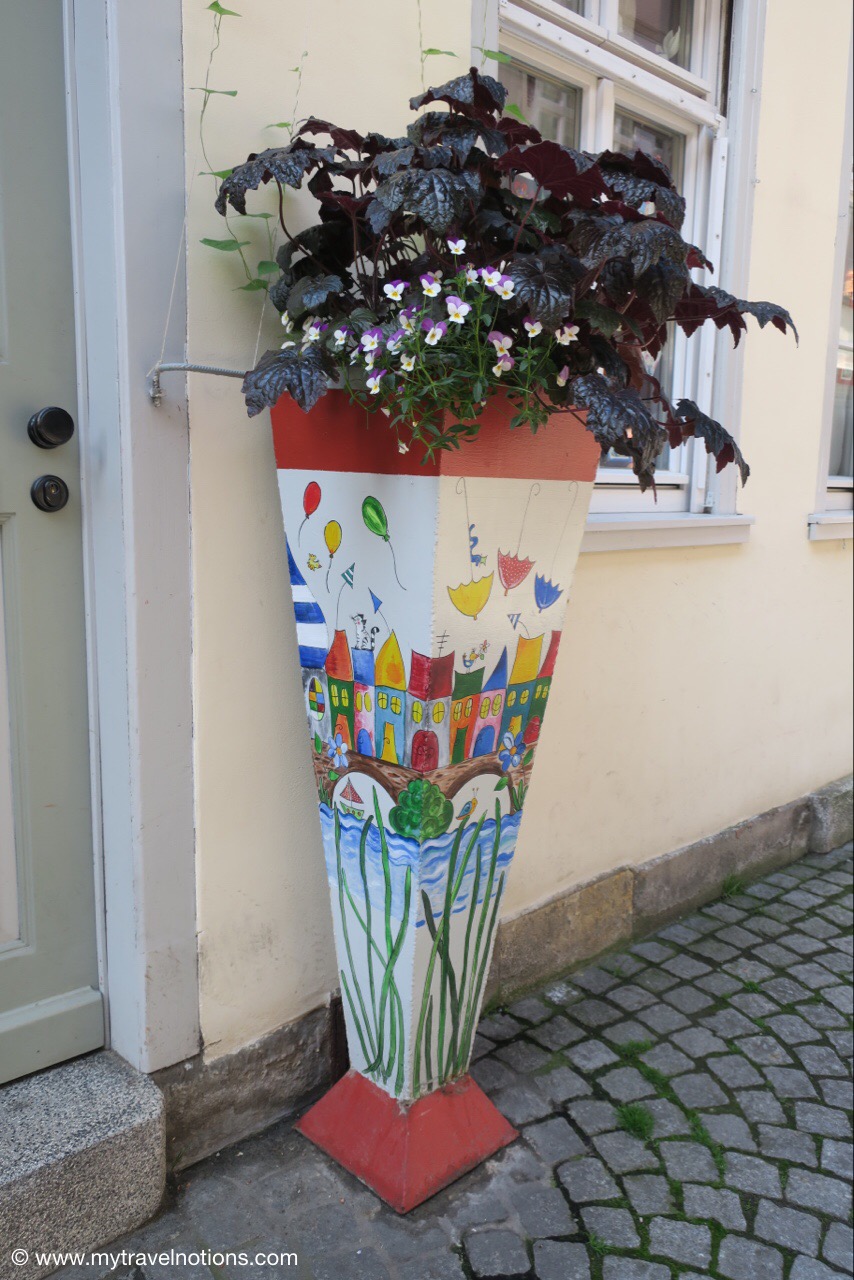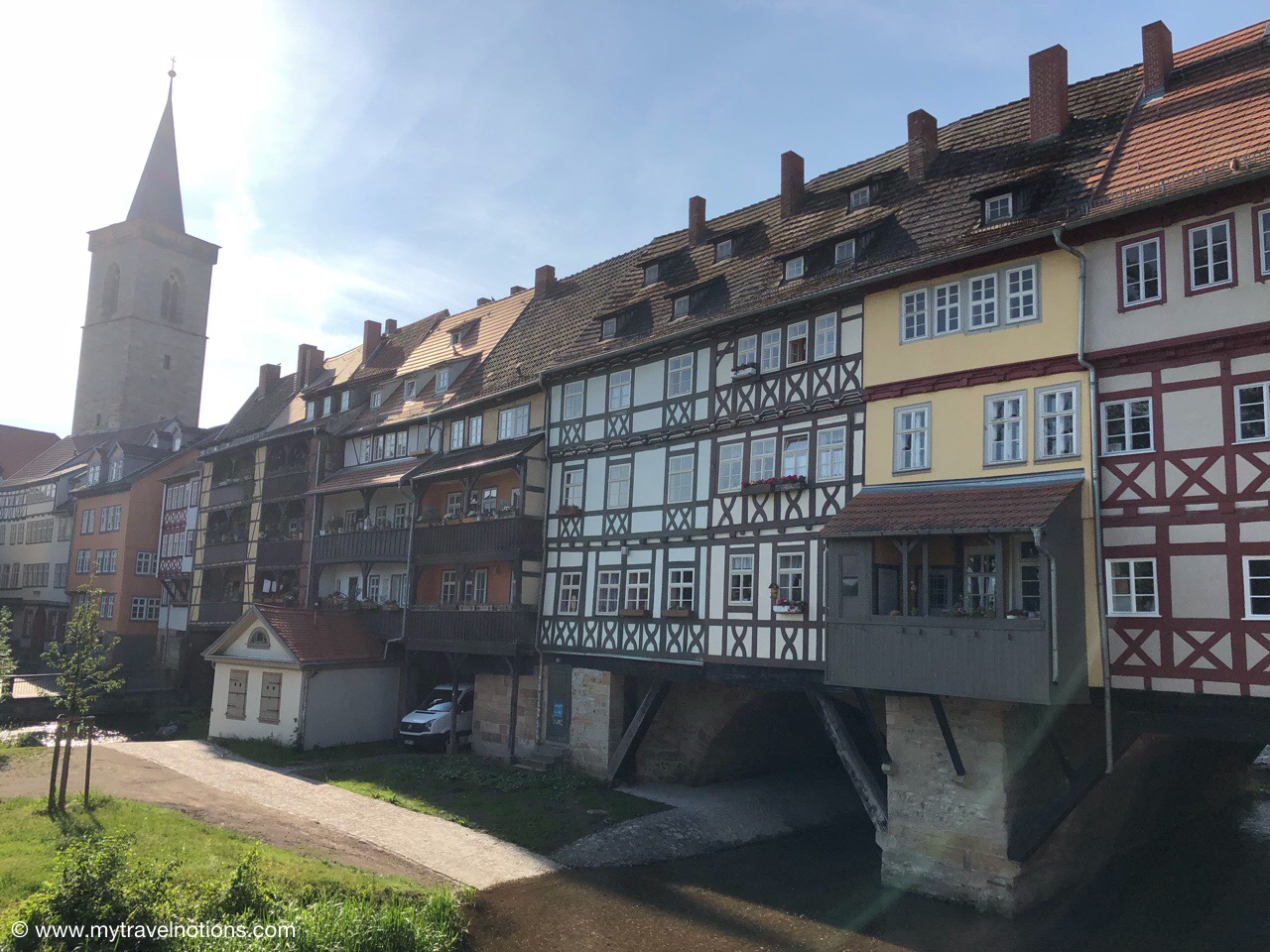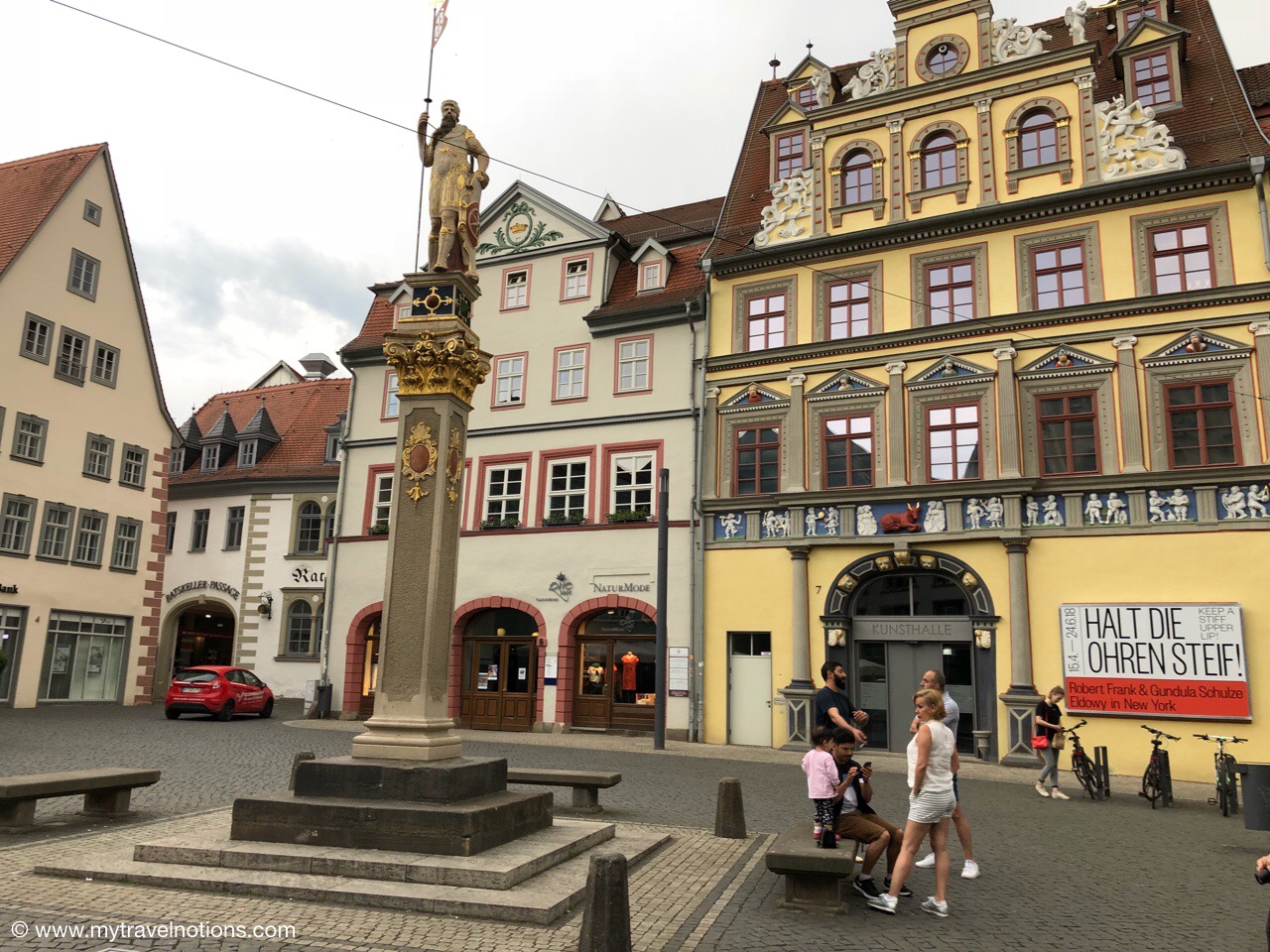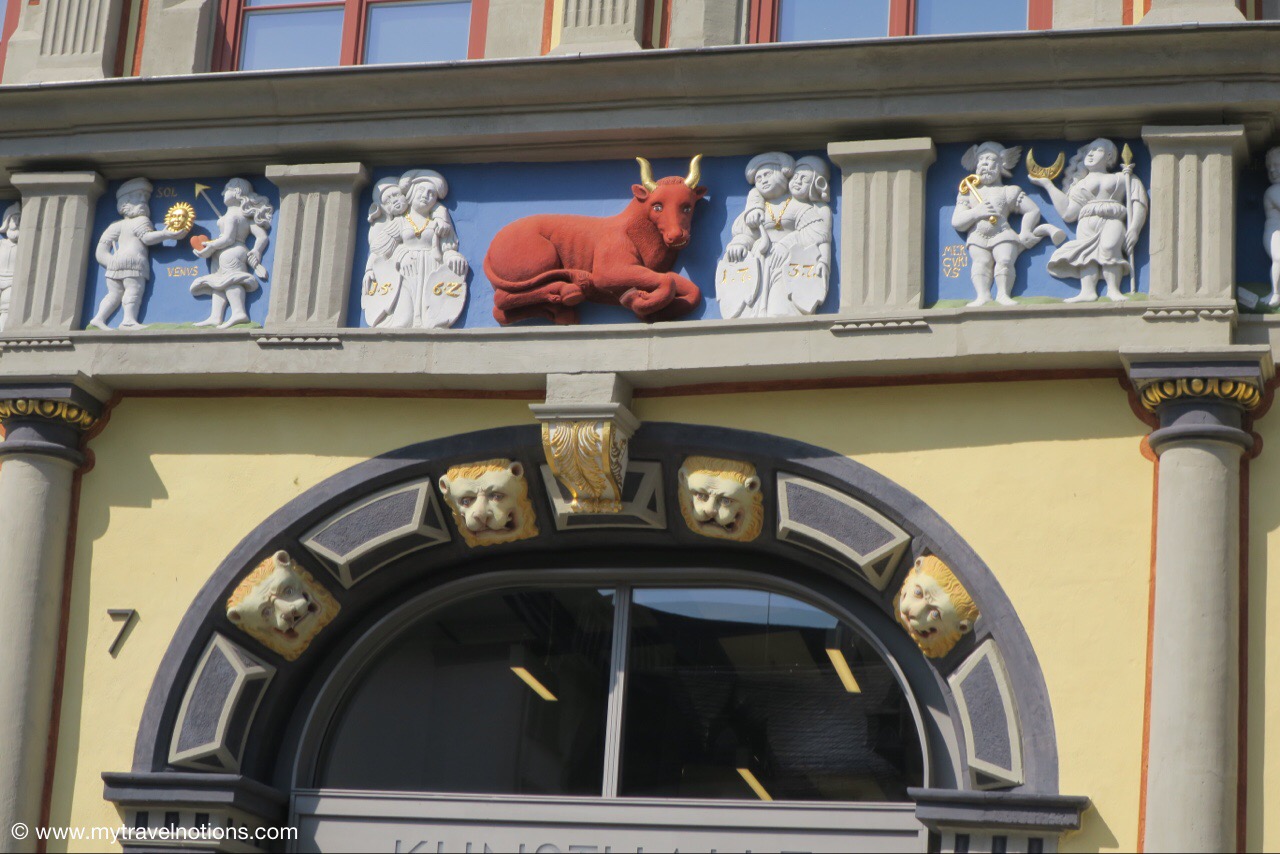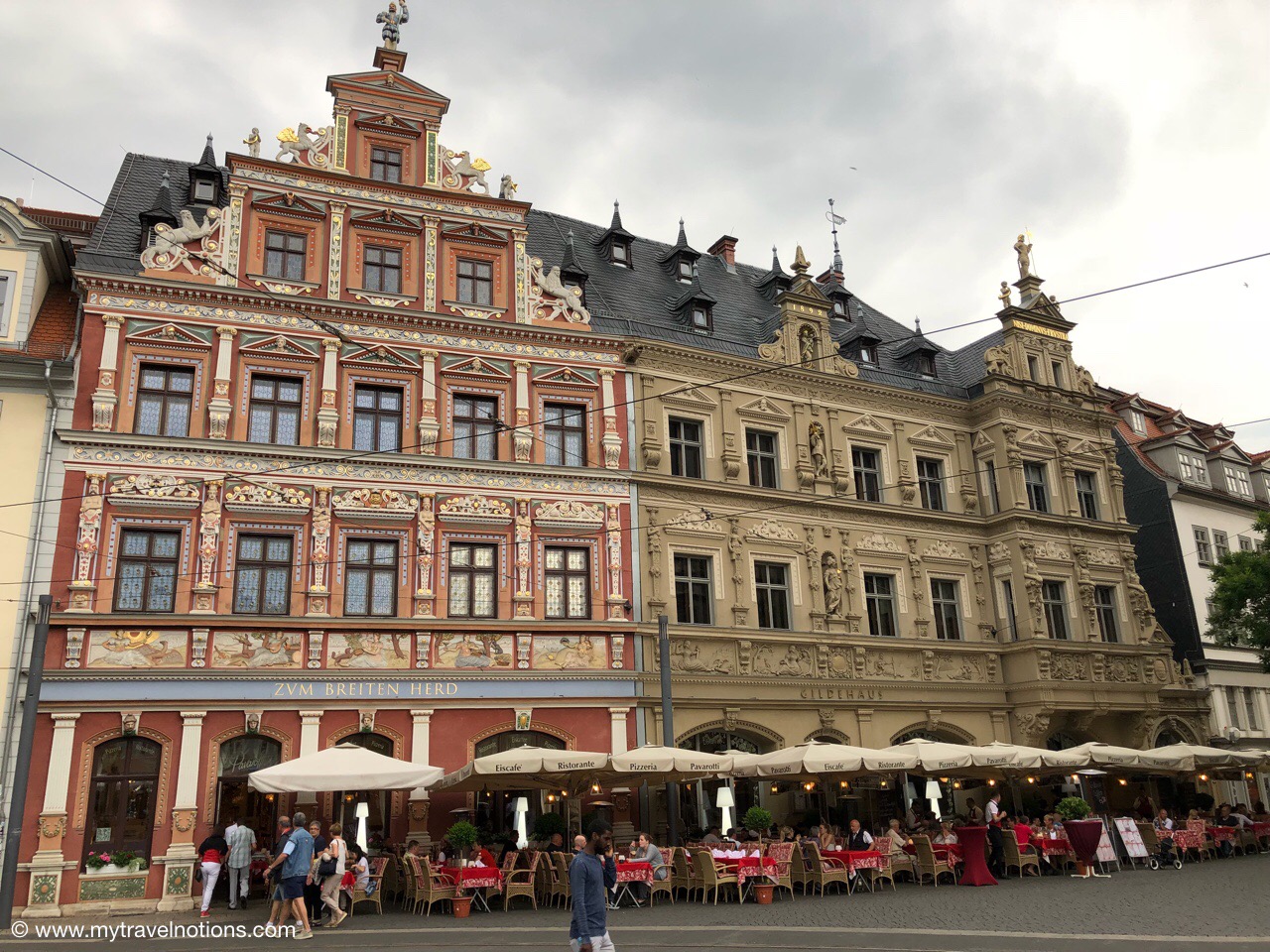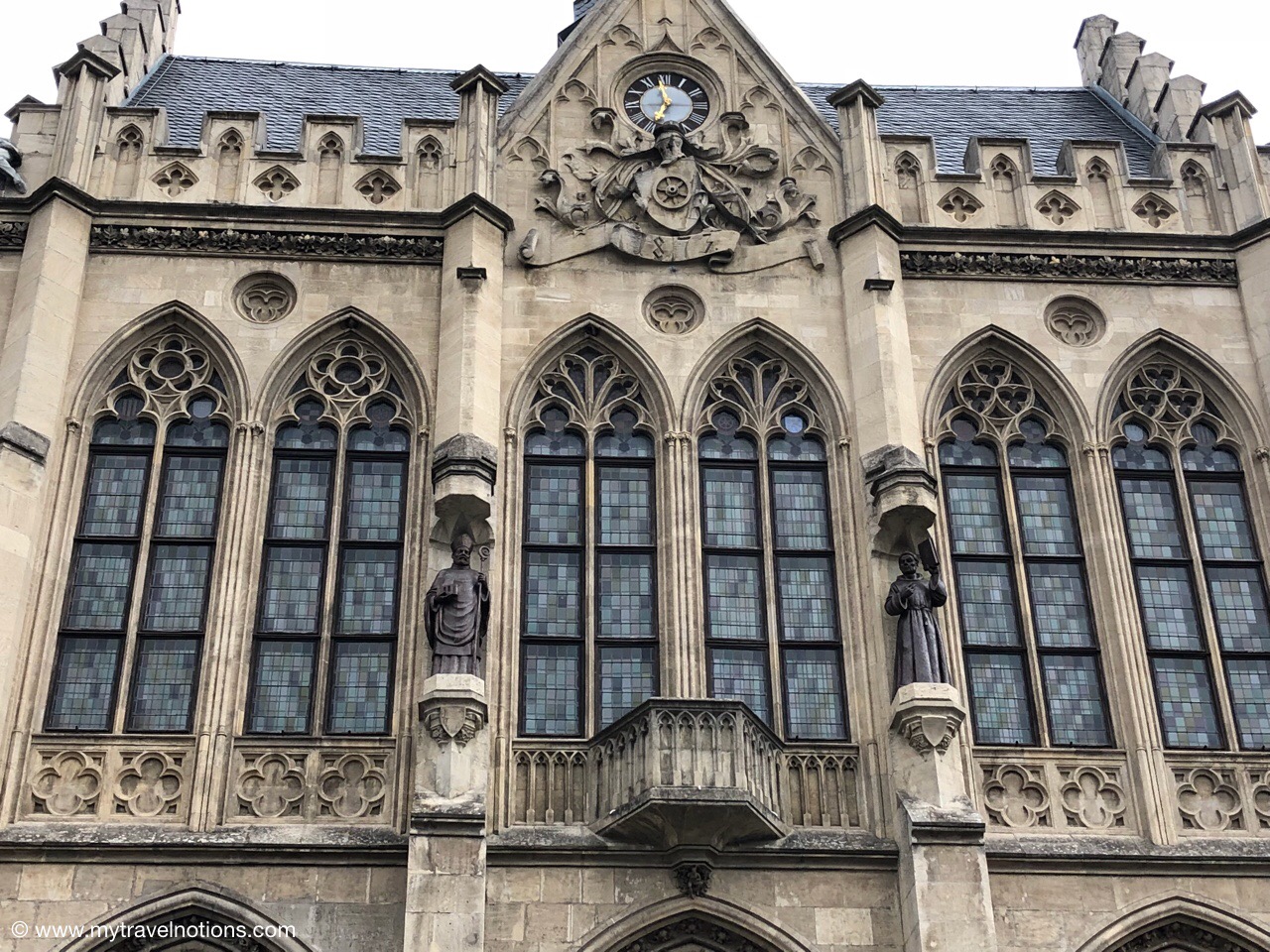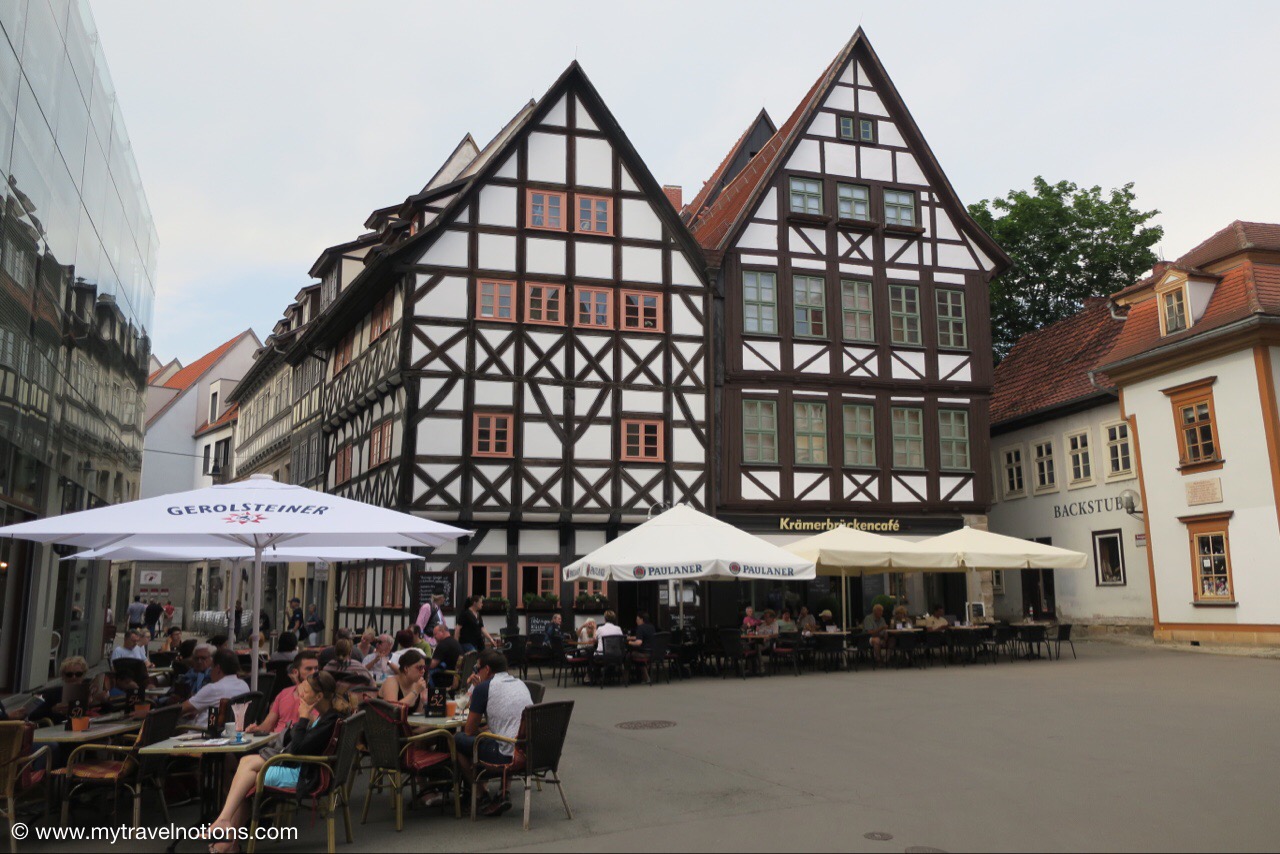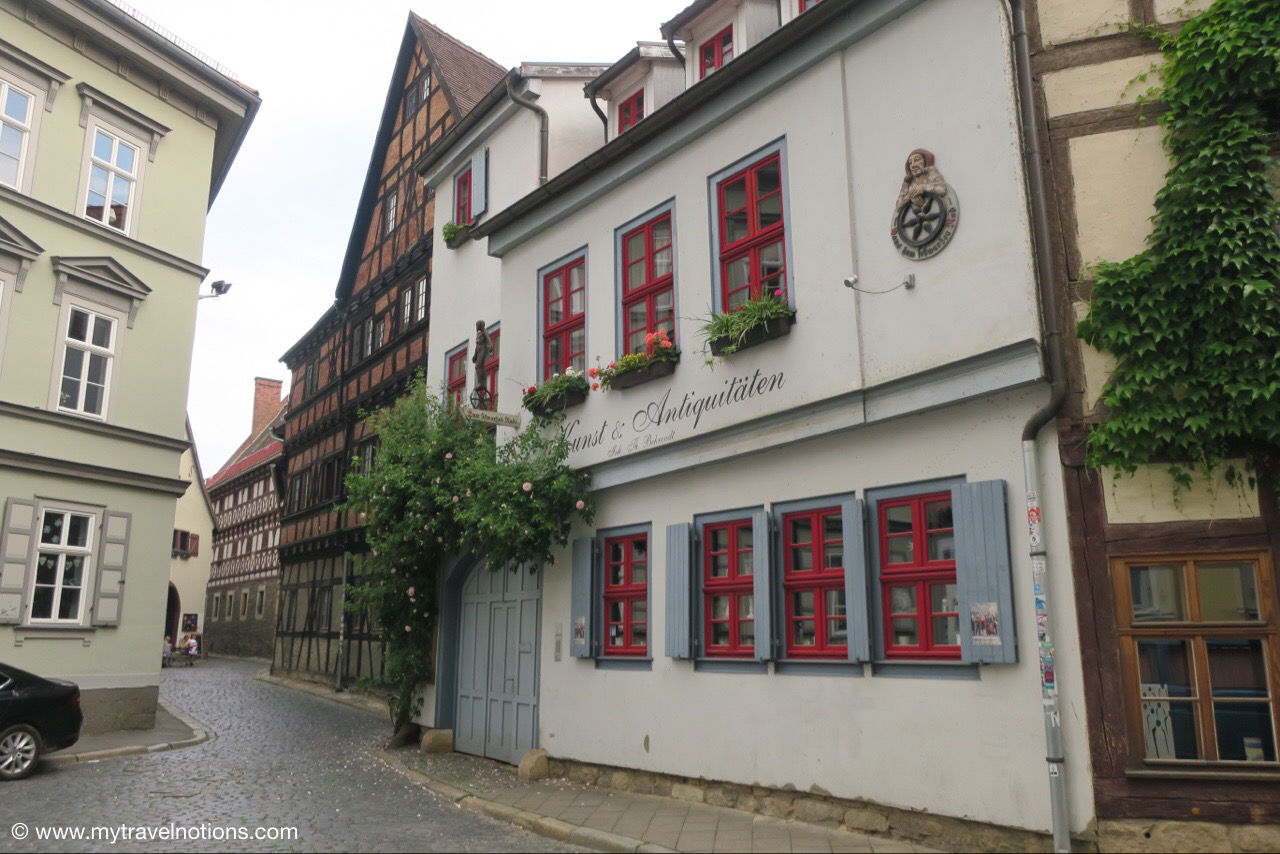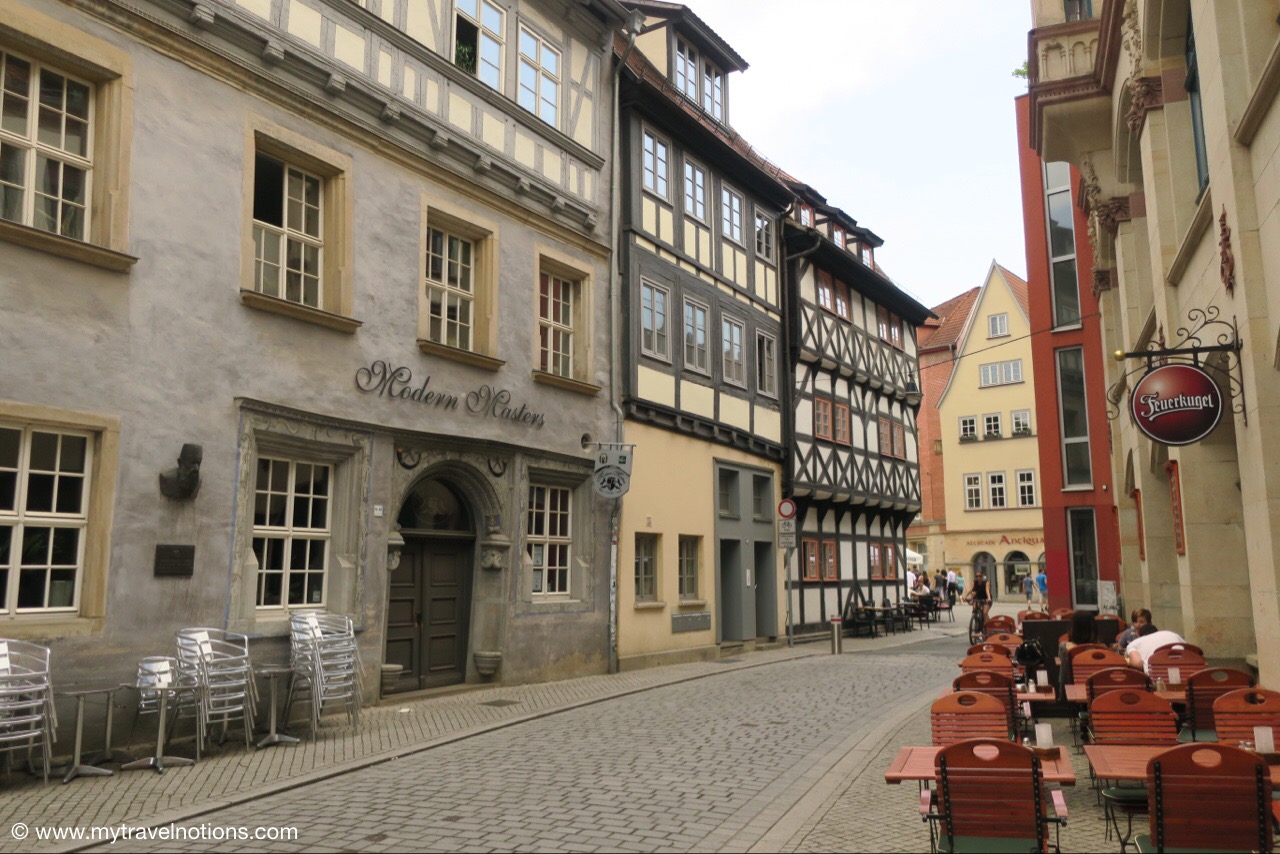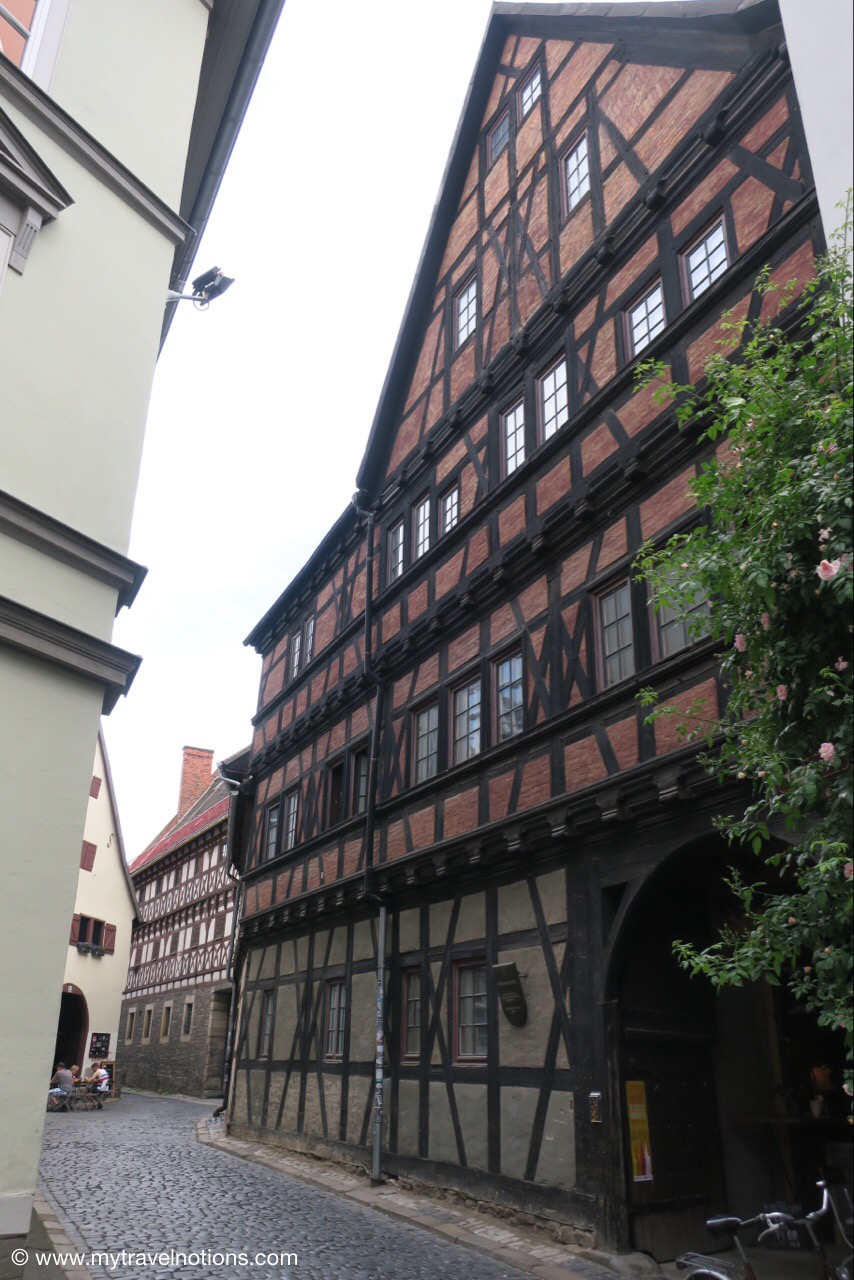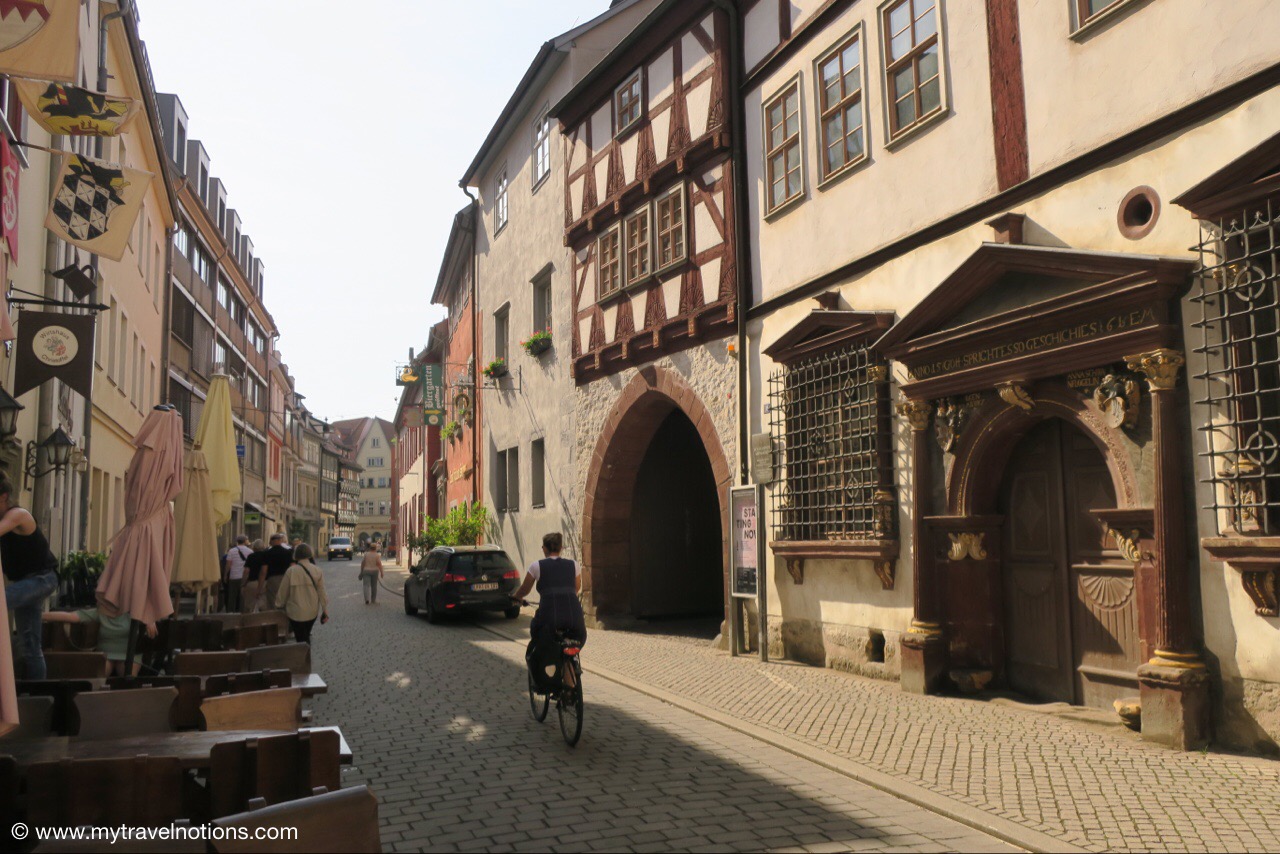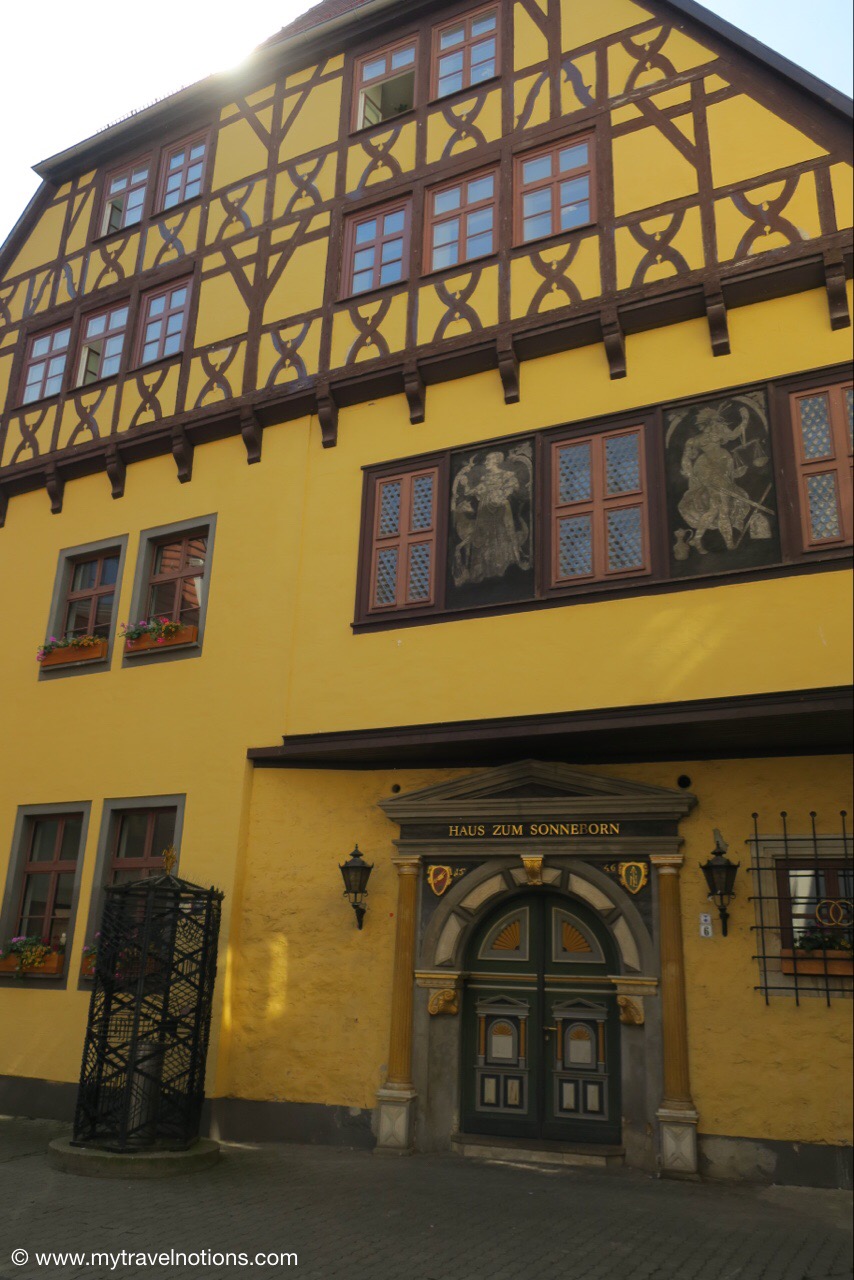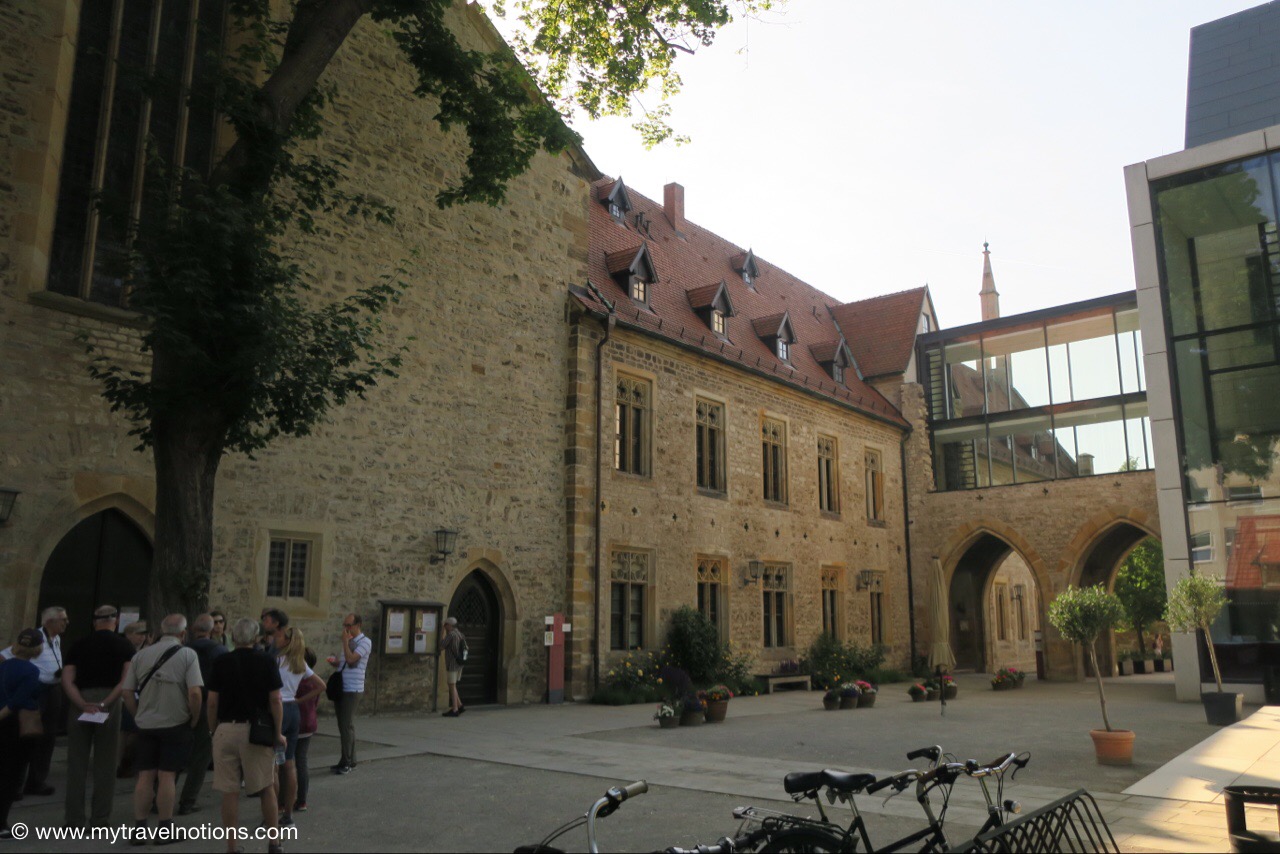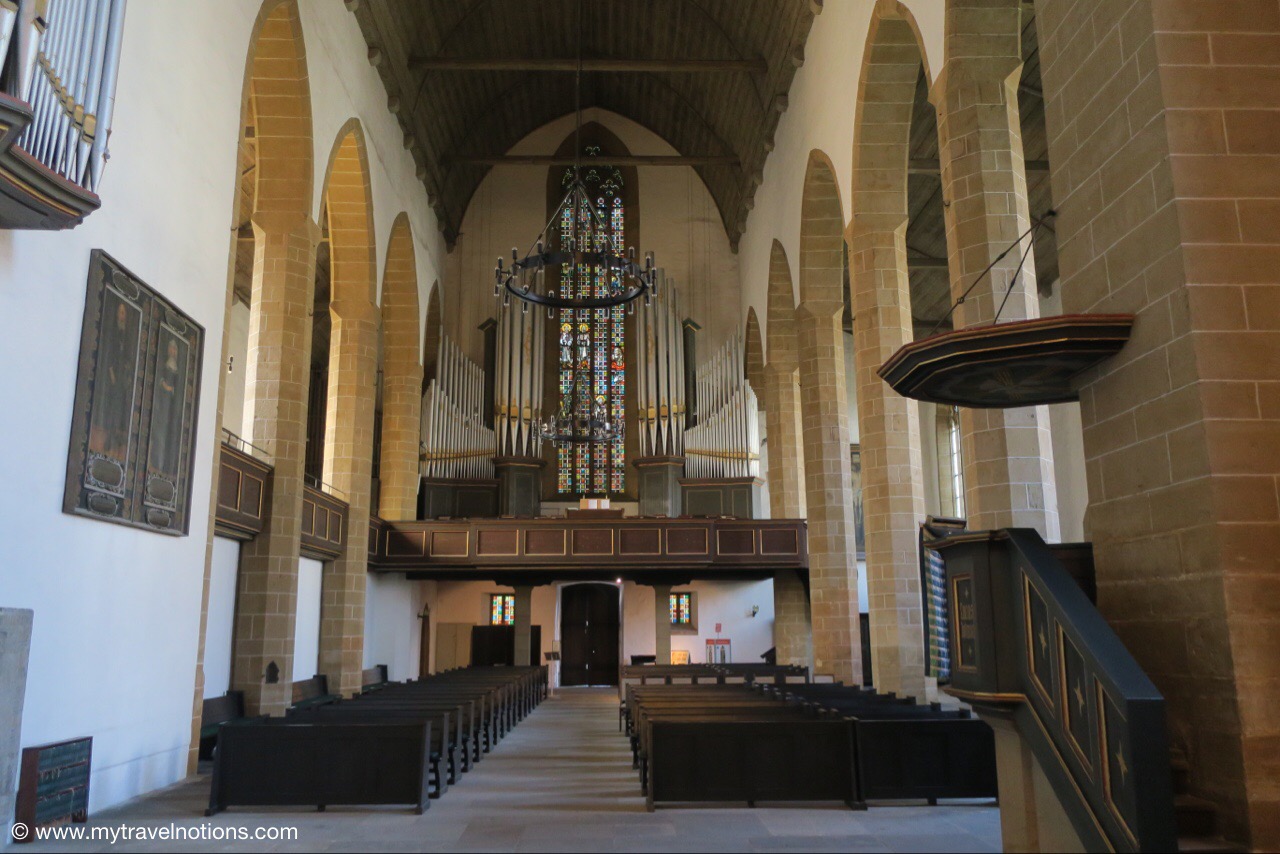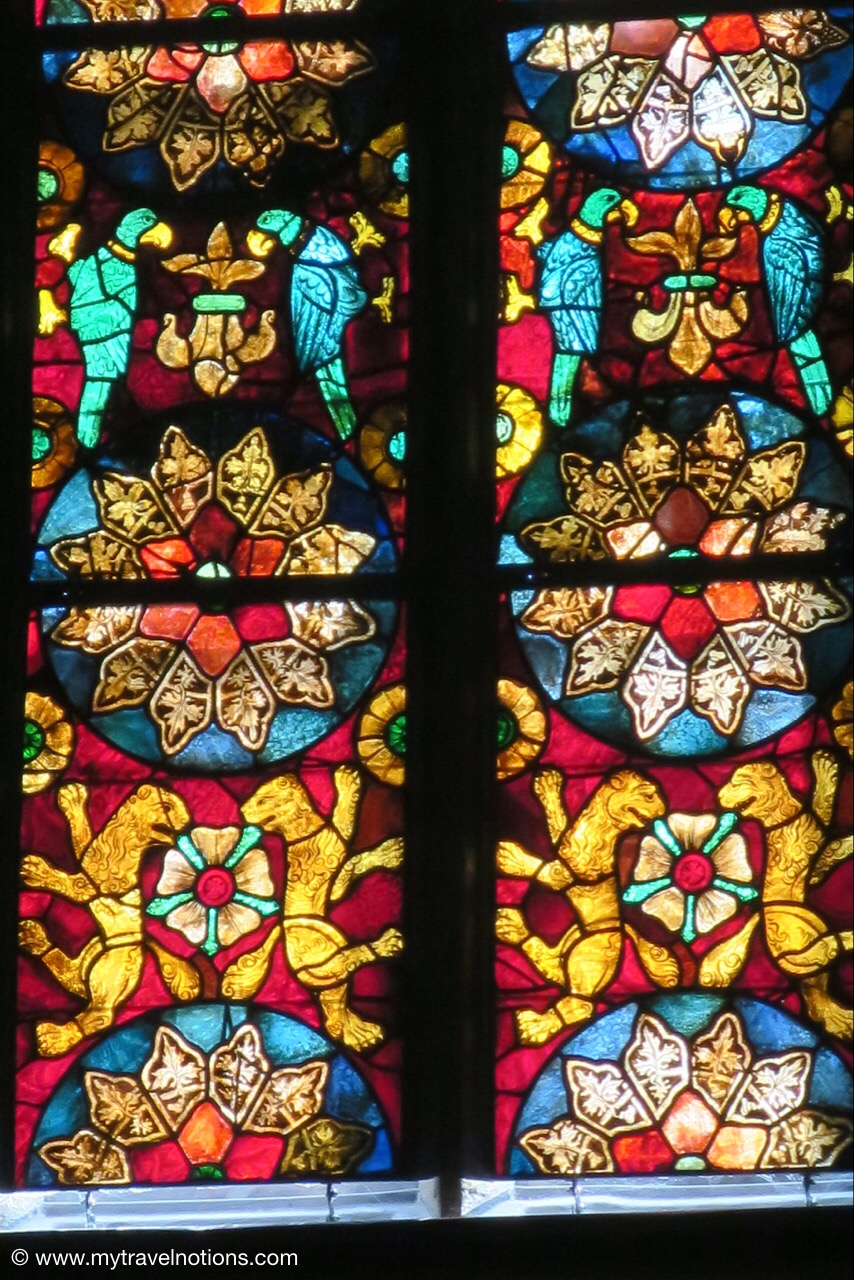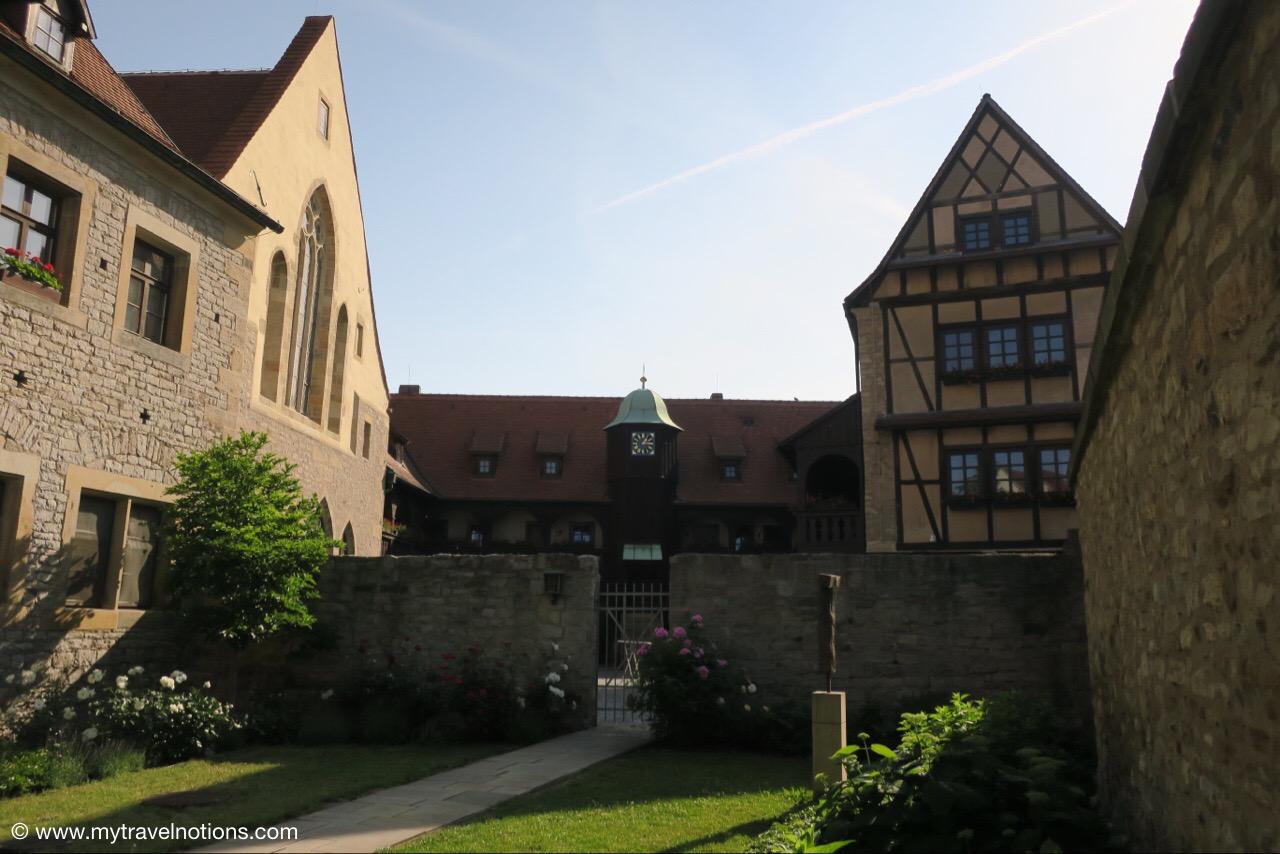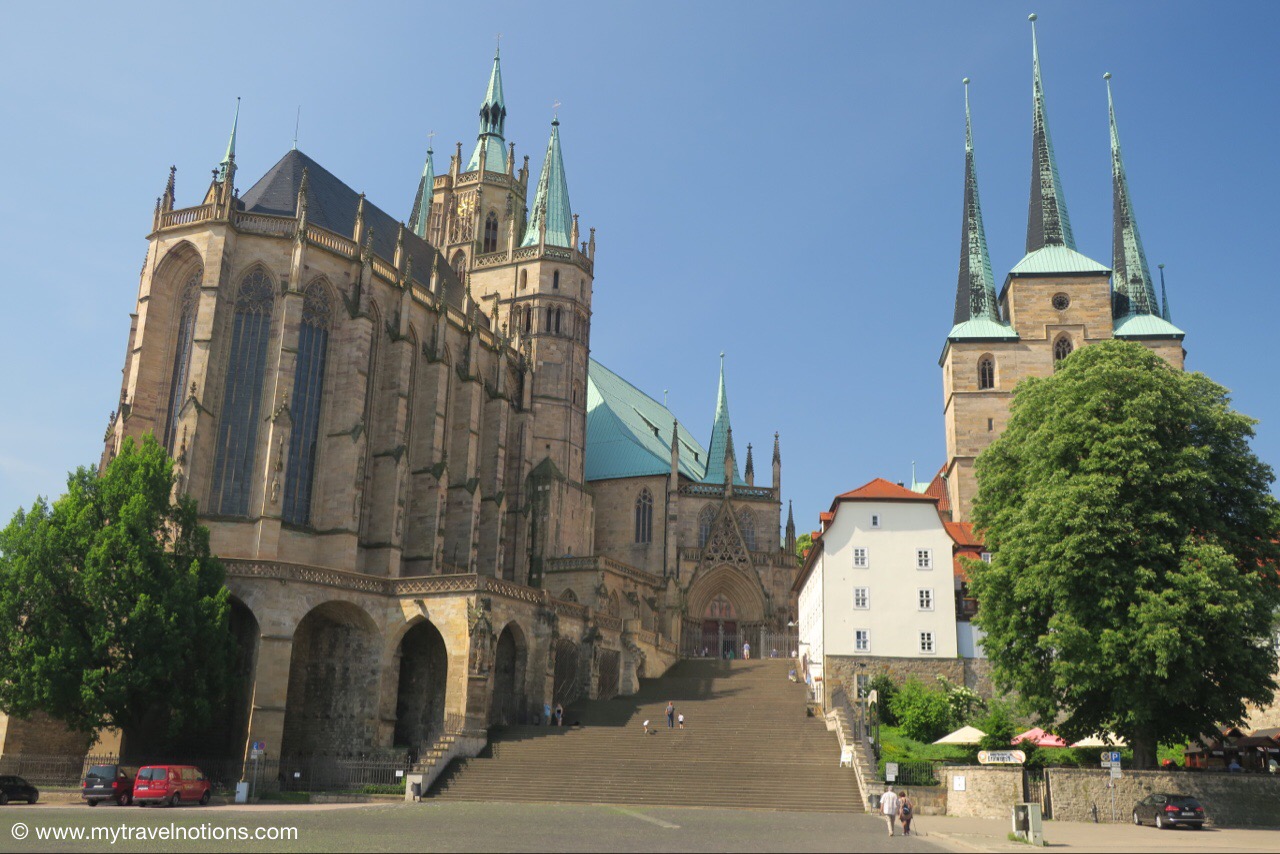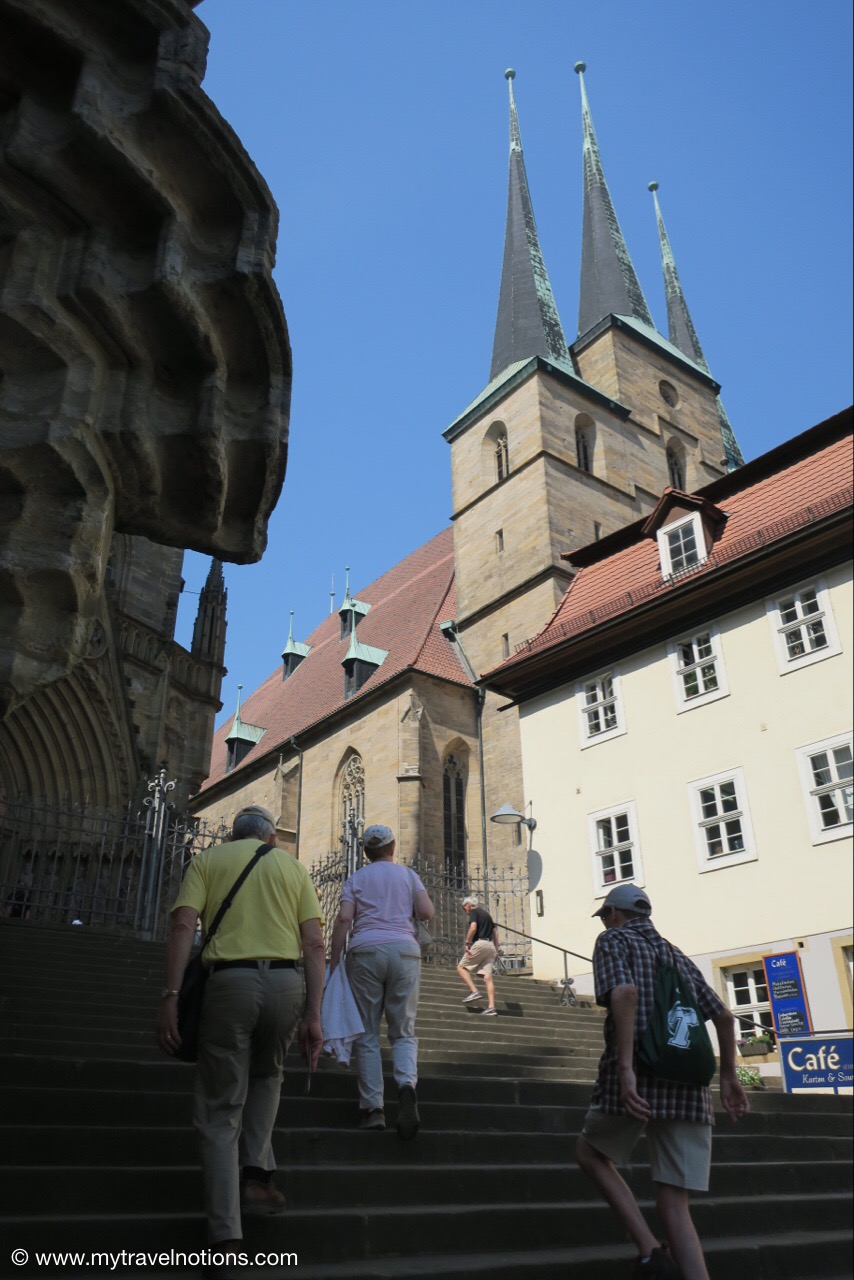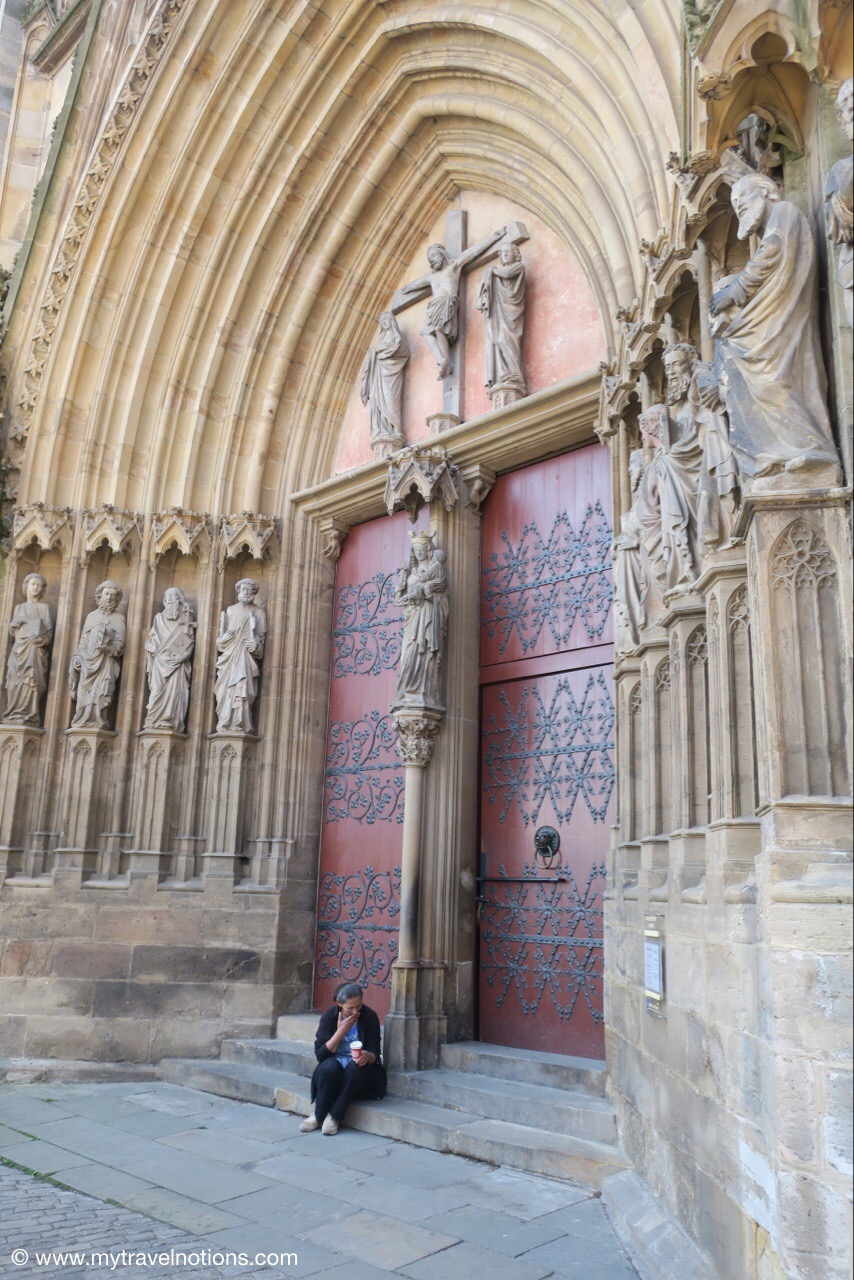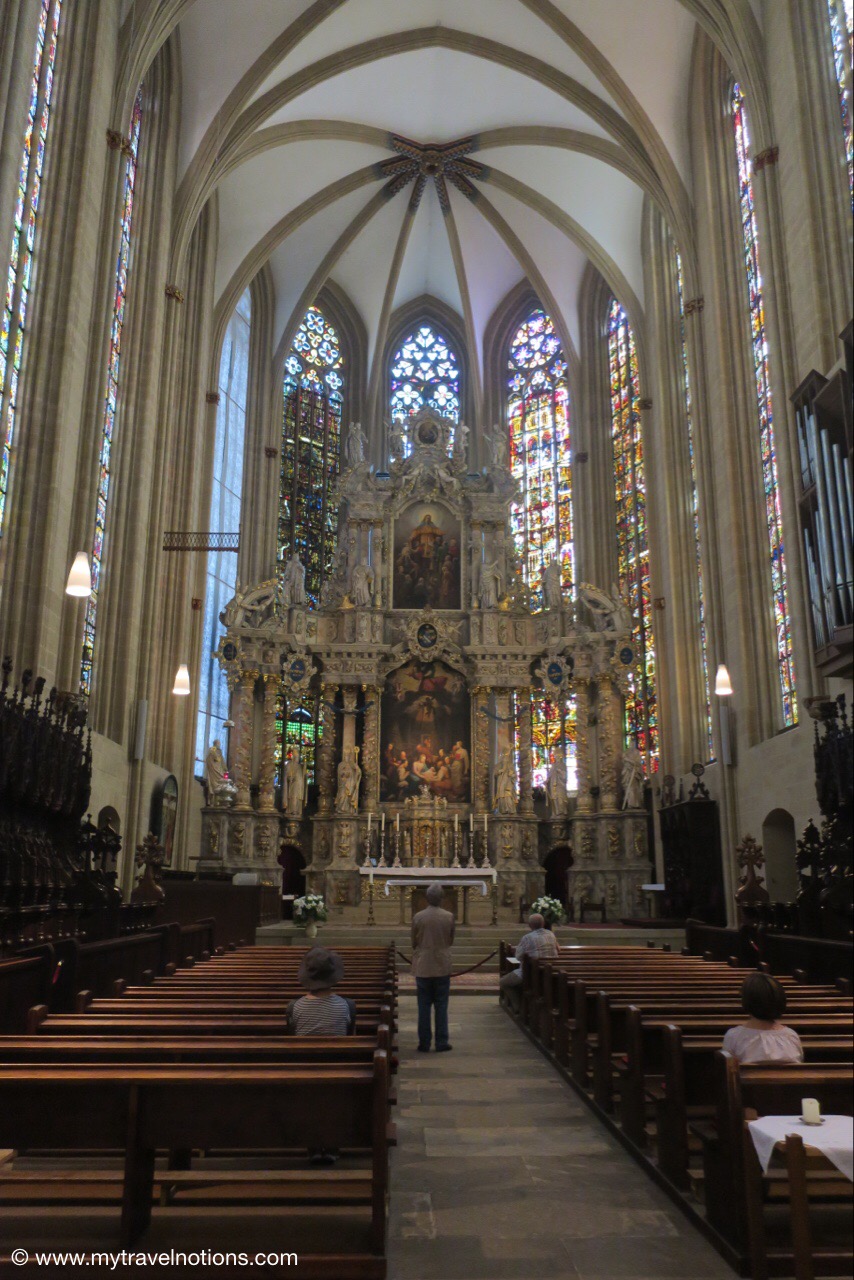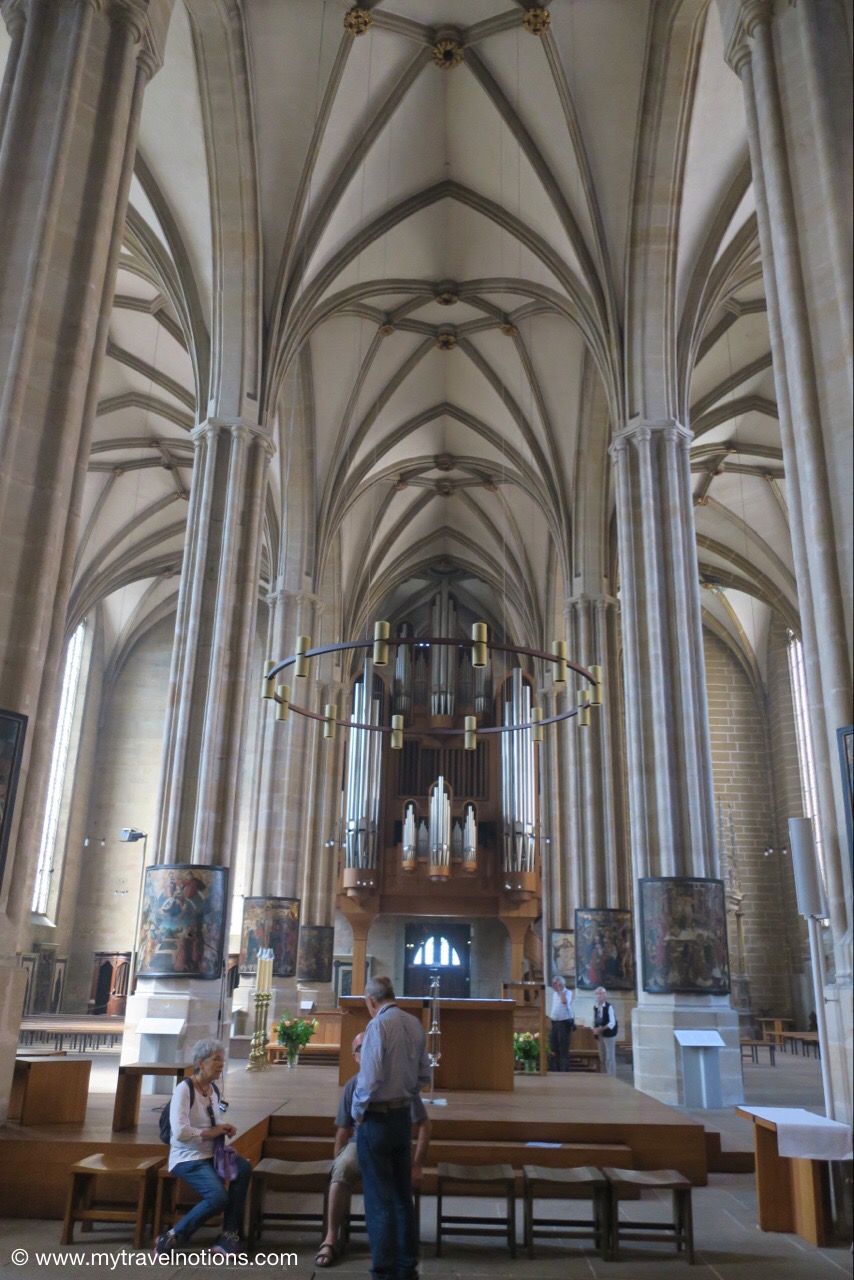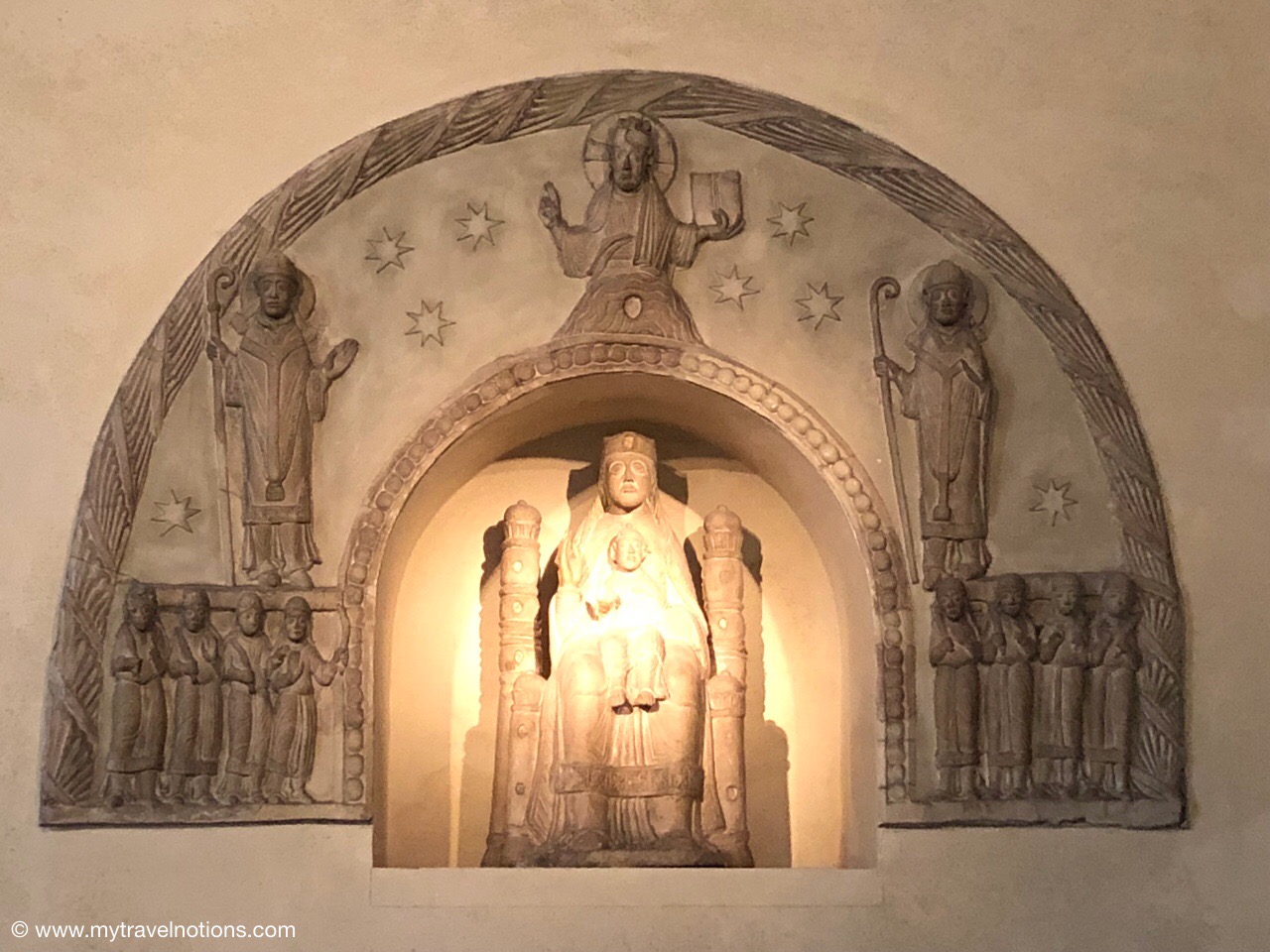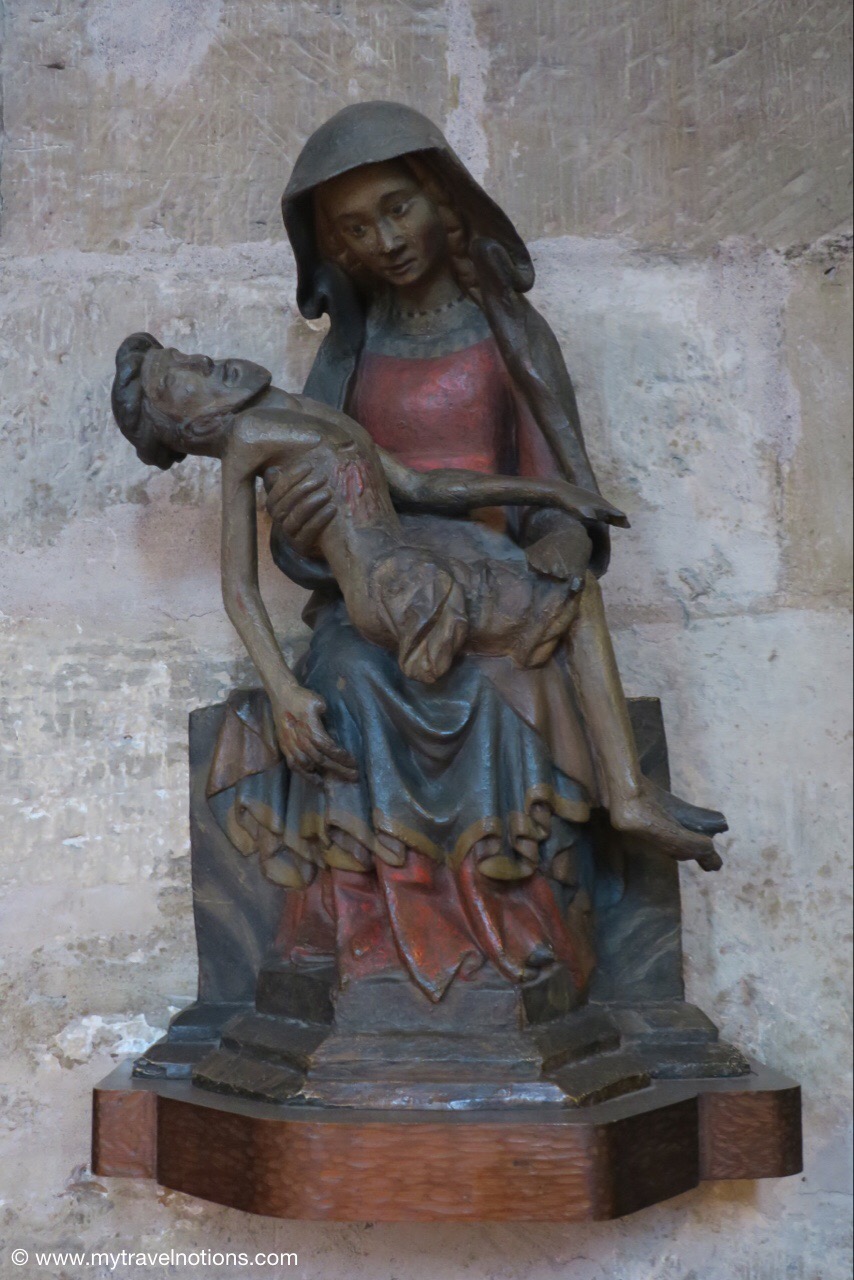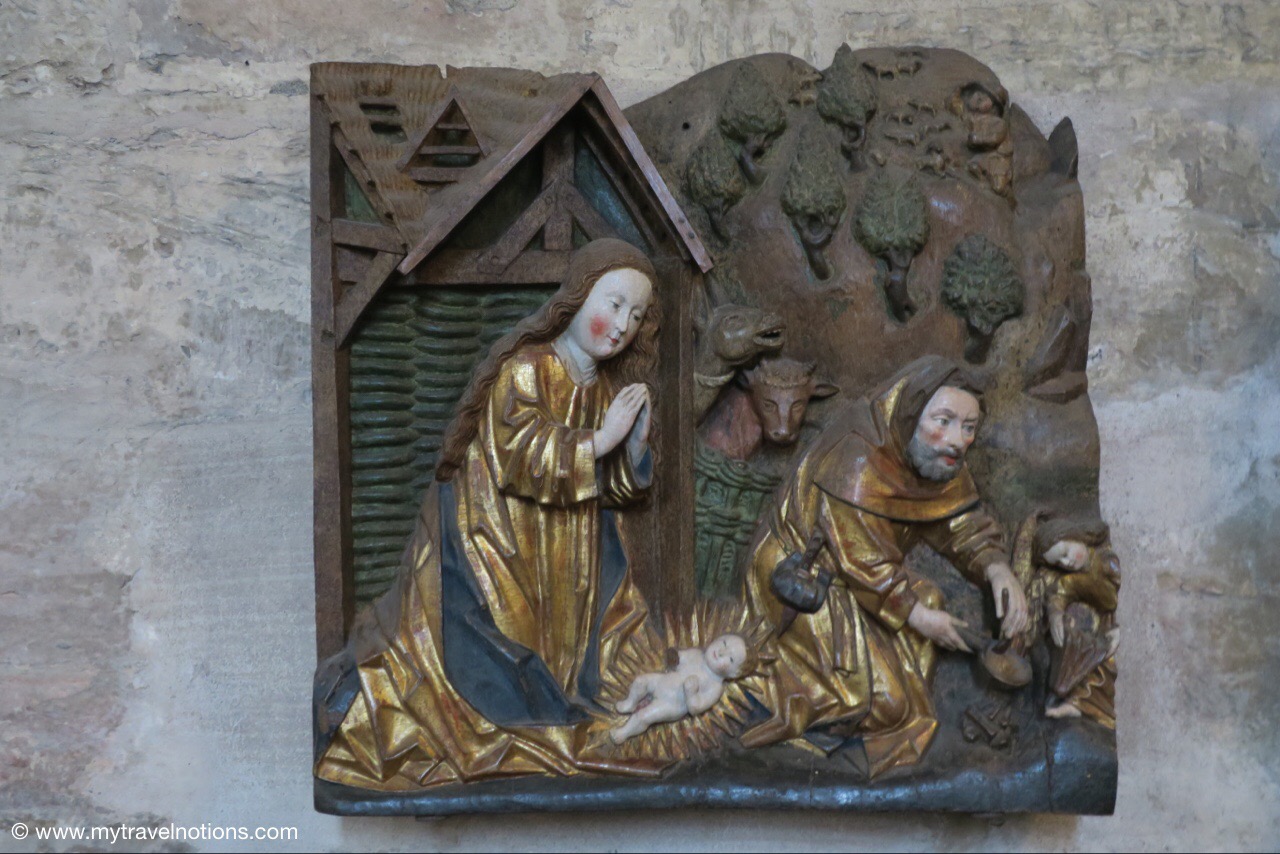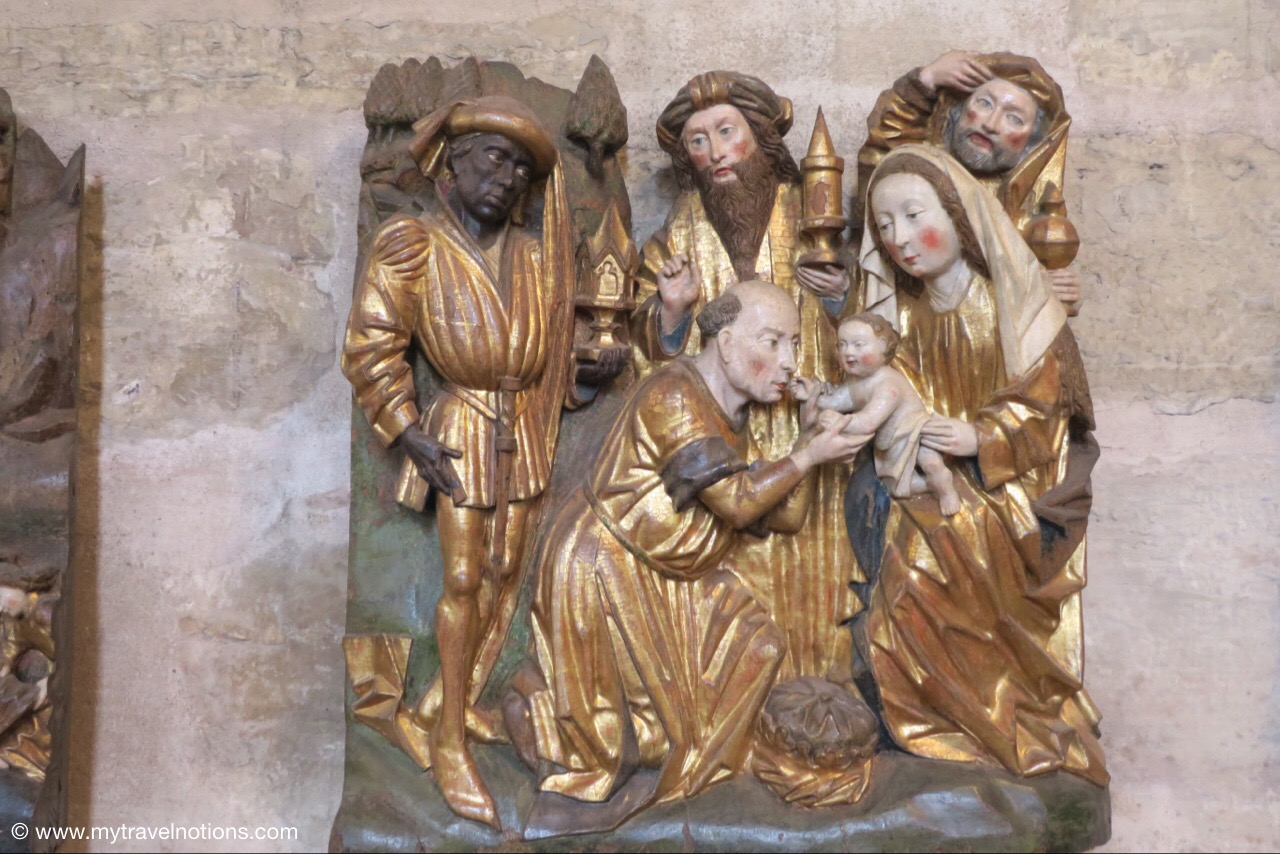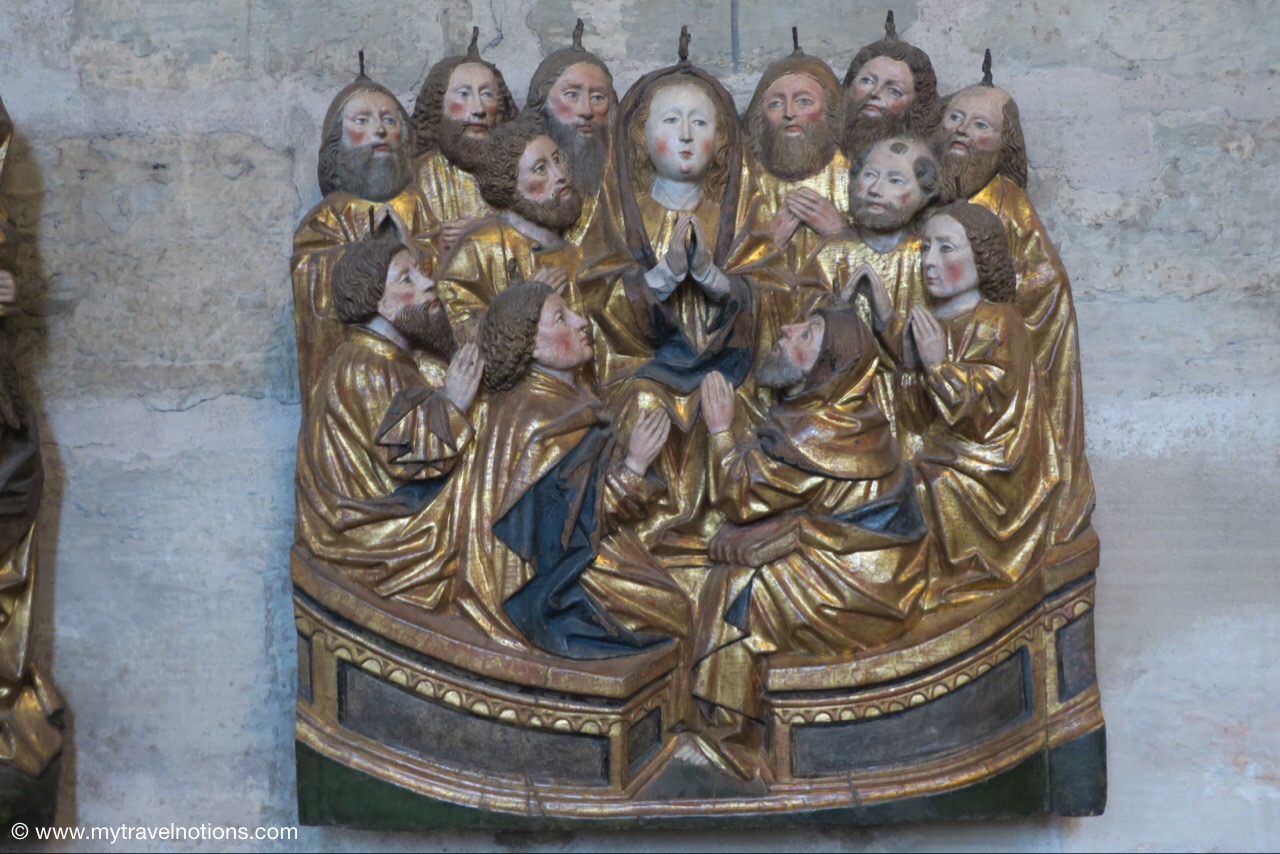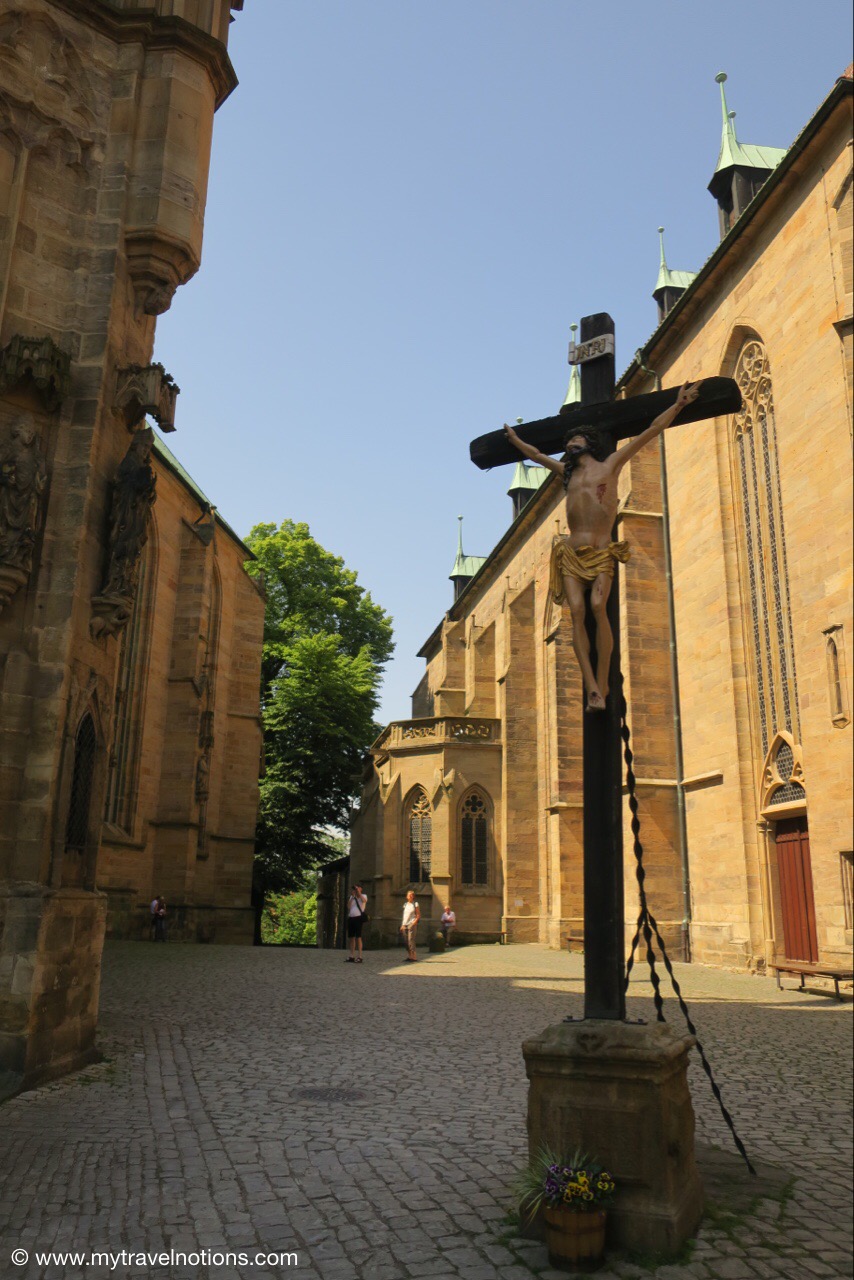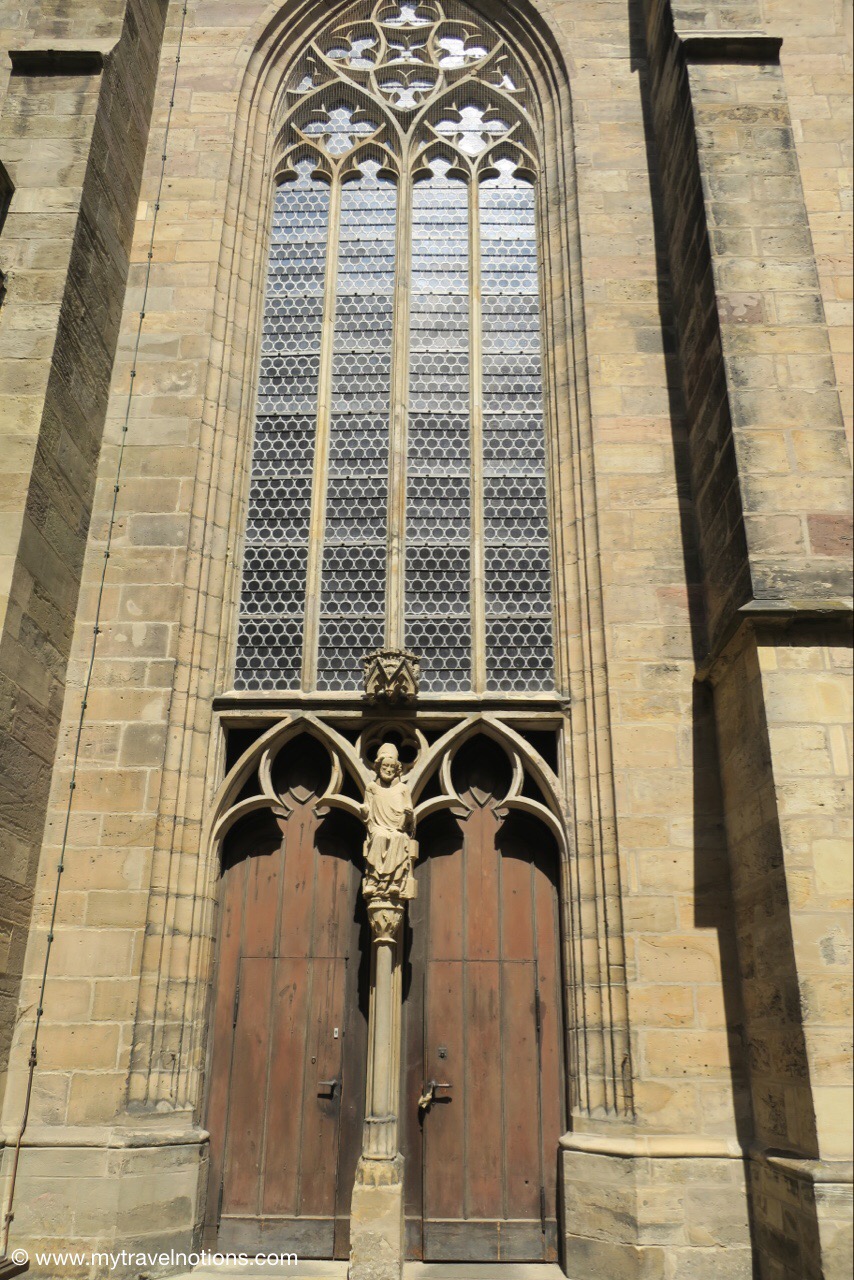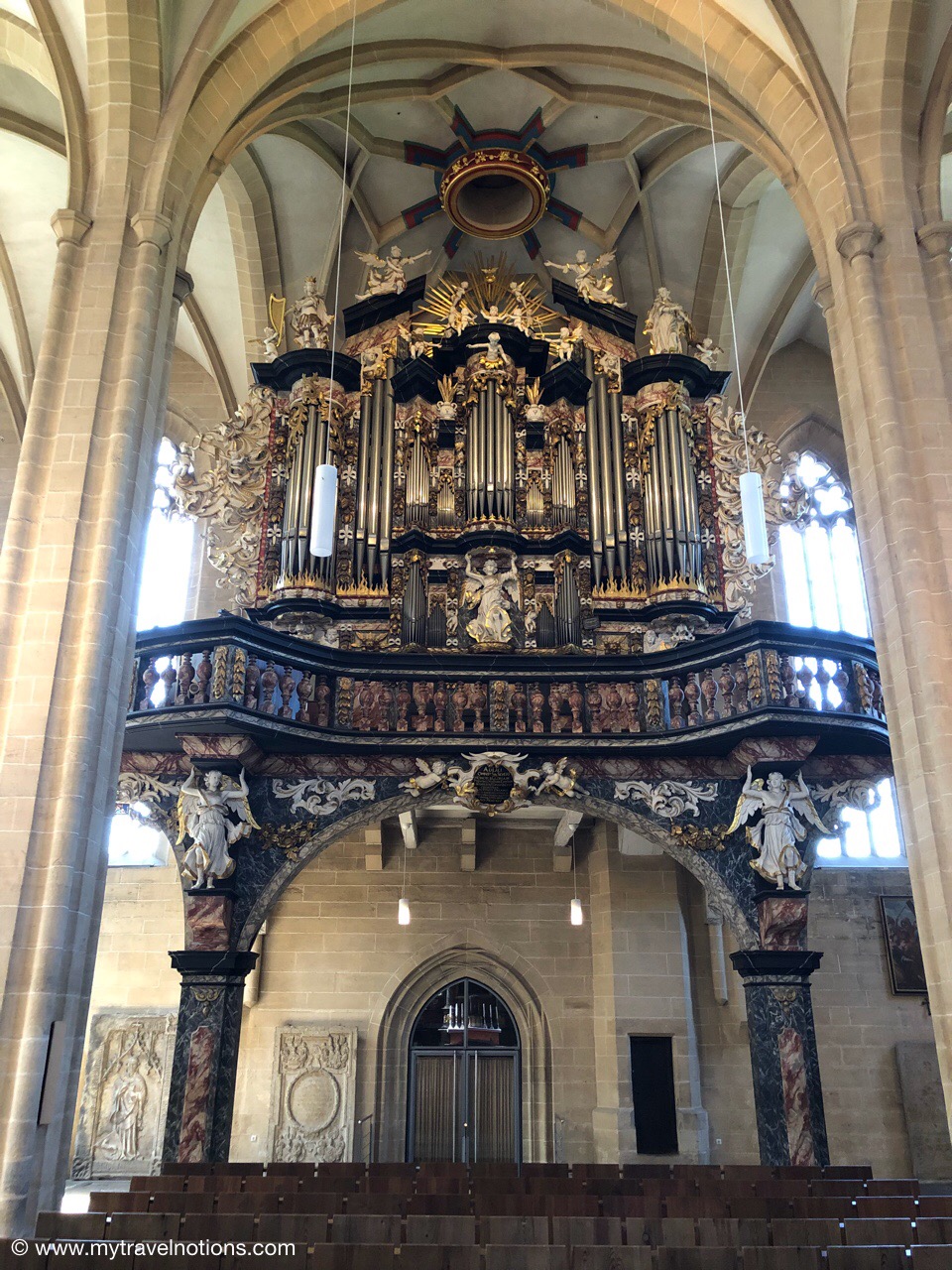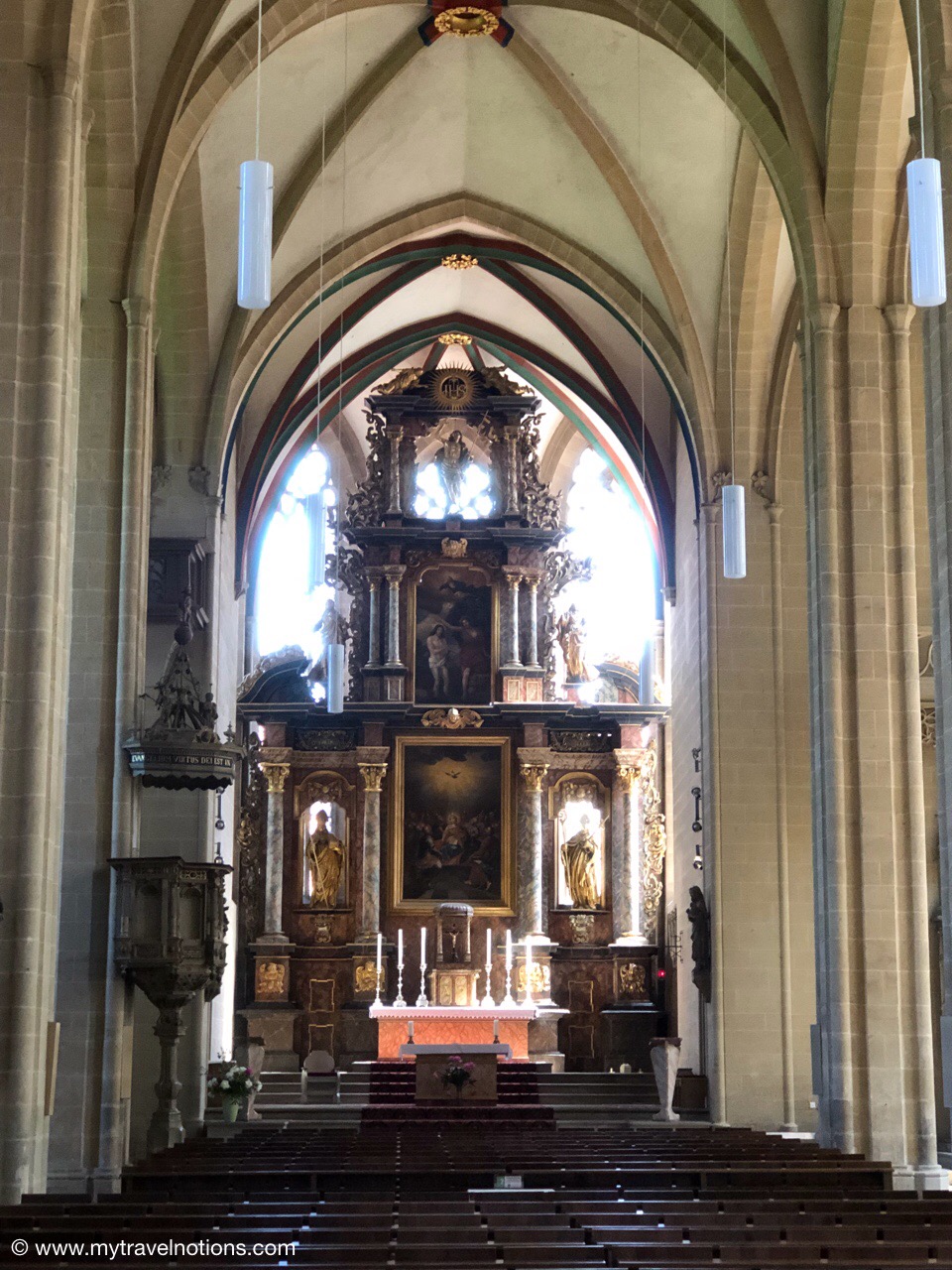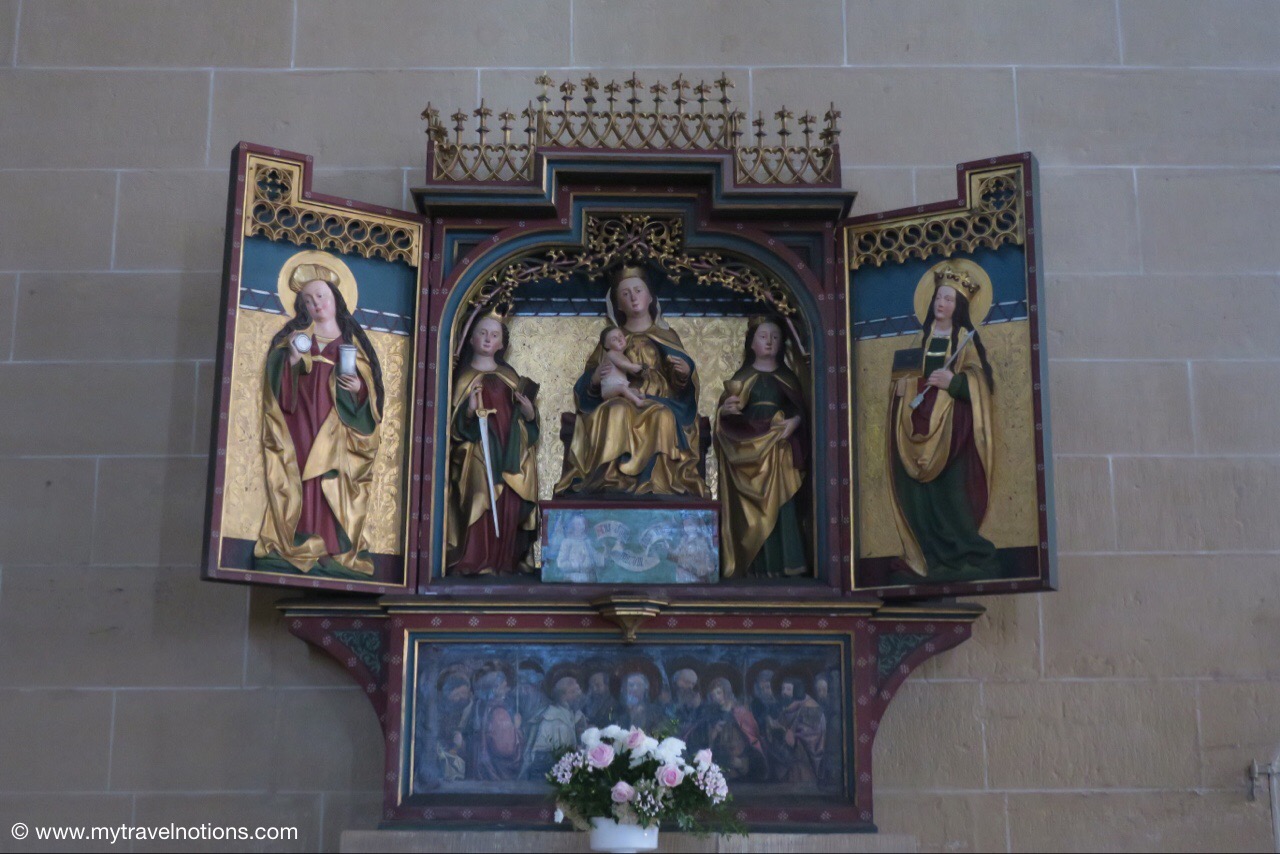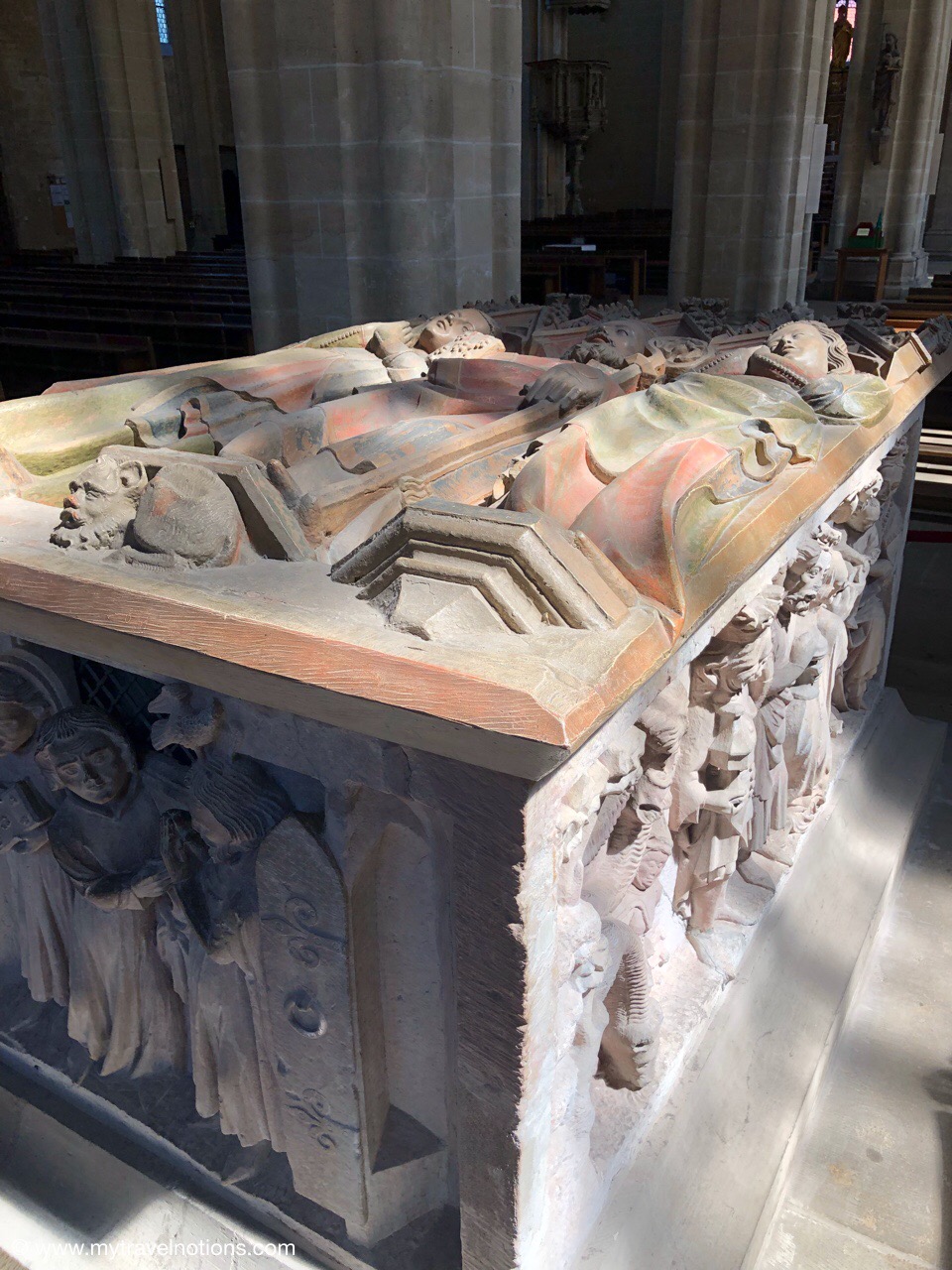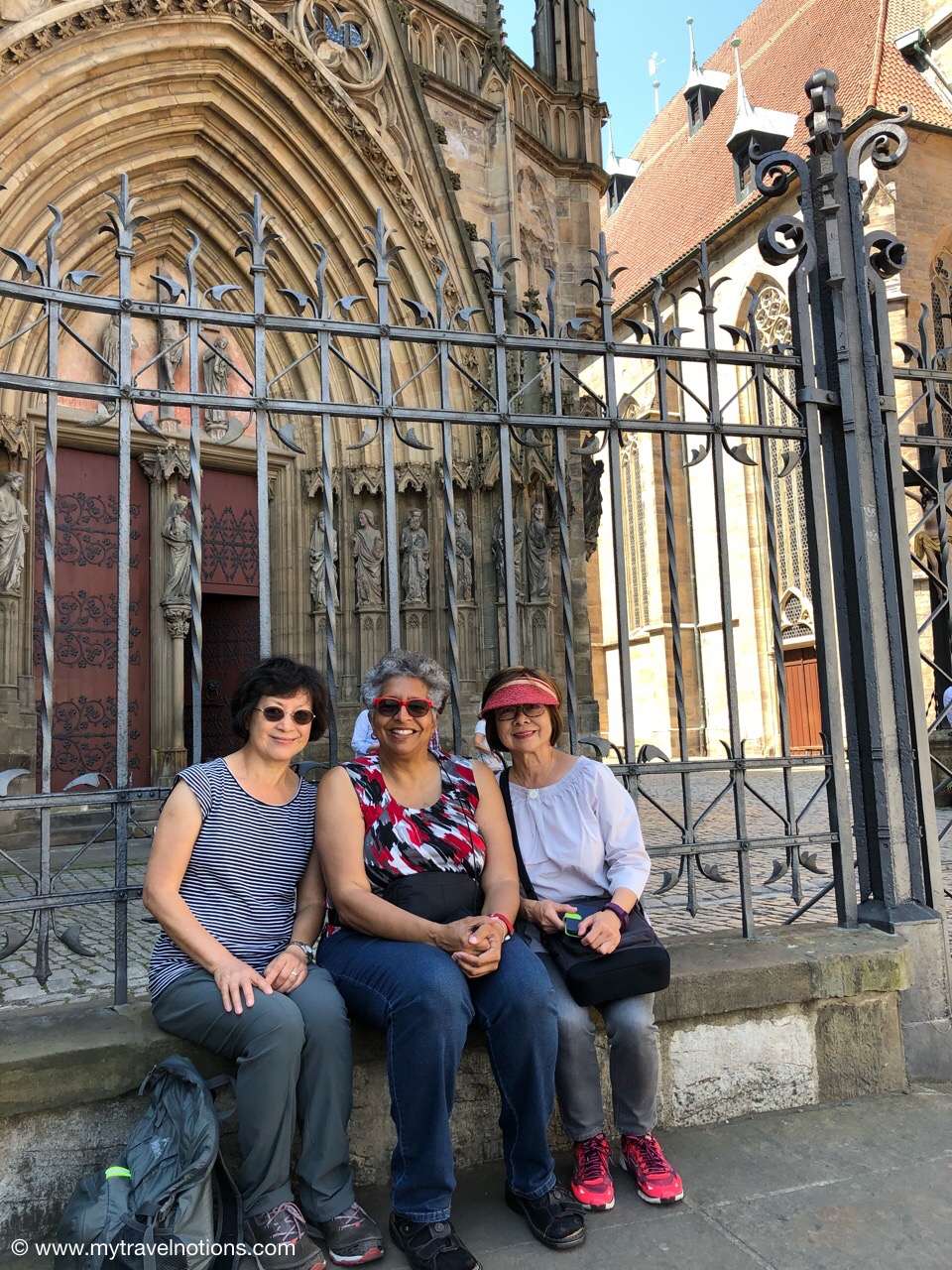 Dresden stole my heart on Tuesday. Reborn from the ashes of World War II and Communist rule, this jewel glistens in its Baroque-ness. From our very first introduction of the Zwinger Palace grandness to the resurrection of its Frauenkirche, Lutheran church….Dresden gets my vote, at least from the cities/towns I've seen, for the city with the come back award on a sumptuous and classy scale.
Abbreviated history as background: Once called the "Florence of the Elbe," Dresden was largely destroyed by a massive bombing raid during World War II. After that, Germany became occupied by the victorious Allied powers of the United States, United Kingdom, France, and the Soviet Union.
With the advent of the Cold War, two German states were formed in 1949: the western Federal Republic of Germany (FRG) and the eastern German Democratic Republic (GDR).
East Germany, which Dresden fell under, came to an end with the Cold War and the German reunification in 1990. Since then, Germany has expended considerable funds to bring its country together.
Dresden was our tour group's stop along the way to Berlin and the end of our Rick Steves "Best of Germany" tour. But the focus for this post is the pulled together and classy Dresden…more on Berlin later.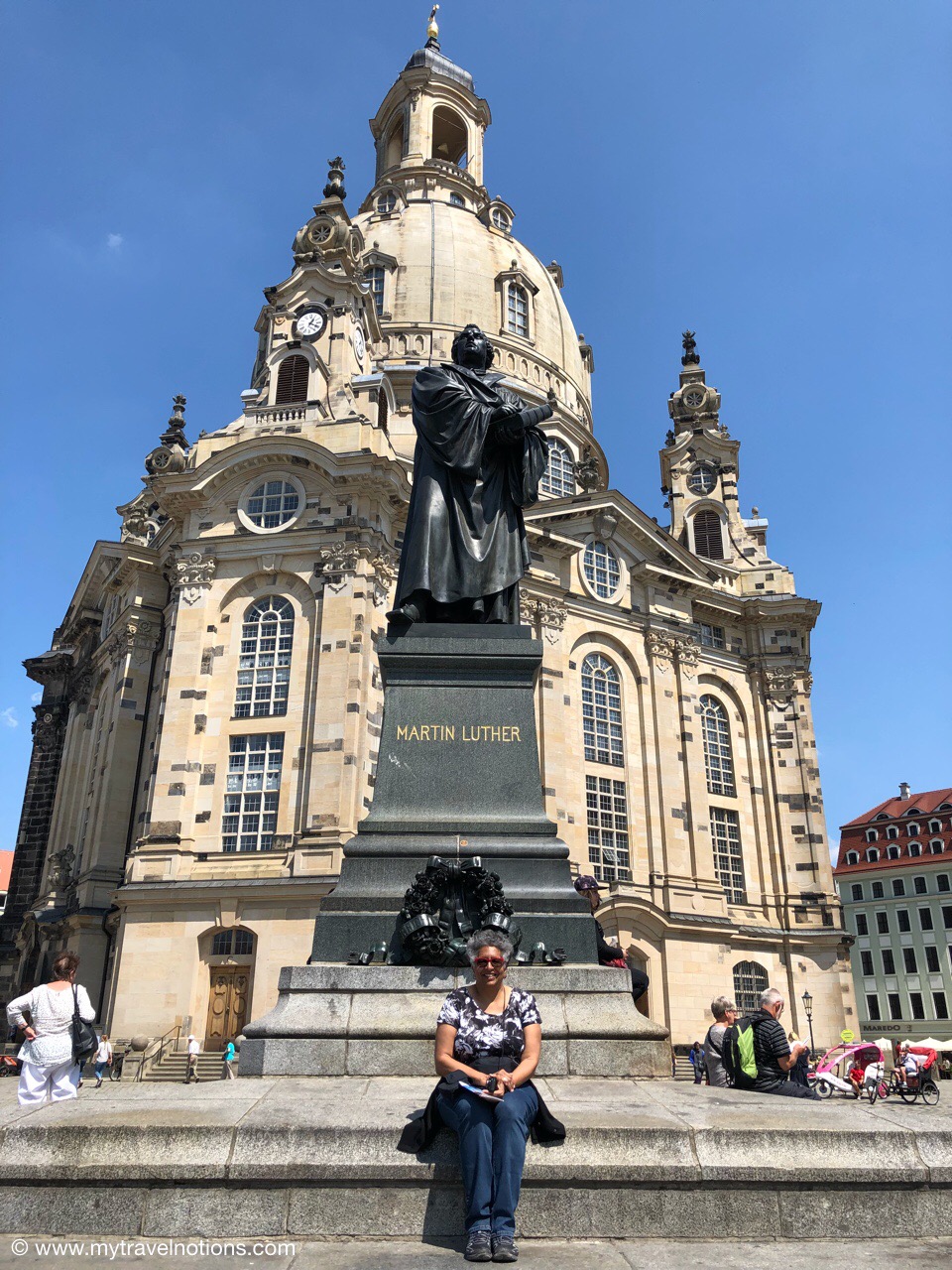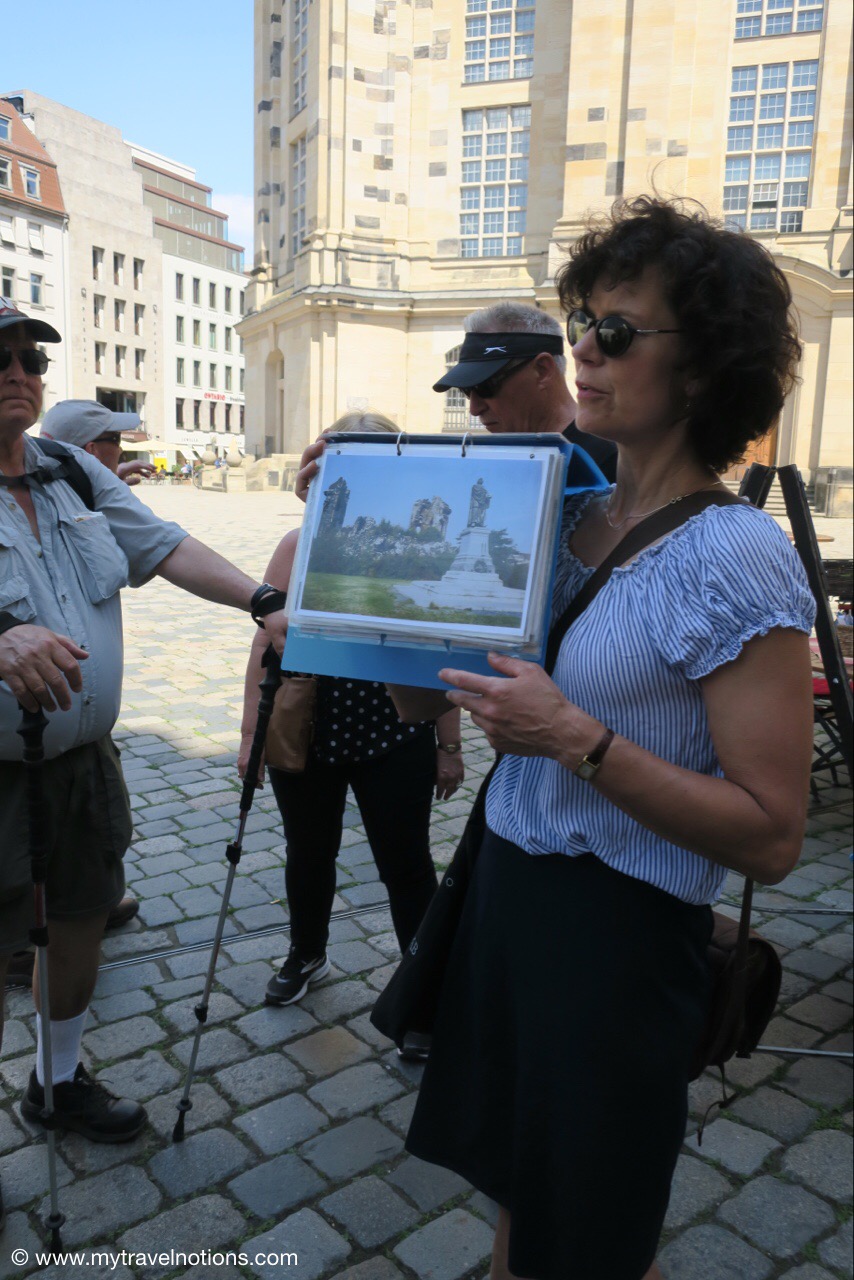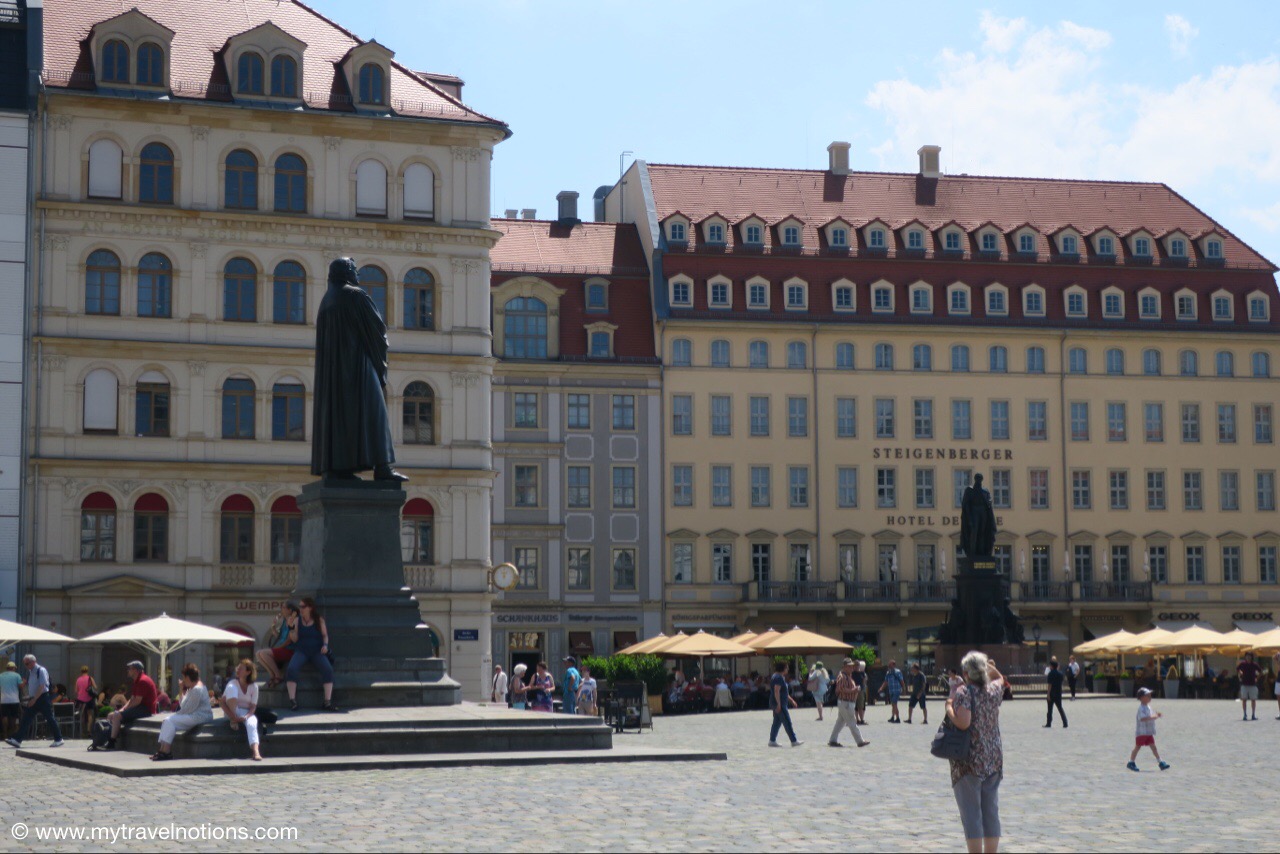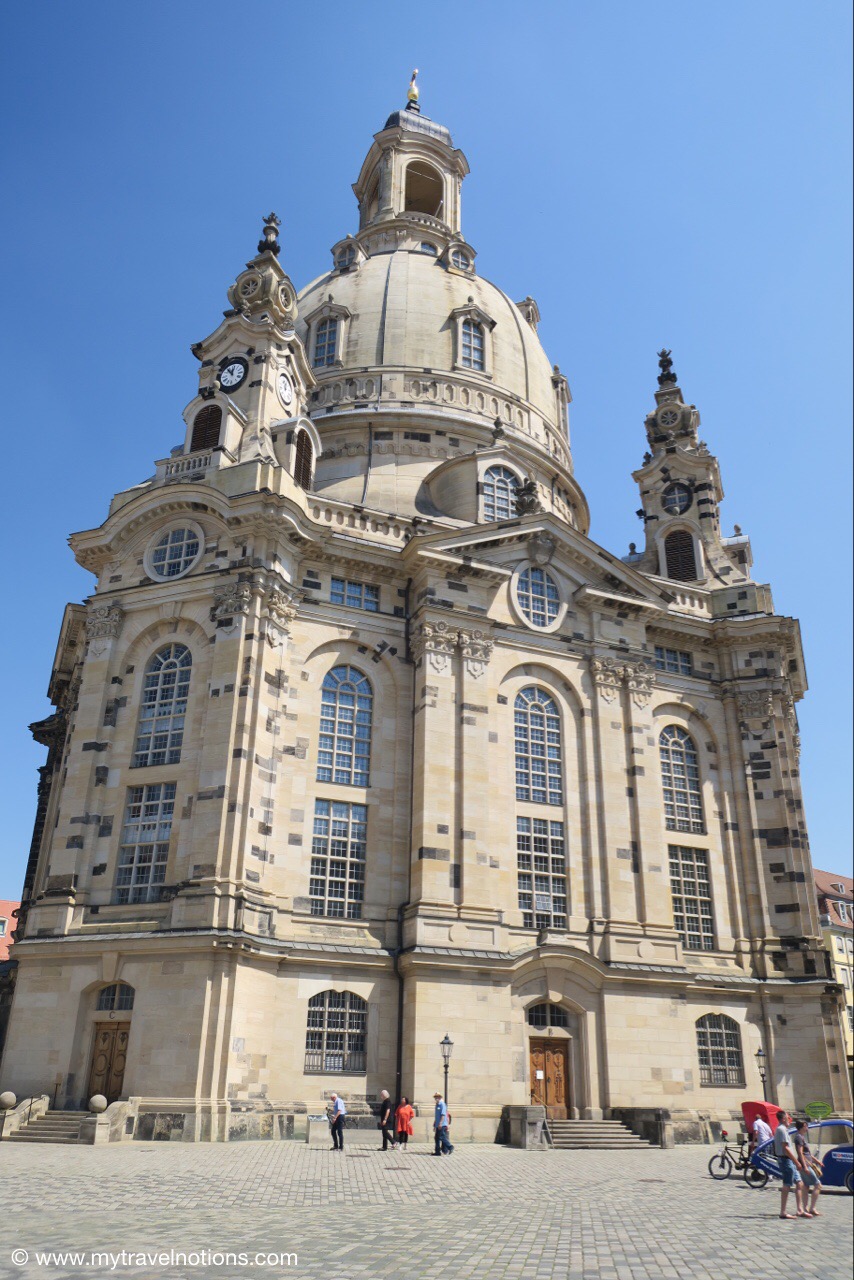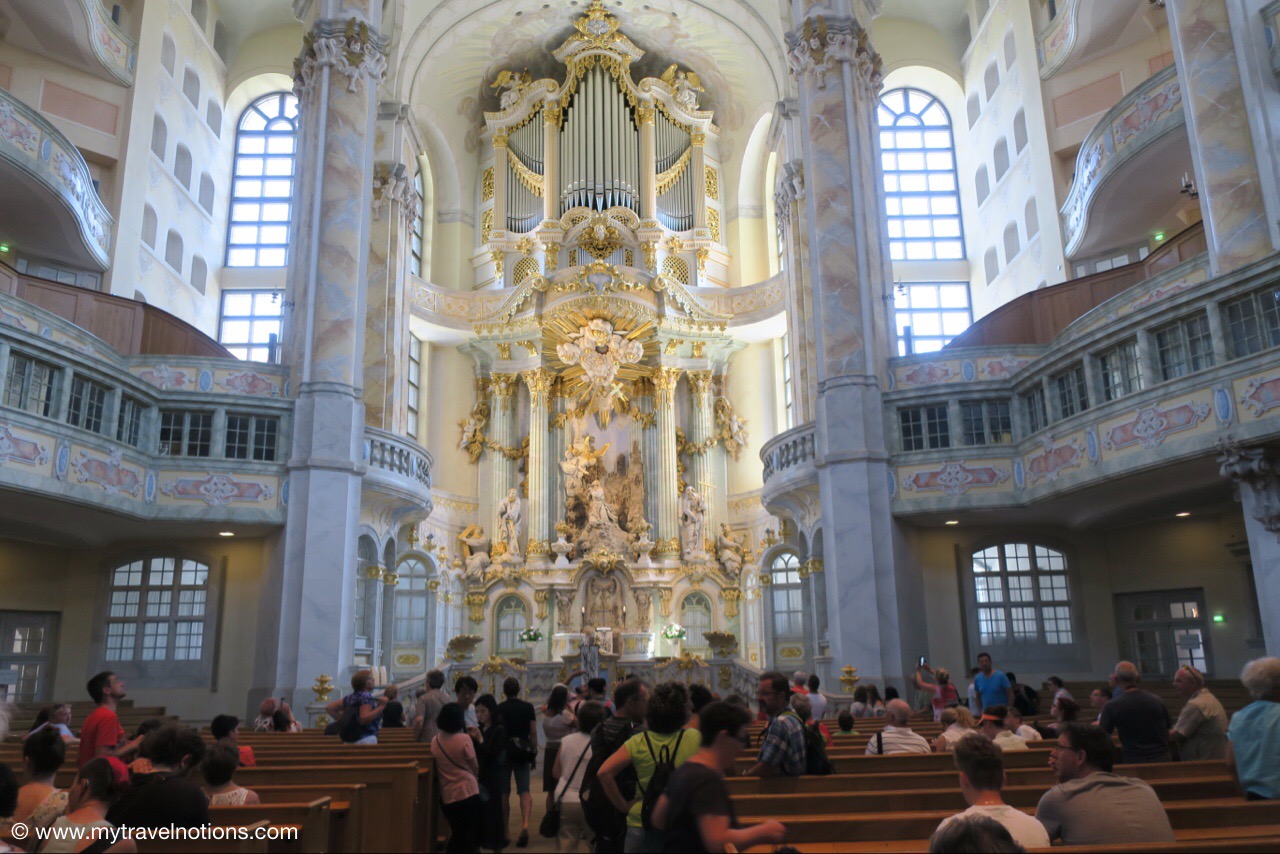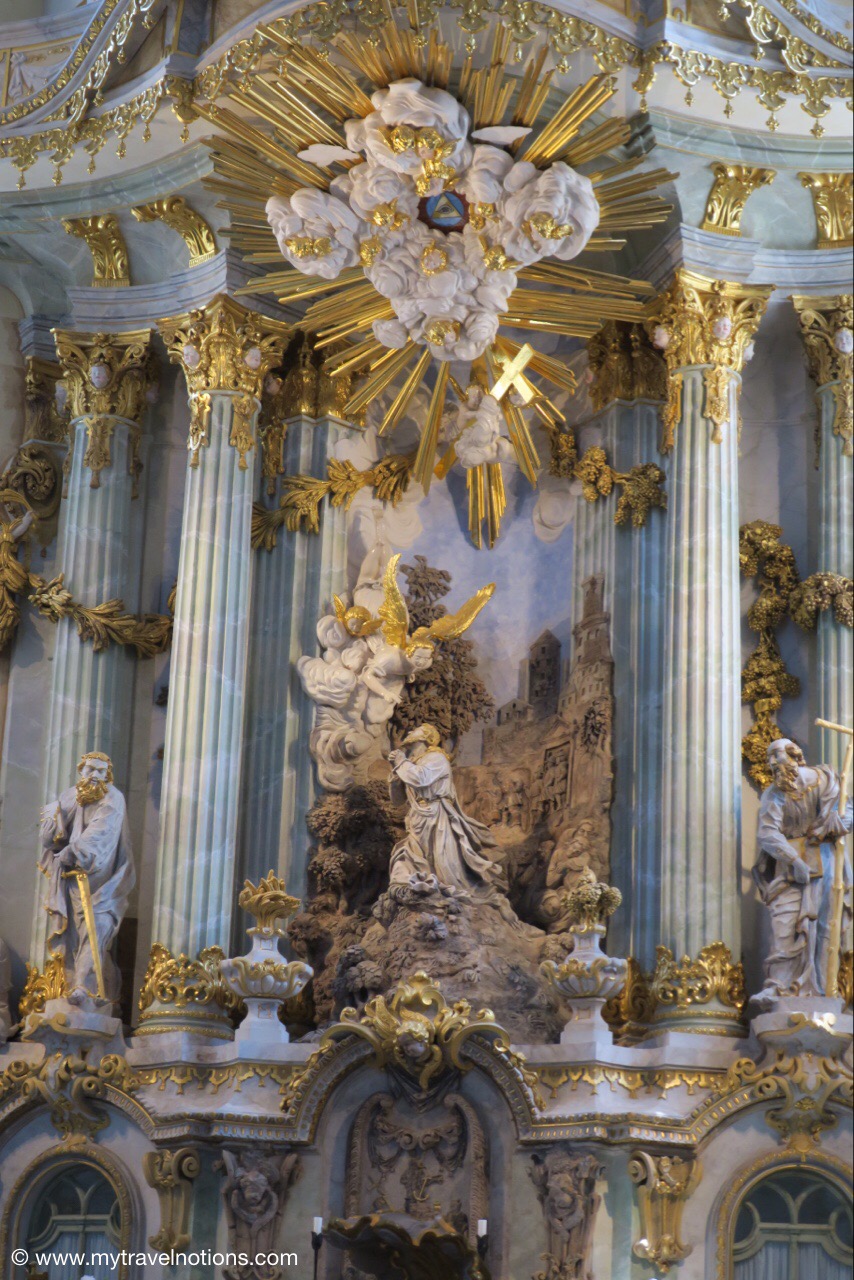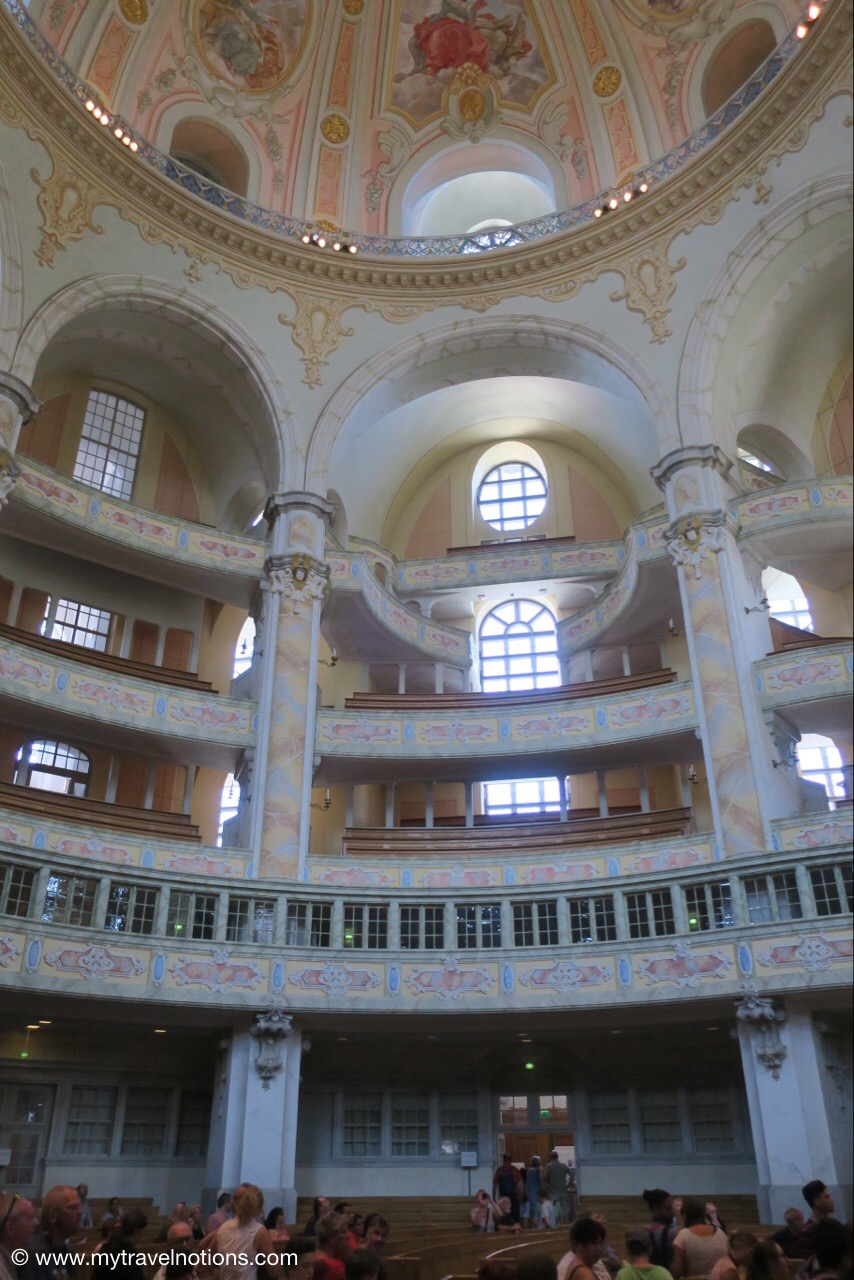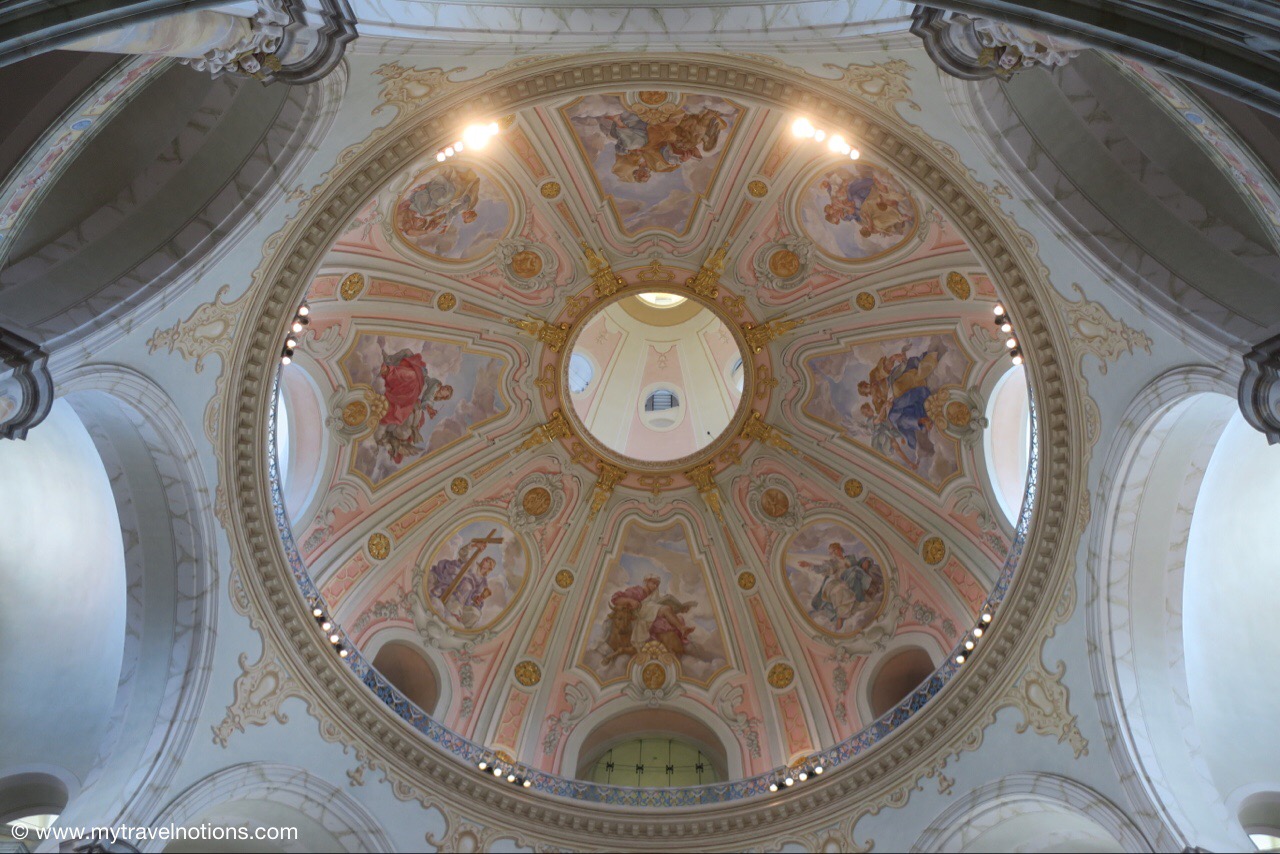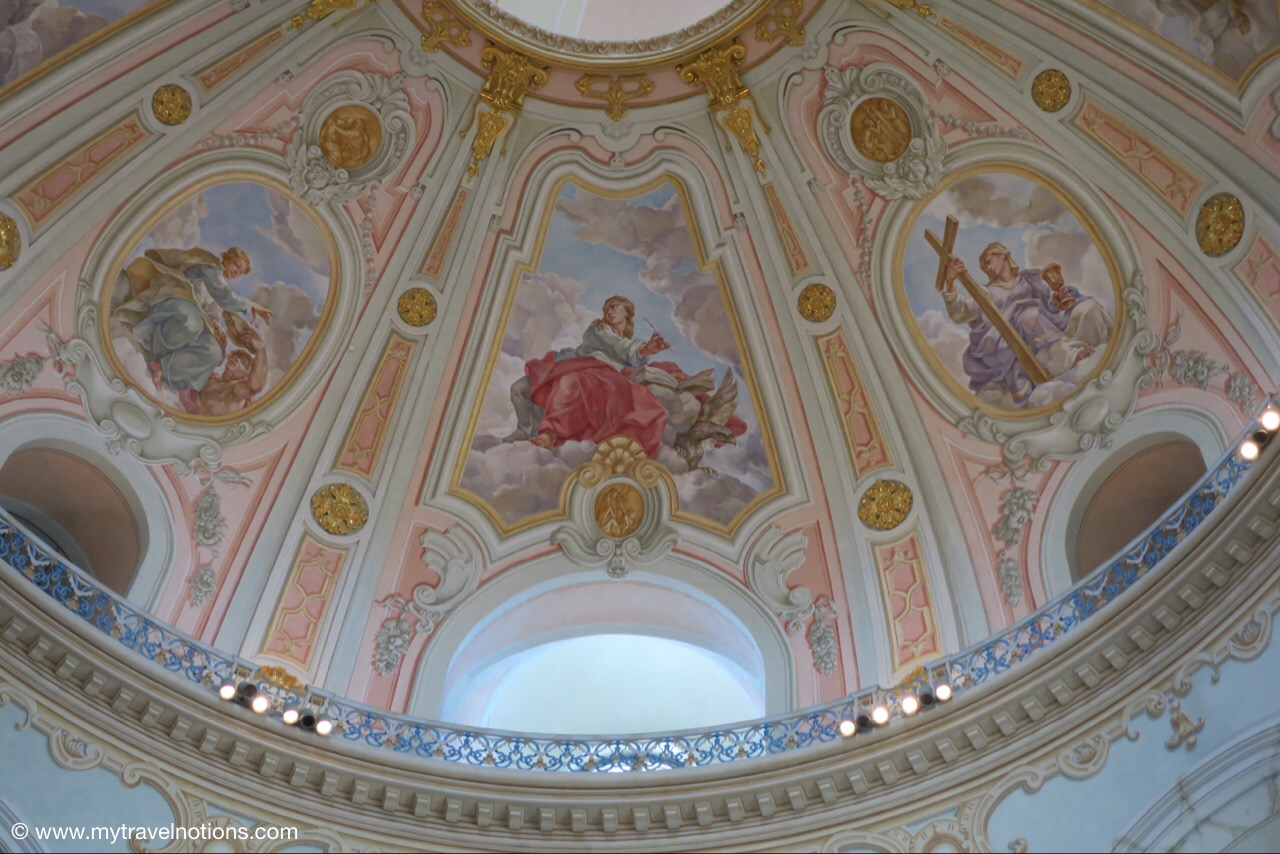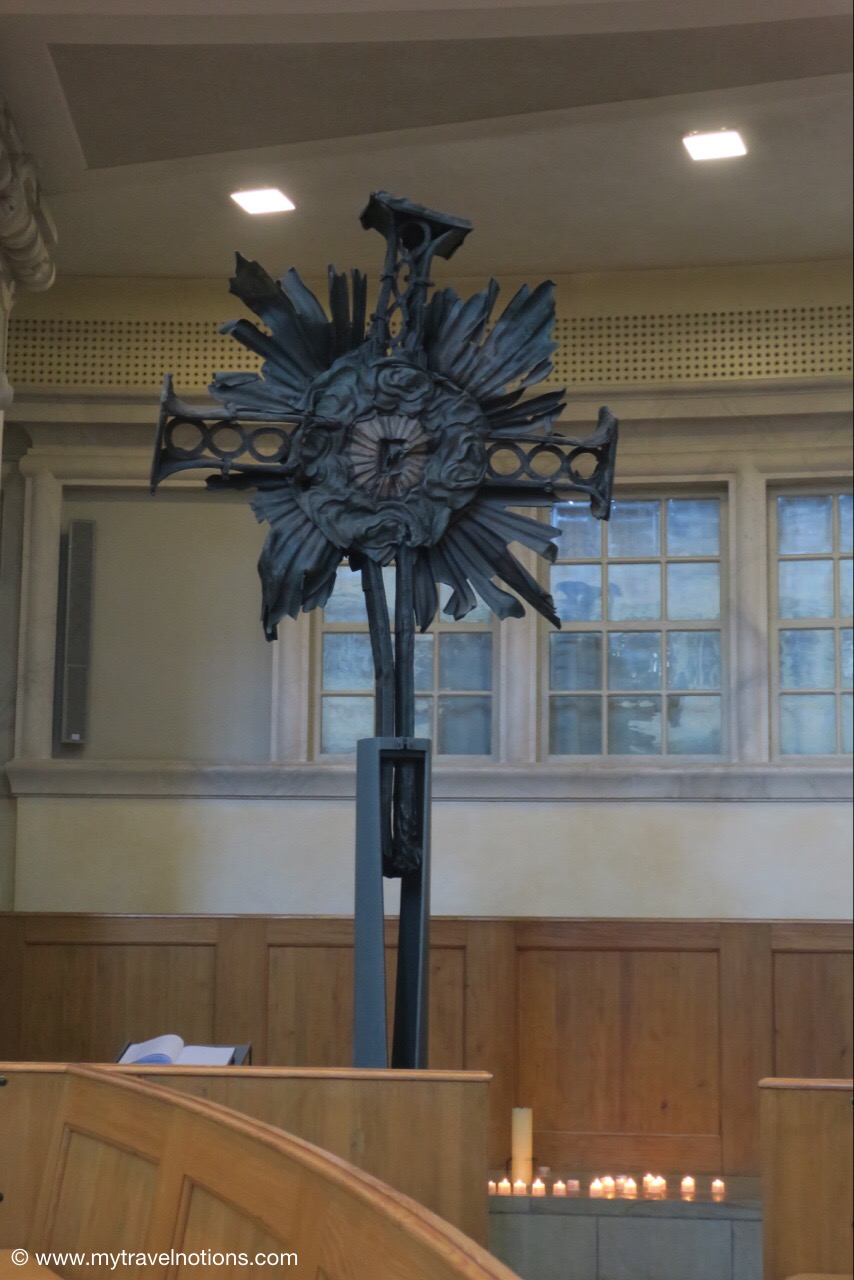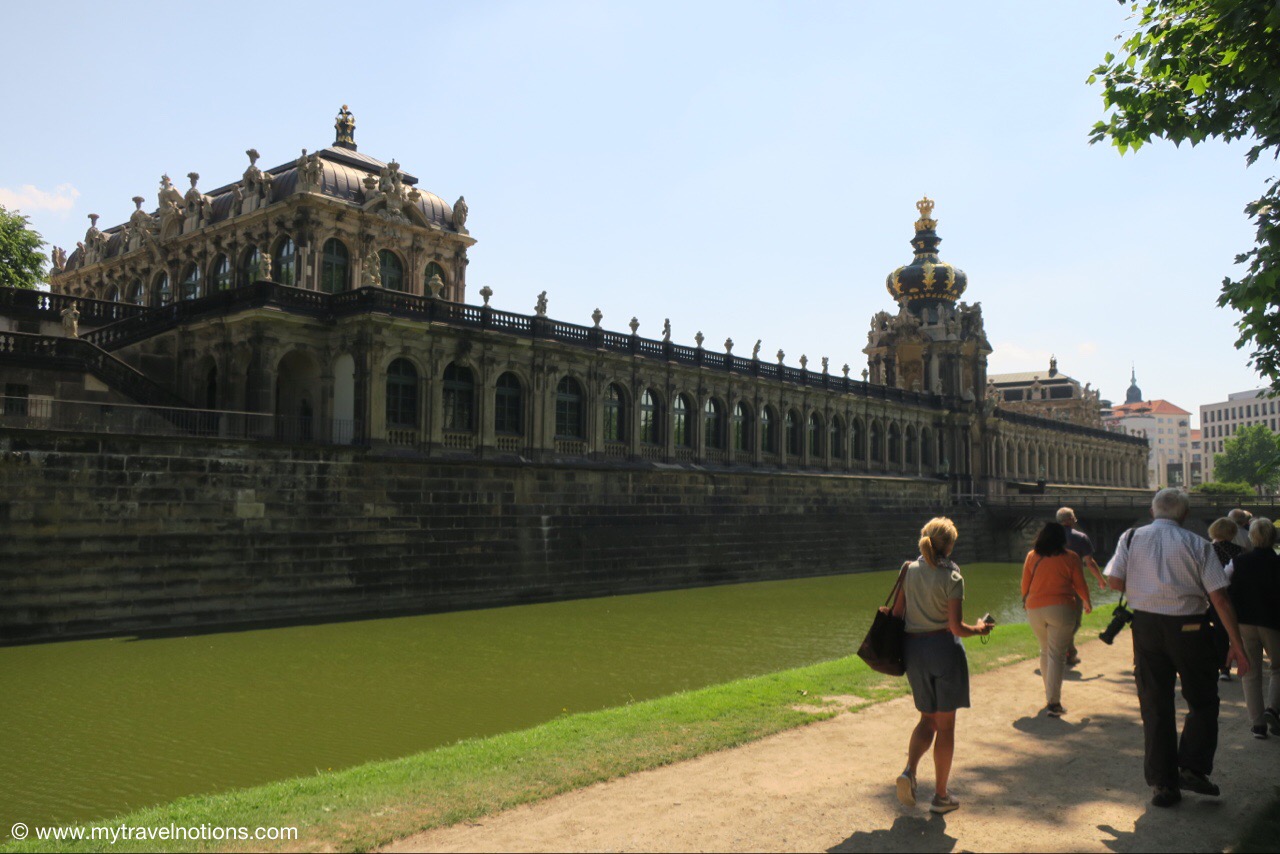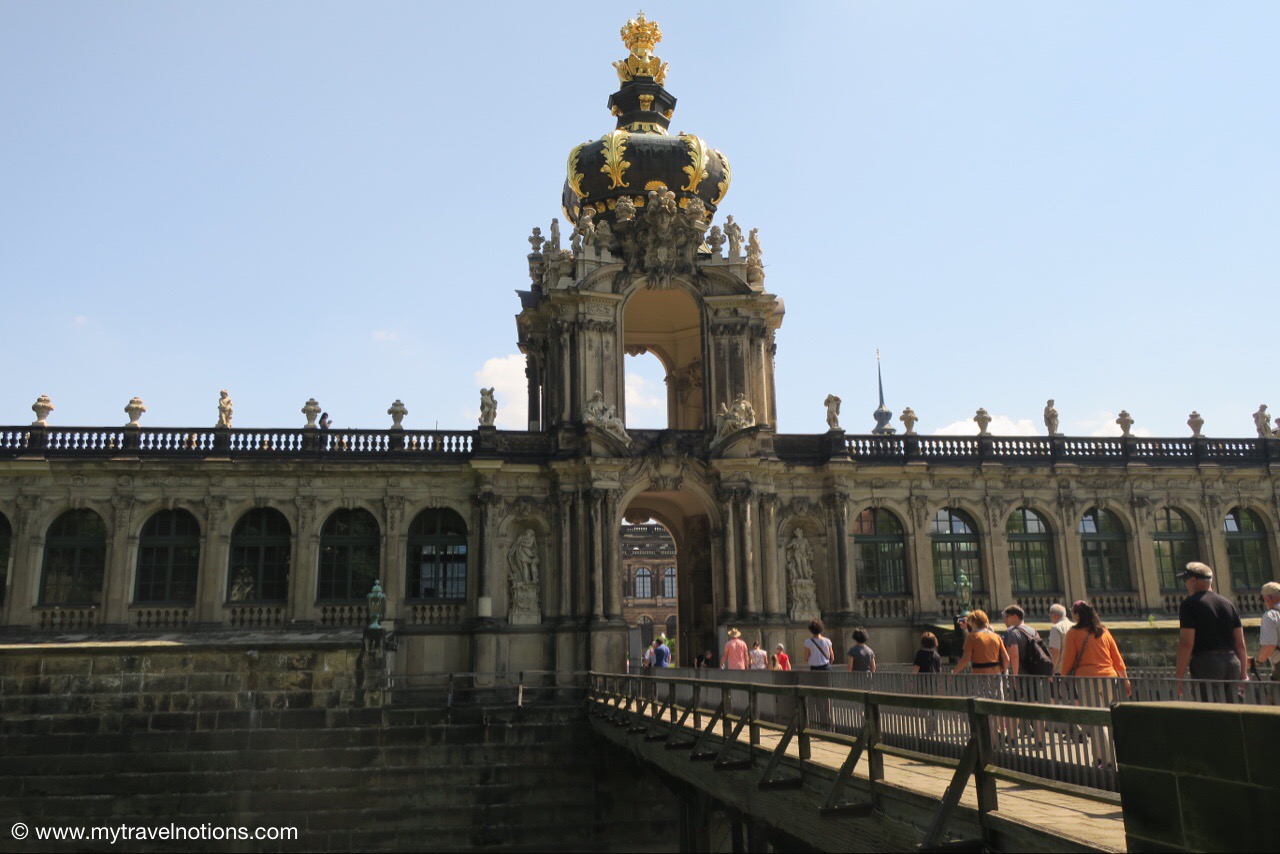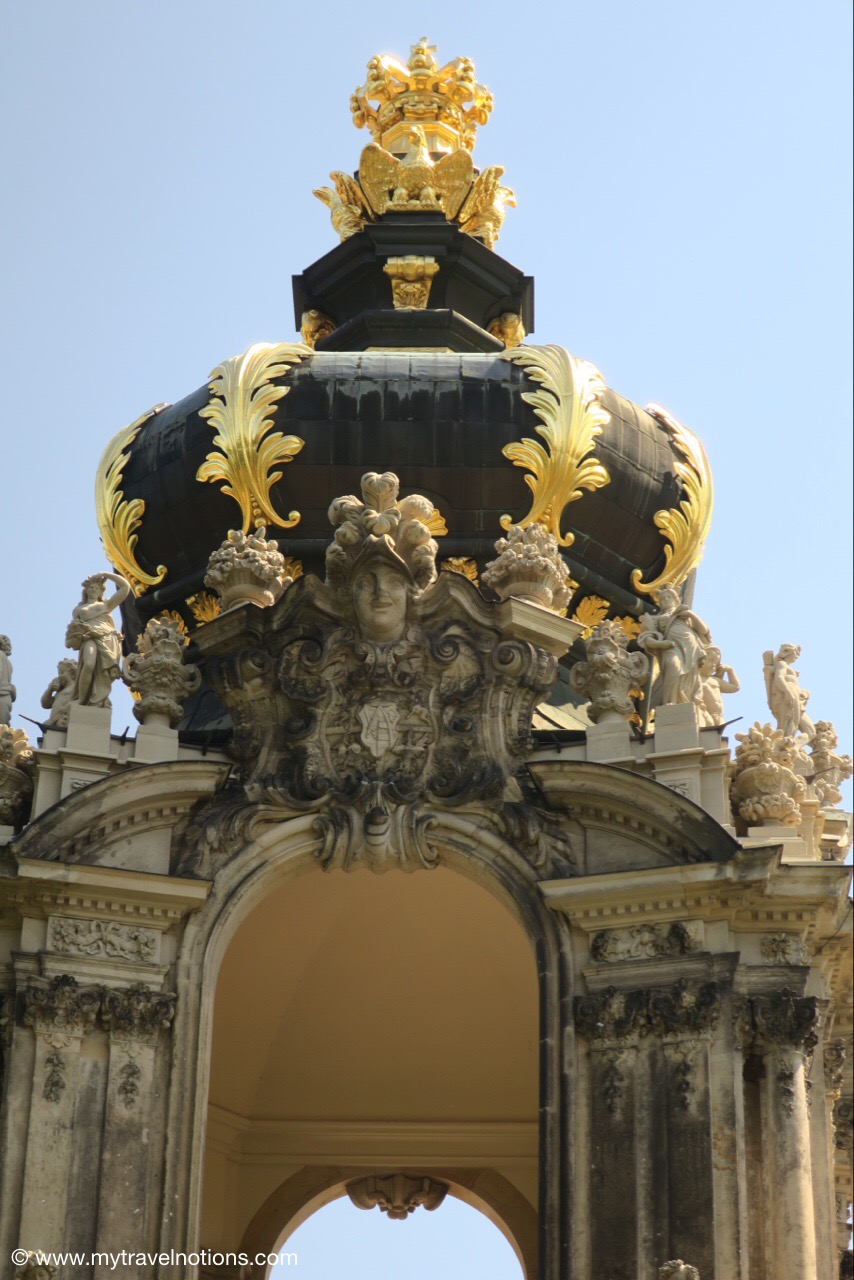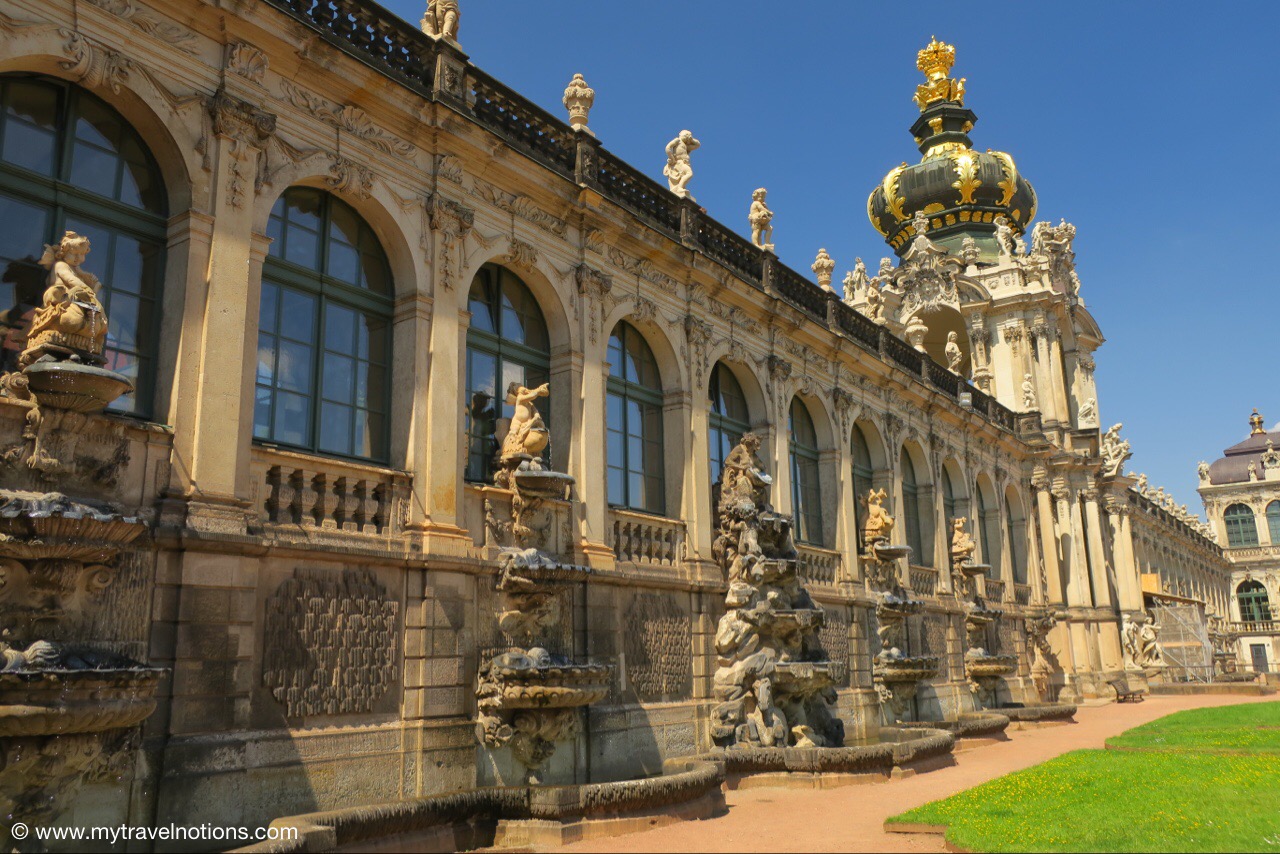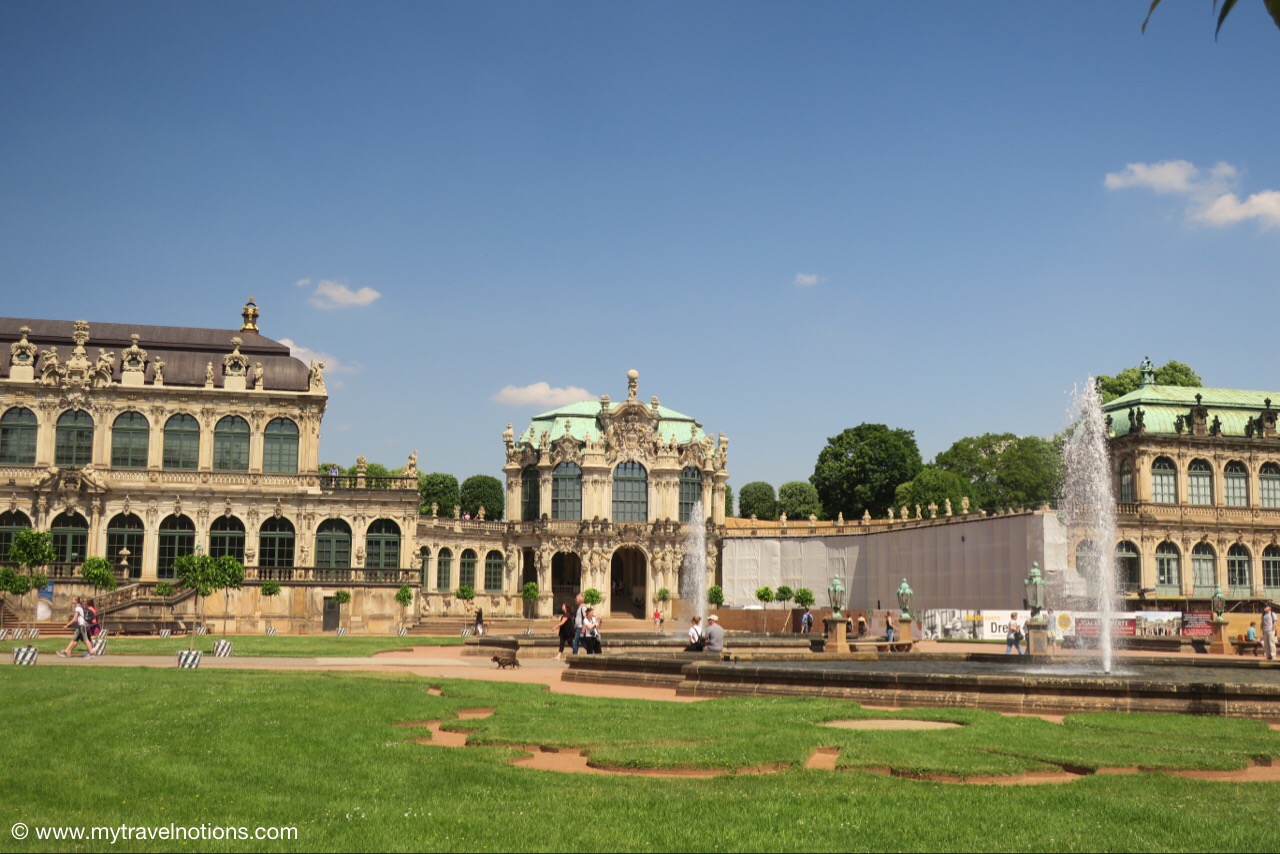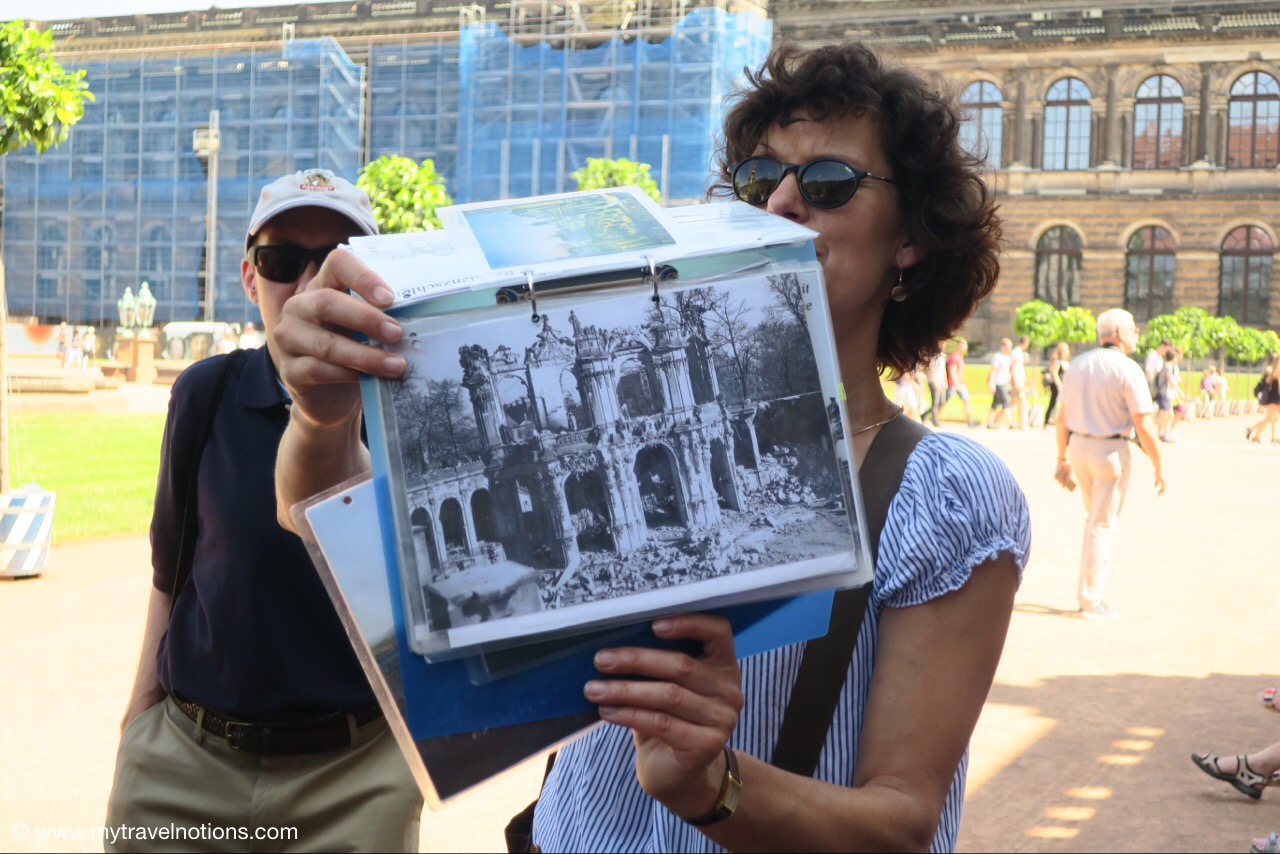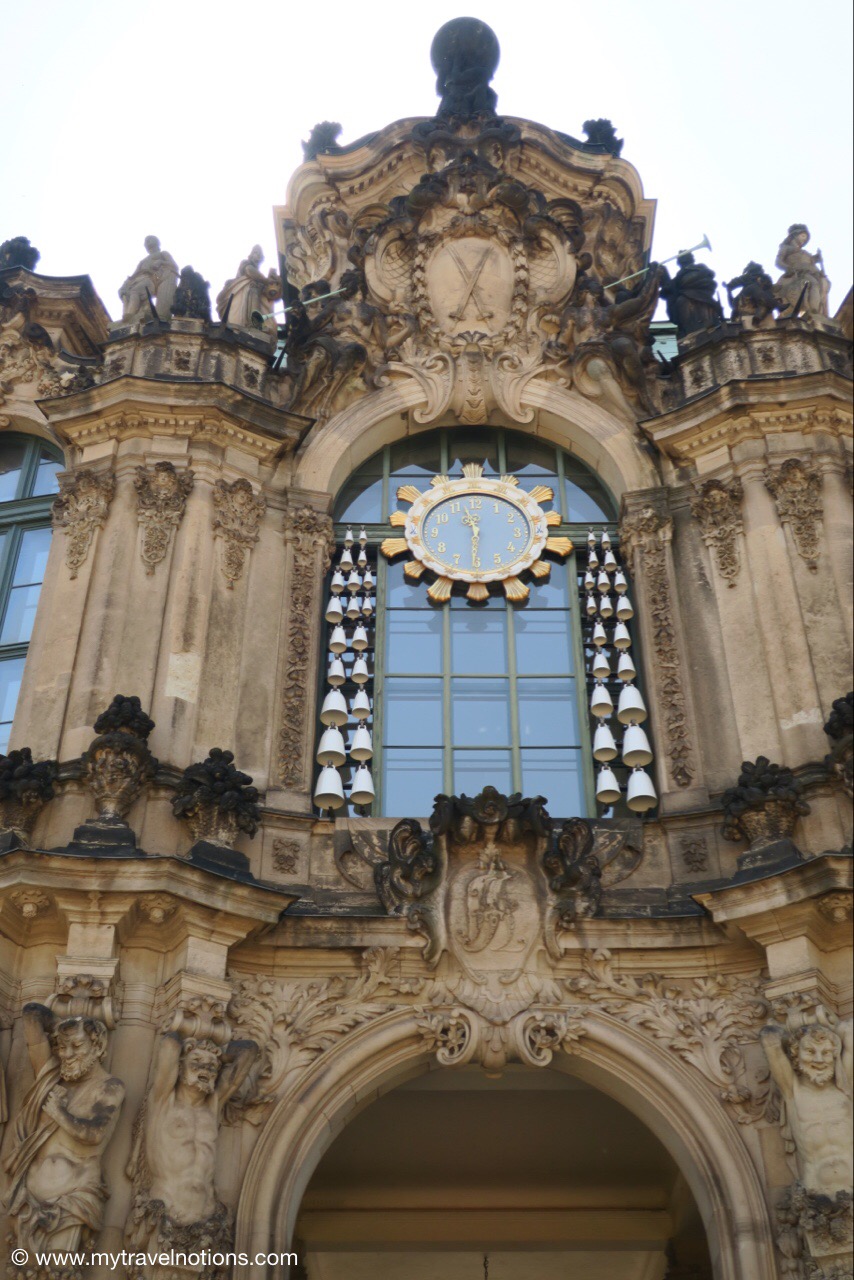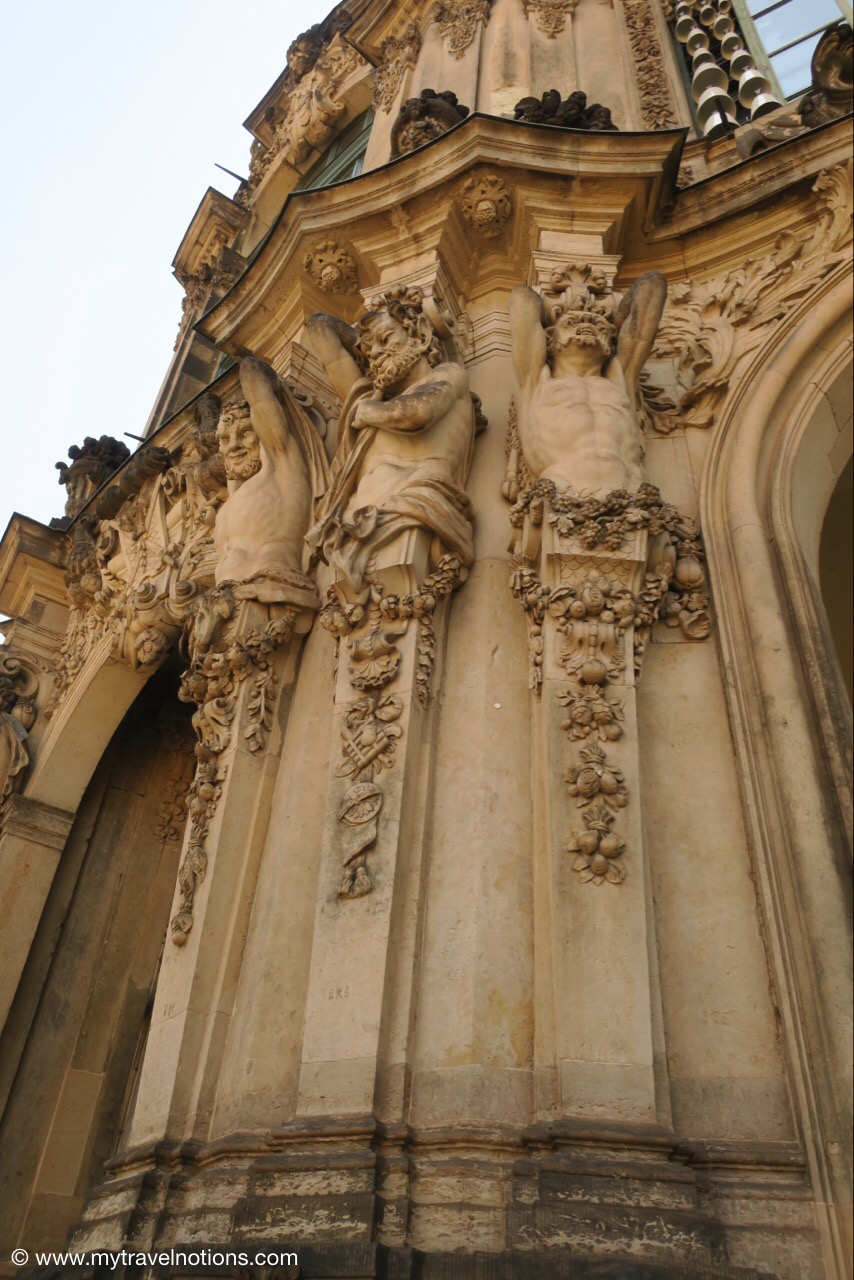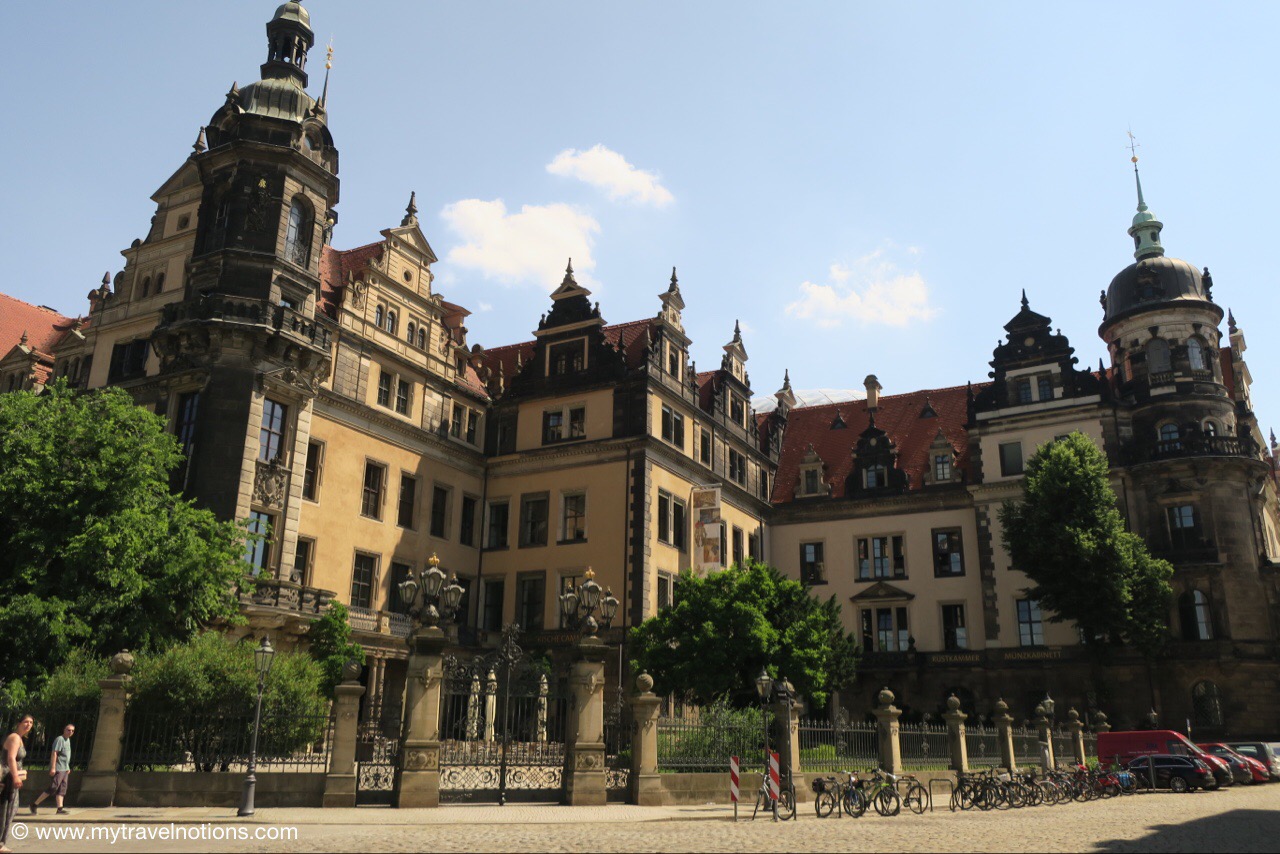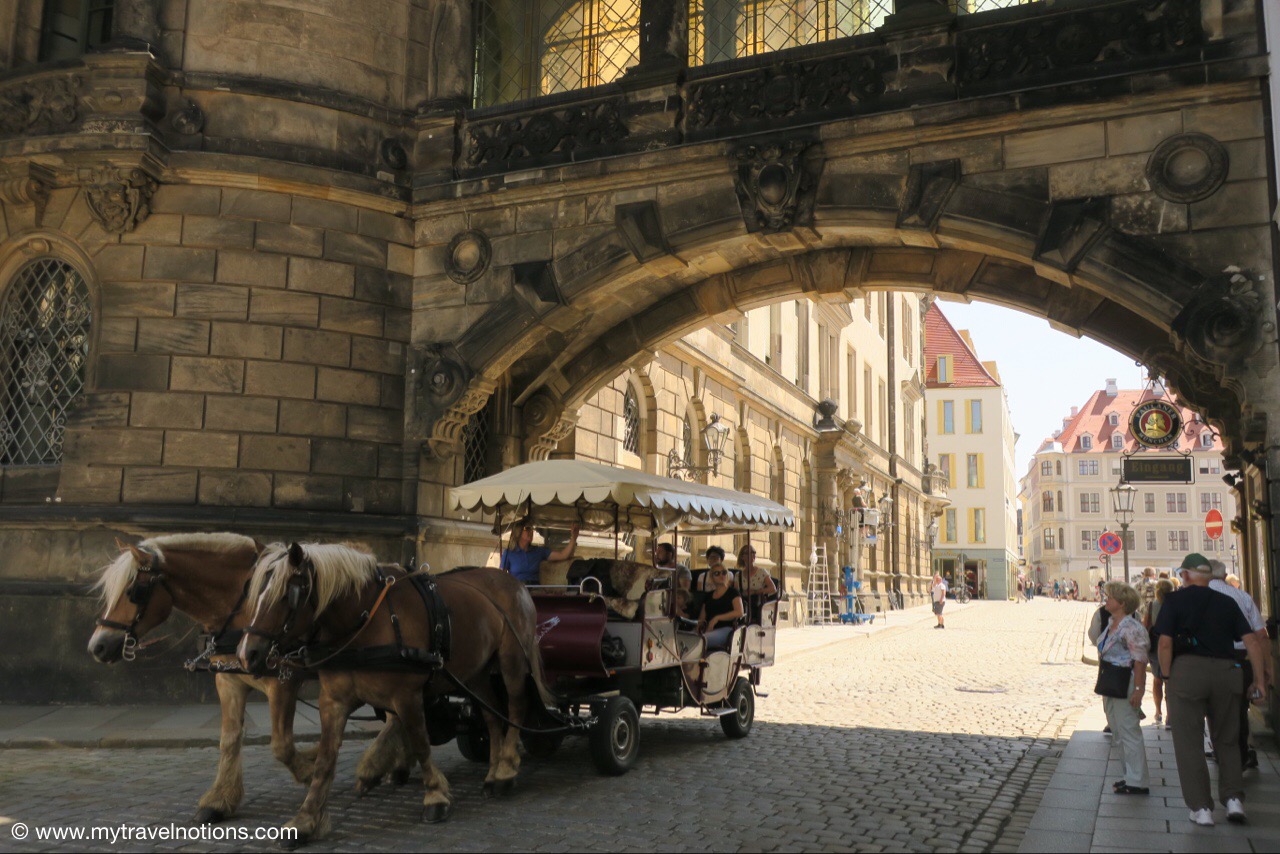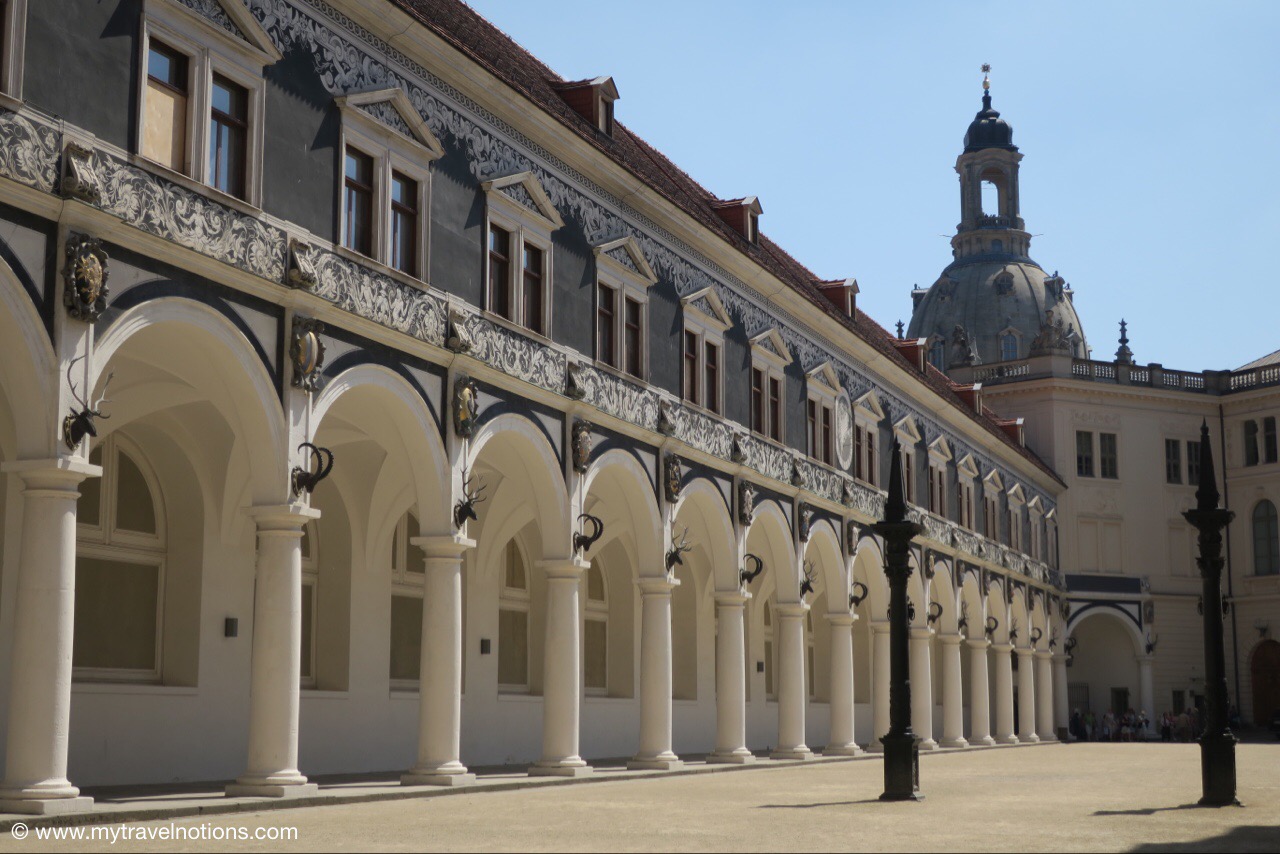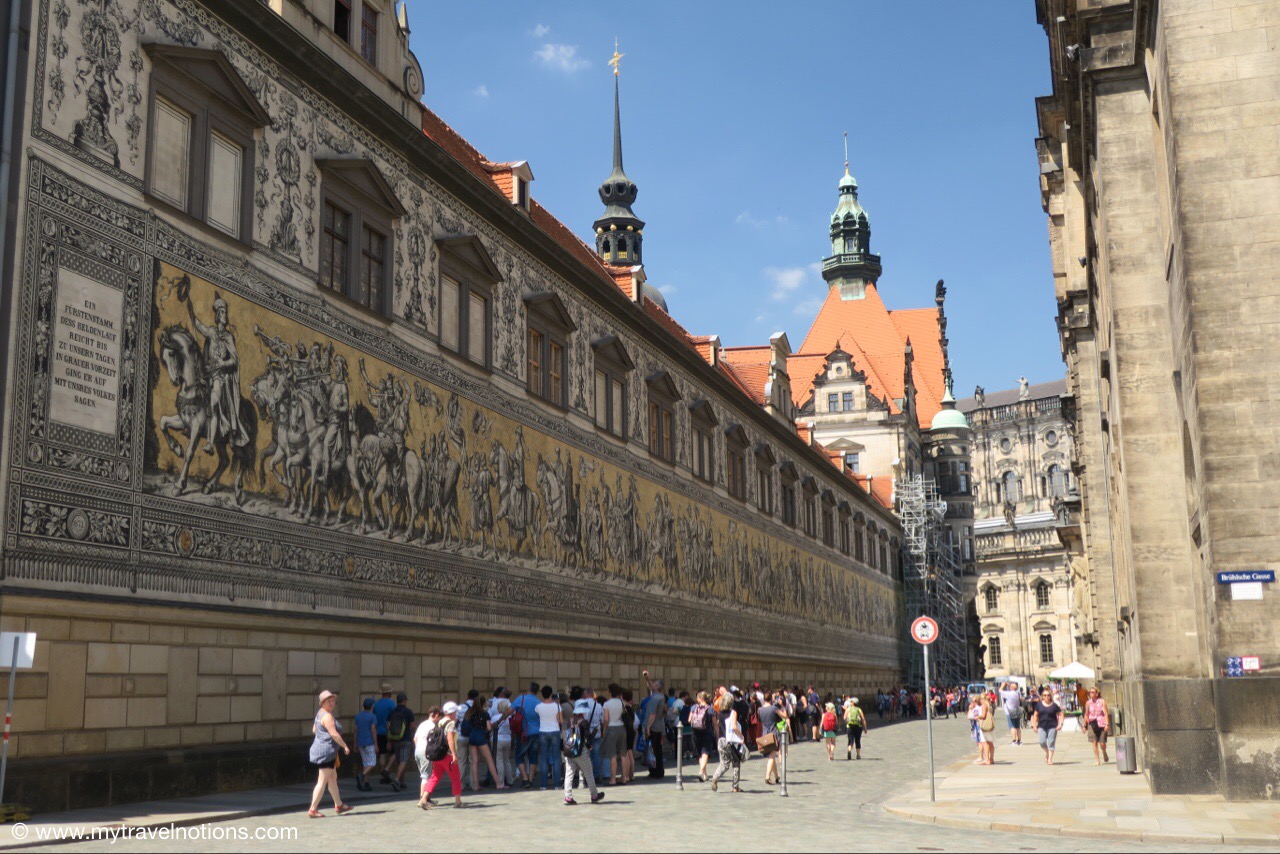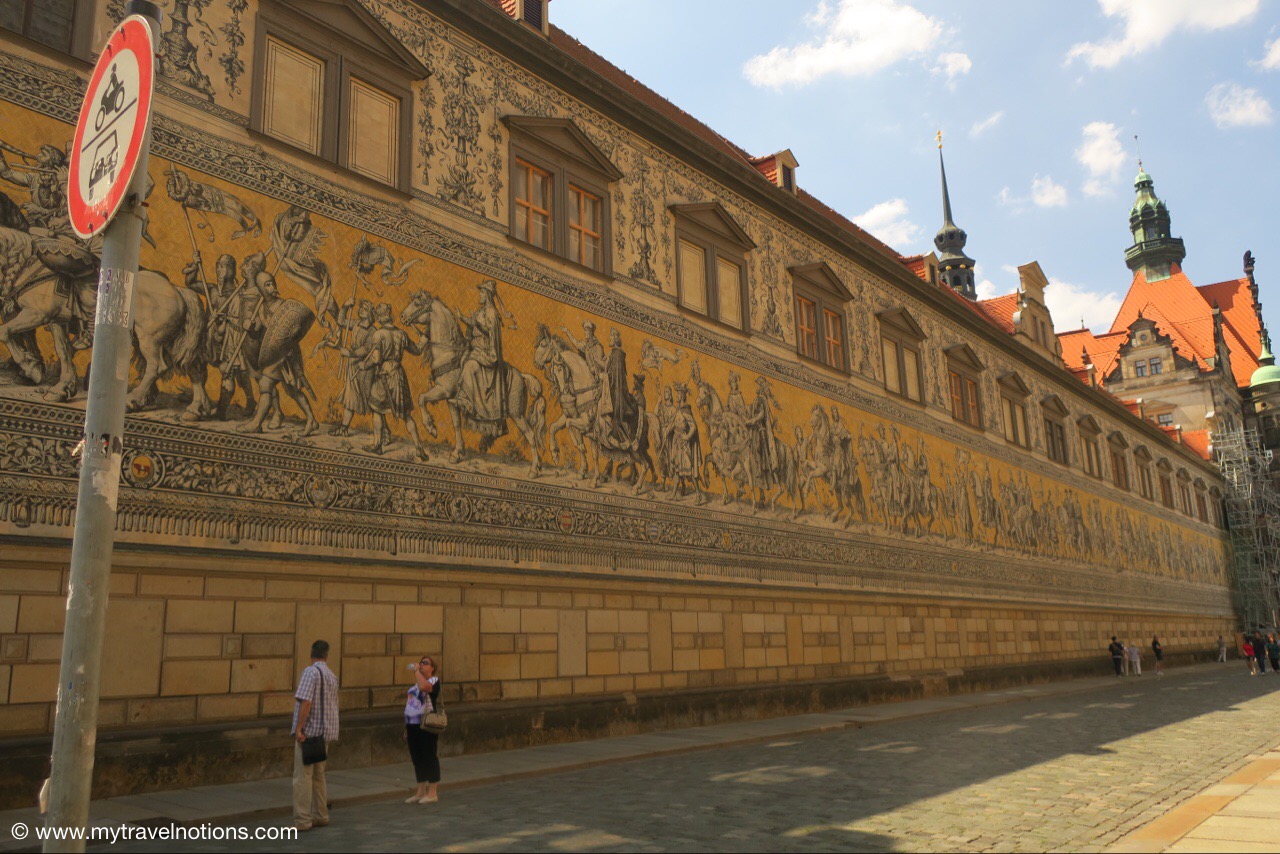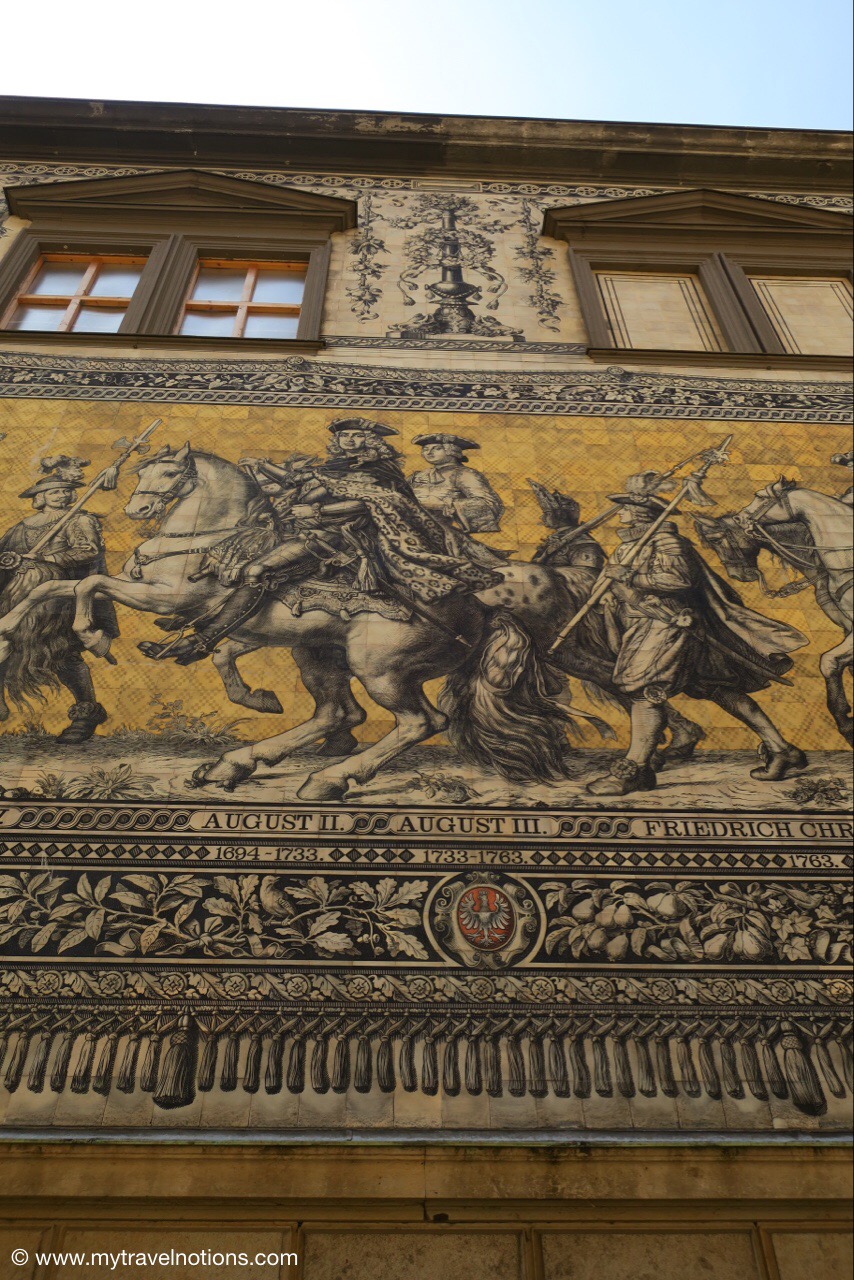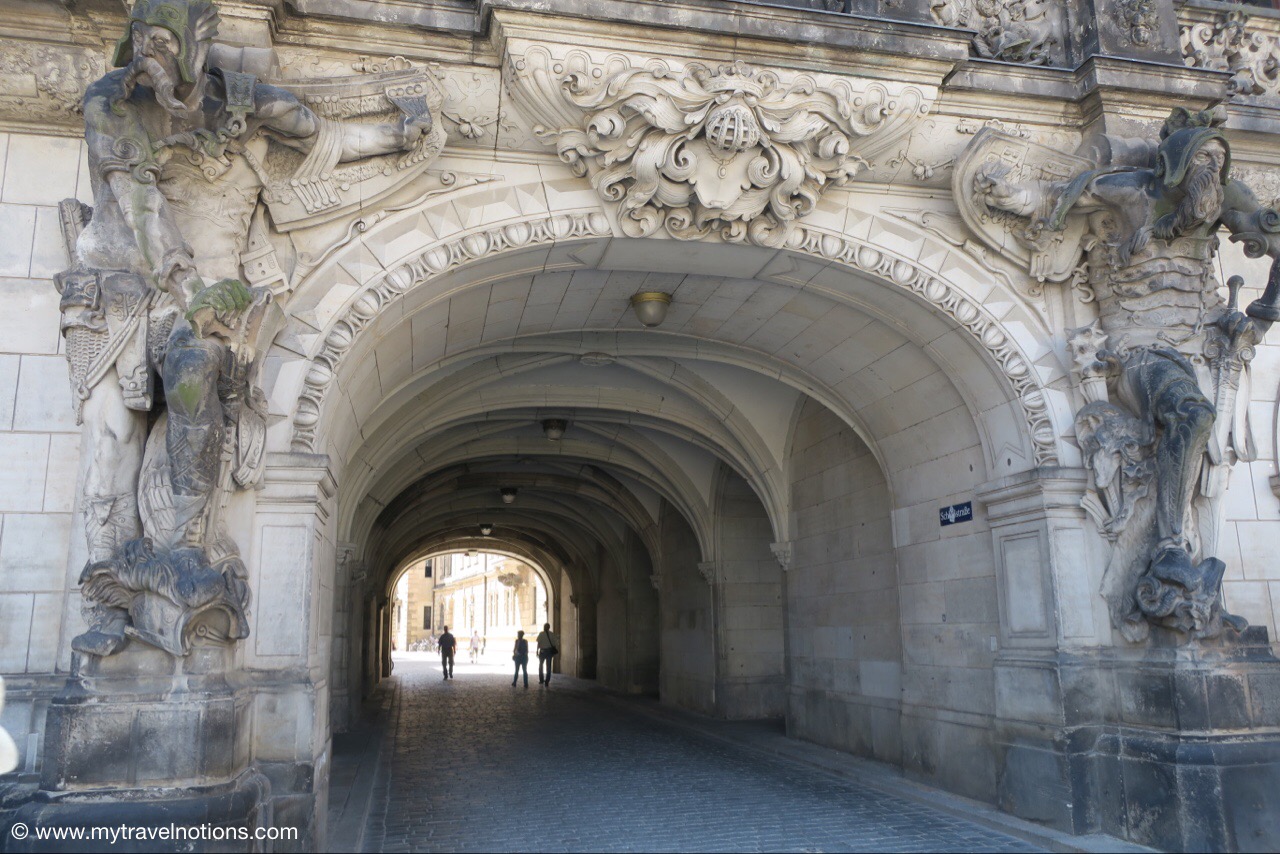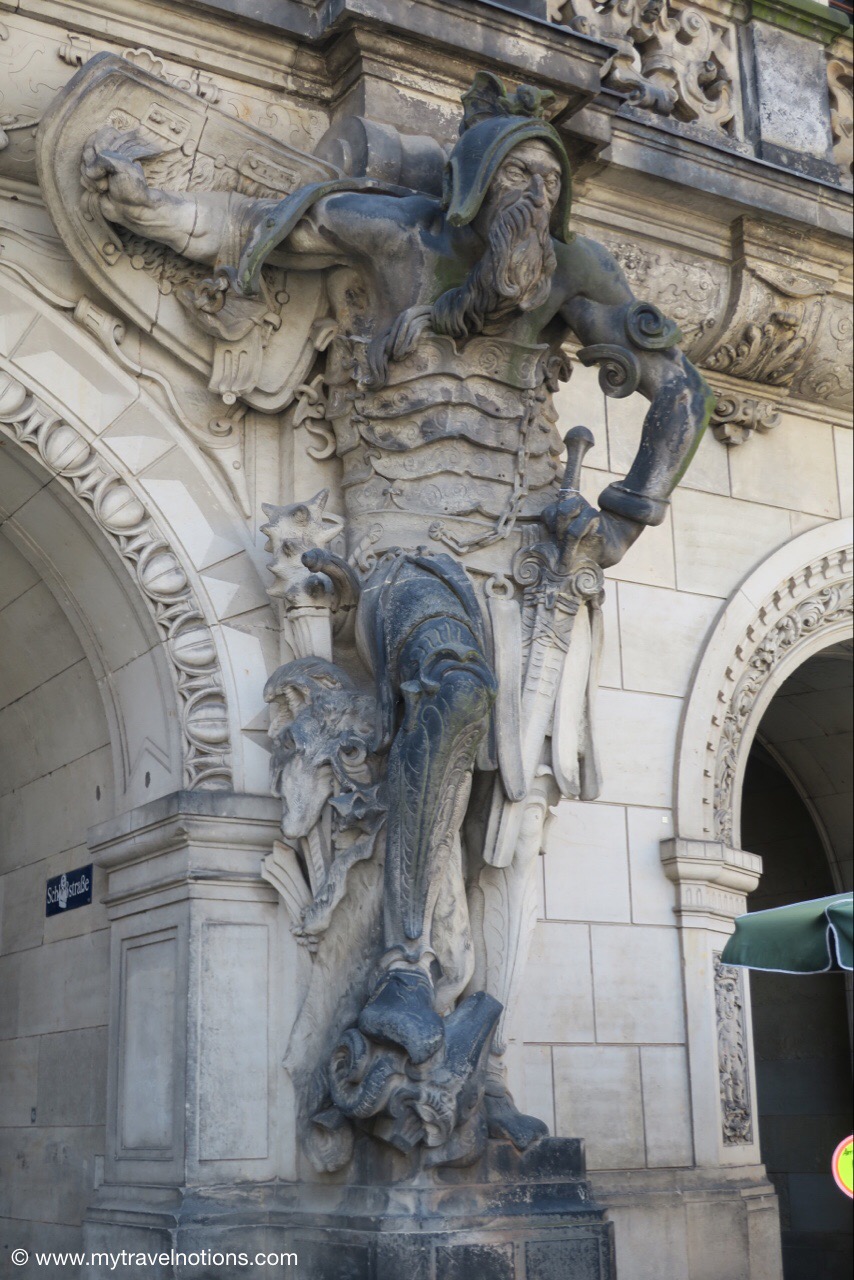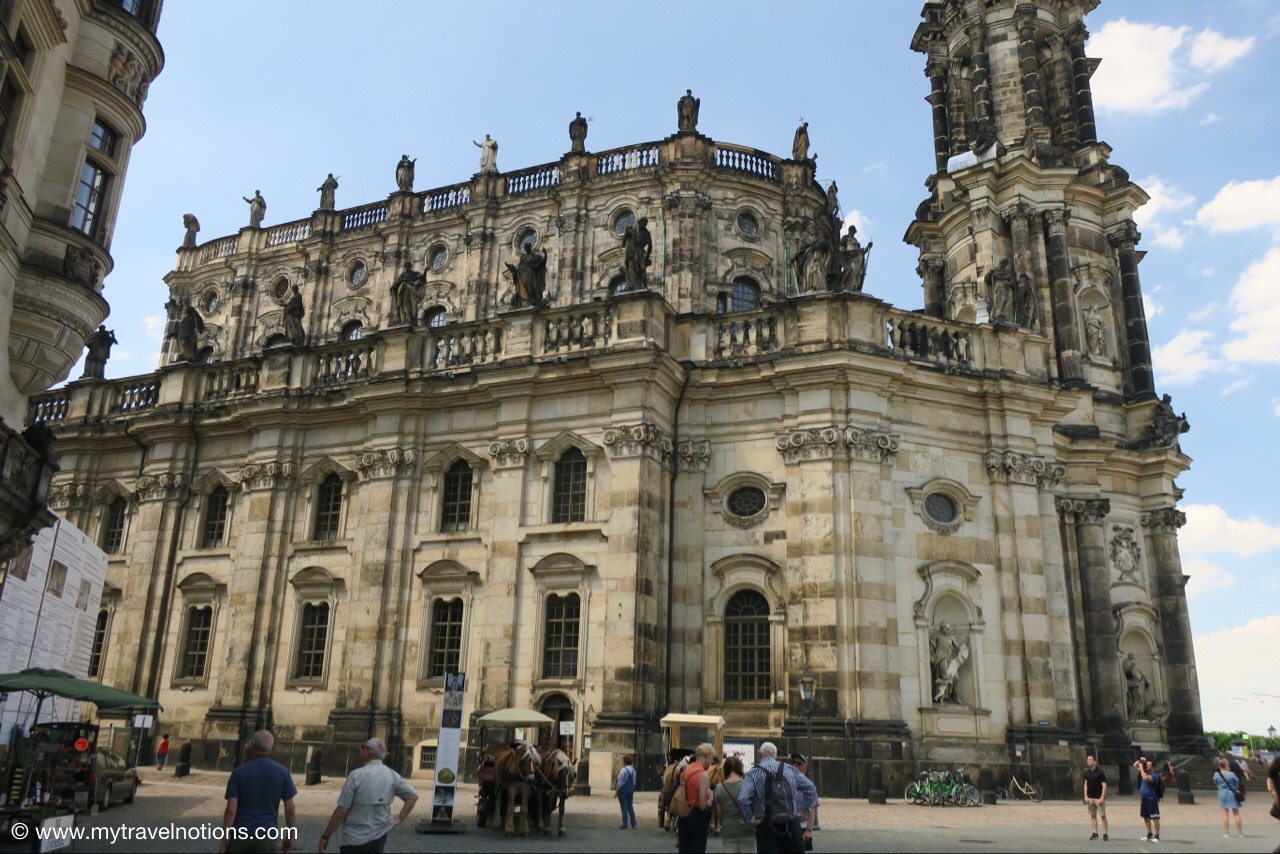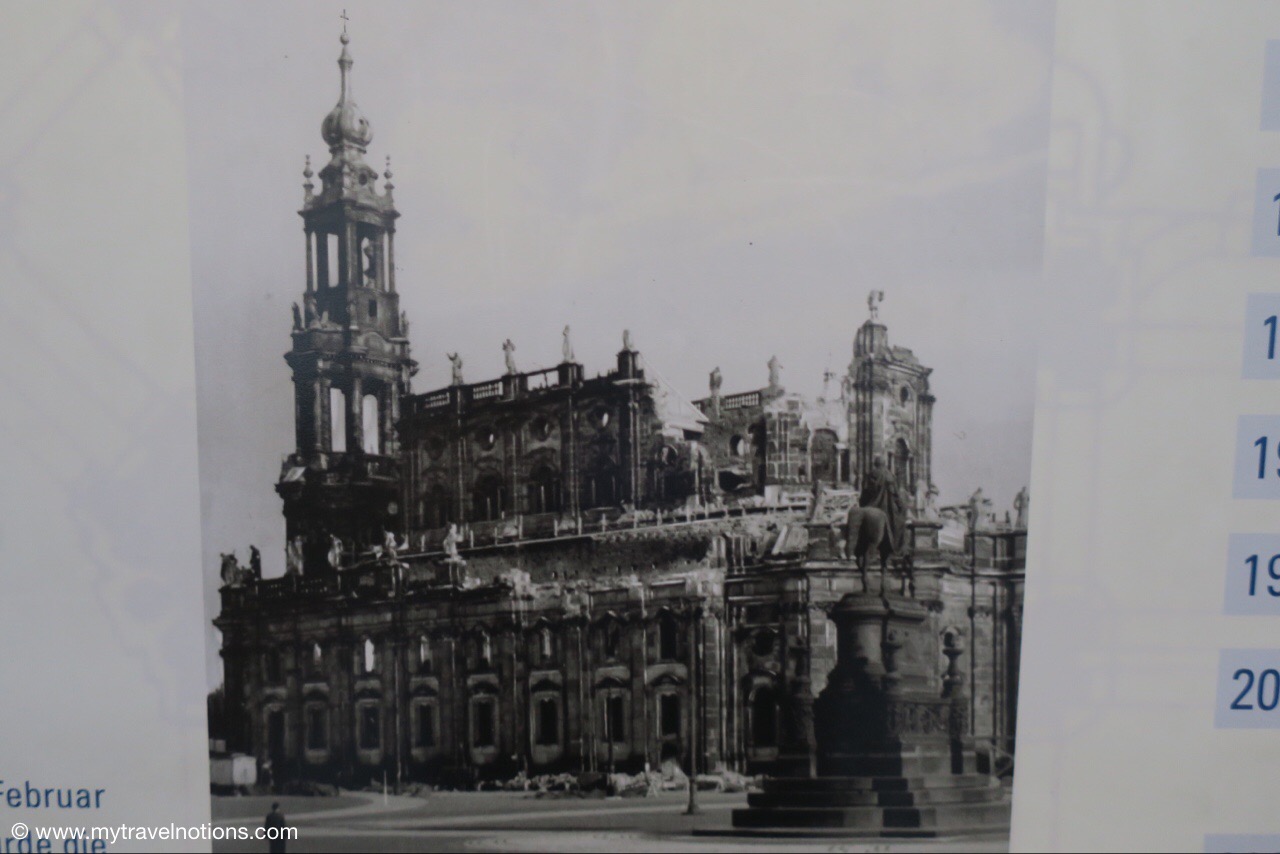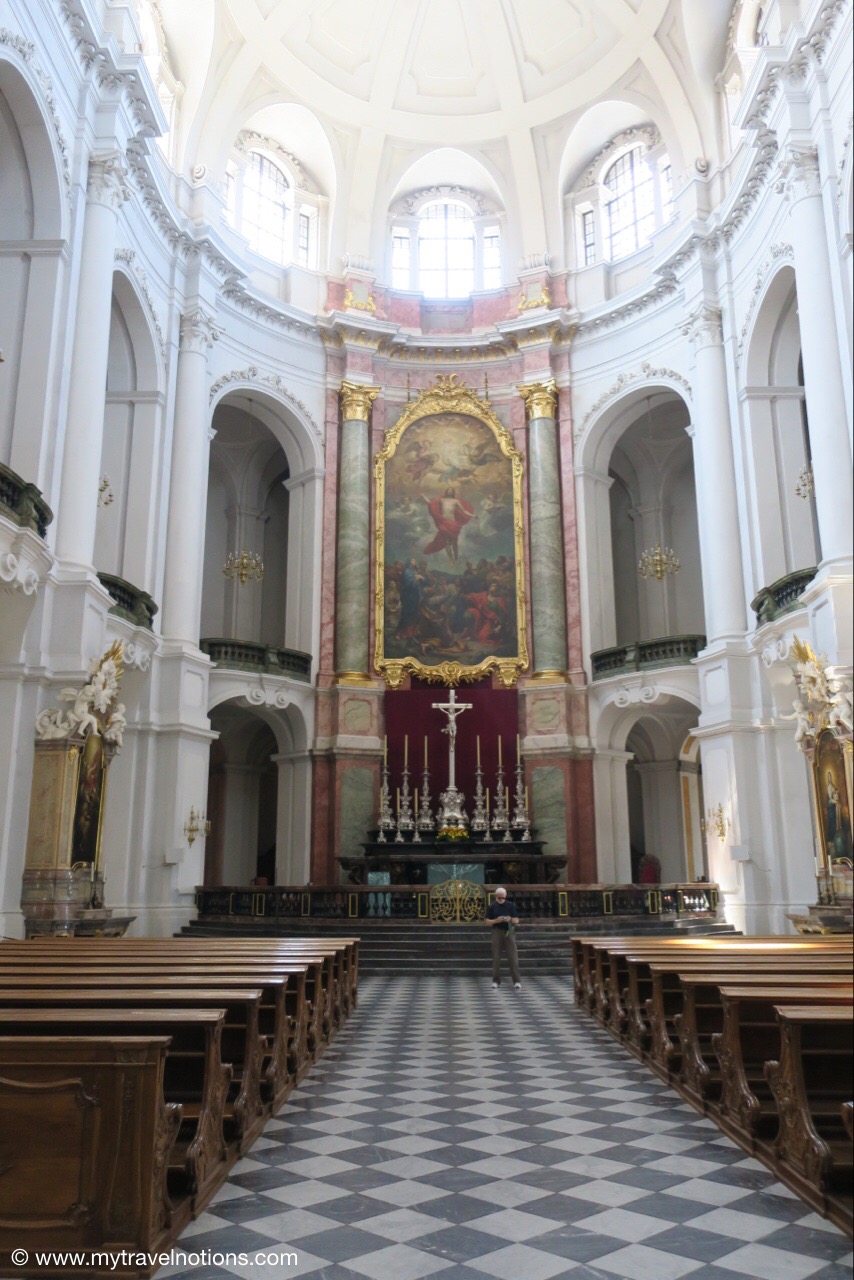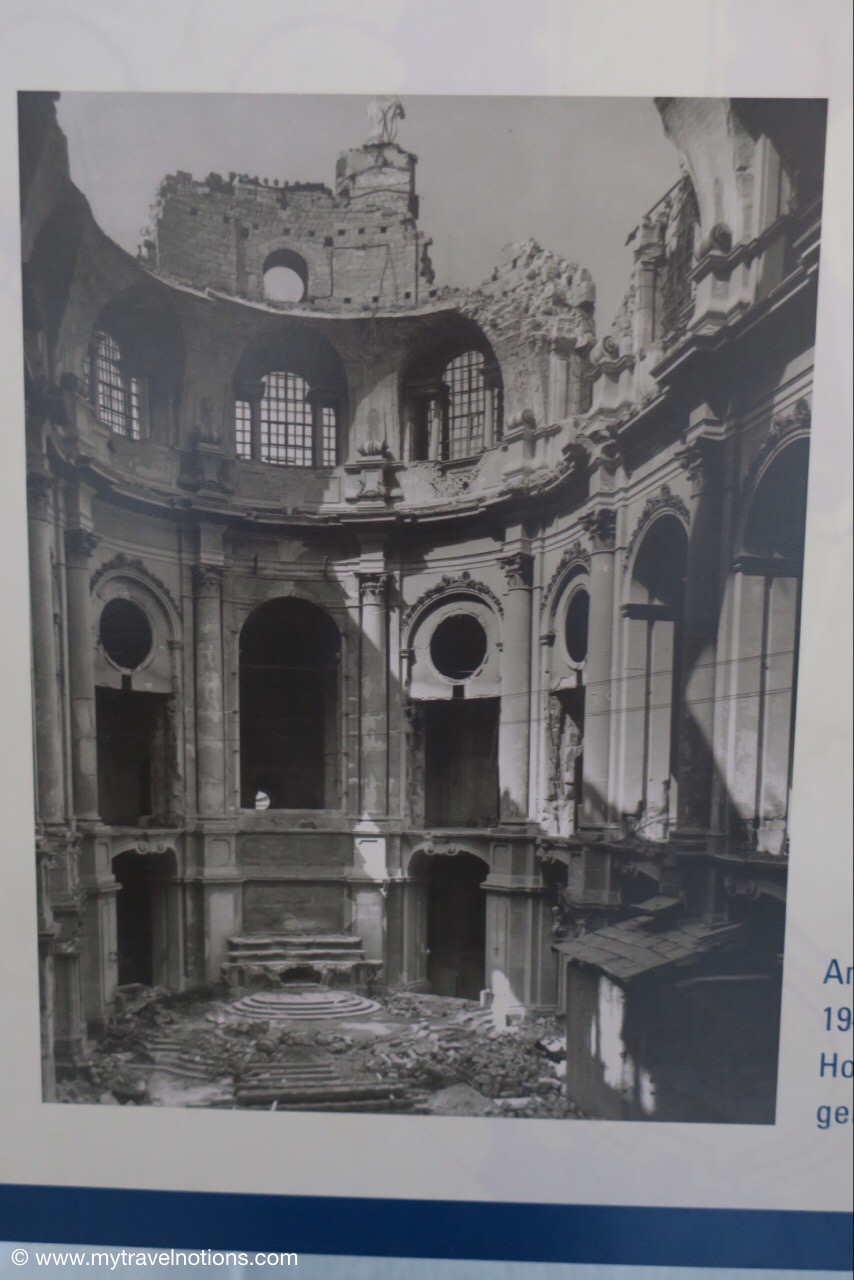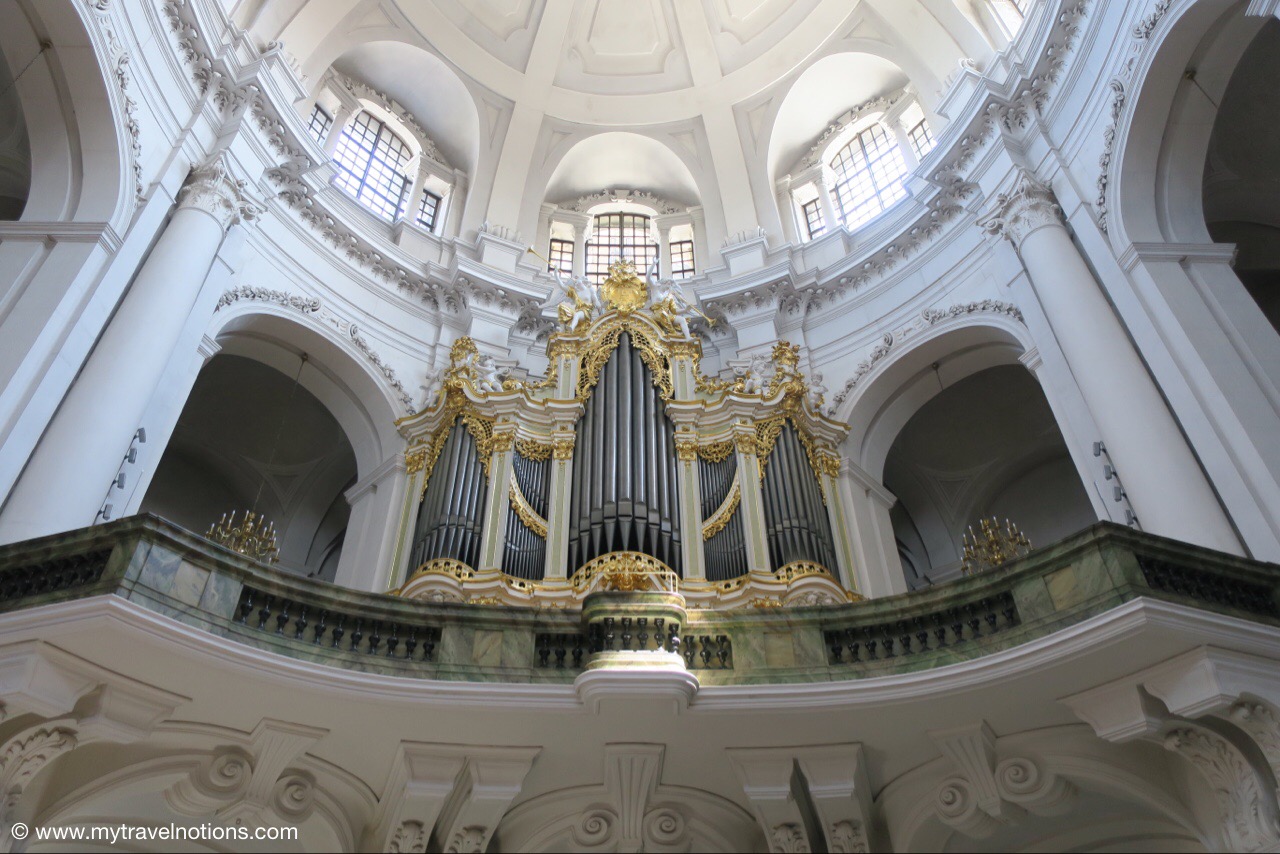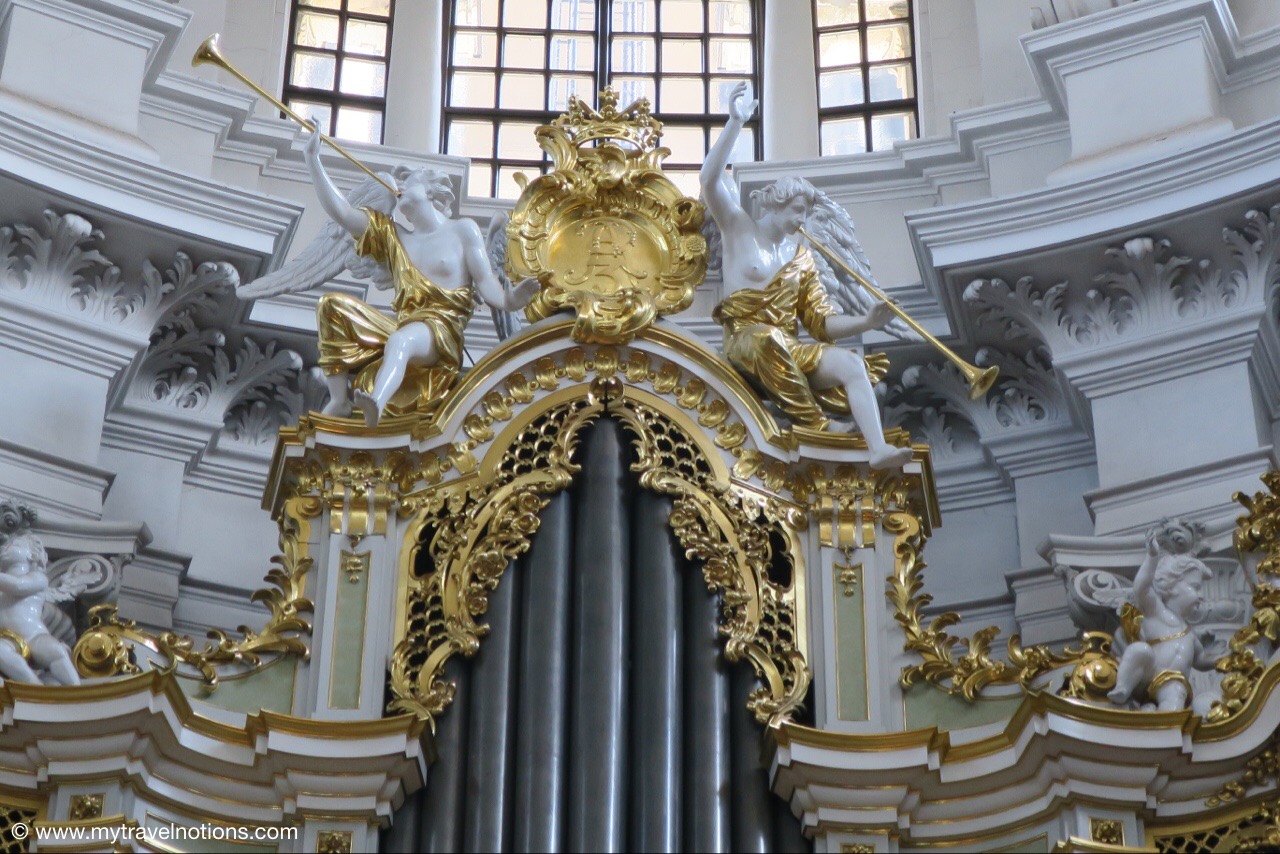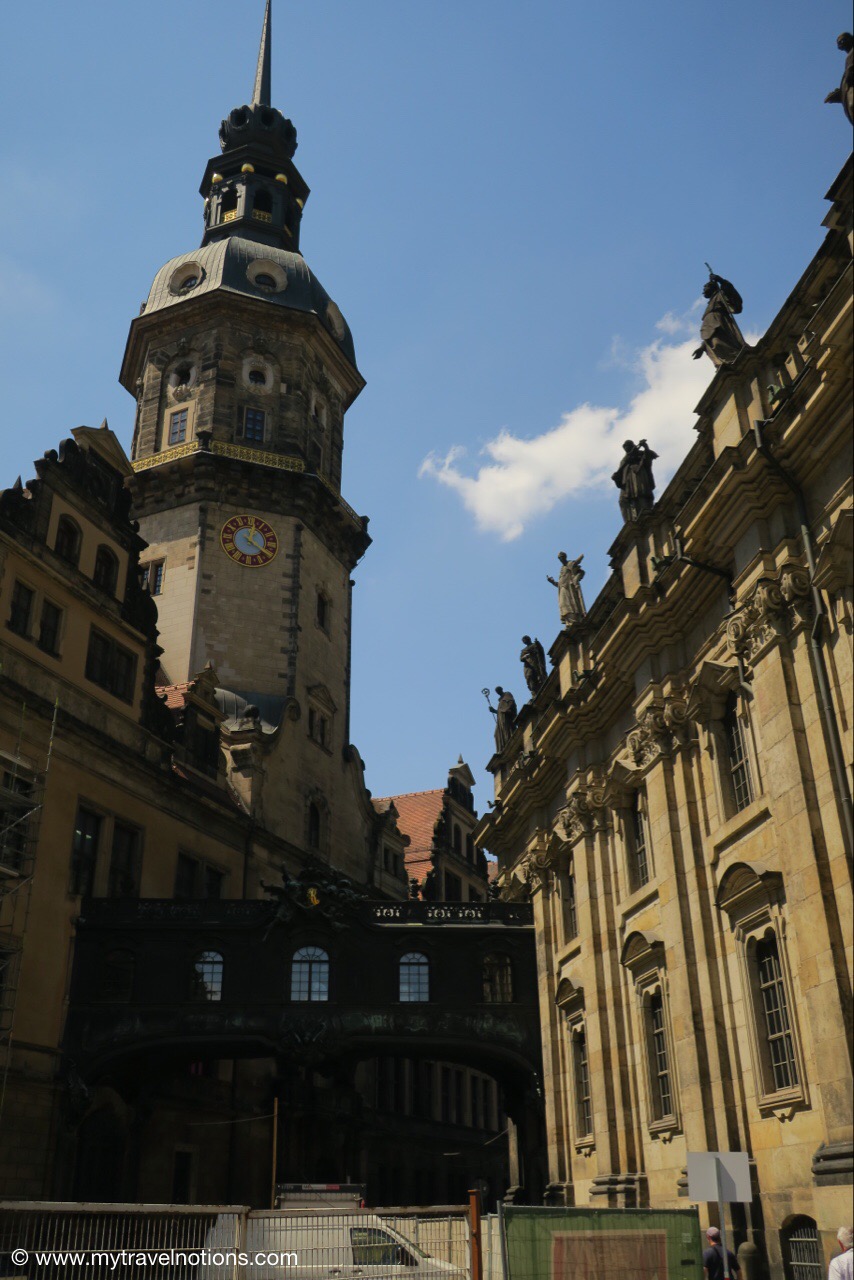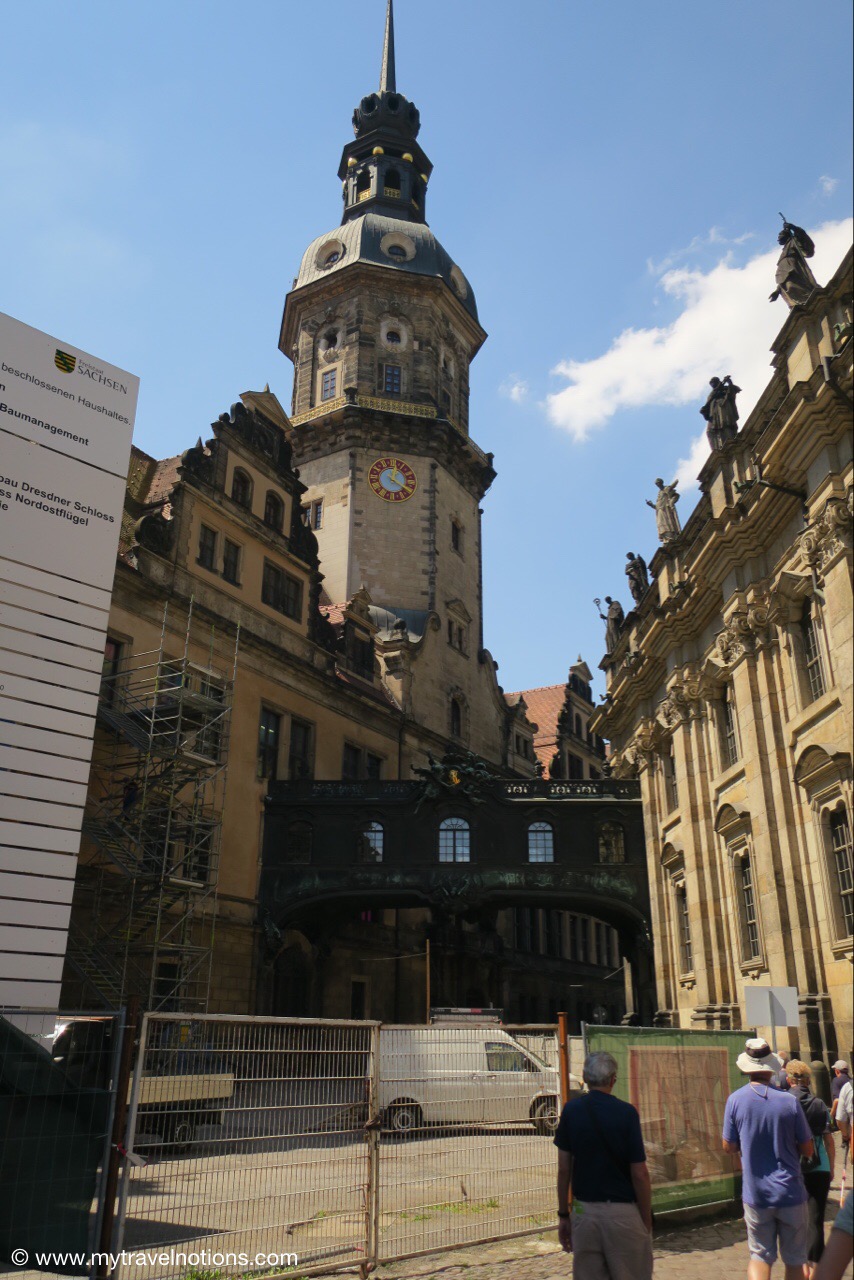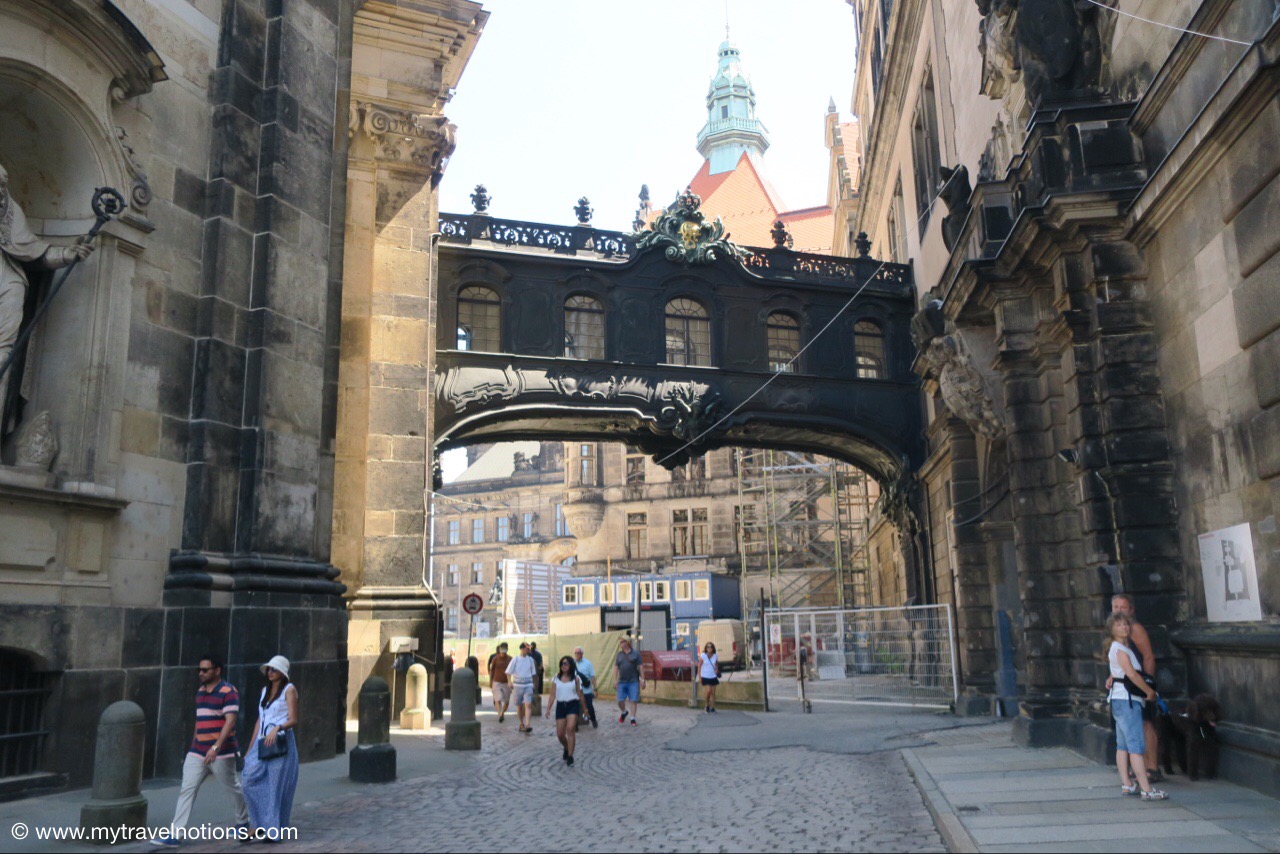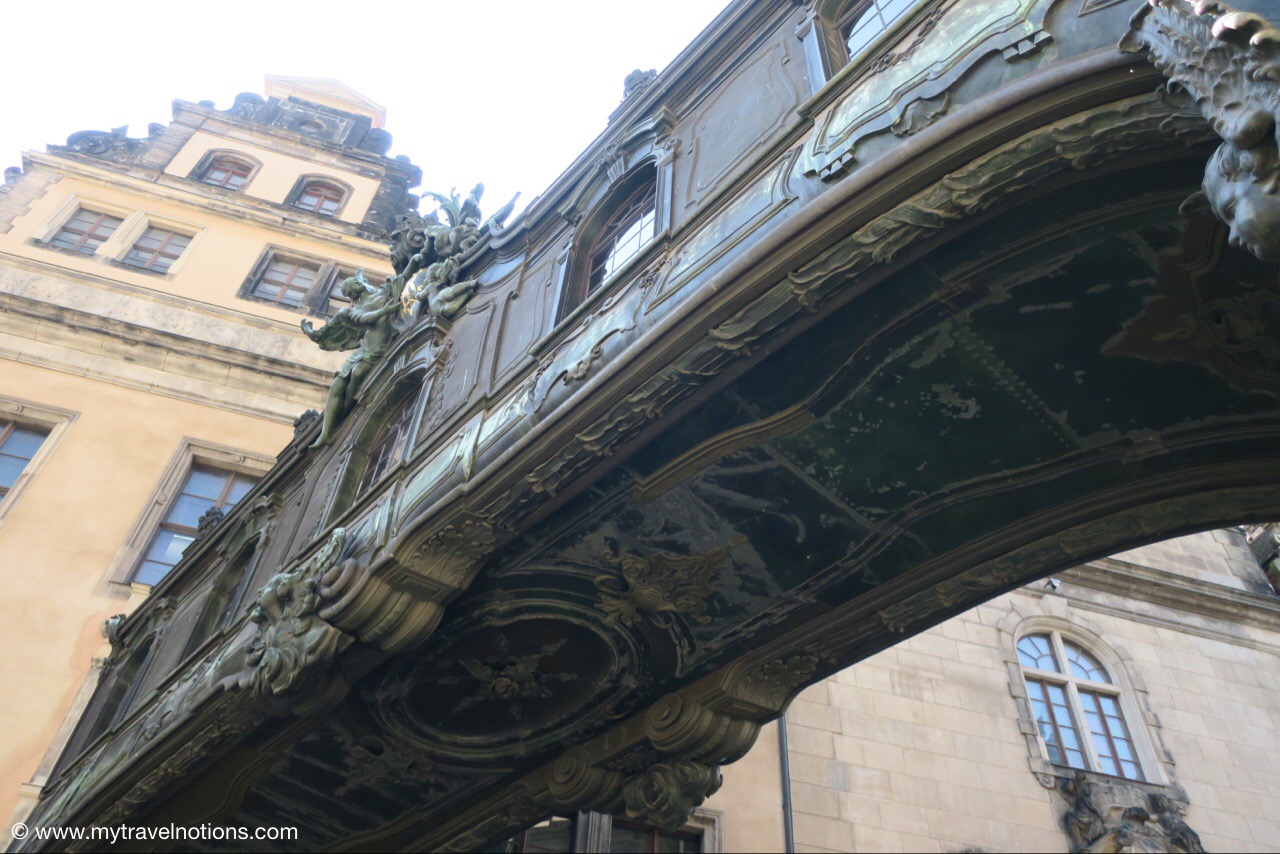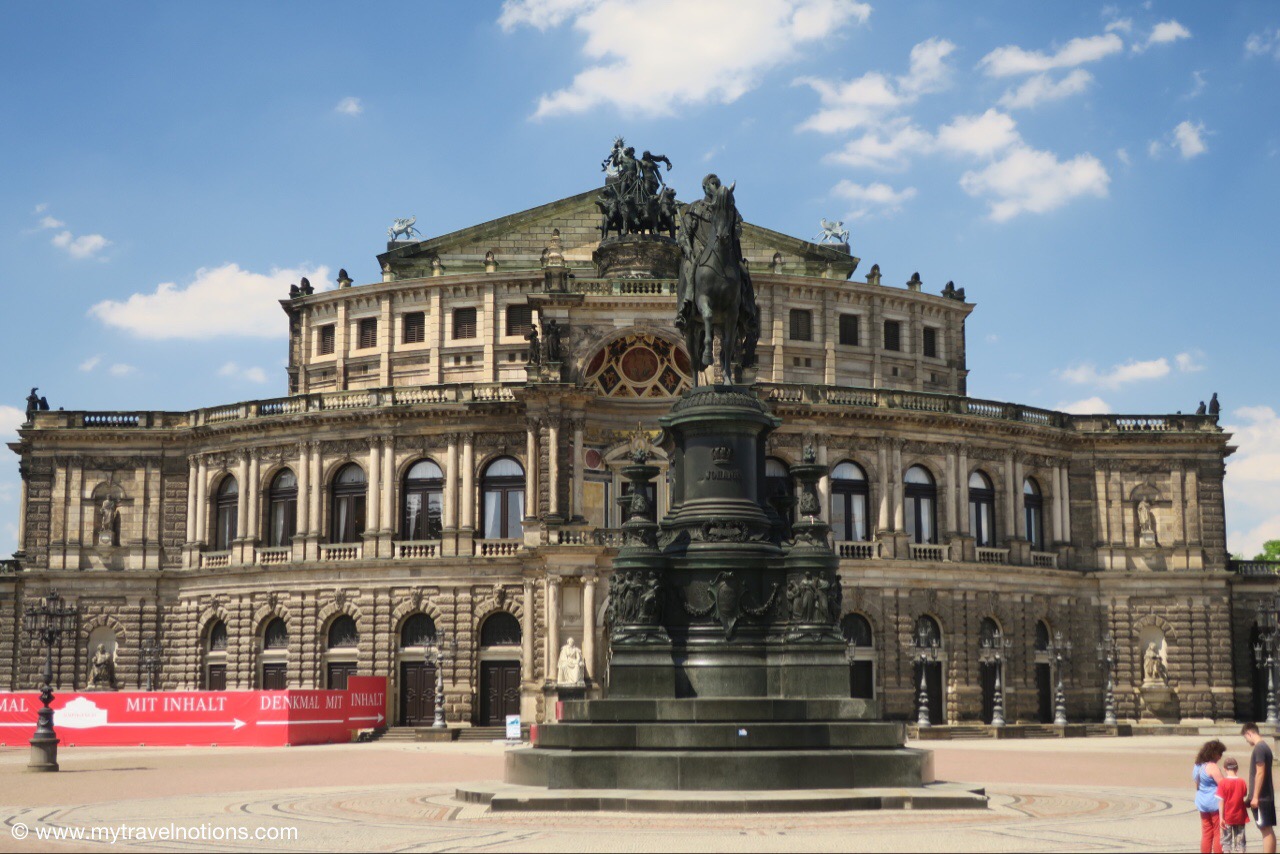 My stay in Germany is coming to an end. Although I visited Munich and Berlin on my own just two years ago, seeing these cities and more through the eyes of a knowledgeable guide whose roots are German has given me a deeper and more diverse view of this country's history and its growing, inclusive present.
I don't think anyone can think of Germany without acknowledging the deportation and murder of six million Jews…and neither can Germany. This country does not hide from its past. The atrocities committed by the Nazis are not condoned and no Nazi statues are erected to its leaders. There's nothing to commemorate. But, efforts are made to acknowledge the damage caused, honor the pain and suffering of its victims and educate anyone who will listen that the atrocities of the past must never be repeated.
This is also a country that didn't become Germany until 1990 when the East and the West came together to form the reunited nation of Germany and when East Berlin and West Berlin became the single city of Berlin. The Wall that separated this country and its people took time to finally come down but its the people whose demand for freedom and oneness is what brought it crashing down.
Although Thursday morning was the last official day of our Rick Steves "Best of Germany" group tour, Alice, Tammy and I gave ourselves a couple extra days in Berlin to see Wittenberg (the home of Martin Luther…more in my next post) and rest up for the next leg of our journey… Luxembourg, Belgium and the Netherlands. Here are my Berlin highlights…..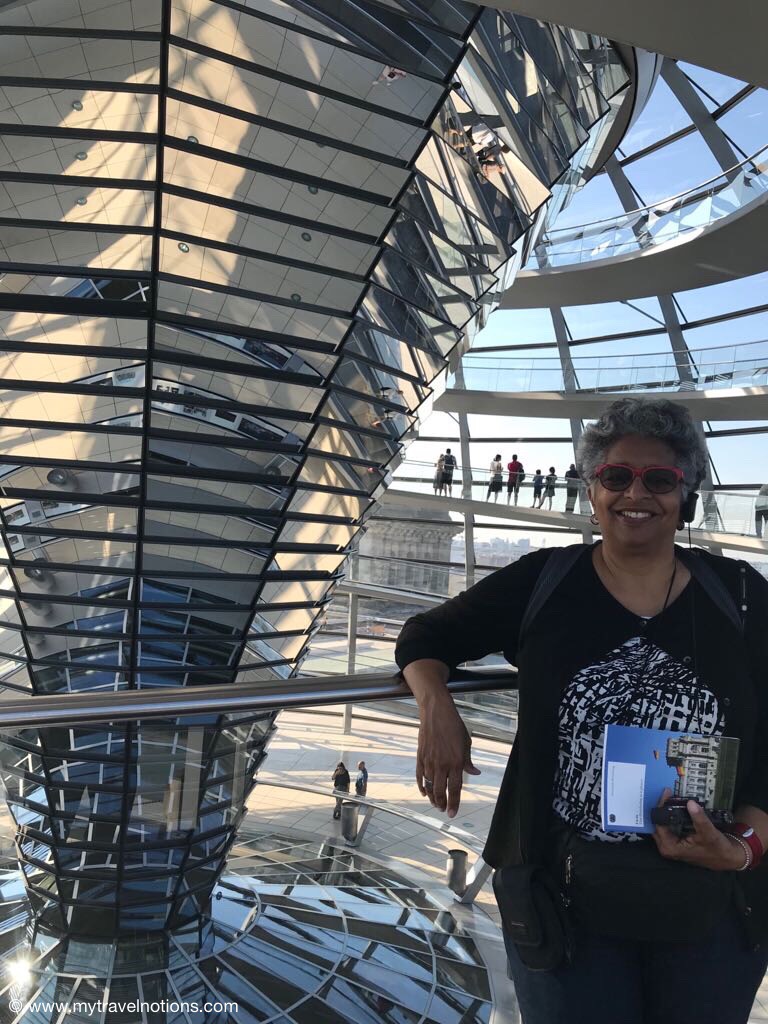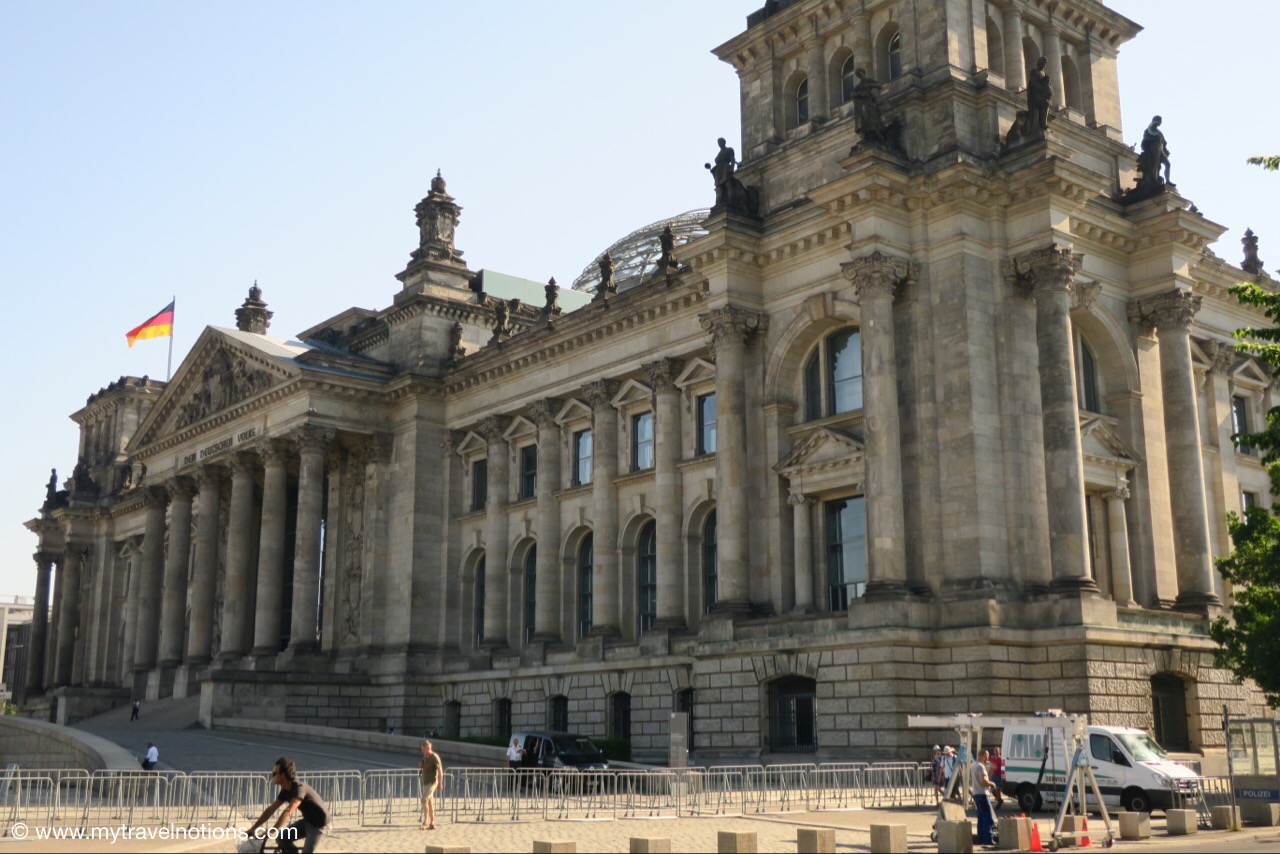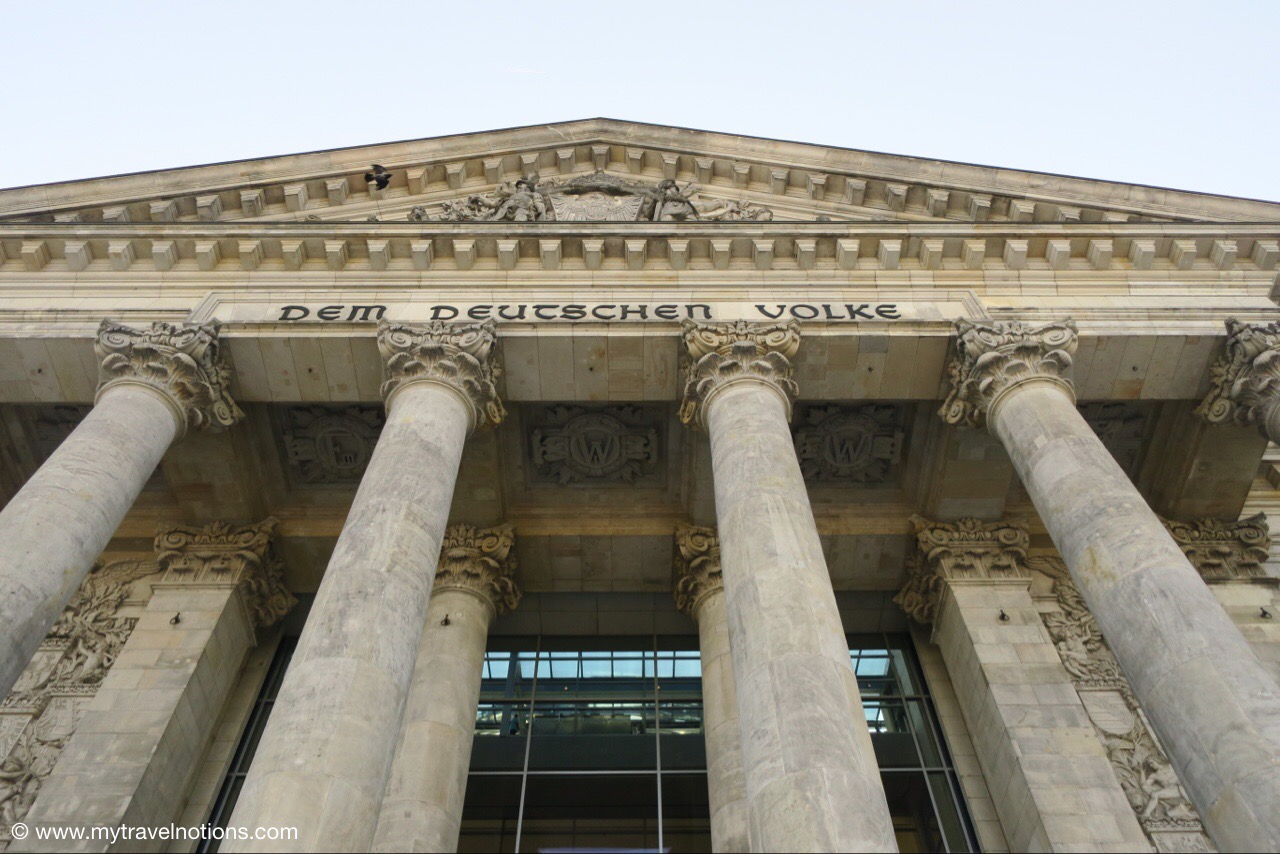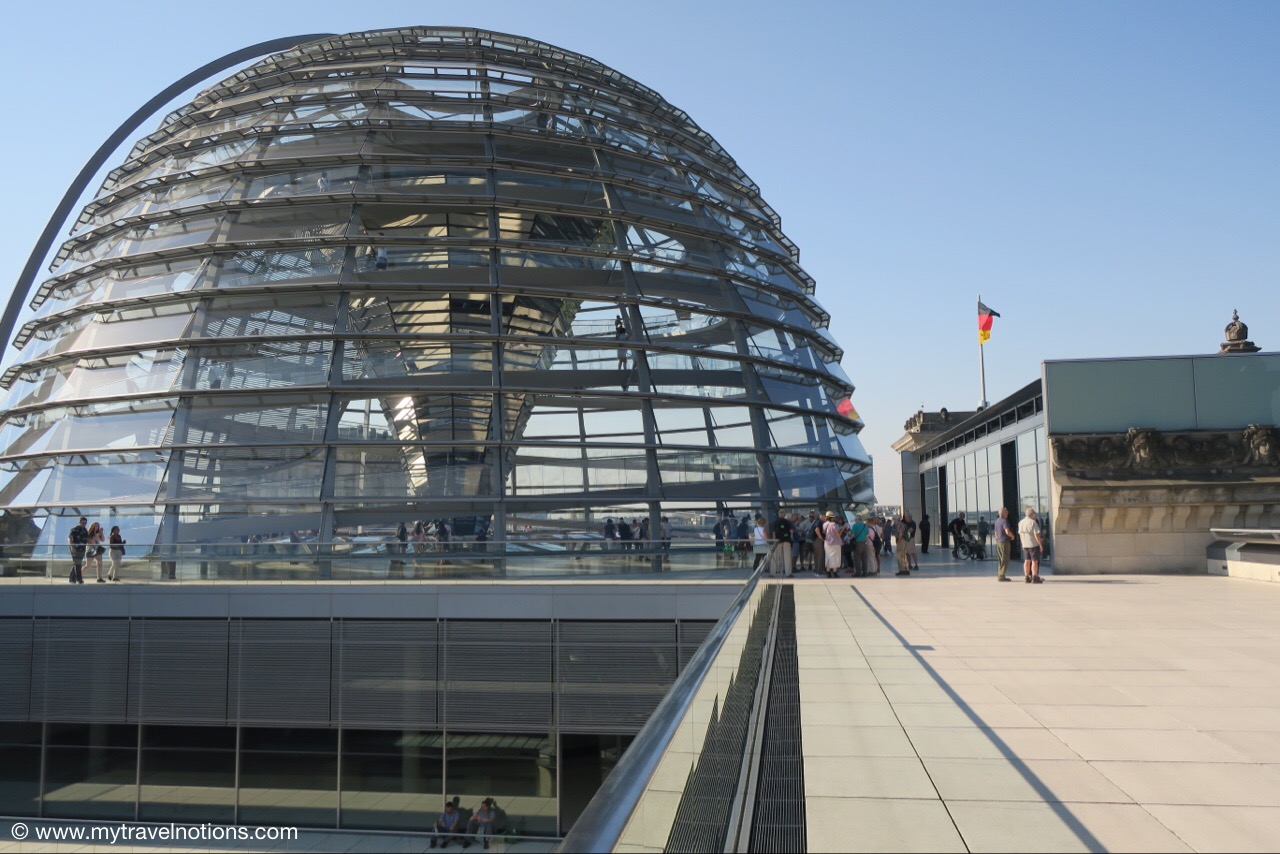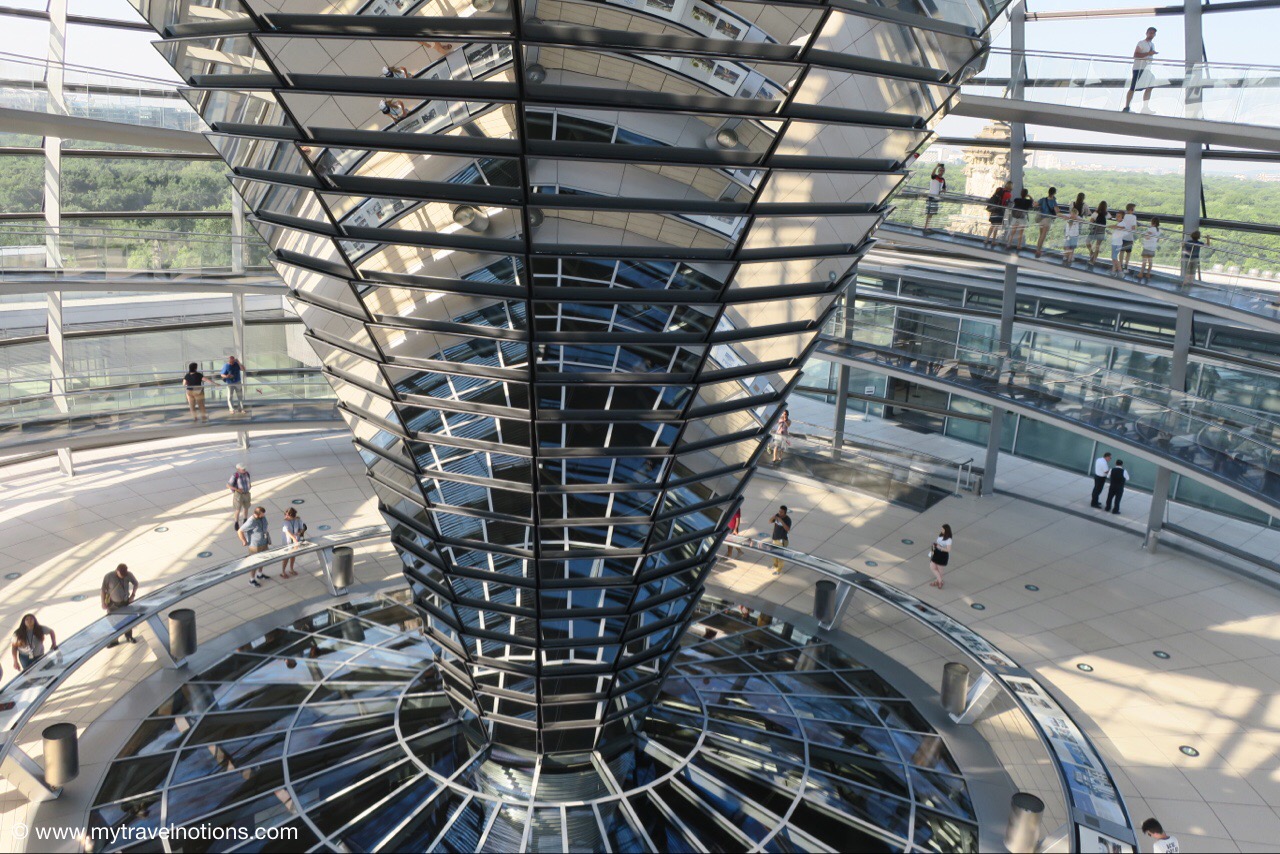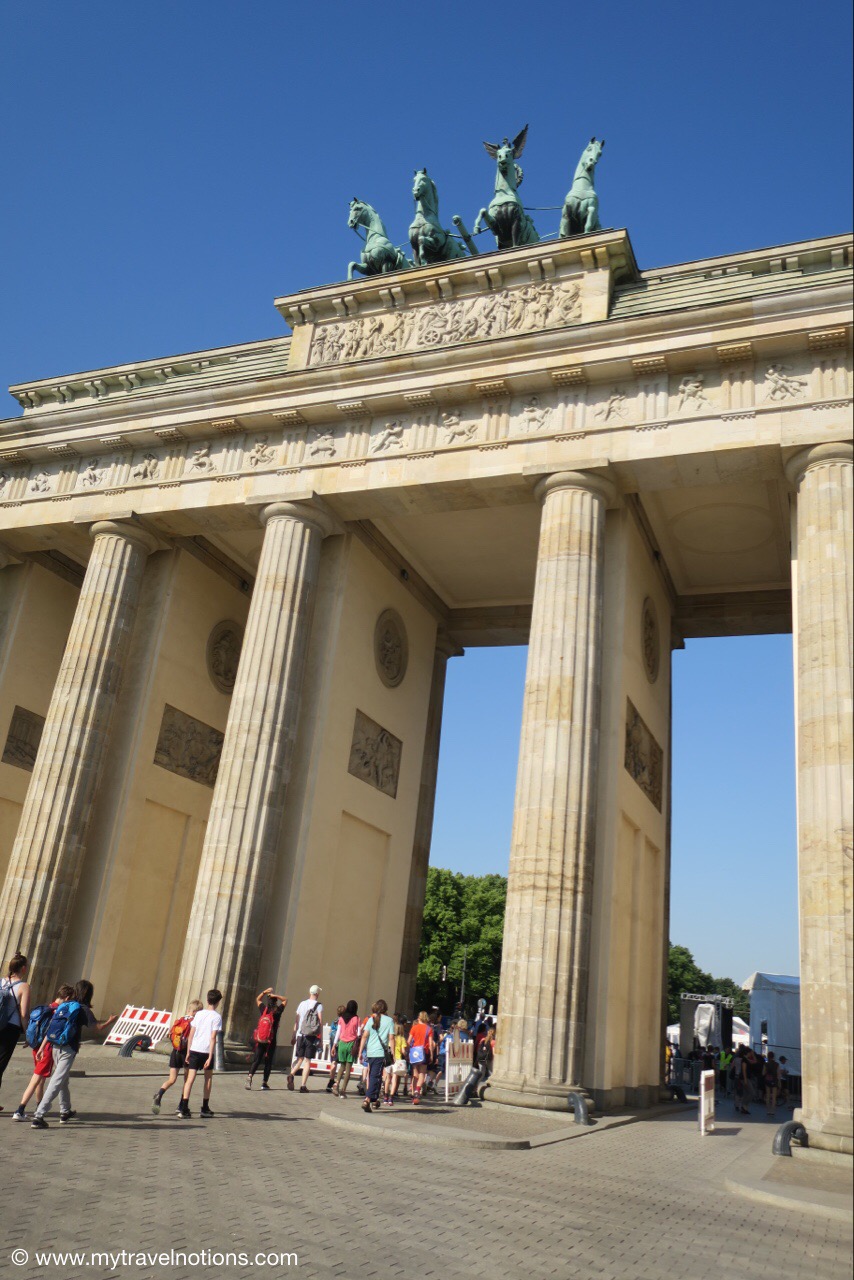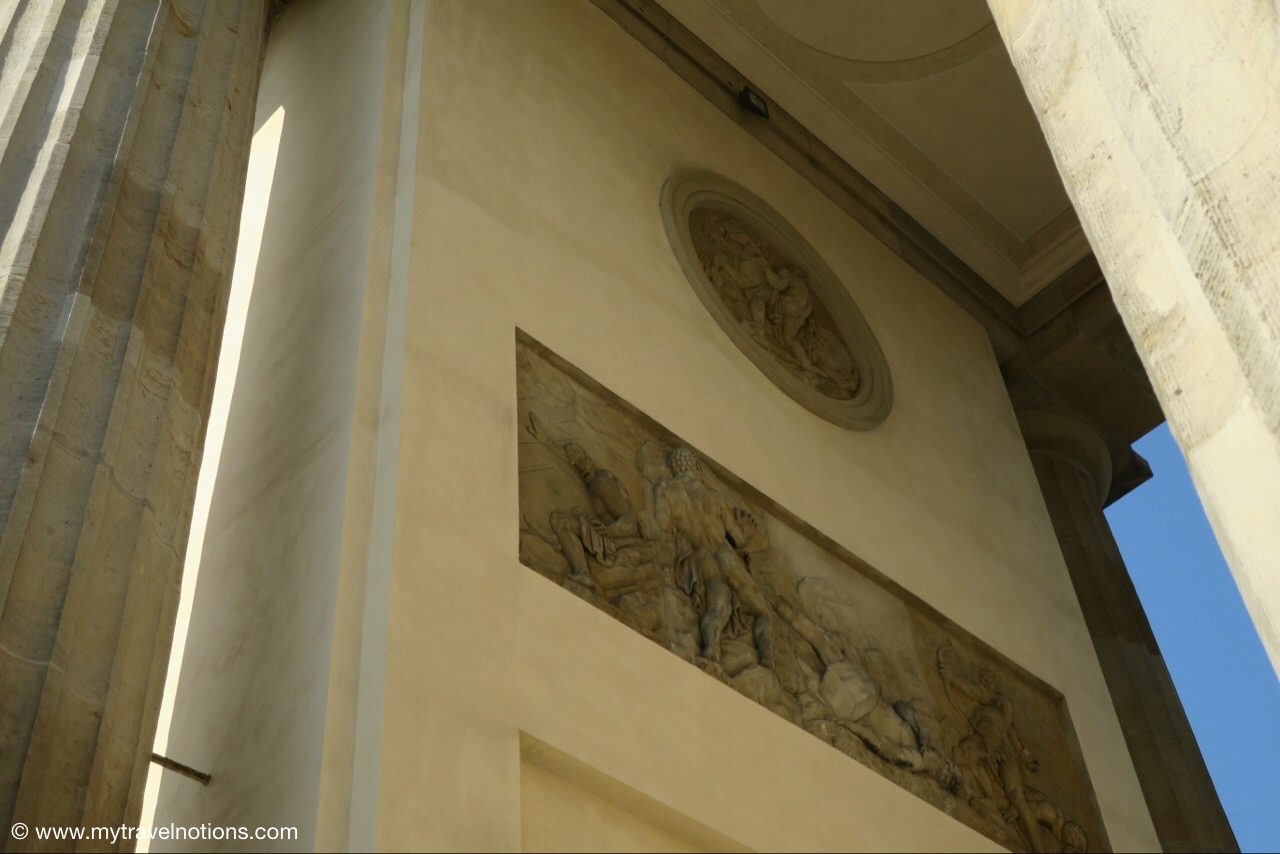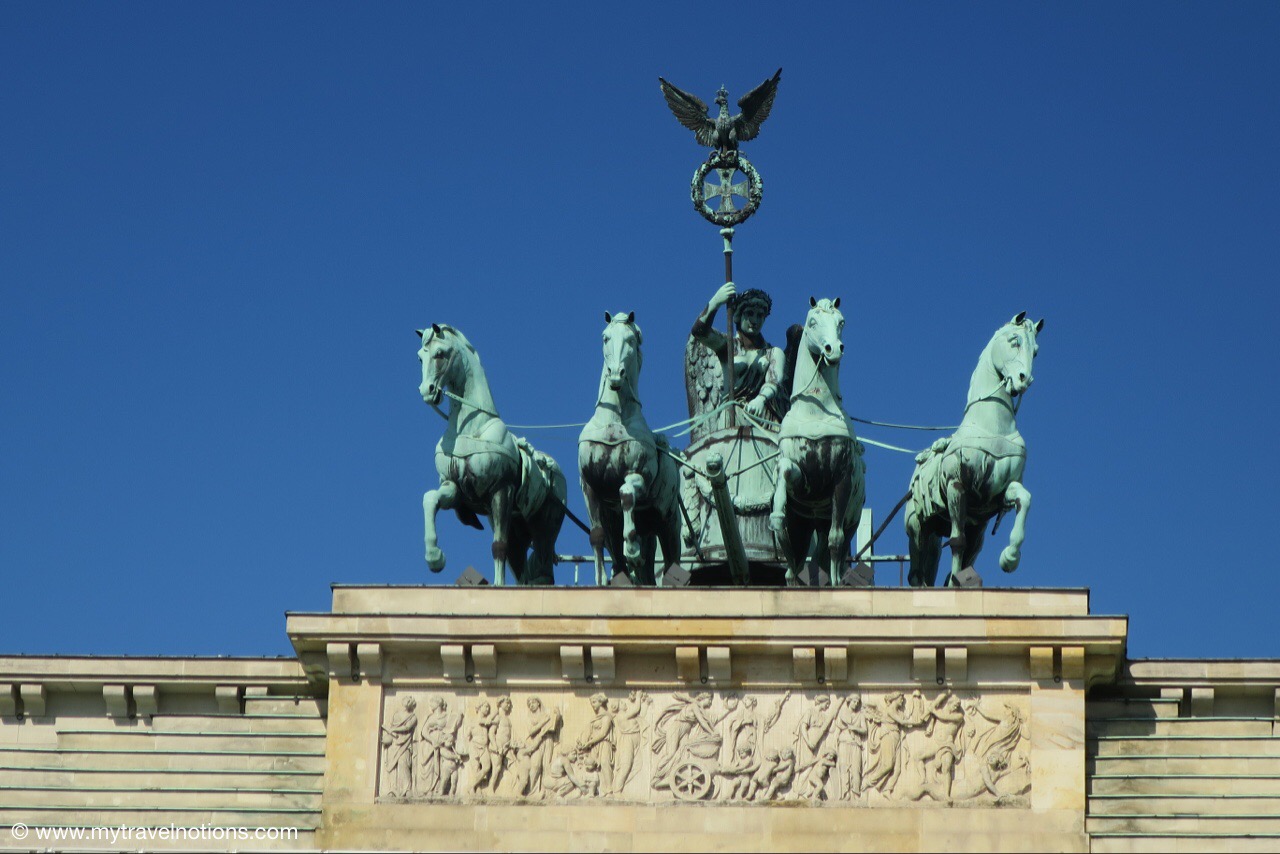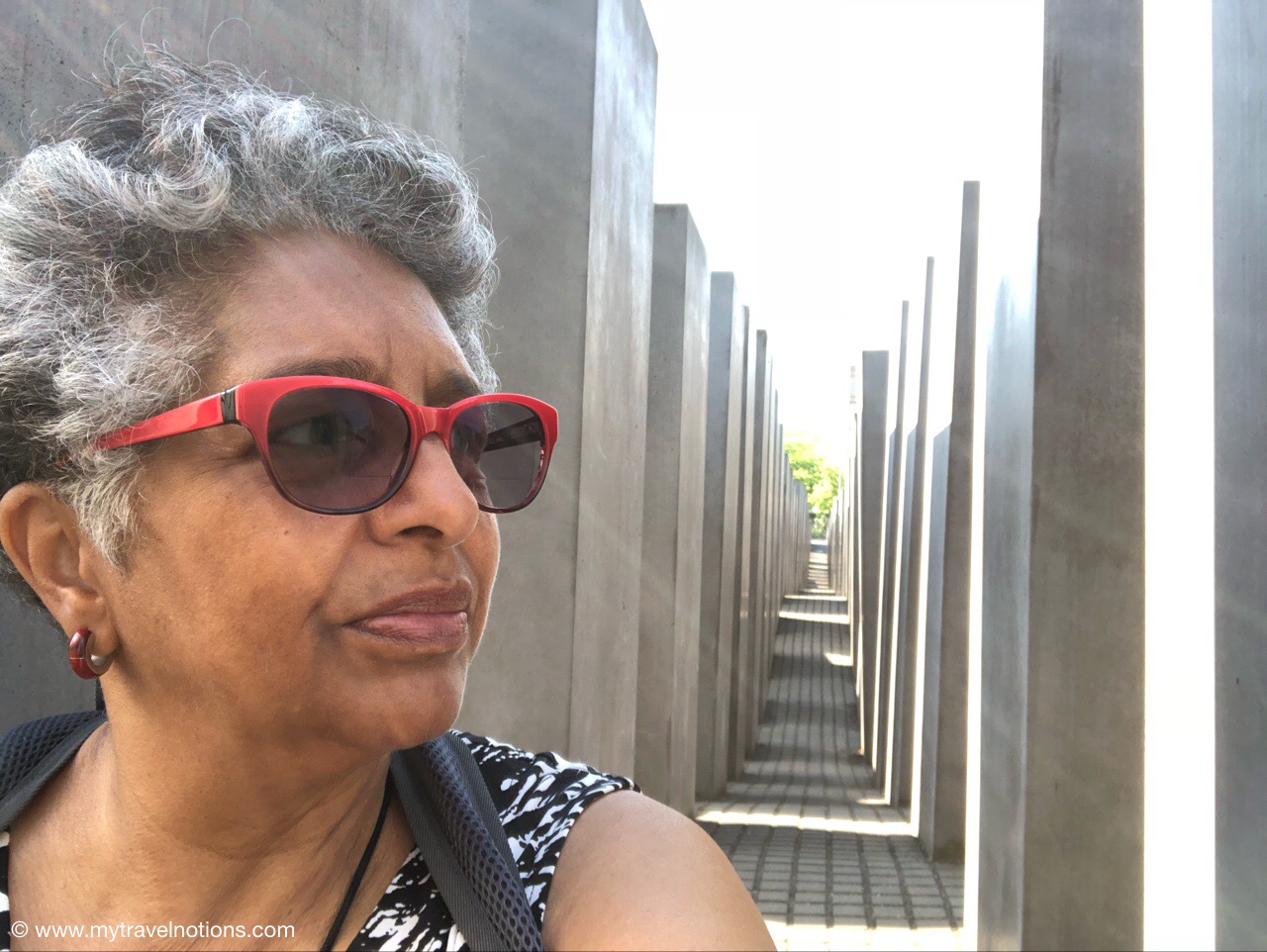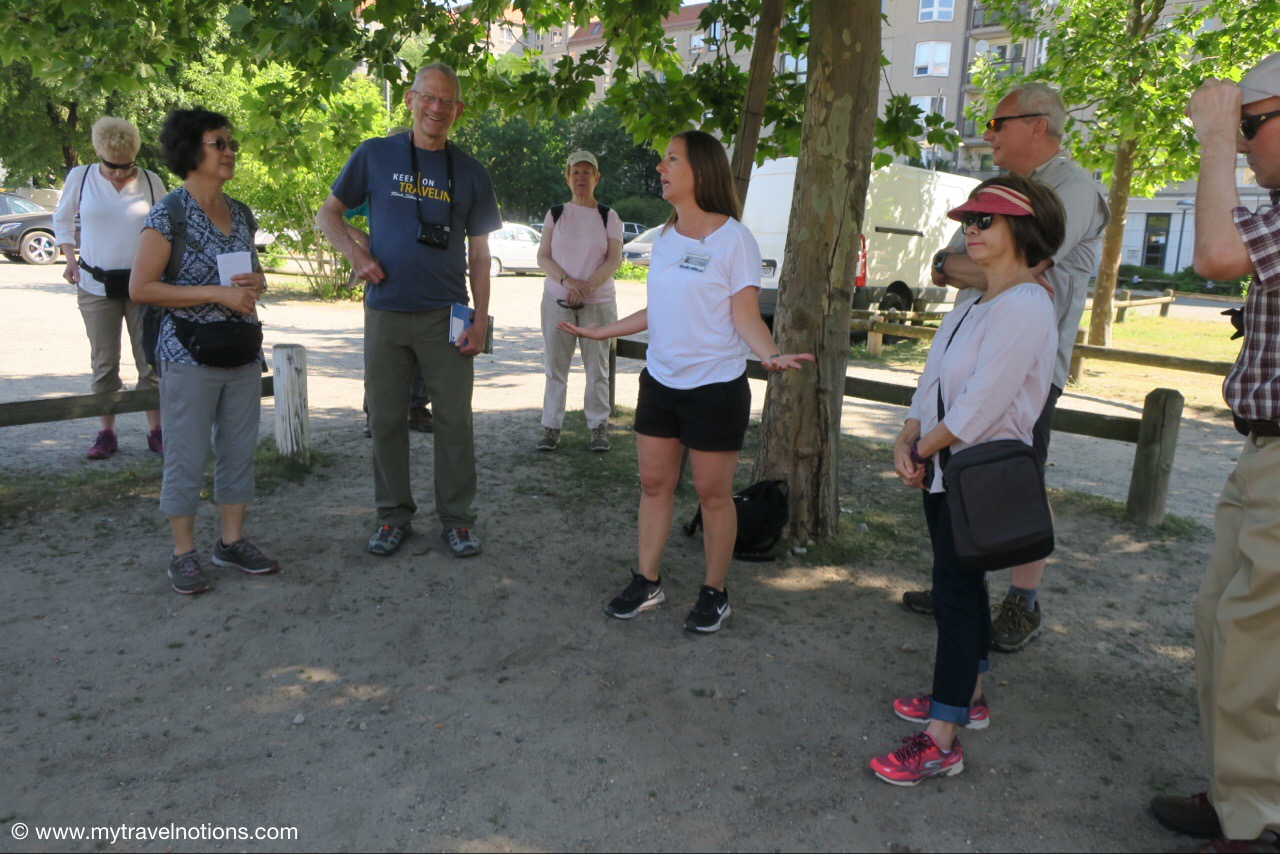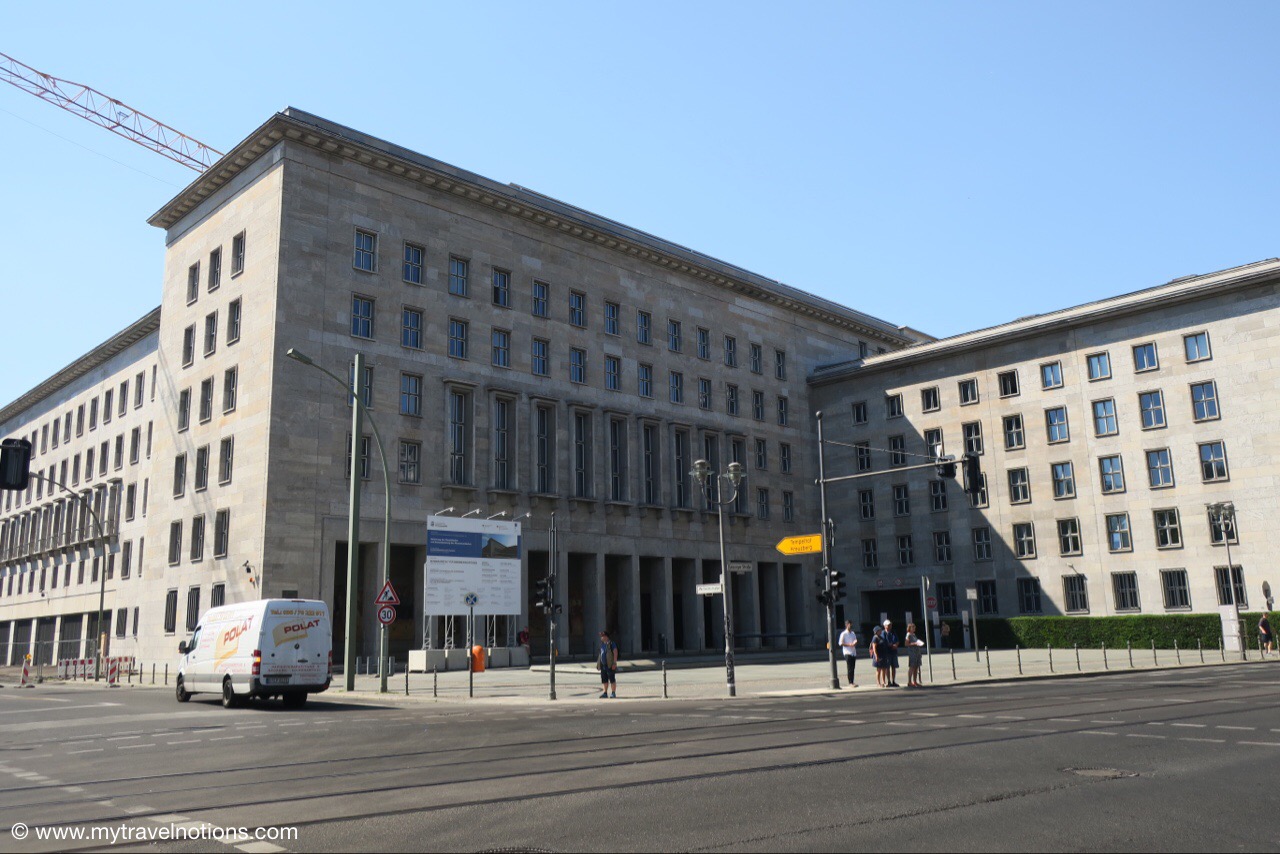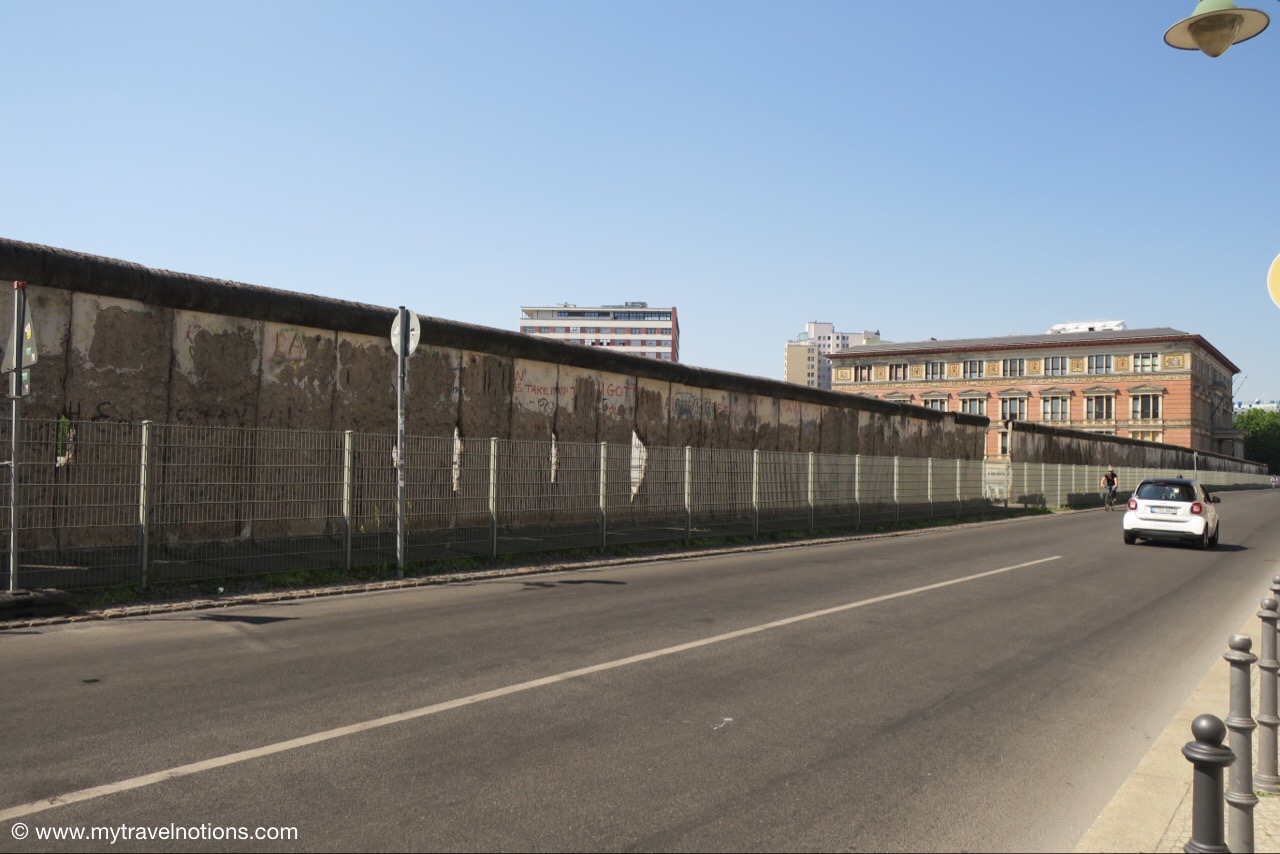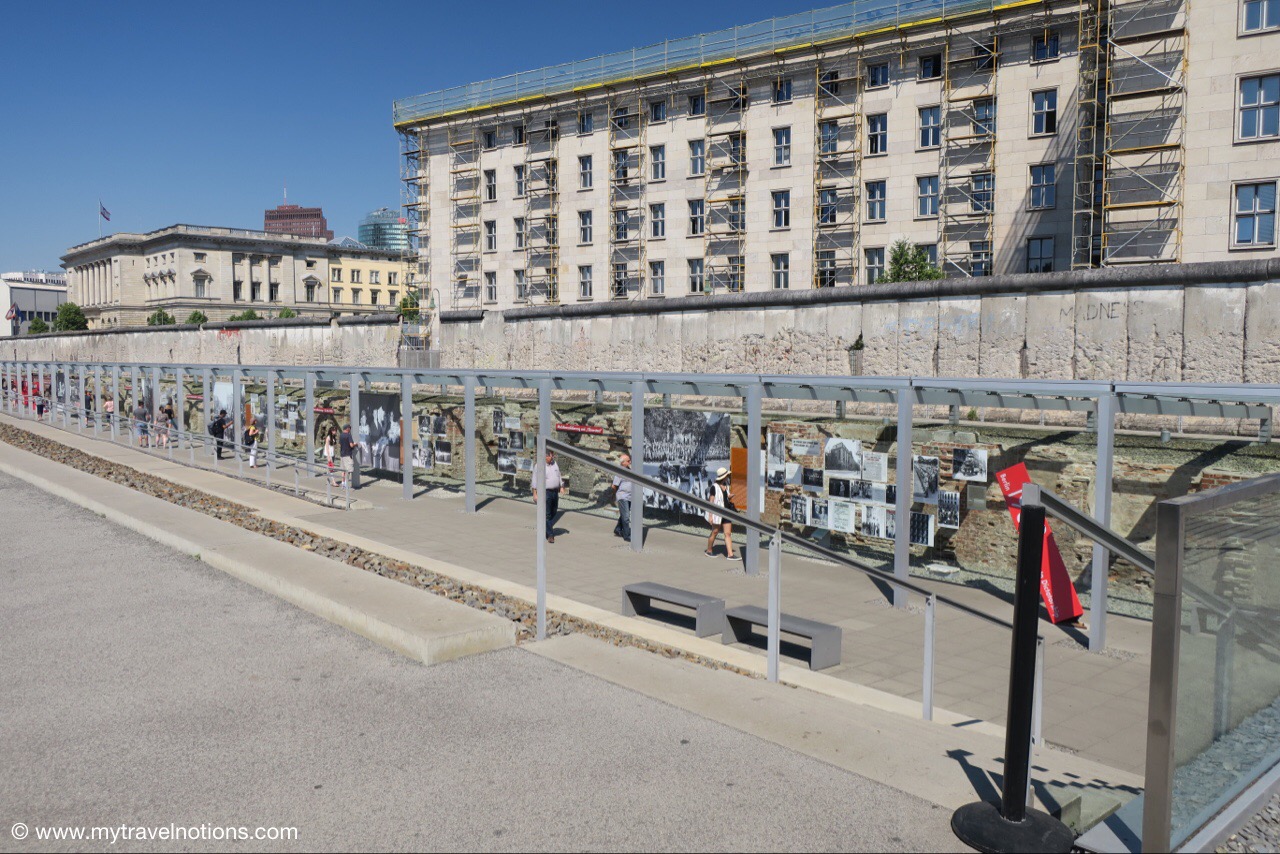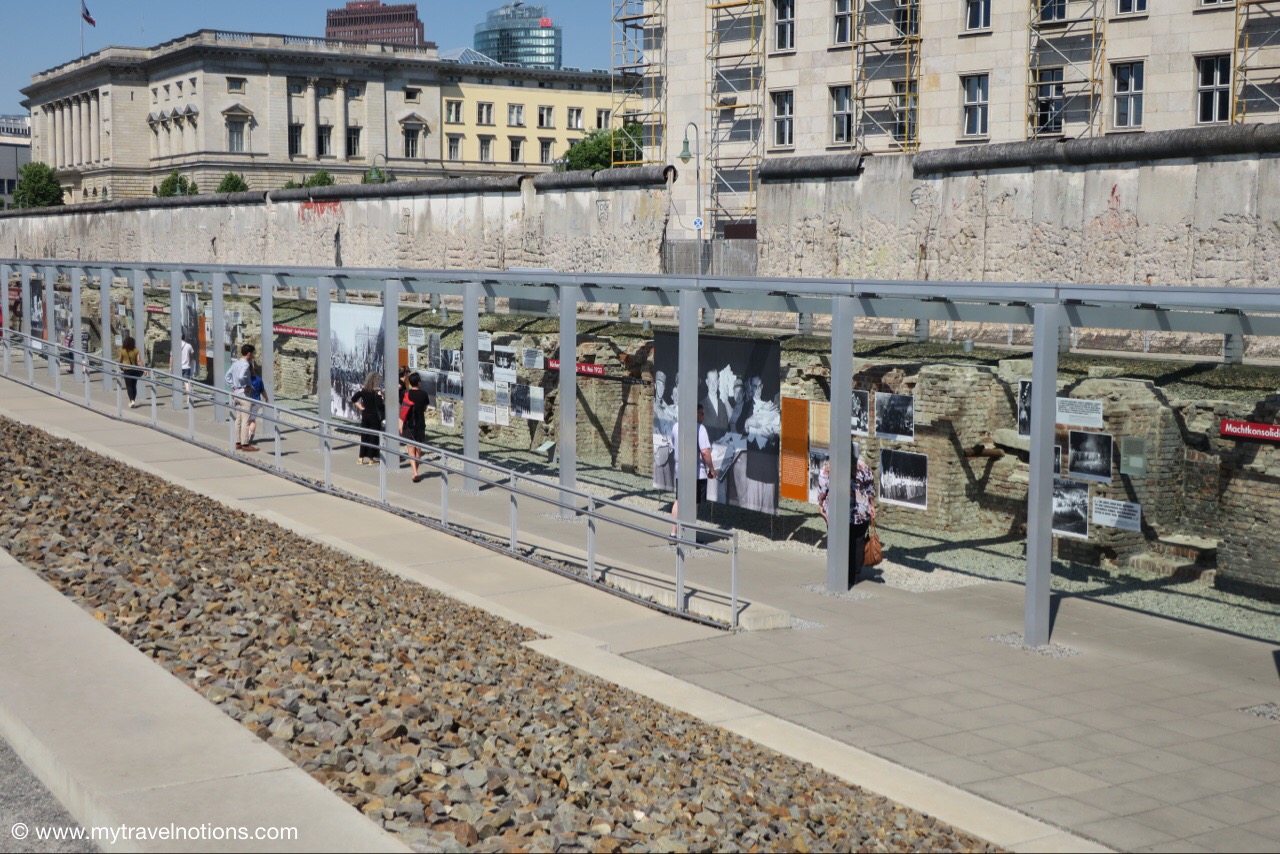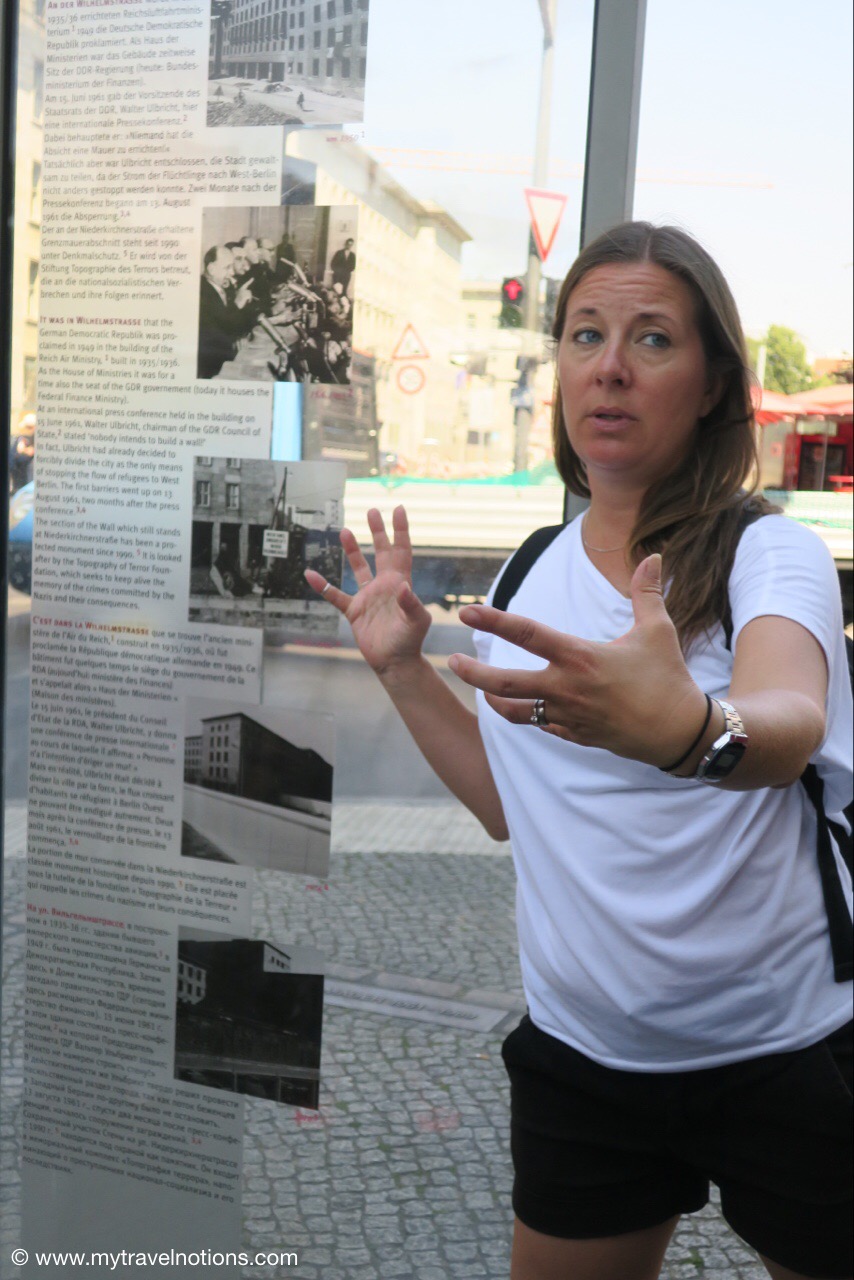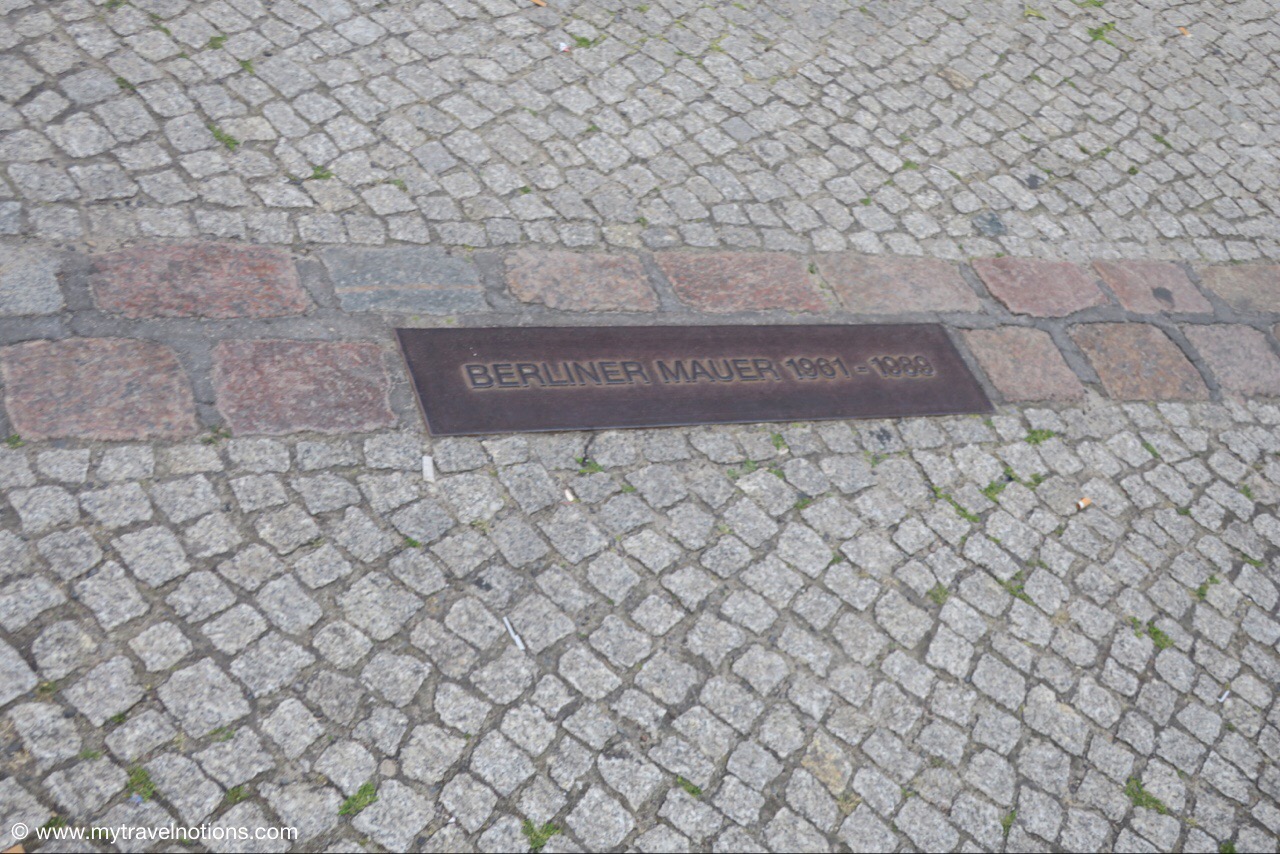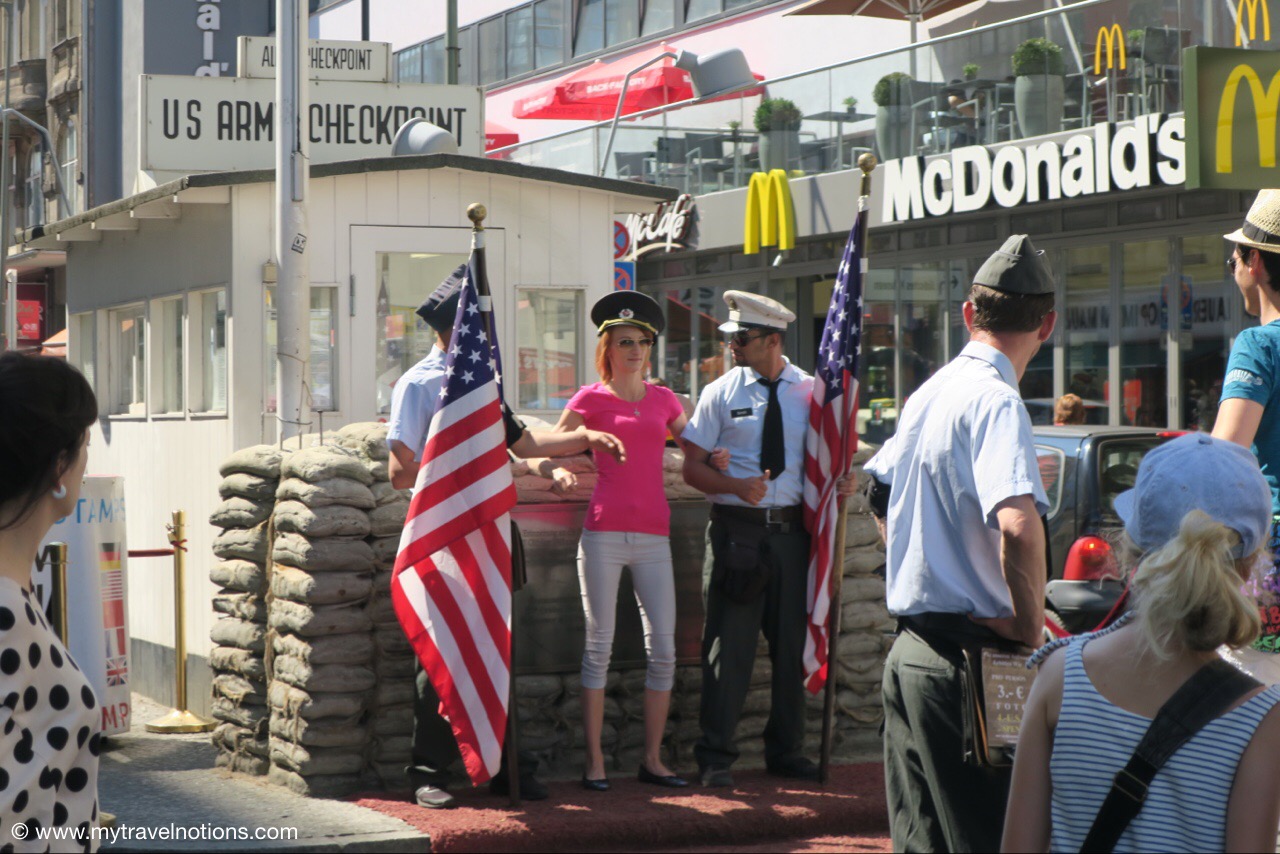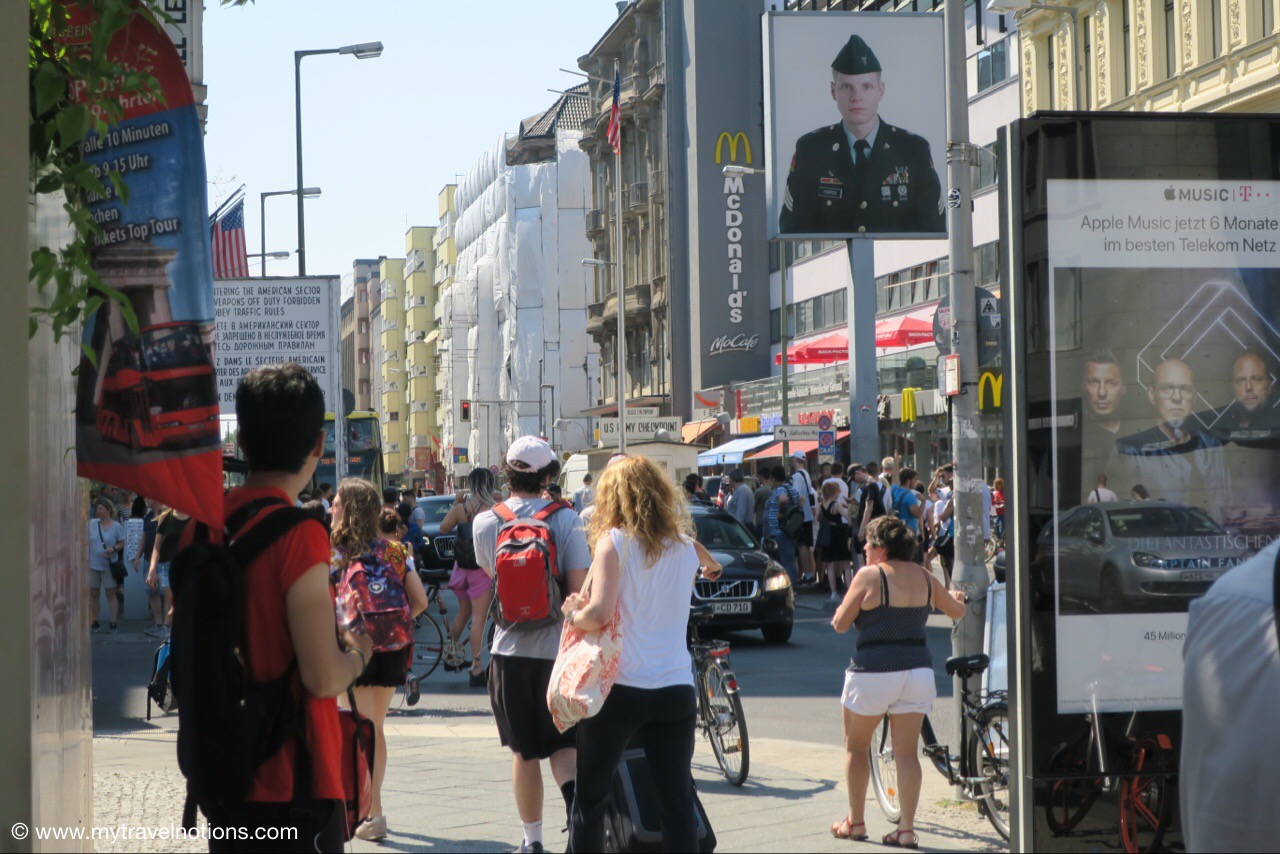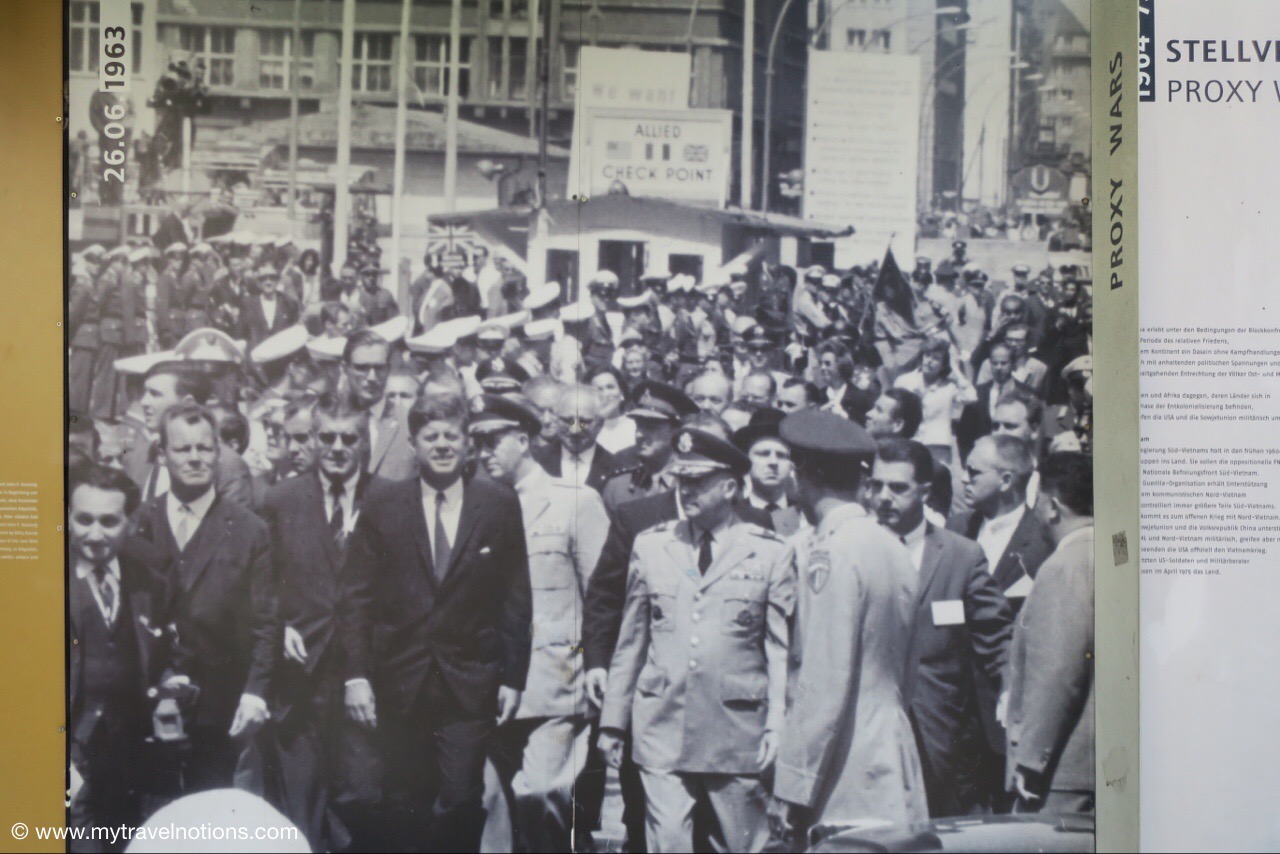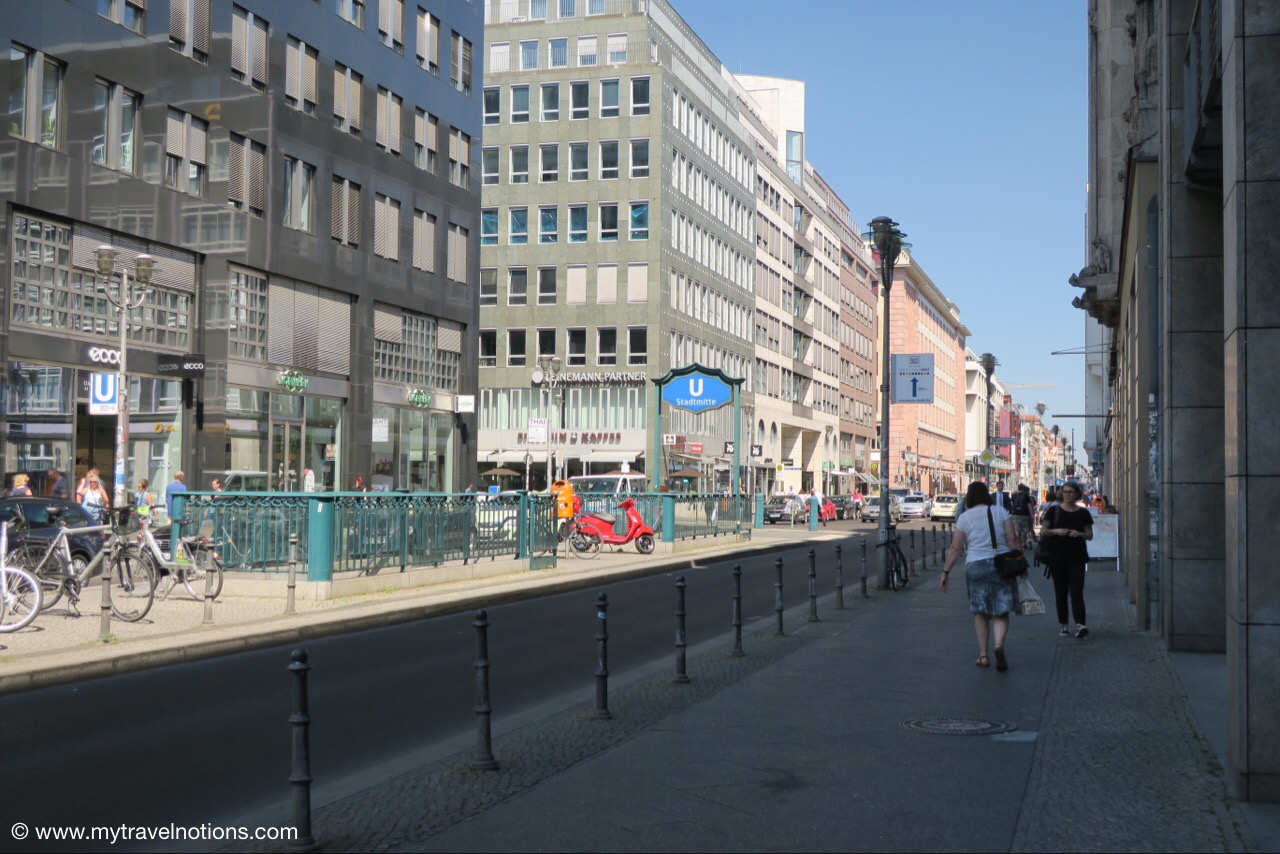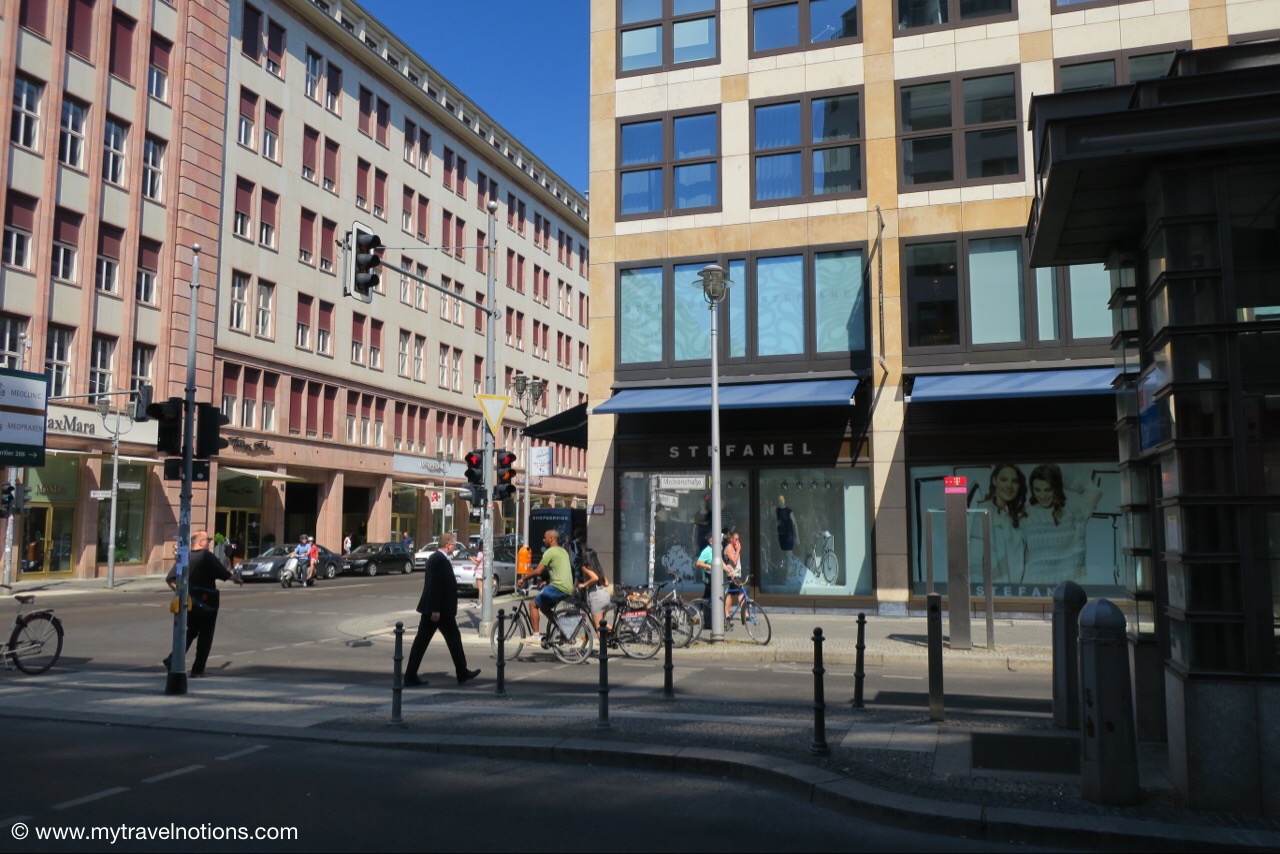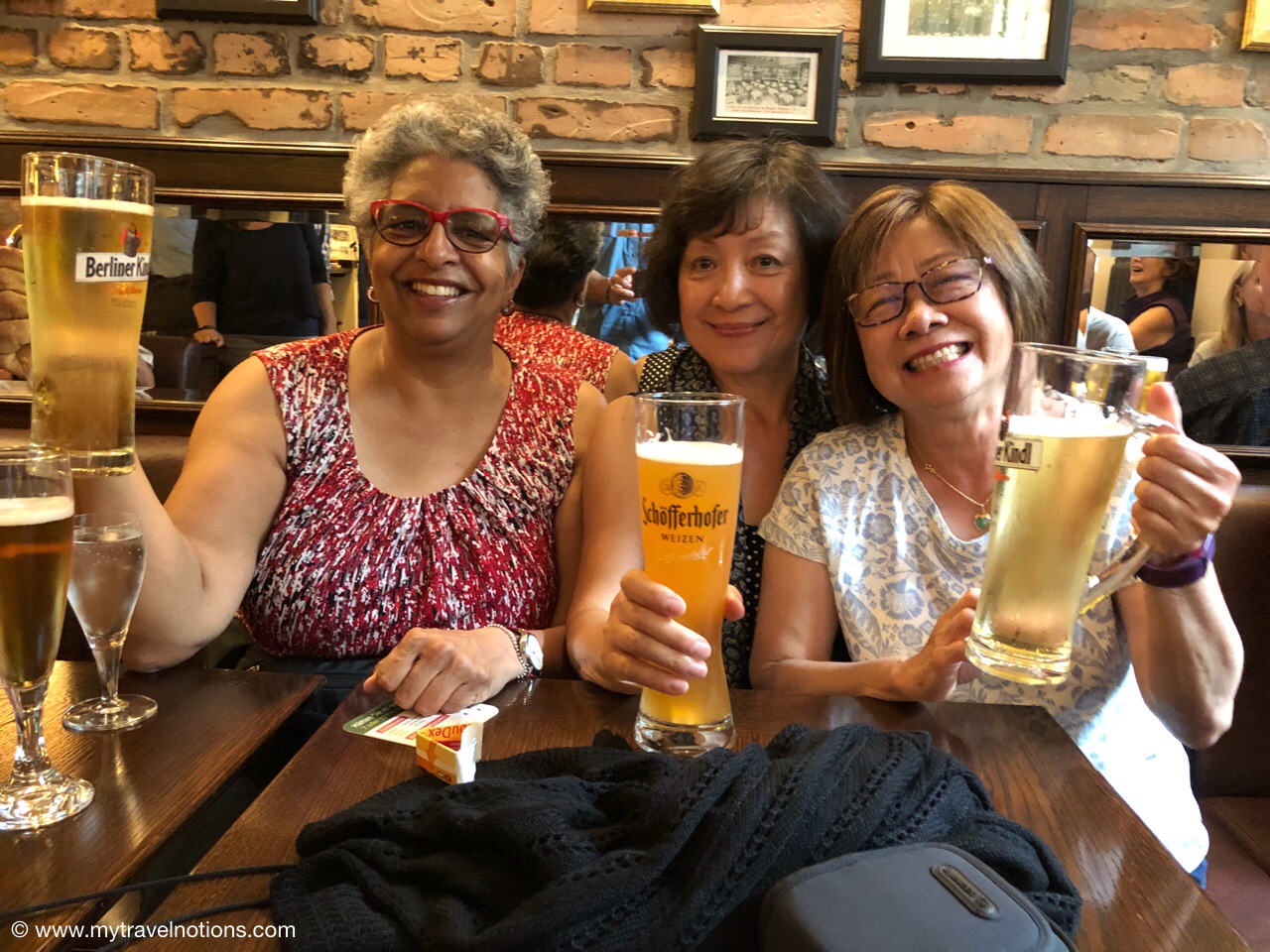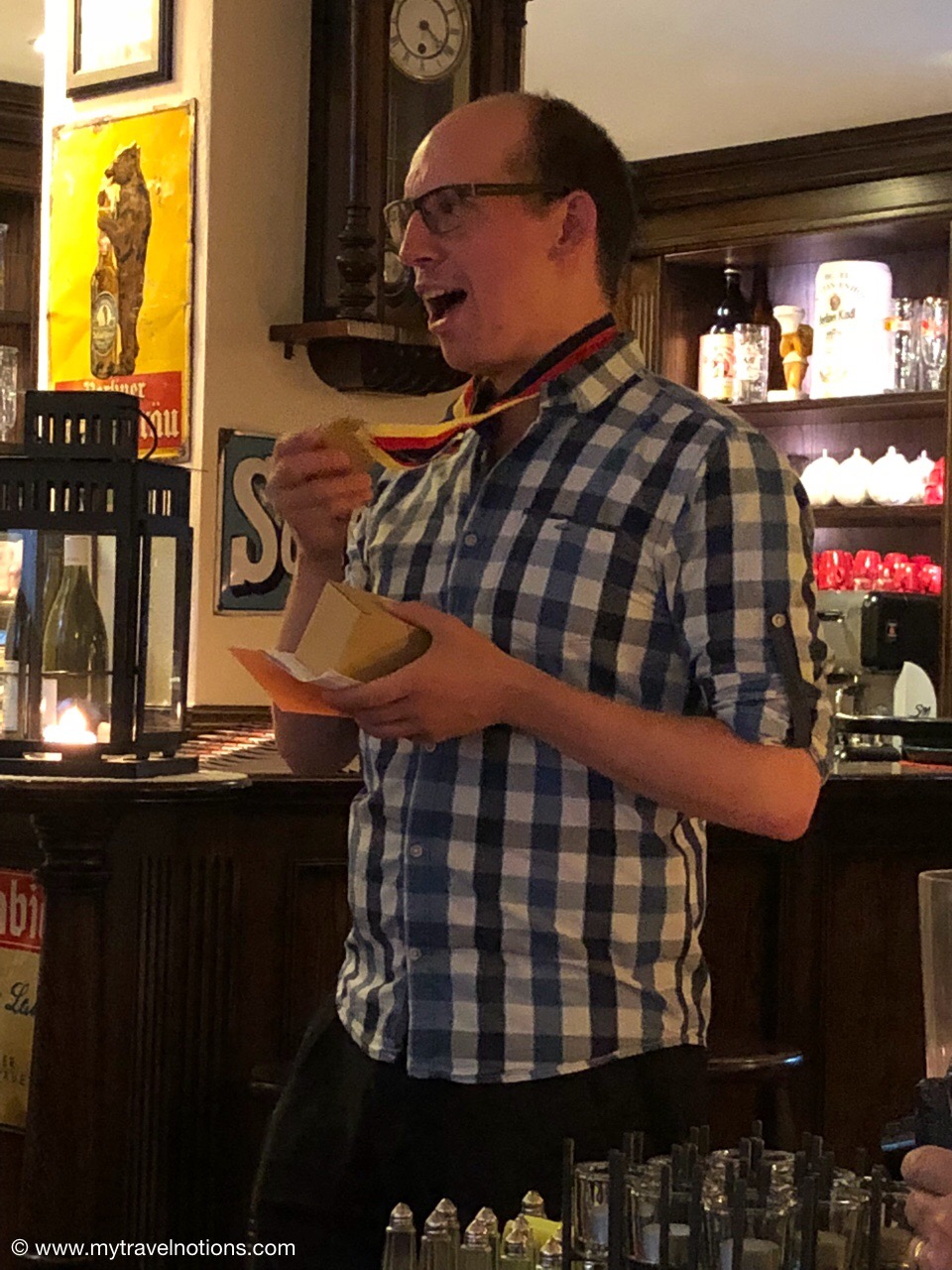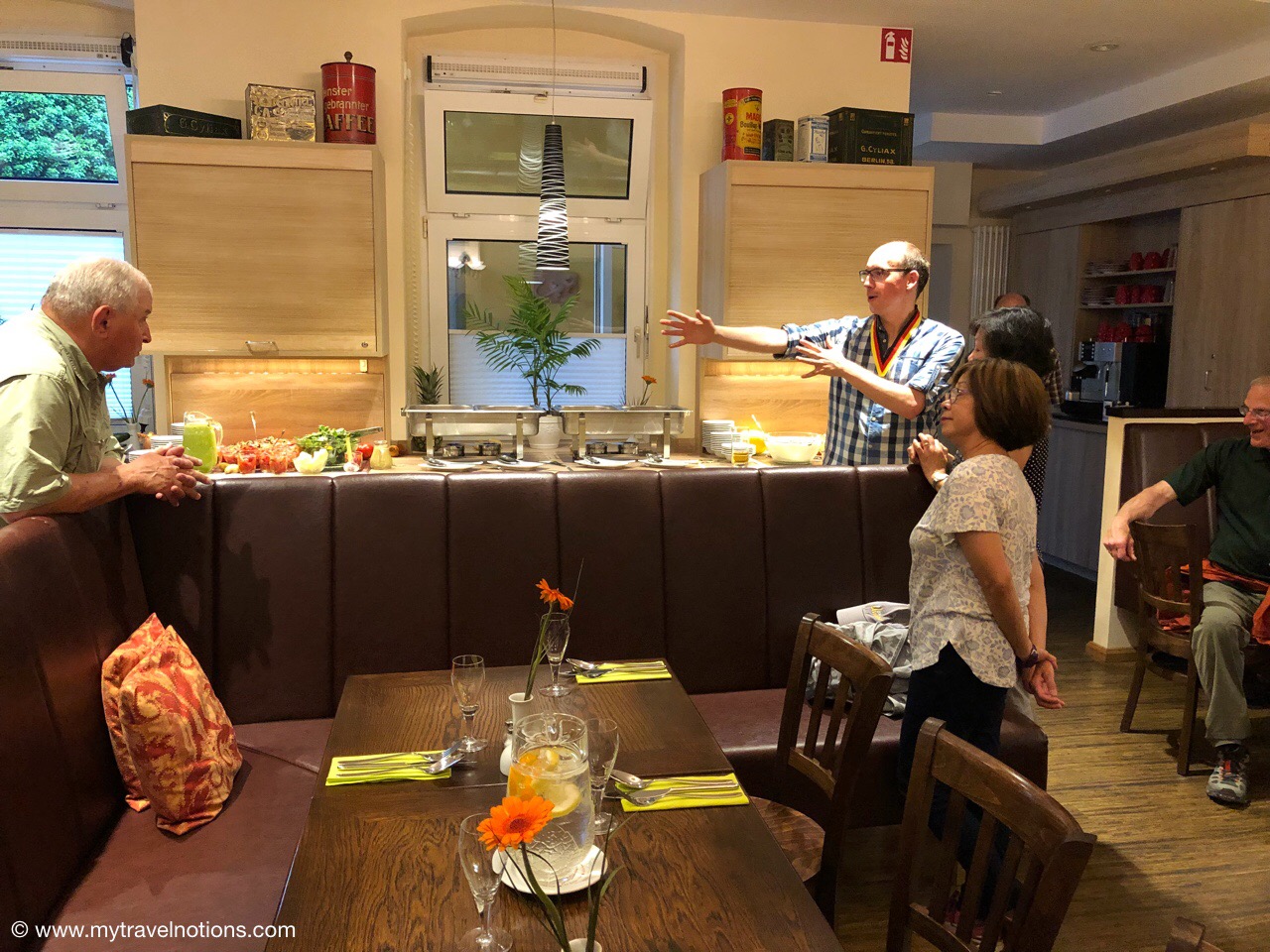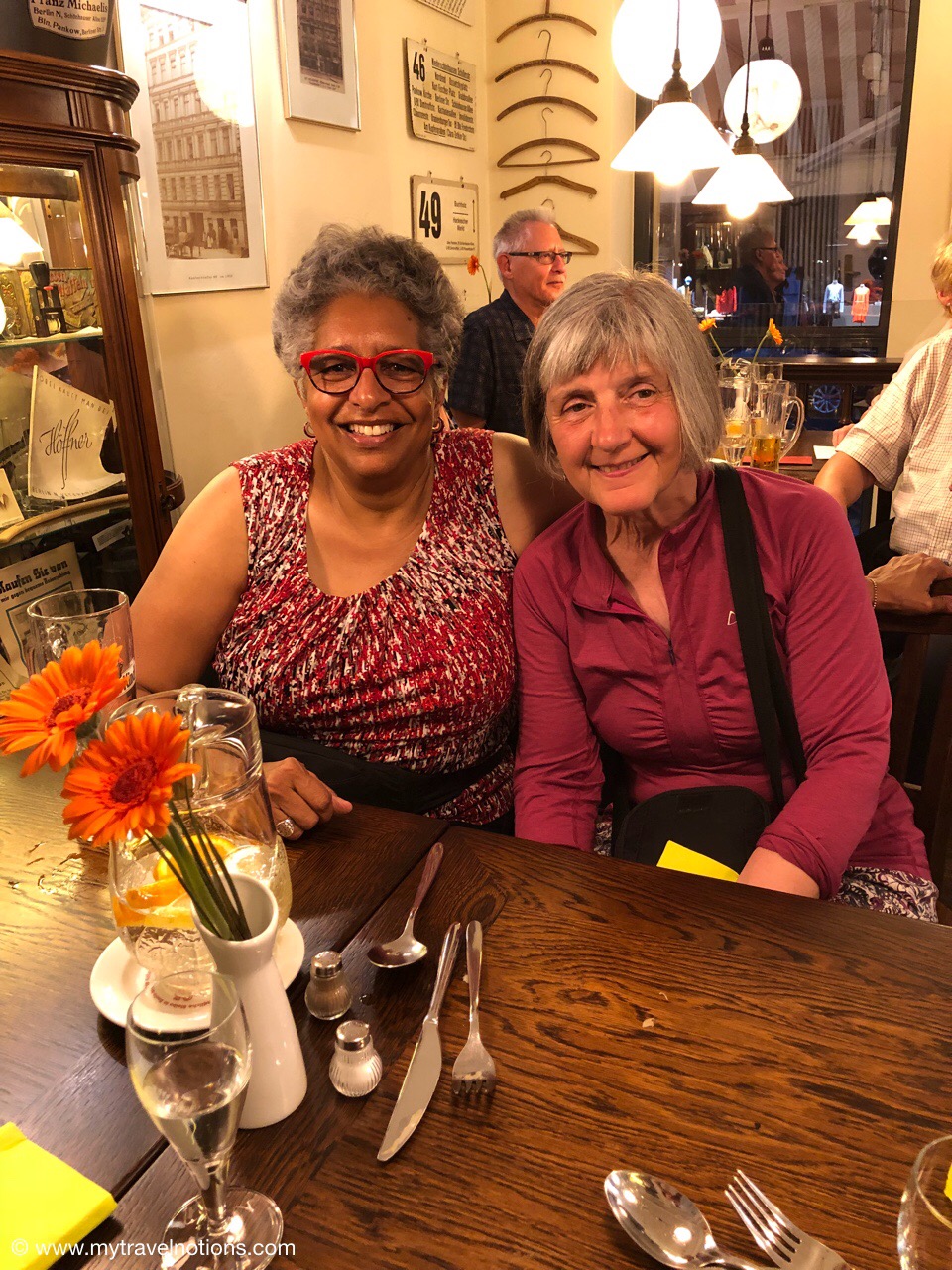 From Berlin, the train to Wittenberg, basically referred to as Lutherstädte Wittenberg or Luther City, made for a pleasant day trip to the charming medieval city that played an important role in Martin Luther's (1483-1546) life. Indeed, Wittenberg is where the Protestant Reformer lived, married, preached, raised his children and wrote the 95 Theses against the contemporary practice of the Roman Catholic church to seek monetary support through indulgences. It is also where Luther was laid to rest.
Luther taught that salvation and eternal life are not earned by good deeds or the payment of indulgences but are received as the gift of God's grace through faith in Jesus Christ. His theology challenged the authority and office of the Pope by teaching that the Bible is the only source of divinely revealed knowledge from God. And, he further caused ire by translating the Latin Bible into the German vernacular to be understood by lay worshippers.
But Luther was also controversial in his writings, expressing antisemitic views towards Jews and also harsh words towards Roman Catholics, whom Protestants labeled "Papists."
Today, we said good-bye to both Berlin and Germany as we took to the skies for Luxembourg City. In the meantime, here's the lovely city of Wittenberg, home to several UNESCWorld Heritage sites including the Castle Church, the Luther House, and the Town Church plus the man himself…Martin Luther.