I have no qualms with traveling solo, just as long as I go. Get out there. See. Do. Explore. And, since I love Spain, the history, the culture, the food…the Sangria, the country makes for an ideal solo travel setting. I would be remiss however if I did not point out how very much I miss the company of David and Justine, my brother and sister-in-law, whom I had the pleasure of traveling with during the first leg of this Scrumptious Spain trip.
As David and Justine were heading for the Barrages Airport in Madrid, I was on the train heading north of Madrid to Valladolid. This next part of my journey included making Valladolid my home base as I spent day trips heading to Avila, Burgos and Leon by train. I was surprised as to how much I liked Valladolid and how easy it was to find my hotel….the Hotel Mozart and get back and forth from the train station, Valladolid Campo-Grande.
From Valladolid, I made my way back to Madrid by…because that's the only way to get to Seville is through Madrid. That meant taking the train from Valladolid's Campo-Grande to the Madrid's Chamartin and transferring to Madrid's Atocha train station. I was concerned about taking the correct metro or commuter train to Madrid's Atocha but it all turned out well. And, just before I could get too comfortable, I was in Seville. I took a cab from the Seville train station to my hotel, the El Rey Moro Hotel Boutique.
I do plan my trips in advance of taking them. I like to know how far away my hotel or apartment is from the train station and whether or not its an easy walk away or a lengthy walk away. For this leg of my Spain trip, I bought my train tickets in advance and I'm glad I did. Again, I like keeping to a schedule, especially when I'm on my own, so I have a framework and can fit in those things I am most curious and interested in.
My two home bases were Valladolid and Seville. In Valladolid in the Castille y Leon region of Spain is made up of a variety of historic houses, palaces, churches, plazas, avenues and parks, and includes the National Museum of Sculpture as well as the home of Cervantes and much more. And my other home base of Seville in the Andalusian region of Spain, in my estimation, the quintessential Spanish old town, is home to the grand dam of cathedrals, in my option, the Seville Cathedral.
Follow my solo journey in Valladolid and Seville through photos and captions.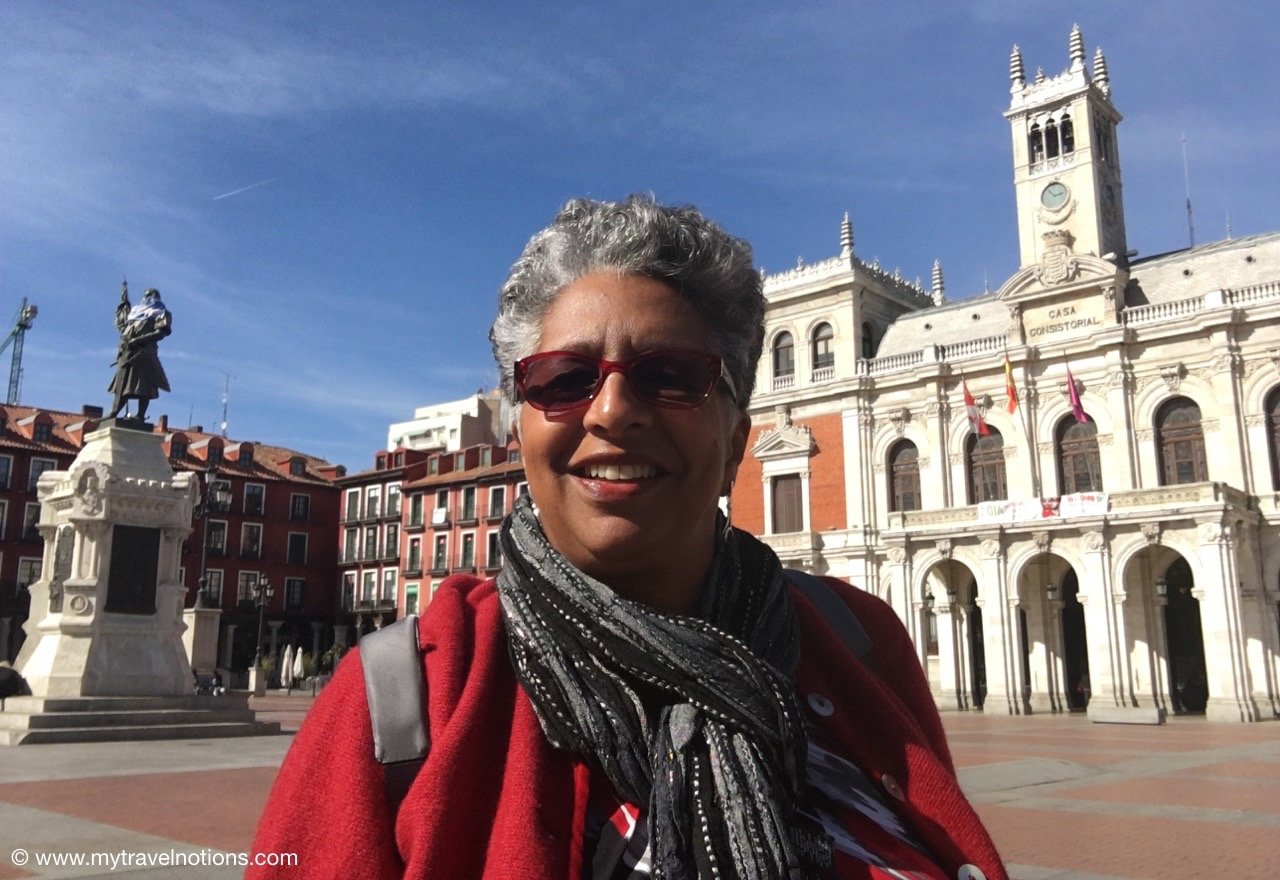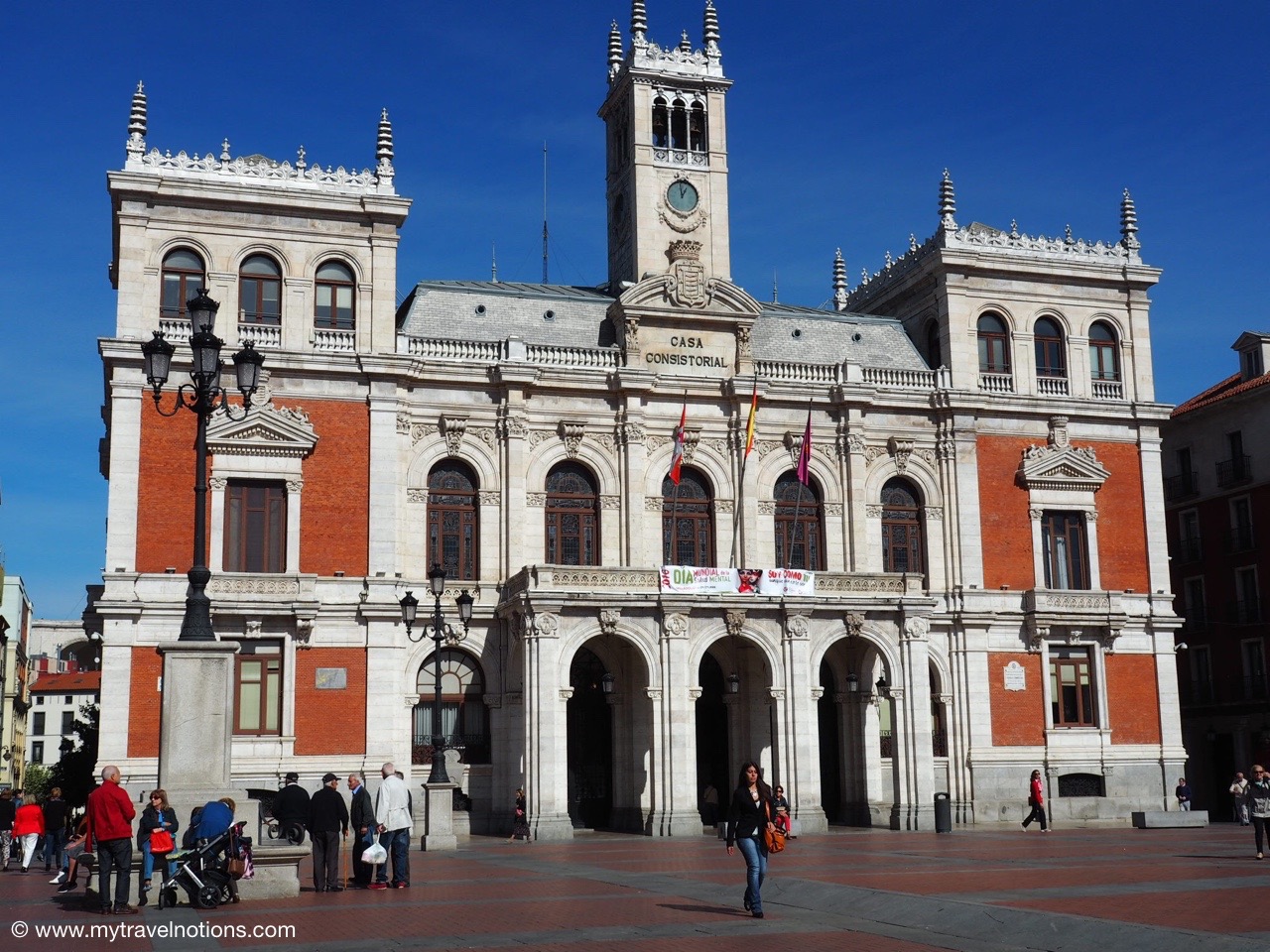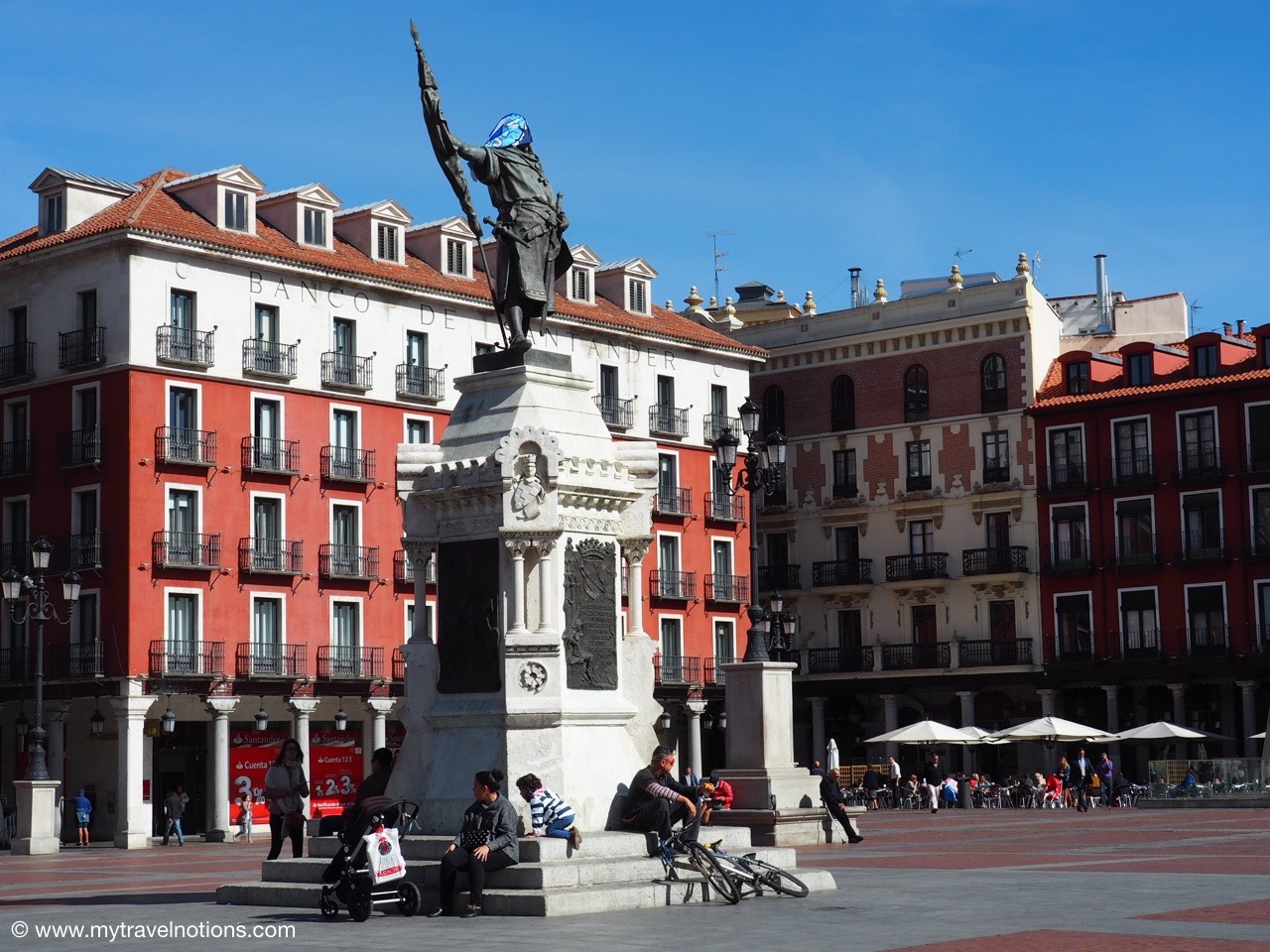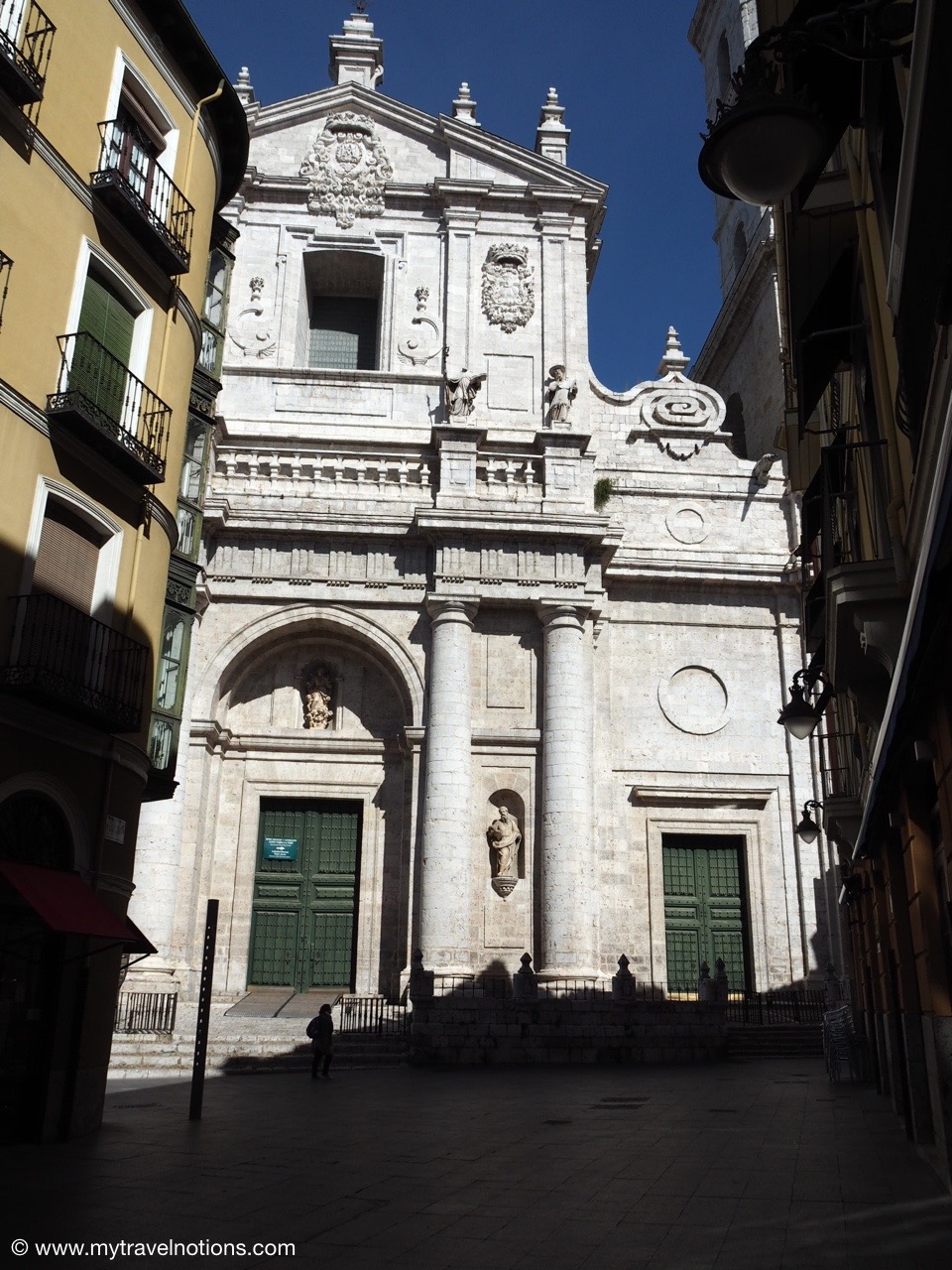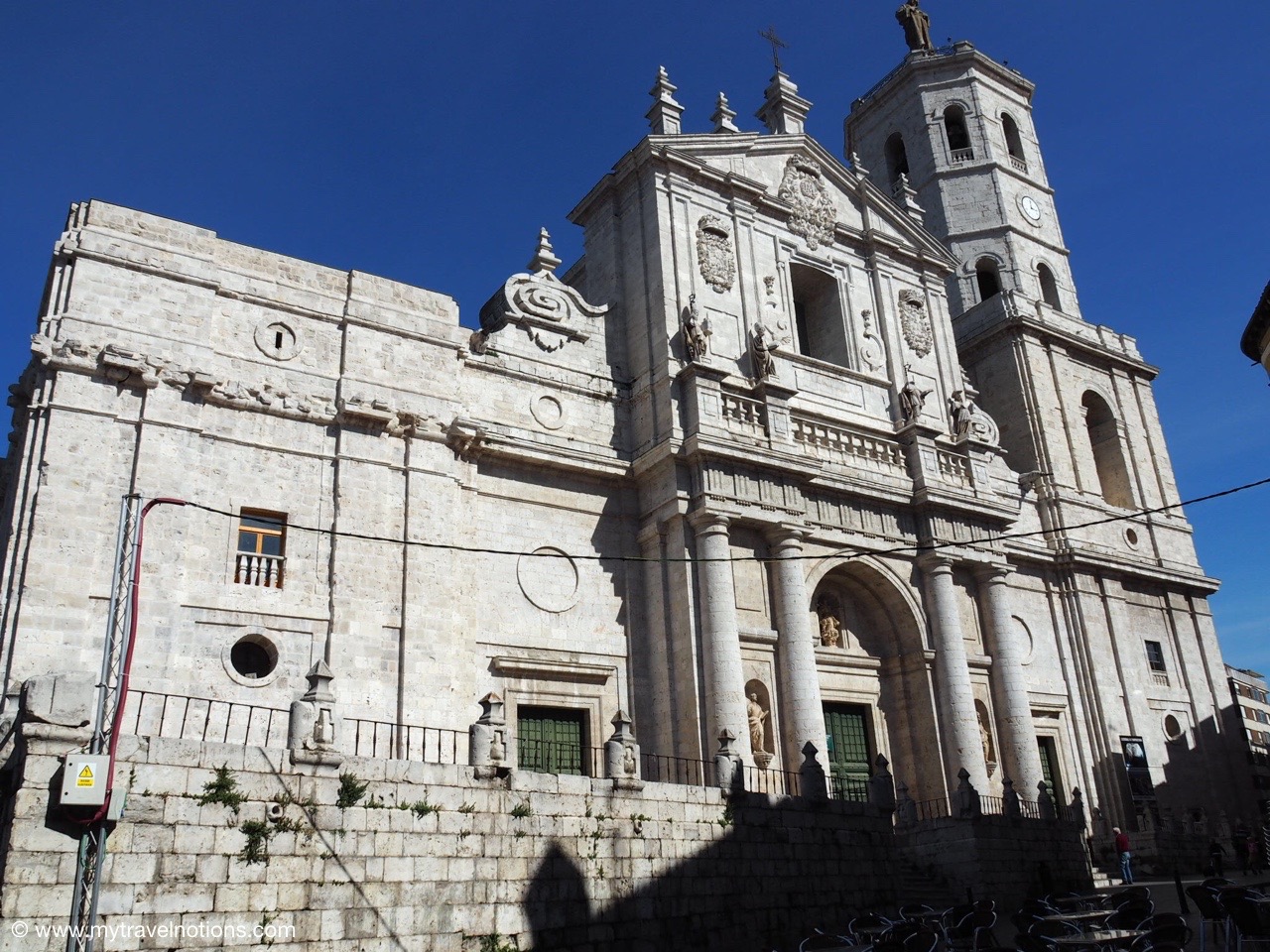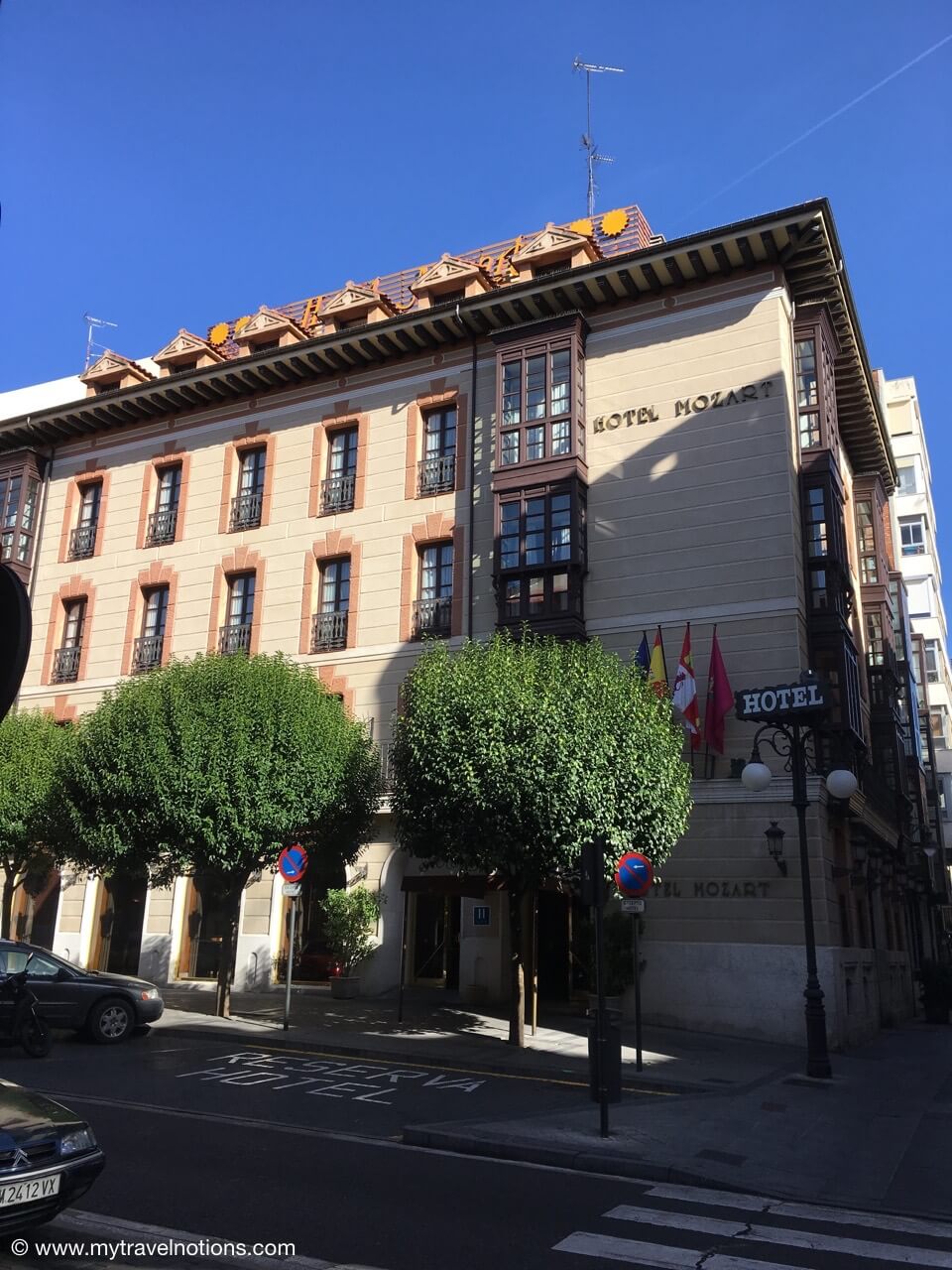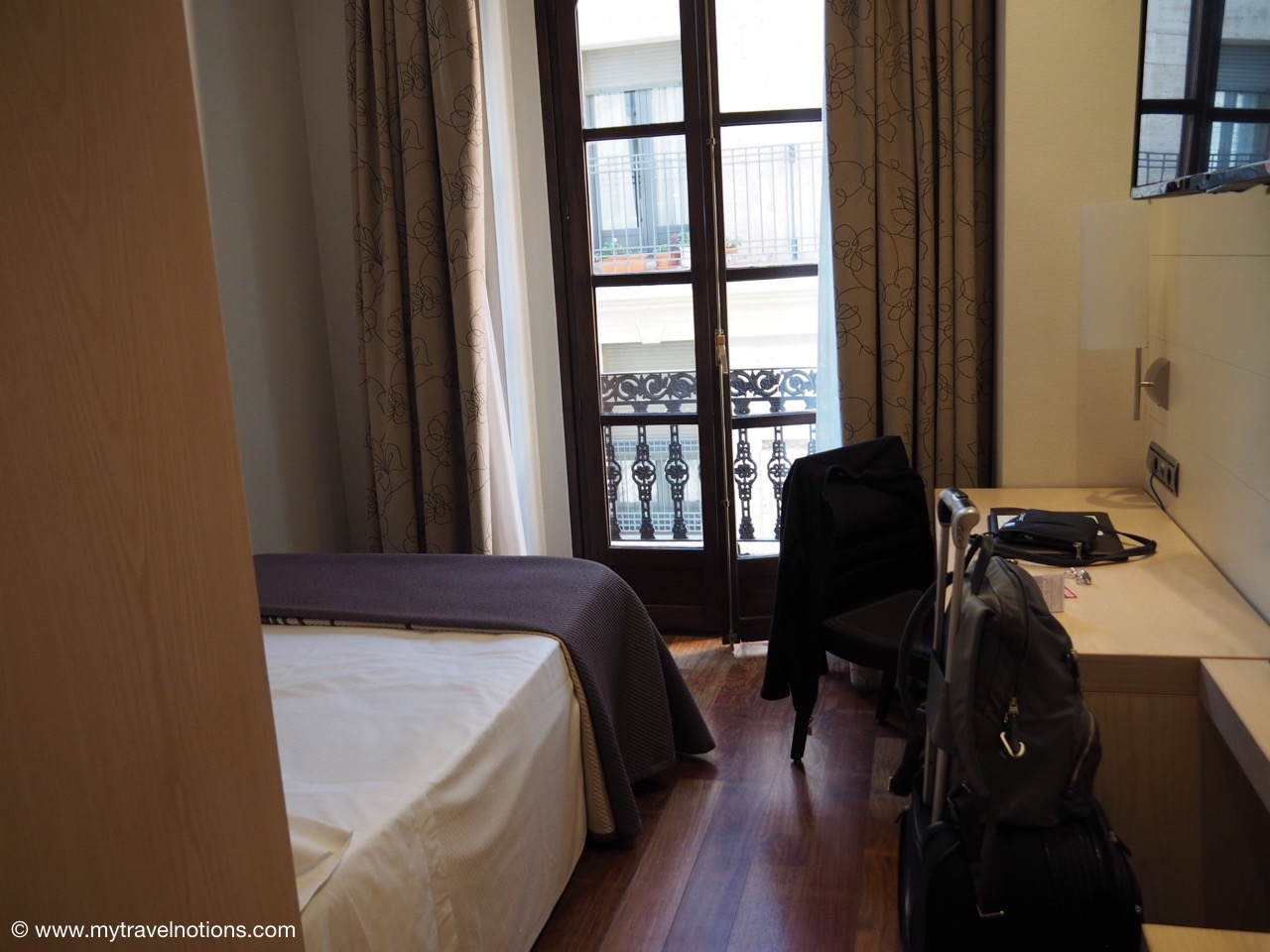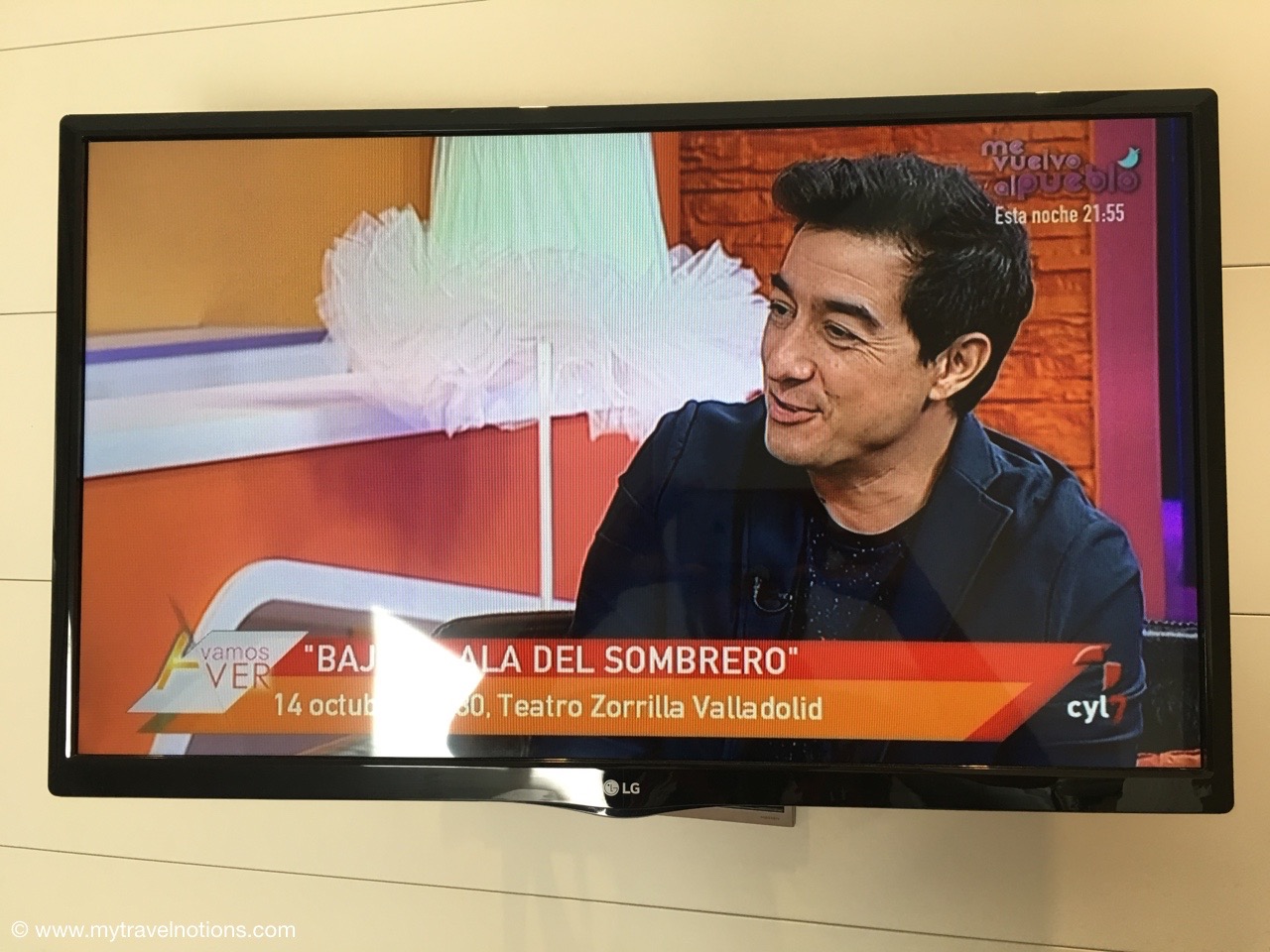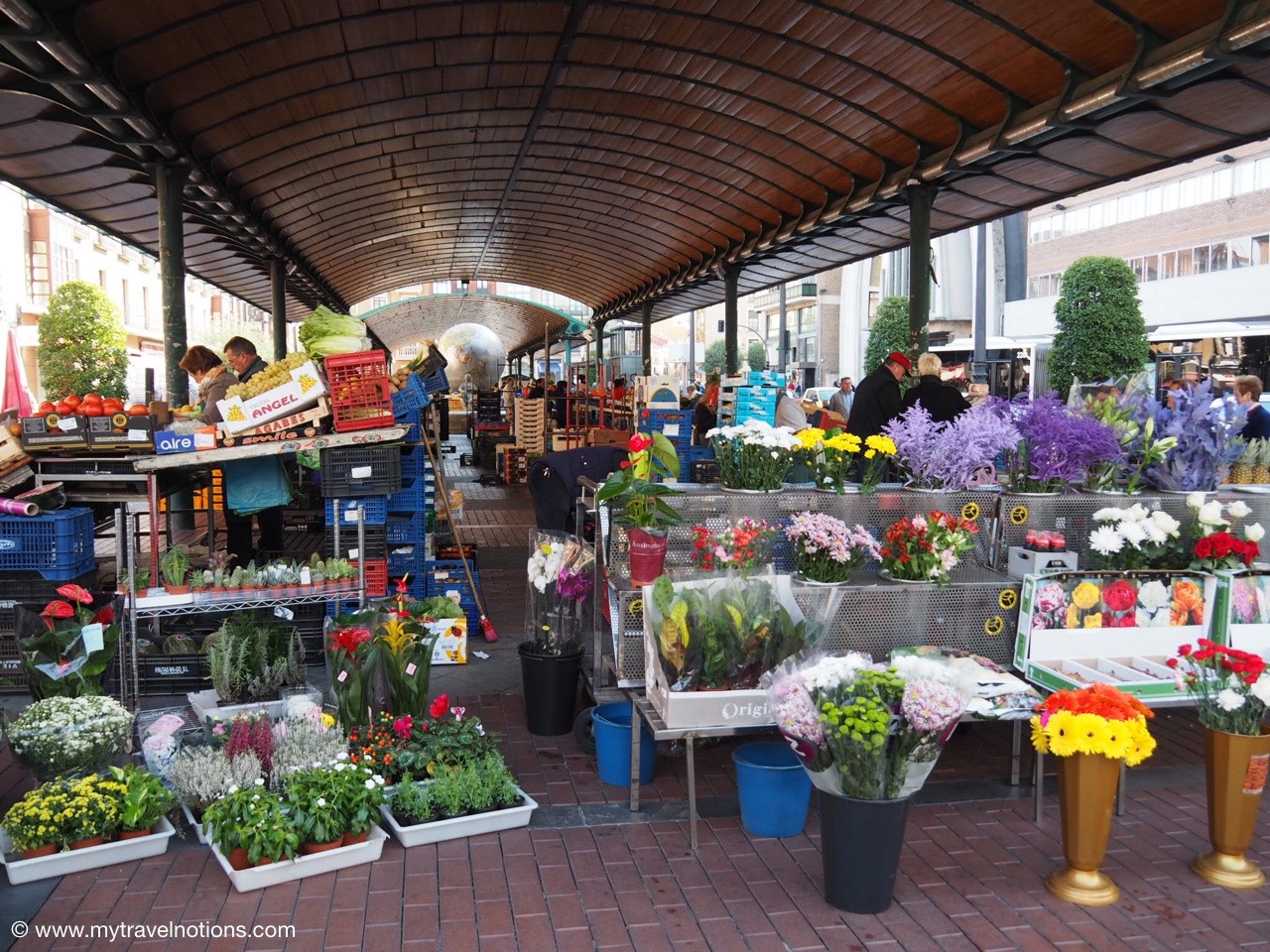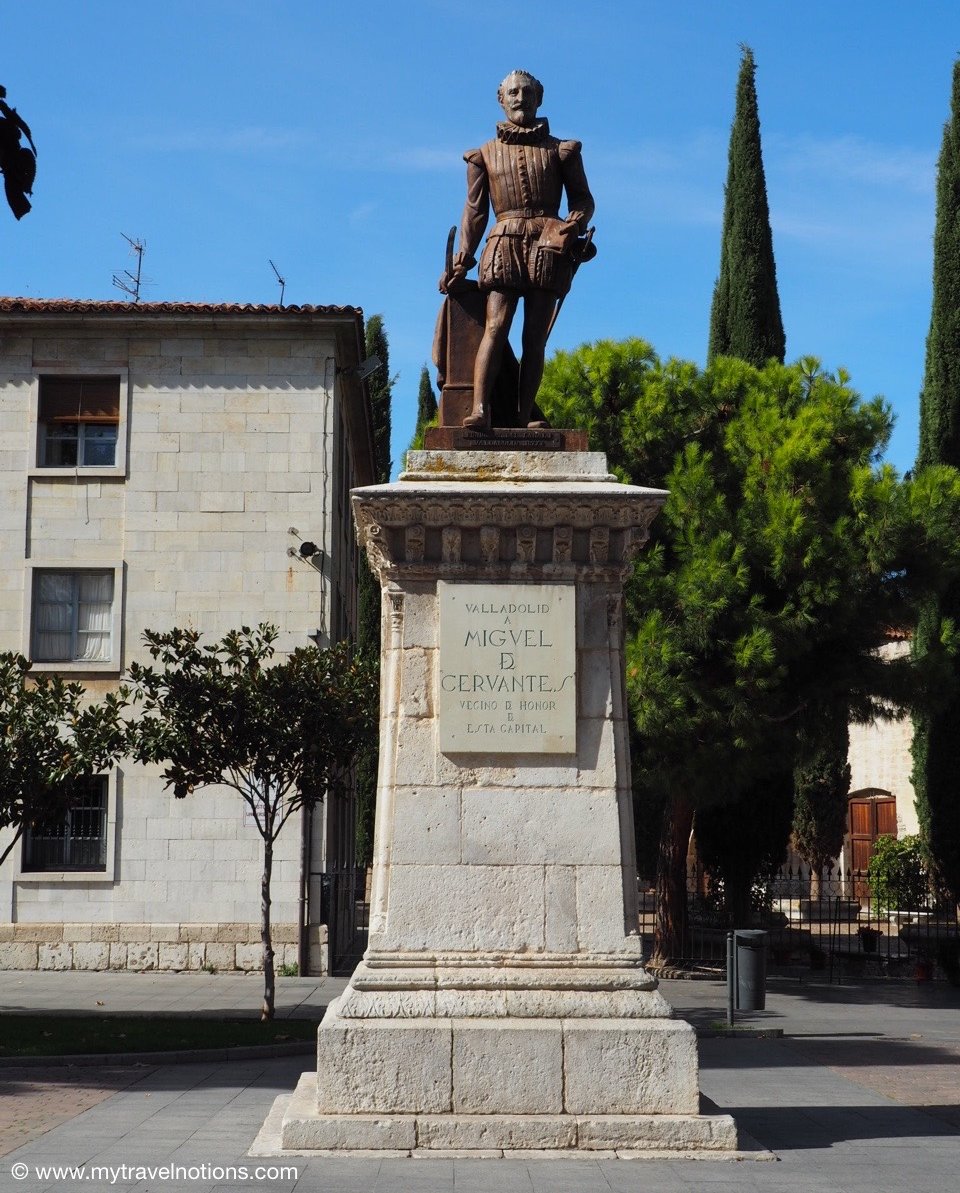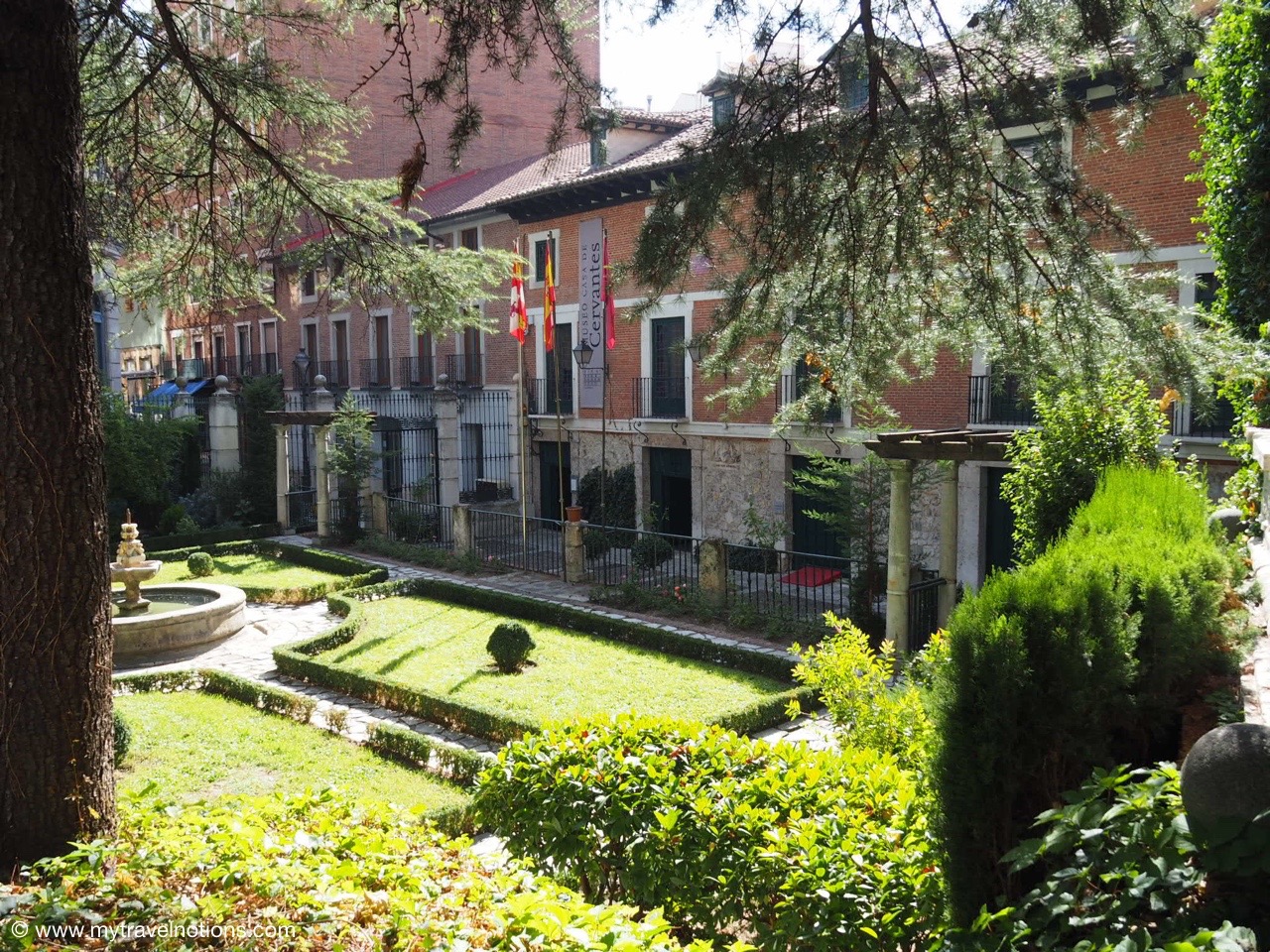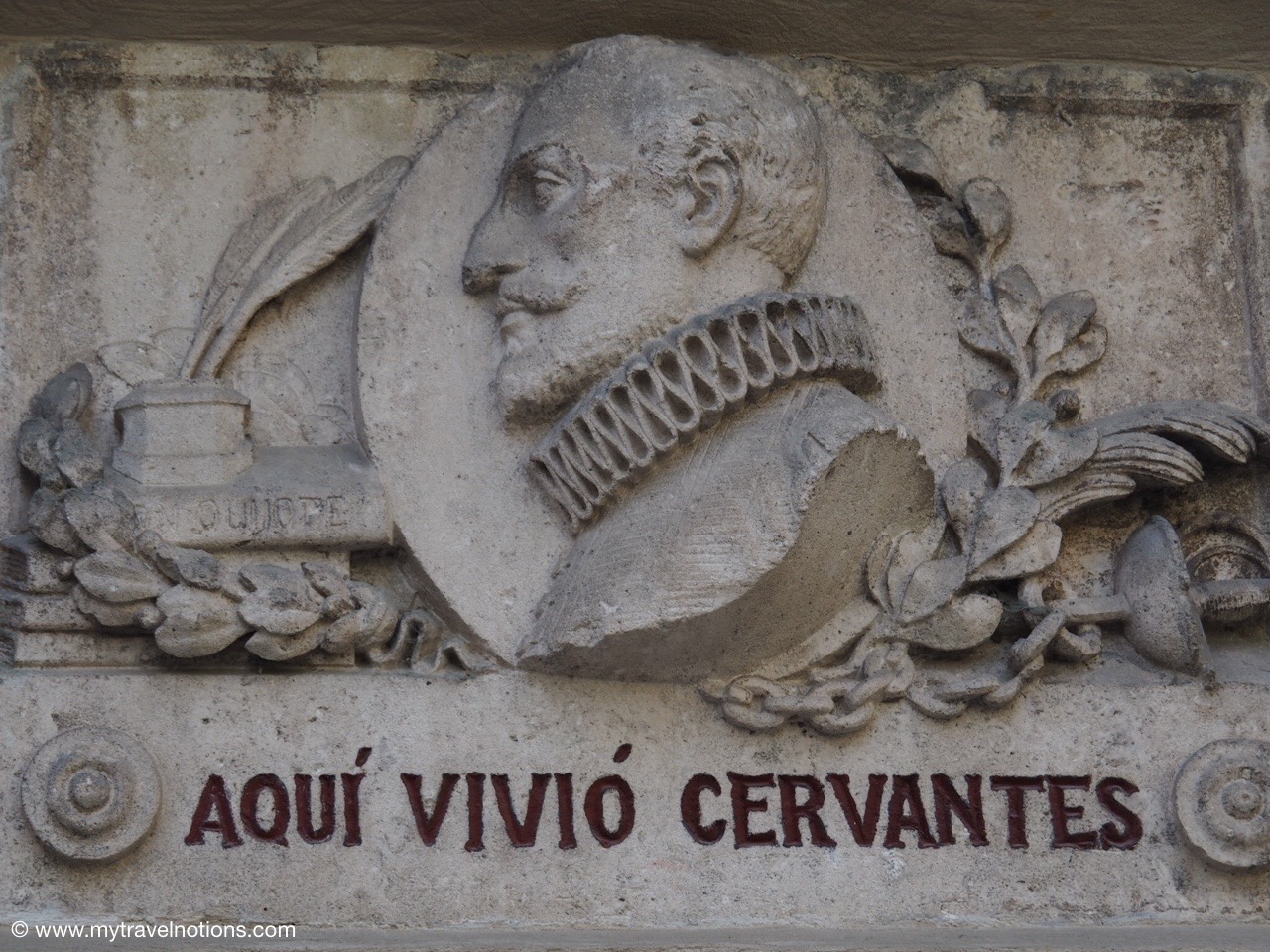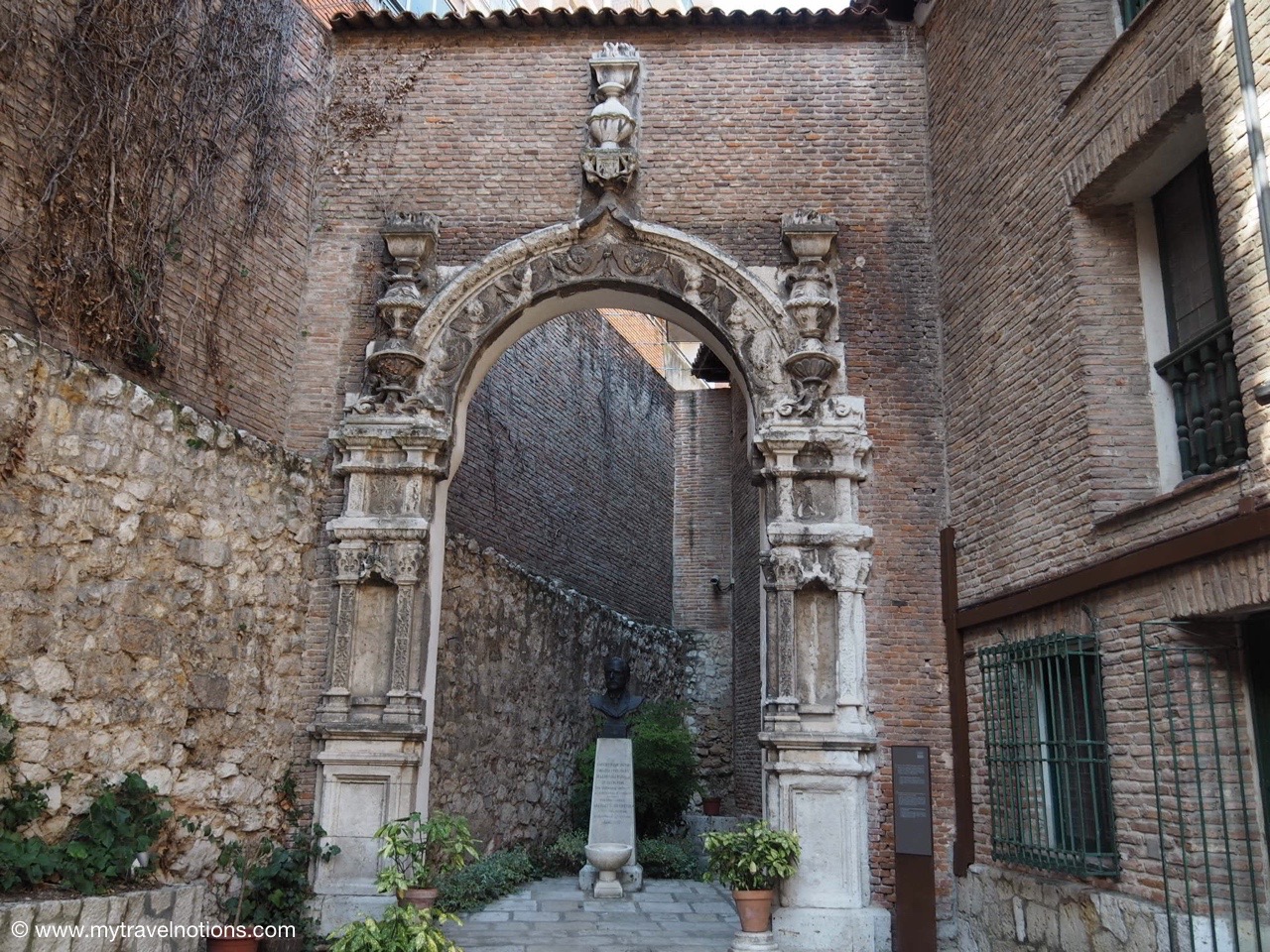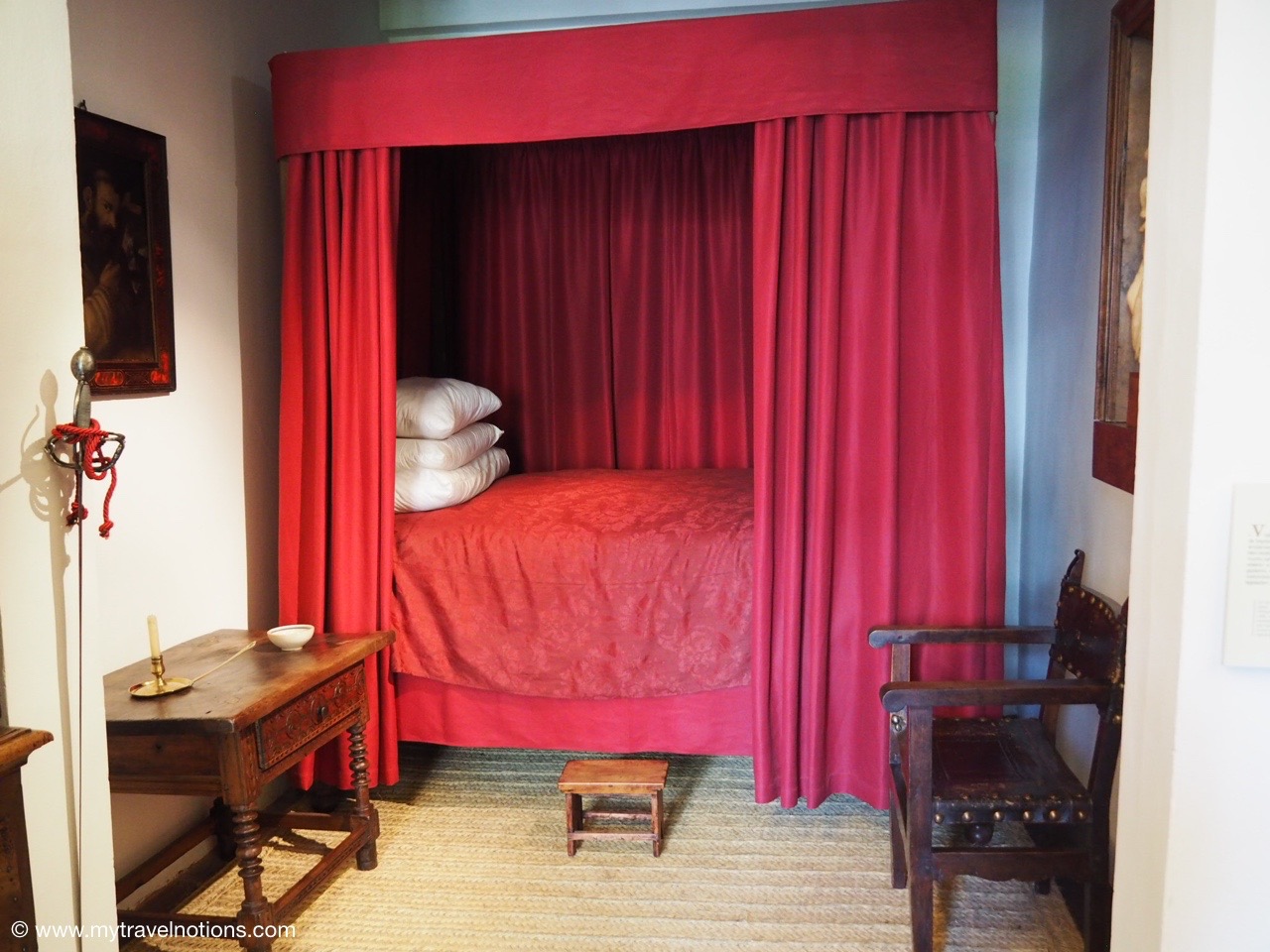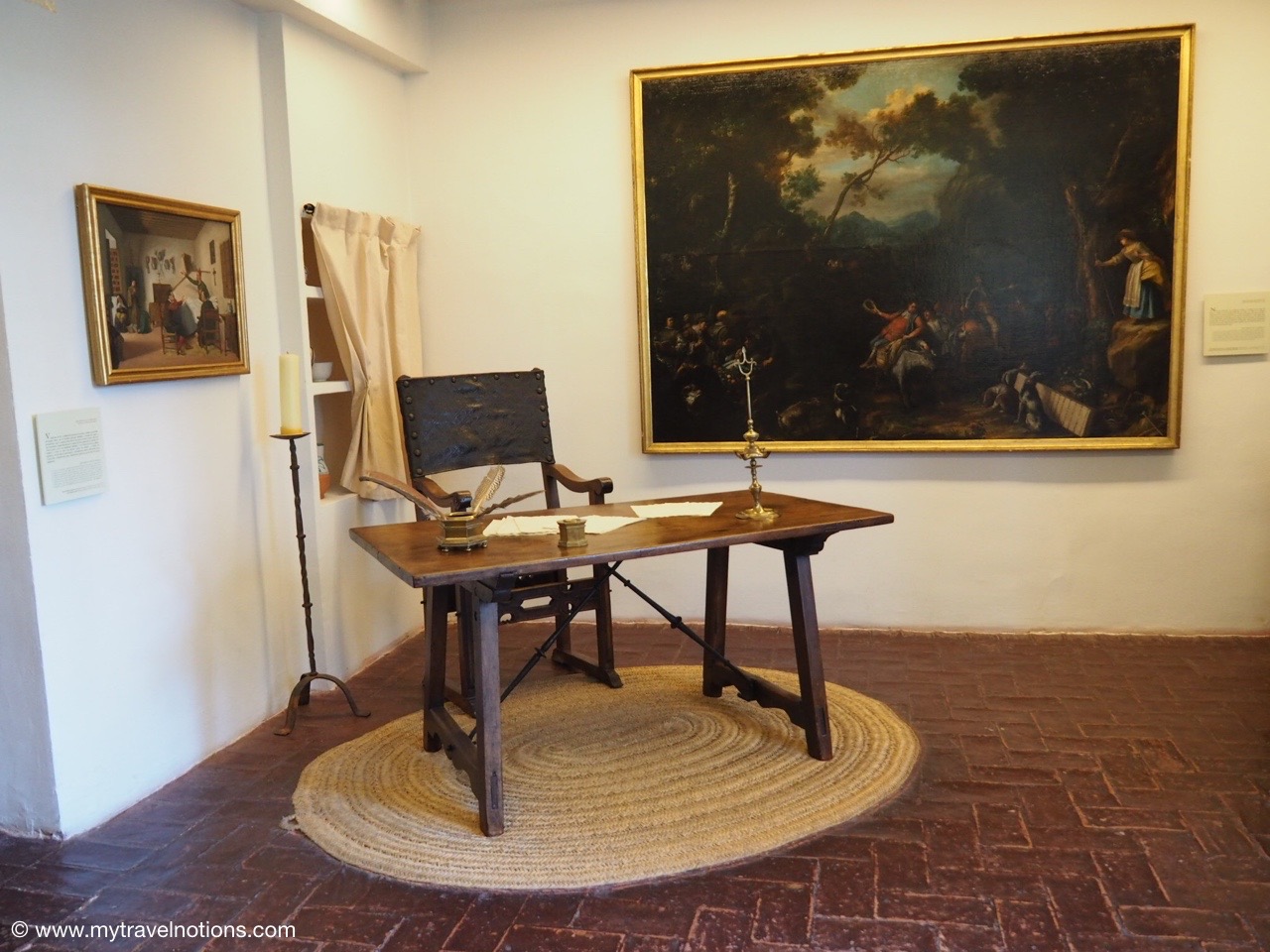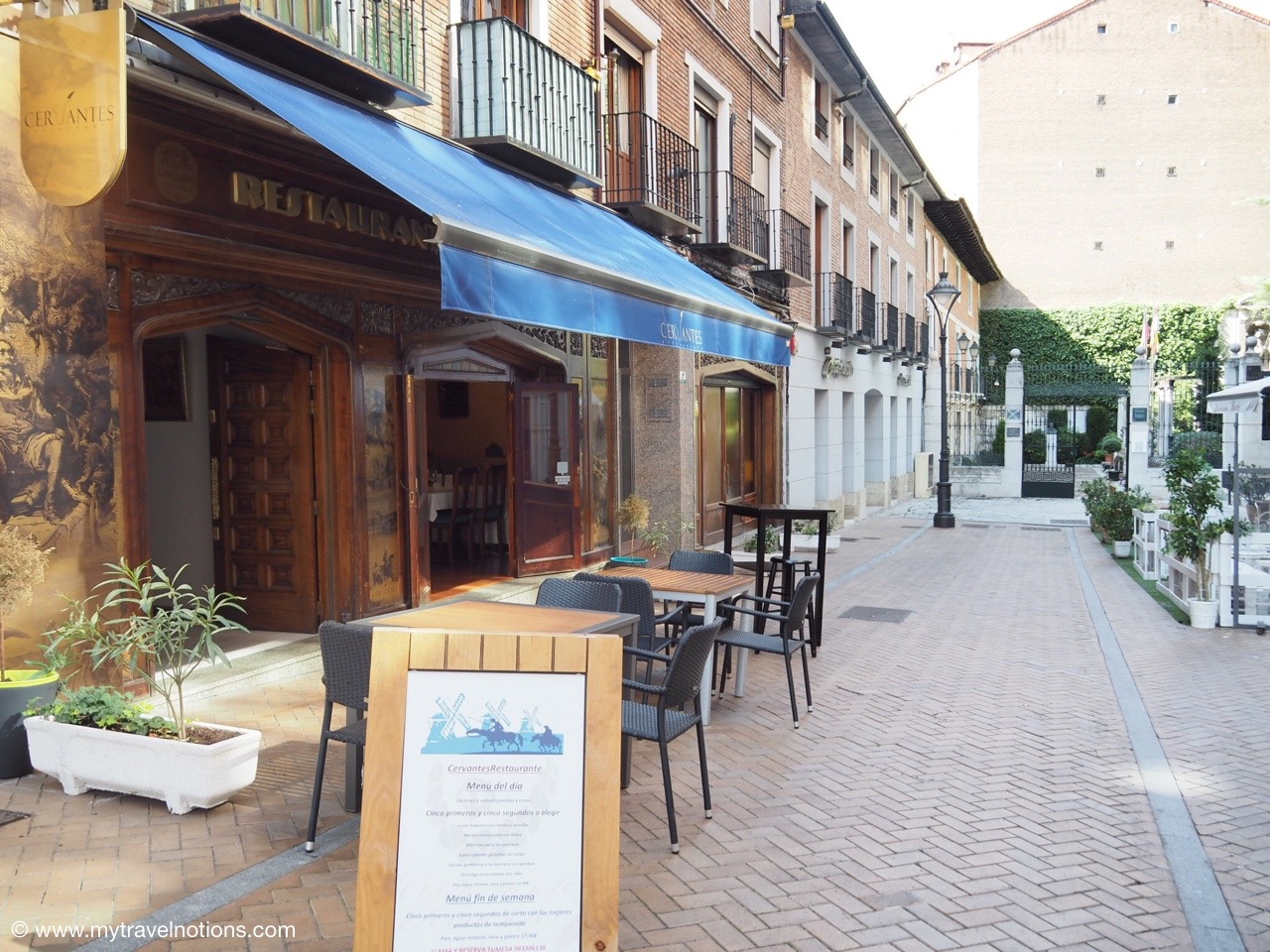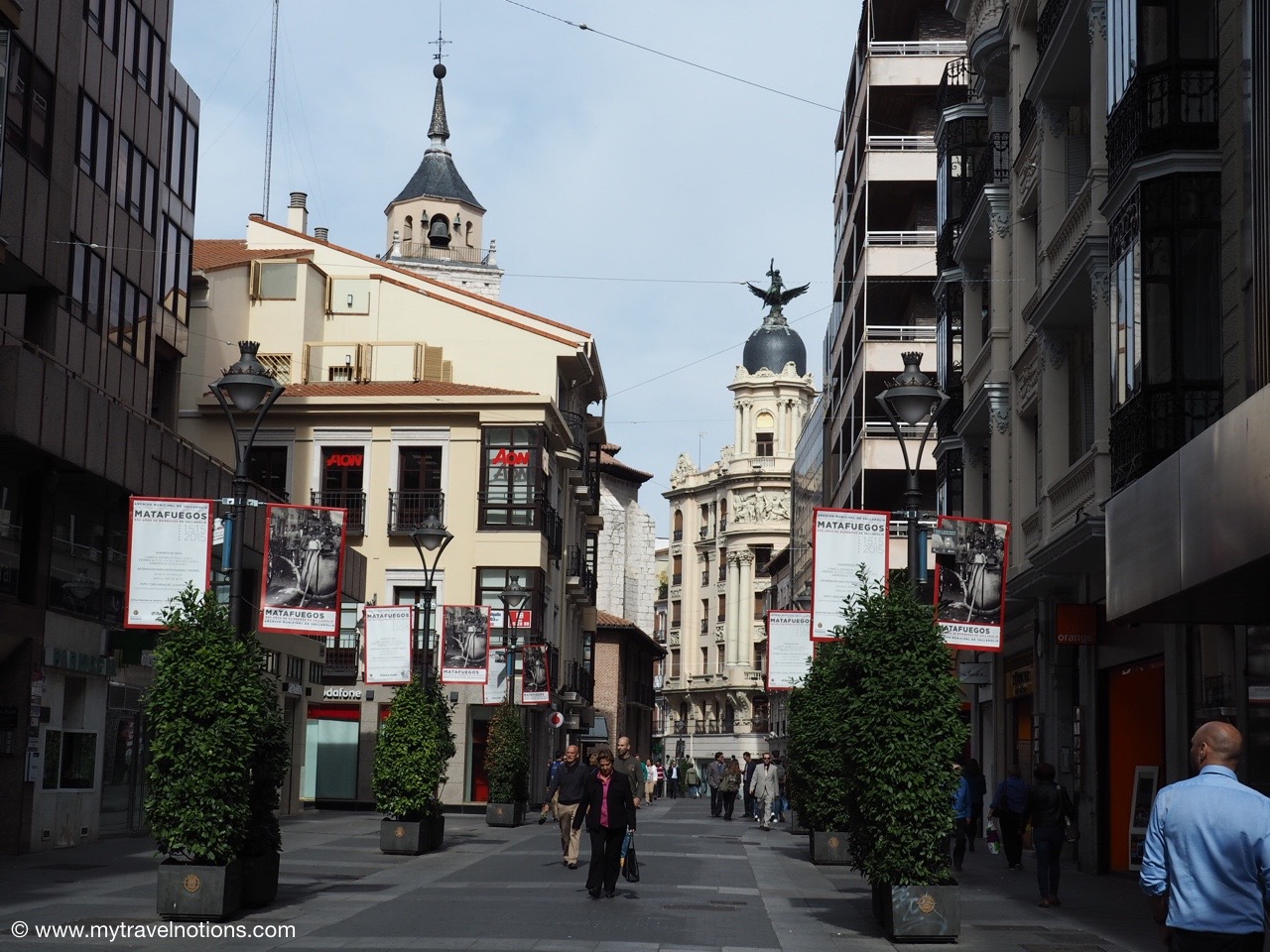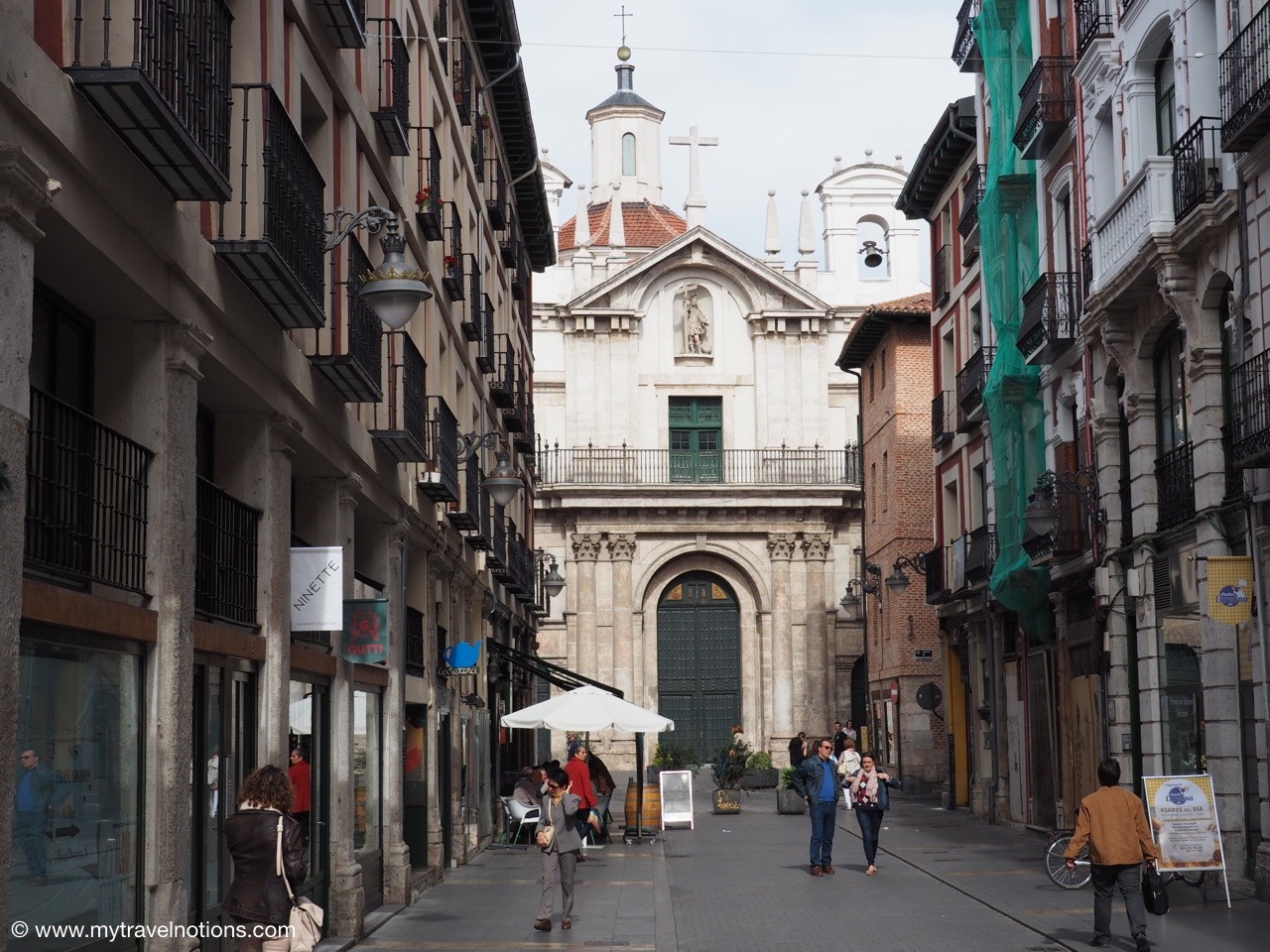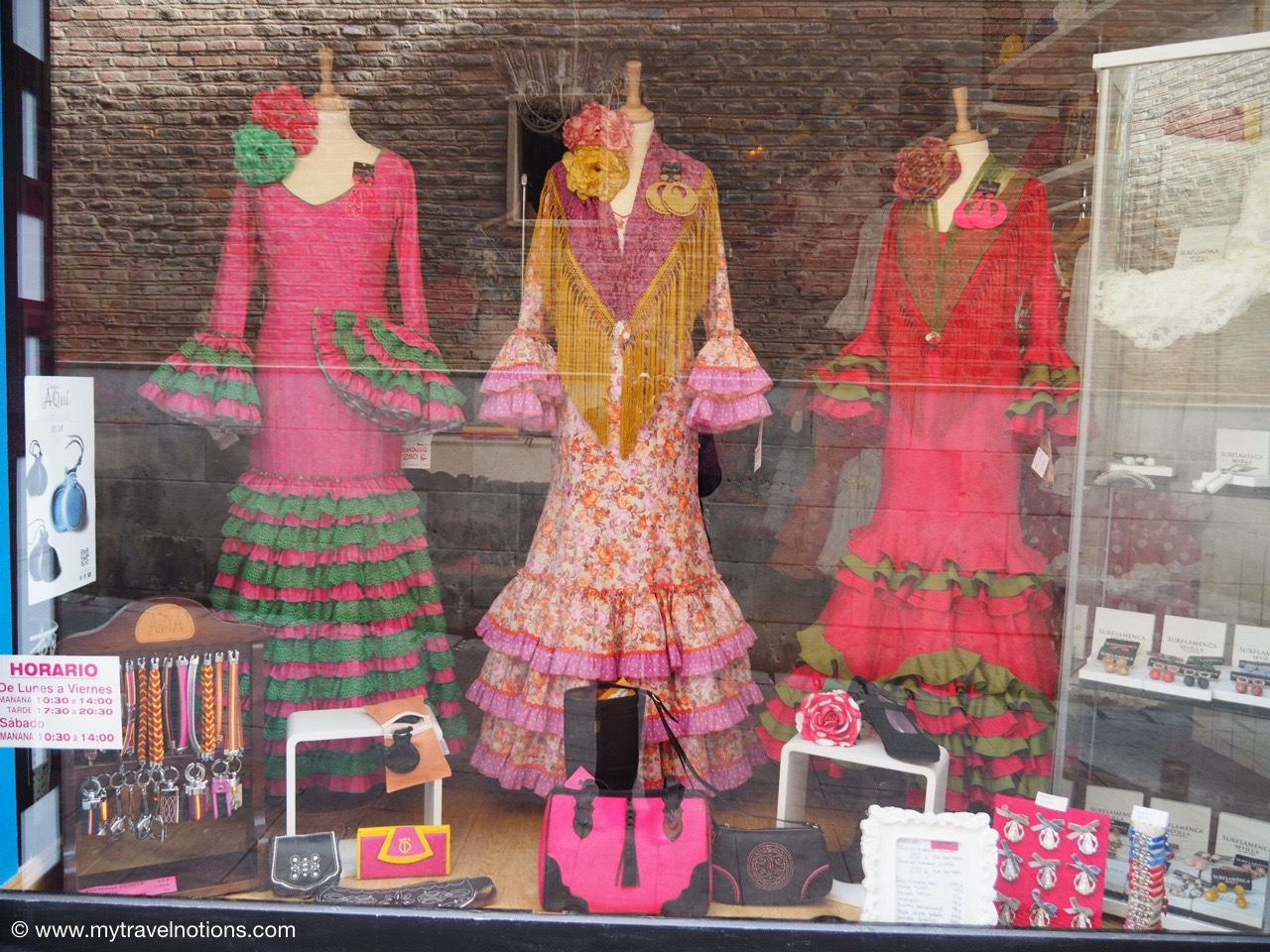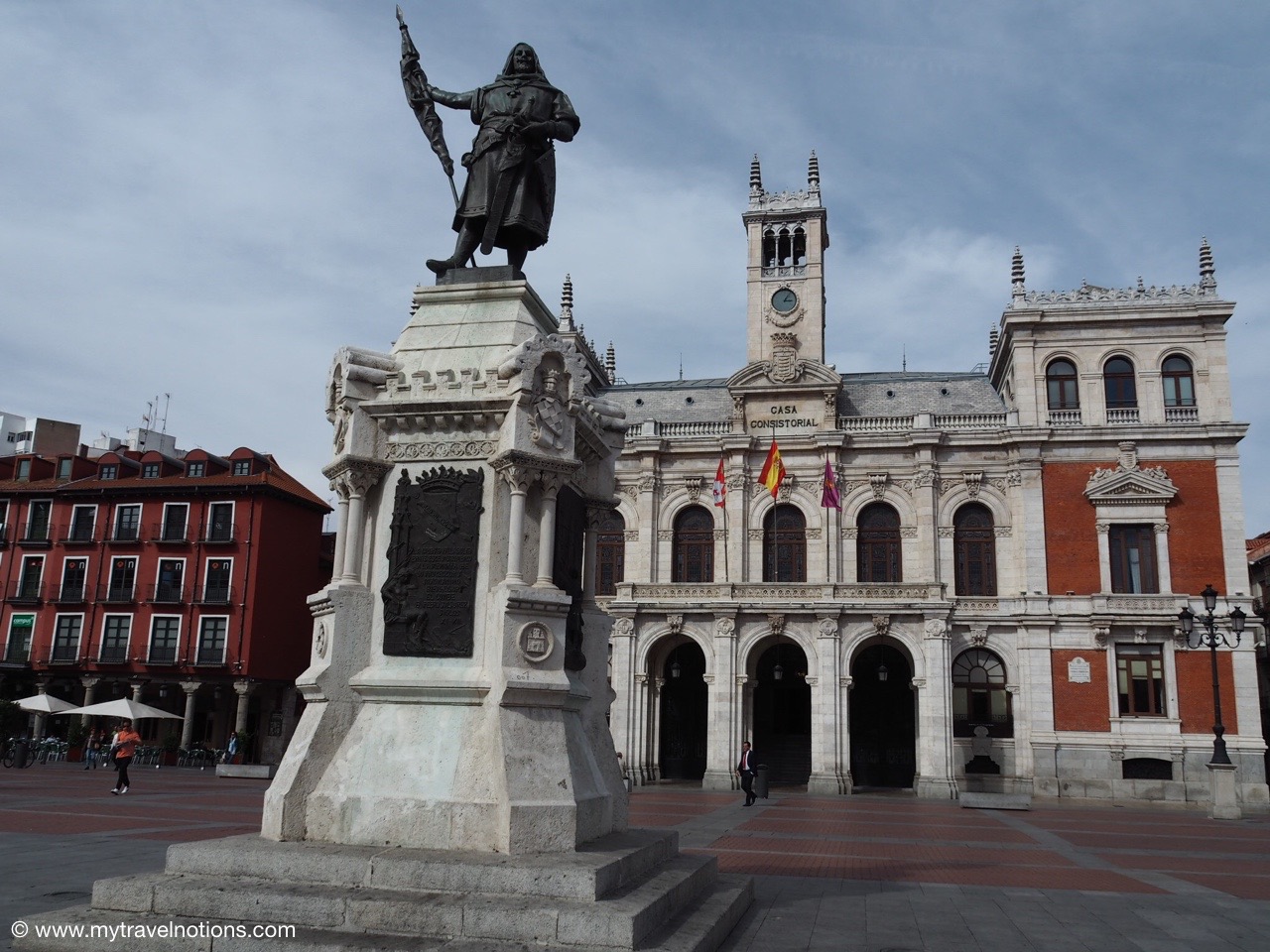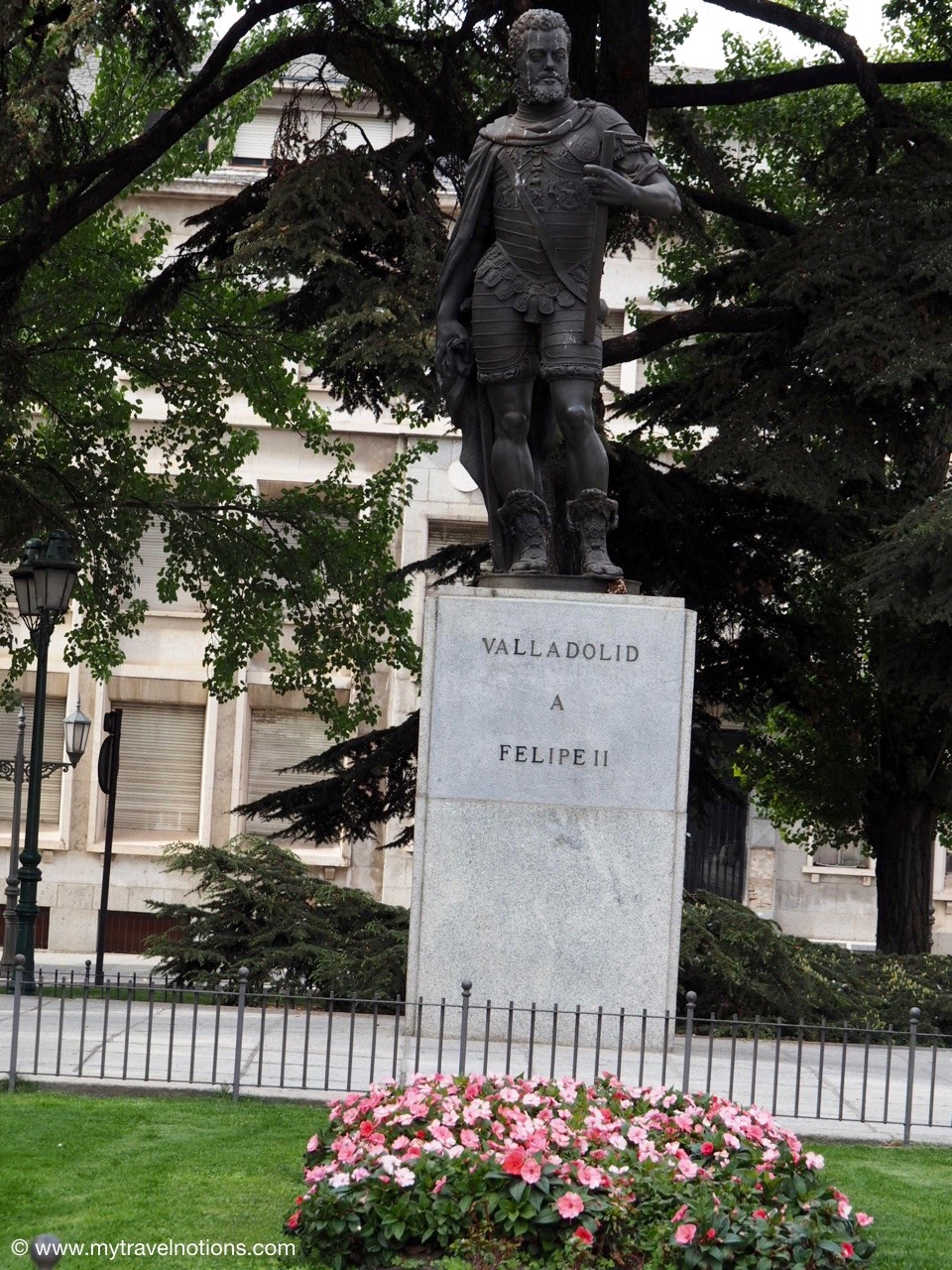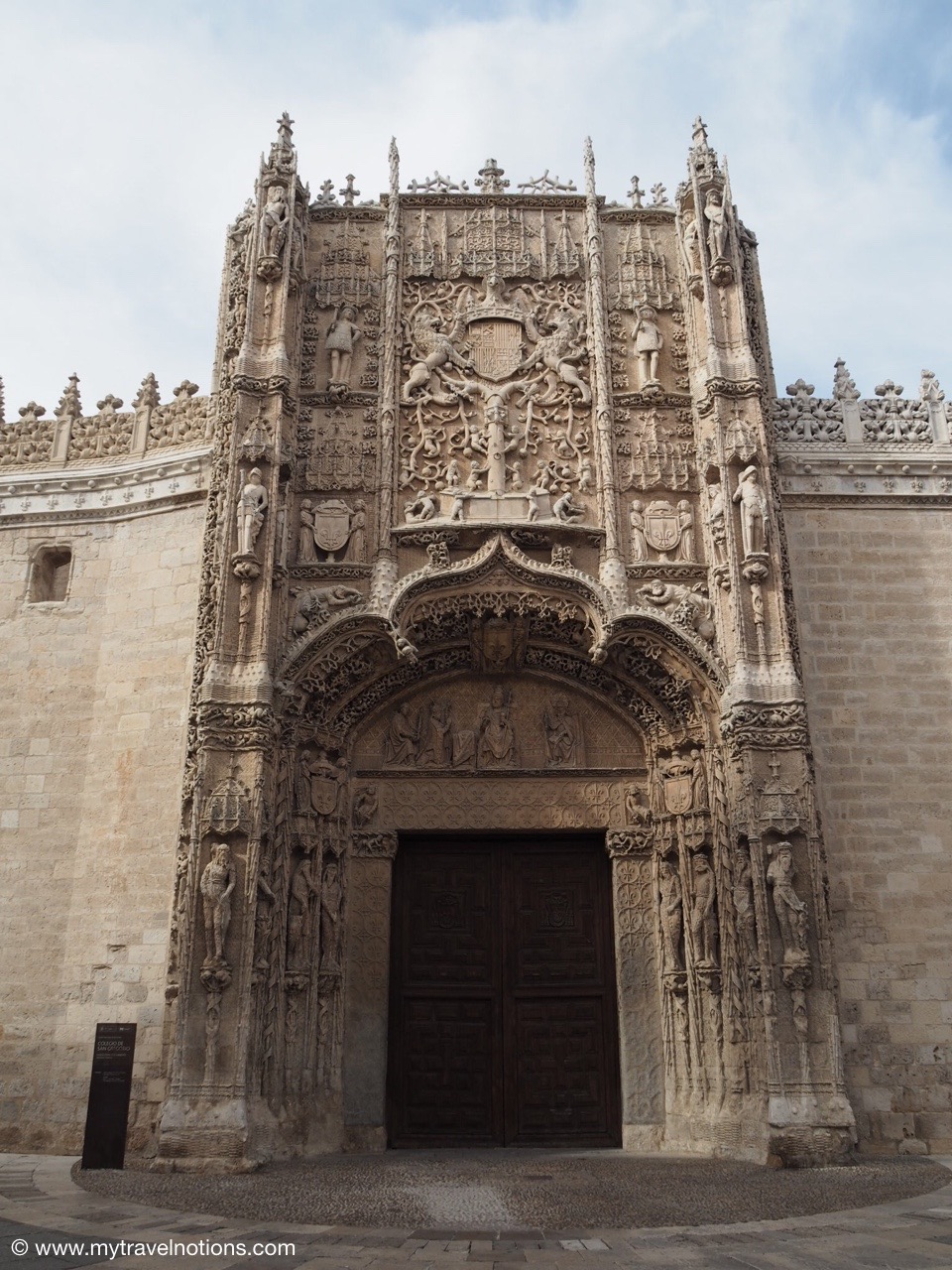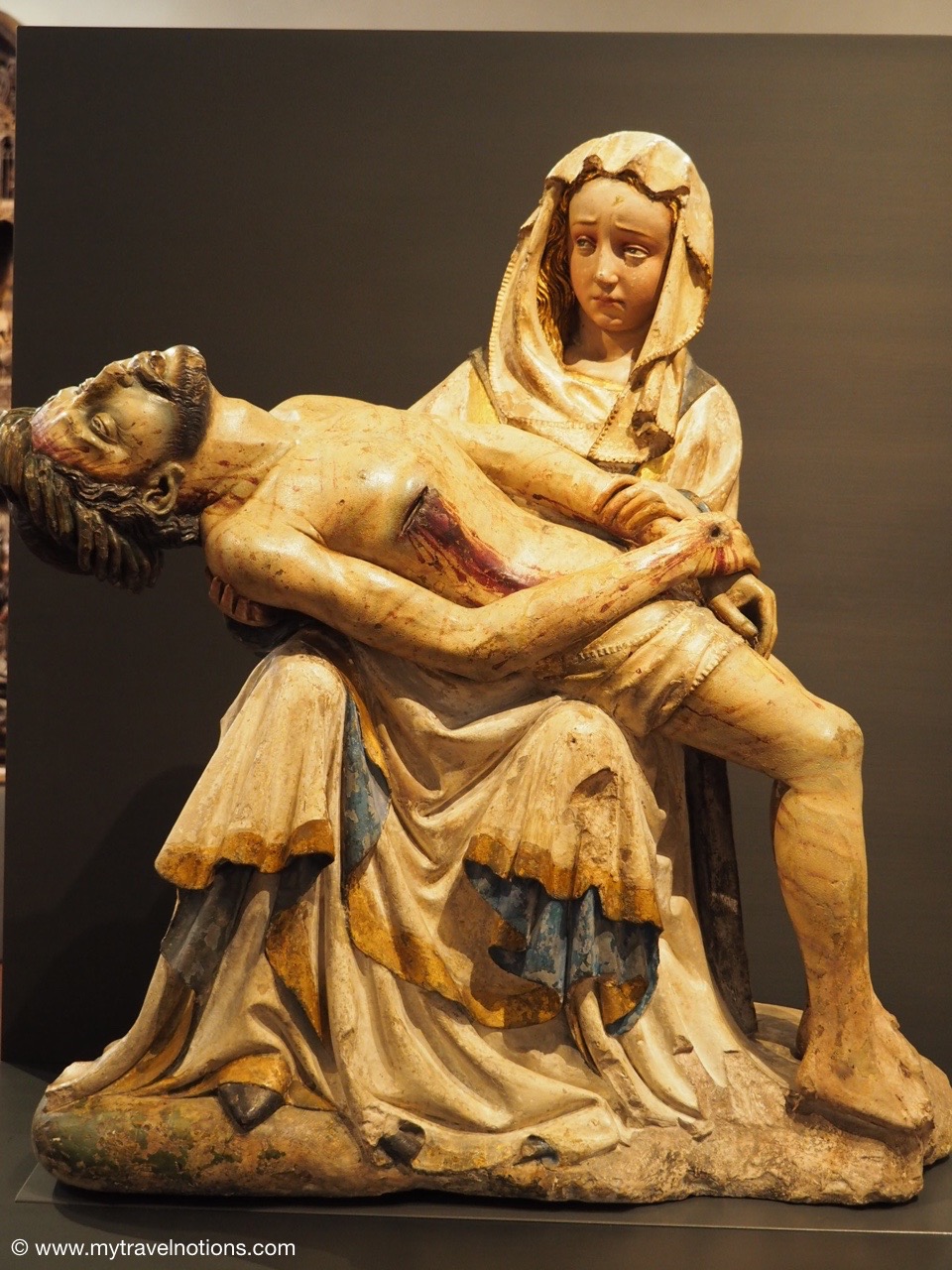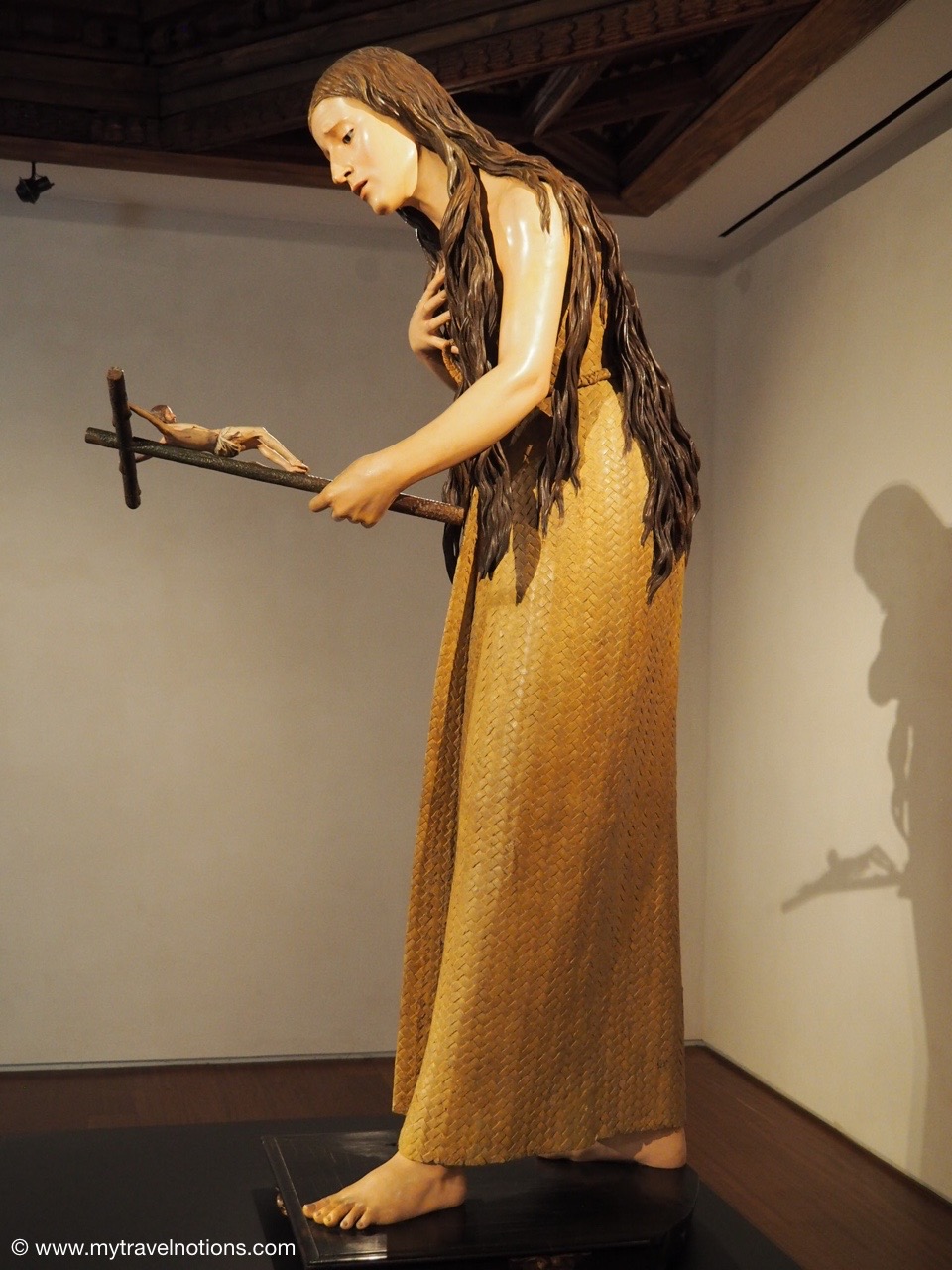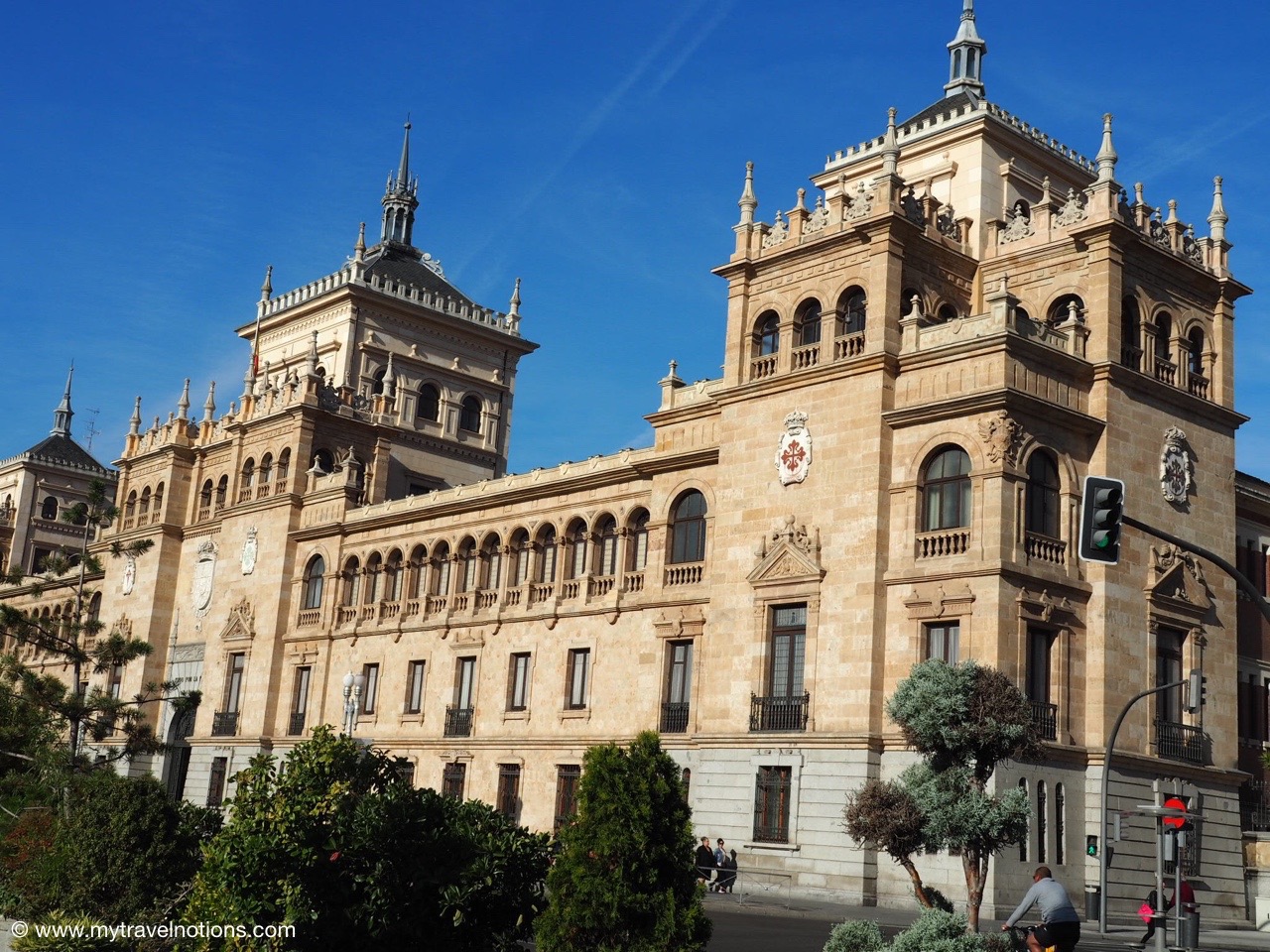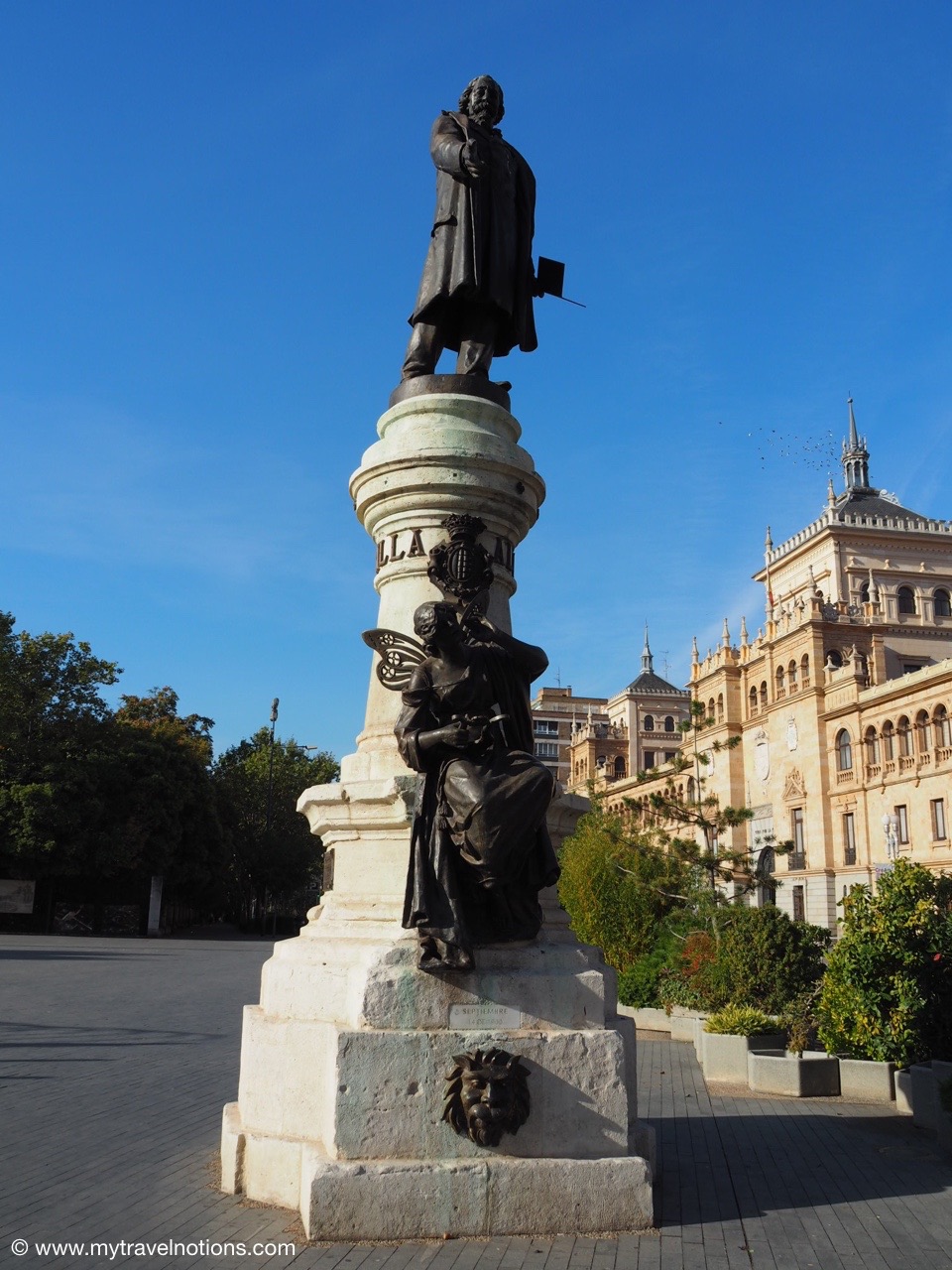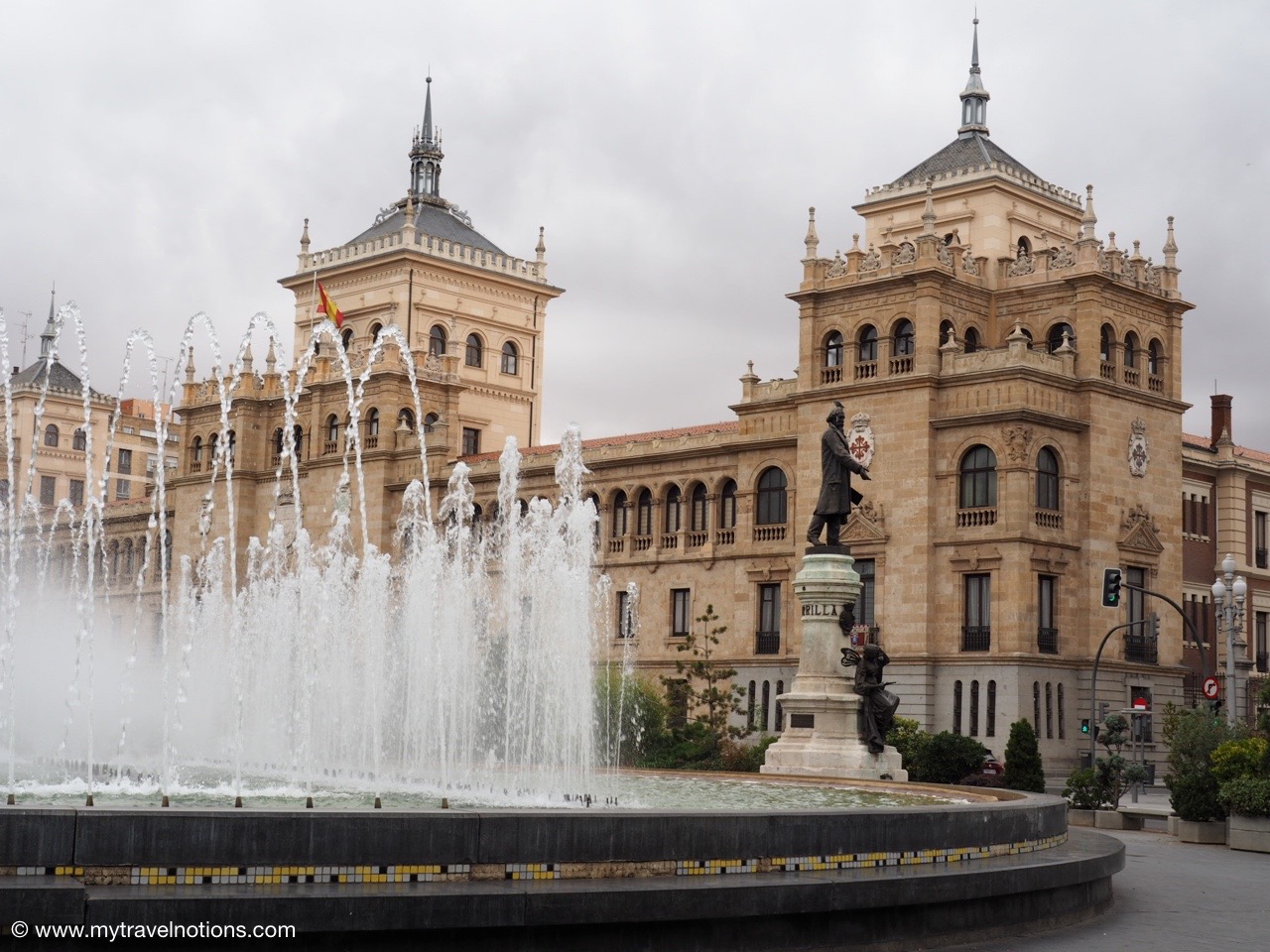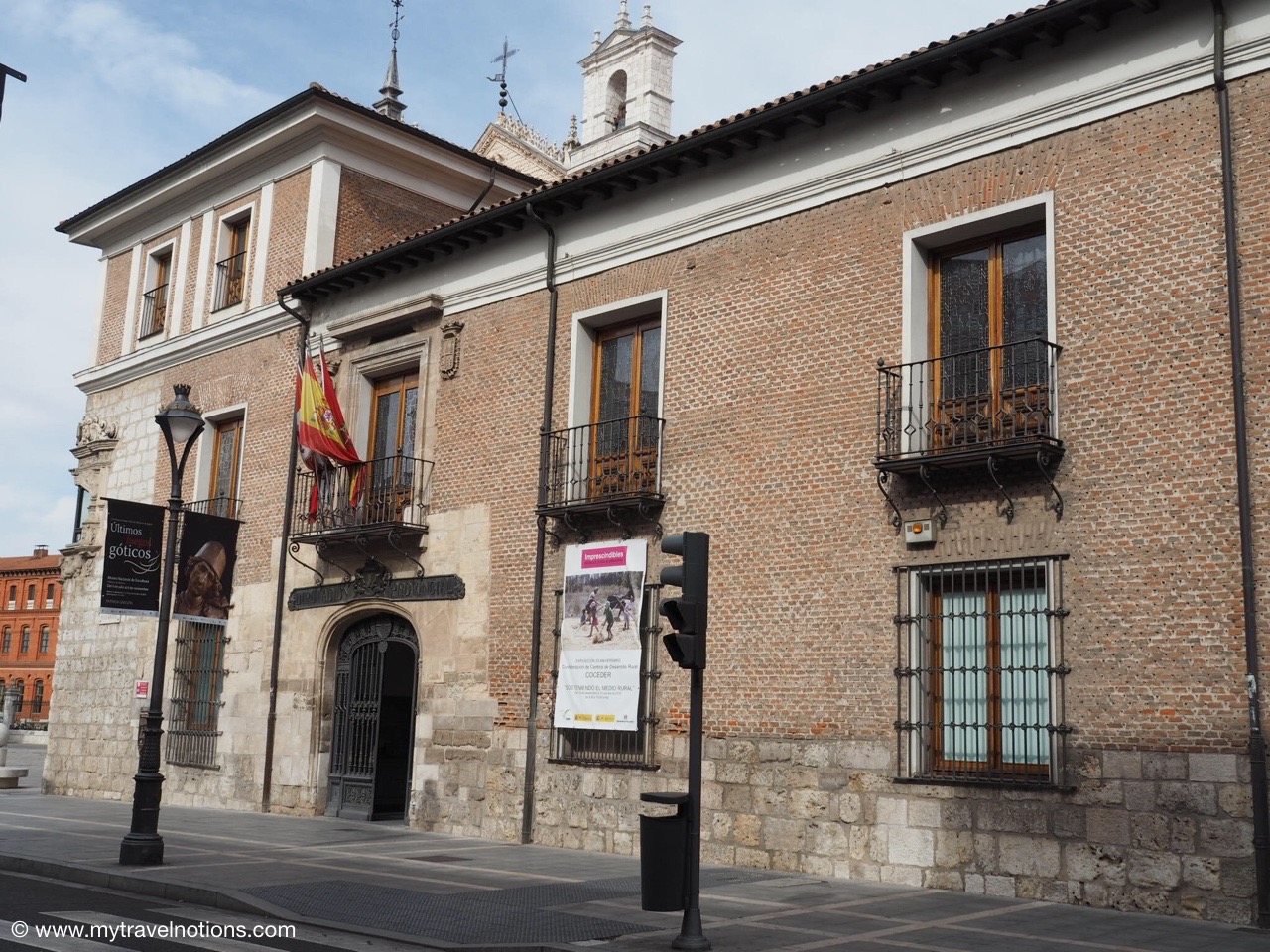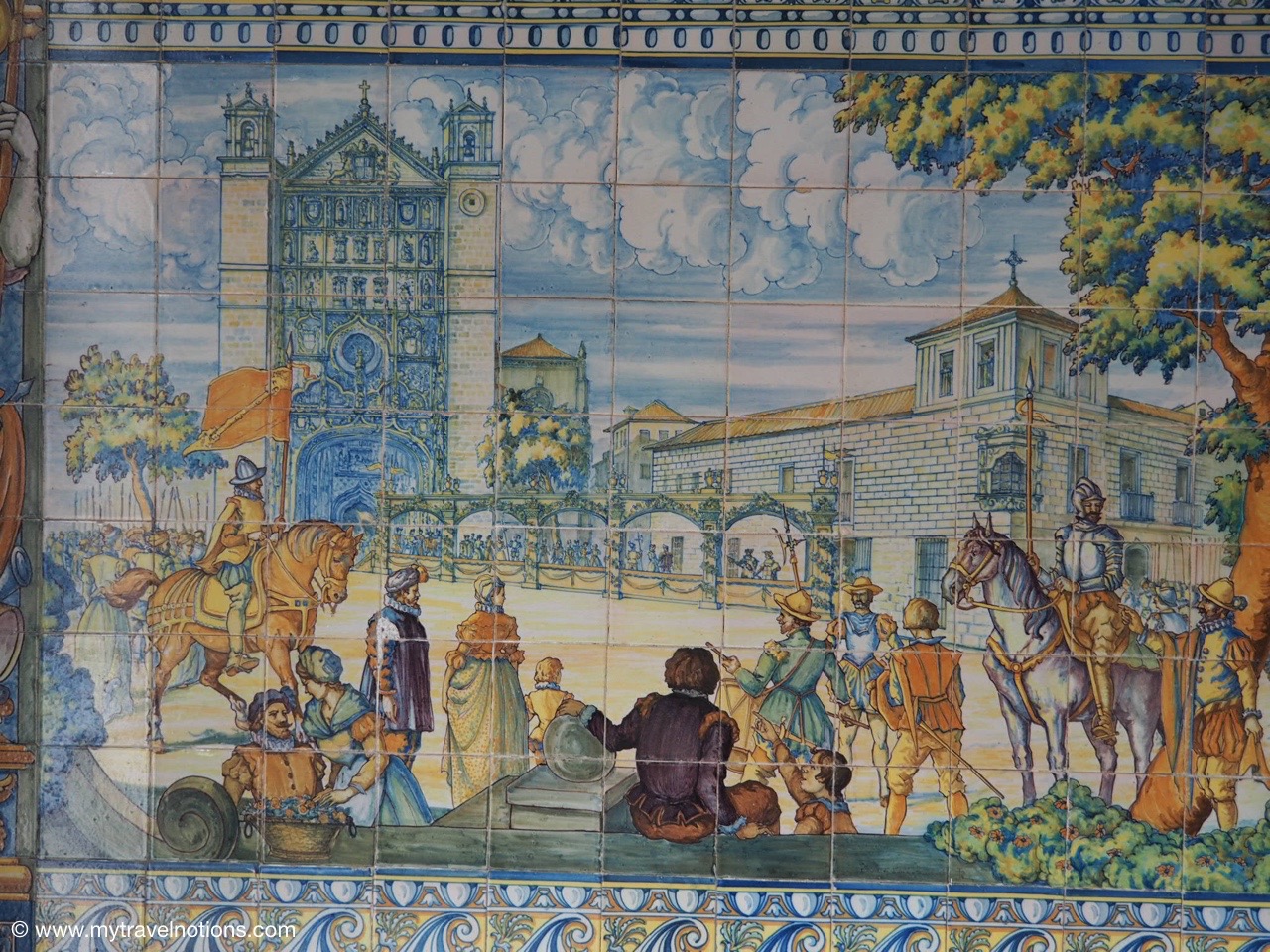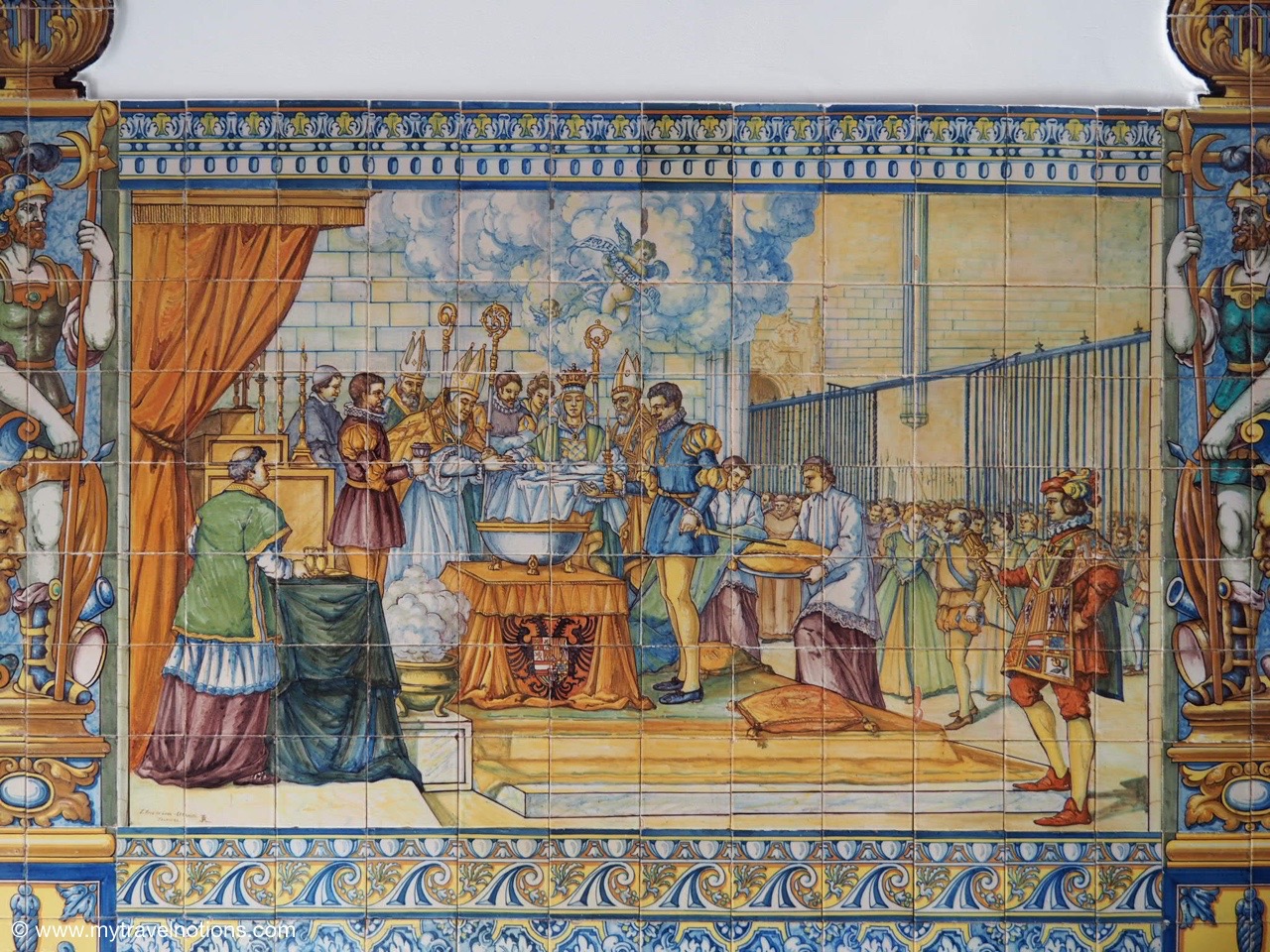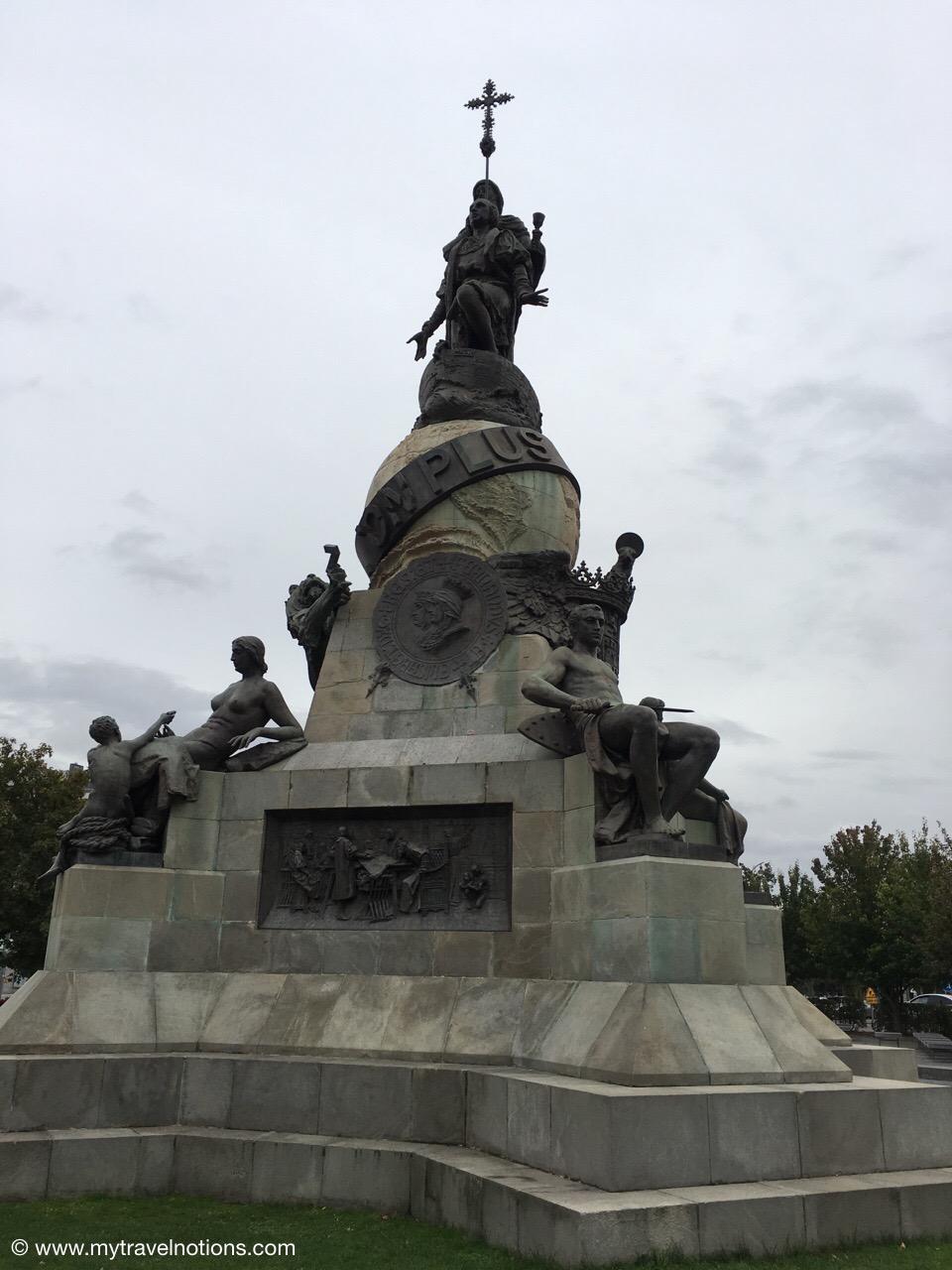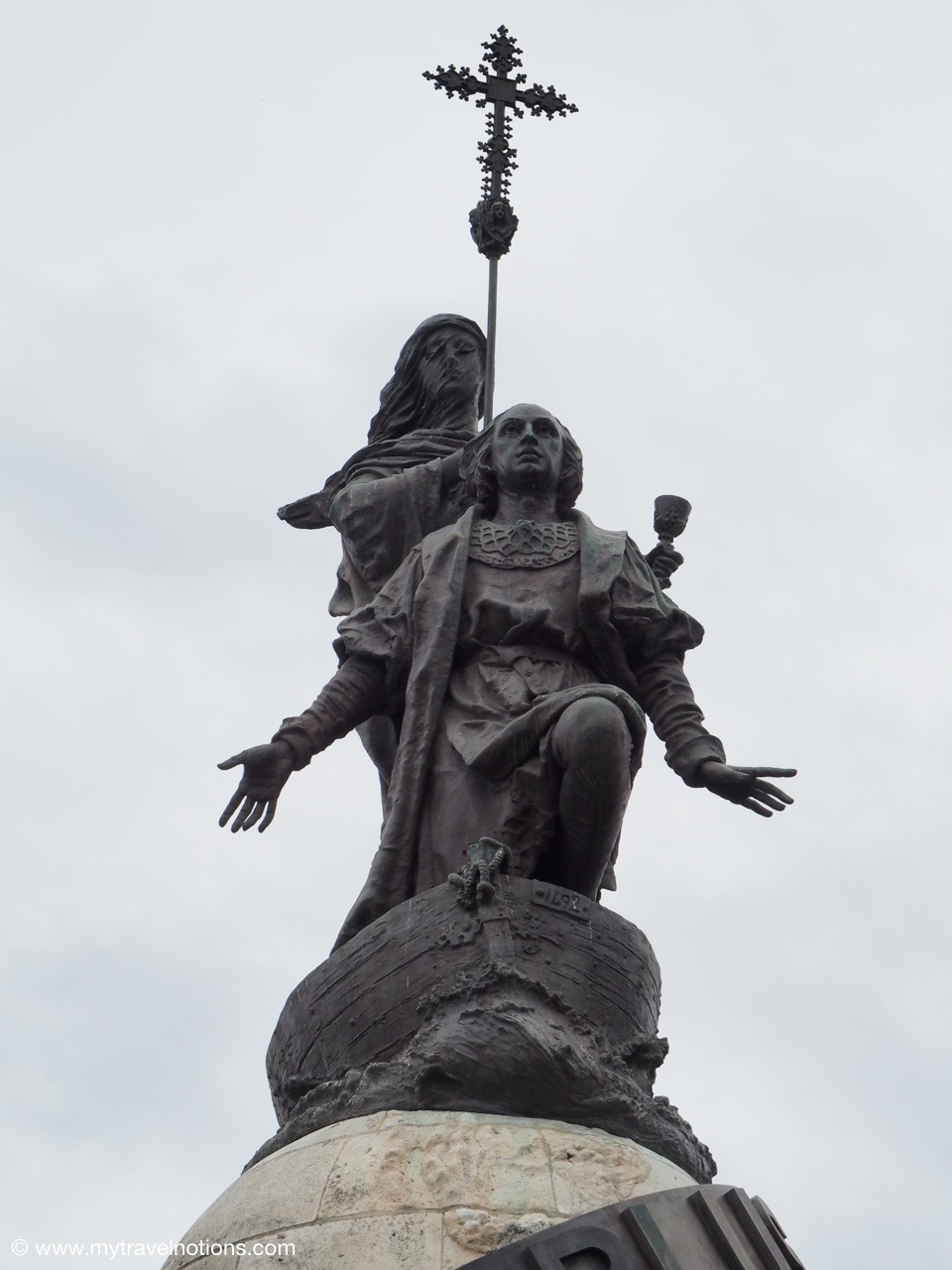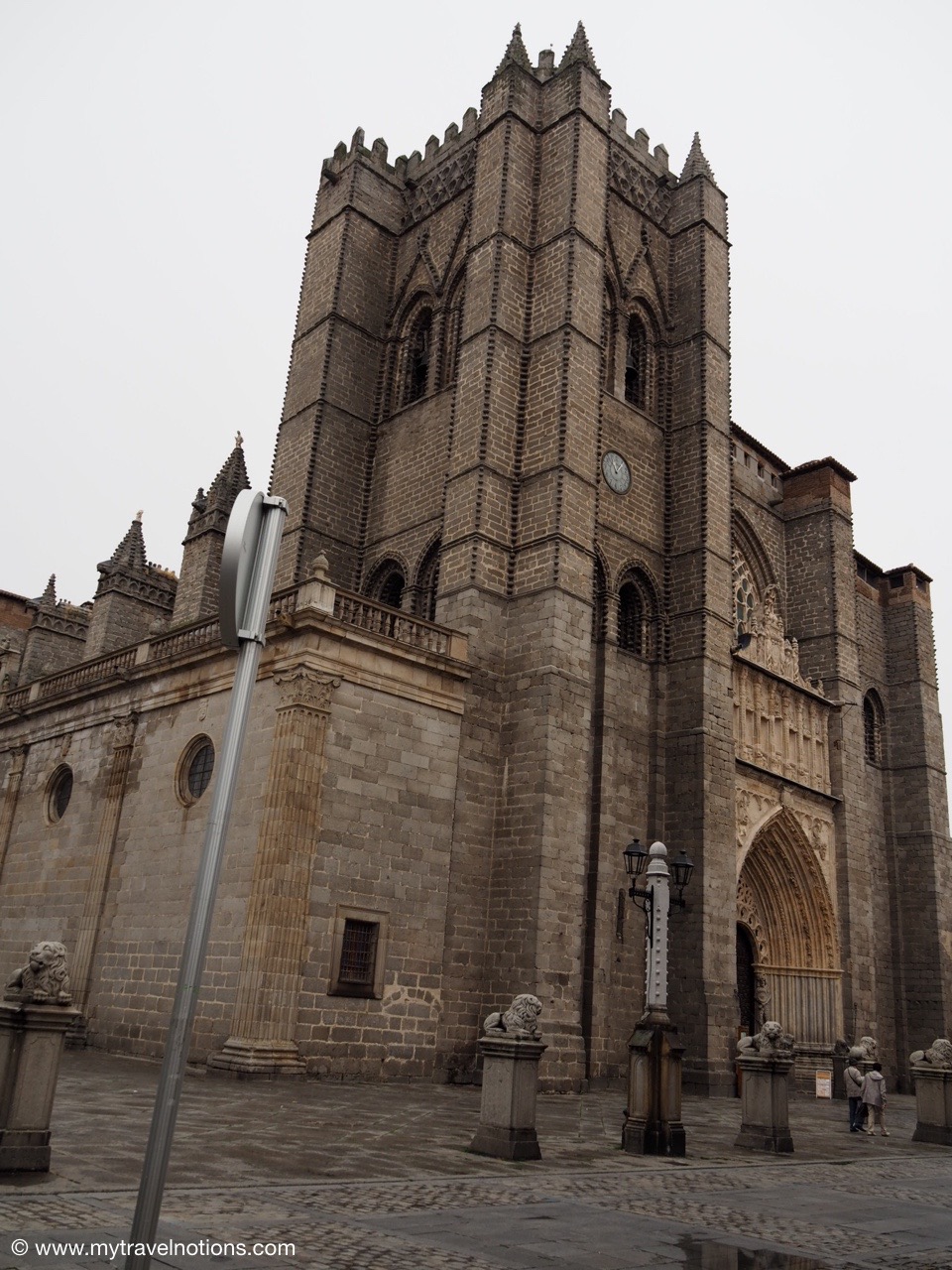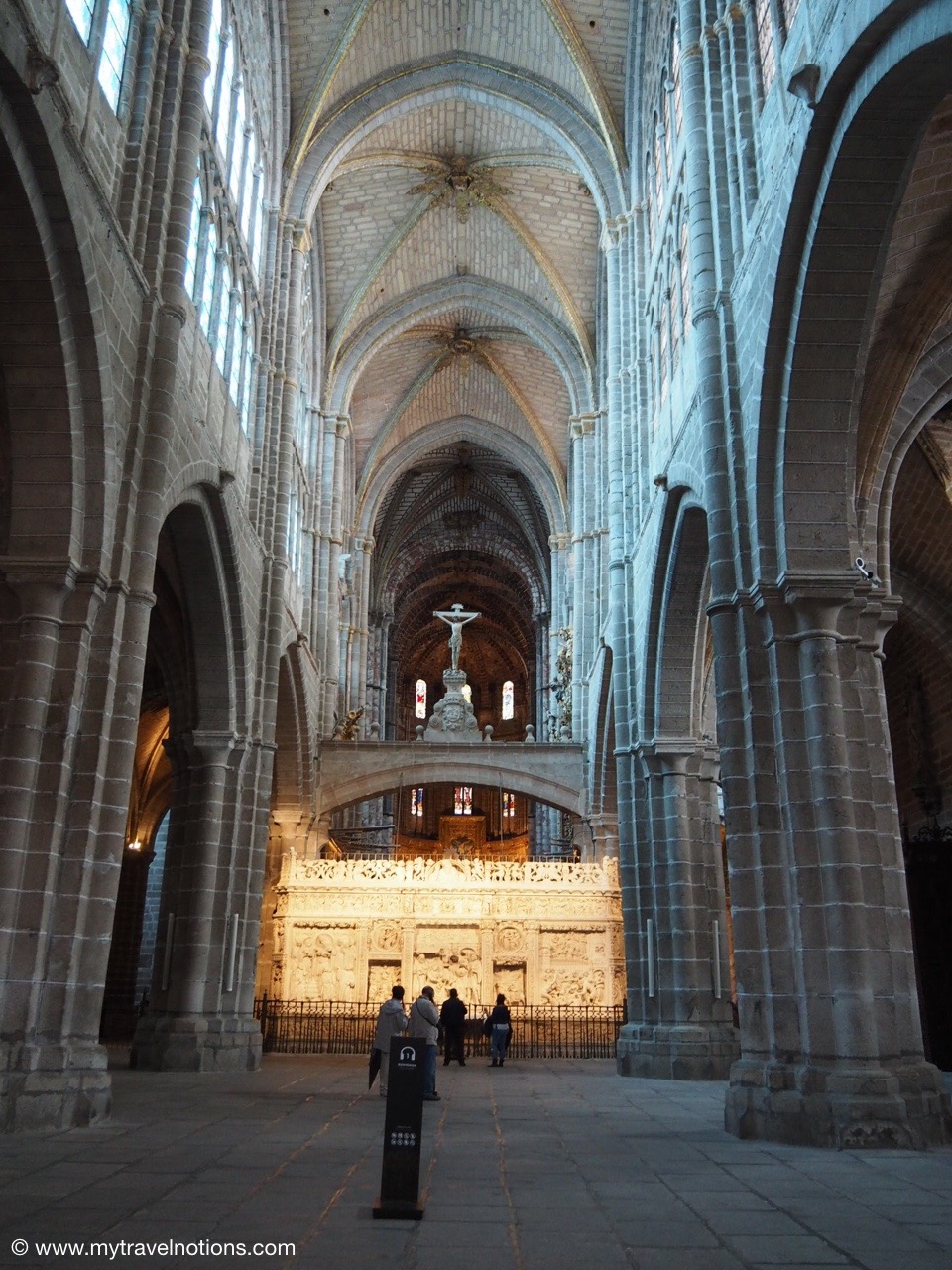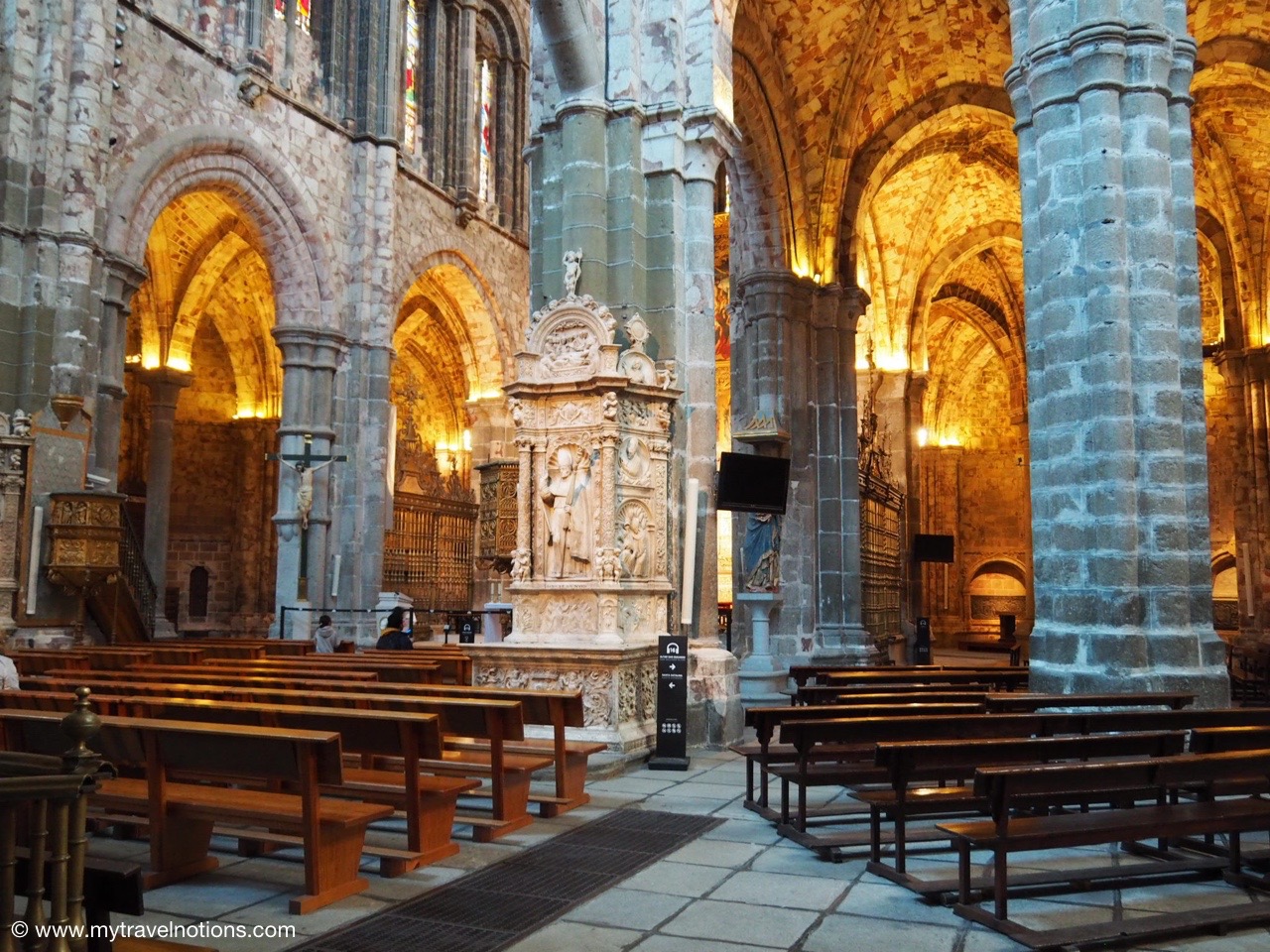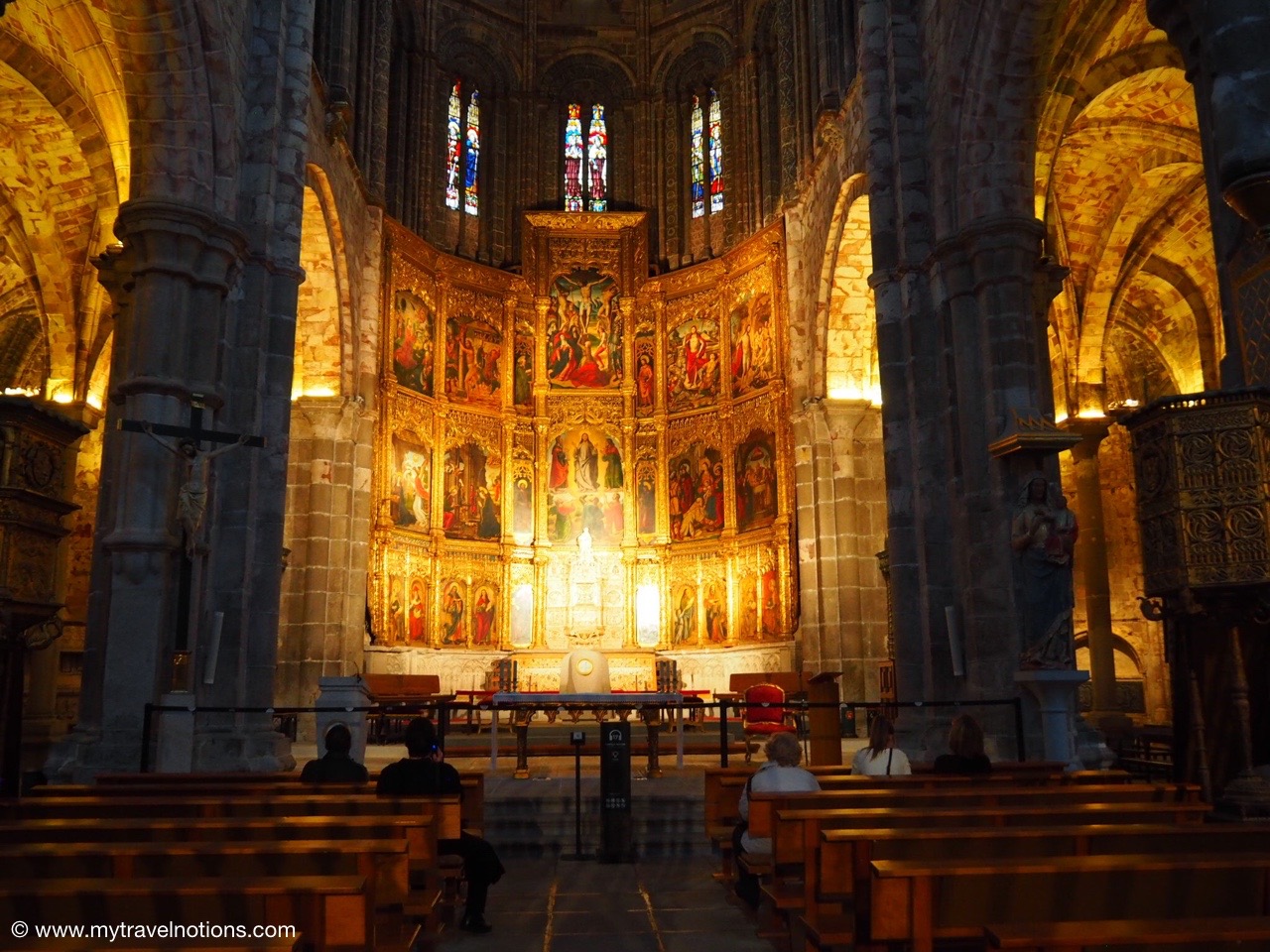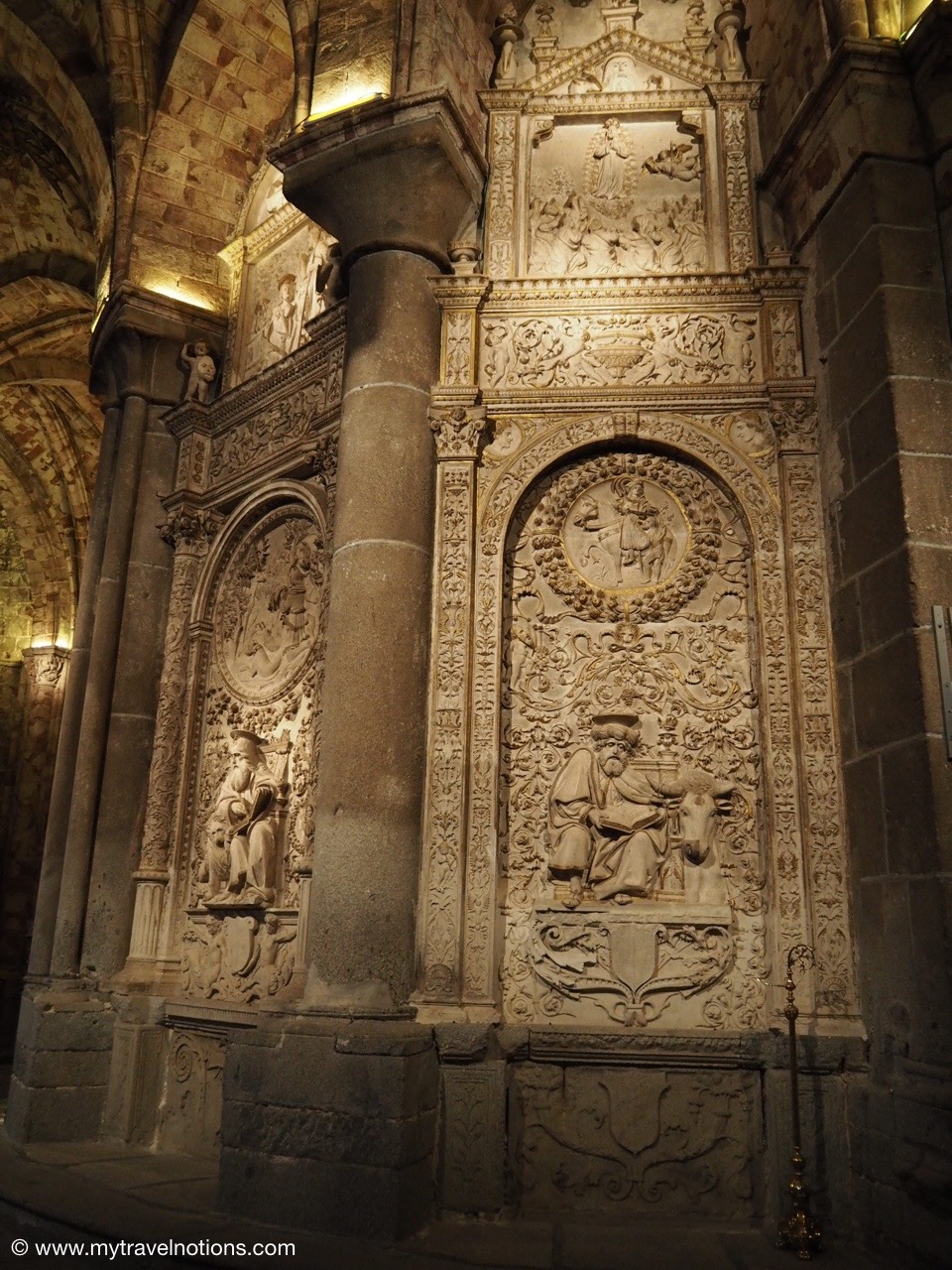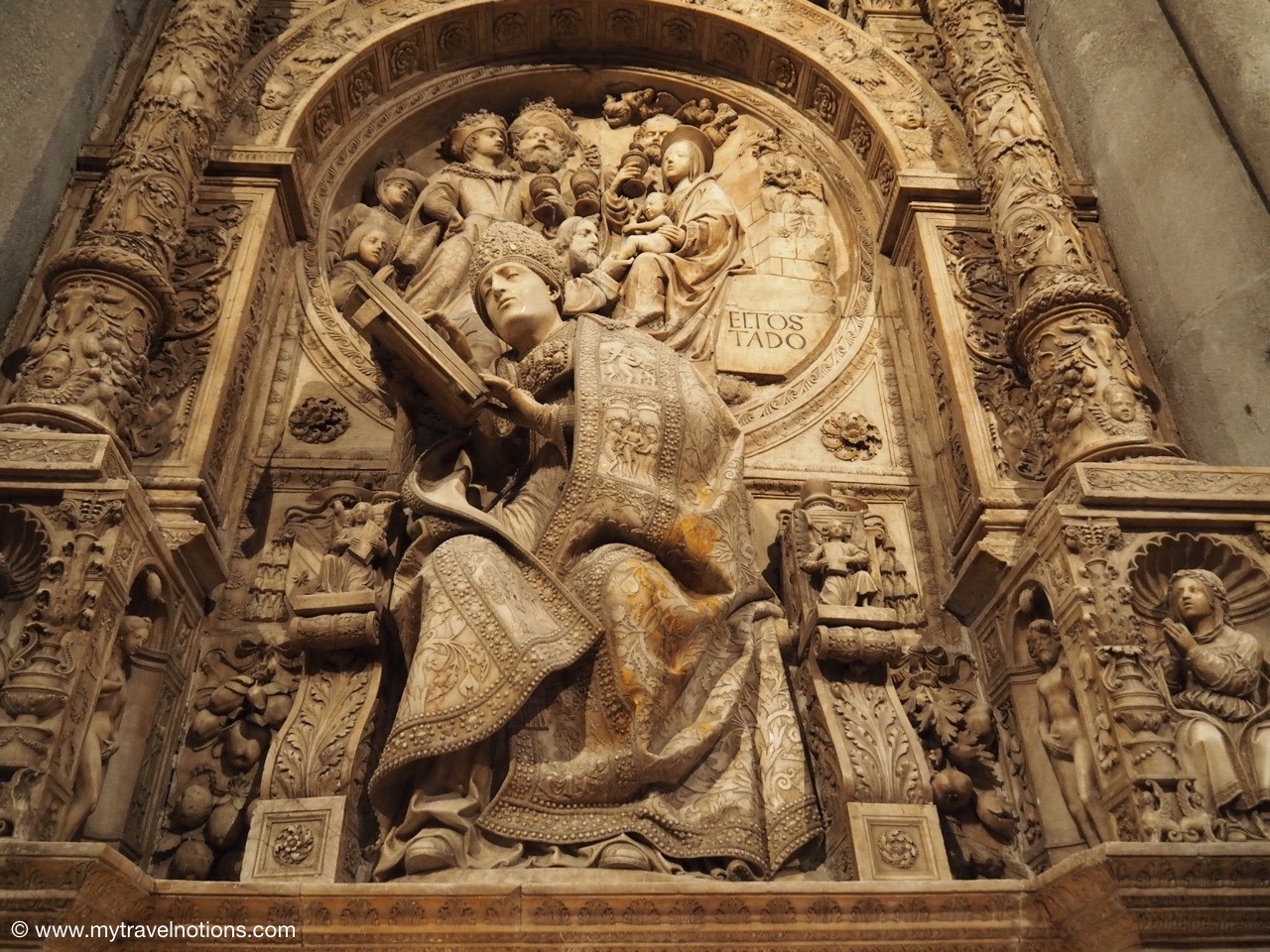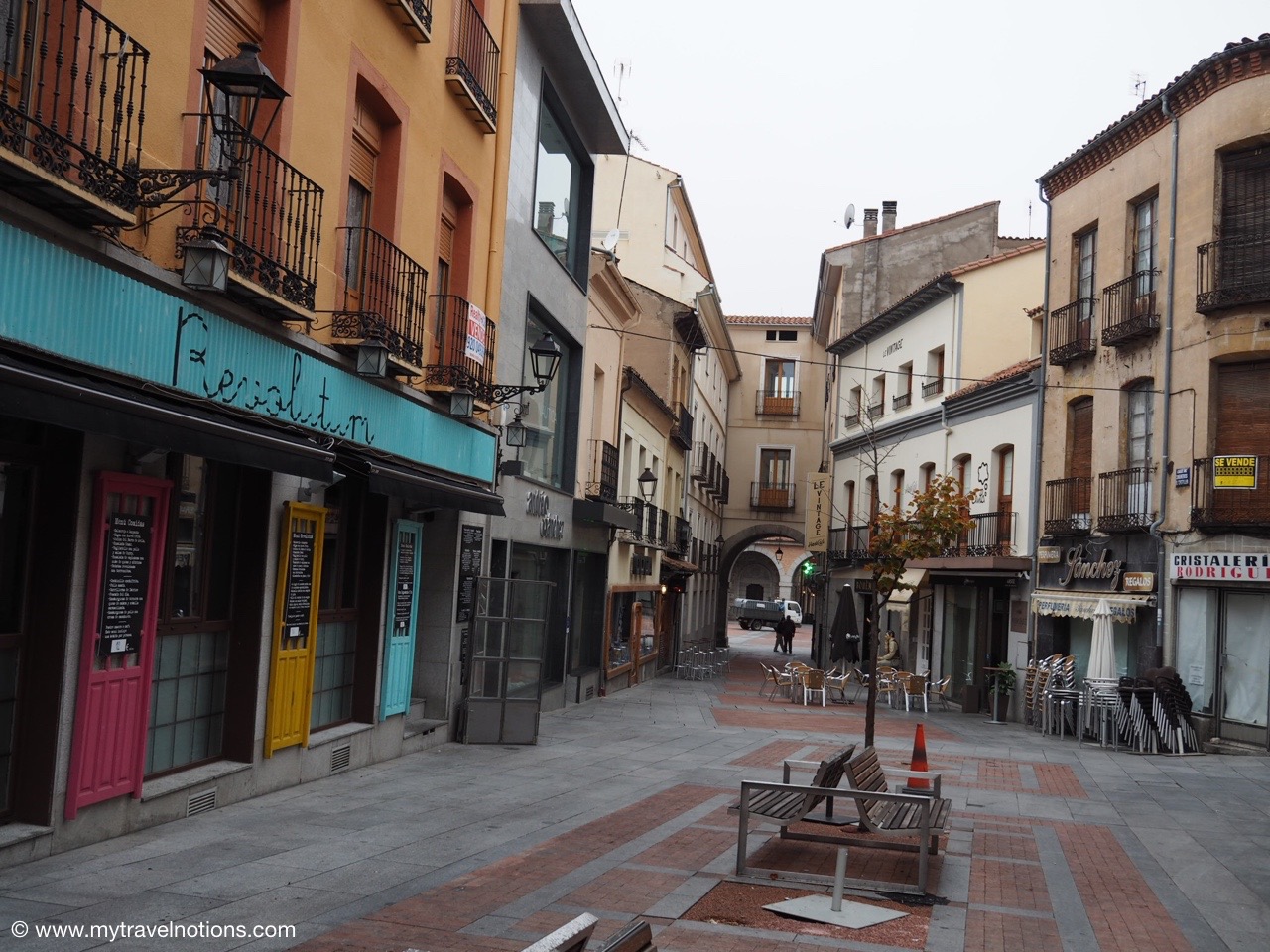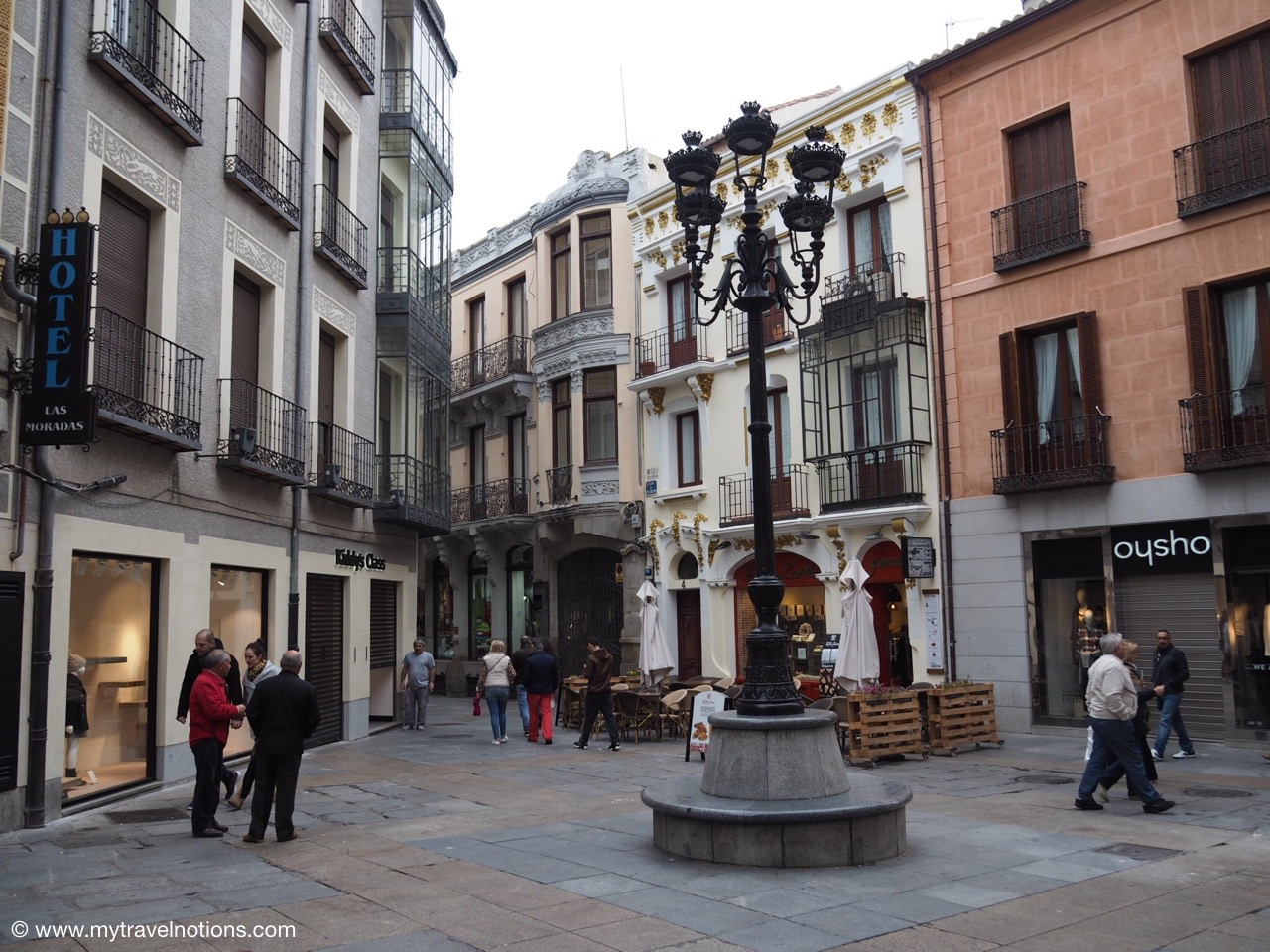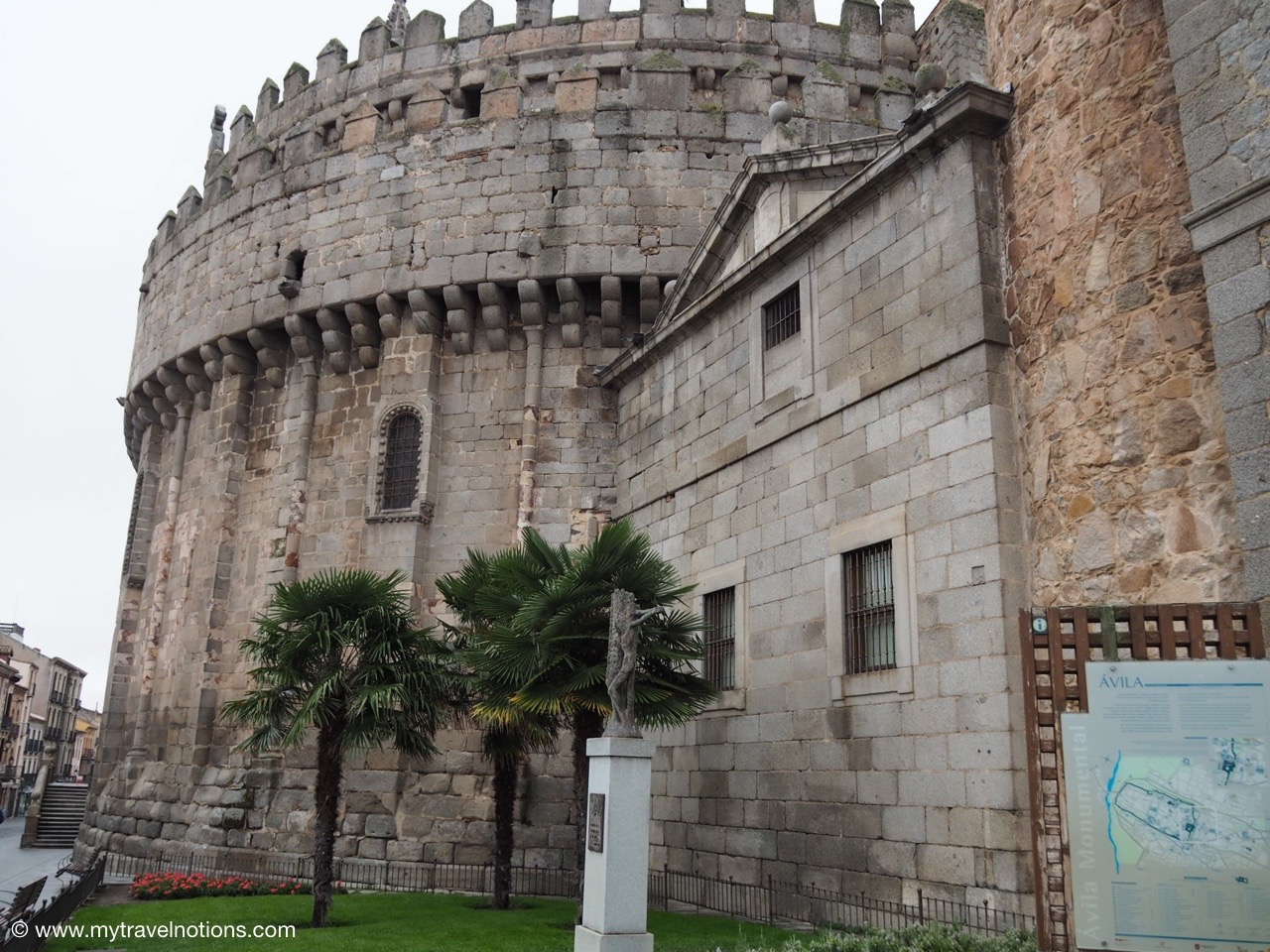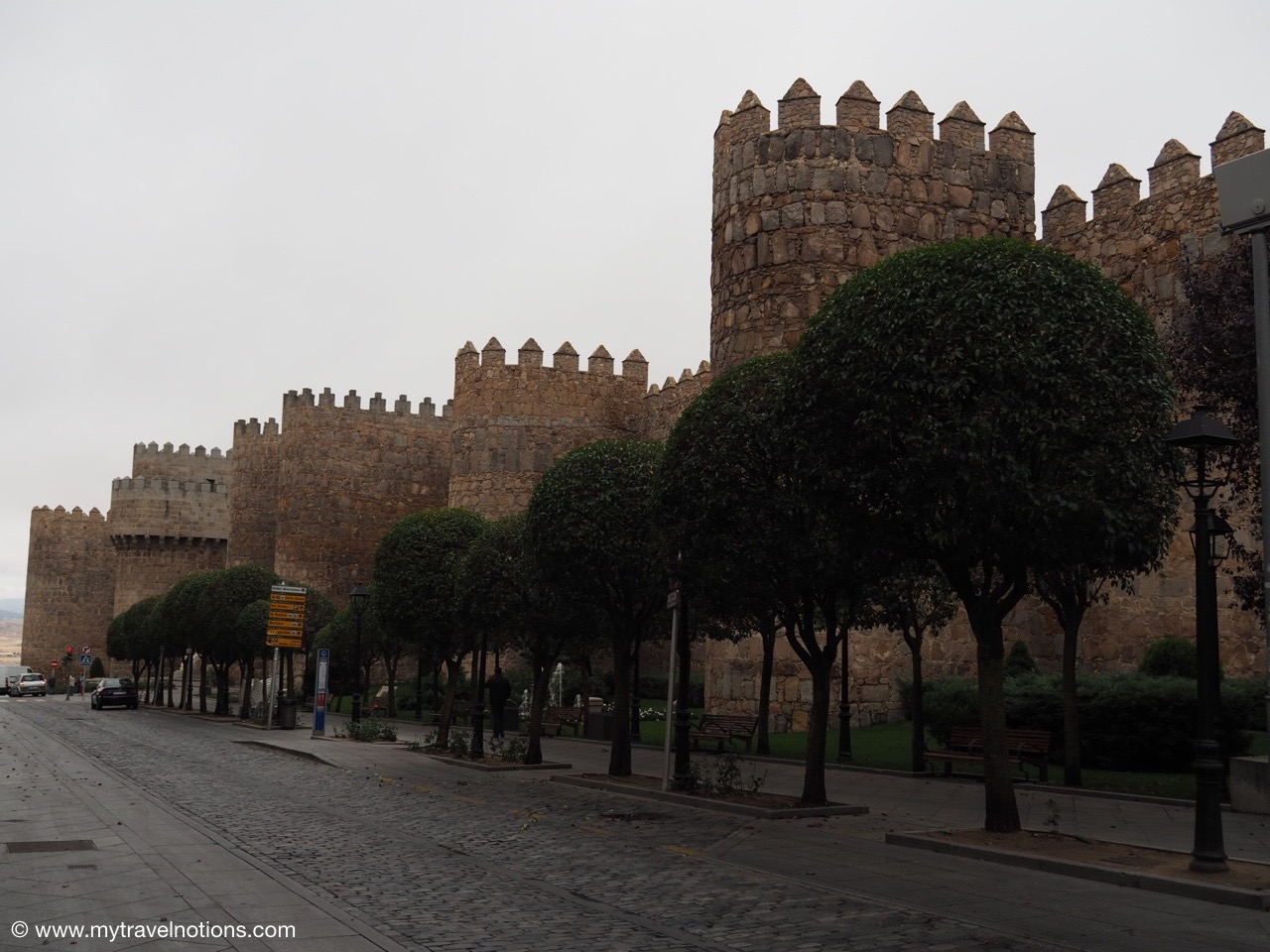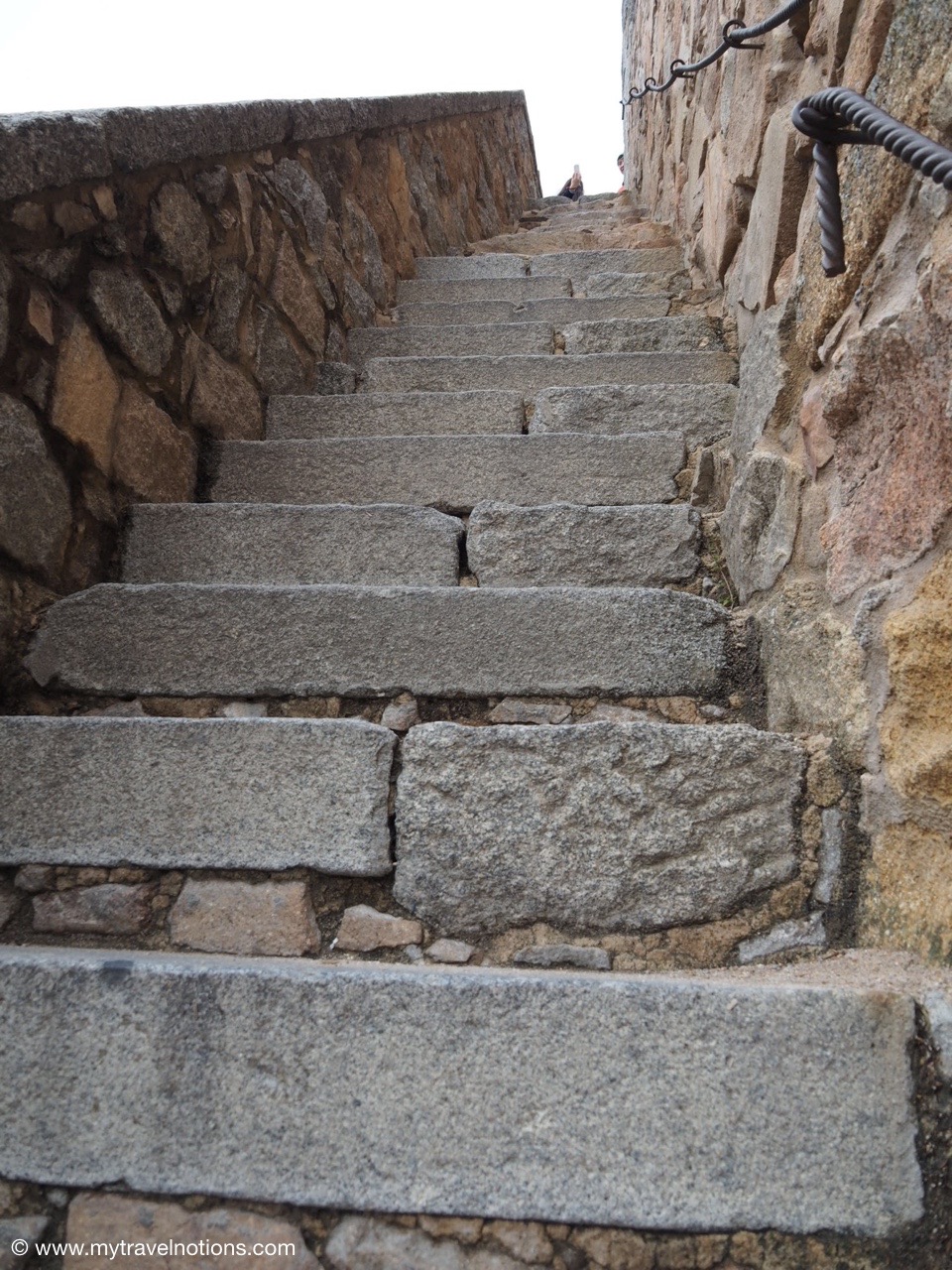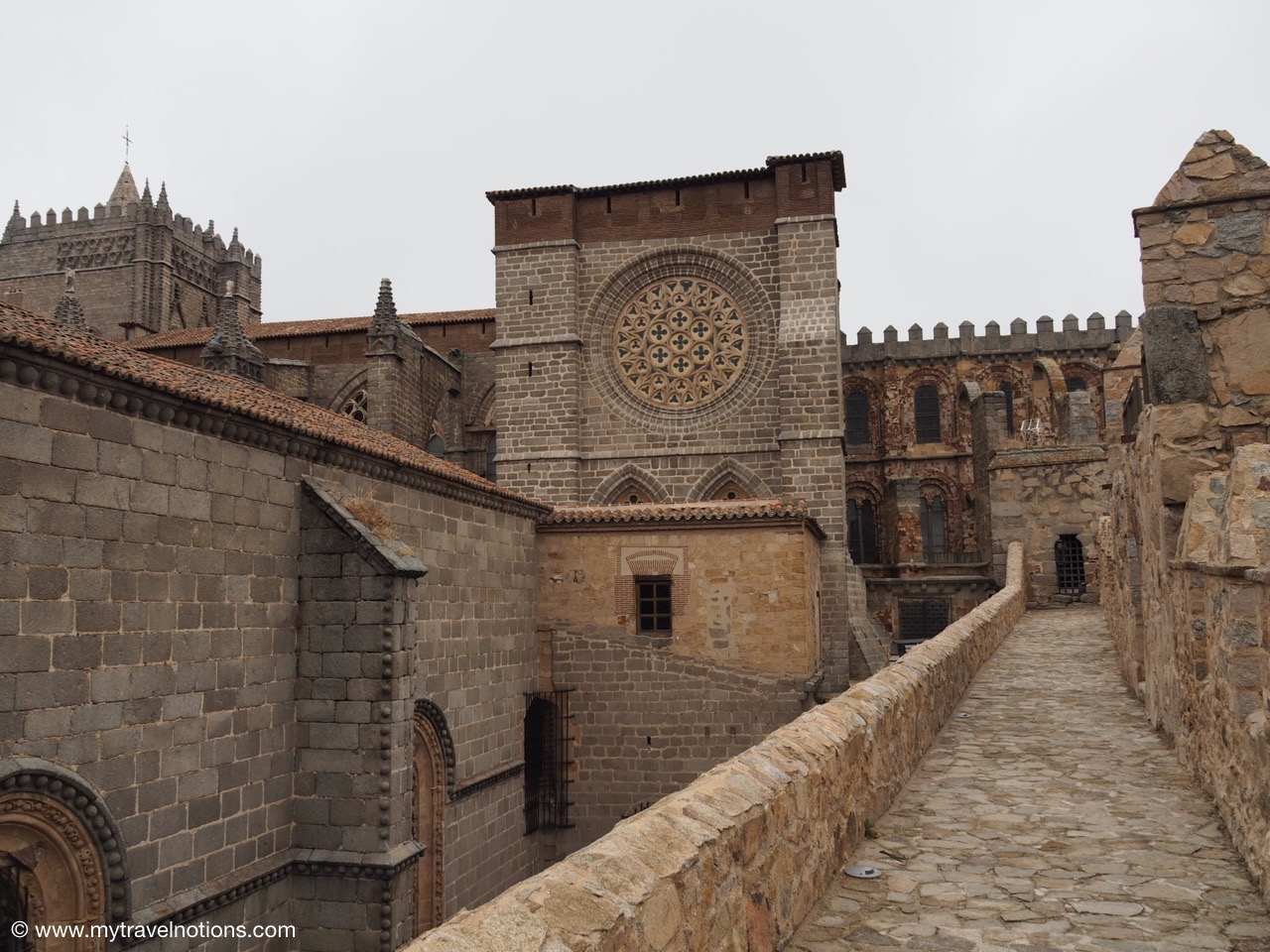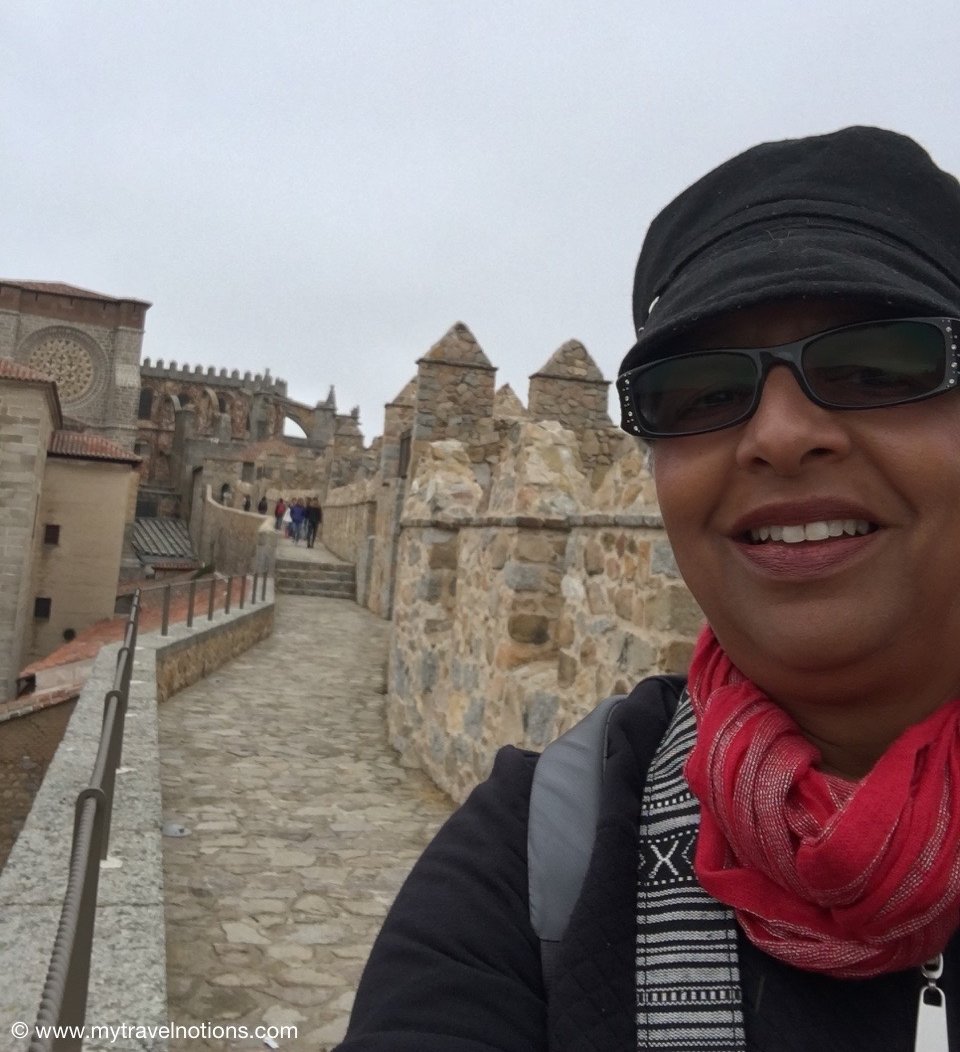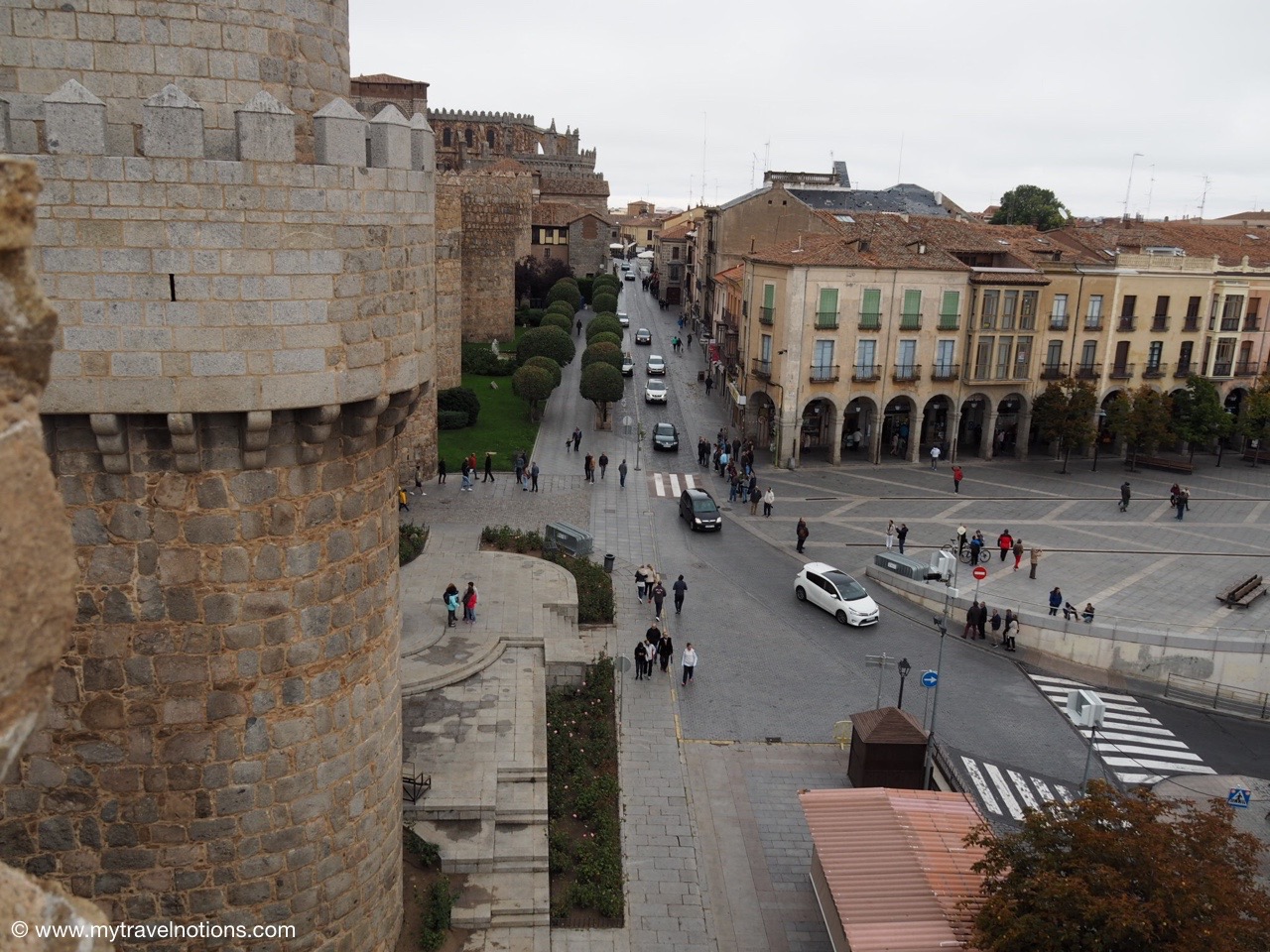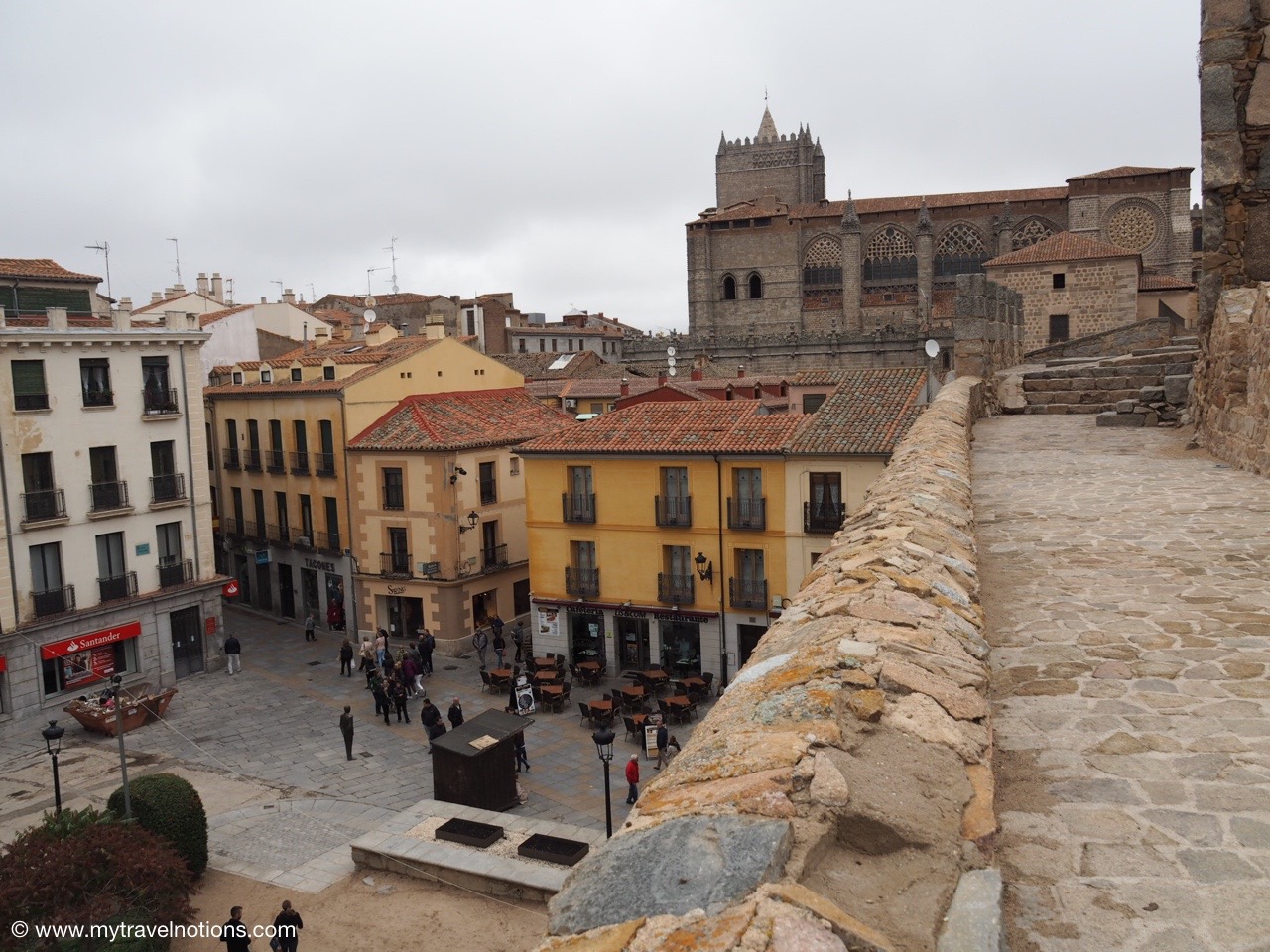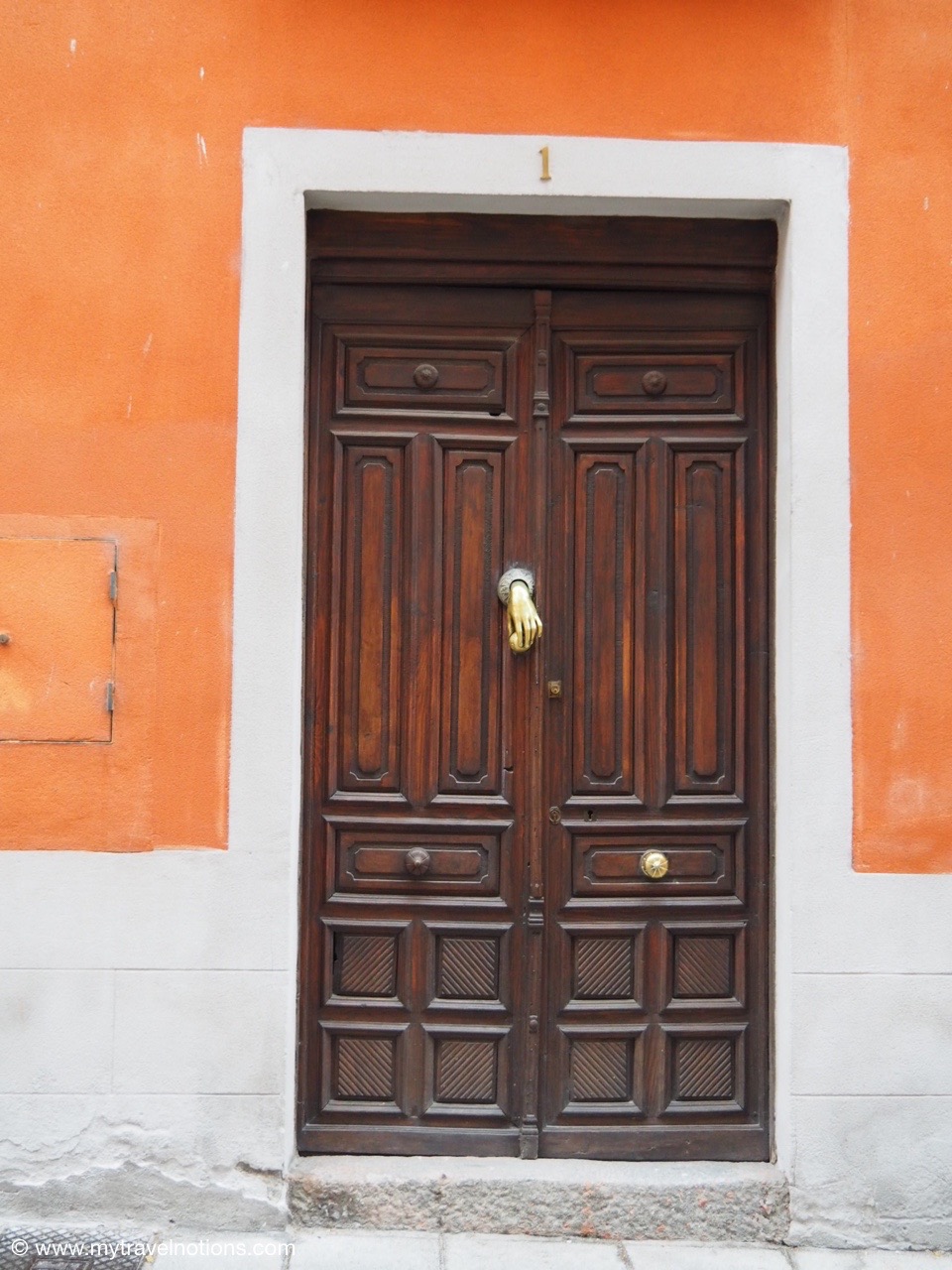 Although yesterday was my planned Burgos day out, it actually turned out to be my "I don't want to run around in the rain so I'll just hang out at the hotel day" in Valladolid. I don't think I've ever spent as much time in bed as I did yesterday, but I must say, I needed it and I'm so glad I did. The sun did make a brief appearance late in the day which was good enough for a walk around Valladolid's Plaza Mayor and back. And, I wish I could say I had a difficult time getting to sleep last night, but I didn't.
I must confess, on this trip I opted to leave my all purpose jacket at home to bring an extra pair of shoes. Big mistake. All purpose jacket should always have priority over another pair of shoes. I would have gotten incredible use out of that jacket during these cooler days in Valladolid, Avila and Burgos…and I've yet to wear the shoes I brought in its place. I did bring two great sweaters and a couple of long sleeved shirts along with my trusted scarfs…but my jacket…well I chose poorly by picking a pair of shoes over it.
Getting to the train station in Valladolid from my hotel is about a 10 to 15 minute walk. I always look for hotels close to the regional train and metro stations. The train station in Avila was within walking distance of the city wall and other sites within the city wall, but the new Burgos train station requires a cab ride into the center of the city if you want to see the Burgos Cathedral.
So, why am I checking out all of these cathedrals? Because that's where the art and the history comes alive.
I just have go give the history of the Burgos Cathedral, which pretty much dominates the city center, because it is just amazing. Its construction went from 1221 to 1765 and although it is considered a Gothic church there are other styles incorporated. The foundation stone of the cathedral was laid by Bishop Mauricio and Ferdinand III, the Saint, King of Castile and Leon, on July 20, 1221. It is dedicated to the mystery of the Assumption of the Virgin and from inside the cathedral there is access to at least 14 chapels built between the 13th and 18th centuries.
The Burgos Cathedral has been declared a UNESCO World Heritage site and Burgos is on the route of the Camino de Santiago. The Camino, also called The Way of St. James, is a pilgrimage route to the city of Santiago de Compostela in northwestern Spain, where tradition has it that the remains of the saint are buried. Many take up this route as a form of spiritual path or retreat for their spiritual growth.
Tomorrow I spend the day in Leon, Spain. Yes, I'll be checking out another stunning cathedral. But for now, here's my Burgos story with photos and captions.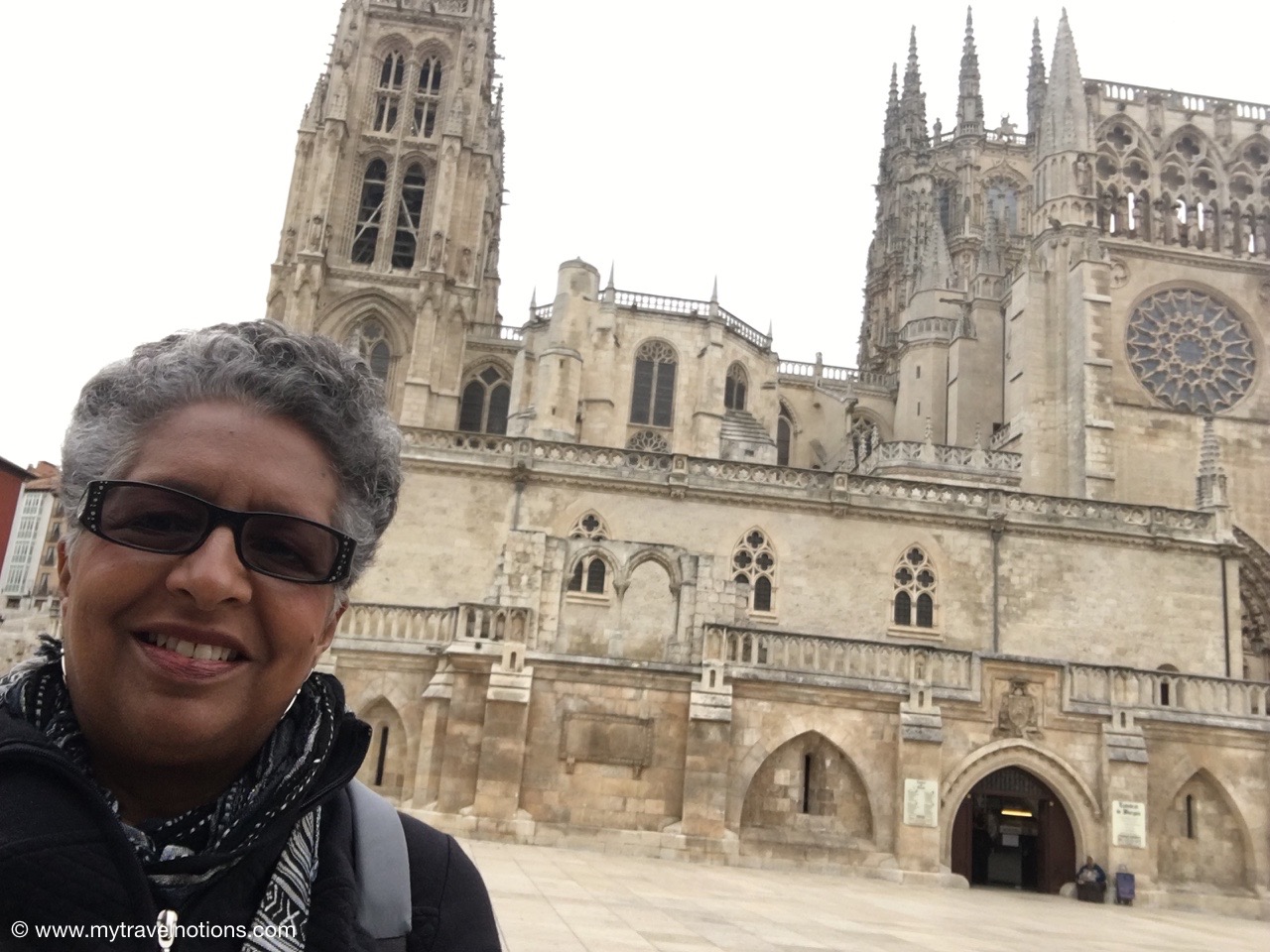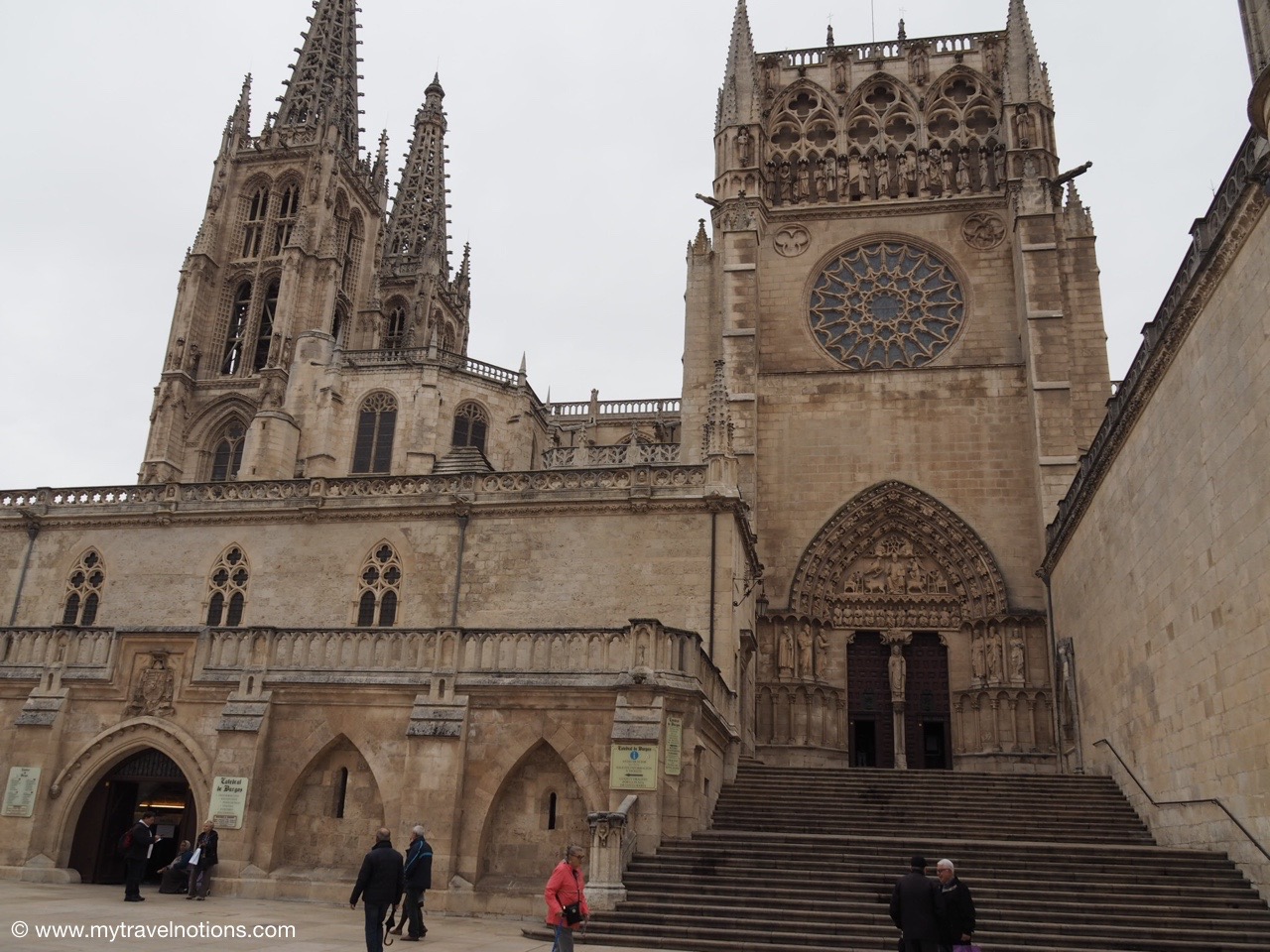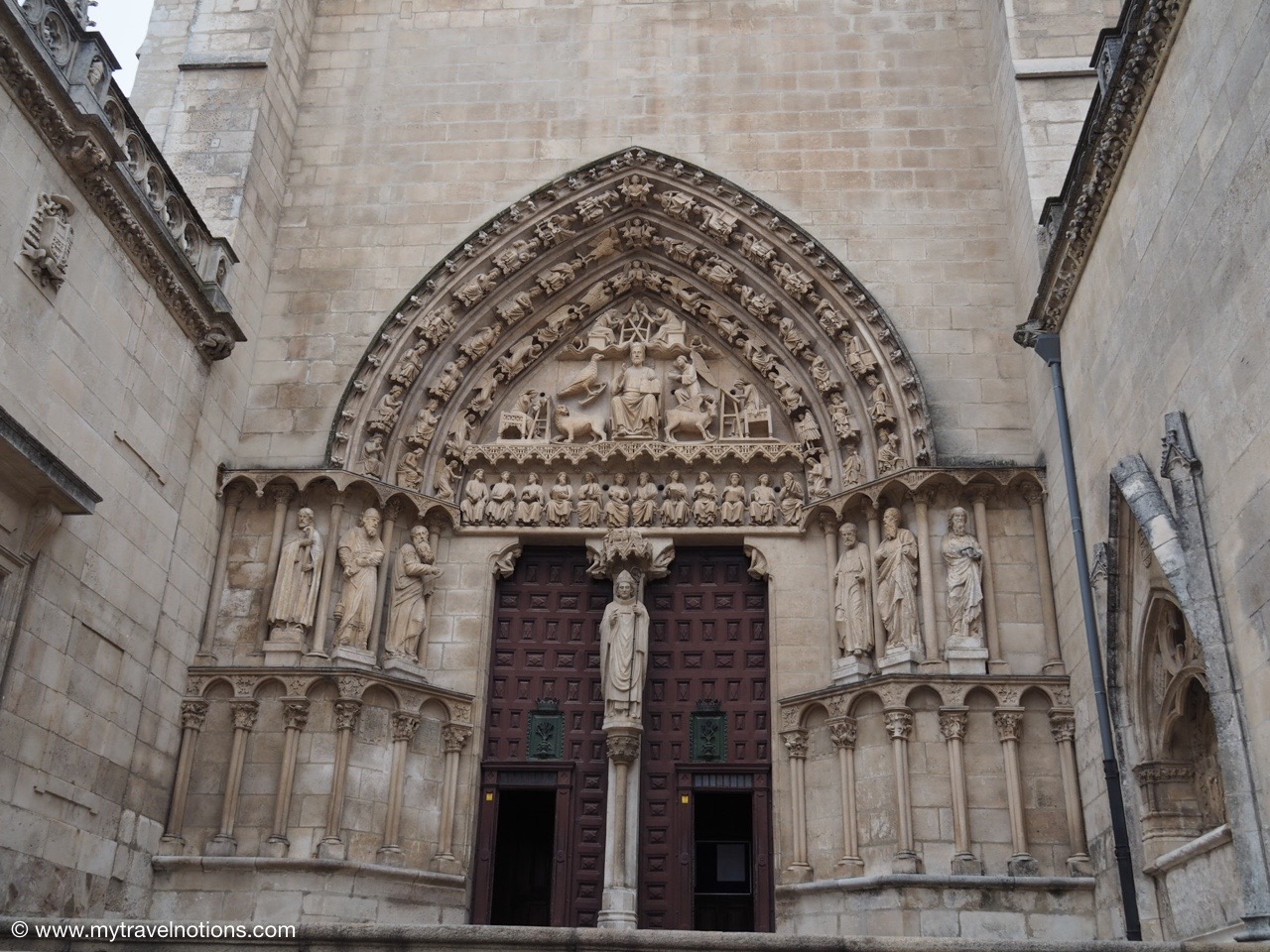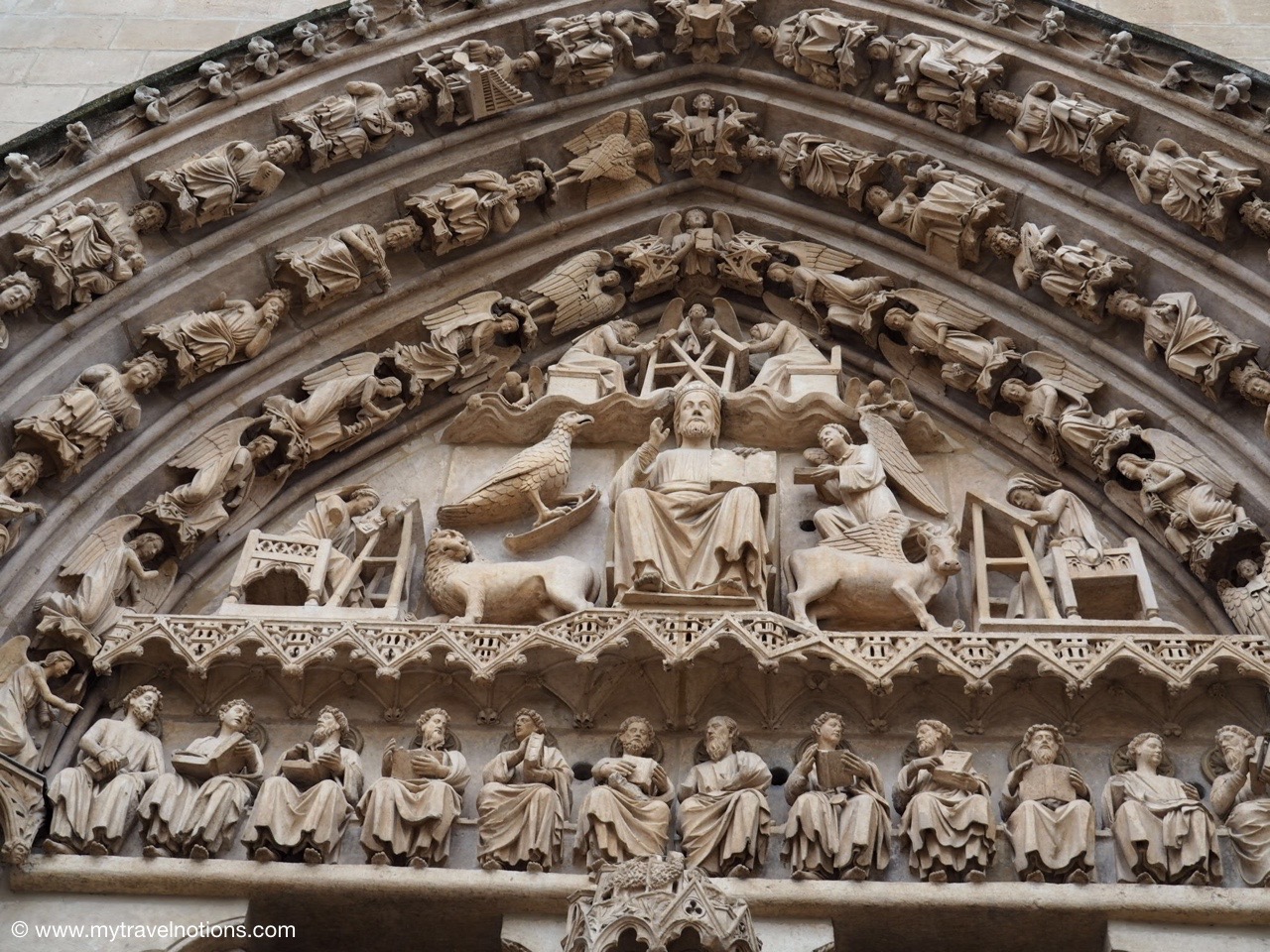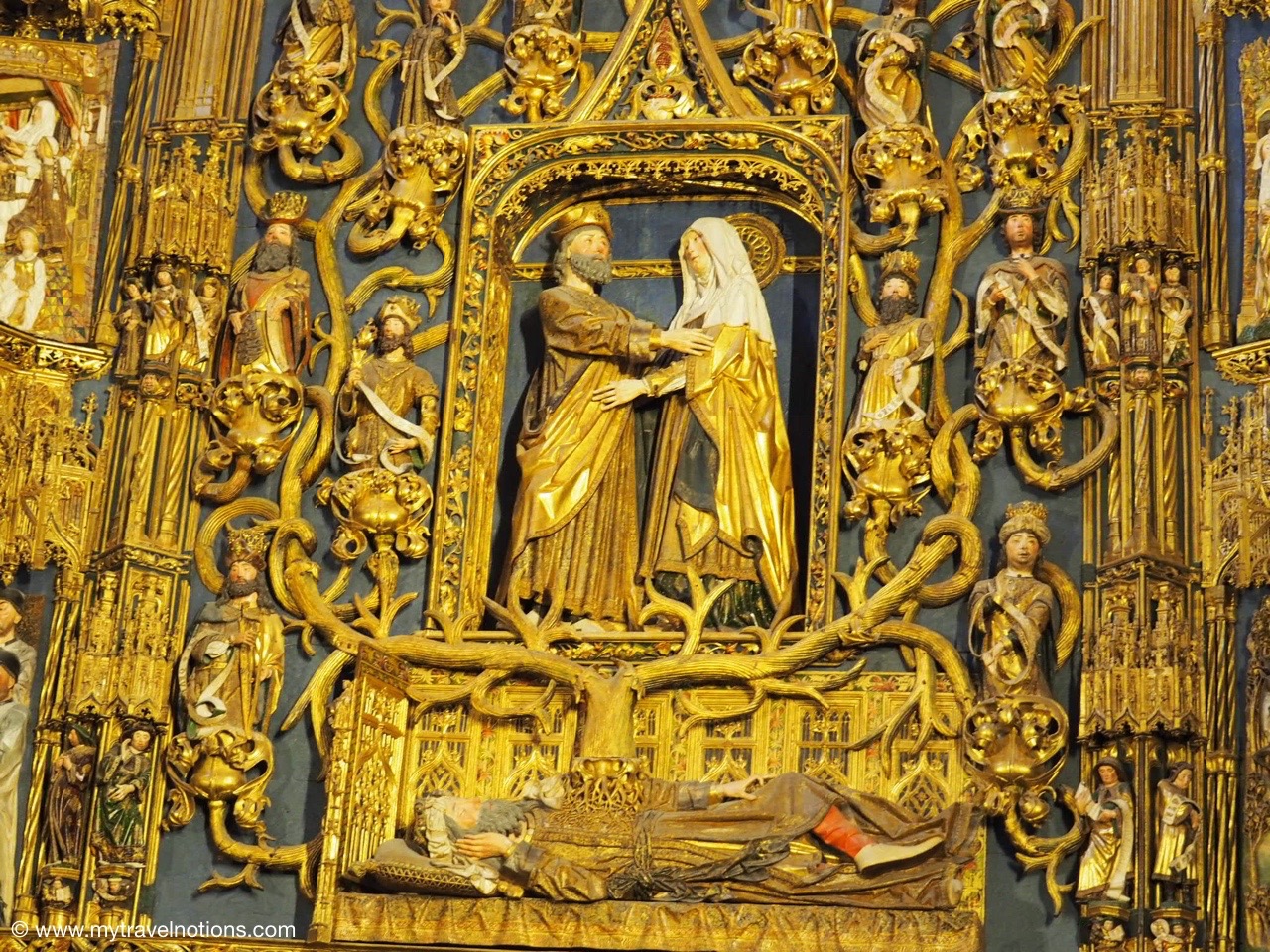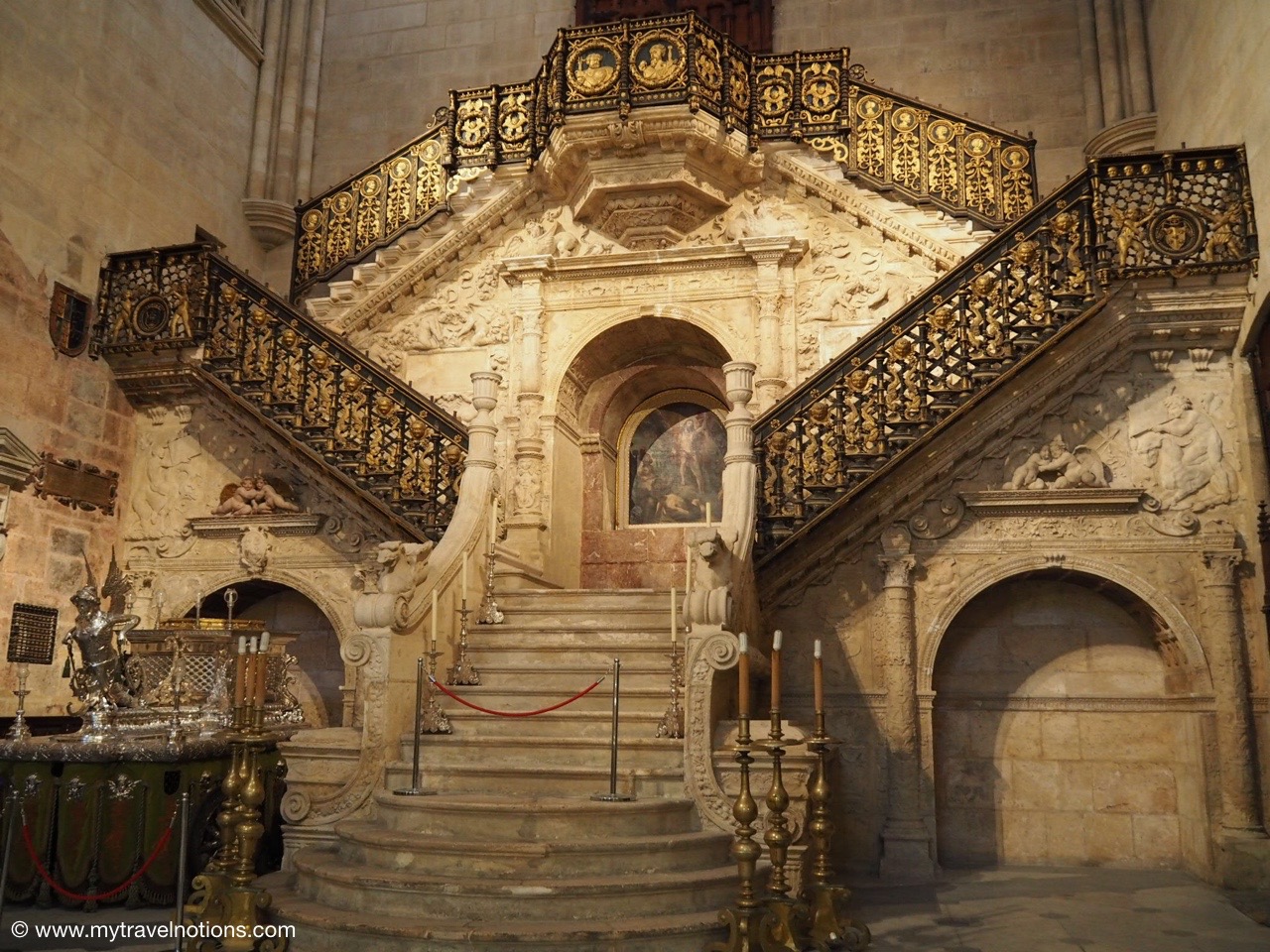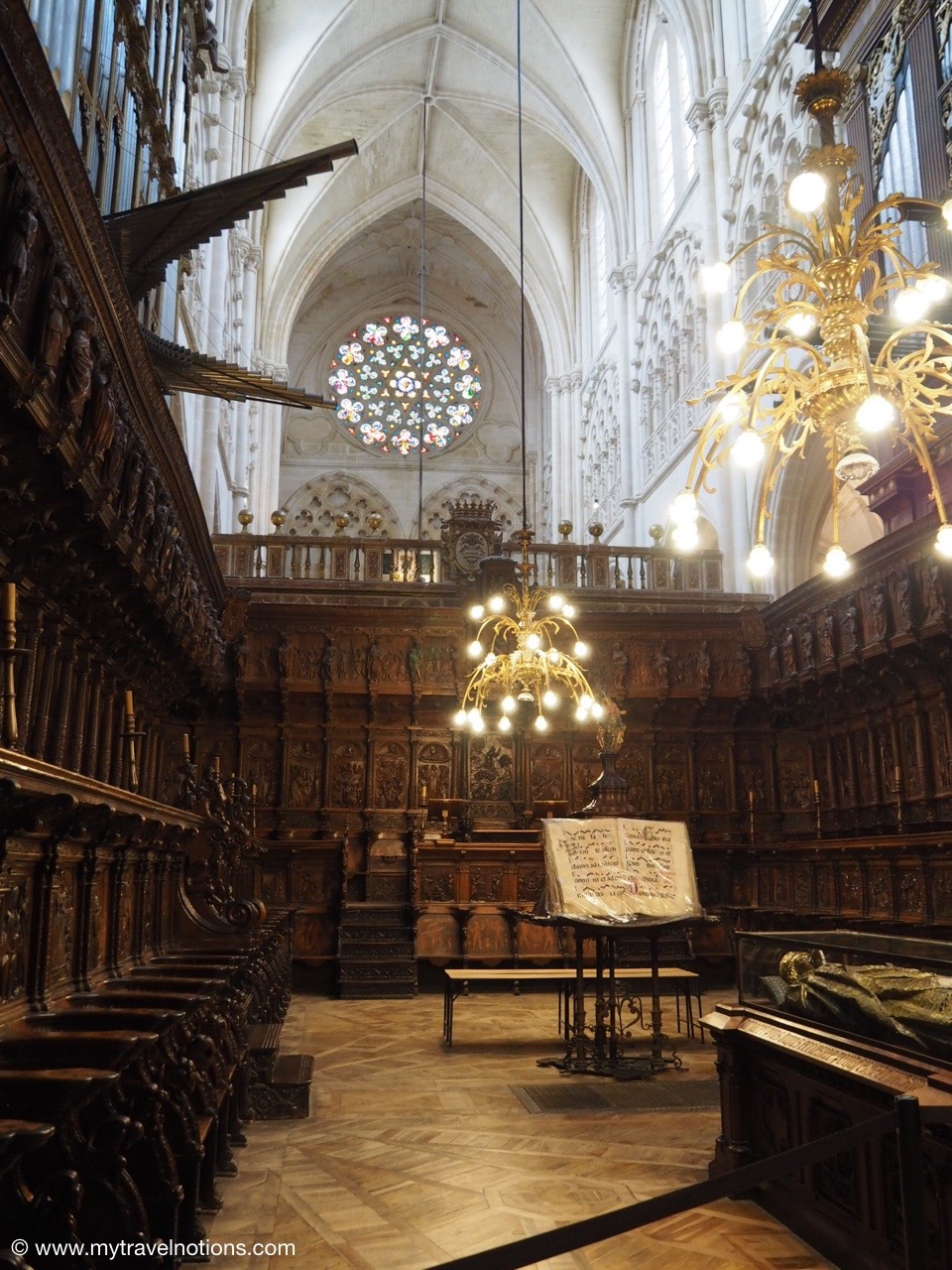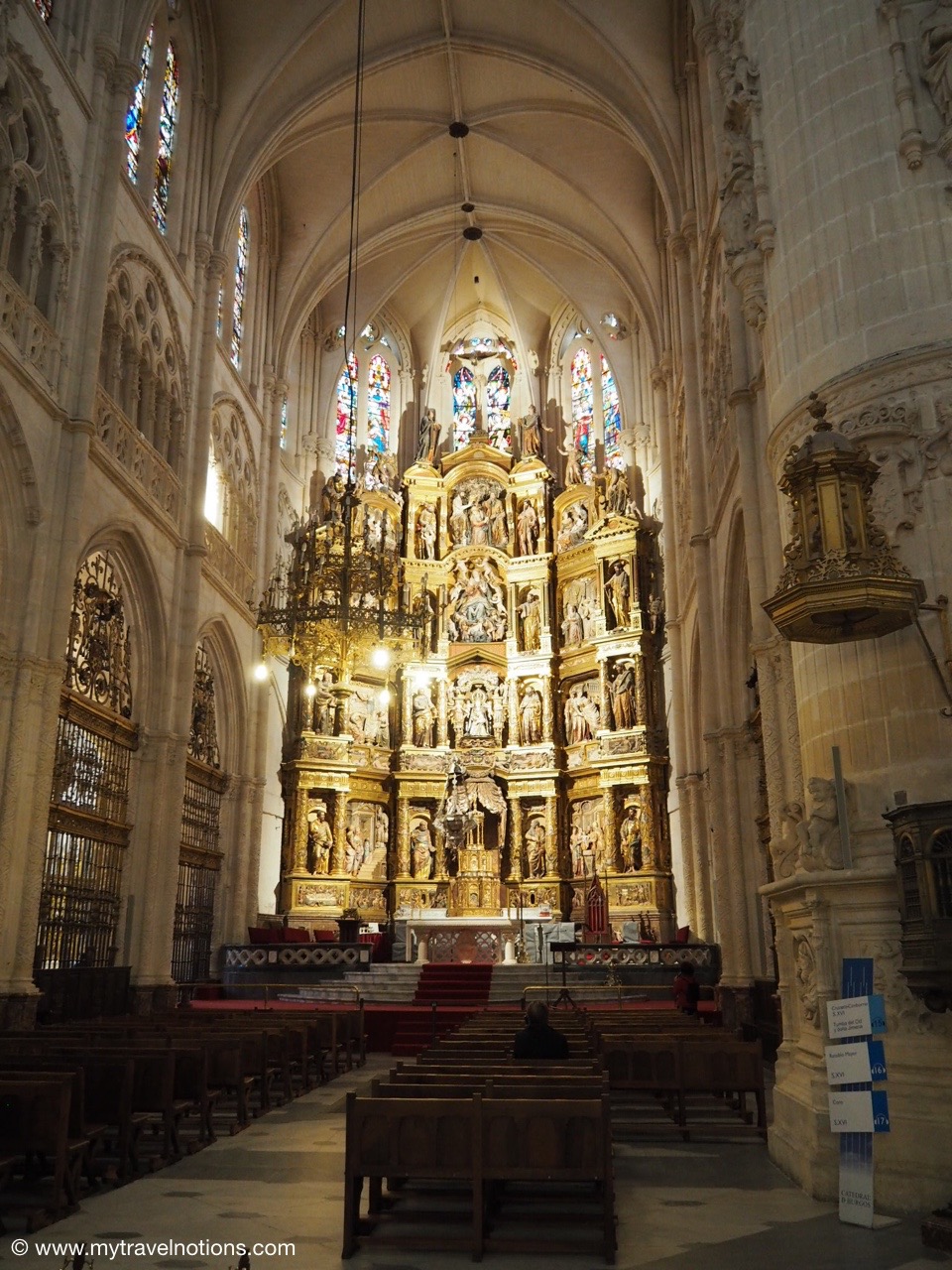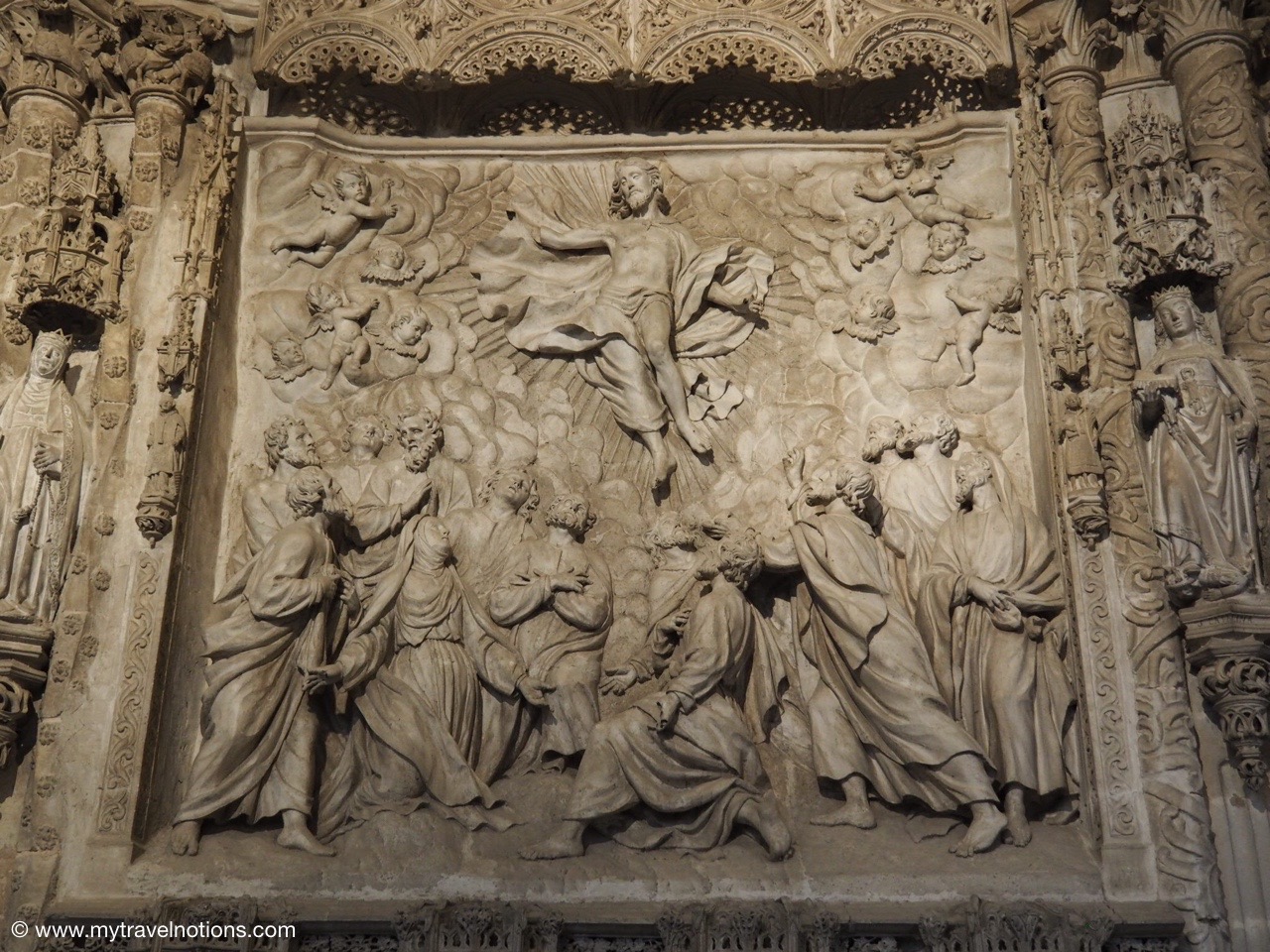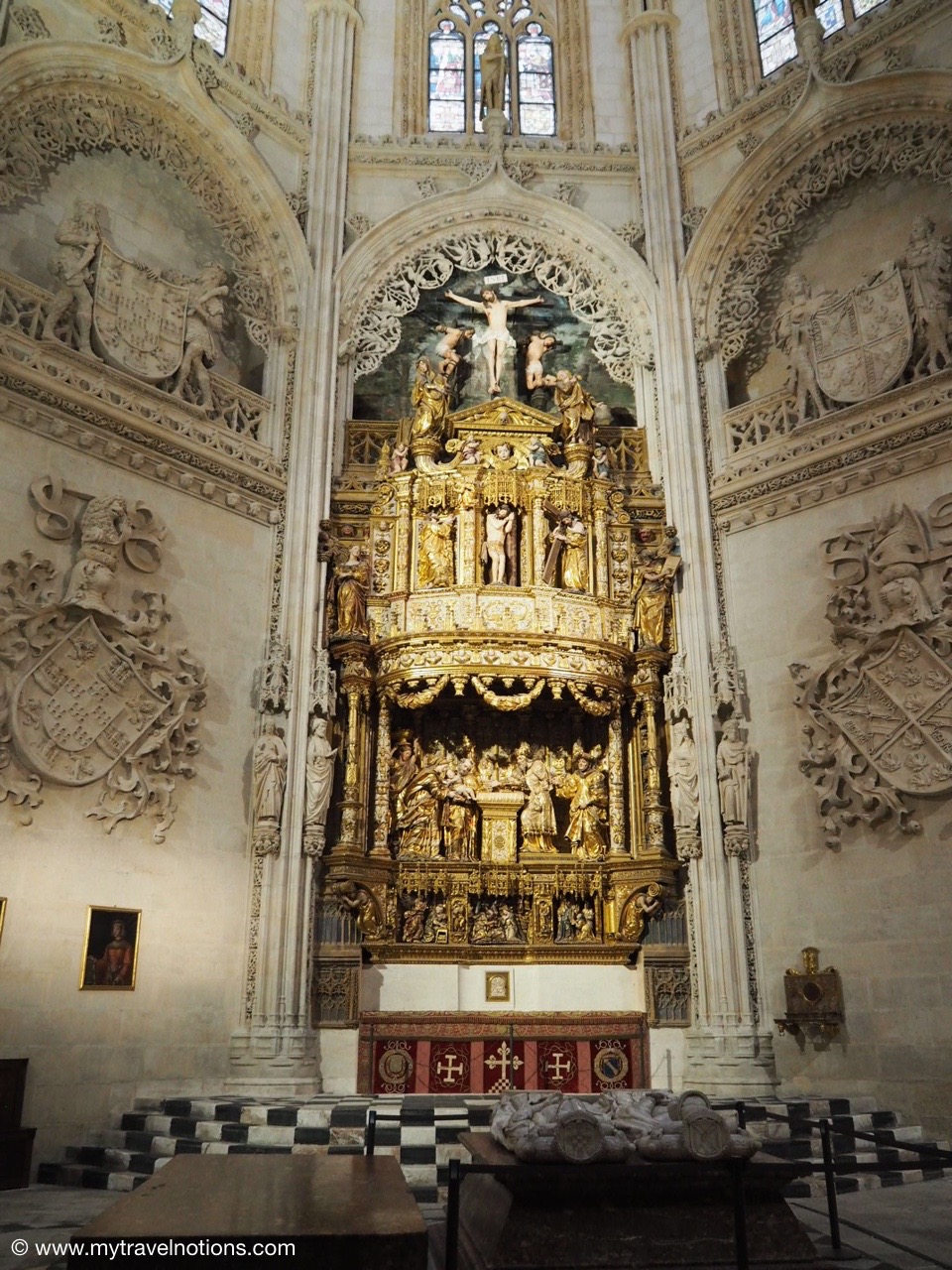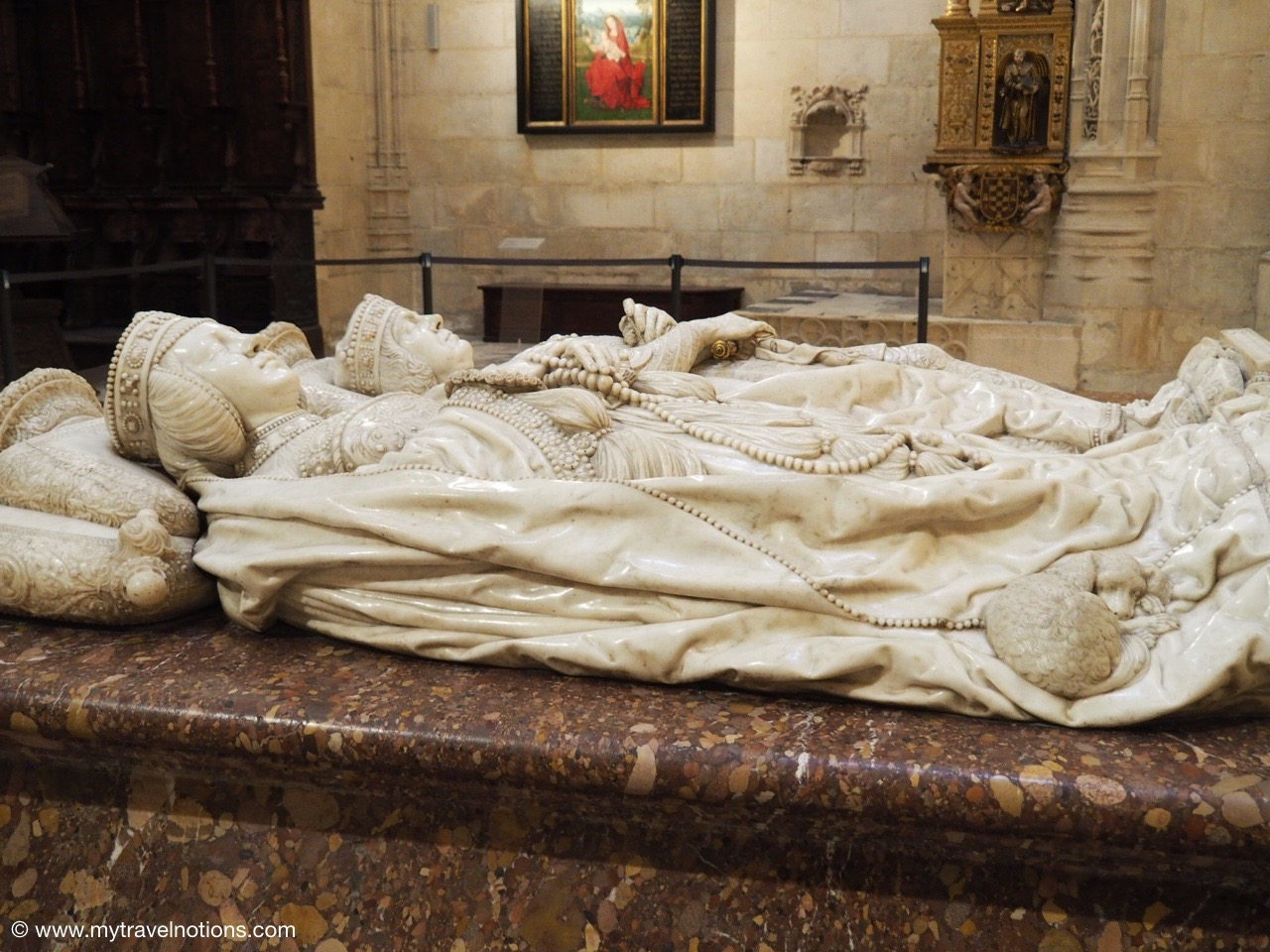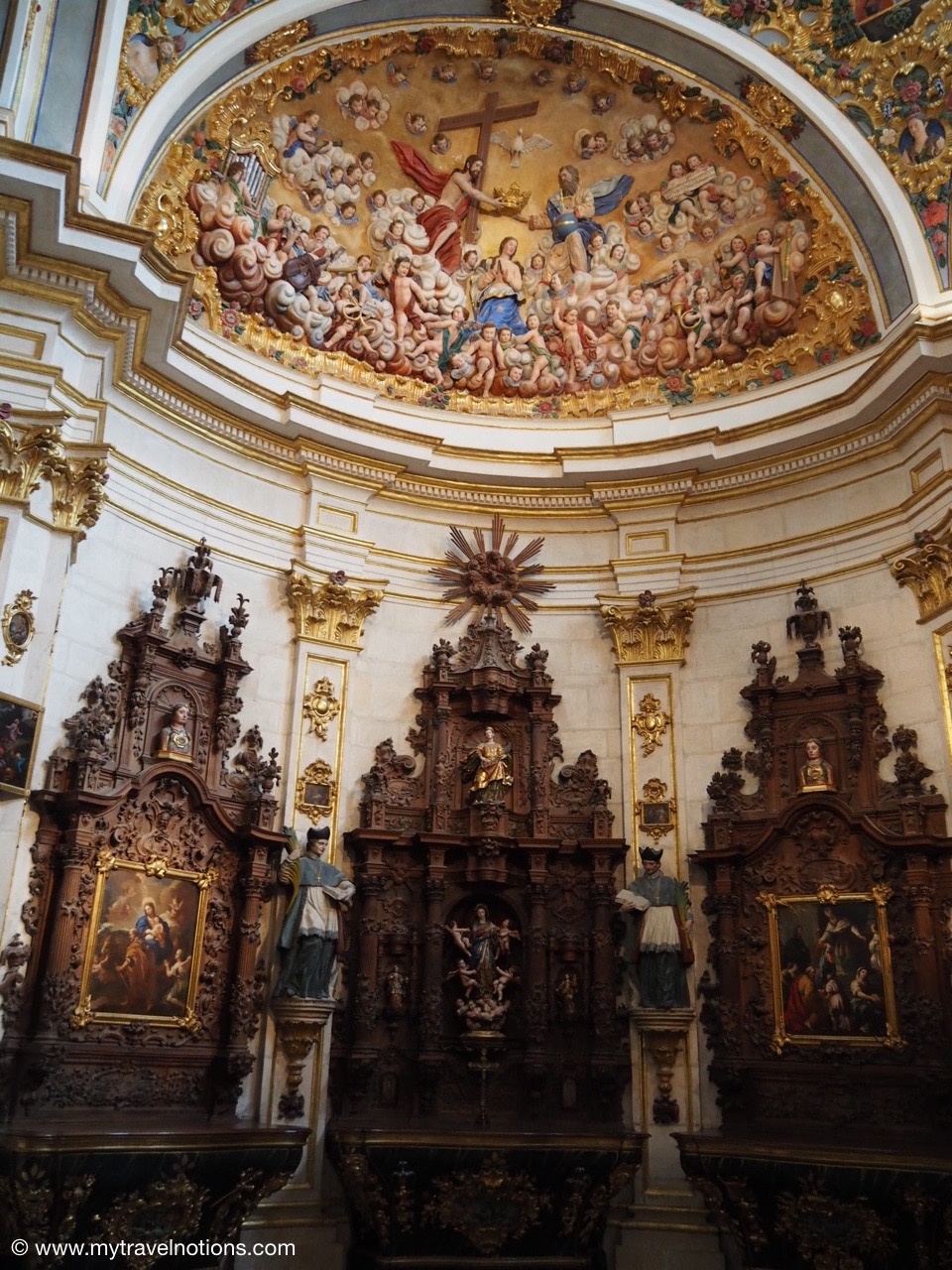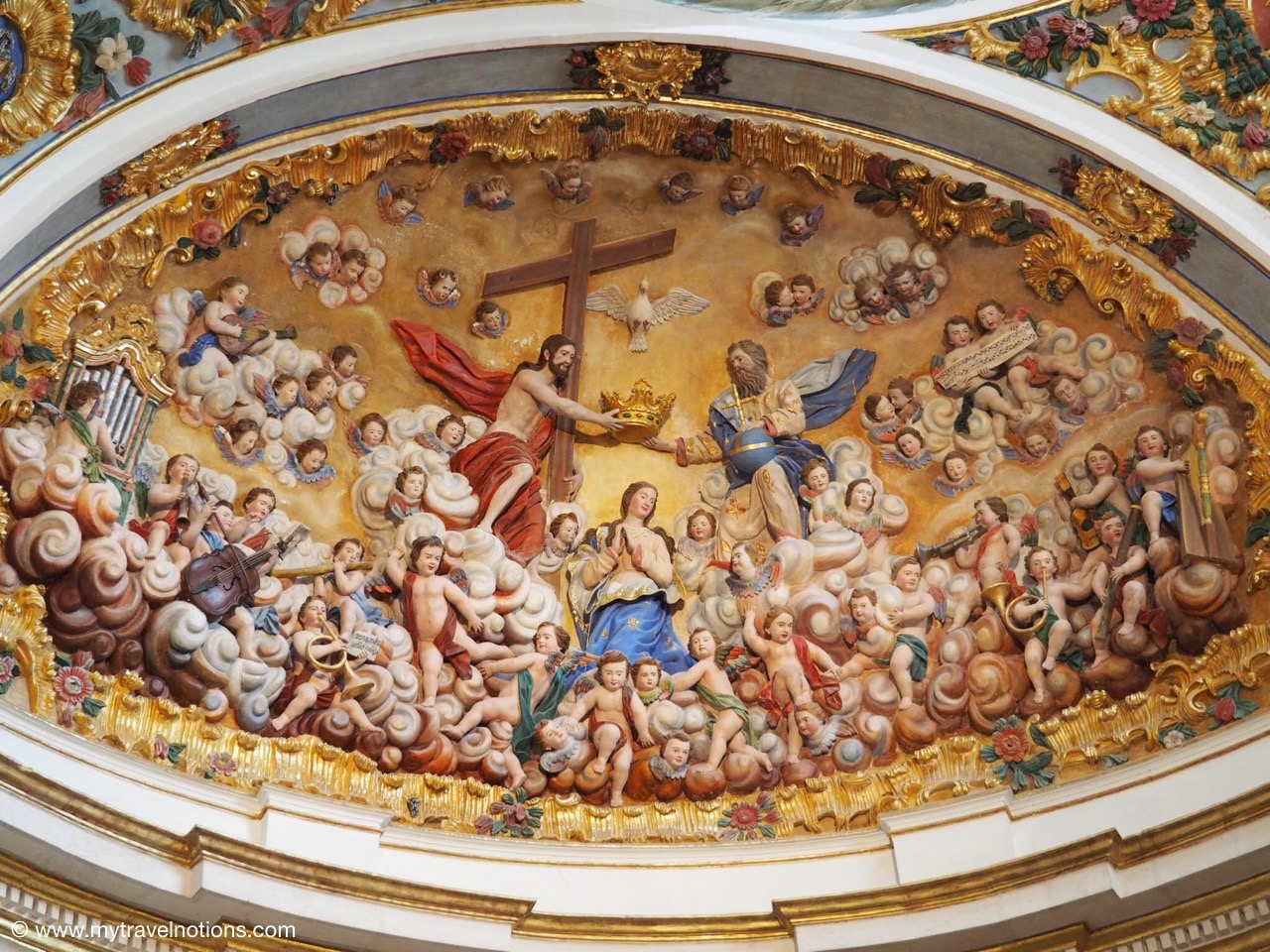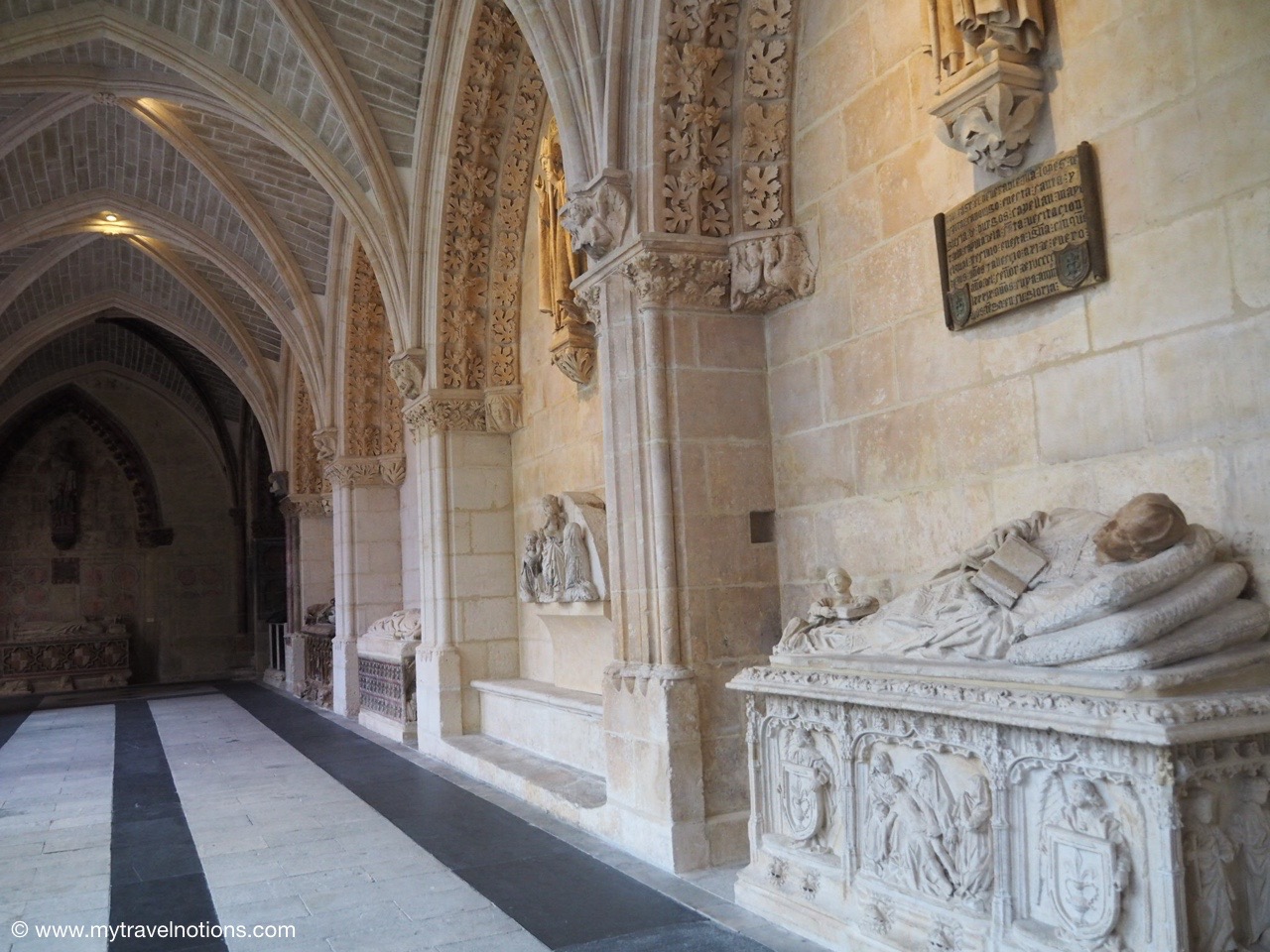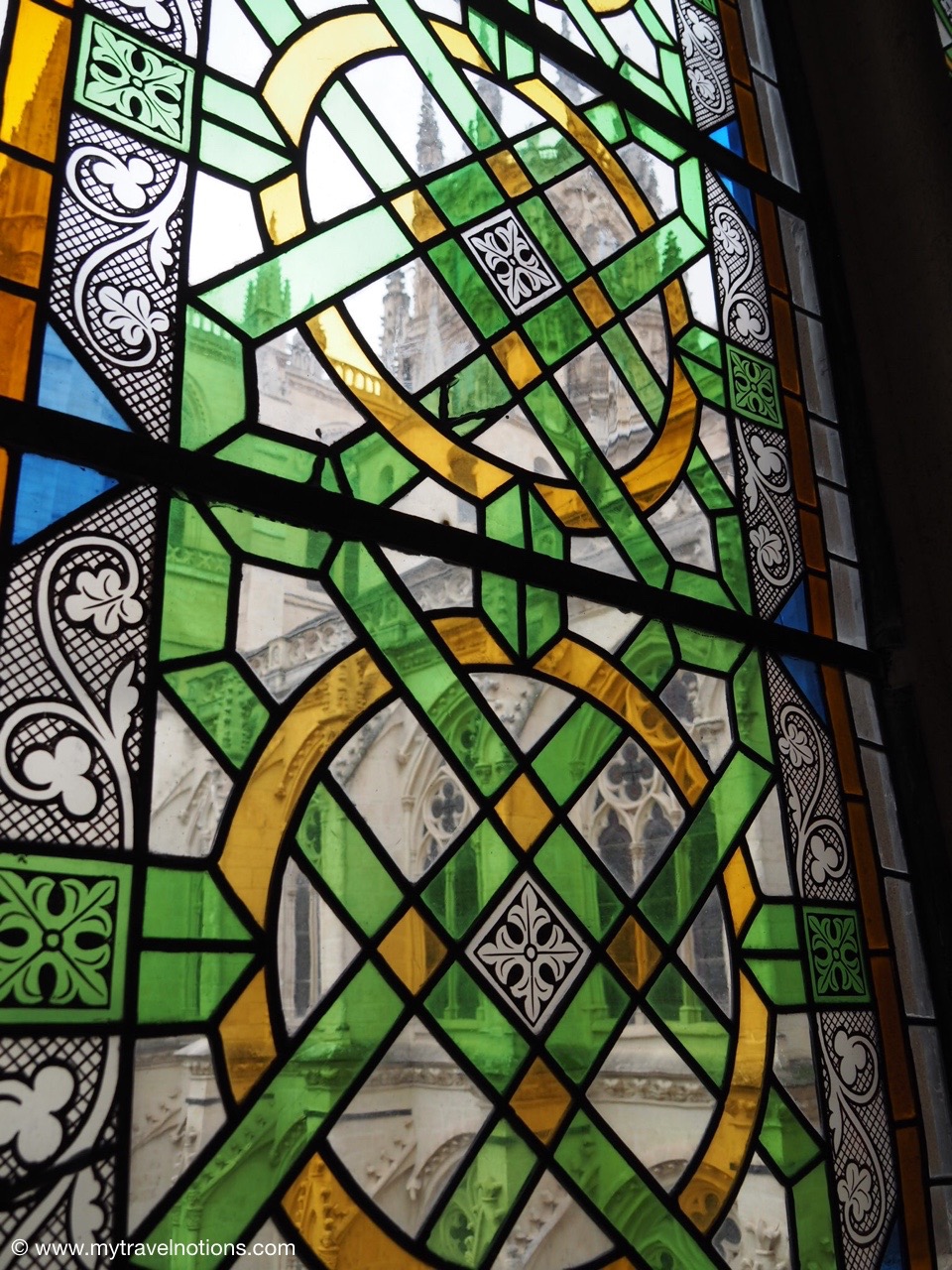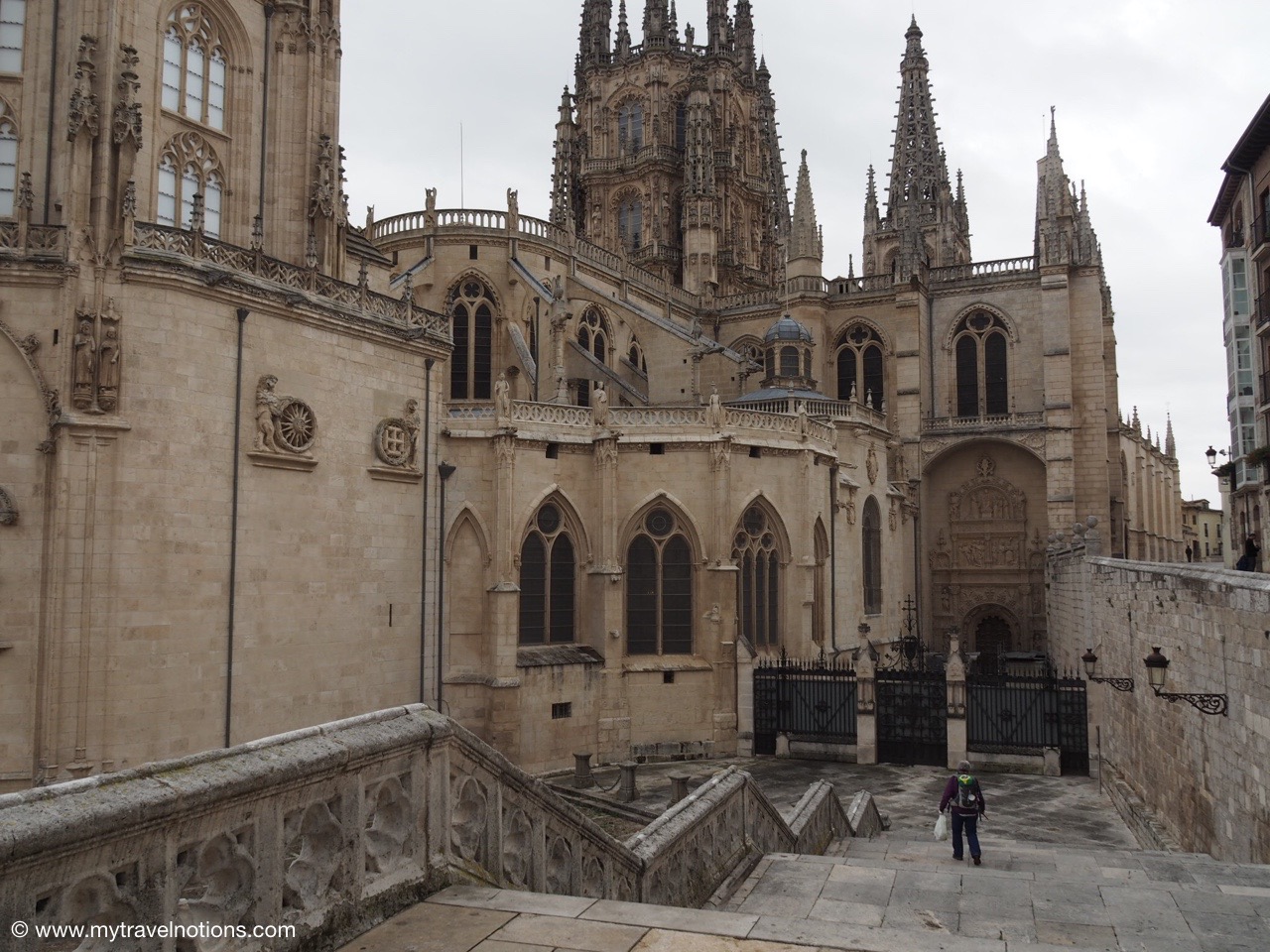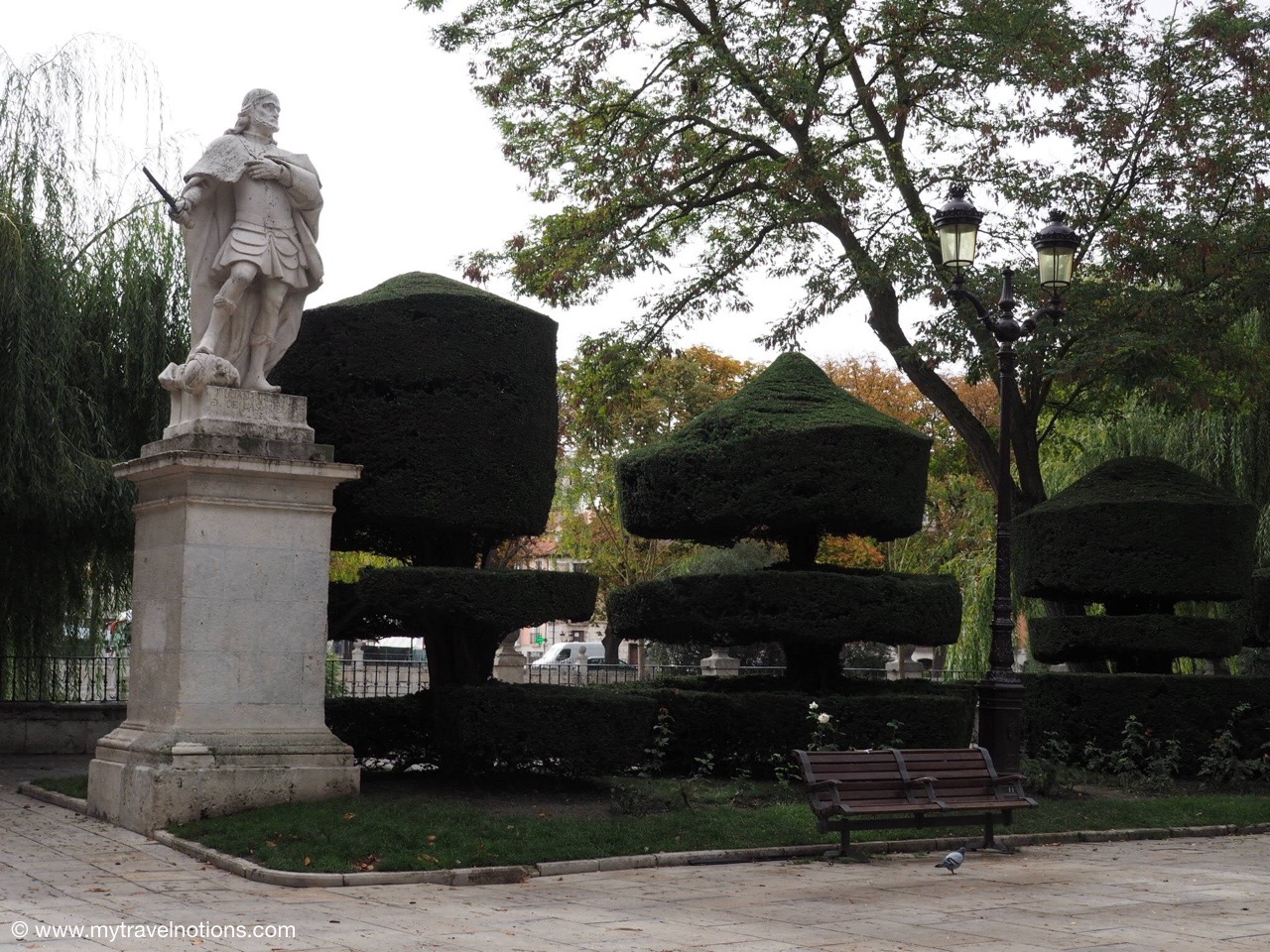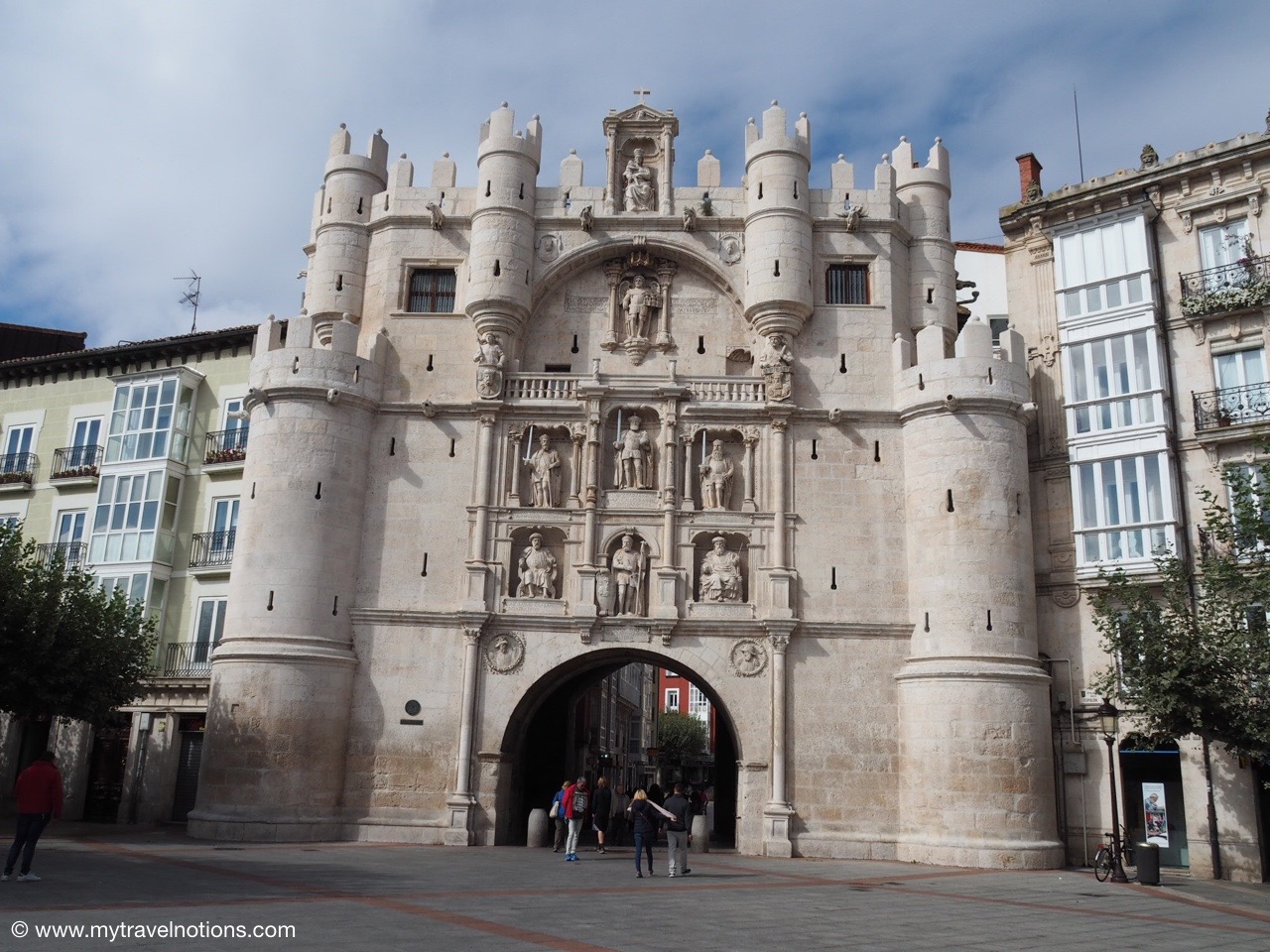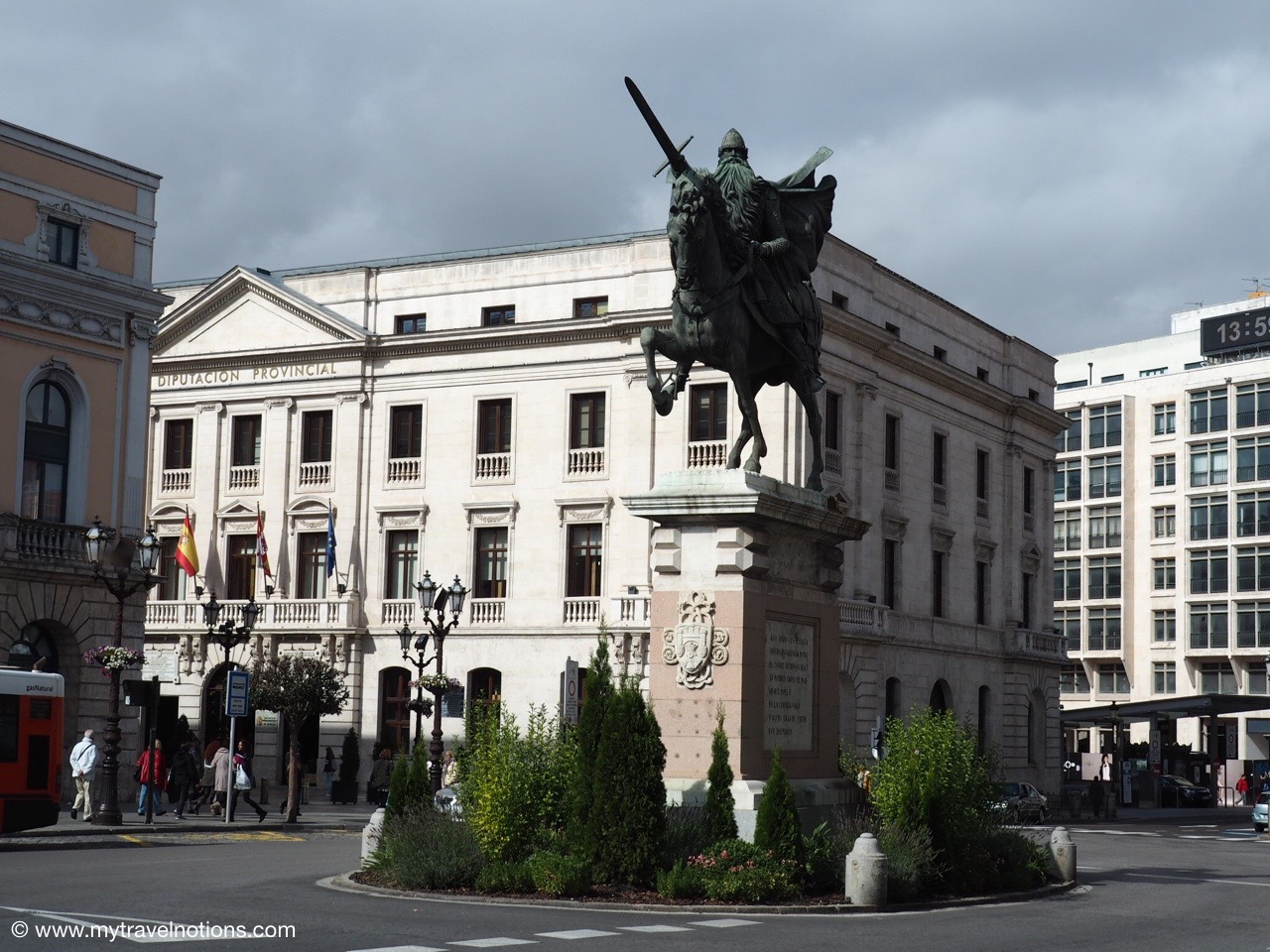 I got to Leon, Spain, early this morning when it was just the workers delivering products and the street cleaners getting things spiffed up. Plus a few tourist types like myself and the peregrinos, the pilgrims, who walk the path of St. James to Santiago de Compostela.
I like Leon. I like the feel of it and I love that it is so compact that I could walk from the train station pretty much straight into town and to the Leon Cathedral. I was prepared to pay for a cab, if it was raining, but it wasn't and the 15 minute walk into town felt good.
It's interesting that one of the first few things I came across was Antoni Gaudi's palace called Casa de los Botines and a statue of Gaudi himself sitting on a bench in front of the palace. I love Gaudi's work and got to see quite a bit of it while I was in Barcelona with my brother and sister-in-law. It was a great way to start my day.
And, then just a brief walk up the Calle Anche brought me to one of Leon's crowning glories, the Leon Cathedral. Like Avila and Burgos, the cathedrals are massive and dominate the area they're in. But the Leon Cathedral is different, at least on the inside because it has stunning stained glass galore. Officially it is called the Santa Maria de Leon Cathedral and construction of the Gothic cathedral began around 1205 but foundation problems delayed the work until 1255 under the leadership of Bishop Martín Fernández with the support of King Alfonso X of Castile and León. Fernandez is buried in the cathedral.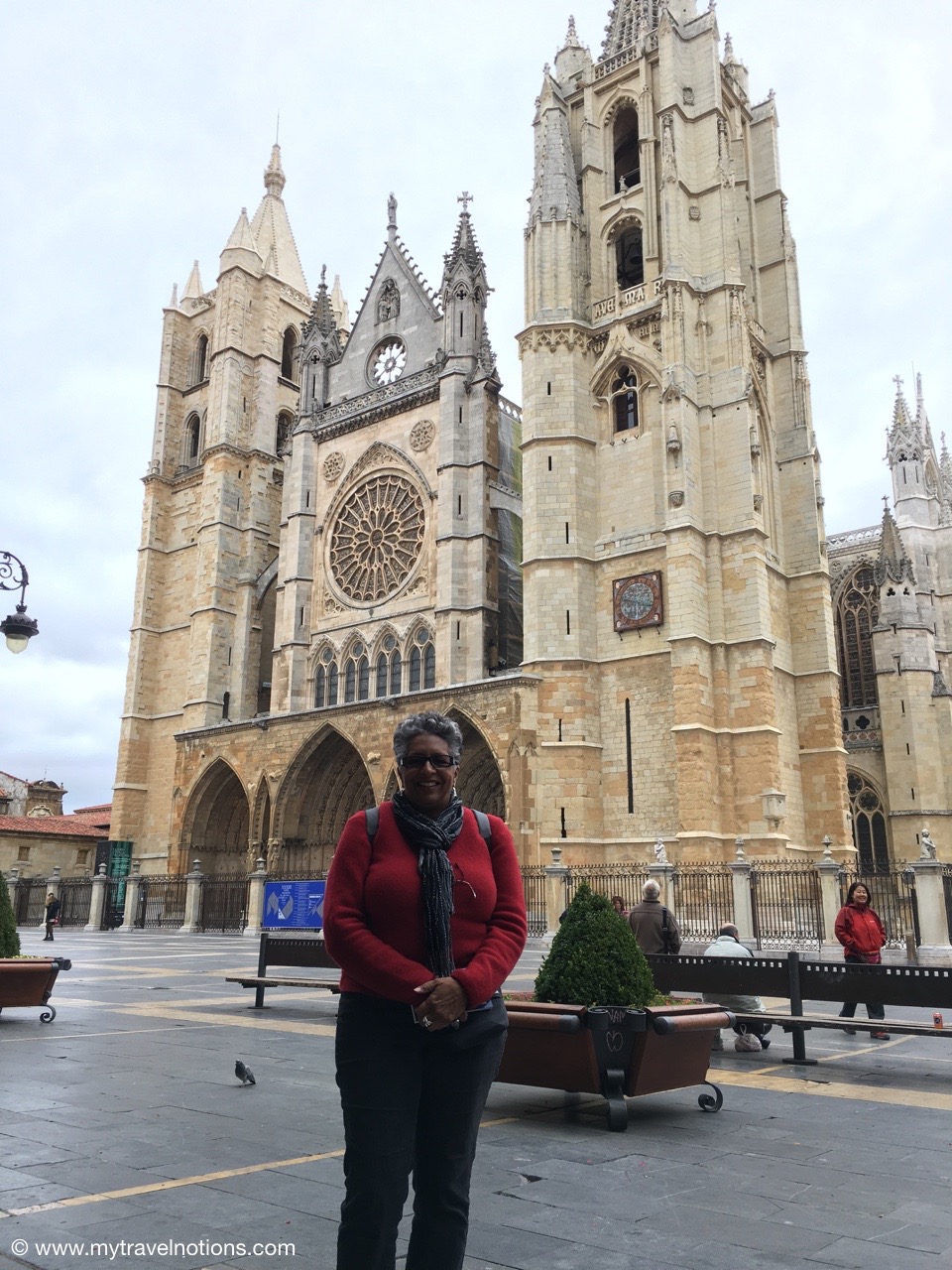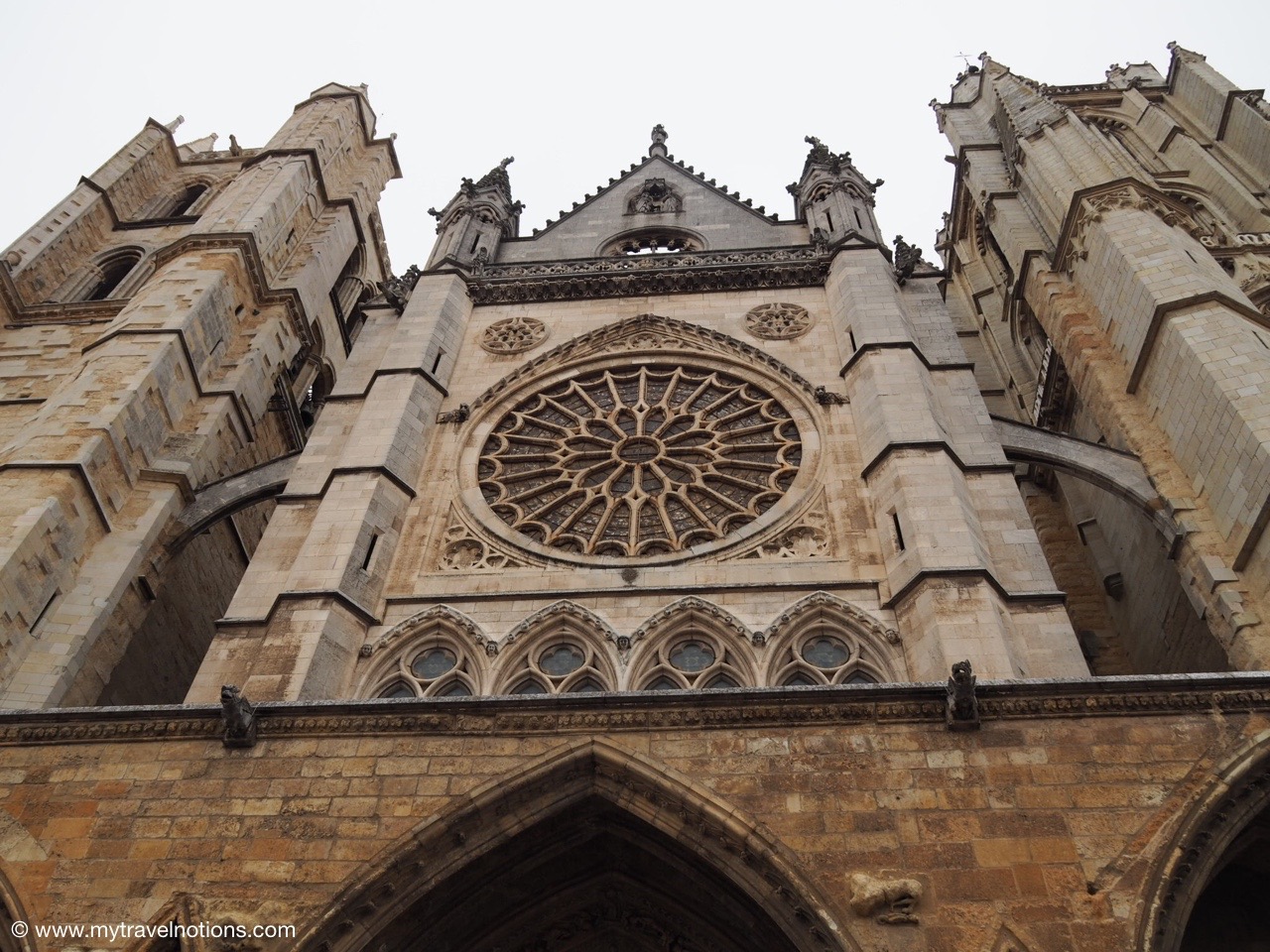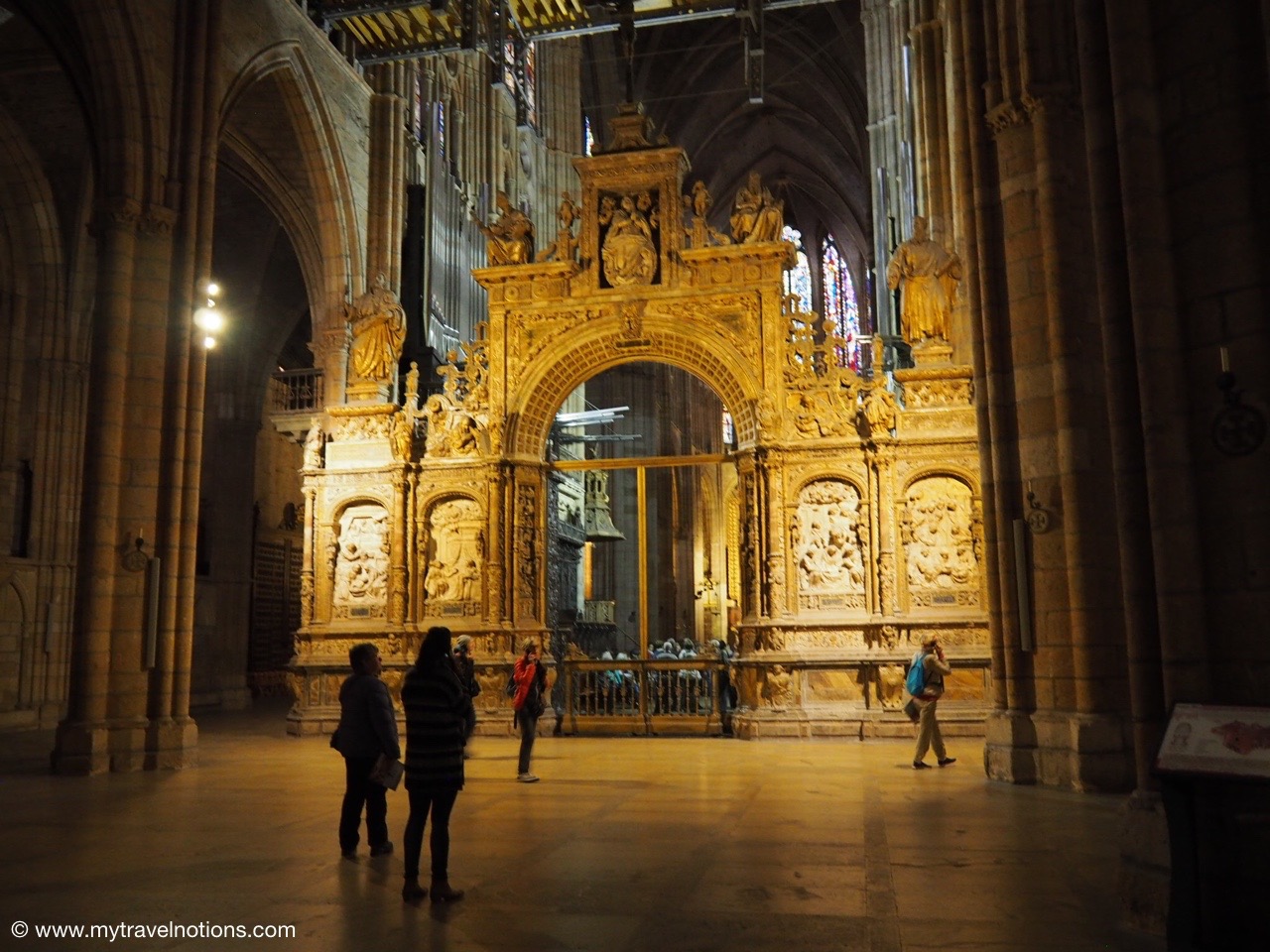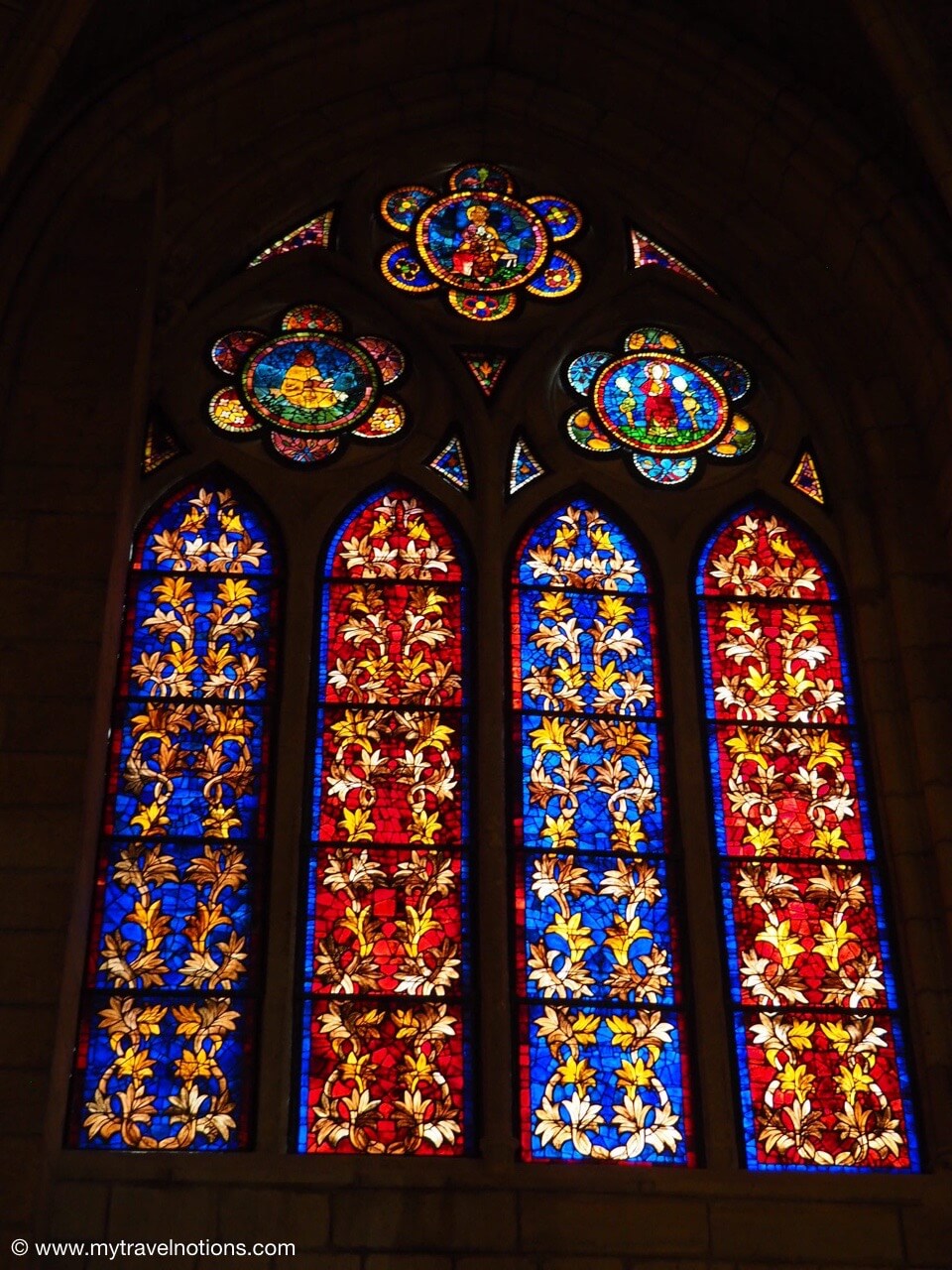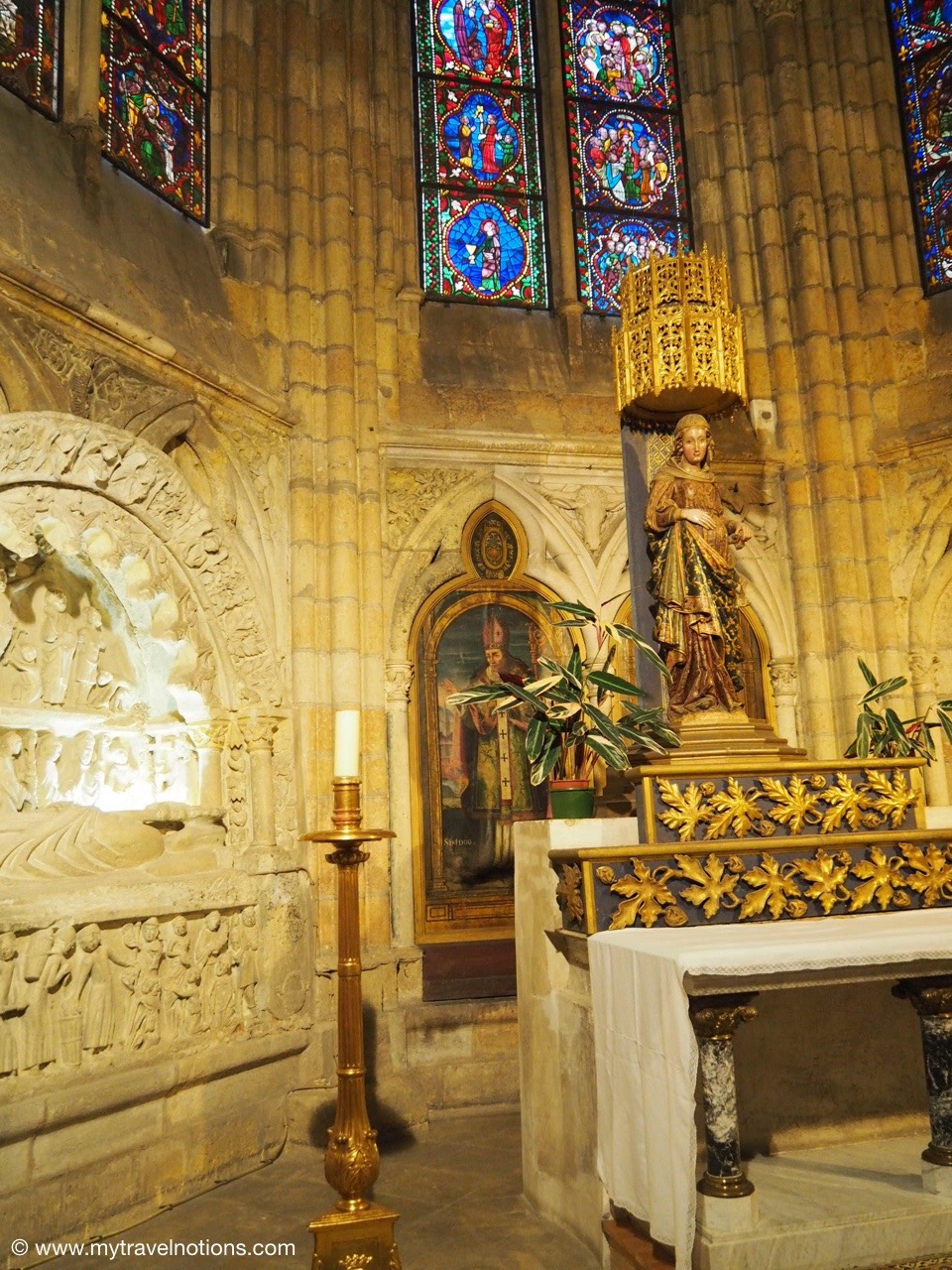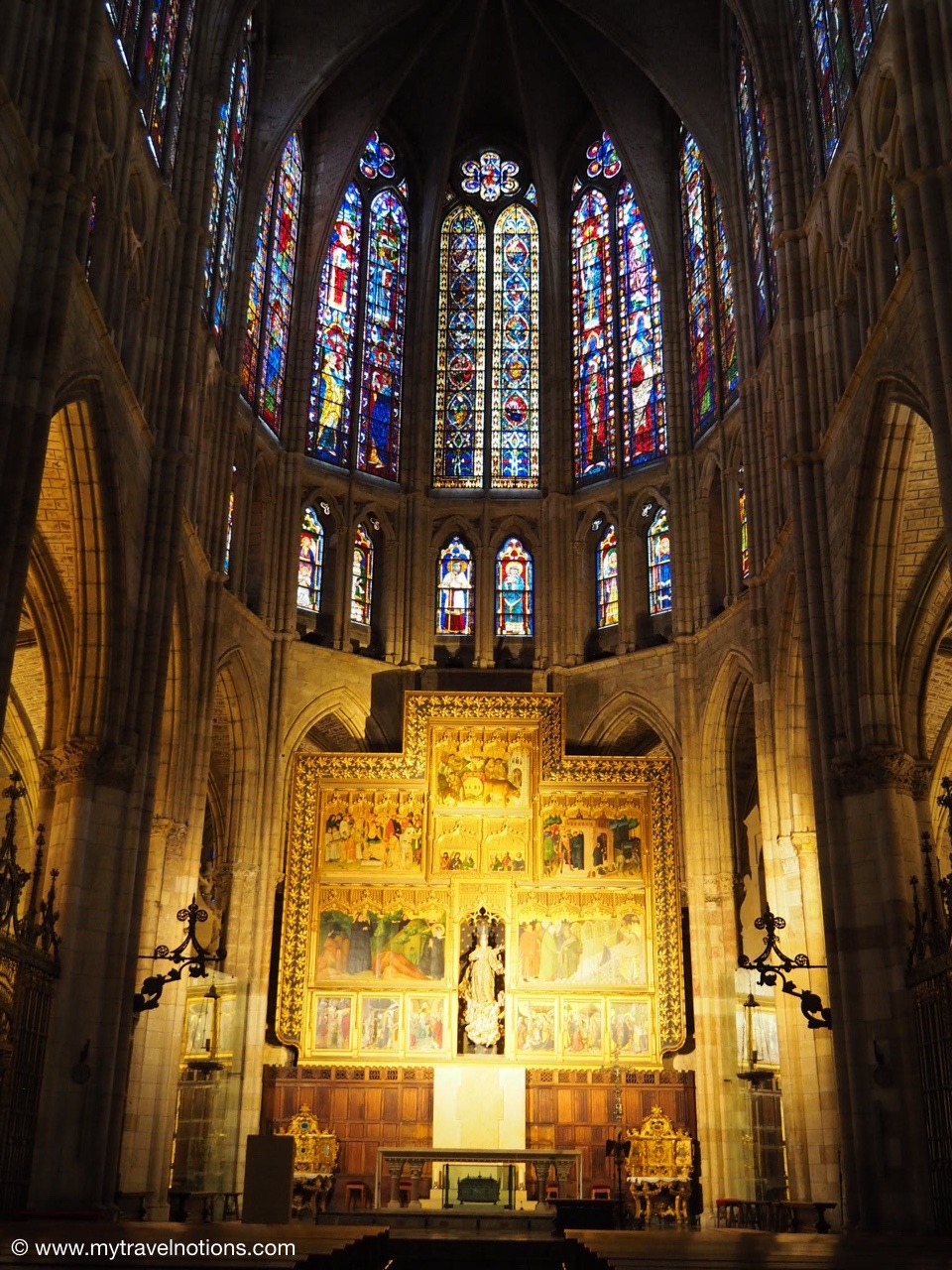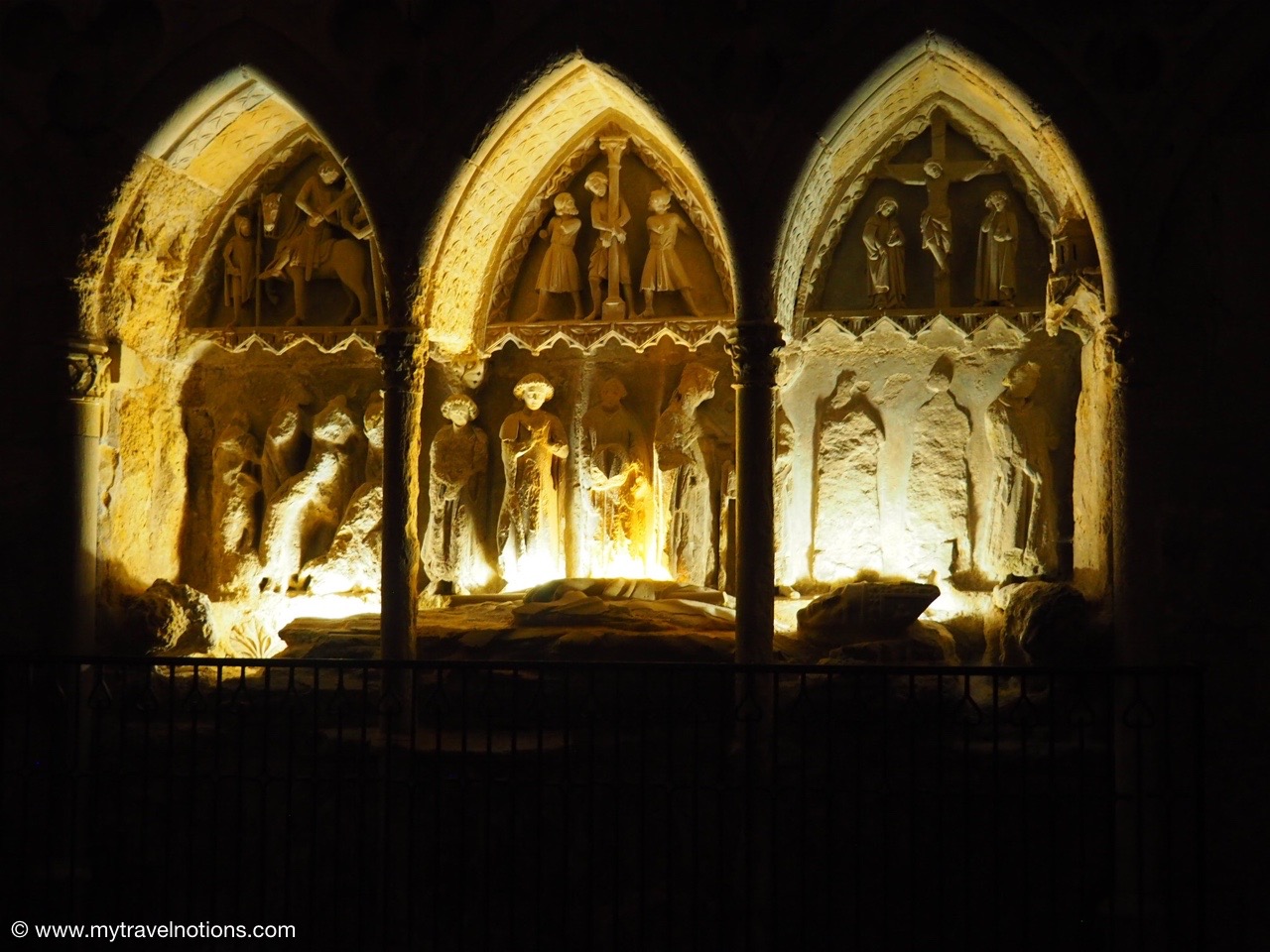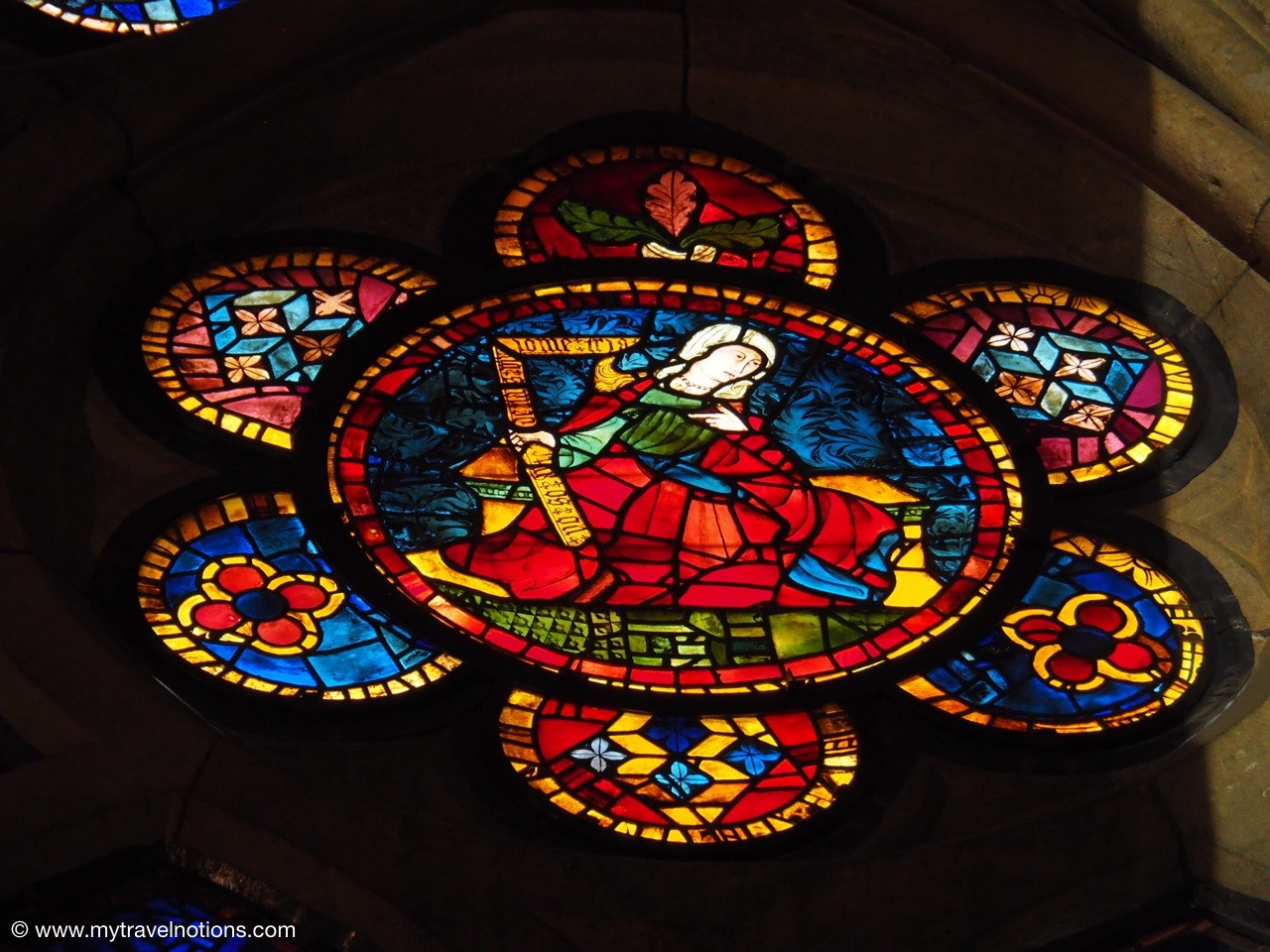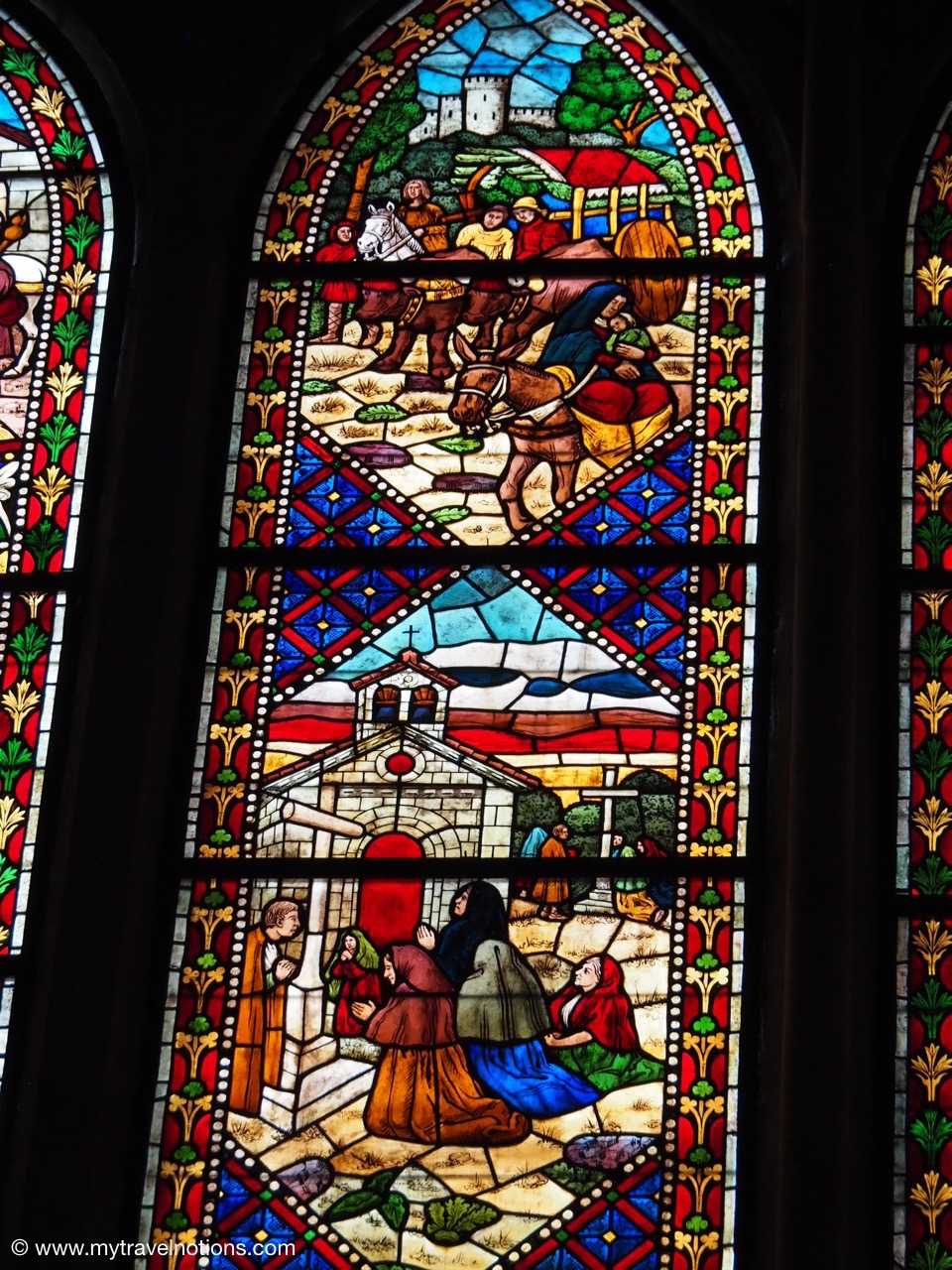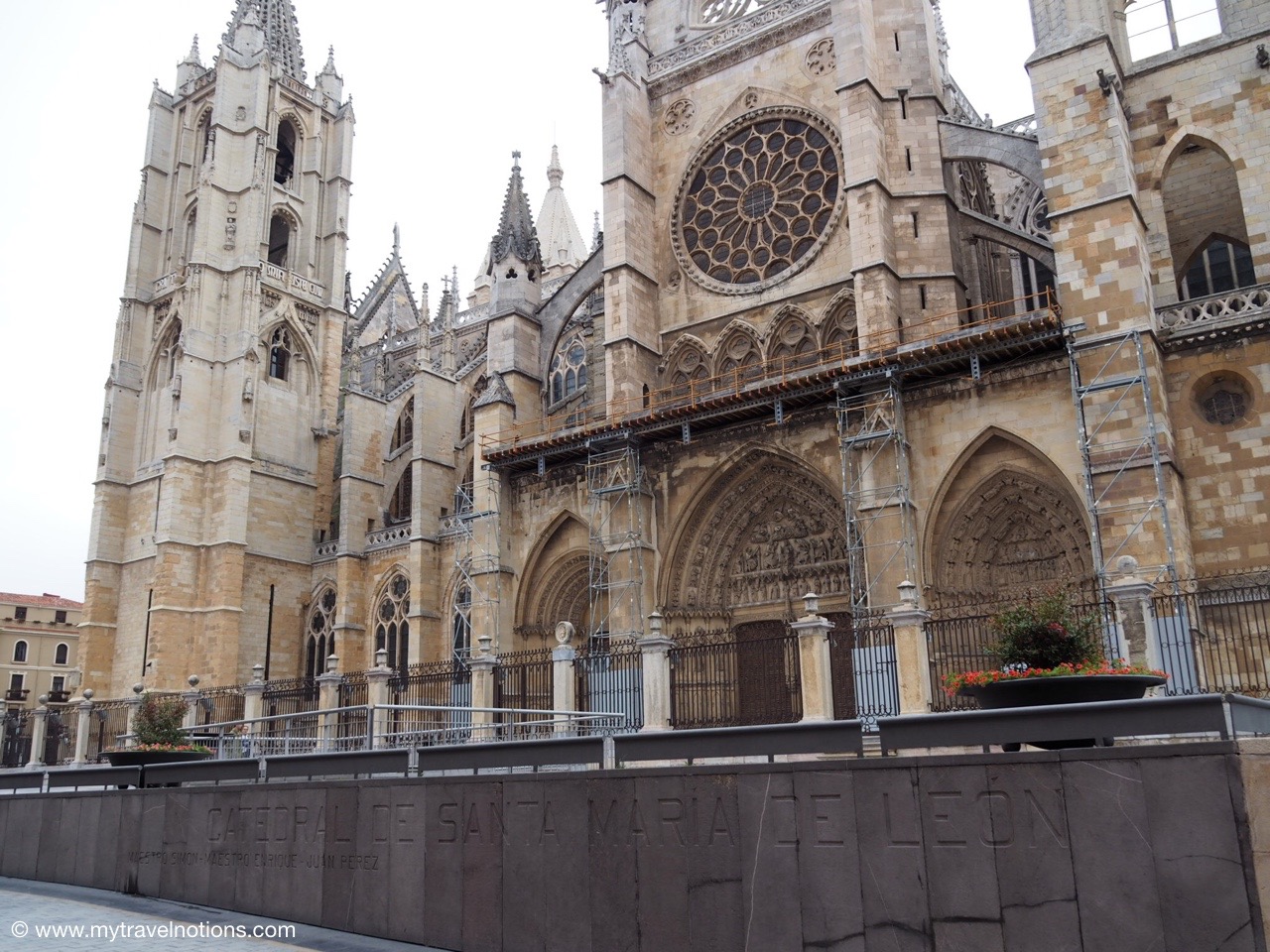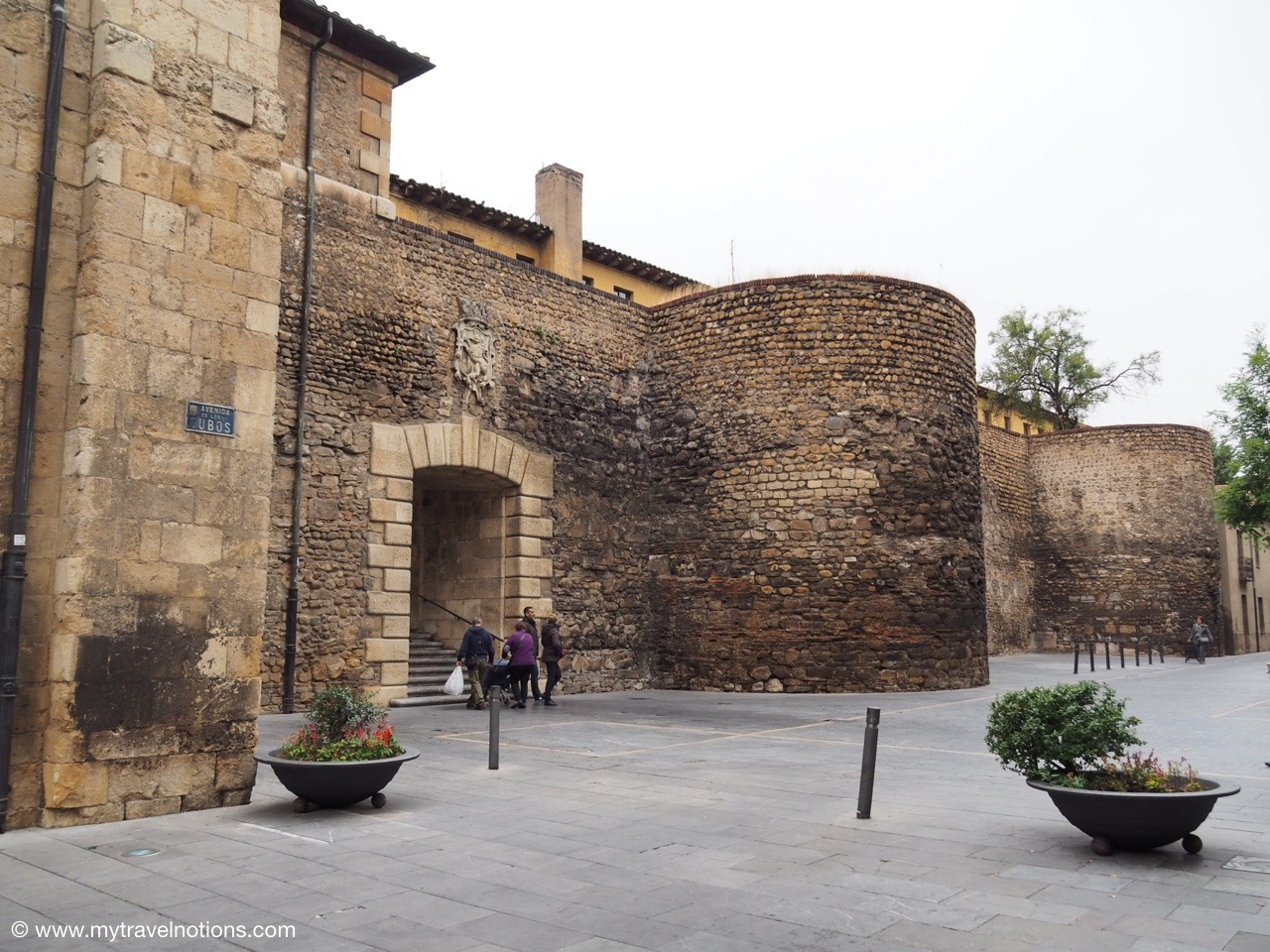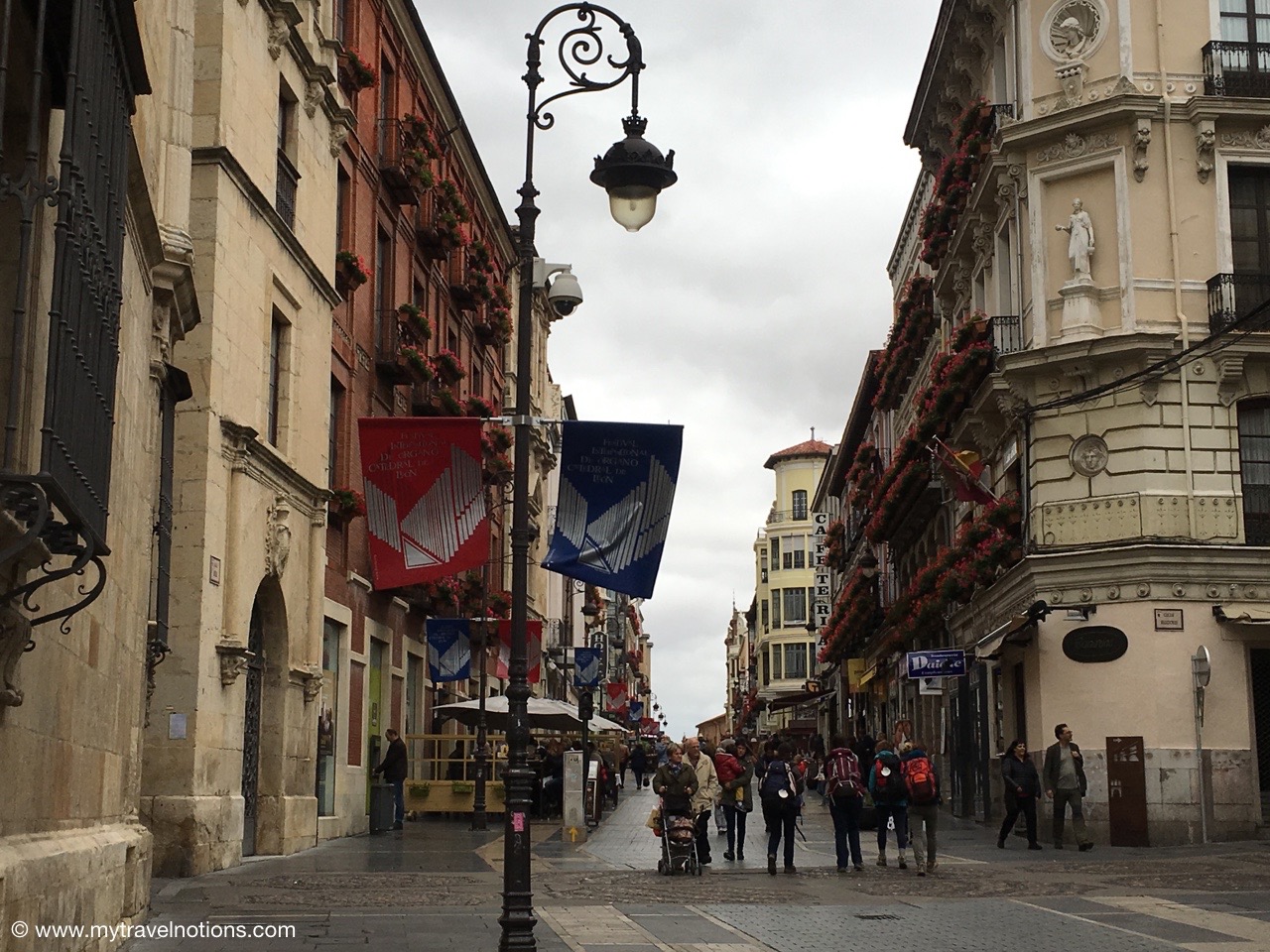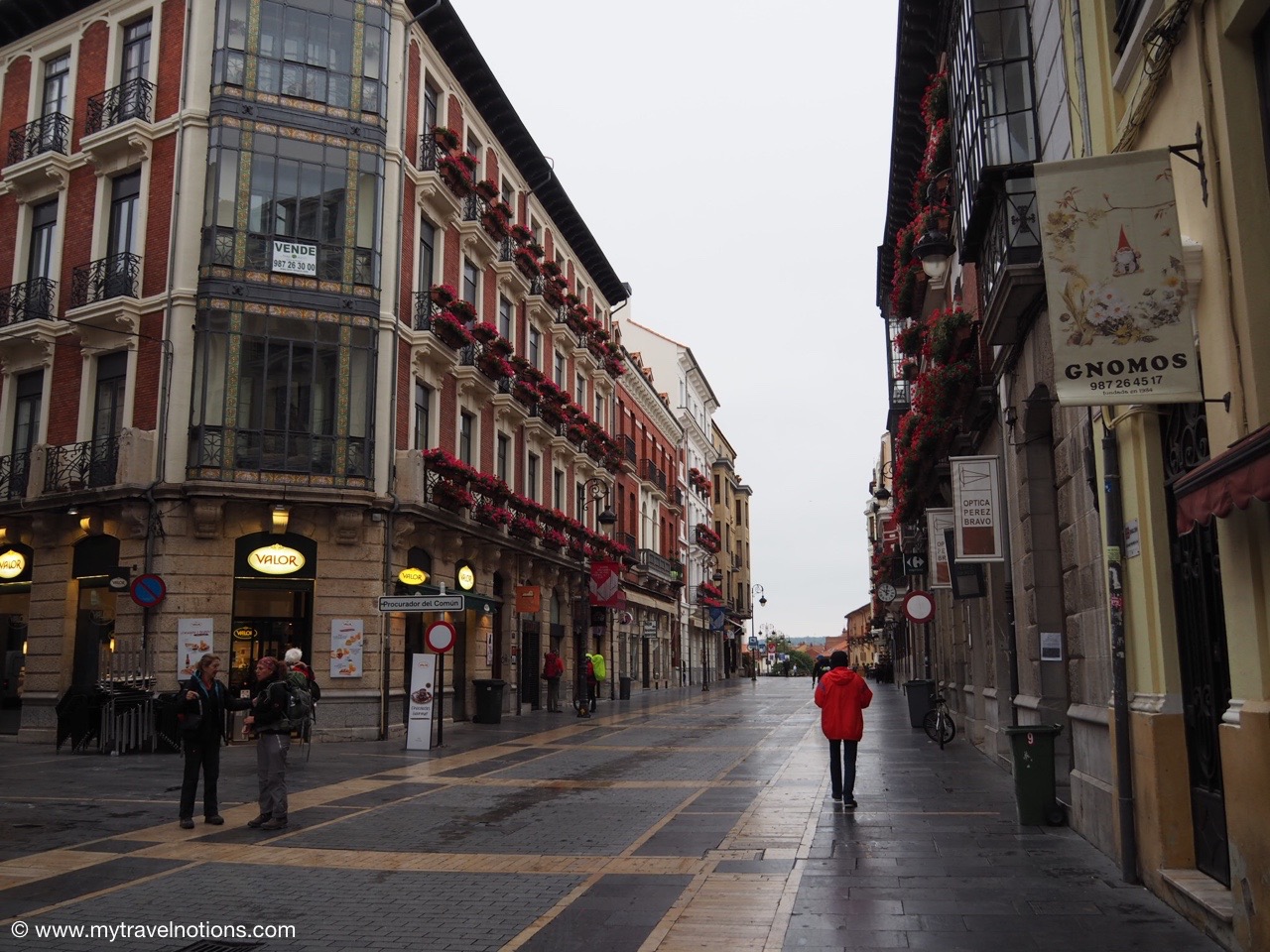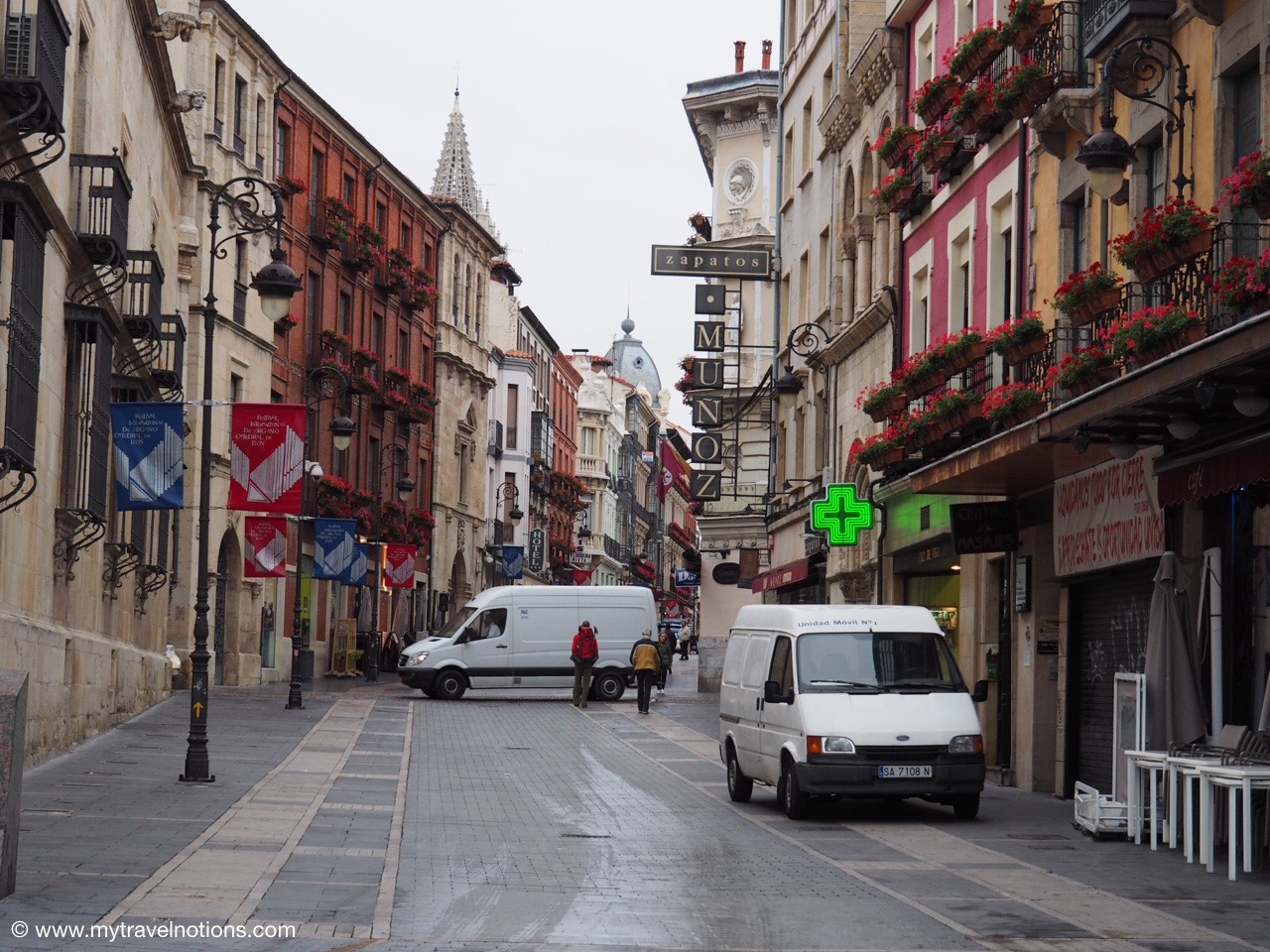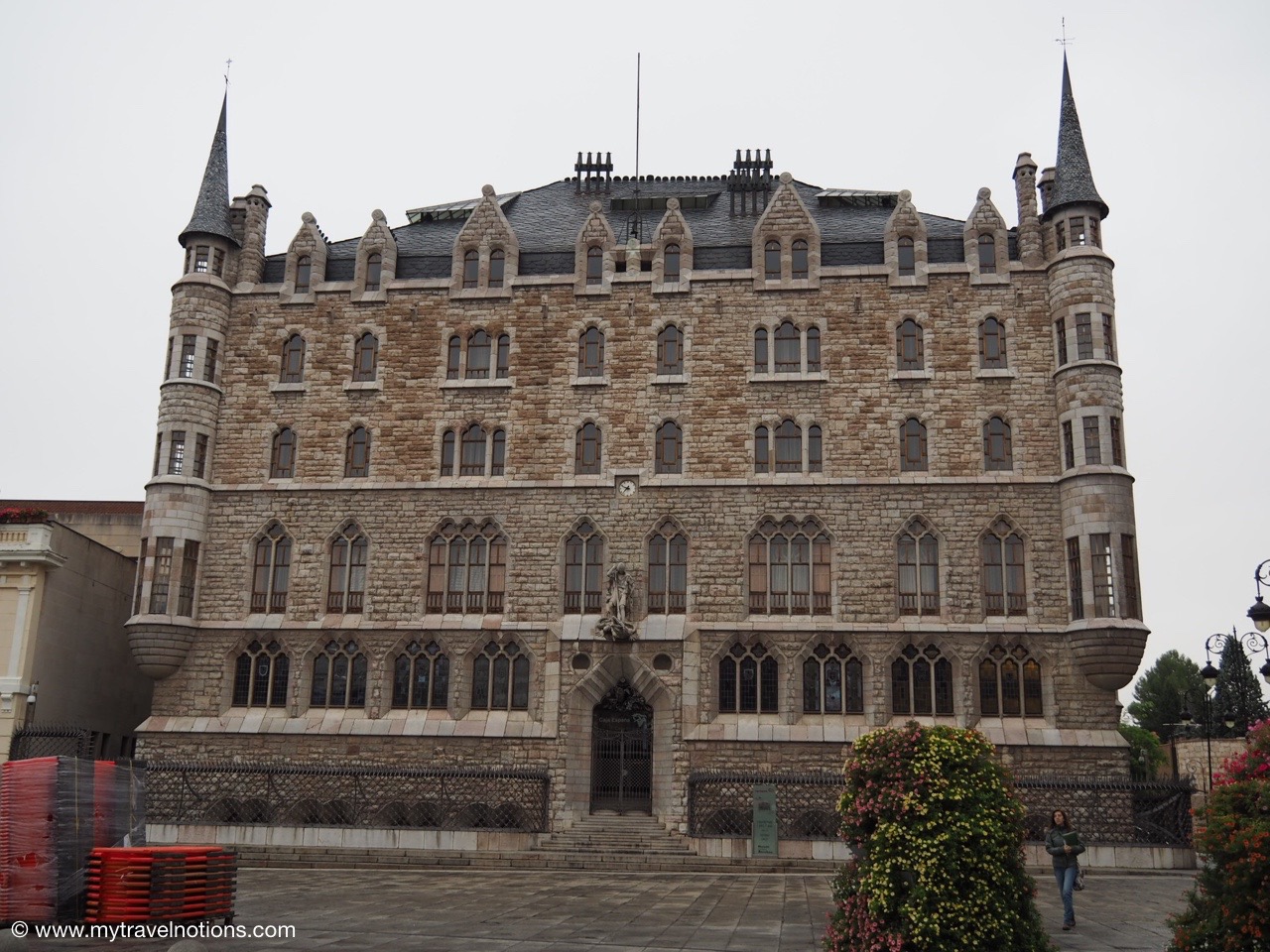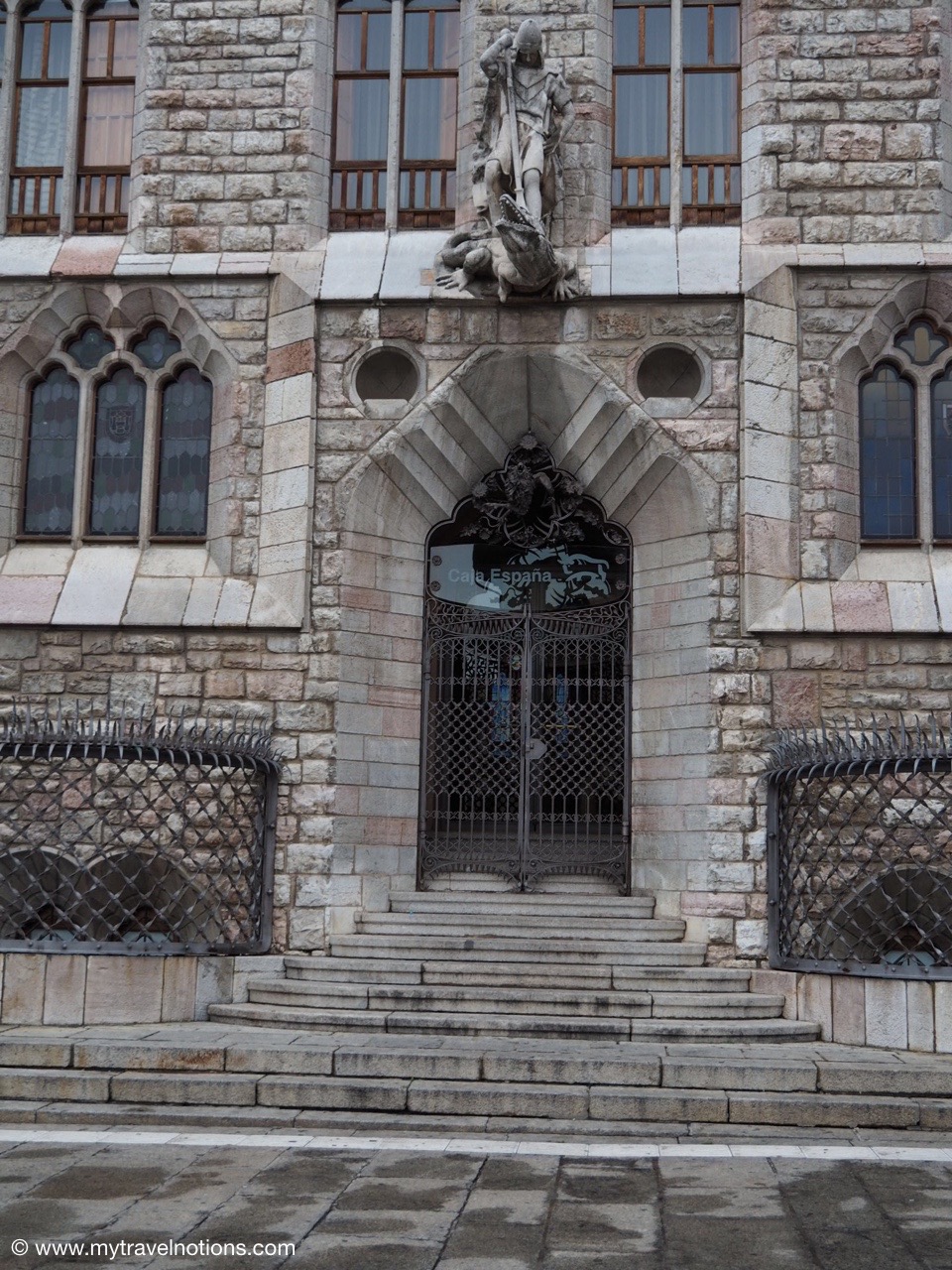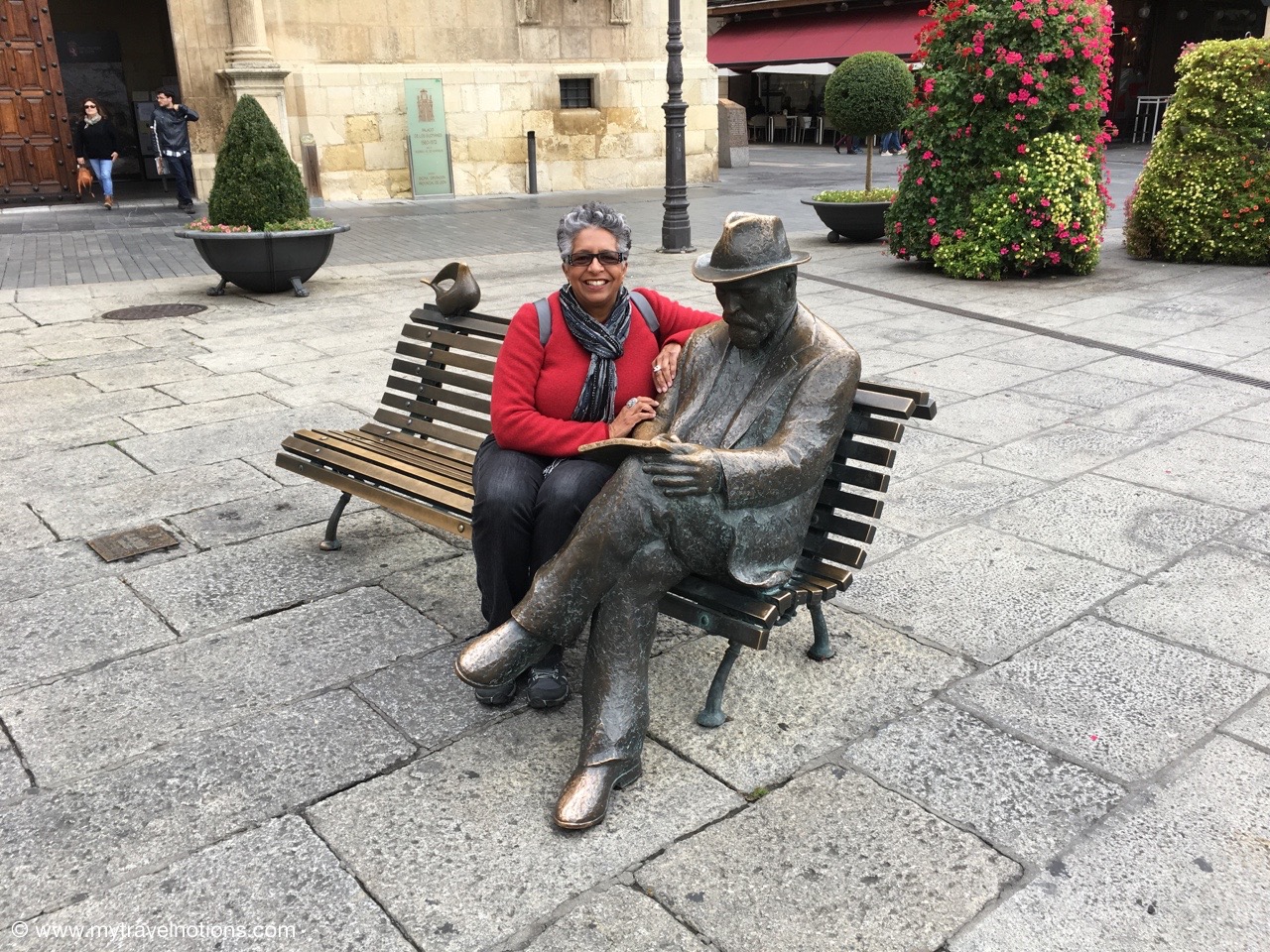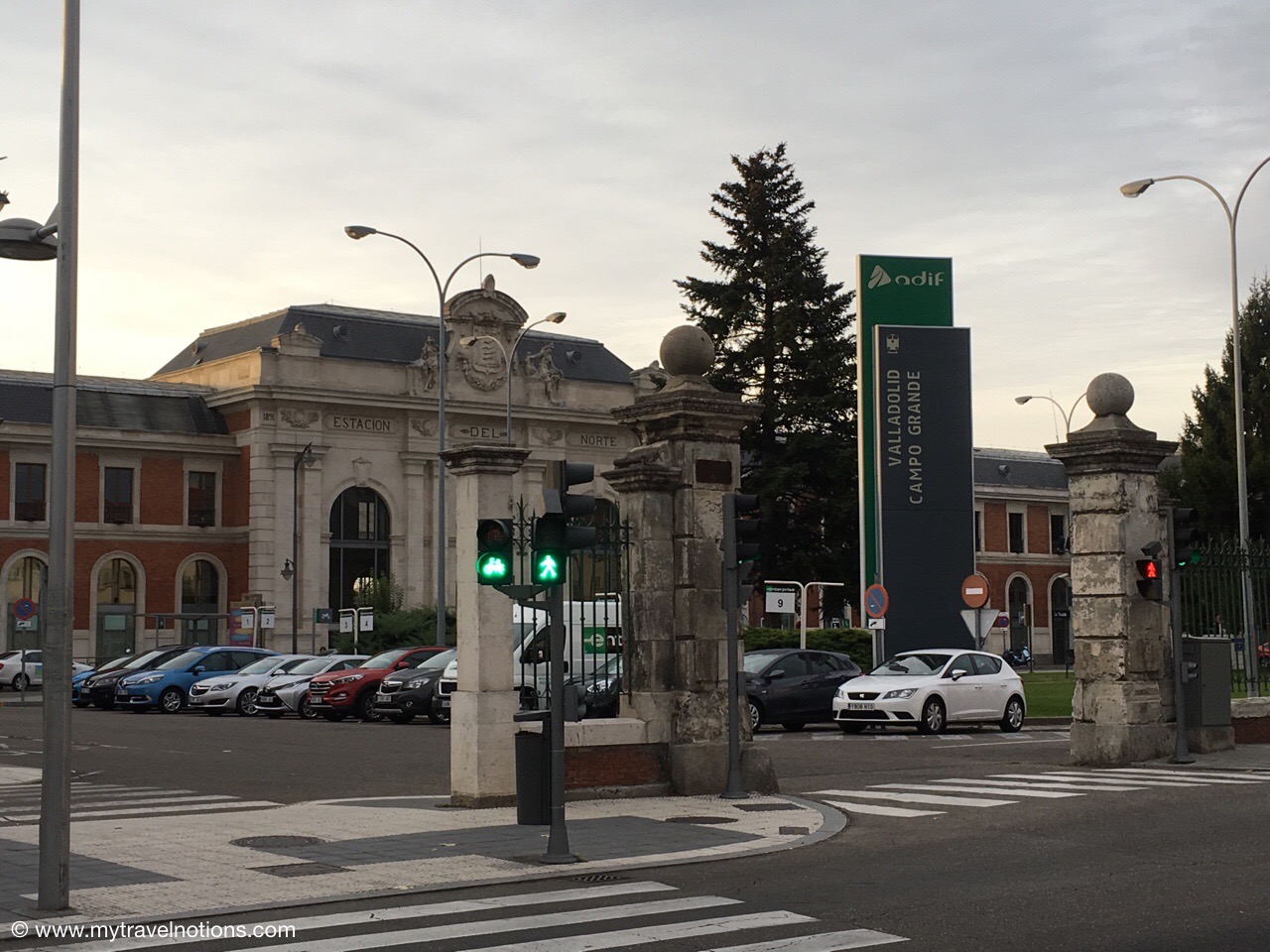 Today, I leave my home base in Spain's Castillo region in Valladolid to enjoy the Andalusia region in Seville.
If there is such a thing as an old town Spain that brings together the feel, the history, the depth of the Spanish culture with that Moorish infusion in such a vibrant and consuming way, for me, it is…Seville. The old town with its Seville Cathedral is simply majestic magic. Construction began on this Gothic cathedral in 1402 and continued until 1506. Its presence looms as a stately and regal treasure.
Thank you Valladolid for being my home base and welcoming me to the Castilian region of Espana. I so enjoyed my stay. The historically enticing cities of Avila, Burgos and Leon were a joy to explore and experience.
It's now time to explore the Andalusian region of Espana. And, as for Seville, I was last in this city some six years ago. I loved it then and that attachment has not waned. For me, I've saved the very best of my Spain trip for last and can't wait to delve deeply into your richness. I'm completely enamored by Seville and the Andalusian region and ready to explore.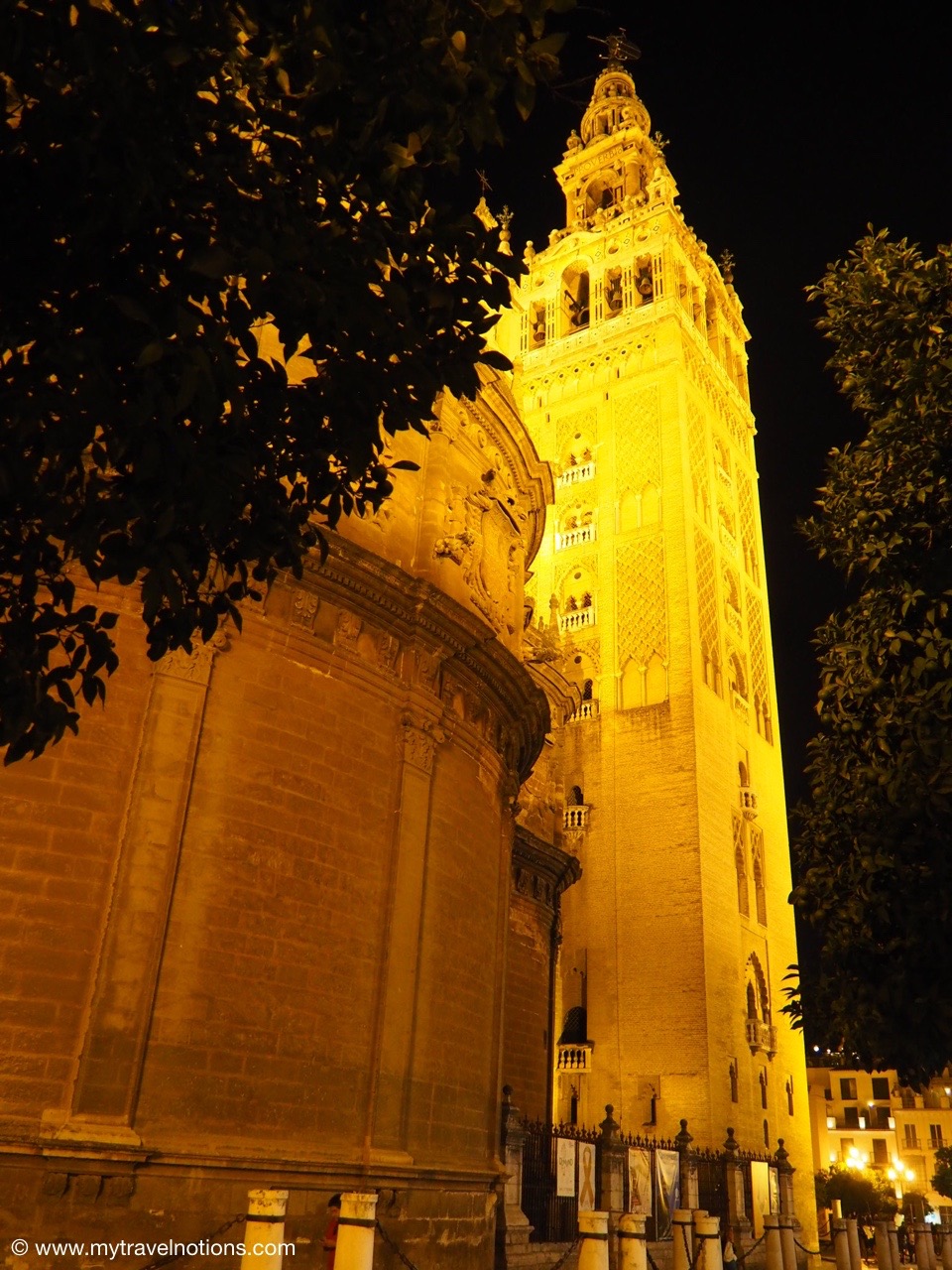 After a great night's sleep, I began my day in Seville, Spain…truly one of the most intensely gorgeous and historical cities I've had the opportunity to see, with a free 3-hour walking tour from "Feel The City Tours." The tour guides even come to your hotel to fetch you. And, what a gorgeous day it turned out to be.
There doesn't seem to be a second of the day when Seville isn't packed with people like me…tourists…who just want to take in the smell, the history, the culture, the beauty of Seville. Throw in the Spanish language, the food and the Sangria and you have the makings of a vibrant city that has etched its place in my heart. I am a true fan. Oh, wait, I'm more than a fan, I am a lover of this city.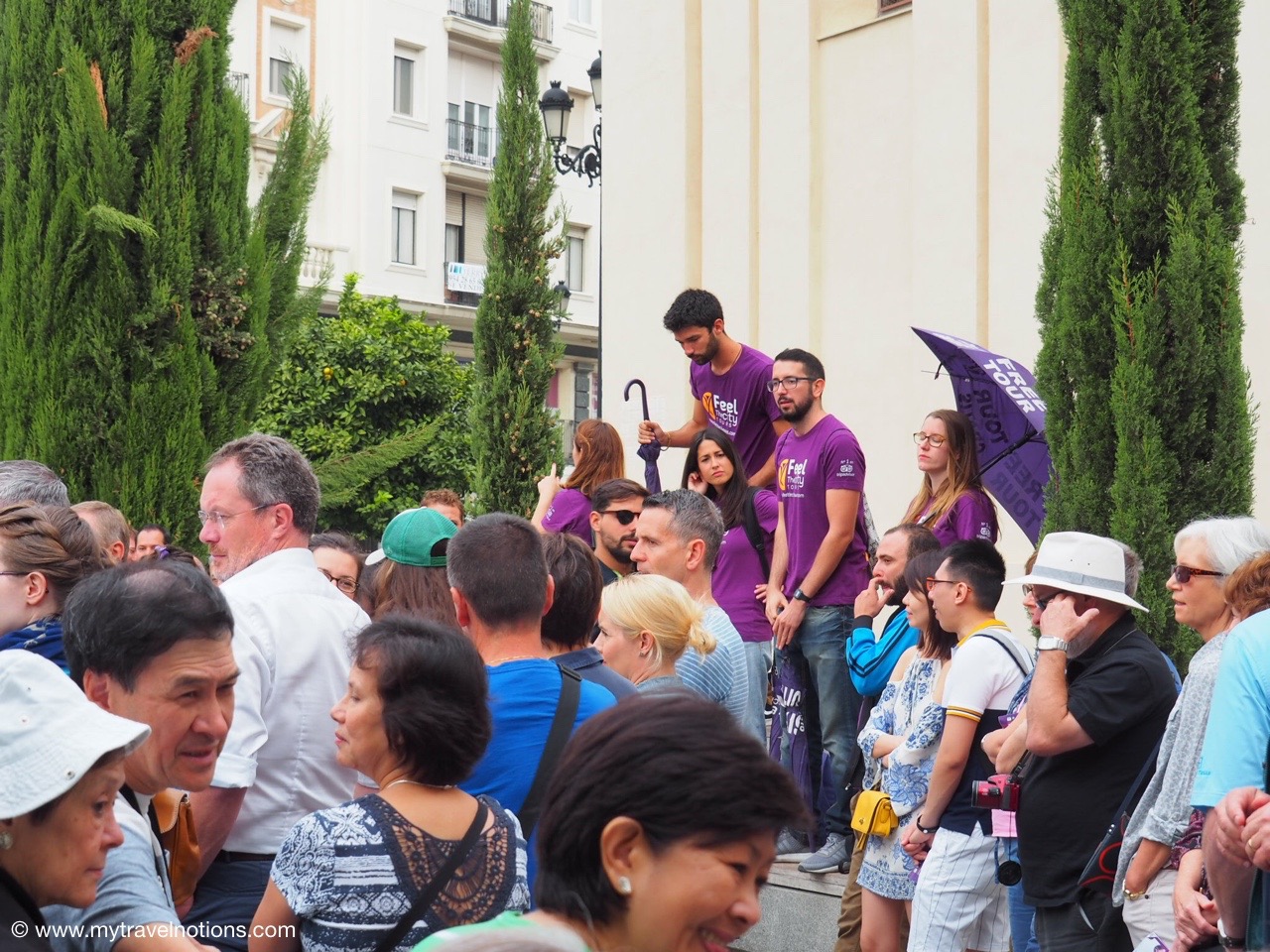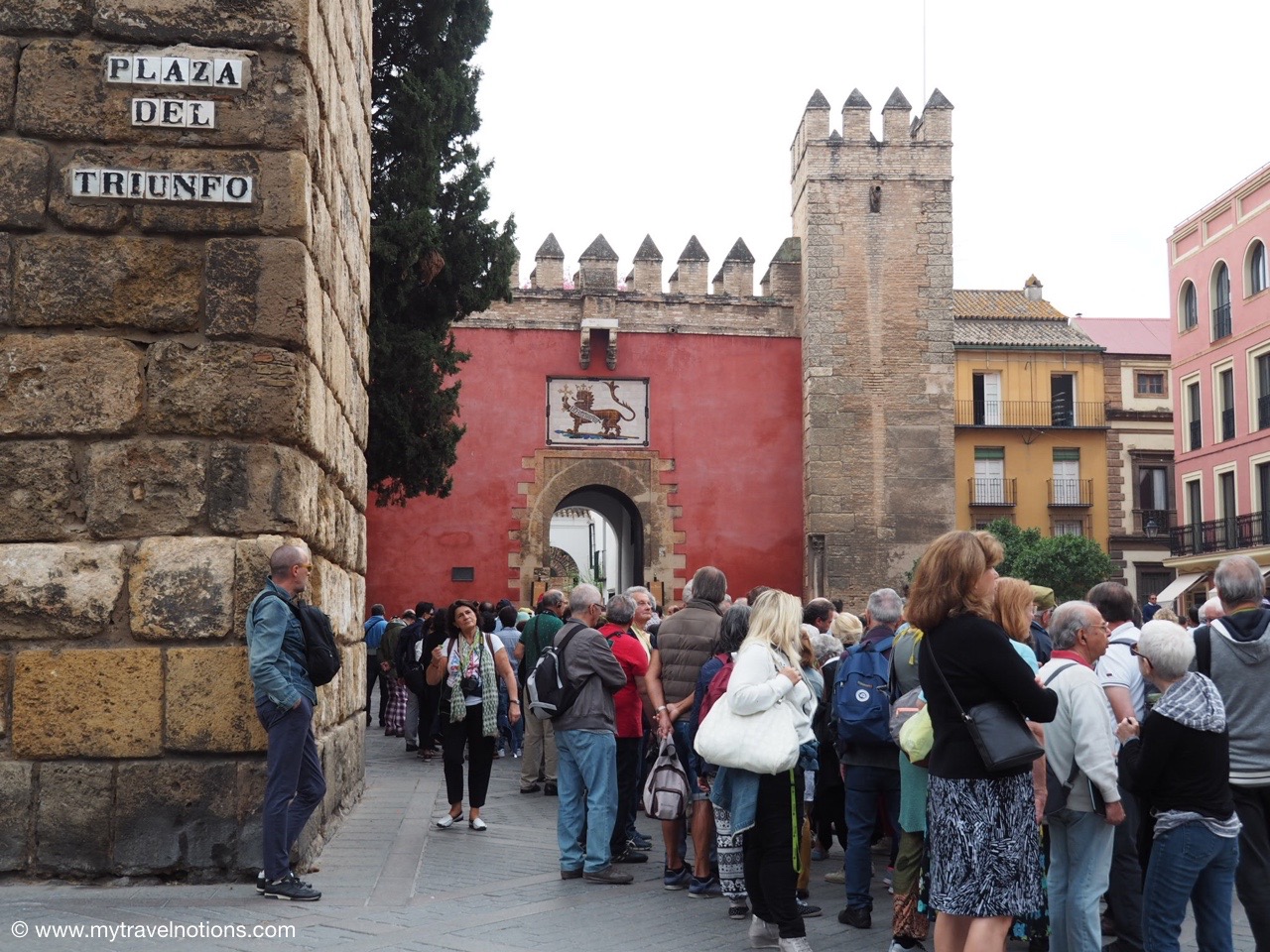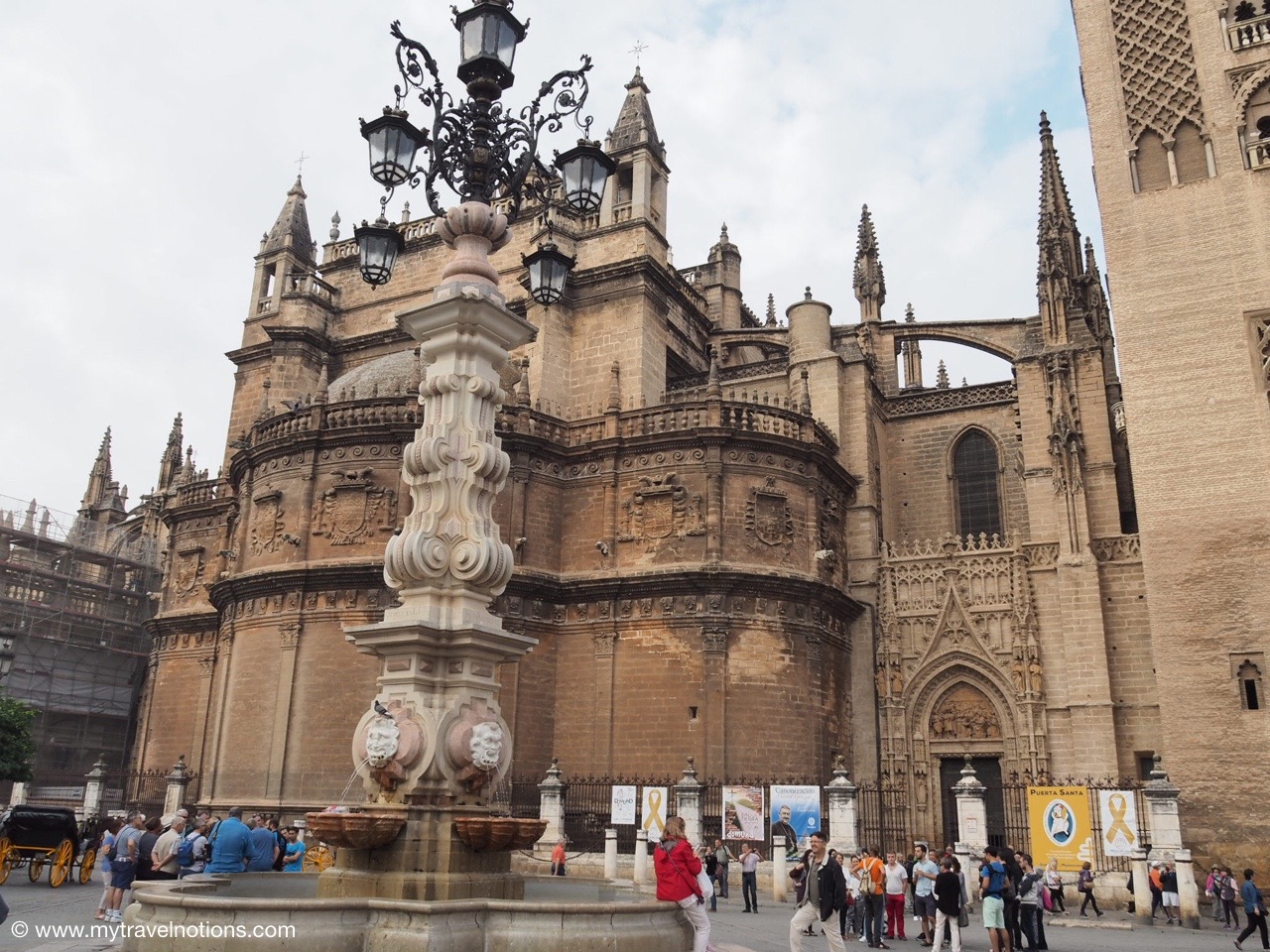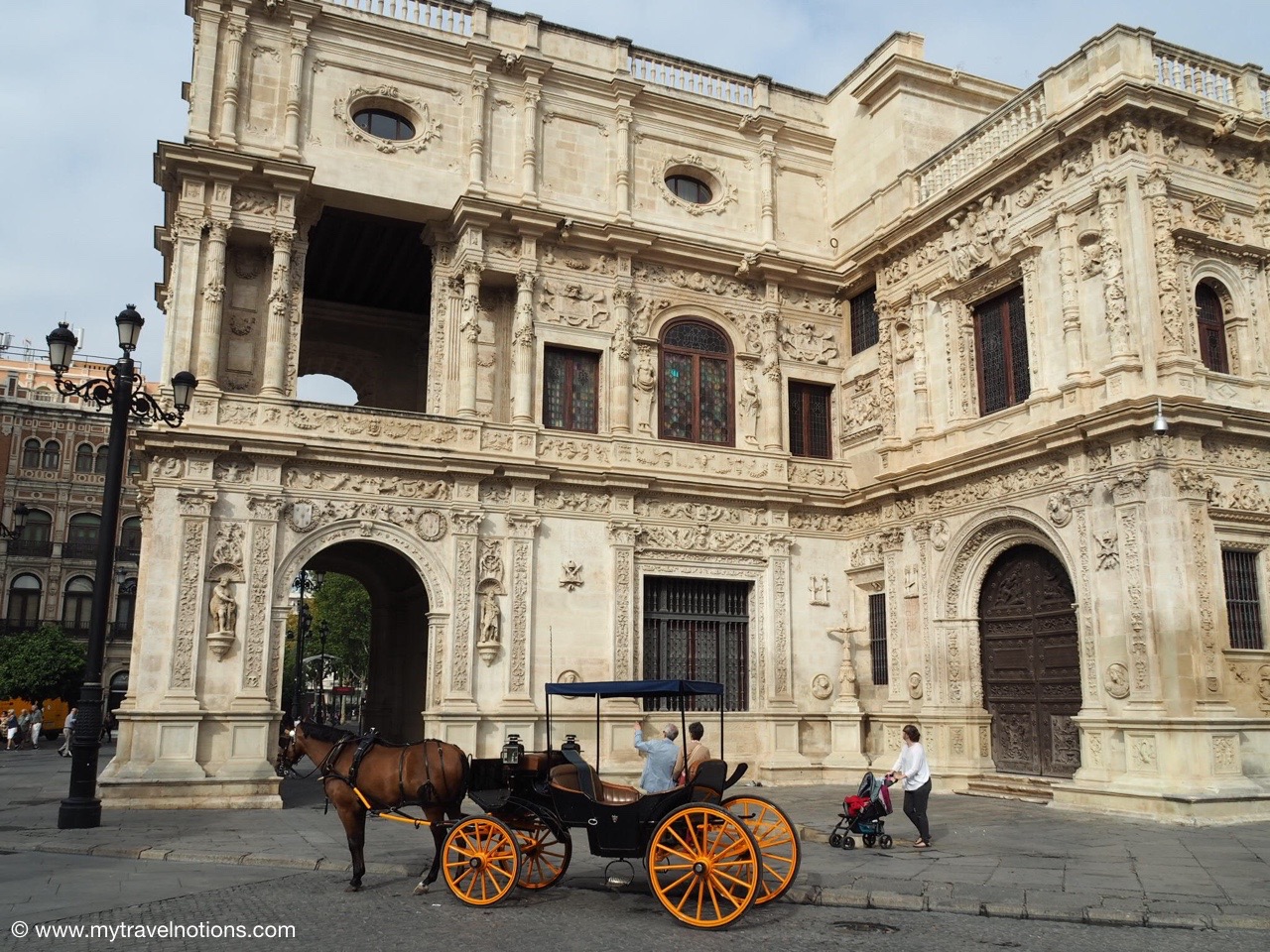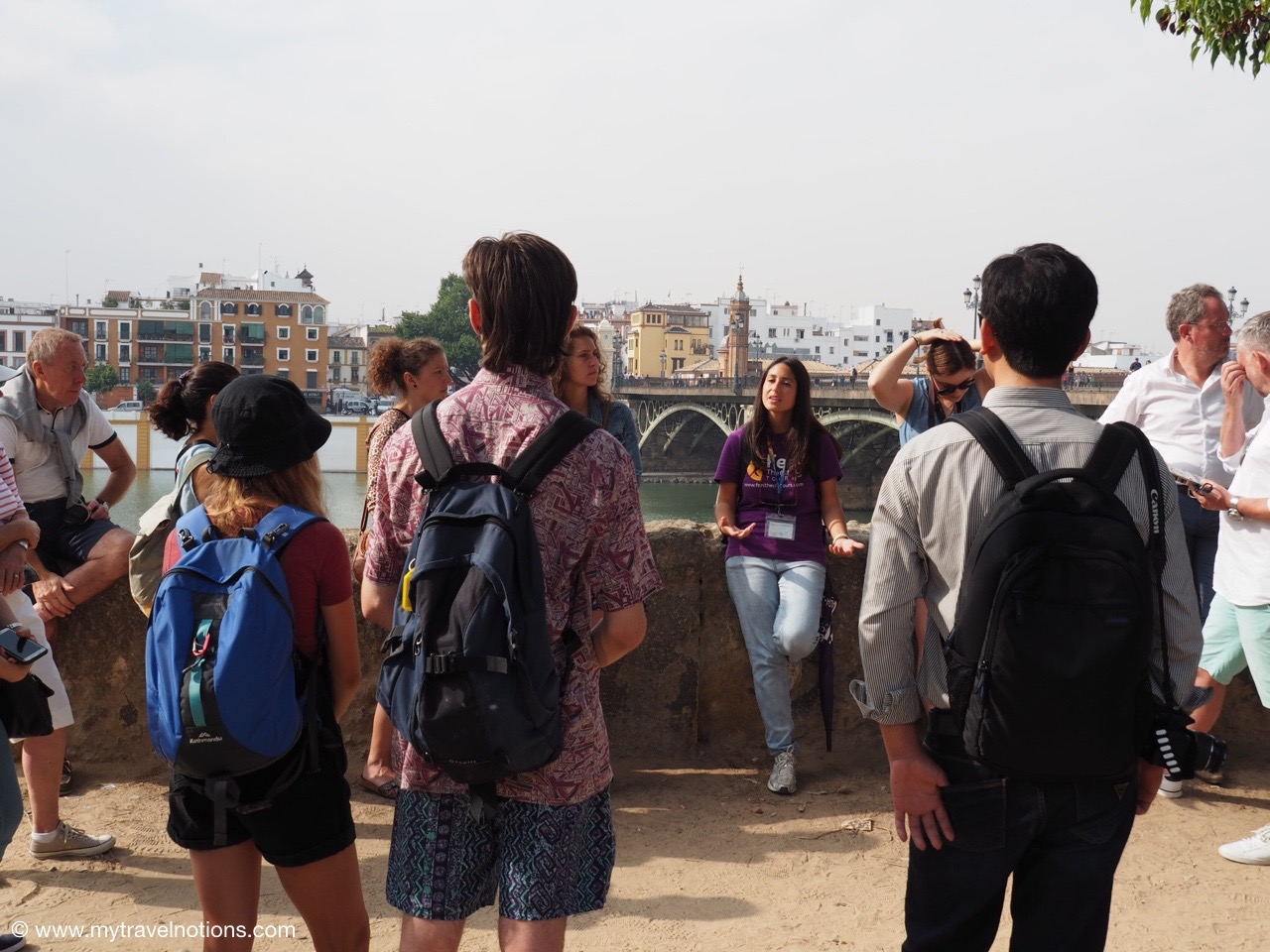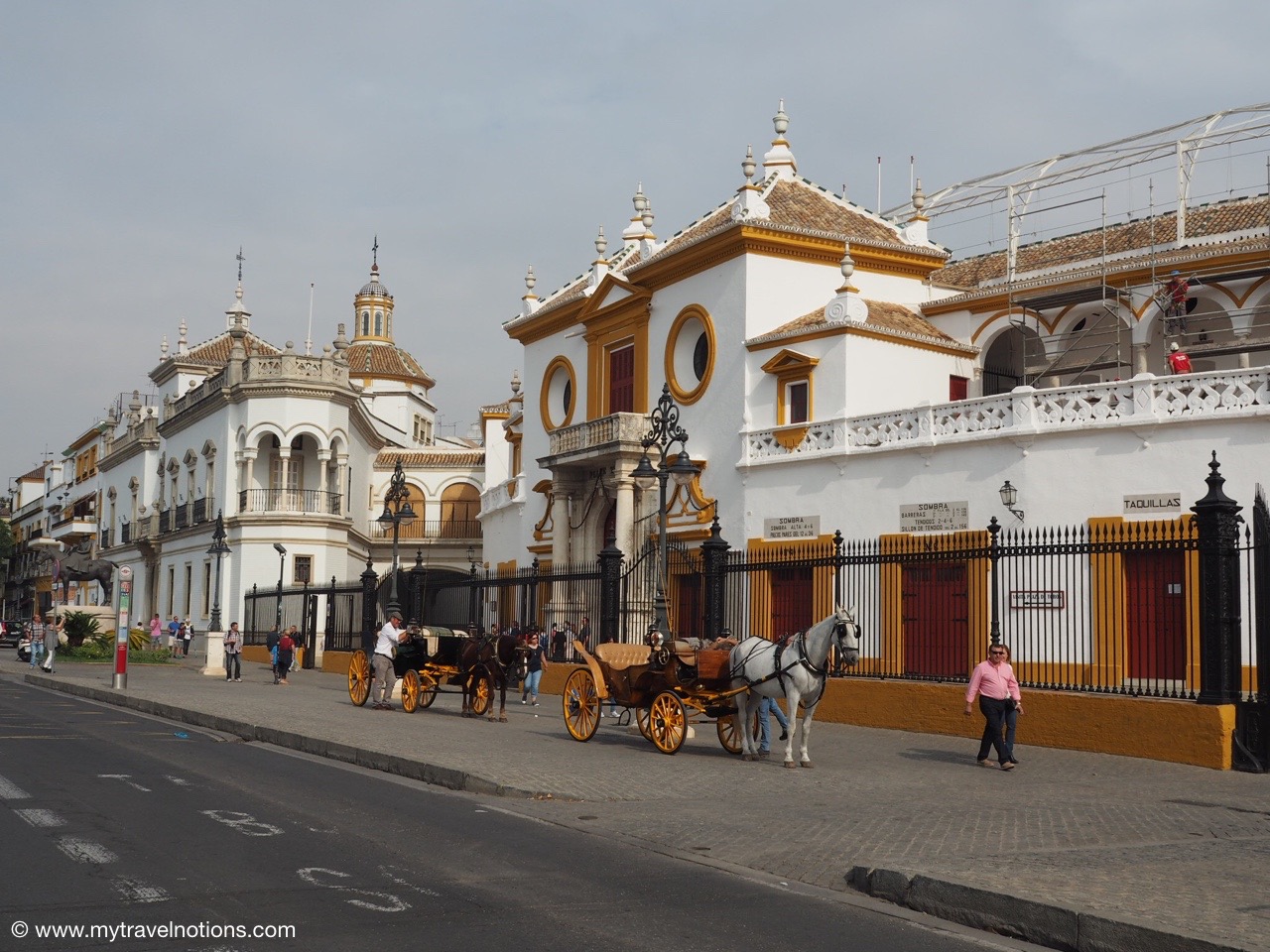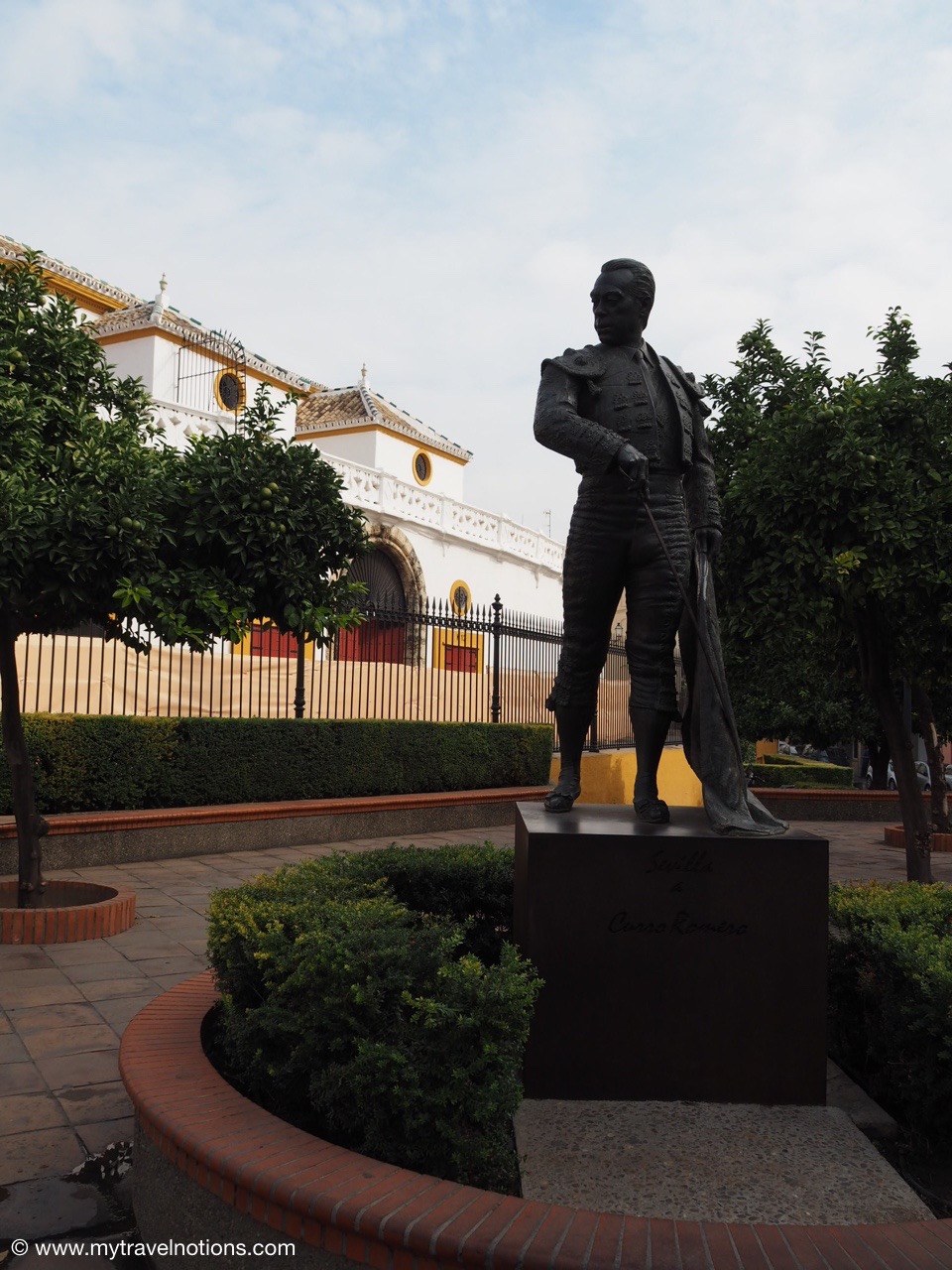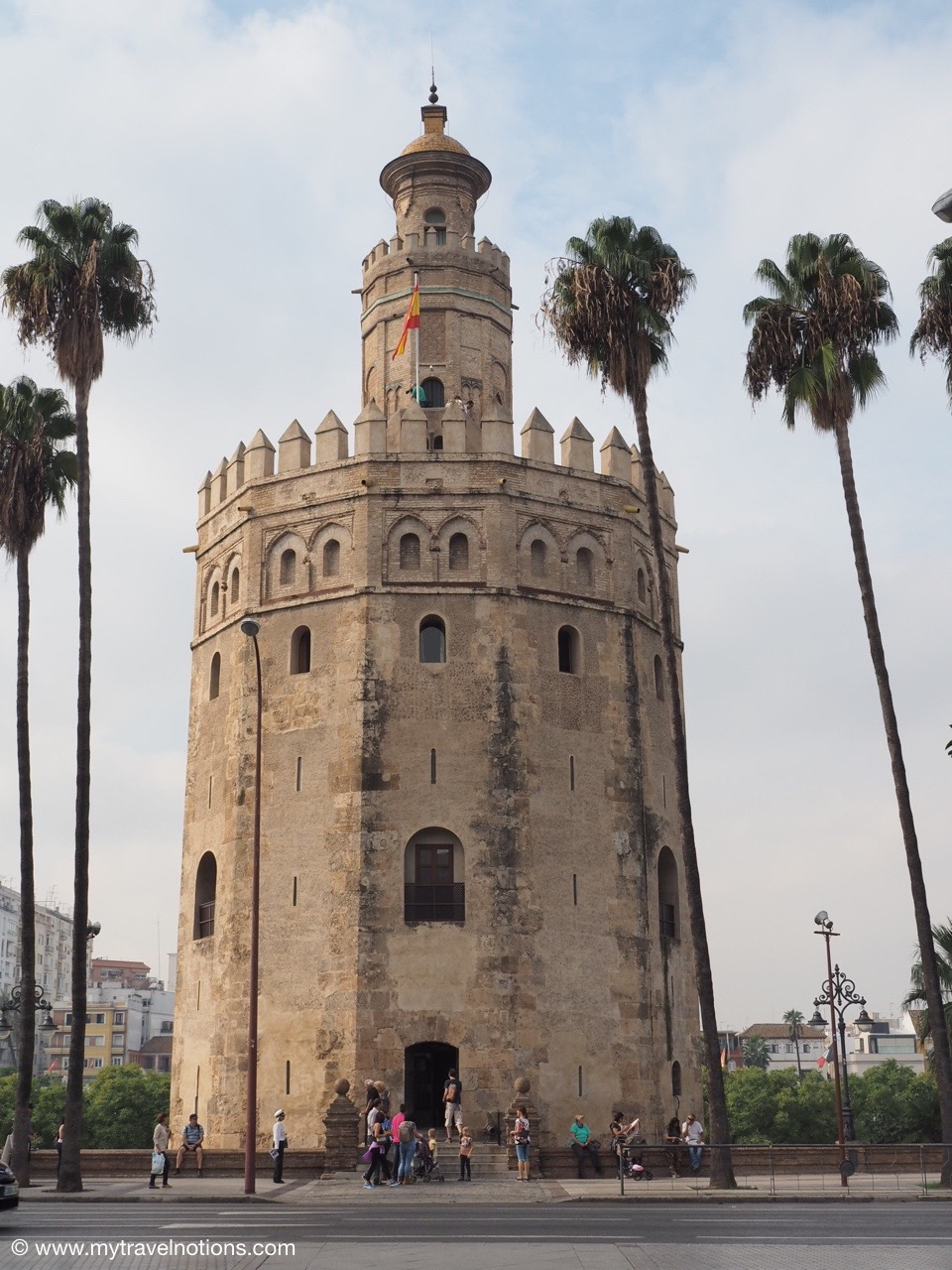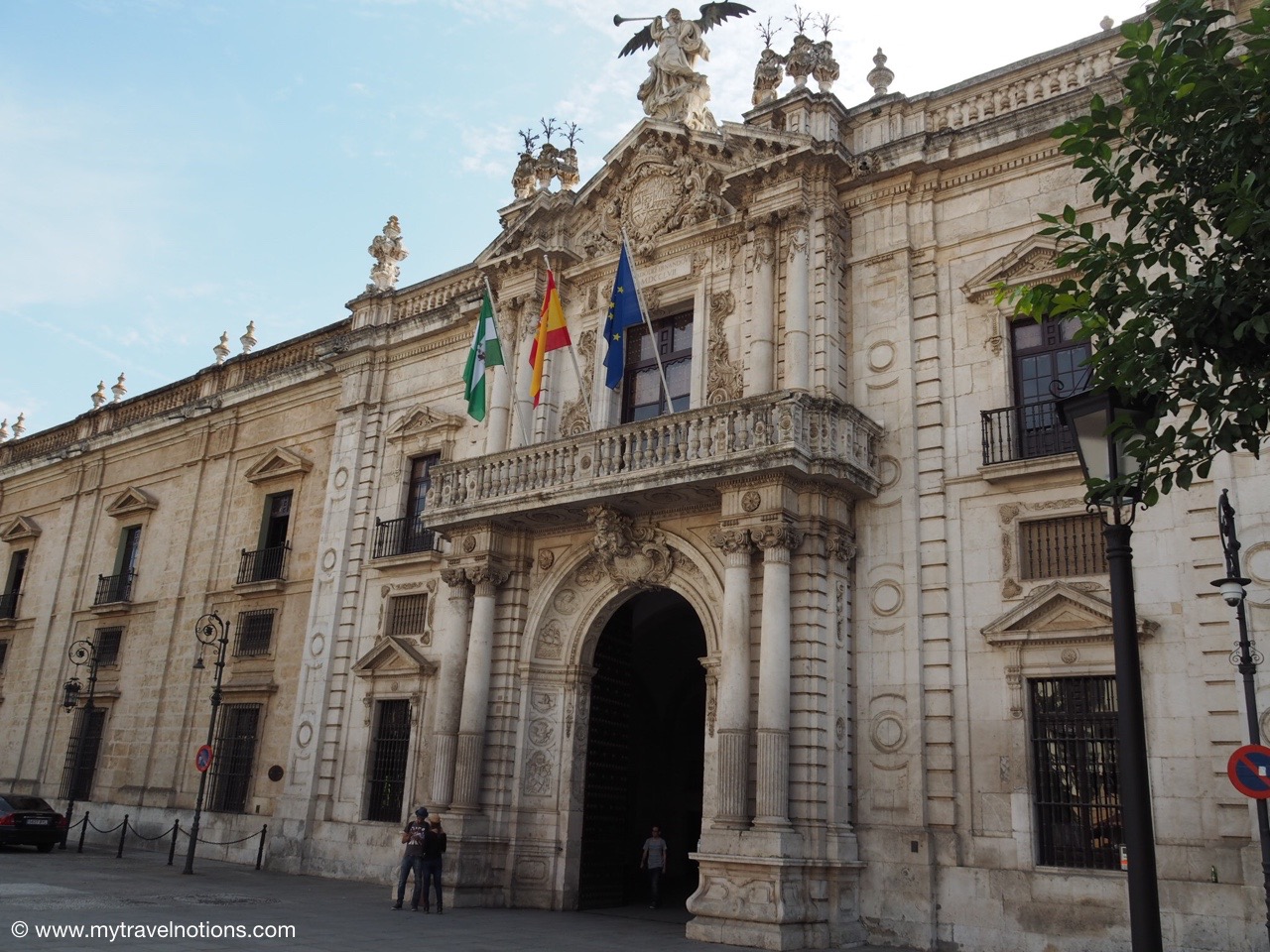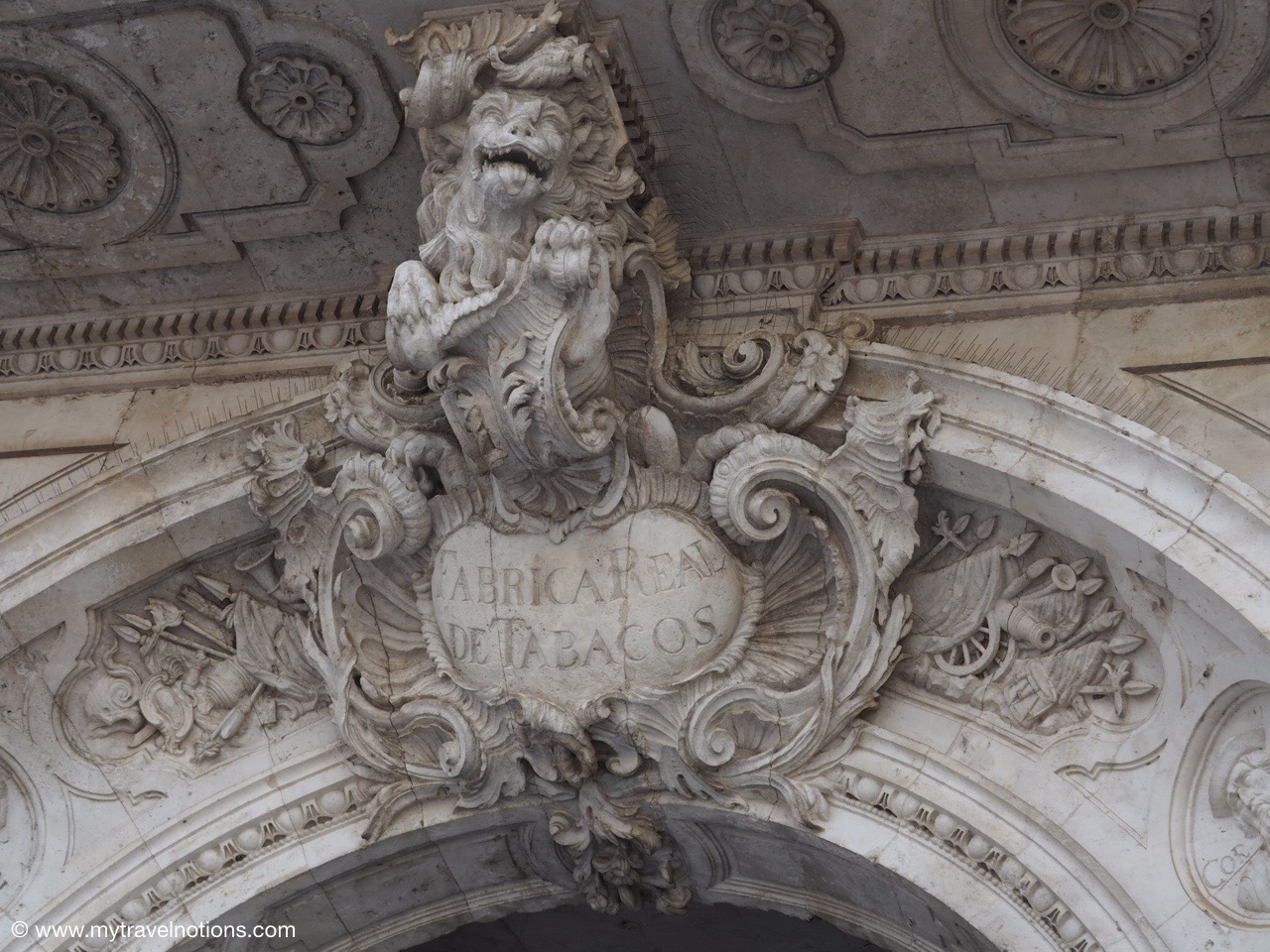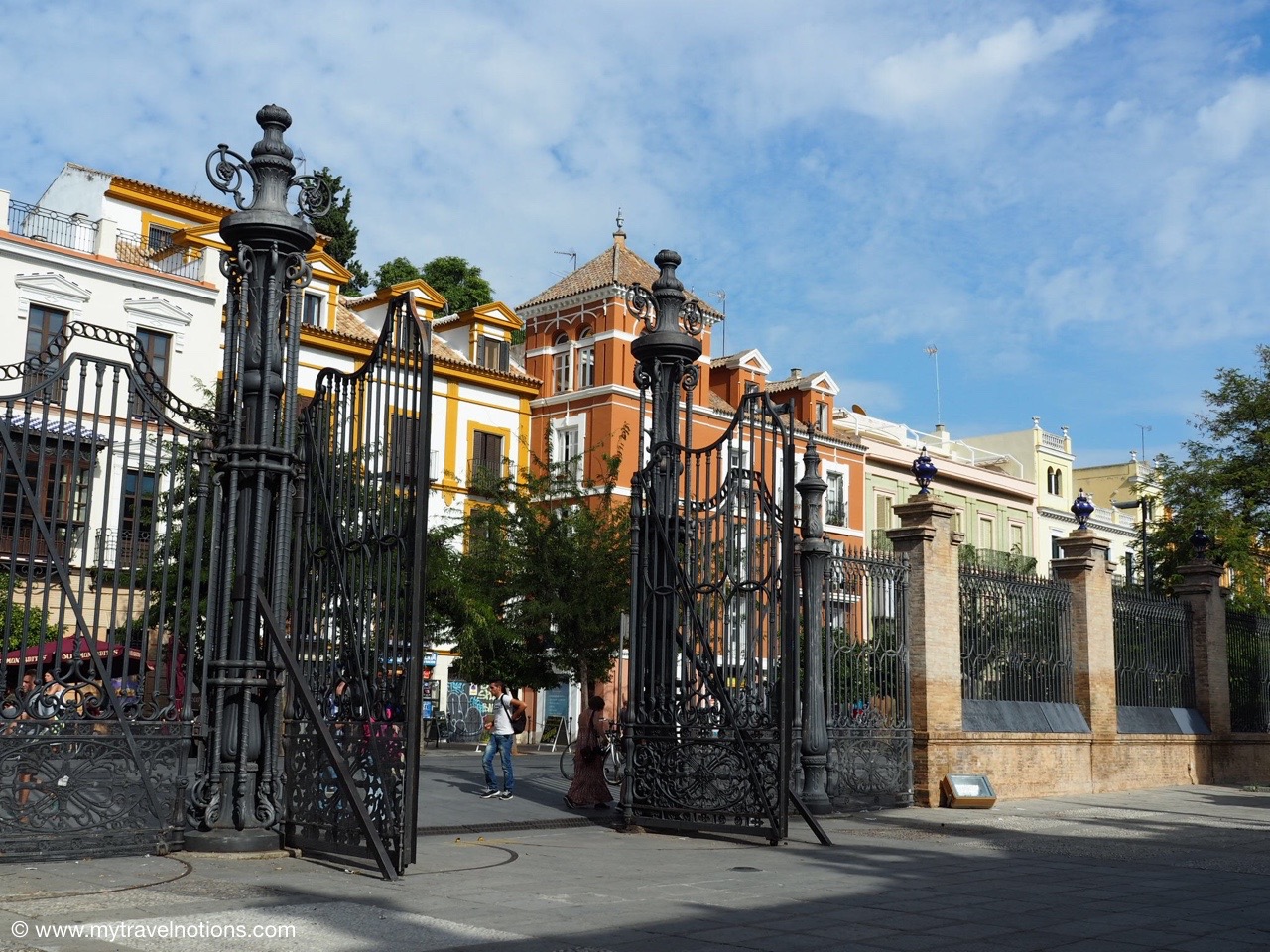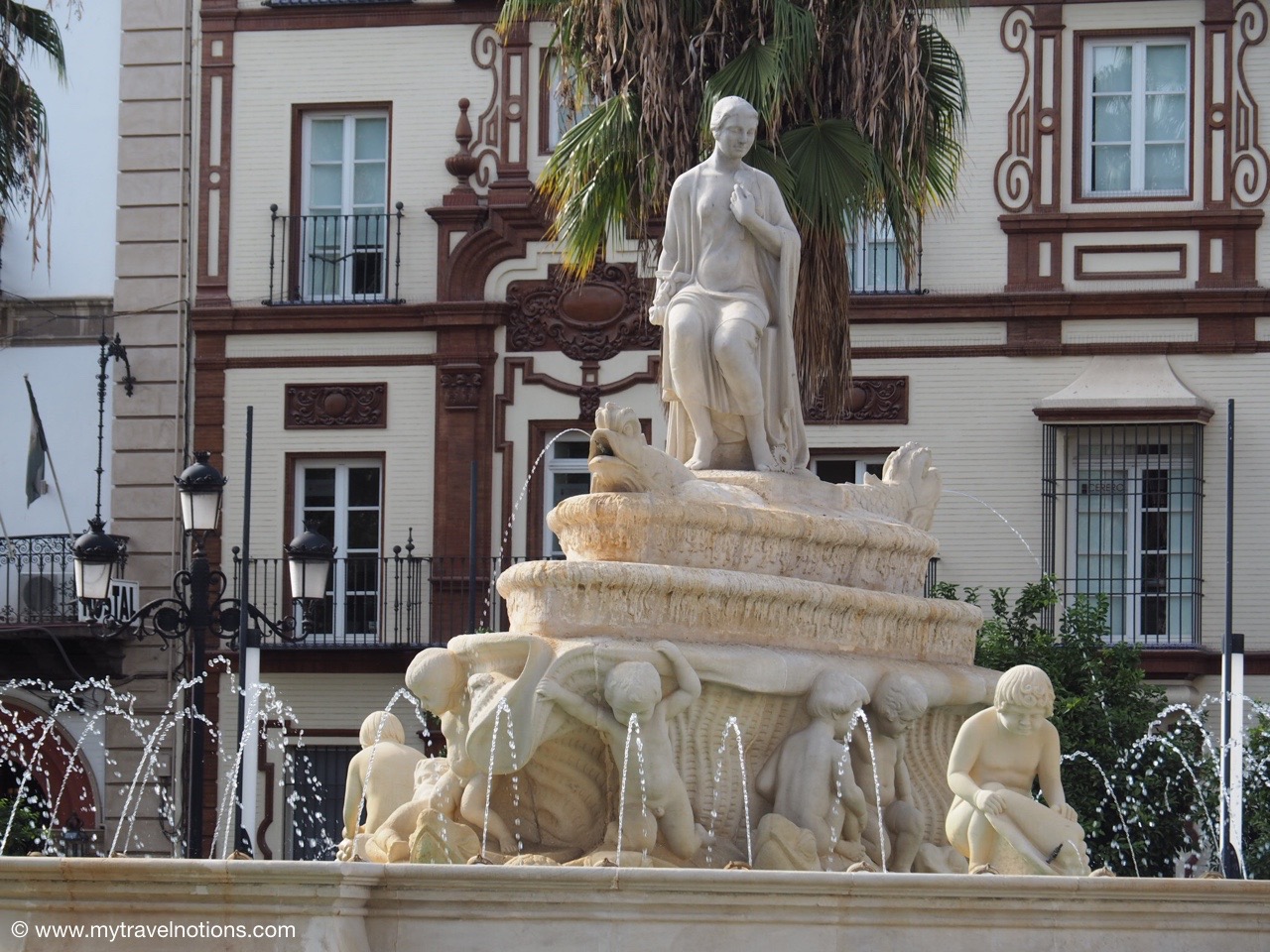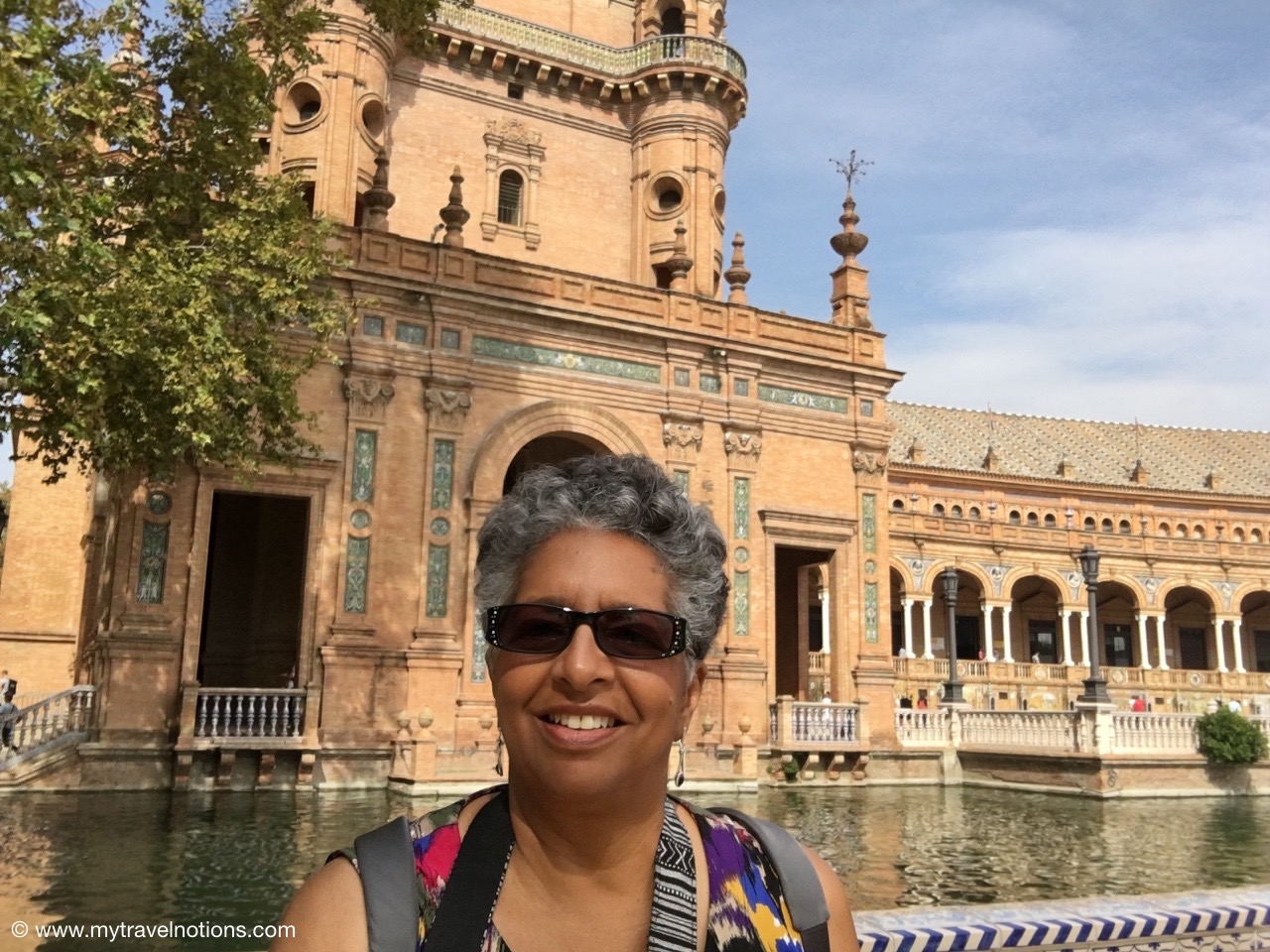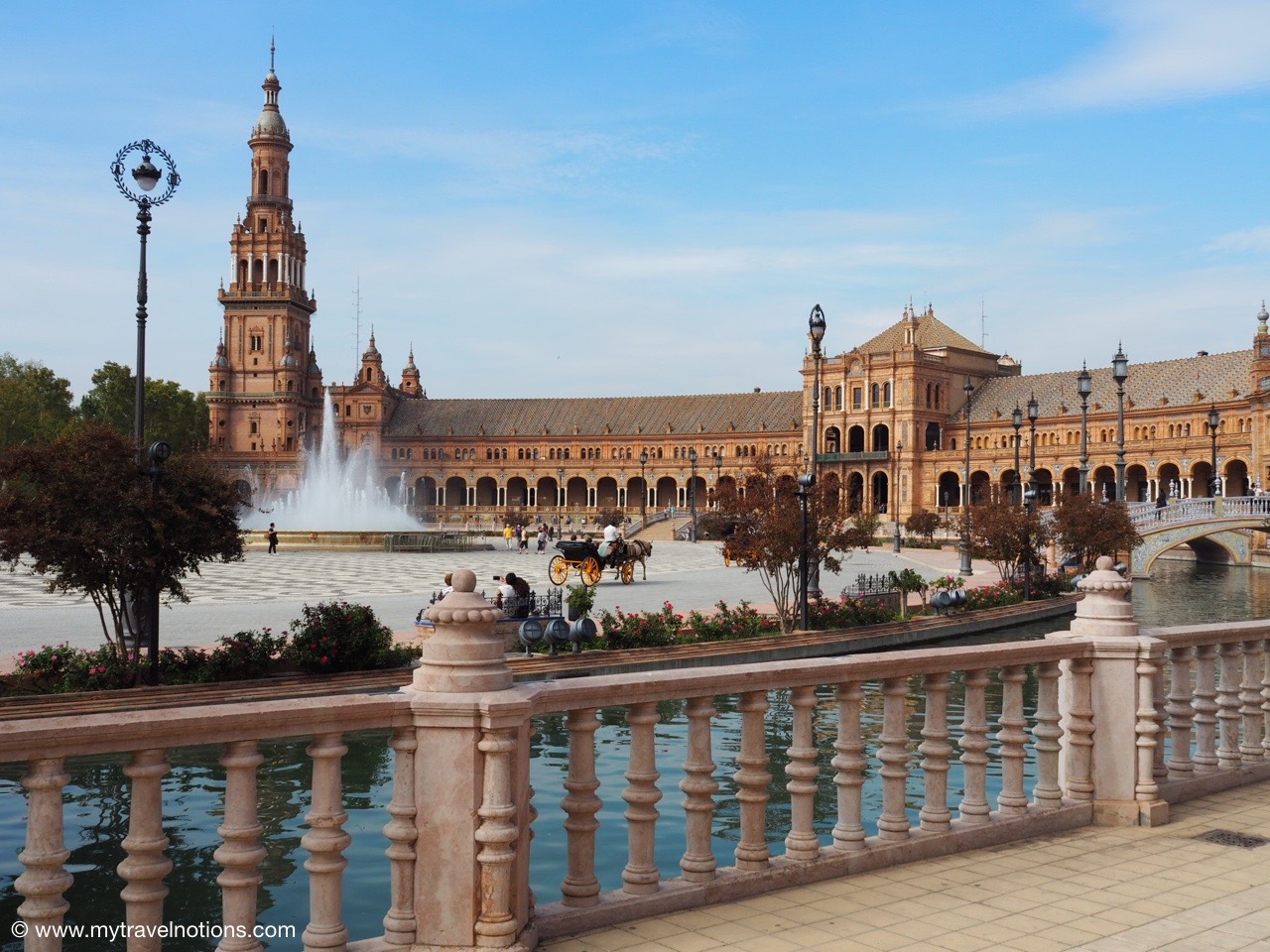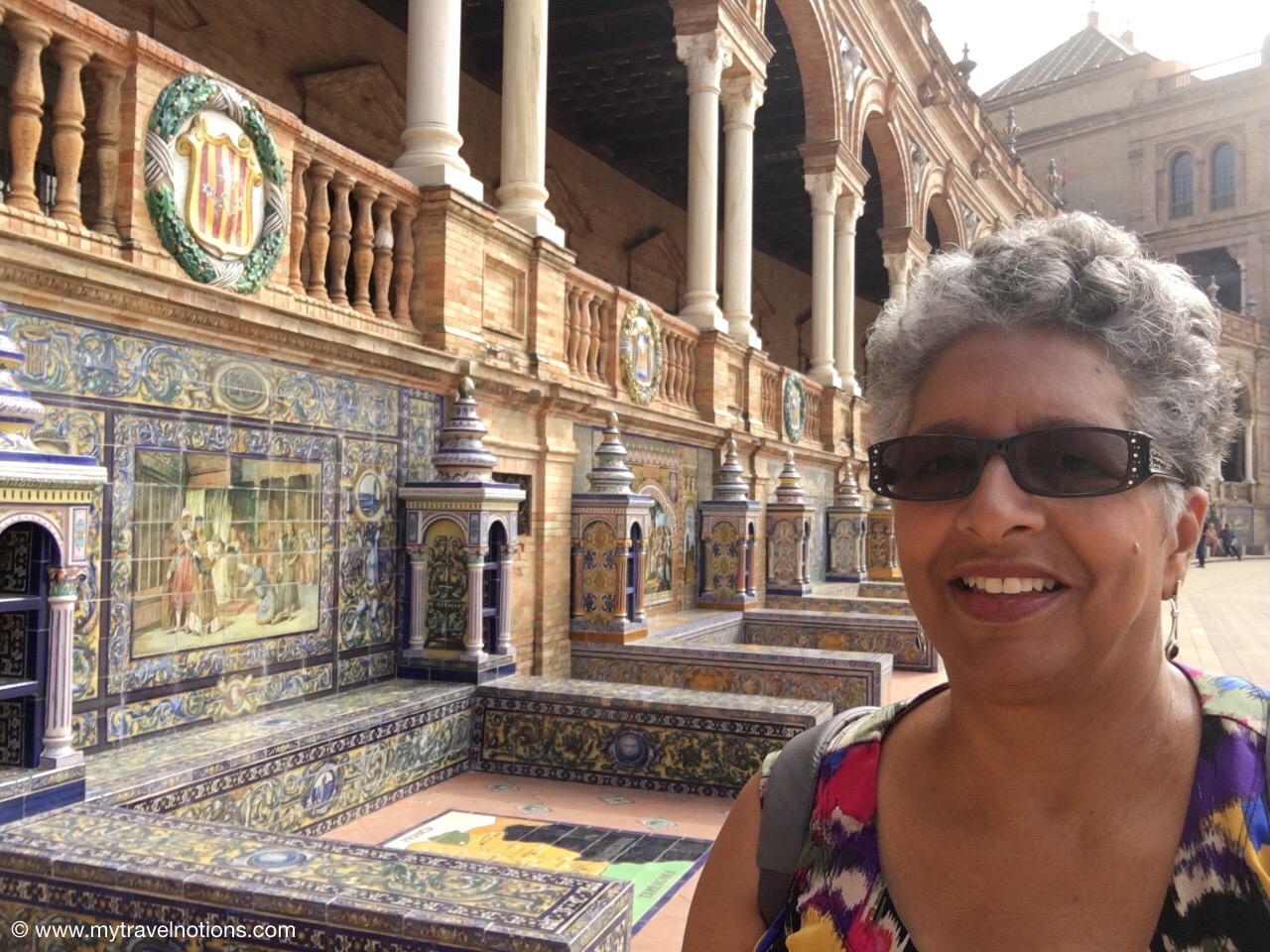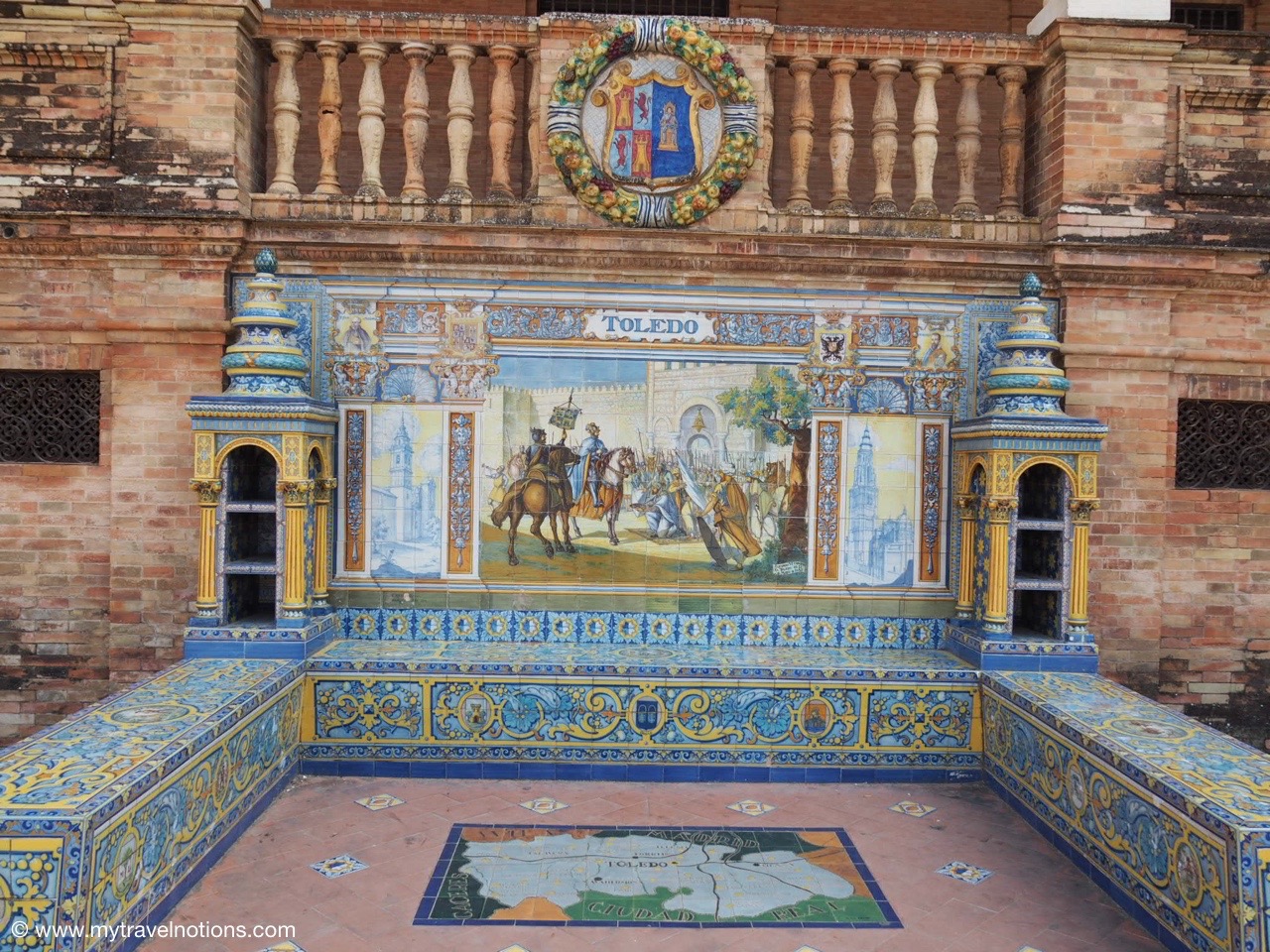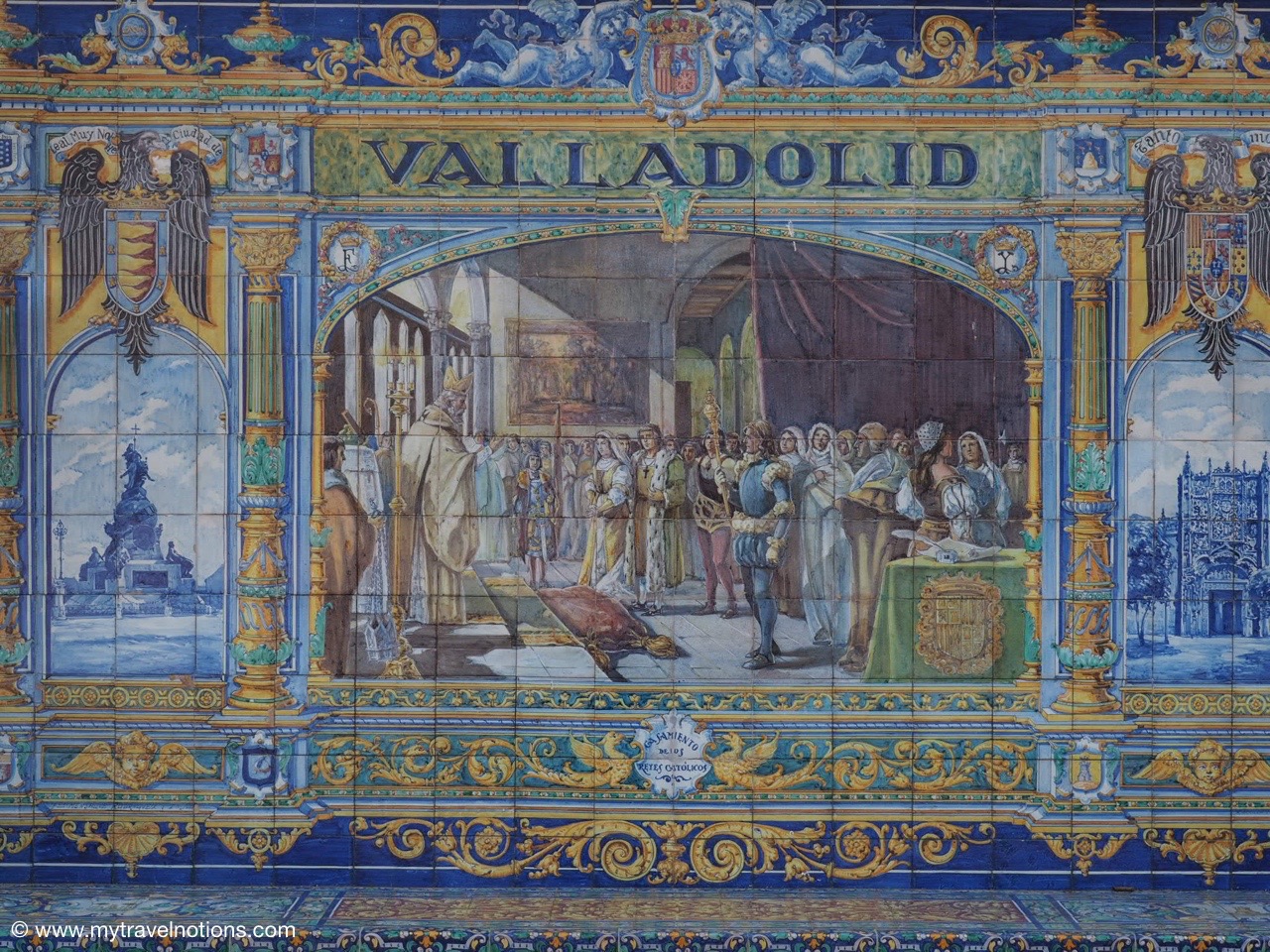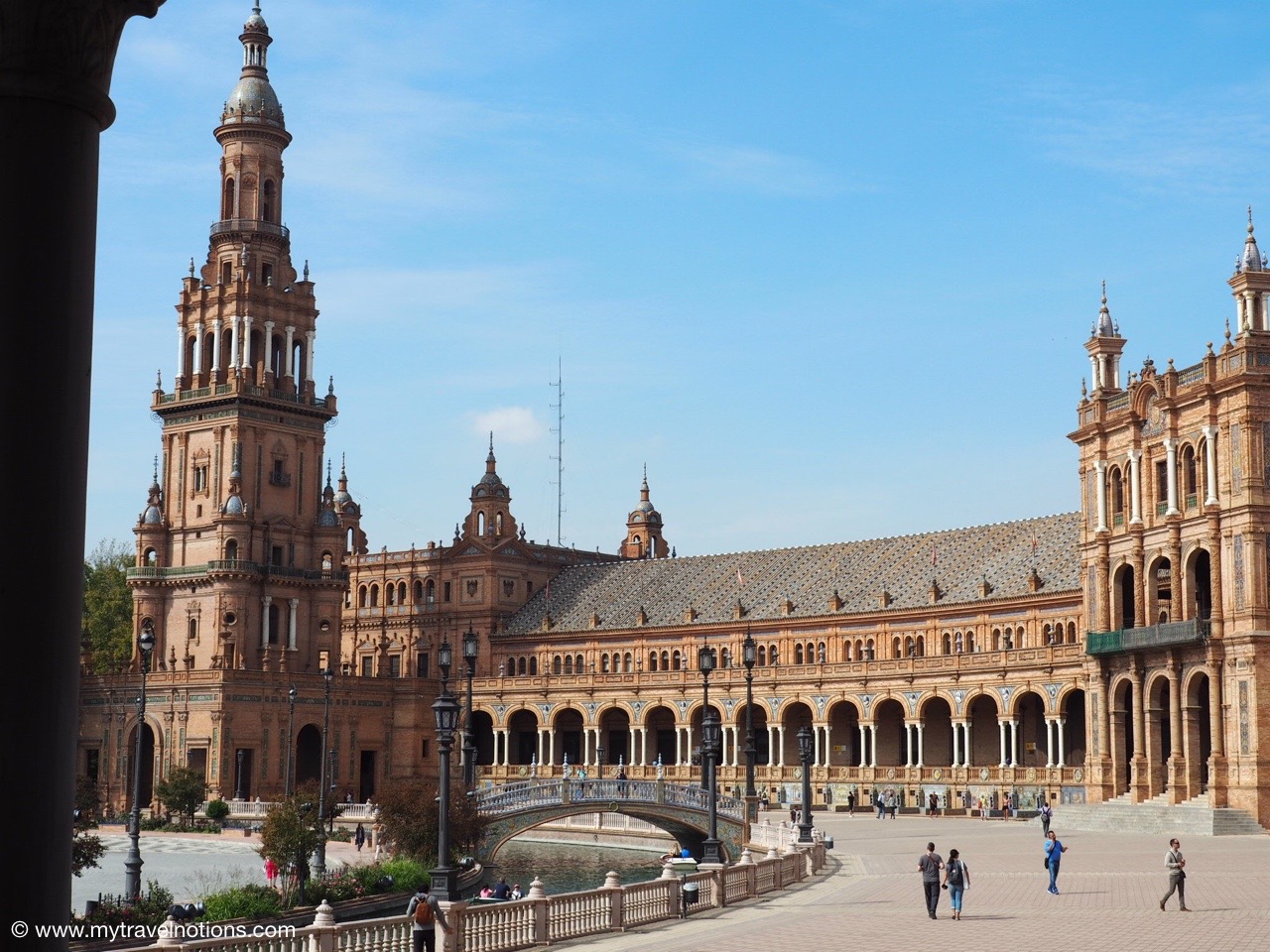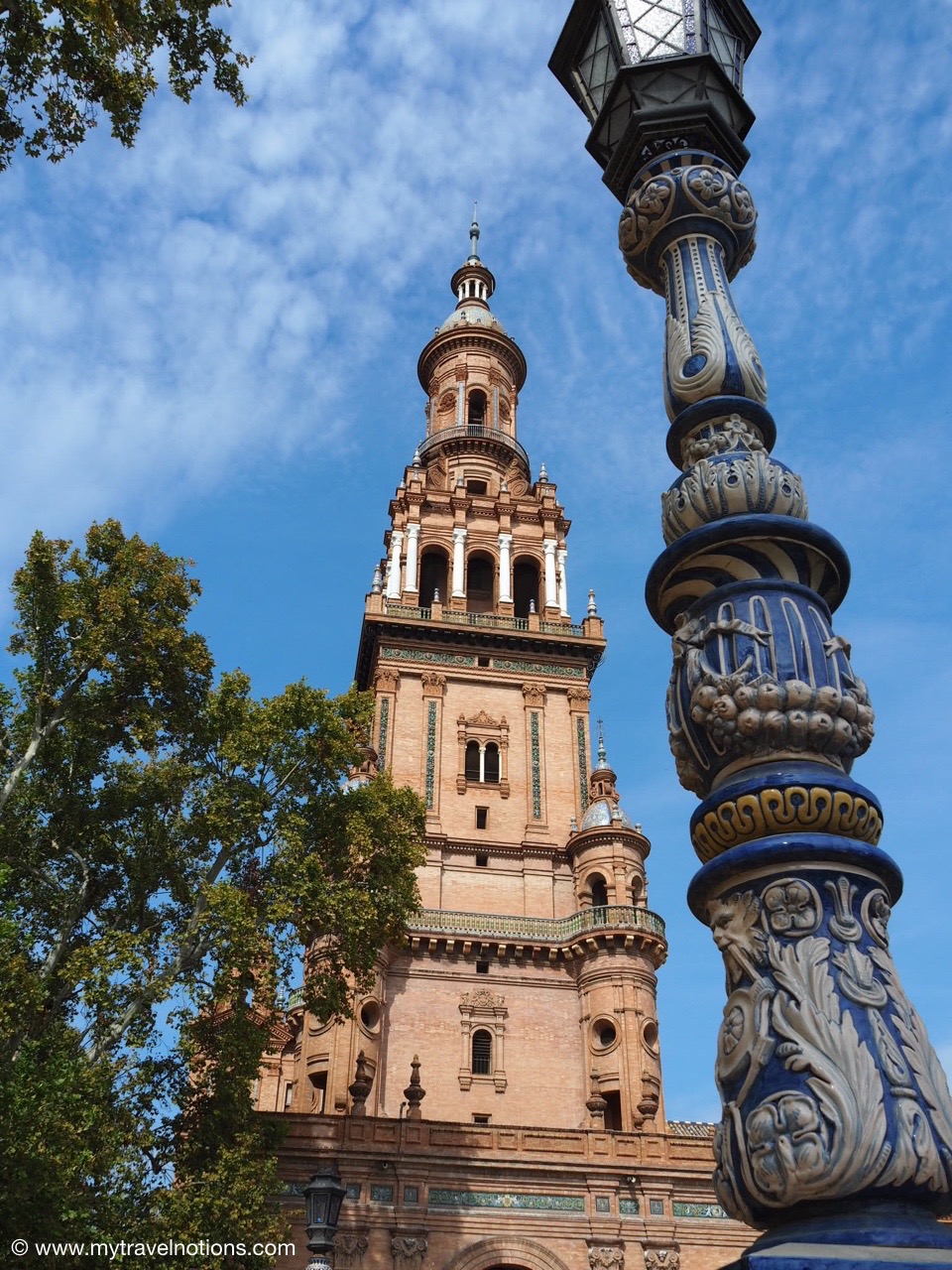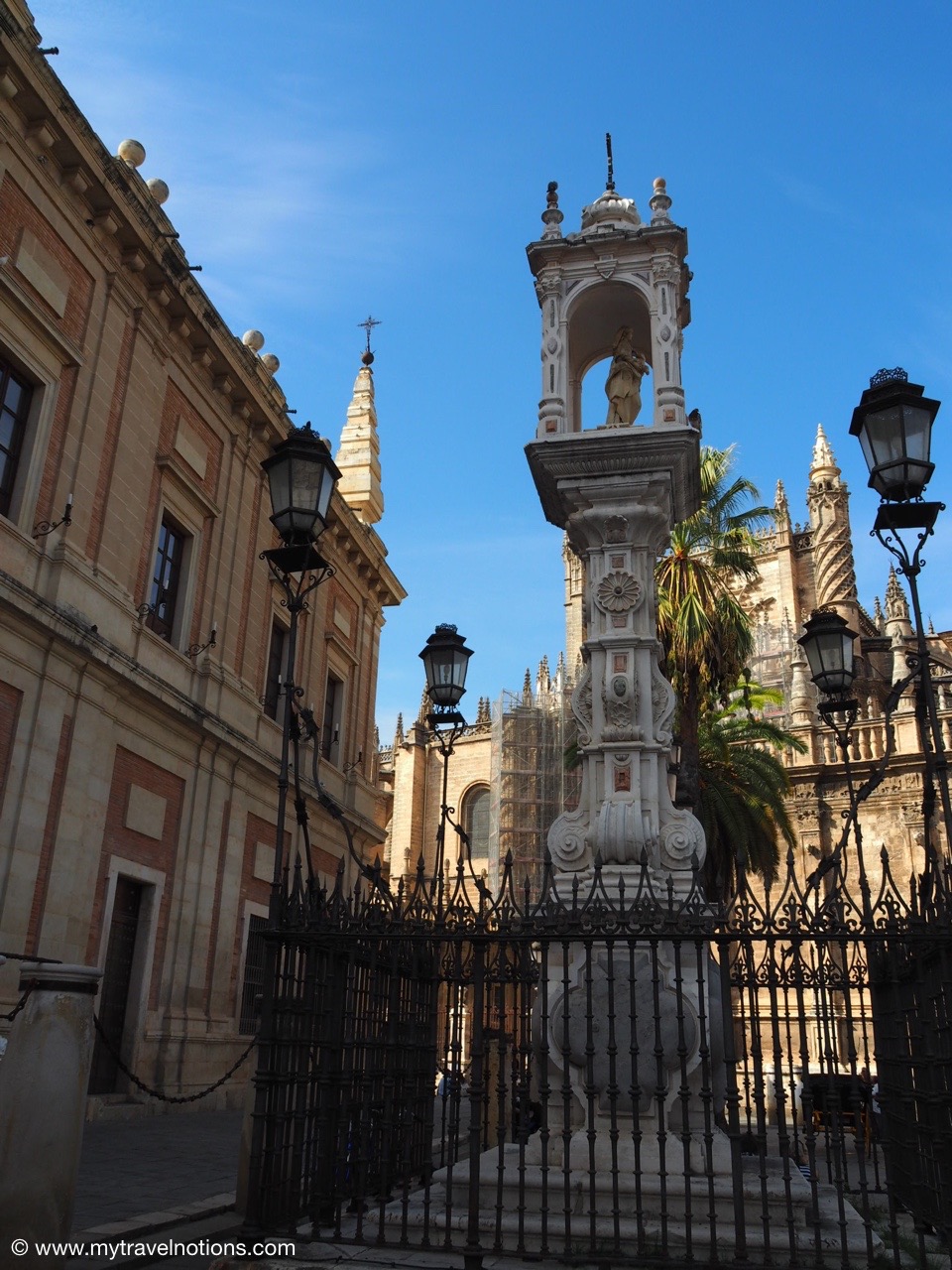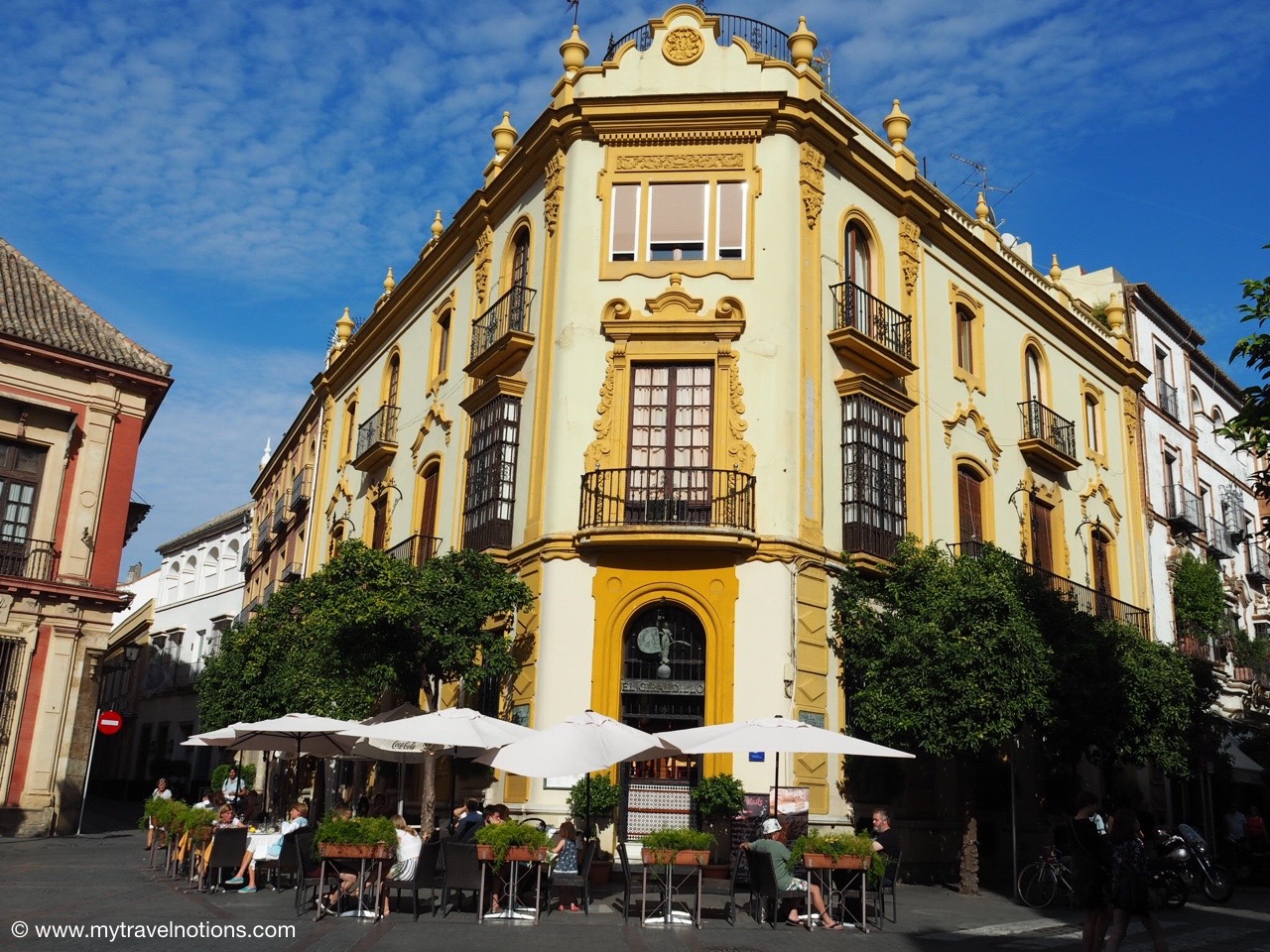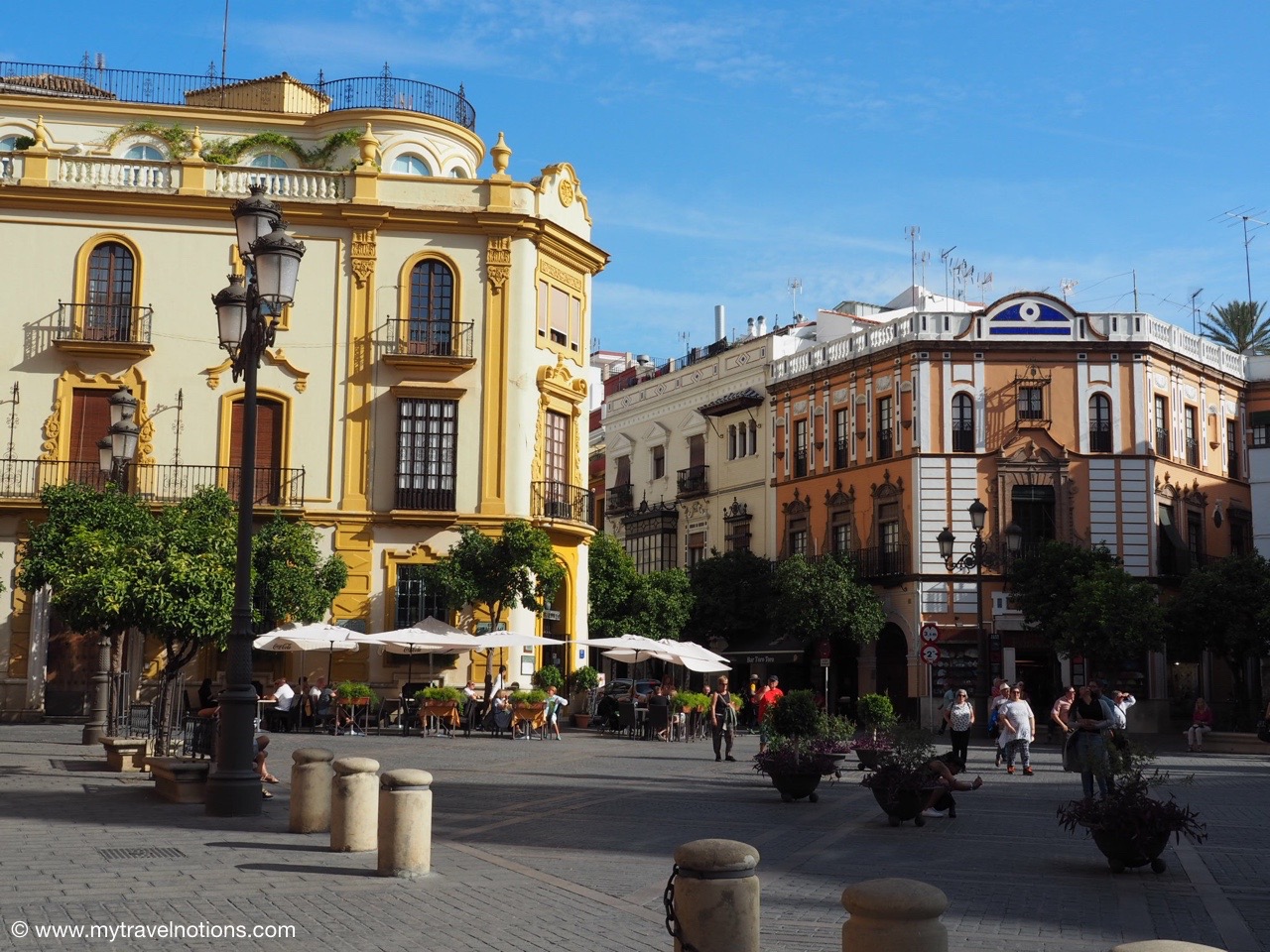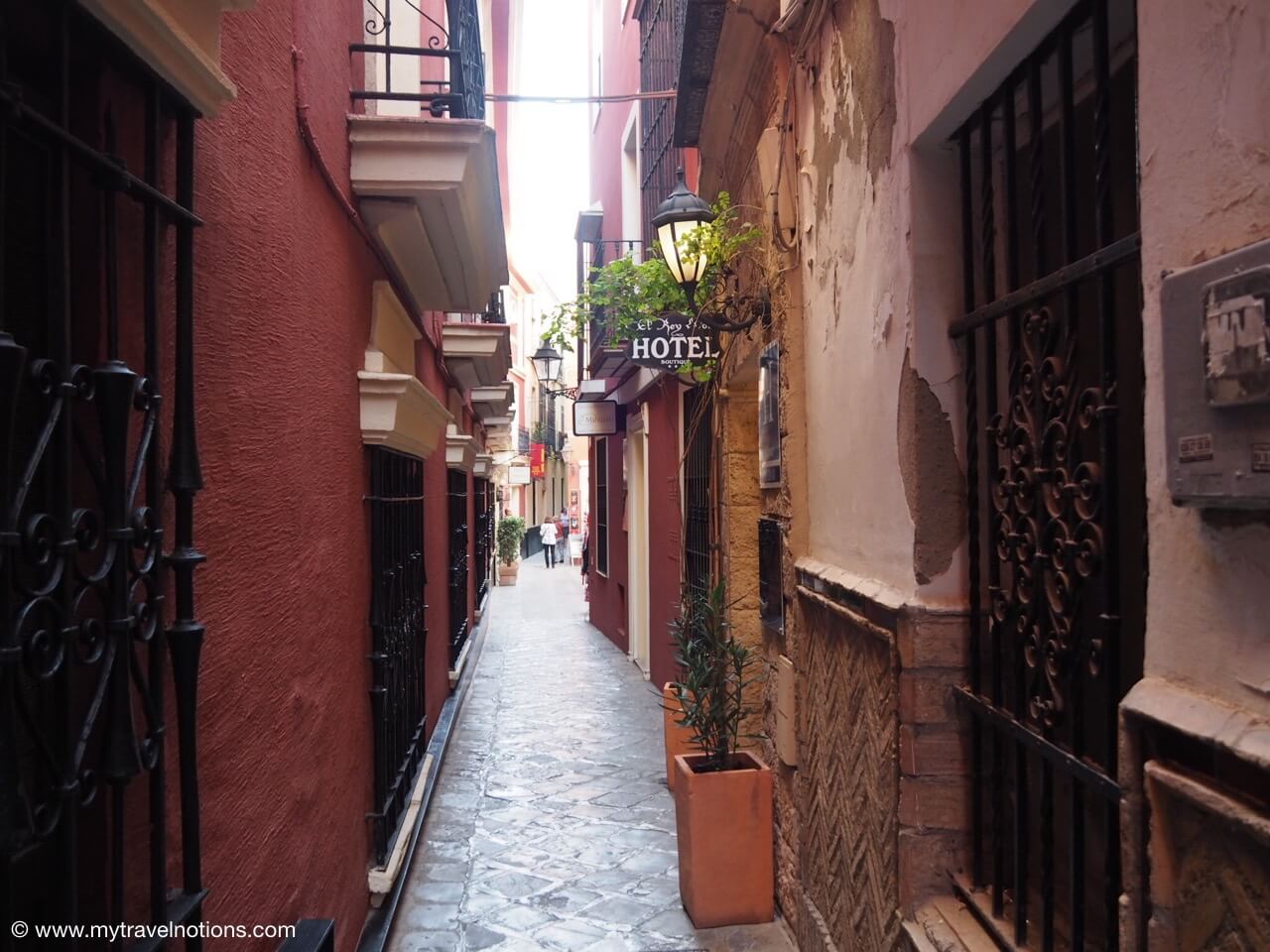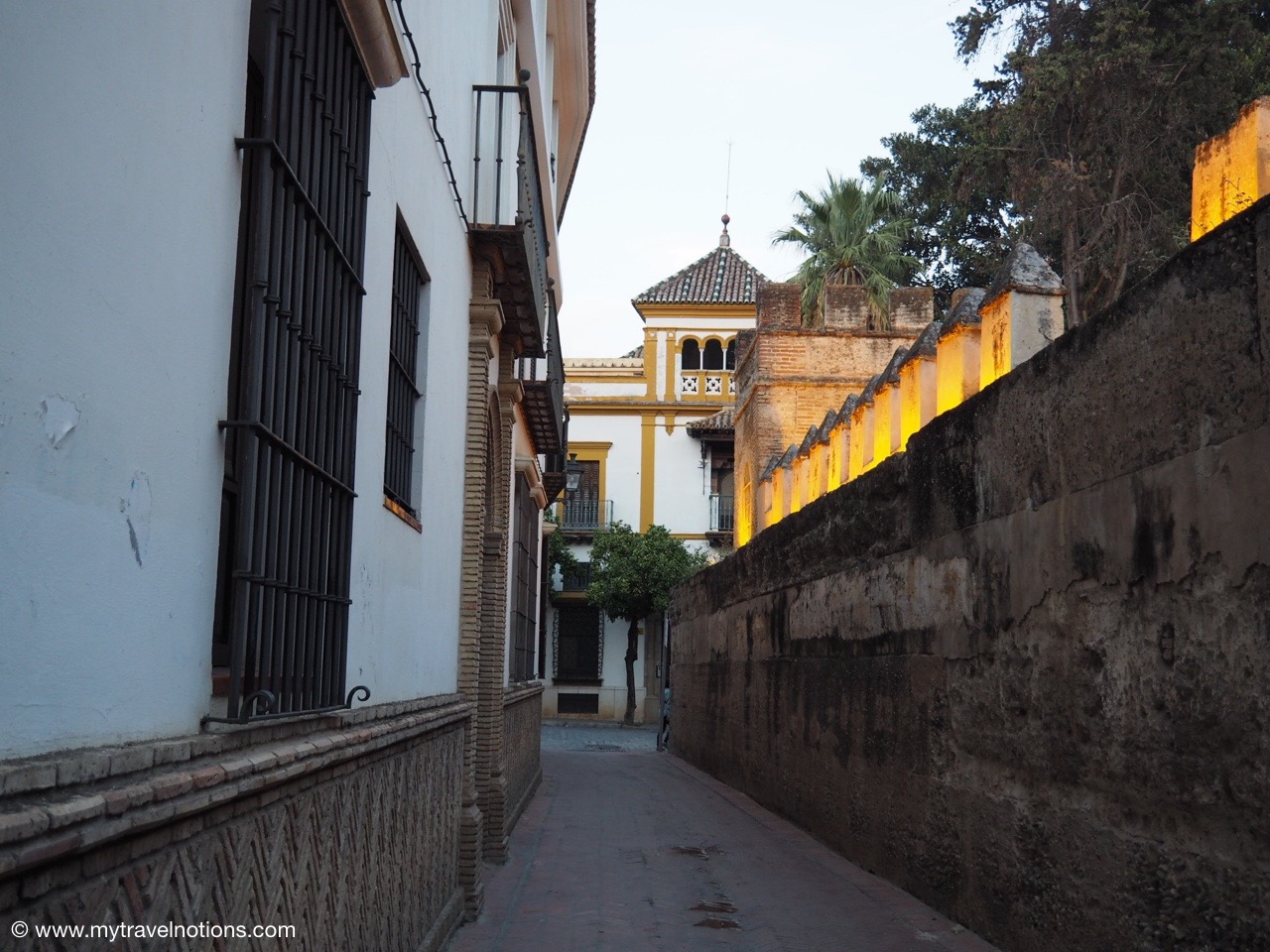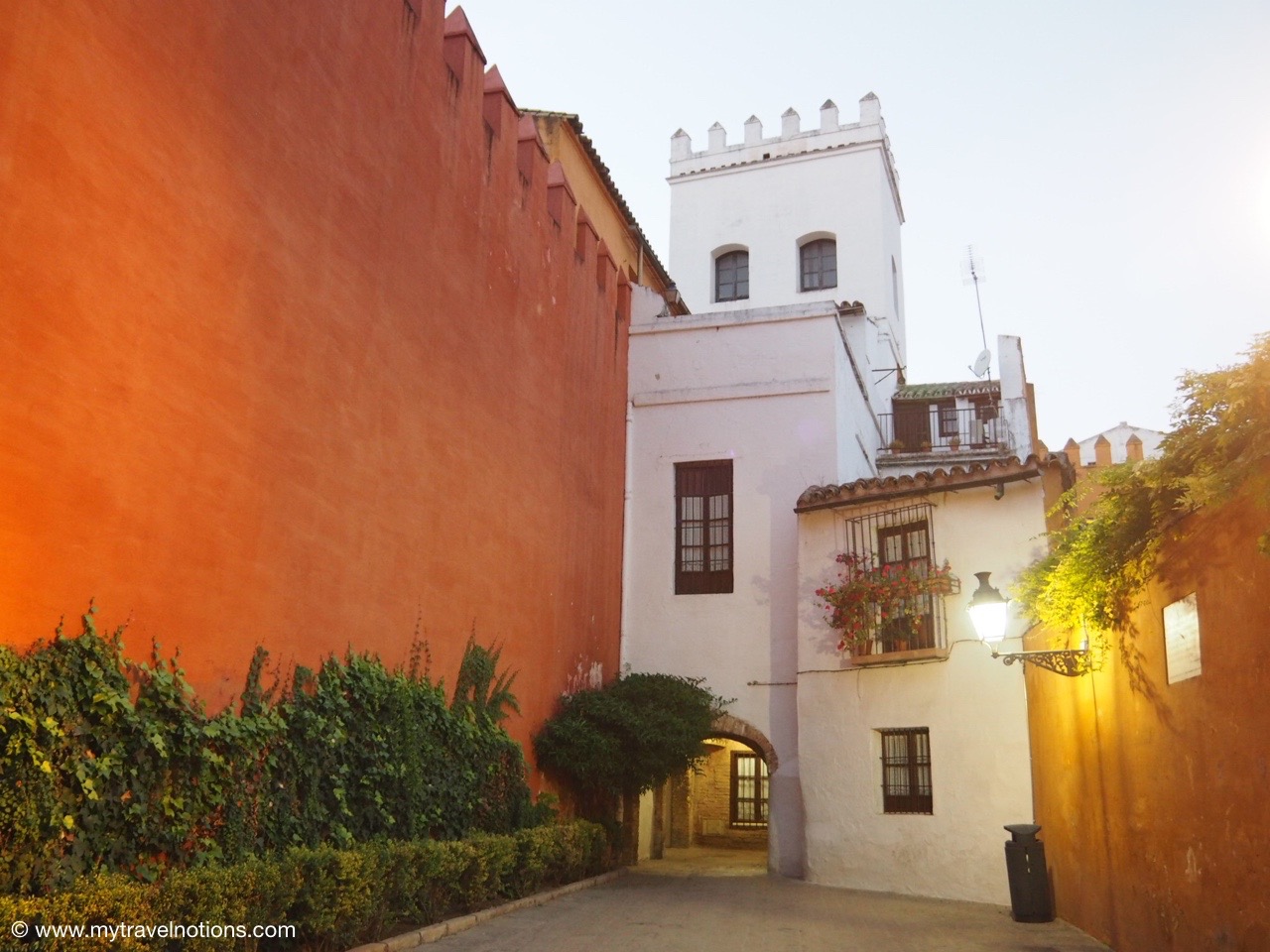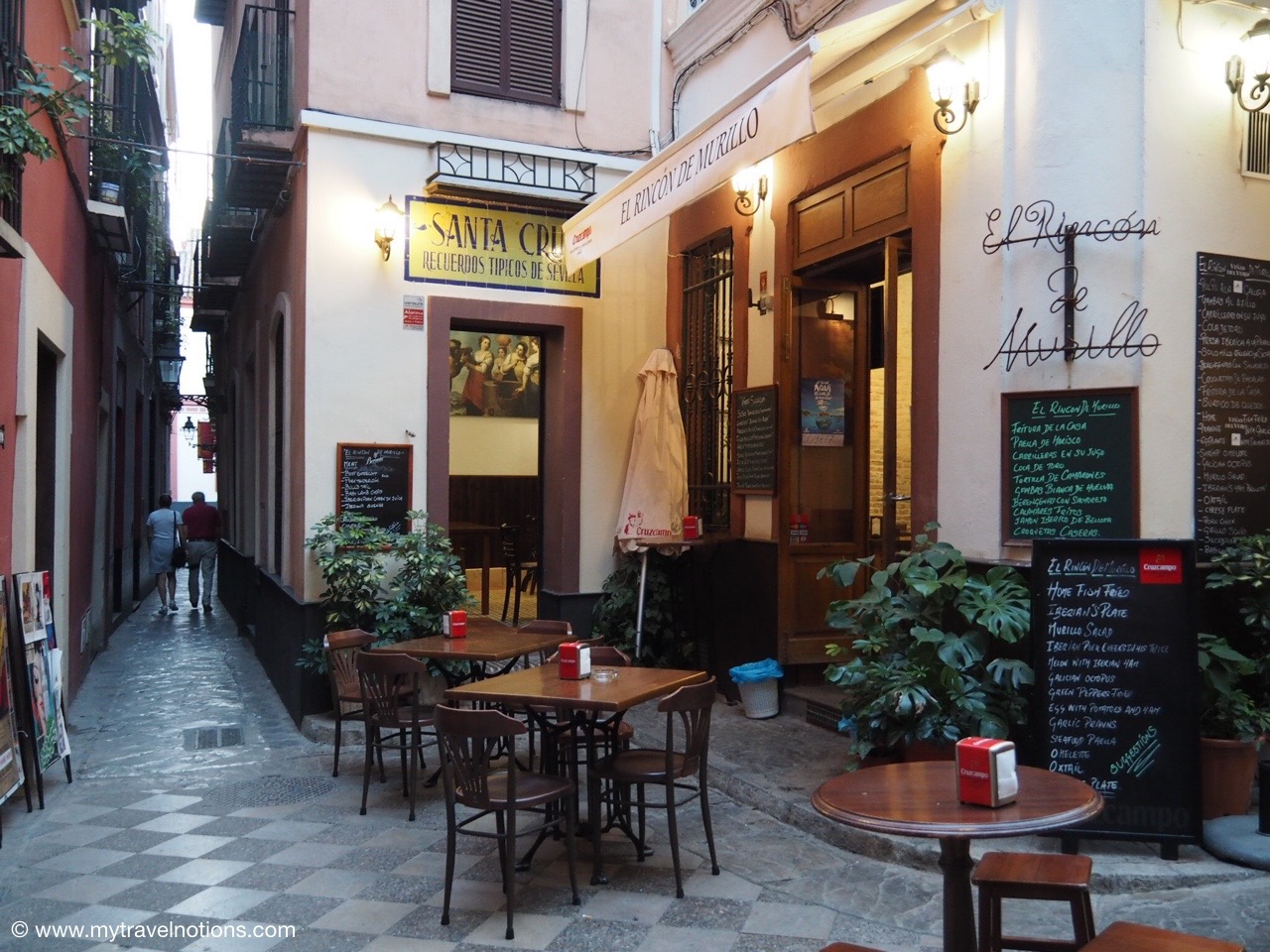 Seville, Spain, continues to be my home base for just a couple more days as I explore Cordoba tomorrow and the white villages of Andalusia on Thursday but come Friday, its back to Madrid and then Saturday, its back home to Texas. Its funny but the whole time I've been in Spain, whenever someone asks me where I'm from, I always say Dallas, Texas, USA. Other people shout out their country, but for me, its Texas USA.
So for my 2nd Seville day became all about the two main treasures for me, the Royal Alcazar Palace and the Seville Cathedral.
The Royal Alcazar Palaces are made up of a number of buildings from the original Moorish Alcazar palace to later extensions in the form of courtyards and palaces carried out by different monarchs.
I've taken many walks around the Seville cathedral since I've been in Seville and it is grand. It's considered the largest in Spain and one of the biggest cathedrals in the world. It is a treasure trove of history and art.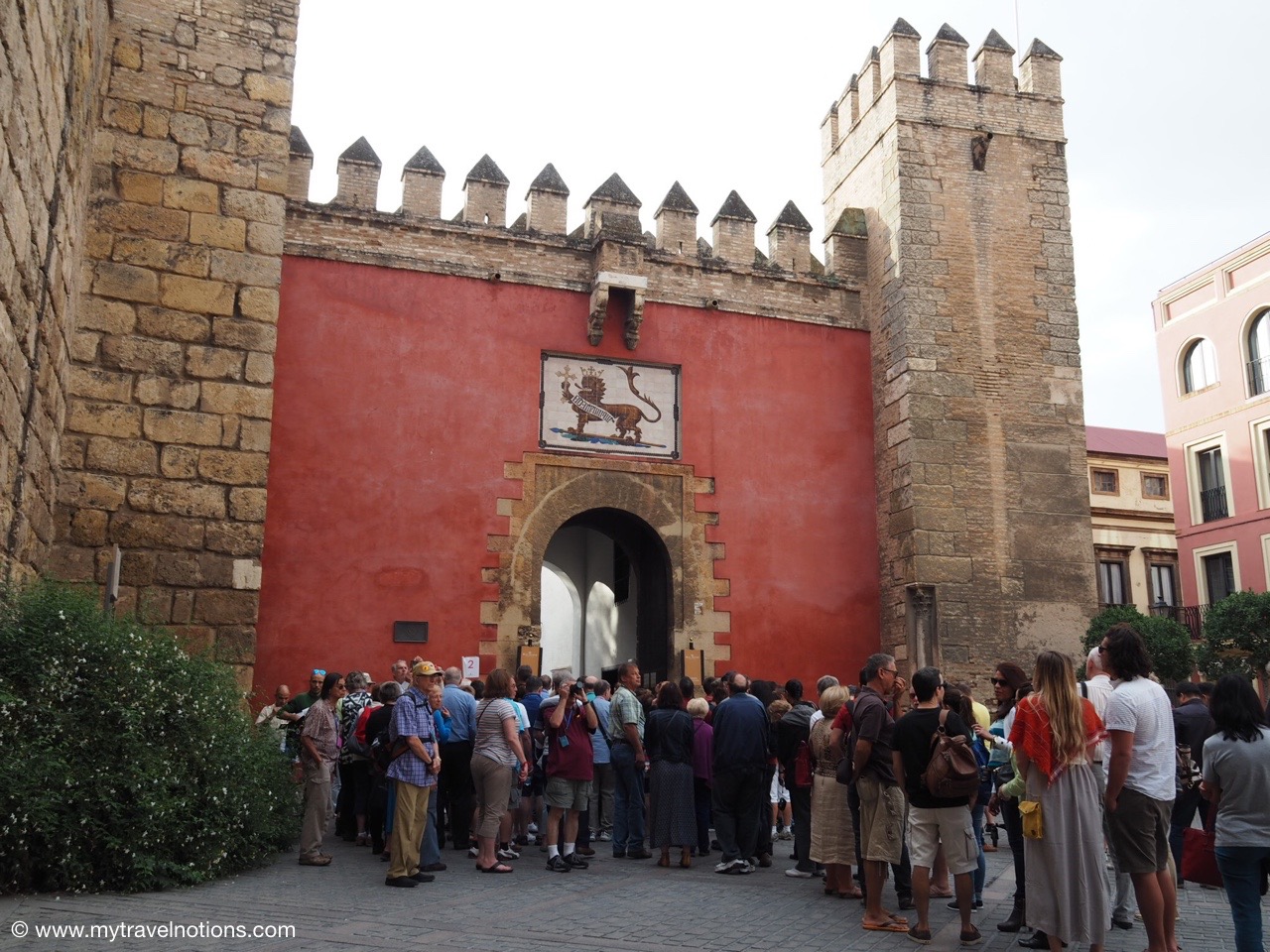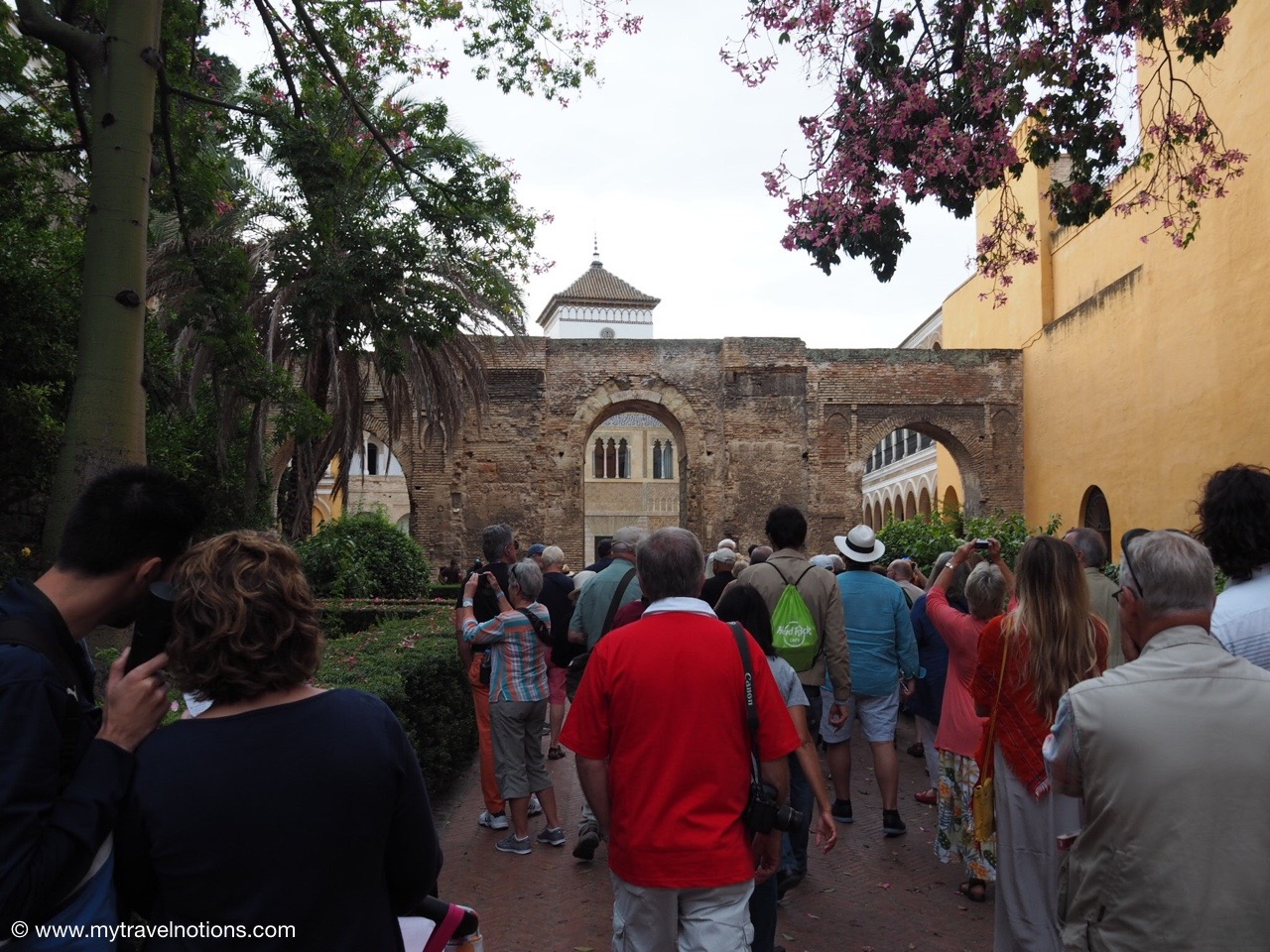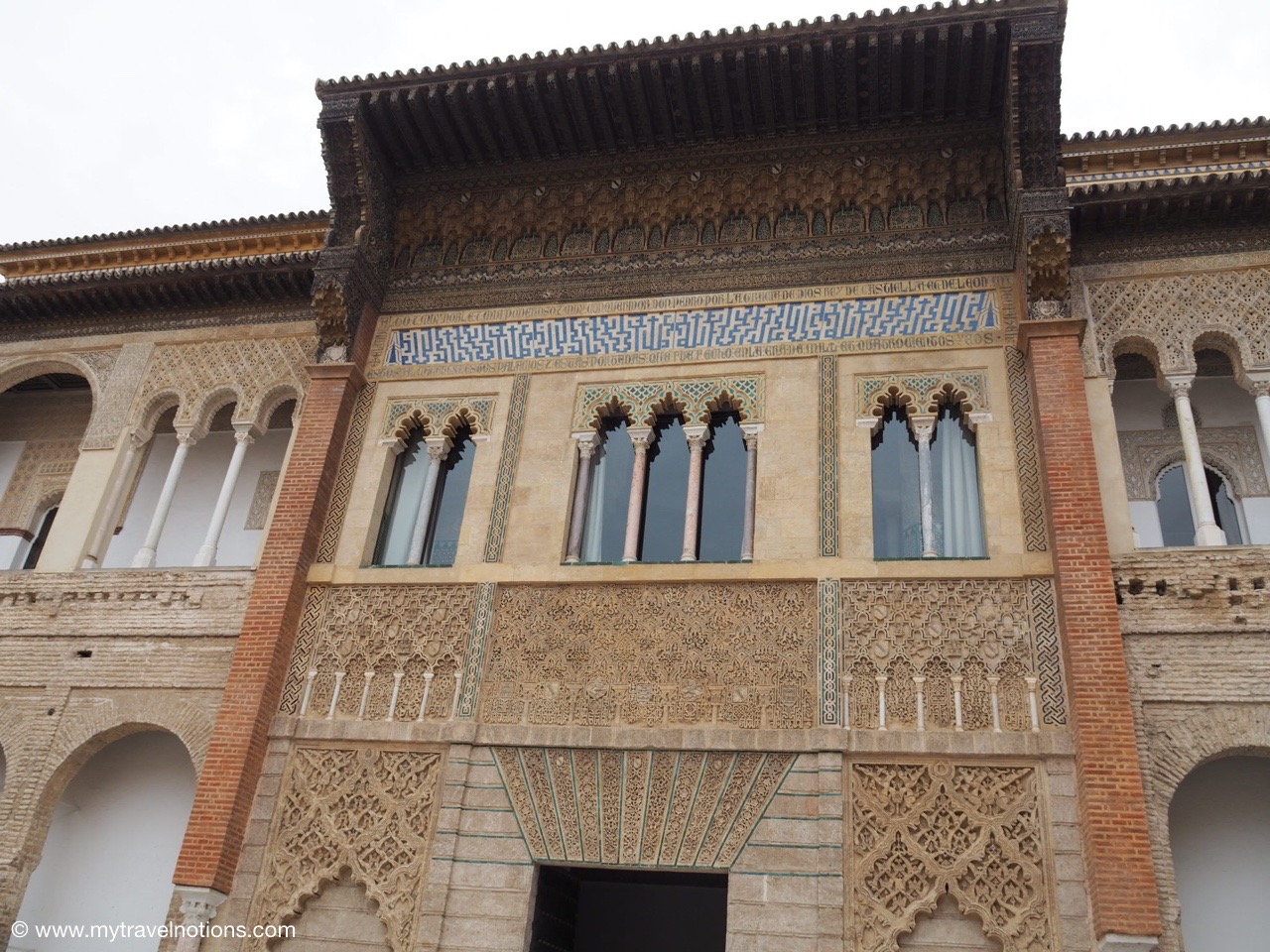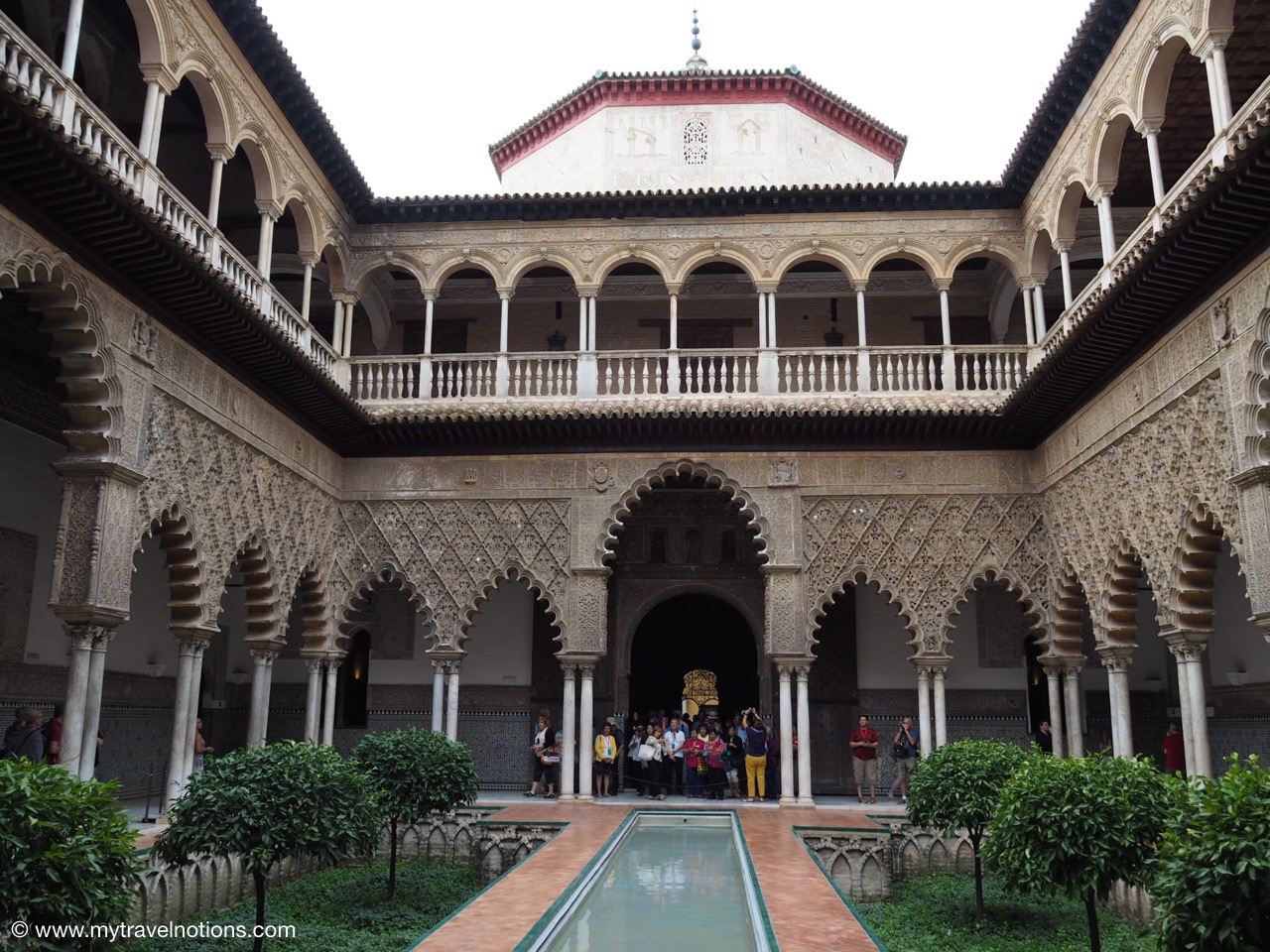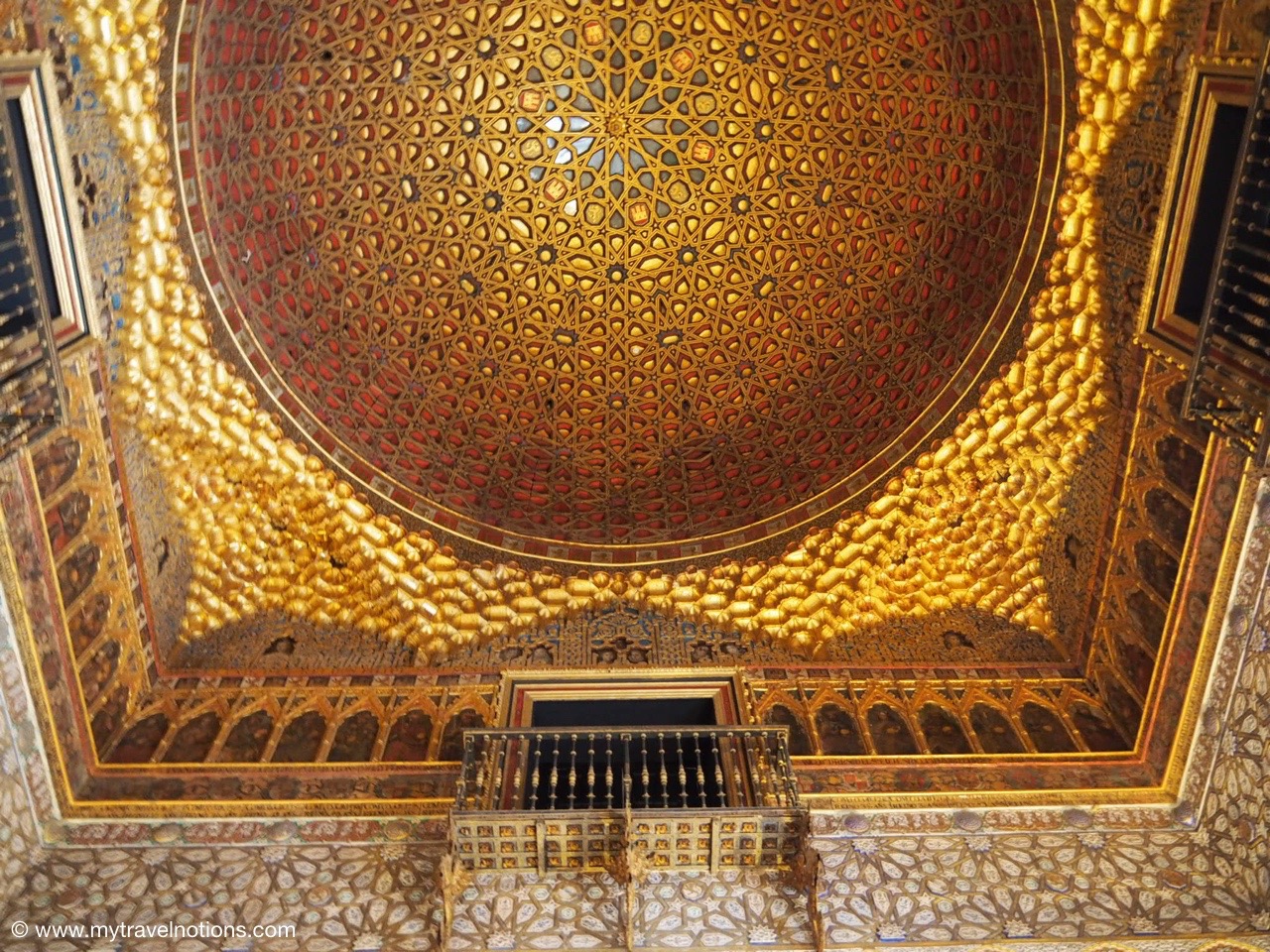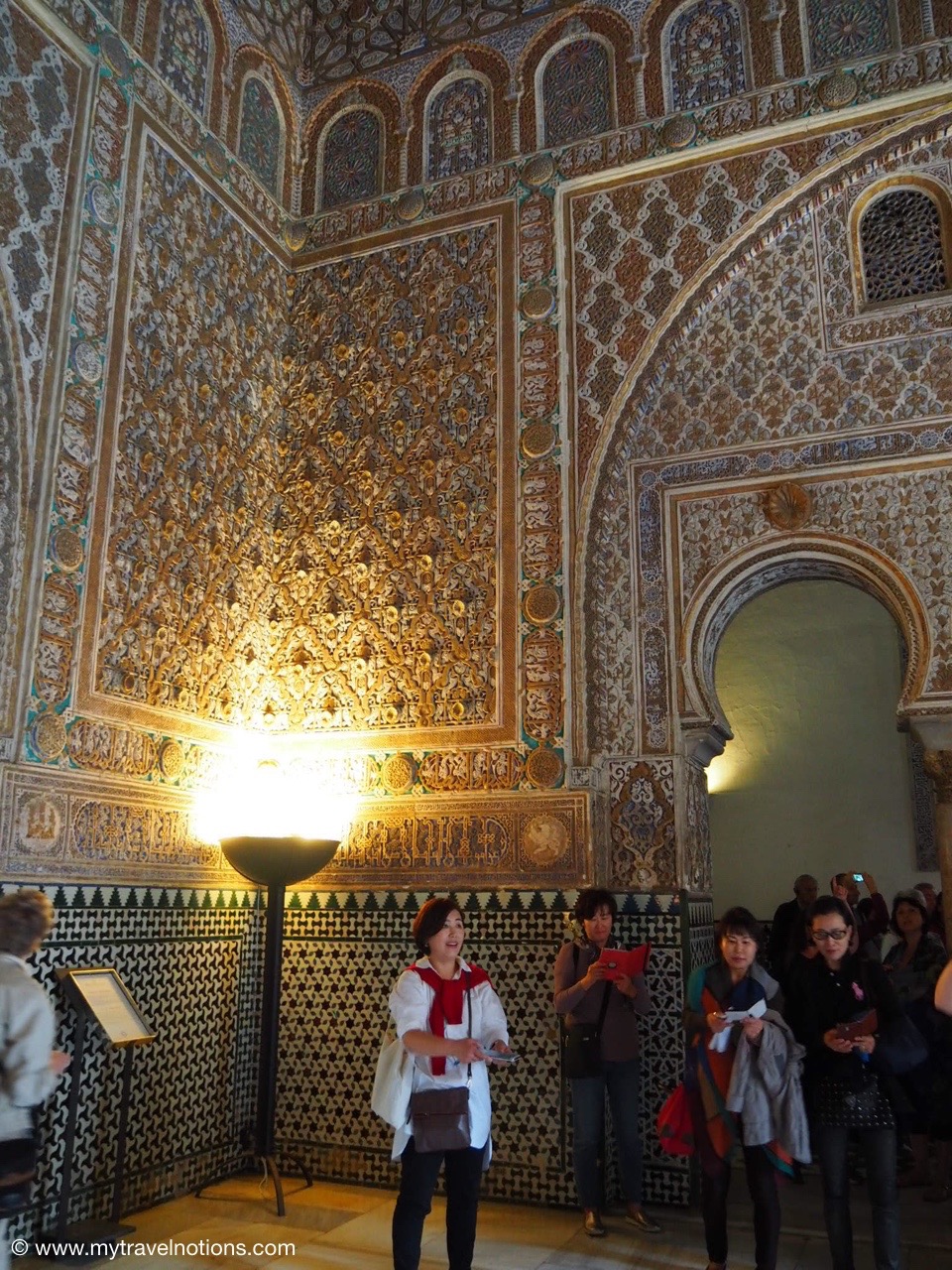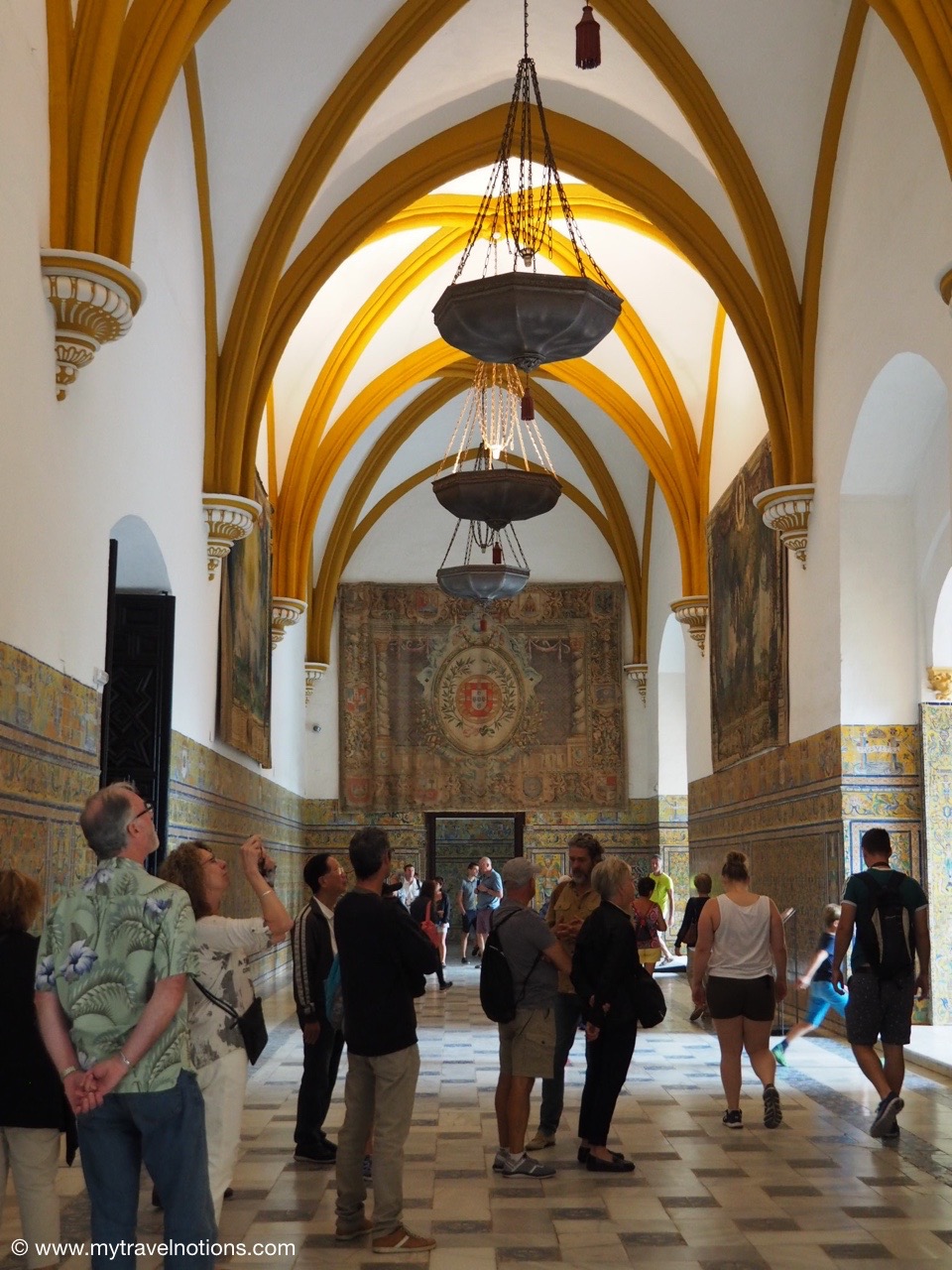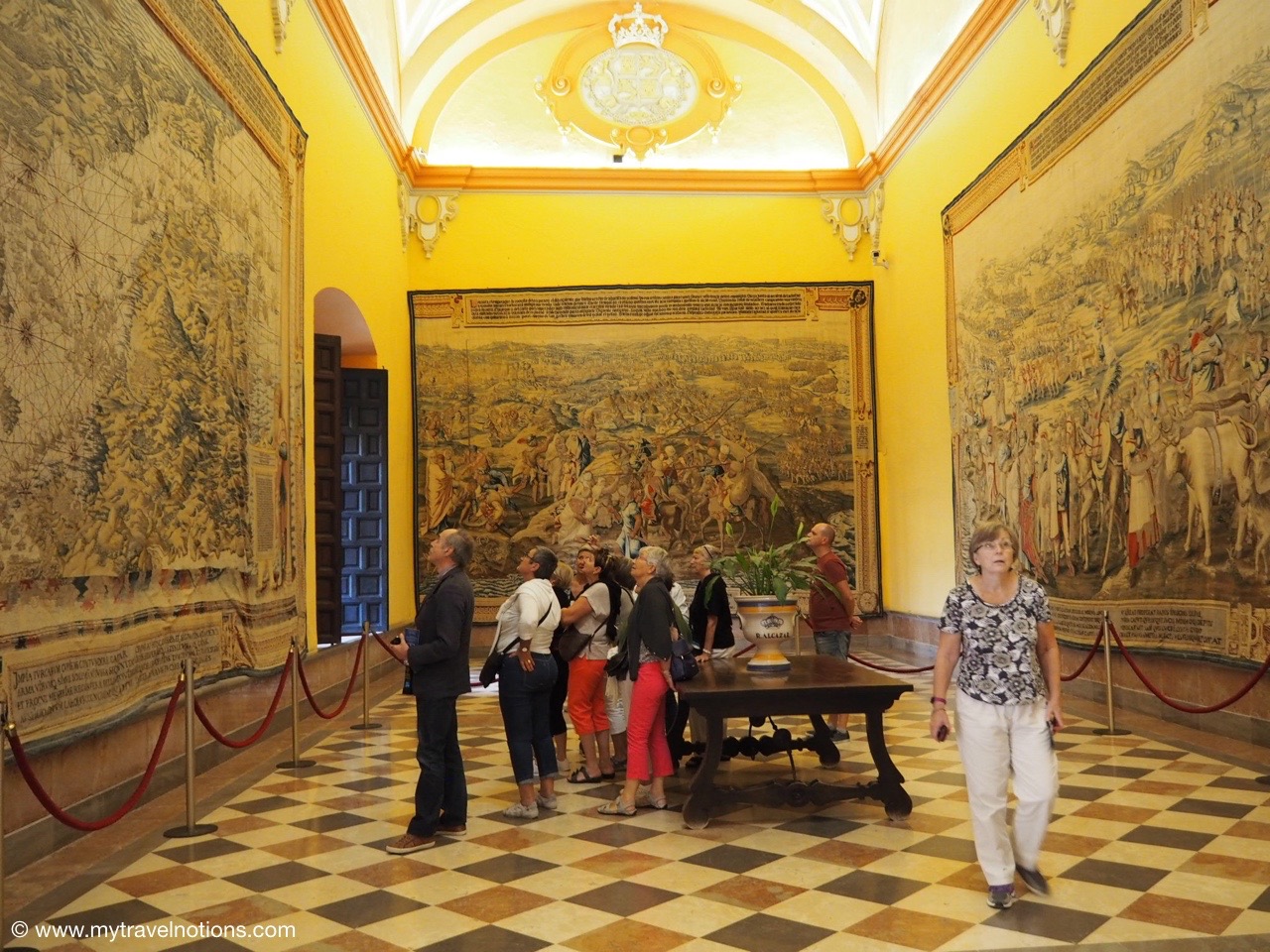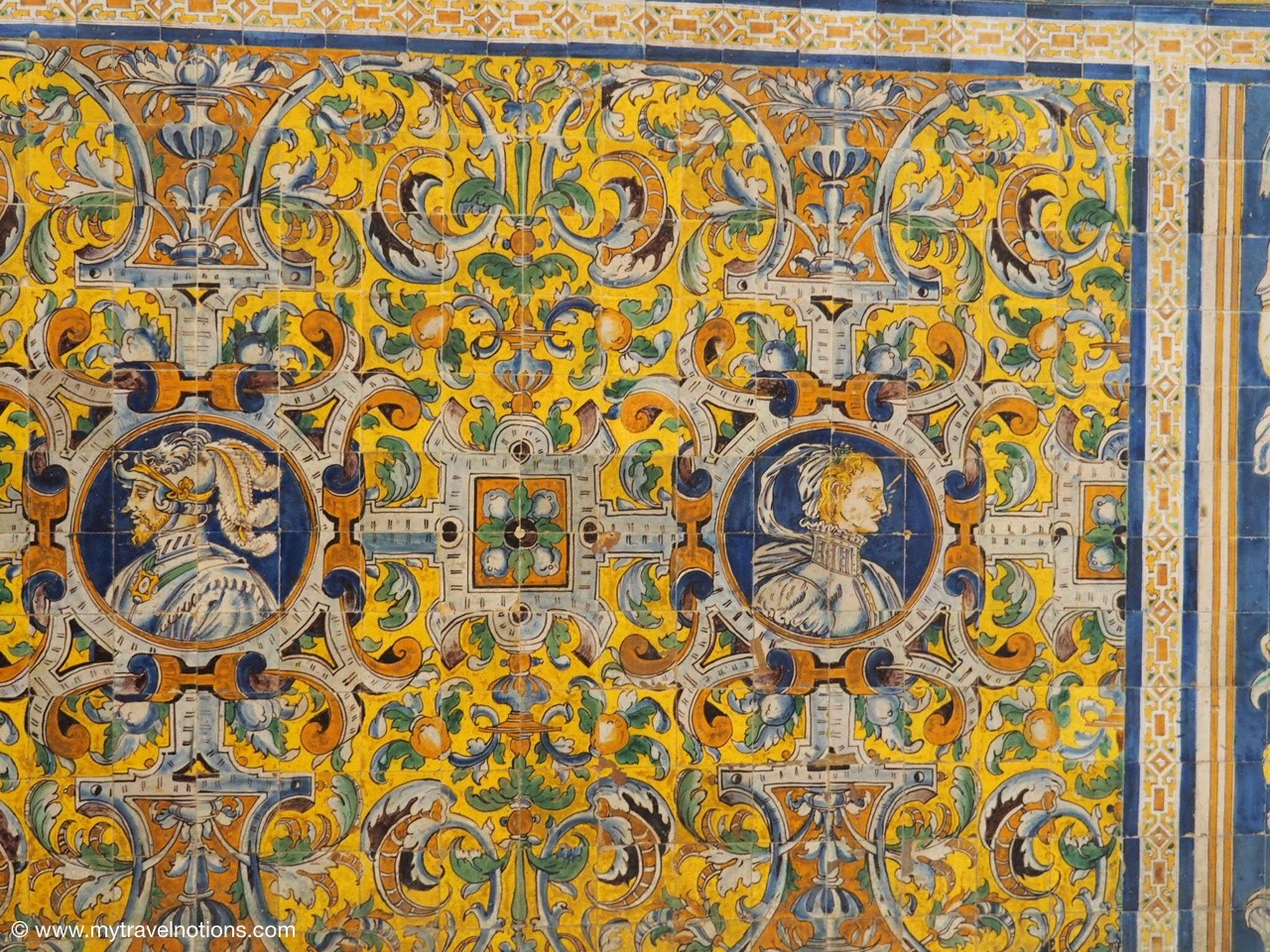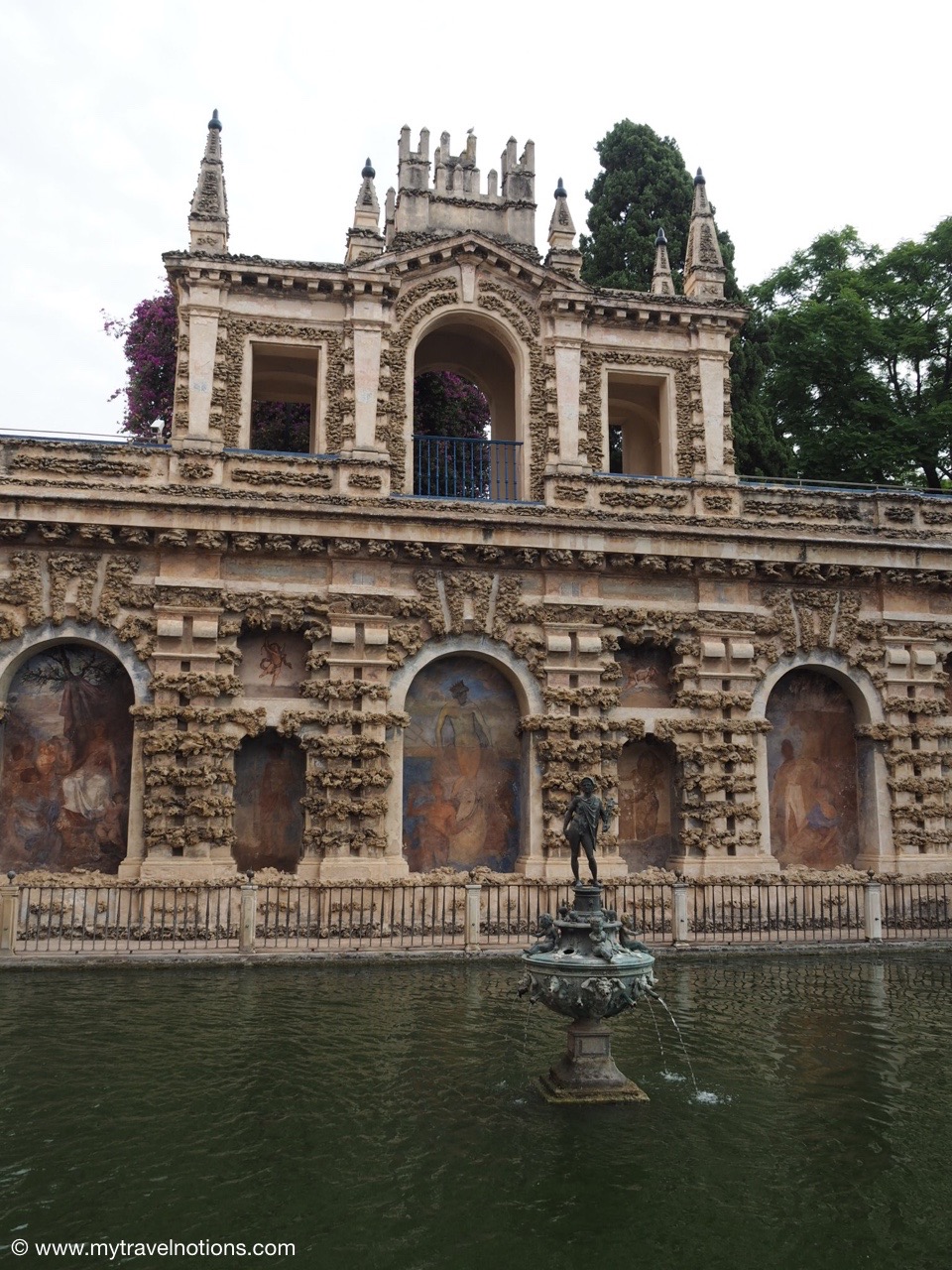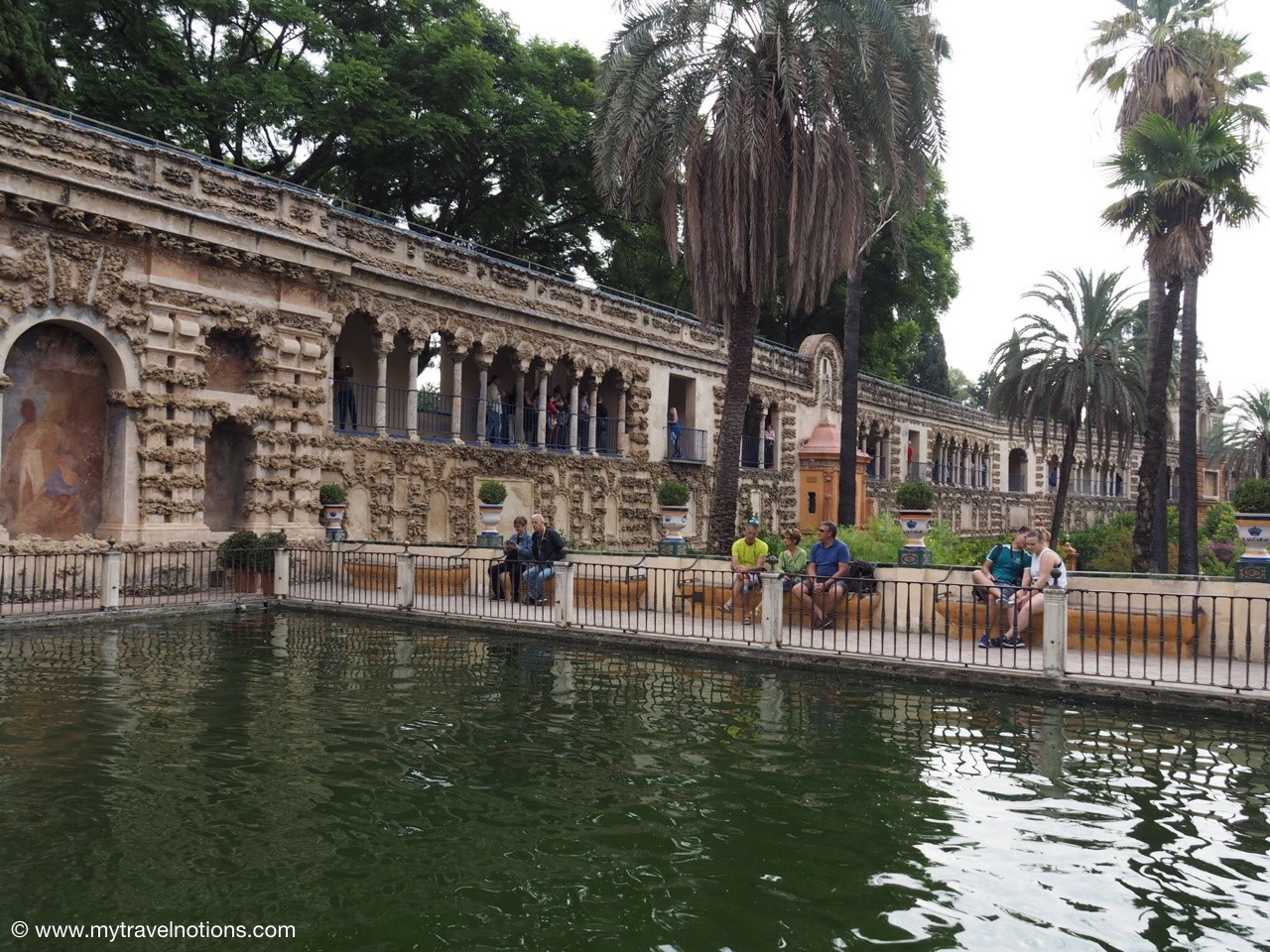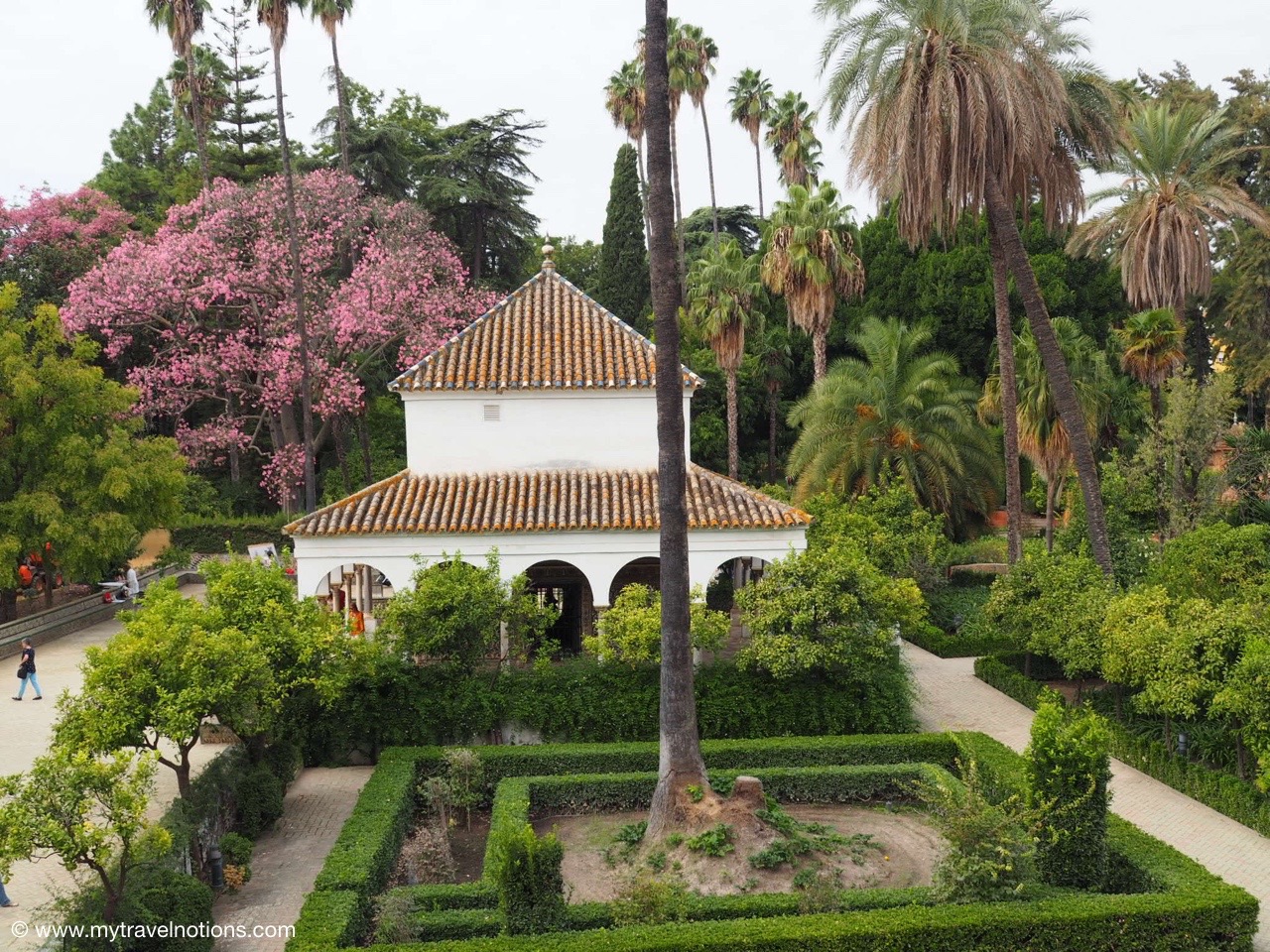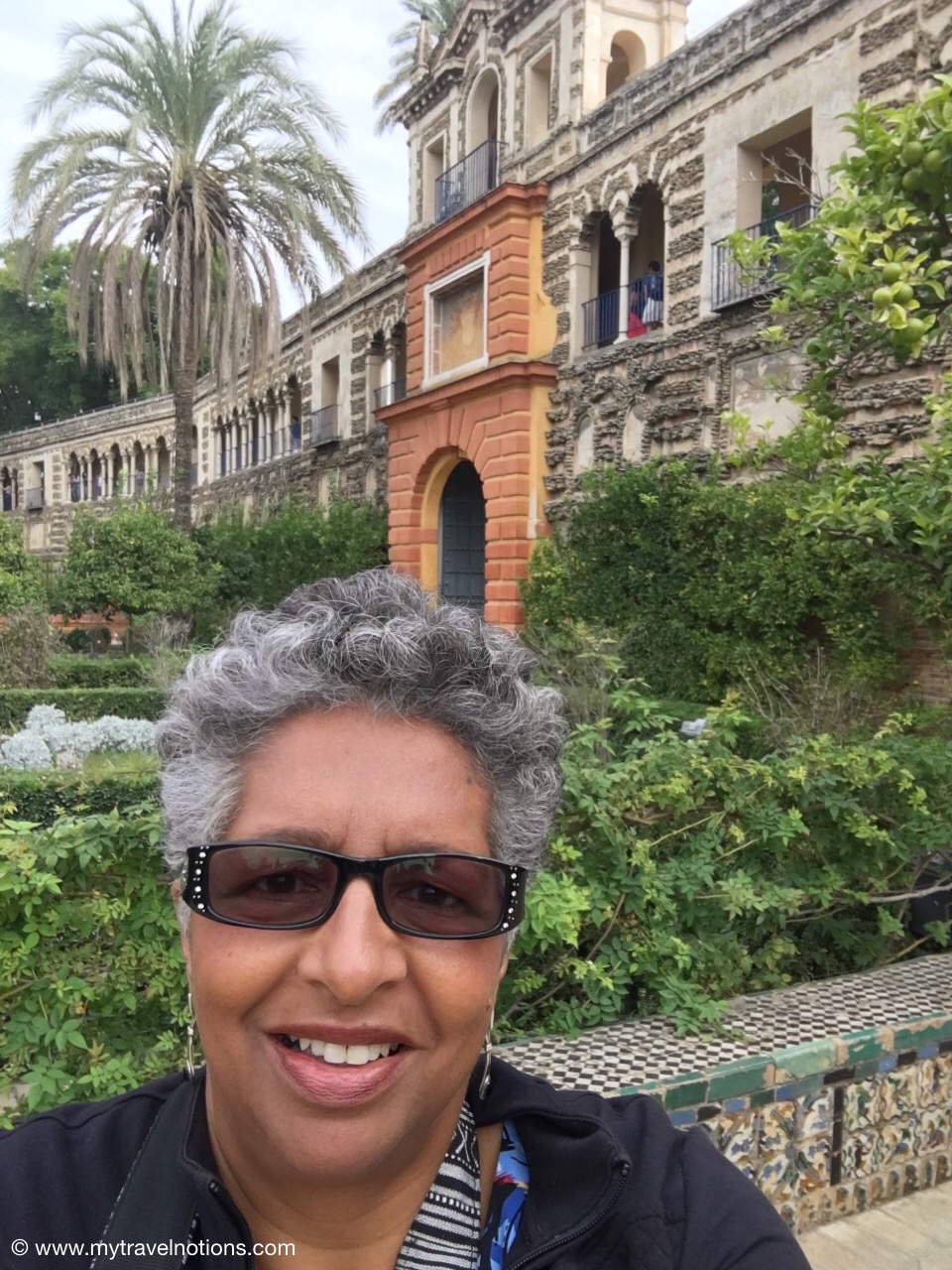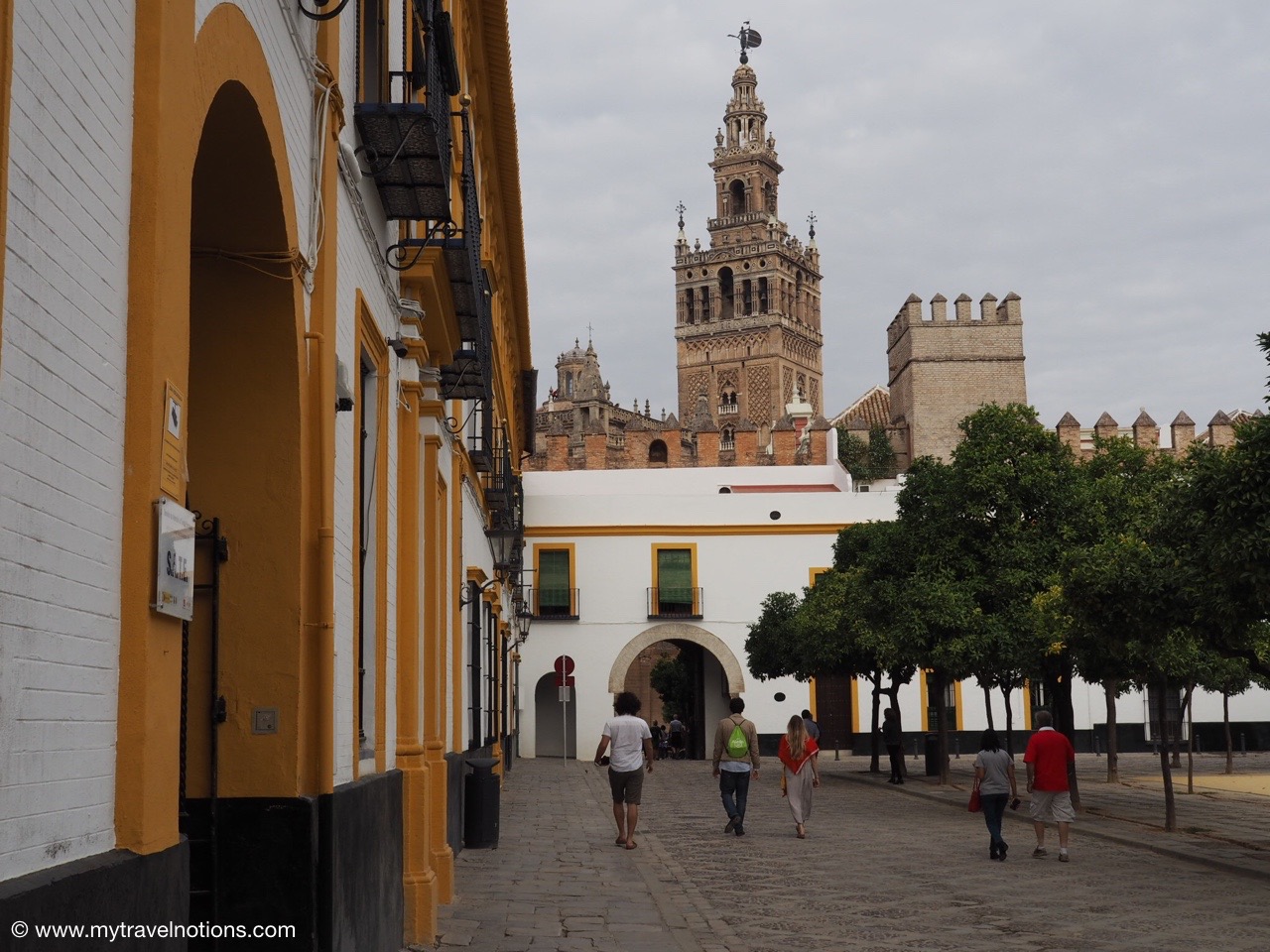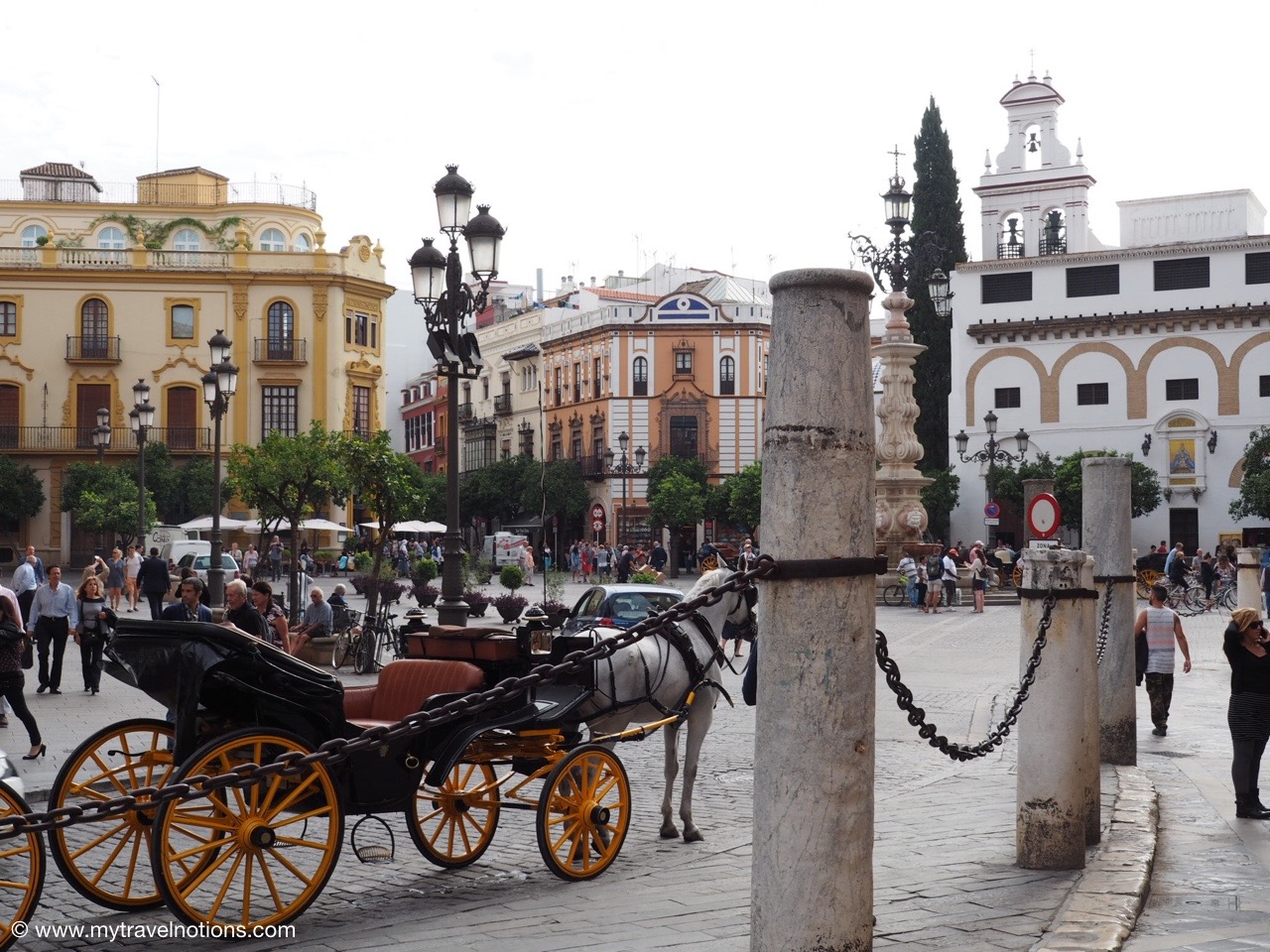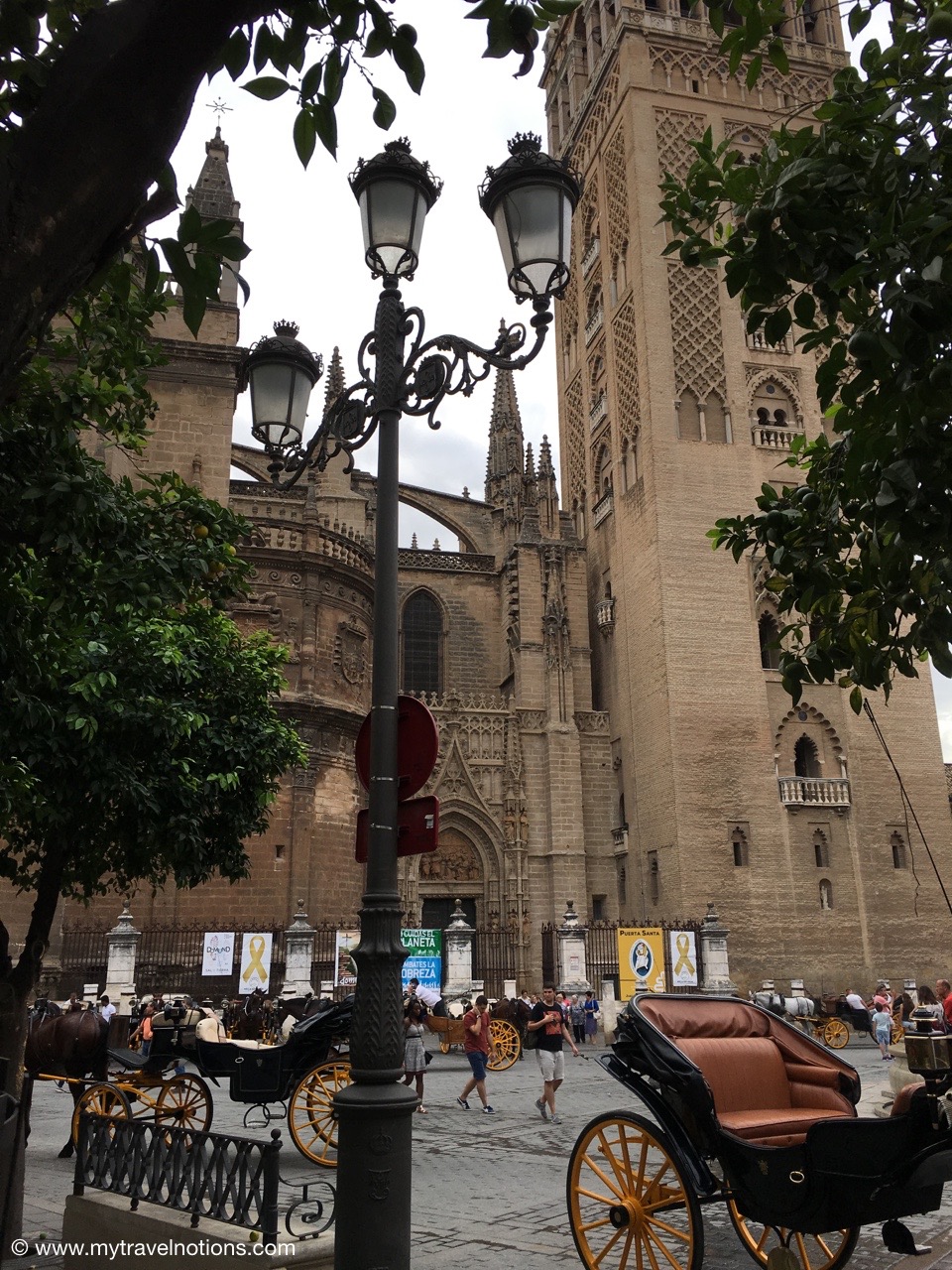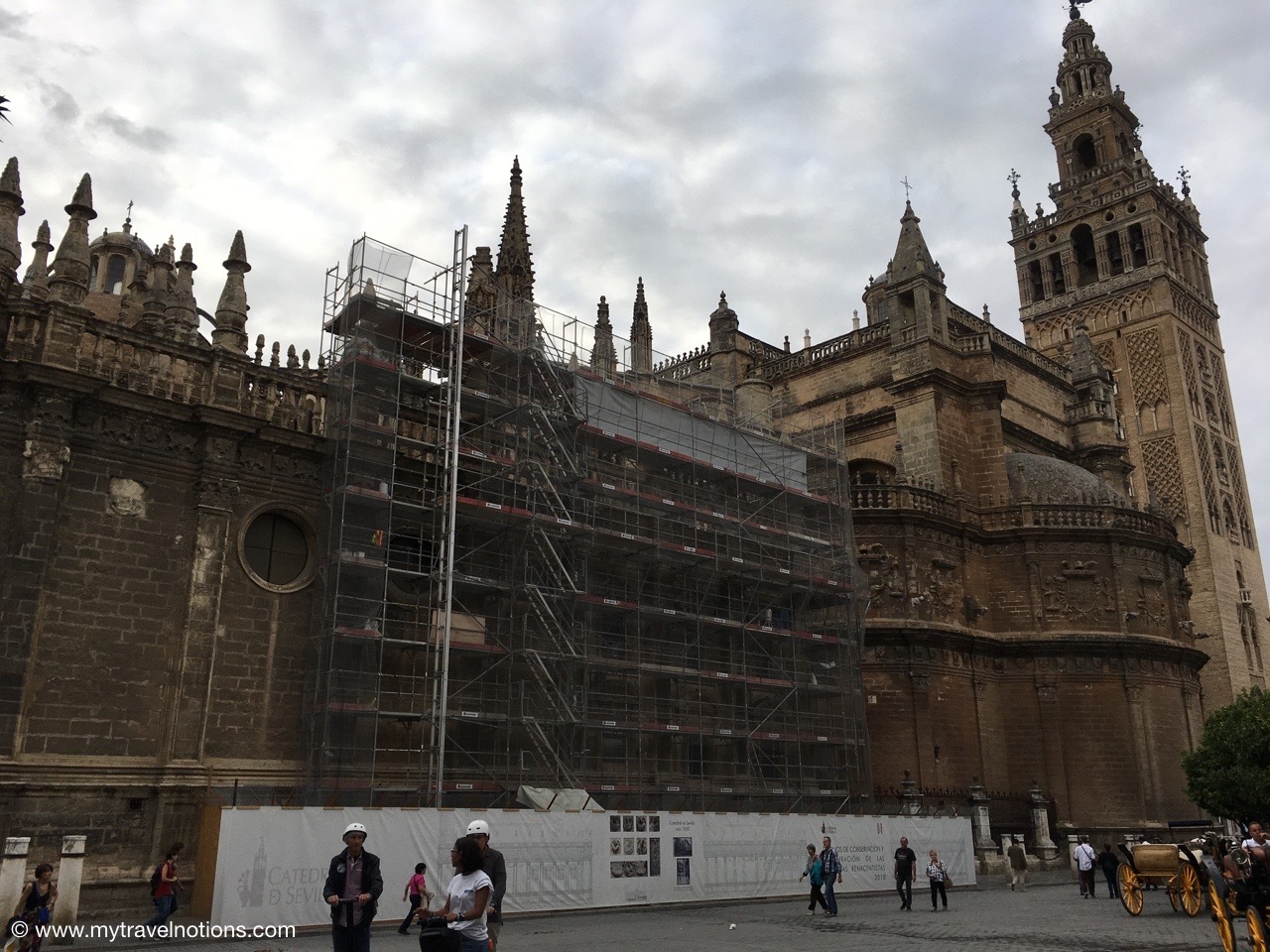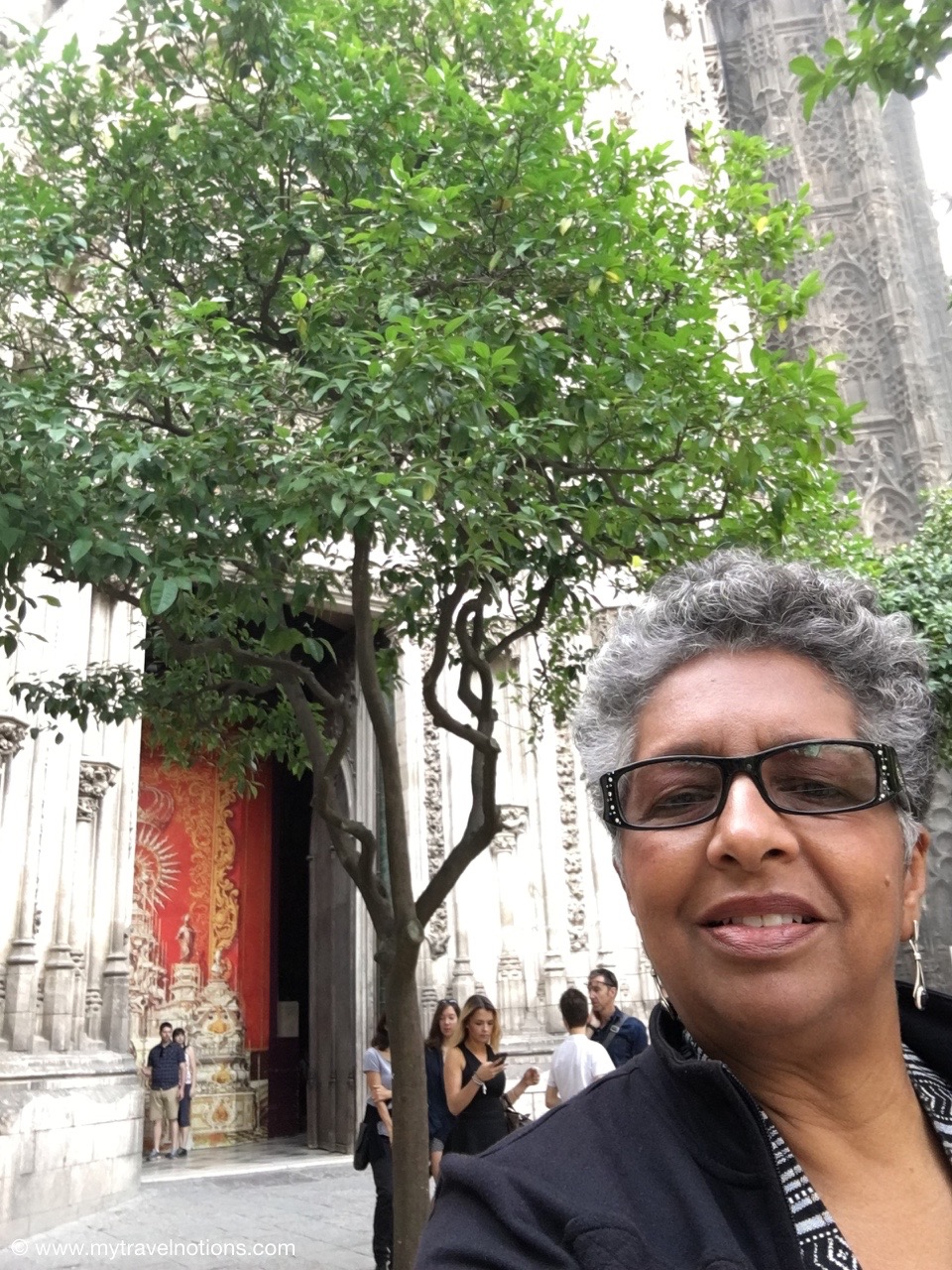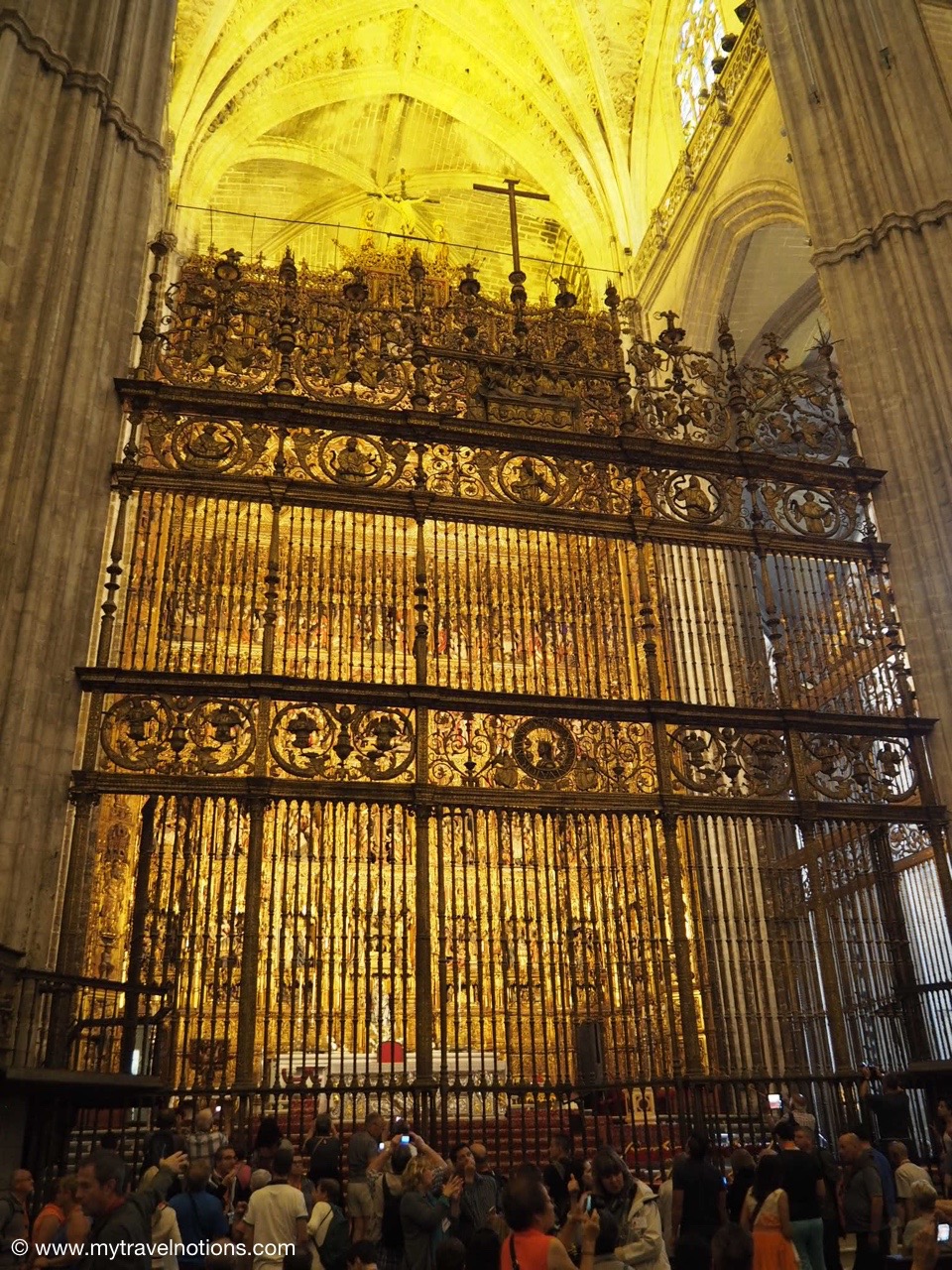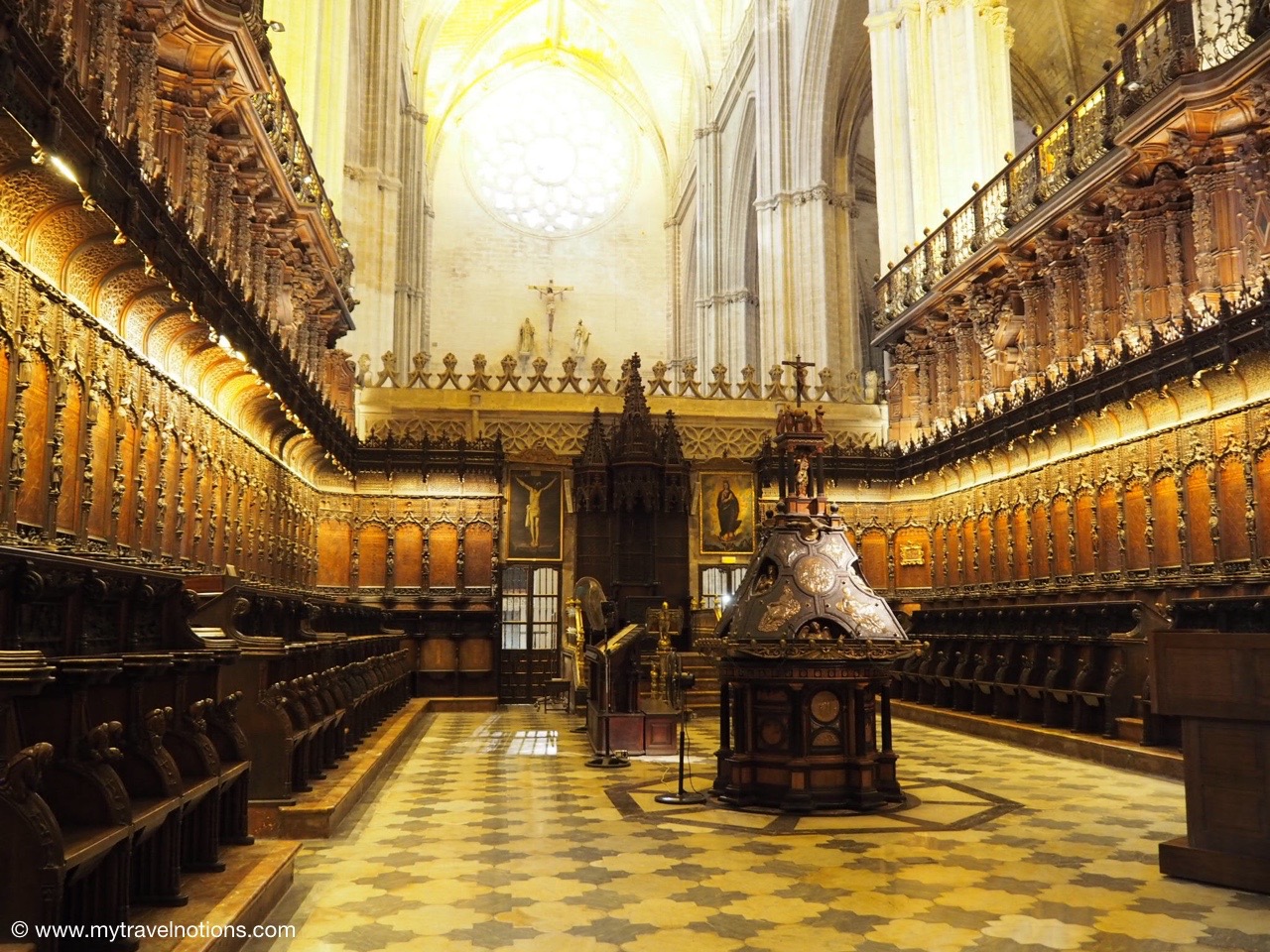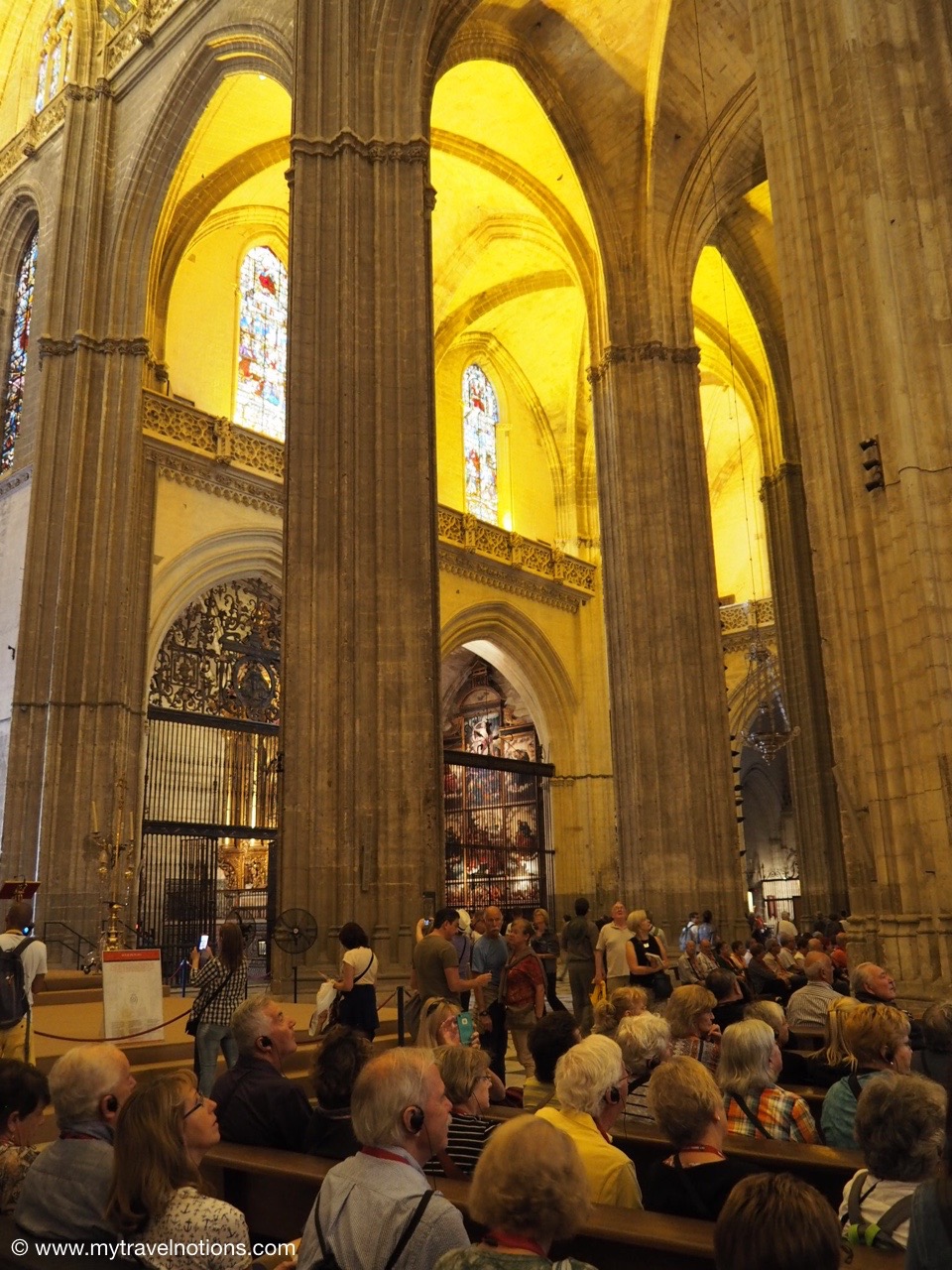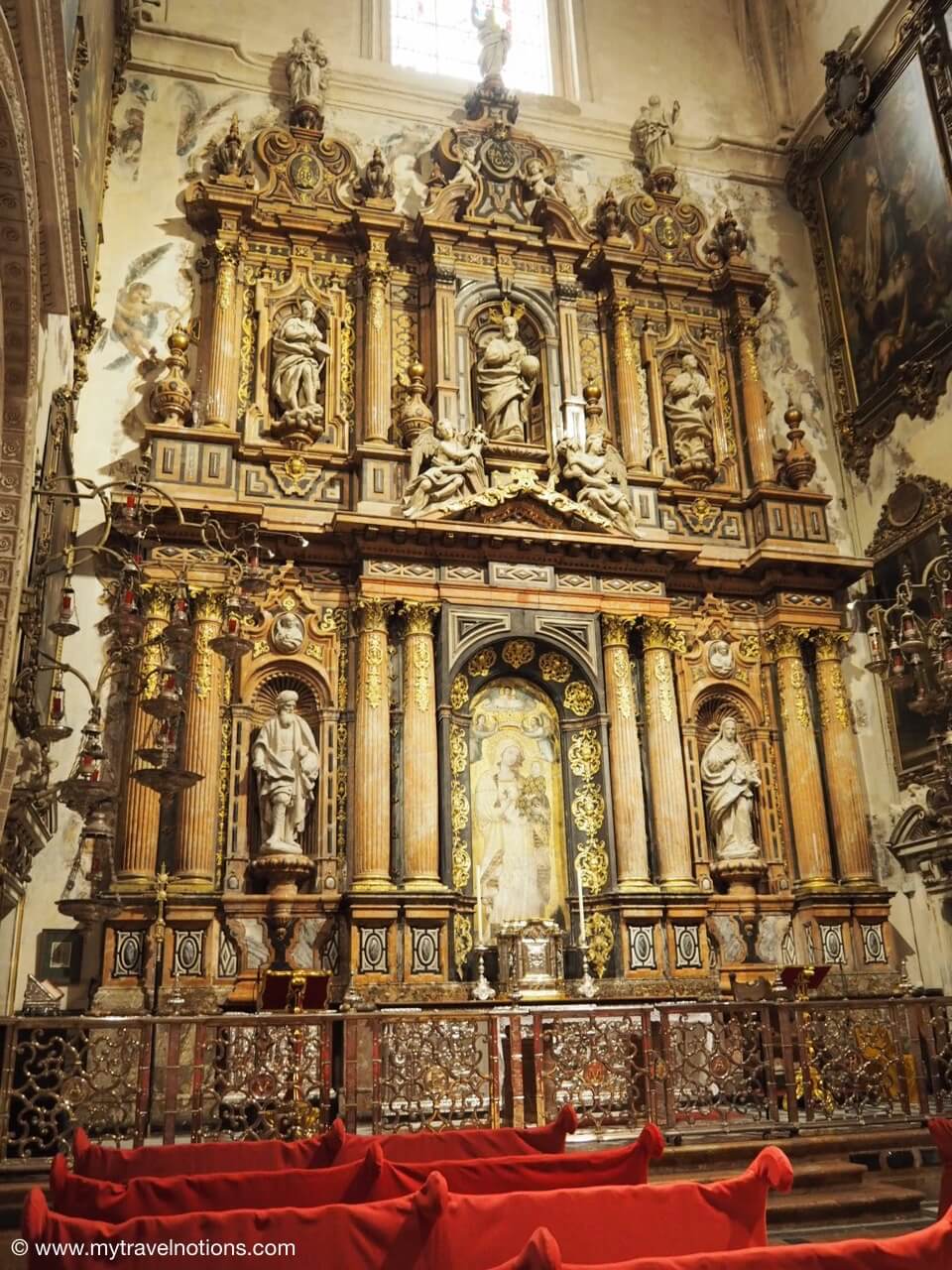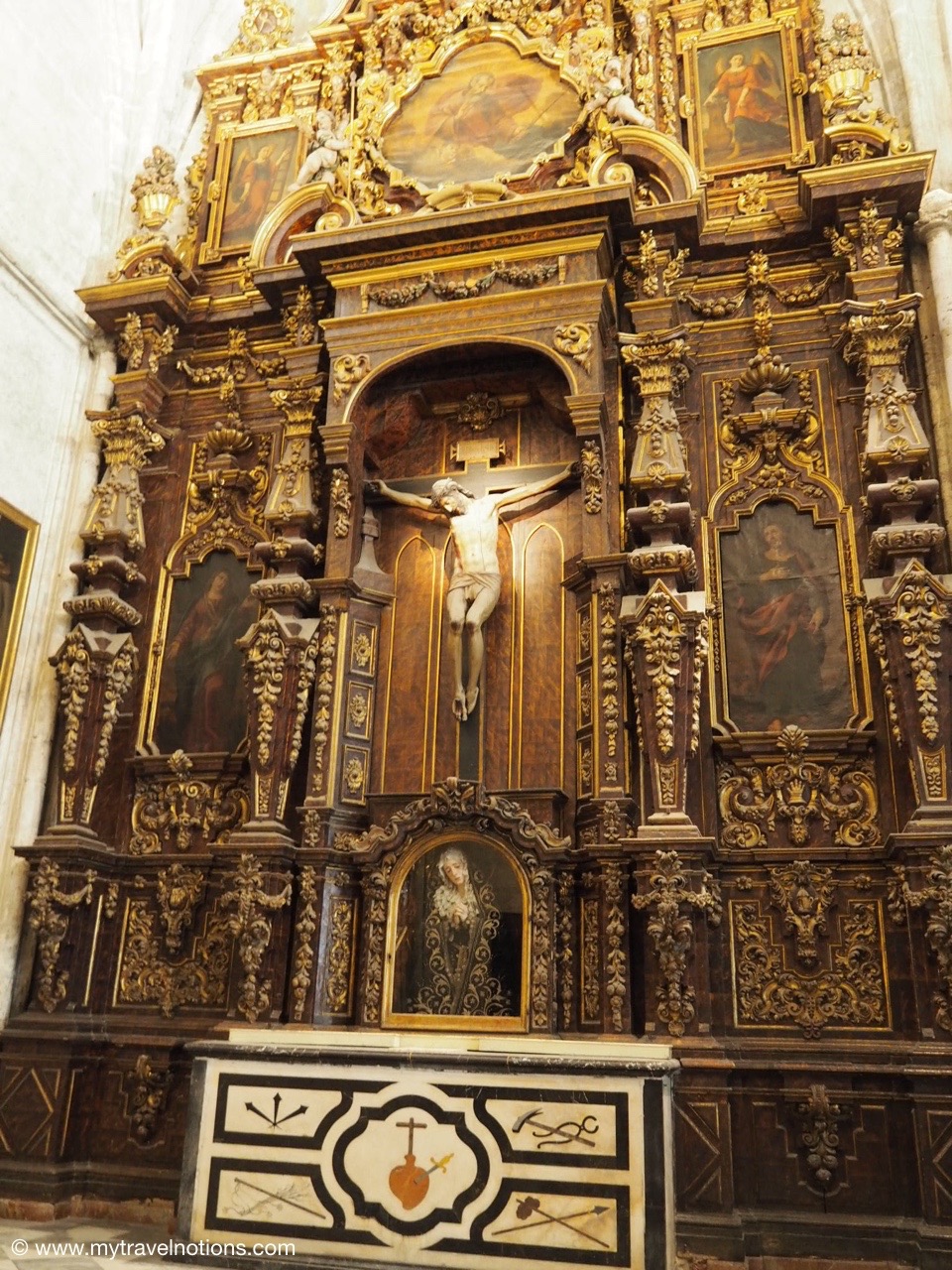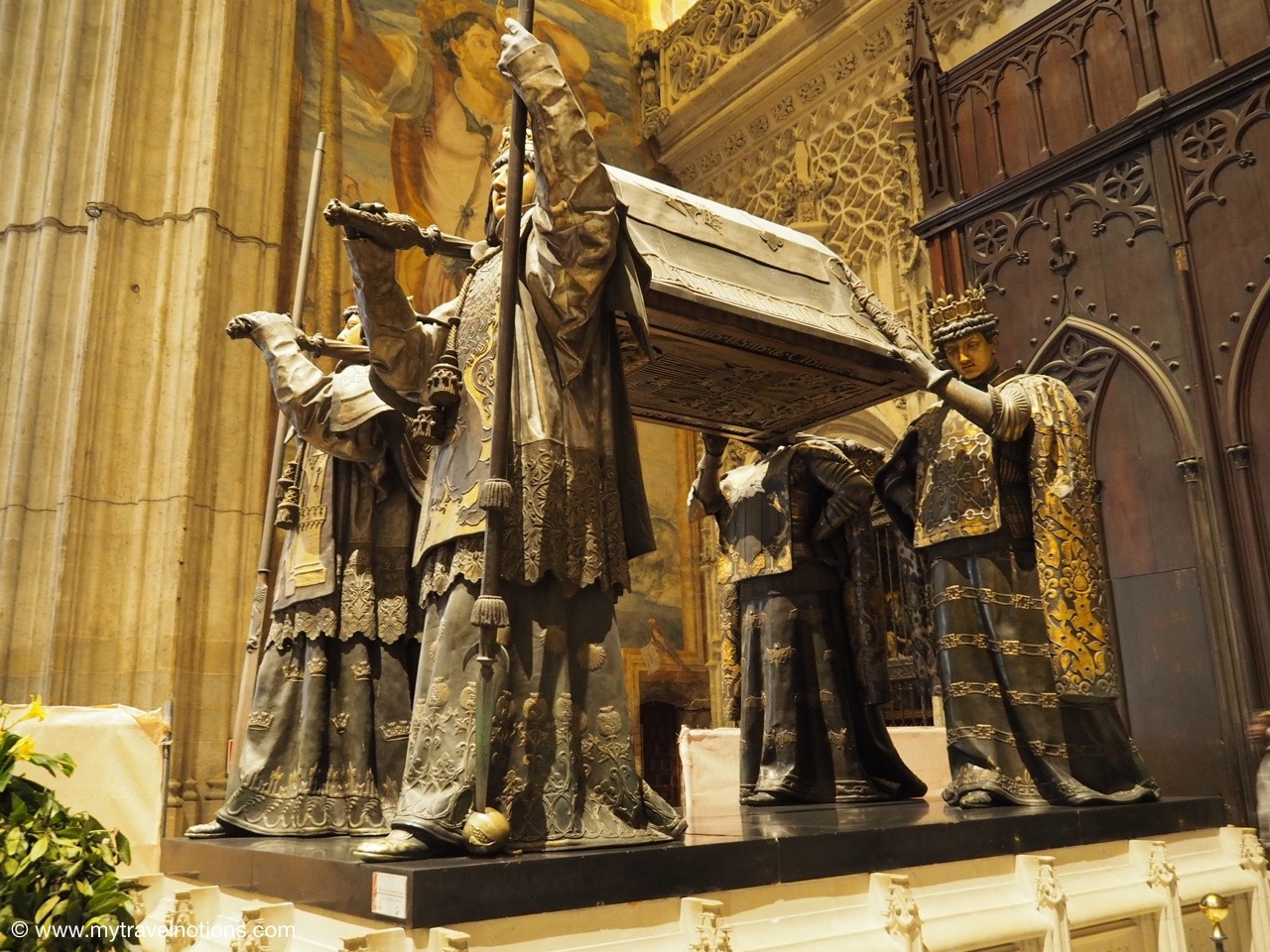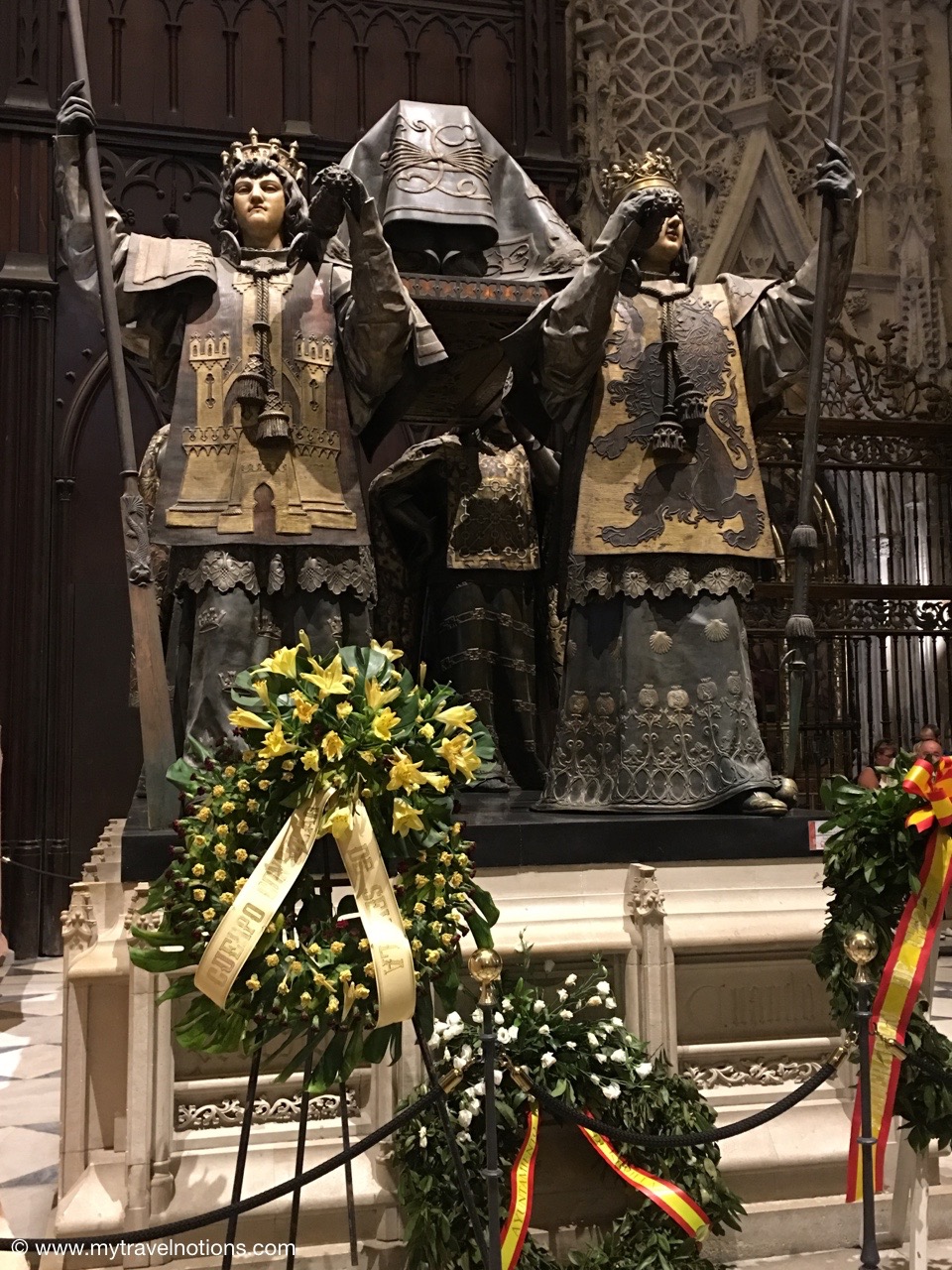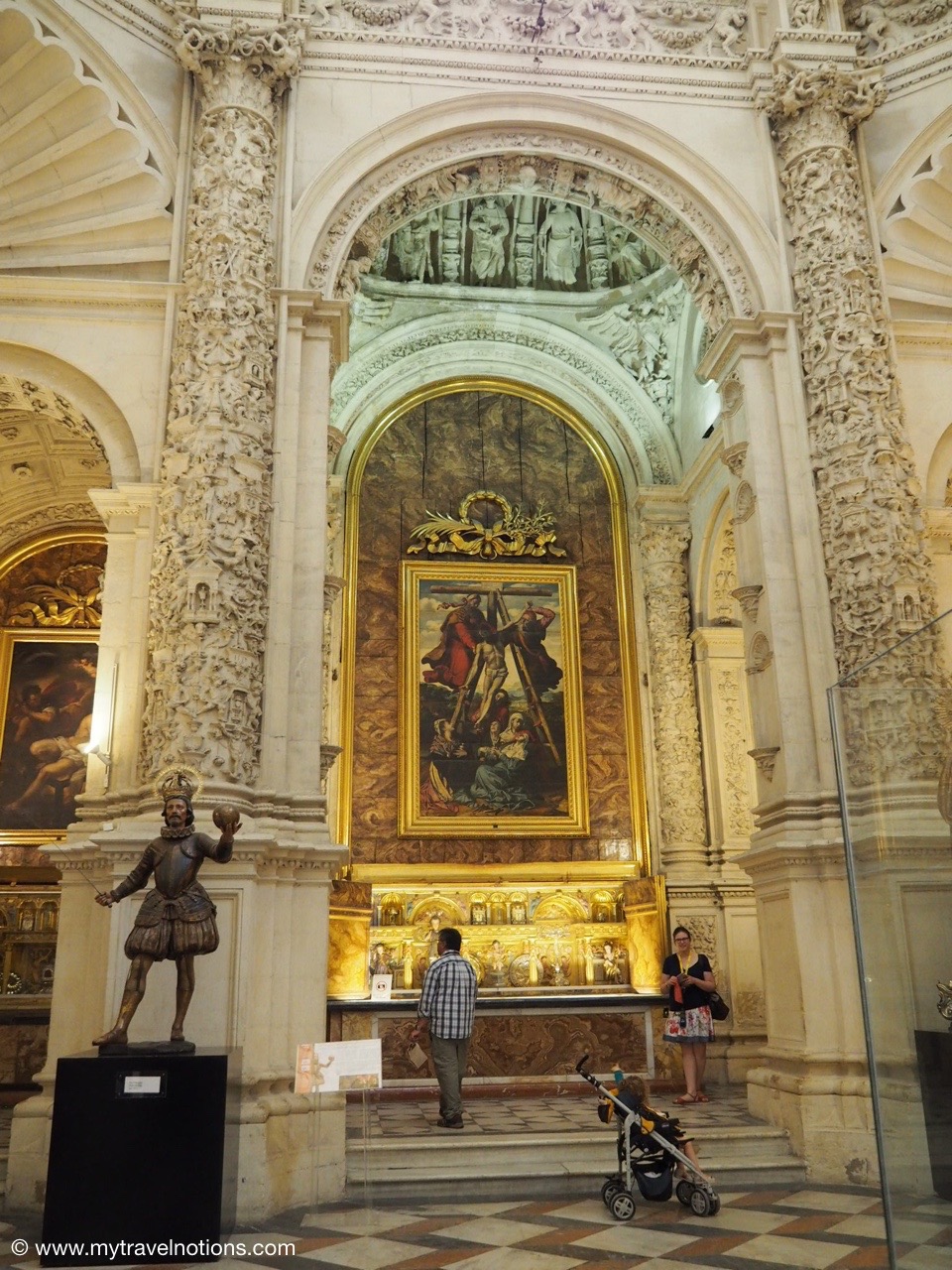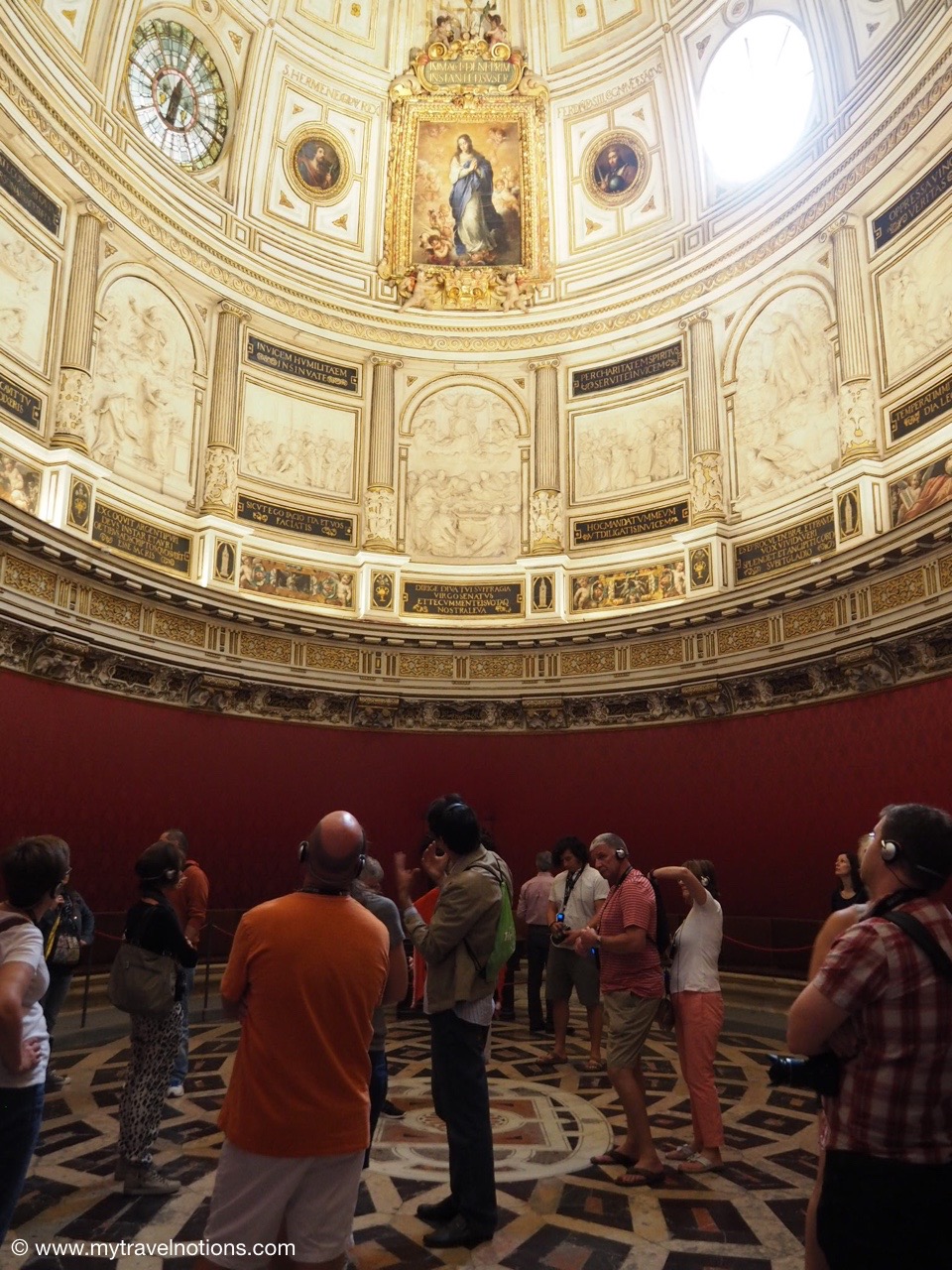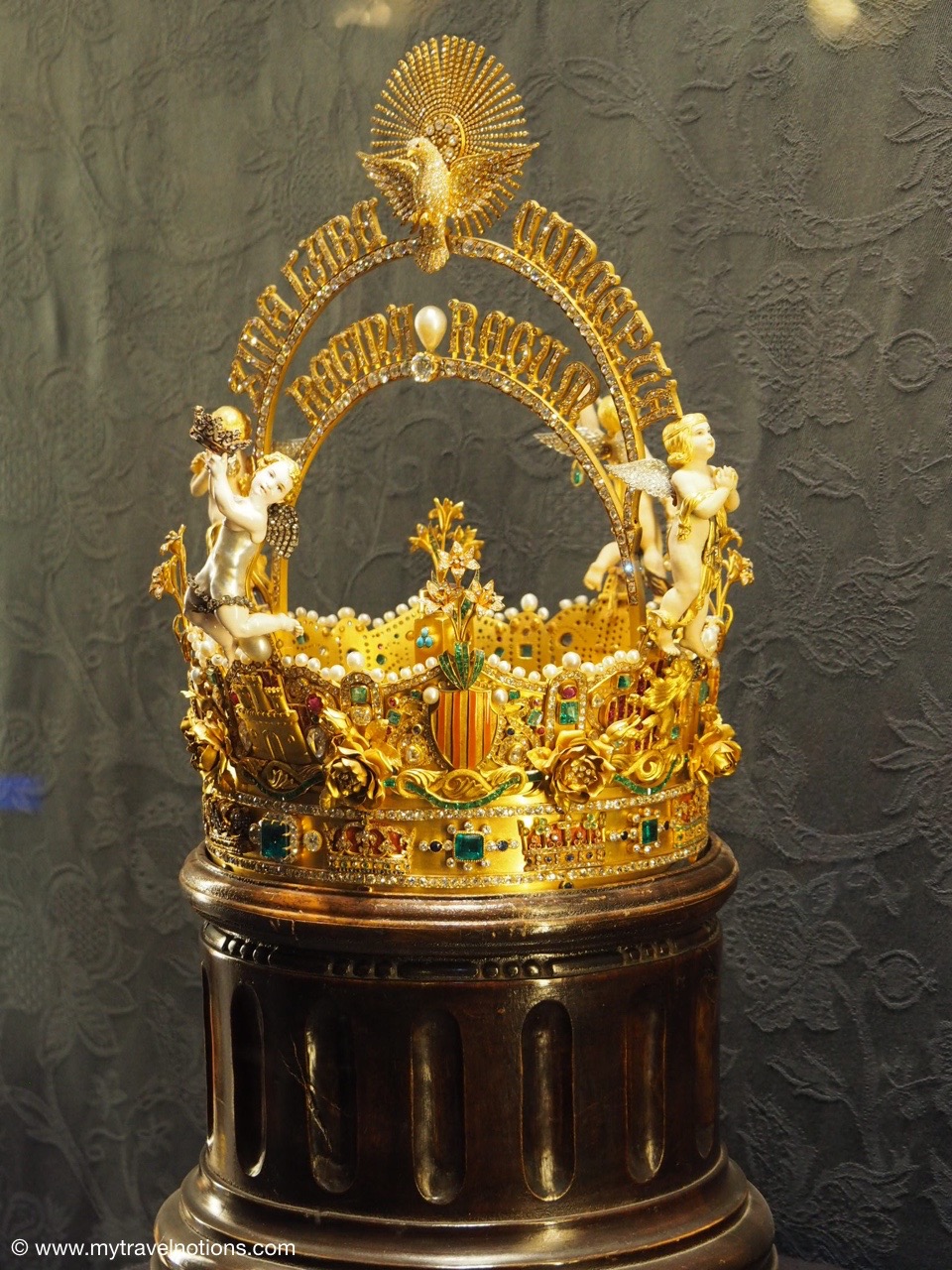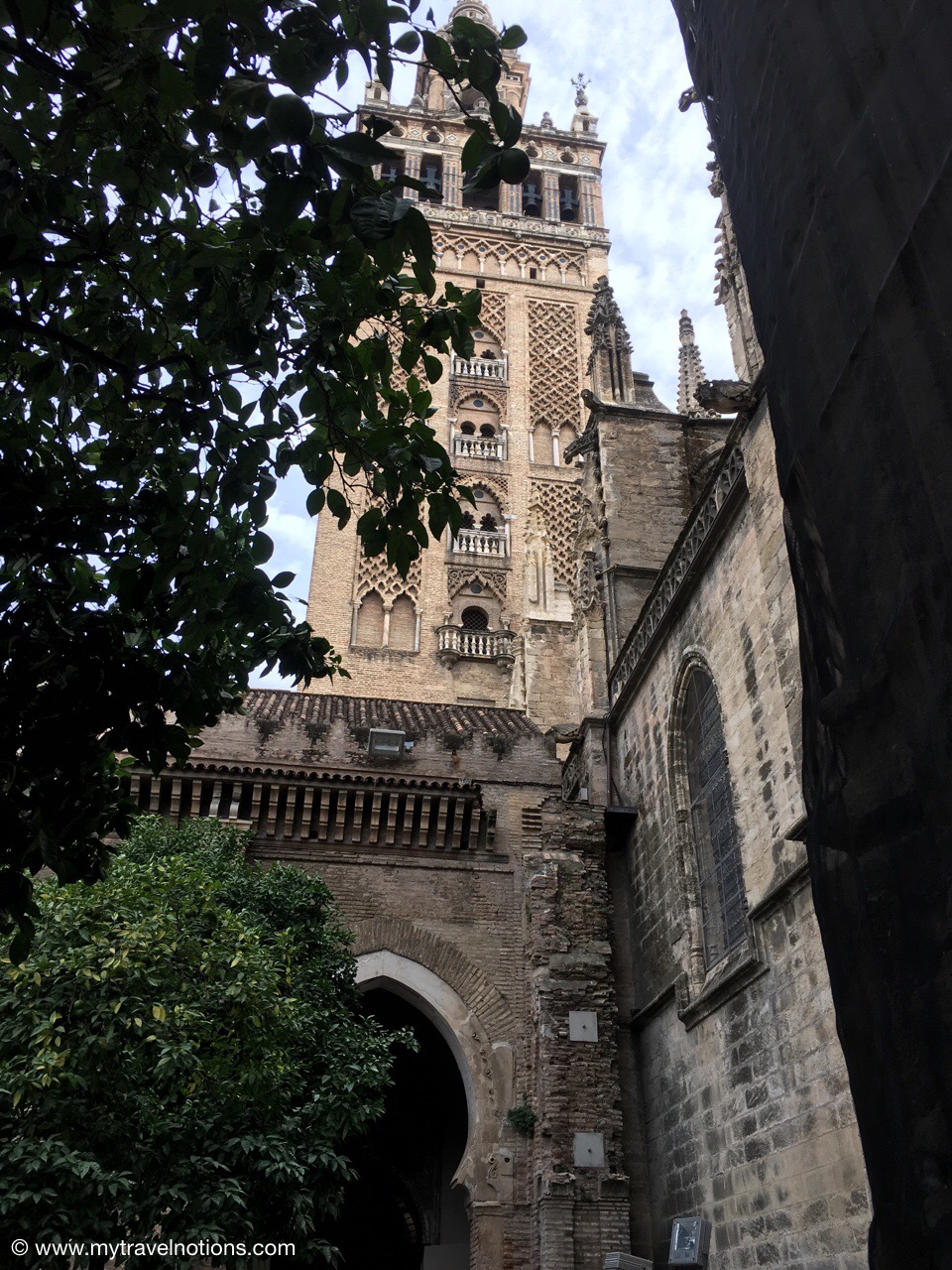 For me, Cordoba, Spain, is all about the Mezquita. That's what it was called six years ago when I came to Cordoba to see it, but now it is officially being called the Mosque–Cathedral of Córdoba. There is no cathedral that I've seen, and I've seen quite a few this year, that comes close in any way to resembling the Mosque-Cathedral. It is regarded as one of the most accomplished monuments of Moorish architecture and yet it is also a Catholic church with its side chapels, grand chapel and grand choir. I came back to Cordoba just to see the Mezquita again. And, I'm so glad I did.
I also spent time at the Alcazar of the Christian Monarchs, mainly for the gardens. It turned out to be a beautiful day to take a stroll through the manicured gardens intermingled with fountains.
Today, I decided to only use my iPhone 6s Plus to take pictures. I don't think I've shared this bit of news with my daughter, but before I left on this trip, I bought myself a new iPhone 6s Plus, this time with 128 GB of memory. I've been using my lightweight Olympus camera, with its incredible zoom lens, to take pretty much all of my pictures while using my iPhone mainly for selfies. But today, in honor of the Mezquita and the Alcazar in Cordoba, my iPhone would get top billing. So, all the pictures in this post were taken with my iPhone.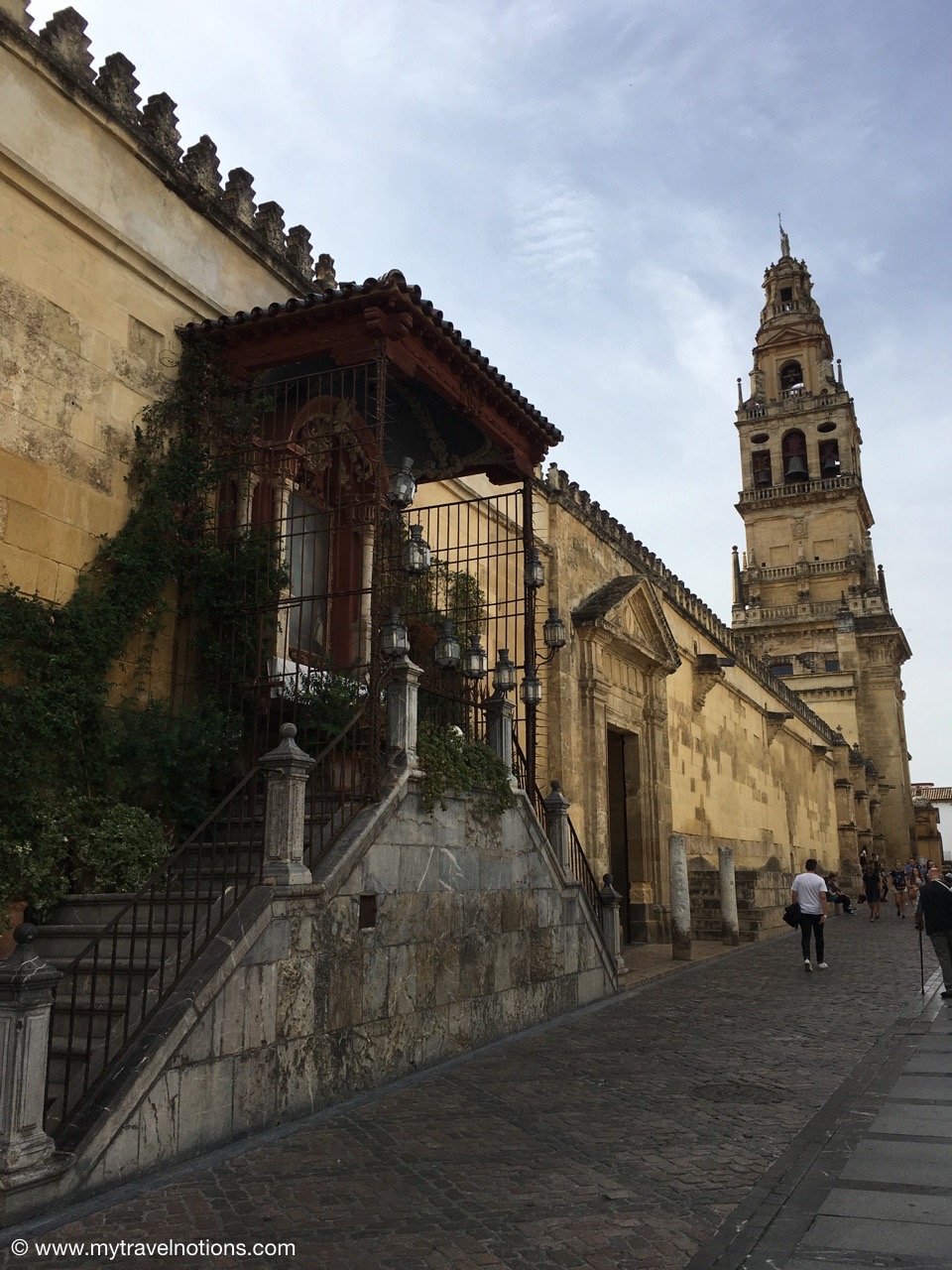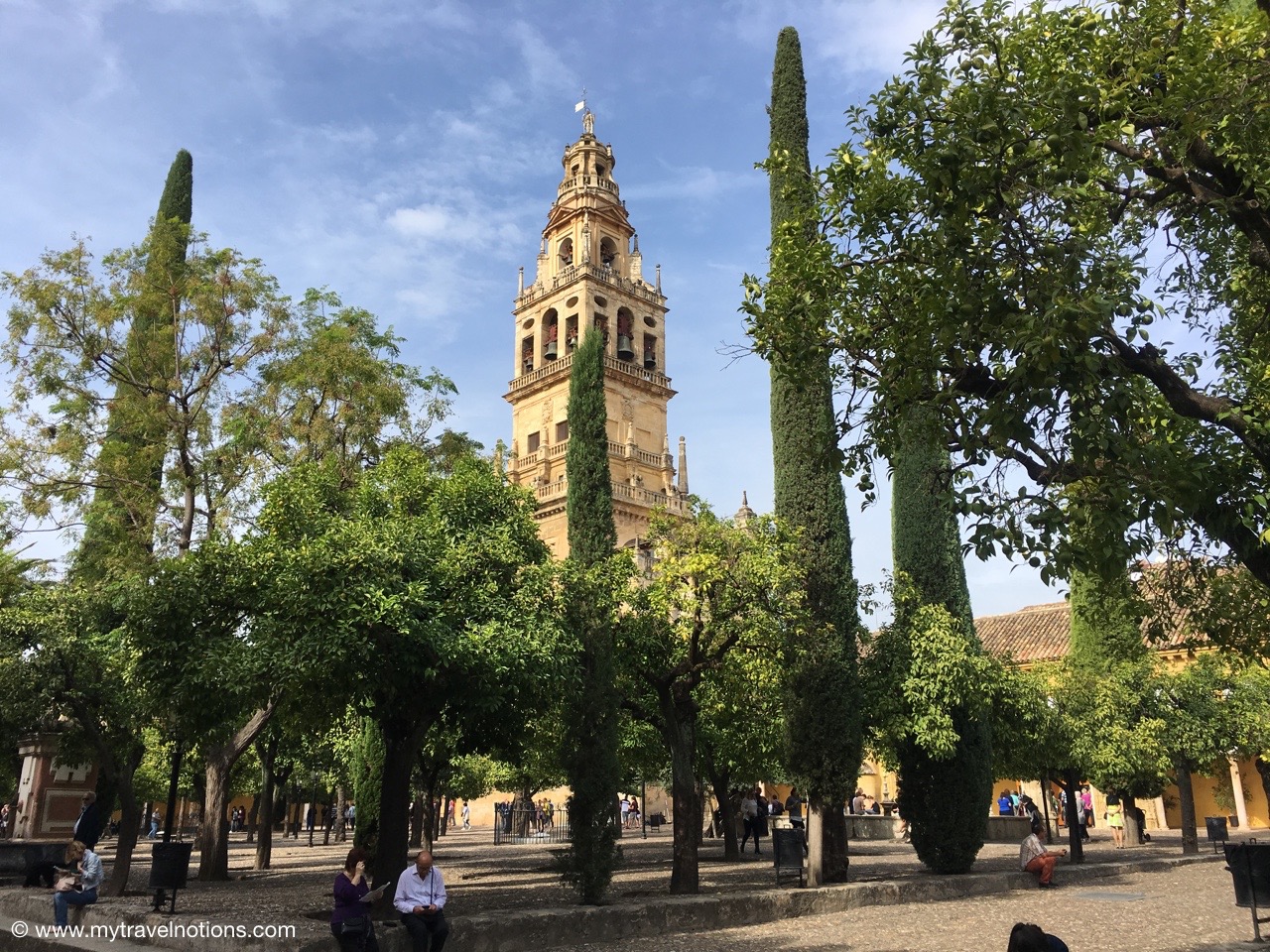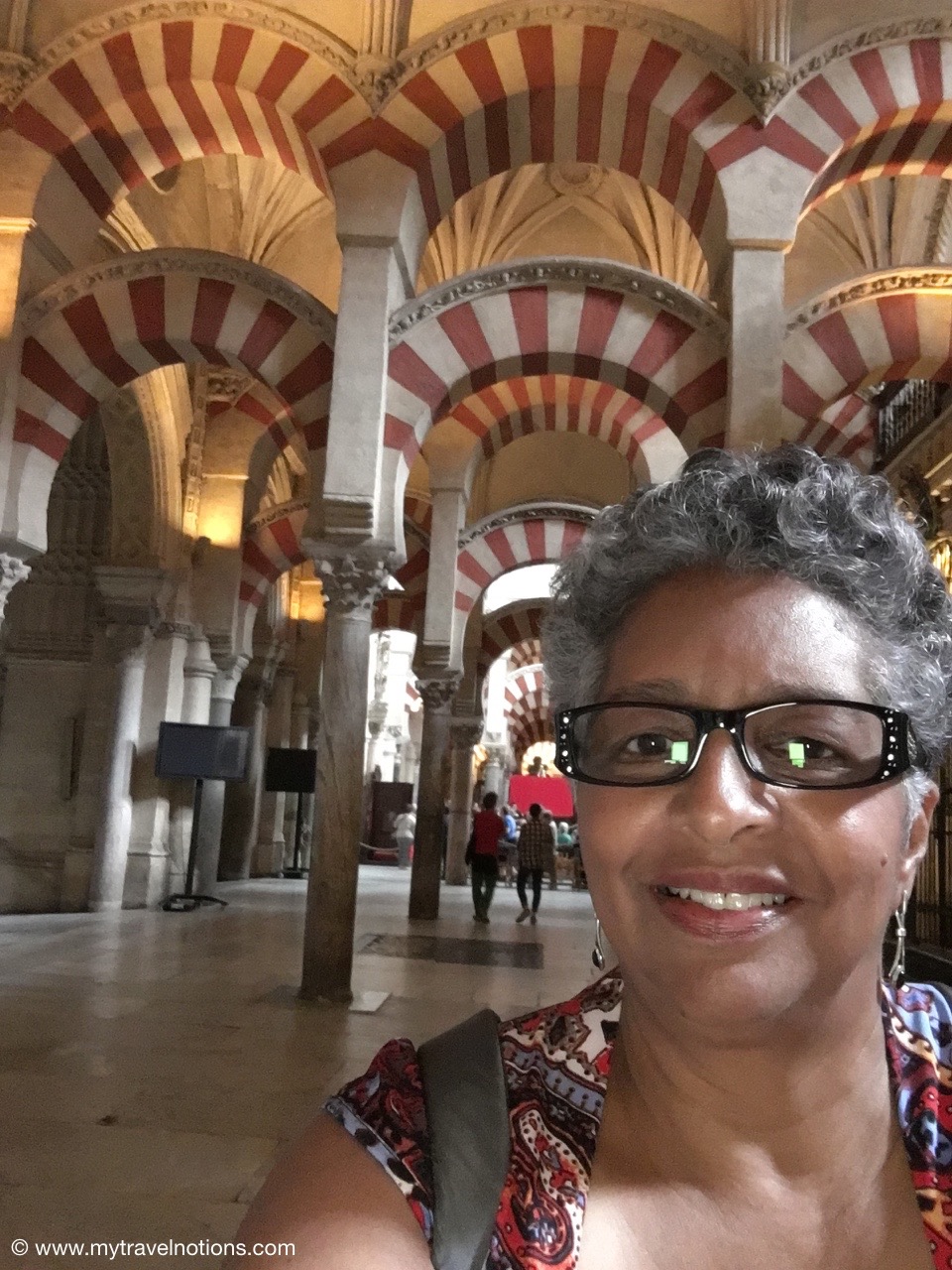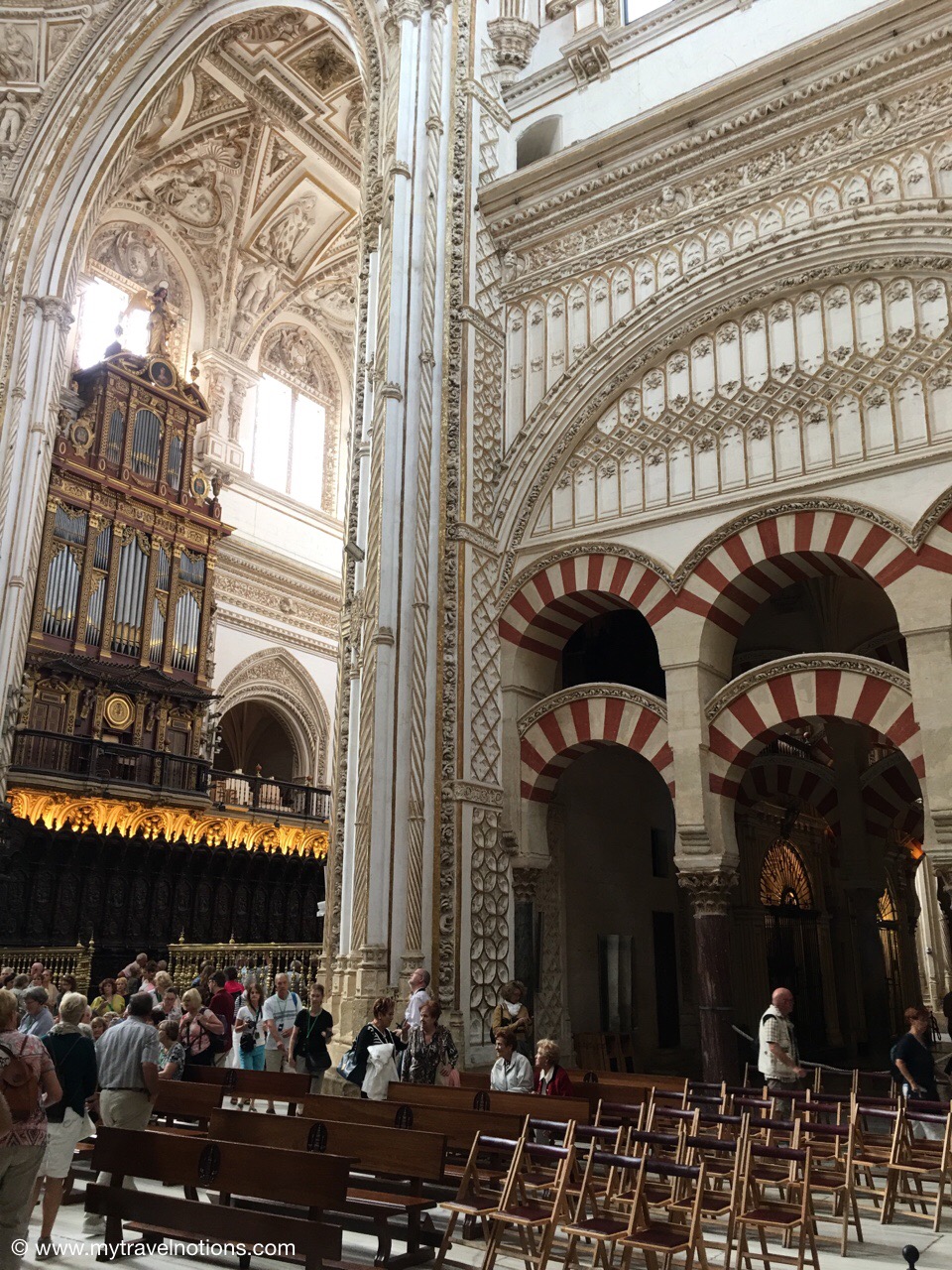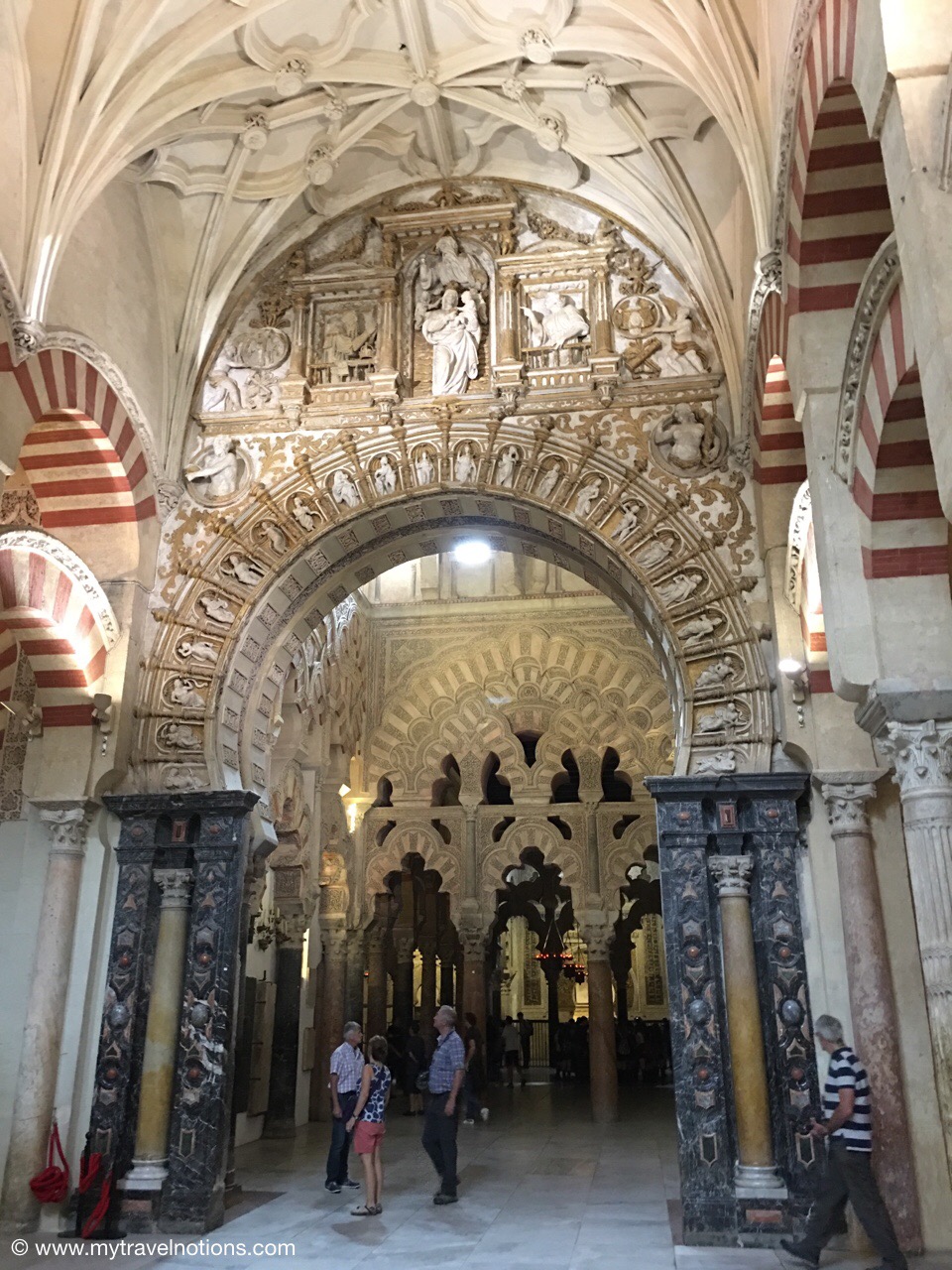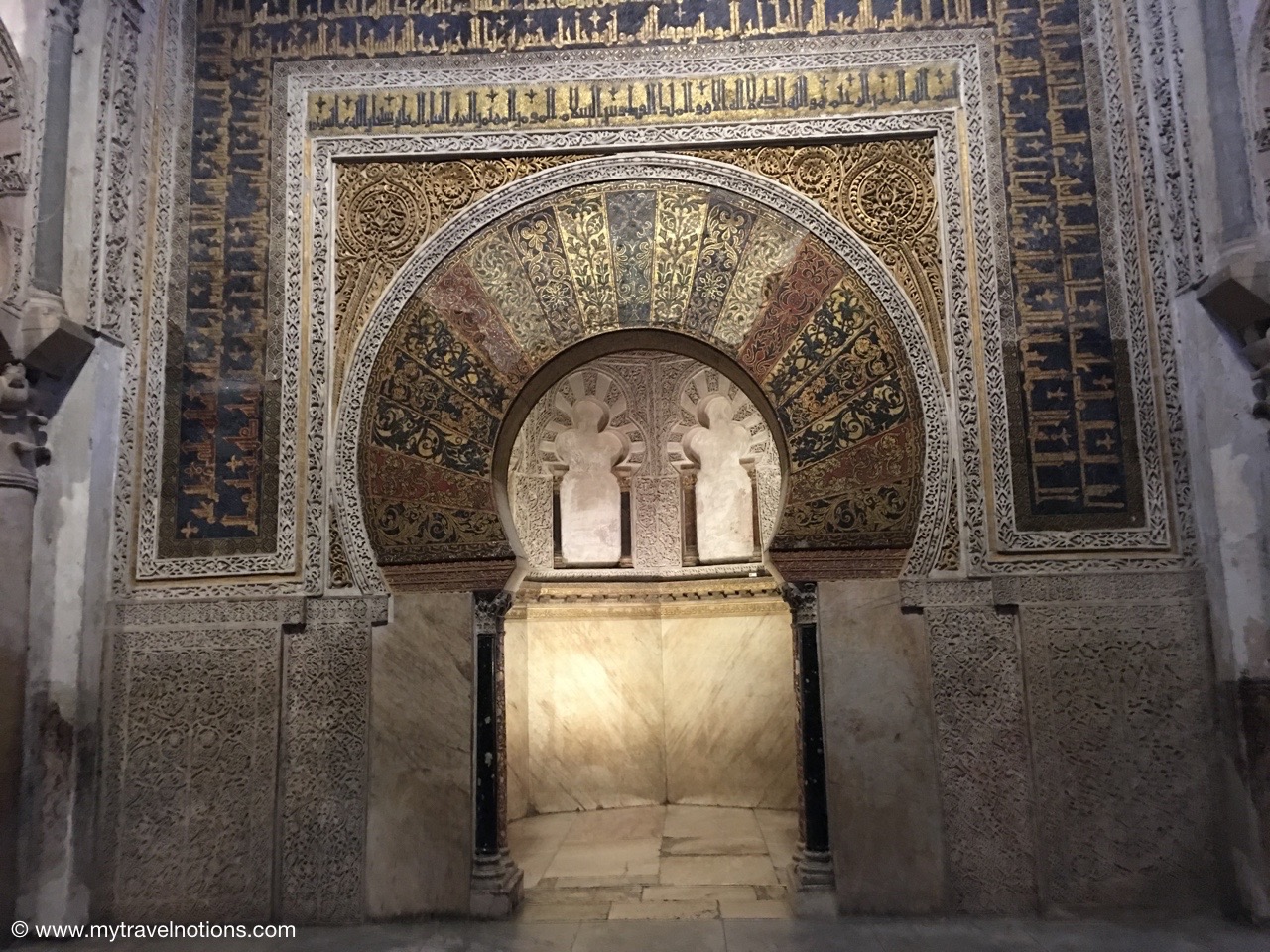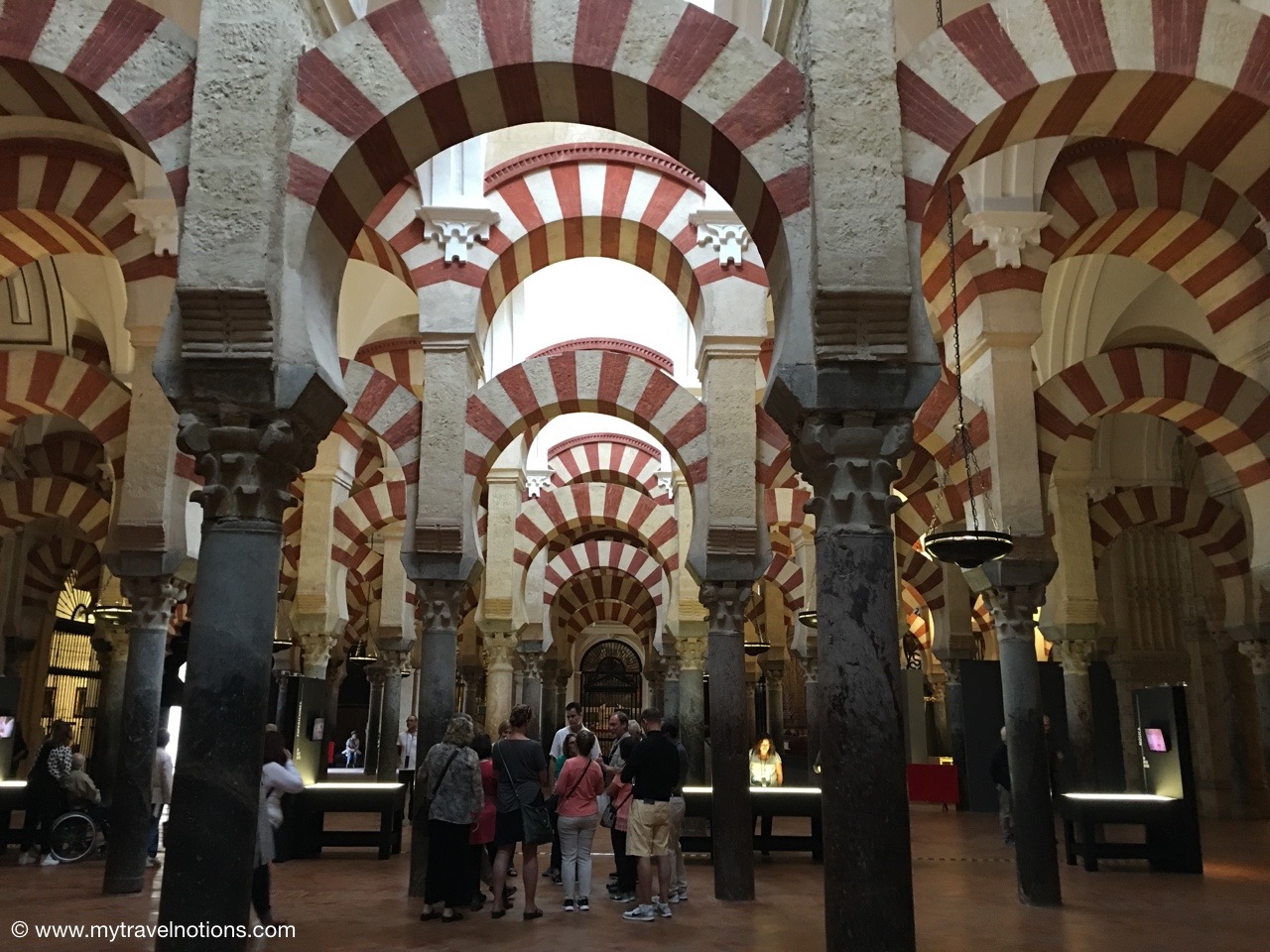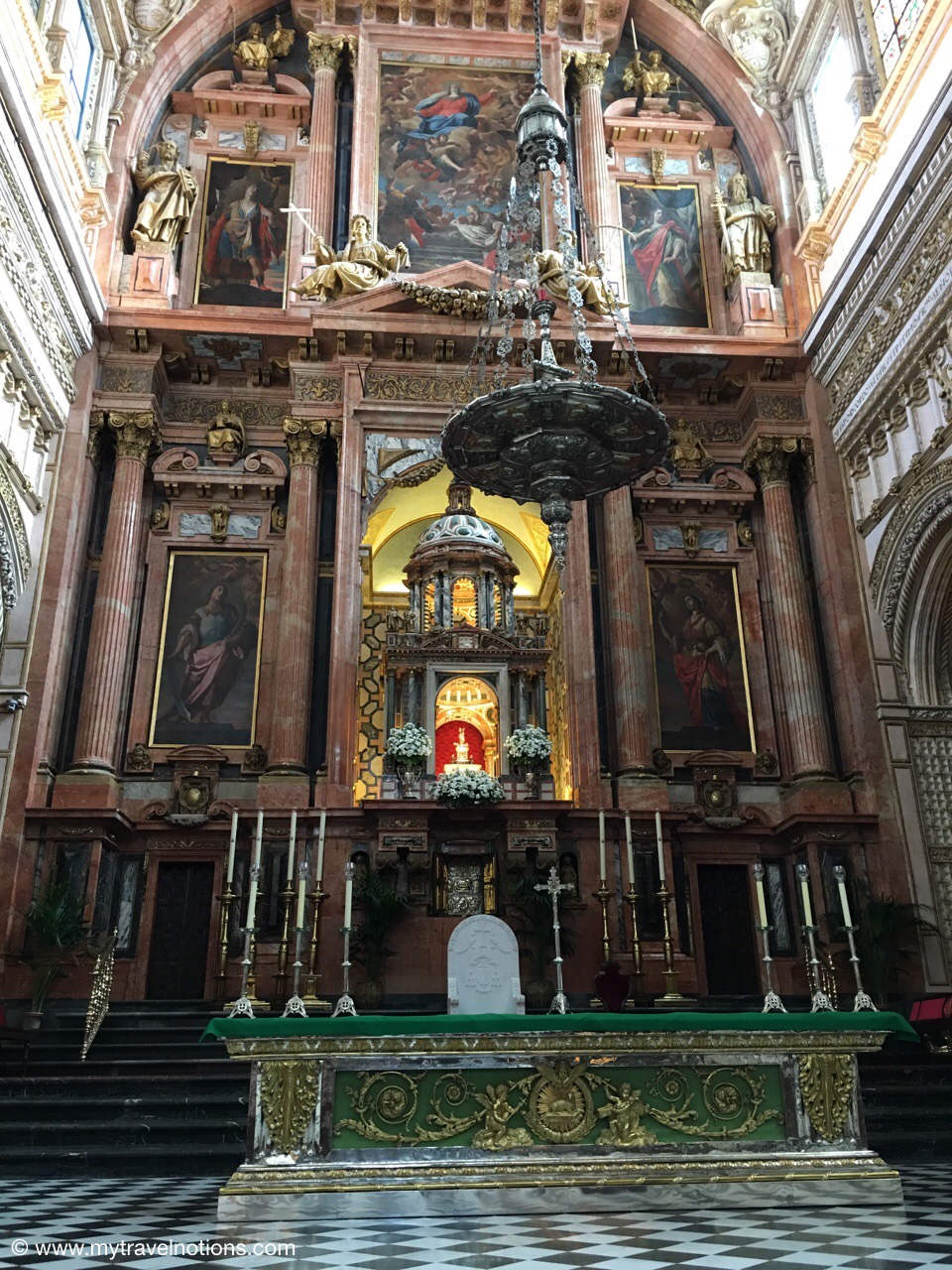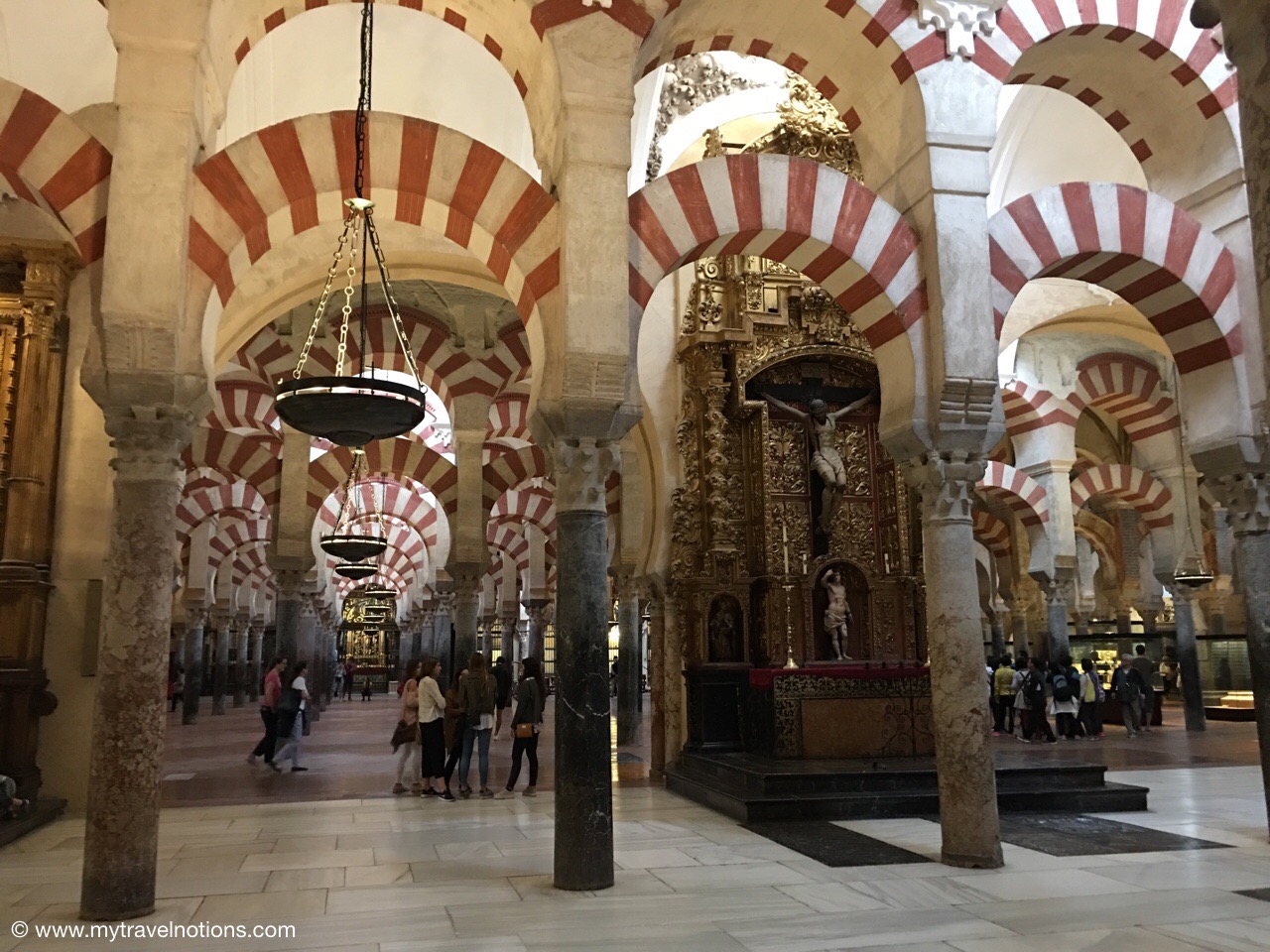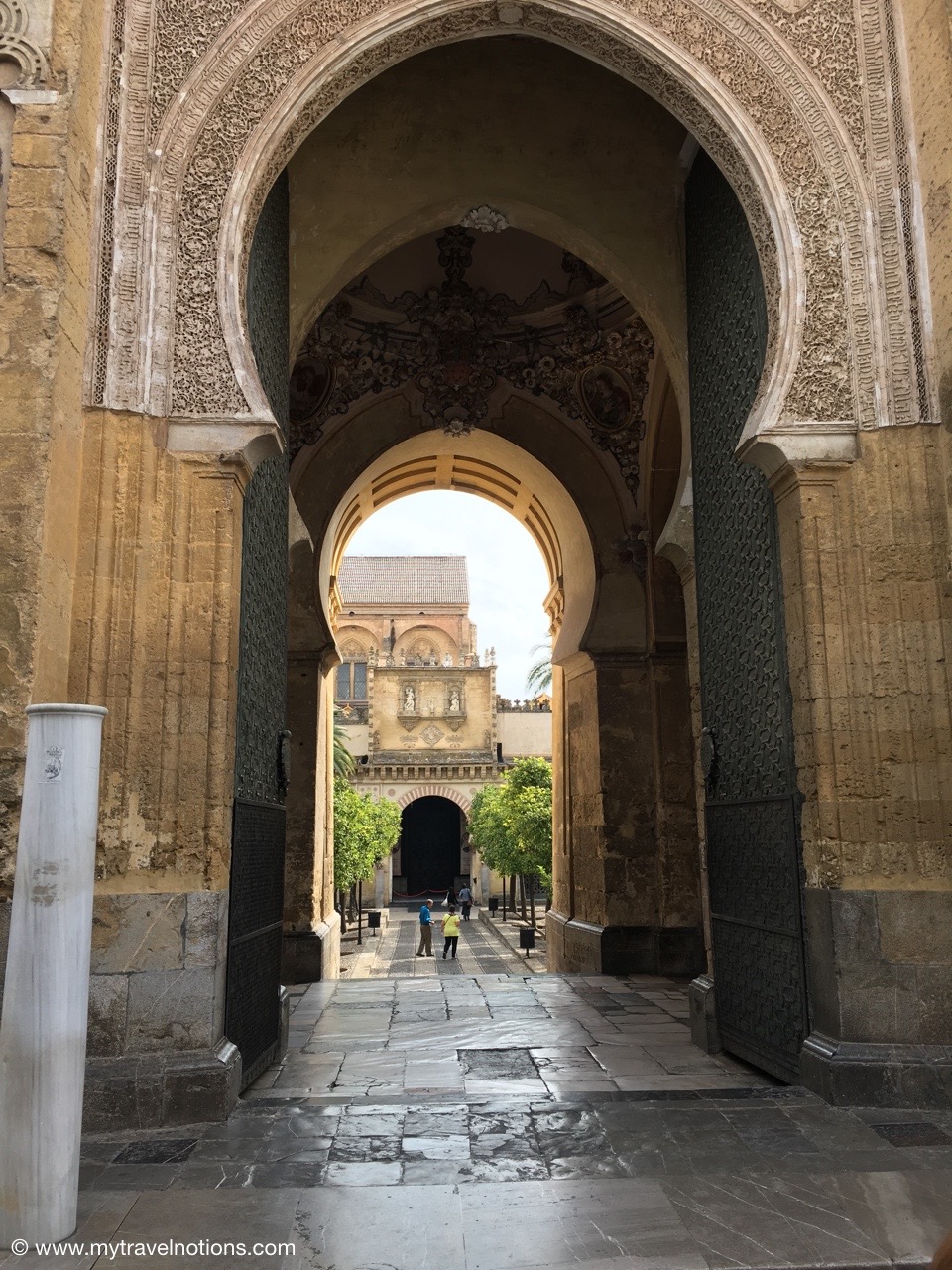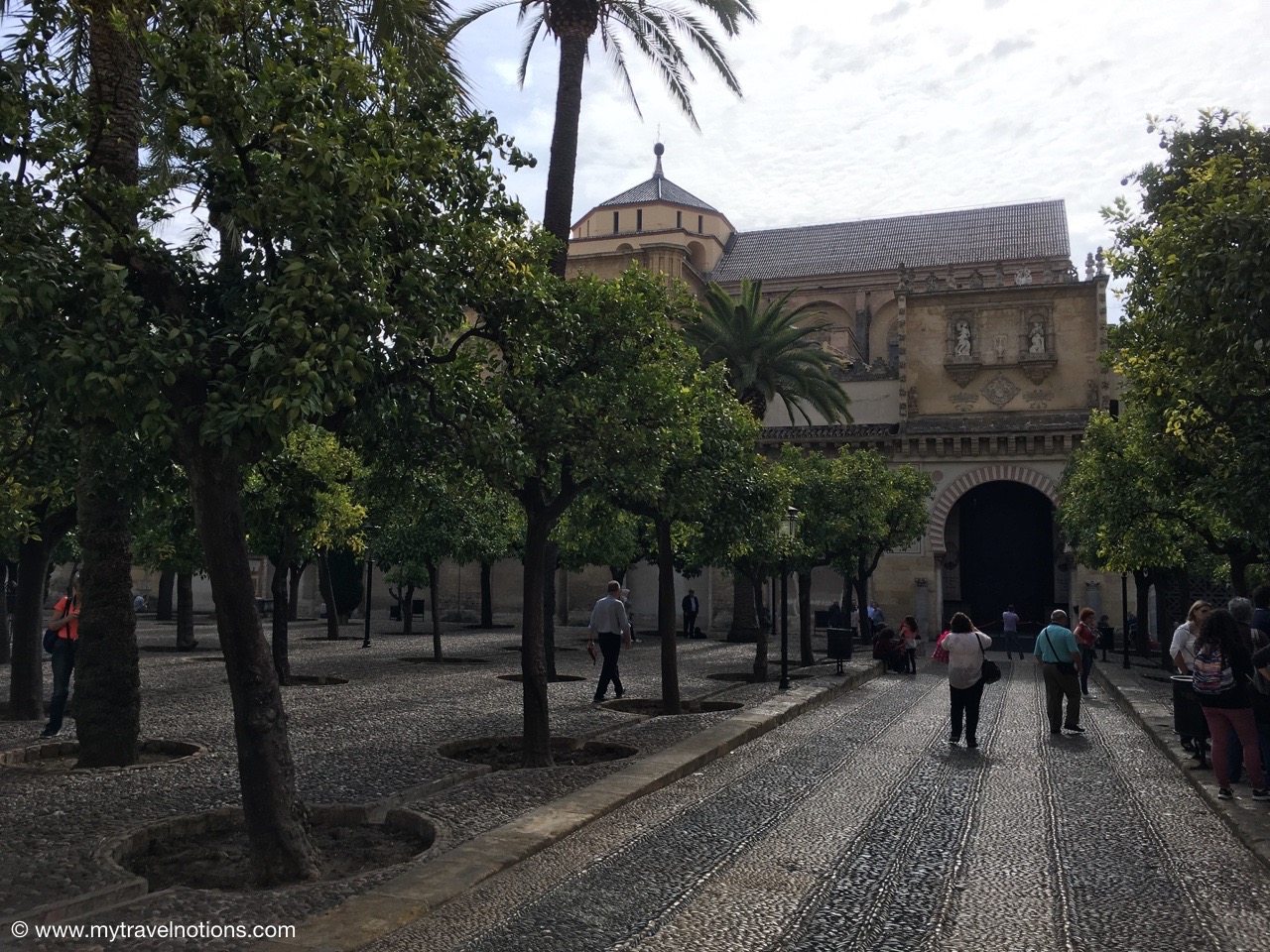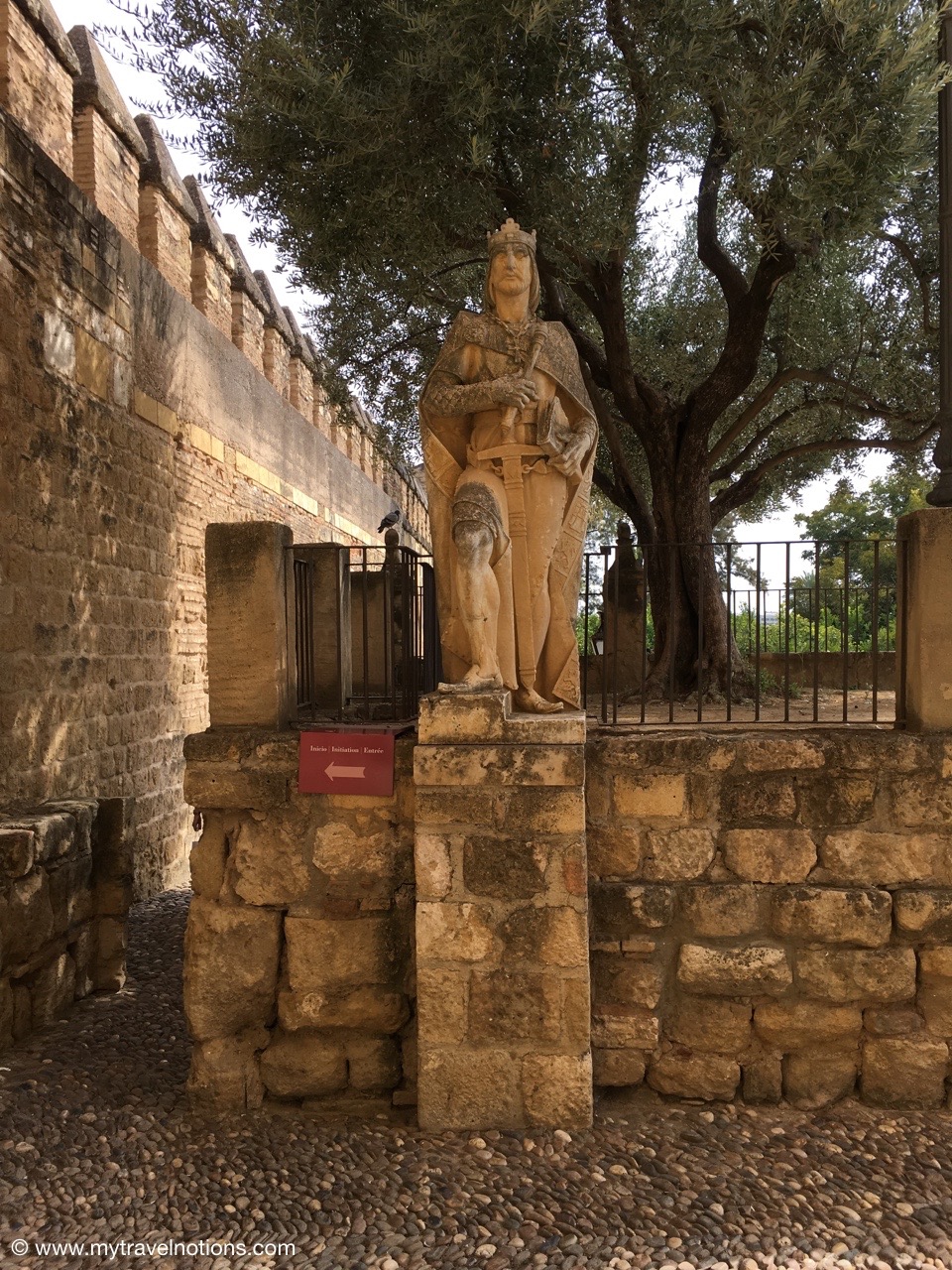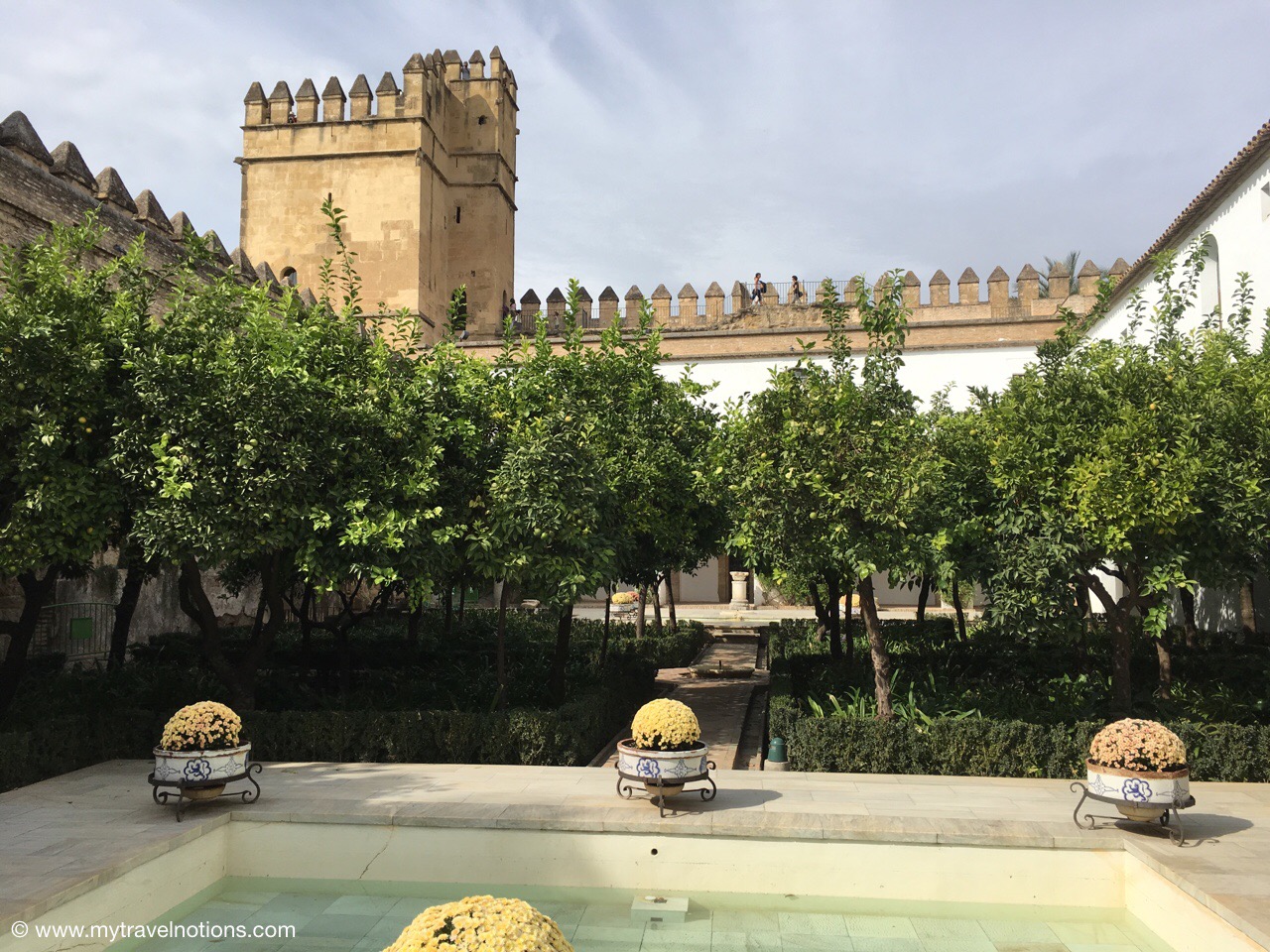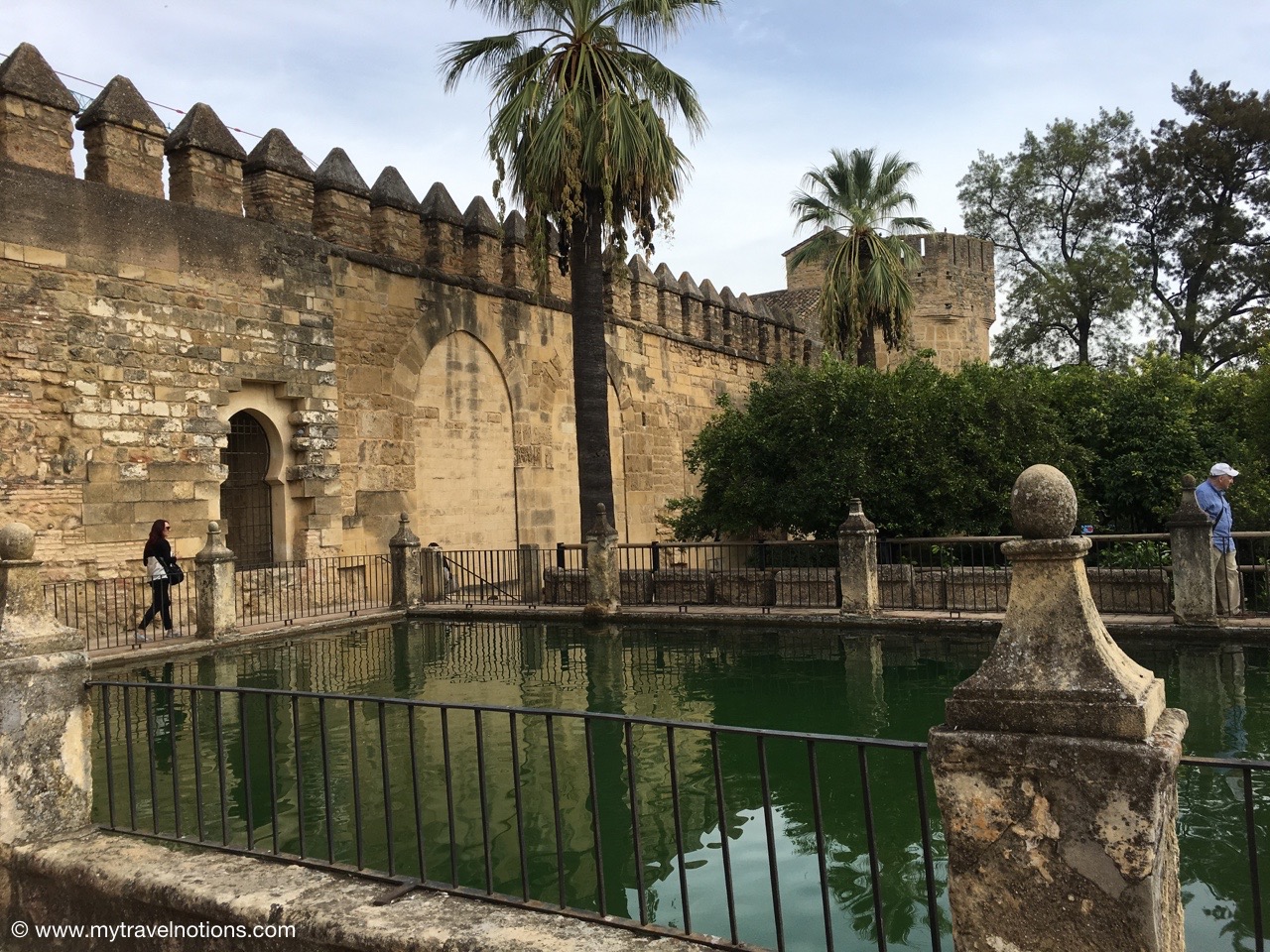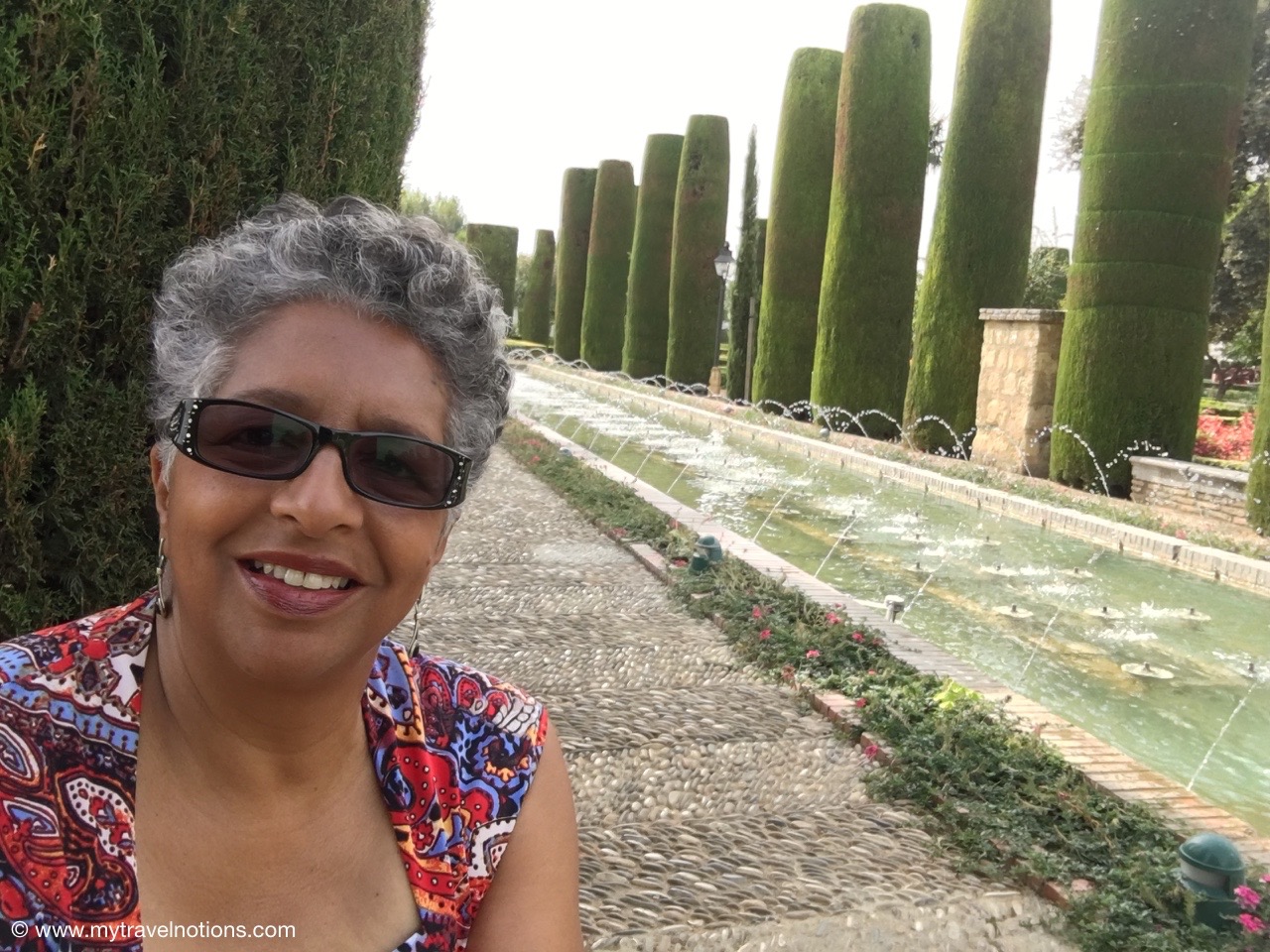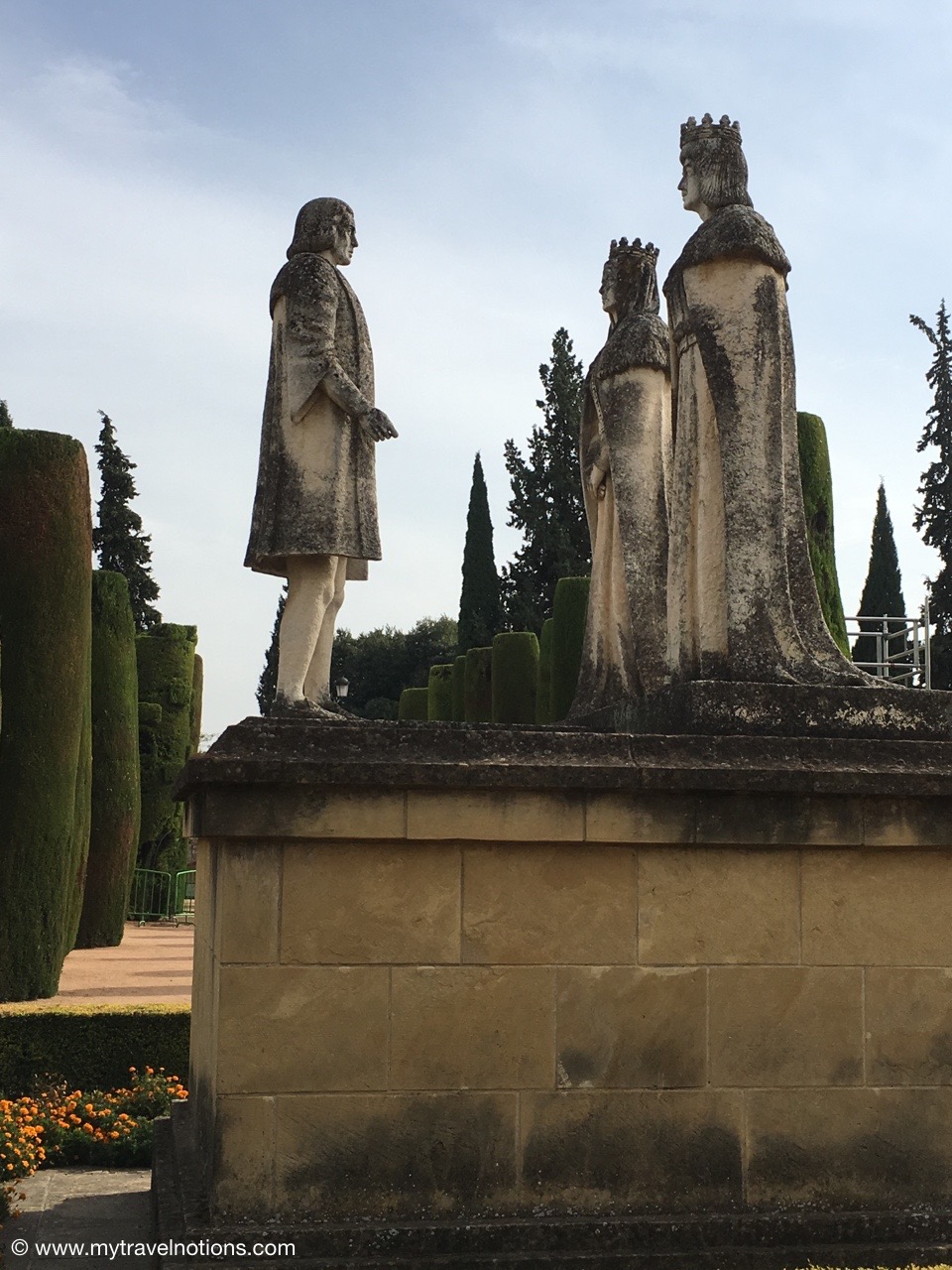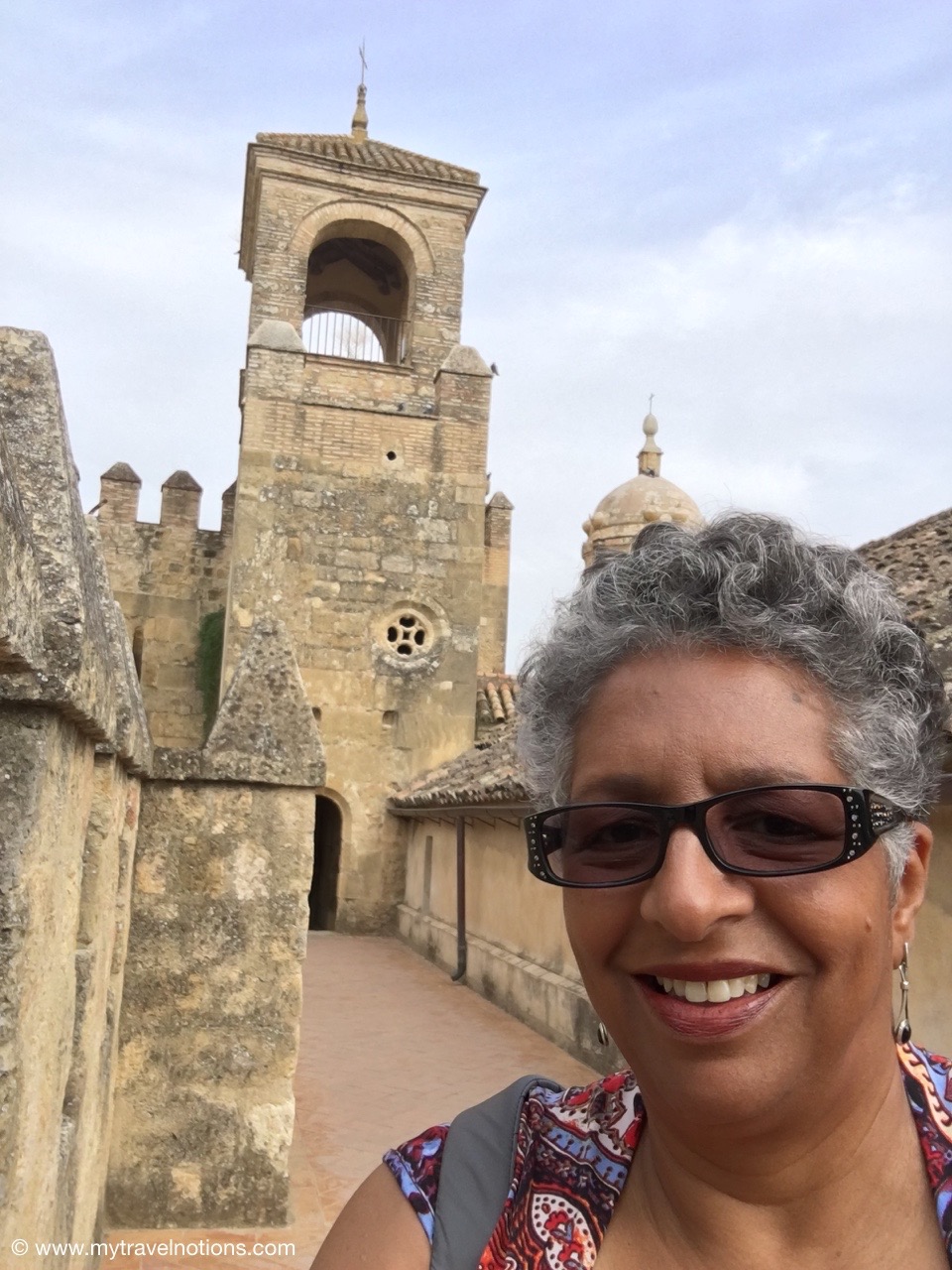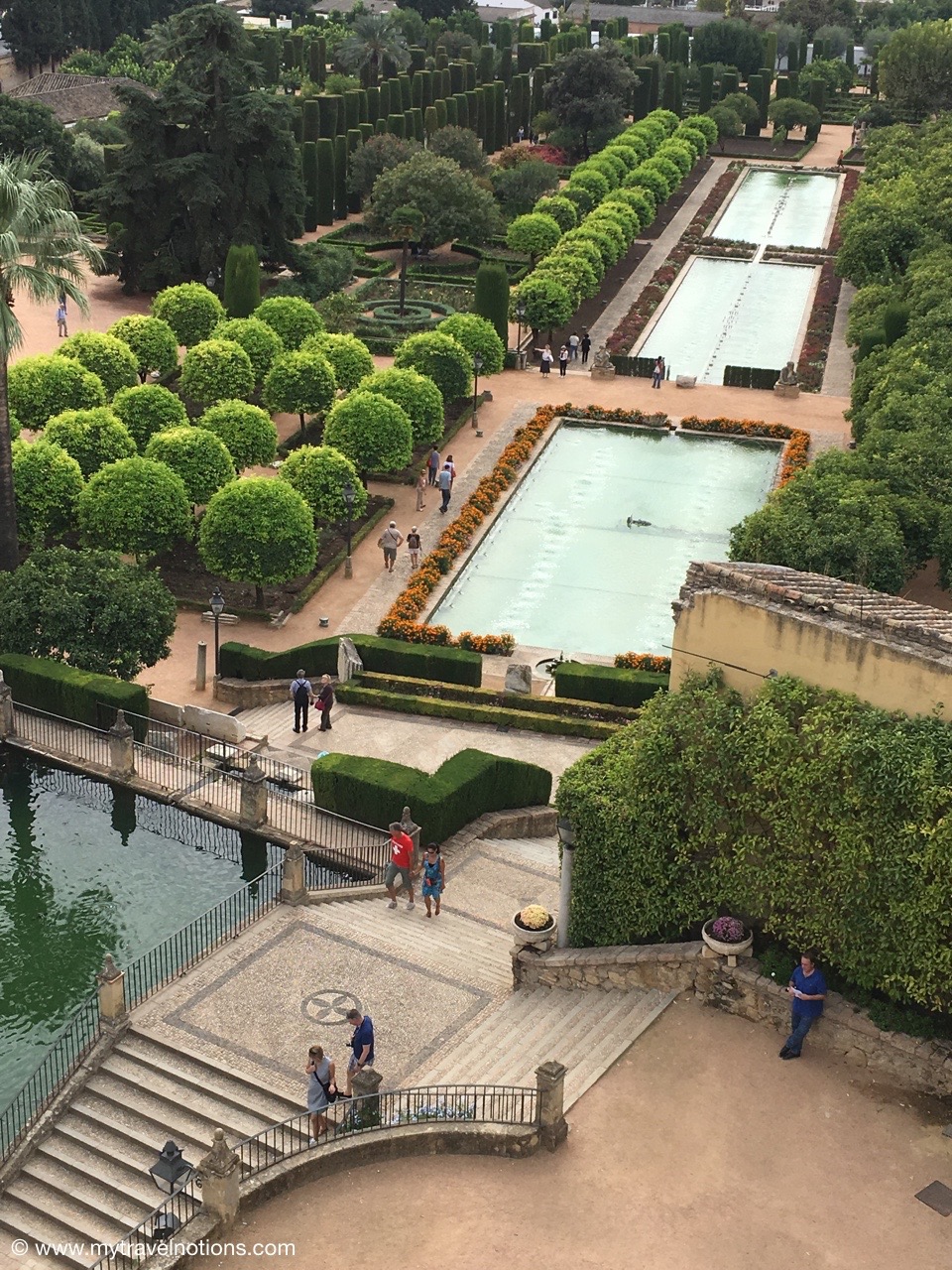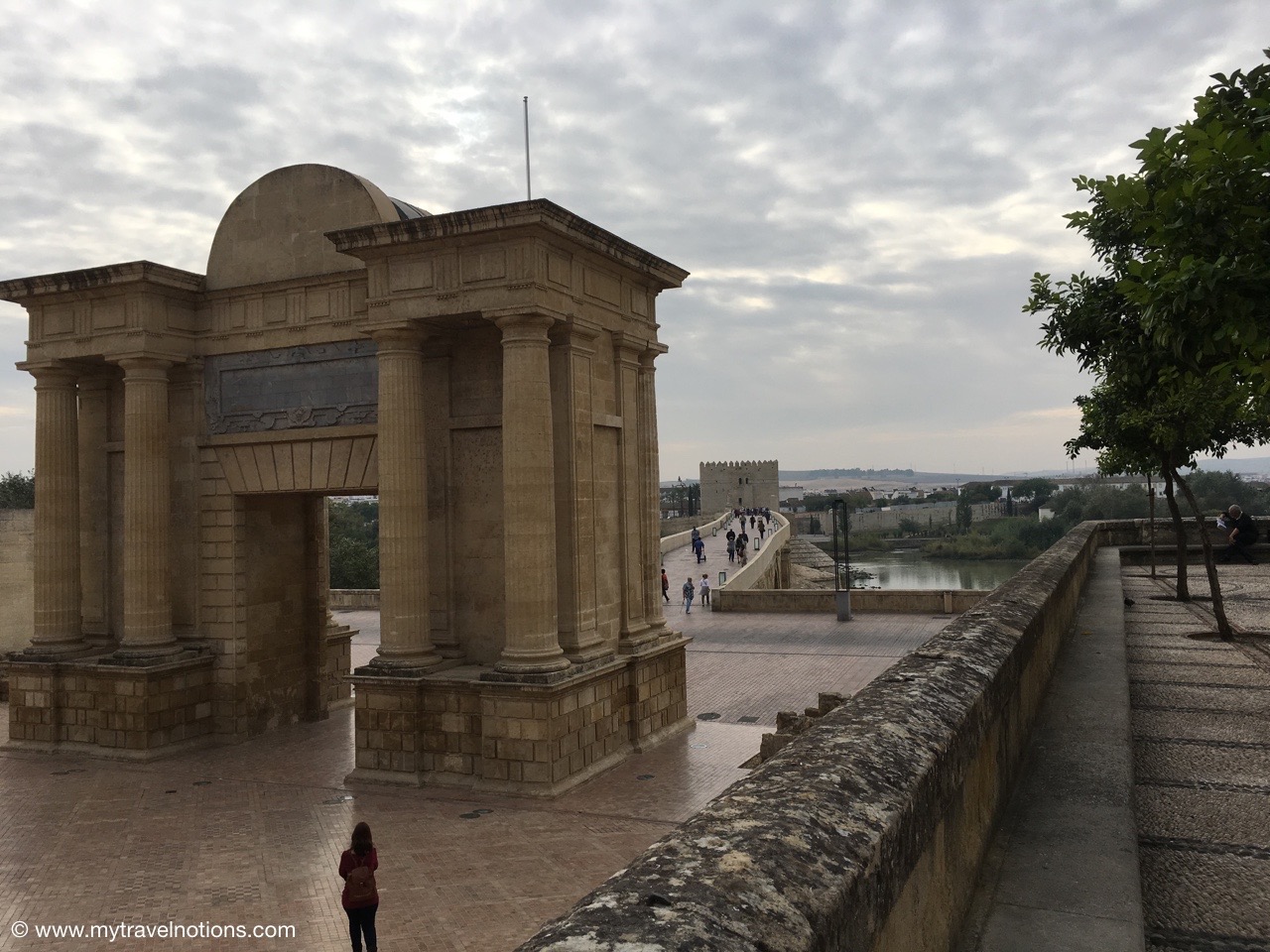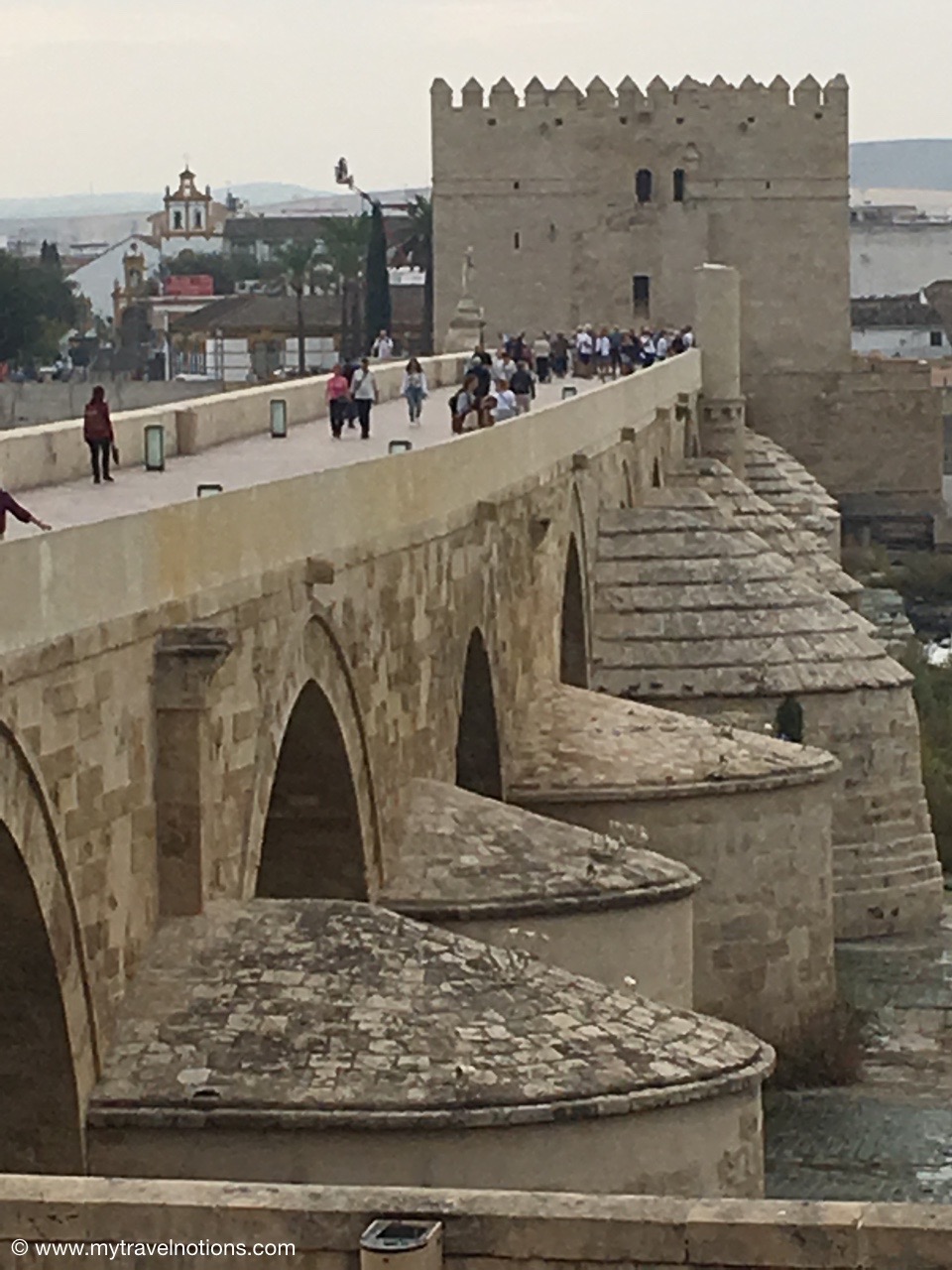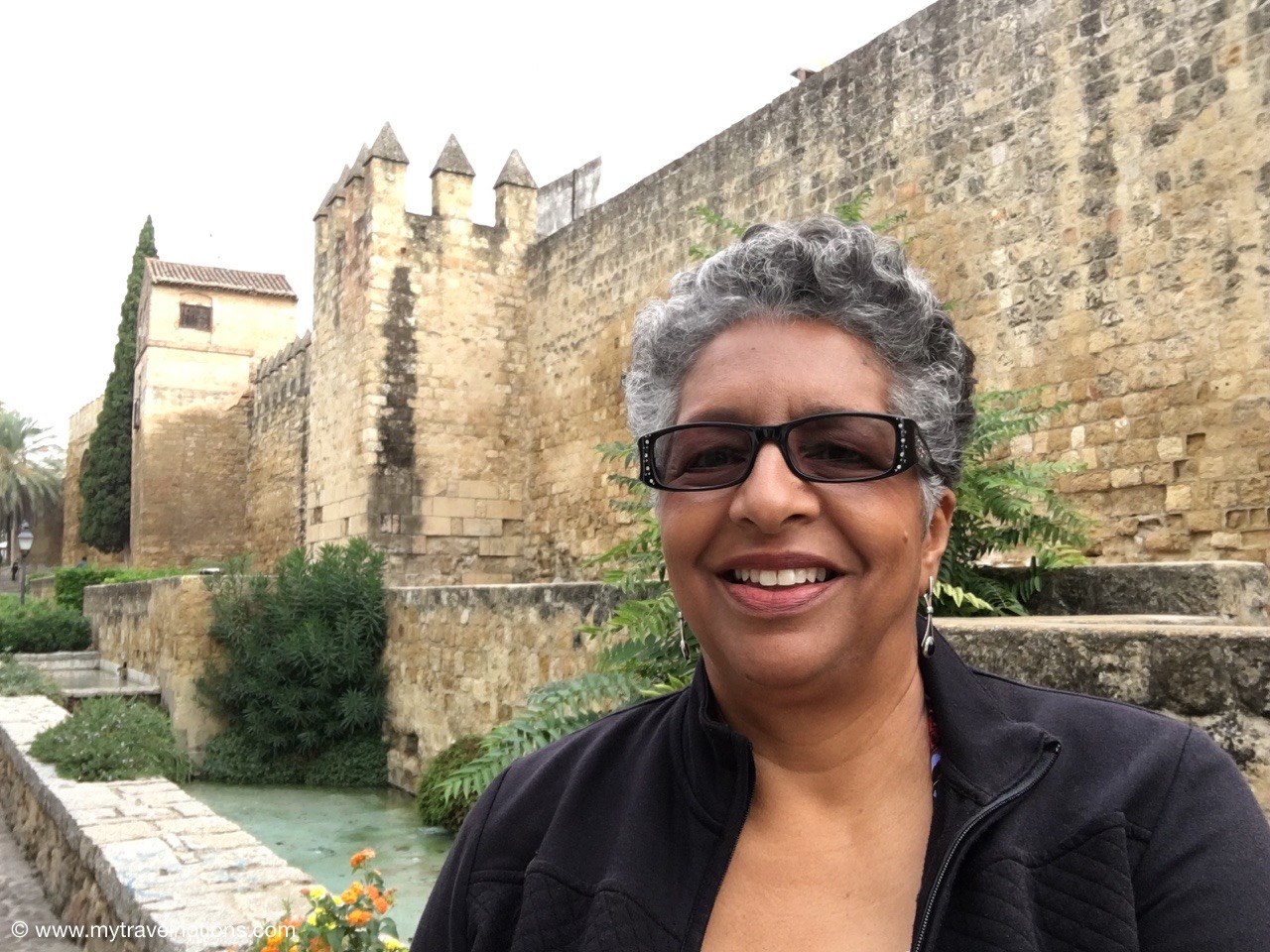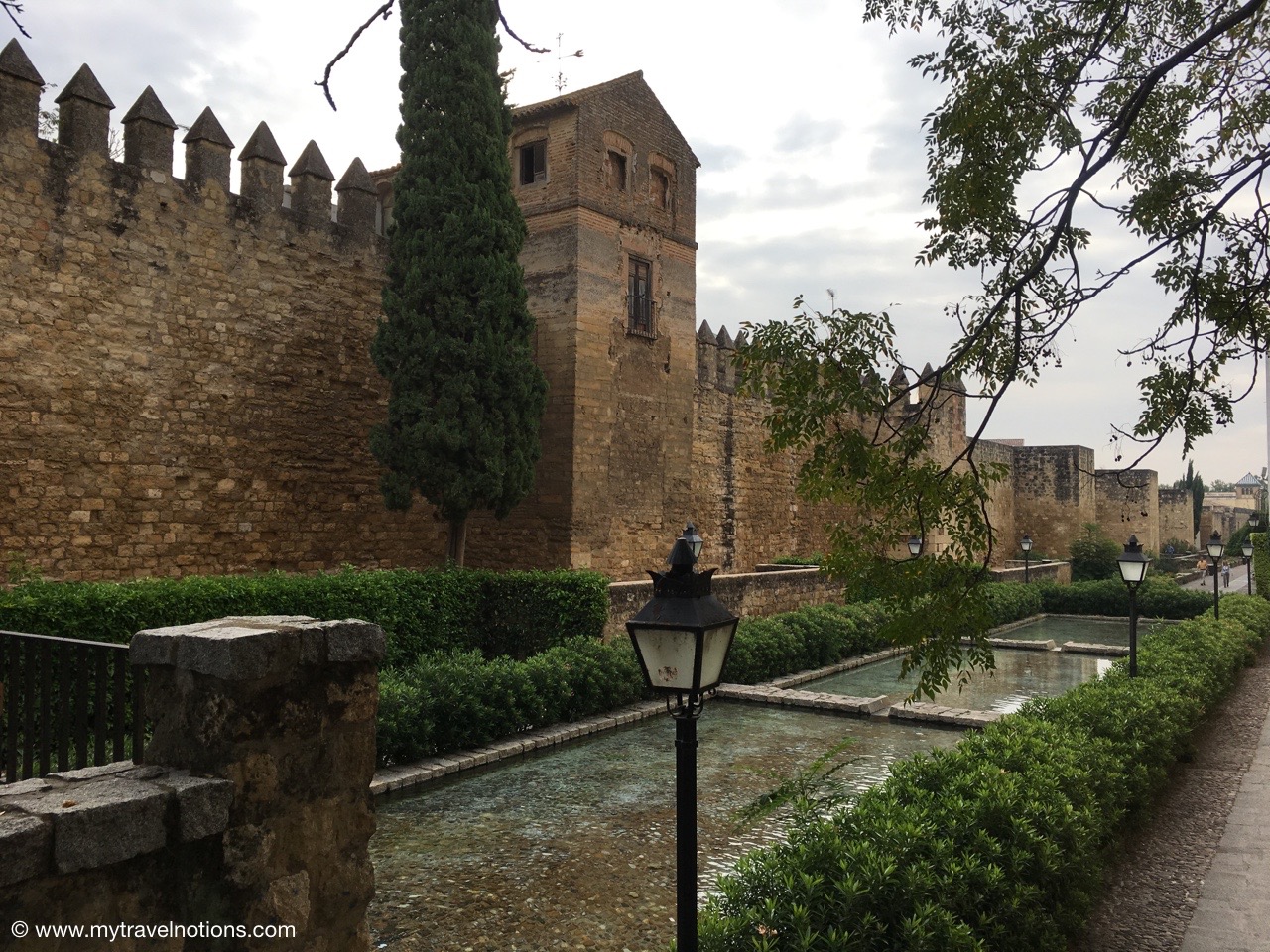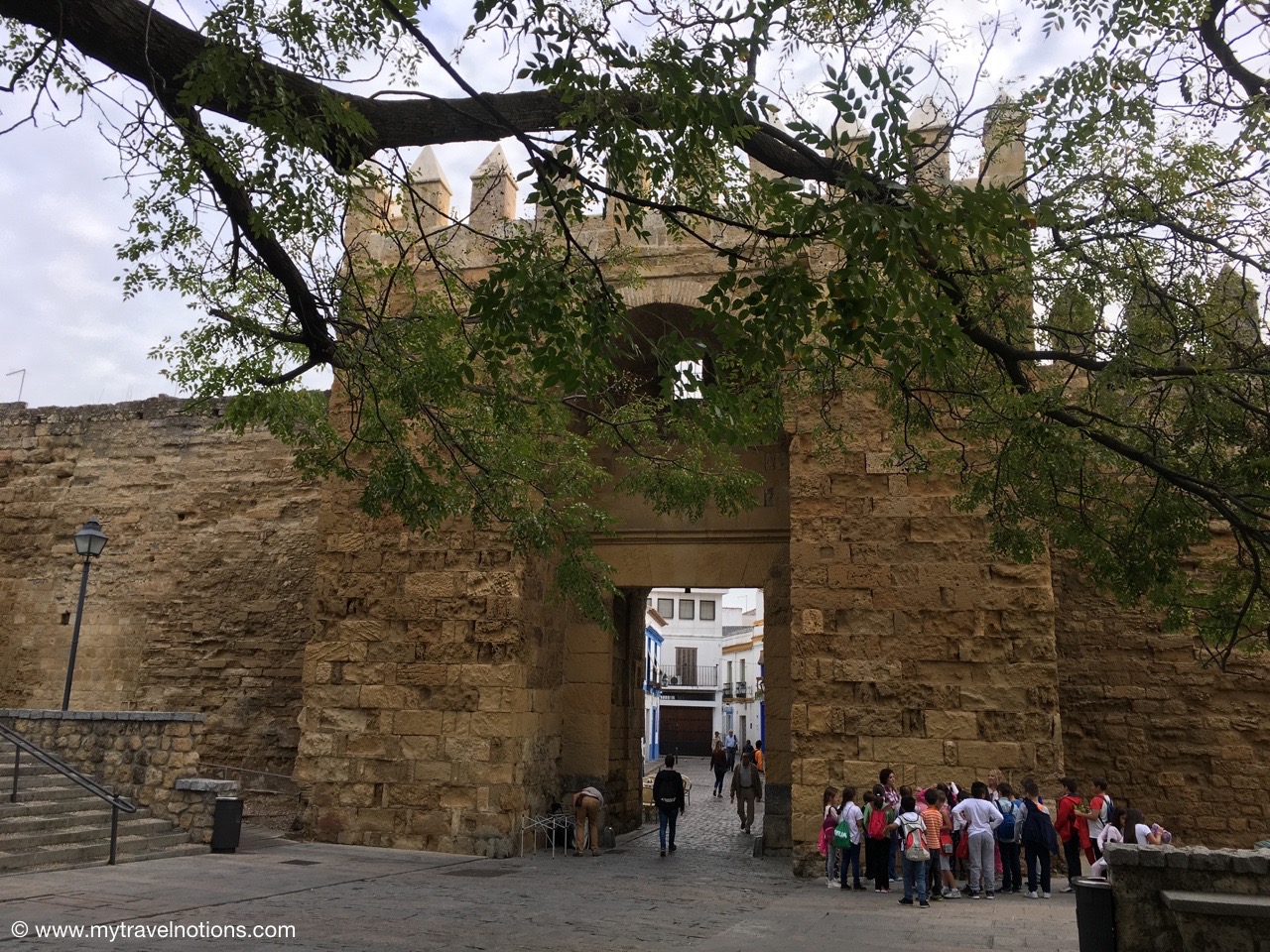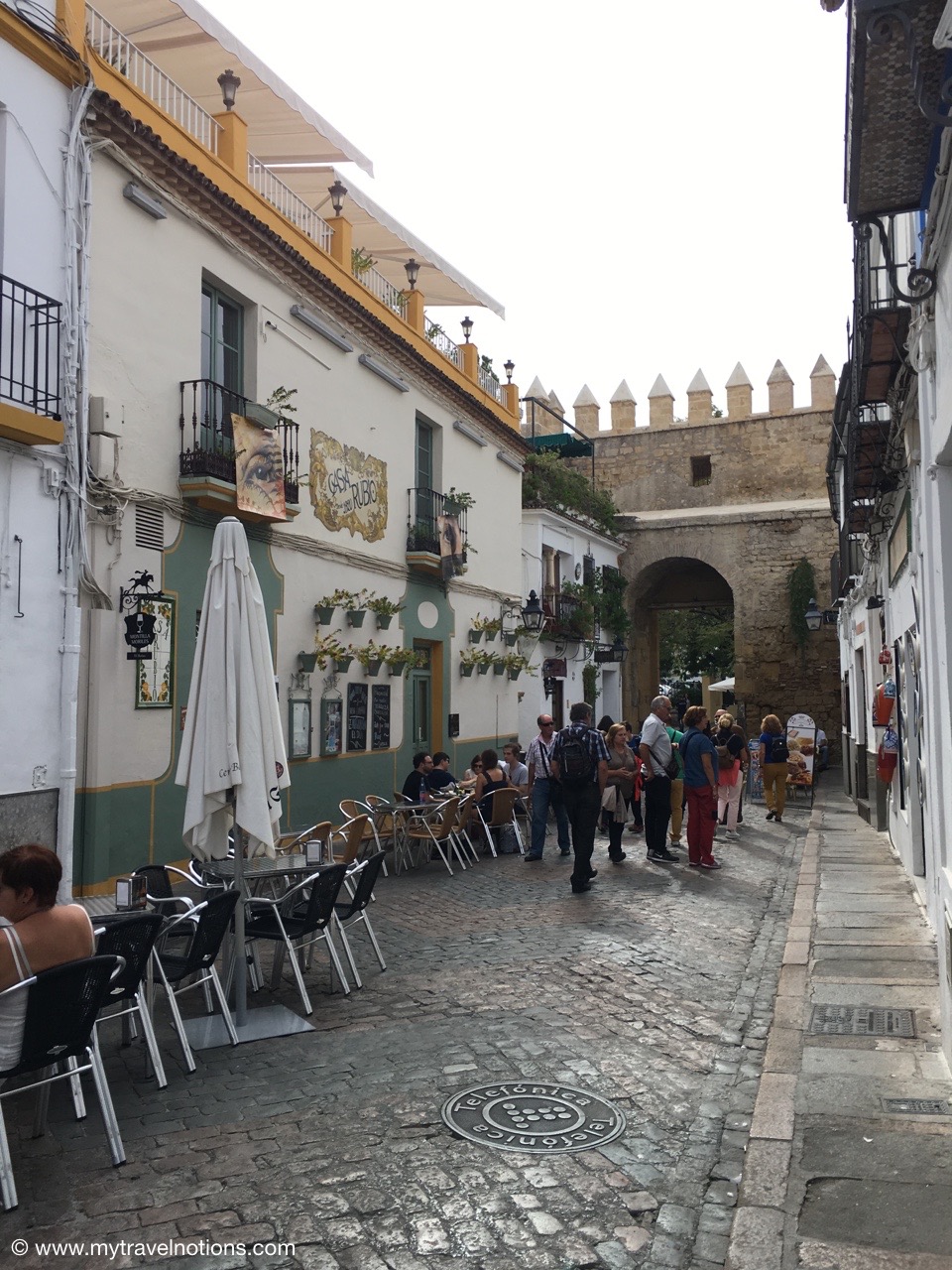 Its my last full day to spend in the Andalusia region of Spain, so I took a tour of the picturesque Pueblos Blancos, the White Villages. These small, hilltop towns are distinguished by their simple whitewashed houses, reddish-brown tiled roofs, cobblestone streets and rich history which dates back to the Romans and Moors. The three villages visited were Zahara de la Sierra, Grazalema and Ronda.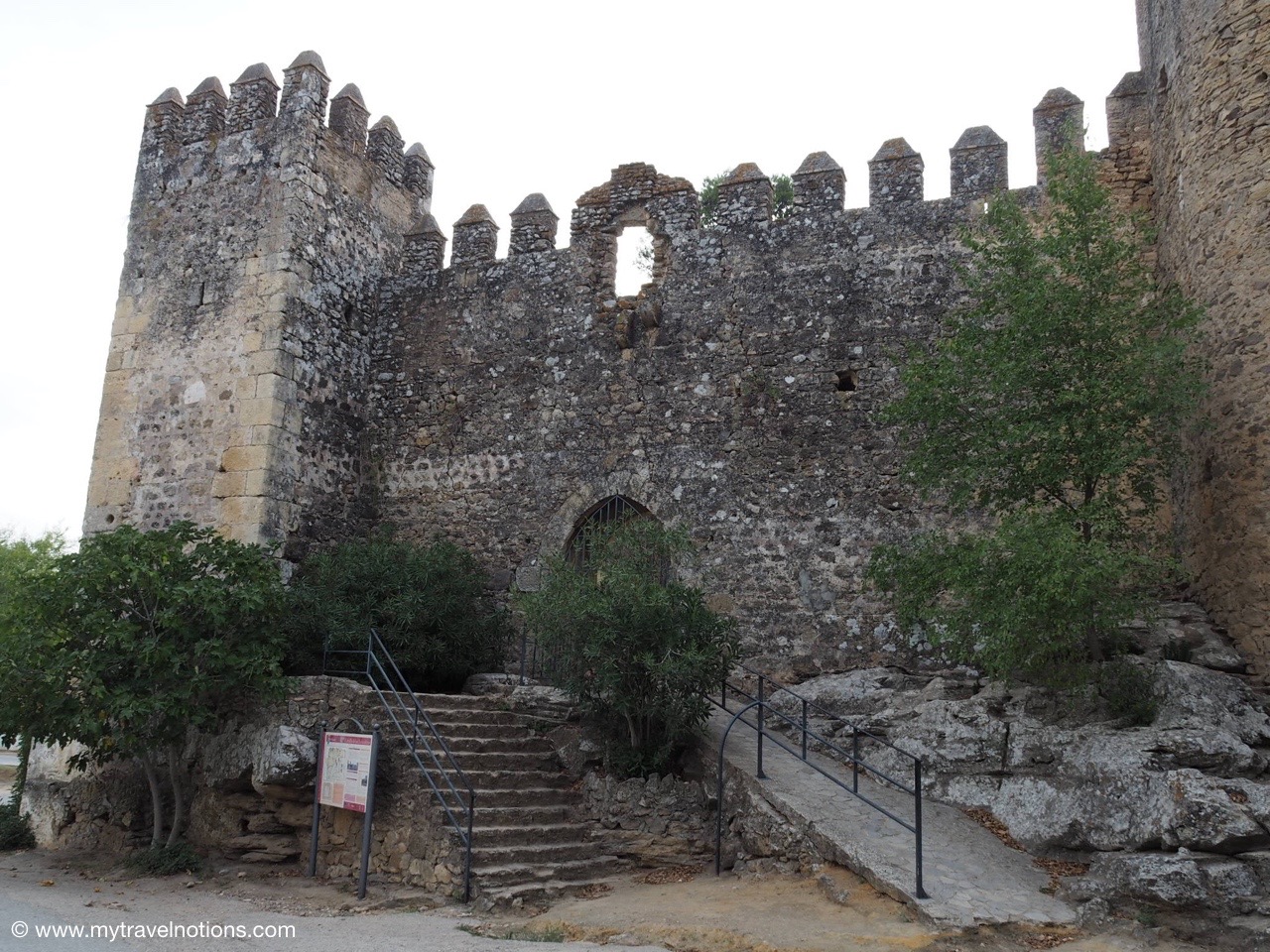 On my last day in Seville, I took a day tour of the White Villages of Andalusia. We began the tour at the remains of this ancient fortress, the Castillo de las Aguzaderas, located in the Spanish municipality of El Coronil and built, according to some sources, by the Arabs. Oct. 20, 2016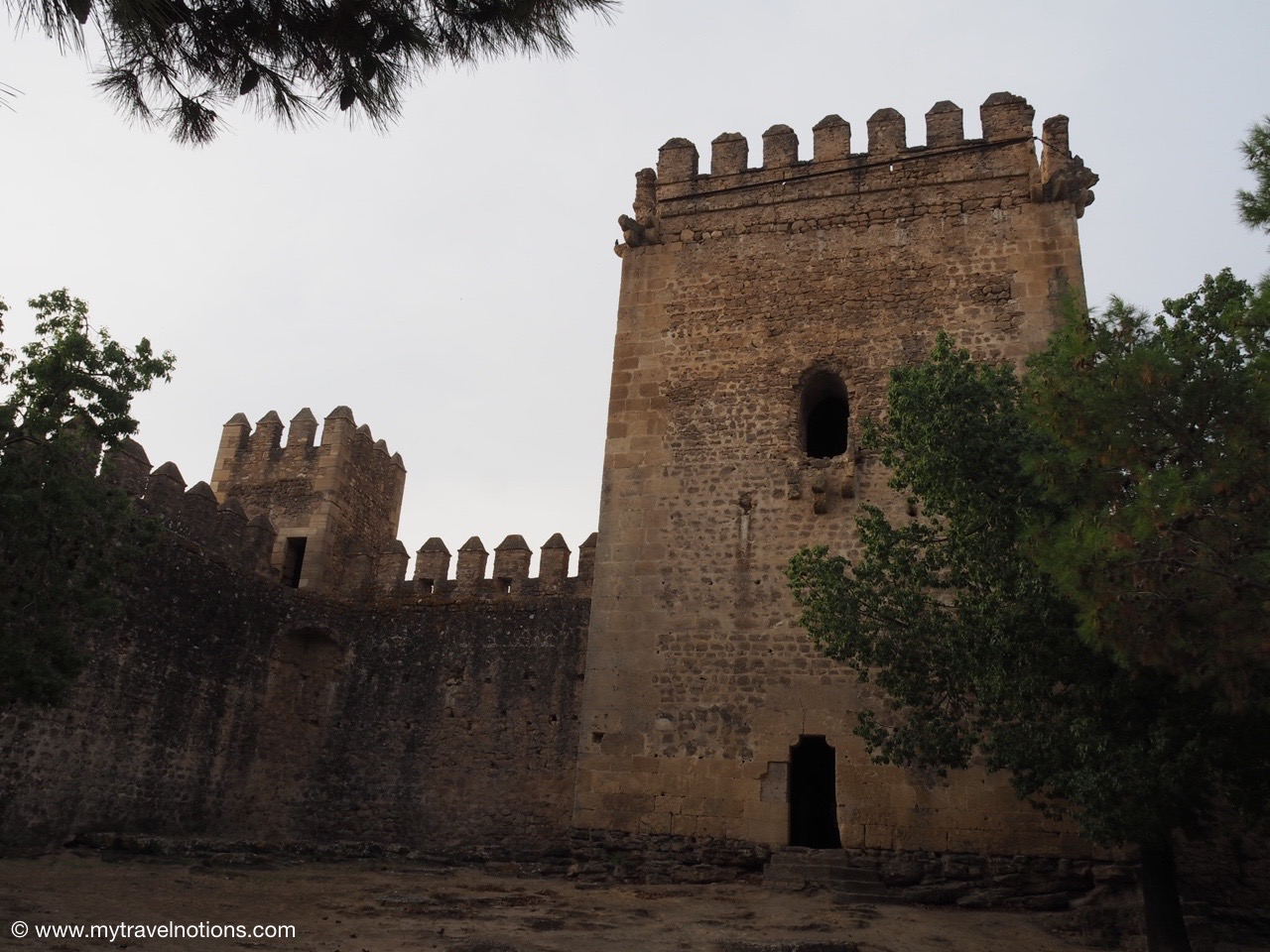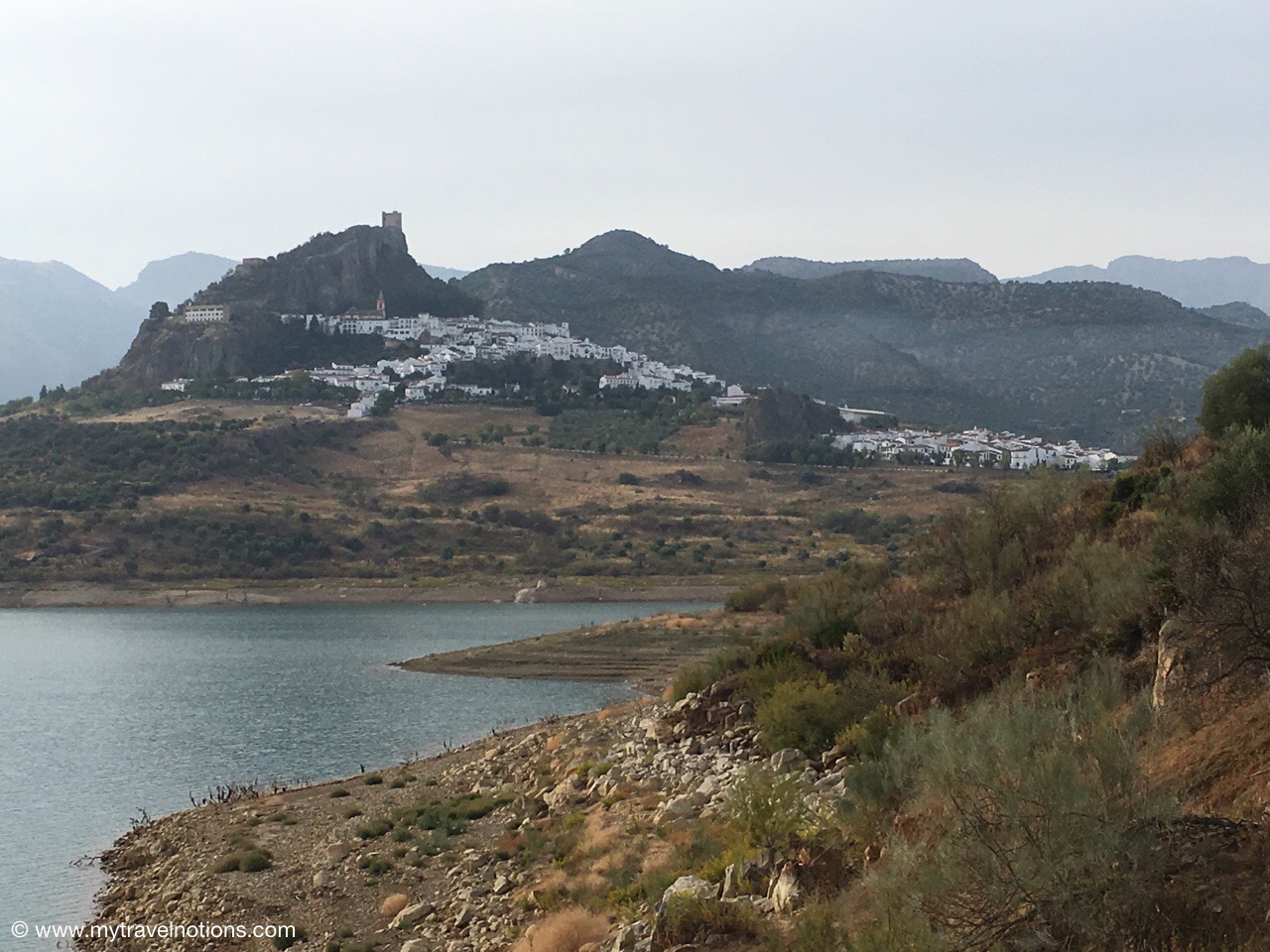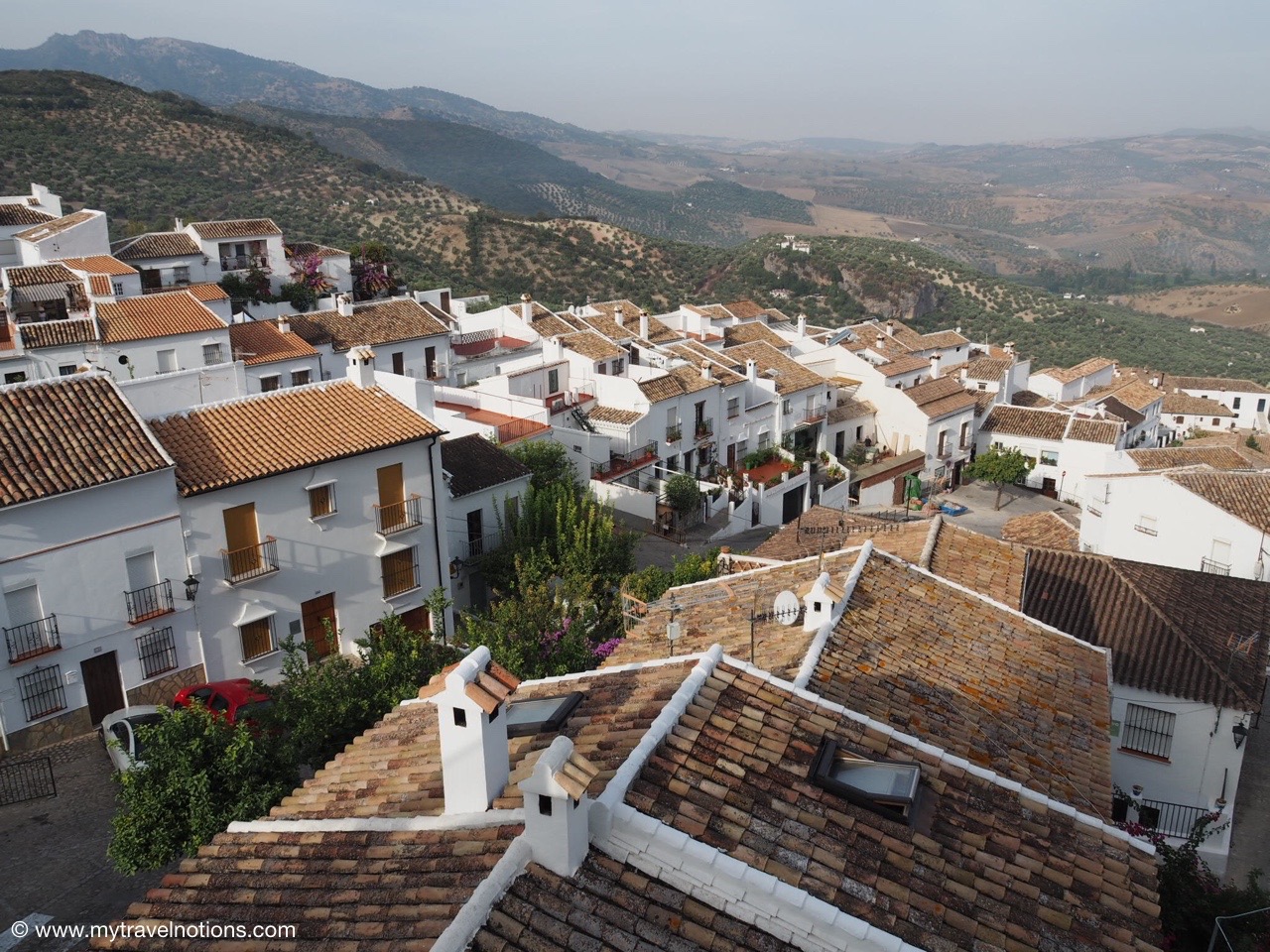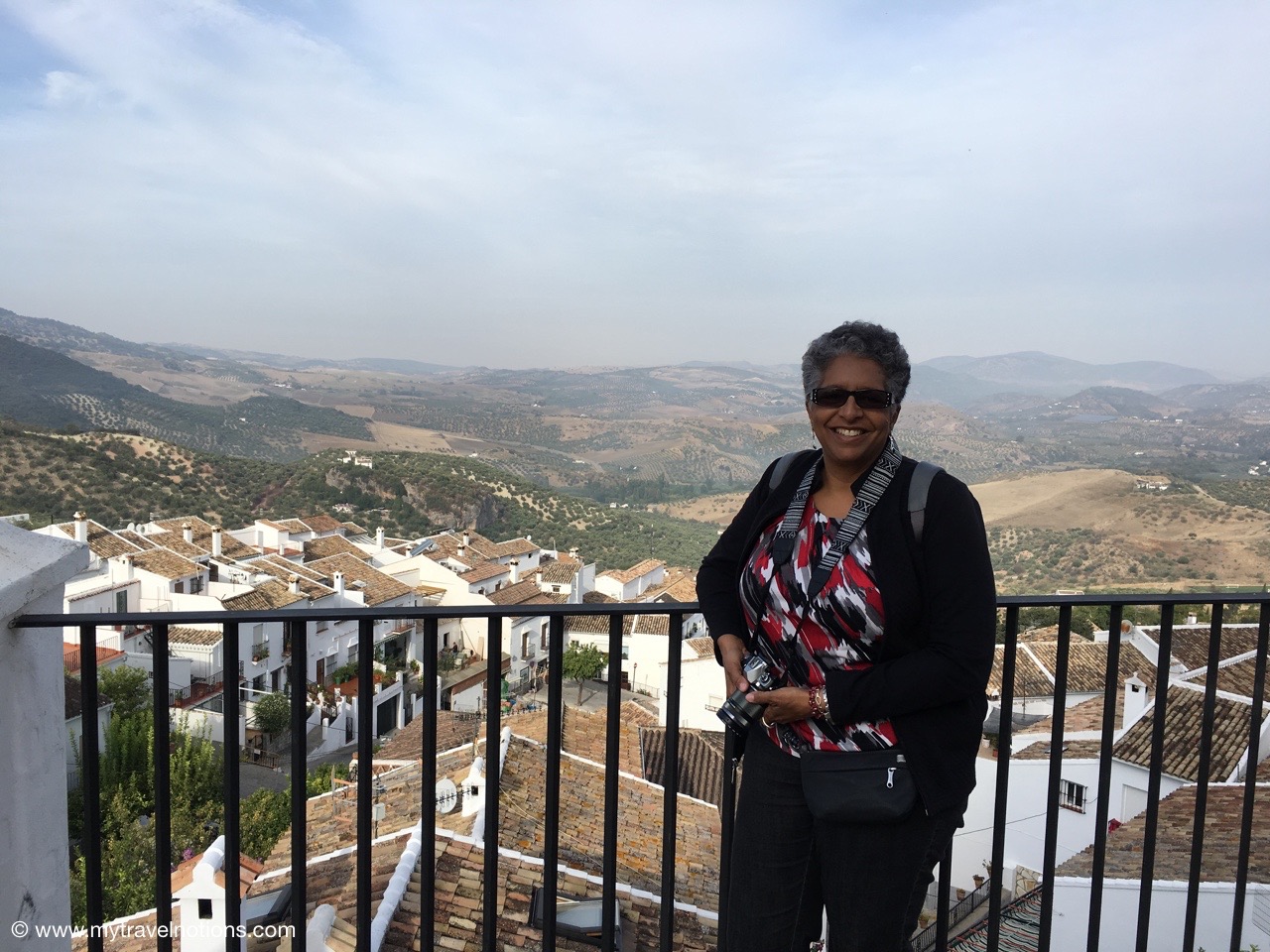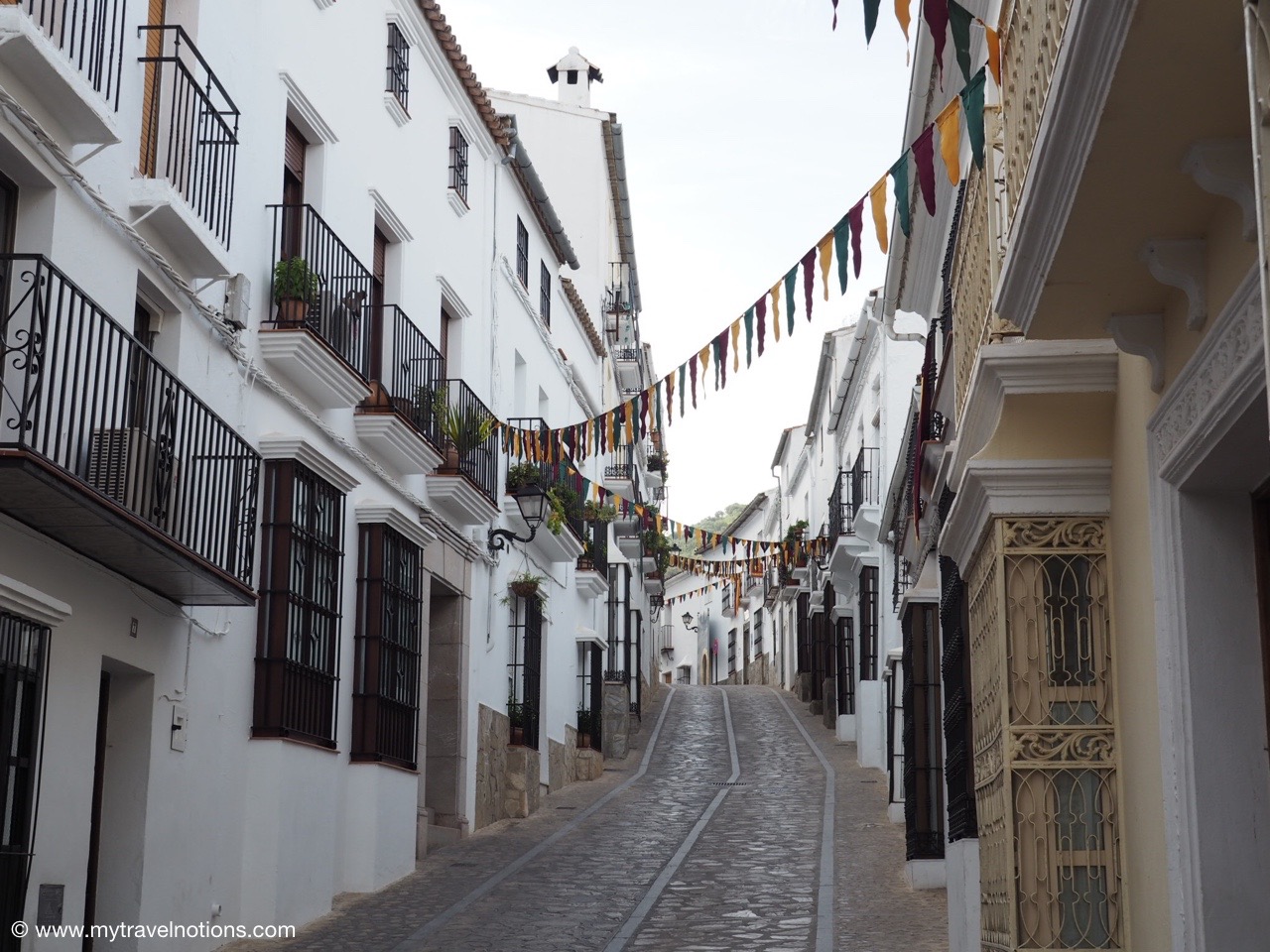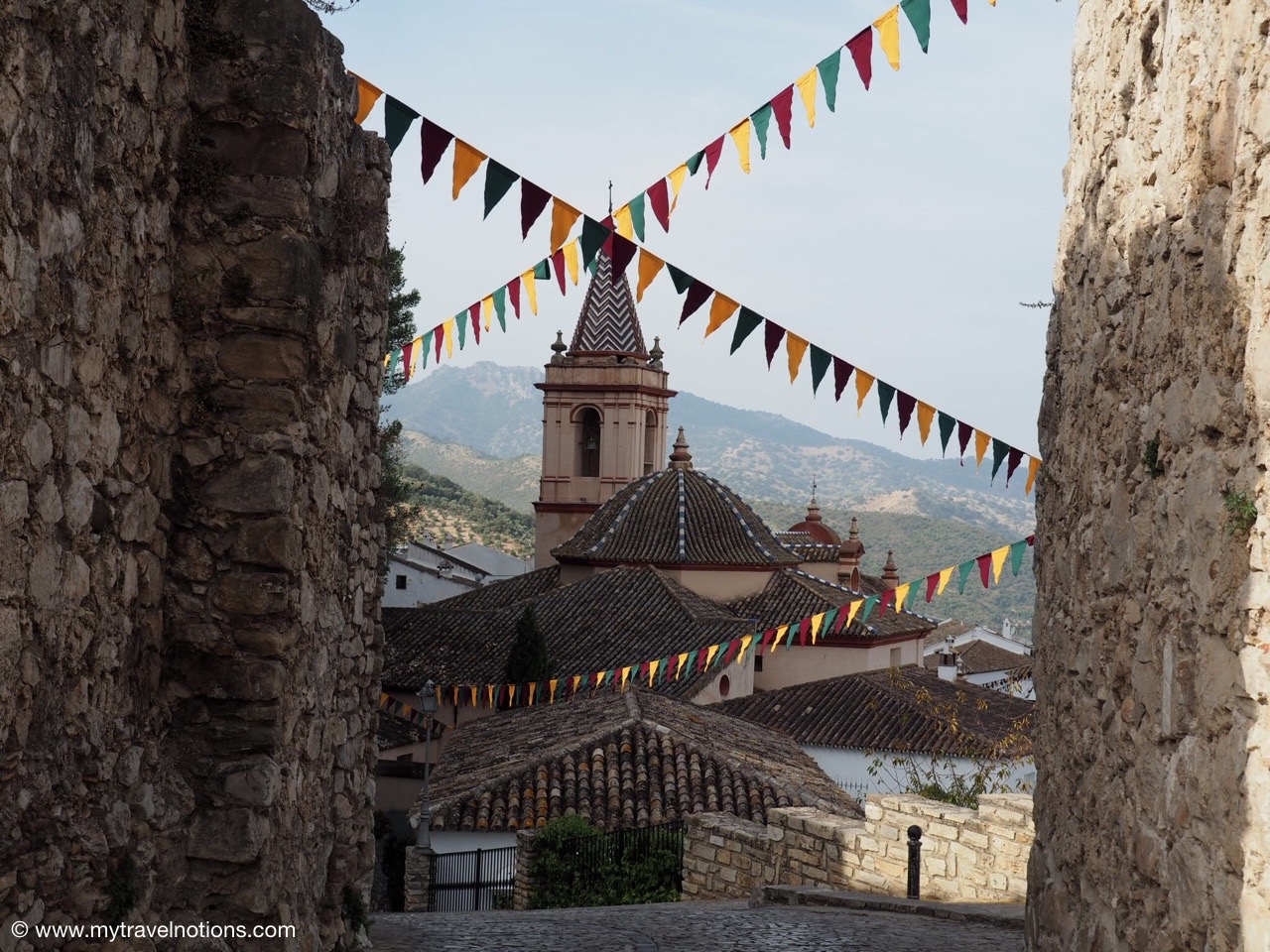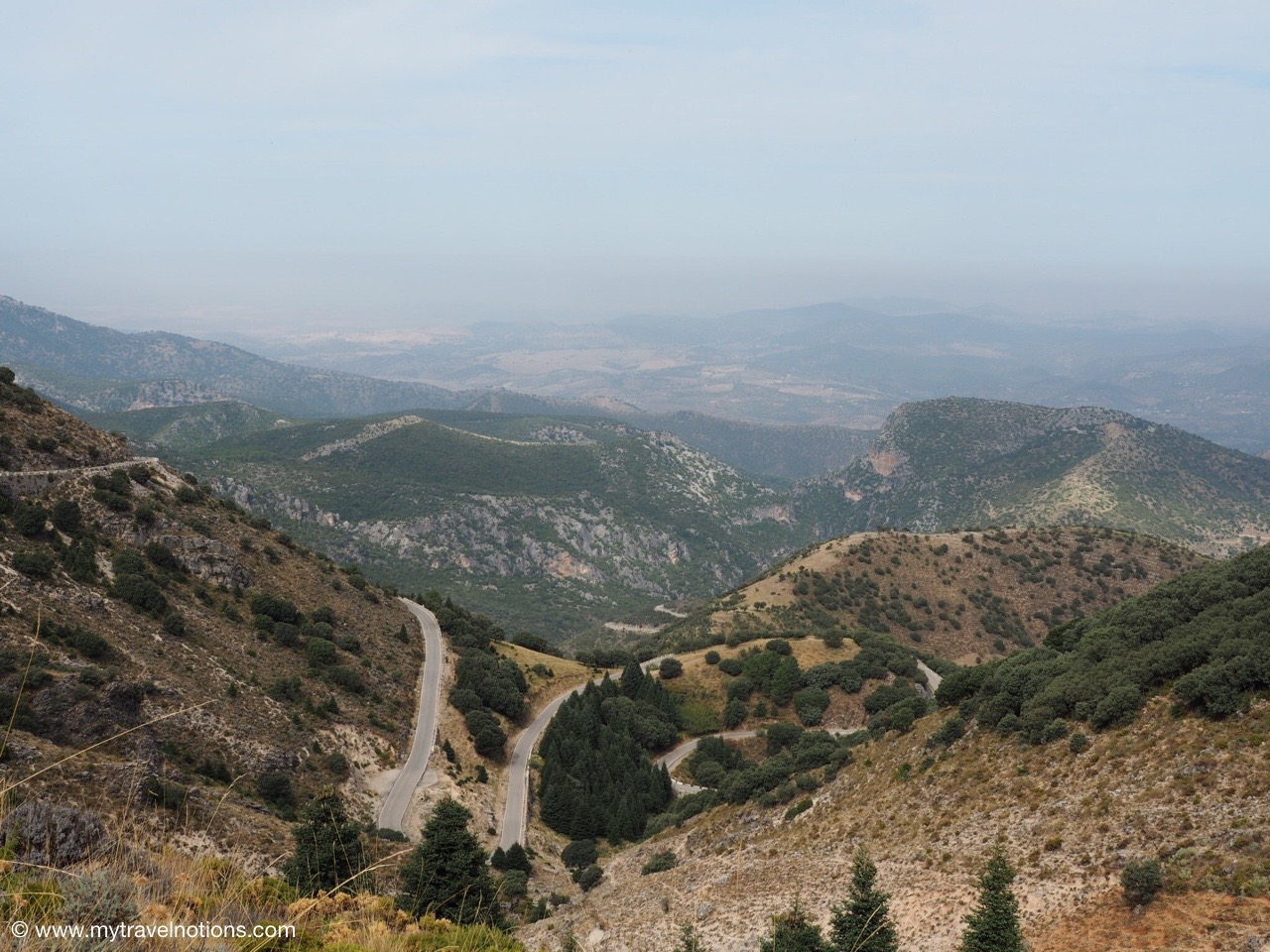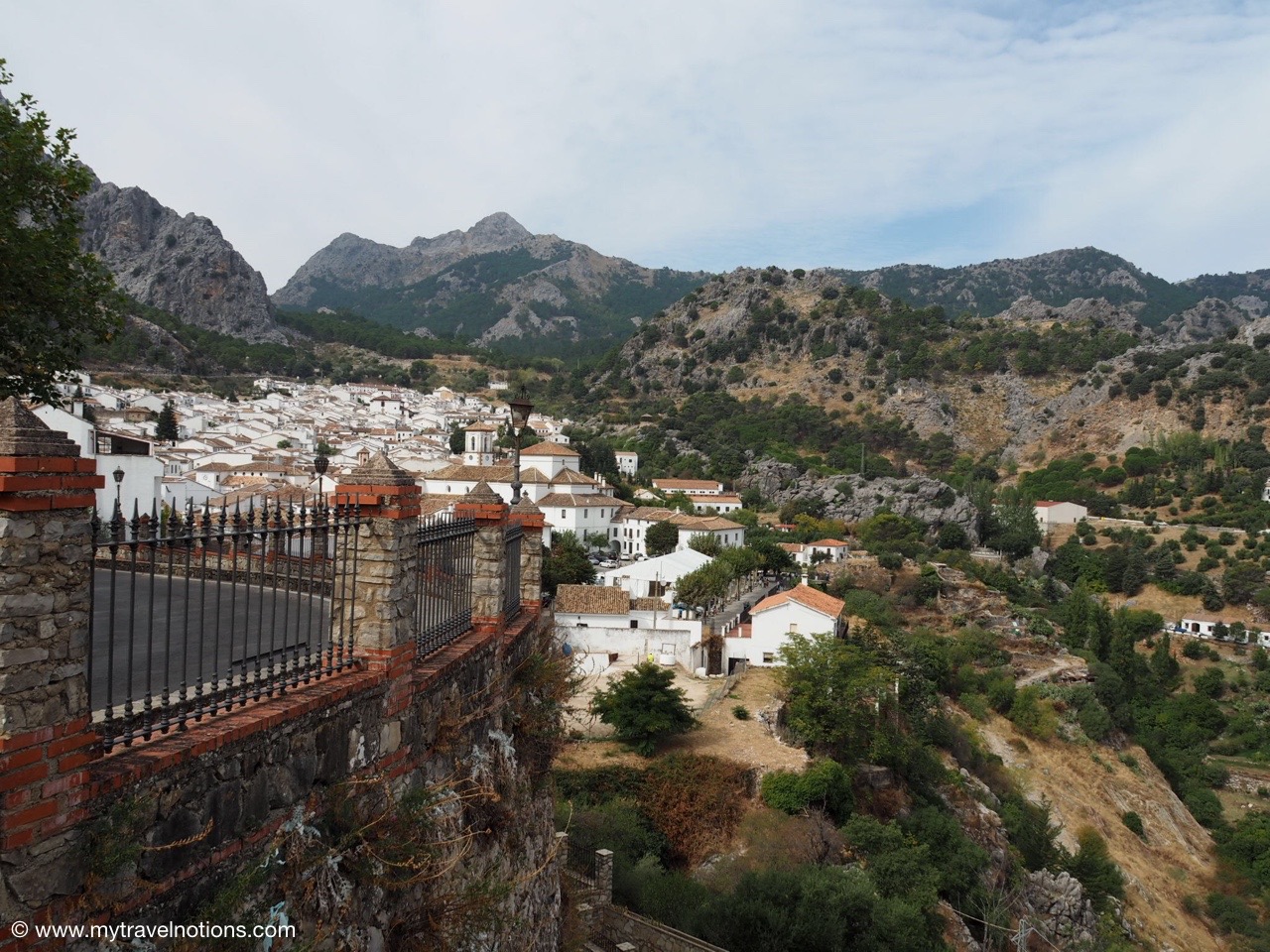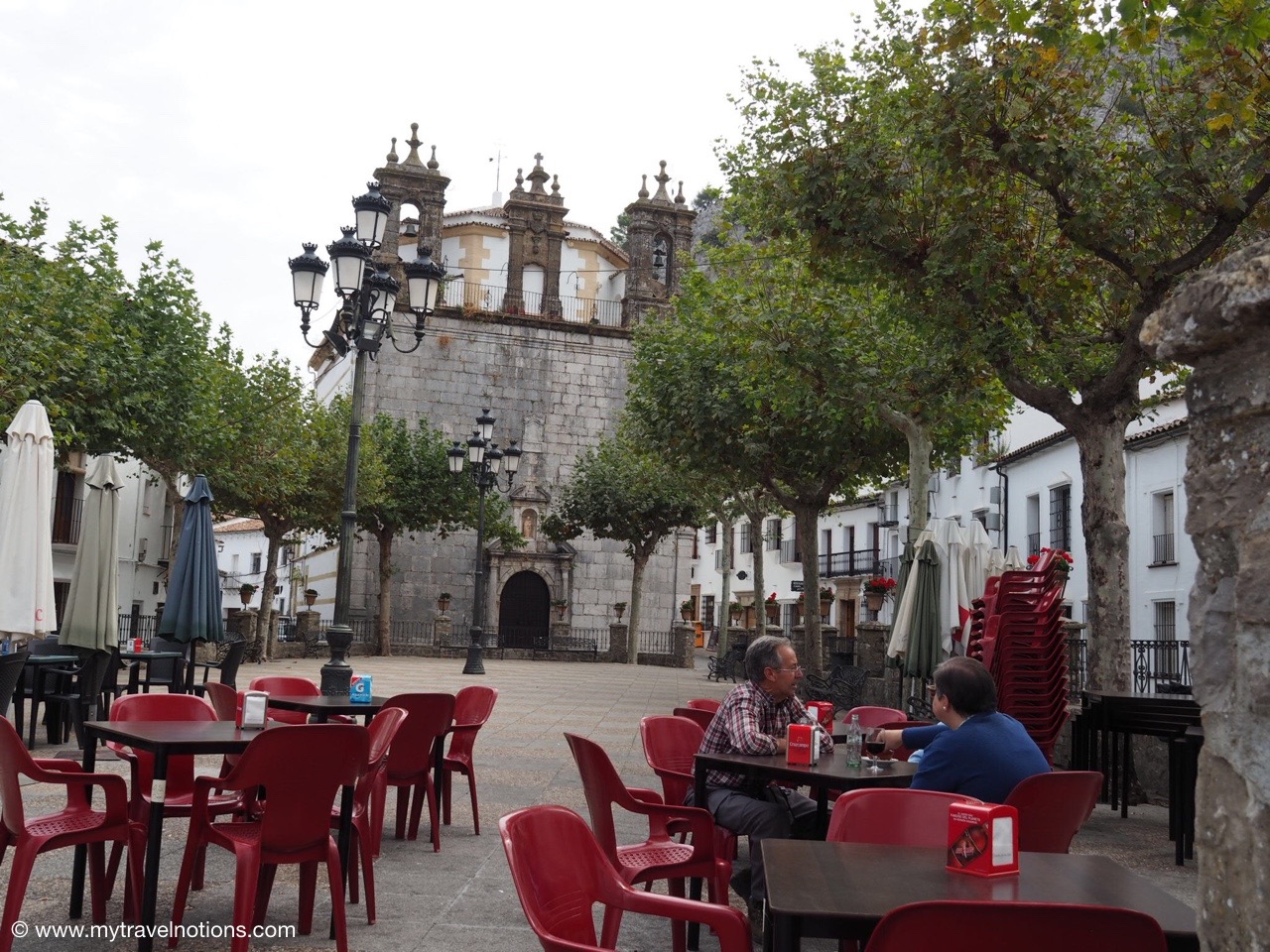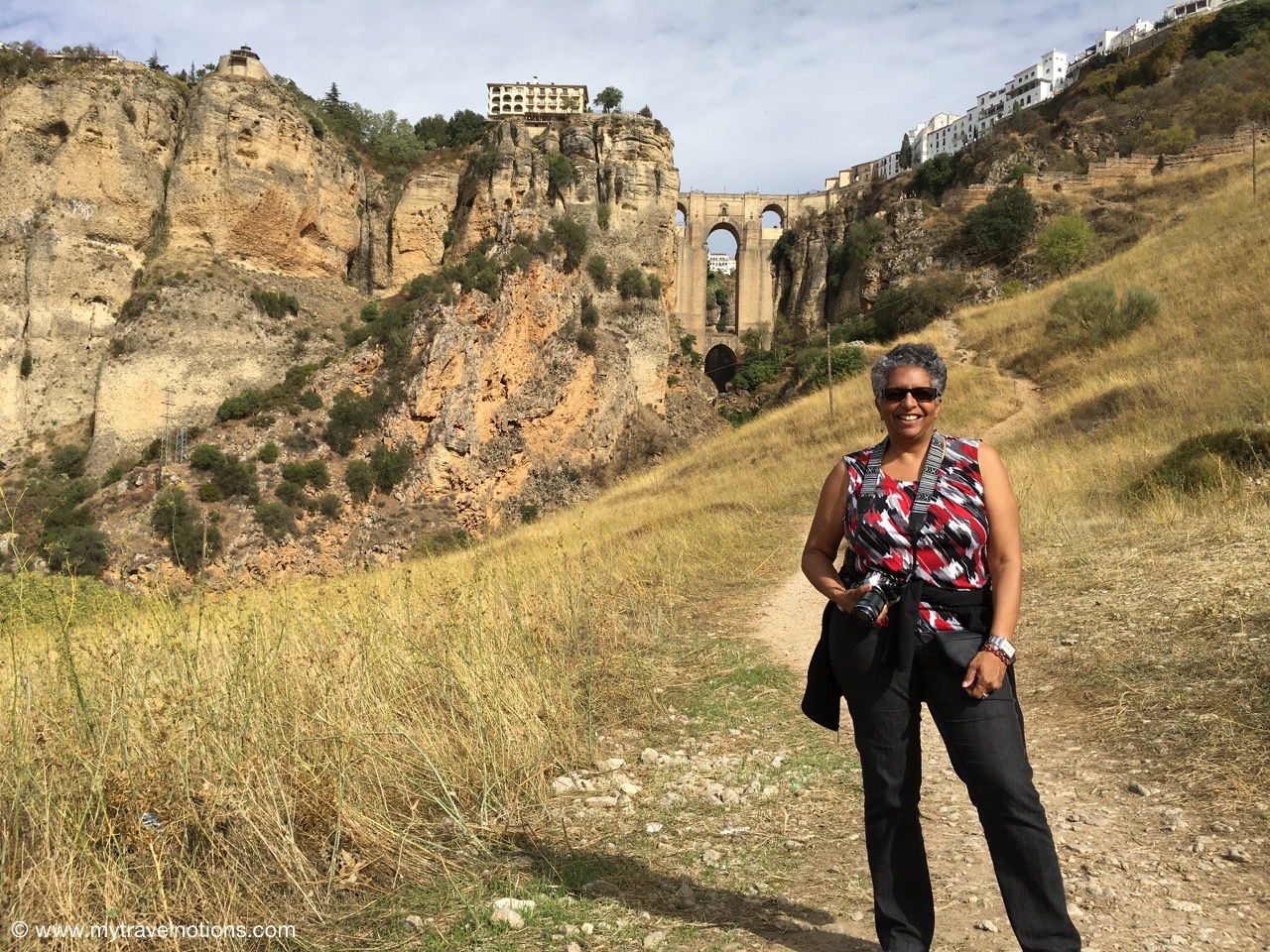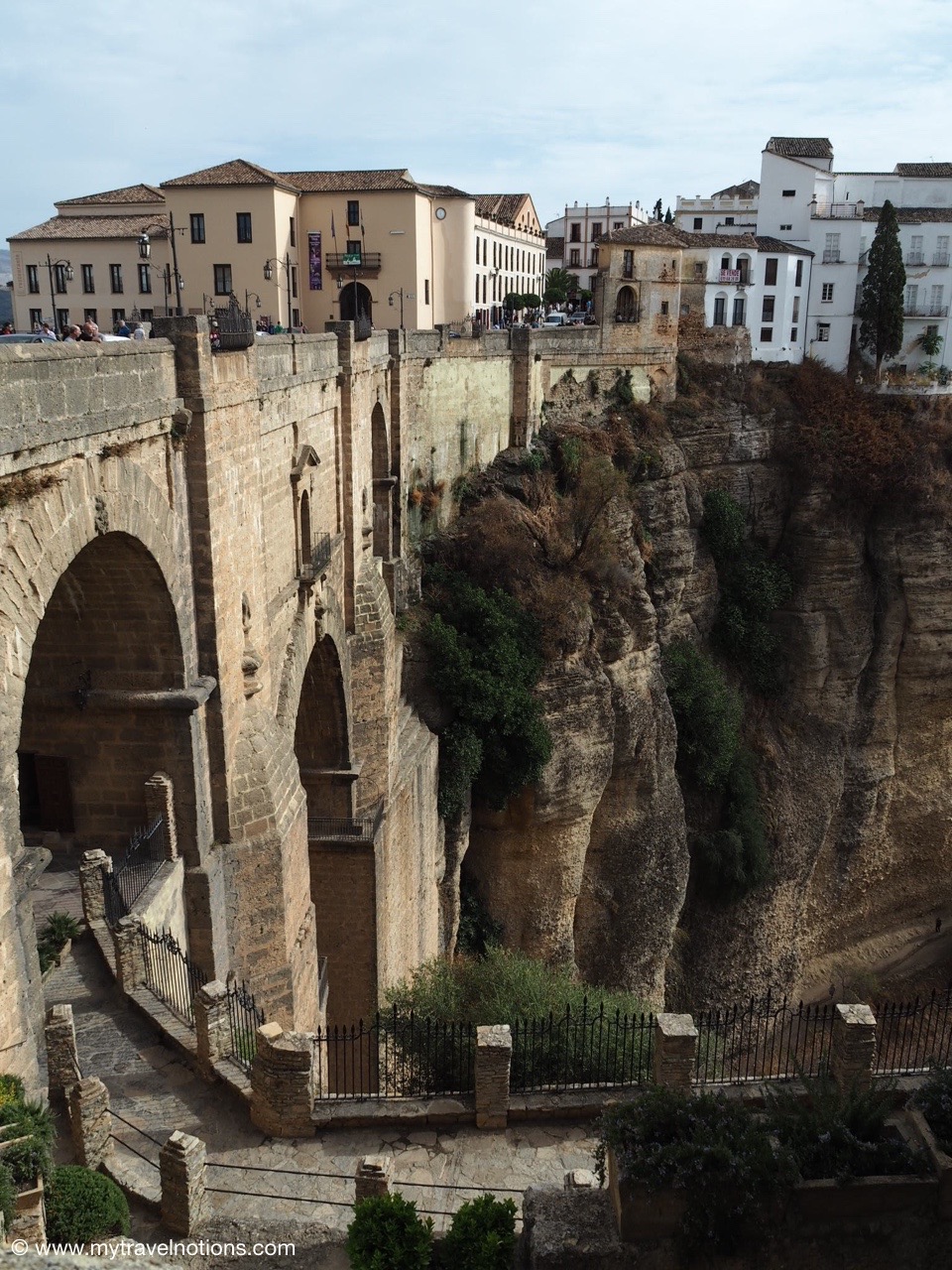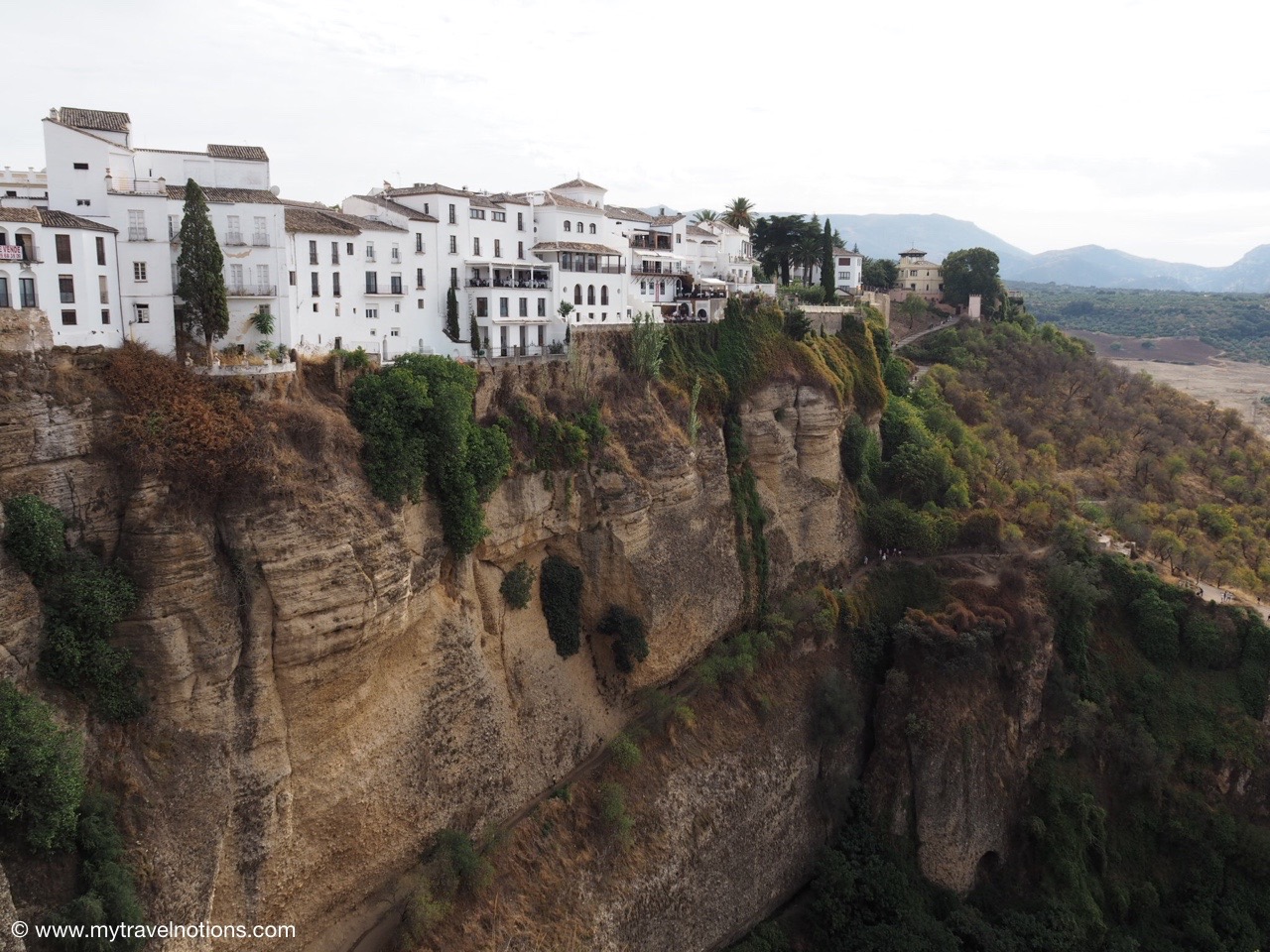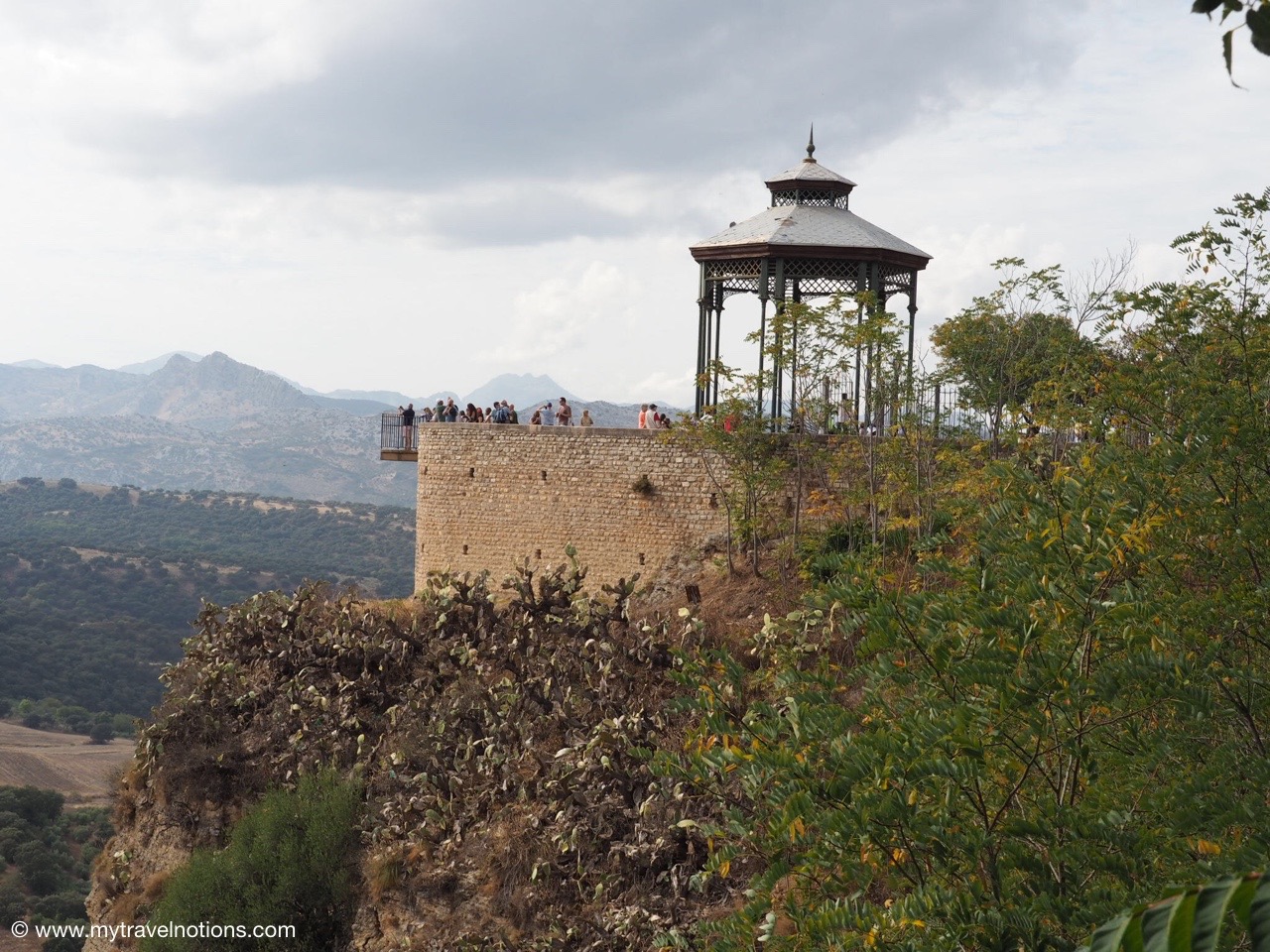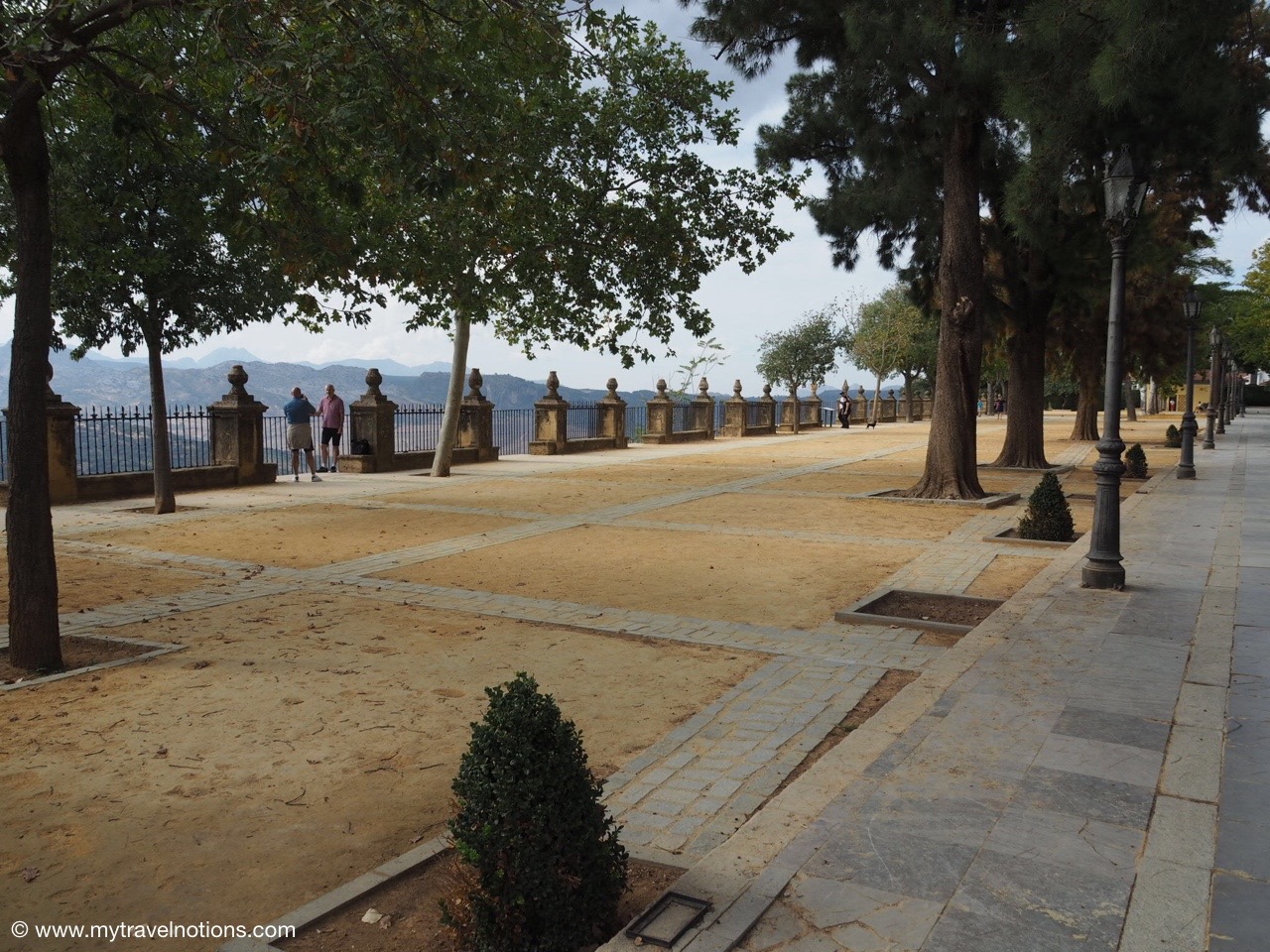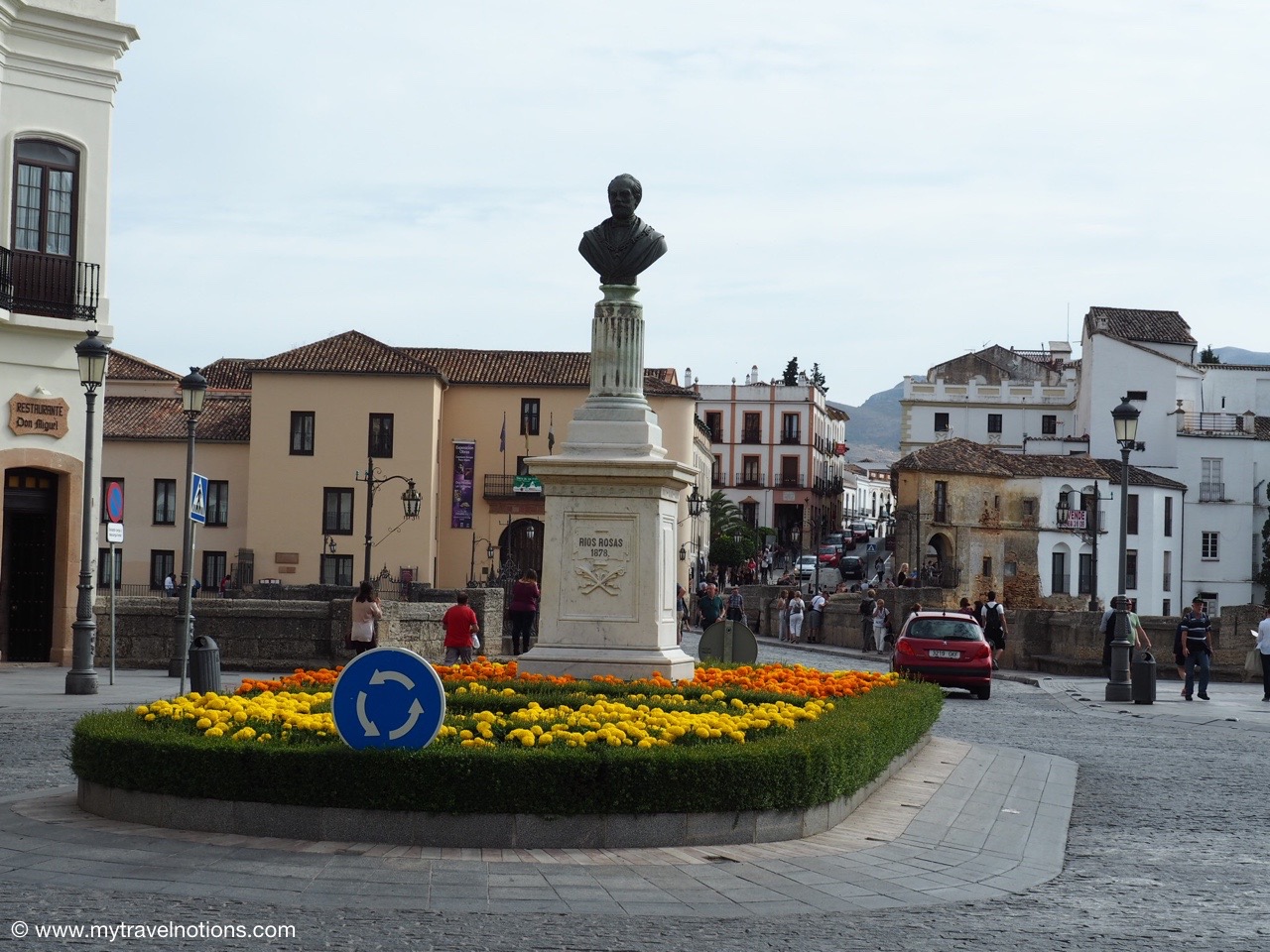 My time to get to know Spain ends today in Ronda. Tomorrow, Friday I head back to Madrid…staying at a hotel close to the Barajas Airport…and on early Saturday morning, I leave to go home to Texas. Adios Espana…for now!