Christmas Day is an excellent day to travel. And, not because it's not crowded, because it's not. It's an excellent day to travel because, at least at the airport, stores and restaurants are all open. I got to Washington Reagan Airport early because the weather forecast was rain with ice and I didn't want to get stuck in my apartment. I figured if the weather is going to get bad, I want to be at the airport when it happens. Turns out, it didn't get bad.
The walk down Connecticut Avenue to the Woodley Park Metro station was peaceful and rather uncrowded. I did notice a number of cabs driving around and one of them even honked at me to get my attention. "Hay lady! I need to make a buck on Christmas Day," one of them yelled from the car. But, by then, I was already at the Woodley Park metro elevator. The metro station itself was practically empty and it only took six minutes for the redline to Glenmont to arrive.
I debated bringing my laptop. Last night, I decided it was staying and then this morning, I decided it was going. The extra weight is a little uncomfortable but I'm glad I brought it with me. I like being able to write when I travel.
The last time I was in Paris was in 2006 when I took myself to Europe for my 50th birthday. I really decided to do this trip on the spur of the moment because after having my house on the market for what seemed like forever, more than six months, I finally closed on it in September and got it off my financial plate. Yay! I had to lower the price, but buying rent on my D.C. apartment and the mortgage on my Texas house, was pretty much emptying out my savings so the sale came just in time. And, once that expense was no longer a detriment, I decided to treat myself to Paris. When I mentioned it to Debra, a U.S. Department of Labor colleague, she was game for the journey.
For this trip to Paris, I left the planning and the work to Rick Steves and opted to take his company's "Best of Paris in 7 Days Tour."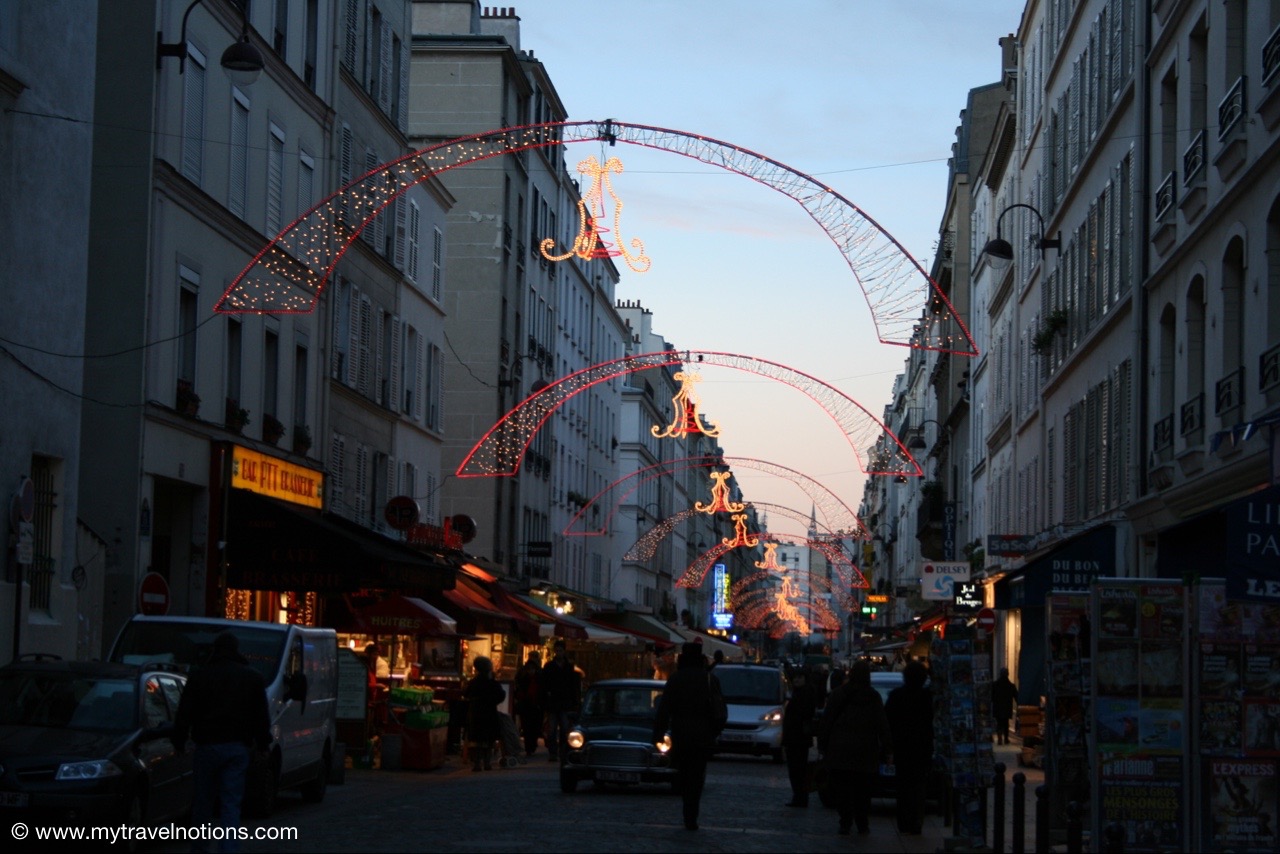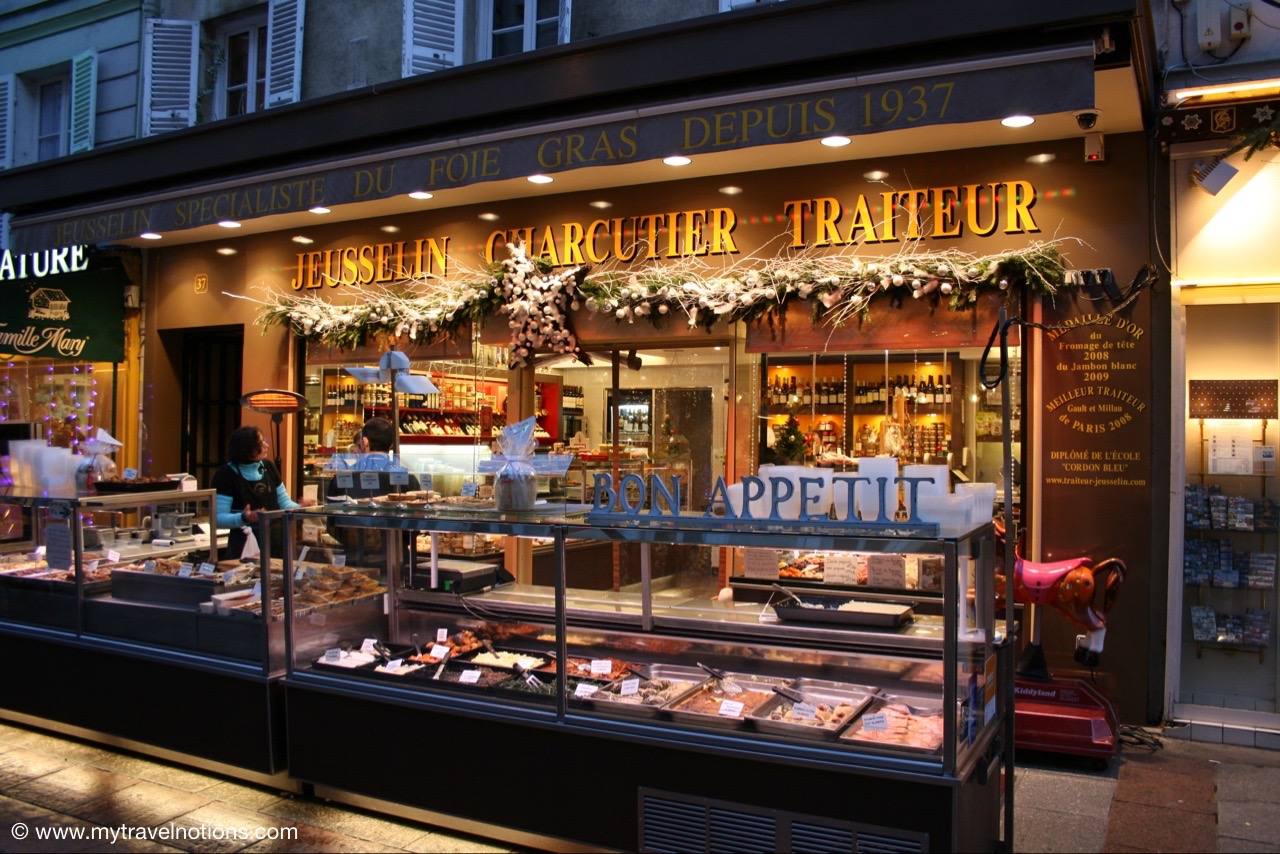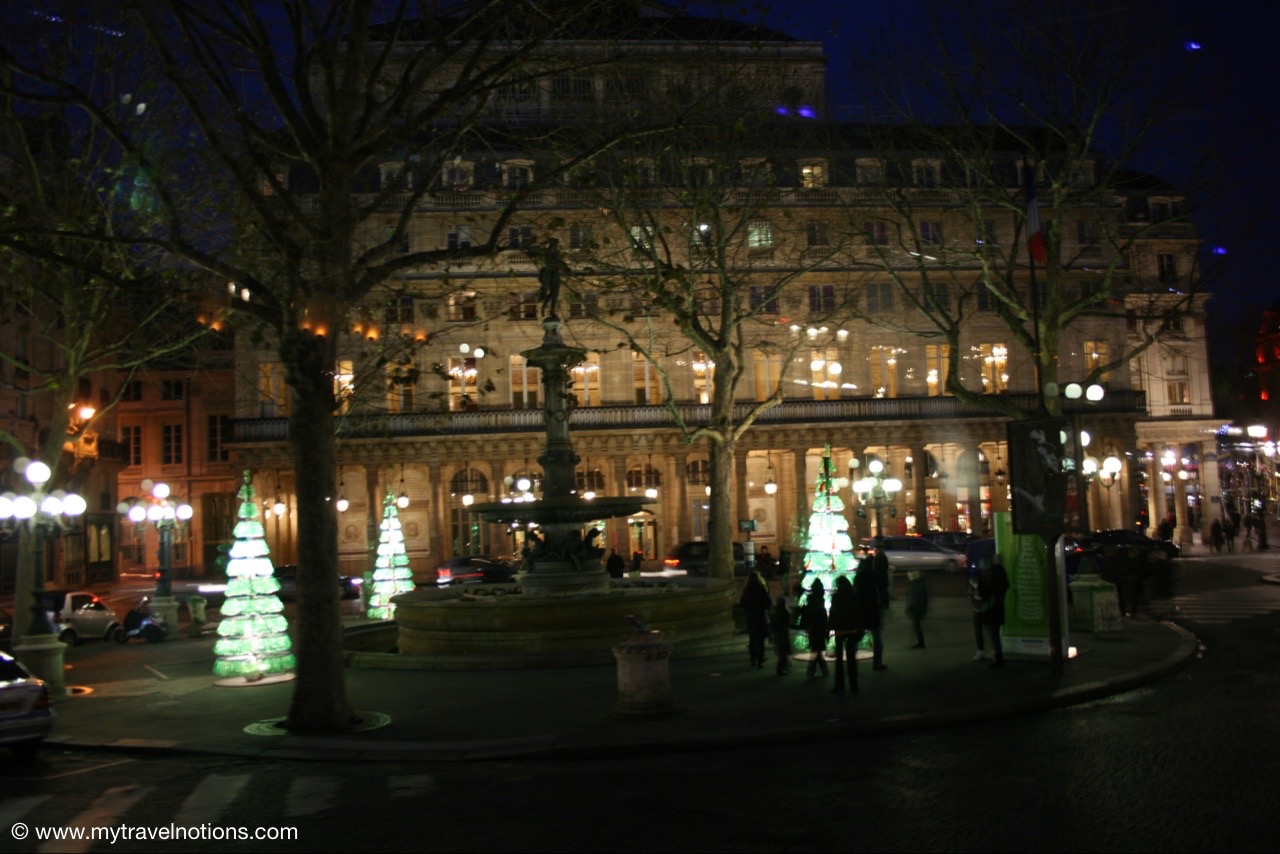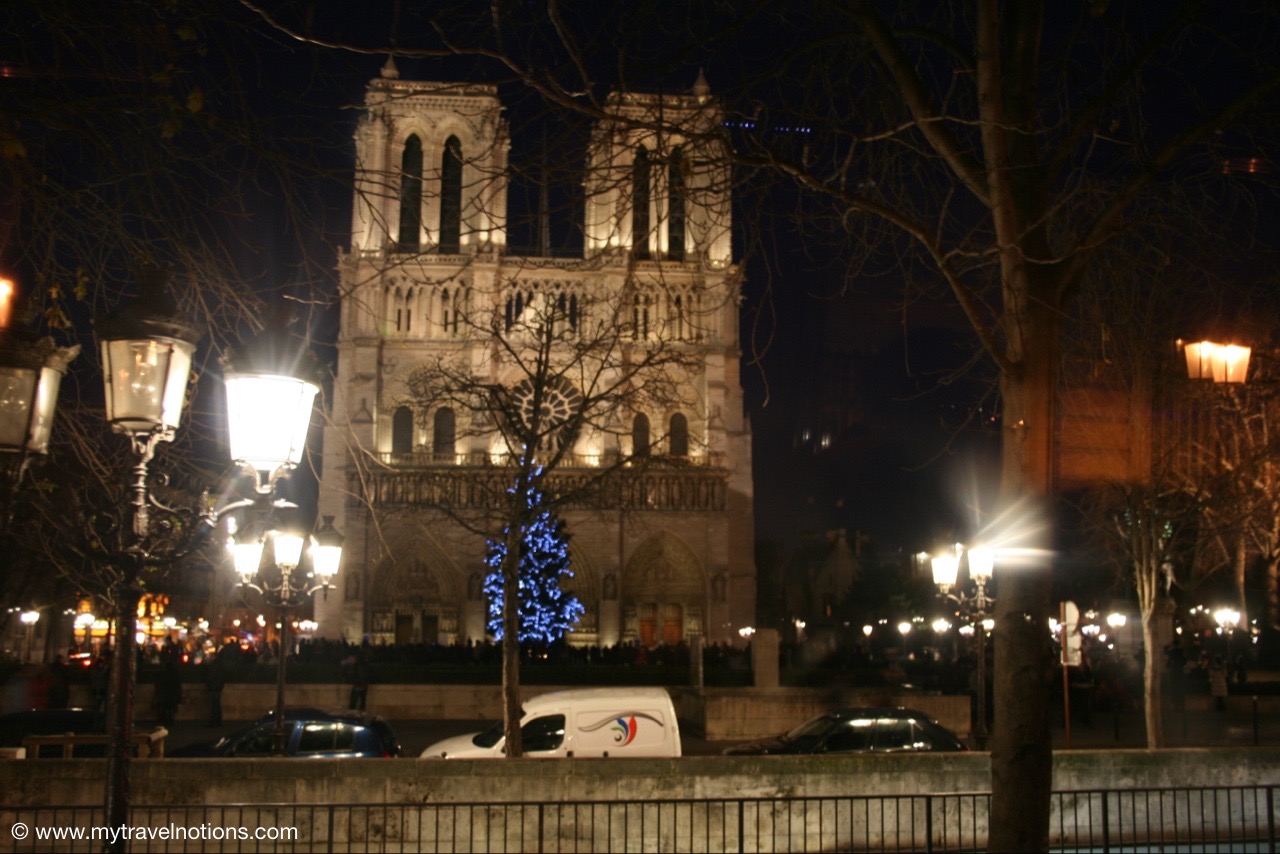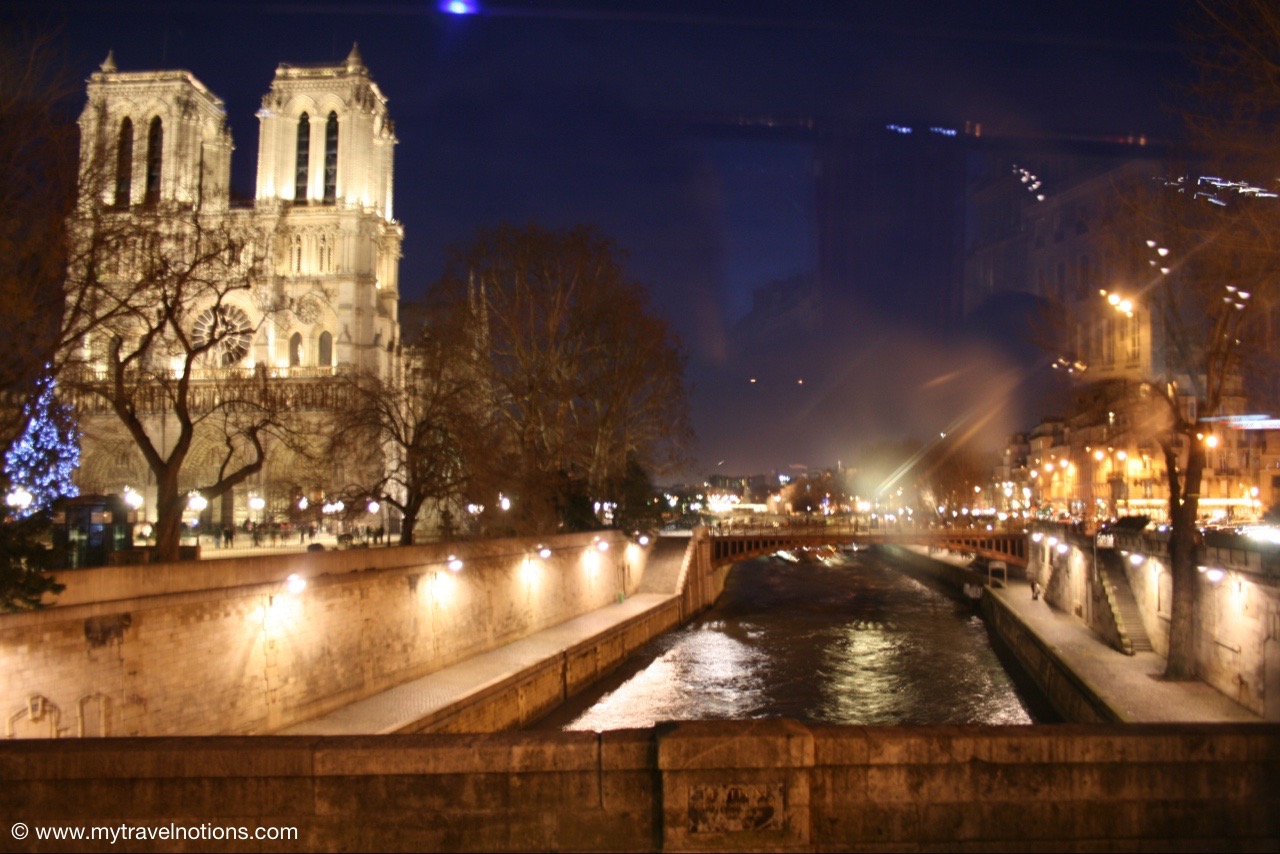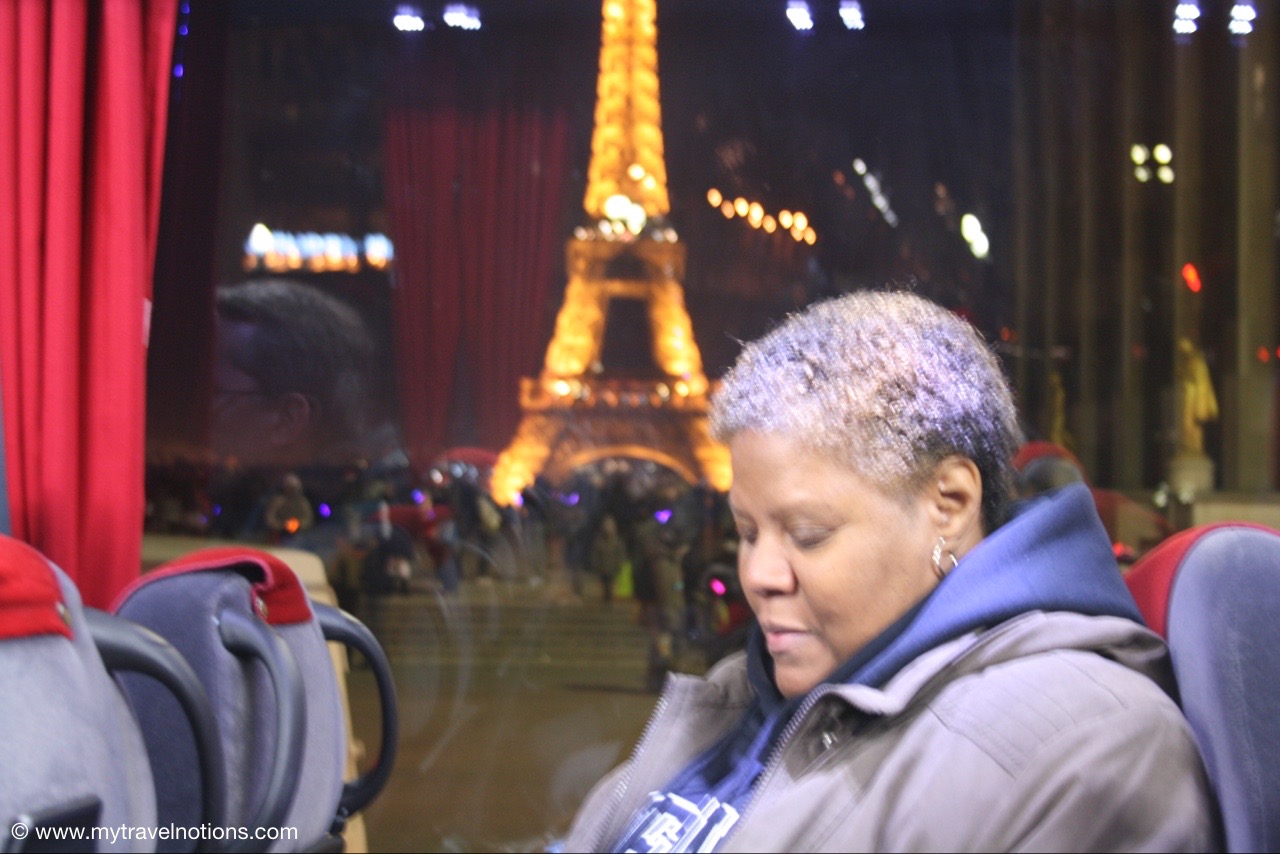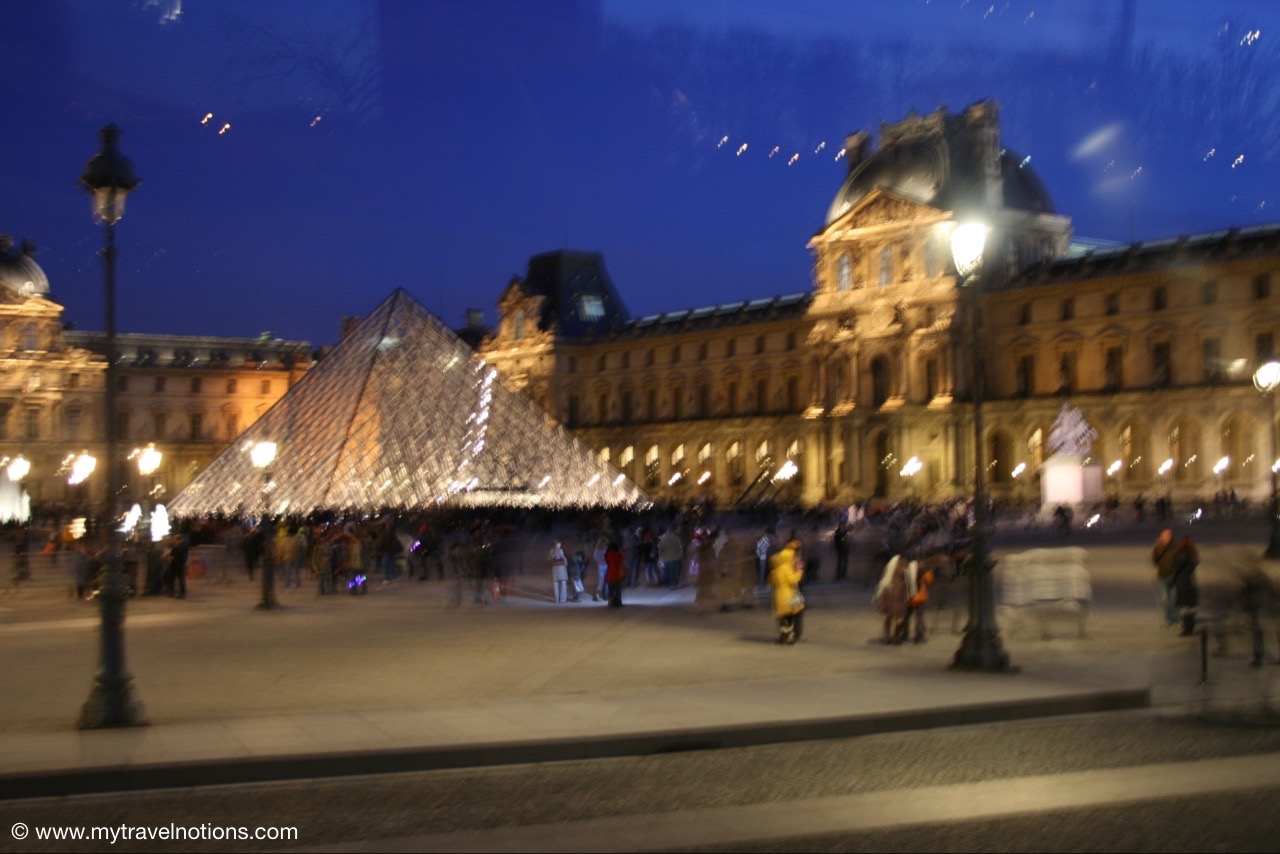 I told Debra that we wouldn't need to set an alarm because I don't normally sleep well anyway and that I'll be up in time for us to start our first full day of activities with our Rick Steves tour guide, Elizabeth van Hest, and tour group. But Debra and I overslept and were then in a race to catch-up with the group who had already taken the metro to head to the exquisite Sainte-Chapelle. Luckily, the metro station was close to the hotel where we were staying, the Duquesne Hotel. But somehow we made our way to the metro station, got off at the correct exit and met our guide and group. Next time, we'll definitely use an alarm.
For today, the Rick Steve itinerary for the "Historic Heart of Paris": We began where Paris did, on the Ile de la Cité. Elizabeth us through the city's early history, including visits to a pair of the world's most significant medieval Gothic churches: the legendary Notre-Dame Cathedral and the exquisite Sainte-Chapelle. Then we took a stroll through the bohemian Latin Quarter, where we enjoyed a group lunch. We also walked  through Paris' diverse, history-layered Marais district. As we walked we learned about enlightened 17th-century urban planning at the beautiful Place des Vosges, the cultural roots of the Jewish Quarter, and how the French Revolution grew from this neighborhood.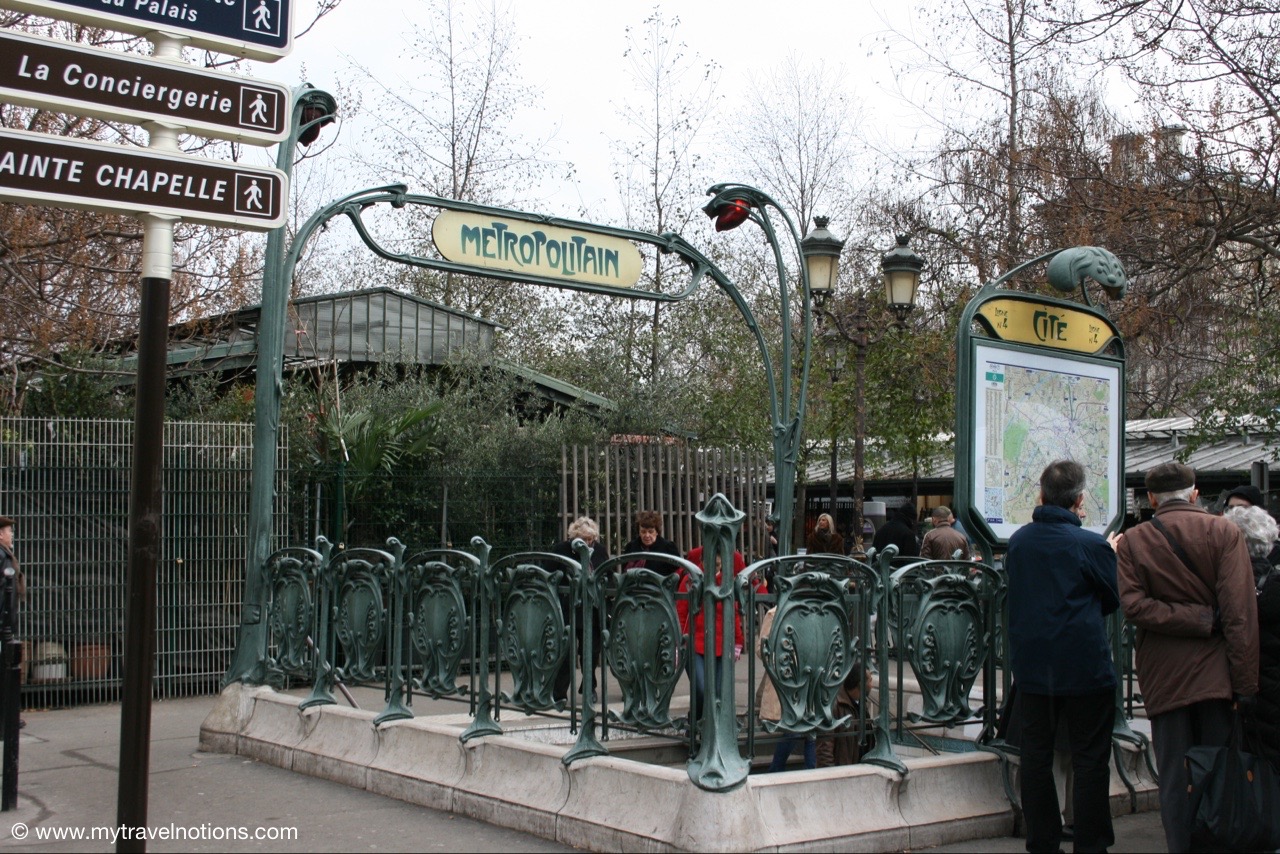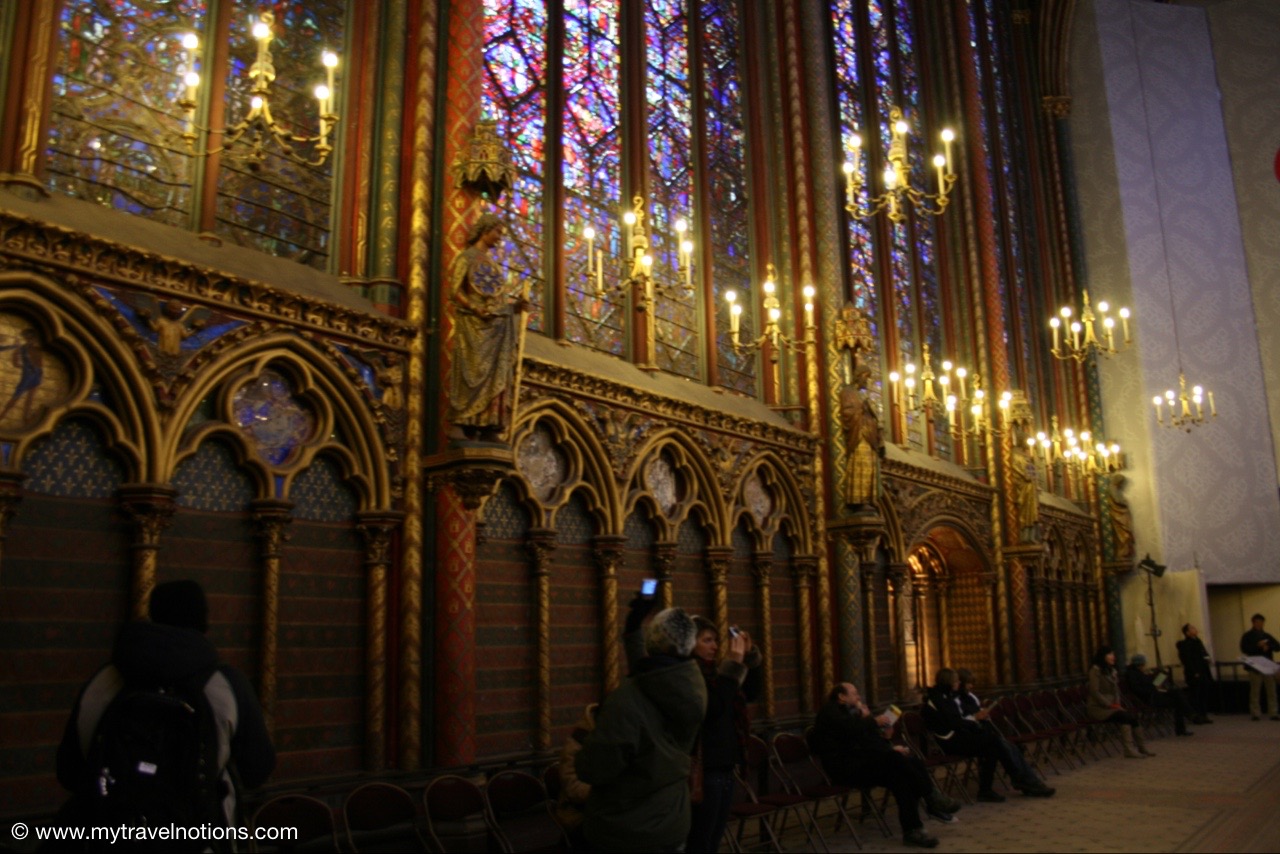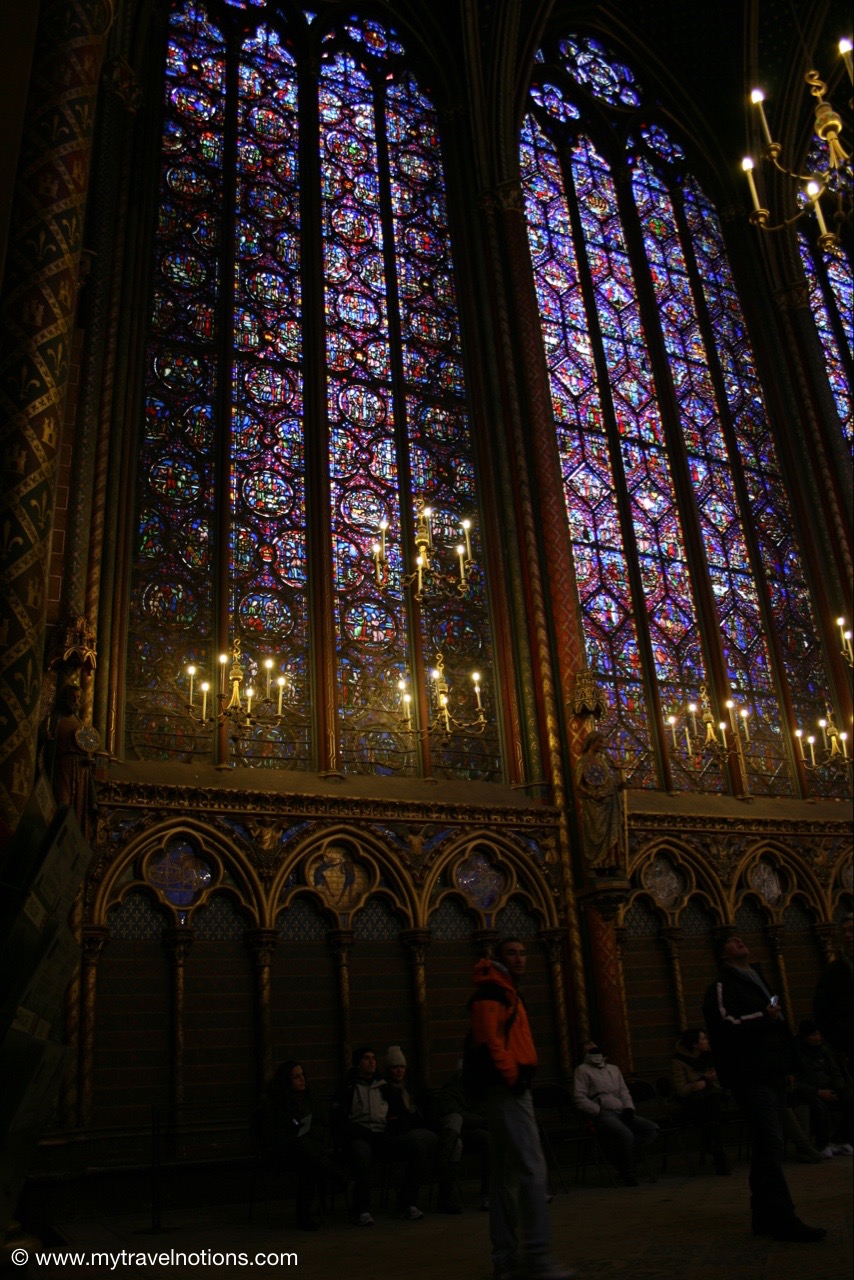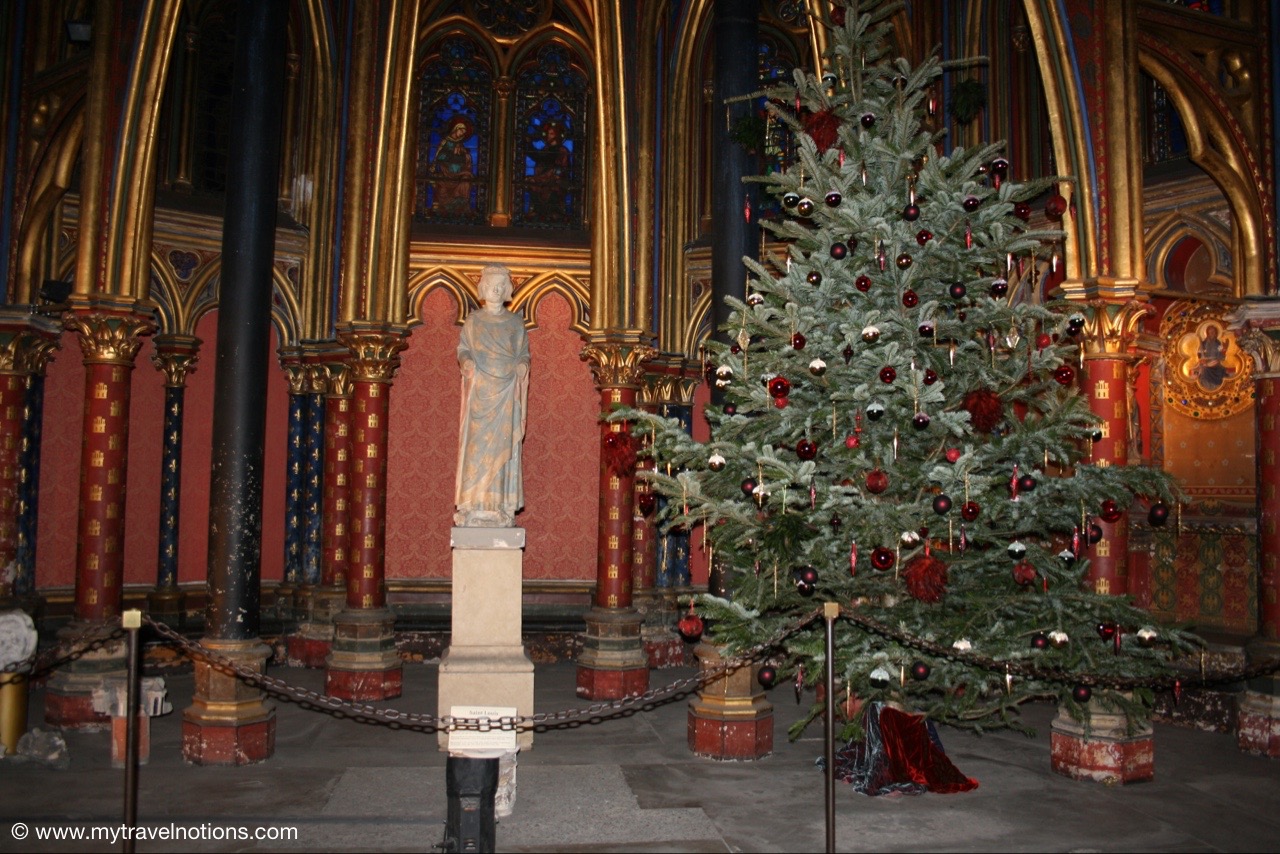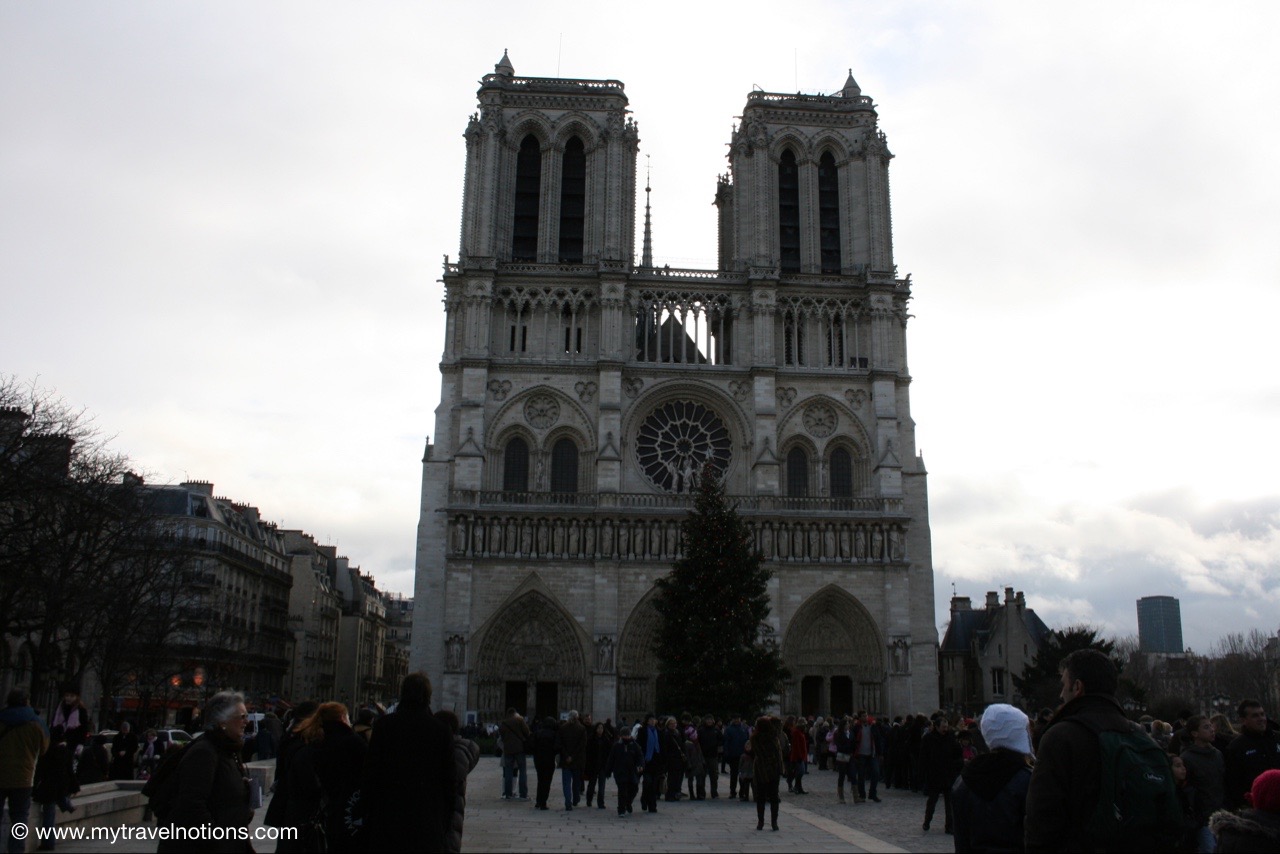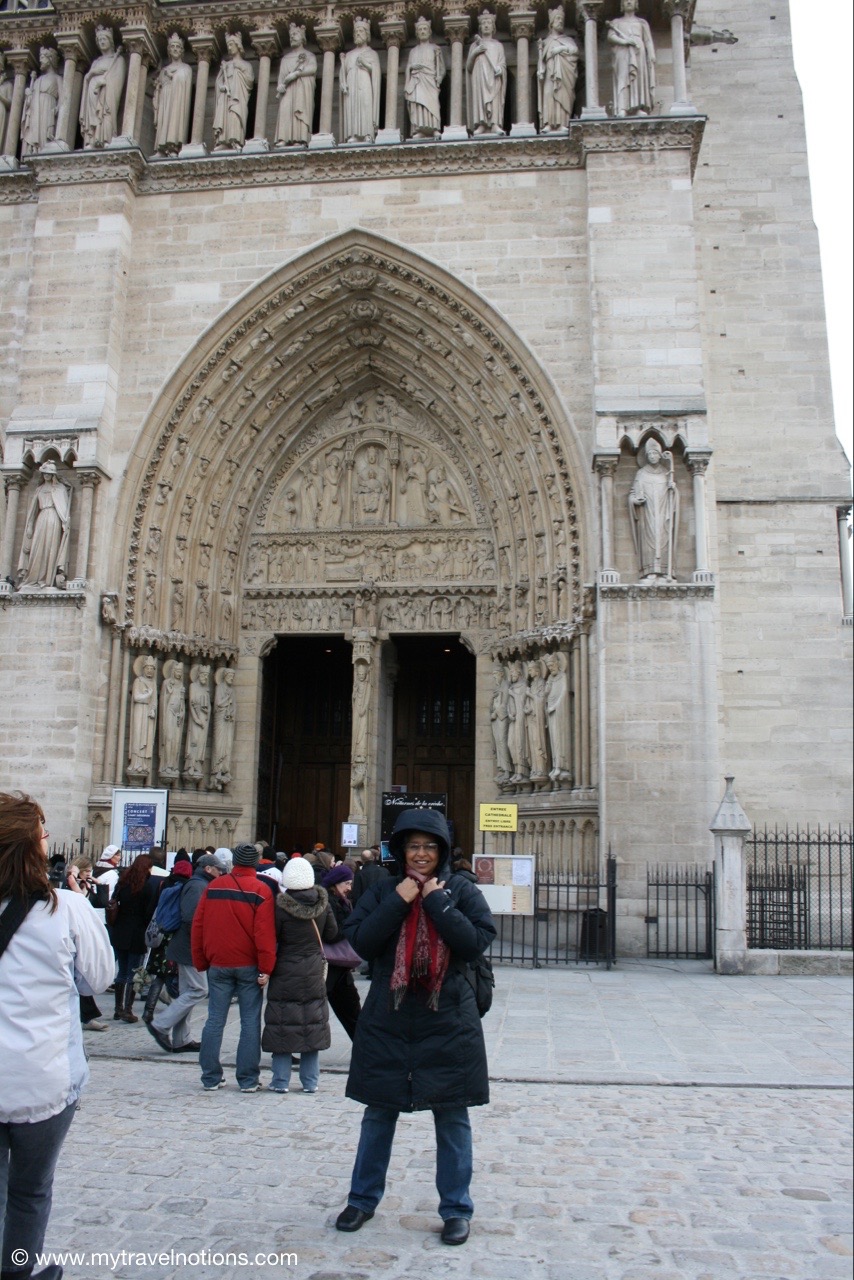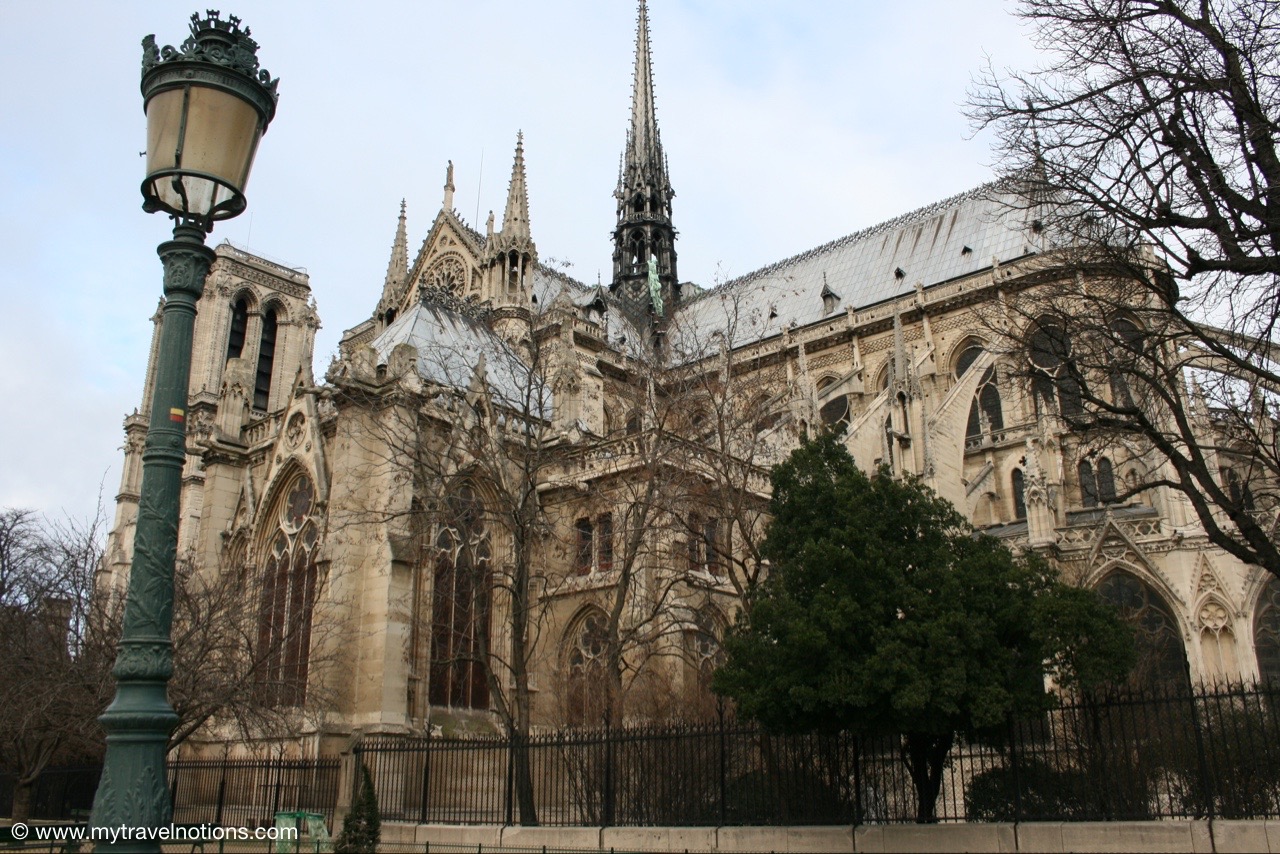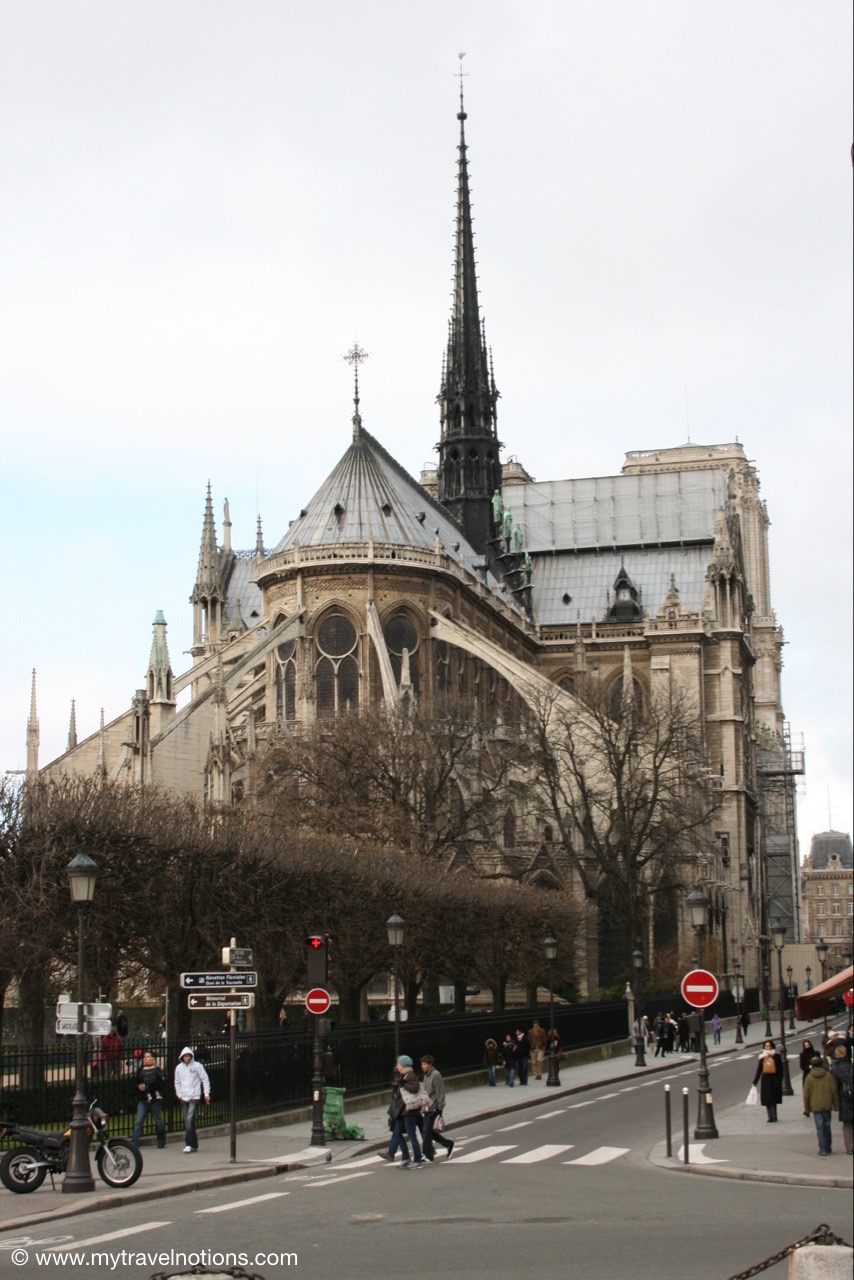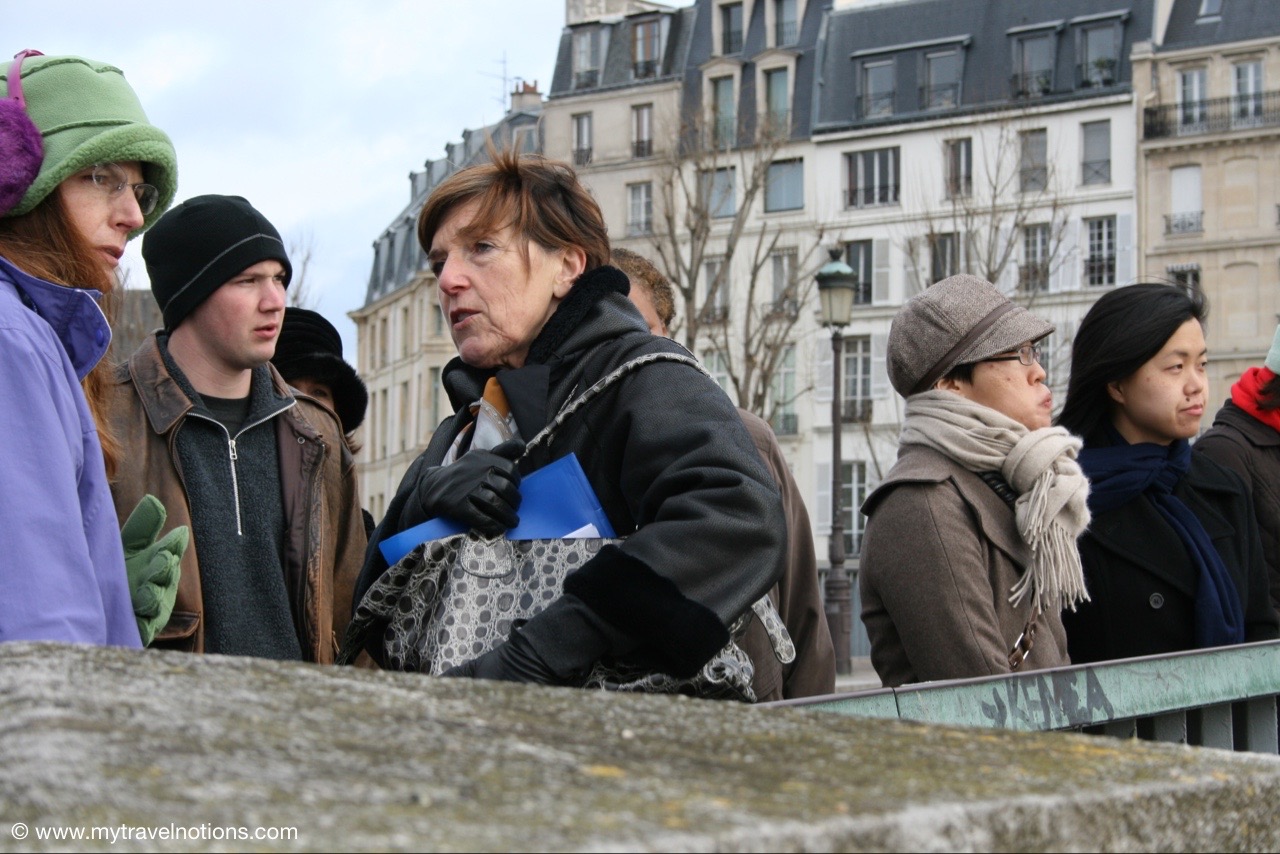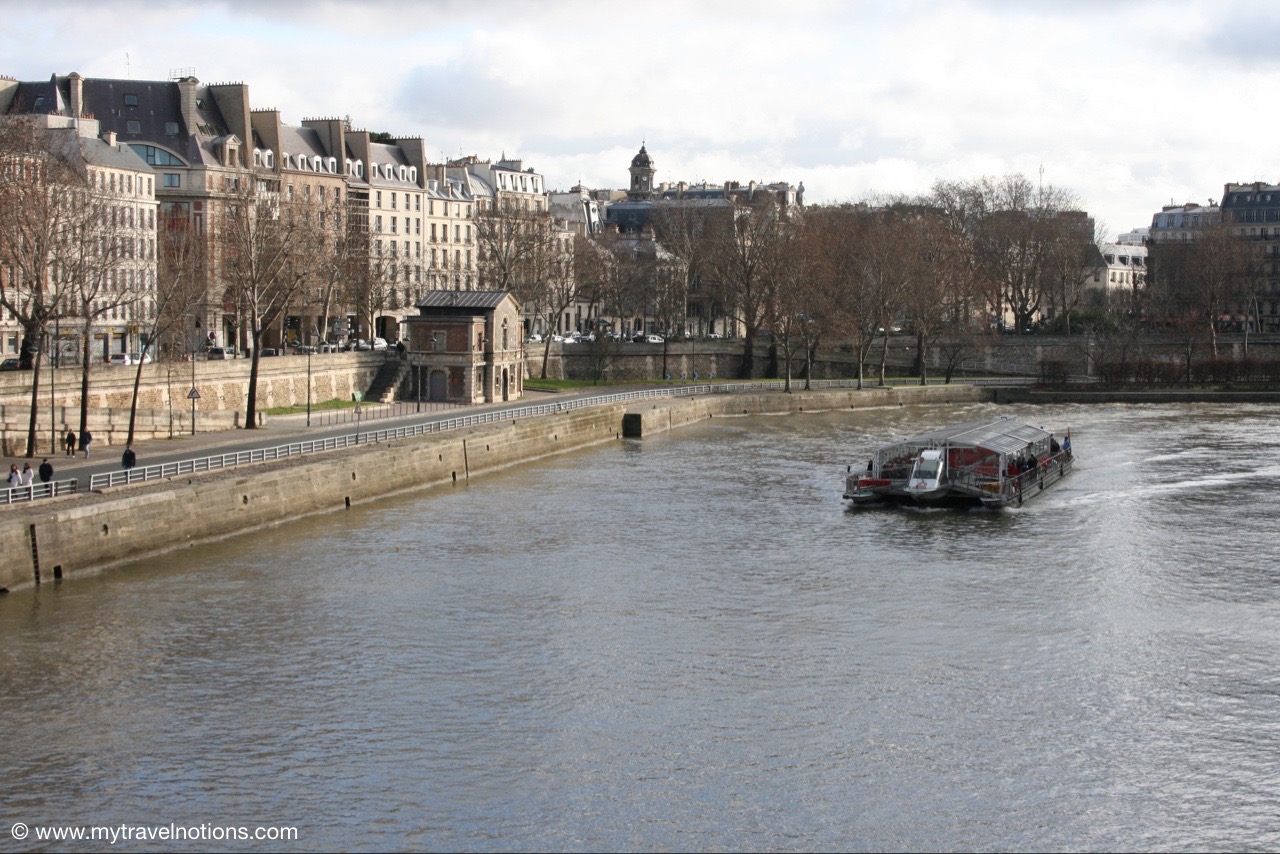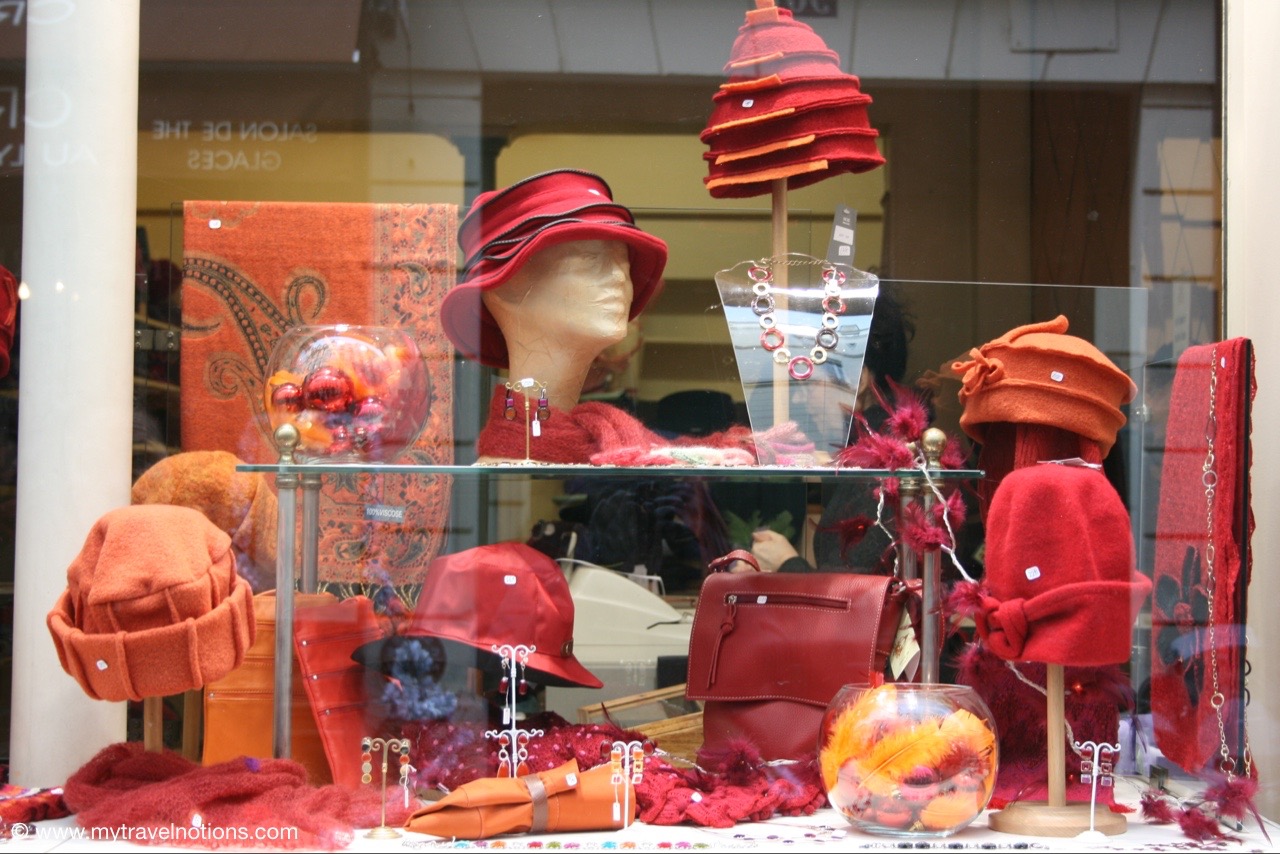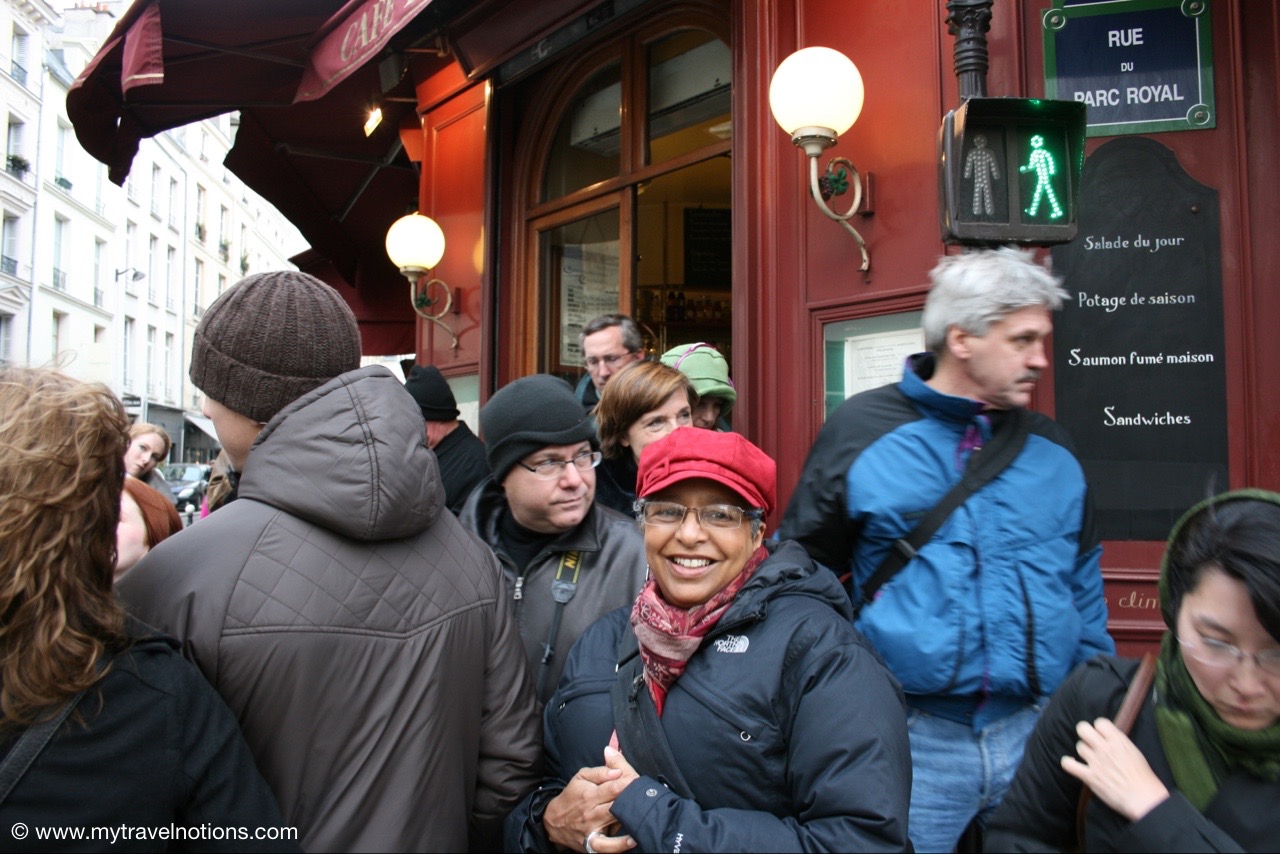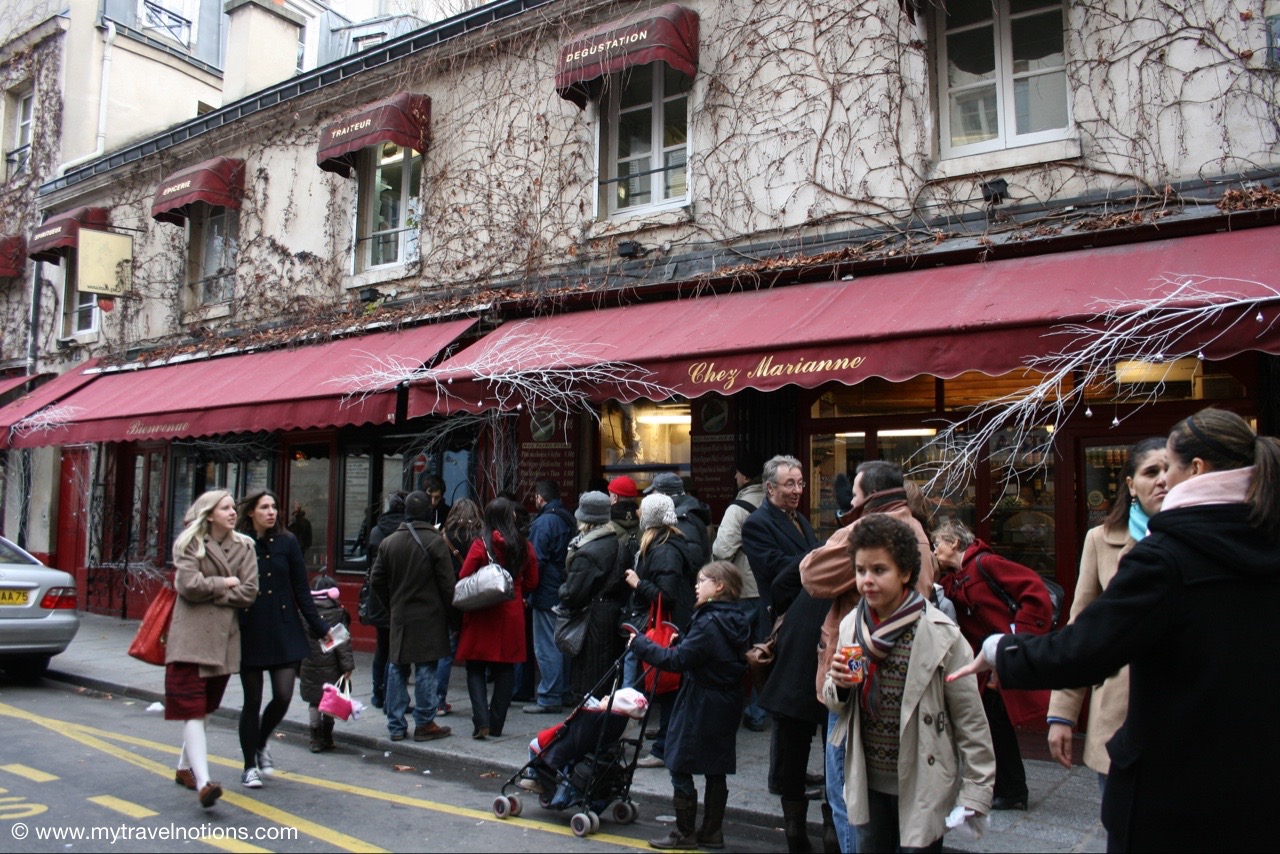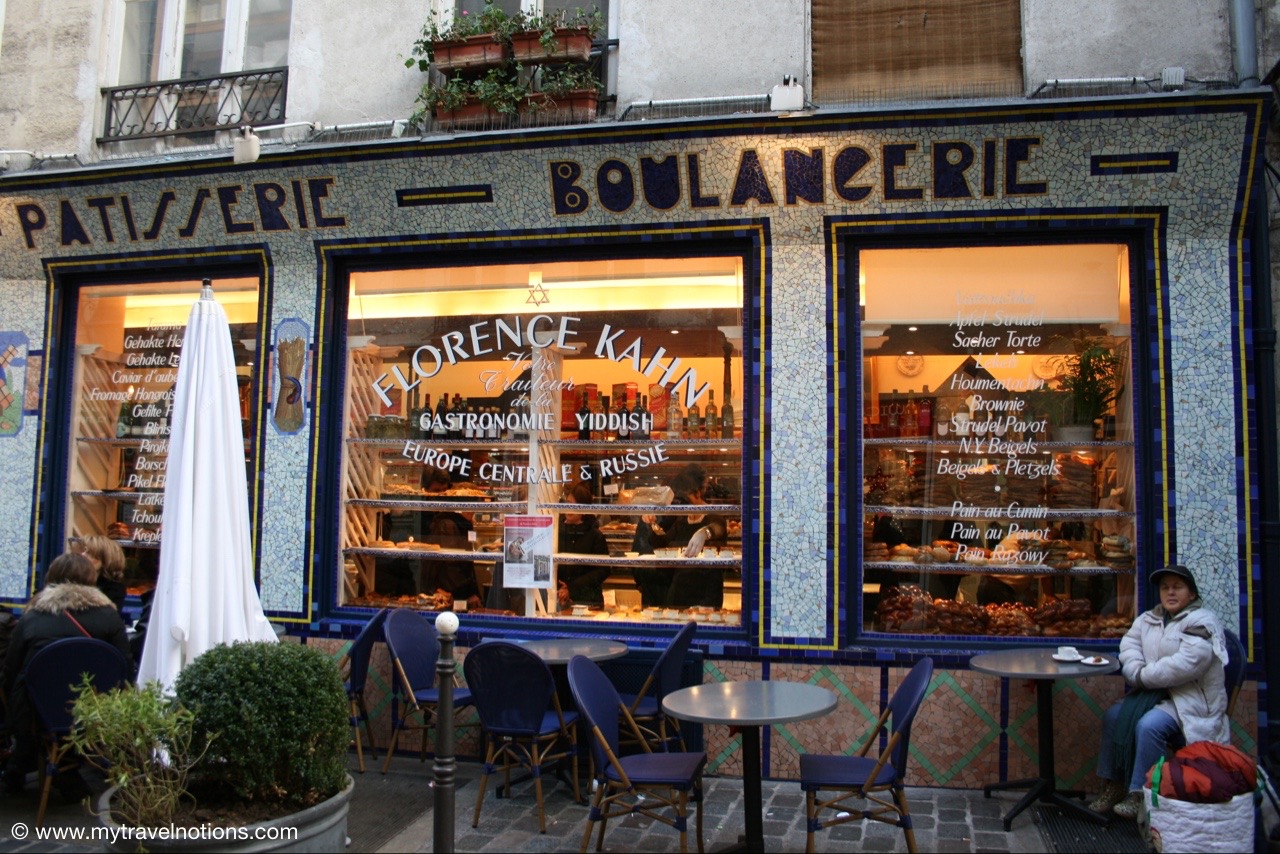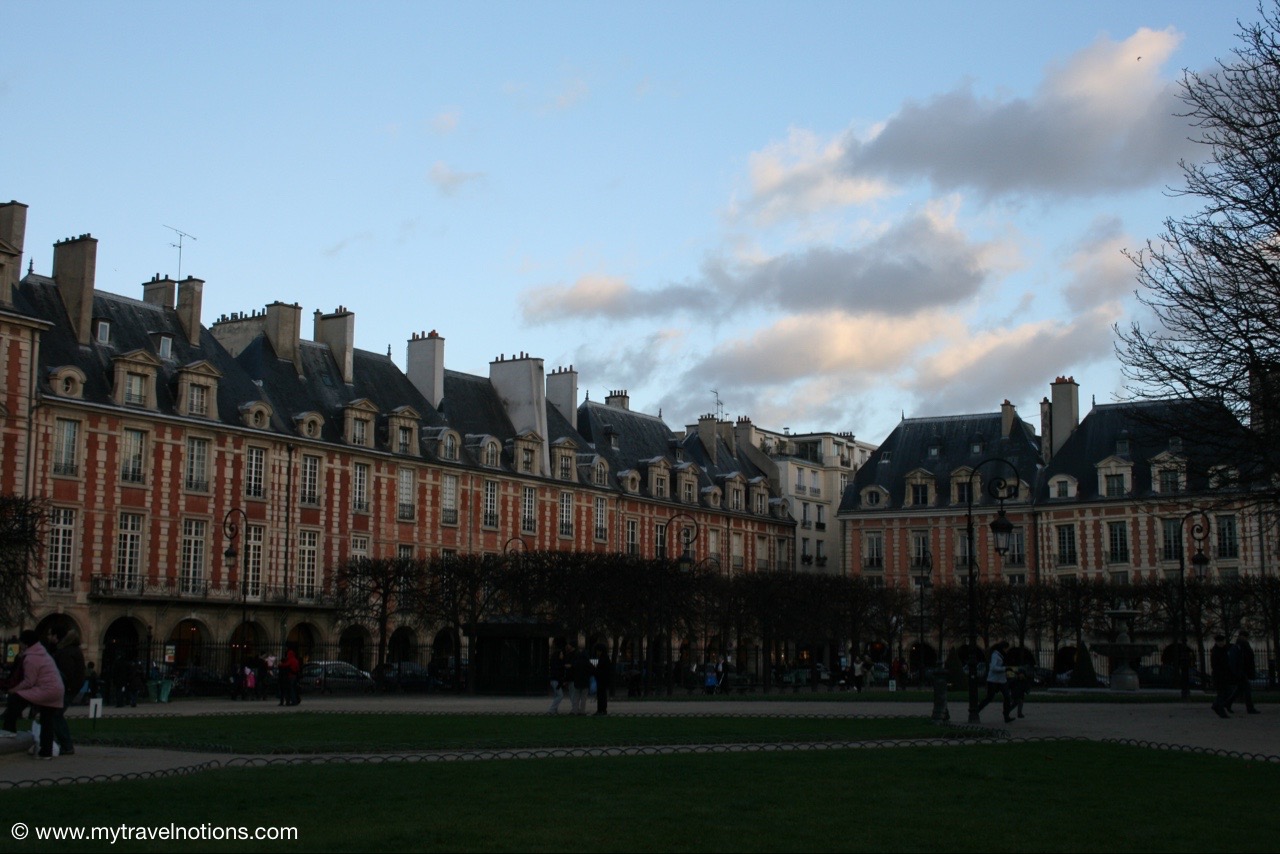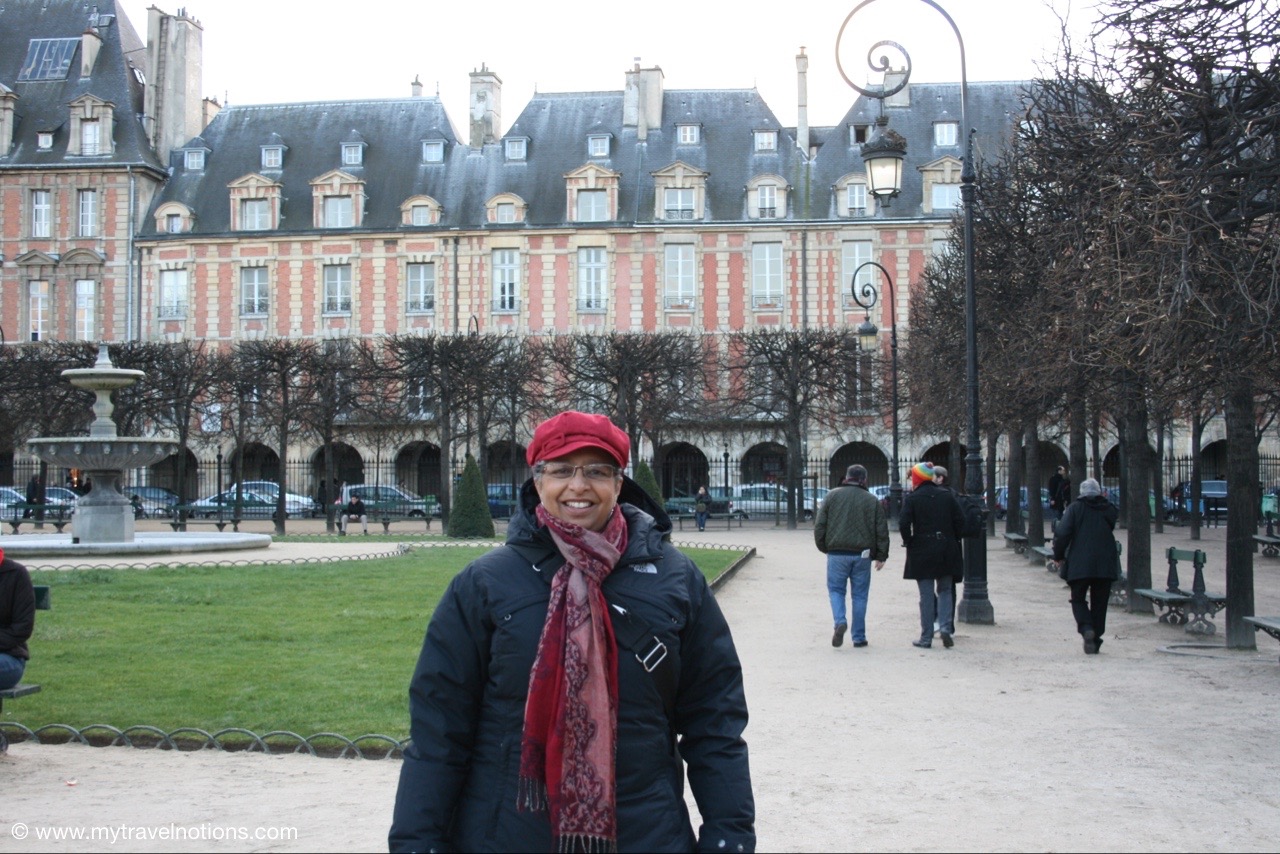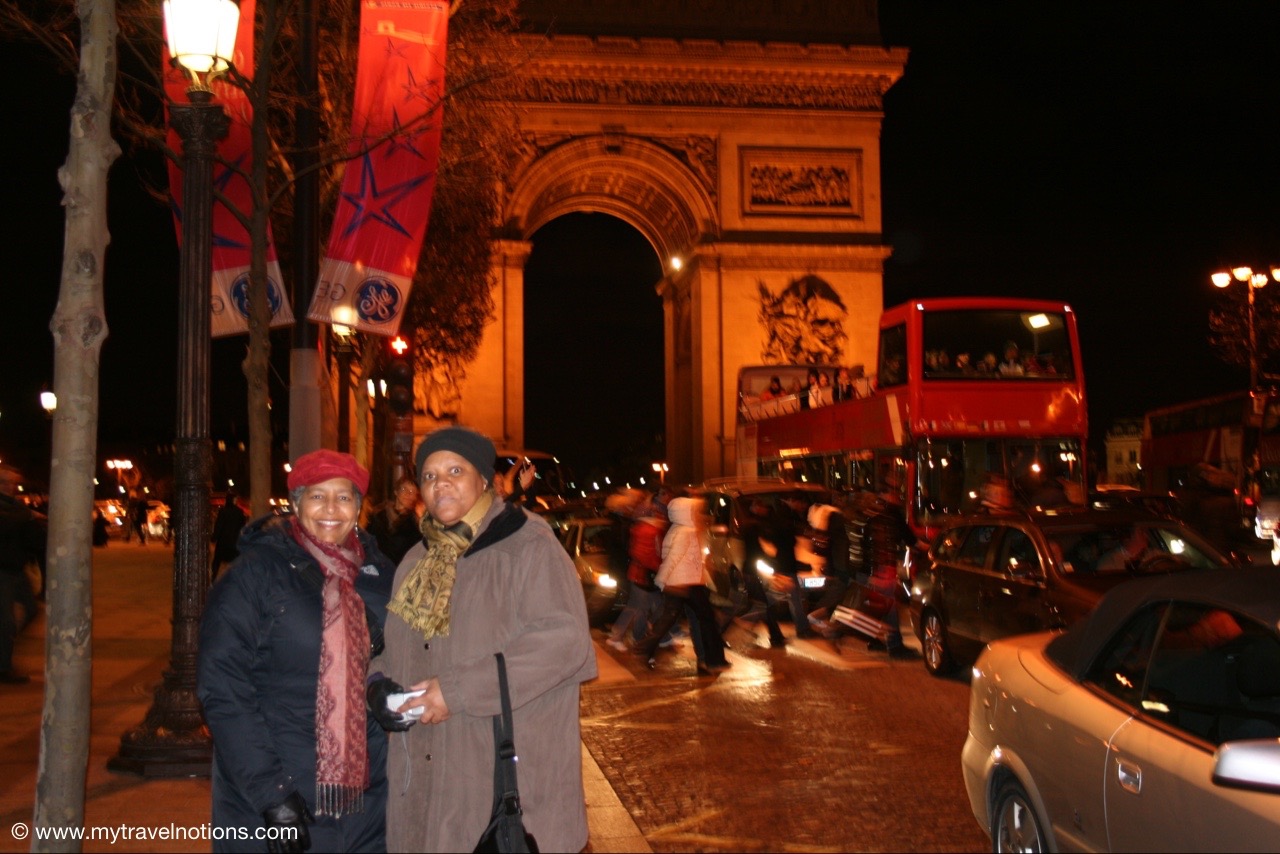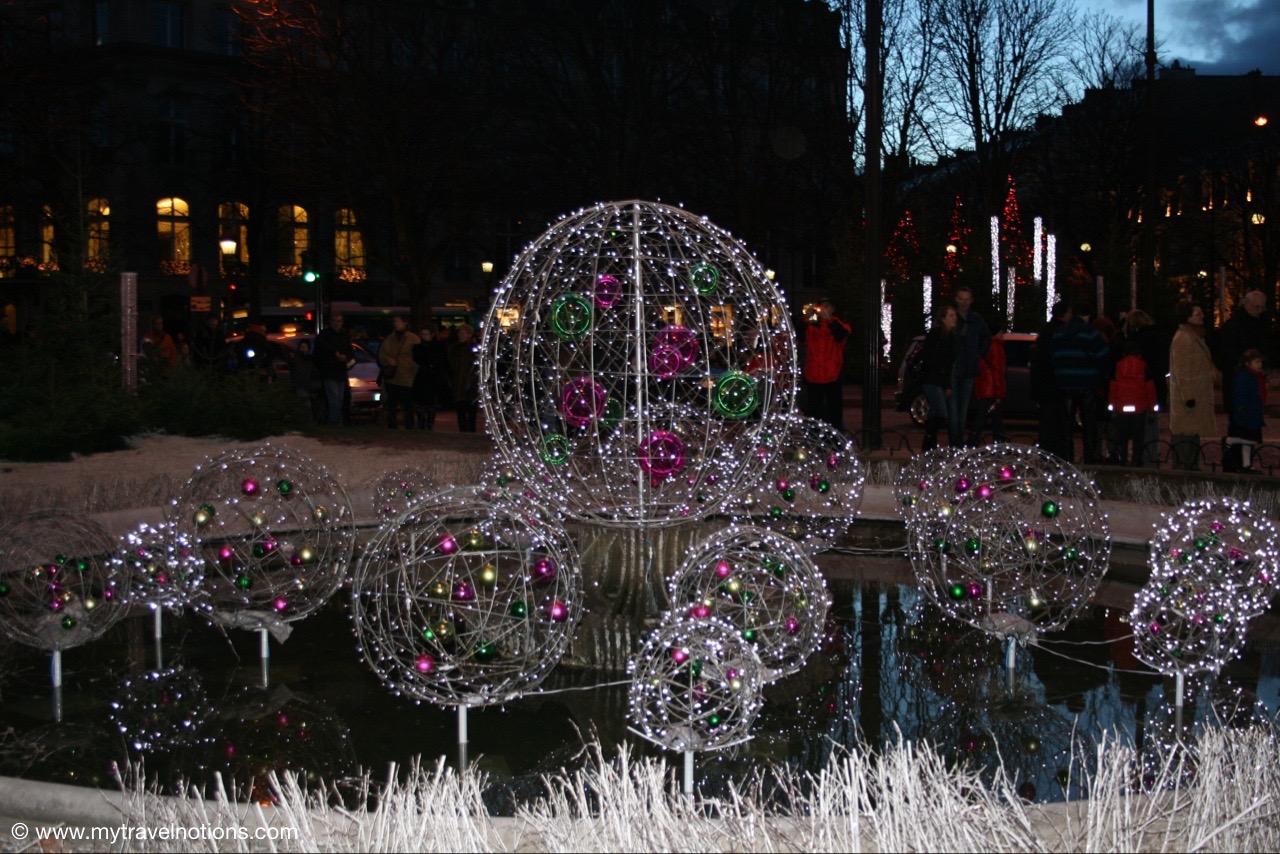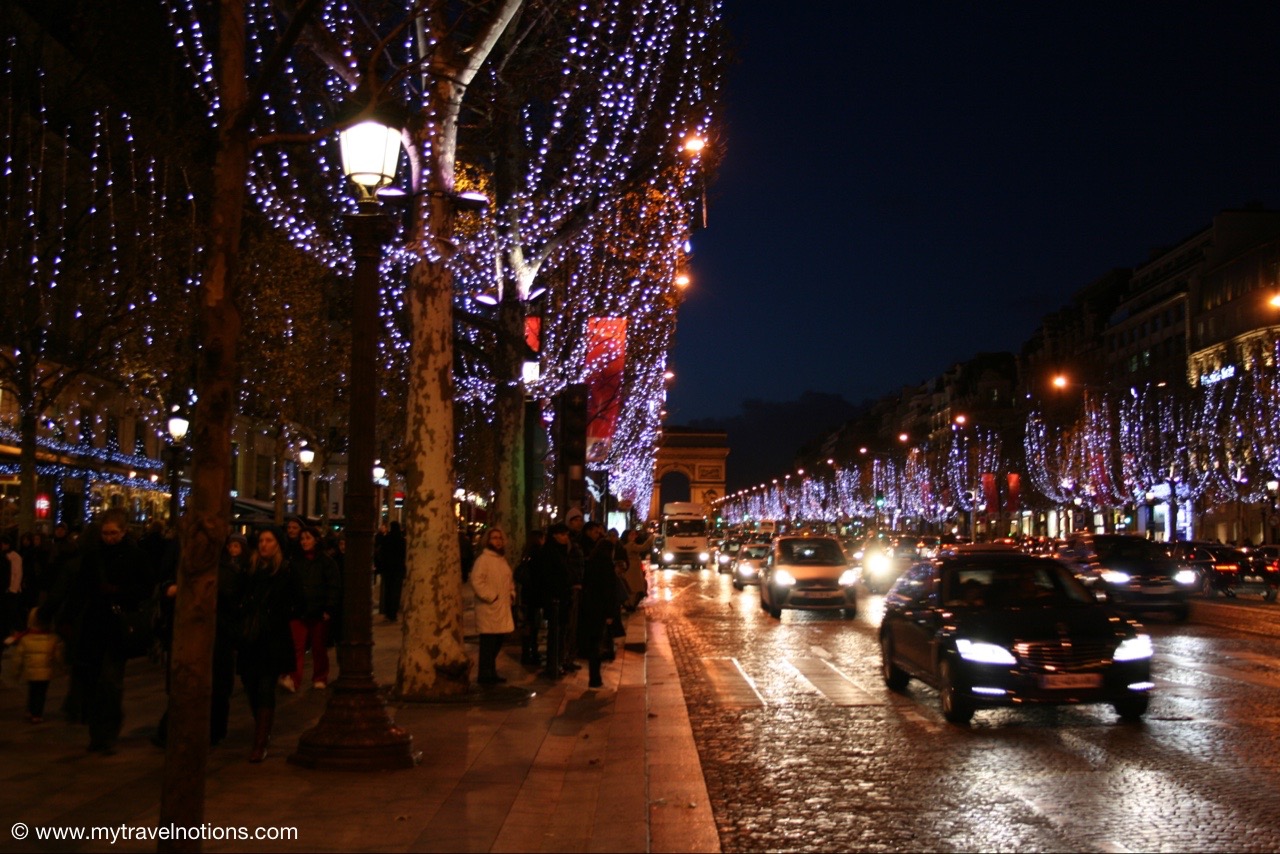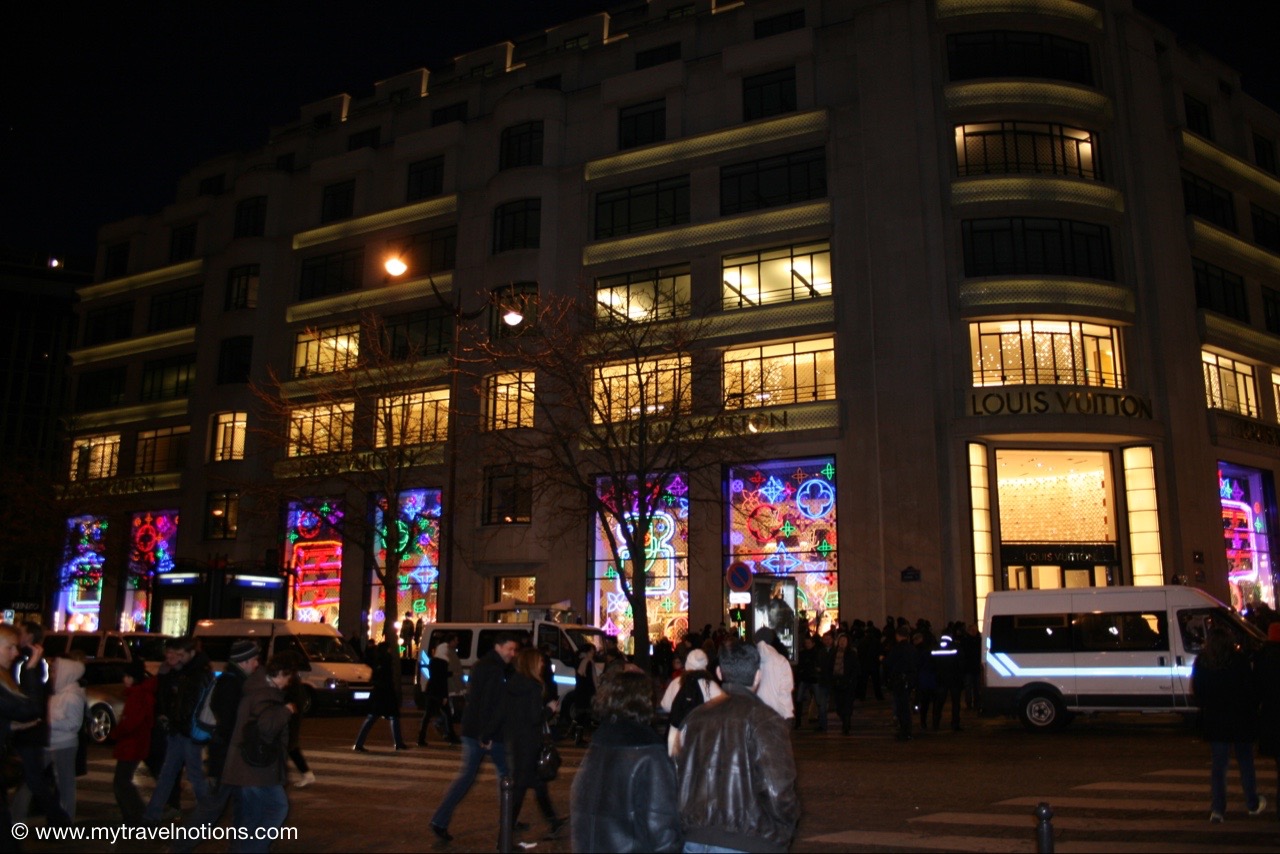 Dec 28, 2009 Montmartre and Seine Cruise:This morning we'll hop on the Métro, then hike up Montmartre to tour the colorful neighborhood that was the haunt of artistic geniuses a century ago — including Van Gogh, Picasso, and Renoir — and generations of hopeful artists since. We'll end our walk with spectacular views of Paris from the Sacré-Cœur Basilica. You'll be free for lunch and have time to explore more of the city on your own this afternoon. We'll regroup this evening to enjoy dinner together before embarking on a dreamy Seine River cruise.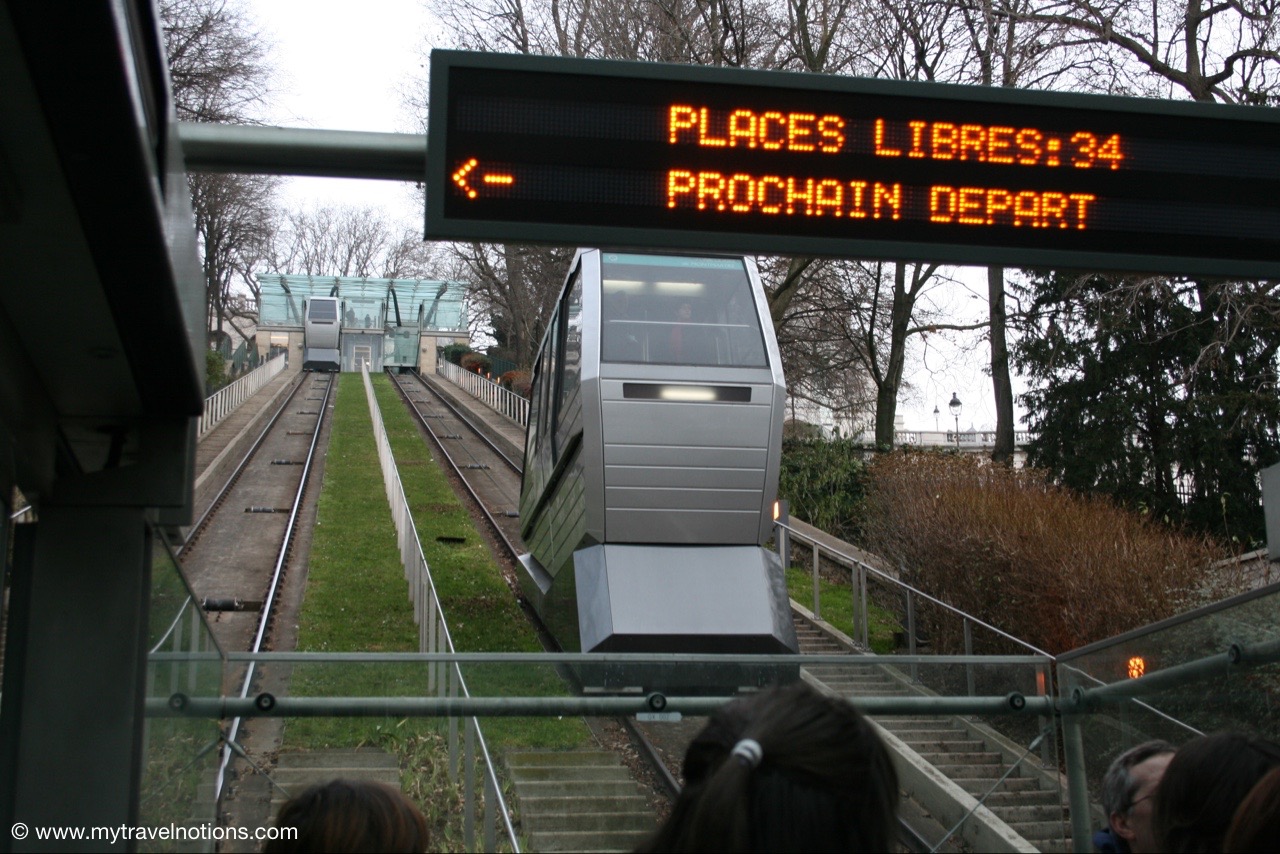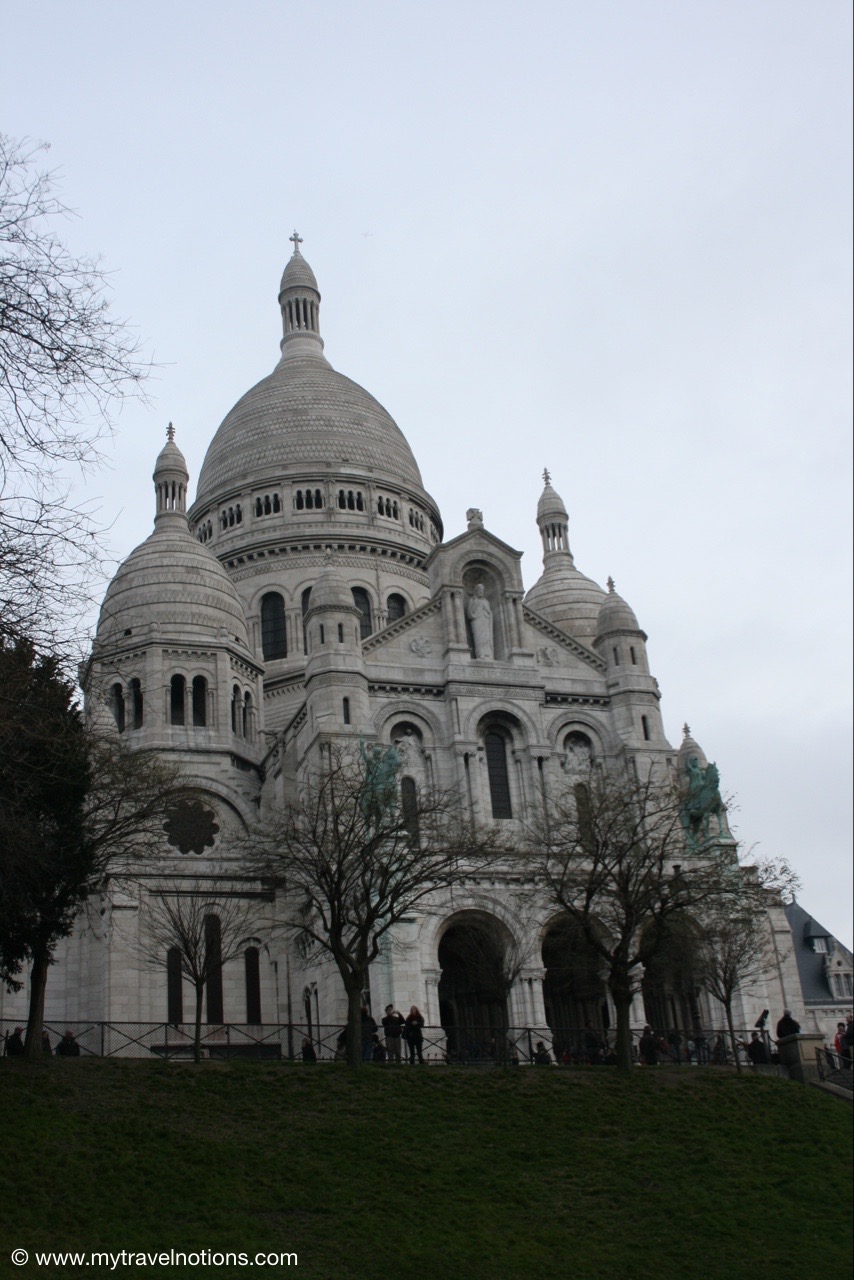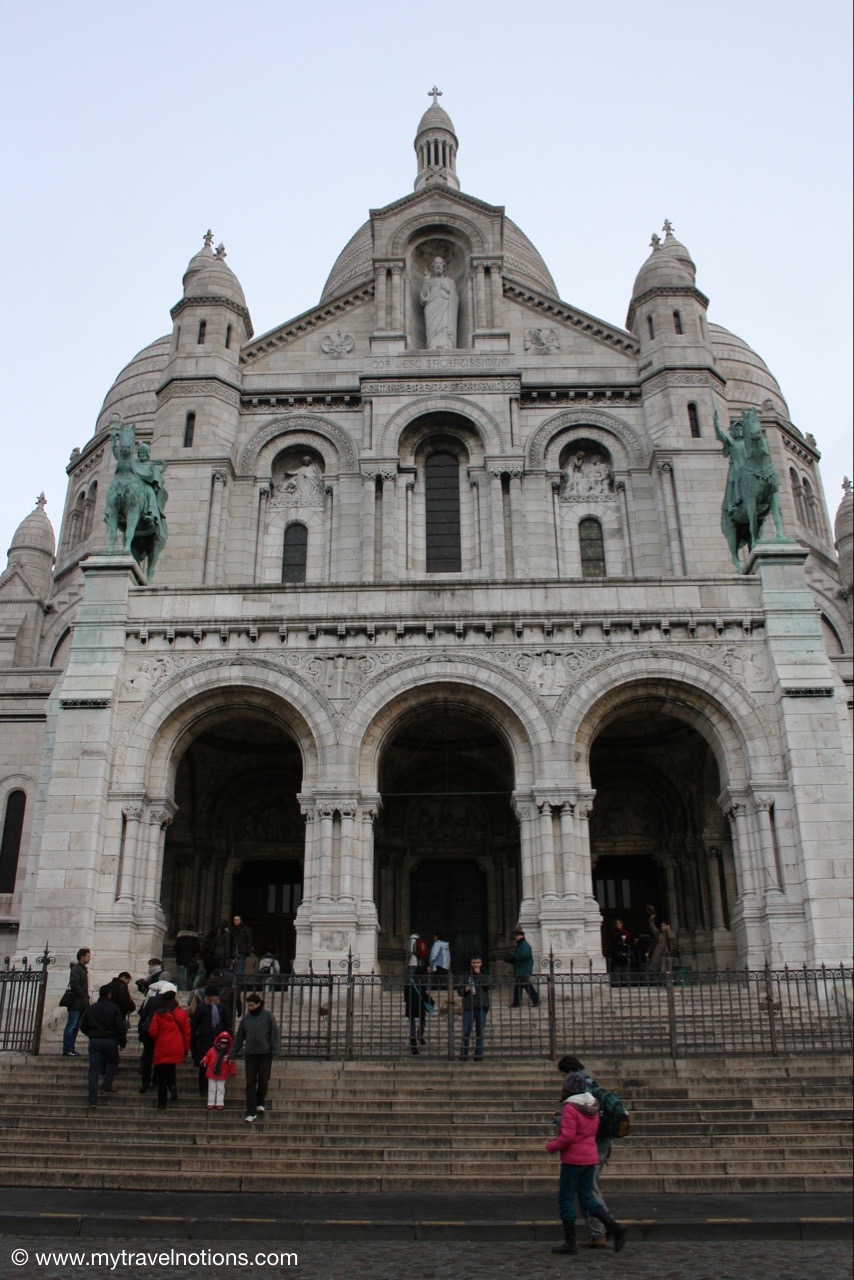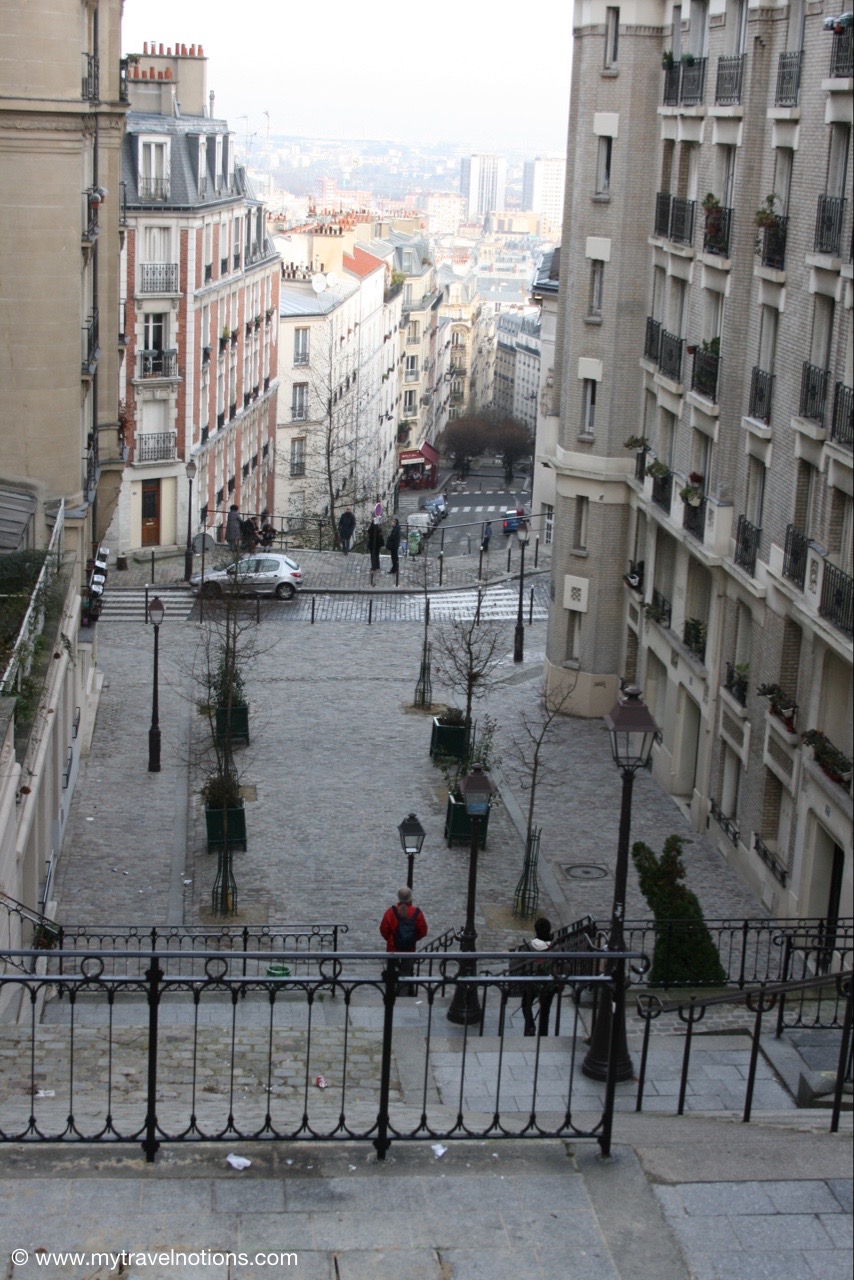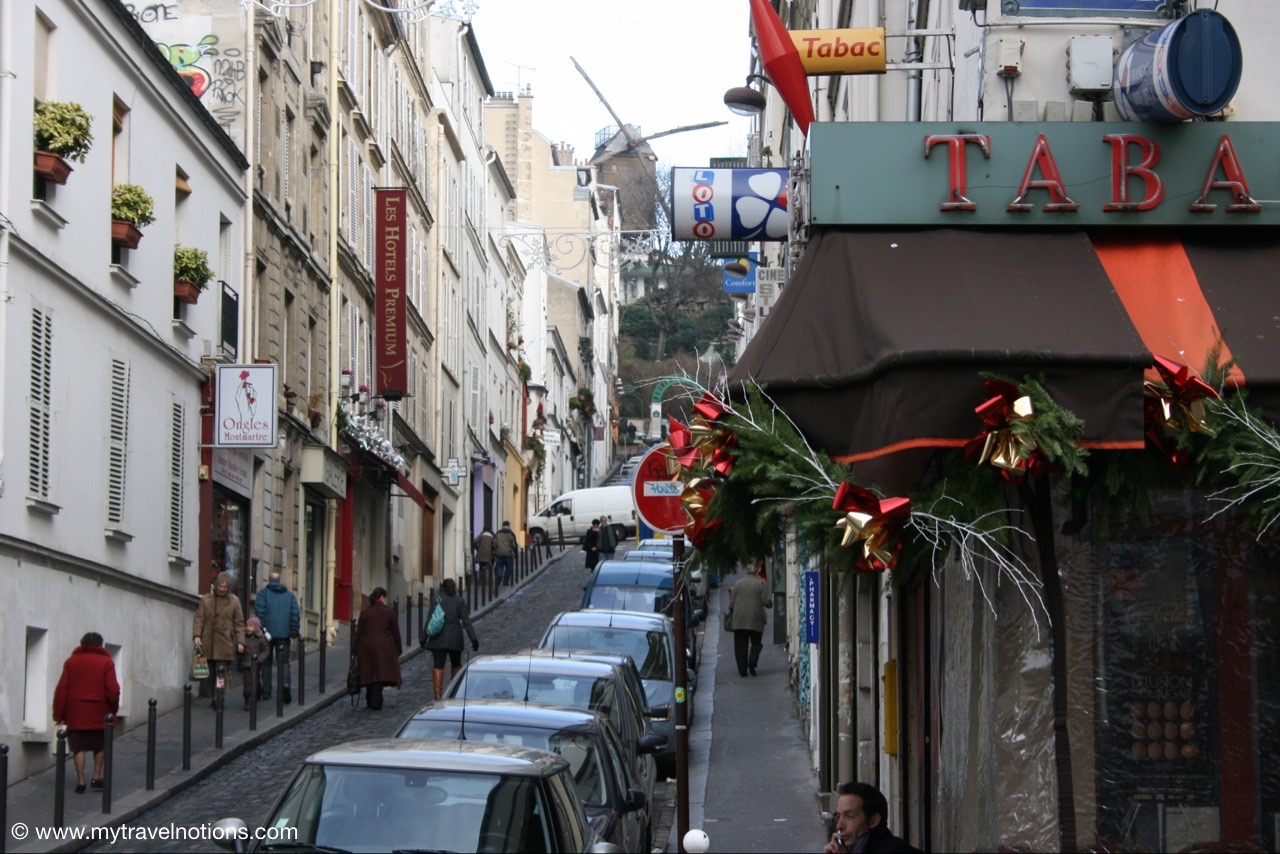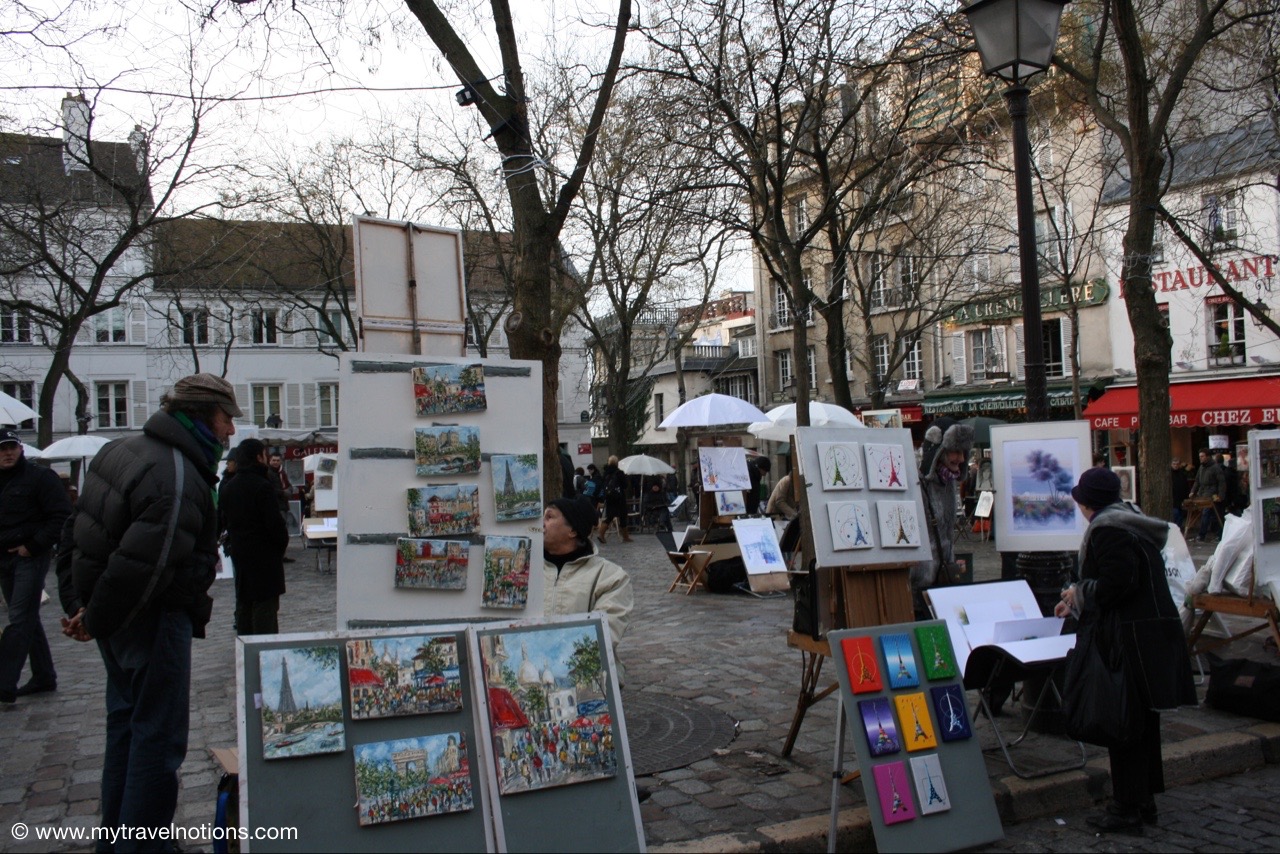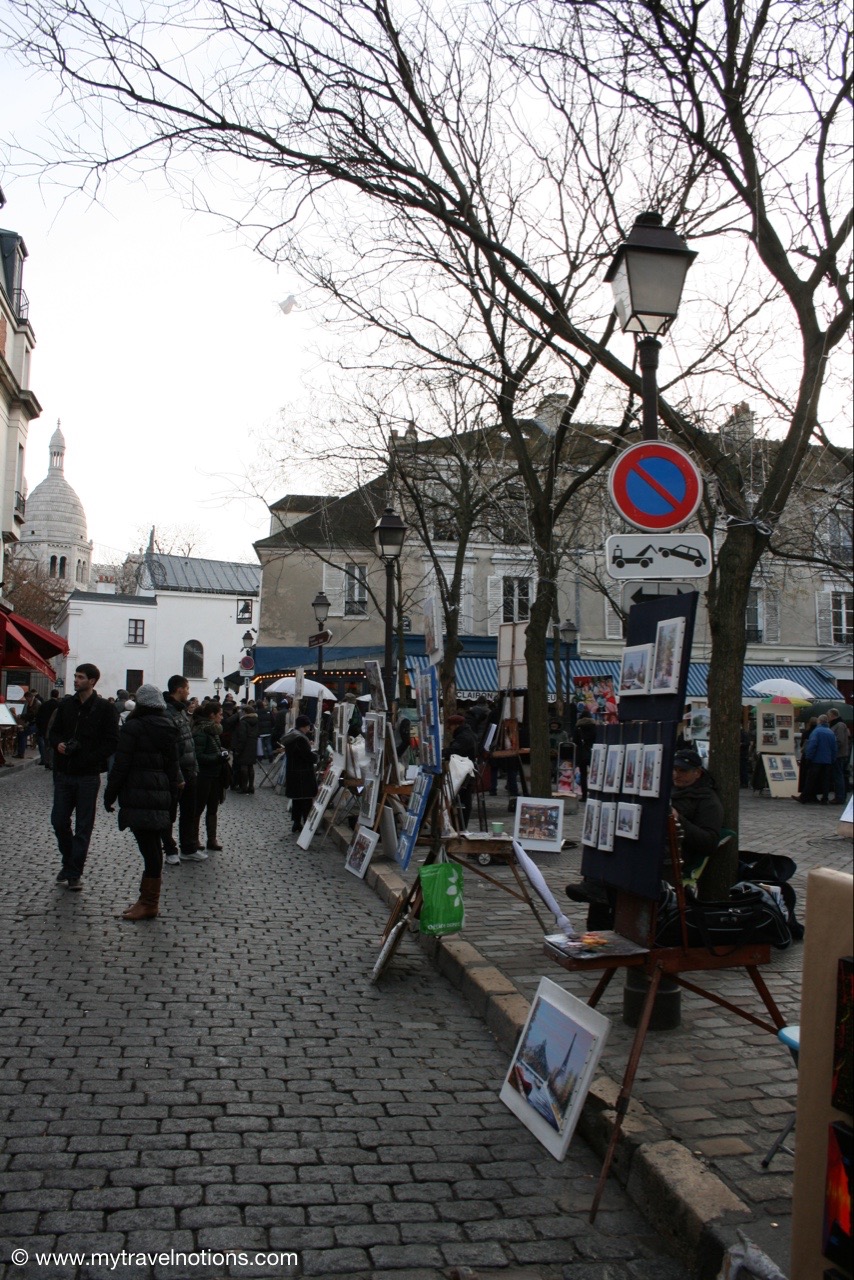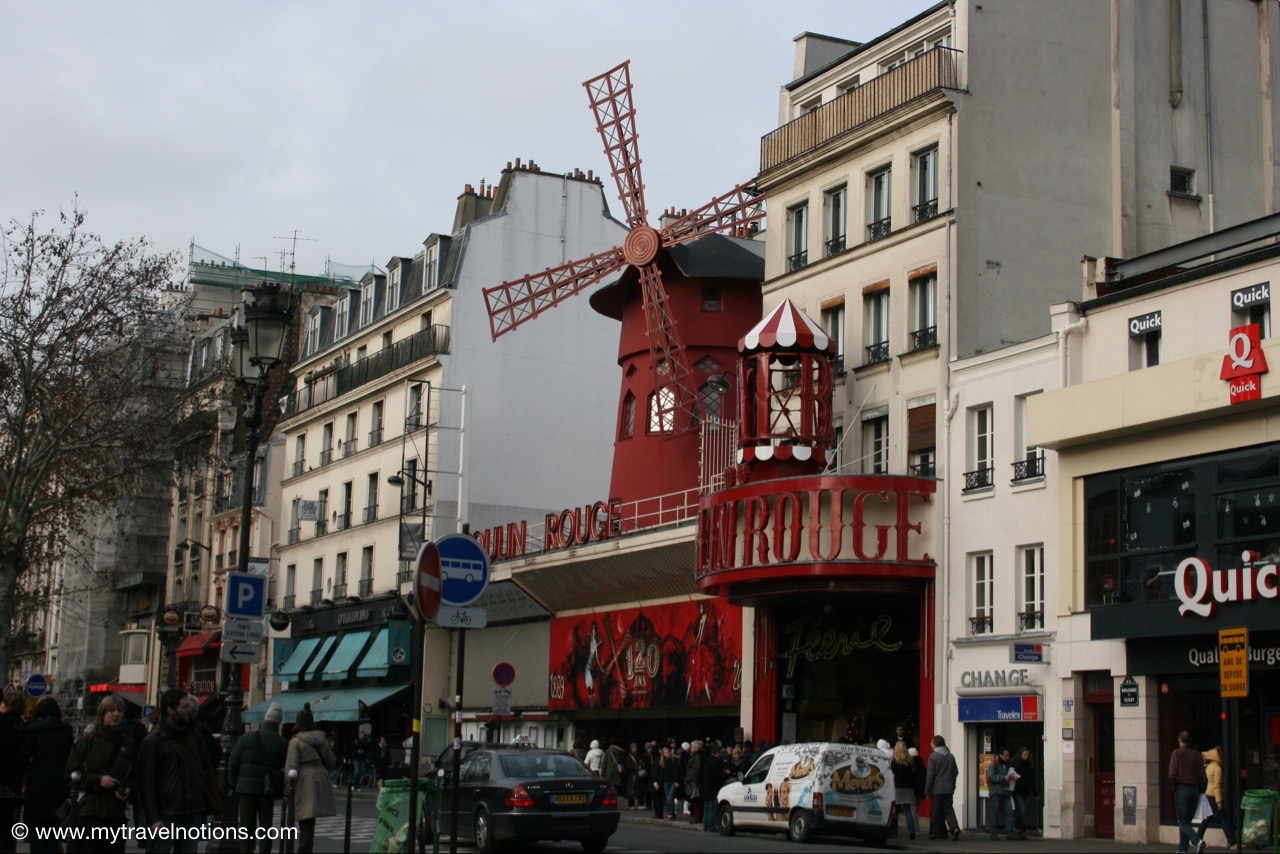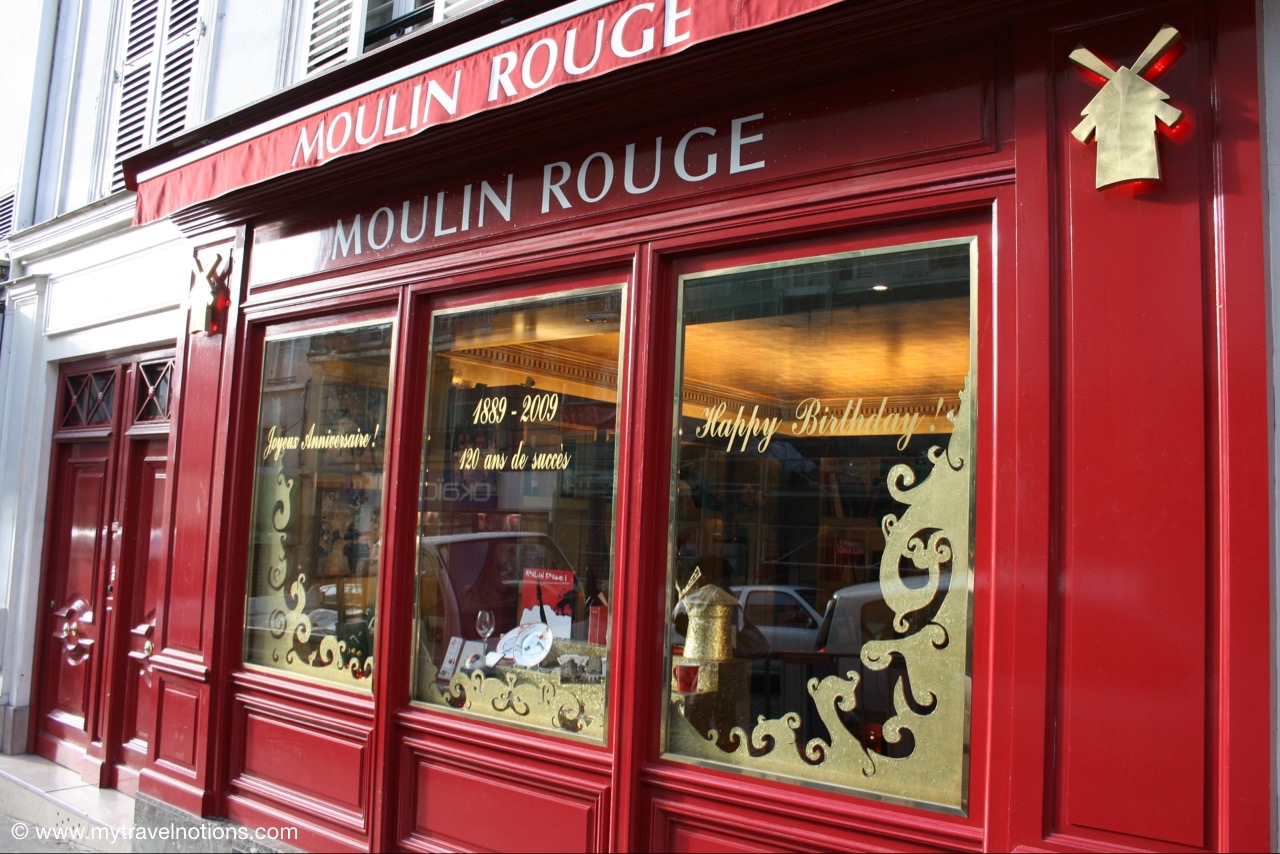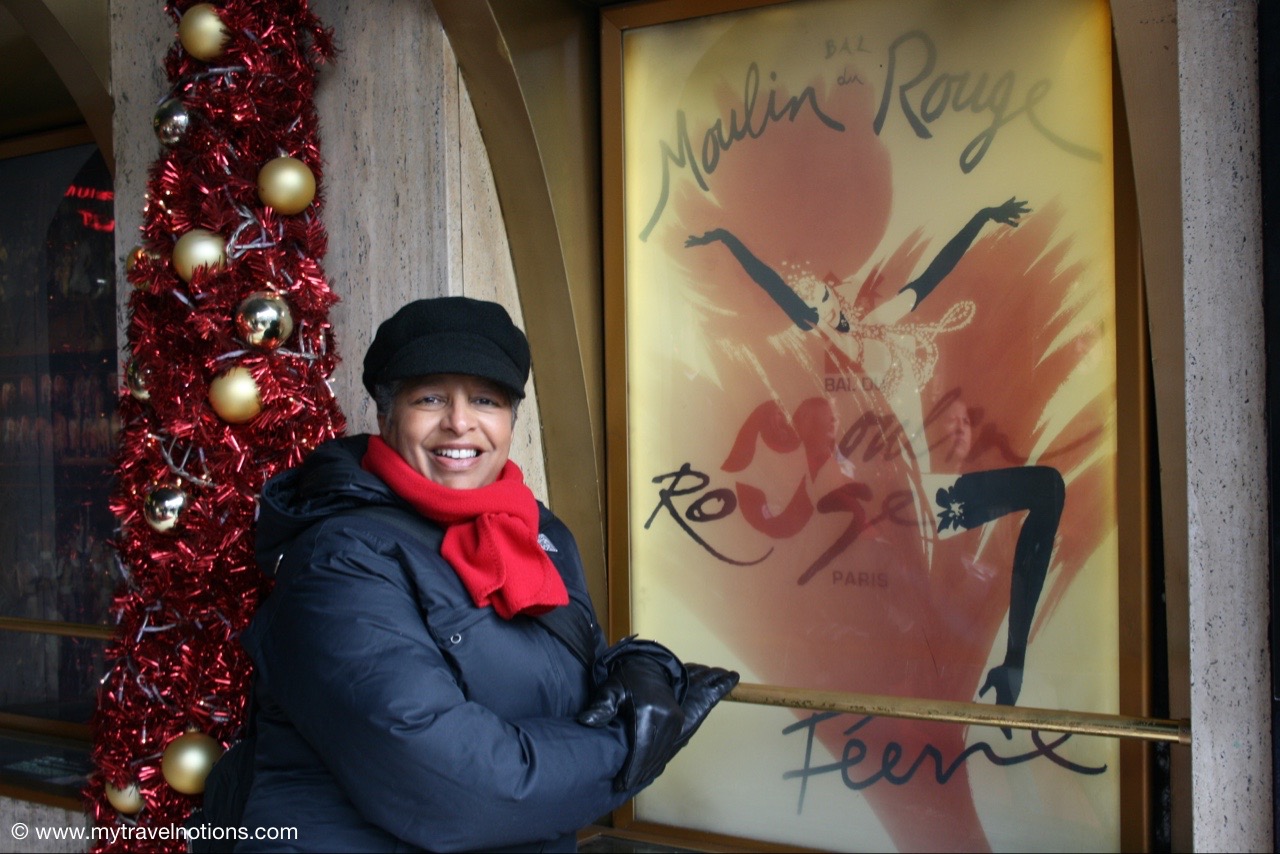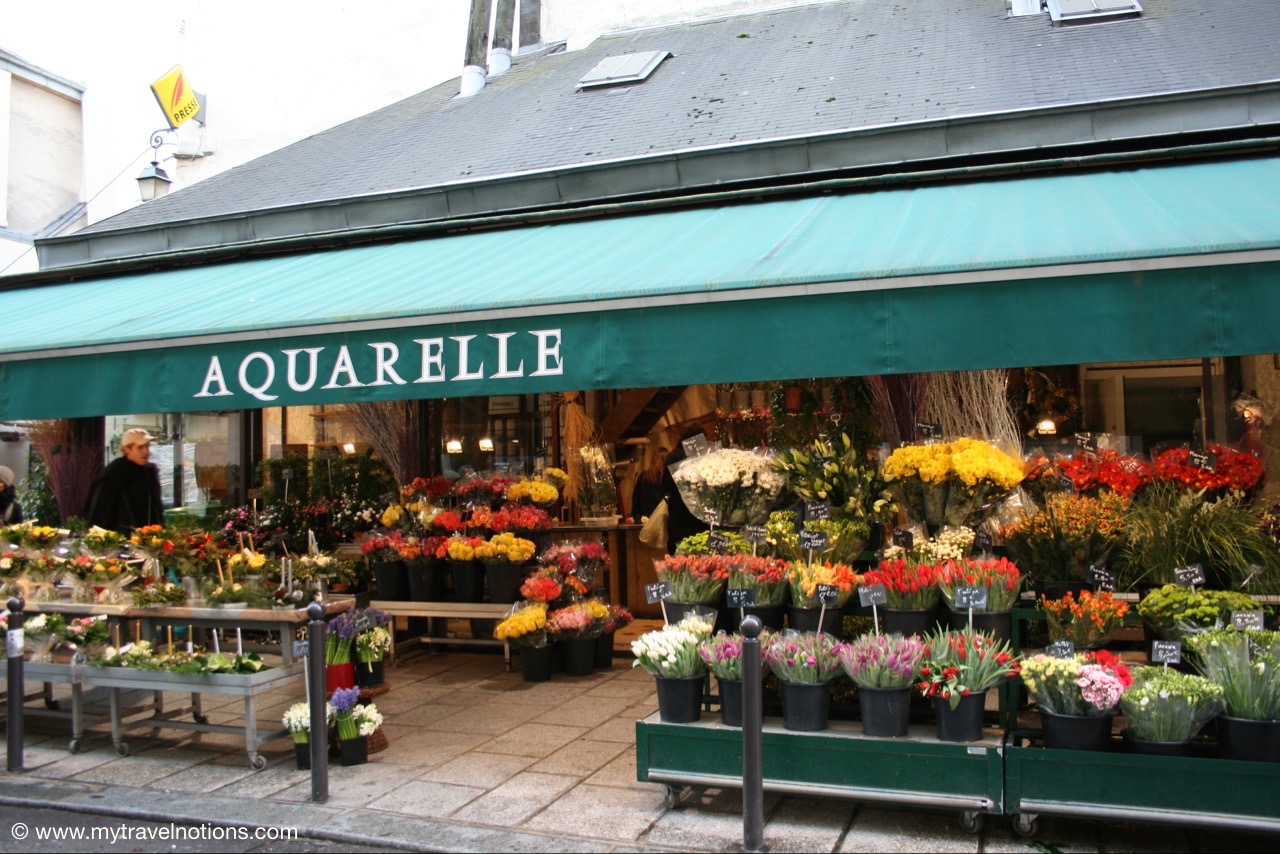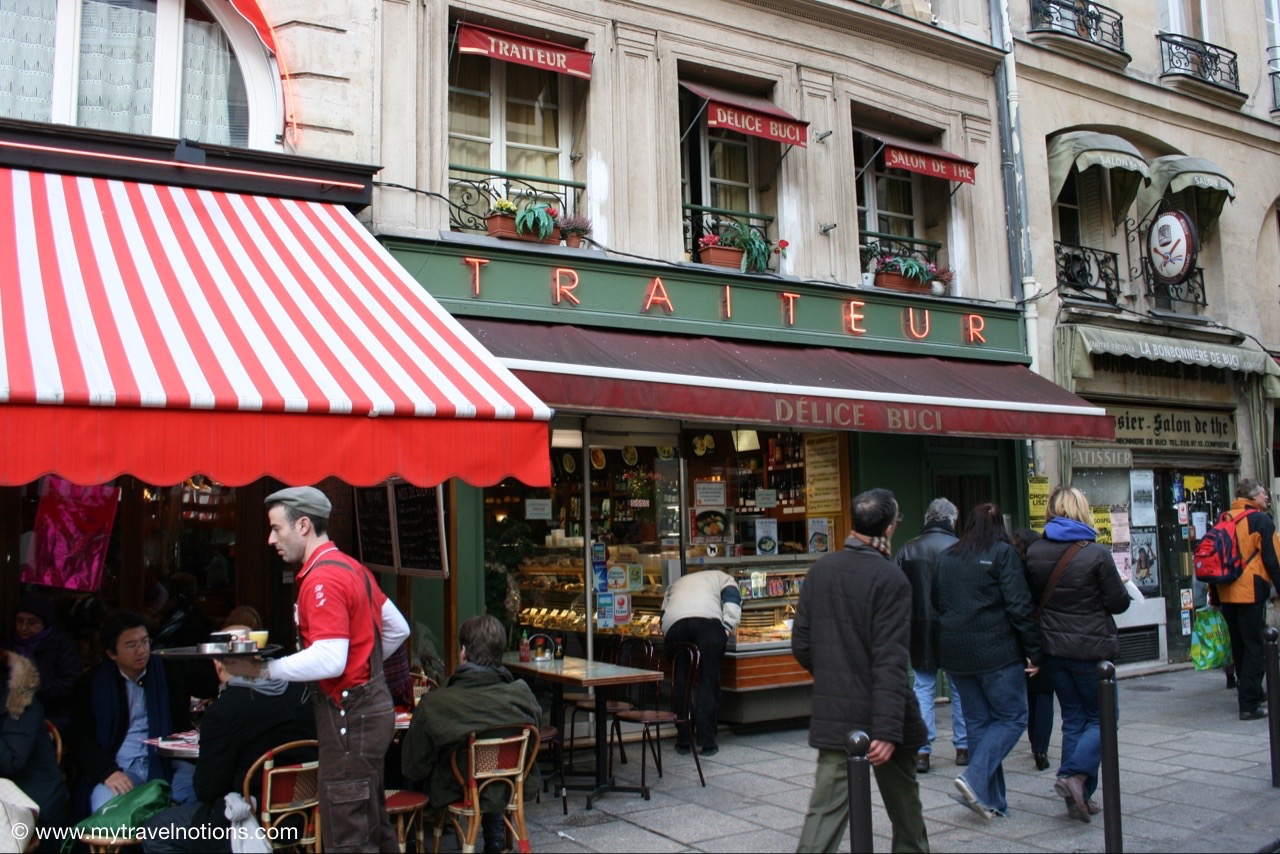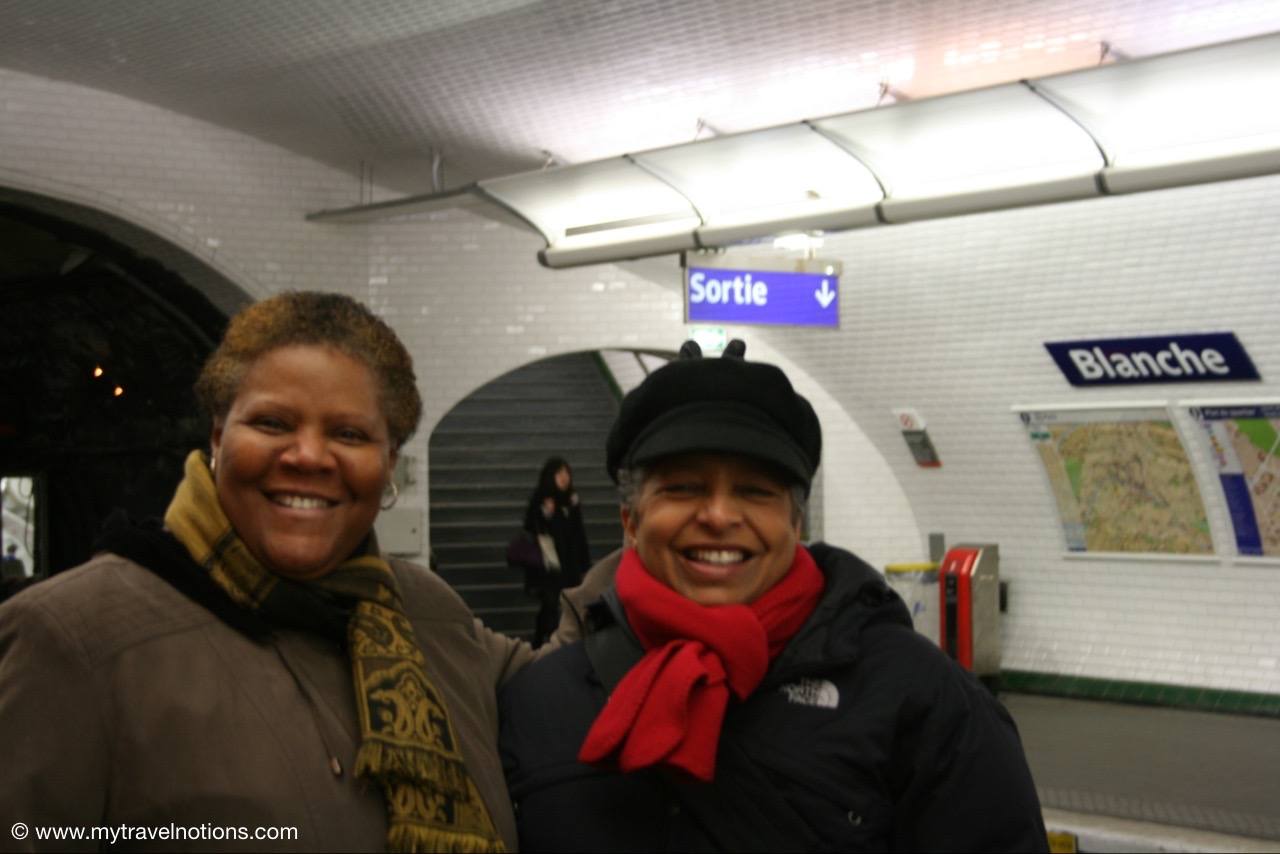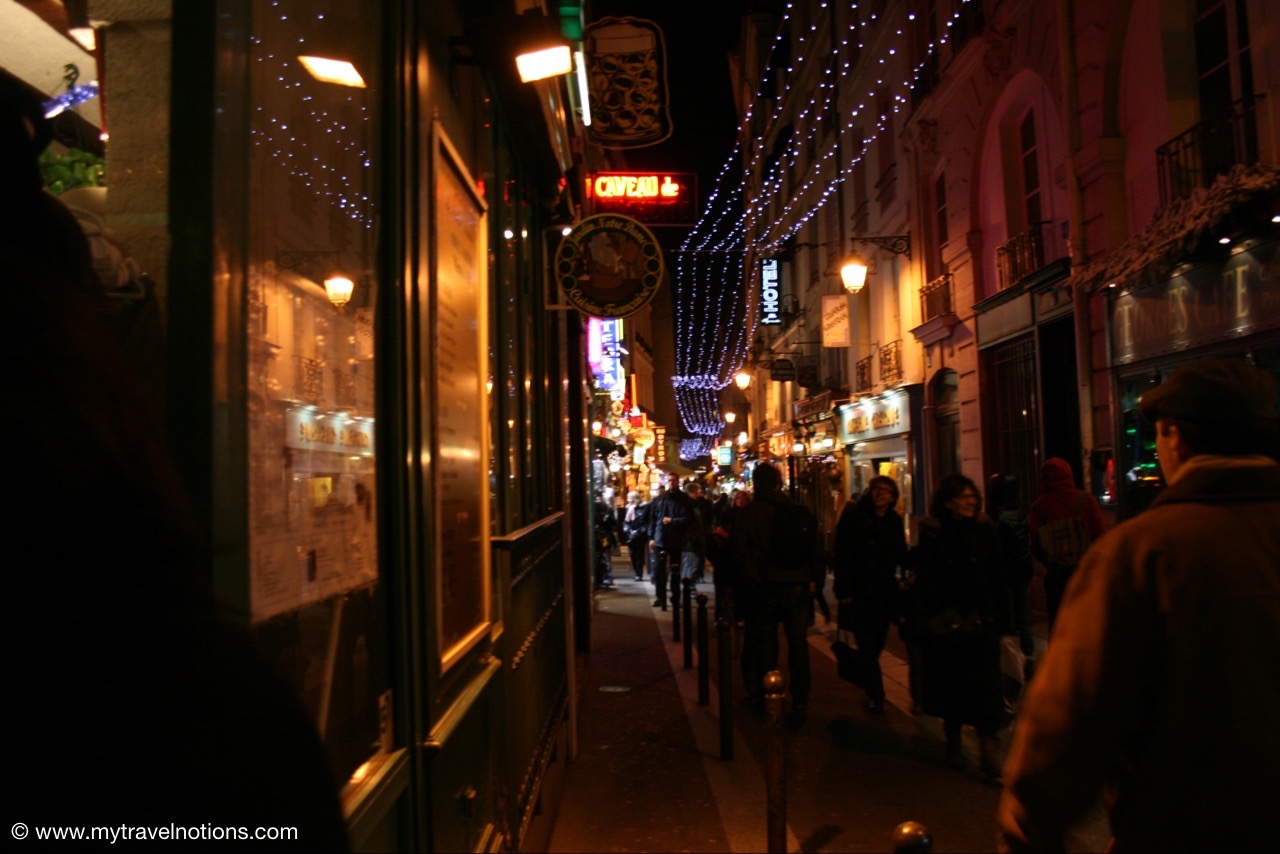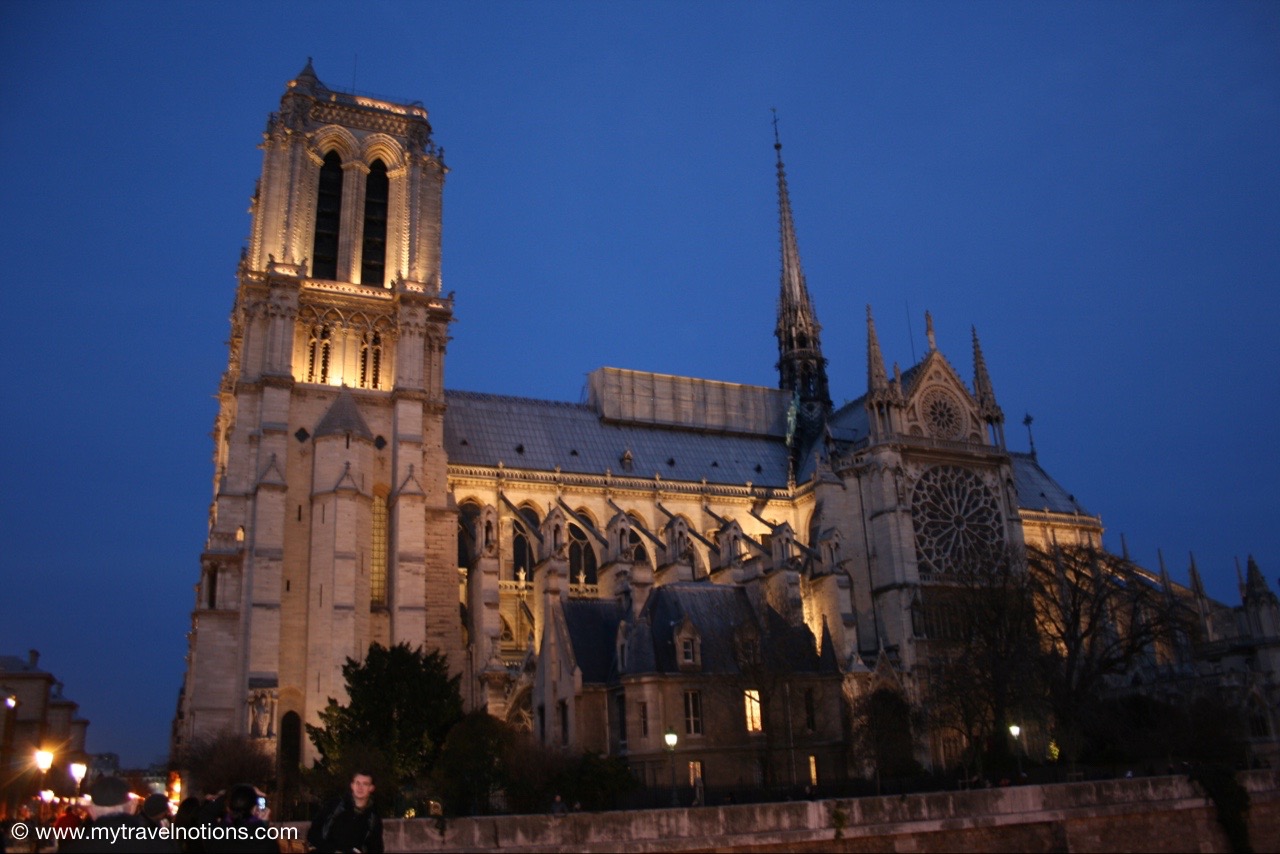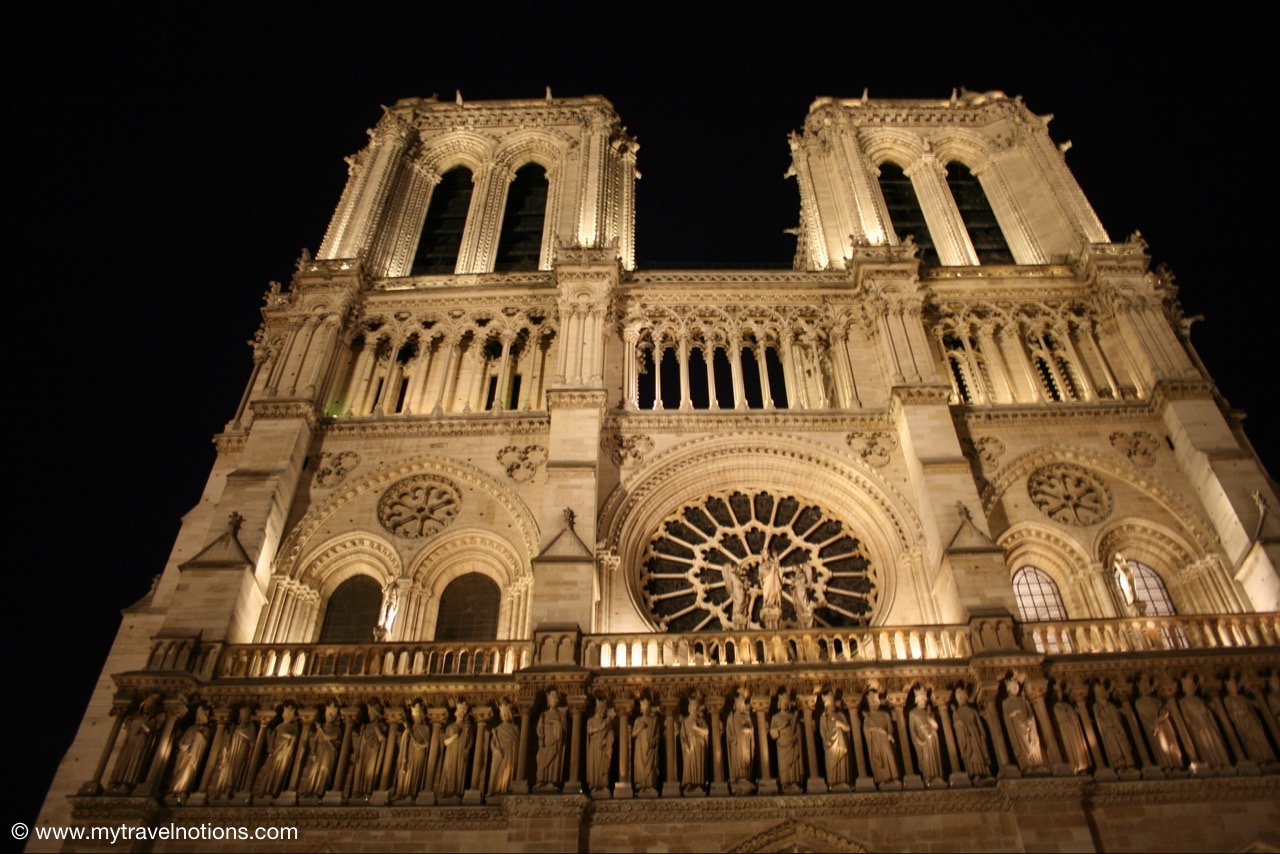 Today we explored the elaborate palace that Louis XIV, XV, and XVI called home. We took the 30-minute train trip from Paris to Versailles, where we had a guided tour of the dazzling Hall of Mirrors and other sumptuous rooms of the palace. Although the weather was cold and wet, I still enjoyed seeing the interior of the palace and walking through the expansive gardens. I didn't get to see Marie Antoinette's hamlet, but I'll just have to put this on my list for the next time.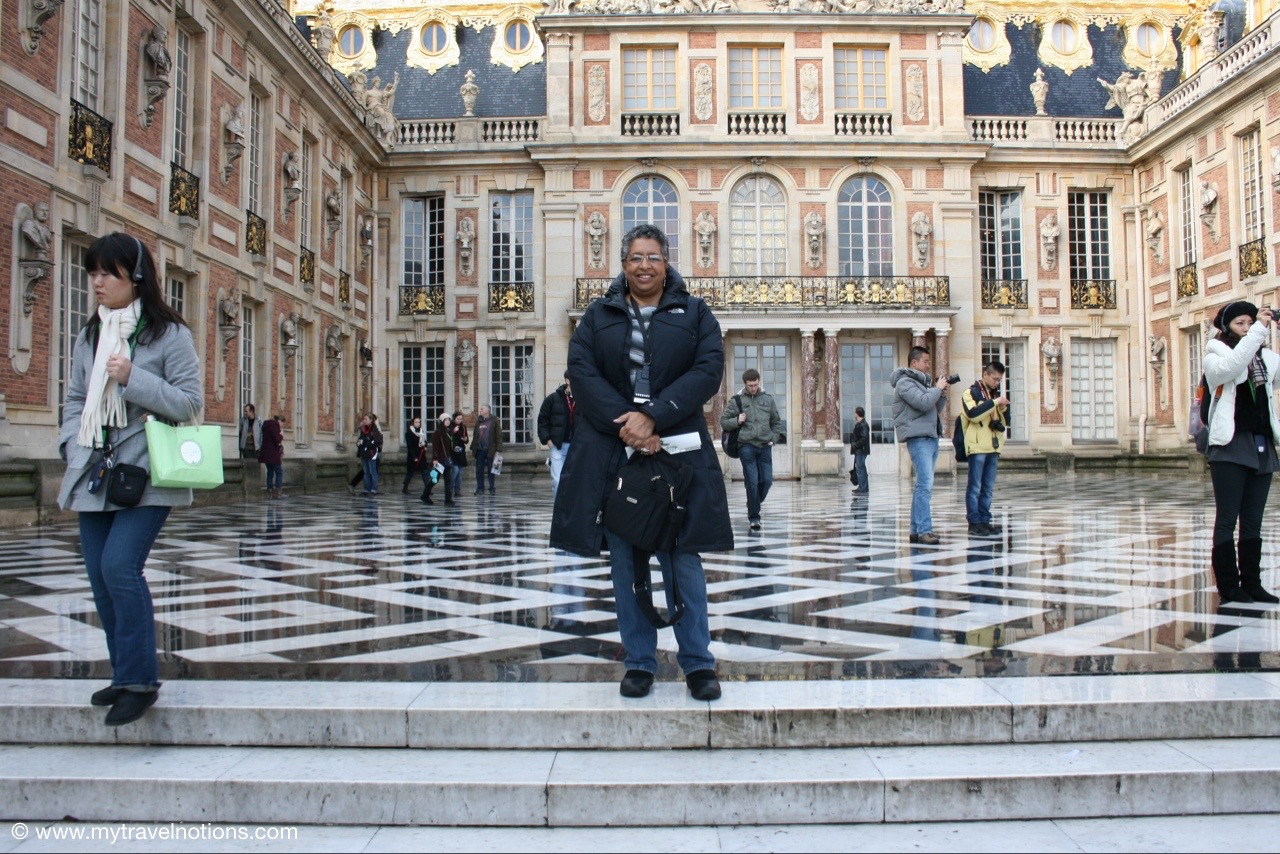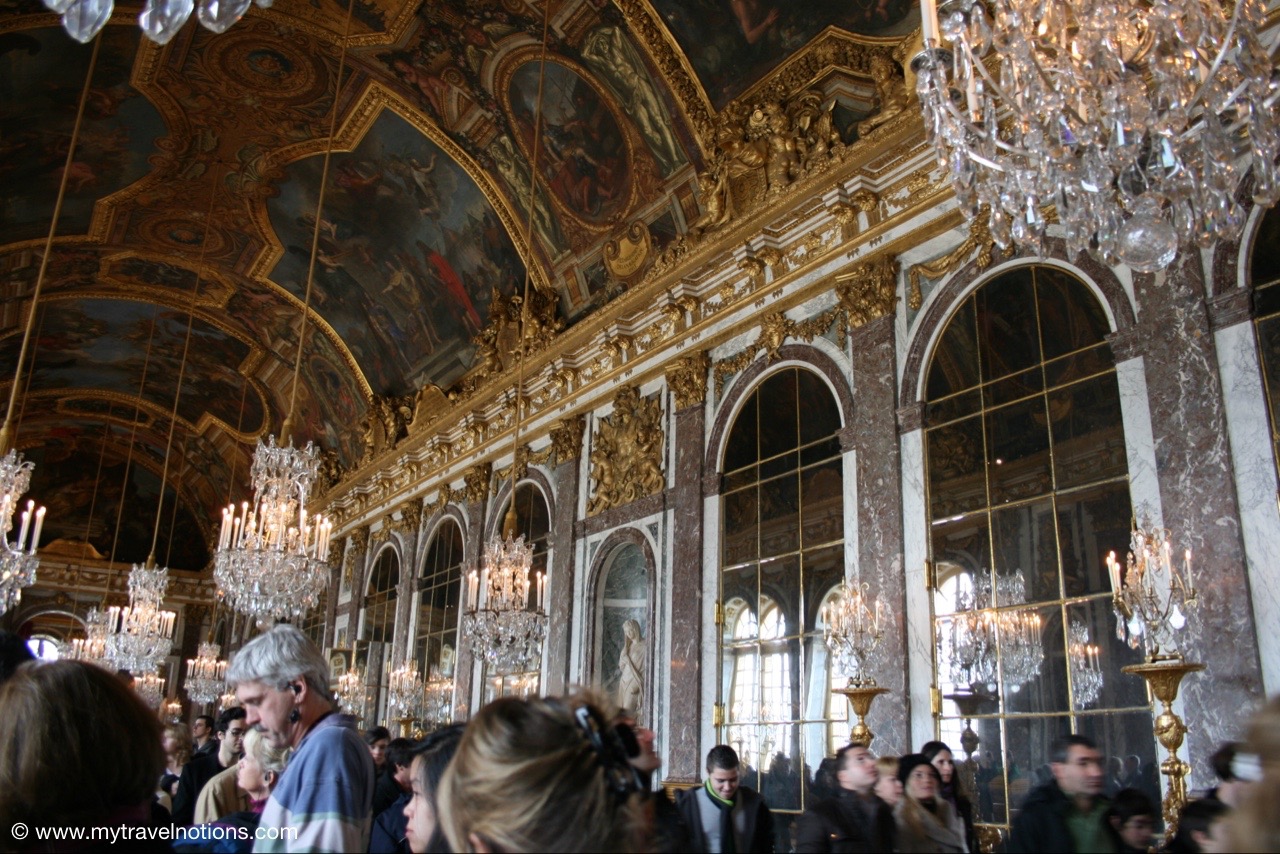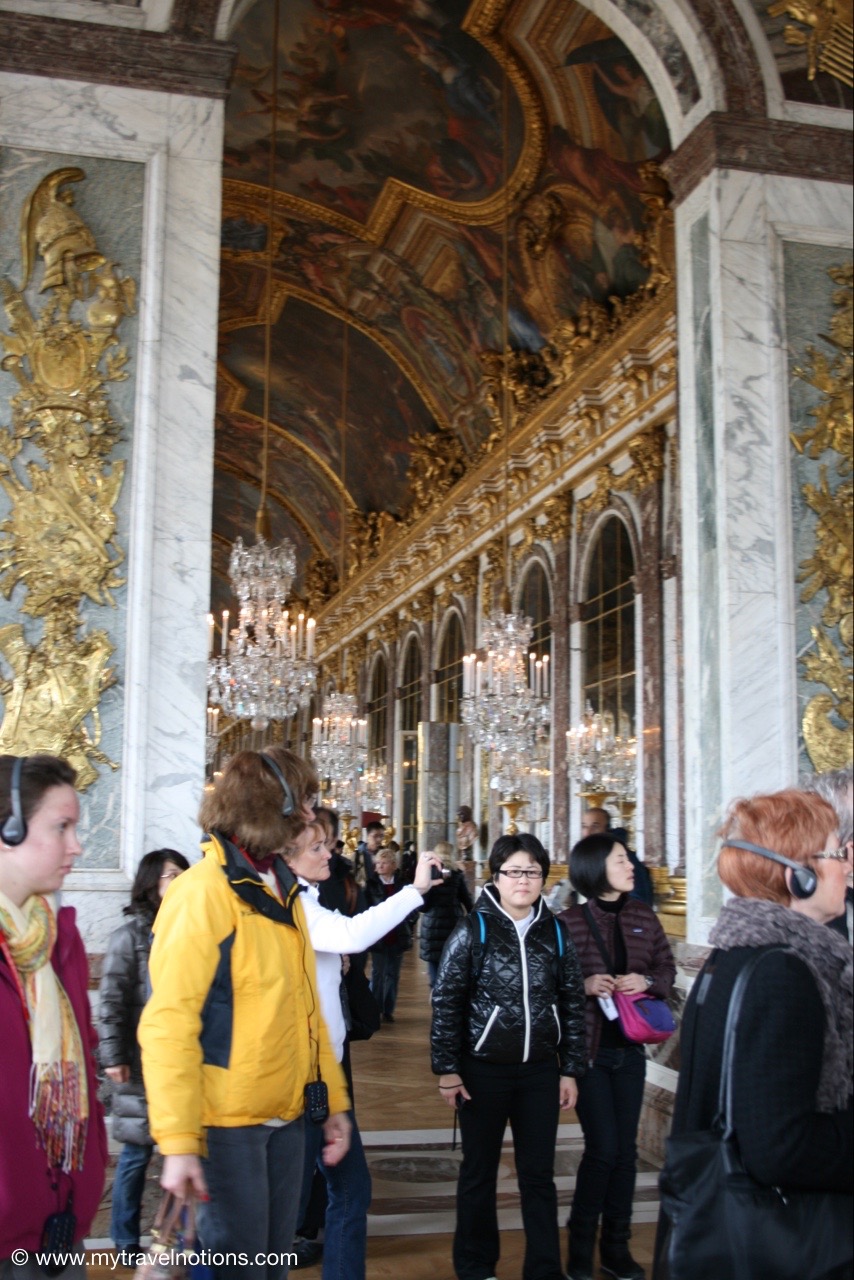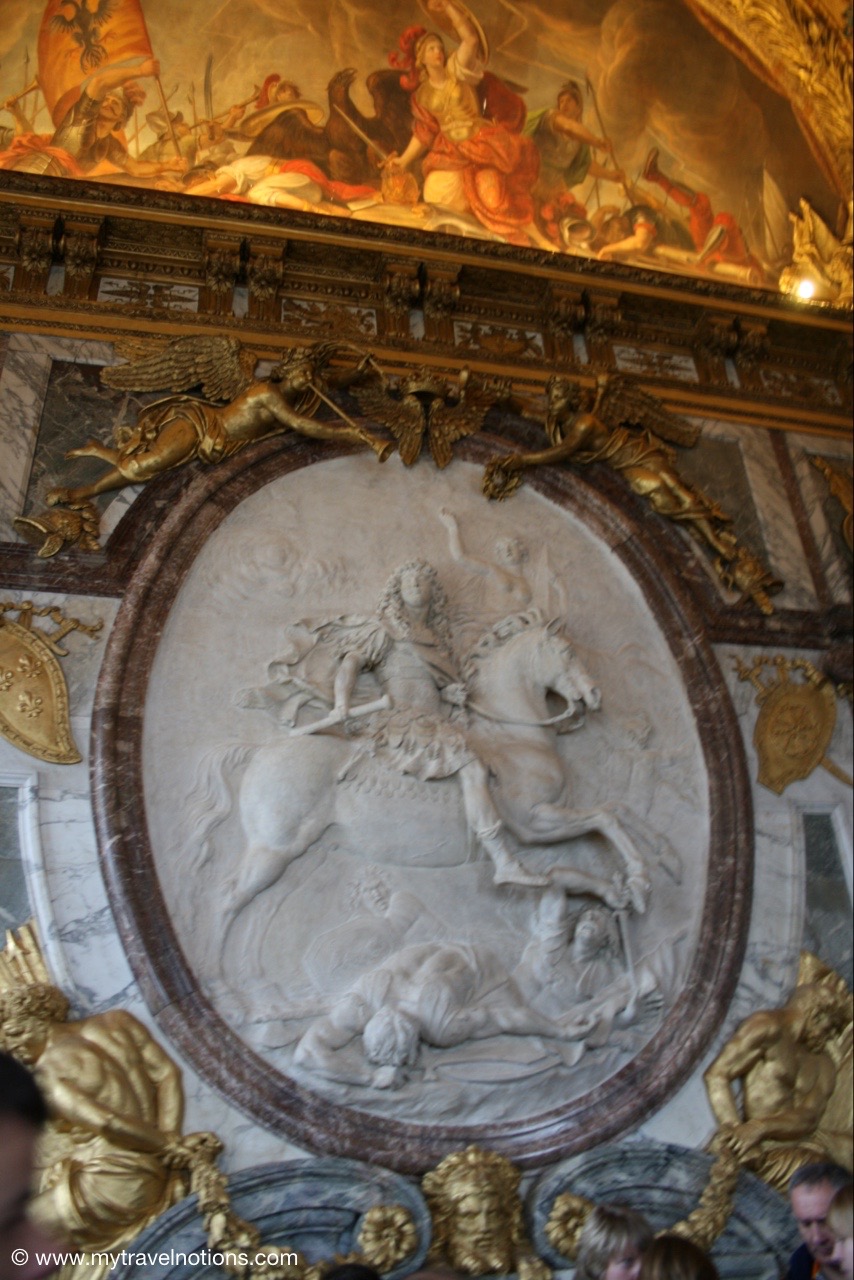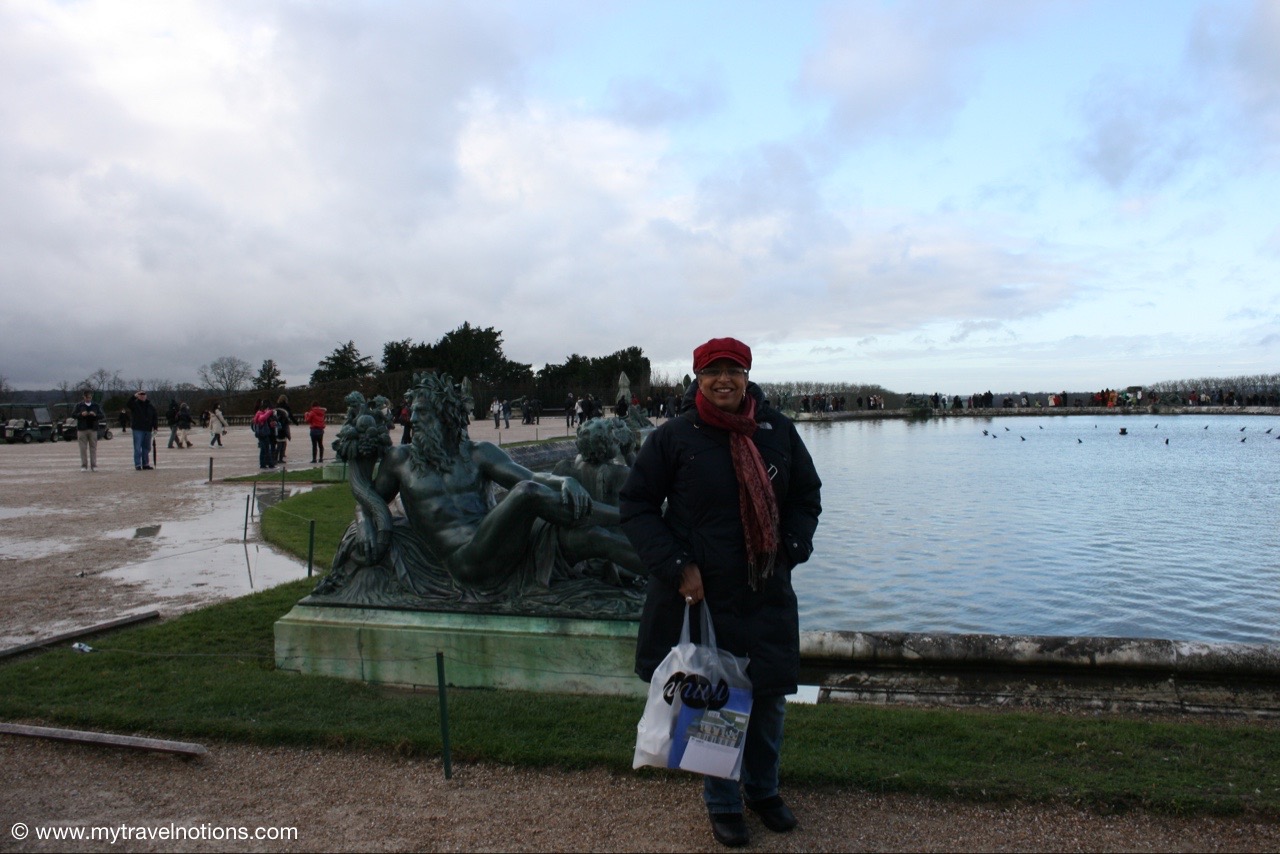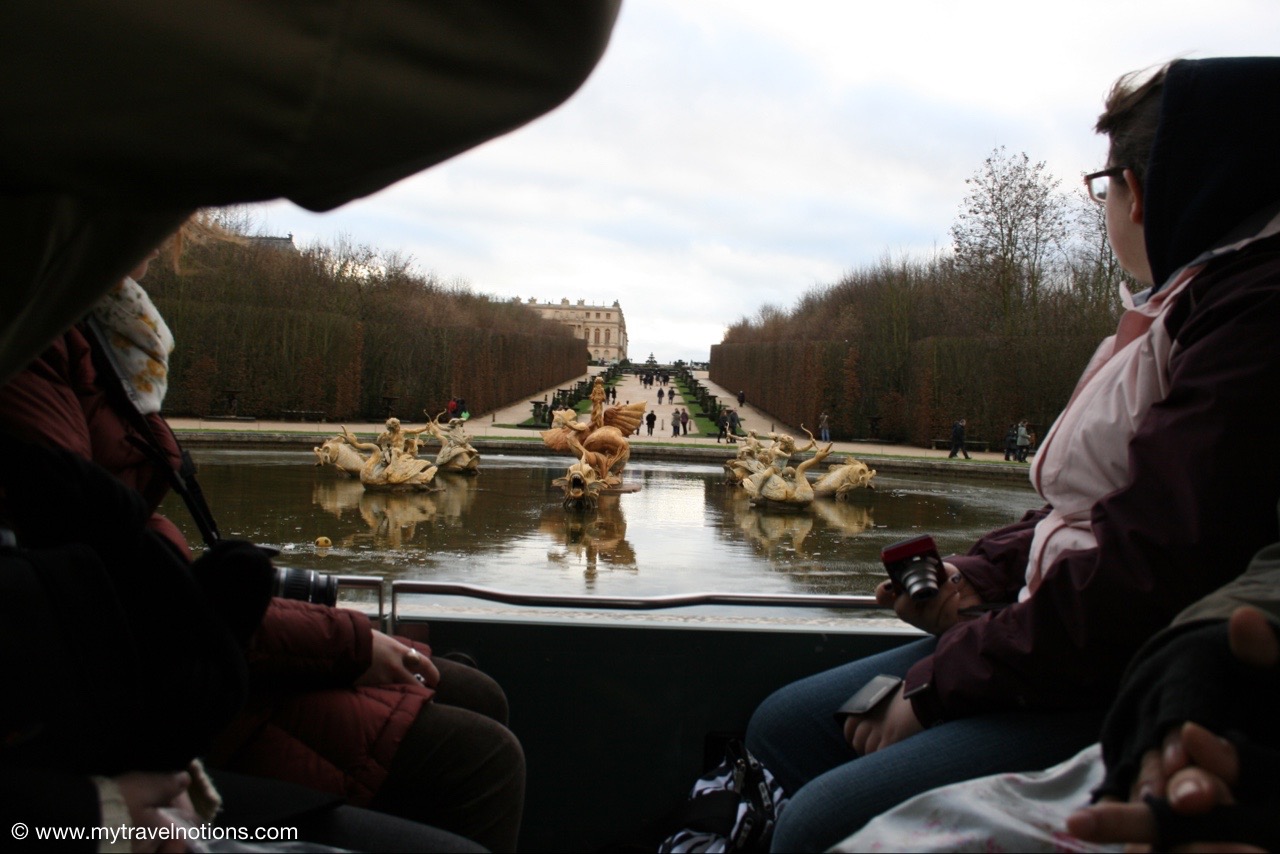 We got up early this morning to take the metro to the Louvre. I like where we're staying. The room Debra and I are sharing is definitely small. But, the location of the hotel is between two metro stations, Ecole Militaire and the St. Francois-Xavier. And, I'm down the street from the Splendid Hotel, which I stayed in my first time in Paris.
What I love about this Rick Steves tour is that I get to sit back and take it all in while someone else does all the work. By that I mean our guide, Elizabeth van Hest. I didn't have a guide when I was in Paris and although I've done things this time that I didn't do last time, I've enjoyed having a guide. Elizabeth keeps a pretty fast pace. So, I would say that having to move quickly thru things is a bit disturbing. Yesterday we were at Versailles. There were so many people there. I was under the false impression that the week between Christmas and New Year would be quiet. Who was I kidding? I've heard Versailles attracted a lot of tourists but I didn't expect for the crowds to push you thru the rooms of the Chateau.
And, today at the Louvre, it was more crowded than I ever remember it being when I was here more than three years ago in April. The Louvre which opens at 9:00 a.m. already had a line of people waiting to get in. I've never seen so many people. Our guide for the Louvre was Janice, a woman from England who married a French man and has been living in Paris for more than 26 years. She was really a delight. We had the kind of system that allowed her to talk, while we had on an earpiece to listen. And, that meant we didn't have to stay right under her, which was nice. This time I was able to get as up close and personal has one can to the Mona Lisa. And, boy was there a crowd.
But where else can you go in the world, where the building is a work of art and it contains some of Europe's greatest museum — the Louvre — is open late, and we'll take full advantage of that. You'll come face to face with the works of Raphael, Delacroix, and Leonardo, and timeless treasures that include Mona Lisa, Winged Victory, Venus de Milo, and hundreds more.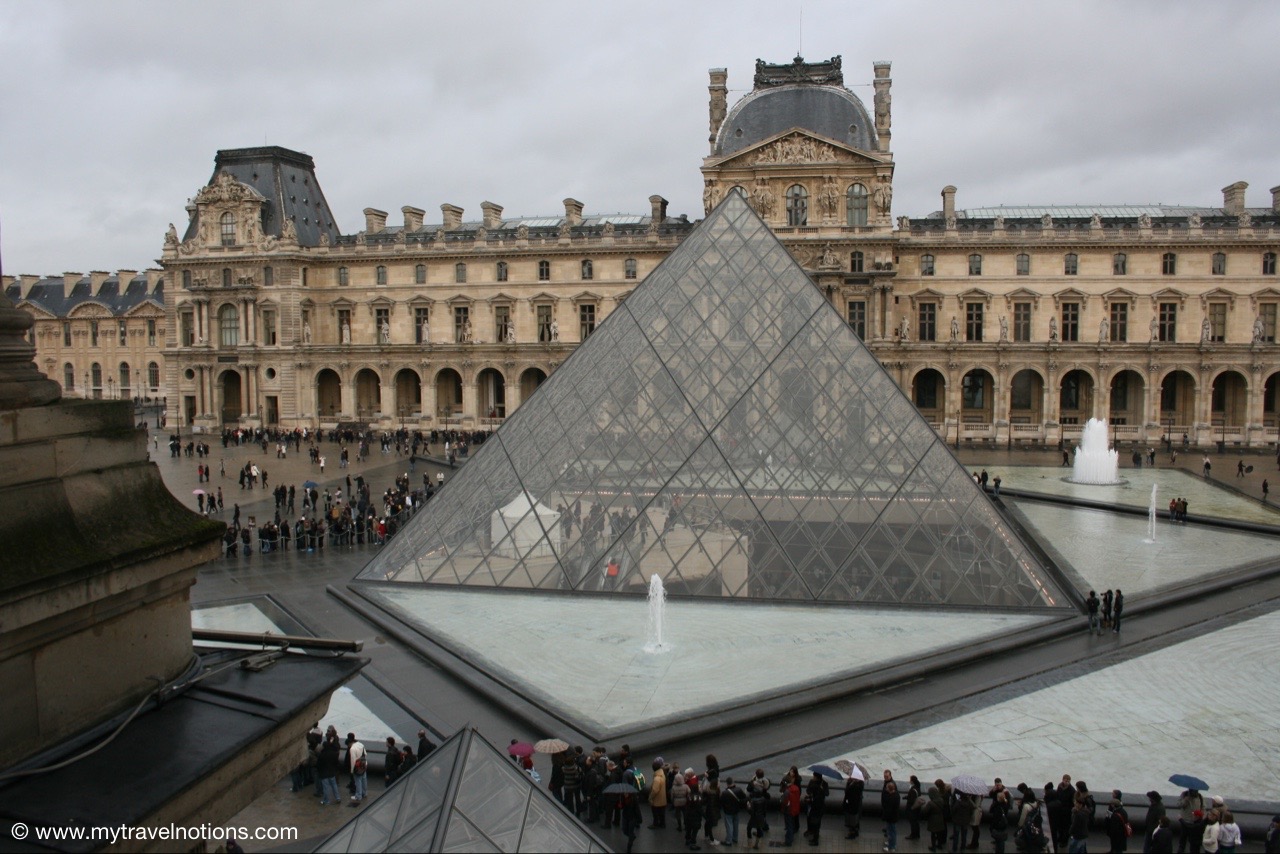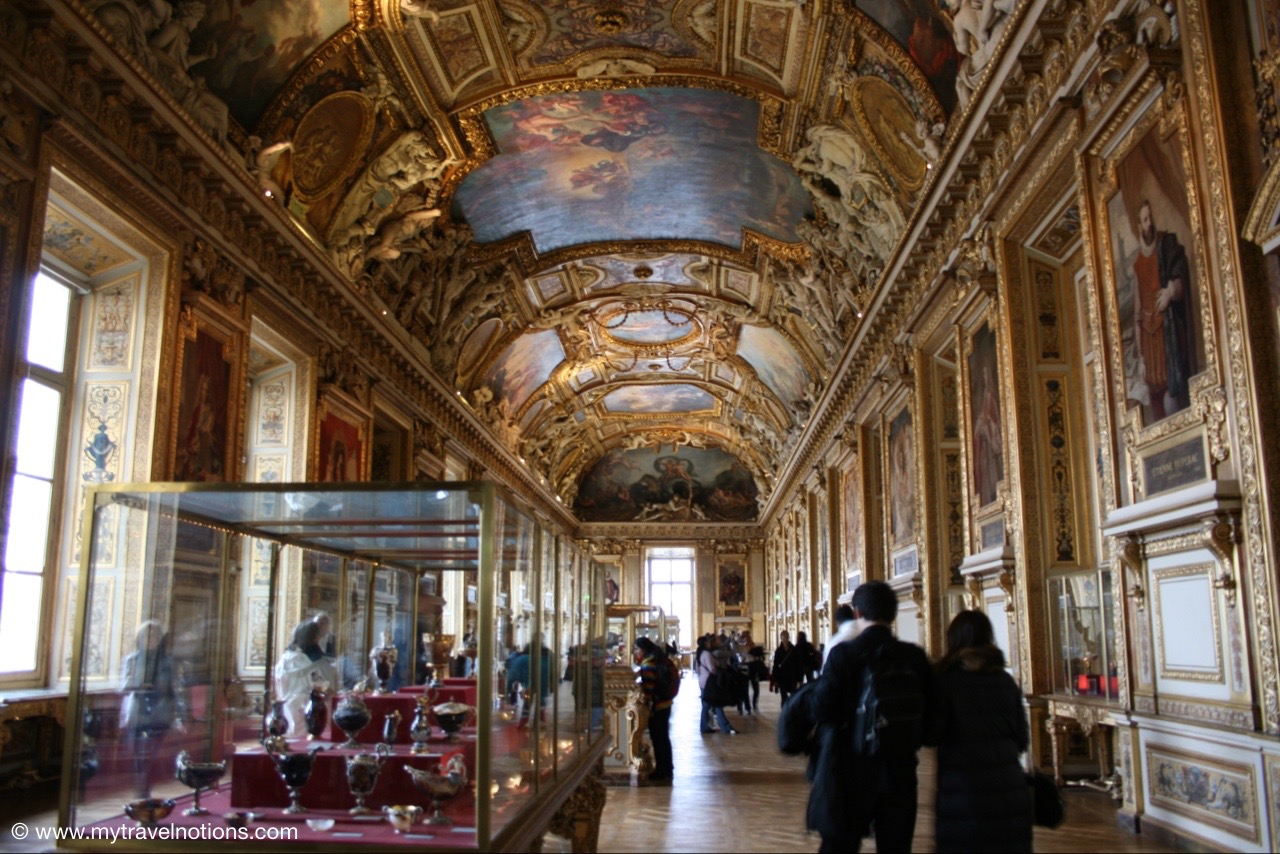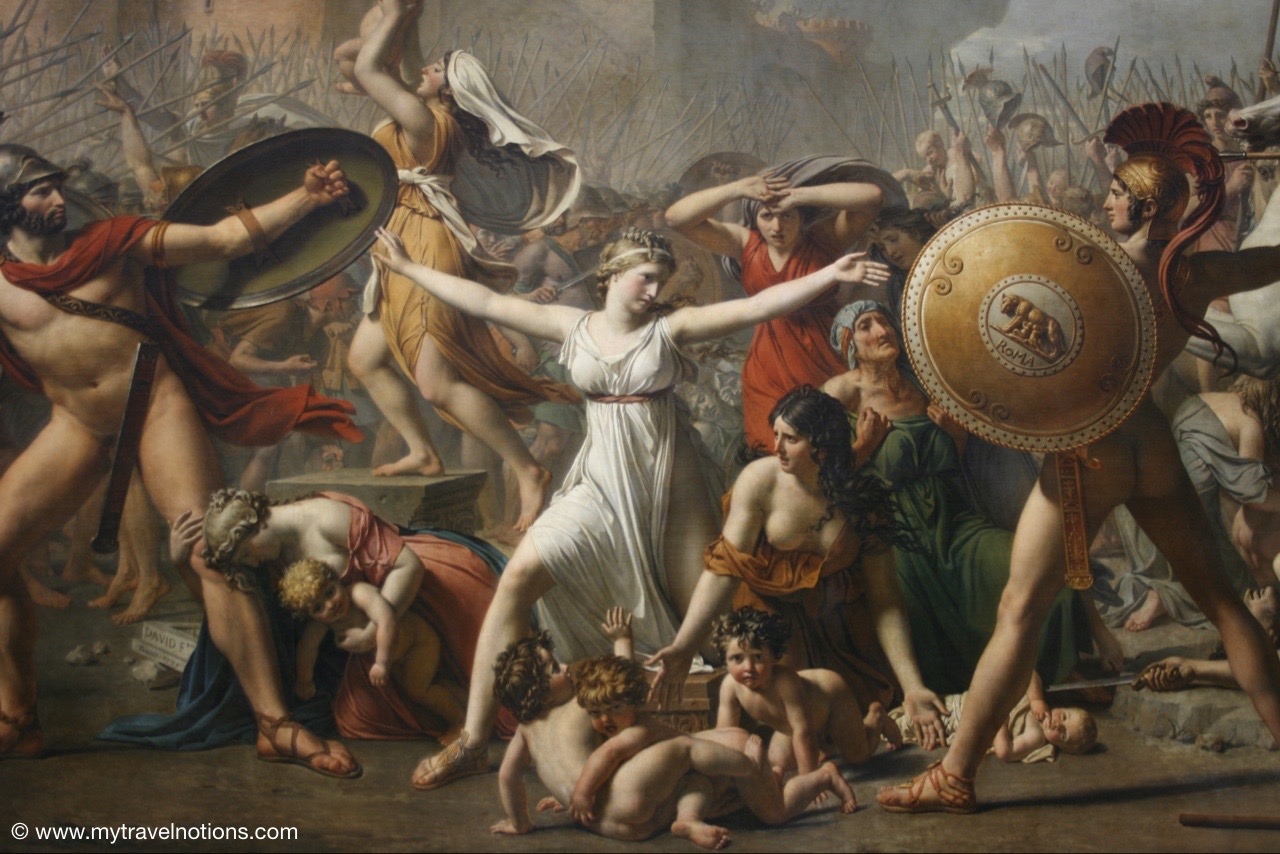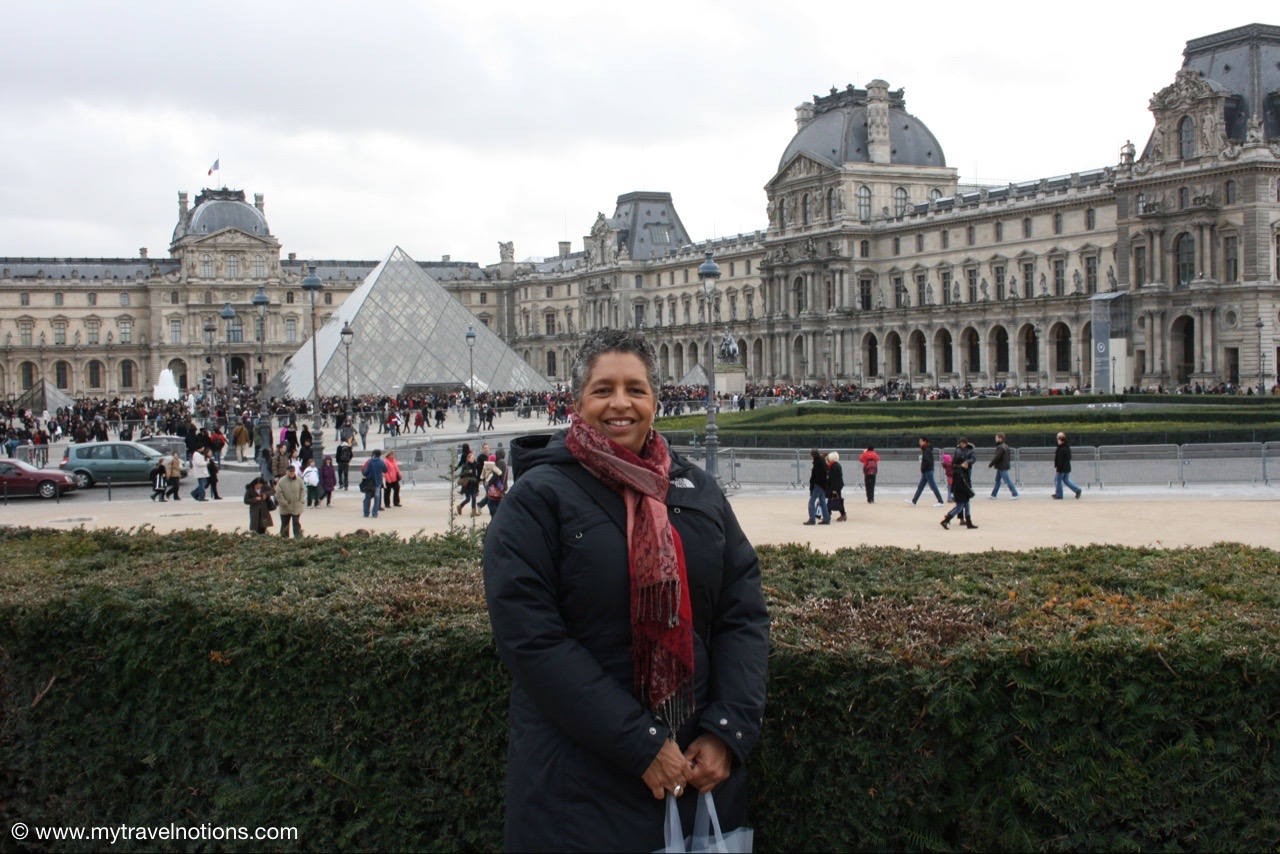 It's the last full day of the tour along with it being the last day of the year. Another gray day, but it's Paris! Today, it was all about the Invalides and Napoleon's Tom and the d'Orsay Museum. We also enjoyed a wonderful group dinner together, a dreamy Seine River cruise and afterwards closed out 2009 on bridge overlooking the blinking Eiffel Tower with champagne in hand.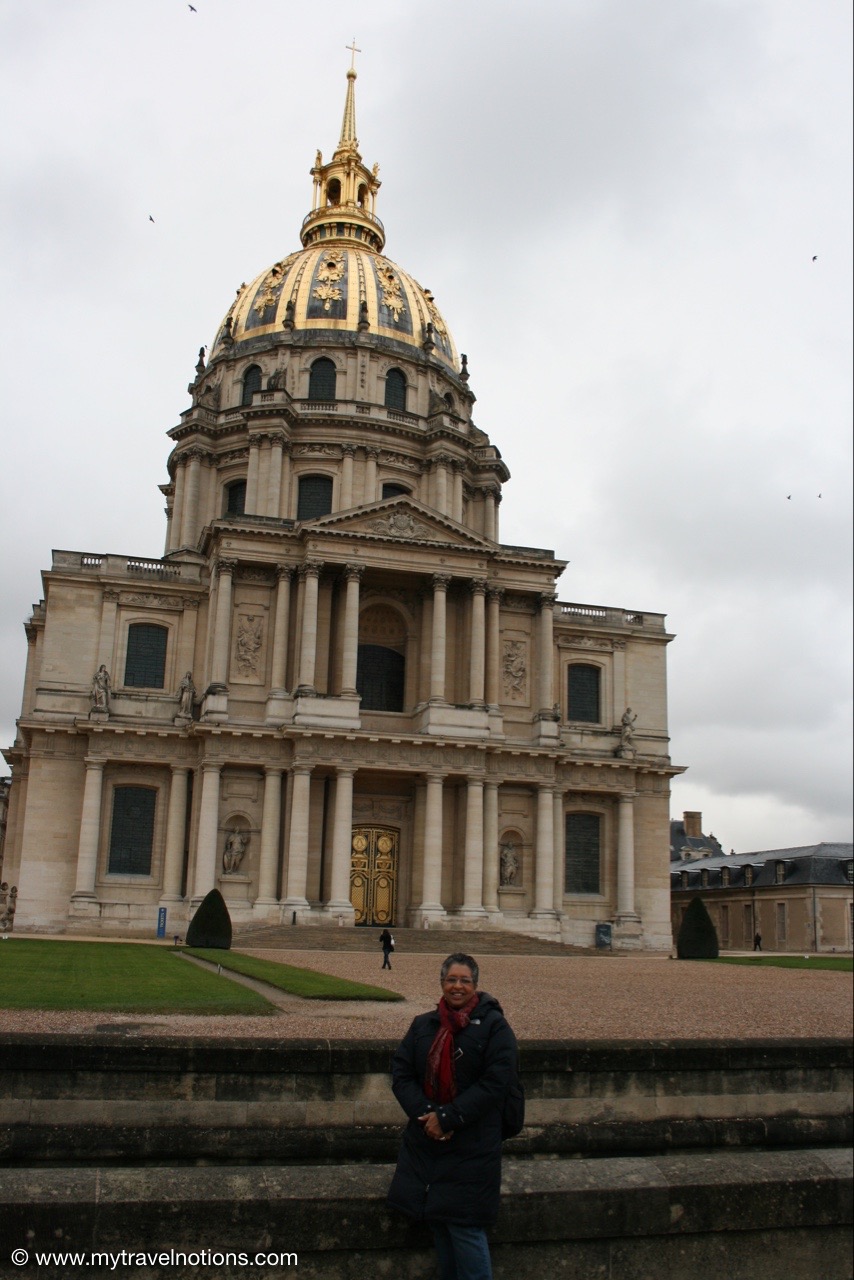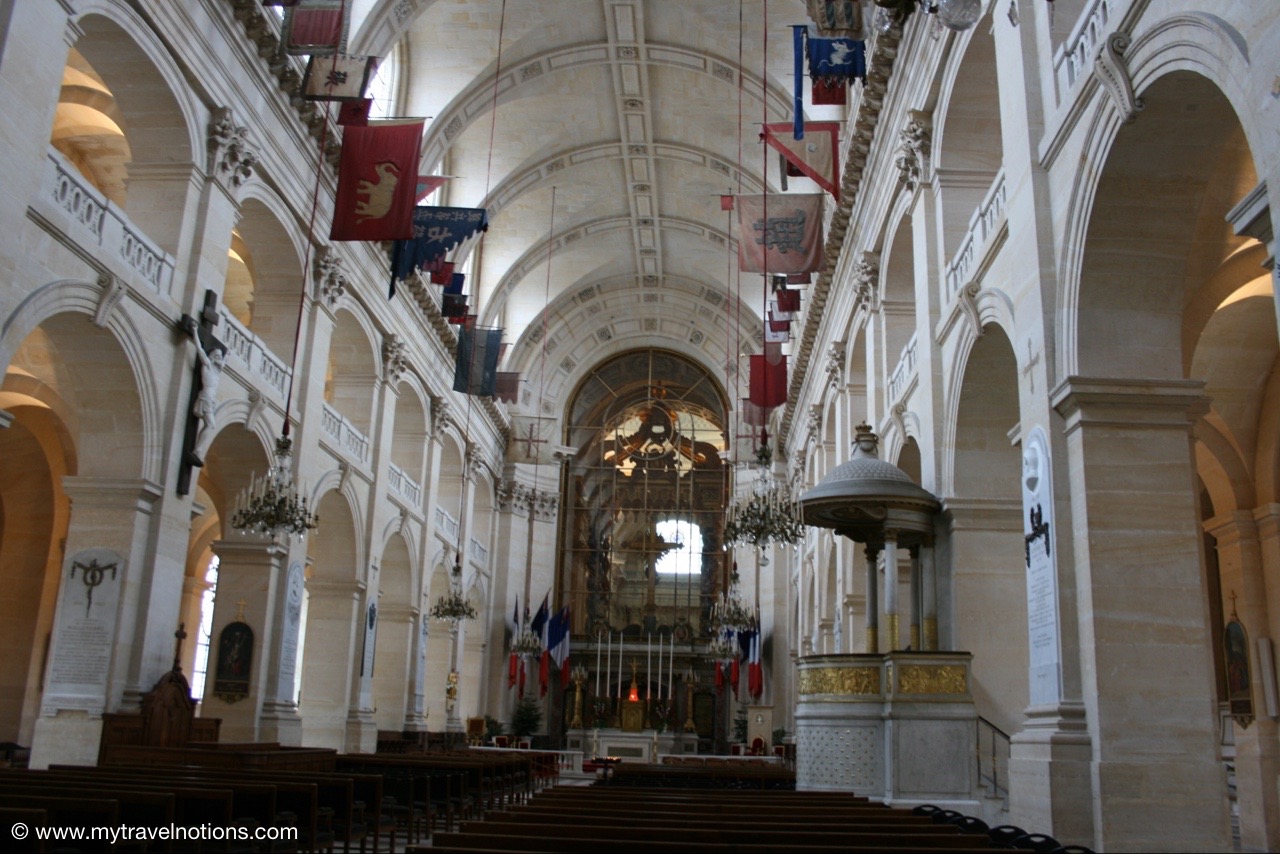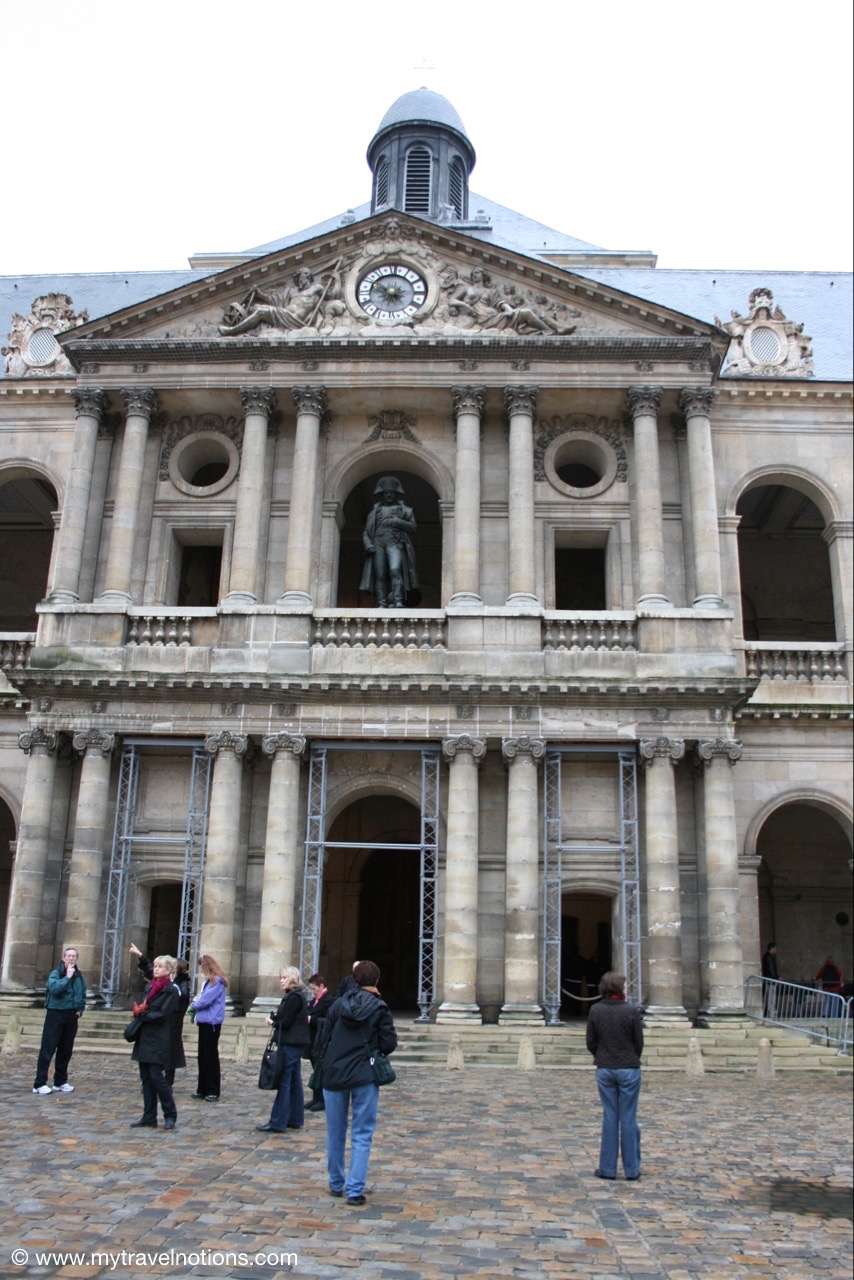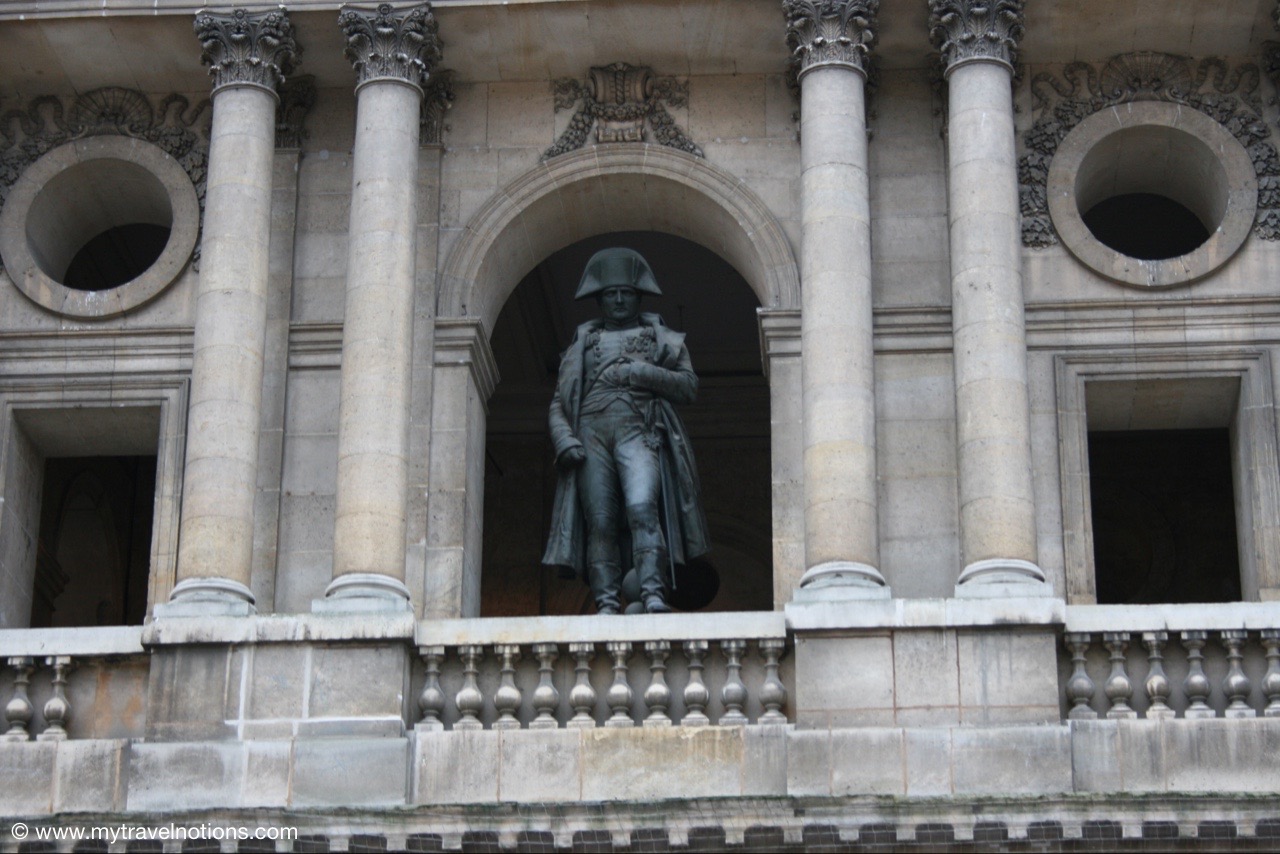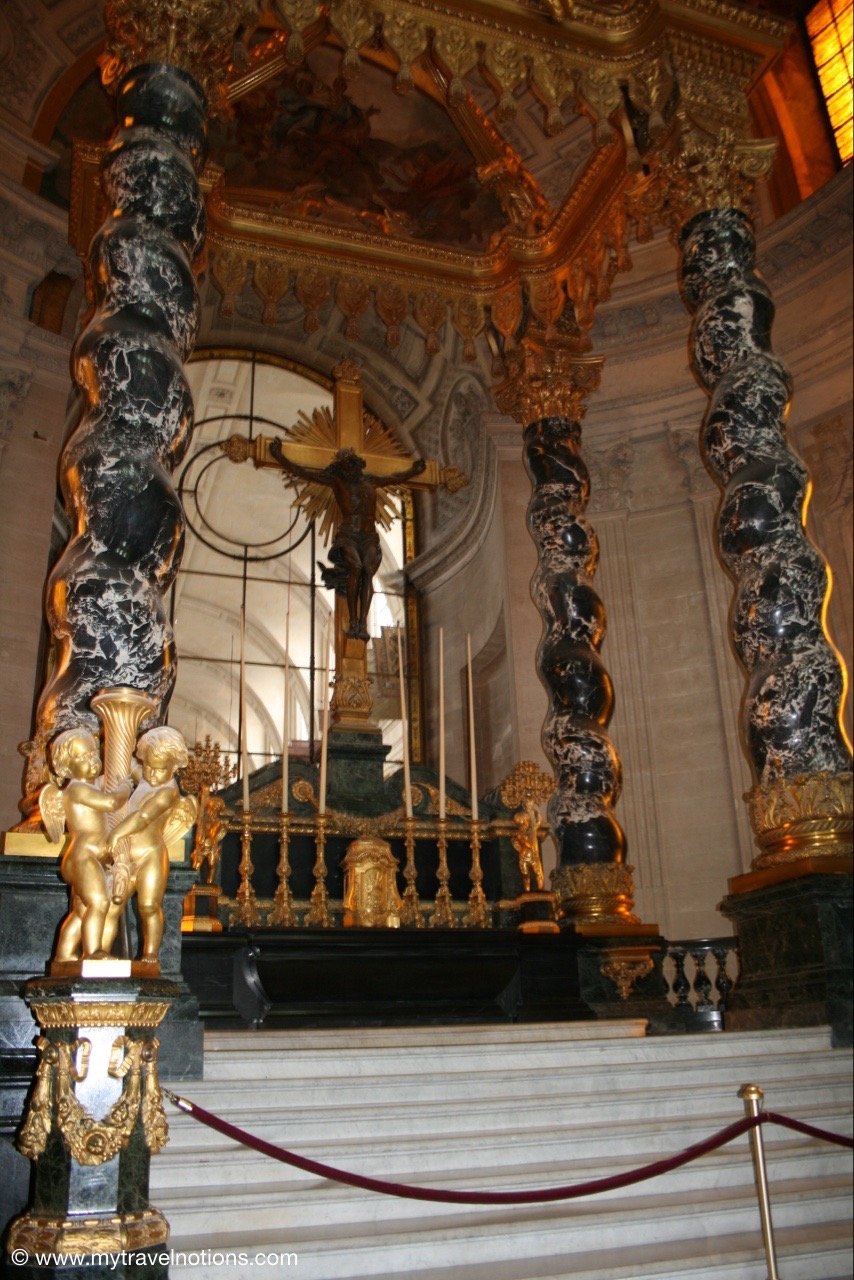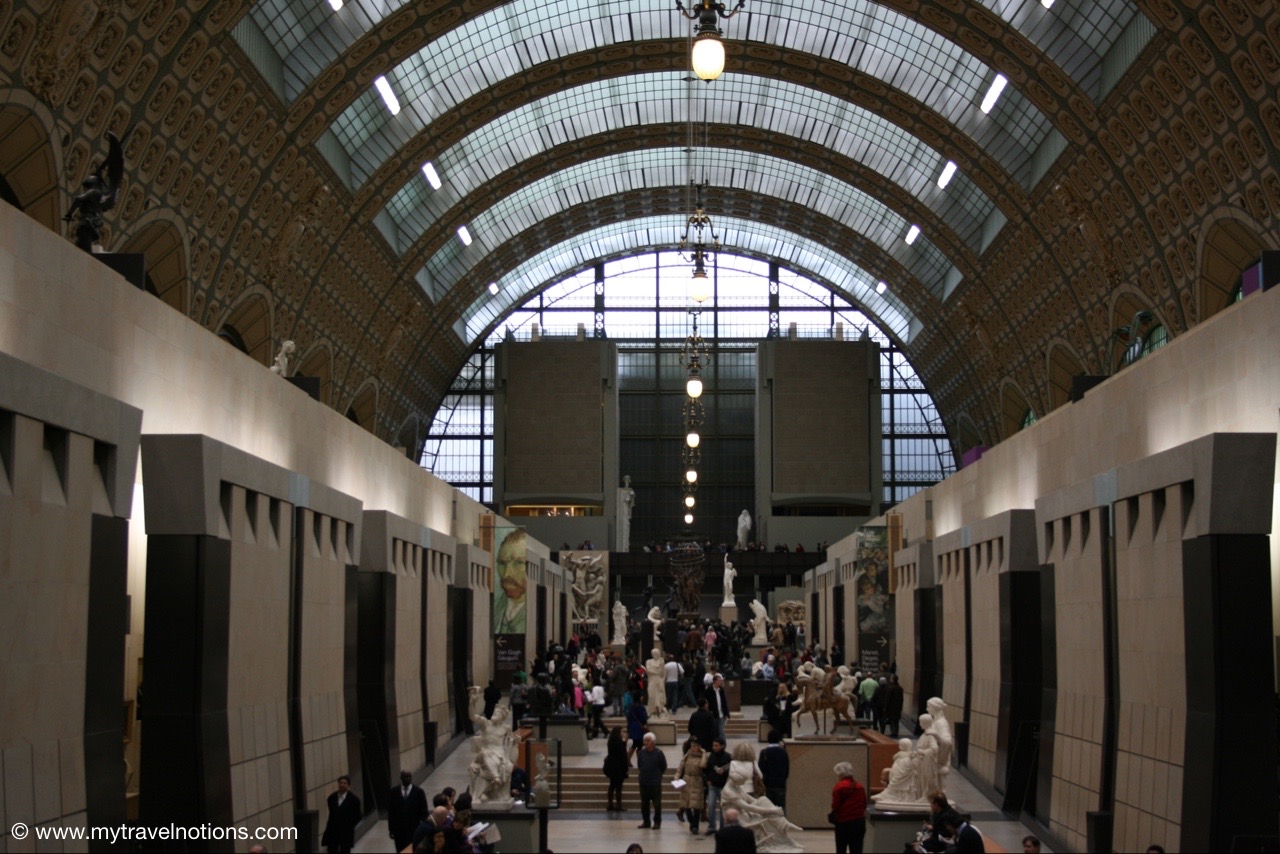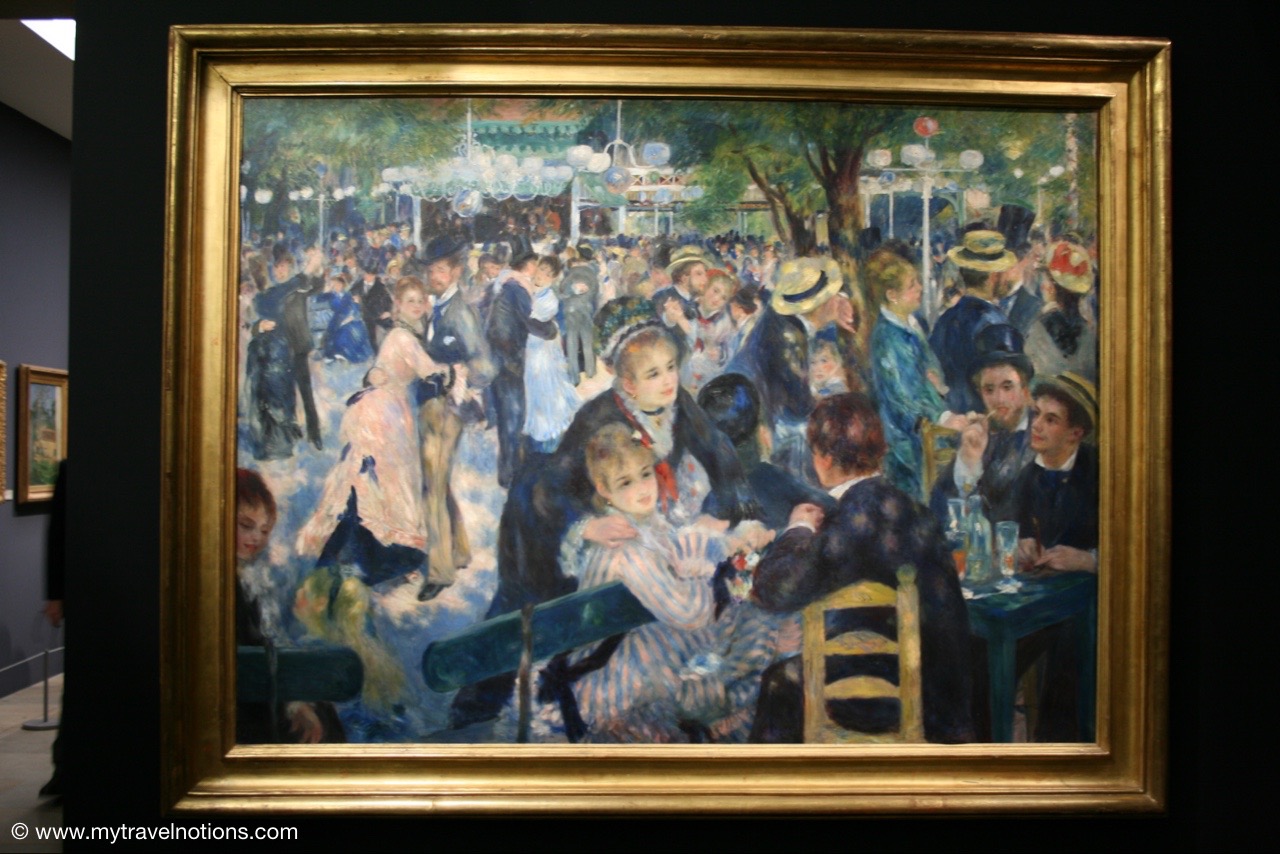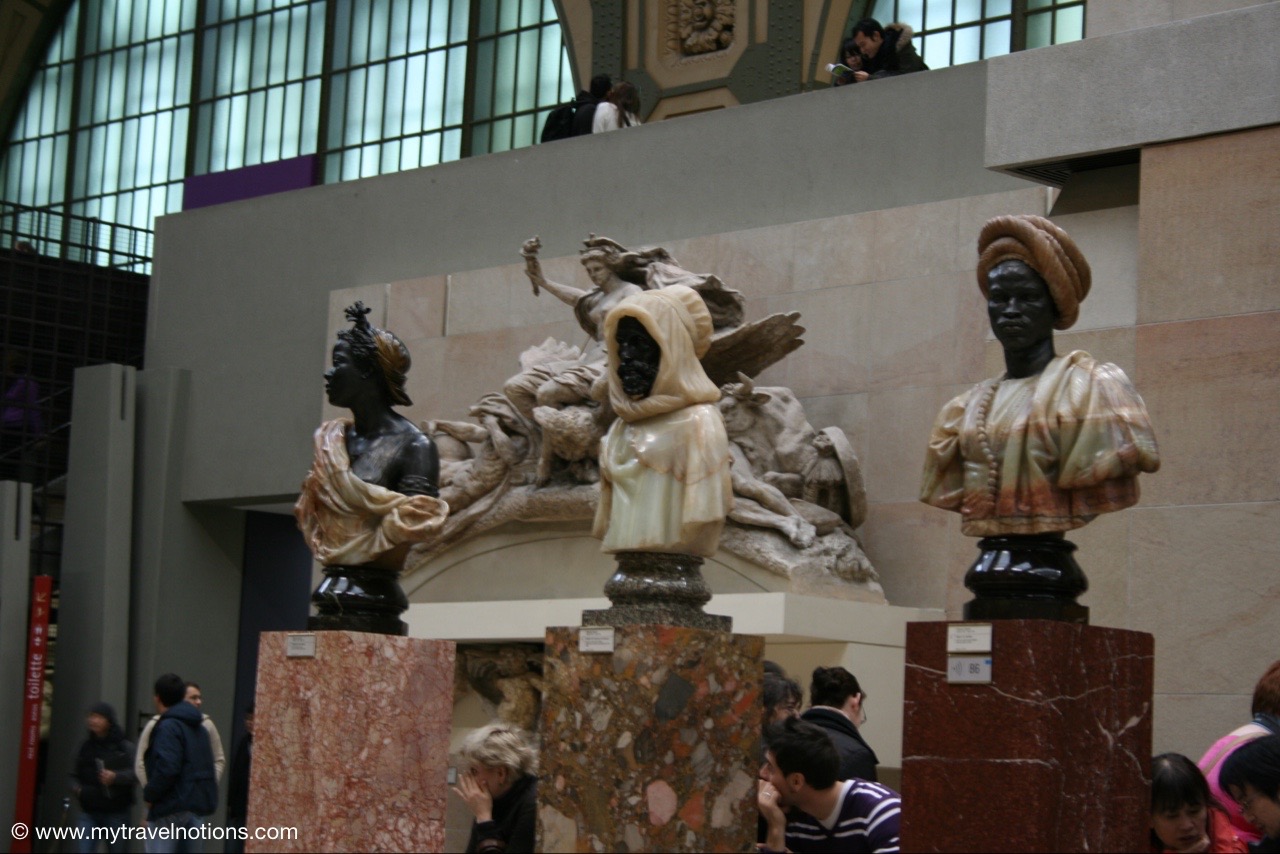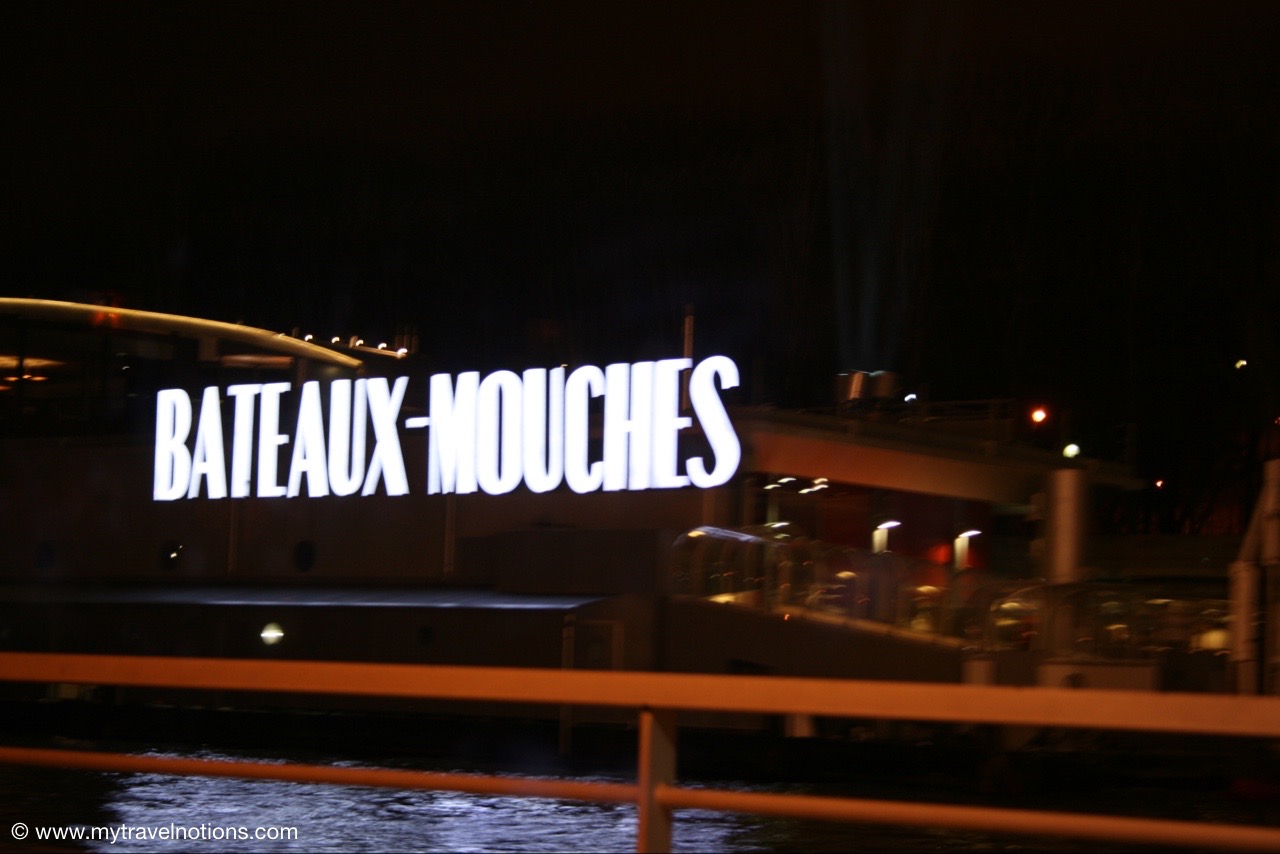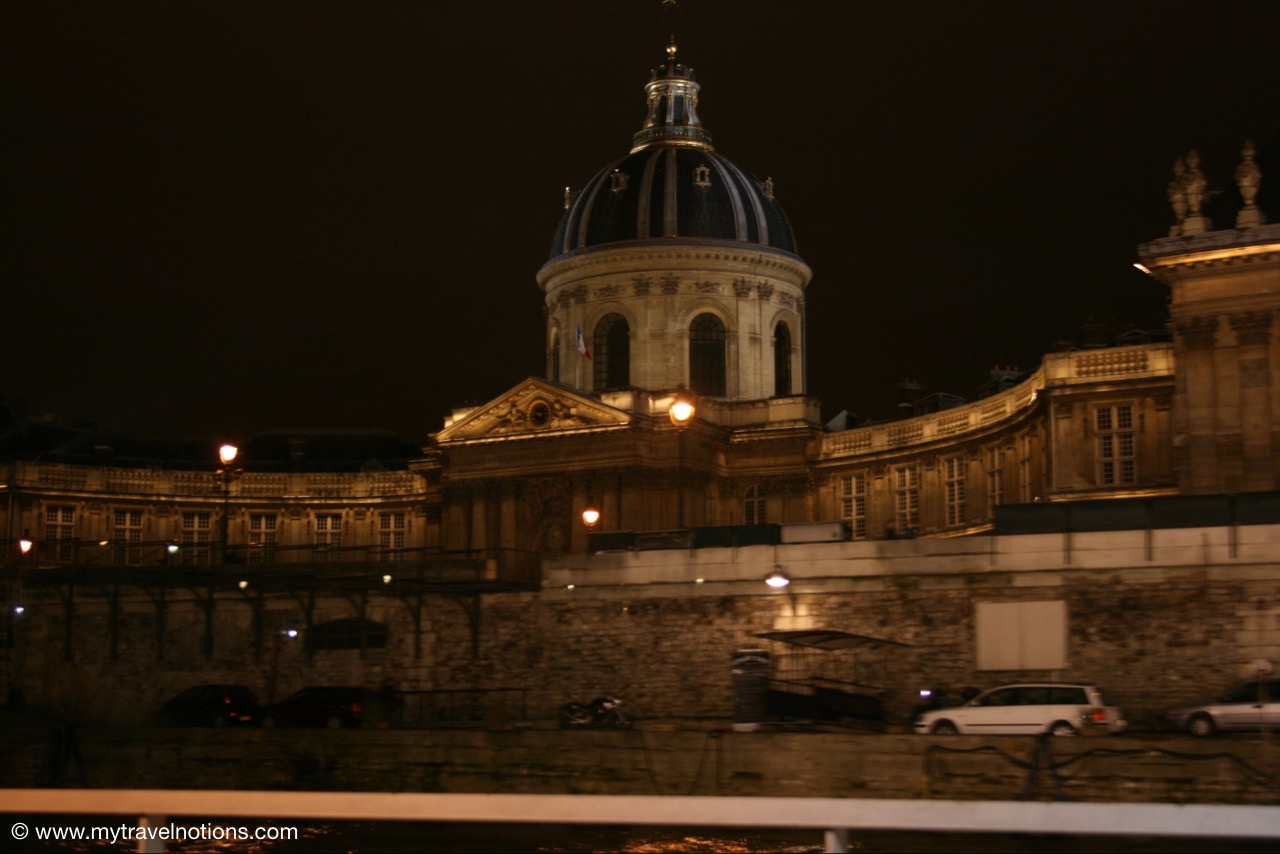 I can't tell you what I did last year to bring in 2009, but I will be able to tell you next year what I did to bring in 2010….I did it in Paris, France. There are a few things I will remember about this trip. Paris is a good city to walk in and walk we did. Although I did see quite a few things when I came on my own in 2006, I like being a part of a group. It's good to get to know other people and have them look out for you. The Duquesne Hotel is within walking distance of the Eiffel Tower and the Invalides and Napoleon's Tomb. But with the metro so close by getting to the Louvre Museum, the Sacred Coeur, Montmartre and the Marais. And, now, I'm very comfortable taking the Paris metro and as I mentioned, there are two of those in the area. My feet hurt, even though my shoes are comfortable so for my next outing, I will have the very best comfortable shoes and when appropriate, sandals. That's a must.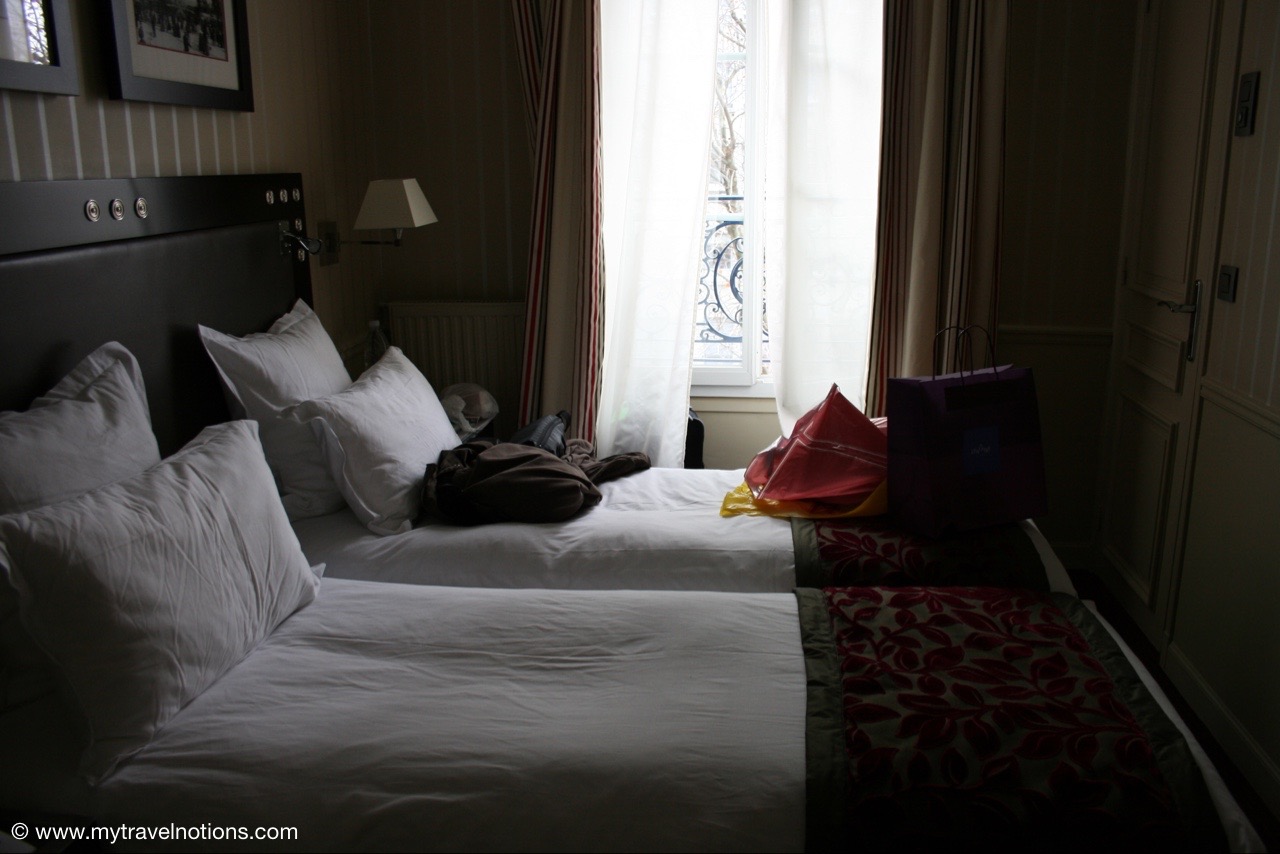 This may have been my first Rick Steves tour, but I'm pretty sure, it won't be my last Rick Steves tour. And, I'm also pretty sure, this won't be my last trip to Paris, France.